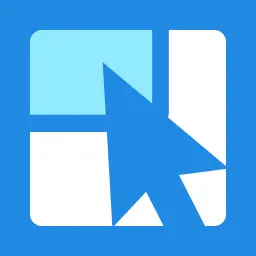 Convertbox
in

Lead Generation
Is ConvertBox the best lead capturing tool in 2021? Check out our review to discover how this amazing tool will help you convert your website visitors into leads or customers!
Platforms
With this ConvertBox review I'm kicking off my new Marketing software review area… and I'm really excited about it!
ConvertBox is a really nice tool that I discovered more than a year ago when looking for a piece of software to manage all my lead generation efforts.
Basically, ConvertBox makes it super simple to create any kind of pop-ups on your website, to capture people's e-mail, or to send them to special promotions.
It's really interesting for many reasons: it's very simple yet powerful, and it has very good integrations with your CRM of choice.
Here, you can see a bunch of examples of the lead gen boxes you can create with it: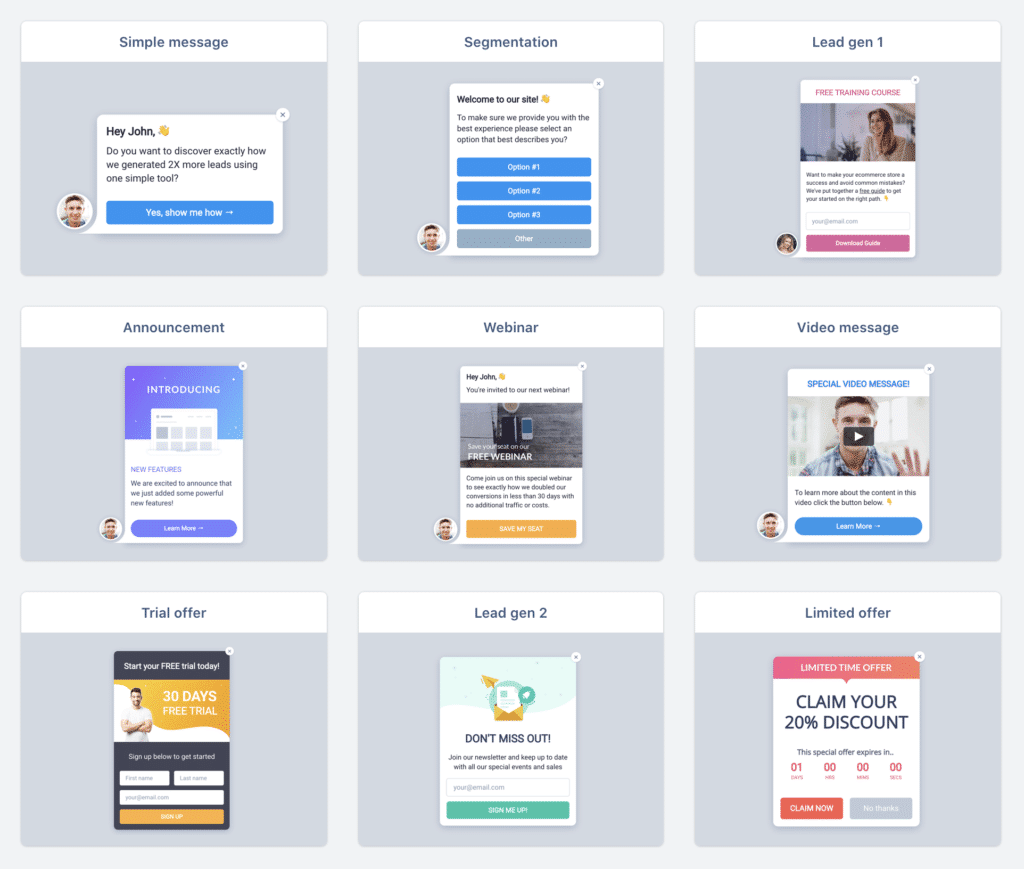 you can make a small chat box with boxes that will appear on the bottom right or bottom left of your page.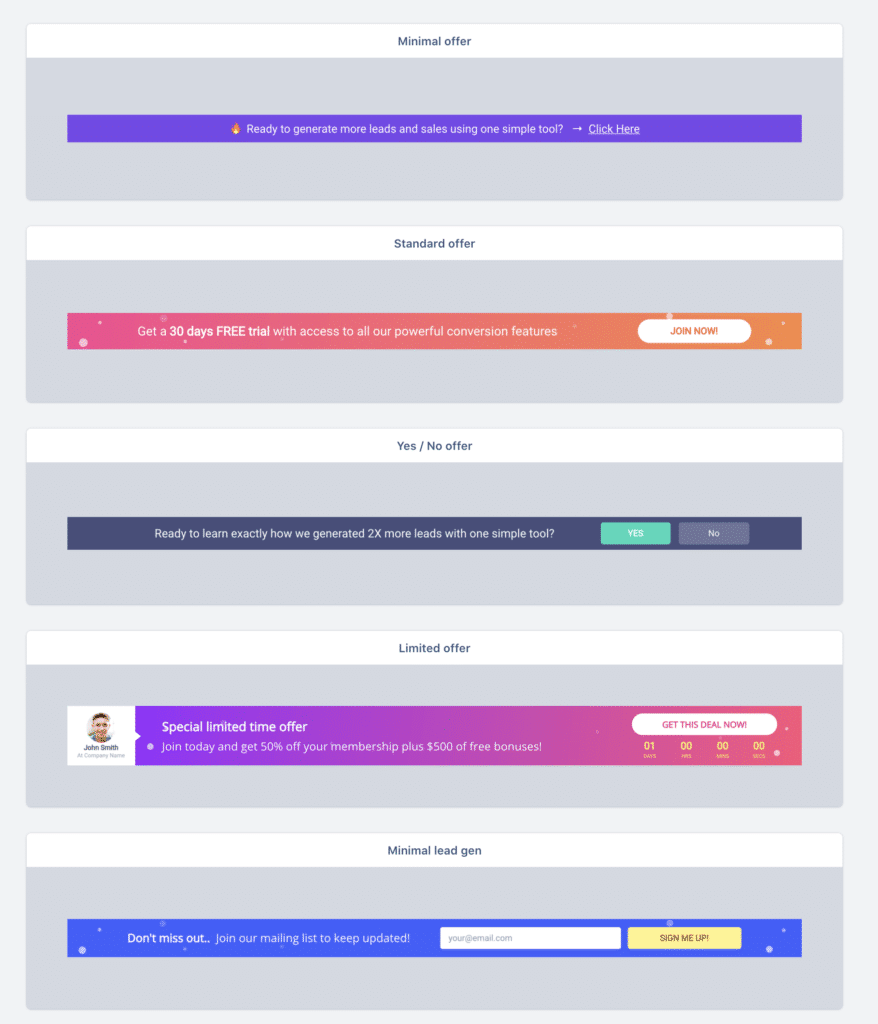 But it also supports other kinds of modals like sticky bars that will remain always visible on top of your website pages.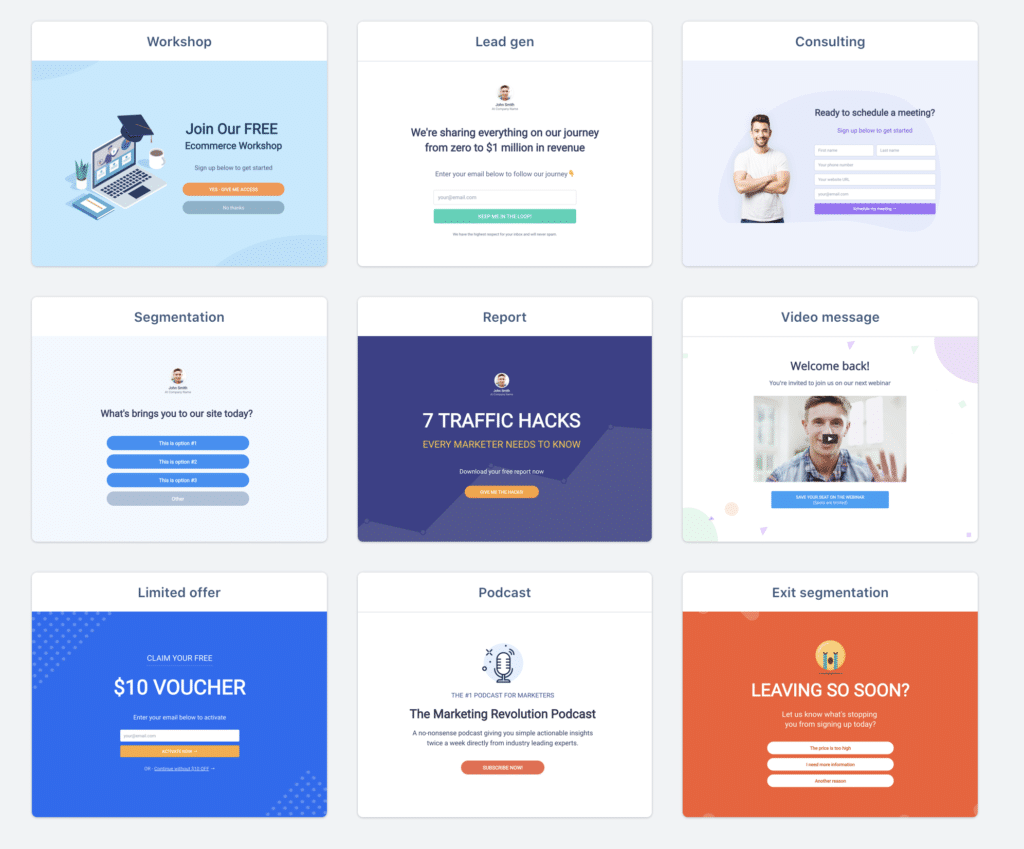 Or full-page domination offers like these that will completely take over your website to show your users your special offer.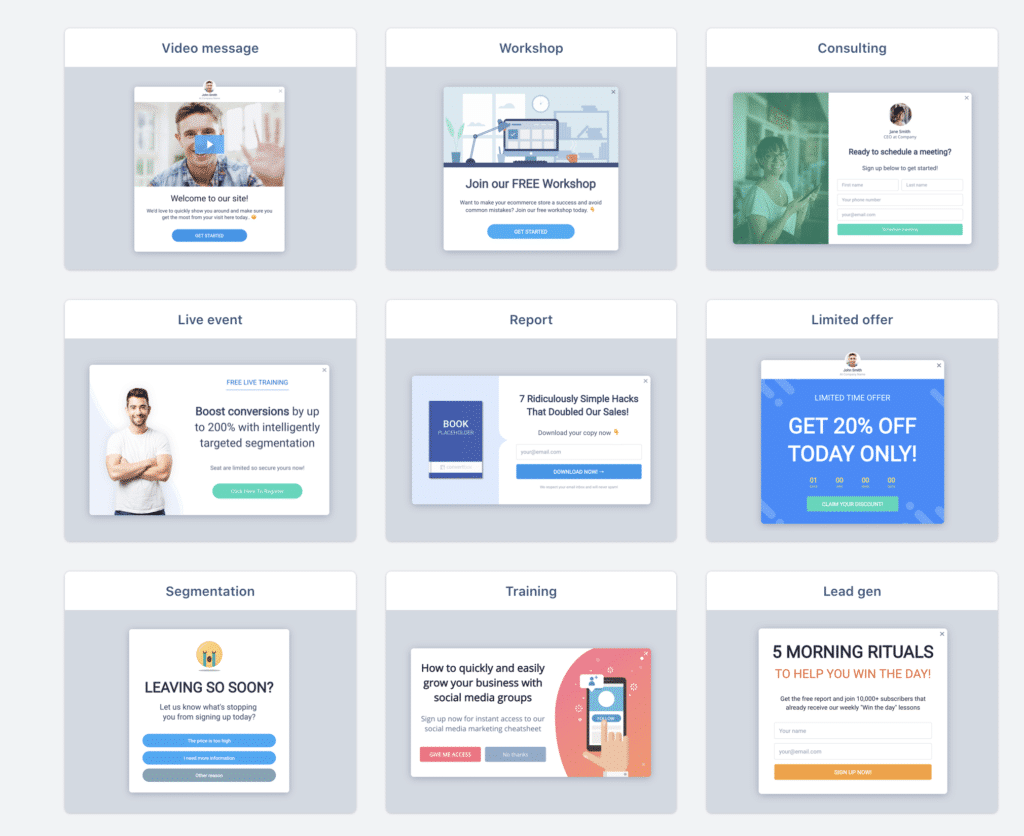 And of course the classic center of the page modals.
You can do lead generation straight out of your pop-ups with their form builder or you can just ask your visitors questions providing multiple buttons to answer them.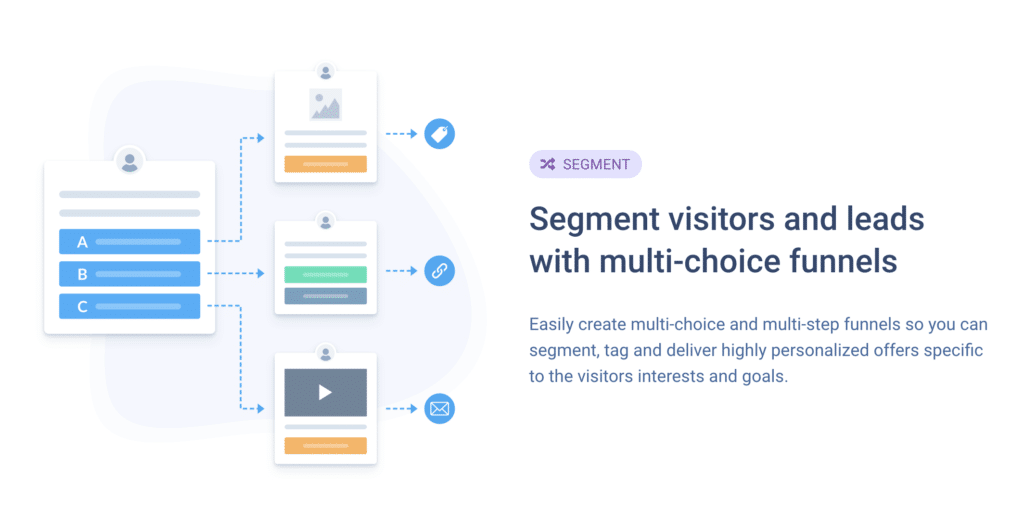 This feature is very interesting and unique because you can build very complex funnels, imagine asking people "Hey, what are you more interested in? Traffic or conversion?" and based on what they click, create a different funnel with a different offer or lead magnet at the end.
You can create as many steps in your funnel as you want and basically use it as a kind of quiz builder. This was probably one of the most interesting features I discovered in my Convertbox review.
Over time, as you'll read at the bottom of this review, Convertbox has added a lot of new features since the original review and nowadays it's possible to build very complex Quizzes for lead generation purposes.
What's even more interesting is that, in every step of the funnel, you can also add tracking options so you could fire a Facebook event to dramatically improve your re-targeting.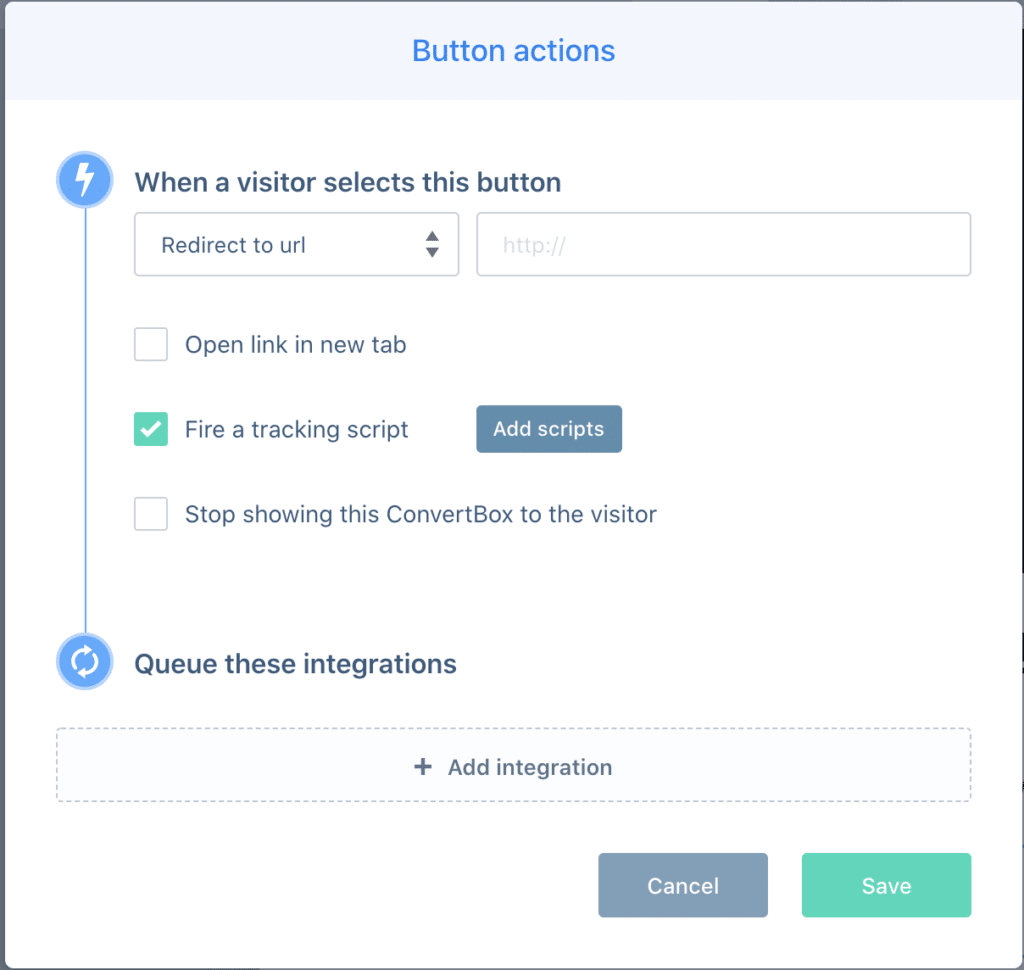 Imagine retargeting people based on what they choose in these questions instead of just sending the same ad to everyone who visited your website. Did they choose that they're interested in more traffic or more leads? Did they select they are using your competitors or are they in the market for your product?
Let's the ConvertBox review begin!
This is the interface: as you can see, it's really really simple.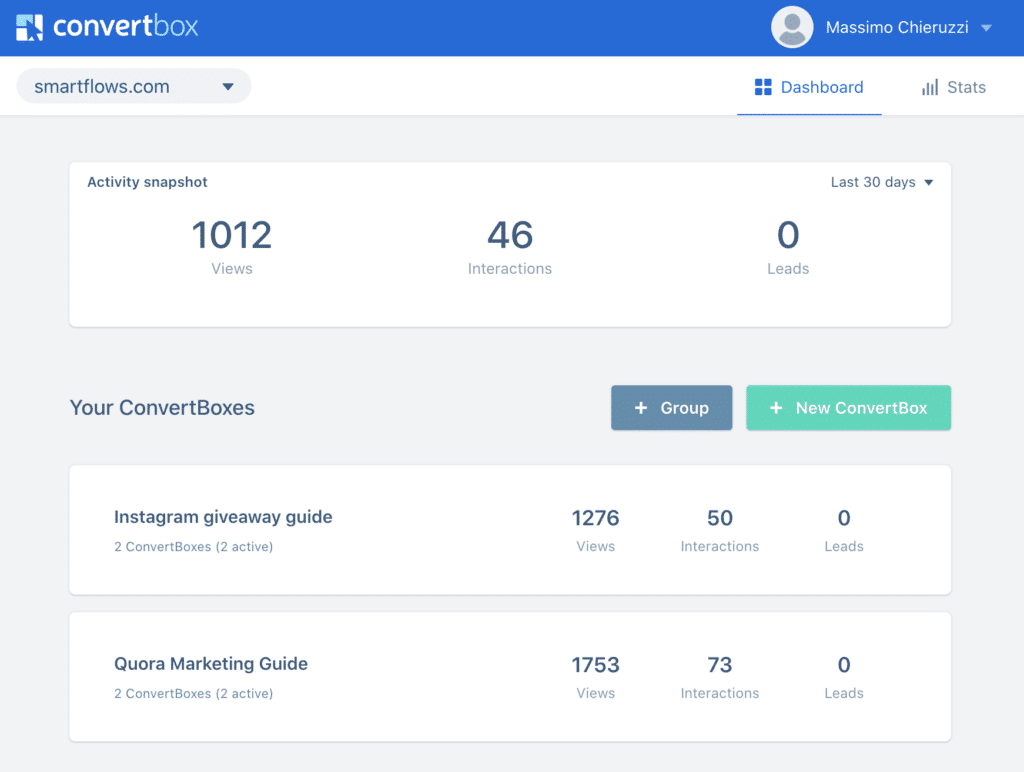 It doesn't overwhelm you with information, I could argue that I would love some additional layer of information, but still, it's good enough for most users.
So, here we have a snapshot of our activities in the last 30 days, I can customize the period, I can see that my pop-ups were seen 1800 times, 59 interactions, 0 leads.
Now, the 0, don't be worried about that, it actually converts extremely well but Convertbox will track leads if you use lead generation forms inside of your modals. Which I'm not doing right now, I'm using the popups to send traffic to a Hubspot landing page so the conversion happens outside Convertbox.
Clicking on the two groups I've created for Smartflows will give us further statistics around our lead generation effort.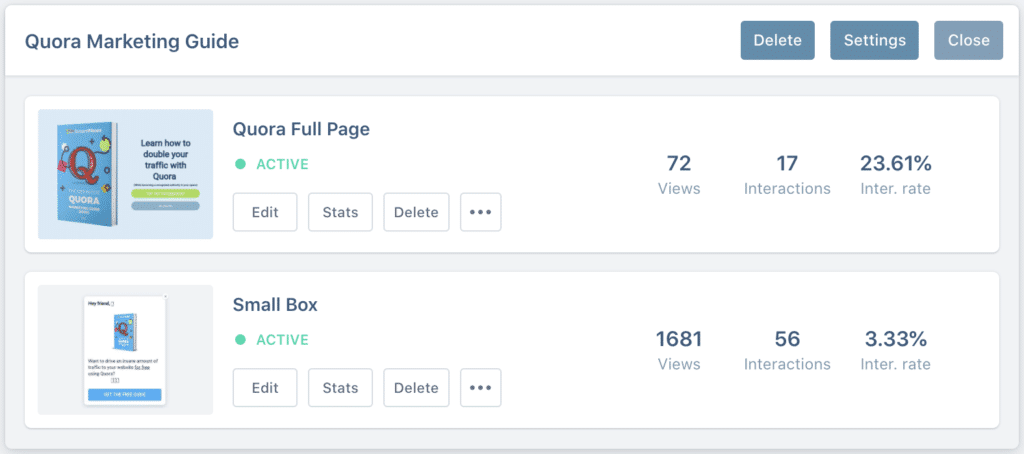 I have two different groups:
one is for the Instagram giveaway guide, and you can see I've created a small box that will appear on the bottom left of every page and a full-page domination one that appears on the guide page. Being the guide directly tied to the lead magnet, I'm fine with a more intrusive lead gen approach that asks: "Hey, do you want to download this guide as a pdf ?".
I've done the same thing for our Quora marketing guide. All of them, as you can see, are working pretty well: 23% click-through rate for the full page domination and 3.3% for the small box on the blog… this is actually pretty good.
Lead generation modals creation
Let's create a new modal, I really want to show you the interface because it's so good!
First thing, you'll have to give it a name and select to which groups it belongs. All modal needs to belong to a group. This makes it easier to arrange them and find what you're looking for. It's also good for reporting because you'll be able to immediately see how a specific lead magnet is performing overall.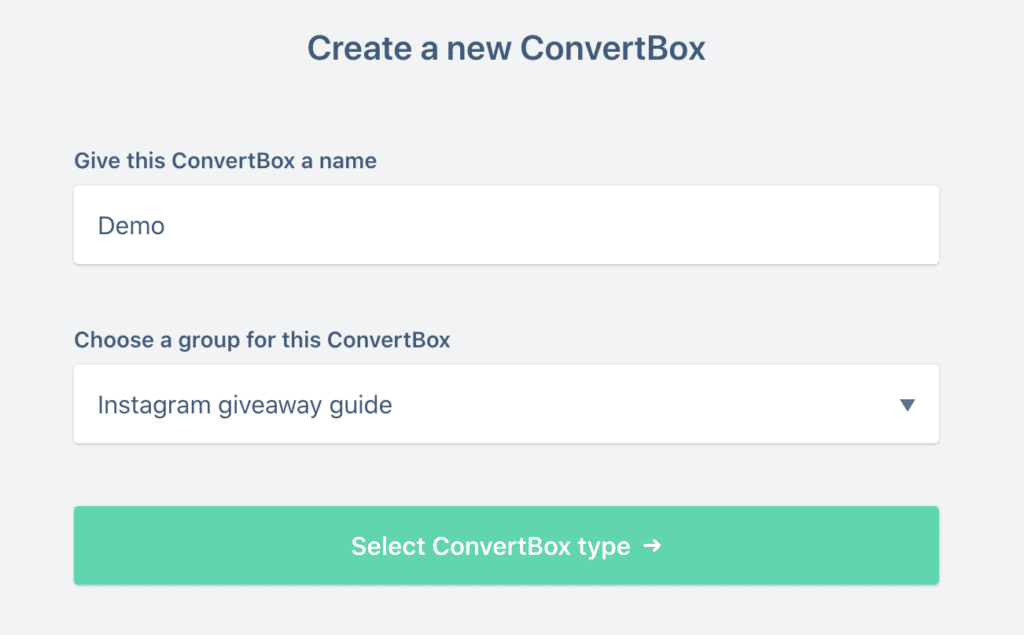 Right after we'll need to pick what kind of lead generation modal we want to create.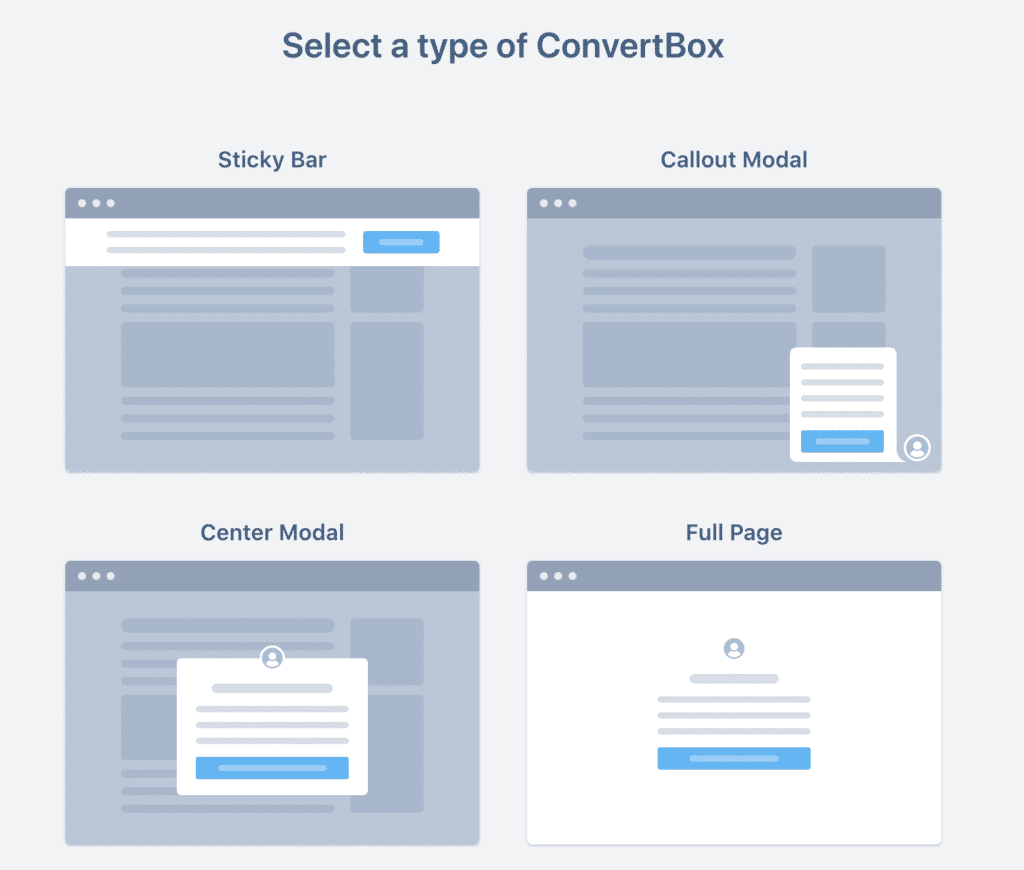 Let's go with full page for this Convertbox review. All of them have a similar setup process. As you can see, for every selection you'll have a lot of templates with really every use-case you might need.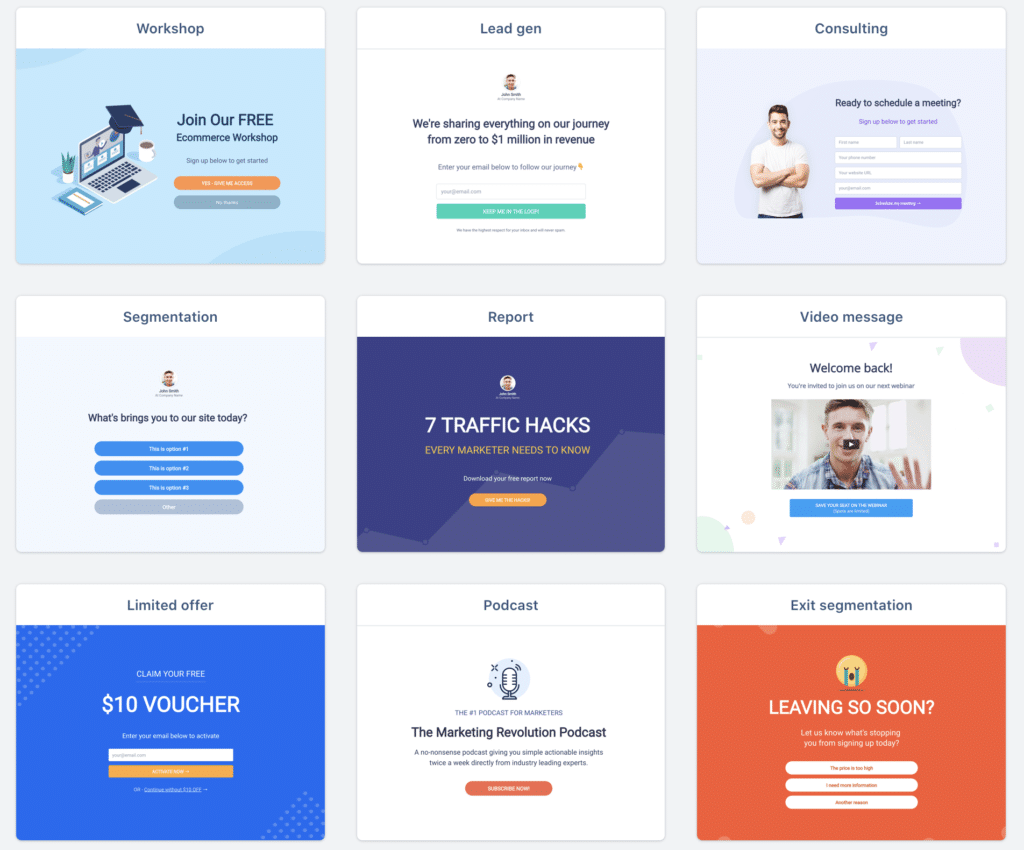 You could need complex form, a video message, special offers with a timer … everything has its own template. You can also start from scratch if you prefer.
You can edit everything and it's quite simple. You can just click on any element and remove it or edit it.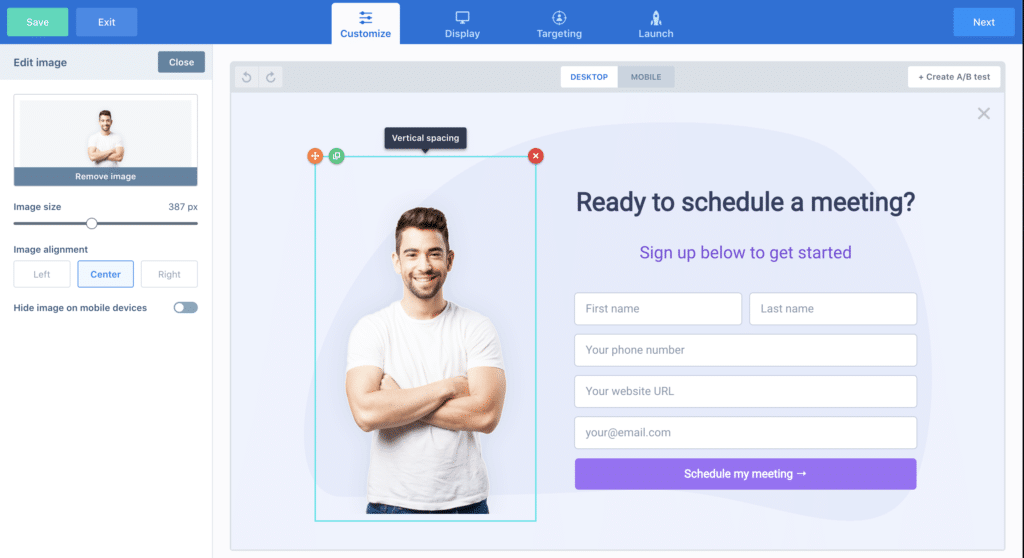 Form editing is as simple as everything else. You can click on every field and edit it. As I told you, Convertbox has a very good integration with most CRM so you can map any form field with a field in your CRM of choice (Hubspot for us) and be sure the data will be immediately stored in your CRM.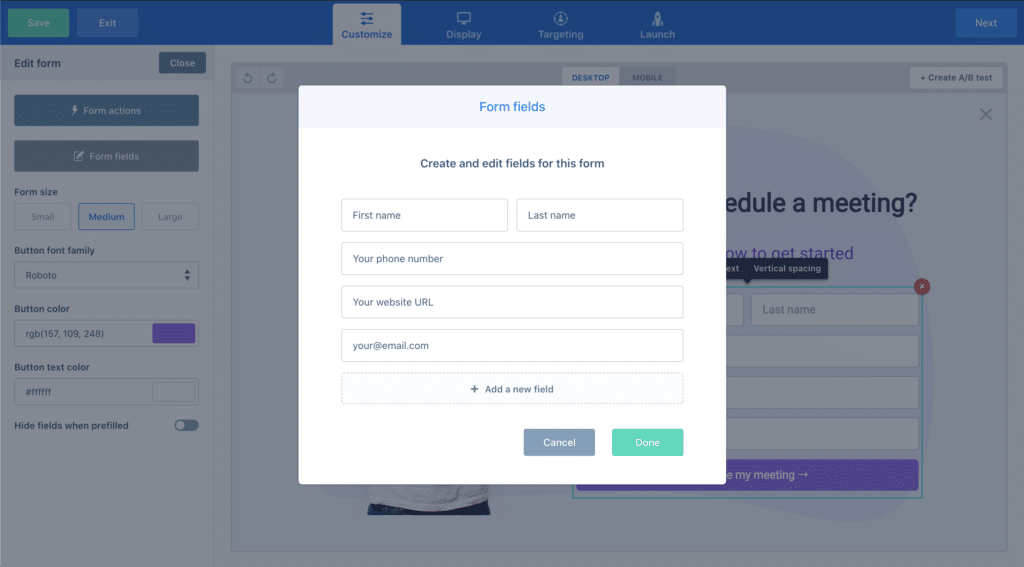 So, what happens when people submit this form, I can close the box, I can redirect them to a URL, add them to a CRM list or workflow and so on.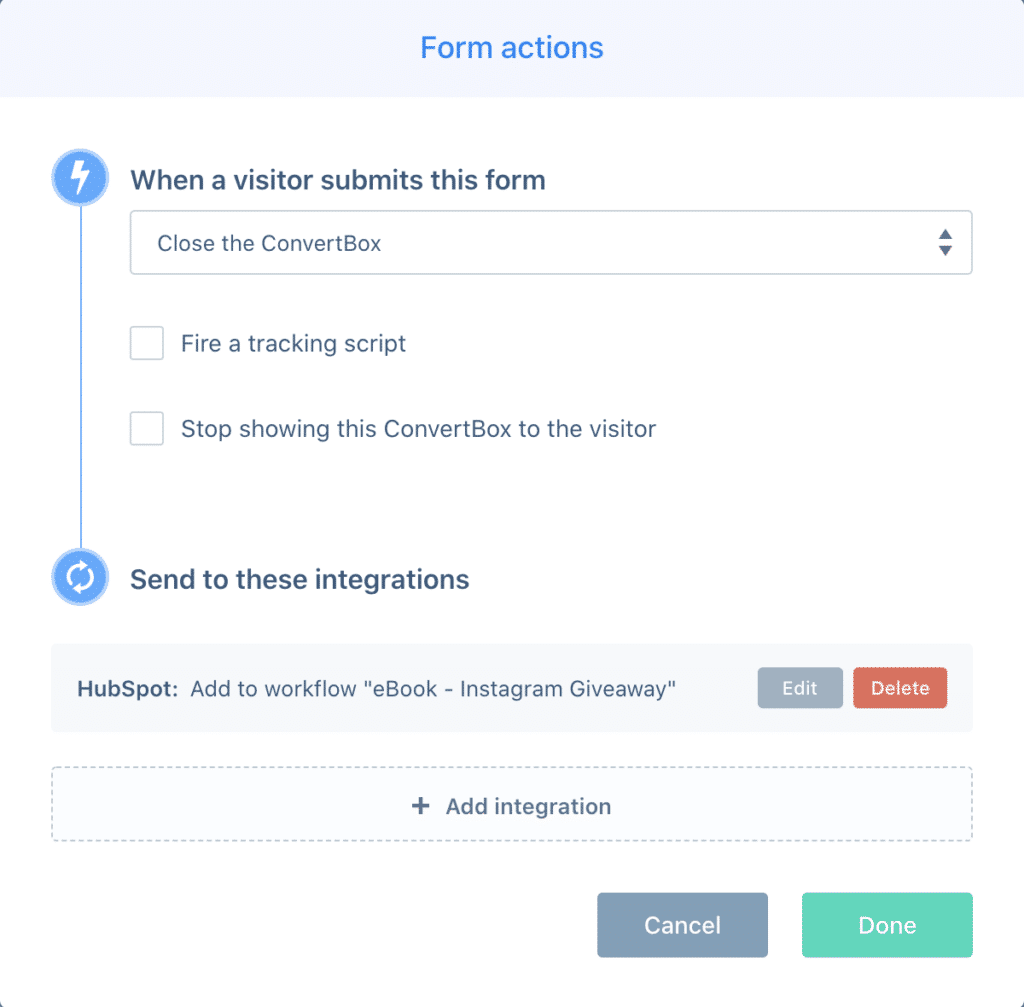 I can also have users jump to the next step and that's where the fun begins: Convertbox is not just for lead generation. You can create complex funnels or even quizzes where every click in the modal sends the user to the next question.
So you could have your first box and say « Hey what's your first name and last name »?
And then, If I click « Continue» or « get the e-book », you can give them a next step which could be a special promo, or an upsell, or another form to gather even more information about them.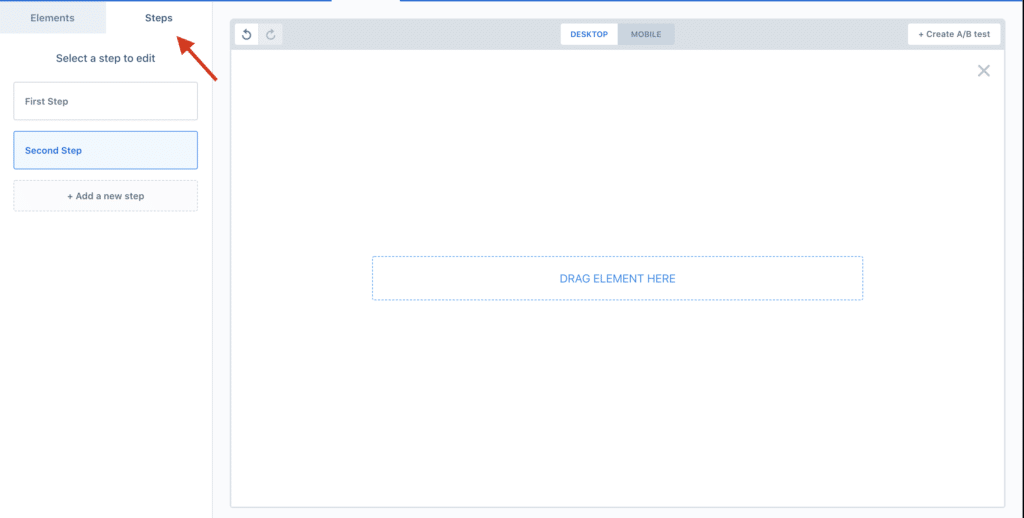 I can fire a tracking script too, so I can just add a Facebook pixel and track their answers for re-targeting and I can decide if I want to stop them from getting this popup once they've converted once.
The system does a great job at providing web and mobile previews of what you are building. A nice addition would be providing a preview on top of my real website, not a placeholder. Still, the preview system is good.
Another very interesting feature of Convertbox that is worth mentioning in this review is the capability of creating A/B tests for all your modals. You can create as many experiments as you want and you can really test anything, from just changing a Call to action to testing completely different lead generation systems like a small sticky bar versus a full-page pop-up.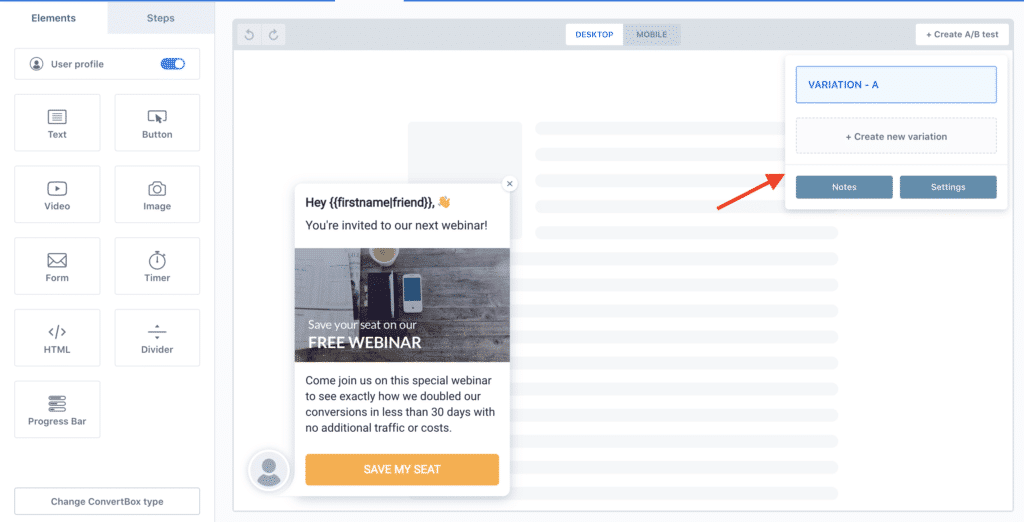 Another thing that we loved about Convertbox is the large number of elements that you can add to your modal with a simple drag and drop. As you can see in the image above, you can insert text, images, buttons, videos, forms, pure HTML, and progress bars which usually convert very well and are useful for multi-steps setup.
If you're running a special promo you can even add a countdown and select if it's an evergreen so people will always see the promo as available or if it's actually a "fix a date" timer that will actually end at a given time. The recently introduced scheduling feature lets you create lead gen modals that will no longer show up after a given date.
Everything in the modal creation experience is very simple and intuitive.
Pop-Up Display and Targeting Options
Once we have our pop-up configured, we can choose who should see this box.
First I can select the trigger, there are a lot of them:
After some time
after a percentage of scrolling in the page
after a period of inactivity
on click of a specific element in your page
on page abandonment
You can also fine-tune how often users should see a specific modal and what should happen when they close the box.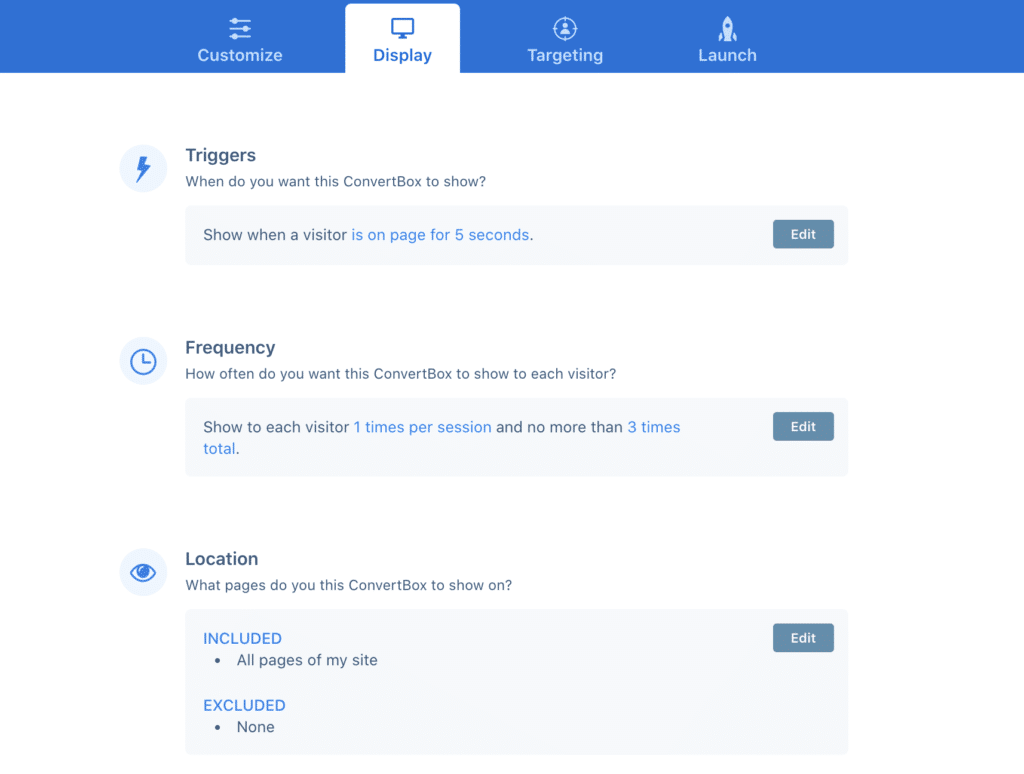 Finally, you can select where you want to display your modals. I can select the list of URL to include or exclude and I can do this for this specific pop-up but also as a site-wide setting.
The last step before going live with our modal is defining the targeting.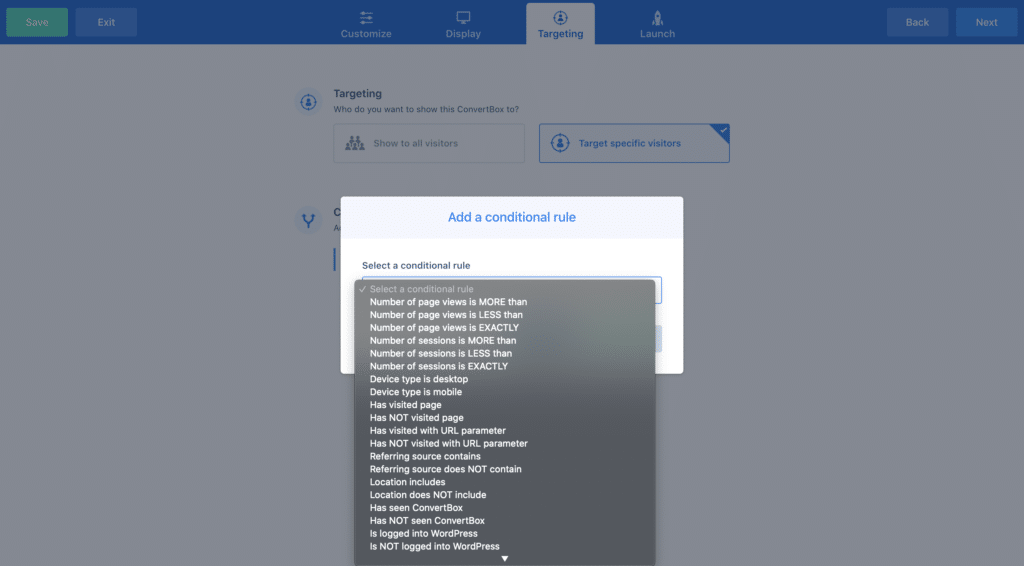 You can decide to show this pop-up to everyone or to specific visitors. The number of options in the latter case is HUGE. you can show it based on then number of page view, number of sessions, device type, referral and many more.
What I love the most, is the tight integration Convertbox has with CRM. Most of the products will just write information back to HubSpot but ConvertBox is capable of reading in real time data from HubSpot. So, I can actually create targeting rules like: "I want to show this pop-up to my visitors only if they are on this HubSpot list" or "they are not in this HubSpot list". LOVE IT!
For example, I could avoid showing lead generation modals to users who are already in Hubspot and instead show them a special promo to buy their first product. I could even use this to manage up-sells and cross-sells.
Once you've configured targeting you're done and you can launch your new modal immediately or keep it inactive for future review.
As, you saw, creating a box is super simple, you can do split testing and any kind of complex setup in a very intuitive way. So far the best Lead generation tool I've tested.
Lead generation statistics
The statistics part is really simple, maybe too much.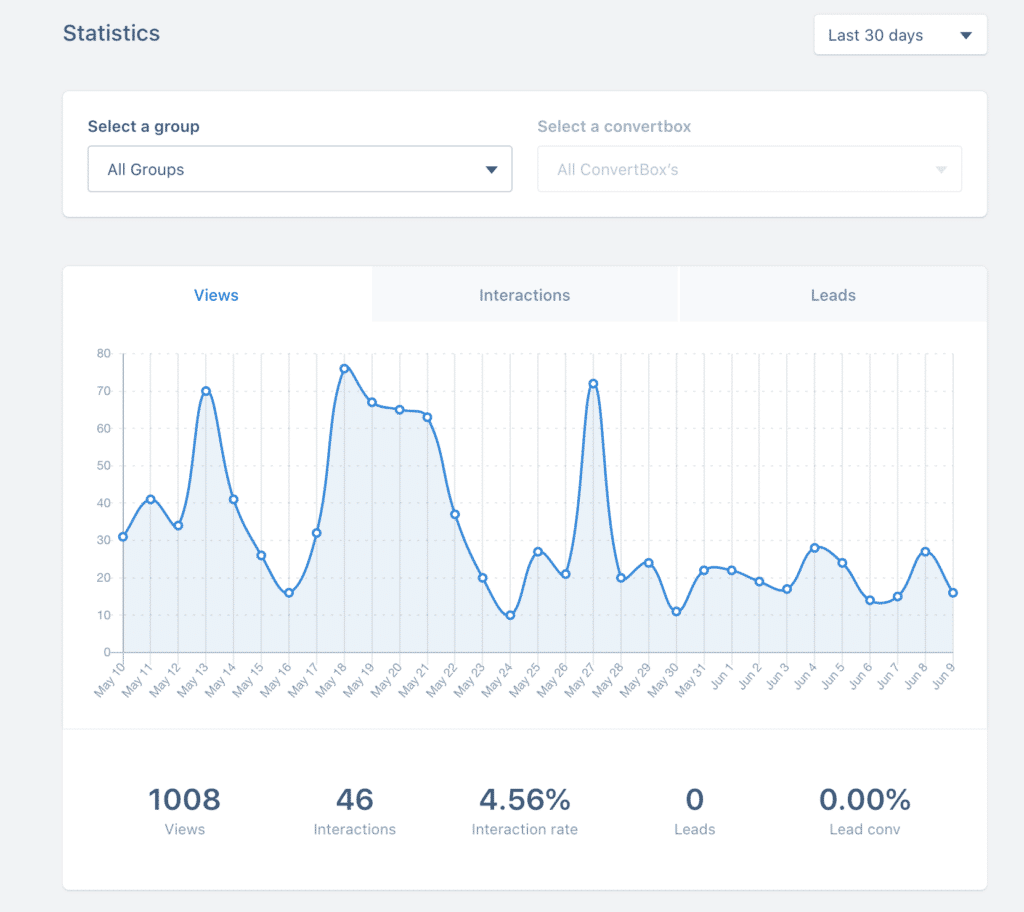 You can get a report on views, interactions (someone clicking on the modal) and leads. You can also get statistics for a specific group of modals and, if you're running split tests, you'll be able to see a breakdown of each experiment to understand how they are performing.
If you are running multi-step modals, you'll be able to see a breakdown for each step of your funnel, with conversion rate and click-through rate.
Again, don't undervalue this funnel-building option. People are paying hundreds of dollars for tools like bucket.io to build quizzes. While specific quiz software offer more options and are more powerful, you can already achieve a lot with just Convertbox while saving a lot of money.

Finally in the settings page you can setup multiple websites, get the javascript code to install on your website to activate Convertbox (they also have a more convenient WordPress plugin if you're on WordPress) and manage your account and CRM integrations. Nothing too interesting here.
As you can see they do support integration with a lot of tools.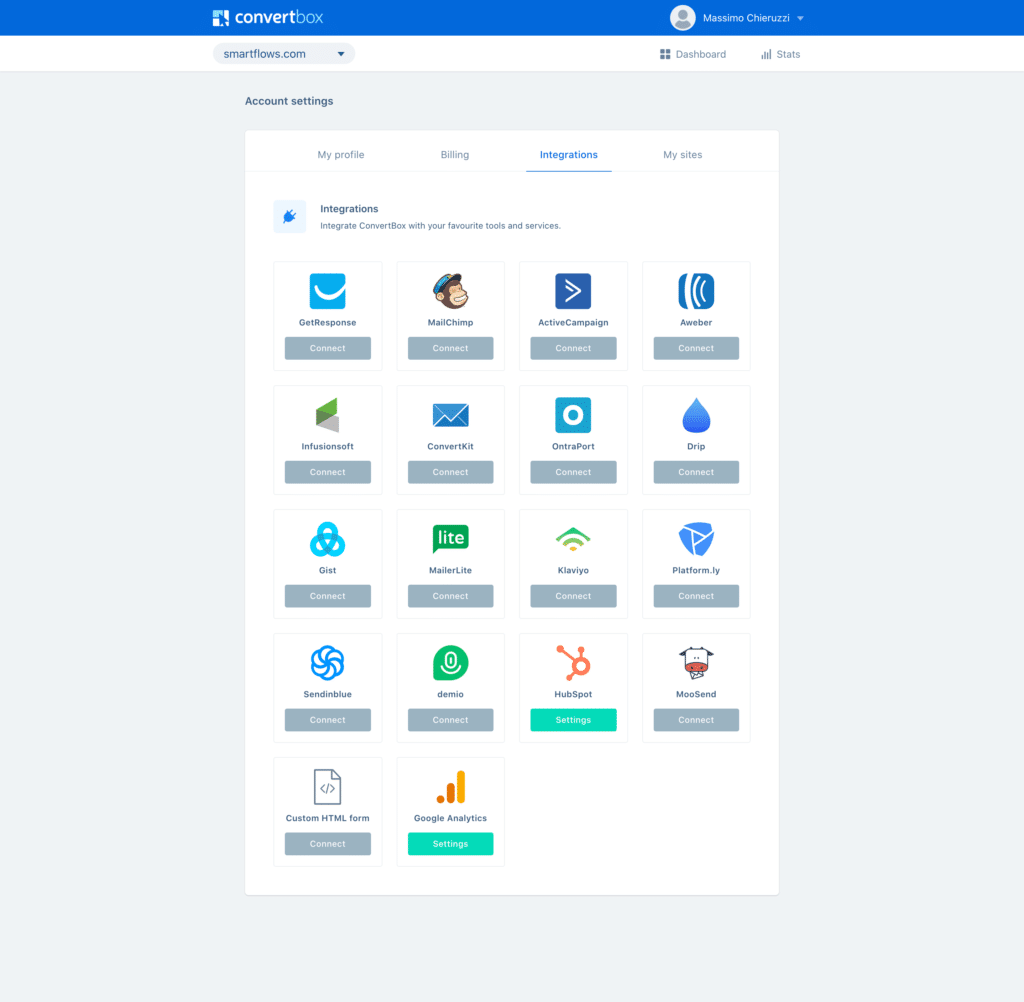 How much does Convertbox cost?
I guess we should finish our Convertbox review checking out how much it costs.
If you go on their homepage they'll claim the tool is in beta right now and you can request early access. Don't worry, my link will let you skip this step.
I think this is mainly a marketing strategy. Convertbox has been around for a while now and it's a solid, production-ready tool. Once you request the early access you'll land directly on a sales page with a Lifetime Deal.
Actually, I love this approach. You have to pay a bit more upfront but at $395 forever it's a steal. Most tools will cost you between $20 and $100 per month with strict limits. Convertbox basically has no limits except for the number of websites which you can increase by adding $95 and purchasing the pro version. That's it. No additional costs forever.
For this price, I really think it's a no-brainer. at 395$ is going to repay itself in a few months.
The last thing that I want to highlight is their online community. They have a Facebook group which is very helpful, with an active community and the founders always hanging in there. You can ask for information on how to set up your boxes, ask for advice, or request new features. a lot of people are going to answer immediately.
Convertbox is always updated very frequently. New features will always be announced both in the Facebook group and via email. In the three months, I've used the product they already released 4 big updates with a lot of very useful new features and minor improvements.
October 23rd 2020 Product Updates
Quick update! As I already pointed out in the review, this team is amazing and keeps pushing out new features.
Around a month ago they released user management. You can finally collaborate with your team and delegate to someone else the management of pop-ups for lead generation.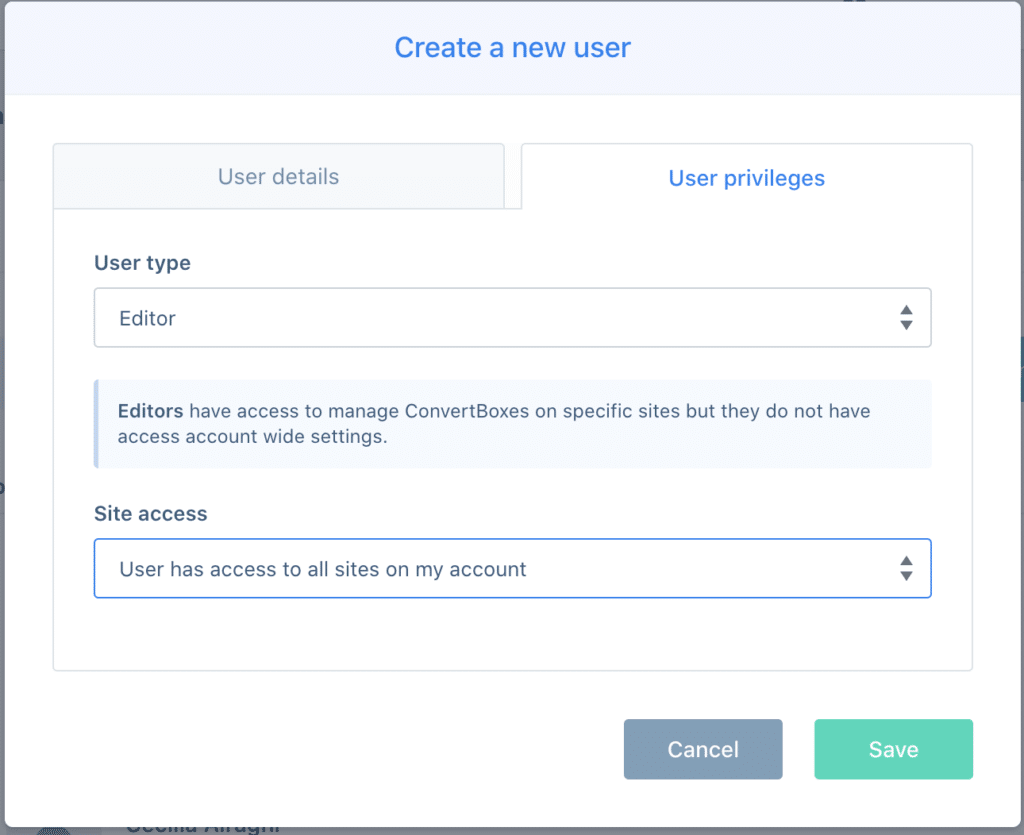 This is a super useful feature and thanks God they also added a basic permission part where you can restrict some users to only manage the specified sites.
But the really big update came out just a few days ago. Convertbox is now more powerful than ever to create online quizzes for audience segmenting and lead generation. Here's what they have released after this Convertbox review:
Quiz Scoring
You can now assign a score to each quiz question and button. The score can then be used for conditional logic and to write it back to your CRM.
Custom Field Values for buttons
When a user clicks a button, a custom field can now be set and passed to your CRM/ESP
Conditional Actions
You can now trigger actions based on previous actions taken by the user like buttons clicks and quiz scores. Want to open a popup in a specific step based on what the user did before? You can now! Want to fire a specific script only if the user answered a specific question? You can!
Conditional Skip Logic
Before this Convertbox update, you could only use conditional logic based on form fields. You can now trigger it based on quiz scores or previous interactions with buttons. Again this is very powerful to build online quizzes.
Analyzing results message
I think this is quite smart. Before showing users results from a quiz, you can now show for few seconds an image or a message showing an "Analyzing results" kind of message. This makes the quiz more credible before sending them to the final step!
That's all for this time but keep an eye on this page as we'll keep updating our Convertbox review as new features get released.
May 31st, 2022 Product Updates
I have to say I was very close to dropping Convertbox from my marketing stack. It's not that I don't like it… I love it and it actually still works great.
But they were acquired a couple of years ago and since the acquisition, the new owner went MIA. Convertbox didn't receive a single update in 2021 and I was afraid they were just letting it die slowly. Something that often happens with lifetime deals.
Then finally last week the radio silence ended with this post on Convertbox's official community: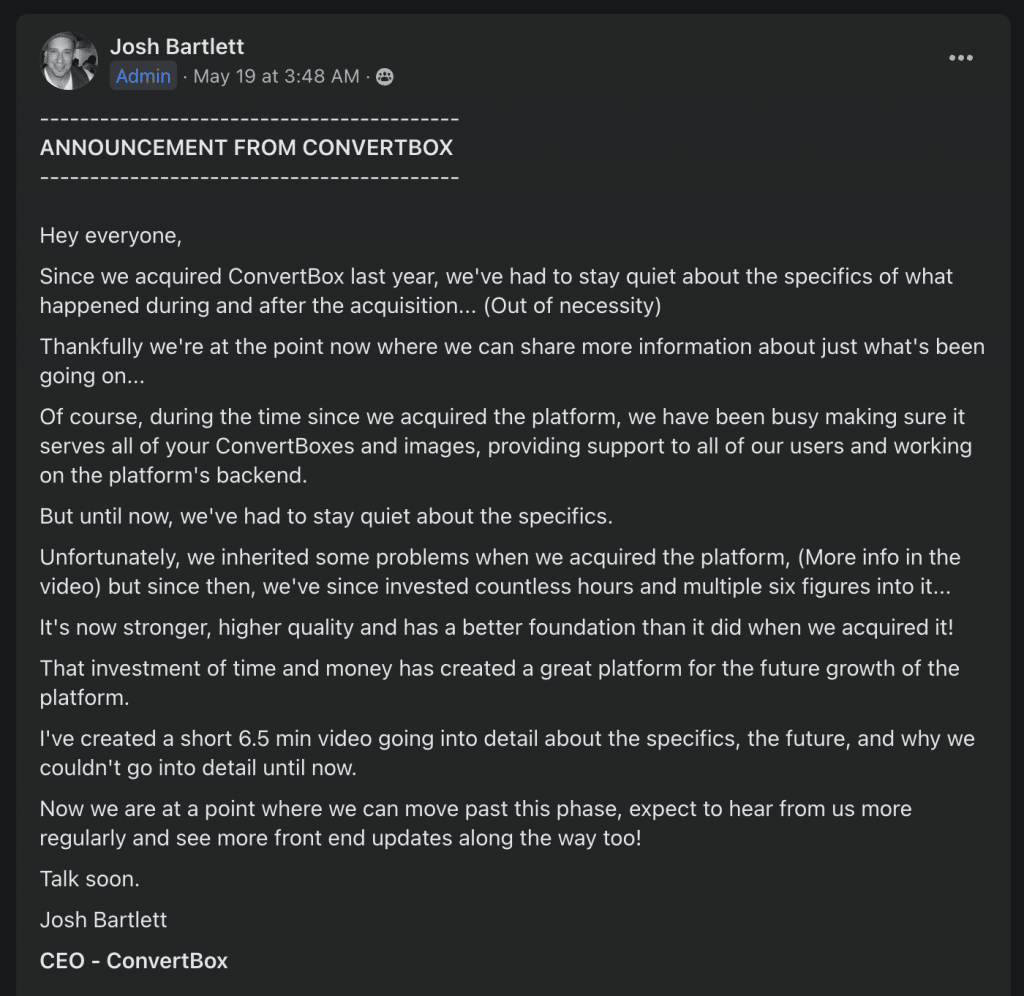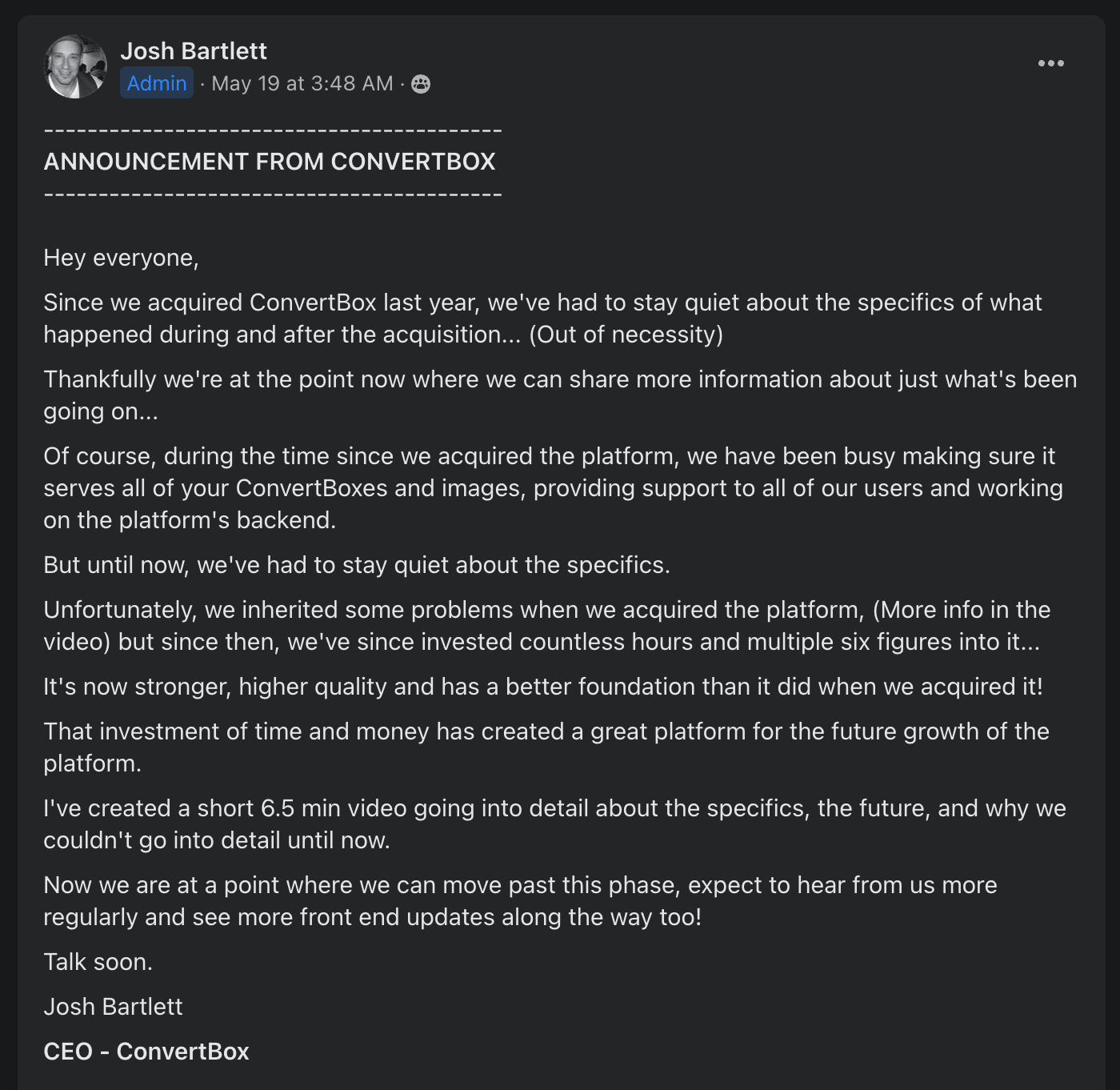 Shortly after two new features were released:
Teasers
Teasers lets you create small boxes at the bottom of the page to tease users about your latest lead magnet without having a more intrusive pop-up block the screen. If the user clicks on the teaser you can then open your usual pop-up flow for lead generation.
Custom image buttons
This is pretty straightforward and was requested by a lot of users. You can now use custom images for CTAs instead of the standard buttons offered by Convertbox.
Overall they're both minor features and nothing that really excites me, but it's good to see the owners back on track and working on the product.
Let's hope we'll now see frequent updates to make this awesome tool get better every month.
Final thoughts on Convertbox
That's it for this Convertbox review. I hope I gave you a pretty good overview of the tool.
On my side, Convertbox deserves a 5 out of 5. It's really a great tool. What I love the most is the ease of use even tho' the product is really powerful and supports everything that I need to capture leads from my websites.
The tight integration with Hubspot and other CRMs is another huge plus and something that set it apart from all the competitors.
Looking forward to hear your thoughts. Are you using it? If not what other tool are you using right now?
Easy to use, great looking popups, in-depth CRM integration. We loved it so much, it's the tool we decided to use for our own website!
Breakdown
Ease of use

5

Analytics & Statistics

4

CRM Integration

5

Value/Cost

5
Pros
Very easy to use
Generate great looking popups in few clicks
Multi step popup are great for advanced audience segmentation
In depth CRM integration to show the right promo or lead gen. offer based on your CRM data
Cons
Statistics could use some additional data, like top converting pages
Form integration with some CRM could be improved
Go to website