When I started building AdEspresso I would have defined myself as an entrepreneur/developer rather than a marketer. But, especially in the early days, founders of a startup need to take care of everything, especially growth.
So I started a journey into the world of B2B SaaS marketing. That journey is still ongoing, but today I'm probably confident enough to share with you everything I've learned on promoting a SaaS company with a b2b focus.
This guide is not intended to teach you everything you need to know for every digital marketing activity. It's rather a bird-eye view on all the possible tactics you can use to grow a b2b SaaS business. What has proven to work well for me, whatnot, and what's unique about b2b SaaS marketing compared to other industries.
For each topic, I'll cover I'll try to provide you links to the best articles to go more in-depth. Here's a quick recap of the topics I'll discuss in this guide:
The big challenge with B2b SaaS marketing
Before we get started, I want to warn you: B2B SaaS marketing is one of the most challenging and competitive spaces you'll ever work on.
Just take a look at Techcrunch. Every day tens of SaaS companies receive millions of dollars of funding to fuel growth.
And you're not gonna market a new line of cookies where your total addressable market is basically the world.
In the best options, your market will be 1 to 20 million businesses, usually in multiple geographies.
And you need to convince them to buy your software rather than a competitors'. And usually, there will plenty of them.
So to recap, should you accept this mission, your goal is to sell a SaaS product in a niche market, where search volumes will likely be low, just like paid advertising opportunities. There are a lot of competitors and everyone is full of money to spend on their marketing strategy with some of the best marketing teams in the world.
Now you get it why I'm saying that B2B saas marketing is so challenging?
Of course, you might be lucky and your startup could be a pioneer of an emerging macro-trend. That's almost what happened to me with AdEspresso. We entered the Facebook Ads space very early on and rode the wave as it exploded.
Being early movers can prove to be a huge competitive advantage. But still, competitors will arrive pretty soon. Just have a look at the explosion of new products in the marketing SaaS space.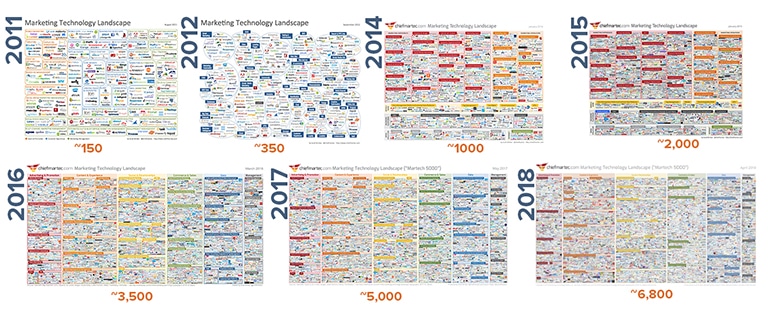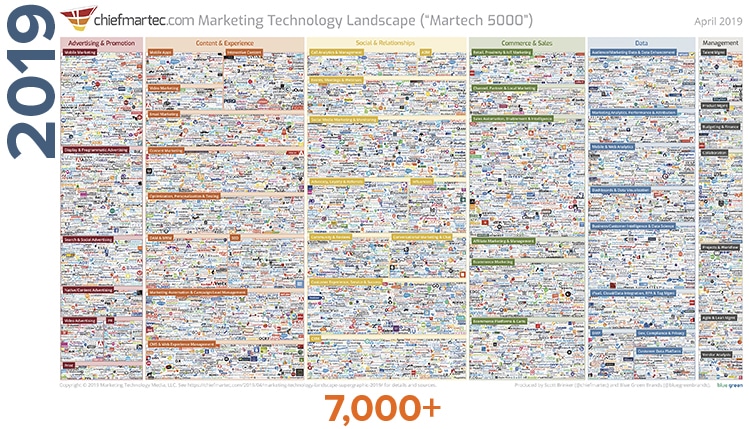 Defining a SaaS Marketing Strategy
Before we look into all the marketing channels SaaS companies can leverage for growth, it's important to think about your high-level marketing strategy.
First of all, two things you should be aware of:
There's no one-size-fits-all strategy. What worked for someone else might not work for you. What worked for you 3 years ago might not work today or in a different industry.
There are infinite paths to success. The world is not black and white, be wary of "gurus" that claim their way is the only one. I'm a strong believer that, before defining your go-to-market strategy, you should assess your strength and weaknesses and adapt your plan to them.
The second point is very dear to me. Too many founders or marketers try to shape their marketing strategy around what someone else described as the "right way" rather than thinking what are their unique strengths and double down on those.
As an example, when I started AdEspresso, my first SaaS business, everyone in the Facebook Ads space was going after large enterprises with a sales team. Lord only knows how much I suck at sales.
I didn't try to become a sales expert just because everyone was doing it. I knew my strengths were building inbound funnels and content marketing. And that's where I focused my business and marketing strategy.
Going downmarket, with appealing pricing, a self-service motion, and a blog that quickly became the most visited one in the space.
Completely different strategies but the same great outcome. Well, to be fair this is not 100% true. Our outcome was actually way better than most of the companies going through the sales path.
Got it? Build your marketing strategy around what you or your company do best. Don't try to become an influencer if you are an introvert just because everyone is using influencer marketing.
Once you've listed downs your weaknesses and strengths, there are still two things you need to sort out before starting a marketing campaign: Branding and Buyer Personas.
Brand
Branding is one of the most undervalued components of b2b Saas Marketing.
Nowadays marketers obsess so much about things that can be measured that often very important activities that are too hard to measure slip between the cracks.
Branding is hard… still it can make or break your company.
Let me list just a subset of the advantages of having a strong brand which I've enjoyed in my times at AdEspresso:
Trust: this is probably the most important benefit. Users tend to trust more brands they love. They are also more forgiving when you make a misstep.
Lower PPC: users are more likely to click on ads from a brand they recognize.
Backlinks: Once you become a popular brand you'll be top of mind for every content writer in your industry. You'll get way more backlinks to your website organically with zero effort.
Network: It'll be way easier to connect with anyone you want. Podcasters will be happy to have you as a guest and the same applies to webinars, conferences, and so on.
Conversion Rates: Oh yeah, SaaS companies with a strong brand usually enjoy a way higher conversion rate on every landing page. Prospects are also way more likely to pick the phone when their sales team reaches out.
How to build a strong b2b SaaS brand?
Building a strong brand takes time and energy, so be prepared, it's a process, not a one-off project. Here are the most relevant tips to build a strong b2b brand:
Visual: A brand is built on top of values, content, stories, and much more. But it's immediately recognized by its visual identity. Pick a unique color and create a visual style that is unique to you. The question you should ask yourself here is "Will users immediately associate this image to my brand?". In AdEspresso we had a mascot we used in every illustration. In Breadcrumbs, we have a unique color and illustration style. According to Reboot, picking a signature color increases brand recognition by 80%.
Messaging and tone of voice: You should have a clear narrative for your SaaS business. What's your tone of voice? Are you formal or do you want a more human approach? What's the common writing style? What's your positioning within your Industry? These are all questions you should answer clearly before building your brand
Consistency: There's no branding without consistency. Whatever tone of voice you've picked, stick with it. Same for the visual, don't mix different styles, colors, etc. Always use standard terminology, don't call your product an App, a Tool, a Platform, a Software on different pages. If you want to be a Platform stick with "Platform" across all your content. Whatever you decide to do if you're consistent you'll get some results.
Give value: Building a strong brand means giving value to your customers and prospects. Invest in education and content, build useful free tools, provide great customer support. There are endless ways to give value, pick those that make more sense for your business. Only providing value users will really trust and love your brand.
There's much more to branding than these 4 tips, but once you'll nail these you'll already be on a great path to building a great brand.
Recommended reading: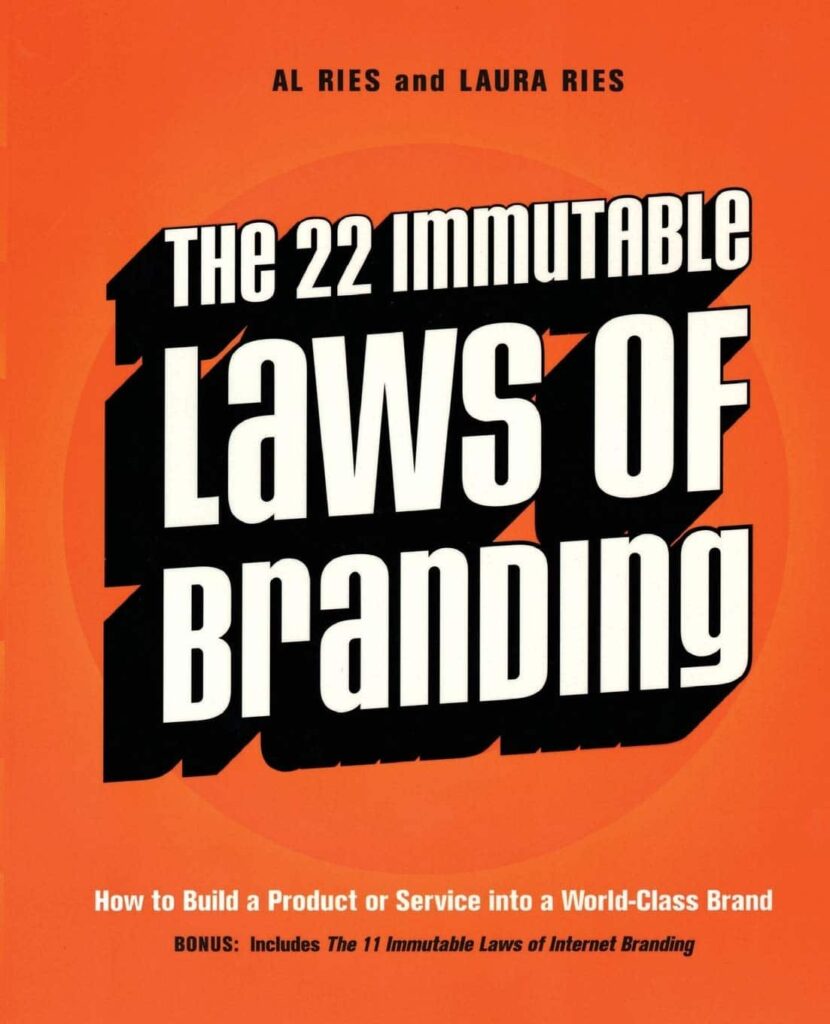 This is the updated version of a must-have book on branding. I've read it multiple times while building AdEspresso and all of the 22 laws have been invaluable for us. If you're starting a new company, you need to read this book even before picking your company name. (read this for more marketing books I consider must-read)
Buyer Personas
What you're gonna sell is as important as who you're gonna sell to. Before spending a single dollar the marketing team should define its buyer personas. Don't worry if they look a little blurry at the beginning.
As you test your marketing engine, crunch the data and talk with more customers they'll become more clear and well defined.
Buyer personas or ICP, Ideal Customer Profile, should drive most of your marketing activities. When you create an ad, a landing page, or write a blog post, you should have a clear idea of the target buyer persona.
What drives them? What is their pain point? How do they define success? What language do they speak?
These are all questions that deserve an answer. A thought leadership blog post will resonate with executives but is probably too high level for a sales op. You need to know how your buyers are to effectively communicate with them.
It's also critical that all the company is driven by buyer personas, from development to marketing and sales.
Useful resources
Make my persona: Buyer persona guided builder by the Hubspot team
Definitive Guide to Buyer Personas: my friends at SingleGrain have put together a great guide.
Inbound Marketing
I'm a big fan of Inbound marketing and think it should have a prominent role in every saas marketing strategy.
Inbound marketing attracts prospective customers by providing them value, usually in the form of content, exactly when they need it.
It's not intrusive or annoying and will make your potential customers come back for more rather than bugging them with unsolicited emails or phone calls like outbound marketing.
Let's take a look at the pillars of a great inbound marketing strategy.
Content Marketing
Content is king, you might have heard this quote. And it truly is.
The best way to attract more visitors to your website and have them come back for more is to provide them value through great content.
My best advice for a content marketing strategy is to focus on the user. SEO optimization is important but you should not write content for the sake of Google. Every blog post you write should be engaging and ideas-rich for the readers.
Don't stretch a weak idea that you could deliver with 200 words to a 5.000 words blog post to rank on Google. Yes, you might rank, but your users will hate it and likely won't buy your product, convert into leads or trust your brand.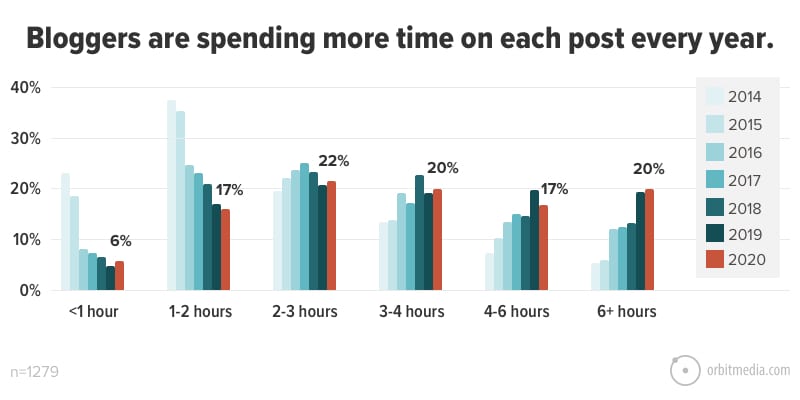 Especially in the early days of your SaaS company, focus on quality over quantity, ideally have the founders write content too. With the rise of content marketing, nowadays, 7.5M blog posts are published every day. Most of them are worthless. Don't add another one to that pile.
Best ways to make your content unique:
Leverage your internal data: SaaS products usually have a ton of data. Understand how to use them to produce data-driven content no one else can write. These kinds of posts are usually also very likely to get a lot of backlinks organically.
Curate Content: Content curation can be valuable as long as it's well done. Do your researches, find really amazing resources on a topic, and curate them. With content curation, you provide a lot of value to your users by saving them time.
Interviews: If you have access to really interesting people, interview them. Just make sure you're well prepared and you'll ask interesting questions. High-profile people can share invaluable lessons with your audience. They've also likely been interviewed hundreds of times. Don't repeat the same questions that are already out there.
Thought leadership: Usually, this is the kind of content founders will write. Long-term views on your industry, analysis of macro trends, etc. This kind of content doesn't perform very well on search engines but is extremely sharable and can be used in the sales funnel.
The perfect content strategy should have a mix of all these contents plus more tactical posts.
When planning your content calendar be sure to have a good mix of assets for each step of the funnel and each buyer persona you're going after.
My advice is to have around 70 percent of your content targeting the top of the funnel, 20% targeting the middle of the funnel, and 10% targeting the bottom.
SEO
After you've crafted your content marketing strategy, you need to make sure your high-quality content gets discovered. For blog posts, this is usually SEO's duty.
SEO is the art of making your website appealing to Google and rank for as many keywords as possible.
To get in-depth with SEO, I'd need 5 books rather than a blog post's chapter. I'll try to make it short and highlight why, together with content marketing is my favorite way to do customer acquisition.
The bad: SEO is slow. Is not something you can just throw money at, and get immediate results. It takes months, years before SEO starts driving a meaningful amount of traffic.
The pro: Once it starts sending traffic it's an avalanche. It gets stronger and bigger every day, it's extremely cheap, can work across all the steps of your marketing funnel, and even if you completely stop spending money on content and SEO, it'll keep sending you traffic for a very long time.
It took AdEspresso more than a year to get to 10,000 visitors per month. From there the growth was exponential and reached 500,000 visitors in just a couple of years.
In a competitive landscape, SEO is also every SaaS best friend. You'll be able to reach your target audience with extreme accuracy and timing (exactly when they're actively searching for something related to your product).
A low cost per acquisition means you'll be able to be more aggressive than your competitors and lower your prices to attract more customers while still being profitable.
Finally, if a new competitor with more money than you enters the market, they'll be able to outspend you quickly on paid advertising but it'll take them a long time to undermine your website dominance on organic search results. This will give you plenty of time to react and fine-tune your own marketing strategy.
Since SEO takes time, if you want to dominate Google search results, the best time to start planning your SEO strategy was yesterday.
Let me repeat it. Every SaaS startup should start planning their content marketing and SEO strategy before they even have a product if they want to have an effective b2b Saas marketing plan.
Useful Resources
Build Sustainable SEO that you can be proud of
Email Marketing
If I had a dollar for each time someone told me "eMail Marketing is dead", I'd be filthy rich by now.
Email marketing is healthy and a top-performing channel in most marketing strategies.
Just think about it, in terms of reach, it has the largest audience. At any age, in every part of the world, almost everyone has an email address and checks it daily.
According to Campaign monitor, in 2019, email marketing had a 4200% ROI. That means $42 for each $1 spent.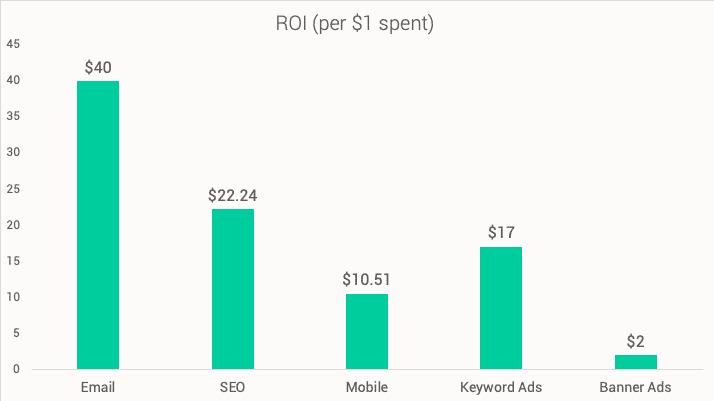 What's even better about emails for b2b SaaS marketing is that they can work at any stage of the marketing funnel. You can do outreach to find new prospects or partnership opportunities. You can do lead nurturing to convert leads into customers. You can keep in touch with current customers to increase their loyalty, push special offers and maximize revenue. Finally when you have a lot of emails in your list you can also go multi channel and create a custom audience out of them for retargeting on most advertising channels.
To be effective with email marketing you'll need your whole marketing team to be actively involved. Here are the key elements that you'll need to be effective promoting a software product:
Start building your mailing list from day 0. It's gonna be small at the beginning but will get bigger over time. The list of people you can mail is one of SaaS marketers' most valuable assets. Paid ads will stop driving traffic when you stop spending money. Your list is something you own and will keep working forever.
Send out a newsletter with consistency. Don't wait for your list to be huge before you start mailing them. By then they'll have forgotten about you and will unsubscribe or mark you as spam. Doesn't need to be weekly, pick your frequency, even once per month is ok. Make the content valuable, it's ok to add some small promos, but 90% of the content should be useful.
Create lead nurturing flows. It's great to have people download your ebooks or join your webinars but after this first action you want to have a great email flow to let them discover your SaaS product and convert into paid users.
Send product updates and educational content to your customers. Email marketing is not just for top of the funnel, it's actually a great product marketing channel. Send your customers useful tips to be more successful and let them know when new features are released.
Periodically clean up your list. On one side you want to use email verification tools to remove undeliverable emails. On the other side you want to segment valid emails that had no interactions in the past few months and send them re-activation emails. If it doesn't work just remove them from your list.
Useful Resources
SaaS Email Marketing: 12 Best Strategies to Follow
The 6 Most Effective Lead Nurturing Strategies of 2021
Podcasting
There's no doubt that podcasts have become a mainstream channel for digital marketing, especially for marketers focusing on brand awareness. Plenty of companies are rushing to create their own podcast series.
While I think podcasts are a great marketing channel, I also think launching a successful one takes time, commitment, and the right editorial strategy, which often is not the same as your blog.
Keep in mind that between recording, editing, distribution, and promotion, podcasting is gonna take a lot of time and resources. If you think you have the right host and idea for a great series, go for it. Otherwise, I'd recommend you to hold back and start securing spots as a guest in podcasts that already have large audiences and well-oiled marketing strategies.
Just don't do like most businesses who launch a podcast with 0 listeners and then repurpose all the episodes' transcripts as their only blog posts.
Useful Resources
PodHacker – A paid academy to learn everything podcasts related. High-quality content and very skilled teachers, I subscribed and can vouch for the quality.
How to generate leads and sales from a podcast
Paid Marketing
Google Ads
Google Ads for SaaS marketing have great upsides and downsides.
The main upside is that they're fairly easy to get started. Reaching your target audience at the right time is super simple, just target your ads to the search keyword users would search when looking to buy a product in your industry and you're good to go. With a decent Ad and landing page, you'll have a fairly good conversion rate right away.


But nothing in digital marketing is easy. Even less when you work in the b2b SaaS space.
Google Ads have 2 major downsides:
They are expensive and competitive: There's limited space for Ads in Google search results. Only the top-performing (or paying) ads will show up on the top of page 1. As we discussed, SaaS marketing is very competitive so you'll likely end up paying a lot for each click. If your business model involves a free trial, and you imagine 10% of the users signing up and 10% of them switching to paid, the math is easily done. You'll need 100 clicks to acquire a paying customer. at $3 per click that means $300 to acquire a customer.
It's hard to scale: The number of keywords with clear purchase intent is limited. And usually, they have a limited search volume which means even if you have a budget you'll have a hard time spending it. To spend more money you'll need more top-of-the-funnel keywords with higher search volumes, however targeting them will dramatically lower your conversion rate.
Useful resources
The Most Comprehensive Guide to Google Ads Marketing for SaaS
Facebook Ads
I've got some bad news for you. Facebook advertising is a tough channel for b2b SaaS marketing.
Don't get me wrong. Even if you're selling to companies, they are made of humans. And humans are on Facebook. So not all hope is lost.
The problem is that humans don't go on Facebook to make decisions. They go on Facebook to avoid making decisions. They want to watch funny pics of kittens, not buy an HR management tool.
There are three areas where Facebook advertising can work for every SaaS marketer:
Blog content promotion: Top of the funnel content usually works pretty well on Facebook and can help you build a loyal audience as long as you find a way to finetune Facebook targeting for your needs. It's also great to increase brand awareness.
Lead Generation: If your product is too expensive for self-service and you funnel deals through a sales team, Facebook usually works quite well to drive traffic to webinar or ebooks landing pages to generate leads.
Retargeting Campaigns: when everything else fail, retargeting qualified leads and website visitors usually always works. It's great for quickly generating revenues but of course, doesn't help to increase your audience.
Useful Resources
Aaron Zakowski's blog – one of the top experts in Facebook Ads for b2b saas marketing.
Facebook Marketing For SaaS: 27 Rules For Magical Results
Linkedin Ads
The more you go up-market with an enterprise-oriented SaaS product, the more you'll benefit from running Linkedin ads.
Linkedin advertising is expensive and likely doesn't fit very well in marketing campaigns from b2b SaaS with a very aggressive pricing strategy. But if you serve high-LTV customers, Linkedin might be the perfect channel to run your PPC campaigns.
The greatest advantage of Linkedin Advertising is by far its targeting capabilities. If you need to target a specific customer profile or buyer persona, no other advertising channel has the same flexibility as Linkedin Ads.
Advertising on Linkedin will require some experiments on your side. In my experience, it has proven to work very well or very poorly based on what I was trying to promote.
Overall, don't waste your time with content promotion. It's too expensive to break-even promoting posts.
Lead generation is probably where Linkedin advertising can bring the most value. eBooks, case studies, webinars, and similar kinds of content can perform well if the landing pages are properly optimized.
Ads pointing directly to your signup pages are a mixed bag. Usually, conversion rates are not stellar and your Cost per acquisition can easily skyrocket. However, there are huge differences from industry to industry so it's worth an experiment.
Useful Resources
LinkedIn Ads for Enterprise B2B SaaS: The Only Guide You'll Need
Youtube Ads
I admit I have no direct experience of Youtube as an advertising channel. The big blocker here is producing good quality video ads that convert.
The challenge of producing videos is also the reason why I think Youtube is an amazing opportunity for paid media. Youtube 1.86 billion users in 2021 and its advertising revenues are $5 billion. That's a relatively small number compared to Facebook and Google.
This means that you'll enjoy a huge audience with fairly low competition from other advertisers and a very powerful targeting system that can help you show your ads to people looking for videos from your competitors or how-tos related to your product.
Useful Resources
Review Sites
I don't know if you've noticed, but it's hard to see a SaaS company website without some badges from G2, Capterra, and similar services.
I don't love these websites, most of the time it's pure traffic arbitrage. They rank well for keywords like "Best Facebook Ads Tools" attracting a lot of high intent traffic that they resell to the various tools.
While the basic listing is usually free, to get the most out of them you'll have to pay. While costs can be high, so is the ROI. They can feed you high-value leads, give you in-depth statistics, social proof through their badges, manage reviews for you with incentivized campaigns, and so on.
Given that the upfront investment is usually meaningful, they're best suited for more enterprise-oriented SaaS businesses. If you are self-service with a low price point, you can still give them a try but it's gonna be harder to get a great ROI.
My advice here: If you invest in G2, Capterra, and similar services, do it seriously. Handing them money alone it's not gonna work. Find strategies to incentivize customers to review your product, follow up with leads coming from them, have customer success follow up to every review… have a clear strategy and resources to execute it.
Useful Resources
3 Tips and Tricks to Get the Most Out of G2
Social Media Marketing
Luckily in the last few years, most SaaS marketers have abandoned the crazy belief that new customers can be acquired for free through Social Media Marketing.
The reality nowadays is that Social Networks have become a pay-to-play game for most companies, especially the B2B ones.
The harsh truth on Social Media Marketing
Here's my unfiltered opinion on SMM:
It can be a trove of information for customer research and analysis
It's tough. Extremely tough. Either you do it seriously with a very strong team and a long-term focus or you'll just waste your marketing budget
The more you are enterprise-oriented the more it's gonna be tough. SaaS products with a low price point and a simple value proposition perform better on Social Media.
Having your sales rep spam prospects through Linkedin can work, but it's not Social Media Marketing.
Building a community on top of Social Networks with Facebook Groups or Linkedin Groups is the most powerful strategy right now. It's time-consuming but very rewarding. You need to be ready to GIVE, GIVE, GIVE, GIVE before you can TAKE. If well executed can work both to acquire new customers and to convert existing customers into loyal customers.
Most of the time your social media presence will become a customer support channel. There's little you can do about it, just brace for it.
Social Networks are for humans. A CEO with a strong personal brand can be 10x more effective than the company's Facebook page, especially on Linkedin and Twitter.
Your Social media strategy will only be as strong as your content marketing is. You need to feed your target audience with a lot of high-value content.
What Social Networks should you focus on?
I'm not gonna analyze each network one by one, but here's some context on each network:
Linkedin: Best suited for enterprise-oriented b2b SaaS. Requires good content but can perform very well. Be sure to have your exec team share a lot of thought leadership content.
Facebook: Facebook Groups and videos are the two things I'd focus my marketing department on right now. They're both on fire.
Twitter: It's gonna become a support channel. Monitor it before it backslashes. Use a listening tool to catch relevant conversations about your industry or competitors and engage quickly.
Quora: It works great but doesn't scale well. It's a great place to find your first 100 customers. It's the only Social Network where something you write today could still be generating traffic 2 years from now. Check out my Quora marketing guide.
Instagram: Can work for branding, awareness, and adding a bit of human touch to your brand. It's likely not the best channel for lead generation or to get more free trials. Here you can find a guide to create the perfect Instagram bio for your SaaS's Instagram profile.
Don't get me wrong. I don't hate Social Media Marketing. I just hate how much marketers underestimate the effort it takes to make it effective for b2b SaaS marketing.
Useful Resources
How to Build and Manage a Private Facebook Group (old but good!)
How to build a B2B social strategy (that isn't boring)
Other key elements of B2B SaaS Marketing
There are of course many other channels and things that you need to know to effectively promote a SaaS product. I promise as I test new strategies I'll keep adding more in-depth paragraphs to this guide.
In the meanwhile, here are a couple of highlights you should be aware of.
Analytics
You cannot improve what you don't measure. Adding Google Analytics to all your properties and correctly setting up conversions is extremely important from the get-go.
Having the tracking code in place is anyway useless without a proper process to periodically review your data, especially your traffic sources to further optimize your marketing strategy. 20% of your activities will usually drive 80% of the results. It's important that you can understand what that 20% is and optimize it.
As your company mature, improve your attribution and also track revenues associated with every marketing campaign as a first step in the journey to adopt revenue marketing.
Growth Hacking
It's the buzzword of recent years. It can be extremely effective, it's also very often confused with finding shortcuts that might bring short-term results but will haunt you in the future.
Keep in mind that usually, growth hacking is a function you won't need in the early days of your company but post product-market fit when you enter the growth phase of your SaaS business.