SaaS Lead Generation 101: The definitive guide to converting visitors to leads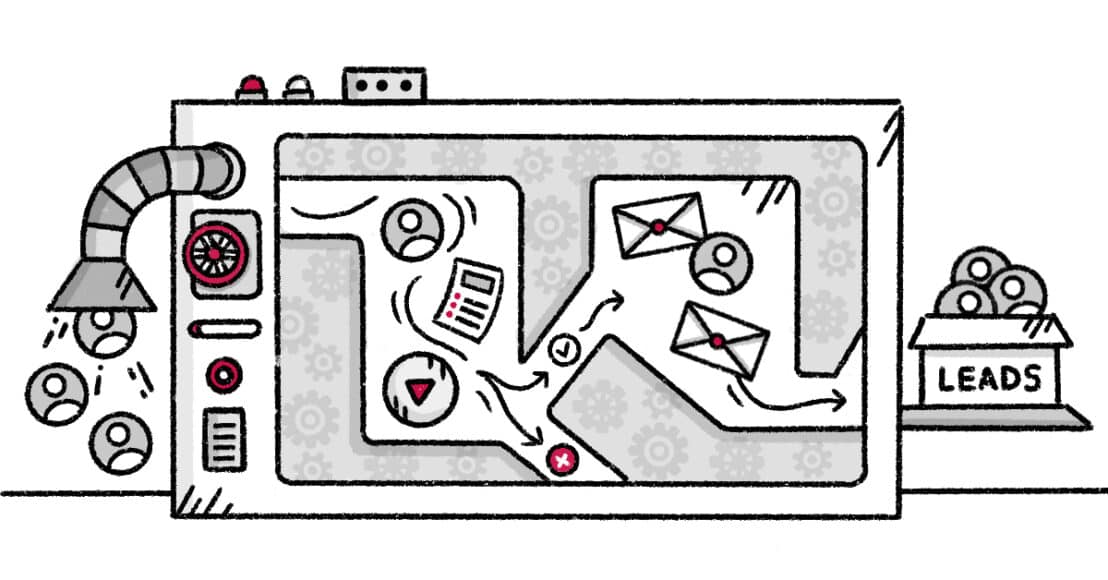 SaaS is a long-term game. Most of the visitors to your website won't become paying customers or start a trial right away.
A lot of them will actually forget about you and your product very quickly and never come back… unless you have a great SaaS lead generation strategy in place to get them in your marketing automation platform and reach out every now and then to win them back.
Lead generation is a key element of every SaaS marketing plan. In this guide, I'll share with you everything I've learned the hard way on how to transform your SaaS company into an unstoppable lead generation machine.
What is lead generation, and why it's so important for SaaS businesses
Lead Generation is the process of attracting the interest of potential customers and gaining their consent and contact information to reach out via email marketing or phone whenever you have something that might be interesting for them.
Most B2B SaaS companies have a long sales cycle. Sometimes years can pass between someone first visiting your website and discovering your product and the moment they become customers.
With such a long cycle, it's critical to convert as many website visitors as possible into leads. This will allow you to stay in touch, send them product updates, special offers, educational content… anything that can create value for them, and keep you top of mind when they're ready to buy a product like yours.
A solid lead generation strategy basically gives you a second, third, and fourth chance at getting a sale.
Think about it… you've spent time and money writing a great blog post. You promote it, and someone visits your blog to read it. They you go. A chance to sell your product. But it only lasts a few minutes, and the odds are against you.
However, instead of converting that blog reader into a customer, you might try to get his contact information with an eBook, a webinar, or something else that is free and valuable for him. This is way easier.
And if you succeed, you'll now get endless chances to build a relationship with that user and eventually turn him into a paying customer. That's the magic of lead generation.
How Content Marketing and Lead Generation transformed AdEspresso into a money printing machine
AdEspresso, my previous SaaS company, had content marketing and lead generation at the core of its marketing strategy.
We attracted a huge amount of visitors to our blog with amazing content. We then converted around 9% of them into leads and started nurturing them with our high-value newsletter.
It was a perfect engine:
We hooked users when they barely knew anything about Facebook Advertising (and were not ready to buy)

We made them Facebook Ads experts with our free resources, often helping their businesses bloom

Finally, when they were spending a lot of money on Ads and needed a tool to manage their adspent… what product do you think they bought? AdEspresso, who had helped them all along the way, or some other tool buying ads on Google? We didn't even have to push for sales. They were more than happy to give us money.
There's more. Every time we had a slow month from a revenue standpoint, we could just create a premium paid workshop or a special discount on the main product and shoot an email to our list of more than 500,000 loyal and high-quality leads. Every time we did this, we easily generated $50/100k in extra revenue.
And yet… in 2023, there are still too many SaaS companies that focus most of their energies on generating traffic without any effort to generate leads. Keep reading, and you'll gain what will feel like an unfair advantage over these companies.
SaaS Lead Generation Benchmarks
Ok, before we start our deep dive into the best lead-generation strategies, I know a lot of you are obsessed with benchmarks. So here they are: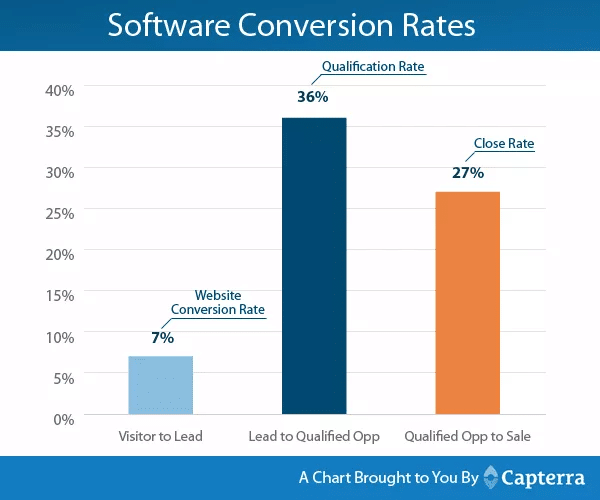 According to Capterra, around 7% of website visitors convert into leads. Ah … just tell me where to sign to get such a high conversion rate consistently.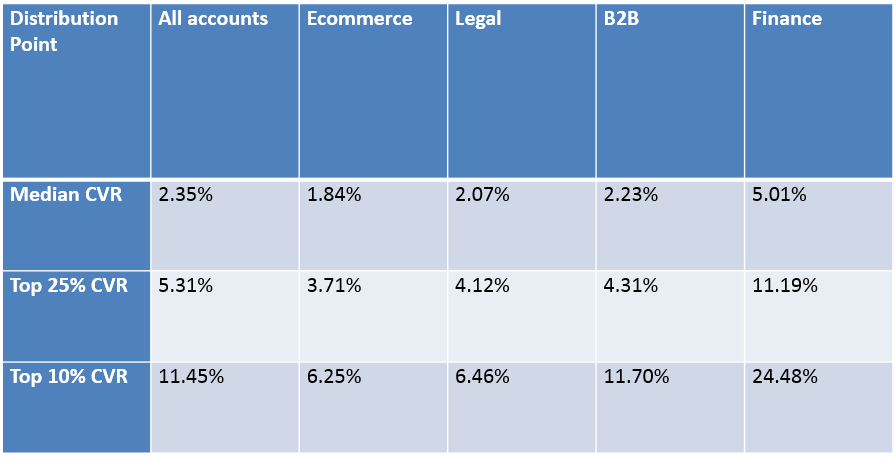 Another study from Wordstream set the average conversion rate for b2b saas lead generation at 2,23%, with best-in-class companies achieving an impressive 11,70%. This sounds closer to my personal experience.
Yet it's an old study, and I think post-covid, the conversion rates have declined further.
So, what conversion rate should you expect from lead generation?
Overall, trust me on this: Benchmarks are almost always useless and too generic.
There are too many factors in the equation:
What's the source of traffic? Paid, Organic, Social?

What's the industry?

What's the target audience? B2C, B2B, Self-service, enterprise…

Where's the lead generation happening? a blog post, a dedicated landing page, or a pricing page?
As soon as I find a benchmark that actually has a large enough pool to be useful, rest assured, I'll link it here. Until that day, here is my rule of thumb:
If your conversion rate is 0%: You are in big trouble. Start generating leads NOW!
If your conversion rate is below 2%: I'm pretty confident you can improve it.
Between 2% and 5%, you're likely doing ok and in line with your competitors.
Above 5%, you can call yourself a SaaS lead generation expert.
Let's build your SaaS Lead Generation Strategy
It's time to get started and guide you through all the steps required to build a terrific marketing strategy that will get the most out of your website to generate more leads for your sales team or marketing automation.
Please note: in this guide, I'll mainly focus on inbound marketing to generate leads. This is the approach that works the best in my experience and really lets you build relationships with your potential customers.
1) Know your target audience
Yeah, I know, I know… it sounds like the most boring advice ever. Of course, you should know your audience!
Well, as boring as it sounds, it's still a key component of SaaS lead generation… especially when it comes to more enterprise-oriented products.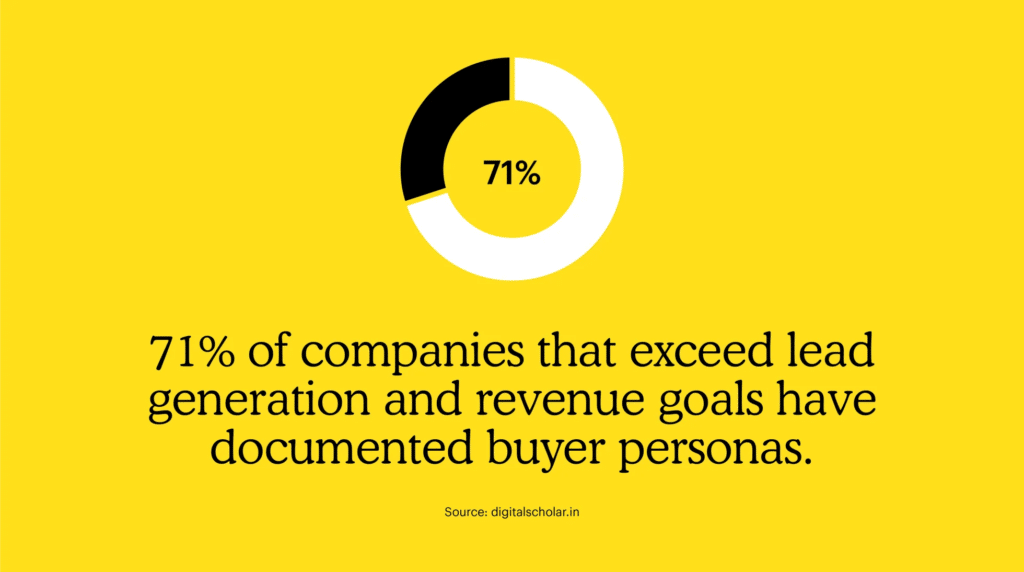 Here's why. If you are B2C or B2B self-service products with a wide audience, it's easier to get a return from your marketing efforts. You cast a very wide net, and for sure, you'll catch something.
However, when it comes to B2B for enterprises, not only you need to understand your industry, but you also need to have a very clear understanding of your ICP (Ideal Customer Profile).
Who's your real buyer?
In AdEspresso all I needed to know was that it was any company spending more than $3k/mo in advertising.
But in Breadcrumbs, where we close larger deals with larger companies, I also need to know who's my buyer. Is it a C-level, is it an operator, or a developer? It makes a huge difference in lead generation.
If I'm targeting an exec, I'll need a lead magnet like an industry report, and I'll need to advertise it on Linkedin. If I'm targeting an operator, I'll need to offer him a worksheet or an actionable guide, and I can likely reach him with content marketing or sponsoring industry-specific websites and newsletters.
The first step of your lead generation strategy is to understand:
What kind of company do you want to target?

Who within that company is your ideal buyer?

What kind of lead magnet is valuable for him/her?

Where does he spend his time?
A tool like SparkToro can really help you out here. It lets you discover a trove of information about any audience starting from a subject or the accounts they follow on social media.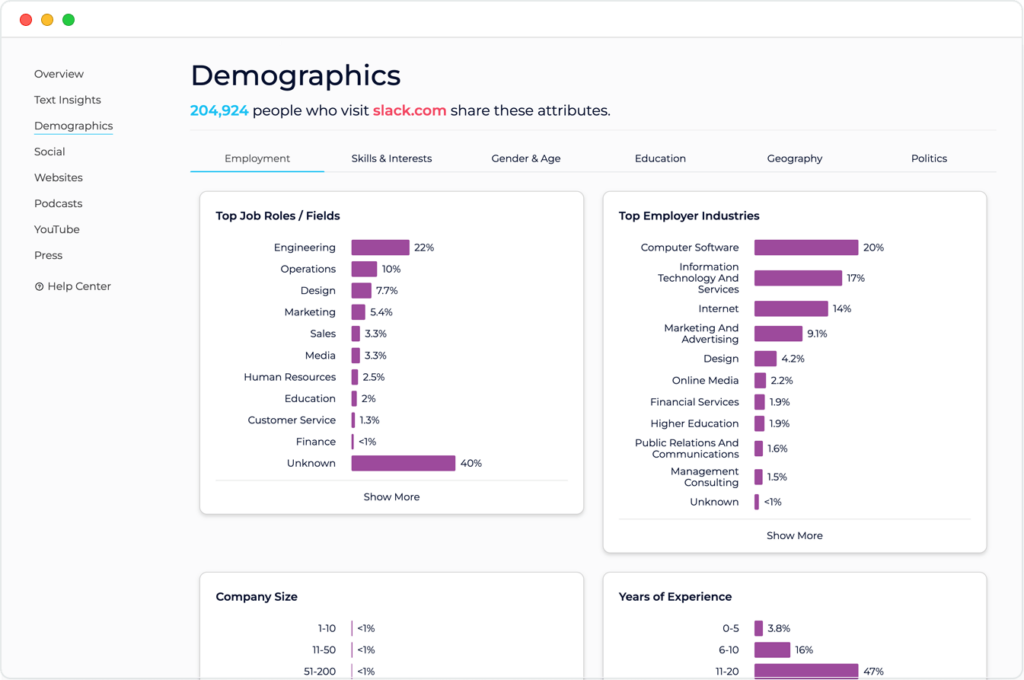 I've often used it both to analyze my target market and to discover new channels where to promote my lead magnets.
2) To attract more leads, you need a lead magnet
Every Lead generation strategy needs a lead magnet.
A lead magnet is usually anything valuable that you can offer to your website visitors to convince them to share their contact information with you.
It's simply an exchange of value and the first step in building a long-term relationship with your target audience.
We'll see some Lead magnet examples in the next chapters, but for now, let me focus on common traits of the lead magnets used in the most powerful lead generation strategies:
They provide real value. They're not just a quick hack to trick the user into giving you his email address. You're building a relationship here. To make it successful, you need to provide them with something worth their time and attention.

They're easy to consume. A 100 pages ebook… no matter how good it is, will likely be ignored by most users. Keep it short and easy to consume for your potential customers. They're going through a funnel, and you want them to move to the next stage as soon as possible.

They are specific to your audience. No one really wants to download a generic "100 growth hacks". Understand your audience and your buyer persona and offer them "20 growth hacks for SaaS businesses with <$1M in revenue and no sales team". This is way more appealing and will generate more marketing-qualified leads and sales-qualified leads.

They are creative. eBooks, Webinars, and newsletters are kind of abused nowadays. Most saas companies are offering them. If you want your SaaS lead generation strategy to stand out of the crowd, be creative.
All the lead magnets that worked really well for me were those where I spent 80% of the time coming up with the right idea and just 20% of the time executing it.
Now let's see some examples!
3) Lead magnets examples
Here are some examples of lead magnets that worked for every SaaS company I've worked with.
Free Tools
In my experience, free tools are the most effective way to generate leads. They have a very high perceived value, and with the right idea, they can often be executed with less money than a long eBook.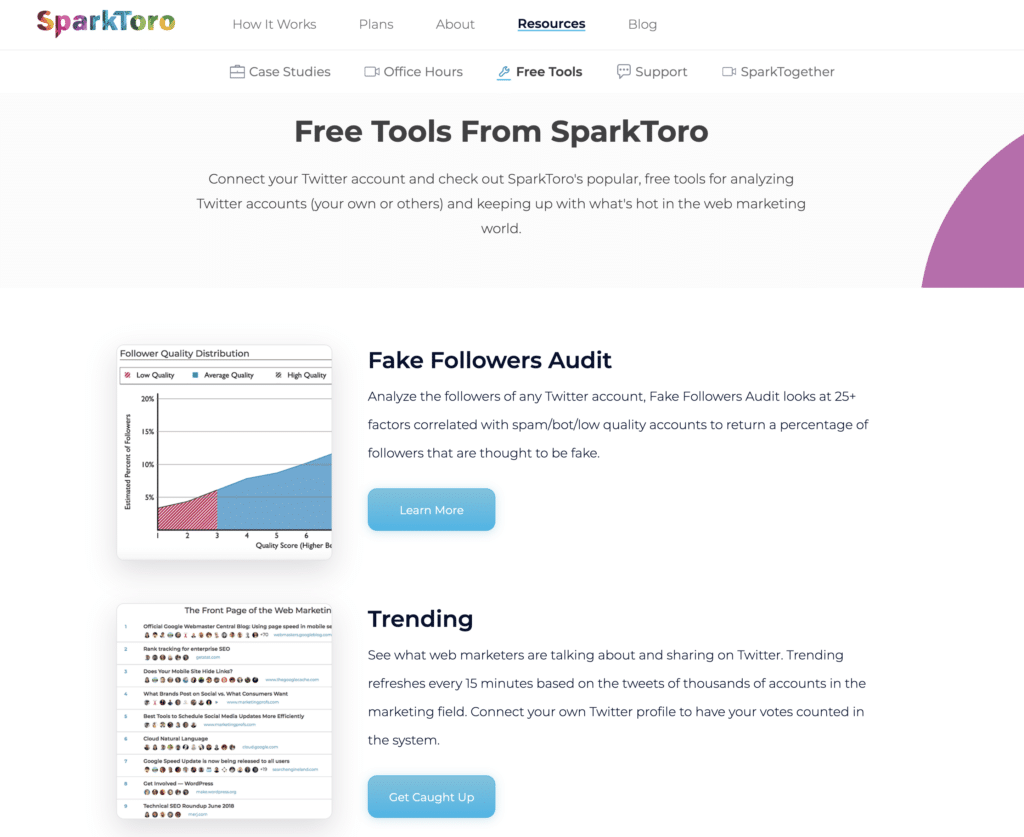 SparkToro has a whole section with three free tools that are extremely relevant to their audience.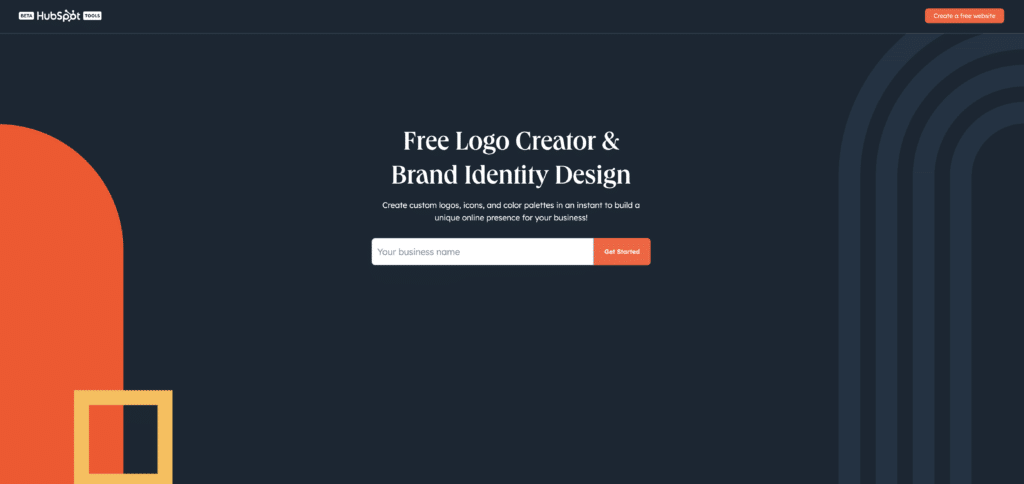 Hubspot, one of the most well-oiled machines I know when it comes to SaaS inbound lead generation, offers a lot of free tools as well. They recently launched a free brand kit generation tool.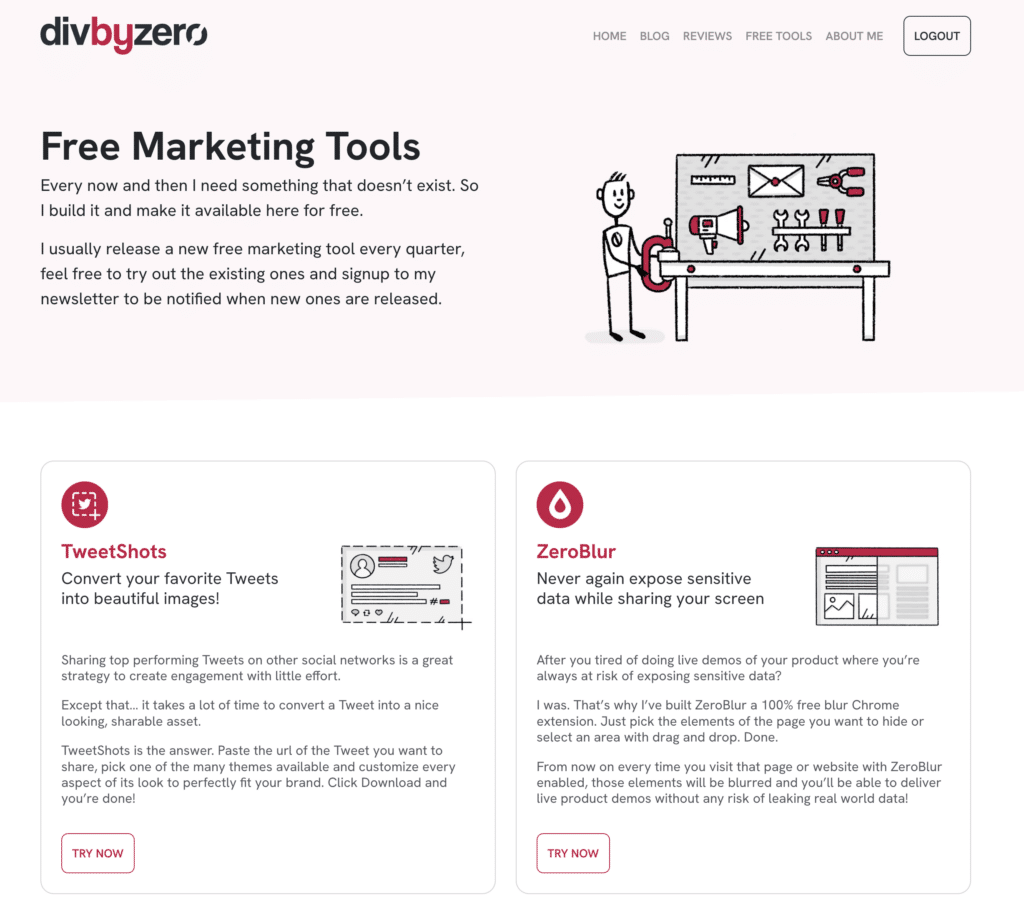 80% of the leads I've generated on this blog are coming from visitors like you signing up to use my free tools.
Previously in AdEspresso, I had launched a free ads gallery… it was a huge hit. It generated an insane amount of inbound links, traffic, and leads. It overperformed all the other marketing efforts.
If you're serious about generating leads, free tools will reward you.
Courses and Workshops
Education is critical for all saas companies. If you can be the one helping potential customers (and, of course, also paying customers) to become experts in your industry, you'll be the top-of-mind tool to buy when they're ready.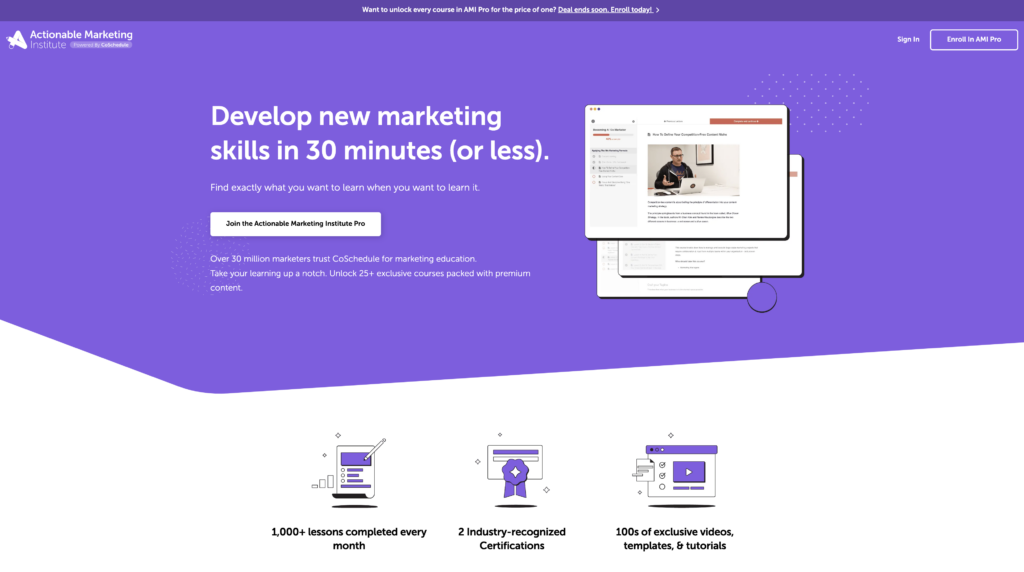 CoSchedule has a whole academy section with tons of courses users can enroll in for free. Even better, they also offer more advanced courses for a premium subscription. They're generating leads and revenue at the same time.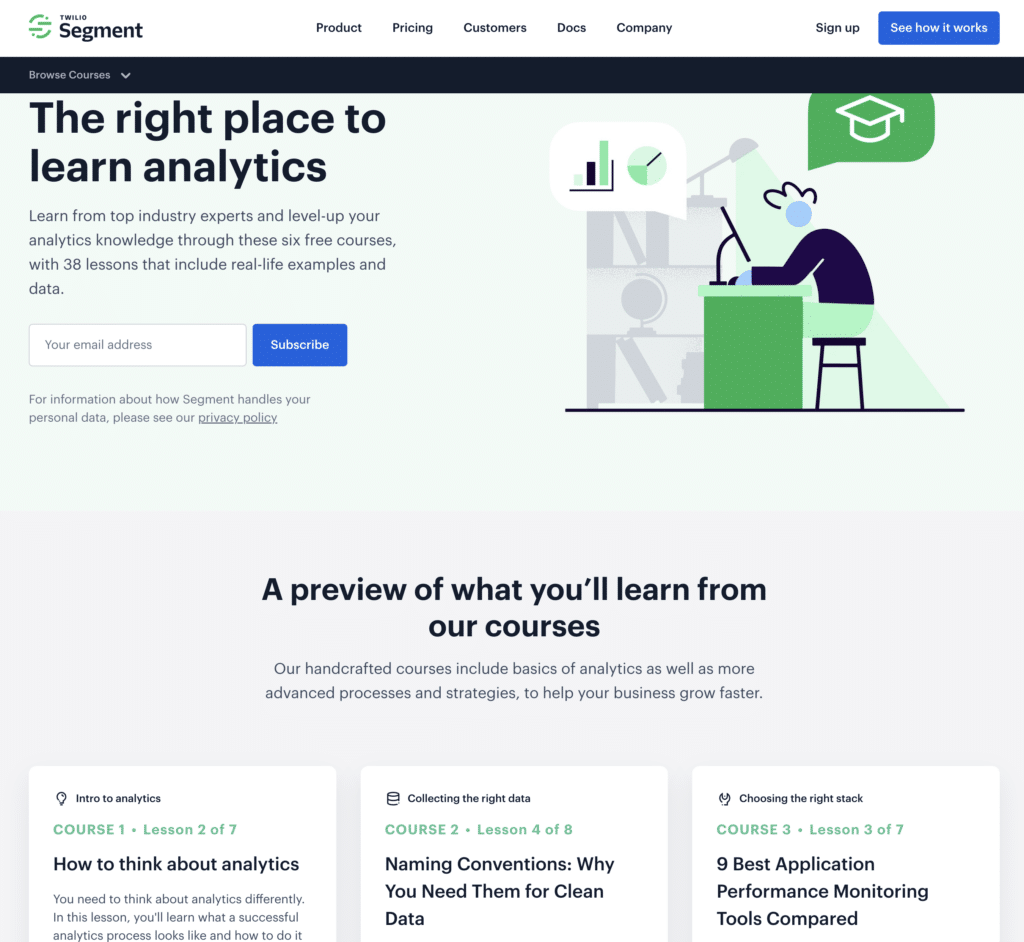 Segment's Analytics Academy is another great example of high-level courses offered for free to prospects.
Courses also have another advantage. They can be easily repurposed to boost your content marketing efforts. Short clips can be shared on social media; lessons can be converted into blog posts, and so on. Plus, they also add value to existing customers, and they dramatically increase brand loyalty.
Live Events
While Webinars have lost effectiveness in recent years, live events (wherever they are in person or streamed) are on the rise.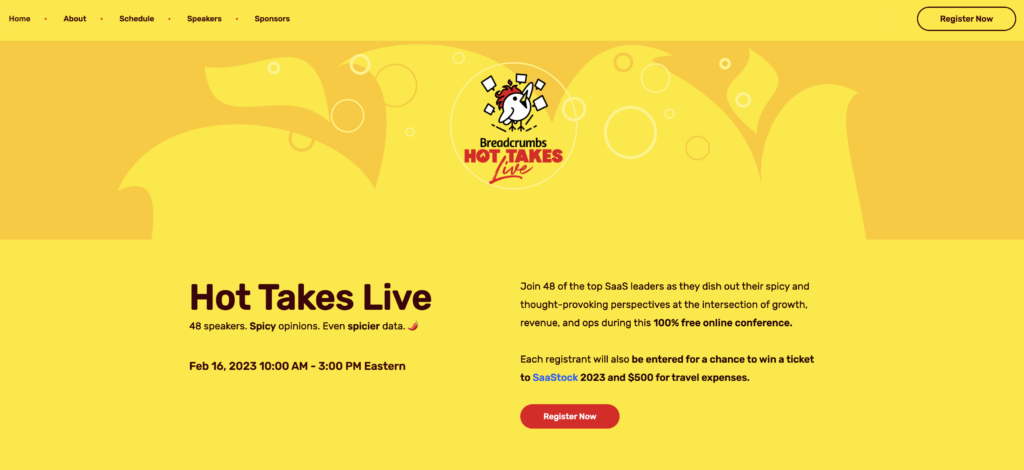 At Breadcrumbs, we're wrapping up the second edition of our event: Hot Takes Live. It's an innovative formula with a lot of great speakers from tier-1 SaaS companies. Each one gets to present a controversial idea for 10 minutes plus 5 minutes of Q&A. Speakers and attendees are loving this format, and it's working great for lead generation.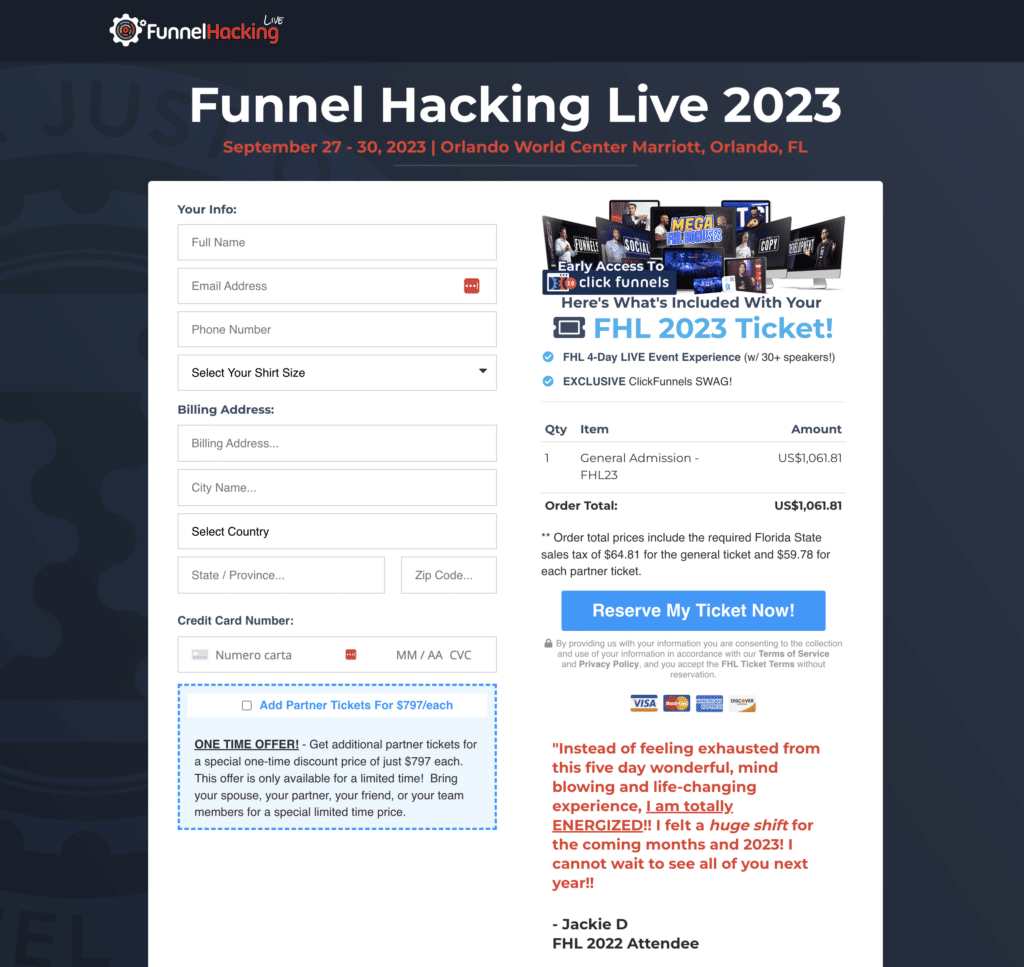 ClickFunnel hosts a yearly in-person event: Funnel Hacking Live. It's a great event, appealing both to potential customers and existing customers.
Their events and marketing are so good that they also charge a lot of money for the tickets. I'm sure that on top of generating leads, they're also making a lot of revenue out of this event.
eBooks
eBooks are a pillar of most b2b saas lead-generation strategies.
So, are eBooks a must-have for every SaaS business? It depends. Until a couple of years ago, my answer would have been a straight "yes".
Nowadays, I think eBooks have been abused. Too many companies use them for b2b lead generation, and users have developed a sort of eBook blindness. They no longer have the perceived value they used to.
That said, most eBooks are quick to produce if you have a solid content marketing strategy. Just plan ahead which pillar posts are going to generate a meaningful amount of traffic and convert them into PDF. They're likely already long enough.
If you have the resources to add more valuable content to the eBook, that will surely improve the conversion rate.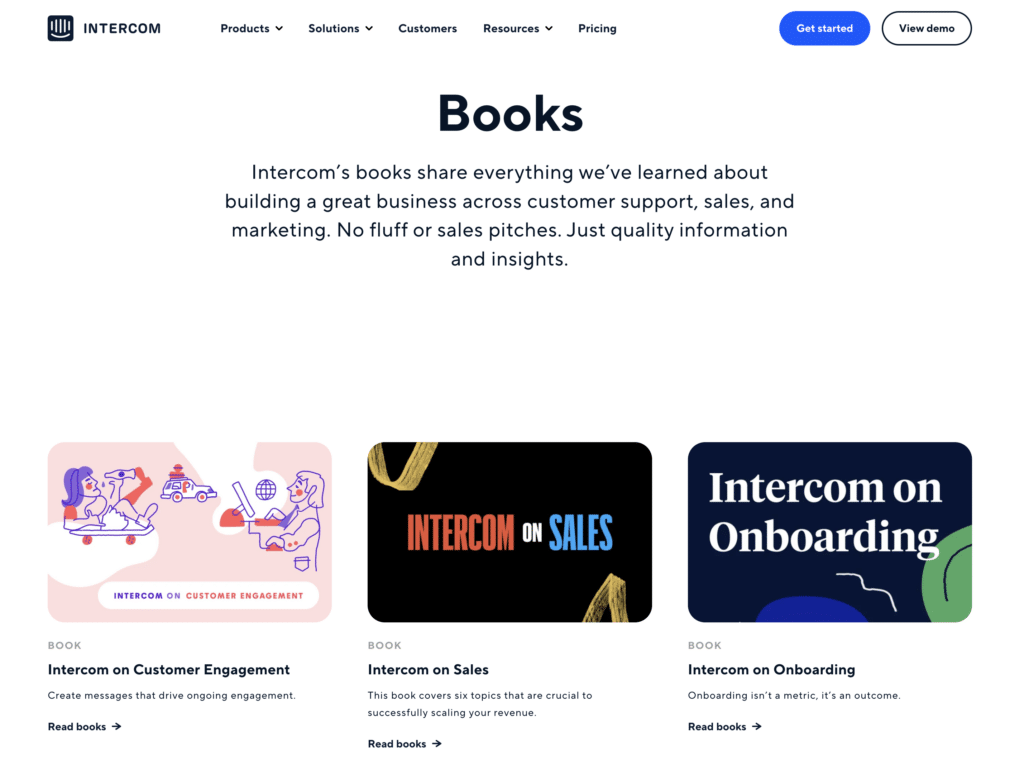 Intercom is just one of the many companies offering a full library of eBooks.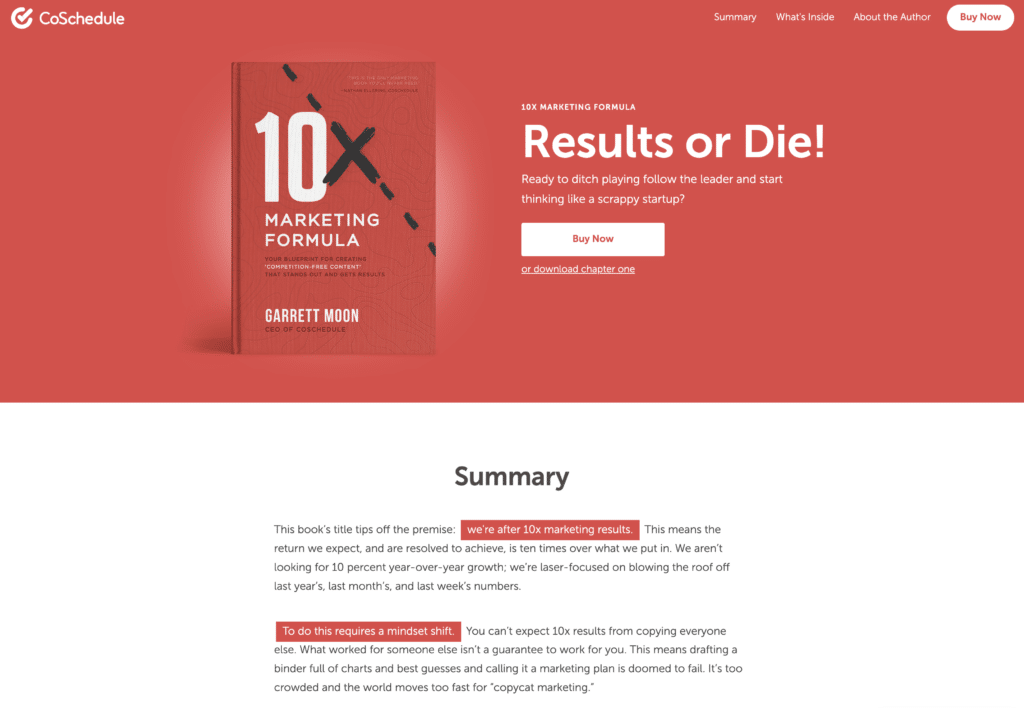 CoSchedule took a different approach. They published a hardcover book… you can buy it on Amazon. It's a great book; they put a lot of effort into it. It also made it in my list of the best marketing books.
It's likely less effective for SaaS lead generation as the lead magnet here is the download of the first chapter. However, it has other benefits:
Extremely high perceived value

Great to reinforce your brand and position founders as thought leaders

Your marketing team can promote it on completely new channels

You can bundle it for free in special offers or as a complementary gift to new customers
Overall it's a lot of work but can be really rewarding.
If you go this route, make sure to add a lot of downloadable assets to go together with the book. This way, you can still convert all the book readers into new leads.
Worksheets & Cheatsheets
Longer is not always better. A short but valuable resource can often convert better than a huge eBook and move your leads faster down the sales funnel.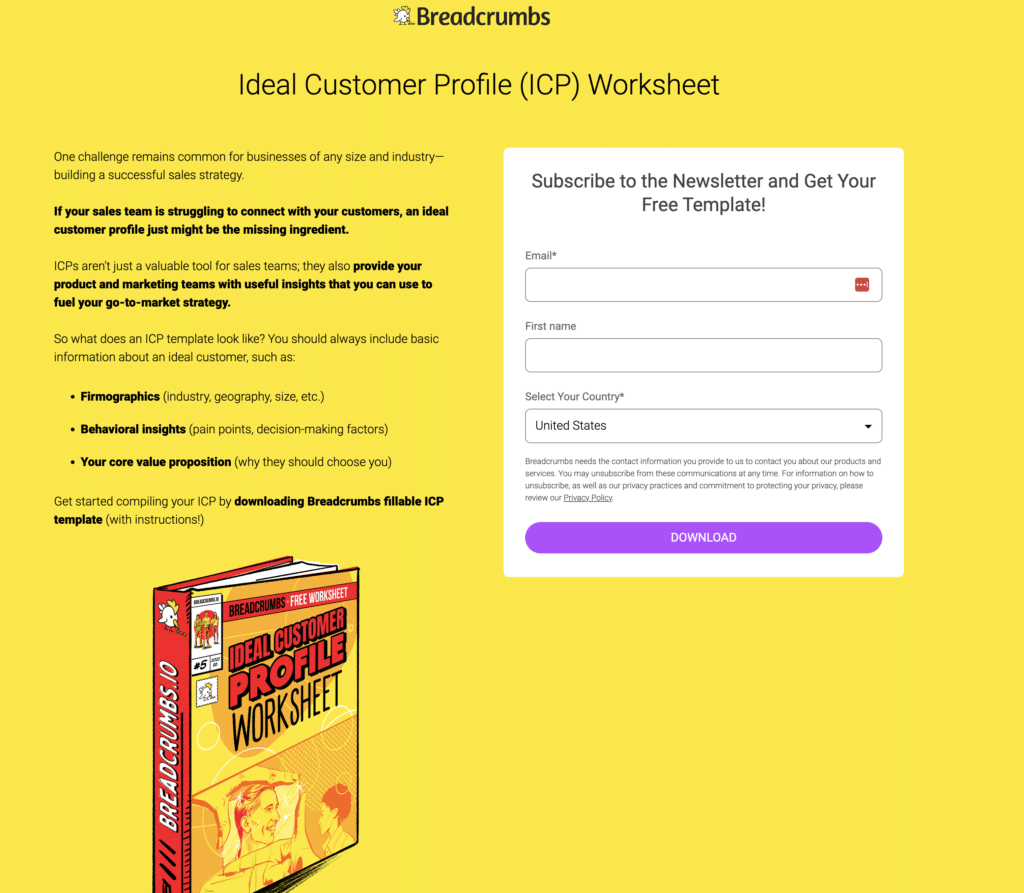 In Breadcrumbs, we had great results by using worksheets that go together with a great educational blog post.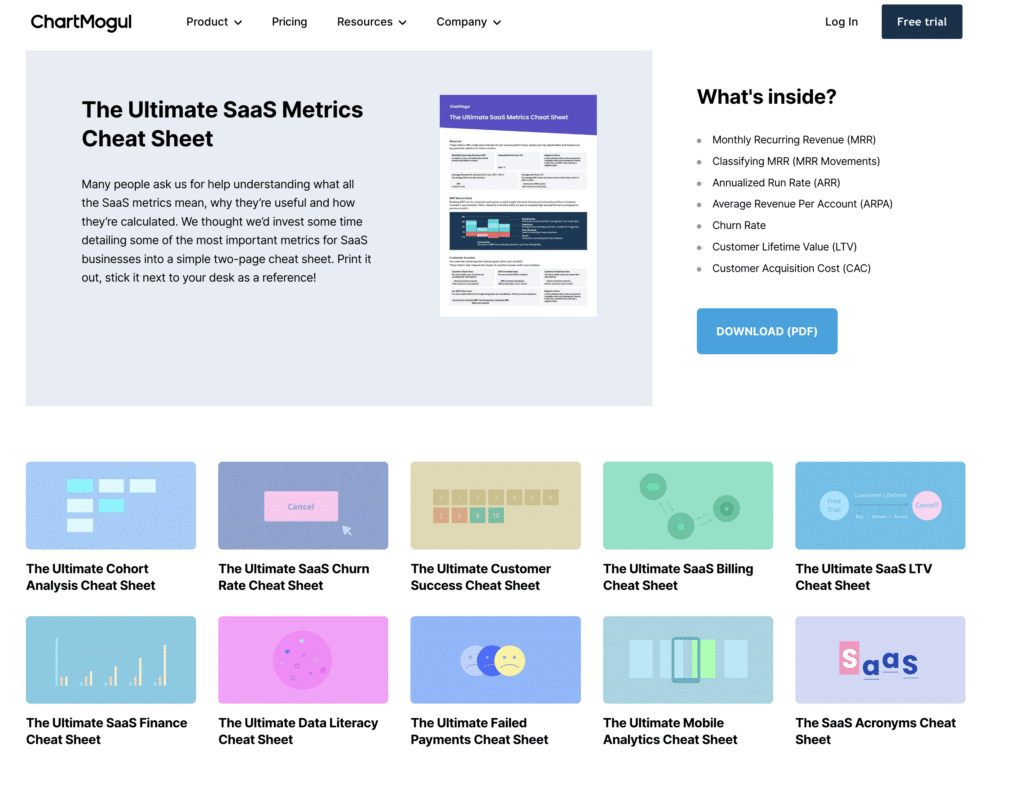 Chartmogul has not one but 11 cheat sheets for download. Clearly, they are working very well for their lead generation.
Overall I'm a big fan. They're quick to produce and work quite well.
With most content marketing strategies betting more and more on long-form content, users are more willing to download something shorter than longer.
Webinars
Webinars used to work extremely well to generate leads. We used them over and over again at AdEspresso, and they always performed well.
They are also great for building relationships with other companies who might be partners or customers by inviting them as guest speakers.
However, in a post covid world, people are getting tired of them, and they tend not to perform as well as they used to unless the speaker is really great or the topic is really unique.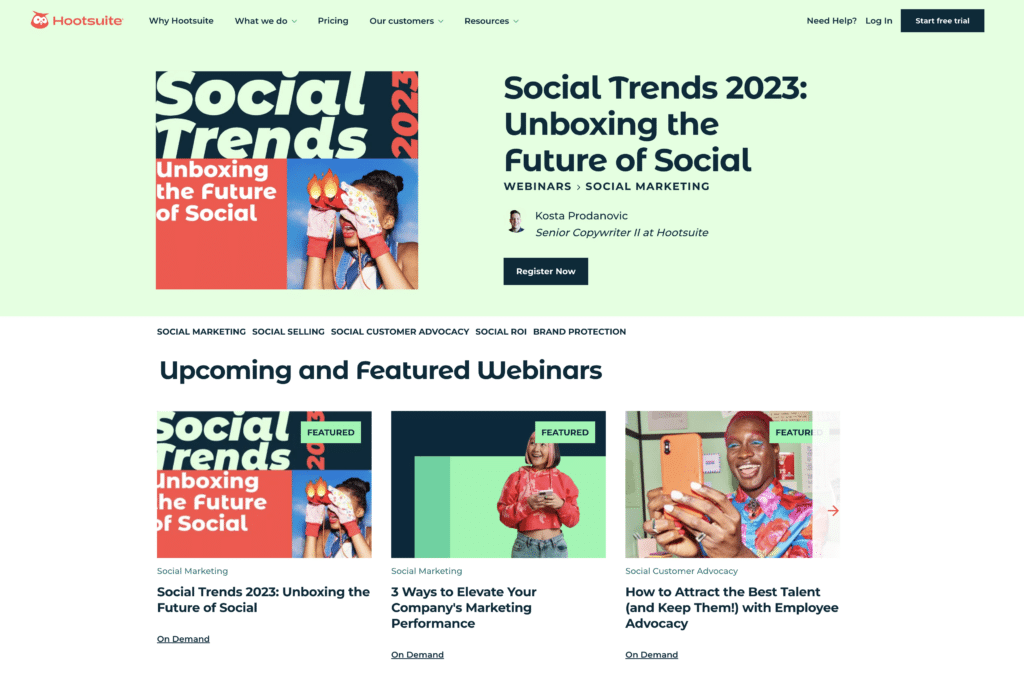 Hootsuite almost always has an upcoming webinar you can signup for. Once a webinar is over, it becomes available as an on-demand video.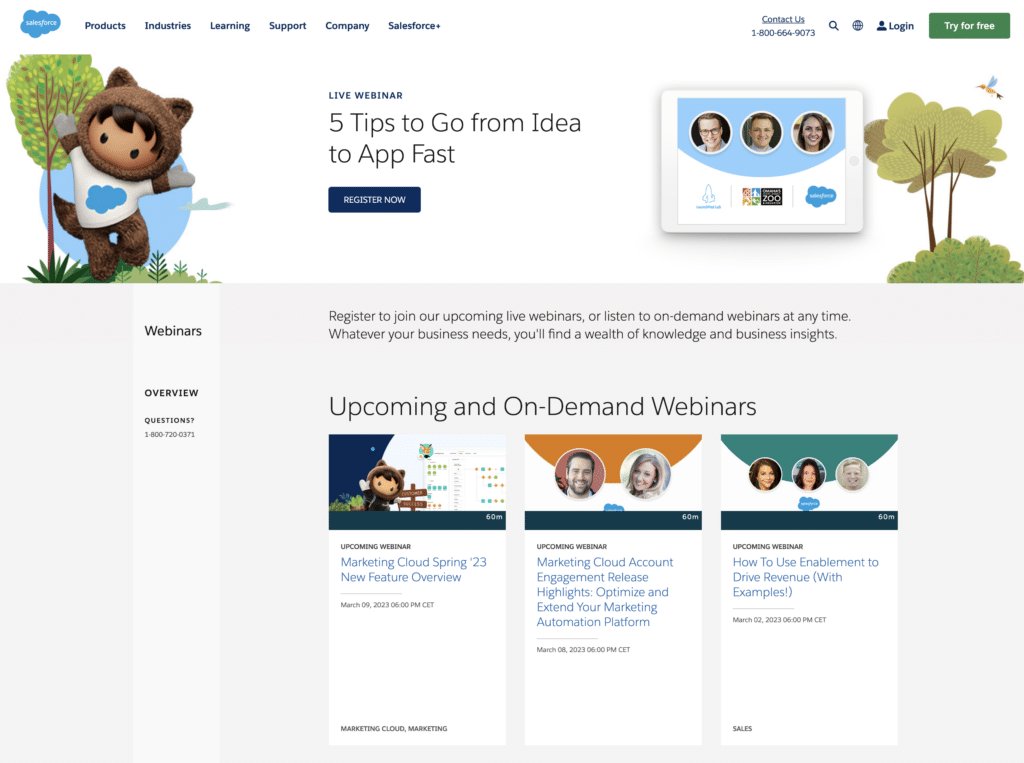 Salesforce clearly is getting a lot of new leads from webinars. Their scheduling is really packed up with live events on a nearly daily basis.
Templates
Templates are another very effective way to do lead generation, and they play very nicely with most education-based content marketing strategies.
Whenever you're writing a blog post explaining how to do something, offering a template to guide the user or bootstrap the work is a great add-on that usually converts very well.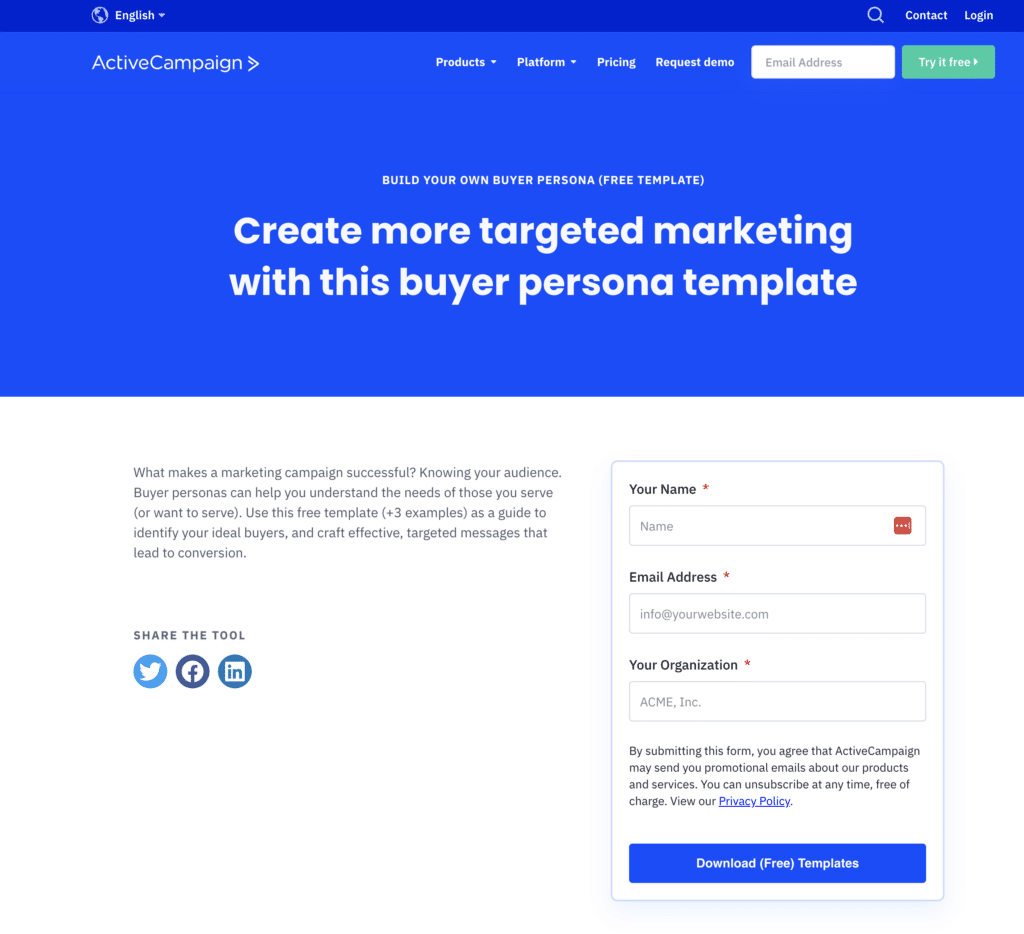 ActiveCampaign, as an example, offers a great template to document buyer personas.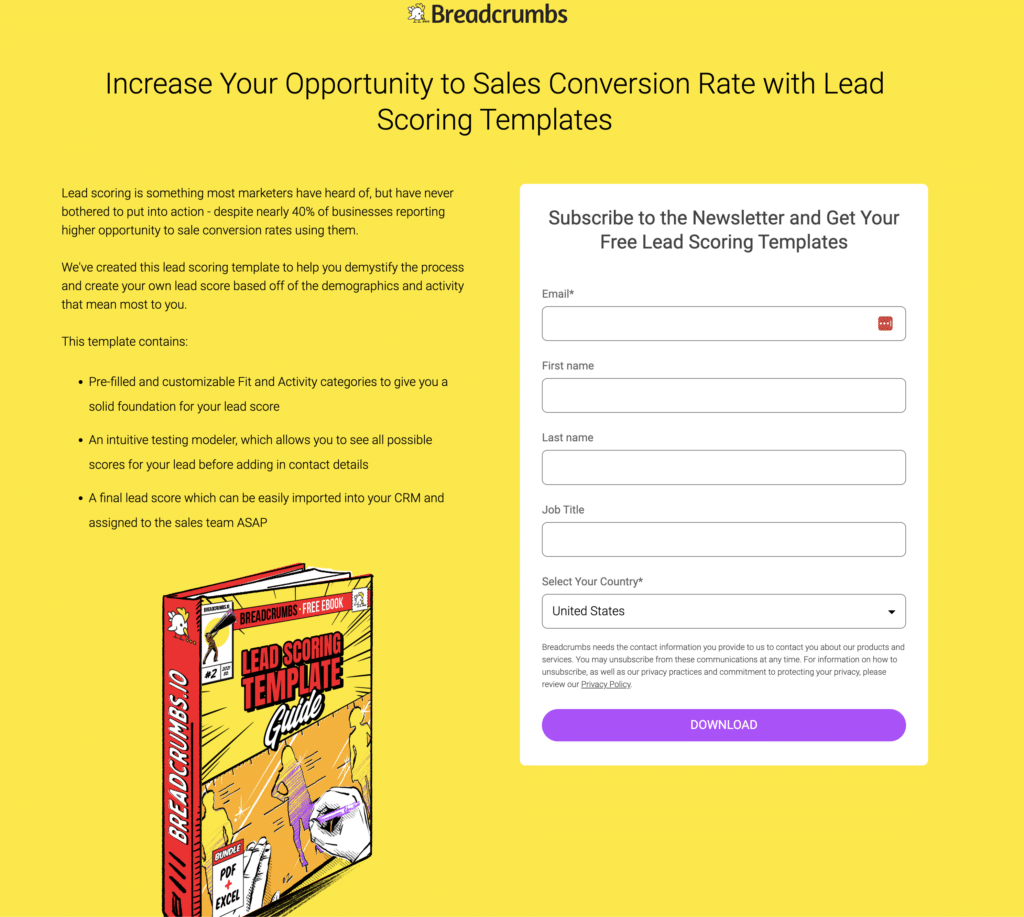 At Breadcrumbs, we offer a free lead-scoring template. What's even more interesting here is that the template fits with our core product. We first show them how to create a quick scoring model in Excel, and from there, we can easily move leads down the sales funnel with a simple: "Hey… doing it in Excel is very time-consuming, right? Why don't you try our product?"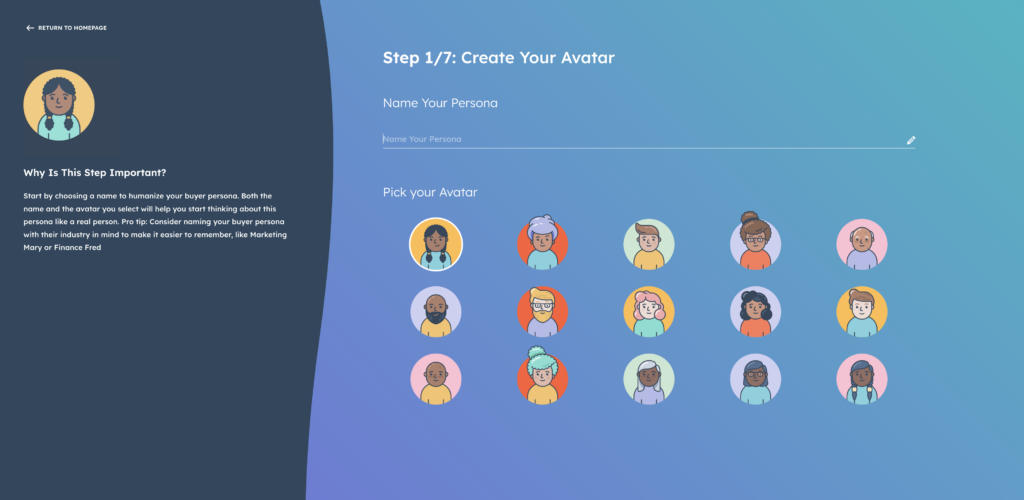 Actually, templates are often a great way to validate interest in a product. Hubspot started offering visitors a Buyer persona template and then converted it into a free tool that converts even better and has a higher perceived value.
Newsletters
Seriously… no one wakes up in the morning thinking: "I'm not receiving enough mail; let's signup for one more newsletter."
Newsletters have a very low perceived value. They usually have a very low conversion rate and are not the best option if you want more leads.
Don't get me wrong; most SaaS companies should have a newsletter, but it's usually way more effective to nurture leads and stay top of mind for any potential customer rather than to generate leads.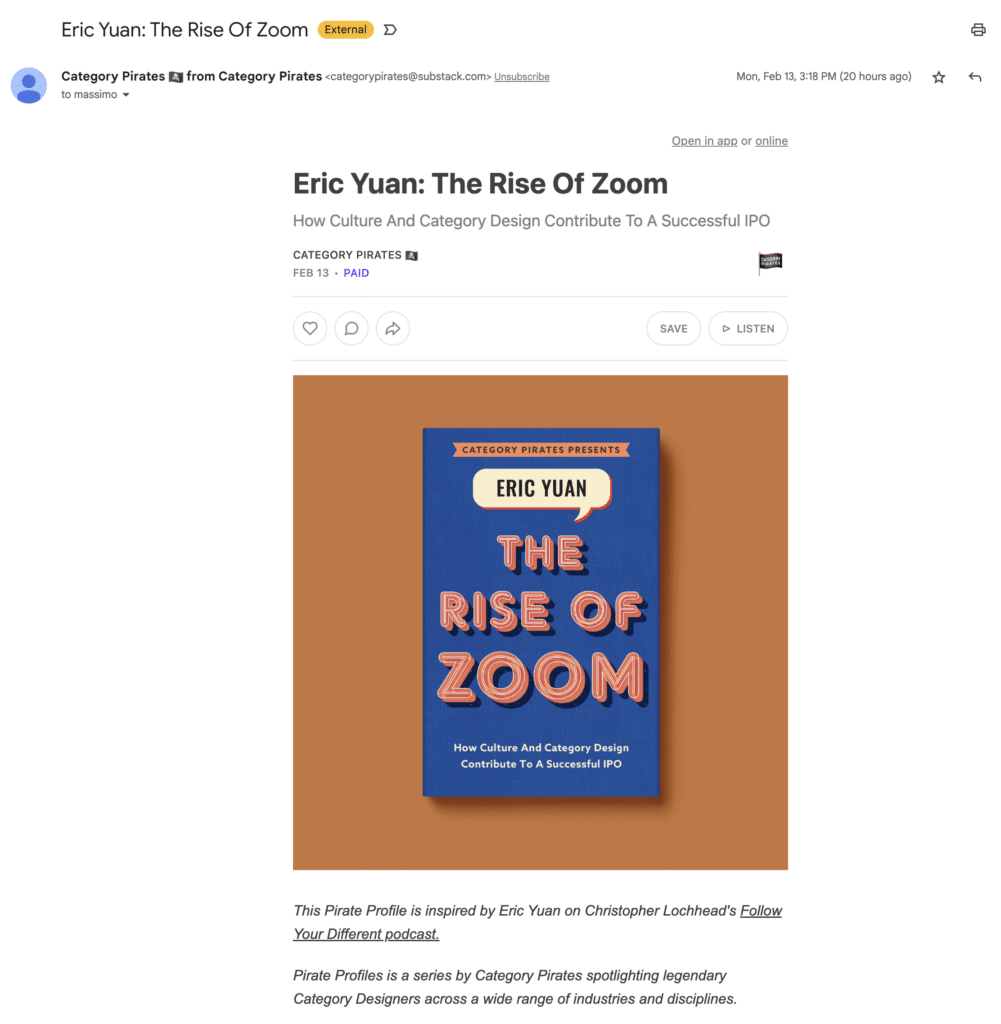 There's an exception to this rule. If you have a very strong brand or a Newsletter with a really unique value proposition, it might also work for lead generation.
However, I've seen very few examples of SaaS newsletters reaching this level of visibility and brand awareness.
Most successful newsletters, like Category Pirates, are run by very opinionated thought leaders who don't care about hurting someone's feelings along the way.
Free Trials
SaaS companies are now officially living in a PLG world. PLG, Product Led Growth, is the buzzword of the year, and while I think your own Product is the best lead magnet you could use, I also think it cannot completely replace other lead generation strategies.
To use your product as the core of your SaaS lead generation strategy, you'll need:
A great content marketing strategy that drives a lot of qualified traffic at a low cost from search engines

A website with a very clear value proposition

A business model built around freemium or free trials

A frictionless signup experience that starts right from the homepage

A guided onboarding that gets trial users to value realization quickly

Linear, non-complex pricing structures

Paywalls in the right places to get customers to upgrade autonomously

A sales team that can reach out to larger customers identified through lead scoring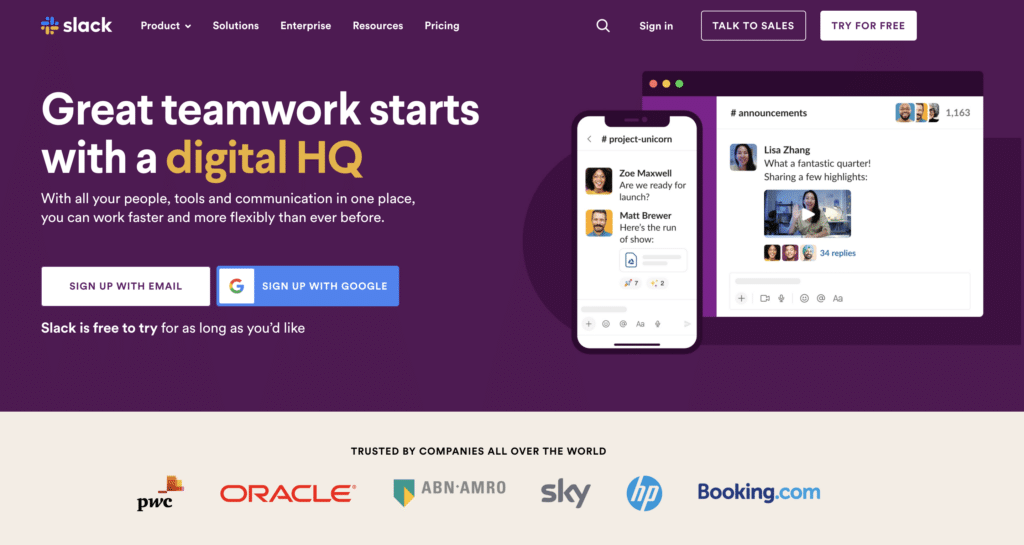 Slack is a great example of PLG with a freemium business model. Notice how their landing page is all focused on the product signup.
Be Creative…
Literally, everything valuable for your users can be turned into a lead magnet. The more you can think out of the box and offer your users something new, the more leads you're gonna convert.
Of course, your conversion rate and average deal value have a strong impact on what kind of lead magnets you can offer. If you convert a lot of leads and have a high deal value, you could even afford to offer free consultancy calls or even physical products for lead generation.
If you want more inspiration, check out our post on Lead Magnet Ideas.
4) Best Tools for Lead Generation
When it comes to lead generation, having the right tools in your arsenal can make a world of difference.
In this section, we'll discuss some of the best tools available for lead generation, organized into categories. It's not a comprehensive list; I'll mainly focus on the tools that I know the best and that are more commonly used by SaaS companies.
Remember, there's no one-size-fits-all solution, and there's no such thing as a perfect lead-generation tool. It's essential to consider your specific needs, budget, and how these tools integrate with your existing systems when choosing which ones to use.
Tools to Capture Leads
Capturing leads is the first step in the saas lead-generation process. Although there are many tools available, some are platform-specific (such as those for WordPress), and marketing automation platforms may also include lead-capturing features.
However, if you're serious about lead generation, you'll want a powerful tool that creates popups to capture visitor information.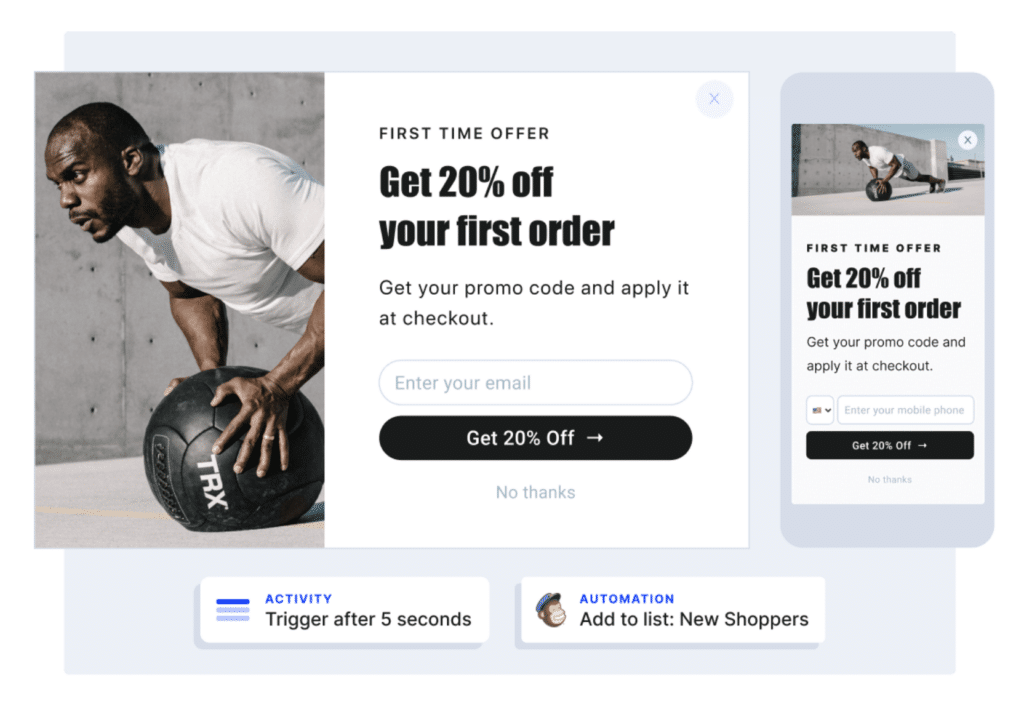 The difference in conversion rates between a sidebar box and a pop-up it's crazy. The latter will generate way more new leads.
Here are my top three recommendations:
Convertbox: Convertbox is an excellent lead capturing tool that allows you to create highly targeted popups and opt-in forms with ease. With its intuitive drag-and-drop editor, you can create visually appealing popups that match your brand and help increase your conversion rates. You can find my full review here. Overall being a Lifetime deal, it has the best value-for-money ratio. On the downside, it's not been updated a lot in the last couple of years. It's the tool I use here on this blog, and it does its job.

Convertflow: Convertflow is another powerful marketing tool that offers a wide range of options for creating personalized and targeted popups. Its features include exit-intent popups, time-based triggers, and even integration with your CRM for more effective targeting. Plus, it boasts an extensive library of templates to get you started.
It's more polished than Convertbox and gets updated more often. However, it's also quite expensive based on your traffic.

Sleeknotes: Sleeknotes is a user-friendly popup builder that focuses on providing an excellent user experience. It offers various customization options, including mobile-responsive designs and the ability to create multi-step forms. With its smart triggers and targeting options, Sleeknotes can help you capture more leads without annoying your visitors.
Tools to Store Leads and Implement Marketing Automation
Storing your leads and implementing marketing automation is essential for nurturing and converting those leads into customers.
This is likely going to be the pillar of your marketing stack and needs to be picked carefully based on your SaaS business needs. Do you need a CRM? Do you have one and prefer a simple email marketing tool to store leads? Be careful. This choice is gonna be hard and expensive to change in the future.
Here are three platforms that I've used and recommend:
Hubspot: Hubspot is an all-in-one marketing, sales, and CRM platform that offers a comprehensive suite of tools for lead generation, nurturing, and conversion. Its marketing automation features are top-notch, and the platform seamlessly integrates with many other tools, making it a popular choice for businesses of all sizes.
Hubspot can be very expensive, but it's also the most complete tool. And the most user-friendly one. I've used it across all my startups.

Active Campaign: Active Campaign is another powerful marketing automation platform that specializes in email marketing and CRM. With its advanced segmentation and automation features, you can create highly targeted campaigns that nurture your leads and move them down your sales funnel. It's UI can be tricky to navigate but the pricing is attractive.

Mailchimp: Mailchimp is a well-known email marketing platform that has expanded its offerings to include marketing automation and CRM features. It's an excellent option for smaller businesses that need a more straightforward and budget-friendly solution for managing leads and automating their marketing efforts.
Data Enrichment Tools
Sometimes, just having an email address isn't enough, and you'll want more information about your leads. Data enrichment tools can provide additional context on users and companies based on their email addresses. Here are three data enrichment tools worth considering:
Clearbit: Clearbit is a data enrichment tool that can provide valuable insights into your leads, such as their job title, company size, and industry. By integrating Clearbit with your CRM or marketing automation platform, you can better understand who your qualified leads are and where they are coming from.

Zero Bounce: ZeroBounce is not strictly an enrichment tool but more an email verification tool. It can reliably tell if an email is valid and will be able to receive your communications. The last thing you want is a huge database full of crappy emails. I verify every email before adding it to my email marketing campaigns in the last period.
Landing Page Builders
Landing pages are an essential part of the lead generation process. While most new leads will come through PopUps, you always want to have a high-converting landing page to which you can drive targeted traffic and generate leads.
While some marketing automation platforms include landing page builders, you might want a more powerful or specialized tool if your CRM is more basic. Here are two recommended landing page builders:
Leadpages: Leadpages is a dedicated landing page builder with a user-friendly interface and a wide range of templates to help you create high-converting pages. With its drag-and-drop editor and numerous integrations, Leadpages is a popular choice for businesses looking to optimize their lead generation efforts.

Unbounce: Unbounce is another powerful landing page builder that focuses on helping businesses increase their conversion rates. With its extensive range of templates, flexible design capabilities, and advanced targeting features, Unbounce is an excellent option for creating highly effective landing pages.
In conclusion, it's crucial to remember that there's no perfect lead generation tool. Your choice of tools should depend on your budget, needs, and interoperability between tools. For instance, choosing a fantastic popup builder that doesn't integrate with your marketing automation platform wouldn't make sense.
Take the time to evaluate your specific requirements and how these tools can help you achieve your lead-generation goals while keeping your writing style and overall marketing strategy in mind.
5) How much data to ask for SaaS lead generation?
Here's a critical aspect of SaaS lead generation that many marketers often forget about.
Most saas companies I've worked with tend to obsess with volume. They want a huge amount of lead, even at the expense of data quality.
With privacy laws becoming more strict every day, it's going to be critical to have a good amount of zero-party data you completely own.
The problem is always finding the right balance between the amount of data to gather and the conversion rate: ask too many questions, and you'll get more qualified leads but at the cost of a lower conversion rate.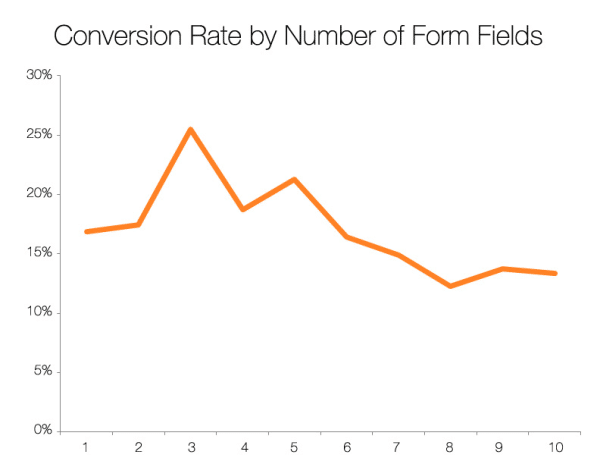 source: Hubspot
Let's break down the problem into two parts.
Data quality and actionability
More than the number of questions to ask, you should first focus on which question to ask and how.
You must align your marketing and sales team here. Have both teams write down five data points they think they need to define marketing-qualified leads (MQLs) and sales-qualified leads (SQLs).
Once you have the list try to get some data-driven validation, tools like Breadcrumbs' Reveal can analyze your customers and leads to find correlations and identify which information have the strongest correlation with purchase intent.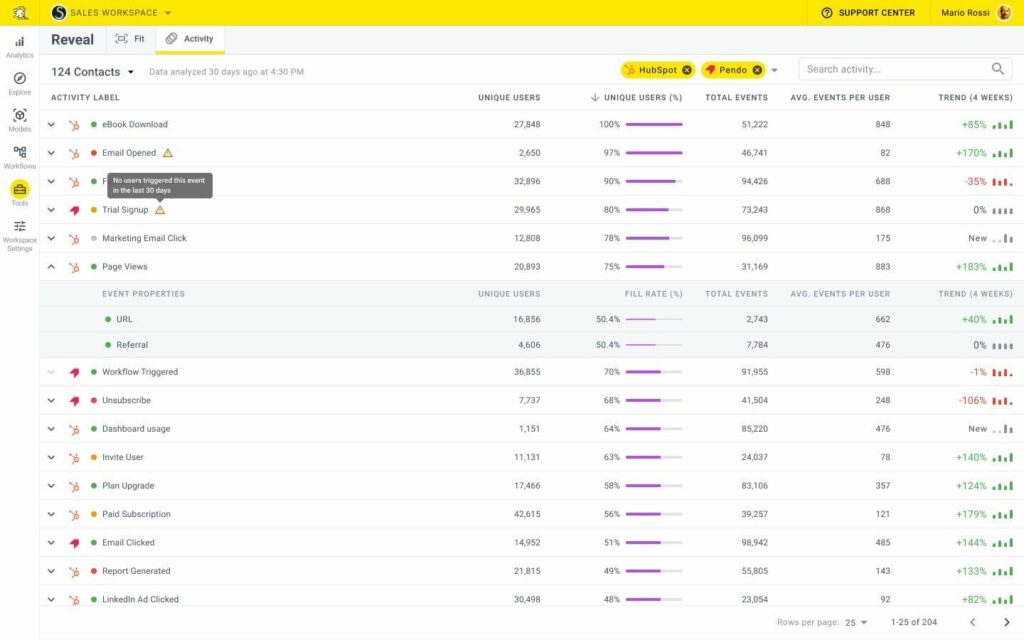 Now that you have your data-validated list, decide how to ask for each piece of information. Text fields and text areas in forms have a powerful depressing effect on users: they require more effort to fill in and are less actionable for you.
A job title can be written in hundreds of different ways. This makes it tough to use in marketing automation or as lead qualification criteria. A drop-down asking about the job level and department is faster for the user and better for your data quality.
Use multiple-choice form elements like radio buttons, checkboxes, and drop-downs whenever possible. It will dramatically improve the data quality and actionability of your CRM.
How much data is too much?
First of all, I have good news: in b2b Saas lead generation, users are way more tolerant to long forms than in b2c.
That said, whenever possible, let's keep your form light.
Here are some tips that worked for me:
Balance the number of questions with the perceived value of the lead magnet. Free tool? Ask as many questions as you want. eBooks? Keep it light.

Ask yourself what information can be deducted without asking. Blocking free emails from signup, for example, will give you their company domain… from there, you can get the company name and other information. Data enrichment tools are your friends when slimming down your forms.

Not all information needs to be gathered in one shot. You can collect extra information as you nurture leads and offer them more lead magnets. Hubspot and most lead generation tools offer progressive profiling.
I cannot stress the last point enough. Most Saas lead generation strategies are not single-touch. The first form filled out by your potential customer is just the first step of the journey. If you have relevant content and a good lead nurturing strategy, they'll fill out many more before converting into paying customers
6) Lead qualification and scoring
Another critical aspect of b2b saas lead generation is Lead scoring.
Not everyone is a good fit to buy your SaaS product. Once leads enter your CRM, they should be immediately scored to understand if they look like your target customers and what's the next best action to take.
I won't spend too much time here as it's a huge topic by itself, and I've already published specific blog posts on the topic.
Here is some key information on lead scoring you should know from the get-go to align your digital marketing team.
It's a matter of who and when
A good lead scoring system doesn't rely only on demographic information. Knowing your lead and who they work for is just a piece of the puzzle.
An important piece, don't get me wrong. The more information you can gather as you generate leads, the better. But a lead perfectly in ICP (Ideal Customer profile) will not always convert into a customer.
Timing is critical.
Someone who visited your pricing page twice yesterday, is way more likely to convert than someone who's just reading your blog posts or didn't interact with your website for a long time.
As you build your lead scoring engine, ensure that activity is a relevant lead qualification criteria. Any kind of activity matters. At any stage of the SaaS Funnel: from the website visits to email marketing interactions and in-product usage for PLG companies.
Alignment between Marketing and Sales teams
I've seen most b2b saas lead generation efforts end up in fights between Marketing and Sales.
Marketing complains that the sales team doesn't close enough leads.
The sales team complains that marketing generates low-quality leads that are not target customers.
When building a lead scoring system, it's important to have a strong alignment between Marketing and Sales on the scoring criteria.
This way, your lead generation strategies will be more aligned with your definition of Ideal Customer Profile. Sales will trust the scoring engine and act on it, immediately reaching out to the leads that are considered hot.
A good lead scoring tool will give you a great understanding how your leads are distributed both in terms of fit and activity. Here's an example for Breadcrumbs: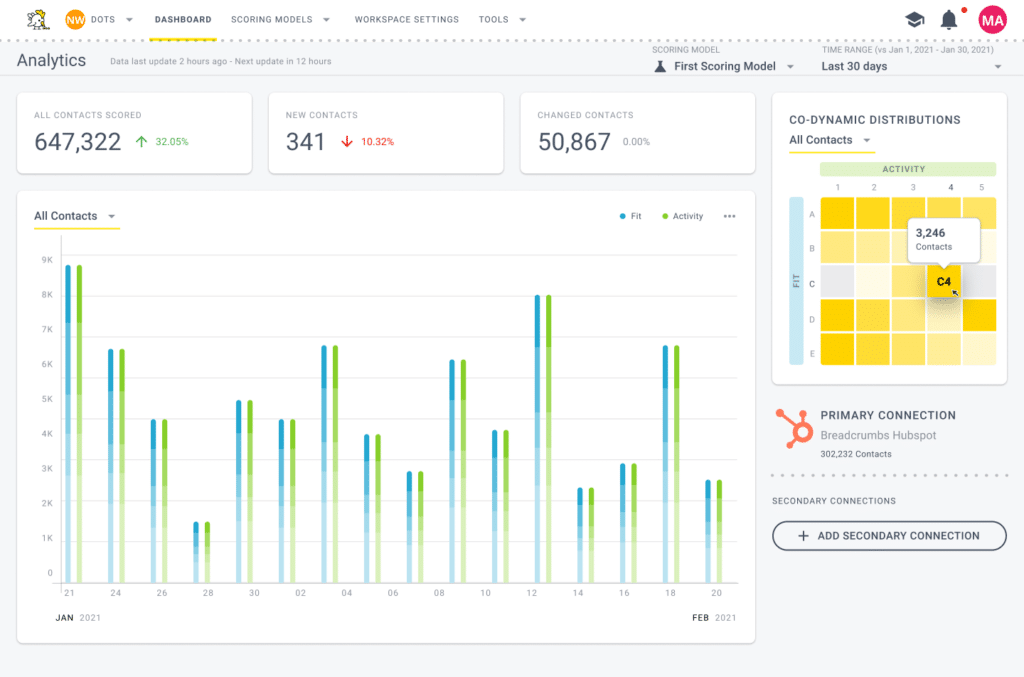 As you can see, every lead is scored on fit and activity. This allows you to create many clusters to take action. Here's an example:
Hot Leads: High fit and High activity. The sales team should reach out immediately.
Average Leads: Either not a great fit or low activity. These should end up in an automated outreach workflow.
Low-quality Leads: Bad fit and low activity. Not worth your team's time. These leads could be added to a Retargeting campaign to convert them in a self-service way.
7) Driving traffic to your landing pages
Let's finally talk about one of the most critical elements of most lead generation strategies: how to acquire traffic to convert.
There are many different strategies and no one-size-fits-all approach. It really depends on your business growth goals and existing digital marketing strategy.
I'm not gonna hide that I'm a big fan of inbound marketing. Other the years, I've used inbound to generate leads for AdEspresso, Breadcrumbs, and this blog in an organic way. Of course, other strategies can work as well for your company.
Your traffic generation strategy should also be aligned with the kind of lead magnets you've decided to use. But before getting there, let's see some of the most common ways to drive traffic to your landing pages for lead generation.
Search engines
Organic traffic is by far my favorite source of leads. Most of AdEspresso's success has been driven but our ability at search engine optimization.
We wrote great educational content on Facebook Advertising and made sure it would rank high on search engine results pages.
For our top-performing posts, we created highly targeted lead magnets and promoted them within the content and with pop-ups. The conversion rate was around 3 to 5%, and we quickly built a list with more than 500k high-targeted leads.
The main problem with organic traffic is that it takes time to build. It's a long-term game that will reward you and create a massive competitive advantage, but it won't help you in the early days of your startup.
On the bright side, once you have gained enough traction, it creates an unstoppable snowball effect… and it's extremely cheap.
One thing to keep in mind when generating leads through SEO is that it's extremely hard to rank landing pages because of their lack of content. When it comes to Google, you need to generate leads from your homepage or high-quality content.
Paid Advertising
Paid advertising campaigns can work very well for lead generation.
Very often in SaaS, trying to get someone to directly signup for your product from an ad can be challenging and very expensive.
Conversely, promoting your lead magnets and converting leads with lead nurturing can be rewarding and cheaper.
You'll need to pick the right advertising channels.
Facebook, Instagram, Twitter & co. can be very cheap, but for b2b saas lead generation, it might be hard to target the right audience. Overall the more enterprise-oriented you are, the more you should ignore them except for retargeting campaigns.
Linkedin is a great platform for b2b SaaS. It is way more expensive than the other social channels but lets you target your potential customers with way more granularity and in a work-related context.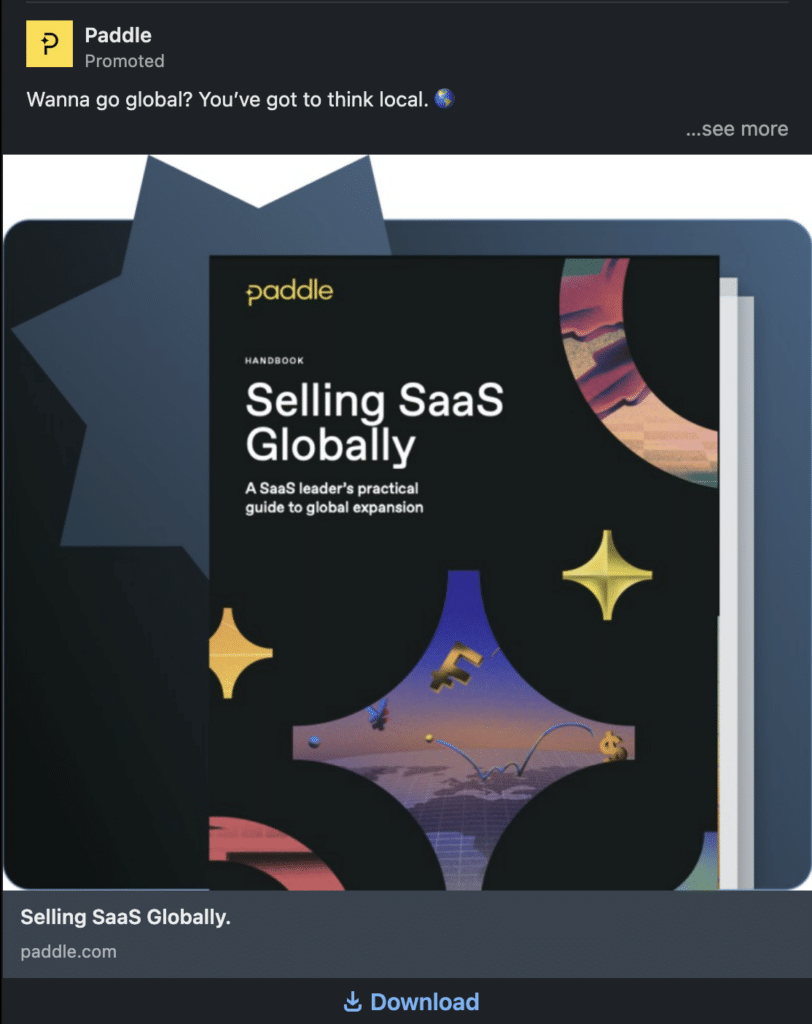 Youtube, in my opinion, is a great channel with a lot of potential since it's likely underused by your competitors. Of course, the ad creation process is more time-consuming and expensive.
Google is a mixed bag. It can be easier to setup, but it's also very expensive, and you'll need perfectly fine-tuned landing pages to have a positive ROI. Often it's better first to aim Google at product signups, and only if that strategy fails, use it for lead gen.
Social Media Marketing
Most of the time, you'll fail.
I see a lot of the b2b SaaS companies doing SMM just for the sake of it and because it's expected. What a waste of time and resources.
If you are a B2C SaaS or a B2B one but with a strong SMB focus, you might get some results out of it. Otherwise, I'd try to focus more on your founders' personal accounts and leverage their personal brand to drive leads from Social media.
Employee advocacy can also work very well by leveraging all your employees to promote the company and your top lead magnets through their social accounts.
Lead Generation Companies
Lead generation companies are specialized agencies that focus on acquiring potential customers for SaaS companies.
These companies typically employ various strategies to generate leads, including cold outreach, email marketing, paid advertising, content marketing, and social media campaigns.
I'm not a big fan unless you find a trusted provider with a strong reputation.
These companies often use cold outreach, if not spam, to get leads. While they might bring some results, they might also hurt your reputation, and their activity can overlap and damage your existing digital marketing activities.
Getting Started With Lead Generation for SaaS
Wow… thanks for reading through this massive 6,000 words guide on Lead Generation. I've brain dumped every lead generation tactic I've learned through multiple SaaS businesses.
By now, you should have a good understanding of all the weapons in your arsenal and how to use them. Just to quickly recap:
1) have a clear definition of your target audience shared between the marketing and sales teams
2) Brainstorm what lead magnet you could use (check out what your competitors are doing, a competitive intelligence report would be useful here)
3) Select the marketing tools you'll be using and find any gap in your existing stack
4) Define the amount of data to ask your users and in what format. Try to keep it short and use dropdowns as much as possible to limit the number of possible answers.
5) Set up a lead scoring system and define what action to take based on the score.
6) After testing everything, start planning all the marketing activities needed to drive traffic to your lead magnets and landing pages.
A final tip. If you already have a good amount of traffic, first of all create lead magnets based on your top-performing pieces of content. You'll drive down production costs and step 6 will be way easier.
Anything else you feel is missing? Just let me know in the comments below, I'll happily answer any question!