By now, you might have noticed that I'm intrigued by the Competitive Intelligence space.
Why? Because software is becoming a commodity. I've expressed this thought multiple times: with AI and no-code, very soon, anyone will be able to build a new product quickly, even with little technical expertise.
This means more competition in every industry, new SaaS products being released daily, and distribution (Marketing + Sales) becoming a key element to differentiate yourself and win the space.
It also means that software companies will need to spend more time tracking competitors and what they're doing. Something extremely time-consuming without the right Competitive intelligence tools.
In this post, I'll try to give you an overview of all the tools you can leverage to gather intelligence on your competitors. To suit companies in any growth stage, I'll cover both small tools that address a specific niche and full-blown competitive intelligence tools that cover all your needs.
Whether you are a team of 1 bootstrapping your product or a large enterprise with a dedicated competitive intelligence team, you'll find the best software for your needs.
What is Competitive intelligence, and why it matters?
Alright, let's chat about competitive intelligence, or CI for short. What's that, you ask? Well, think of it as your secret weapon. It's like having a map that shows exactly what your competitors are up to, where the market's heading, and what kind of bumps or gold mines might be ahead.
Here's how it works. You pull together all sorts of info – from financial reports to press articles, social media, and maybe even some industry gossip. Then you sift through it, trying to figure out what it all means. The goal? Understand what the competition's doing and what's happening in your business world.
A solid competitive analysis can highlight gaps in your product and marketing efforts and prevent expensive errors by highlighting what your competitors did that didn't work.
But why should you care about CI? Simple. Knowing what's going to happen before it happens is seriously handy. It's like having a crystal ball that shows you the future. You can see changes coming and plan for them. You're not just reacting anymore – you're one step ahead.
And when you're ahead, you make better decisions. You can grab more customers, tweak your product, and spot opportunities to make more money. It's like turning your business into a well-oiled machine. So yeah, competitive intelligence – it's a big deal.
Differences between Market Intelligence and Competitive Intelligence
Competitive intelligence and market intelligence are two peas in a pod, but they're not quite the same. Market research is like taking a big step back and looking at the whole picture – the market size, customer behavior, industry trends, that sort of thing. It's more about understanding the field you're playing on.

On the other hand, competitive intelligence is like zooming in with a microscope on your competitors. It's all about getting the dirt on what they're up to, their strategies, and their strengths and weaknesses. It's like being a detective, figuring out their moves so you can stay one step ahead.
So, while both are about gathering info, market research gives you the lay of the land, and competitive intelligence lets you know what the other players are up to.
There's also a bold difference in data freshness needs. Big markets don't change quickly, so refreshing your market research once yearly (or more) is ok. On the other side, competitors usually move fast, so competitive intelligence is an ongoing activity to keep your competitor analysis fresh and spot emerging competitors as soon as possible.
I won't cover any specific market research tool in this post, but many of the software I mention can be used for both activities.
What is a Competitive Intelligence Tool?
Tracking multiple competitors across multiple channels to gather intelligence around marketing, product, sales, and finance can be daunting and extremely time-consuming.
While Competitive Intelligence has been an enterprise-only function, often managed by dedicated agencies.
Around 2010, with the explosion of martech tools, many of them started integrating various competitor analysis features in their specific niches: social media, search engines, and so on.
Only in 2014 a new breed of companies emerged that focused 100% on Competitive analysis.
The goal of Competitive analysis tools is to gather signals and data about competitors all around the web, organize them, and highlight the most meaningful ones. They also let companies organize this information through competitive battle cards to make competitive intelligence easily accessible to sales teams.
The market is now quite mature, with at least three major all-in-one platforms and many competitive intelligence tools focusing on specific areas of competitive intelligence.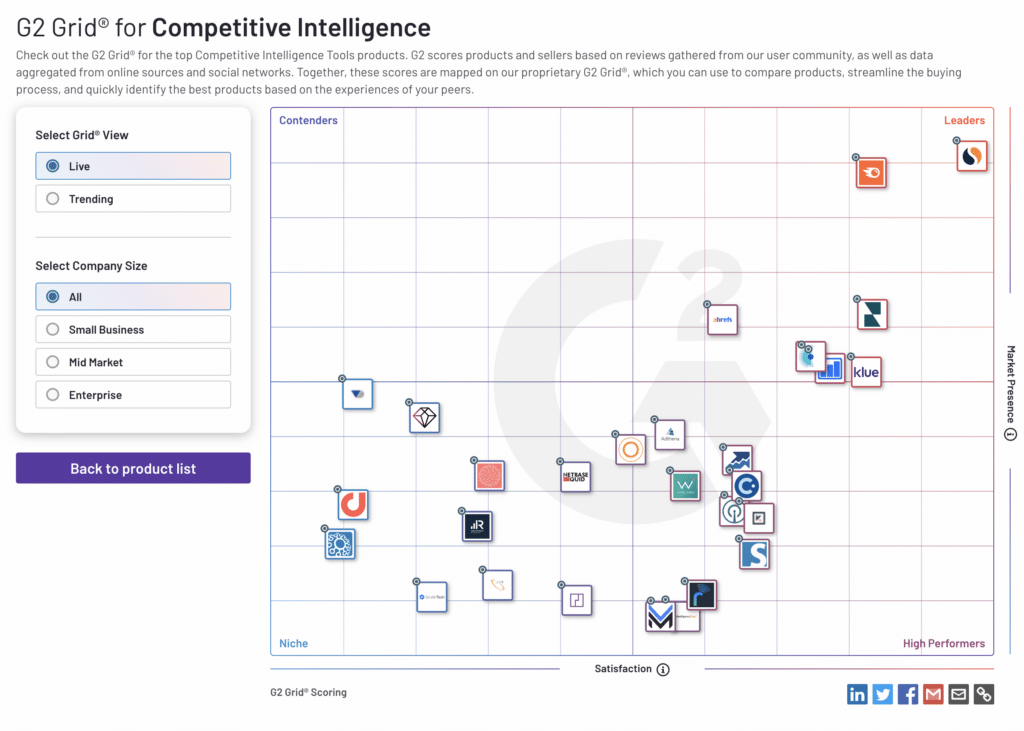 The Best All-in-One Competitive Intelligence Tools
Ok, let's start checking the most interesting competitive intelligence tools starting from 360° platforms that try to cover all the needs of a competitive intelligence team.
A common limitation of these tools that takes the competitive intelligence platform approach is they often have to pick one area of focus and fall short on others.
Most of them focus a lot on competitive intelligence for sales teams with win-loss analysis, competitive battle cards, and other features but neglect intelligence for marketing and product teams.
Crayon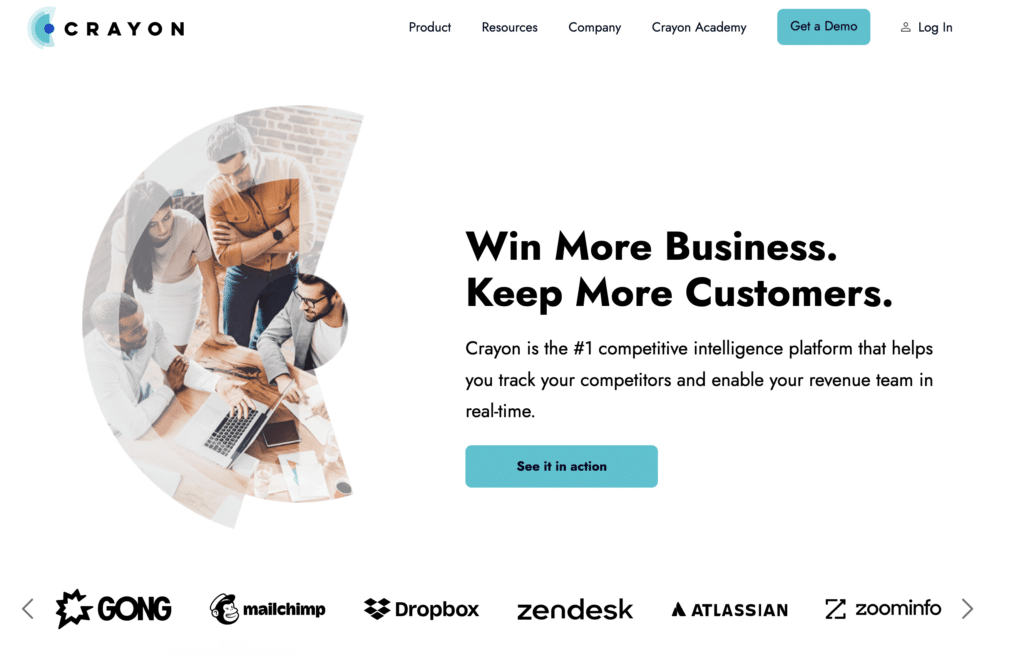 Crayon has been around for a long time; it's been founded in 2014, and since then, it has raised $38M in three funding rounds and currently has 127 employees on Linkedin. A solid company with a strong focus on enterprise customers.
Crayon clearly focuses on enterprise customers; there's no trial of the product nor information on pricing (some sources position it at a starting price of $15,000 per year… I guess the average contract is higher than that).
The main goal of Crayon is to be the central source of truth for competitive intelligence, gather and curate data from more than 100 sources, including reviews, SEC filing, patents, etc. and finally make the information available to the whole team with battle cards, slack integration, and more.
Data gathered by Crayon can be integrated with customer-provided pieces of information.
From the website, it looks like the marketing intelligence part might be a bit weak, with only social media strategy explicitly listed.
Of course, they claim to have AI and ML embedded everywhere (who doesn't nowadays?), but they also add a human touch. Every customer is paired with a "Competitive Insights Analyst" that will manually review data analysis to highlight interesting trends and signals and help customers identifying competitors, something often undervalued.

If well implemented, these are key features. Nowadays, the main problem of competitive intelligence tools is they have too much data, making it hard to focus and act on the few insights that matter.
Finally, Crayon has a strong set of integrations. It can integrate with most CRMs like Salesforce & Hubspot, communication channels like Slack and Microsoft Teams, sales call intelligence tools like Gong & Chorus, and much more.
Here's an overview of their competitive intelligence tool:
Kompyte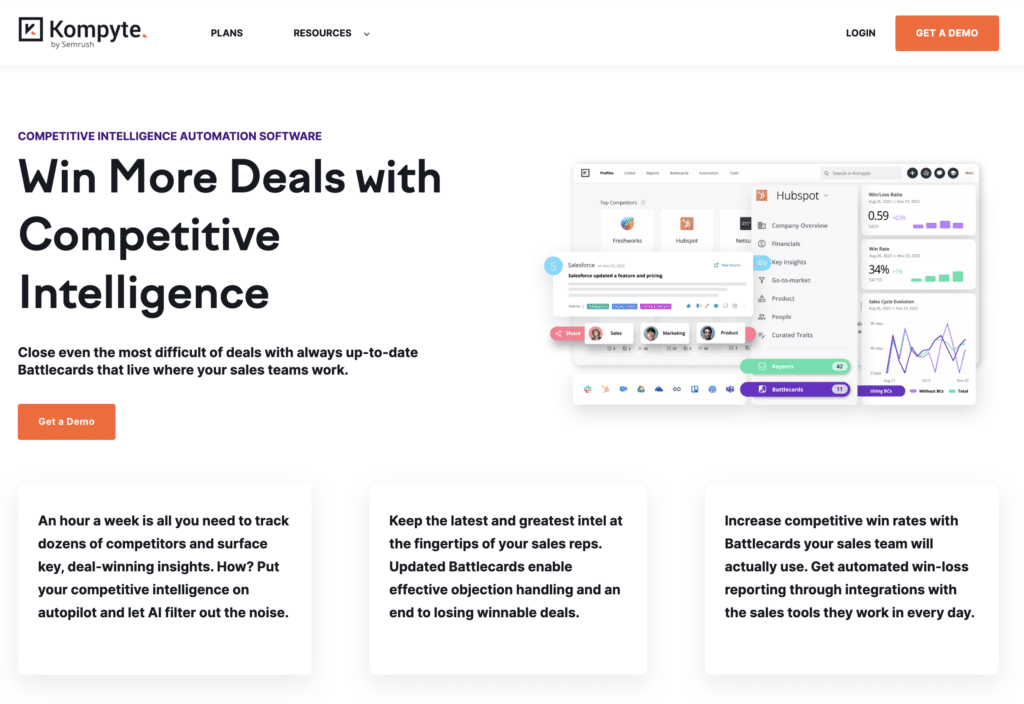 Like Crayon, Kompyte was founded in 2014 in San Francisco; it has, however, raised way less money, just $4.1M, and in 2022 it was acquired by SemRush, one of the top SEO tools.
Right now, they only list four employees on LinkedIn, which is a bit scary… however being acquired, the team might now be part of SemRush. I've checked their great blog, and it's updated constantly, so I see no major red flags.
Like most other tools with the "Platform" approach, the target audience is clearly enterprise, and pricing is unknown. At least we can get a detailed list of key features here.
On top of the usual things like sales battle cards, AI, and a lot of data points from any source you might realistically need, Kompyte also has a solid Marketing intelligence set of features. This makes sense given they're owned by SemRush, which has a trove of marketing data.
Kompyte can track social media platforms, Mobile app stores and, of course, is extremely valuable for keyword research and paid advertising monitoring.
For sure it can also track page changes, a very important feature from my point of view.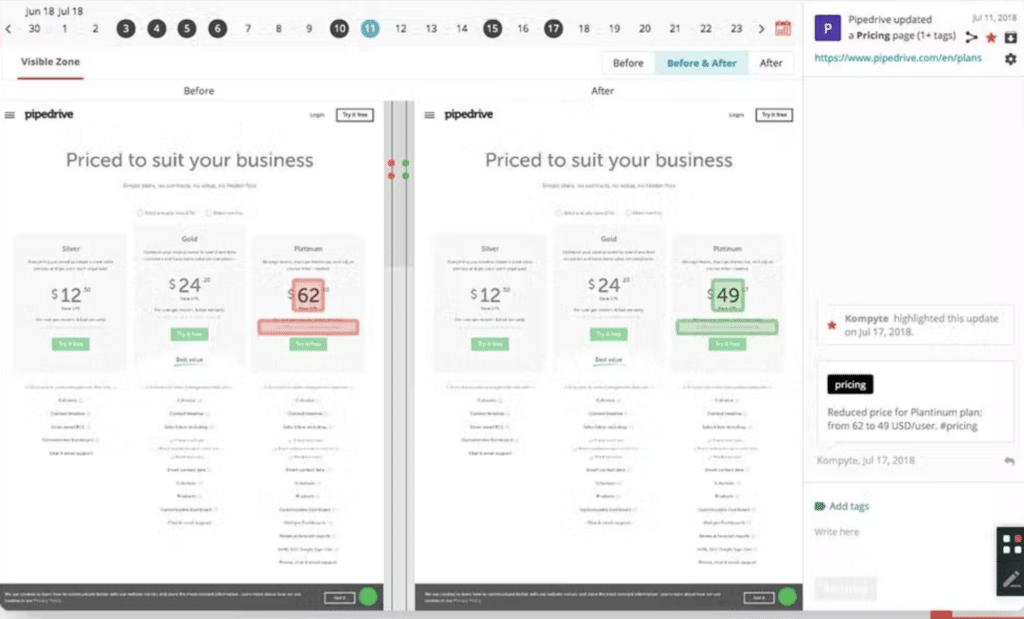 From an integration point of view, it's behind Crayon and only integrates with Hubspot, Salesforce, Slack & Microsoft Teams.
You can see a sneak peek of Kompyte in this video:
Klue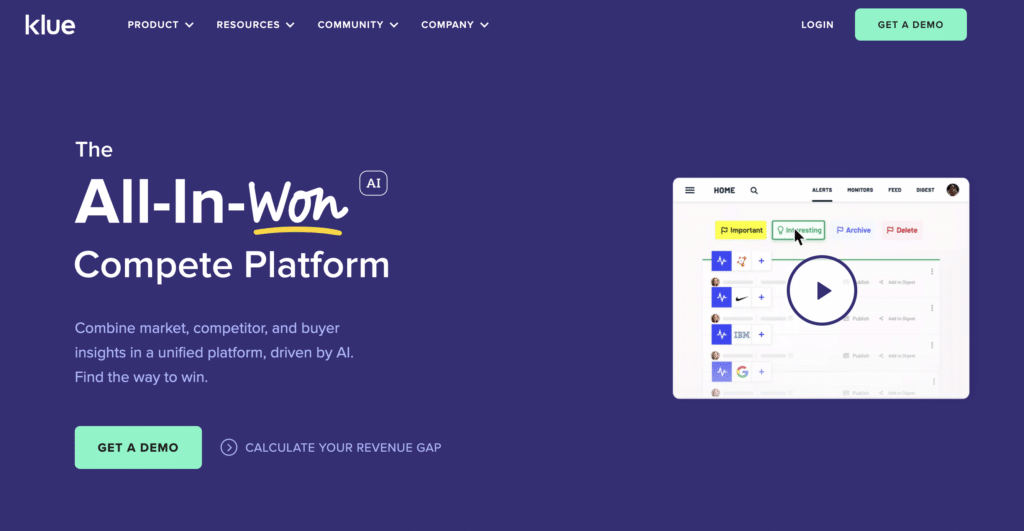 Klue started a bit later than its competitors: it was founded in 2015 in Canada. The company has raised $21M and currently has 254 employees.
Looking at the competitive landscape and external signals, Klue seems to be the winner in the competitive intelligence software industry.
It's also the most secretive one, with very little information about its key features. The target is clearly enterprise, don't even bother asking for a demo if you're not a large company, I've tried multiple time and didn't even receive an answer.
There are also few screenshots of the app around; most of those available on their website are mock-ups. But here's one I've found: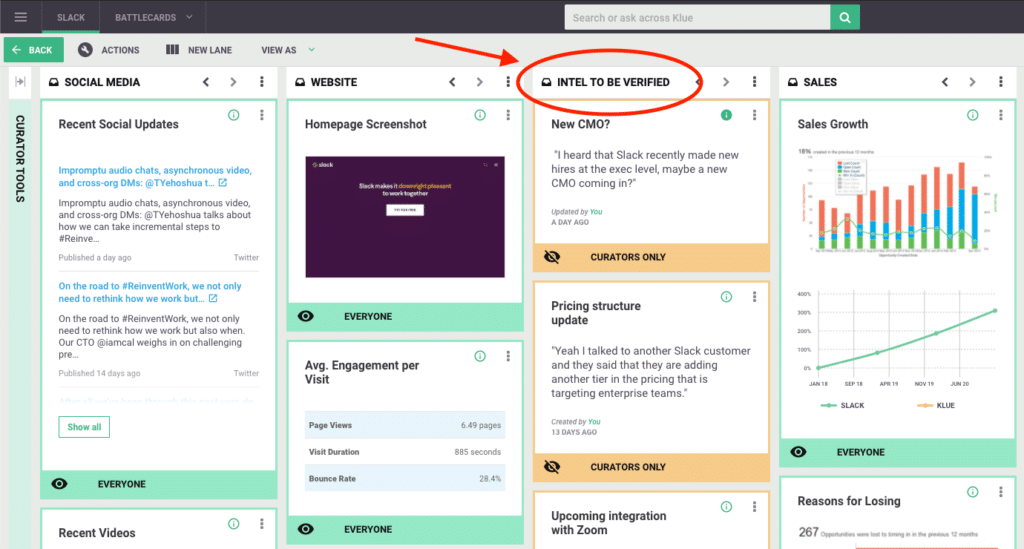 As you can see, battle cards are clearly central in Klue's UI, and most of the information gathered by the tool or by the users ends up here for quick consumption from the sales team.
Overall, they have for sure a huge amount of data sources for competitor tracking and strong integrations with almost any tool you can think of to do win-loss analysis and integrate CRM's data into competitor research.
A lot of product reviews praise their content organization capabilities, and you can create multiple dashboards for sales, marketing, execs, and product.
Another common praise is the pace at which the tool gets updated, and new features are released.
Overall even tho' a lot of details are unknown, from the feedback I received firsthand from some of their customers, Klue is likely among the two best competitive intelligence tools.
Competitors App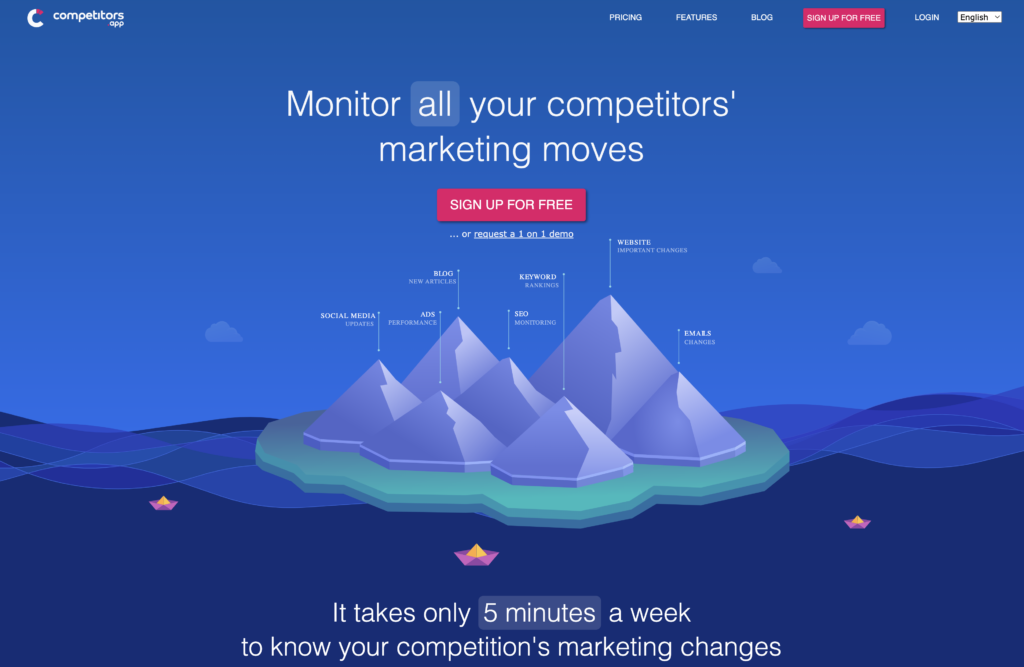 Competitors App is the new entry in the space; it was founded in 2018 in Romania and looks like a small bootstrapped company with no known funding rounds and a team of just 4.
It's also the more affordable and SMBs focused of all these competitive intelligence tools, with a self-service business model and pricing starting as low as $9.90 per competitor tracked.
Compared to the other tools, Competitors App seems very focused on the marketing side of competitive intelligence. Everything revolves around a timeline of events detected rather than battle cards, and most of the data sources are marketing related.
Here some of the most relevant features:
Identify new competitors

Track competitors ranking on search engine

Spy on Google and Facebook Ads

Detect Webpage changes

See competitors' social media performance

Detect new pages on a competitor websites

Spy on competitors' email marketing
Overall everything you need to step up your marketing efforts and stay on top of the competition.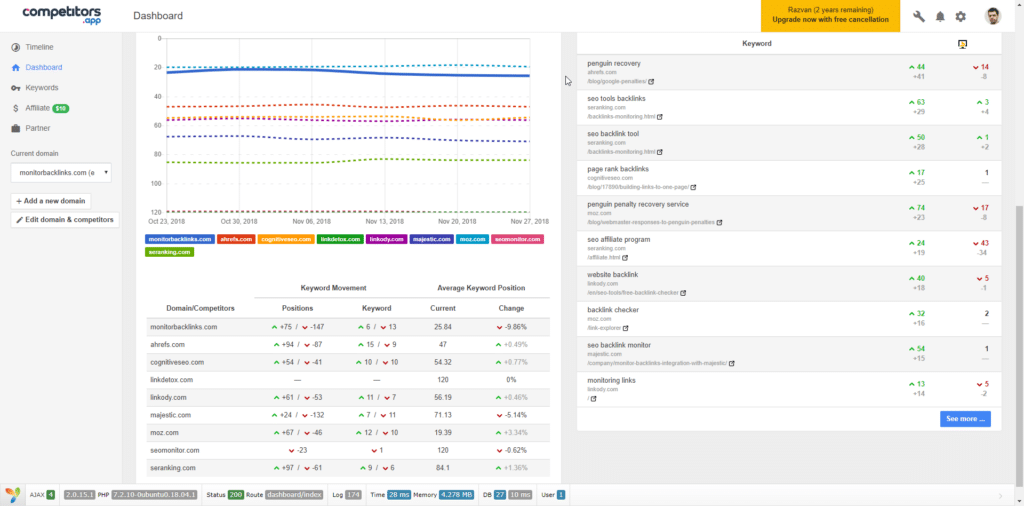 Competitors App is for sure one of the most popular competitive intelligence tools when it comes to SMBs.
Here's a 1-minute demo of the platform, unluckily they're not very active on YouTube, and this is three years old. Many new features have been released in the meanwhile.
Contify

Contify is the grandpa of competitive intelligence tools. It was founded in 2009 and there's no information of any funding round so far. Yet, it has 287 employees so we can assume it's been a successful ride so far.
The target is again clearly enterprise, and among their data sources, they also list SEC filings, and patent filings and put a lot of attention on news sources. From what we can see from the website, they mainly gather public information.
They also cover some marketing intelligence like website change monitoring, social media analysis, reviews, etc. There's no mention of any SEO analysis, which is a must-have from my point of view.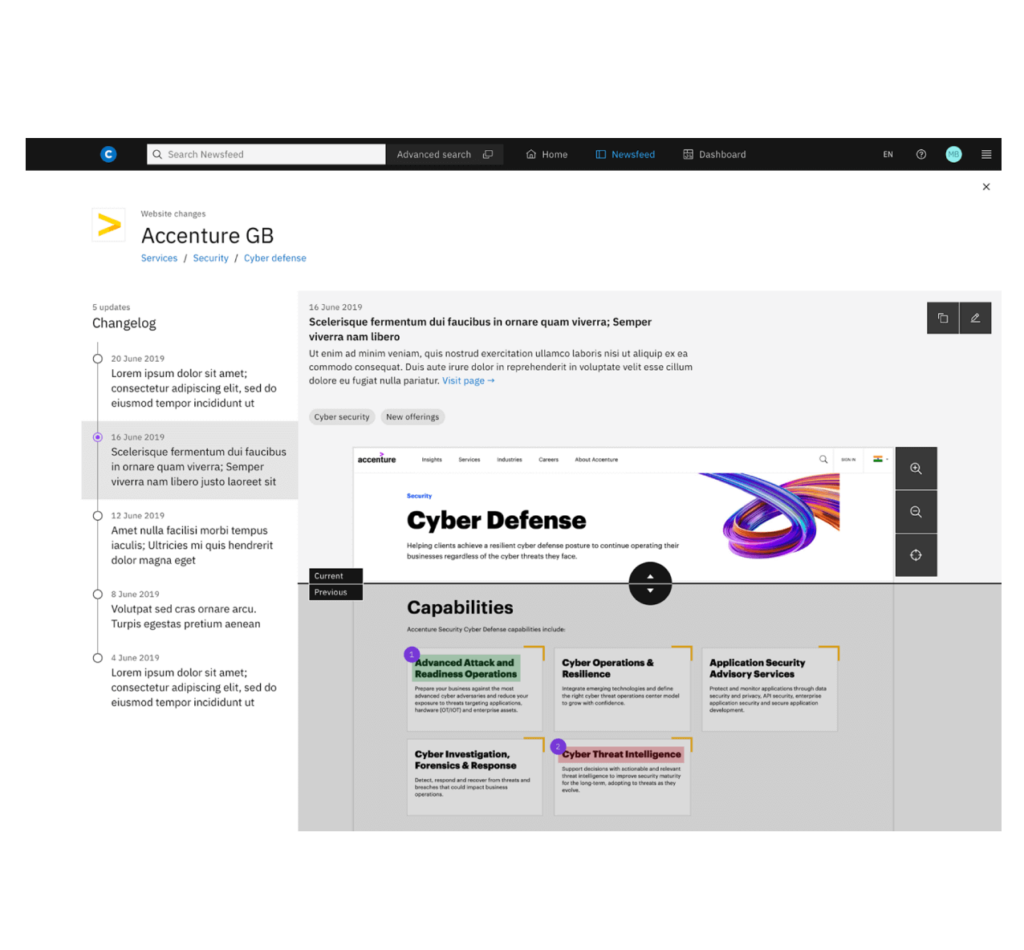 Overall, given that they also do market research on top of competitive intelligence, I think the product is more targeted to execs rather than GTM teams.
Here's a high-level overview video of Contify:
The Best competitive intelligence tools for specific tasks
Now that we've gone through the competitive intelligence tools that take the "platform" approach let's check niche solutions that are way more accessible from a pricing standpoint but only focus on a specific area.
Visual Ping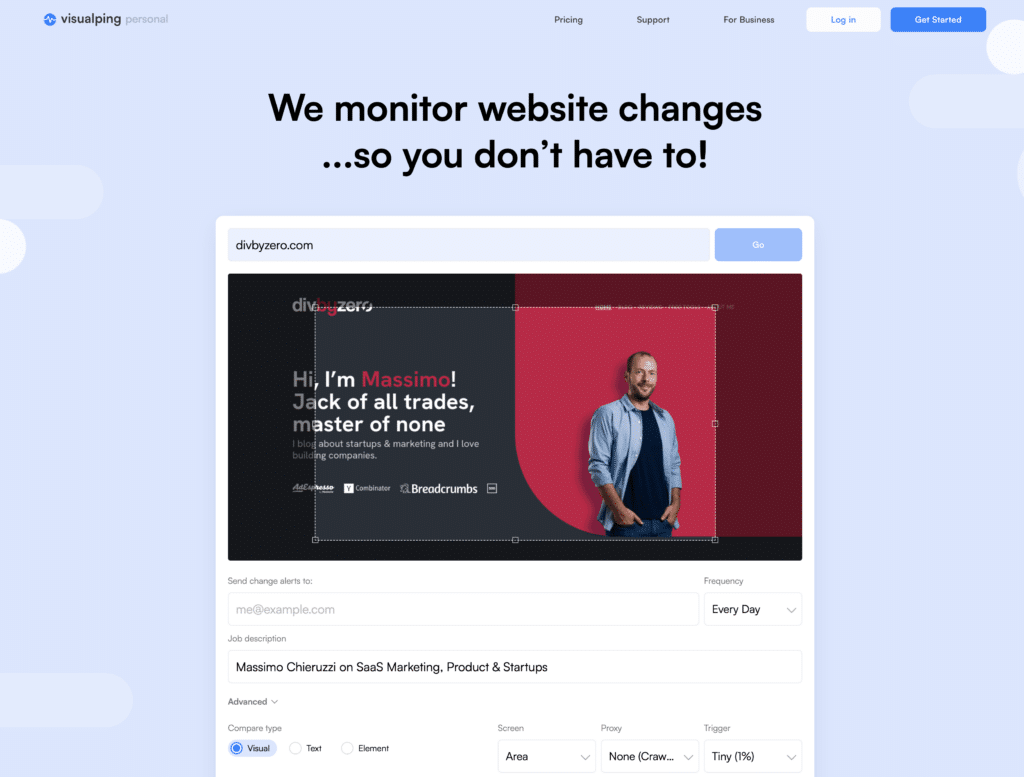 VisualPing is one of the most used tools to track website changes.
Getting started is very easy, just type the name of your competitor on the homepage and start setting up your first monitor.
They have a generous free plan that lets your track 5 pages per day. You'll likely need more, but overall it's not gonna cost you a crazy amount of money, especially if you don't need daily tracking.
Everything is pretty straightforward; you select the URL to monitor, the check's frequency (which can go down to 5 minutes), and the way to monitor changes.
There are three ways to monitor changes:
Visual: a screenshot of the old version and new version are compared for differences. It's nice on paper but a simple announcement bar on top of the website can shift the whole website and make VisualPing think 95% of it changed. In my experience, it triggers a lot of false positives.

Text: Looks into the HTML of the page, looking for changes. It's the most effective one, even if dynamic sites can trigger it very often.

Element: in this last mode, you'll select a single element of the page to monitor for changes. It's the most accurate but also very limited. It's great for use cases such as checking a price change.
Finally you can also select a percentage of changes that will trigger an alert. Quite useful for reducing noise.
Every time something changes, you'll get an email, and you'll be able to check inside the app the whole timeline of changes for each page you're monitoring.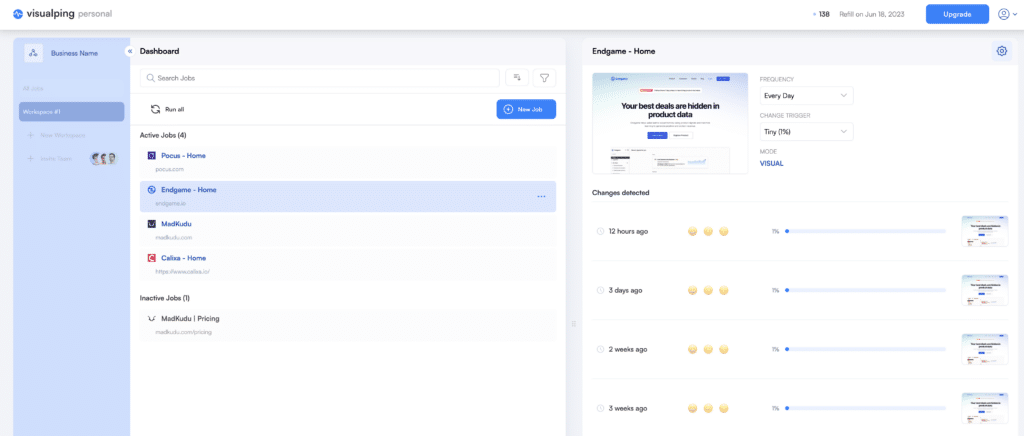 SimilarWeb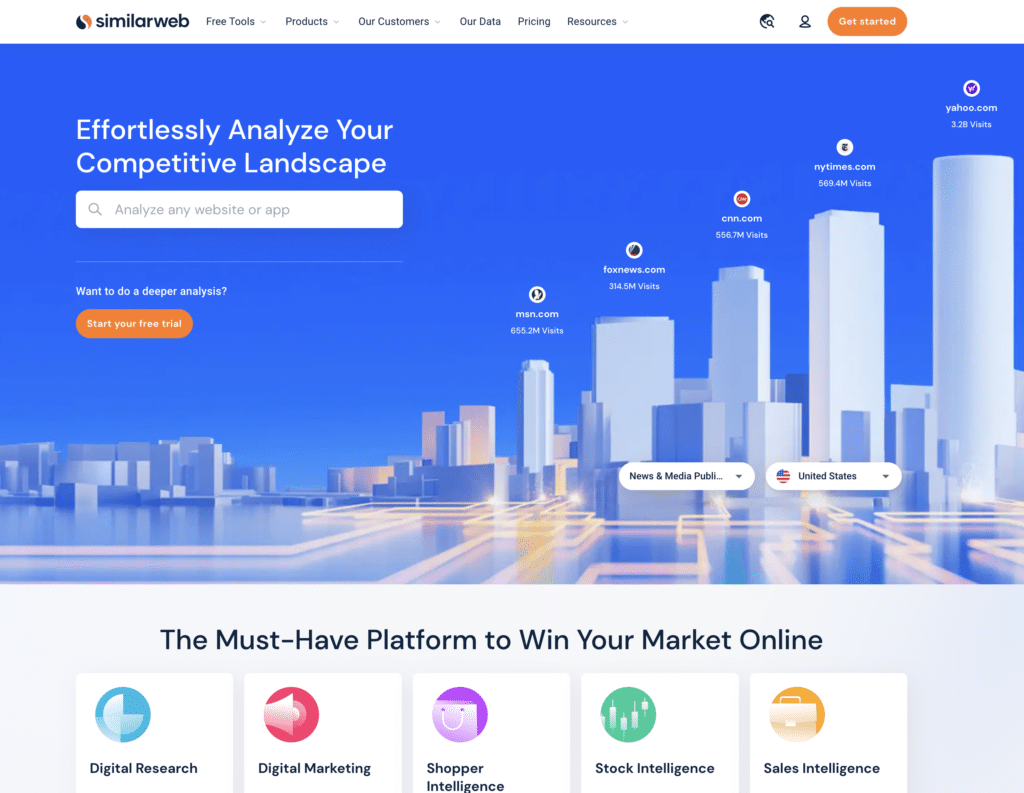 SimilarWeb has a trove of data on websites' marketing performances. What's even better: a lot of data analyses are available for free. Just type in any website URL, and you'll see in-depth estimations of:
website traffic

traffic sources

top landing pages

paid keywords

referral traffic

top marketing channels

Audience analysis and Audience overlap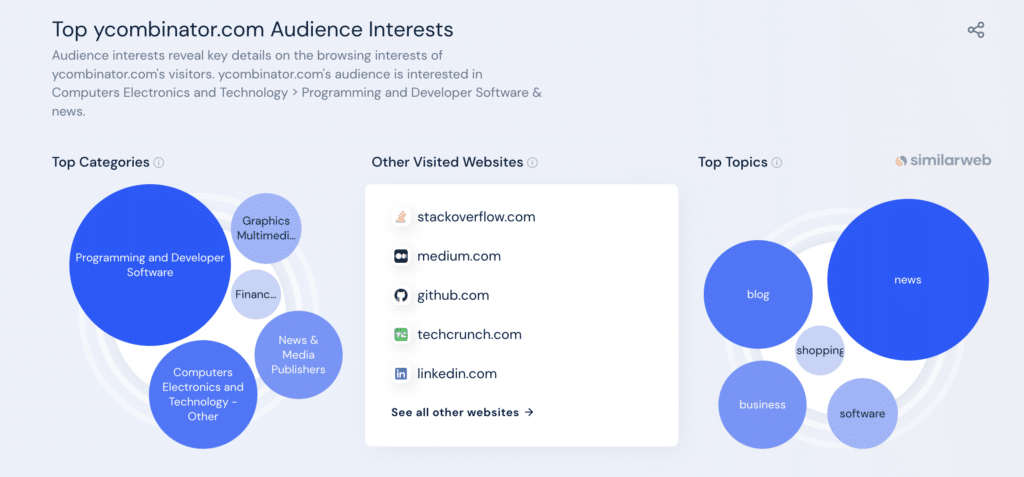 It's really a lot of data, and I use it at least every week to get a grasp on how competitors are performing.
While the free version is already very powerful, the paid one (starting at $167 per month) unlocks even more data like keyword research, PPC campaigns and much more.
One thing to keep in mind with SimilarWeb is that while it provides valuable insights, its analytics tools are are based on estimations. It's not a big deal, and most tools suffer the same problem. While the "2M visits per month" figure is likely wrong, it's also likely wrong in a comparable way across the board, so it's still very effective to compare your website with specific competitors.
Obviously, they are integrating Artificial intelligence inside their tools to explain their data better and provide more valuable insight.
TL;DR: it's a great app to understand traffic data and overall site's performance.
SemRush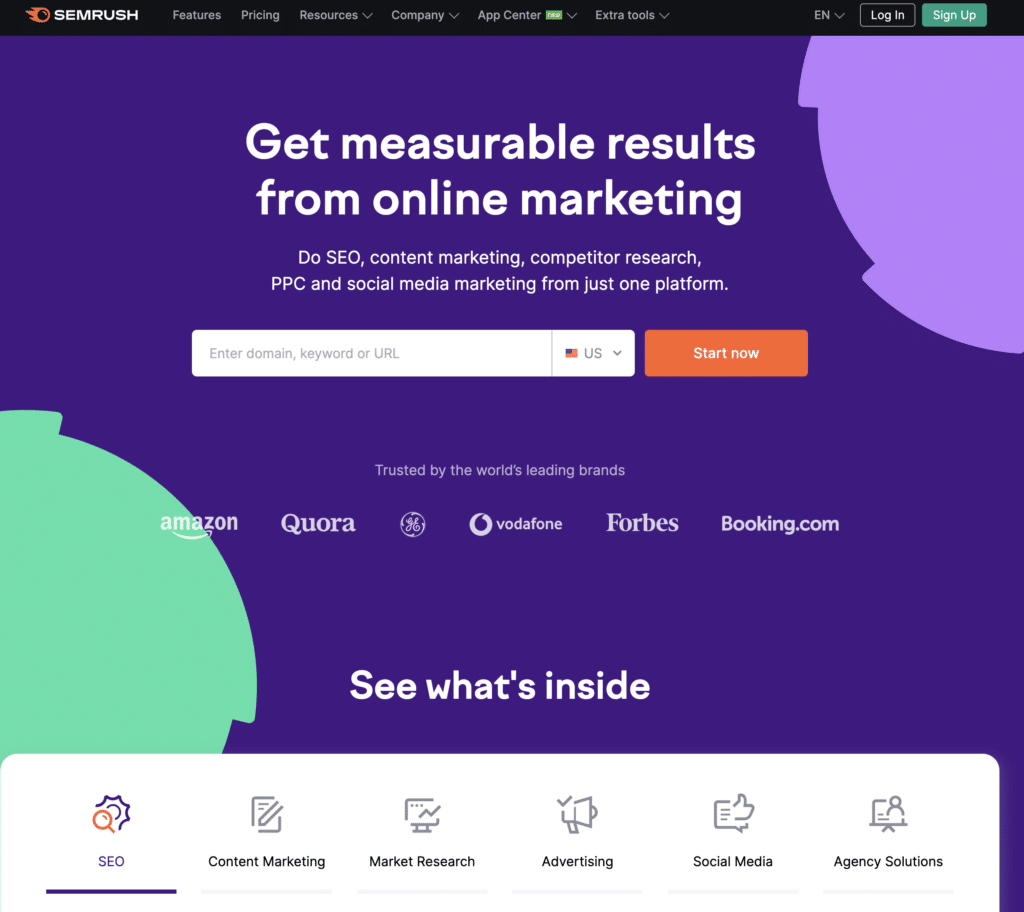 SemRush is one of the leading SEO tools today and even does social media management. It does a lot of stuff, and likely your team might already be using it for content marketing.
So why I'm including it here? Because they have a lot of features specifically designed for competitor research.
With Semrush traffic analytics, you can learn a lot about the traffic sources of your competitors, it doesn't limit to organic traffic; it also has a very detailed PPC research tool.
What I love about SemRush traffic analytics is the amount of historical data. It's literally a wayback machine, and you can see the full growth trajectory over time of your competitors.
SemRush also allows comparing specific competitors across SEO and other channels, seeing a full keyword analysis, identifying content gaps between the two content marketing strategies, and getting a lot of actionable insights to gain an edge over the competition.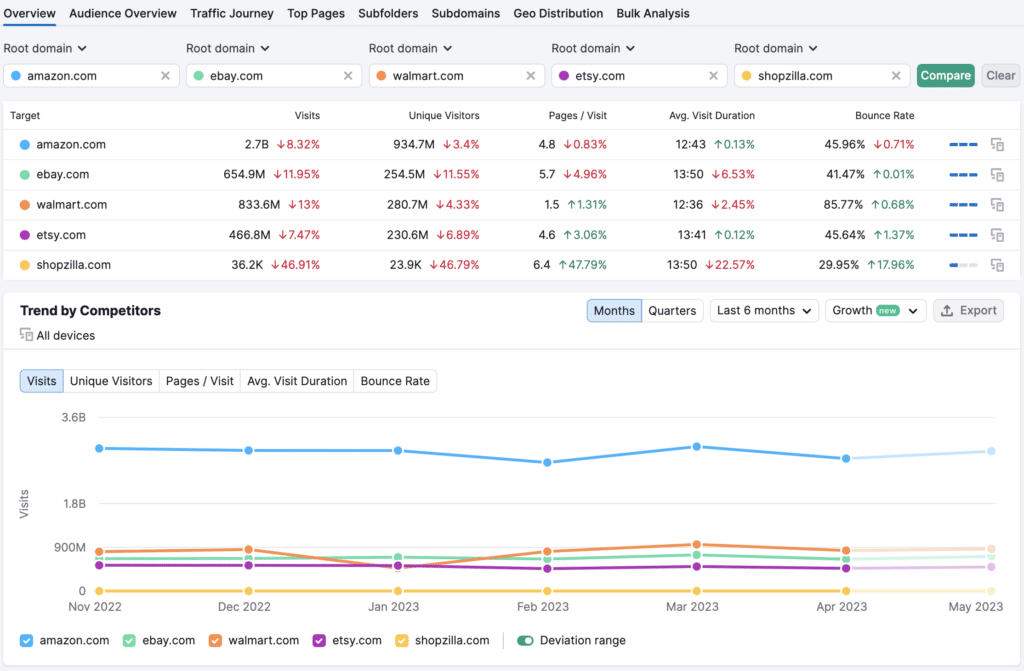 I really love SemRush, and it's been a pillar within my marketing tools for a long time. The only critic I can move it is that with so many features, sometimes it can fee overwhelming.
Pricing starts at $119/month, but to get all features, you'll likely want to go with the $229 plan.
Alternatives: I won't list here all the SEO tools in the world that can be used for competitor intelligence; they are way too many. The only one worth mentioning is Ahrefs, which I love for SEO and is great for spying on your competitors.
Honorable mentions
Owletter: a great service to monitor your competitors' email marketing efforts. Generate a one-off email, signup to their newsletters or onboarding flows, and find all their emails categorized and easily accessible.
Wappalyzer: Laser-focused and open source tool + browser extension to immediately detect which technologies a website is using. Great to reverse engineer your competitors' tech stack.
SparkToro: A great audience analysis tool to understand who's following your competitors, who speaks about them, and identify the audience overlap.
Hootsuite: Like most professional Social media tools in today's digital world, Hootsuite lets you monitor social conversations and see who's engaging with your competitors.
Wrapping it up
I hope you enjoyed this overview of the best tools for competitor analysis. I think picking the best one for you comes down to how big your team is and the stage of your company.
If you work in al large enterprise, I'd likely go with Klue or Crayon. If you're a small Startup, it's probably better to identify what are your most urgent needs in terms of competitor research and go with point solutions that are way cheaper!
Did I forget something? Have tools you love that are not mentioned here? Just let me know, and I'll be happy to add them.