Welcome to the definitive guide on how to run a successful Instagram Giveaway in 2021.
In this in-depth guide you'll learn how Instagram Giveaways can help you:
Increase engagement and buzz around your Instagram account.
Showcase your products and increase awareness.
Get tons of new Instagram followers – and emails in your list too!
Lots more…
I like to get down to the nitty-gritty so this guide includes real-life examples and quotes from people and companies who used Instagram Giveaways to get their marketing to the next level.
We've got a lot to cover, so get comfy, and let's dive right into the ins and outs of Instagram Contests!
PS: A lot of guides out there are super long and verbose to impress you (and Google). We do our best to keep it short and just pass you the information you really need to succeed.
Instagram Giveaways Explained
A Day In The Life
I bet it's happened to you too. You open Instagram and get a notification from a friend. You click on it expecting it to be a funny meme but instead, it's a tag in a comment on an Instagram post about a Giveaway.
I don't know about you, but as a marketer, I've always been curious about whether this is an effective strategy to increase awareness for my brand, increase my followers, and even drive signups to our mailing list or generate sales.
I've seen Instagram giveaways explode and generate millions of new followers but also others implode and give away expensive prizes with basically zero return for the company.
So can an Instagram Contest be an effective strategy in 2021? What differentiates a great contest from a complete failure? Let's find it out!
What Are Instagram Giveaways?
First of all, let's define Instagram Giveaways: they are contests that you can run on Instagram where you give away something for free in exchange for a social activity like a comment or share. We're going to define those actions later on but my advice is to read this guide from top to bottom.
After picking the right social action to ask your contestants, you'll also need to make sure to follow Instagram rules (less fun) to ensure you are doing it right. You'll also need help to run it and pick the winner without losing your mind by reading thousands of comments – yes, you'll be that successful!
Why Should You Run Instagram Giveaways?
There are at least four reasons why you should run an Instagram Contest:
Increase engagement around your Instagram account. When you ask your followers to do a social action – and they do it – the IG algorithm recognizes your content as more relevant and gives it precedence over other posts. The social proof you'll get will do the rest.
Showcase your products to a larger audience. Use a giveaway to increase the awareness of what you are selling or even to tease a new product and create the buzz you need for the release.
Get new Instagram followers fast. Once you have your own giveaway set – and include a follow in the action required to enter – new followers will be flowing in while you sleep. Follower activity will level off post-campaign, but you'll always be a net positive.
Grow your email list with qualified leads. Not all strategies include lead generation activities but… why not? With a little more work, you'll be able to direct your followers to a blog post or a landing page where they can leave their email addresses and get another chance of getting your product. It's a win-win, don't you think?
When Should You Run Instagram Giveaways and for How Long?
There are no specific rules on the time of year, but you can leverage the holidays throughout the year to increase excitement and elicit action. Check your calendar and look for the next holiday.
No matter if it's Valentine's Day or Christmas – ask yourself: will this resonate with my audience? Do I have the resources (time, people, money) to run it during this busy time? There, you'll have your answer on whether to run it or not.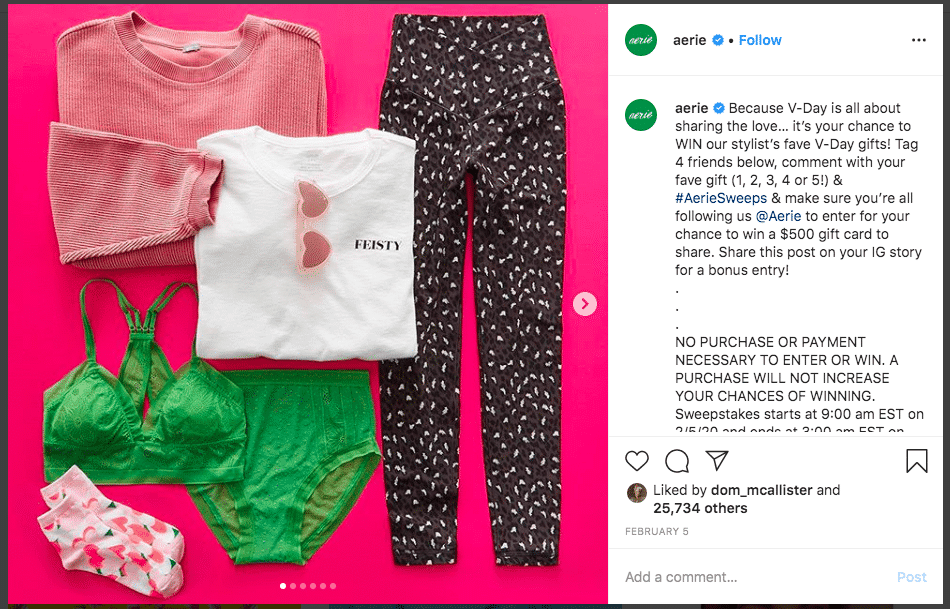 However, do not feel constrained by the calendar. You always run contests before the launch of a new product, to celebrate reaching a certain number of followers, or during a period where you see a decline in the engagement on your post. It can even be a routine part of your social media strategy.Not convinced? We'll show you that it's worth it in a bit.
When how long you should run it, you need to consider different factors: resources are key but it's also important to consider the value of what you are giving away. If you're giving a 5$ gift card you don't want to run it for one month – however if you're giving away an expensive item like an iPad, then maybe.
In general, you don't want to keep it too long because people tend to put their actions off if they see they have time and then they forget about it. So, if you choose the iPad, make sure you post constantly to remind them about the giveaway.
Are Instagram Giveaways Good For Your Marketing Strategy?
Short answer: YES!
No matter what your goal is, always keep in mind that Instagram sweepstakes should be part of your marketing plan and not just a quick way to increase your followers just for the sake of it. Be as clear and transparent as possible and give away gifts that are coherent with your brand.
Believe it or not, giveaways and contests not only works extremely well for consumer brands. They can also perform very well for b2b and SaaS companies.
Start small then consider partnering with an influencer to split up costs. Also, when choosing an influencer, always consider who you're partnering with, don't be afraid to start small but give more relevance to being coherent with your brand goals and tone.
After running an Instagram contest, some people will unfollow but you should aim at continuing to provide value, creating engaging content, and brainstorm new Instagram Giveaway ideas. You'll learn a lot from your first experiment and this will give your real-life data tailored to your brand and niche so that you'll be able to scale for your next giveaway campaign.
Instagram Giveaway Rules
What Instagram Says
I've lost count of the number of people I know who have had their page shut down by Facebook in the past because they were not following the rules – and guess what? Their rules are just getting stricter.
So, the first suggestion: follow Instagram giveaway rules! There are a bunch you need to follow when deciding to run a contest on Instagram. It may sound obvious but – really – include them.
Before you even start organizing your giveaway, make sure you have the right resources and time to run it because when you run it, you do so by yourself – Instagram won't help you in running or managing it and you are responsible for creating a lawful contest.
Second, don't forget to mention the eligibility requirements for your contest and any exclusions. Be as clear and as transparent as possible: add the start and end date of your Instagram contest, rules on how to enter, how and when you'll announce the winner, and how the prize will be delivered to them.
Third, you must not inaccurately tag content or encourage users to inaccurately tag content (example: don't encourage people to tag themselves in photos if they aren't in the photo). This is important for you if your sweepstake strategy includes asking for user-generated content.
Finally, remember to add a sentence in your post that acknowledges that "the promotion is in no way sponsored, endorsed or administered by, or associated with, Instagram." Keep this wording handy, you'll need it every time you run a giveaway.
Rules may change – so make sure to check Instagram Promotion Guidelines. You'll be relieved to see it's quite a short document and it's way more marketer-friendly than the Facebook one.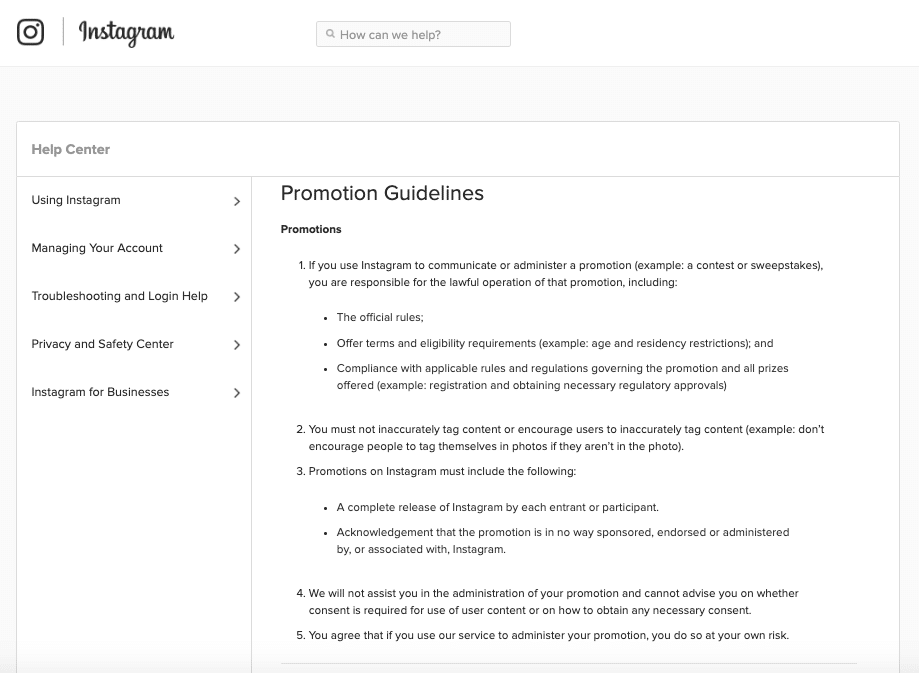 NB: don't forget that each country has its own regulations about contests and sometimes they are stricter than Instagram's. Go check where you are marketing to – you may need to request additional permissions or choose to remove some countries altogether.
Instagram Giveaway Rules Cheatsheet
With that in mind, we have built a list with all that you need to include in your caption to follow the rules when setting up your Instagram giveaway.
Mention that Instagram is not involved in the contest
Add the start and end date
Explain the guidelines on how to enter the competition
State eligibility and/or any exclusion
Disclose when and how you'll announce the winner
Say how you'll deliver the prize
Now that your Instagram giveaway rules are set, you're ready to move to the most exciting part of it all: picking your prize, set up your contest, and see new followers and results coming in. Thrilled? We are too, continue reading to find out more
Choose The Right Instagram Giveaway Ideas
What do you want to achieve?
First of all, you need to decide what your marketing goals are (shares, engagement, etc) when running your giveaway. This will tell you how to choose the right Instagram Giveaway for your business.
Wait. Before picking it – quick reality check.
Do you have the resources to give away something valuable or are you giving away cheap merch? This first question will inform you of the kind of commitment you are asking of your contestants: the bigger the prize, the higher commitment you can ask. Don't ask to like, tag a friend and post a picture if you're giving away something worth 1$.
Protip: when assessing price value, Brandon Harris, founder of @Playmaker suggests "I like to find products with the broadest appeal and highest perceived value that I can also get at a discount. An example in our case is that we often have brands donate sneakers in exchange for being included in the giveaway. The perceived value should be at least a couple hundred dollars and, for maximum results, at least $1000."
Now it's the time: what is your marketing goal? We described four above, but you don't need to pick one as it is likely to be a combination of those – with some weighing more than others.
Do you mainly want to increase your followers on IG or increase your email list? Different strategies will work depending on your main goal.
But what actions do you have in your arsenal and when to use them for the best result? We have summed the best strategies to choose the right Instagram giveaway for you below – check them out and pick one (or more!) depending on your overall strategy.
Follow, like, or comment
Tag your friends
Share the post in the feed or story
User-generated content (UGC)
Lead generation
Follow, Like, or Comment On The Contest Post
With this action, you ask the contestant to follow your account, or like/comment on your post. Follows and likes are almost always included in any giveaway, so even if you are using one of the other strategies, we suggest always ask to follow the account and like the post.
Is it the right Instagram giveaway strategy for you? Like and follow are very easy actions to perform, so you may want to use them when the prize is not very big or if you want to engage your existing audience. Comments, on the other hand, require a bit more engagement from users.
Because of this, keep in mind that when asking only follow and like, the viral effect is quite limited. This kind of contest mainly increases reach and visibility among your existing follower base (unless you push it with advertising). So it's the kind of contest we recommend for accounts with an already established and big follower base.
On the other hand, when asking for comments our recommendation is to ask an engaging question as part of the contest.
For example: "What's your favorite marketing strategy to grow your blog's traffic? Best answer wins a T-shirt!".
Marketer Tai Lopez uses this tactic very often: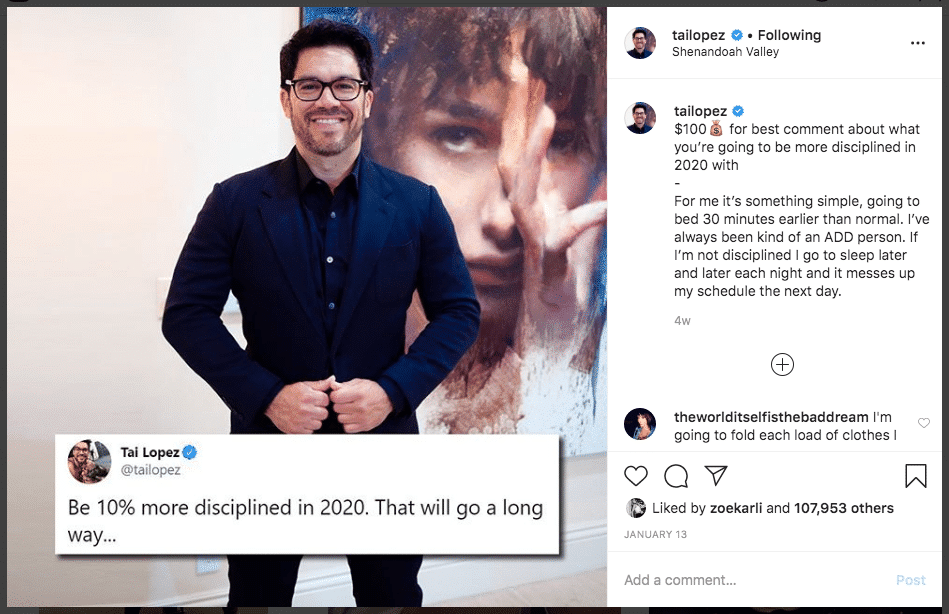 Tag Your Friends
In this case, you are asking people to tag one (or more) of their friends to enter the contest. This may prove more difficult as tagging friends can be perceived as annoying – think about being on the other part… how would you like to be tagged in random comments from people you barely know?
Is it the right Instagram giveaway strategy for you? You can use it to boost your follower count, as you'll get more visibility so – for the rule of big numbers – you may get more followers.
If your goal is to increase your follower base, combining this giveaway logic with the previous one is the killer combination as you'll reach a new audience that doesn't know you yet.
Of course, you don't want people to tag friends who are totally not interested in your brands so here it's very important that you have a prize that is very appealing only for your potential customers and you clearly call out that they should tag a friend who would be interested.
As an example, check this Keepingitkissel giveaway: when asking to tag a friend they ask to tag someone who'd like singer Brett Kissel.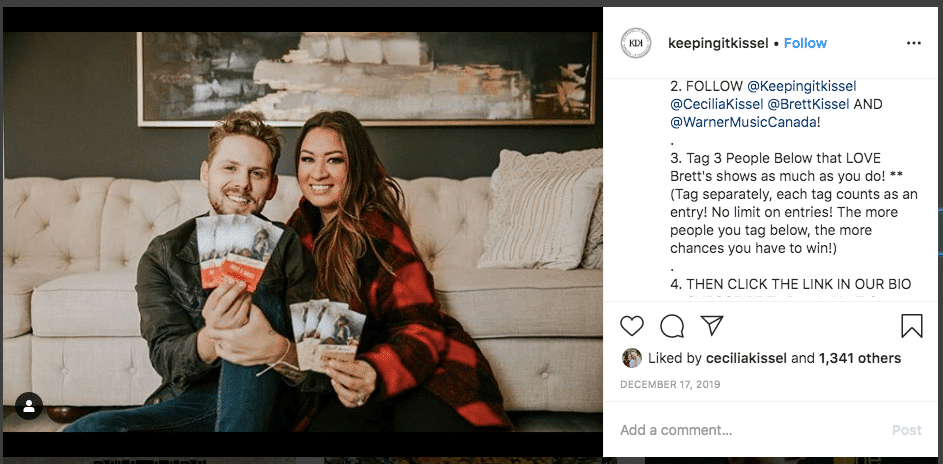 This strategy is used in combination with following and/or liking and involves asking contestants to share your post in their feed or stories.
Is it the right Instagram giveaway strategy for you? Keep in mind that organic posts may not be on top of users' feeds and stories are only available for 24 hrs (unless users save them in the highlight stories) so you may want to use this strategy when you run a flash giveaway as this type of content is not visible for a long time.
This will increase visibility into your follower base's own feed and is easier for them to do but will be less direct – and engaging than tagging.
We suggest asking to repost in the stories as they have more visibility – if you want to add an additional entry, ask them to repost your post daily or to repost the story once a day for the duration of the contest. You'll be top of mind and you're also giving your contestant a chance to win additional entries.
In the giveaway below, Sassywoof gave 20 additional entries for one repost or share to IG stories: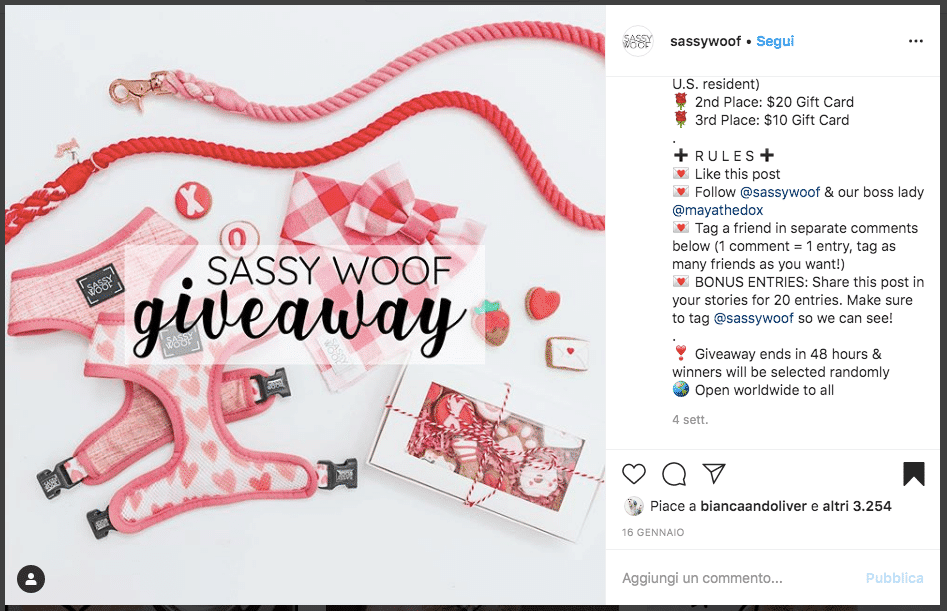 User-generated Content
User-generated content (UGC) strategy includesasking you contestants to share a picture or a video of them doing something or with your product. This is a very big ask for contests and it can be difficult to track – we always suggest you crafting a dedicated hashtag for your giveaway but, in this case, it's absolutely needed, as this will be the only way to find the content on Instagram and use it to find your winner and repost the most engaging content.
Is it the right Instagram contest strategy for you?This is not for everyone! In order to entice users to share their Instagram photos or make a video of themselves, you need to have a big prize. Also, keep in mind that – by Instagram rules – you cannot tag content or encourage users to inaccurately tag content (for example: don't encourage people to tag someone who's not in the photo).
Use a photo contest to increase brand awareness and loyalty toward your brand. You can also use it as a broader strategy to increase sales and get new customers but, in this case, you'd need a bigger prize and a more general request (like sharing a picture with your dog – yes, we like dogs, who doesn't?)
Growe_shewsbury created a branded hashtag #peacelovegrove and asked their followers to share content – the prize? A $250 gift card. This generated more than 800 UGC, not bad for a photo contest ran by an account with only 3K followers.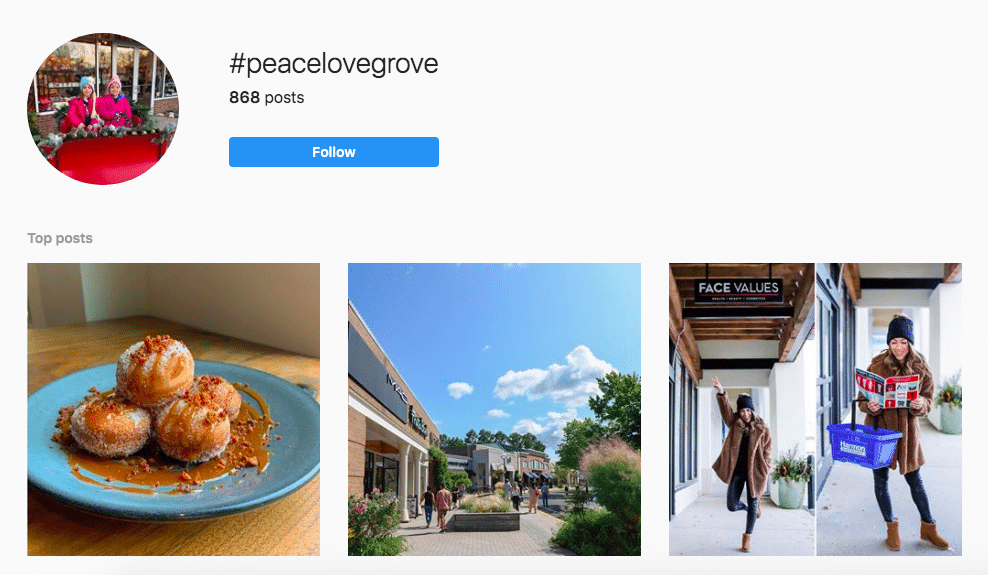 Lead Generation
Getting new leads is something we all want. It usually happens via a landing page where people leave you their email address and get something in return. It is usually a free goodie for which they are willing to give you their contact information and agree to be part of your email list. In this case, they'll enter a chance to win the prize you offer.
Is it the right Instagram giveaway strategy for you? This is a big ask! Don't get me wrong, it could work and it's indeed perfect as you'll get a lot of emails and you'll be able to remarket to those people BUT there are some cons you should consider:
You need a landing page. This is not a given, you'd need to have an optimized page to send your users and a form so that they can leave you their information.
Instagram doesn't make it easy to share your link. Links on Instagram posts are not clickable and the only place where you can put just one (1) link is in your Instagram bio.
You need to abide by privacy rules. After users leave their contact info, they may unsubscribe or ask not to be contacted further.
My suggestion is to use it as an additional entry while keeping the primary engagement on Instagram.
Hammonds_uk combined different strategies for this 12-day giveaway in preparation for Christmas and used a landing page as an additional entry.
Protip: links are not clickable on Instagram posts – take it from them here and use the link in bio for your website and landing pages.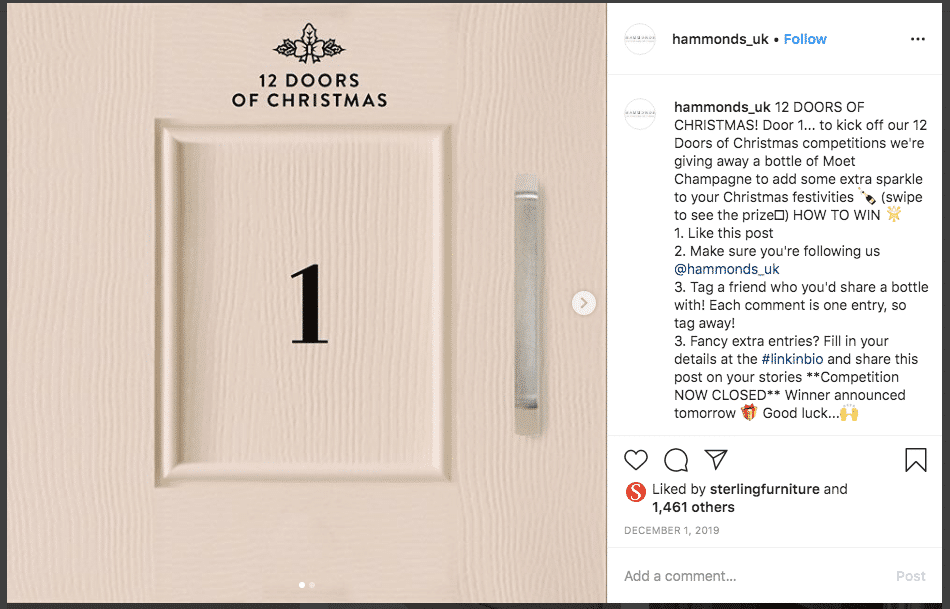 Mix and Profit
You know your business better than anyone else! These strategies can be used alone or together, mix them at your own convenience to create the perfect blend for your brand, resources, and goals. And don't forget to test! Testing is fundamental for every marketing strategy: start small and test your strategies out – you'll find the best combination for you!
We asked Andrea D'Ottavio, Managing Director at Webing, how to choose the right Instagram giveaway strategies and he said that would depend on your goal.
"If your goal is to increase brand awareness and engagement, I recommend the comment picker strategy, where entrants are asked to comment on one or more posts with the contest hashtag + tag a friend. In this way, you'll get thousands of comments quickly and get viral with a chance to be featured in the top posts or on the explore page. "
He suggests using "UGC if you want to boost brand awareness and get content from your followers." This can be done by creating a lean contest using hashtags.
You'd need to clearly state how the contest works
Users publish UGC as video or image (no stories) on their profile, add the contest hashtag and tag you and one or more friends
You can pick the winners
How To Run An Instagram Giveaway And Pick The Winner(s)
Keep Your Goal In Mind
It bears repeating: you know your business better than anyone else! And that's true also when you decide to run an Instagram giveaway.
You also know what resources you have at your disposal, what can you spend on items to give away. With all this in mind, you can choose the best strategy for your Instagram Giveaway.
Keep that in mind throughout this chapter, it'll come useful.
List Your Assets And Get Started
Hashtags. Either popular or custom-made, make sure to include them.
Partner with an influencer. Join forces and split costs, make sure you choose the right one.
Landing Page. A must for lead generation, it can be difficult to set but it's a sure hit.
User-generated content. Boost engagement, loyalty & increase sales.
Additional entries. Do more, get more chances to win.
Multiple prizes. More chances to win may also mean more prizes!
Paid traffic. Reach the right people at the right time even if you don't have a big organic public.
Choose Your Gift(s) Wisely
This gets down to the question: would you prefer a lot of random engagement or a smaller audience (that doesn't necessarily mean few) with a real interest in your product?
That got me thinking: giving away stuff for free is surely easy, right? Not so fast, though. What you give is also important. If you give away an iPad you'll get a lot of engagement but will the people following you be interested in your product? Doubtful.
So what to give? Read on for some food for thought.
How much will it cost?
This answer is always: test, test, test.
I've seen a lot of companies put money down the drain because they went all in for their first giveaway, choosing an expensive price thinking that this alone would do the trick. First, you'll need to get experience in promoting your contest – this can be done by starting small and testing. Only then, by learning from your results, you can scale.
Starting small could mean giving away a book – that won't get you 1 million followers, of course, but it will allow you to try out your audience and yourself. Run an Instagram contest for the first time, and check your result then start from there to create your next – bigger – one.
How to find out what your audience loves
First ask yourself: does it align with your brand?
It's the iPad conundrum. You may be tempted to go for a popular item that will get you tons of engagement but the question is whether people will be interested in your product and your content after the giveaway is over.
Prefer something which is on-brand – it can be your product, of course, or something which can be used with your product. If that's an iPad, even better. But it may as well not be, and that's ok too.
Say you're an online cat (and human) shop like Meowingtons, giving away a cat tree is a perfect idea: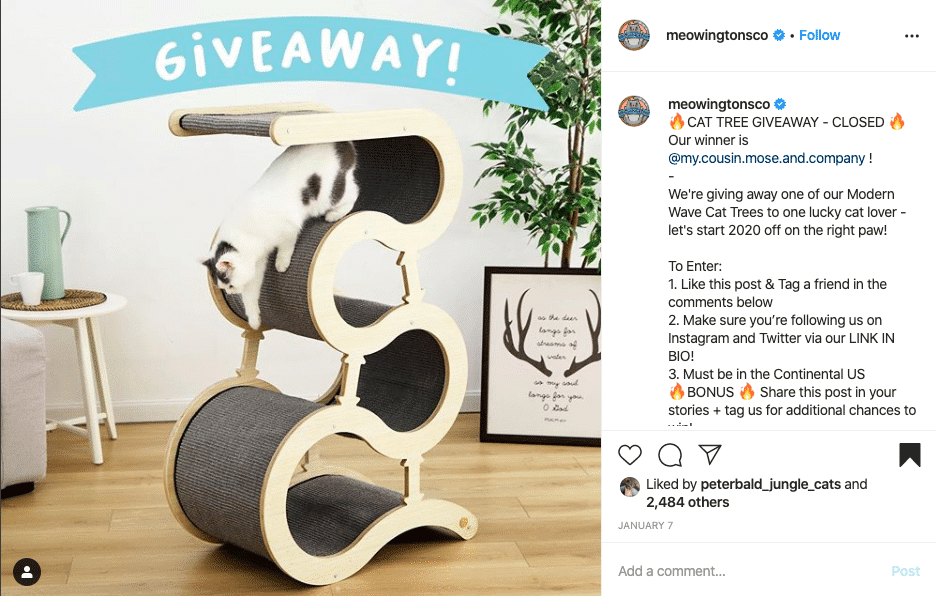 Or indeed if you are selling books, giving away some may prove to be the winning strategy: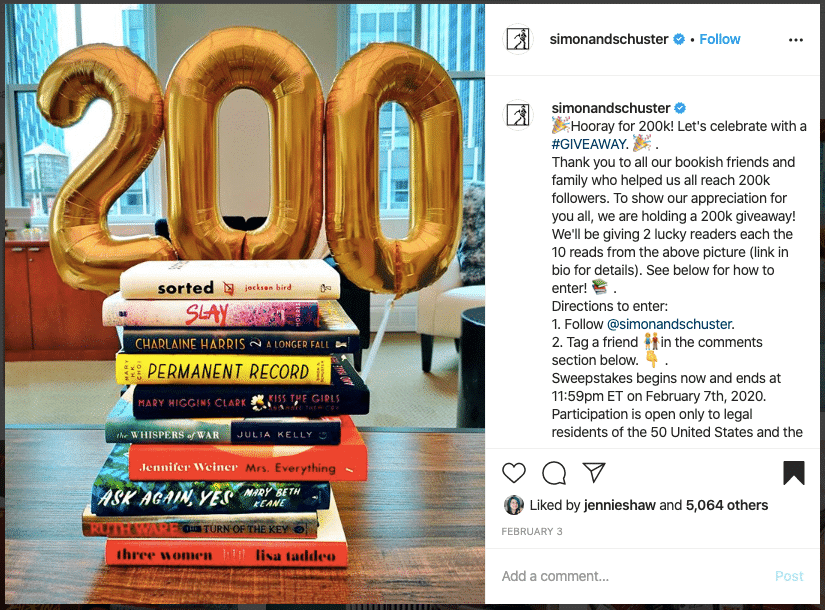 Sometimes it can be tricky to find the perfect gift for your audience. You can go with your gut instinct but please don't. Here, we like data-driven results and you can get them – for free. Tap into the free resources you have to find out what your audience is really interested in.
Start from Instagram Analytics. Wait, what? You don't have an Instagram Business account? Whether you were joking or not here, my suggestion is: make sure you have it. It's free and it will give you a lot of benefits – including which content your audience has interacted with most, their demographics, and location (shipping costs, anyone?)
Don't snub Google Analytics. Yes, it can be complex but it's also very powerful. The Audience Report can be a great place to find out your website audience demographics, interest, and engagement on all channels. True, it's not IG only, but it may give you insights on who the people that are interested in your brand are – and what they love.
Craft Your Post and CTA
With your gift chosen and your goal in mind, now you stare at a blank page on your laptop. You need to write the caption for your post. Been there, done that.
Two different forces will drive you here.
On one hand, you need to put your best foot forward as your post will very likely be the first piece of content many new people – and potential customers – will read. It's also a great chance to strengthen or rekindle your relationship with your existing followers. On the other hand, you need to write down rules and eligibility and that may ruin the magic.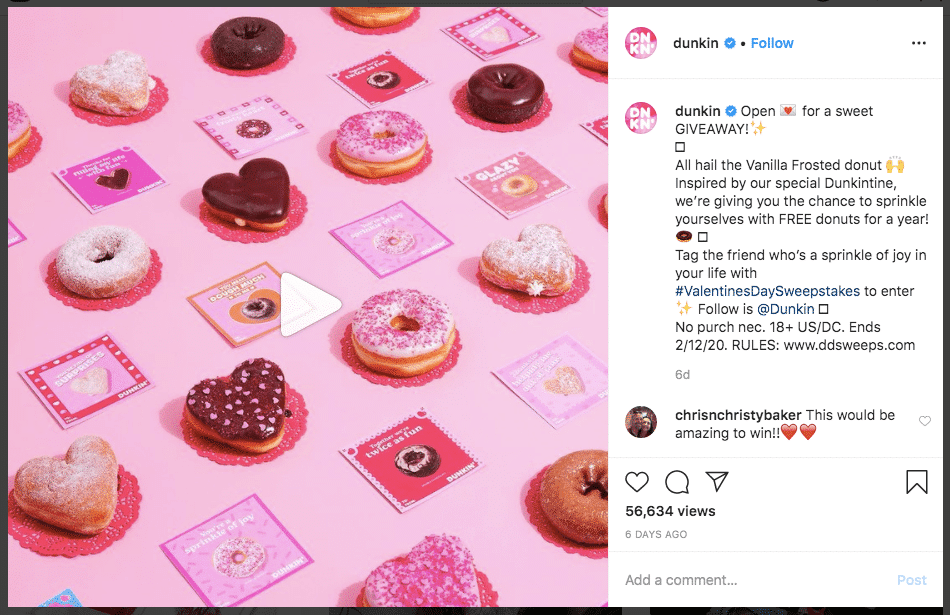 First, what you write should resonate with your audience. That is because what resonates triggers engagement – it's as simple as that. There are many ways to entice your audience to engage: write a story, tap into emotions of what's relevant for the people you want to reach, but always keep in mind that a good caption can make the difference between failure and success.
Don't forget your brand's tone. You're not just about to run an Instagram contest: you want to give people who read it a glimpse of what to expect when being your followers and the value they'll get from it or give your current unengaged followers a new reason to start loving you again.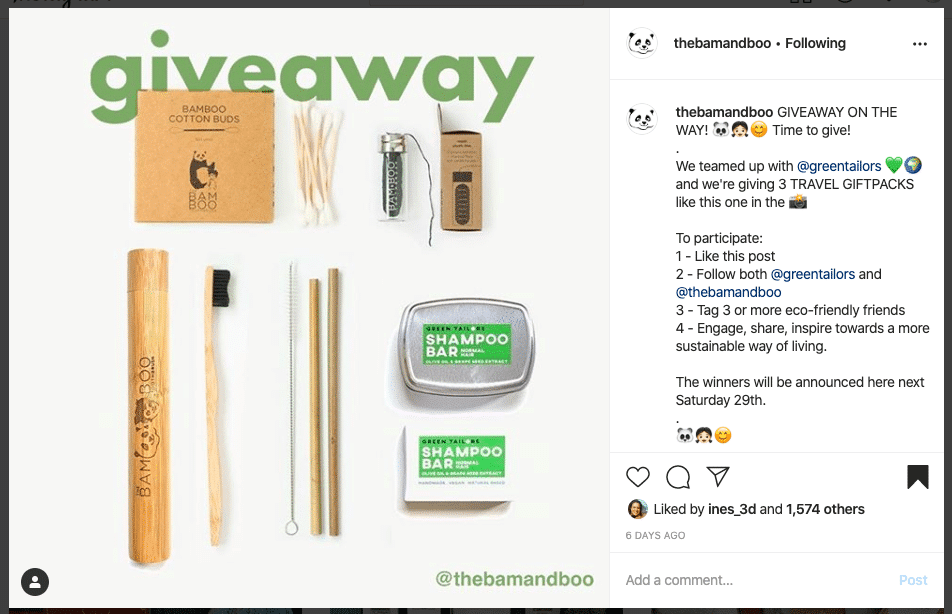 (Instagram) Rules must be obeyed. Yes, we discussed this in a previous chapter, but here is where you have to put them after having digested them. But who likes a long list of rules and regulations that add no value to your copy? Nobody, that's for sure.
This is also where your CTA should be, and you can get creative on how you elicit action to your followers: for example, you can use emojis or lists to break down the text – it will make it easier to read (and to write.)
When you get to the actual rules, try and be as brief as possible, but get hold of the essential parts: clearly state the prize, how many winners will be rewarded, eligibility (and any exclusions), end date, disclaimer, when, and how the winner will be notified and any additional information your contestants may need.
Pro-tip #1. Use this as an ace up your sleeve: give a summary of your rules in the caption and refer back to your link in bio. Yes, you guessed it right! It can be your landing page too – they read the rules and they sign up for your newsletter and get an additional chance to win.
Pro-tip #2. Consider updating the post to signal that the contest is over and tagging the winner in the post. Yes, people who arrive at your post late may not engage but they'll surely be grateful not to have wasted time on an ended giveaway.
If you are serious about Instagram, chances are you are very excited about hashtags – or very worried about missing out. In both cases you are right, hashtags are a great opportunity for your business and for giveaways even more.
And for good reason. First, hashtags will make it easier for people to recognize that you are running a giveaway. Second, since users can now follow a unique hashtag on Instagram, getting the right one – or several – will give you a unique opportunity: appear in the feed (and stories) of people who are not (yet) following you.
To get it right, a brief search on Instagram will suffice: pick the most popular hashtags but also add your own flare. When I was writing this guide, I found 28M posts with #instagramgiveaways, so this one may be good to have but if you don't add something which is specific to your market or niche, your post will very likely get lost.
Crafting your own hashtag can also be an option and one that is useful for user-generated content. You can ask your contestants to use it when sharing the post in their stories or when taking a picture. This will increase engagement and it will be easier for you to find all the content they posted.
But how to pick the right one? When you run an Instagram giveaway and ask for UGC, Andrea D'Ottavio, Managing Director at Webing, suggests to "use a simple hashtag that is not used for other reasons or contests."
It can be tricky but there are a number of tools out there that can help you find the perfect hashtag for your giveaway. Completely free, All Hashtag will give you 30 hashtags based on a keyword you insert. Keywordtool has a free version and you can use it to find hashtags and how many posts have that specific hashtag. Ritetag by Ritekit, starting from $49/year, will give you suggestions for images and texts based on real-time engagement.
Best Instagram Giveaways Tools
AKA how to pick a winner – and remain sane.
Once the end date you set approaches, engagement is at its peak, and comments and additional entries keep flowing in, and you have no clues of how to pick the winner, I'm sure you start thinking: why oh why have I done this?
Actually, you have a lot of options. Some of them are free, some others may require a little investment, but they'll get the job done and ease your mind.
The first option is to go old school. No, we don't suggest you actually write the names down on a piece of paper, but you could use a spreadsheet – or a Word document – to write the list then use an online random number generator or random name picker to pick your random winners. Here's a free tool to do it.
If you have any additional entries you have to take into consideration – and a spreadsheet can be time-consuming and painful to compile. In this case, you can use one of the many tools around to pull it off. Here's a list of our favorite ones.
If, when you run an Instagram giveaway, you are creating a landing page and you want to automatically sync your leads to your CRMs, you can use Rafflecopter to do just that. You can get the full version starting from $13 per month. Their free plan still includes unlimited campaigns, unlimited entries, and manual lead export.
Also including a free plan with basic options, you can use Shortstack to create your contest and a landing page starting from a template. You can also send emails directly from within their platform. It can be useful if you are running contests and quizzes on other networks, such as Twitter. Paid plans start from $29/month.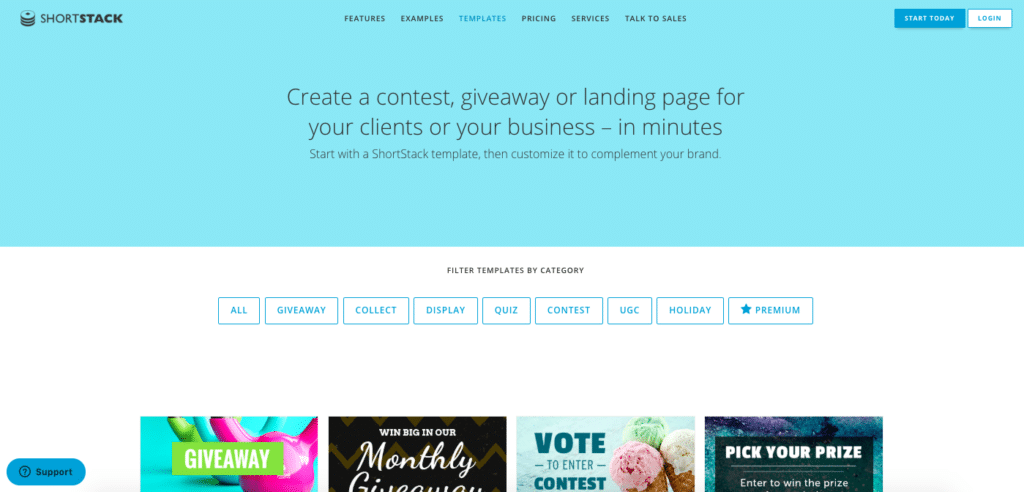 Upviral is a tool that will take your hand all the way from creating the giveaway, sharing it via all your channels, and analyze results. They don't offer a free option, but this tool will allow you to create landing pages, a/b testing, and optimize it to maximize your sweepstake starting from 49$/month.
Another tool that you can use to create your giveaway from scratch is Gleam. With a freemium available and the ability to add features in blocks starting from a few dollars a month, you can use this tool to create basic to complex Instagram contests.
If you're thinking big and want to expand outside of Instagram for your giveaway, Kingsumo you can get additional entries for extra actions such as following social accounts and clicking links. They have a free basic plan and paid subscription starts from $19/month (billed annually).
(Optional) Partner With An Influencer To Split Costs & Boost Your Contest
You won't necessarily get 1M Instagram followers in 4 days – but you're not probably giving away a Tesla! Still, partnering with an influencer can be a good idea to boost engagement and visibility.
The biggest benefit is that you can split costs and offer something bigger and more valuable than what you could have offered alone – and the bigger the prize, the more engagement you'll get. This is particularly useful for small brands – or if you are just testing how this can work for you.
Second, you'll have a greater reach when it comes to your influencer's followers, and the giveaway will appear on all accounts at the same time, giving it more chances to be viewed and interacted with.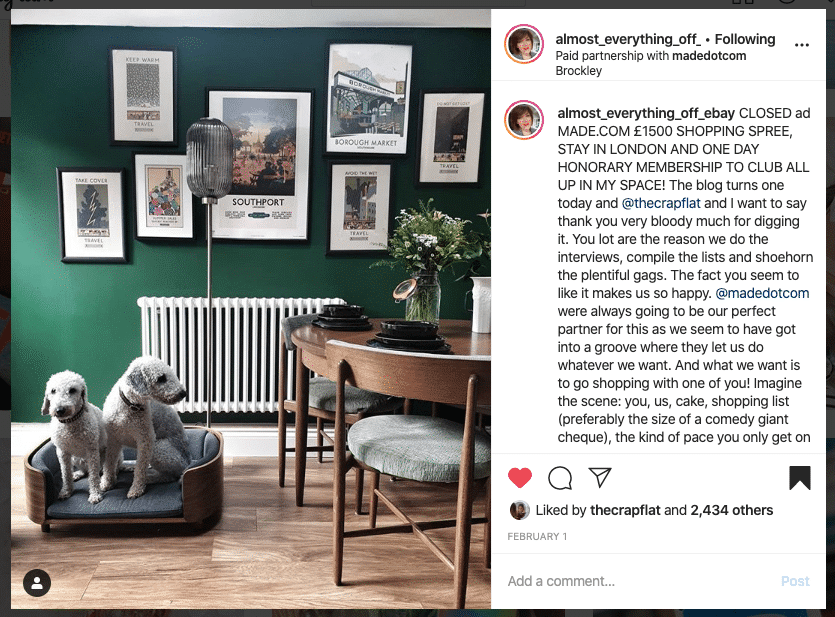 However, don't make the error of picking a random person to run an Instagram contest with just because they have a high number of engaged followers – if they are not in-tune with your brand and voice, it may all go sour.
Instead, choose your partner carefully and be value-driven. Ask yourself: do my product and message resonate with and provide value to their audience? Will partnering with them add value and authority to my message and product?
If the answer is yes, then go for it – that's what a win-win situation looks like.
(Optional) Push Your Giveaway With Paid Traffic
Picture this… you have spent time creating the perfect sweepstakes and you post it on Instagram. You have optimized as much as possible, with all the right hashtags and an engaging image and… you don't get the results you were expecting.
Organic reach will get you only so far, and that is particularly true if you have a brand new Instagram account and basically no current followers. If you are serious about getting your post in front of people that are likely to do the action that you want them to do, it may be worth considering putting some money behind your post and have it promoted on Instagram.
If your audience is elsewhere, for example, if you have a big email list or many fans on Facebook, you can still create your contest on Instagram and cross promote it on other outlets.
Facebook accounts for around 70% of all online advertising and its market share grows on a year-to-year basis. When talking about Facebook ads, possibilities are endless but it's also very easy to get started.
You can boost your organic posts about your Instagram contests in a few clicks, and show it to a new, bigger audience. Use data from your Analytics tools to find out which interests to target and get creative on how to show your potential contestant how easy it is to win a free prize by engaging with your brand.
You can use carousels and stories to do just that: use three images to explain how the giveaway works so that people will have learned how to enter your contest just after sliding three times.
Protip #1: follow Andrea D'Ottavio's advice and target people at airports: they have a lot of time on their hands and they're glued to their mobile phones! They tend to be keen to play or seek entertainment.
Your goal should also guide you here. Brandon Harris, founder of @Playmaker suggests "if you are aiming at getting emails or phone numbers or otherwise getting them off of the platform, you'll definitely need to mix an element in that will require engagement on Instagram, otherwise, the reach will be a fraction of what it should be."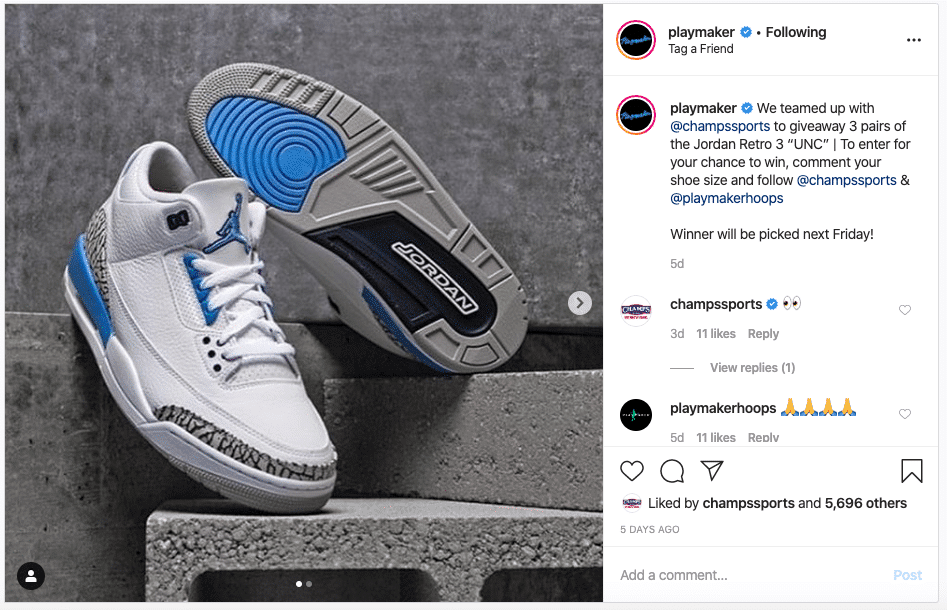 You also need to consider where you are targeting.
When they run an Instagram giveaway "sometimes, we do boost the giveaways a bit. Typically, we don't waste the budget unless the giveaway is with a key partner. The reality is that the cost of targeting US customers makes it ineffective to boost contests… If you don't care about the audience being 100% US, then, by all means, boost it worldwide and you'll get explosive traction."
Measure Your ROI After An Instagram Giveaway And Decide Your Next Move
Raise your hand if, in your time as a social marketer, you have struggled at least once to prove that your marketing plan and your social activities brought a positive ROI to your organization. As I've discussed in my recent post on revenue marketing, being able to determine the revenue impact of any marketing activity is critical for success.
While we could stay here another hour discussing all of this, what I want to do in this small bonus chapter is to outline the essential guidelines for you to navigate through this perilous territory when it comes to measuring your ROI after an Instagram giveaway.
First and foremost, your goal. You have it clear in your mind by now, but you should never forget about it. This will guide you through analyzing the results of your giveaway and understand what your next move should be.
True Investment
When calculating your ROI after an Instagram giveaway, you'll always need to take into consideration your overall spend for your social activities, that is the personnel involved, any software you use, the cost of the prize (don't forget shipping costs if you're sending your gift via normal mail), plus any additional cost – for example, paid traffic.
How to choose the right metrics
Beware of vanity metrics: the risk is there, vanity metrics will make you look good but the danger is that they won't inform you on whether your campaign was successful and brought you the results and ROI you were craving for.
When choosing the metrics to analyze to determine the success of your campaign and find what is your ROI after an Instagram giveaway, ask yourself: do they align with my brand's objective and my campaign's goals?
With this in mind you can start reporting on the results of your Instagram giveaway:
Cost of new followers acquired: you can calculate it by dividing your true investment by the number of followers acquired.
Increase in engagement: Having more followers is useless if they are not engaged. Track the average number of likes and comments on the posts of your Instagram page.
Number of new leads: if you have built a landing page (either with a tool or on your website), you'll have data on how many people subscribed to your content.
User-generated content: it will inform you of how many people have created original content and shared it using your branded campaign hashtag or account tag.
When David Dobrik partnered with Team SeatGeek to give away a Tesla, he gained 1 million followers in the process. The investment was consistent but, even if results were not disclosed, it was estimated that the cost per new follower was about two and a half cents, post-campaign churn included. Not bad, huh?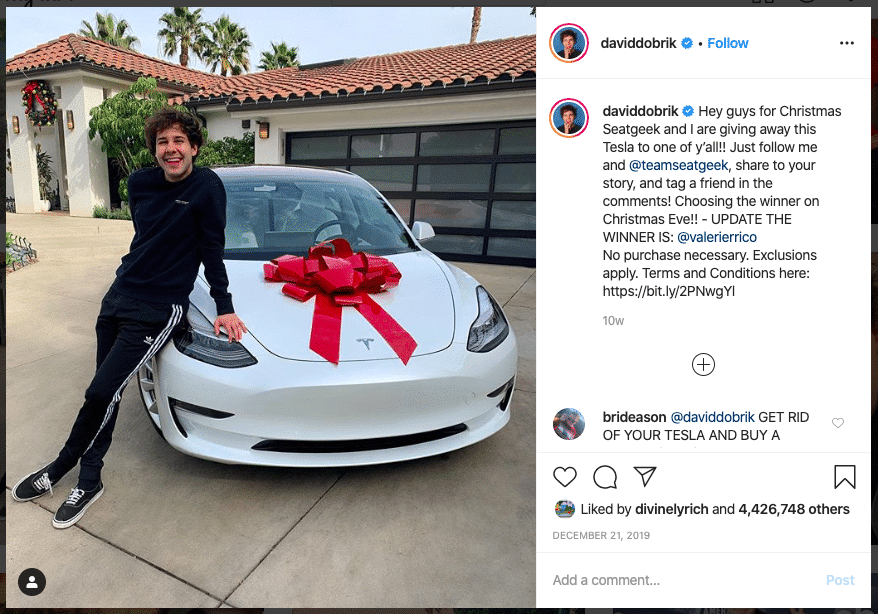 Pro tip: don't forget to include post-campaign churn. Spoiler alert! Il will be there but the good news is that it's endemic. The churn rate will be less relevant if your message is on-brand and you continue to provide value to your followers.
What To Do After Your First Instagram Contest
Short answer: don't stop!
After you have analyzed and measured the results of your first experiment, you'll learn a lot from what you did right. You'll also start understanding what is not working for your business and remove those bits from your next Instagram giveaway. But this is only the beginning.
By incorporating Instagram giveaways in your marketing strategy you'll be able to scale on those first results. Sweepstakes after sweepstakes, you'll see your ROI after an Instagram giveaway increase, and by continuing to test you'll find the perfect combination that works for your business.
I don't know about you, but when I land on a new account on Instagram – and more so if that's because of a giveaway – I need a reason to keep on following them. To be part of my feed or stories, you'd need to continue to be relevant to me. And your new followers will do the same: they'll only stay with you if you continue to provide value to them.