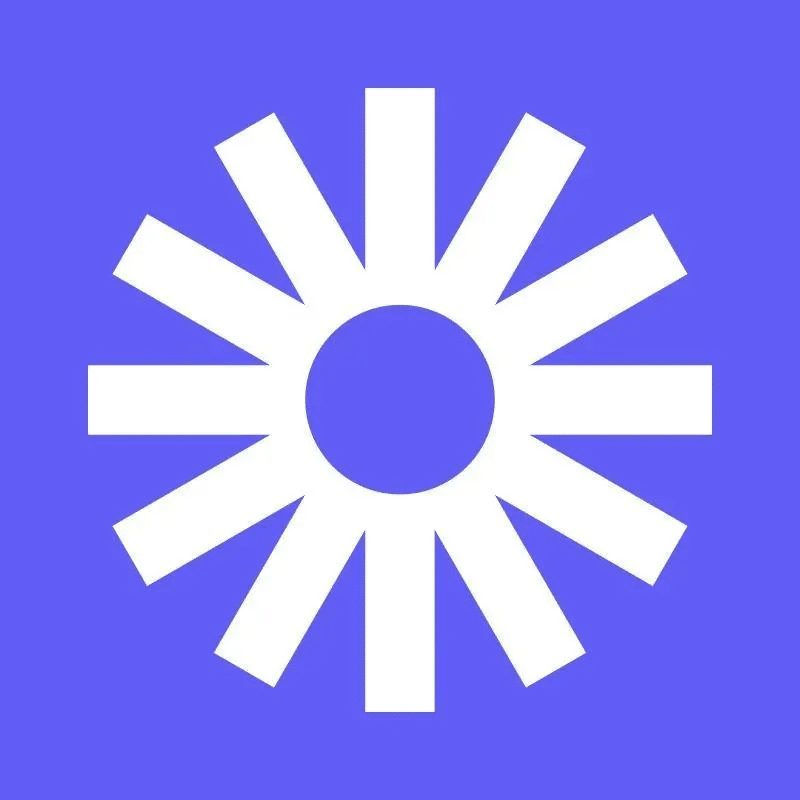 Loom
in

Video
Loom is the kind of app you initially dismiss with an "I can already do that with 100 different apps"… just to fall in love with it as soon as …
Platforms
Loom is the kind of app you initially dismiss with an "I can already do that with 100 different apps"… just to fall in love with it as soon as you start using it. That's exactly what happened to me.
Loom is a screen recording app with the sole purpose of helping you quickly record and share videos of your screen (or camera) with others. As simple as it might seem, it completely changed my workflow and helped me avoid a lot of Zoom meetings.
Apparently, I'm not the only one.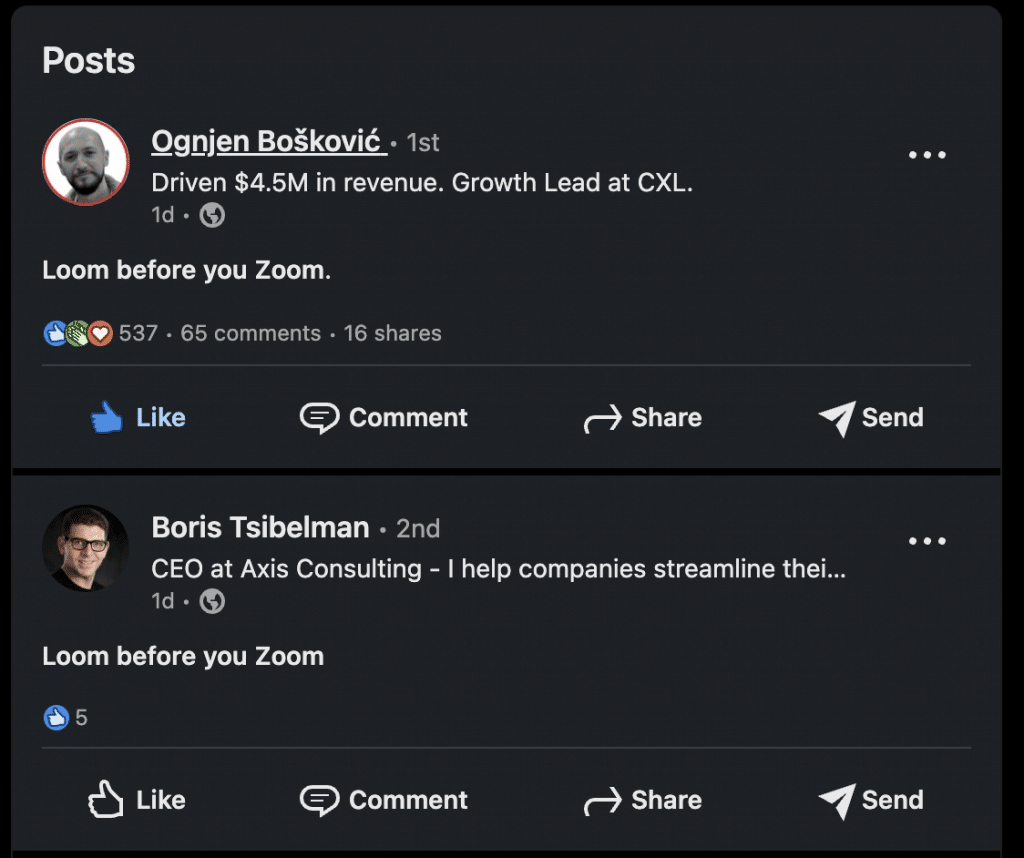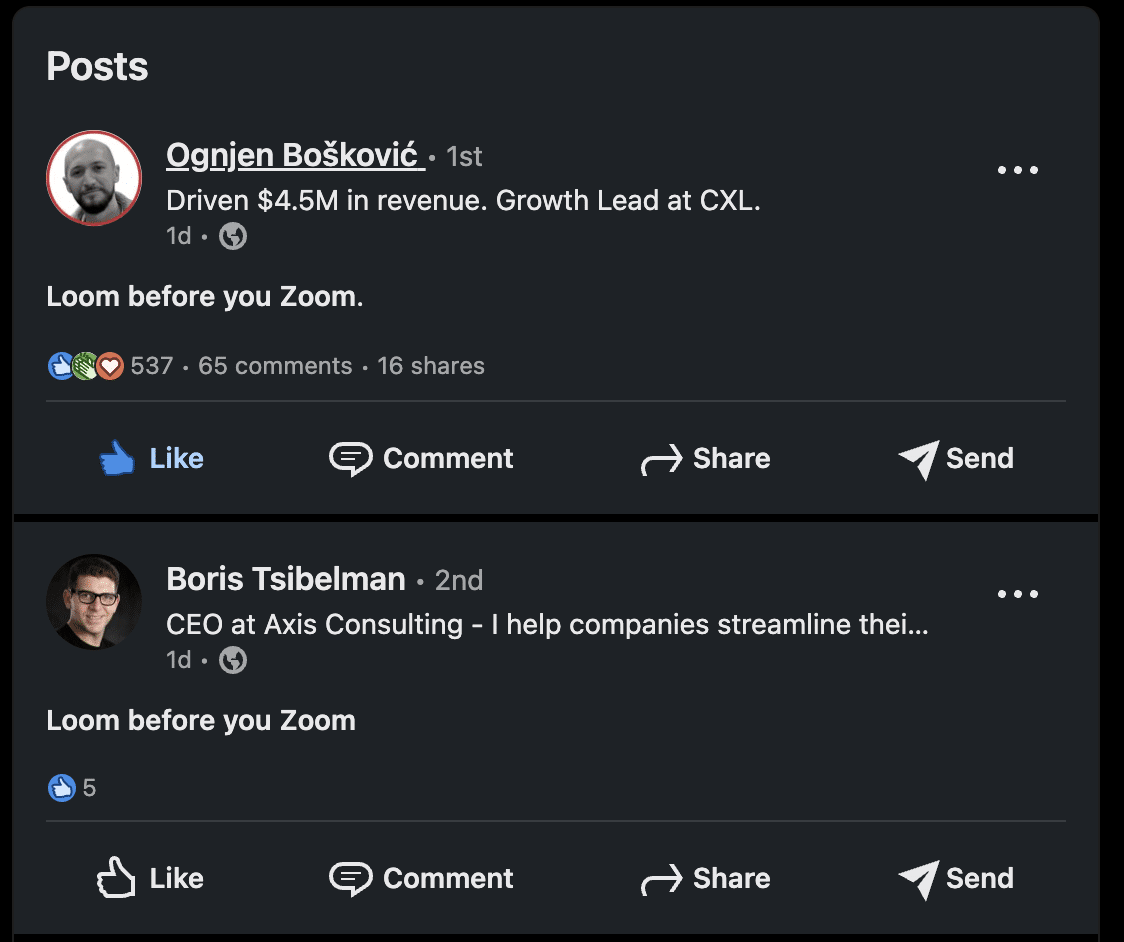 Even checking their homepage, it's clear that their main goal is not to simply be a video and screen recording tool. Loom wants to be the new way people communicate for work in hybrid workplaces where remote working is common.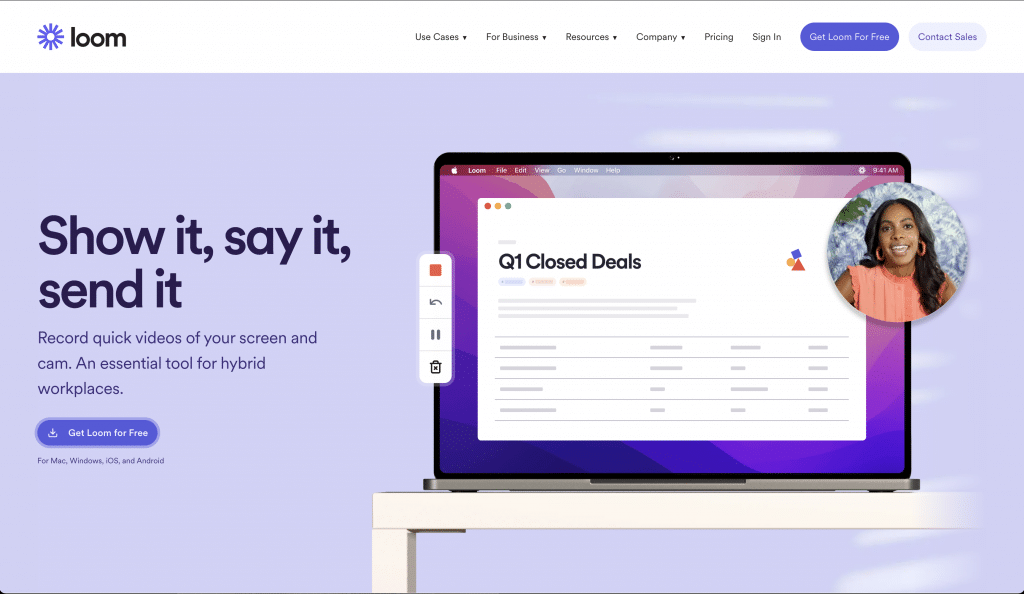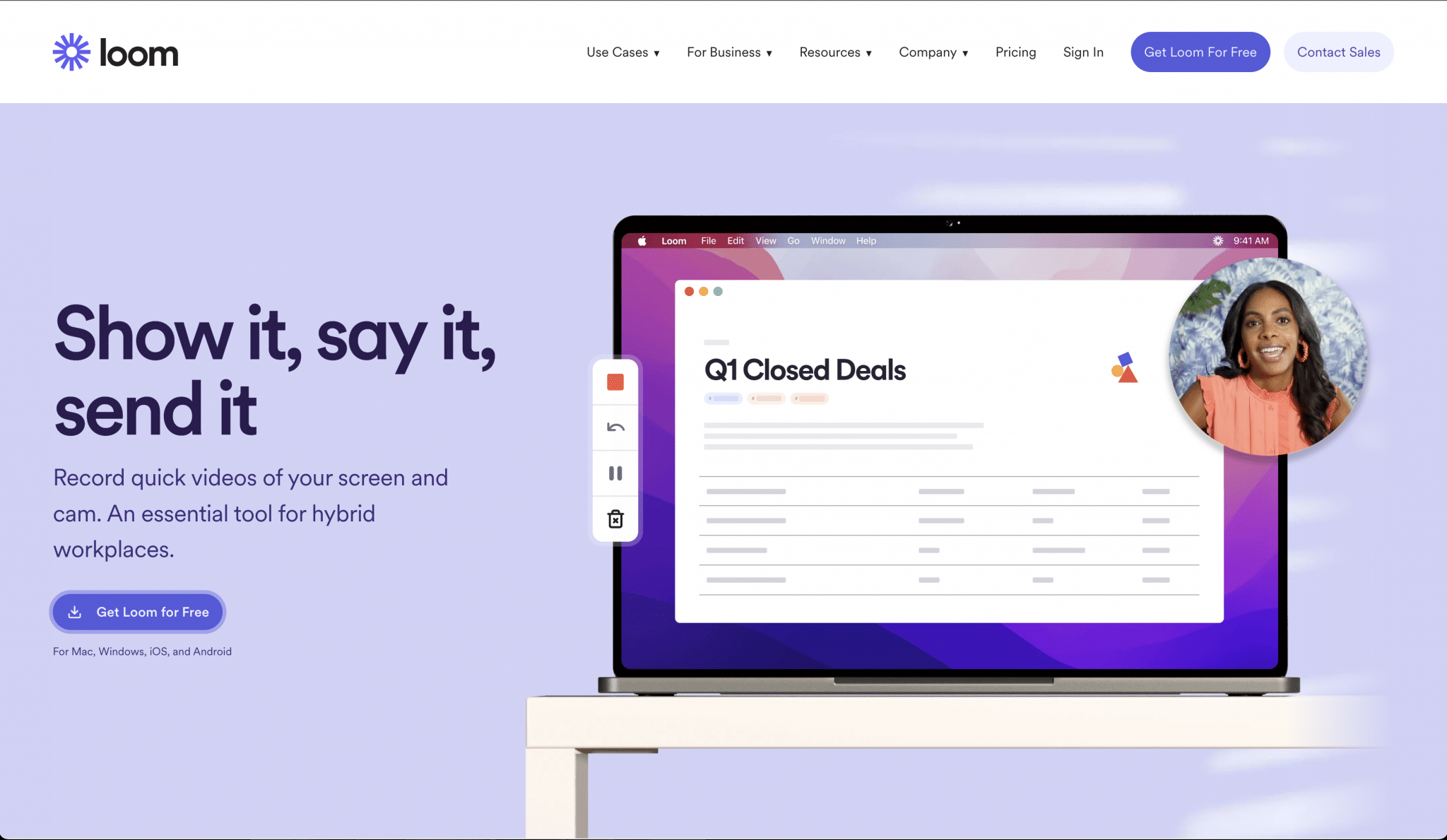 How does Loom work?
It's very simple to get started with Loom. It's based on two core components: a web app where you have full control over your videos and a screen recorder app that you'll use to shoot them.
As soon as you are finished with the video recording, it's gonna be immediately available in the web interface, ready to be shared. The process is really fast. As soon as you hit stop, the web page with the video automatically opens, with no wait time for encoding, processing, etc.
Let's check each component one by one.
Recording videos with Loom
This is straightforward, just head to the Loom Download page and download Loom (The native app, not the Chrome extension).
Once you install it, the Loom icon will always be on the top right corner of your screen, ready for action.


From now on, whenever you want to record a new loom video, just click the icon or use the shortcut ⌘-⇧-L to launch the recorder. It looks like this (on mac):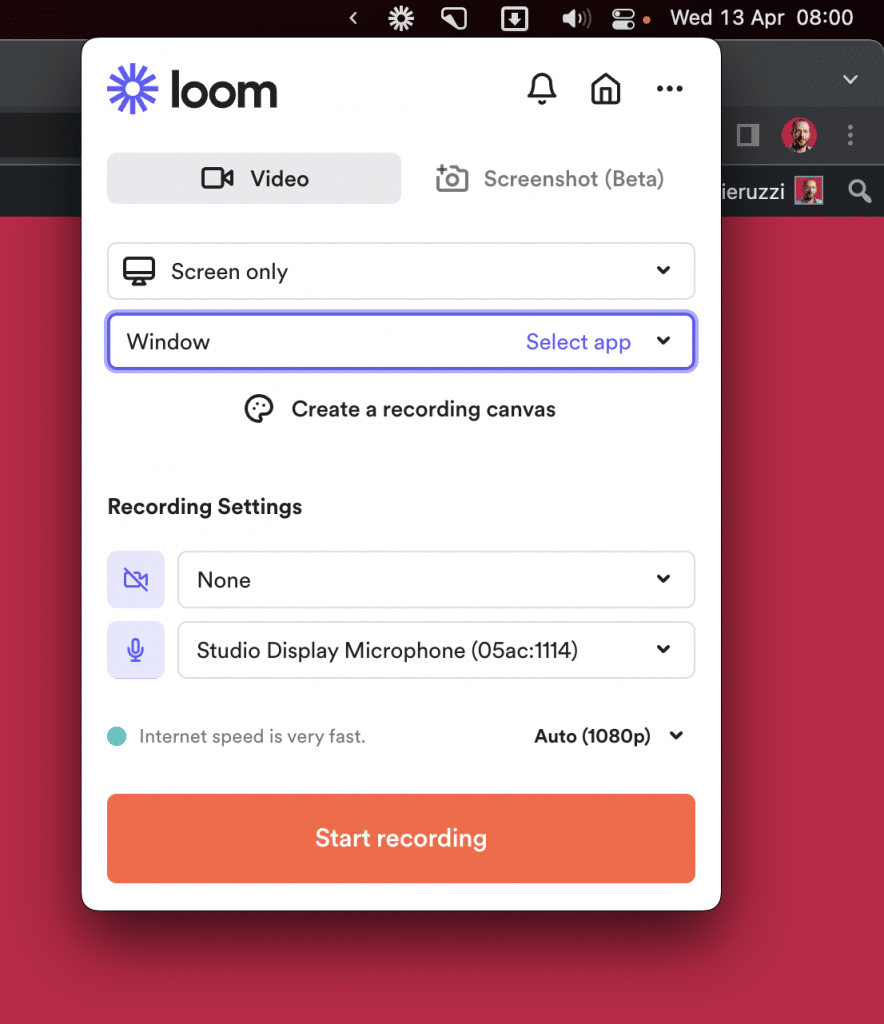 The recording Interface
As you can see, the UI is very clean. First of all, you have to pick the video source. This is another of the features that I like the most about Loom.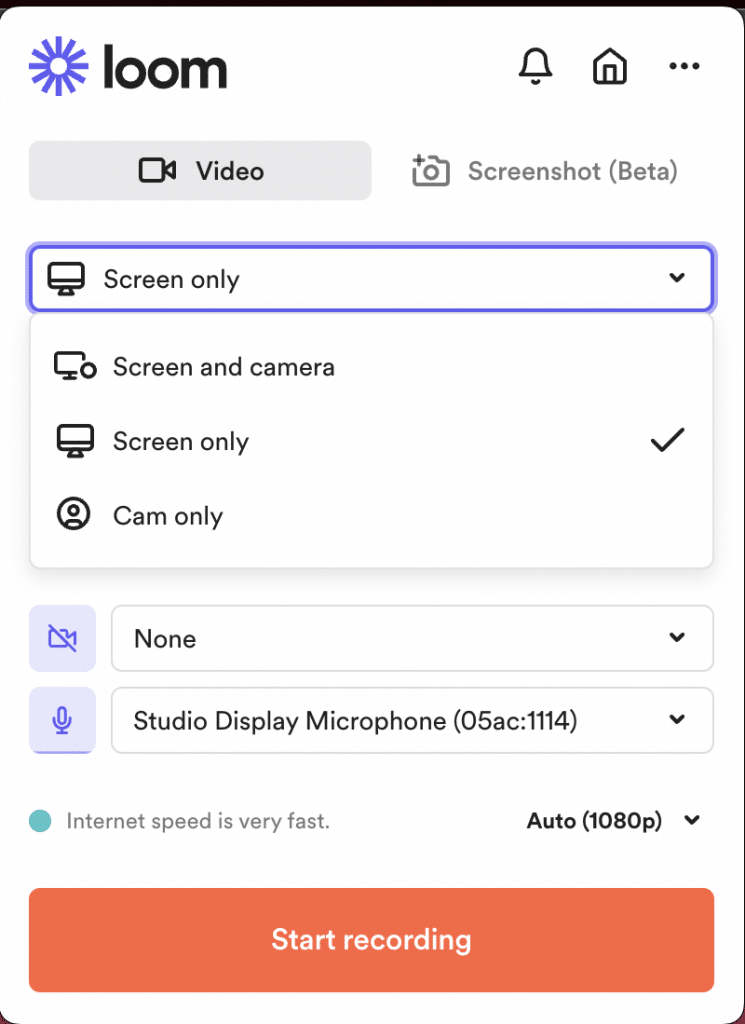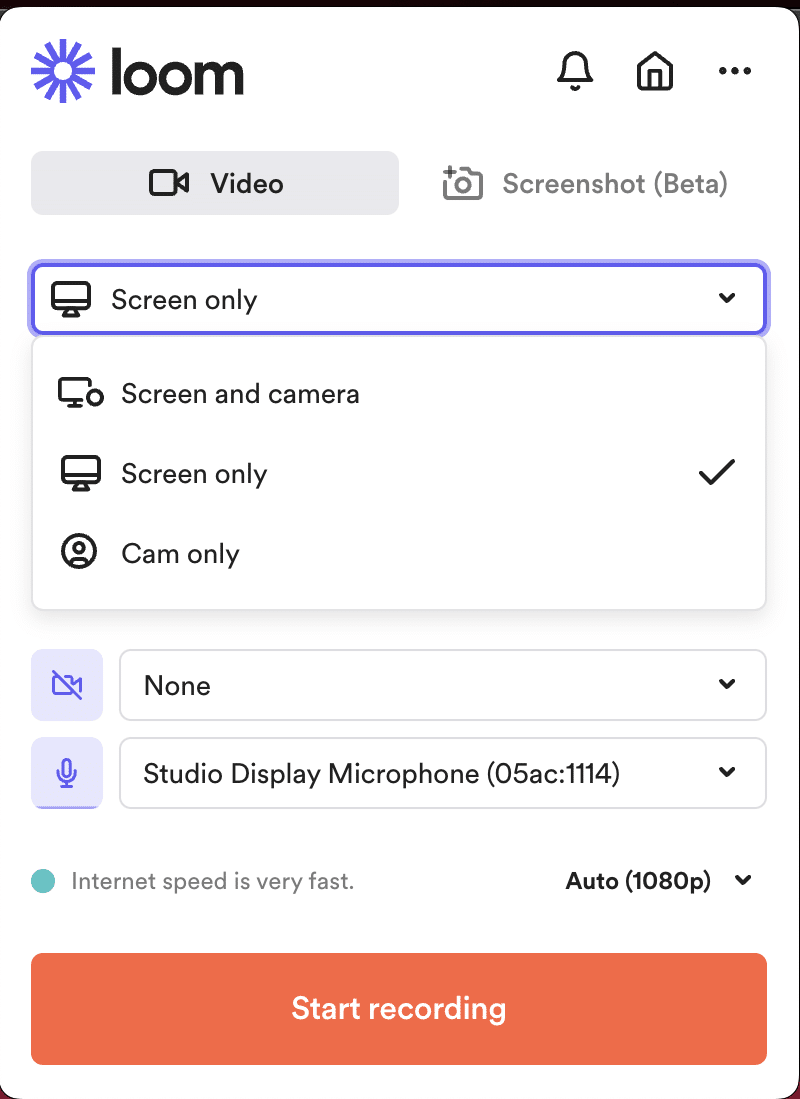 When communicating with my team or a customer, I want to make it personal. A simple screen recording is not very personal, though. Loom, by default, lets you record your screen and camera together. The result is pretty good looking: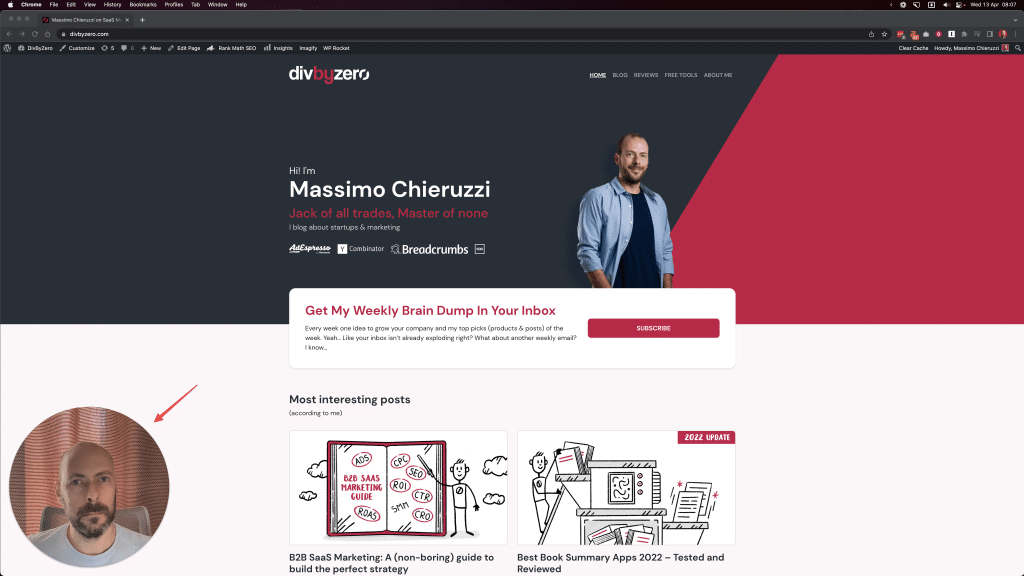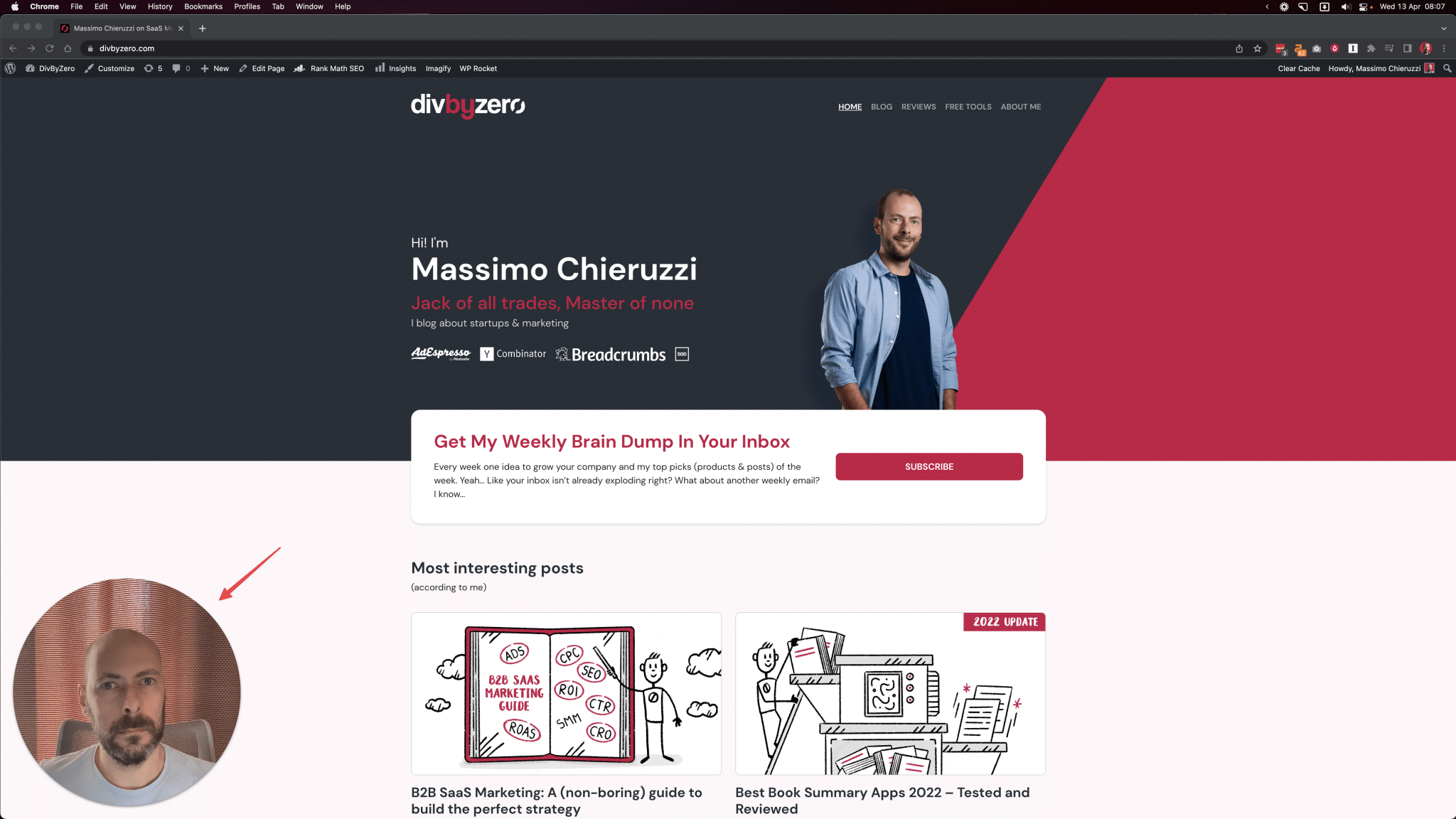 Once you start video recording, the circle with the camera can be dragged around to best fit what's on-screen, and hovering it will give you extra control on how your loom video is gonna look like: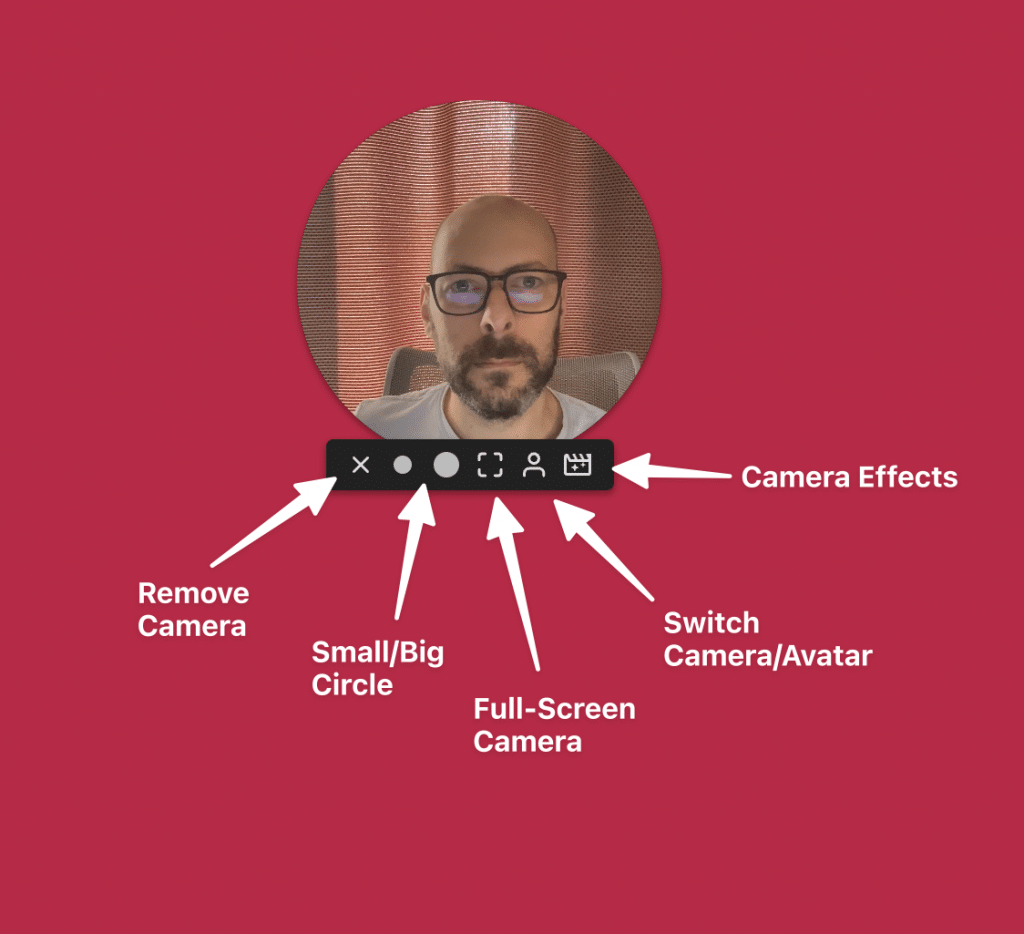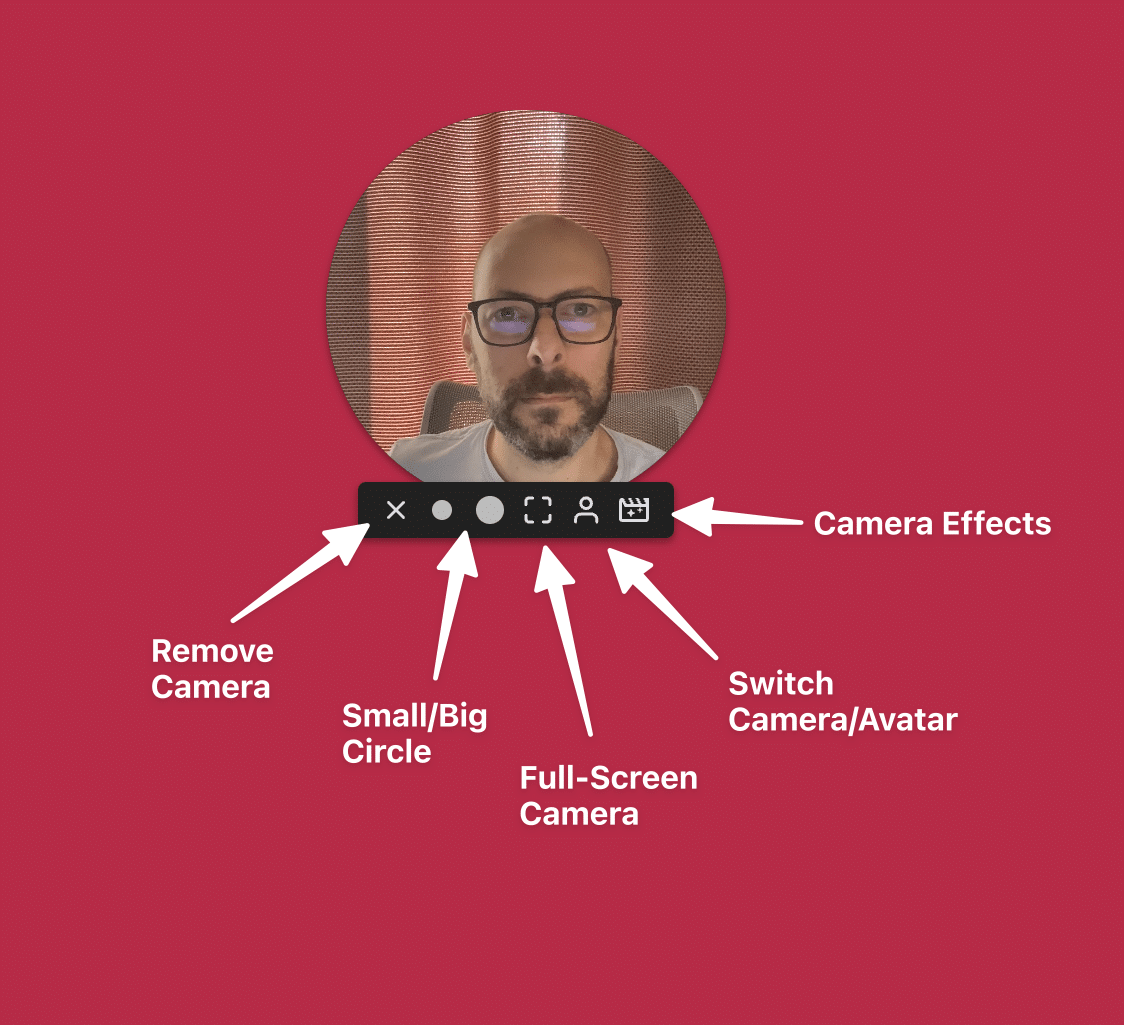 All these controls work in real-time as you're recording your loom videos, and any change is applied immediately. Usually, however, you don't want to mess with these while recording, so I recommend presetting everything before starting the screen recorder.
If you are shy, don't worry, you can still select that you only want to record your computer screen with no camera.
Loom also lets you pick if you want to record your whole screen, a specific window, or a custom-sized area of the screen. This is pretty standard in the video recording software market.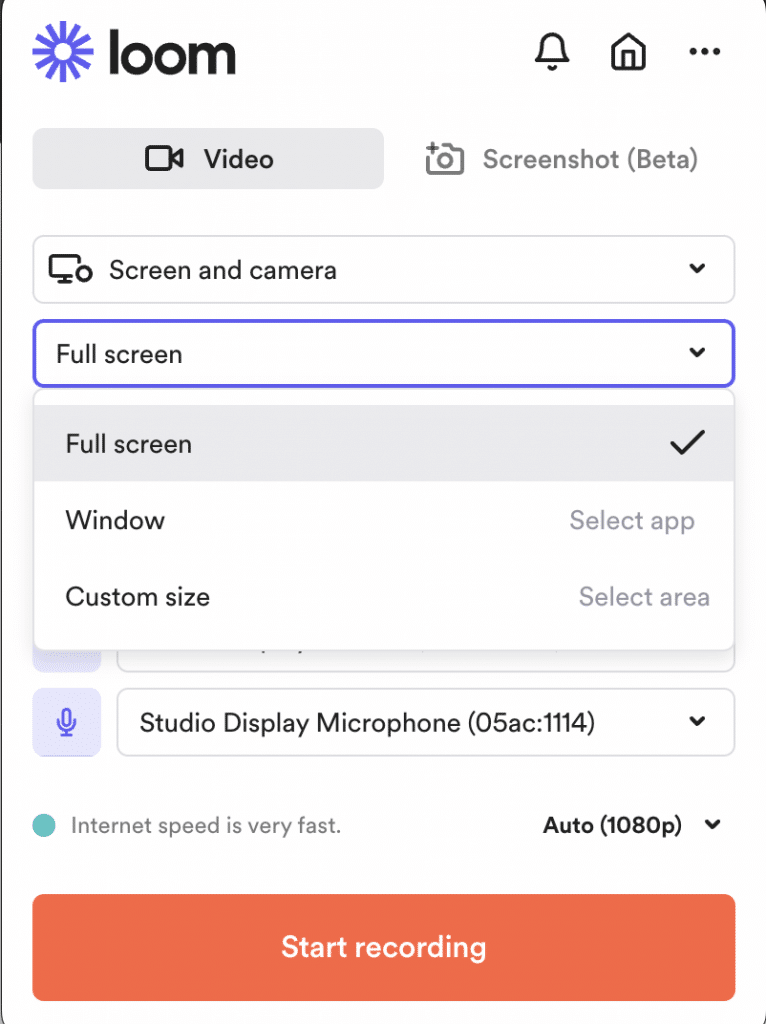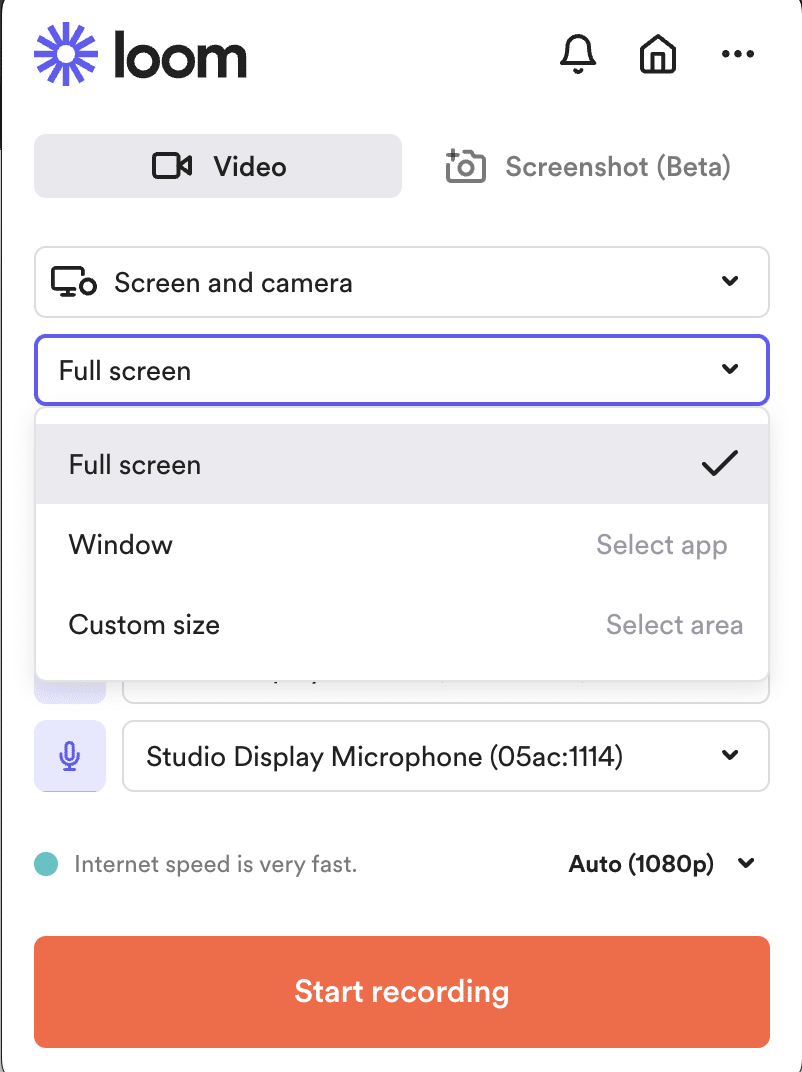 You can define the input source for your video and audio recording. Again, pretty much standard and very useful if you have multiple webcams or microphones.
Bells & Whistles
On top of making video recording hassle-free, Loom can also make it fun.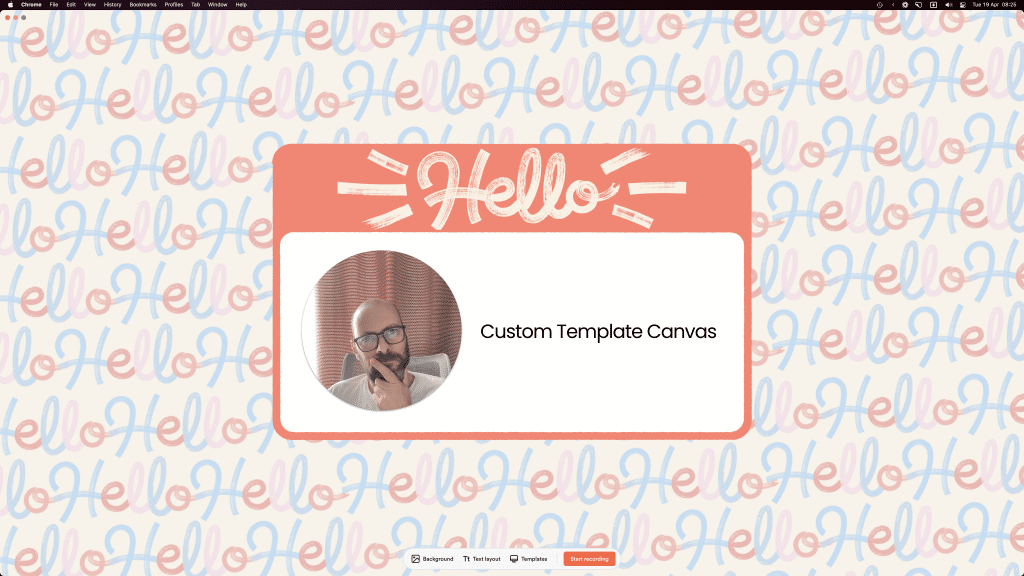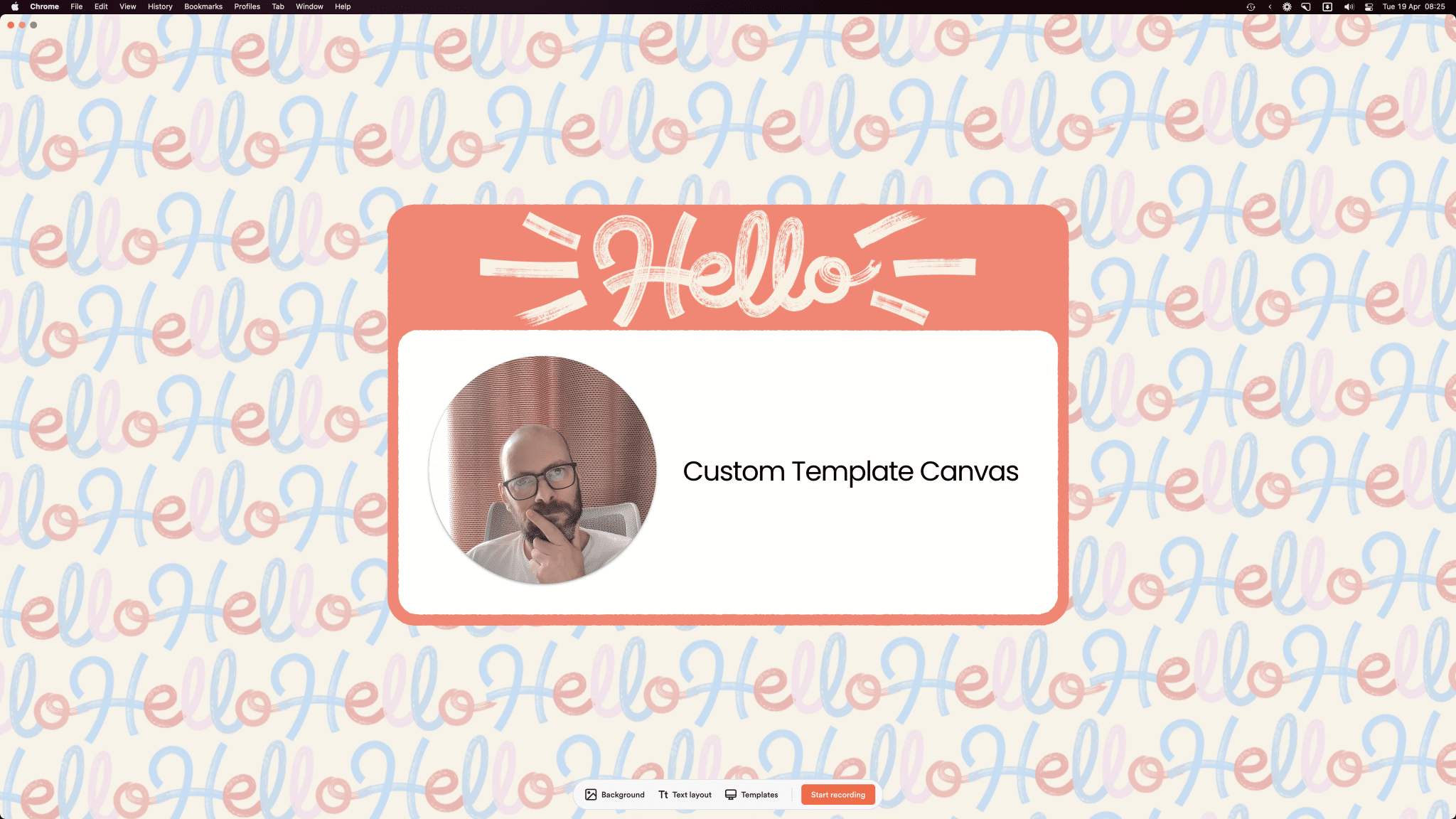 As you're starting to record your video, you can also pick the "Create recording canvas" option to apply custom backgrounds or use one of the many templates provided.
I've not used this feature that much, but I can see how it could help spice up your "boring" SaaS marketing content.
Finally, you can also make the camera circle more engaging.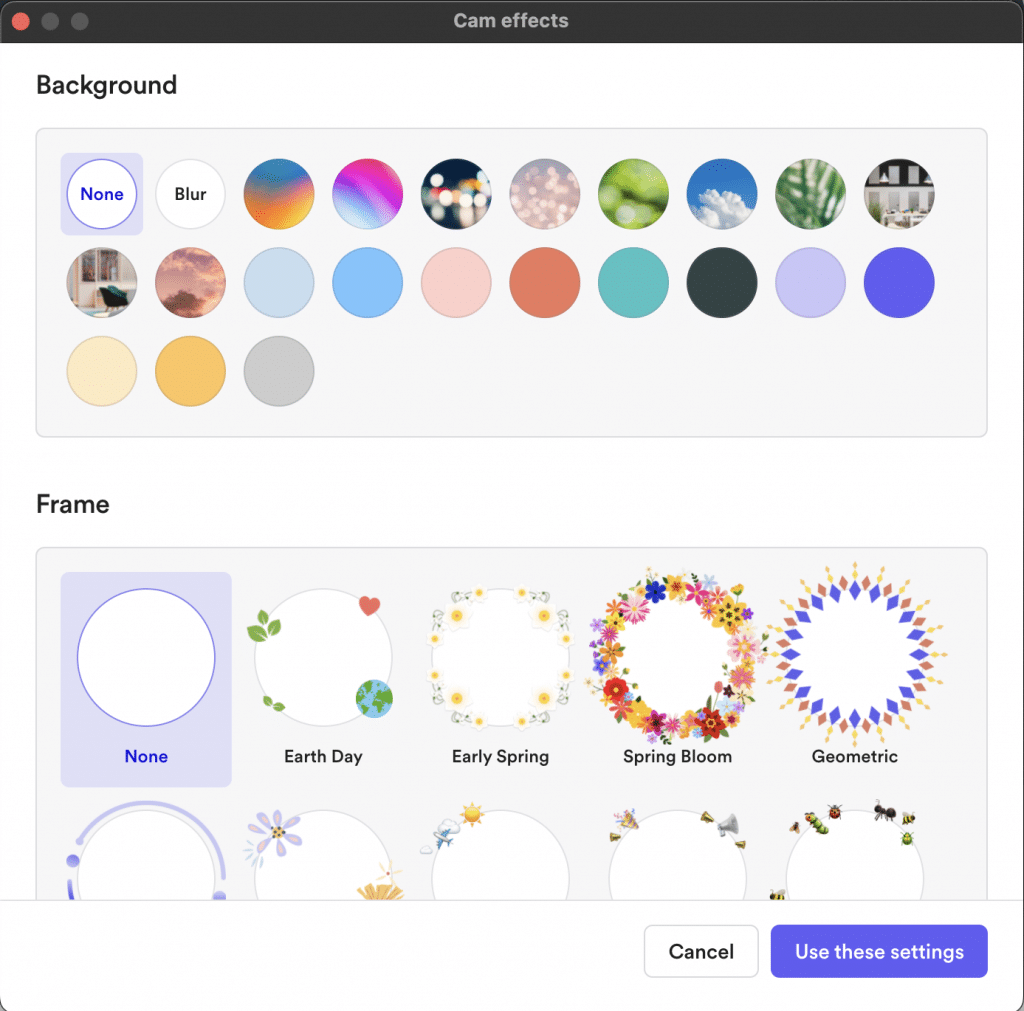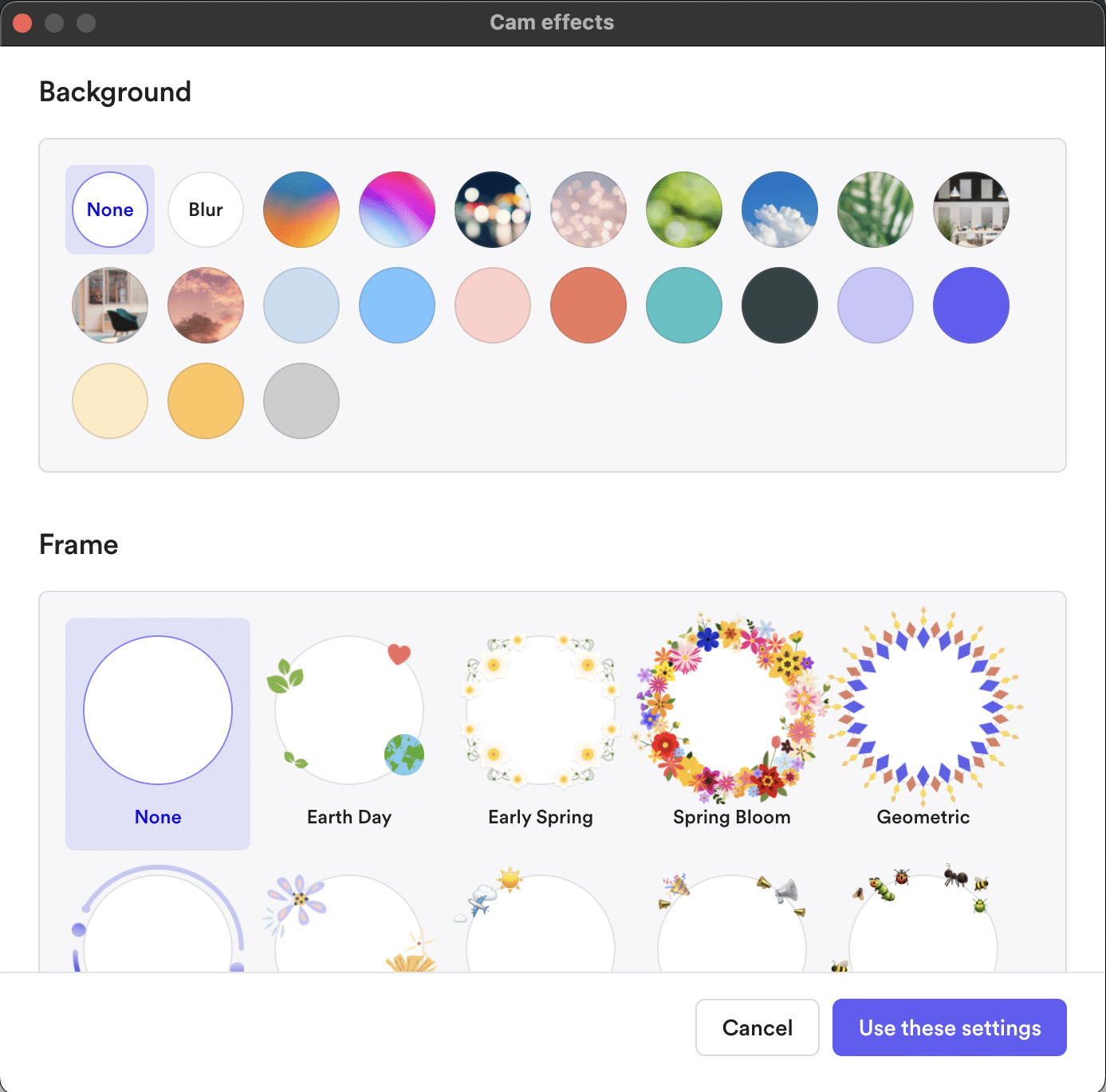 On top, you can see controls to blur or change your background. Below you can see how you can pick a custom frame to make your camera recording more fun.
All these options can be enabled even after you start recording. My personal recommendation would be to avoid them in a b2b context.
Loom is so versatile and can be used in so many contexts that it makes a lot of sense for them to let you adapt your recording styles depending on the context.
The recording experience
Recording video with Loom is fast and fun once you get used to it.
Nowadays, I always start recording with the dedicated shortcut (⌘-⇧-L). A big countdown will appear on the screen to give you some time to get ready before the actual recording starts.
The circle with the camera overlay is always visible on your screen and sometime could get in the way. It doesn't happen often and it's just a matter of knowing where you need to interact the most and placing the camera accordingly before hitting the record button.
To stop recording, I usually hit ⌘-⇧-L again. It's the fastest way. Otherwise, you can just click the loom icon on the status bar of your Mac. While recording, it will immediately stop.
As soon as you've stopped recording, Loom will open a new tab on your browser with the video you just shot ready for sharing.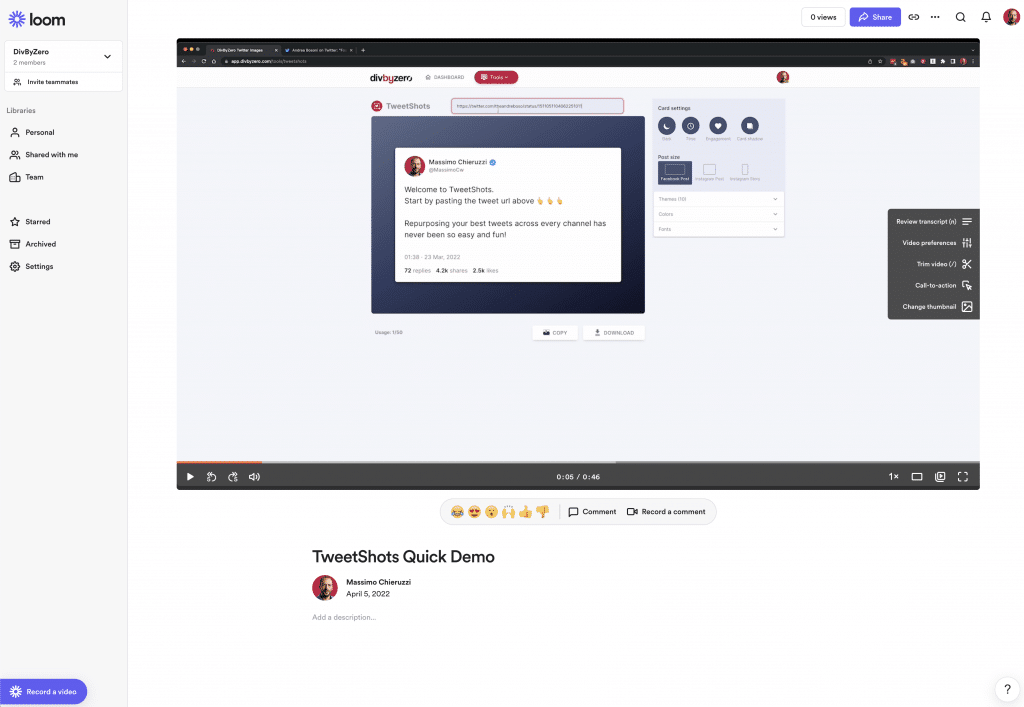 This is incredibly fast when compared to Youtube and other video sharing services, where it takes a good amount of time before the video files get processed and become available.
Video Editing features
Once your video is recorded and you land on the freshly recorded Loom in your browser, you'll be able to perform the most common video editing actions. Let's check them one by one.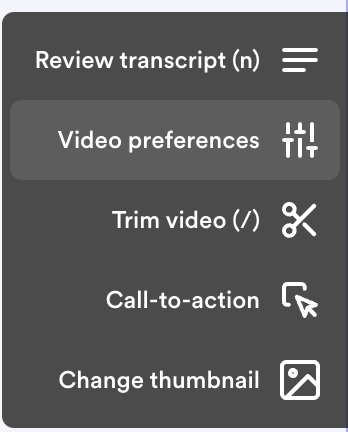 Audio Transcript
A transcript of your audio will be automatically generated shortly after the video is live.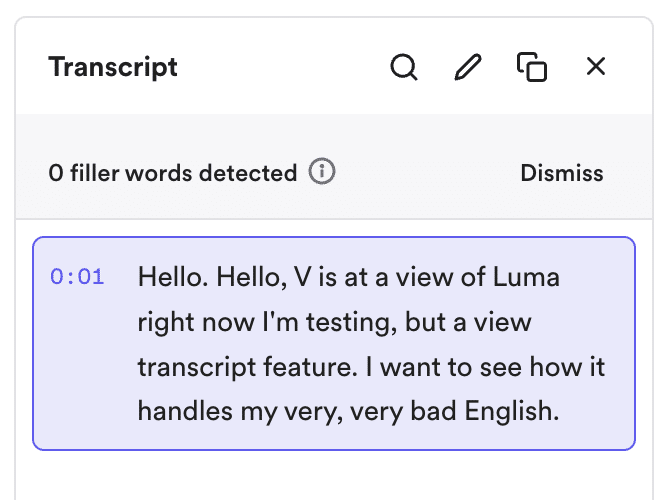 I'm not an avid consumer of these features. No matter what tool I'm using, the match rate with my bad English is usually not good enough to be used. Loom is no exception as you can see in the screenshot above.
Anyway, with a native English speaker, the transcript is usually good enough, and you can quickly search through it to quickly get to a specific part of the video or edit it to correct errors.
The one thing I would improve here is to use the transcript to power Loom's internal search. When searching for videos within your Loom account, the search only seems to take into account the video title, description, and comments. Not the transcript.
Video Editing
The most useful editing feature is trimming. It looks very familiar and intuitive for anyone who has used video editing software before.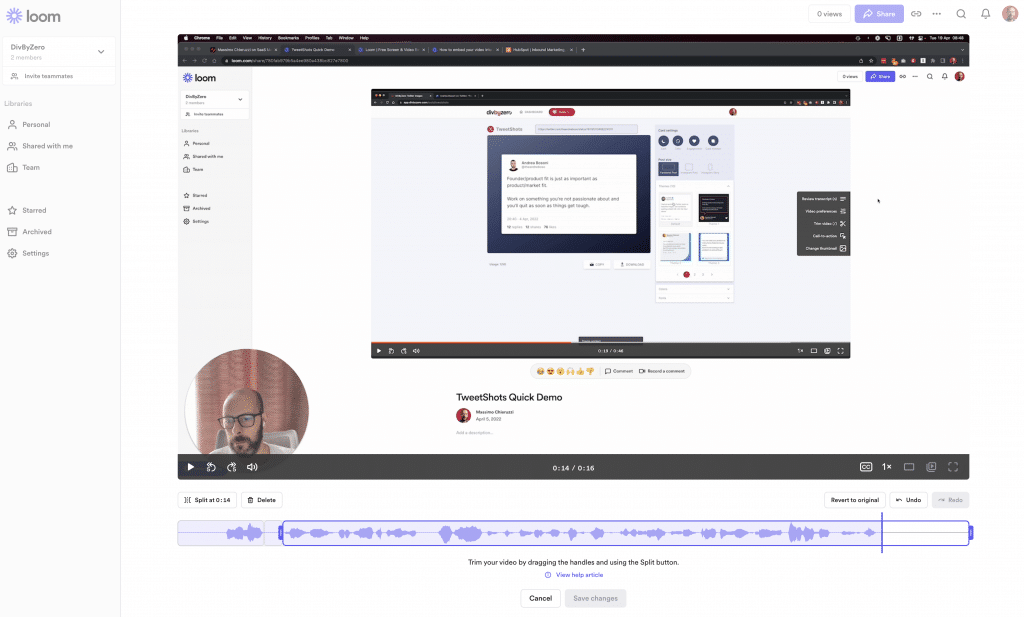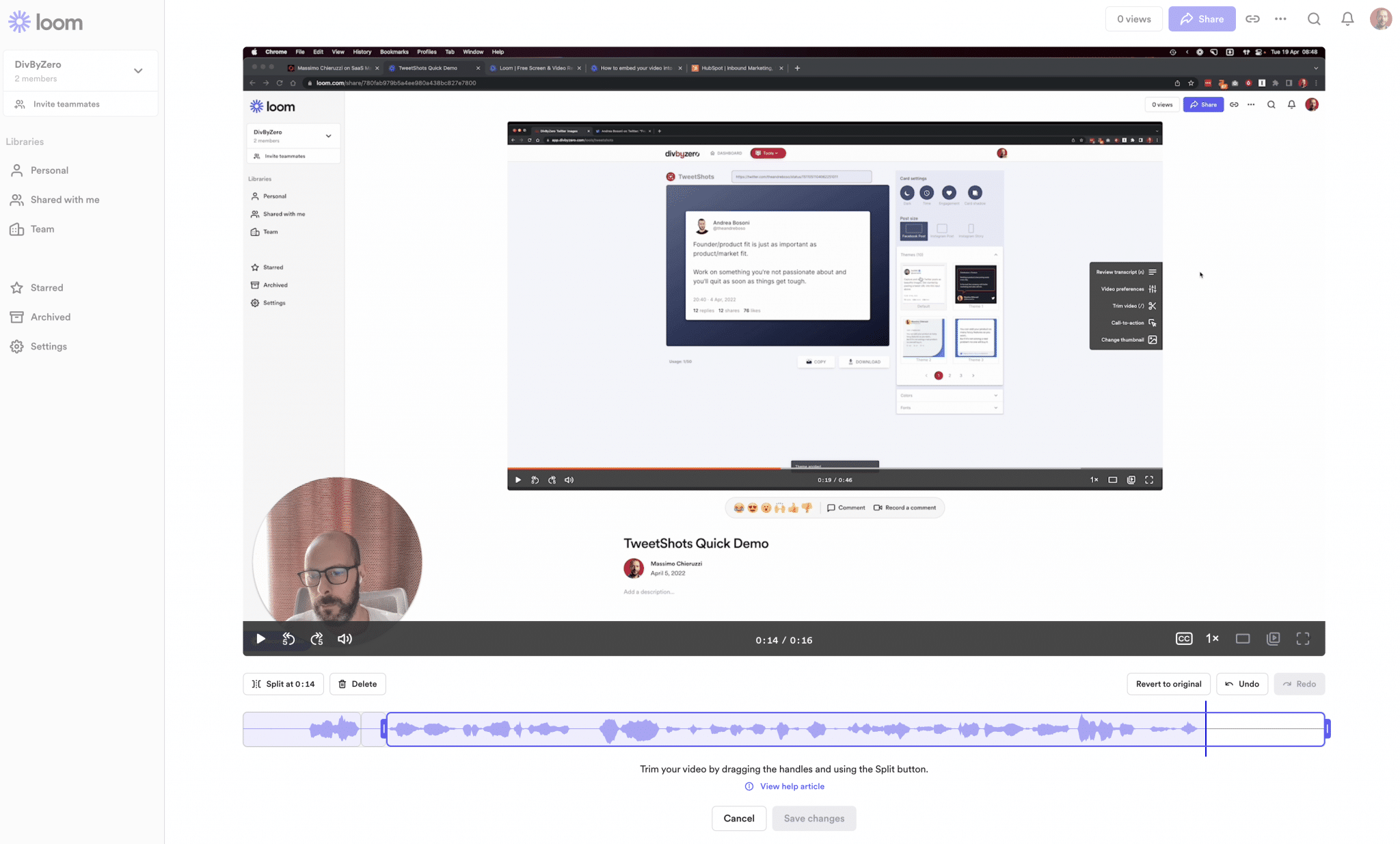 With drag and drop, you can quickly cut empty parts at the beginning or end of your video files.
You can also trim other parts of the video by clicking the split button and creating segments of the video that you can then remove. This is extremely useful to correct any error you made while recording or to hide sensitive information you might have leaked while recording your whole screen. Of course, you should use my free blur extension, ZeroBlur, to avoid this.
Overall, Loom lets you edit your video in a hassle-free way you'll surely enjoy. Well done.
Adding a Call to Action
Loom also lets you add a Call to Action to your videos.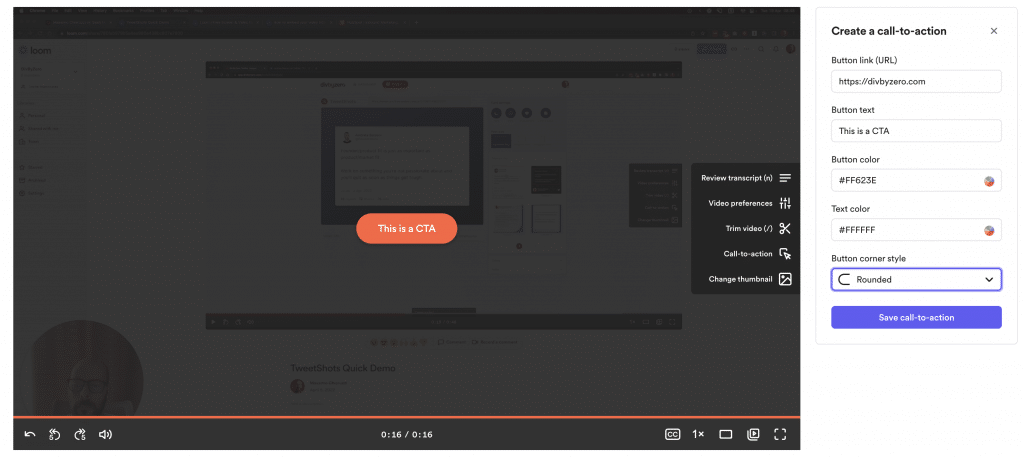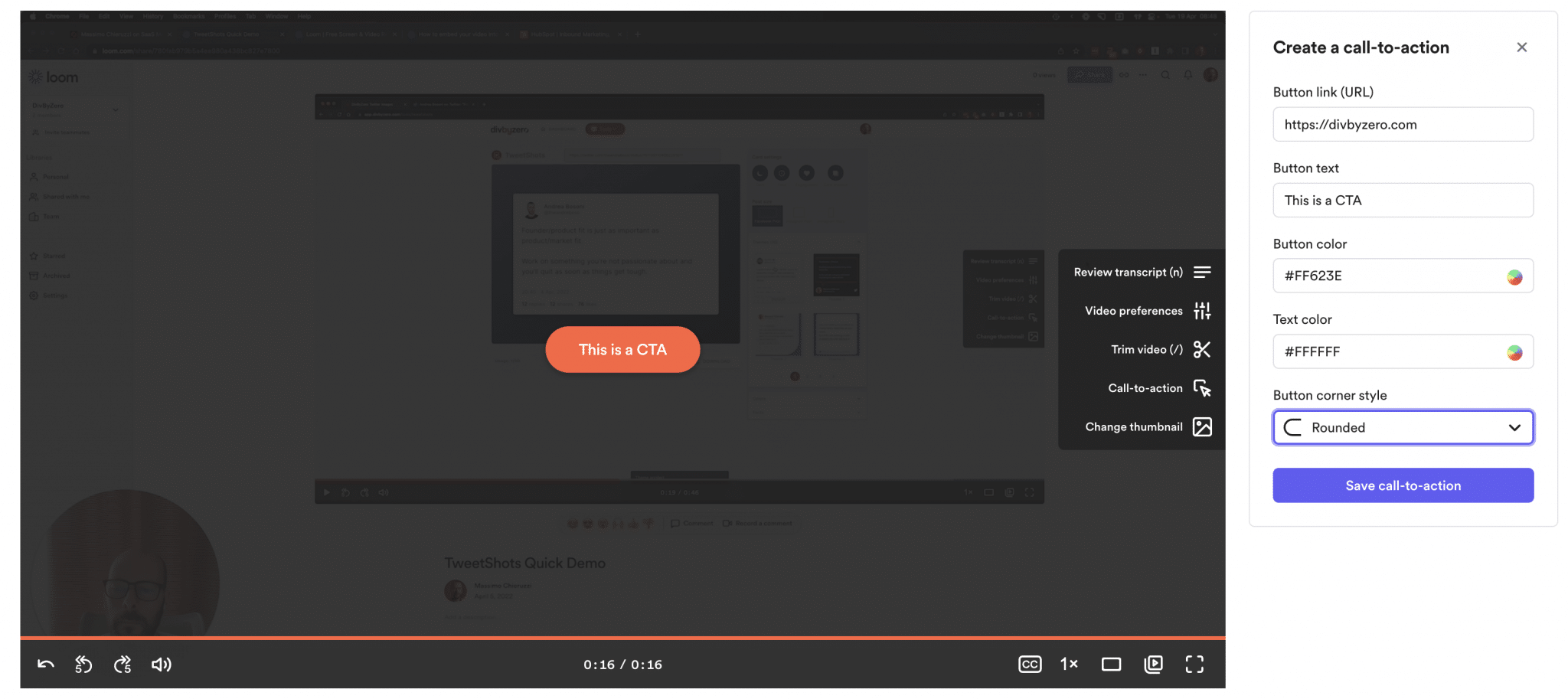 It's very simple. You can edit the URL to link and the text of the CTA, pick a style for the button, and customize colors.
The CTA will be added to the whole video on the top right.
Your sales team will love this feature when using Loom for video messaging with prospects.
For more advanced users, I would love to see it expanded to allow multiple CTAs on different segments of the video and the ability to reposition it within the player.
Customizing video thumbnail
Loom lets you configure your video's thumbnail.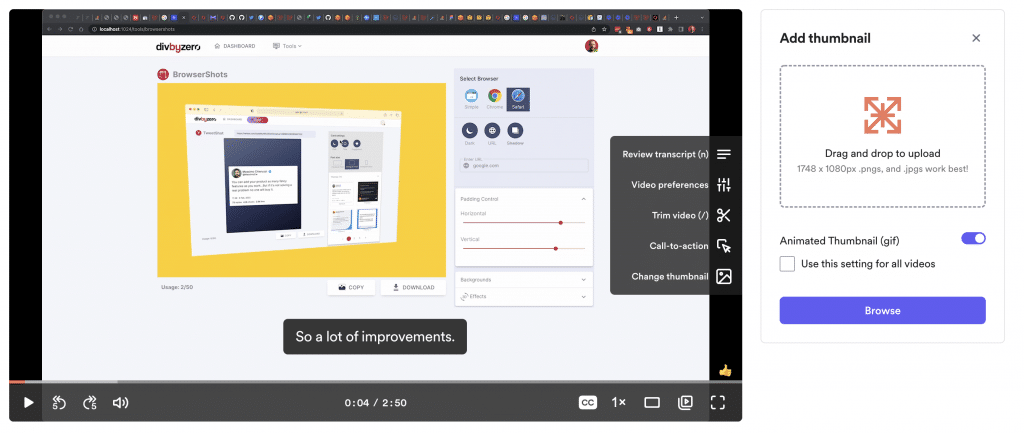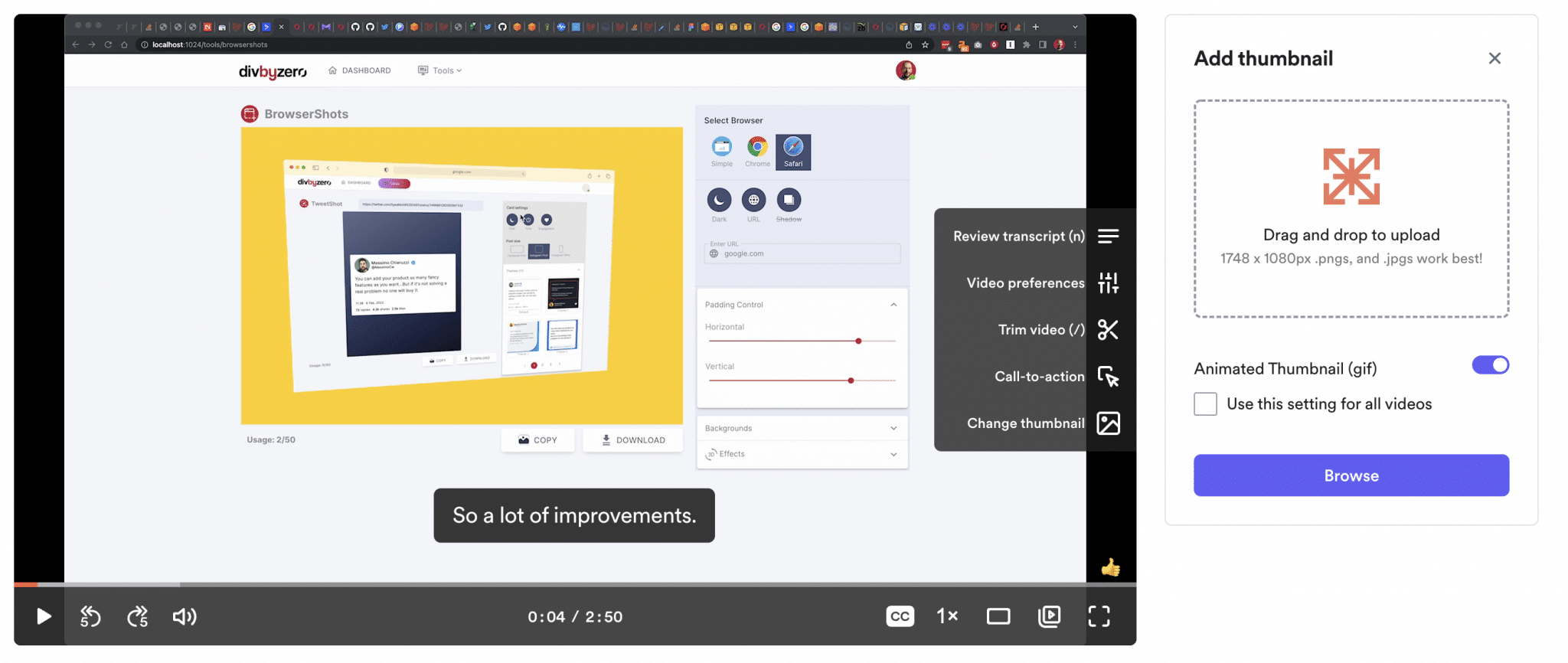 Nothing mindblowing here. You can upload your custom thumbnail or use the auto-generated one, which, by default, is a good-looking animated gif with the first few seconds of your video file.
It works well, I would have just loved to have the option to pick a random frame of the video and set it as the thumbnail. It's not a big deal anyway, I mainly use Loom to avoid video calls and I never felt the need to customize the thumbnail as I do on Youtube for example.
General Settings
Finally, you can fine-tune how over people will watch and interact with your video recordings.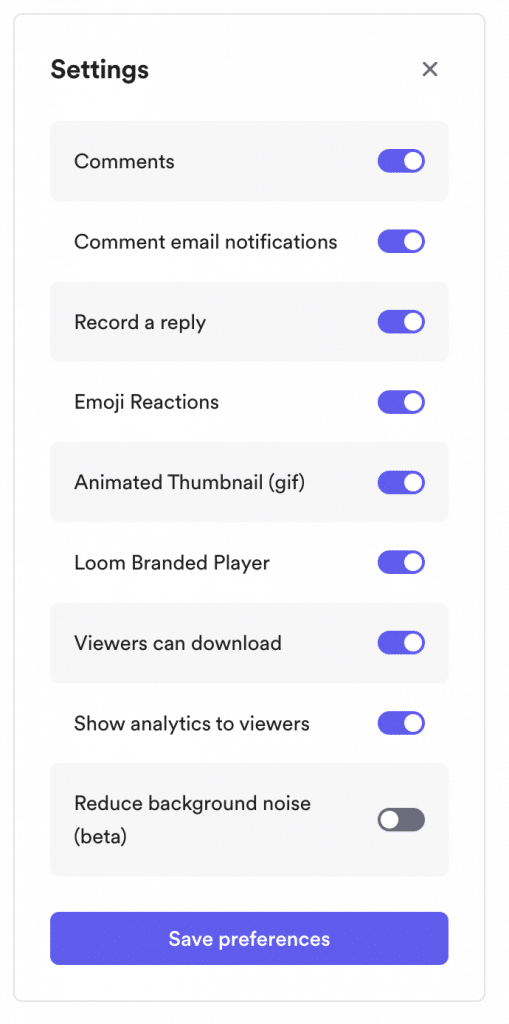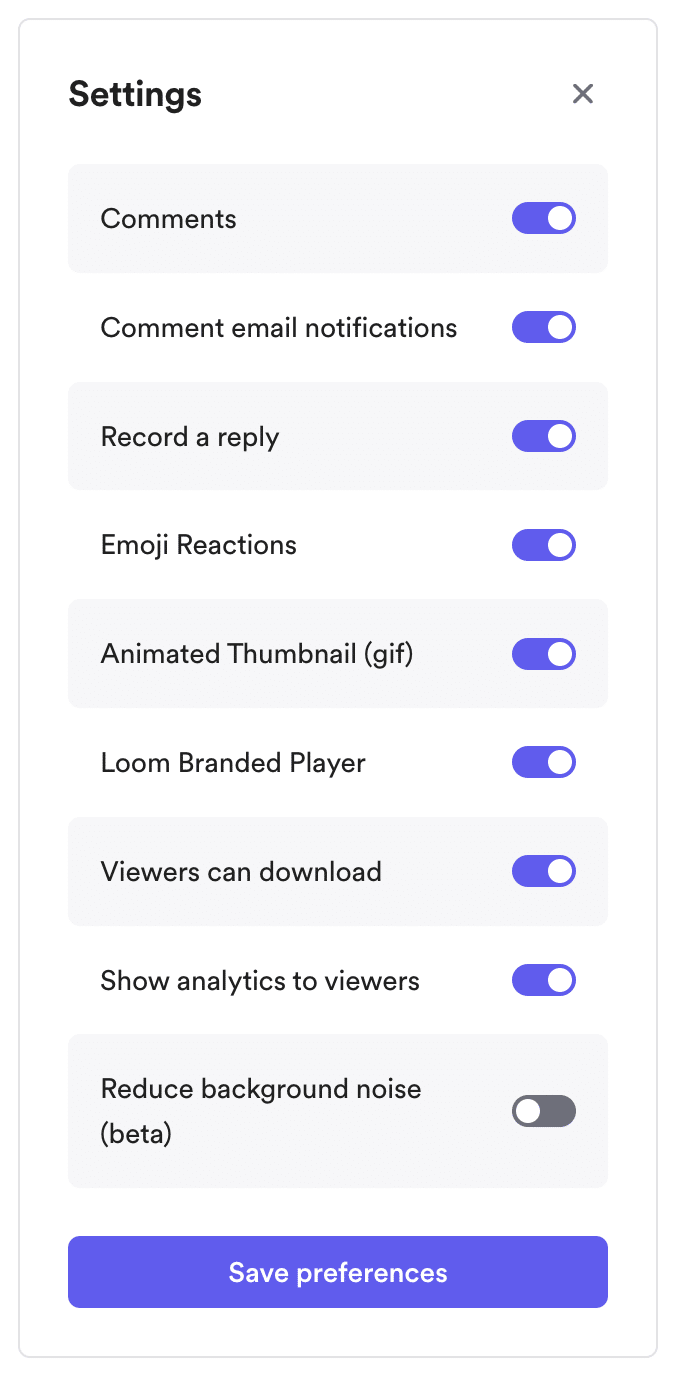 All the options are very clear. You can enable or disable commenting, video reply, download of the audio and video files, branding on the video, etc. Not all of these options are available in the free version, even tho' it's a very generous one.
The Screen recorder: what you need to know
You need to know one important thing about Loom's screen recorder: from the moment you start recording, it will immediately stream and store your video in the cloud.
Why is this important? On one side is what makes Loom so fast. As soon as you hit stop, the video is already available for sharing, making the workflow extremely fast.
On the other side, this might become an issue if you don't have a fast internet connection.
I'm lucky enough to have a 1Gb optical fiber connection and I had no problem recording videos in 4k.
If you use Loom on a slow internet connection you might not be able to record at maximum resolution or you might even experience videos failing to upload completely. It's rare but it could happen.
It also means that you cannot use the screen recorder when you're offline.
Loom has frequent software updates and a public product board here. Offline recording has already been requested and is currently under consideration so hopefully, it's coming in the future.
This limitation of the screen recorder is not a major issue for most Loom users, especially the business ones. It's however something I felt I had to underline for a complete Loom review.
Managing and Sharing video recordings
Now that you're done with the screen recorder, and you have the first handful of videos, let's see how to manage them and, most of all, how to share them.
Keep in mind that the main use case for Loom is not to replace video for large distribution videos or live streaming. Loom is, first of all, a tool for video messaging or creating internal videos for training and educational purposes.
When it comes to the UI, they try to keep it as clean as possible. It's not a matter of lack of feature. It's a matter of doing extremely well fewer things. And they deliver.
The interface is simple and extremely effective to use.
Loom Video management
As soon as you log in, you'll be redirected to the main dashboard where you can immediately see all your personal videos. The interface is a simplified version of Dropbox or Google Drive: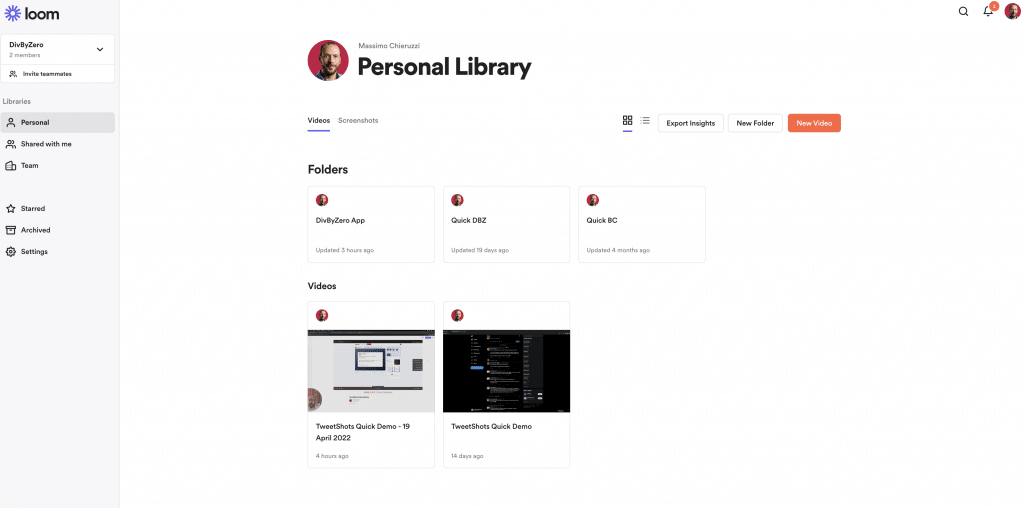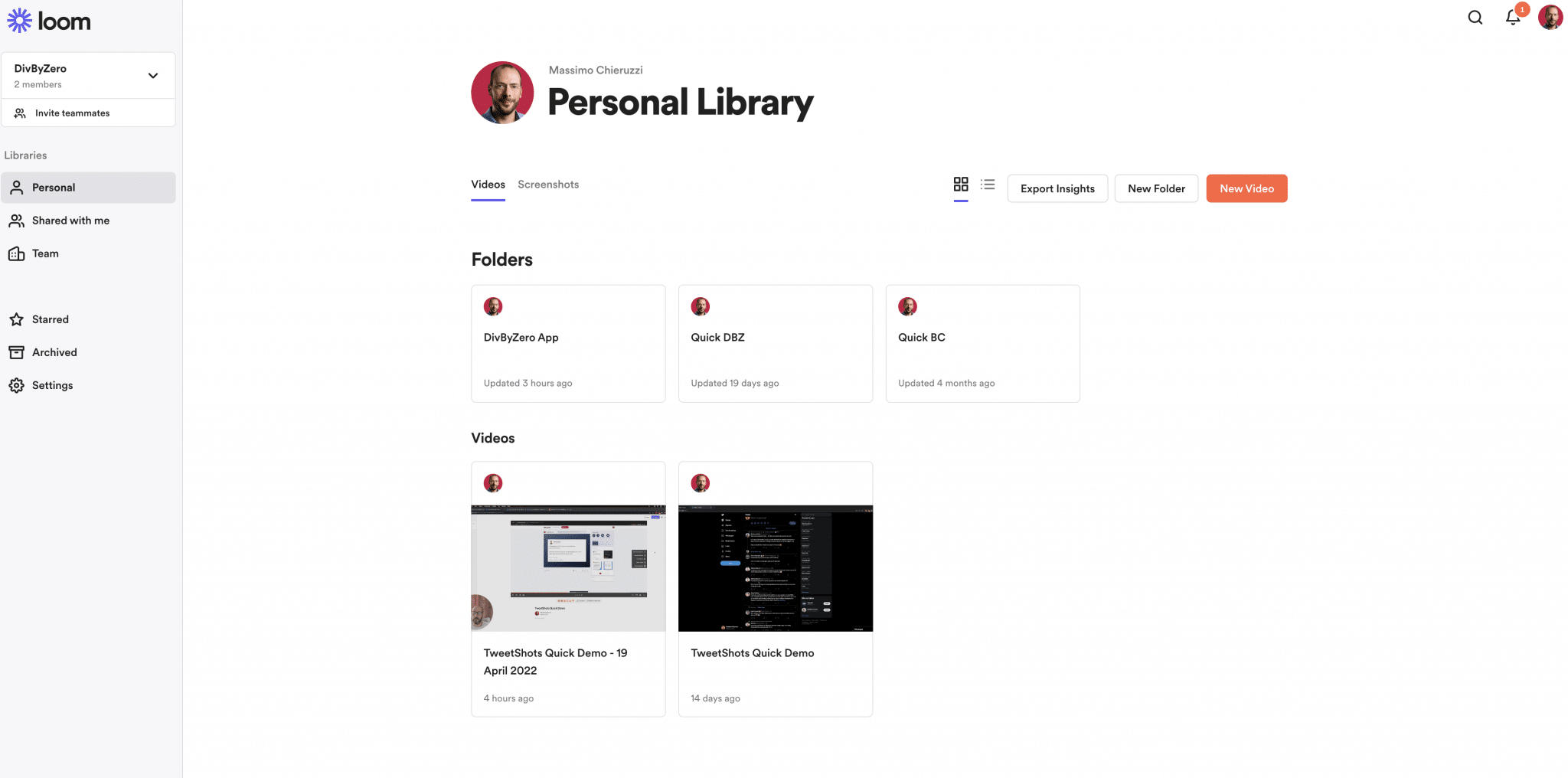 You can create folders to better organize your videos or keep everything together.
On the left side column, you can quickly switch between your personal videos, videos shared with you, and team folders.
You can also quickly access starred and archived videos. I use the archive function a lot since a lot of the Looms I record are for quick communications, and I don't need them anymore after they've been watched by the receiver.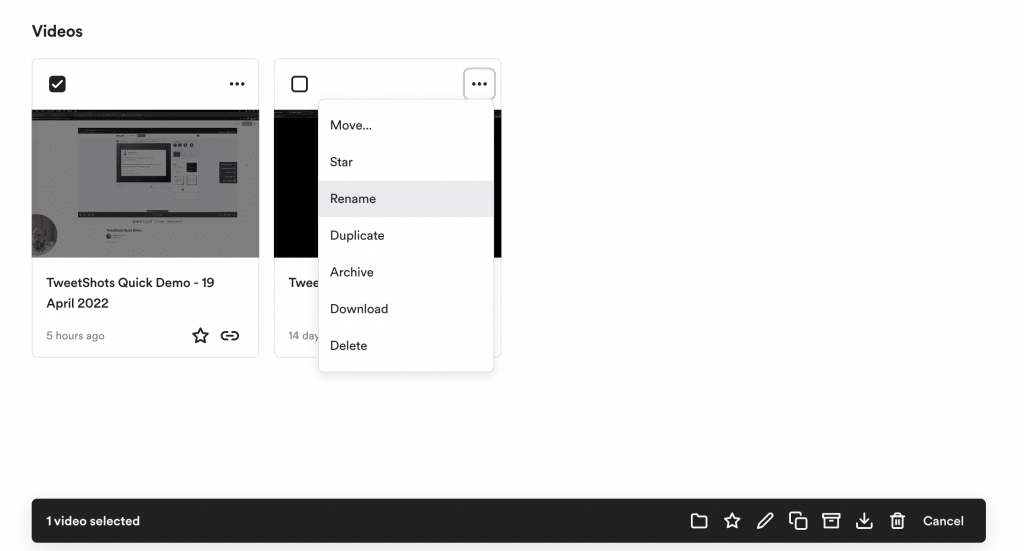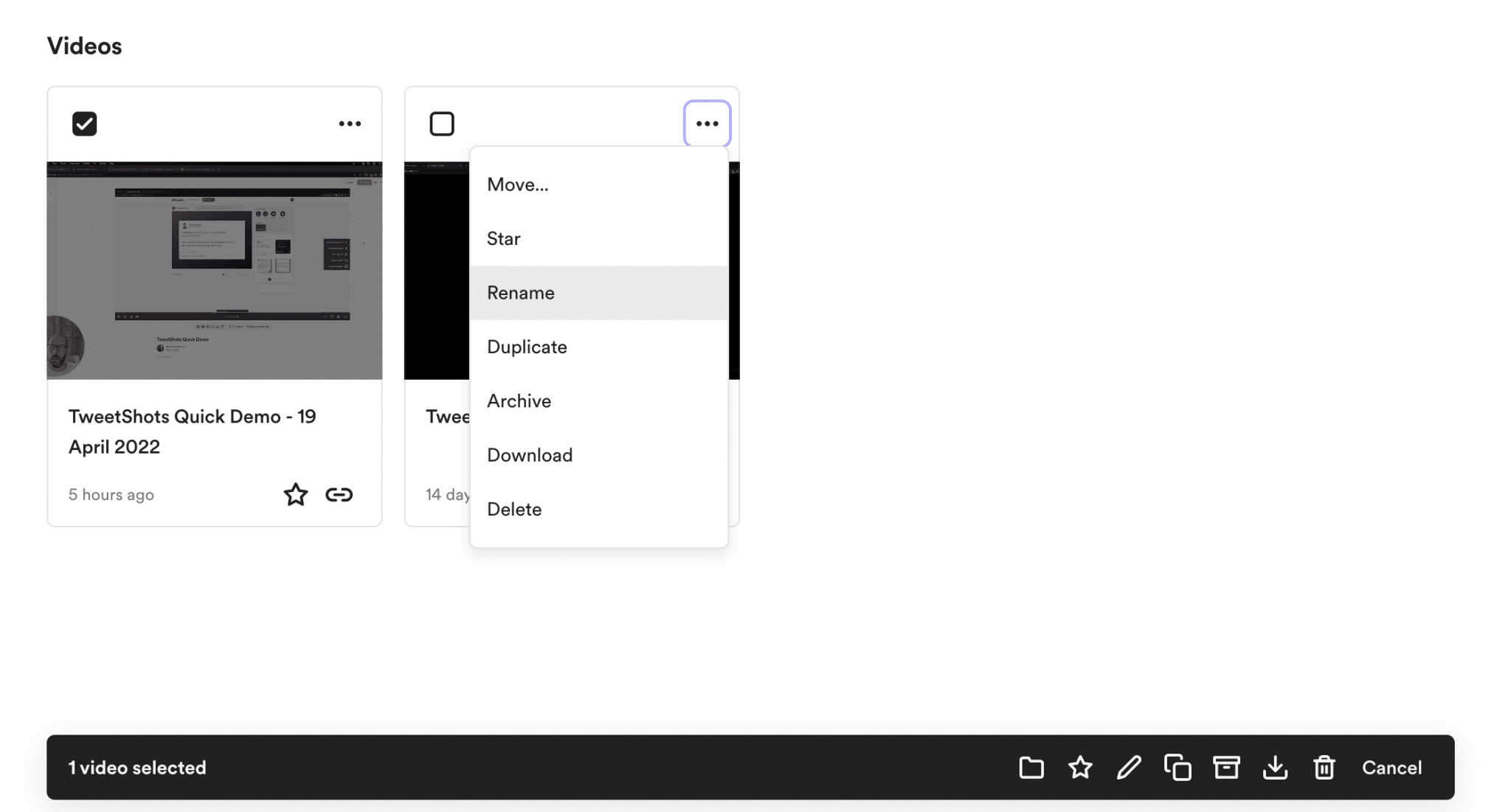 You can quickly star any video or copy in the clipboard the sharing link. You can also select multiple videos to batch execute the same action or click the 3 dots to all the most common actions like duplicate, move, delete, and so on.
Again, a very slim and effective interface.
Sharing your Loom videos
Loom has pretty powerful sharing settings that mimic Google drive. They'll feel like you've used them forever from the first time.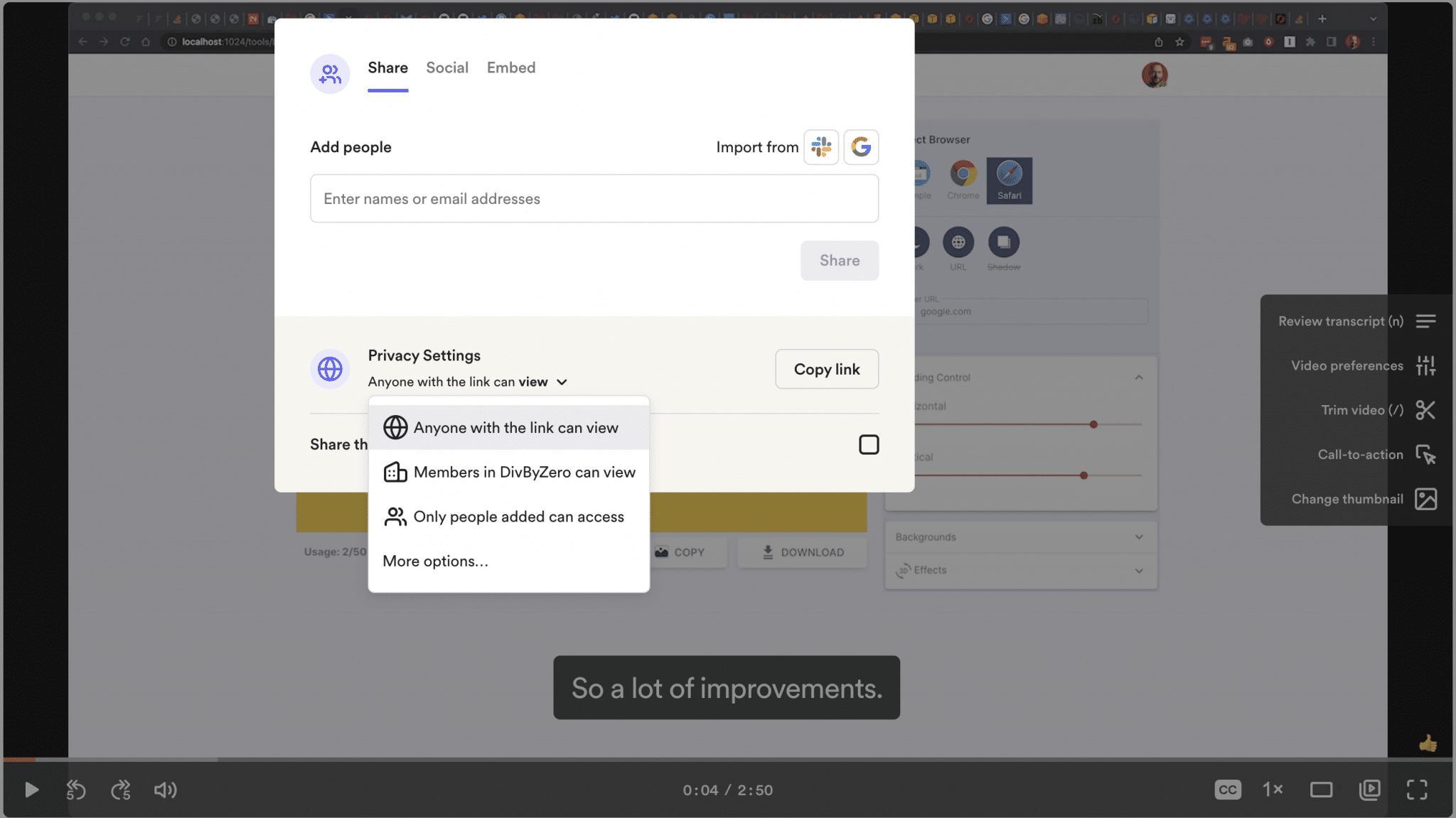 You can quickly decide the access control for each video. Should anyone be able to access your video if they have a link, or should they be part of your company or be part of your Loom team?
You can also share the video to start at a specific moment in the recording.
The great thing about Loom's interface is that there's always a 1 click way to copy a sharable public link in the clipboard. This makes everything very fast.
In the "Social" tab, you'll find quick links to share the video on all the major social networks. It's, however, gonna share the link to the public Loom page. For engagement, I'd recommend downloading the video and uploading it natively on your social network.
In the "Embed" tab you can quickly get the gif thumbnail (useful for embedding in emails) and the HTML code to embed Looms on your website, both with a responsive or fixed size player.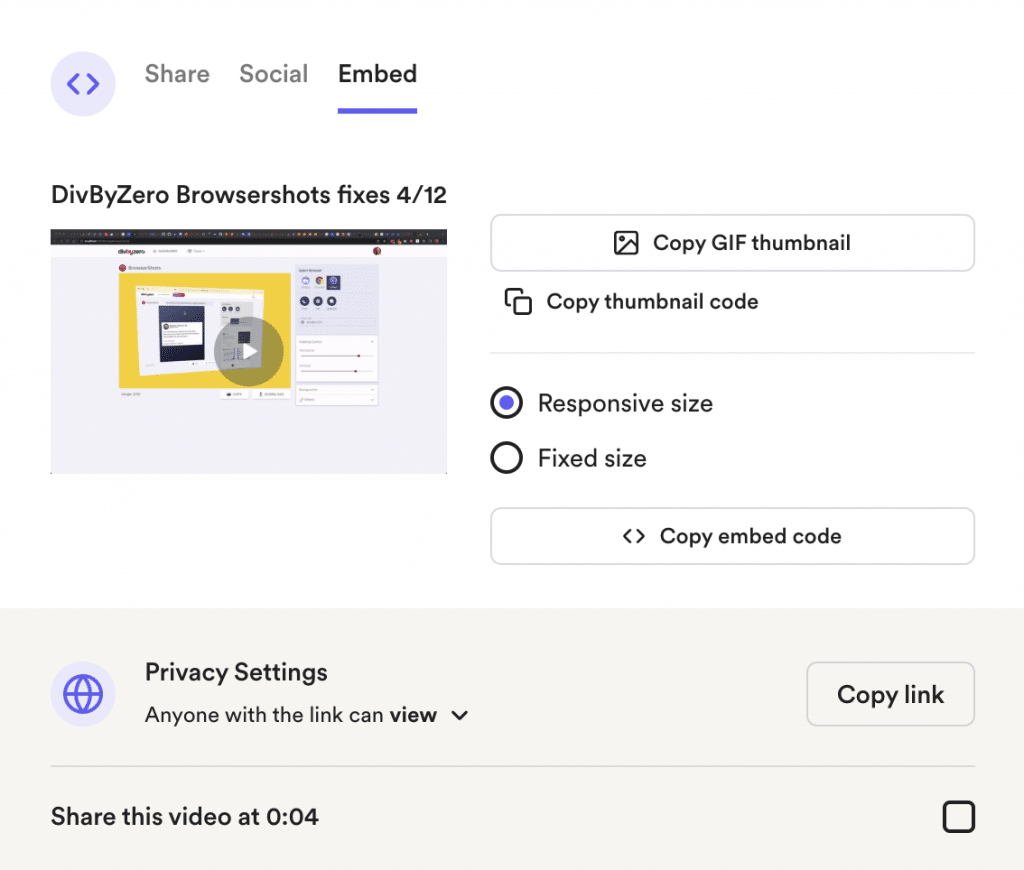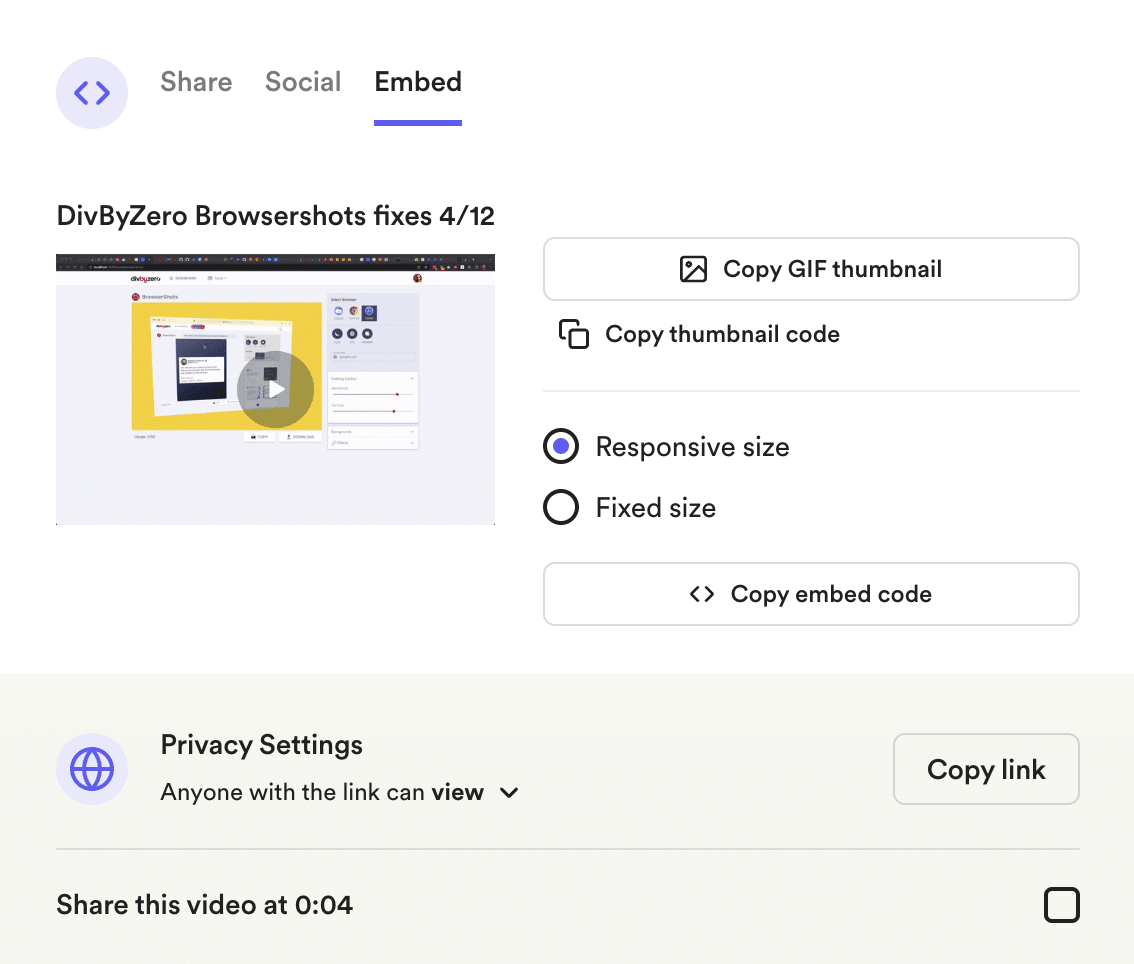 The video player
Playing a screen recording is enjoyable, and the player is well made. Overall I never had an issue with the video streaming.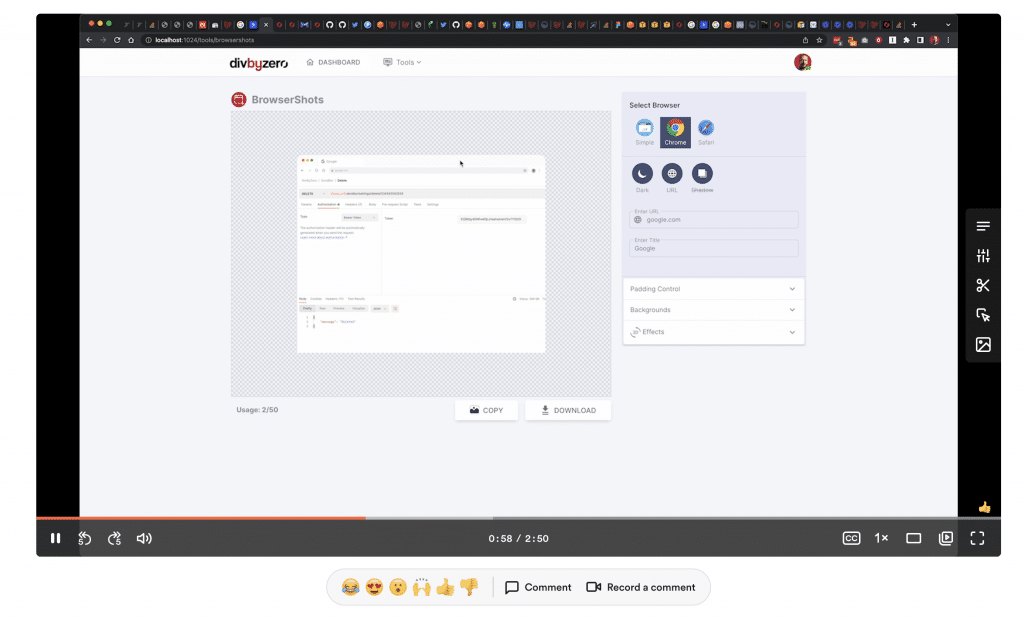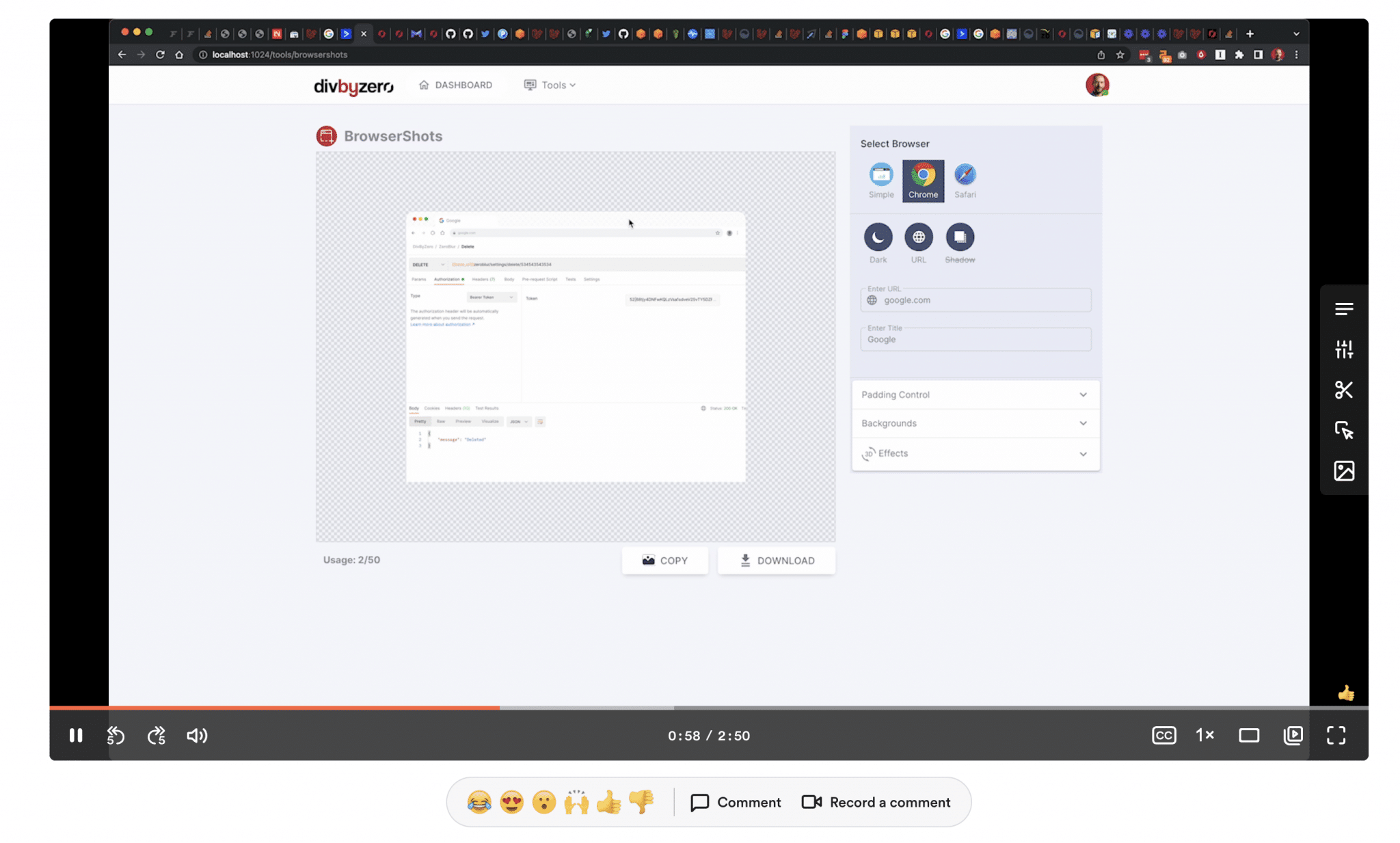 Given the nature of Loom, there are two features that I really loved.
The first one is speed control. I love going through a video at 1.5x speed to quickly watch a message from a coworker.
The second one is Picture in Picture. You can spawn your Loom video in a small hovering window that always remains on top of the others. It's extremely useful for delivering training videos.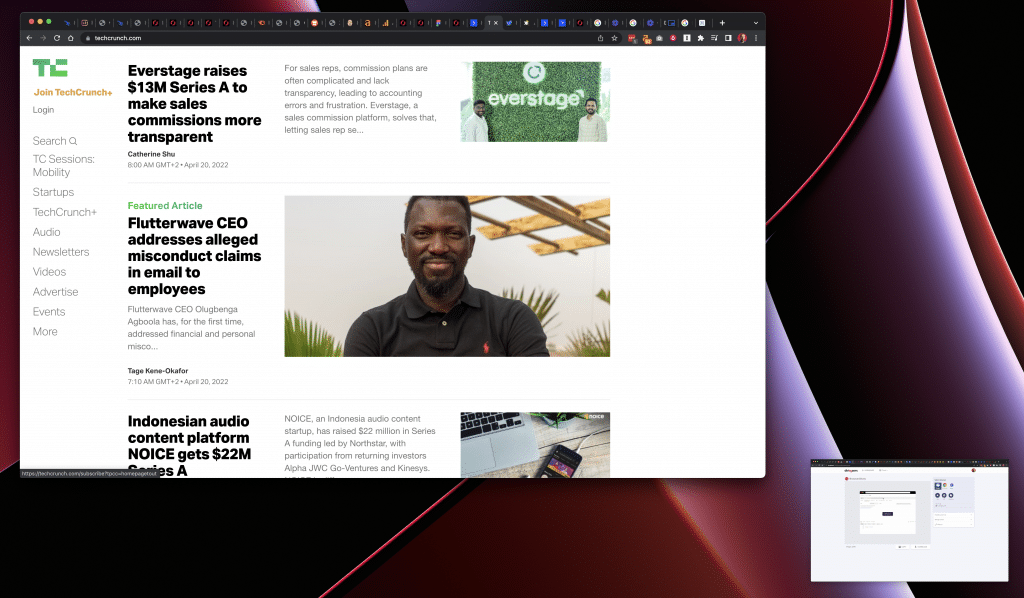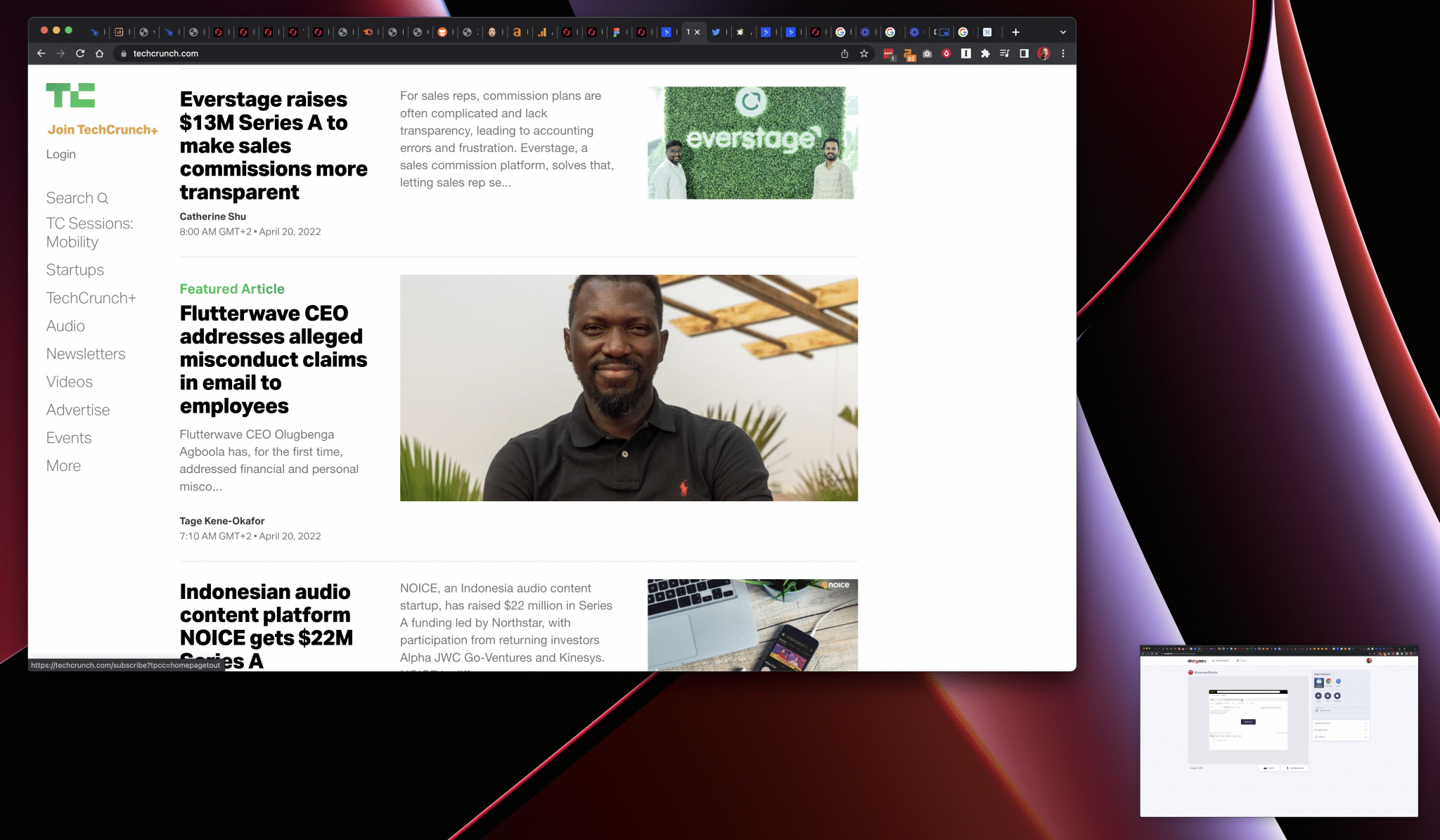 This way the viewer can keep the browser open on the application he's learning to use while keeping the training video running on top of it and testing firsthand what he's watching. Love it.
Finally, viewers can immediately react with emojis to your video and you'll be able to see exactly in which part of the video they reacted. Very useful especially when you're asking for feedback on a video.
Video Statistics
As the creator of the video, you'll also get access to some light statistics about it.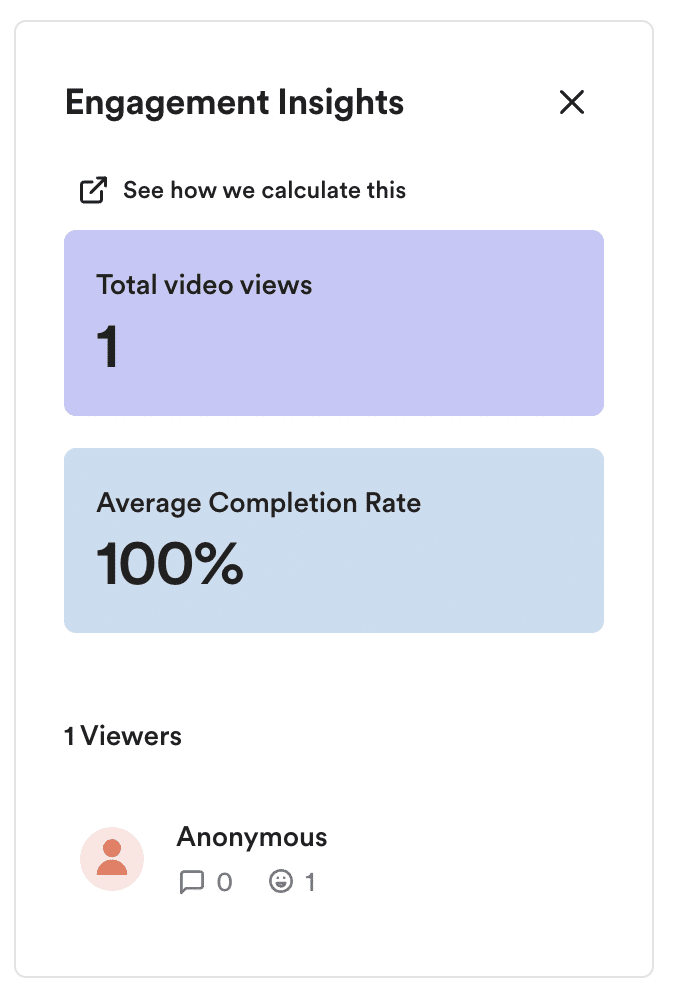 It's nothing mind-blowing but they do their job. You can see how many people watched the video, who they are if logged in, and the average watch time and reactions.
It's not super detailed, but again, Loom is not a video marketing platform like Wistia, it's more for video messaging so this level of detail is good enough.
One feature you'll love if you use loom daily like me, is the notification of video views. As soon as someone watches a video you'll receive an email or desktop alert.
Just imagine your sales team being able to know when a prospect has finished watching a video so they can follow up immediately.
Information Blur (Added 10/20/2022)
Loom has just added in beta a new feature to blur out sensitive data in your loom videos.


It's still experimental and only works with static websites, but it's the first step. It works through Loom's Chrome extension. This means that you can only blur information within your browser and not in other apps.
Overall of blurring data is something important for you; I'd still recommend using ZeroBlur, my 100% free browser extension to blur data. It is way more powerful and battle tested.
Still, it's great to see Loom adding new features to its great product!
My personal experience with Loom
I was skeptical when I started to use Loom. I signed up for the free version, convinced I would just try it out and leave very soon like most of the new tools I install.
I think this is pretty common among their customer base. In the end, the idea doesn't seem so revolutionary. But as you start recording videos with the desktop app and sharing them with your team… you'll get addicted to it.
It's not just a video recording tool. It's a game-changer in how you'll manage communications with your team, prospects, and customers. As you start adopting it in your company, you'll see the number of Zoom calls reduce and asynchronous communications rise. A shift that will make your remote life much better.
Here are the main use cases that got me to love Loom:
Processes documentation
I used to have training calls every time I onboarded a new employee or contractor. They were extremely repetitive, and every time I had to repeat the same things.
Now I've created an extensive catalog of videos detailing every process of the business. As we onboard new people they can organize their schedule as it better fits their needs and go through all the recorded videos.
The other big advantage is that if they don't remember something, they can go back and review the specific video whenever they want instead of pinging me on Slack.
Producing the same amount of content in a written wiki would have taken me months. With Loom I recorded everything in less than a week.
Content Briefs
I always suck at writing content briefs for my copywriters. I found it tedious and often forgot something.
Now every time a new blog post is assigned, I'll just start Loom's screen recorder and dump all my thoughts on the subject while browsing other interesting resources that the copywriter can immediately see on the screen and use for future reference.
Software development
I'm interacting daily with a lot of developers to build my set of Free marketing tools.
Some of them don't speak great English, and using Slack, there were misunderstandings about what I was asking them very often. This was especially true with UI-related tasks.
Now every time there's a bug or a new feature to implement, I'll just record a Loom and show them what's needed.
Here's the reaction of an Awesomic's freelance designer to the first Loom I sent her: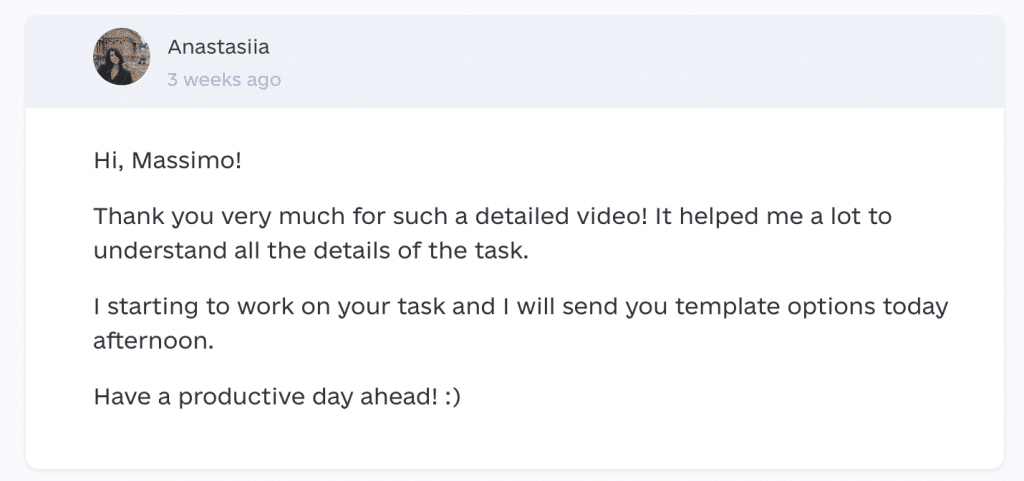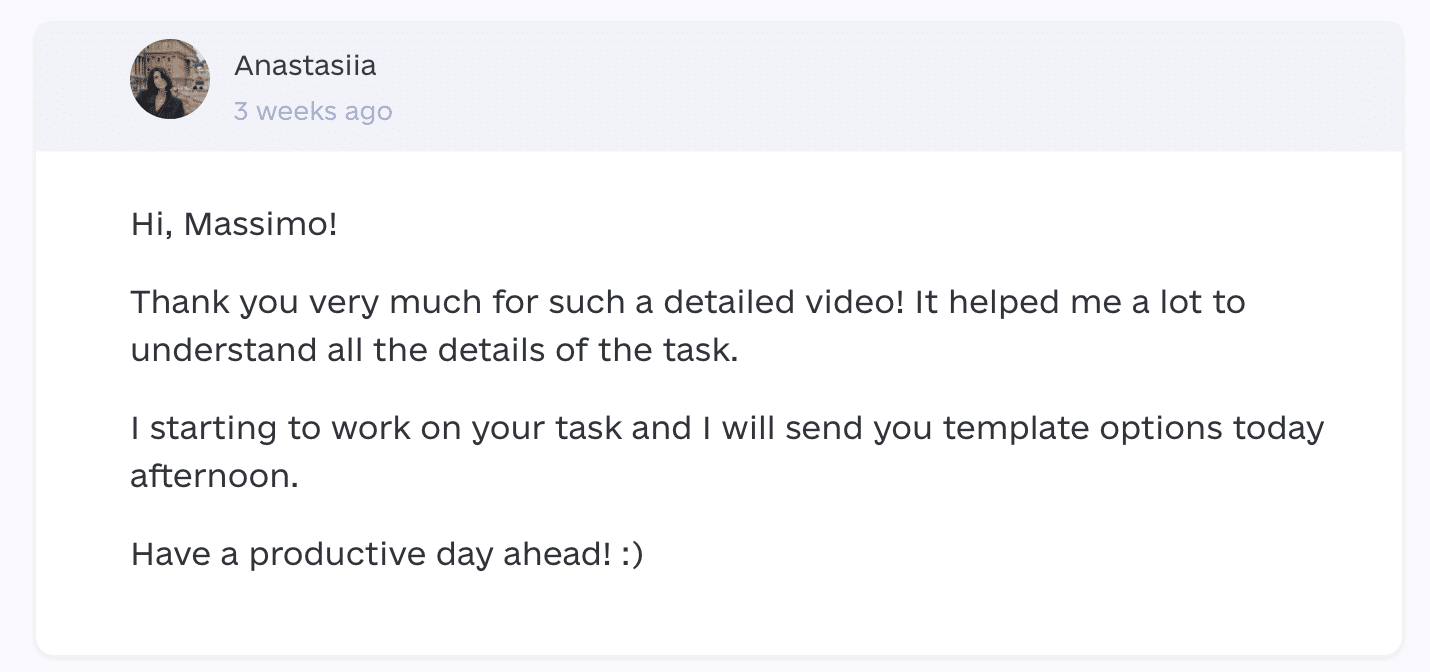 Marketing Videos
While I'd use something more sophisticated for producing high-quality Youtube videos, I used Loom a lot to create quick explainer videos to share on social networks for my free tools.
Overall on ProductHunt, I see marketers using Loom to create video presentations of their software companies daily.
To wrap it up, very soon, I realized Loom had become a critical element of my workflow and a great team collaboration tool. That's when I upgraded to a paid subscription and decided it was worth writing a Loom review.
How much does Loom Cost? Loom Pricing
Ok, let's come to Loom pricing and plans. Luckily they have a very simple structure for their paid subscriptions.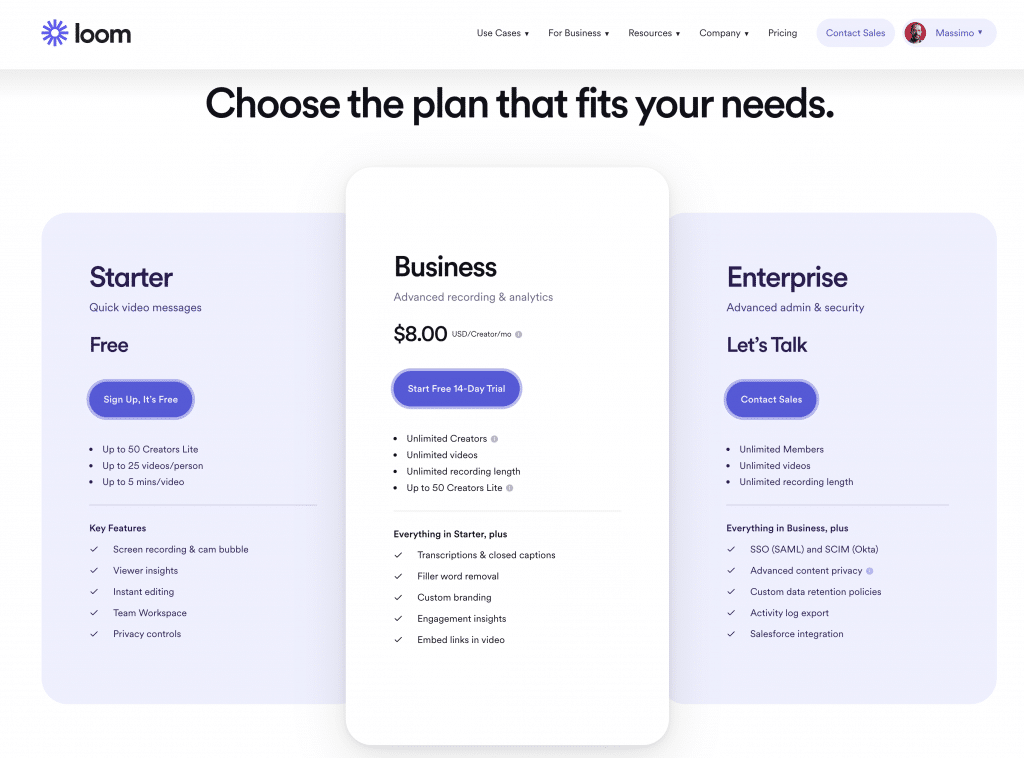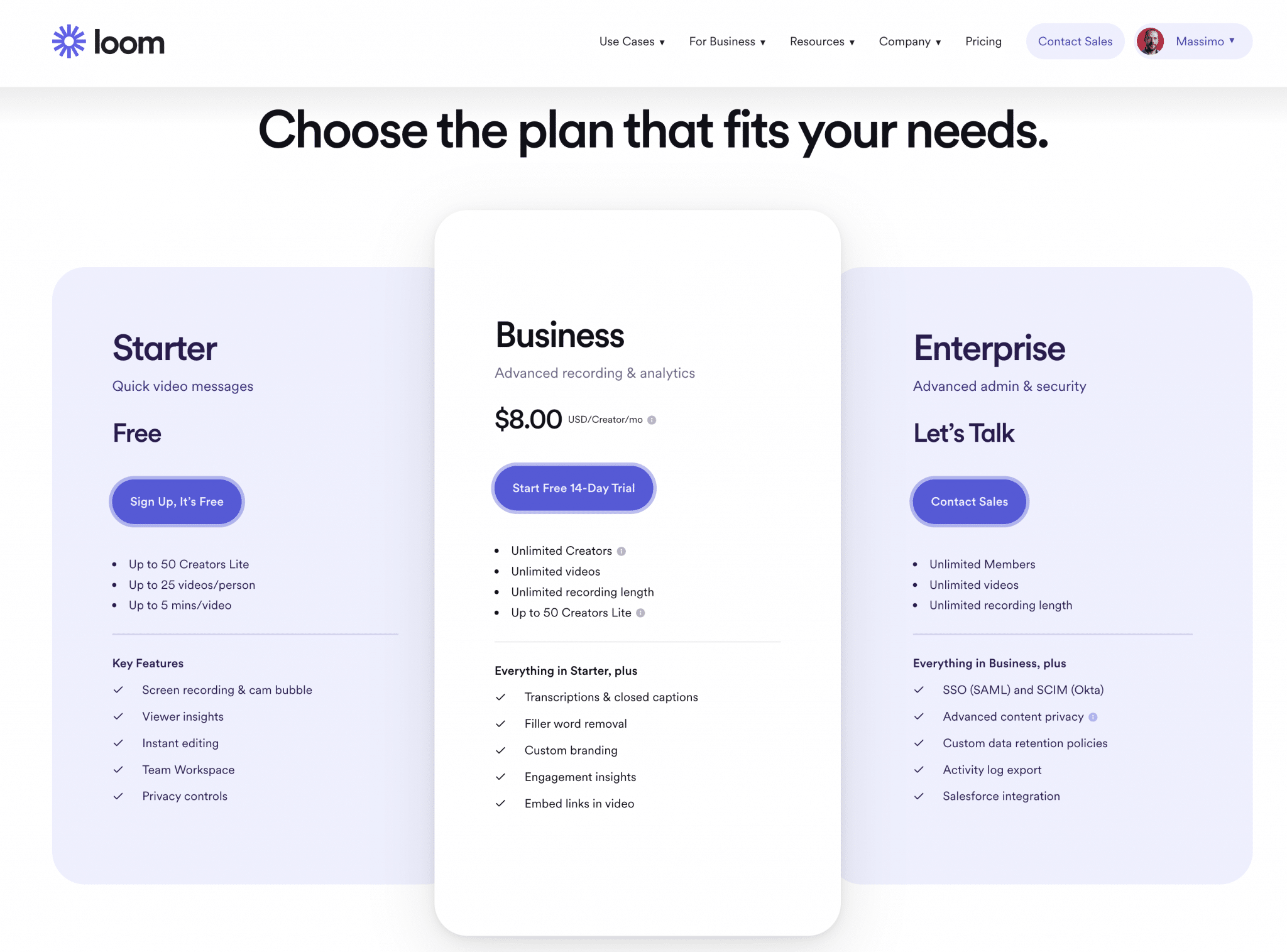 It all starts with the Free version. It's good enough for spot usage.
You can invite up to 50 "creators lite" (users in your team with limited creation capabilities) and record up to 25 videos, each with a maximum length of 5 minutes.
The Free version also has a limit on video quality. The maximum recording quality is 720p. Good enough for team collaboration.
The thing that triggered me to upgrade was the 5 minutes limit. Too often I ended up recording 2 videos to finish recording my message. For $10 it's a no-brainer to upgrade.
Monthly and annual subscriptions are charged per user. Overall I find $10 per user very reasonable, and you can still invite all the team members you want for free as long as they don't need access to the full feature set.
For my use case, except for me, the whole team falls in the "Creator lite" bucket which is free. I'm getting a crazy amount of value for $8/month. There's also a 20% discount for yearly subscriptions. I went yearly and ended up paying $96 for a full year.
The paid plan basically removes every limit. You get 4k resolution, unlimited videos with unlimited length… the whole package.
There's also an Enterprise plan. The pricing is not public. The main differences in terms of features are related to Single Sign On, high priority support, and Salesforce integration.
Should Loom be part of your stack?
I'll go straight to the point: yes.
The cost is irrelevant, and the advantages are huge, no matter what's your use case.
Whether you want to add a personal touch when reaching out to prospects, collaborate with other team members, set up an internal online portal for training new employees, or record quick marketing videos, Loom works great and has an amazingly simple UI that makes everything fast and fun.
There are frequent software updates to always improve the app or remove bugs (I've found none so far), the roadmap is super interesting and every time I had to contact loom, their customer support has been fast and solved my issues.
It doesn't even make sense to compare Loom with other recorders. It's not just a screen recording tool. It's a communication tool that every end-user will love and embrace very quickly.
It also works very nicely with all the apps I use. From Notion to GitHub or Upwork, more and more tools are starting to support Loom embedding natively.
Trust me and try it out. You'll thank me later.
Loom it's an impressive tool for asynchronous communications, video training, product demos, and much more. It will completely change your business workflows. I've reduced my video meeting by at least 30% by using Loom to coordinate with my team. It has also improved a lot slack communication by adding the video component that makes everything way clearer.
Breakdown
User Interface & Usability

5

Cross Platform support

5
Pros
Reasonably priced
Simple and Fast UI
Cons
Requires to be online for recording
Get Loom