Hypefury
in

Social Media
Hypefury is one of the fastest-growing tools for managing Twitter. I've used it for the last 6 months to discover why in this complete Hypefury review
Platforms
I suck at Twitter. I do. Even though I have a reasonably large Twitter audience, I post inconsistently, and I'm not leveraging Tweet threads enough… and gosh… they do work well in terms of engagement.
To try and change my bad Twitter habits, I've decided to purchase Hypefury a couple of months ago.
Did things improve? Yes and no! I'm still sluggish when it comes to tweeting… but the whole experience is way more enjoyable now, and my engagement is improving.
But without any further ado, let's start this Hypefury review to help you figure out if it could be an excellent addition to your marketing stack.
What is Hypefury?
Hypefury is a Twitter scheduling tool with a strong focus on threads. It does a few things, but it does them exceptionally well.
Please don't consider it a replacement of complete Social Media tools like Hootsuite, Buffer, or Agorapulse.
Hypefury is not meant as a full Twitter client for everyday usage. It's a web app. There's no mobile version of it right now… this is not a big problem, in my opinion. I think Hypefury shines for marketers and entrepreneurs that want to grow their Twitter audience, mainly through thoughtful tweet threads.
That's also the way I'm using it. I still use the Twitter client for reading and engaging with other people. When it comes to publishing, I schedule tweets with Hypefury on my laptop.
It's a relatively new company that started with a strong focus on threads and then expanded to many more features. Here's how it all began in 2019:
Hypefury General Look and Feel
Overall it's not the best UI I've ever seen, but it does its work of focusing you on writing rather than distracting with too many bells and whistles.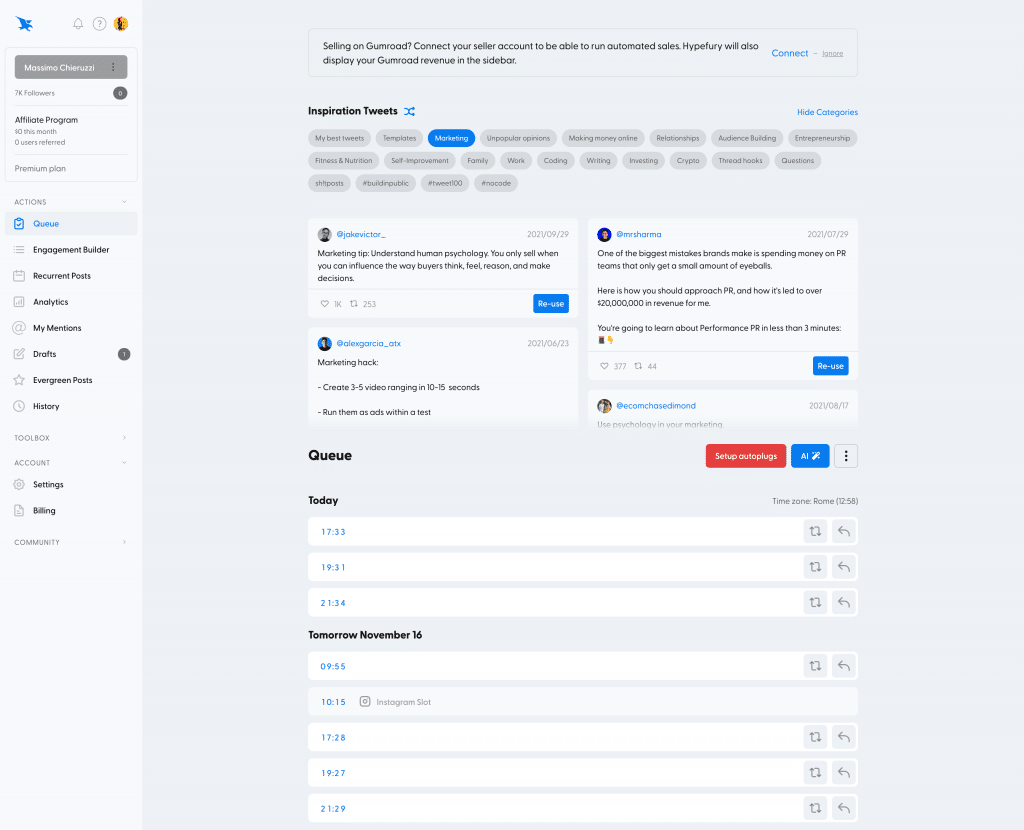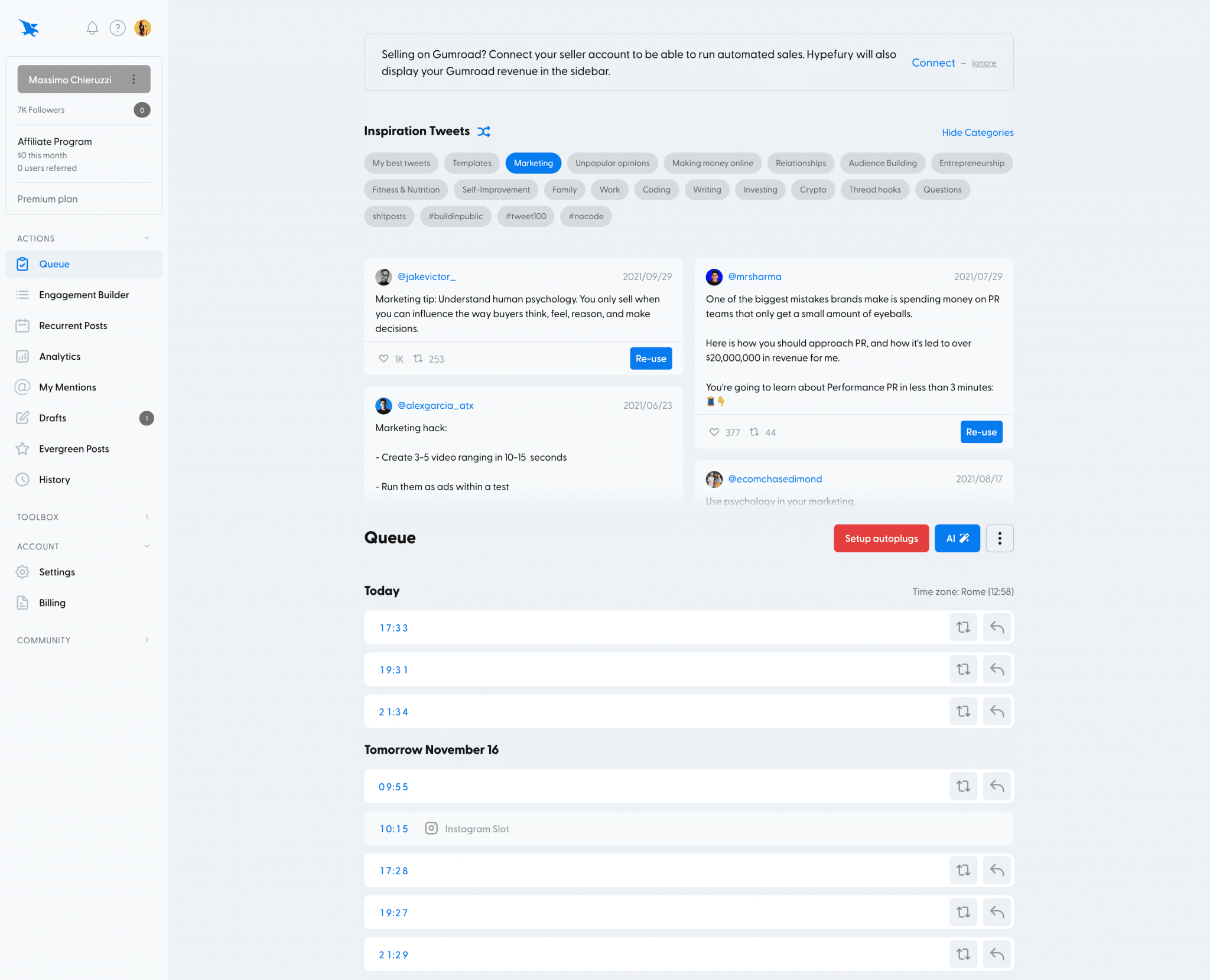 That's apparent right from the main dashboard. There's an excellent inspiration panel that highlights your previous top-performing tweets plus a good selection of tweets from other users, classified by their niche. All of them can be re-used with a click.
Right below, you can see all your posting slots for the next few days, which you can click to schedule a new tweet immediately.
One element that I really appreciate is the opportunity to switch the interface between light and dark mode.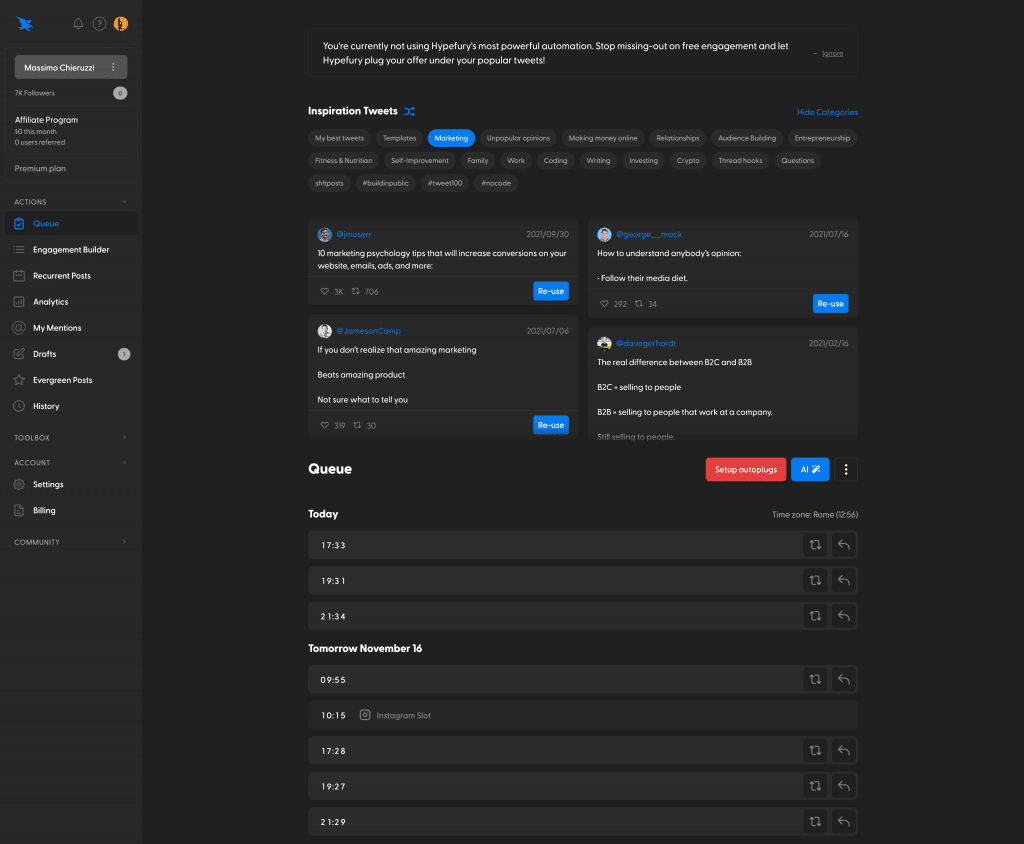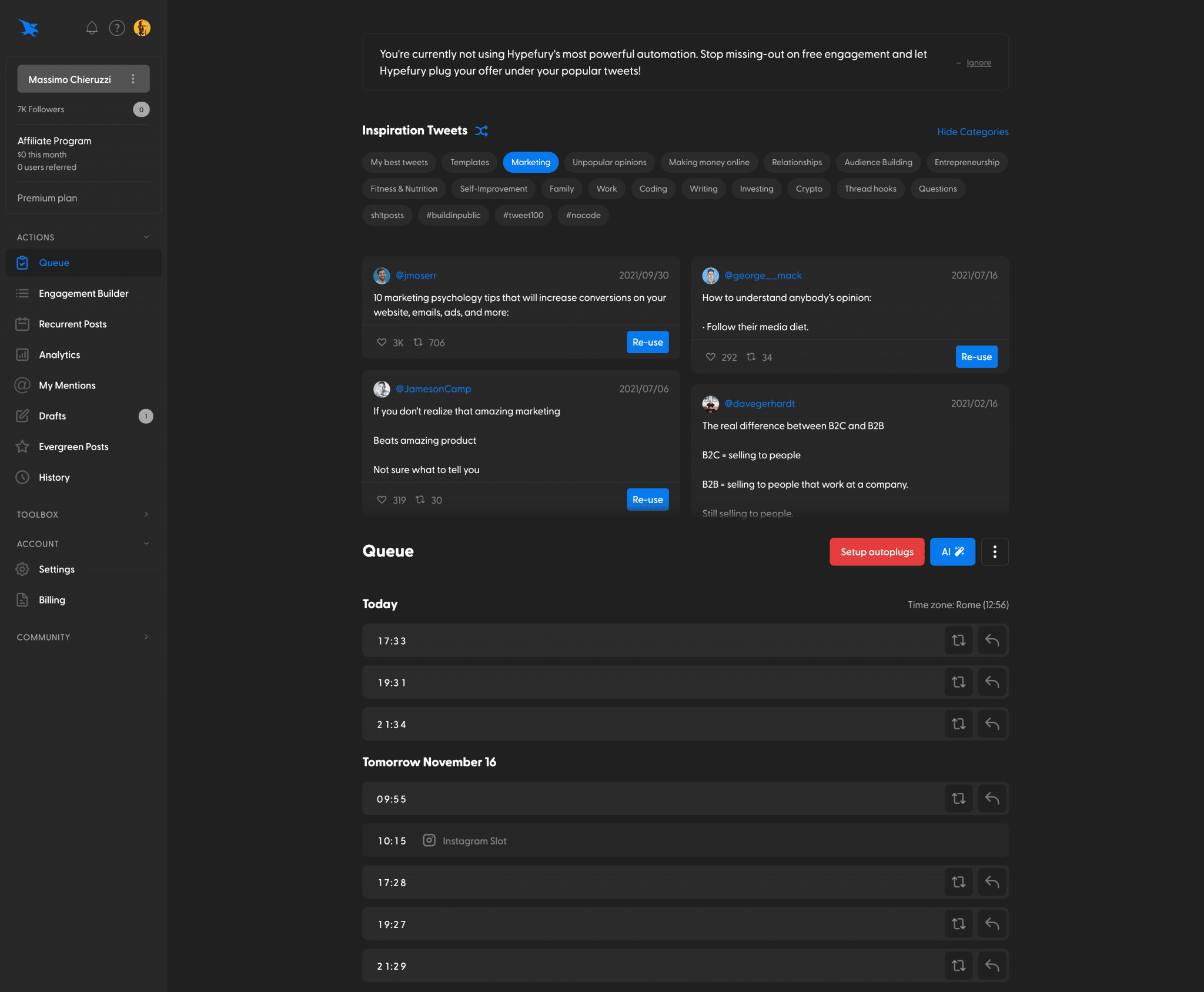 The other thing that I appreciate about Hypefury is that everywhere you'll find actionable insights. Most of the app's elements are designed to be actionable and to make you a more prolific Twitter with the lowest effort possible.
As a lazy tweeter myself, this is probably why I like it so much.
Scheduling Tweets
Hypefury is probably the best tool I've tried out when it comes to tweets scheduling. It's the bread and butter of this application.
On the settings page of your account, you can define your scheduling slots. These are the days and times when your scheduled tweets will go out. It's rapid to use, and you can click the "Make my schedule more natural" to slightly randomize the slots to make your schedule looks more organic.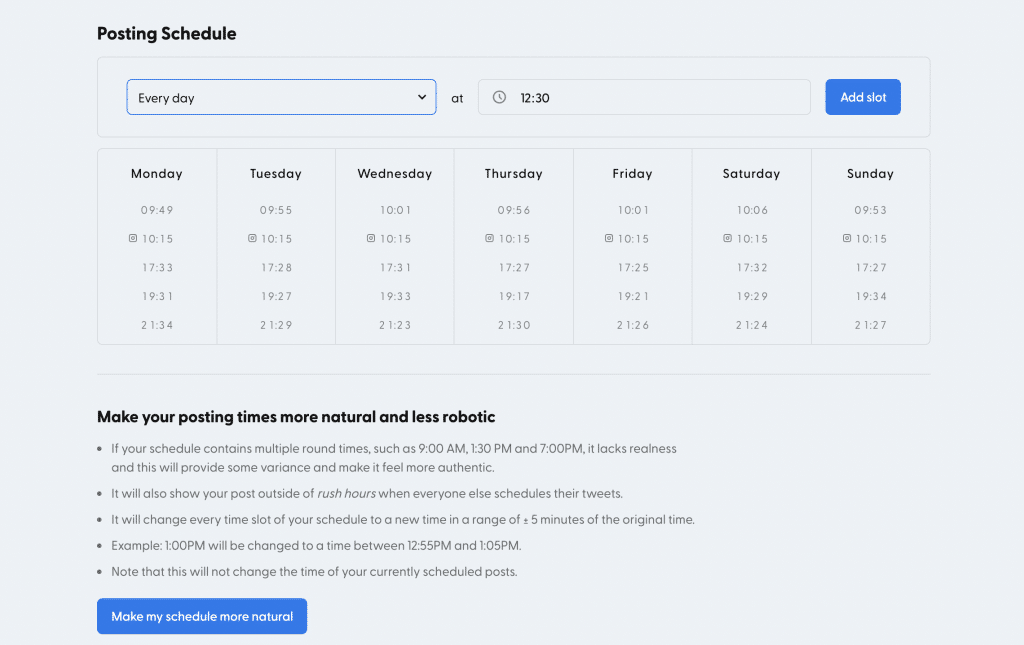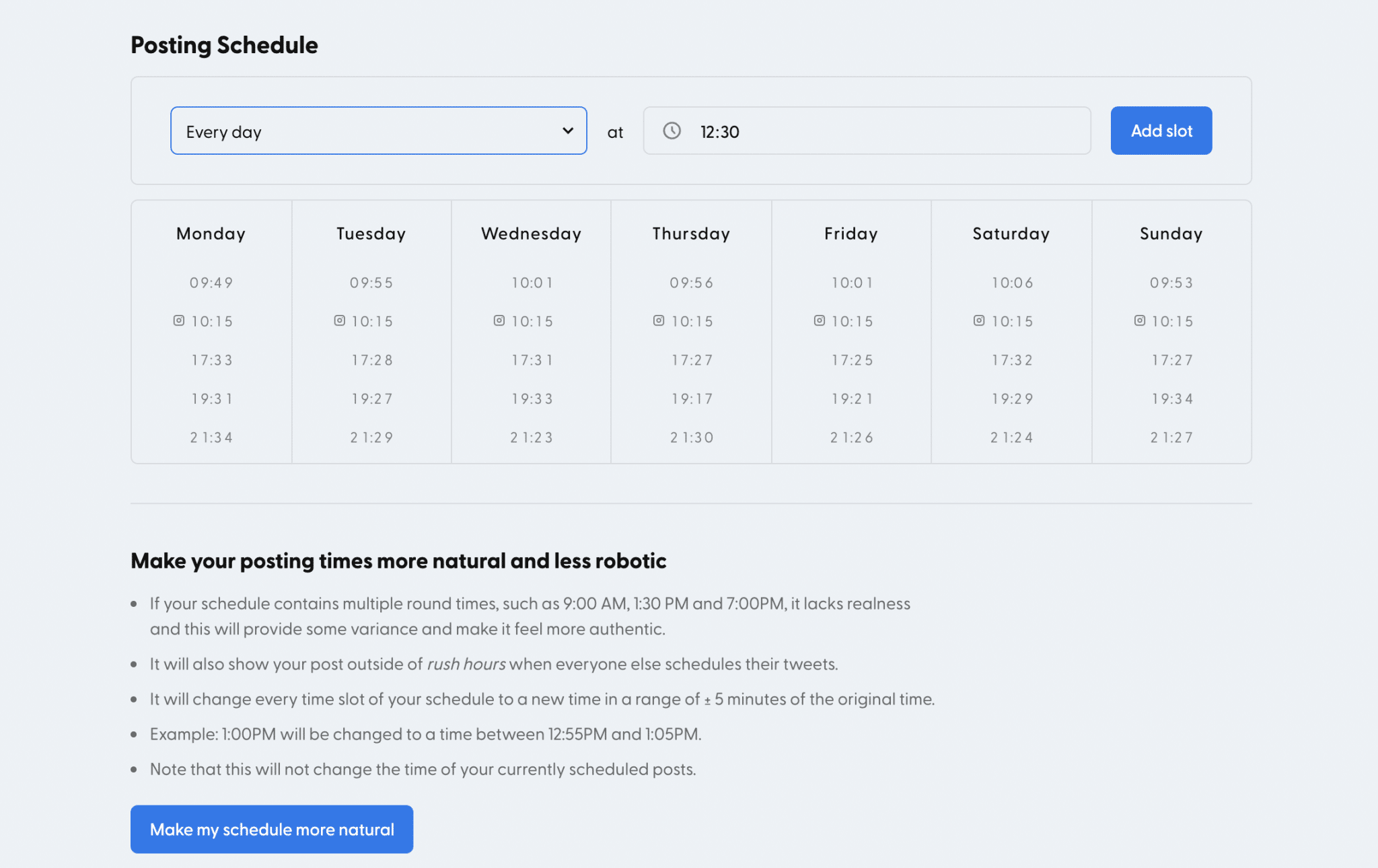 Once you've defined your slots (you can change them at any time), they'll always be visible in the main dashboard. From here, you can control your content calendar and compose your tweets by simply clicking on any of the slots available. You can schedule unlimited tweets with paid plans.
You can also drag and drop any scheduled tweet to move it to another slot or click on it to edit before publishing.
These are all standard features included in the free version.
If you want to schedule tweet threads, it works the same way; the only difference will be the composer interface which we'll check out in the next chapter.
If you have writer's block, don't worry, Hypefurry is especially helpful in finding the right inspiration.
On the Queue page, the top part has an inspiration area where you can quickly see your best-performing tweets from the past, ready to be retweeted or re-published, and a lot of recommendations with top tweets from other users prepared for re-use. They're even categorized by theme.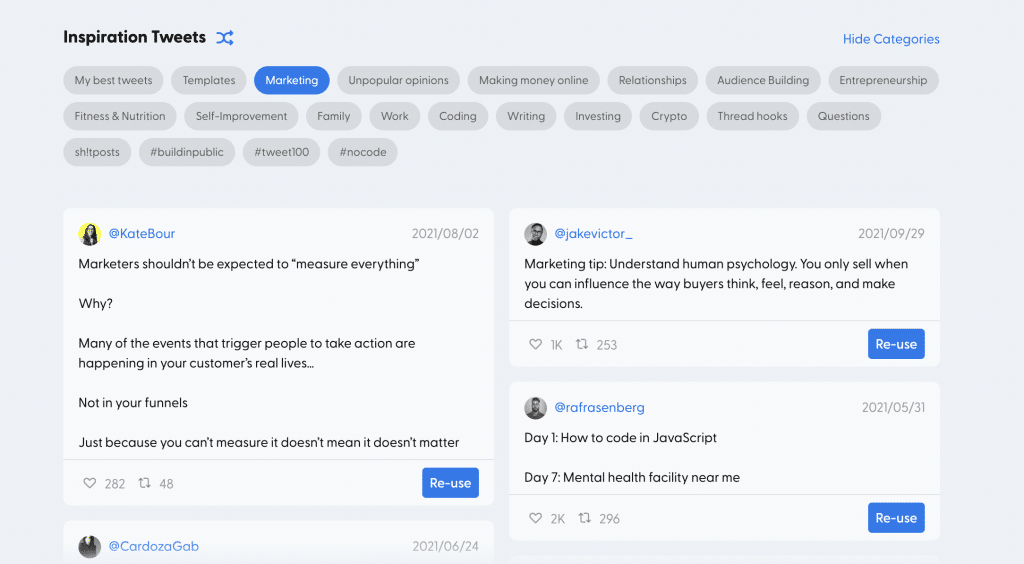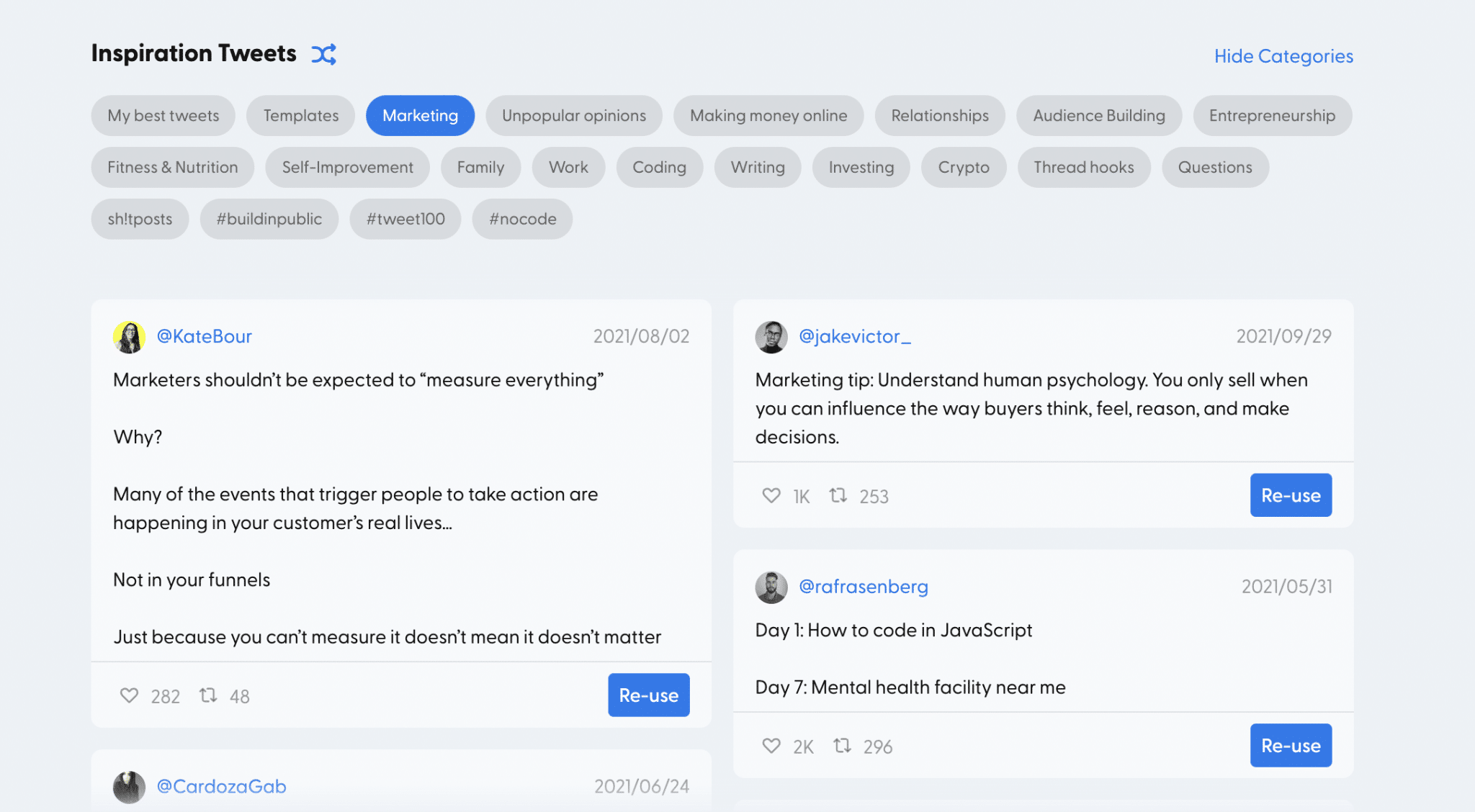 I'm honestly troubled by re-using someone else tweets even if it works as a strategy to get more followers and engagement. Still, this section is handy to get inspiration and write your tweets.
Finally, when scheduling tweets, you can also use the two icons on the right of each slot to schedule a retweet or a reply to another tweet. In both cases, you'll need to pick the id or URL of the tweet to be retweeted/replied to.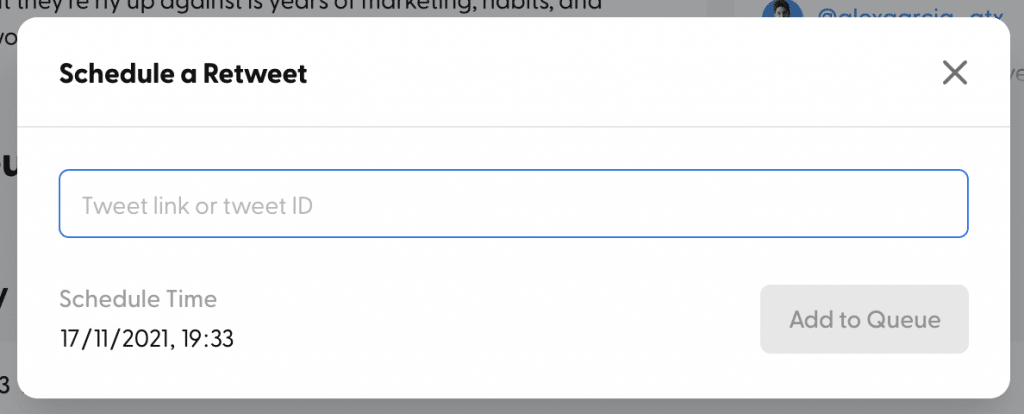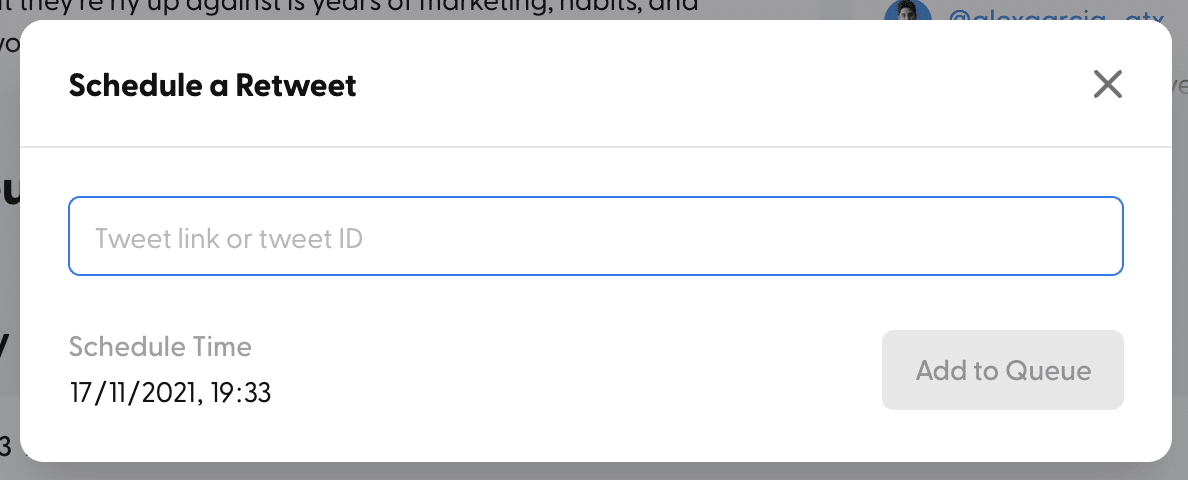 Composing tweets and threads in Hypefury
Writing tweets in Hypefury is a pretty good experience. It all starts with a simple editing popup.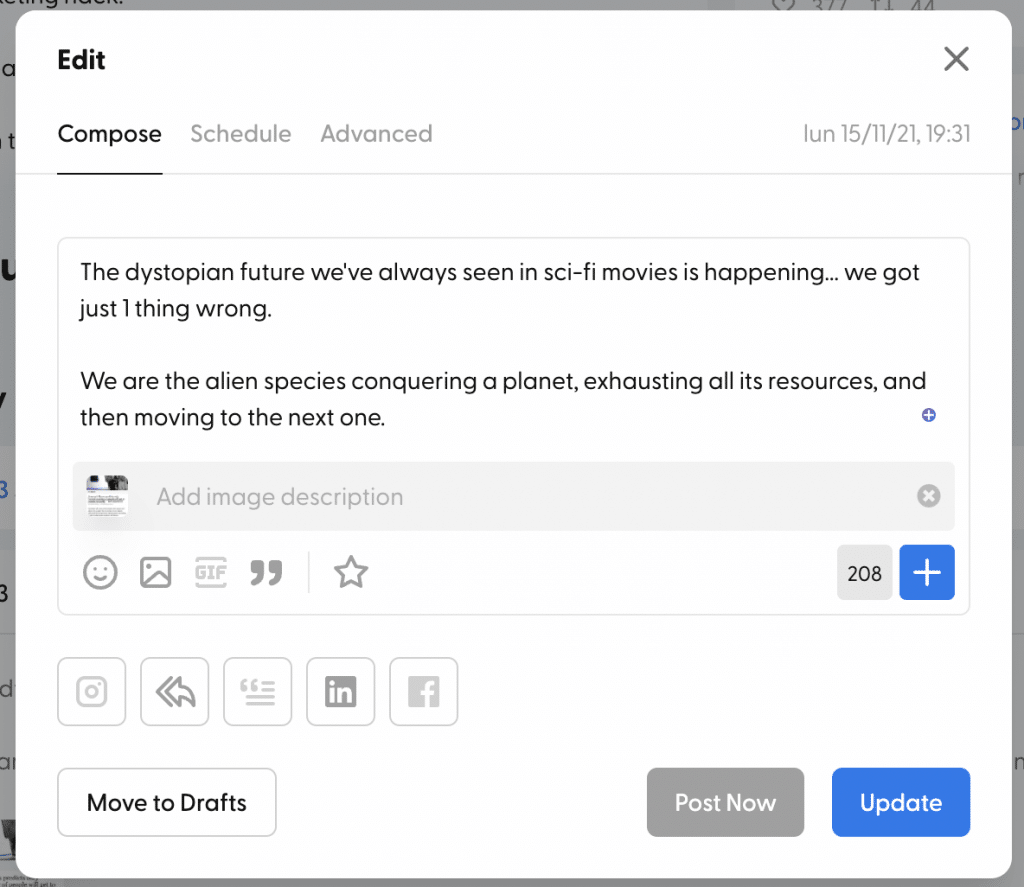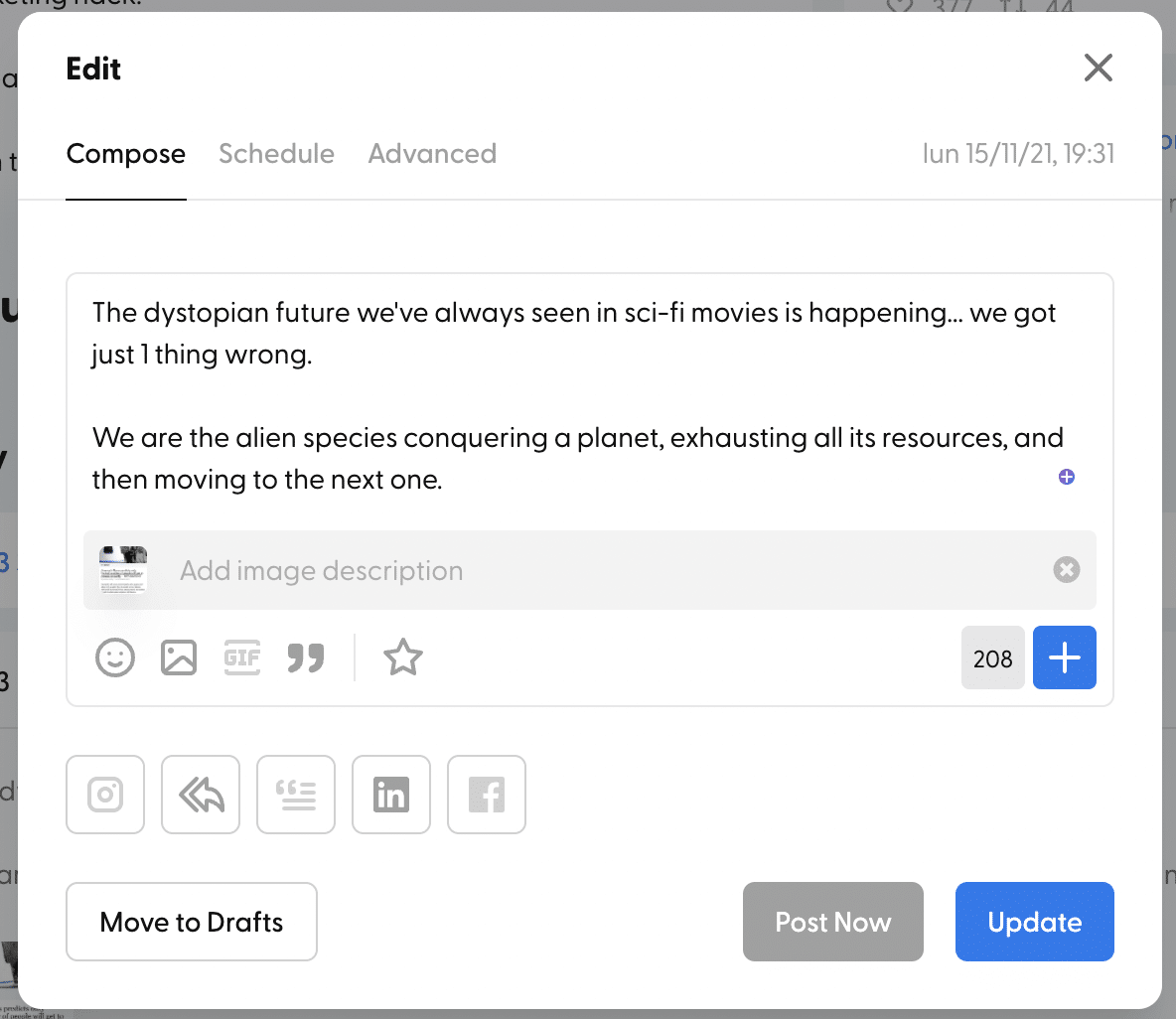 It's pretty straightforward and effective. When tagging a user, the autocomplete feature is there to help you find their handle easily.
As you can see from the icons below, there's quick access to emoji; you can embed media to your tweet, quickly find animated gifs or create a quoteshot (an image with a quote). Here's how it looks like: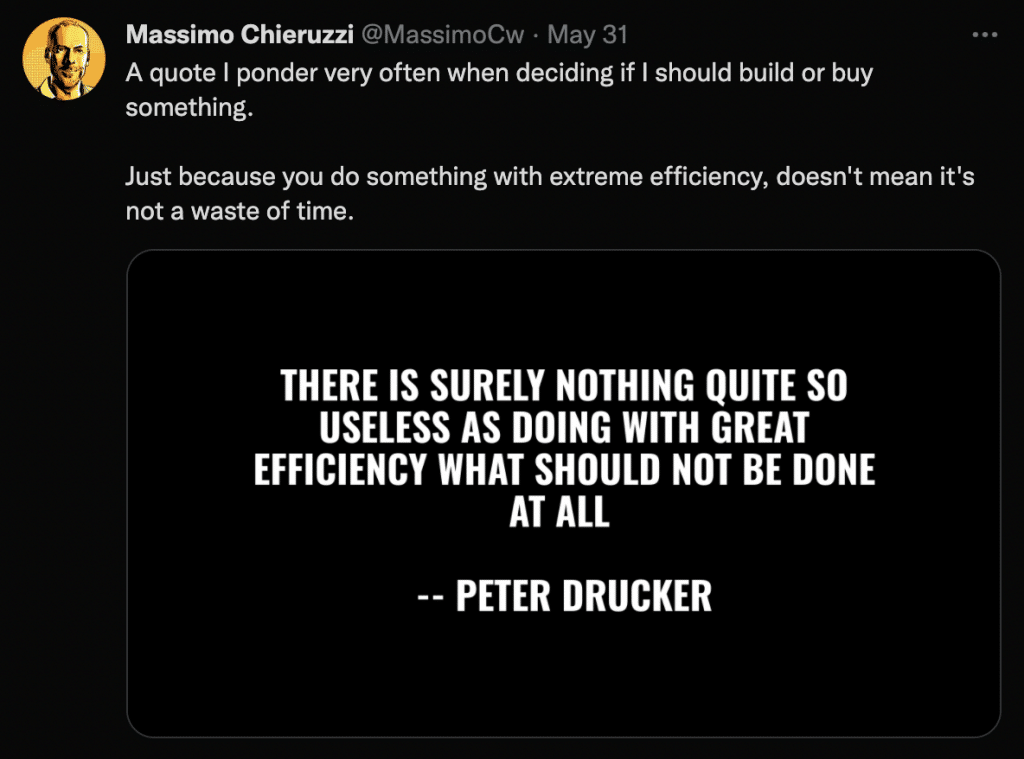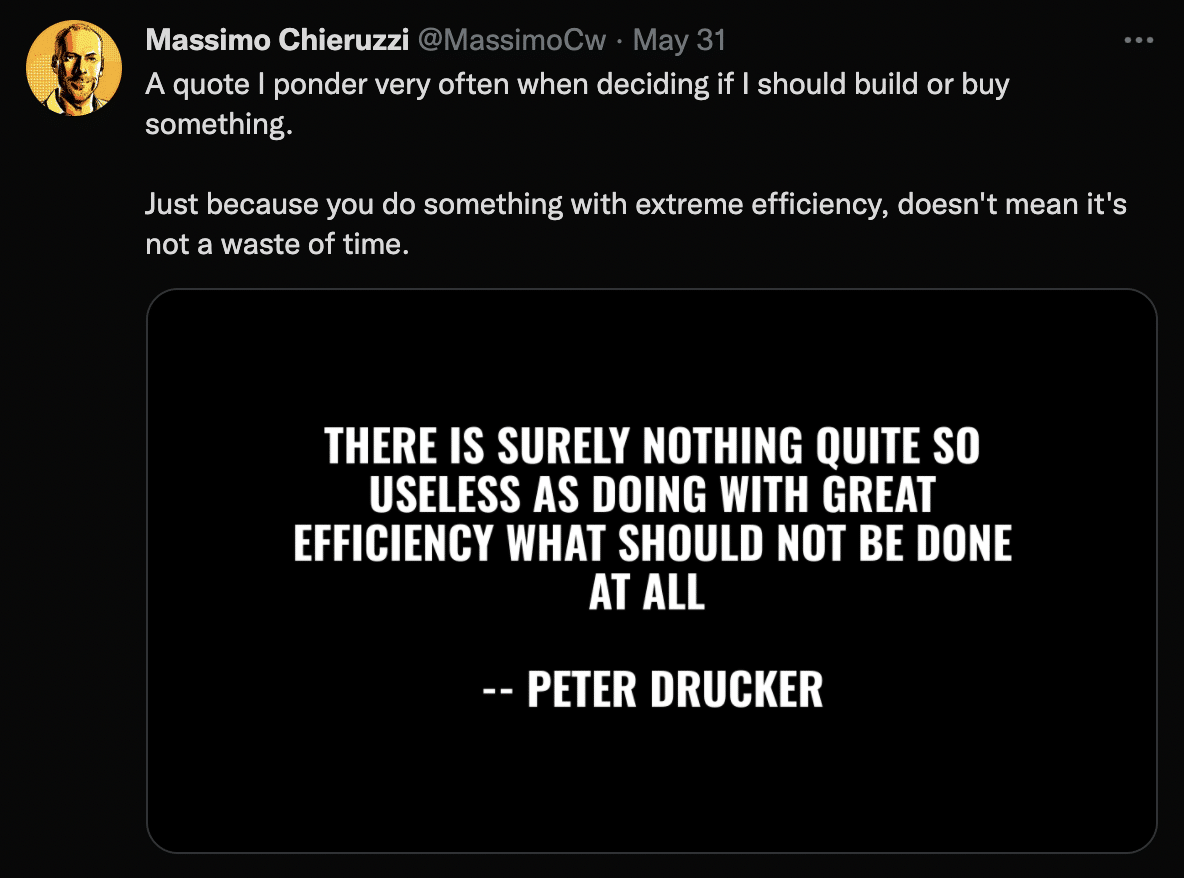 Hypefury will also show you one of your best-performing tweets below, just in case you need some inspiration. Finally, there are quick buttons to cross-post the tweet on other social networks. I don't use this feature very often but it can save you some time and help repurpose Twitter content elsewhere.
The only thing I don't like here is the lack of a good preview of how the post will look like. Even when embedding images, all you'll see is this: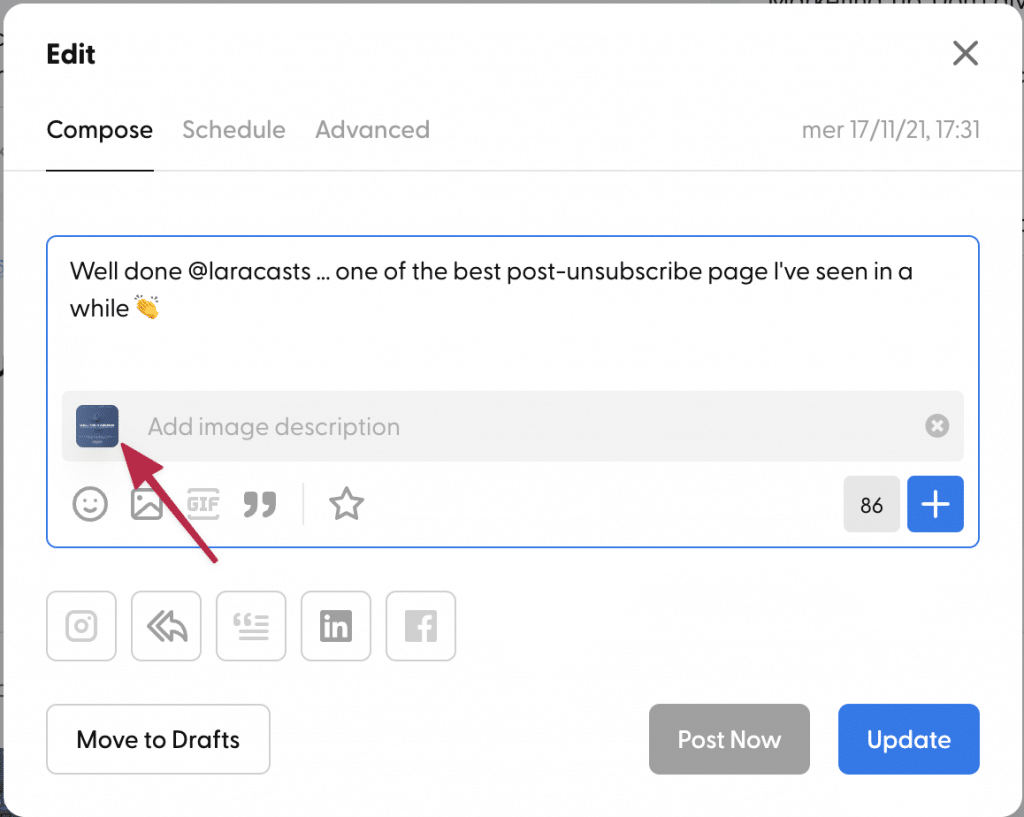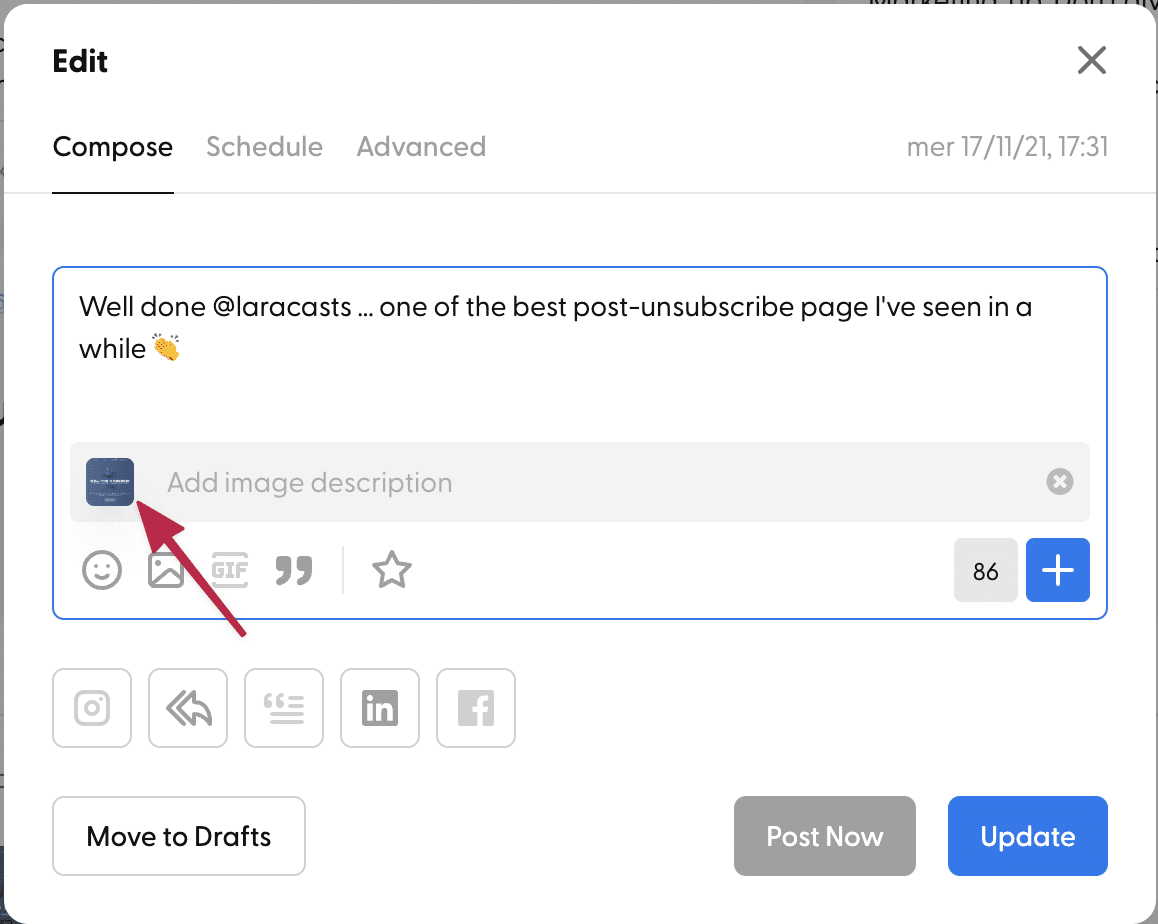 Switching through the two extra tabs in Hypefury's composer, you have one to select a different day and time for publishing your tweet.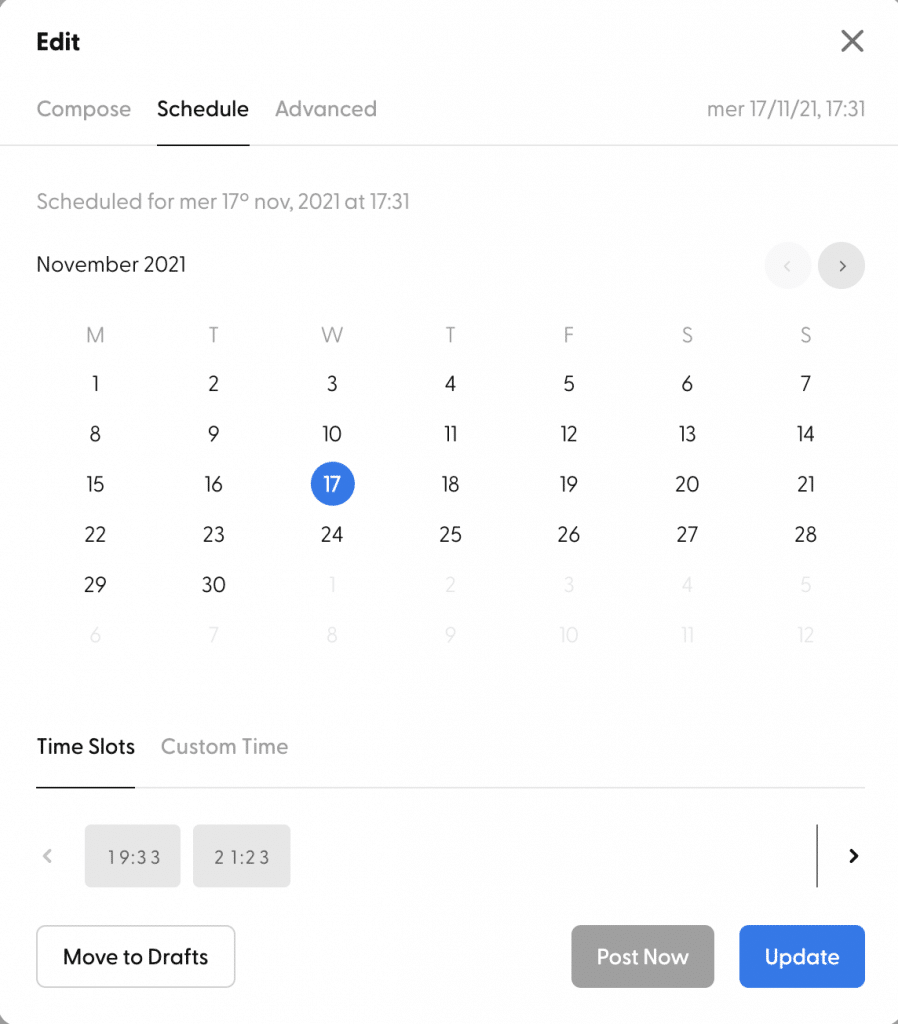 One relevant option for our Hypefury review is the option to assign a category to a tweet. And one with advanced options… these are mainly repetitions of the icons we found on the editing tab. Classifying them will help you boost your automation, as we'll see in the next chapter.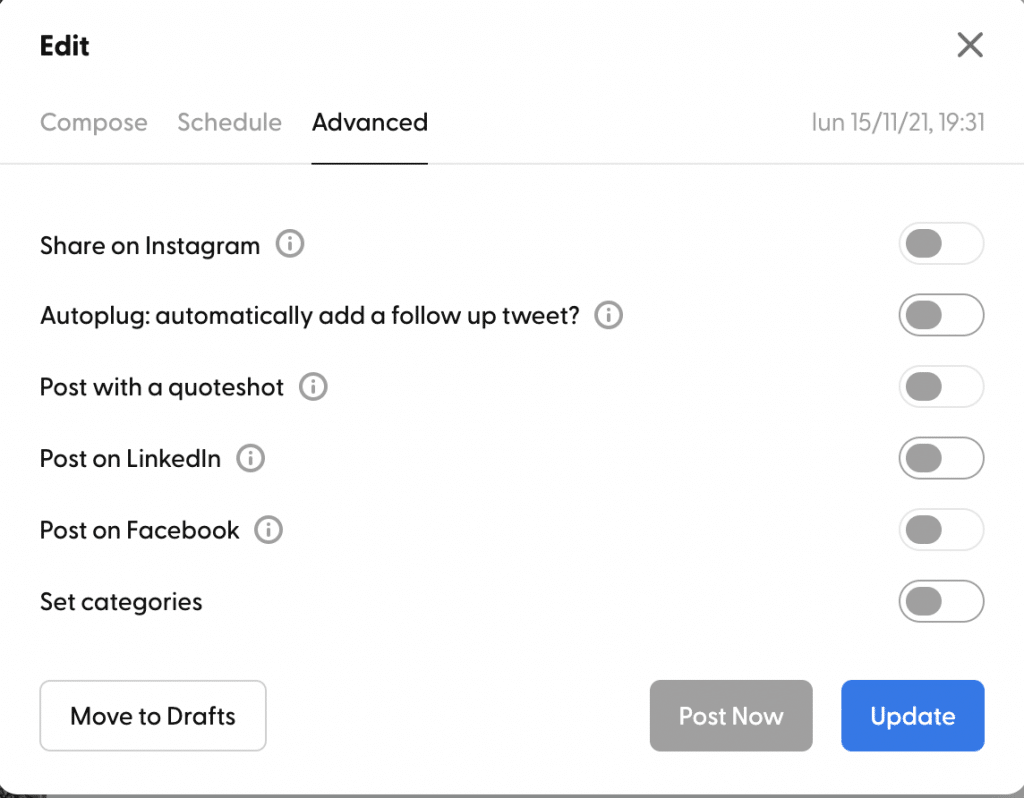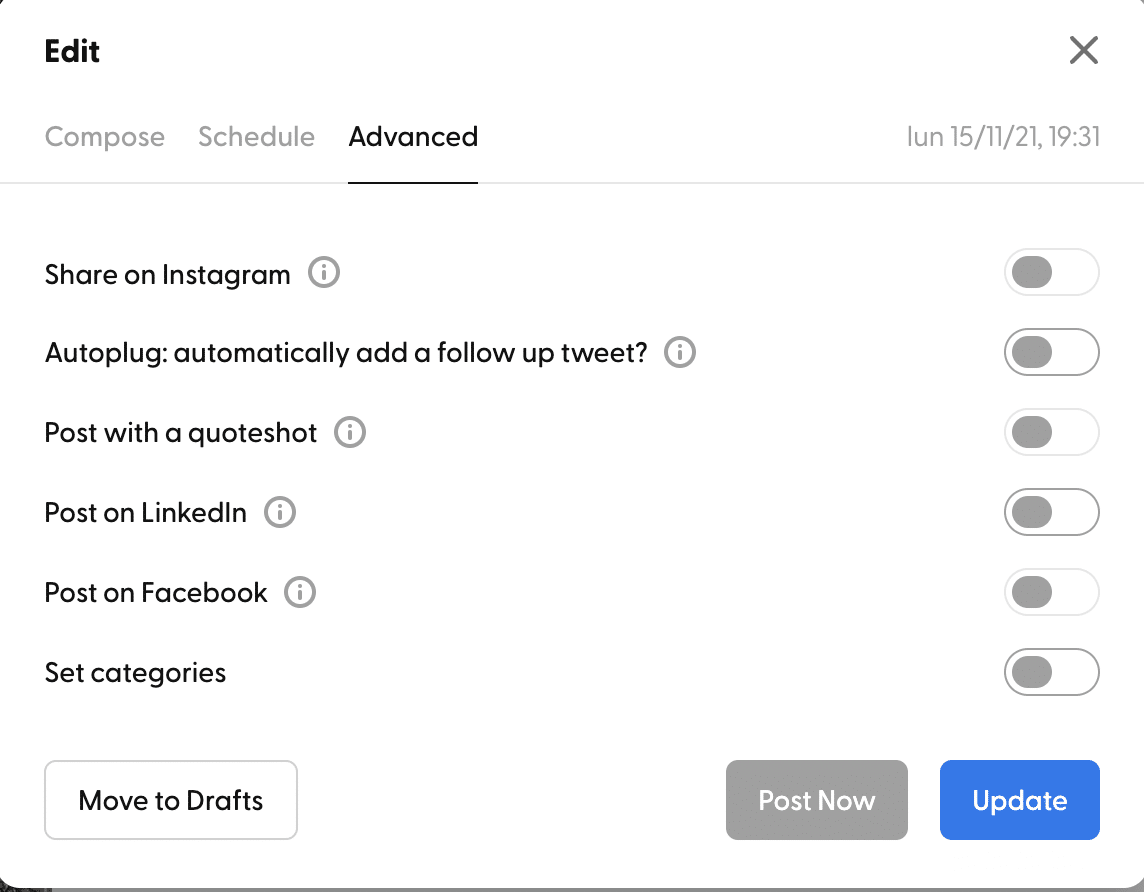 Finally, let's come to threads. The ability to compose and schedule threads is one of the most significant advantages of Hypefury.
When composing your tweets, just hit the plus icon to start a thread. This will automatically open a side panel to give you a pretty good preview of how it will look like.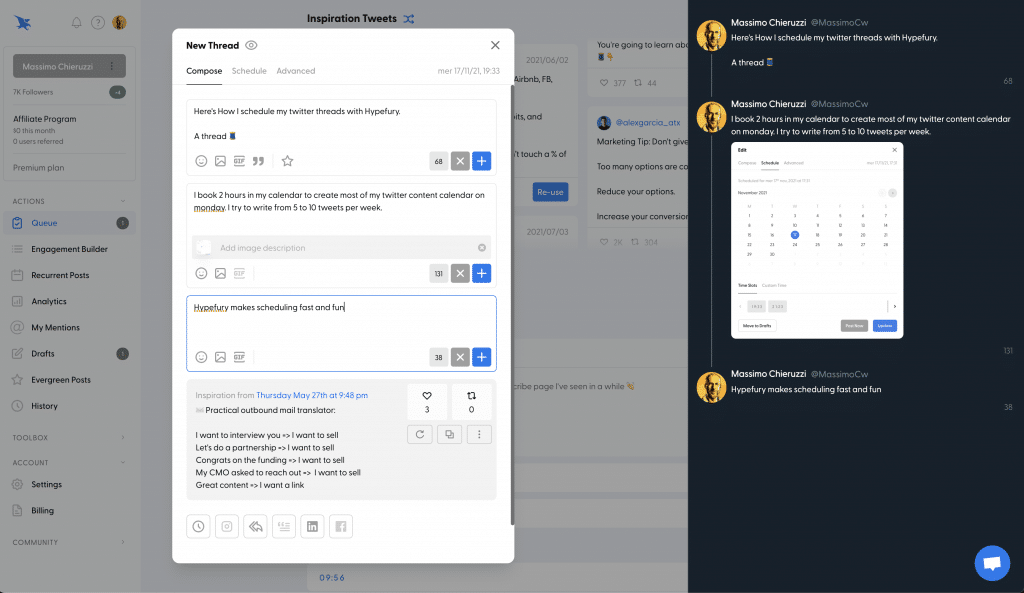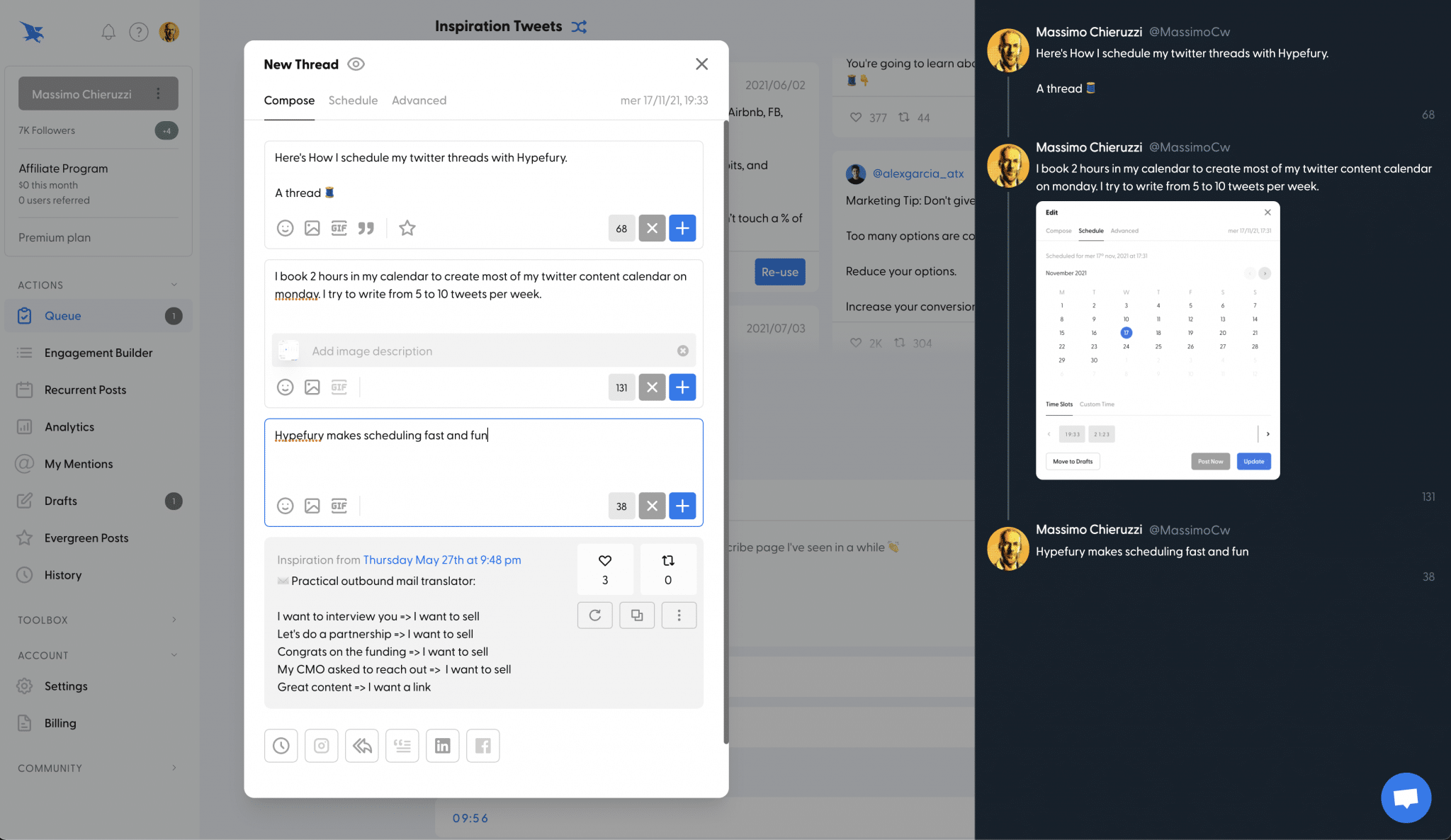 You'll also automatically enter in Thread mode if you exceed the maximum number of characters per tweet.
Threads right now have an excellent engagement; it feels like writing a blog post but in short sentences, and the audience usually enjoys them a lot. Hypefury helps writing them faster and with way better editing and re-arranging capabilities. This is probably the top feature for me here, and many small businesses will benefit from it.
Hypefury Automation and Advanced Features
So far, we've seen all the Hypefury core features for tweeting. But there's much more we should cover in this Hypefury review.
This tool offers any business many ways to automate as much as possible their editorial calendar and mix new content with repurposing existing one to grow your audience. Let's check out all these fantastic tools, some of which are also included in the standard plan; some of them require the premium one.
Auto Plugs
If you're building your mailing list or have a product you want to promote, Autoplugs are a great kind of automation.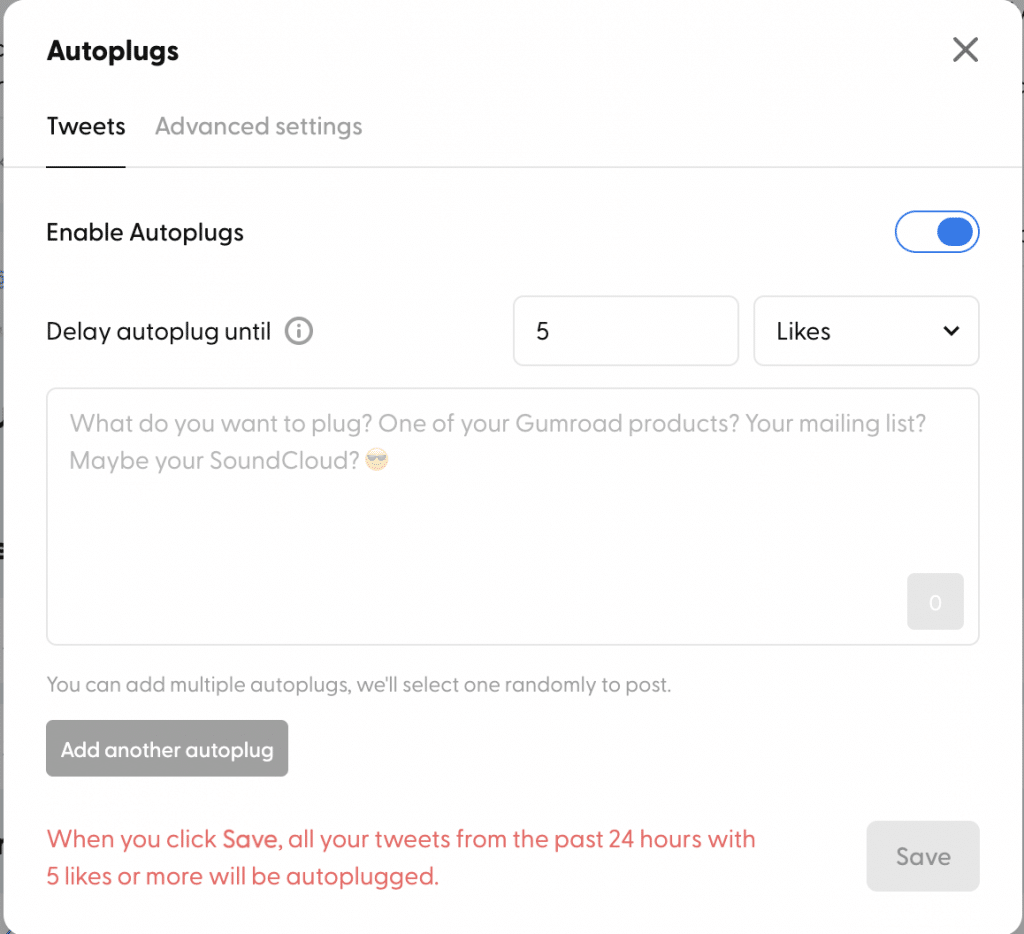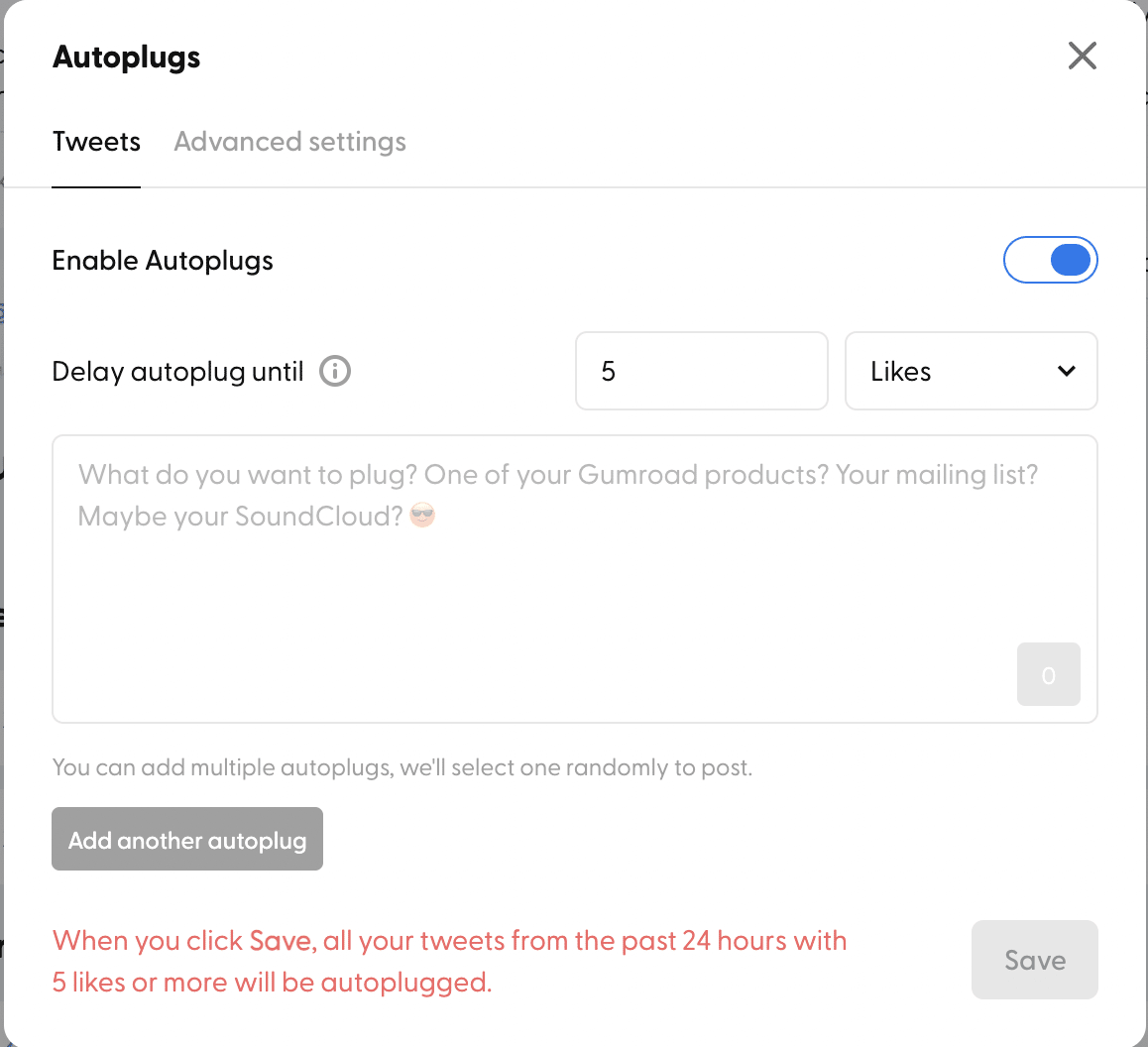 Basically, you can configure Hypefury to automatically post a reply to your thread with a link to your signup page or anything else you want to promote aggressively. You can also configure a delay and, as an example, post your auto-plug only after a thread has reached at least five likes.
Auto-plugs can be configured globally or on a specific tweet; this gives you more flexibility on the promotions you want to run.
Auto-plugs are becoming very popular among marketers heavily publishing threads. Often it's the last post in the thread, and it looks like this: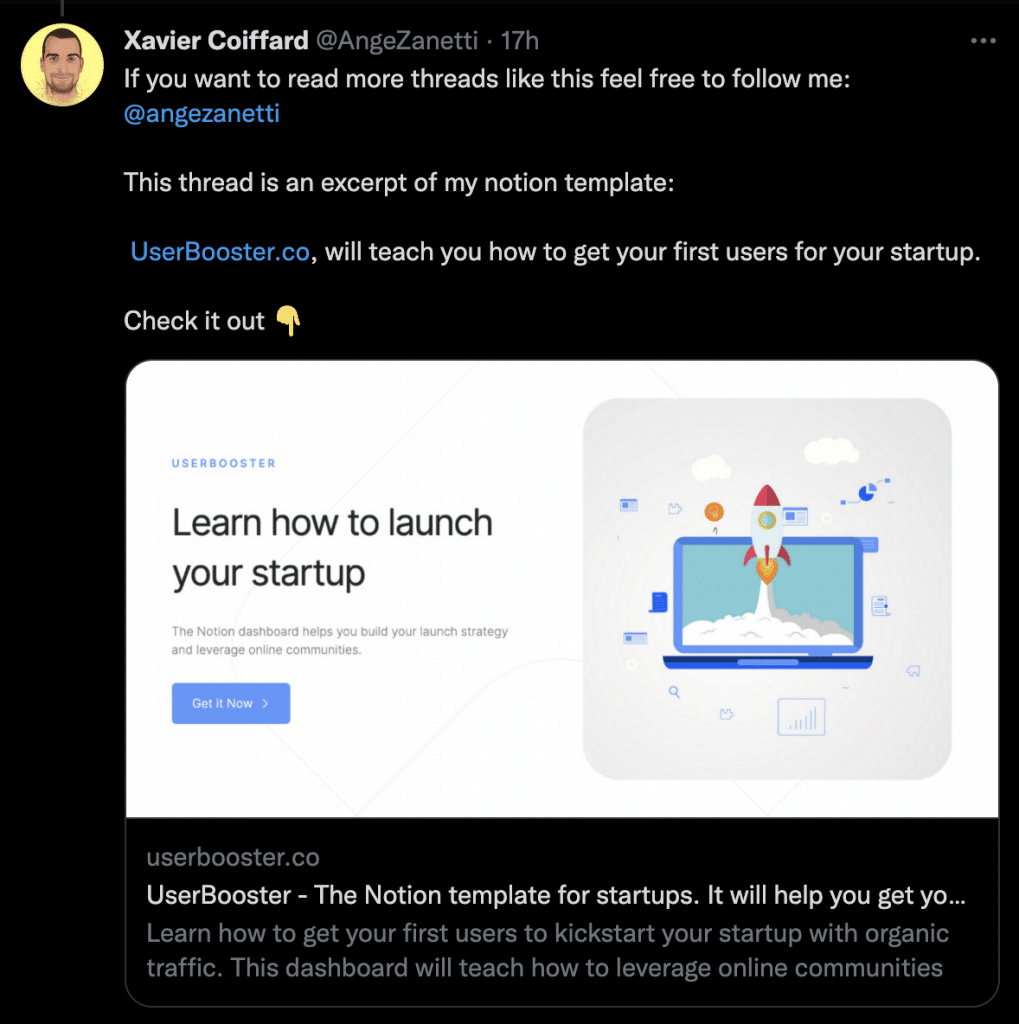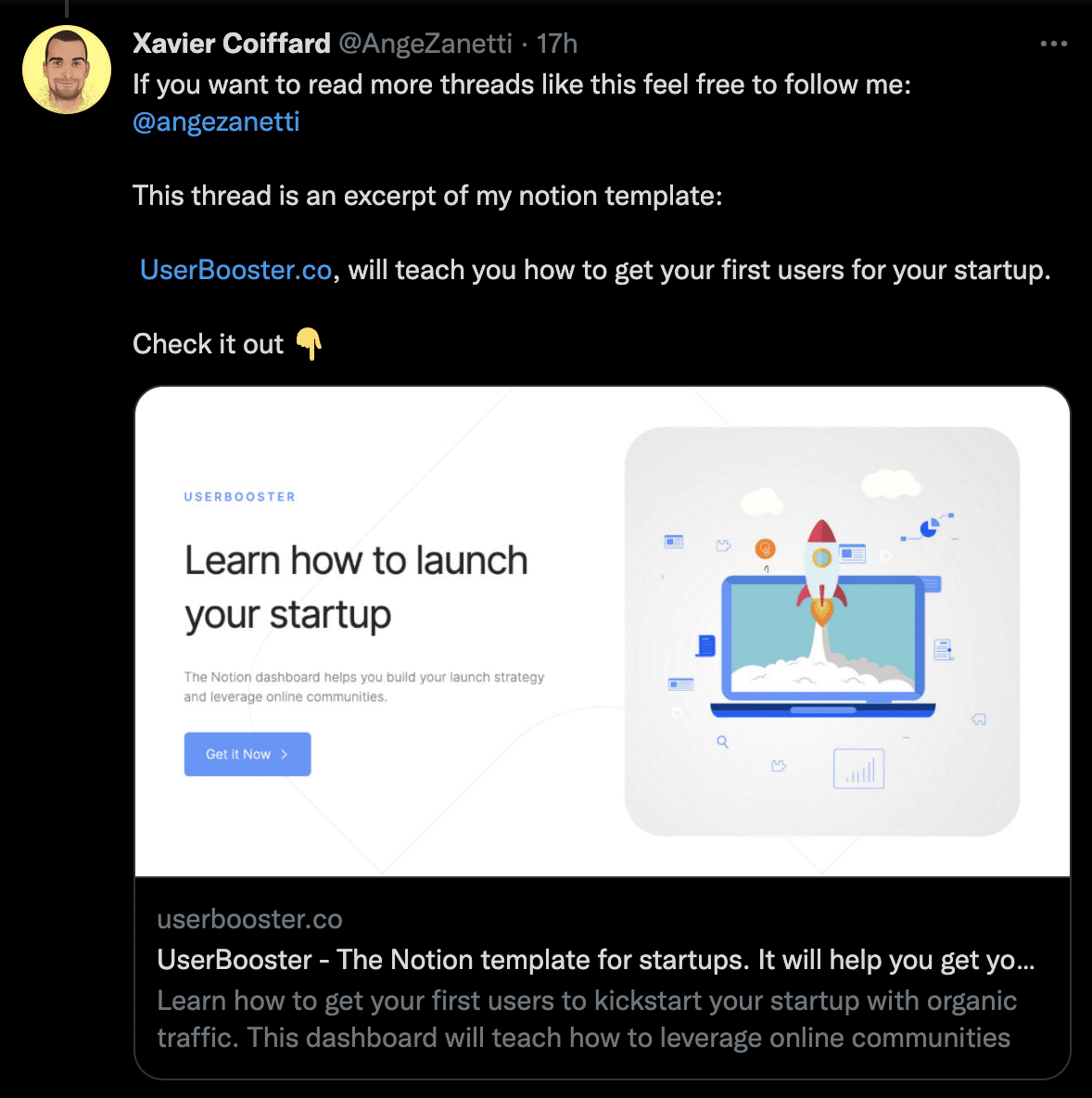 Engagement Builder
This is a recently added feature. And a handy one! You can insert a list of accounts you want to interact with, and it will monitor their performance and provide you a list of their most recent tweets with a quick box to create a reply.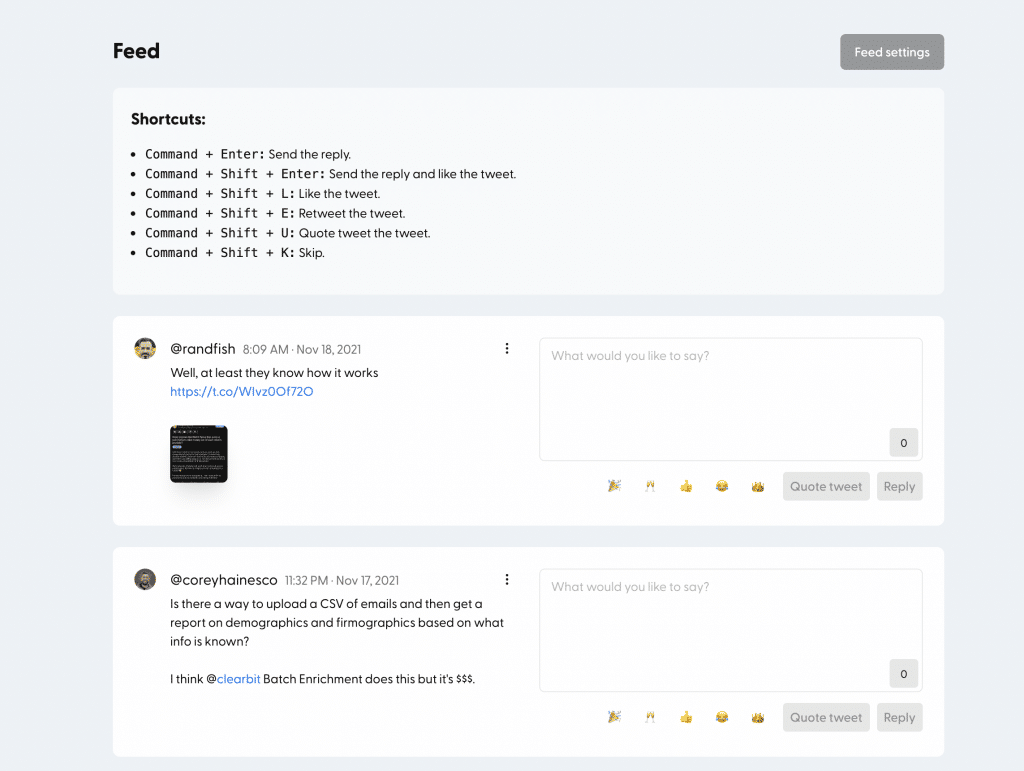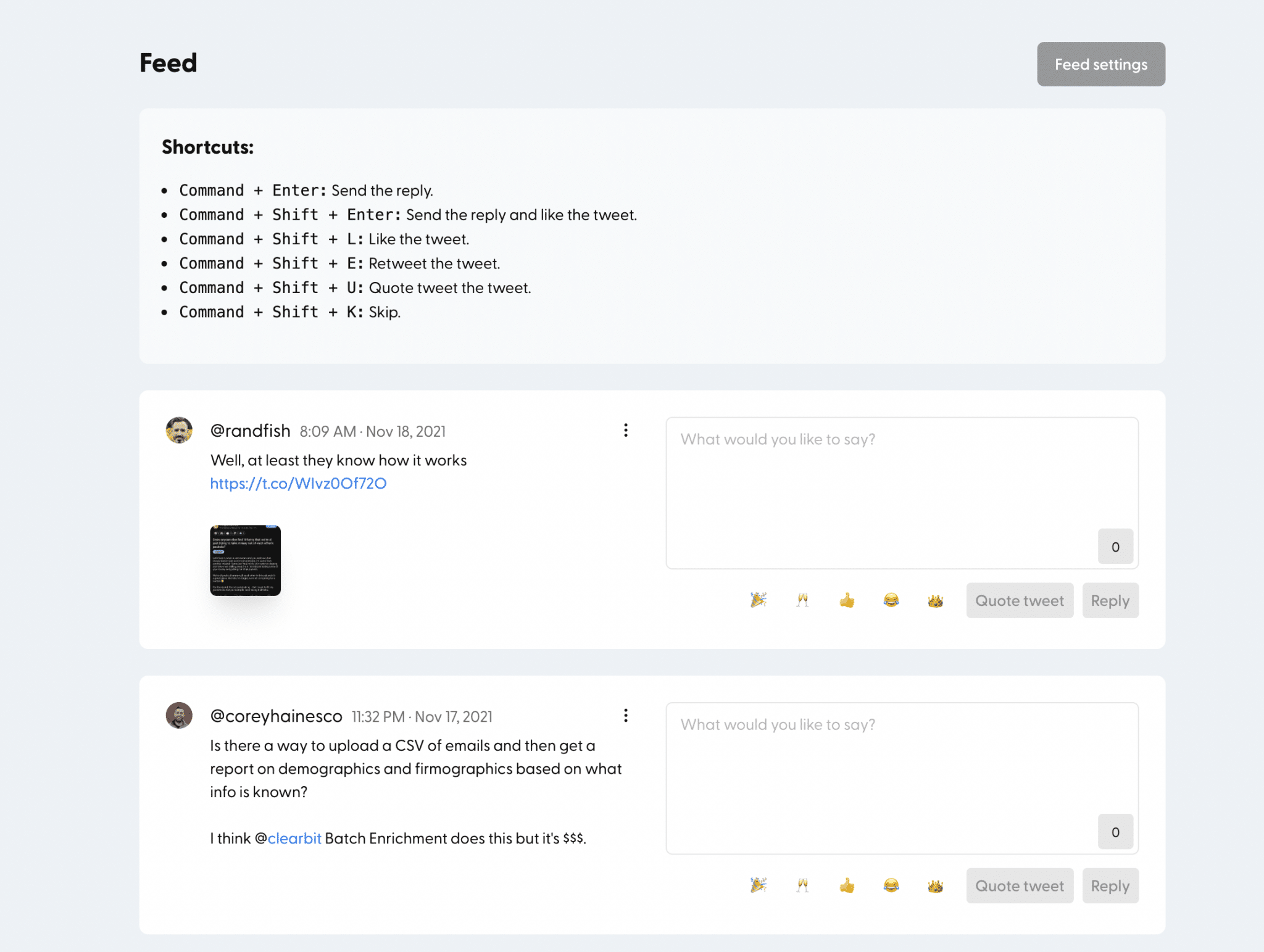 I've been using it lately to write this Hypefury review, which helped me engage more with my friends and influencers. The support for keyboard shortcuts is also a nice touch.
The only improvement I'd make would be to show the number of likes and retweets of each post to help you understand which tweets are getting a lot of traction.
Recurrent Posts
Remember when I told you that you could add a category to each tweet? Here's why!
Hypefury offers a great way to plan time slots during the week to re-post content. This is great for promotions.
Have an affiliate product you want to push every Monday? Want to remind users of your running Giveaway?
Just add them to a category, and you'll be sure that every week you'll re-post those tweets.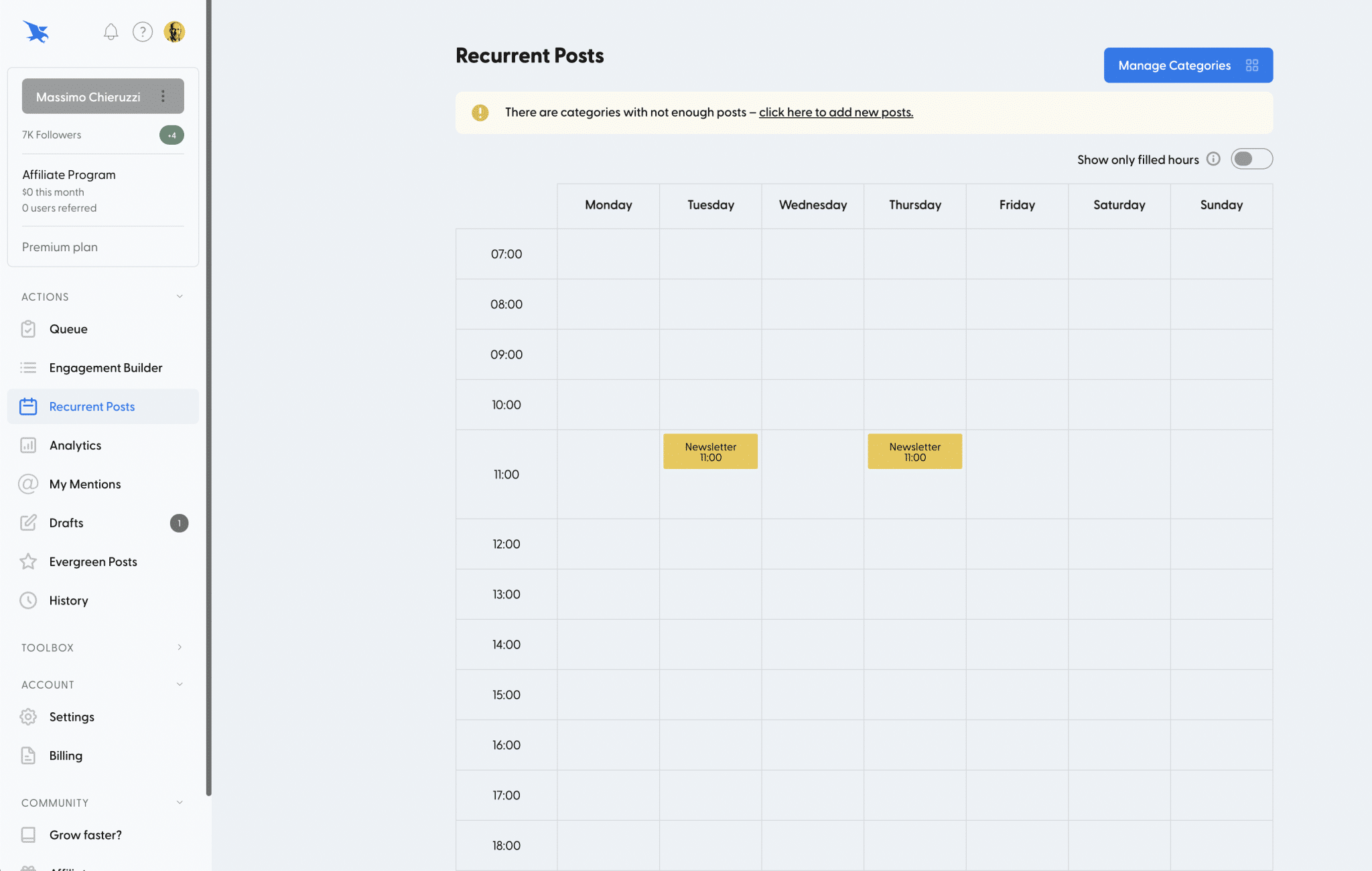 Evergreen Posts
Evergreen posts are another great automation offered by Hypefury to keep your Twitter content calendar always full.
You can select some of your best posts from the past, and whenever there's an empty slot in your calendar, it'll be used to retweet them.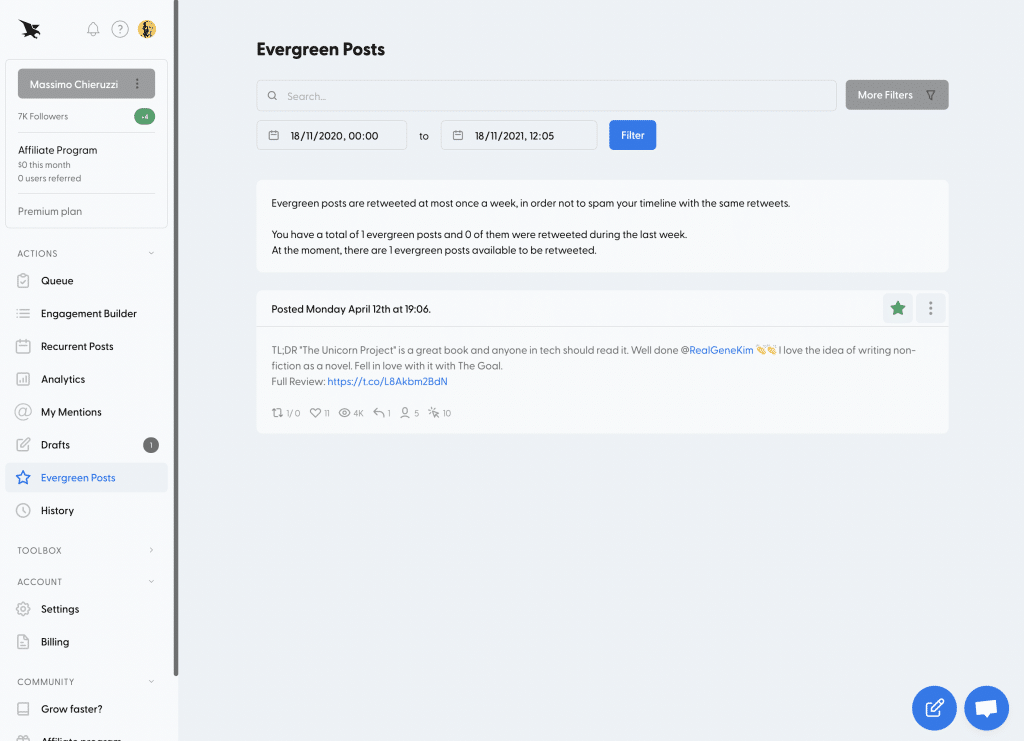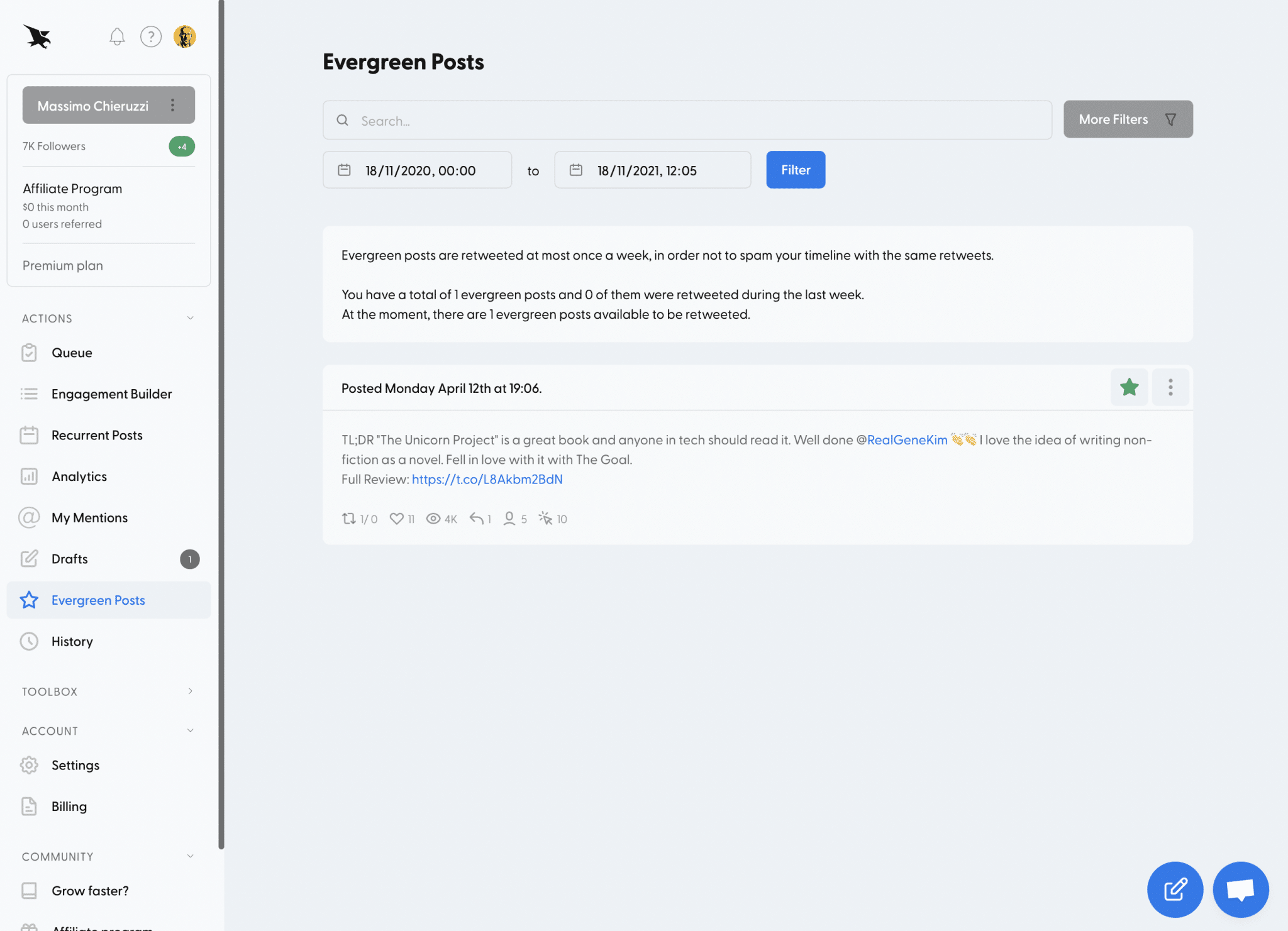 This is another beneficial automation that I enjoyed.
Please note: When you automate these social network actions, you need to be very careful. They can dramatically boost your growth and even bring in customers… but they can also make you look like a spammer!
Cross-network publishing
Let's be clear, Hypefury is a Twitter-centric tool. It's not the tool you'll use to manage your Facebook or Instagram page.
Yet, if you are Twitter-centric, too, the cross-posting feature can also be very useful to build an audience on other platforms.
The way cross-posting works is really simple. On all social networks, it will simply publish the exact same text you posted on Twitter. Here's how it looks like:


This tweet get's published like this on Linkedin and Facebook: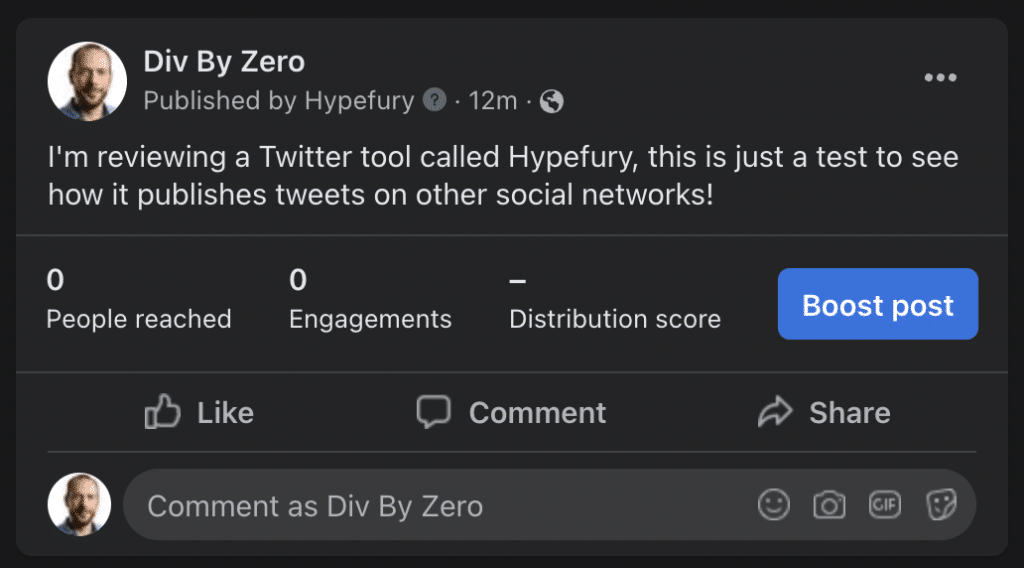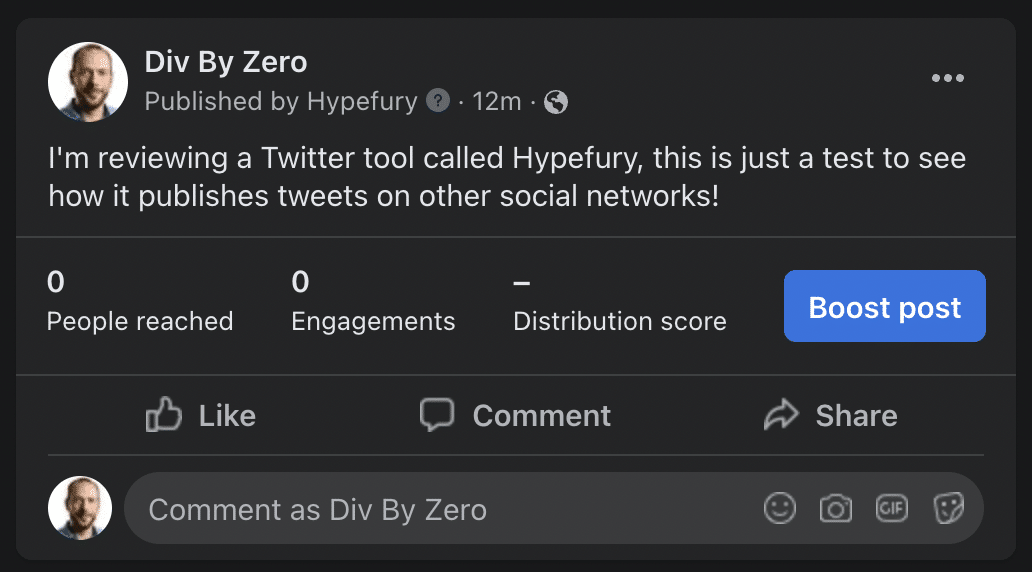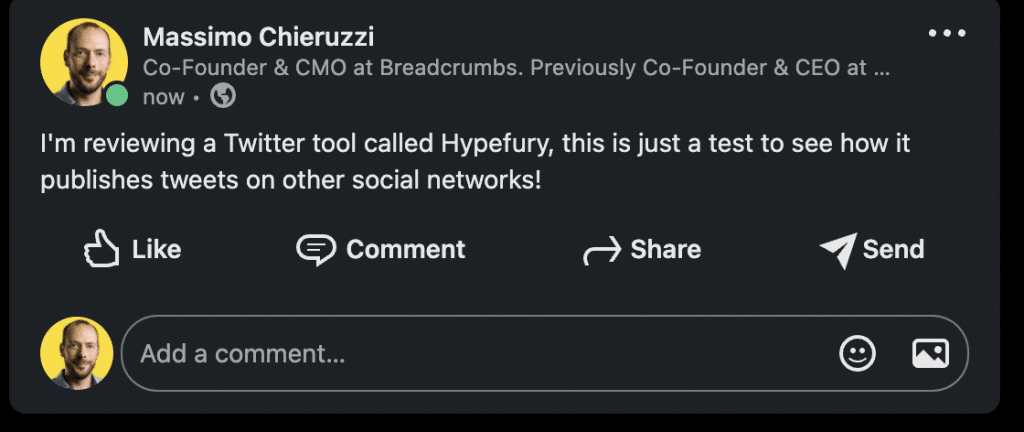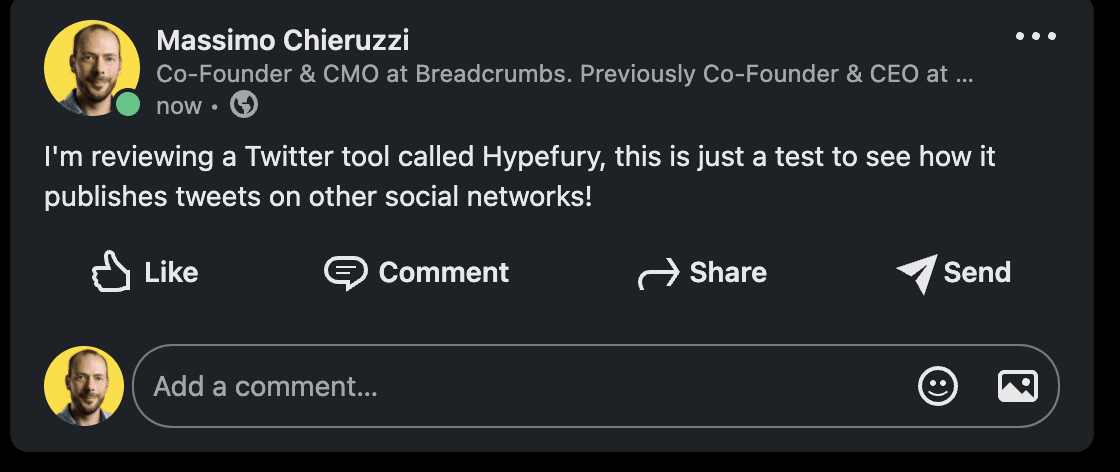 On Instagram, it looks way cooler as your tweet will automatically be converted into an image. A good looking one, I have to admit: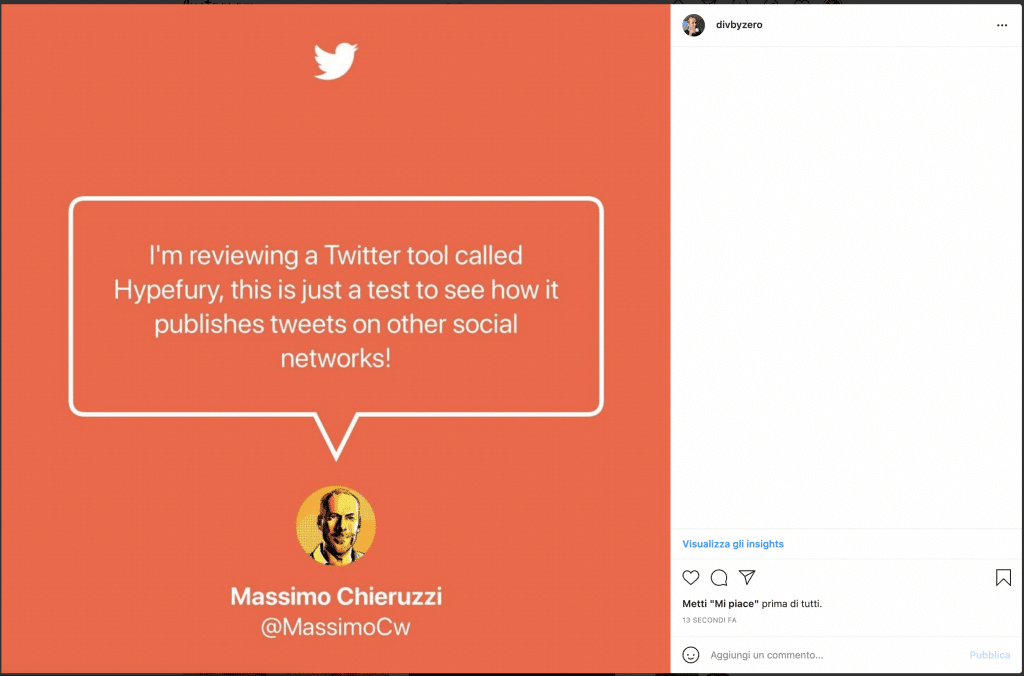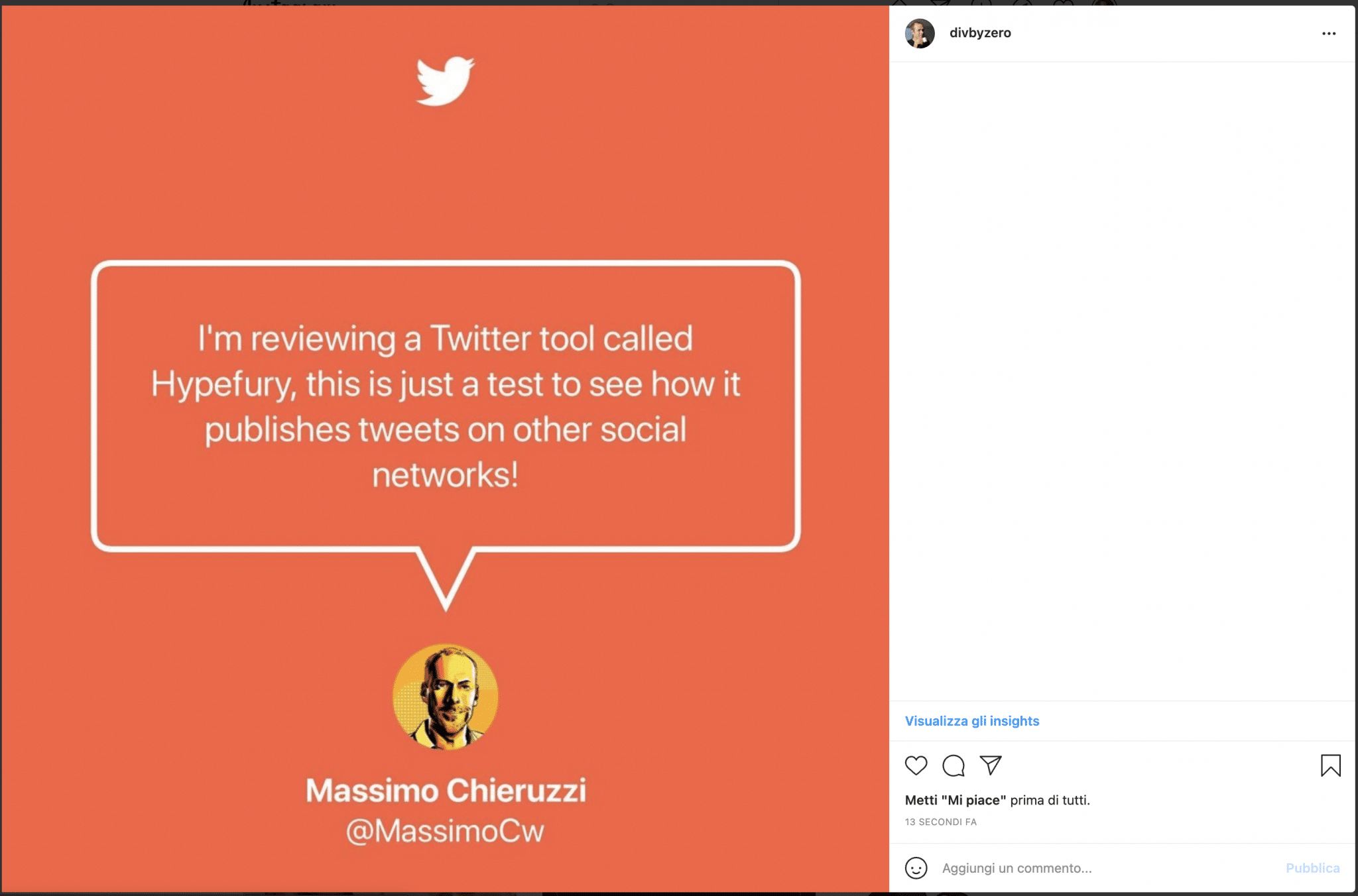 The look and feel are not fully customizable but there are multiple settings and themes to play with.
Hypefury Analytics
Again, keep in mind that Hypefury is not designed as a full SMM tool. They added the analytics part just recently, and to be fair, it's not the best social analytics I've seen. I actually didn't use it that much.
It's split into two parts, tweets analytics, and account analytics.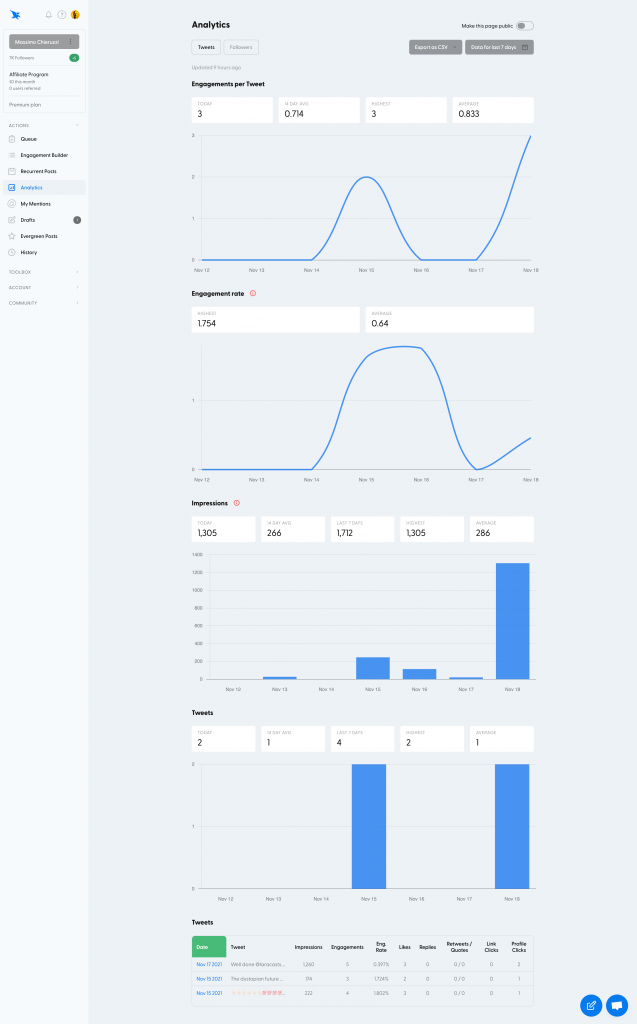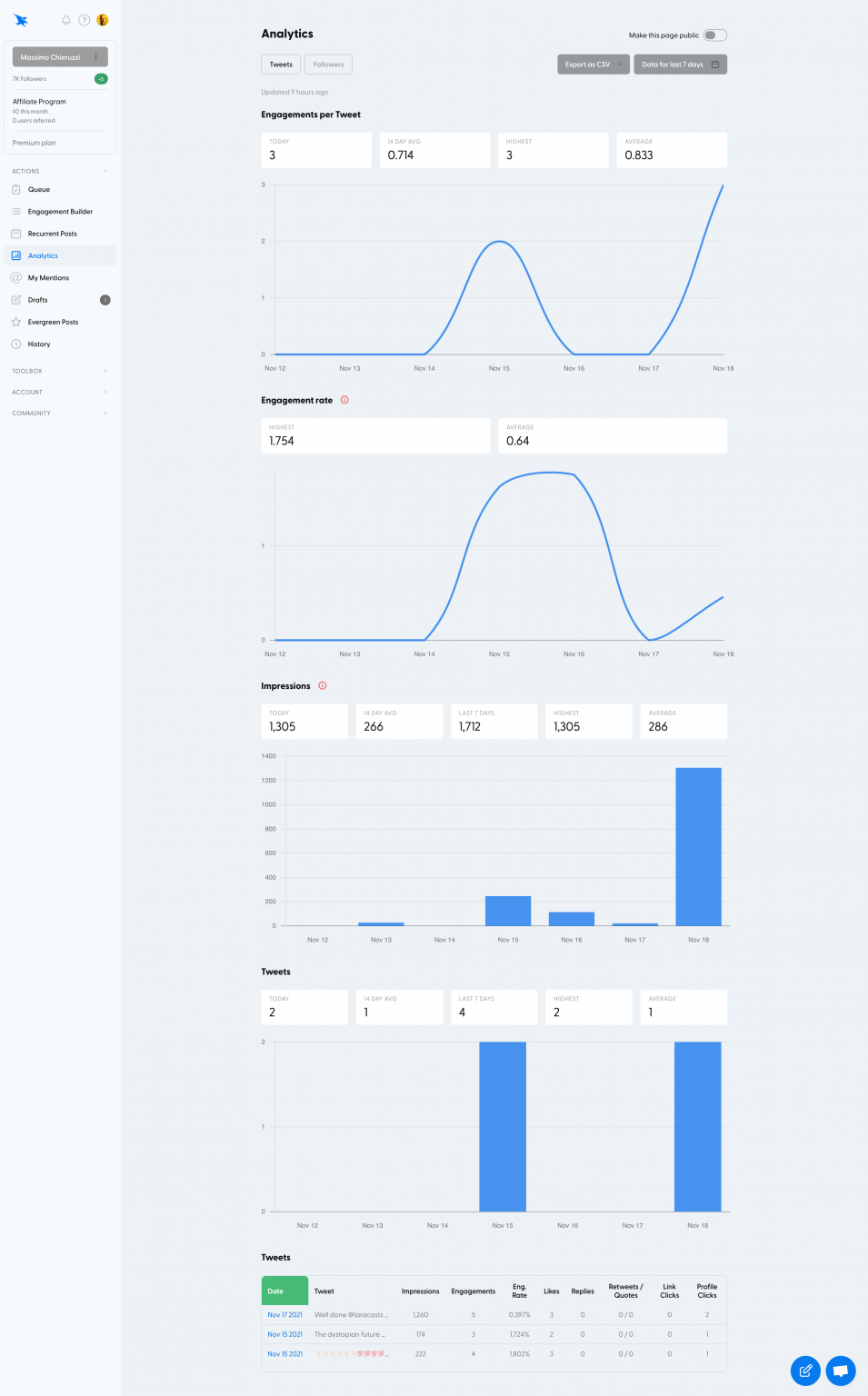 Tweets analytics is probably the most interesting part. It comes with all the basic data a small business would need: engagement stats, impressions, publishing pace, and finally, a table with all your tweets and their single performances. Mine sucks, as you can see… but that's not the tool's fault. :)
I think the best use for this analytics is when it's used across the product to highlight your best tweets to re-post them or make them evergreen.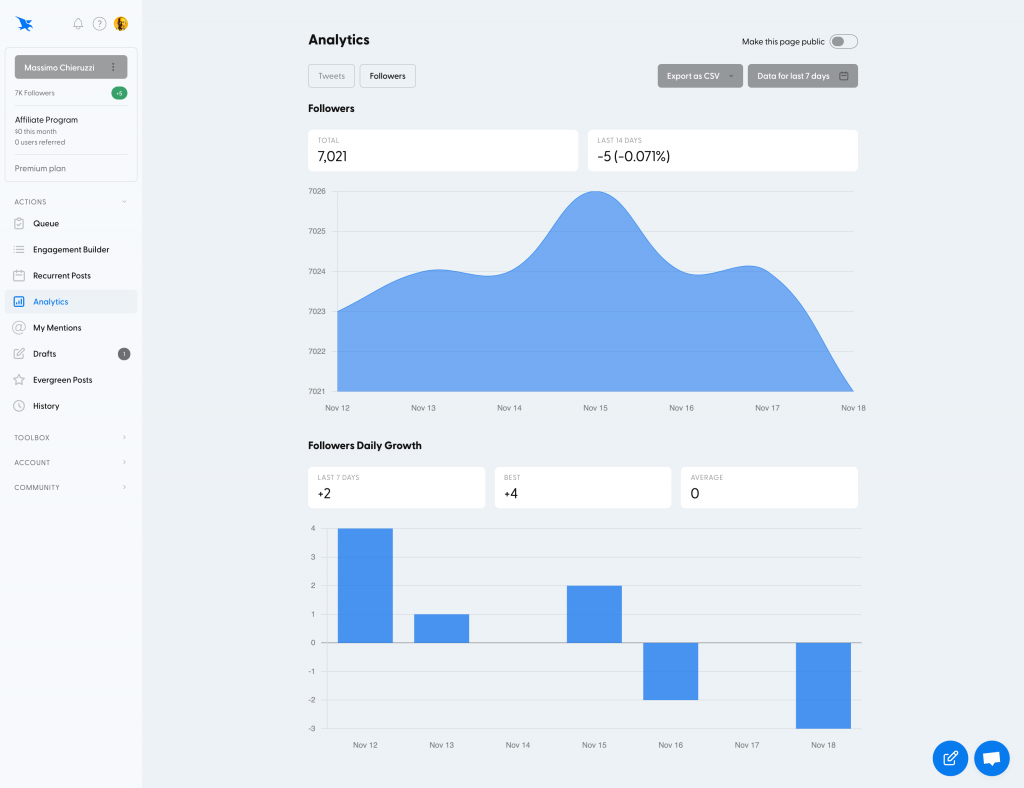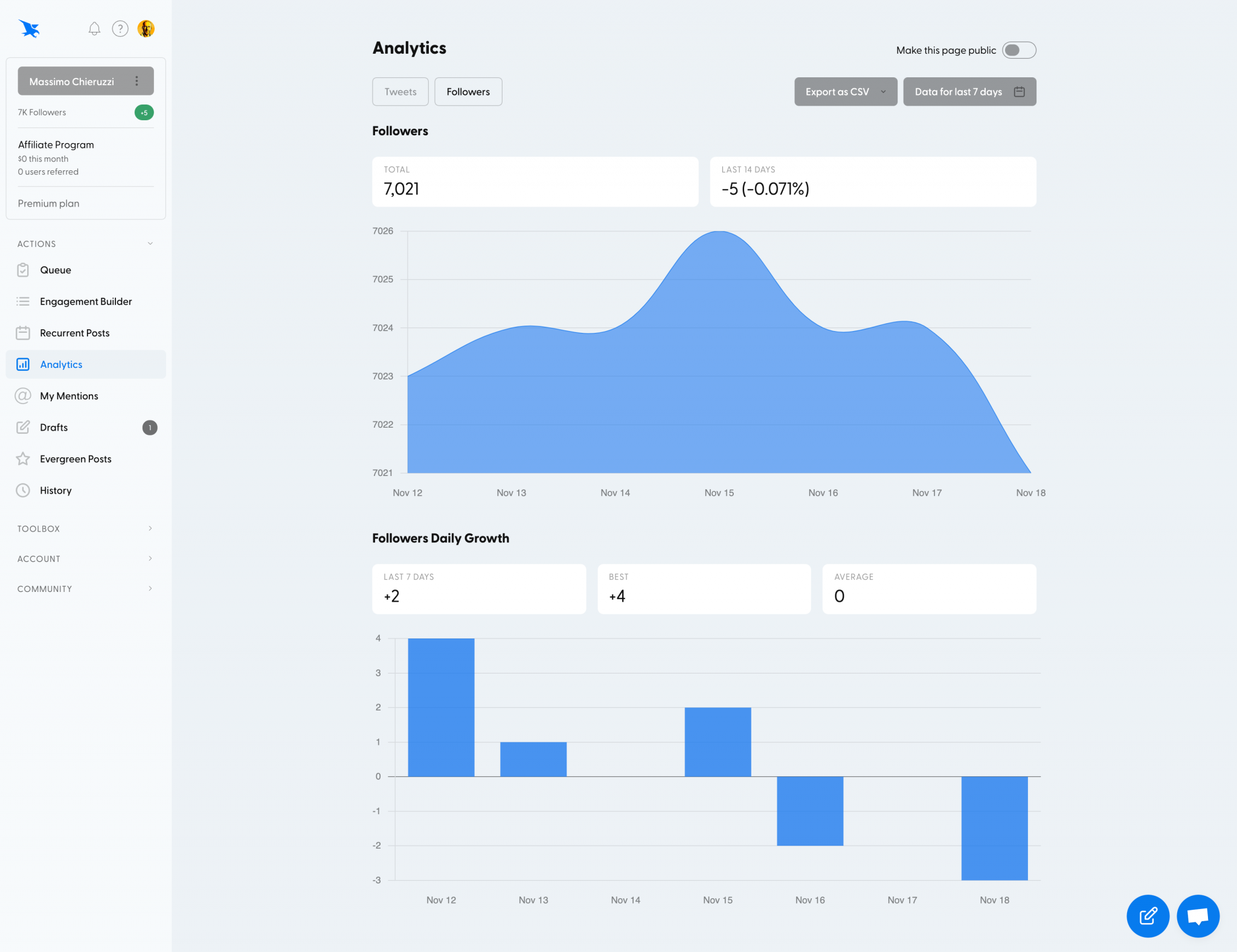 Hypefury Pricing
Hypefury has three pricing plans for an app that focuses just on a single social network, I would have loved the prices to be around 30% lower, but if Twitter is a priority for you I think the price is ok for the value it delivers.
The three pricing plans are Free, Standard ($19/month), and Premium ($49/month).
The Free plan is good to get started, it comes with no analytics (not a huge loss) and you can connect to only one Twitter account. The big losses here are a lot of automation features that make this product really useful for serious tweeters and the ability to schedule tweets only in the next two days.
The Standard plan lets you connect up to three Twitter accounts and also supports Linkedin, Instagram, and Facebook connections. The most useful automation features like auto retweets and the option to schedule retweets are included. Basic Analytics is bundled too.
The Premium plan is of course the best one and comes with all the features and up to 6 Twitter accounts connected. The big advantage of this plan is the access to the community of Hypefury where you'll be able to learn all the latest strategies and tips to grow your audience and write engaging tweets. You'll also get the highest level of support.
Don't underestimate the impact of community access; Hypefury is just a tool. A great one. but not a magic wand. I'm always happy when a web app also bundles a strong community and educational area.
Here's the full comparison of Hypefury pricing plans: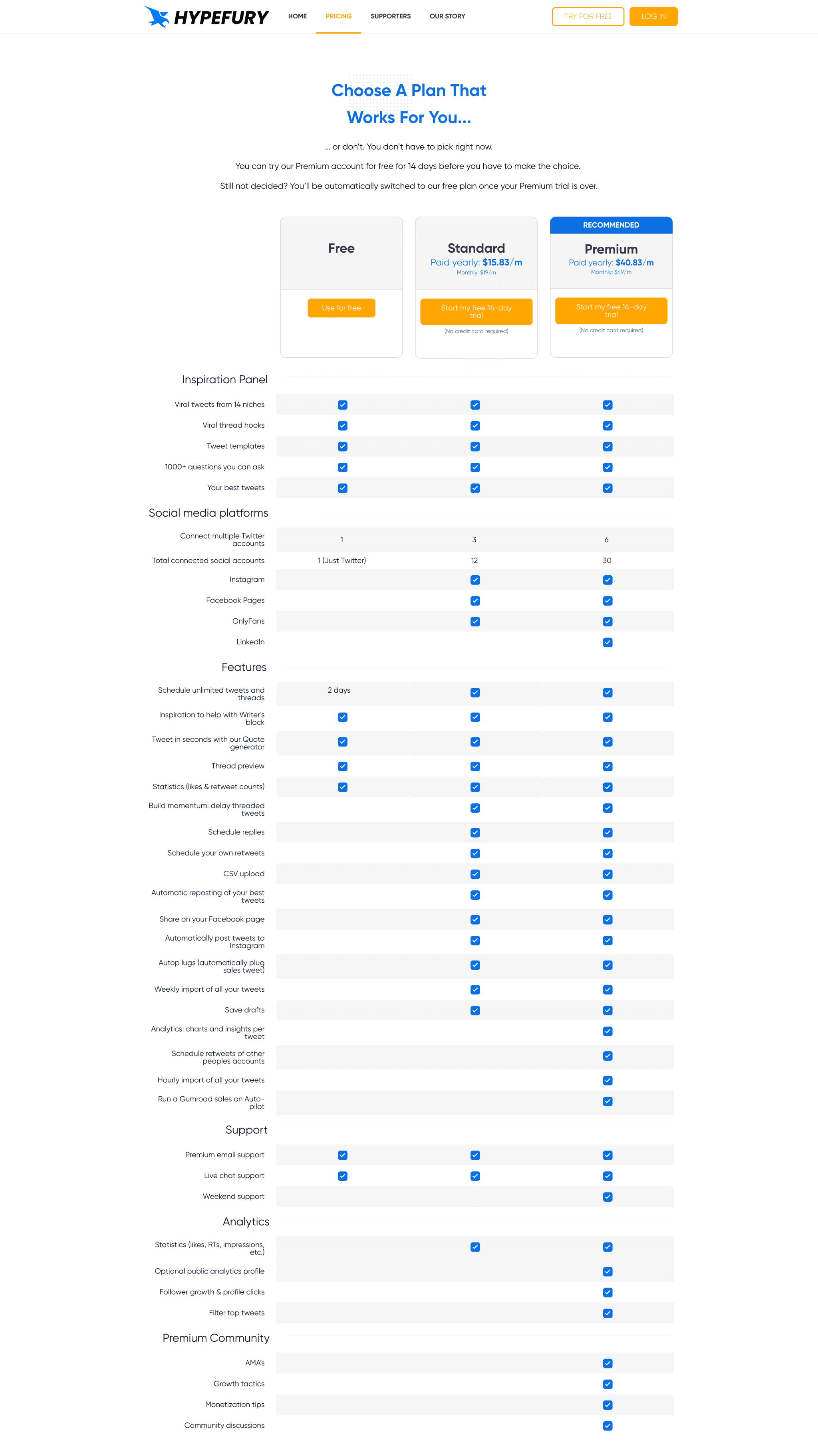 Before deciding which plan is the best for you, you can try out all the features. Every subscription plan comes with a 14-day free trial and no credit card required.
If you have an engaged audience you can also get Hypefury basically for free by joining their affiliate program which will pay you 20% commissions on every friend you invite.
Is Hypefury right for you?
I hope this Hypefury review helped you understand if it might be the right tool for you.
Do I recommend it? It's a good tool, and I'm happy to pay for it. For sure, the price is justified only if you're serious about growing your Twitter audience and posting at a good pace.
If you're looking for a complete Social Media Marketing platform, then Hypefury is likely not for you, and you should look into Buffer, Hootsuite, Agorapulse.
Is Hypefury the best tool to boost your Twitter audience and publishing pace in 2021? Well… likely yes. I've been using it for the last 6 months and it's finally time to write a full review highlighting the pros and cons of this great Twitter tool.
Breakdown
Usability & UI

4

Publishing

5

Automation

4

Analytics

3
Pros
A lot of ways to automate your publishing
Great experience for writing Threads
New features released constantly
Cons
Analytics could be improved
Single Tweets preview is not the best
Go To Website