SurferSEO
in

SEO
Why does content ranking matter? You have probably discovered your website has not gotten as many views as you expected. You have only two options for increasing search traffic. Optimizing …
Platforms
Why does content ranking matter? You have probably discovered your website has not gotten as many views as you expected. You have only two options for increasing search traffic. Optimizing your SEO manually can take a couple of hours to complete.
Alternatively, the process can be automated via SurferSEO. Surfer reviews the most popular sites worldwide using over 500 signal analyses to compare your results to your rankings.
I discovered SurferSEO, and it's definitely one of the most reliable tools for improving your website's search rankings.
Not only that, Surfer SEO is a comprehensive suite of tools that can help you create content from scratch, analyze your competitors, identify opportunities for improvement, and make data-driven decisions about your own content.
In this Surfer SEO review, we will first look at the different components of the product.
The Surfer SEO Content Editor
I love the Surfer SEO Content Editor, which is one of their key components. This feature allows you to analyze your competitors' content for a specific keyword and identify areas where you can improve your own content, to match the search intent of your target audience.
The Surfer SEO Content Editor provides a detailed breakdown of your competitors' content, including the number of words, headings, images, and links. It also shows you the keywords your competitors are targeting and provides suggestions for using them in your content.
Here are the features of the content editor in a nutshell:
Content optimization score out of 100, giving you an insight into how well your content is optimized.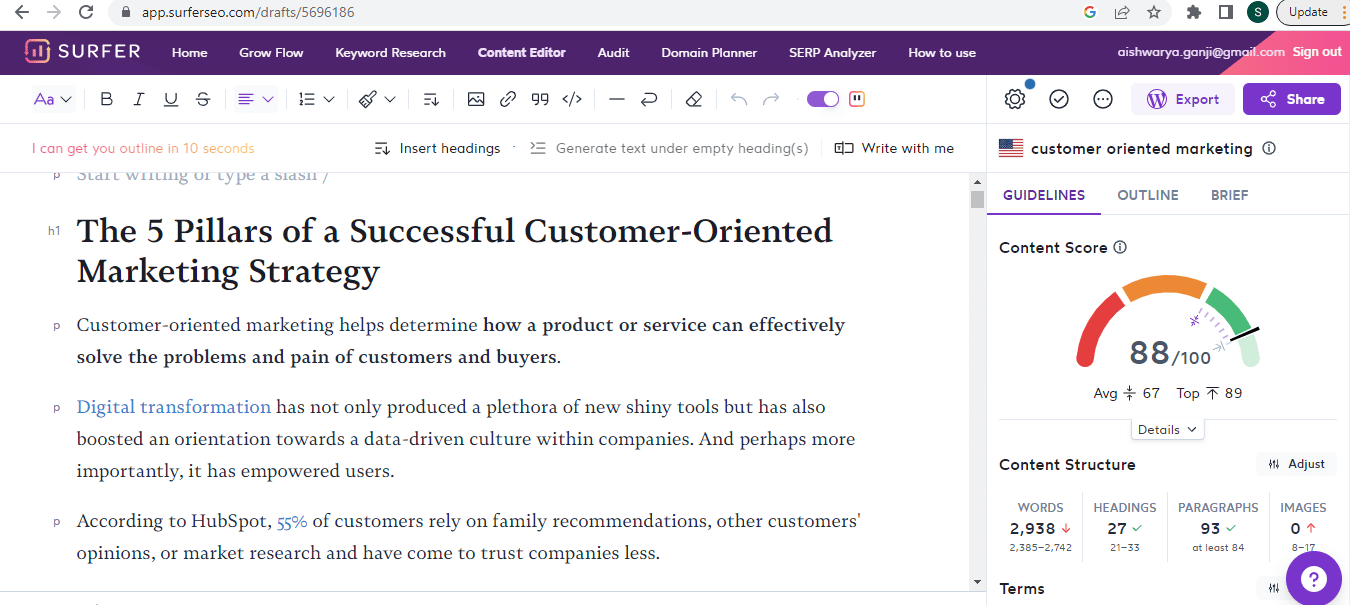 Helps you lay out the entire content structure-headings, paragraphs, and images.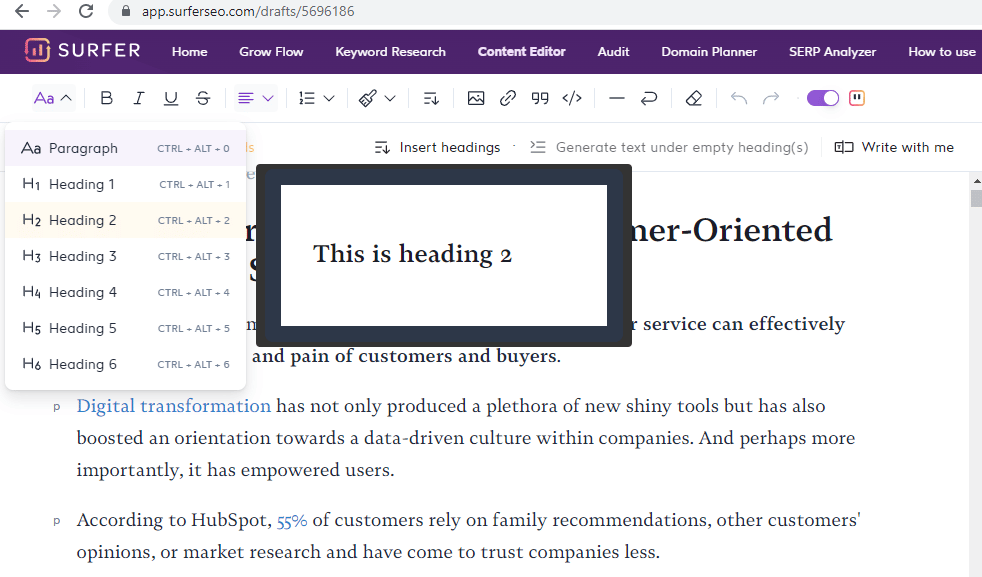 Latent Semantic Indexing(LSI) keywords you need to optimize.

The content editor gives an insight into the frequency of the LSI keywords that you should be using. I have seen similar features in Frase, Outrank, and other tools, but Surfer's quality of recommendations and the powerfulness of the editor wins hands down.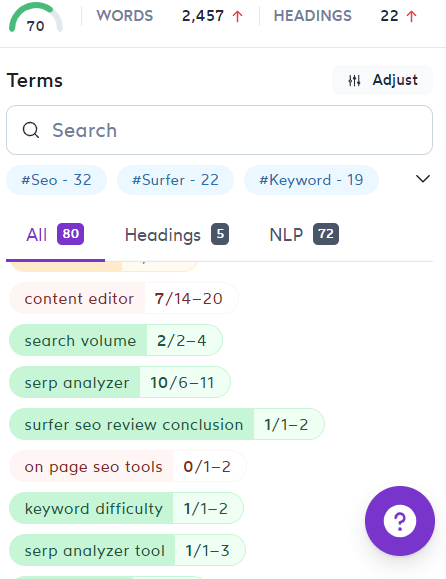 If you are more comfortable drafting your content on Notion or Google docs, there's nothing to worry about because you can copy and paste your content into the editor. However, this is a common feature among all On-Page SEO Optimization tools.
💡 Surfer SEO has recently partnered with Jasper and has built BRIEF, which helps you create content outlines using AI.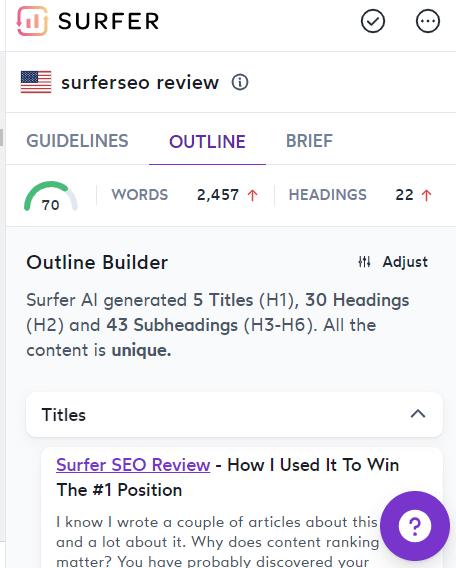 Surfer SEO also has a new plagiarism checker, which checks if your content matches any existing website content.


Surfer SEO WordPress Plugin
If your site is hosted on WordPress, there's also a WordPress plugin to quickly move content from Content Editor to WordPress. It's a great idea… but not the best execution. I had several timeout issues with it where my content was only partially moved to WordPress. Hopefully they'll improve it over time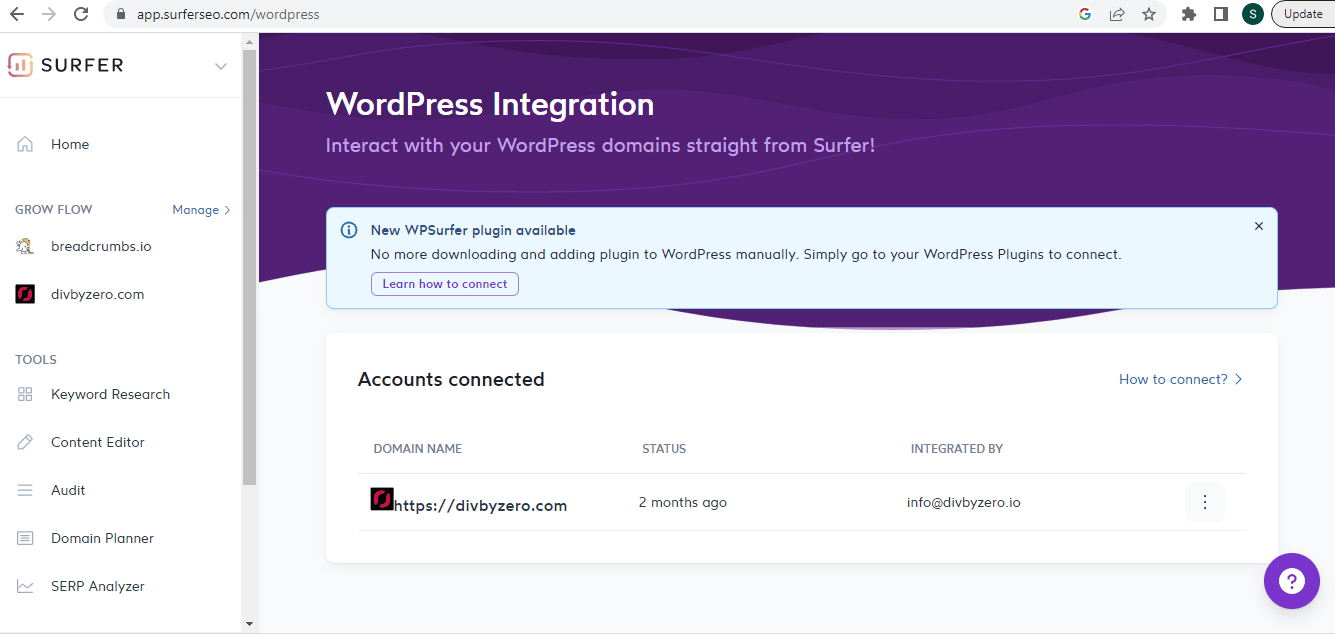 The Surfer SEO SERP Analyzer
Before writing this Surfer SEO review, I was super excited to review their SERP analyzer because I found it super useful.
If you ask me, the SERP Analyzer is technically the core component of Surfer SEO. This feature allows you to analyze the search engine results pages (SERPs) for any keyword and to identify the factors that are driving the rankings of the top-ranking sites.
The SERP Analyzer provides data on the number of words, the number of backlinks, referring domains, and social shares for each site in the top 10 results of your keyword.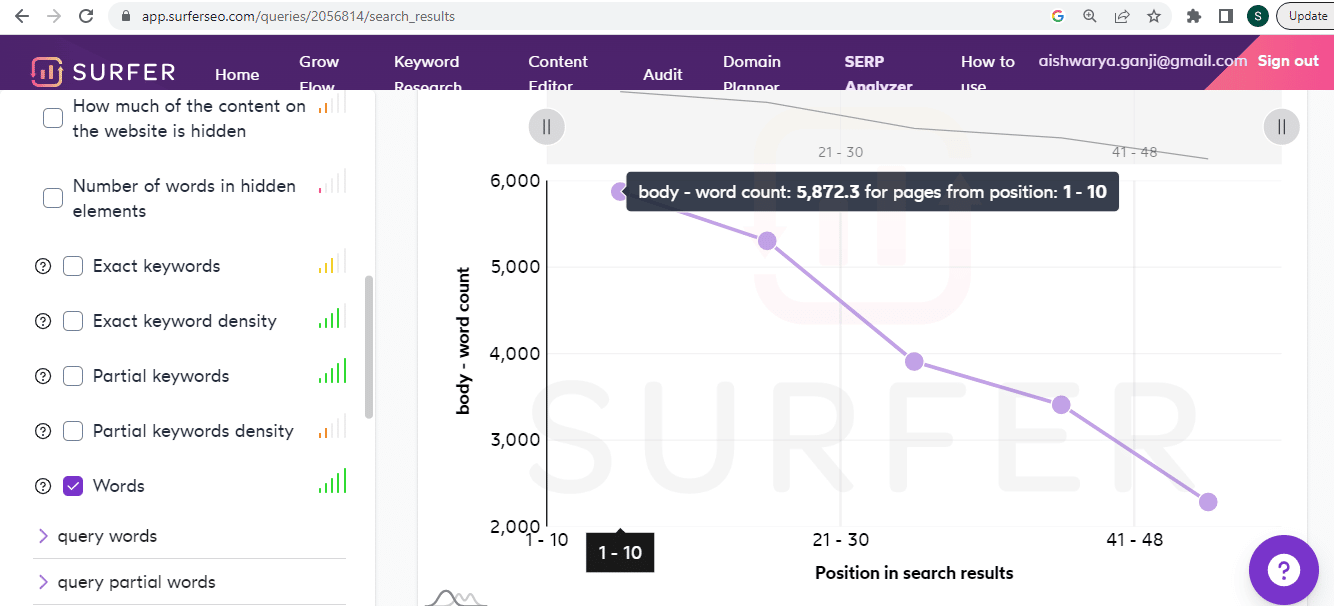 In the above image, as you can see, the SERP analyzer is plotting the word count vs. the ranking of each page, when you search with the keyword 'Best Email Marketing Tool'. So the average word count of the top 10 pages is 5872.3
I can similarly plot other metrics like referring domains vs. the position in search results for the same keyword.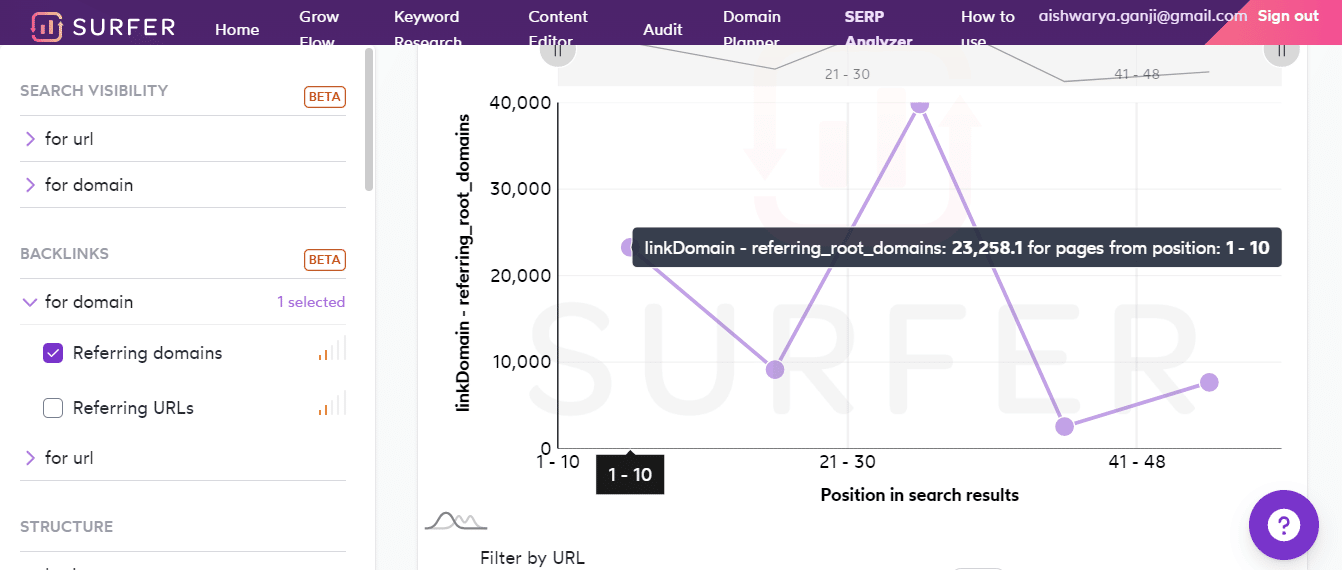 So the top 10 pages have an average of 23258.1 referring domains. It's nice to have these information here… but overall for backlink data, I would trust ahrefs the most.
It also shows you the content of each site and provides suggestions for improving your content to better match the search intent of your target audience.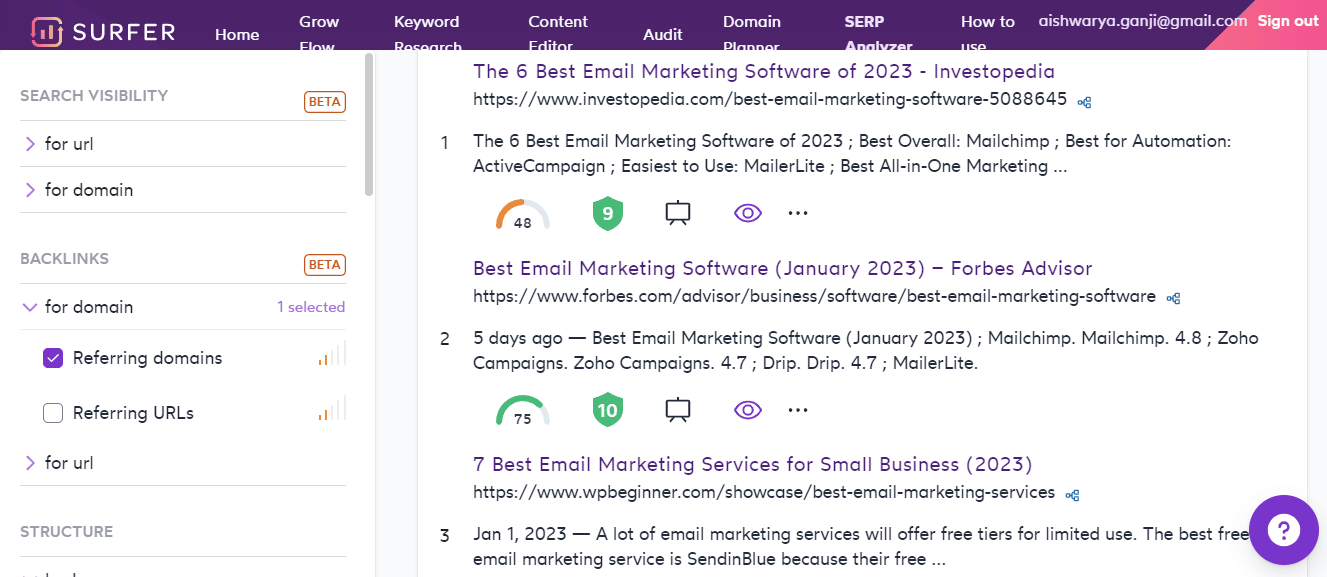 As you can see, the competitors' content is also assigned a score out of 100 like in the content editor.
SERP Analyzer analyses the search and displays a few of the following details:
1)Use of the long tail and partial match keywords.
2)Average word count and content length of the competitor pages.
3)Number of backlinks of the competitor pages.
4)Image alt-tags, meta tags, and meta descriptions of competitor pages.
5)FAQs related to the keyword.
6)Keyword density and term frequency of competitor pages.
7)H2 tags that are used in the ranking pages.
💡While the SERP Analyzer provides lumpsum data, it's important to identify the data which isn't going to help you with your rankings and not consider that data. Eg. Hidden content in the pages has nothing to do with your rankings.
The Surfer SEO On-Page SEO Audit
Another powerful component of Surfer SEO that I really like is the On-Page SEO Audit. This tool analyzes your website's pages and provides a detailed report on any issues that may be hurting your search engine rankings.
The audit covers a wide range of on-page factors, including title tags, meta descriptions, headings, and internal linking. It also checks for common technical SEO issues, such as broken links and missing alt tags. The On-Page SEO Audit provides clear, actionable recommendations for how to fix any issues that are identified.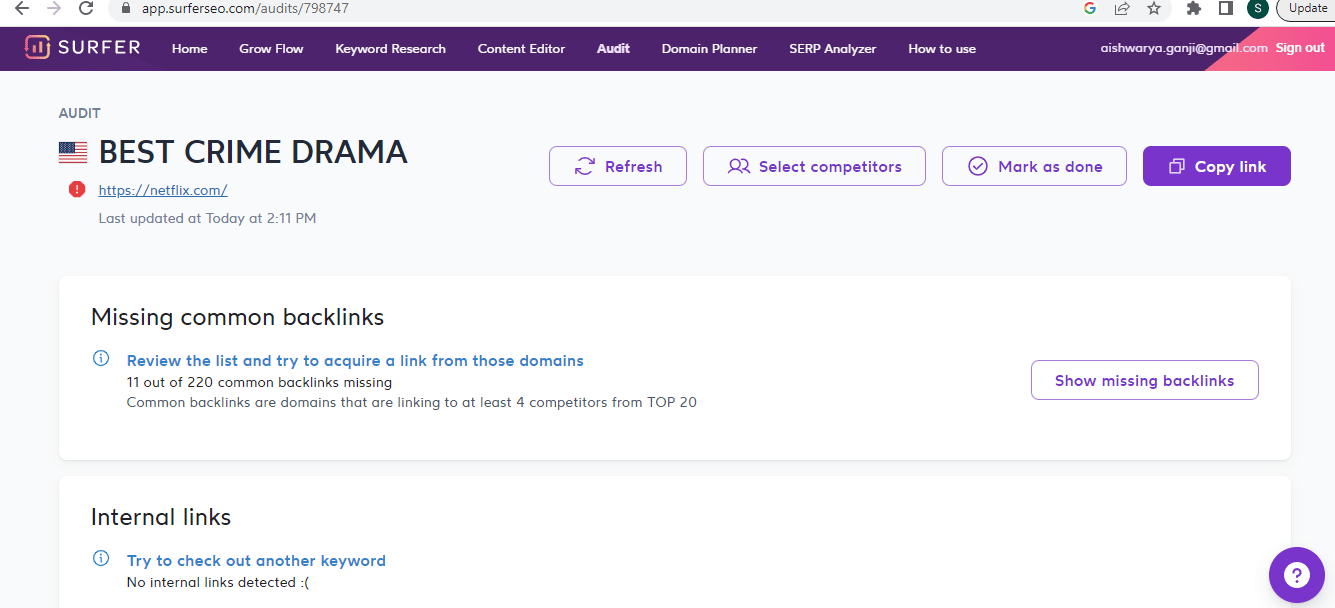 To get started, you have to:
1) Enter the URL you would like to optimize.
2) Enter the target keyword
3) Finally click on the 'Create Audit' button.
In the above image, I chose https://netflix.com as the website and 'Best Crime Drama' as my keyword.
In a nutshell, the audit focuses on the following elements:
1) Word count and recommended word count ranges.
2) The missing LSI keywords and phrases.
3) Meta title and meta title description recommendations.
4) Page load time
5) Broken links and missing common backlinks.
💡I would recommend you not incorporate these suggestions blindly; however, major gaps like missing common backlinks, and page load time should be taken seriously.
💡You can also choose your competitors in the audit and understand the missing elements on your page.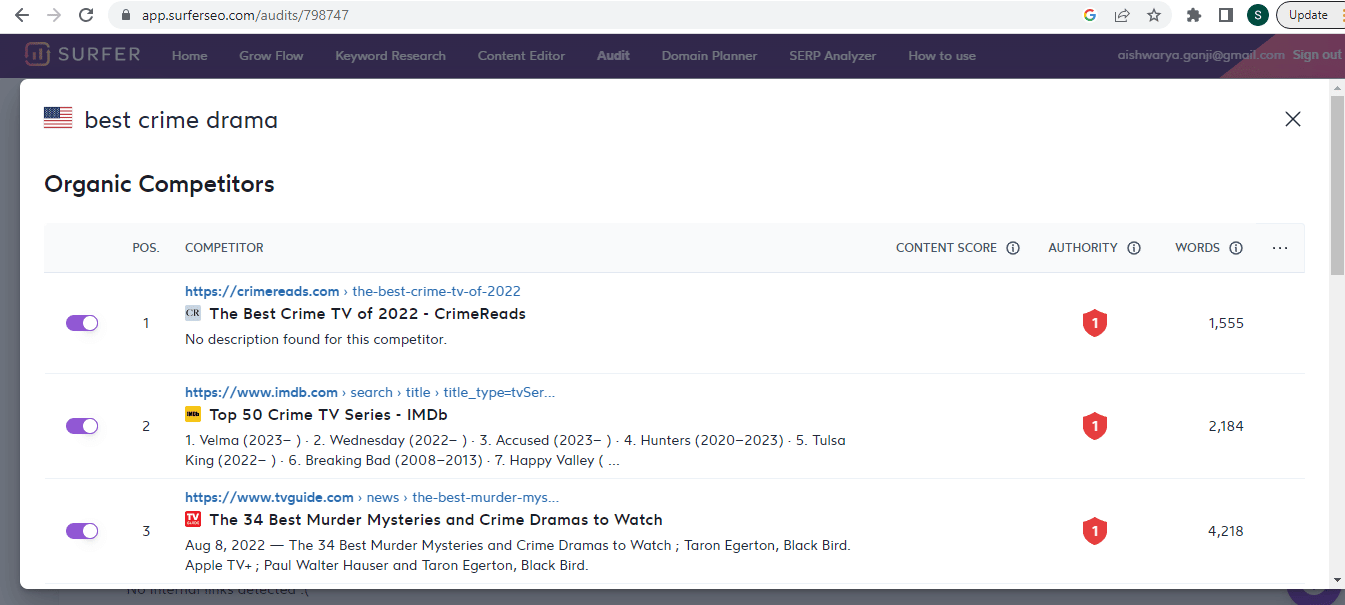 The Surfer SEO Keyword Research Tool
The Keyword Research tool is another key component we have to analyze in this Surfer SEO review. This feature allows you to identify the keywords that your target audience is searching for and to understand the search intent behind those keywords.
The Keyword Research tool provides data on search volume, CPC, and competition for each keyword. It also shows you the search results for each keyword and provides suggestions for how to optimize your content for those keywords.
I personally don't use the Surfer Keyword Research because I am more comfortable with Ahrefs.
However, I have tested the Surfer Keyword Research for a couple of weeks, and I liked their metric called SERP similarity. The SERP similarity metric gives you the overlap of the seed keyword with suggested keywords. Note: The SERP similarity metric is available only in the old keyword research tool, which you can easily switch to.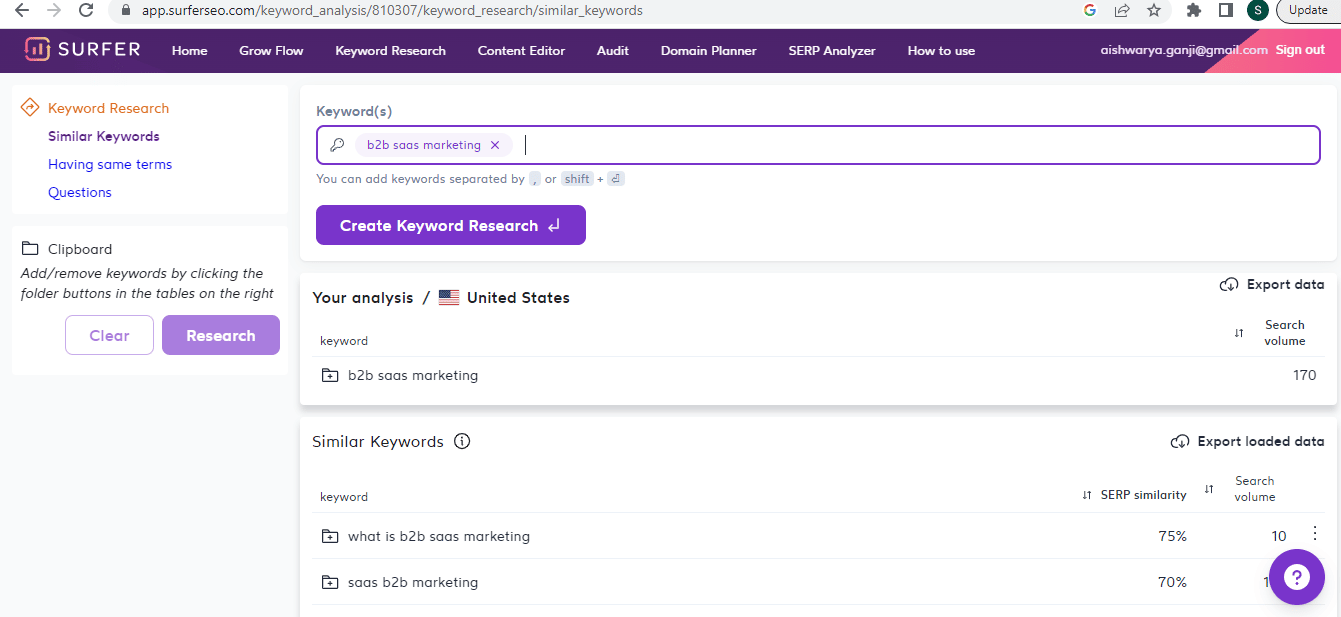 Example: If you choose 'b2b saas marketing' as your seed keyword, then the pages which rank for 'b2b saas marketing' will also rank for related keywords like 'marketing b2b saas'. It's like modifying your content to optimize for long-tail combinations.
I would recommend the Surfer Keyword Research modules for only bloggers, startups, and small businesses.
💡 You can have the Surfer Keyword extension added to your Chrome browser.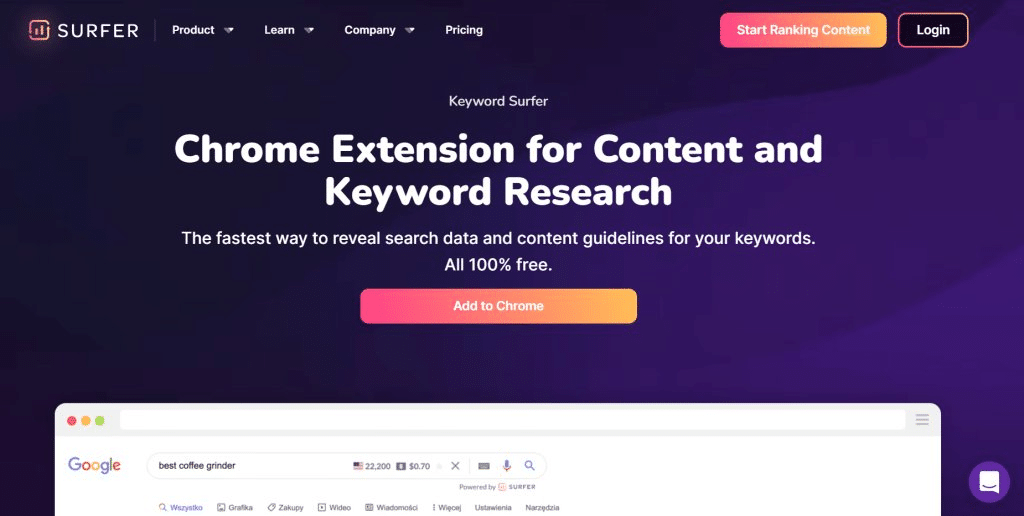 💡The new keyword research tool now gives you visibility on keyword difficulty as well.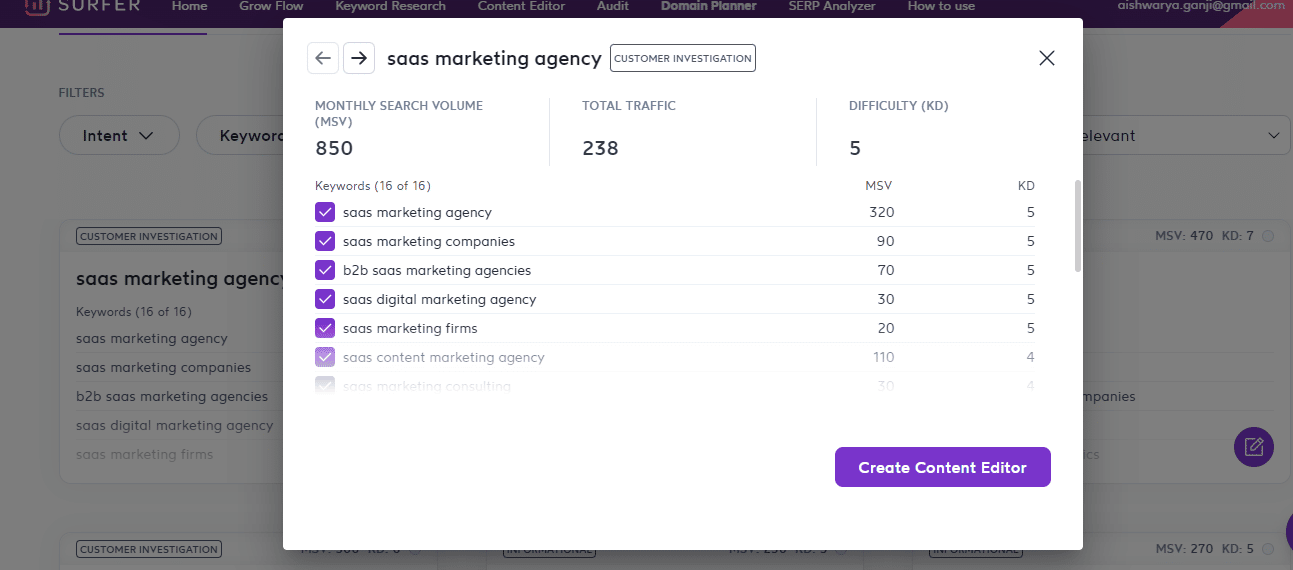 The Surfer SEO Domain Planner
The surfer content planner (now it's called the domain planner) gives you suggestions on content clusters. It helps you with cluster topics based on your main topic.
Say you want to rank for competitive keywords like 'Best Email Marketing Tools'. To rank on the first page, your website needs enough cluster pages and relevance to support the pillar page.
Meet the Surfer SEO Domain Planner! It not only helps you with cluster topics but also gives you different filters-Search intent, search volume, keywords, and content score.

💡You can export the domain planner keywords as CSV for later use.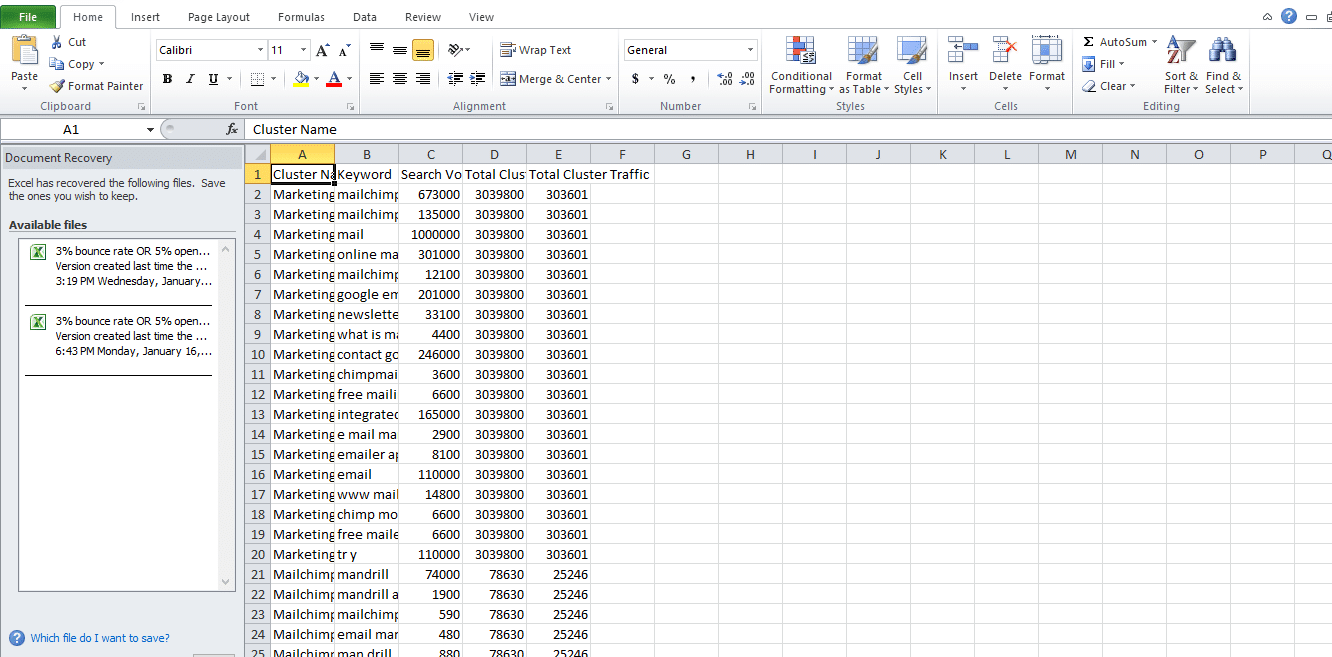 💡You can connect your domain to the domain planner and find more relevant keywords for your pillar pages.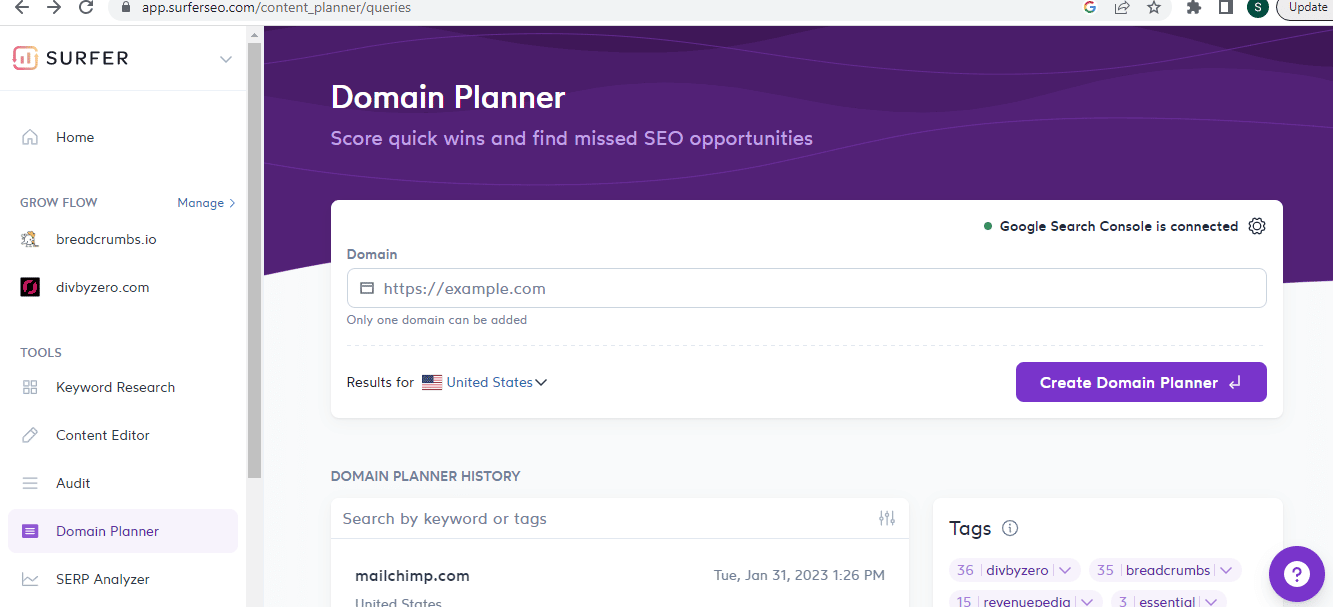 Grow Flow
Grow Flow is an AI SEO Growth Management Tool created by Surfer SEO.
Surfer's AI Growth Management Platform will send you personalized recommendations to improve the SEO of your connected domains using keywords, internal links, and content revisions on a weekly basis.
The first step would be to connect your domains with Grow Flow.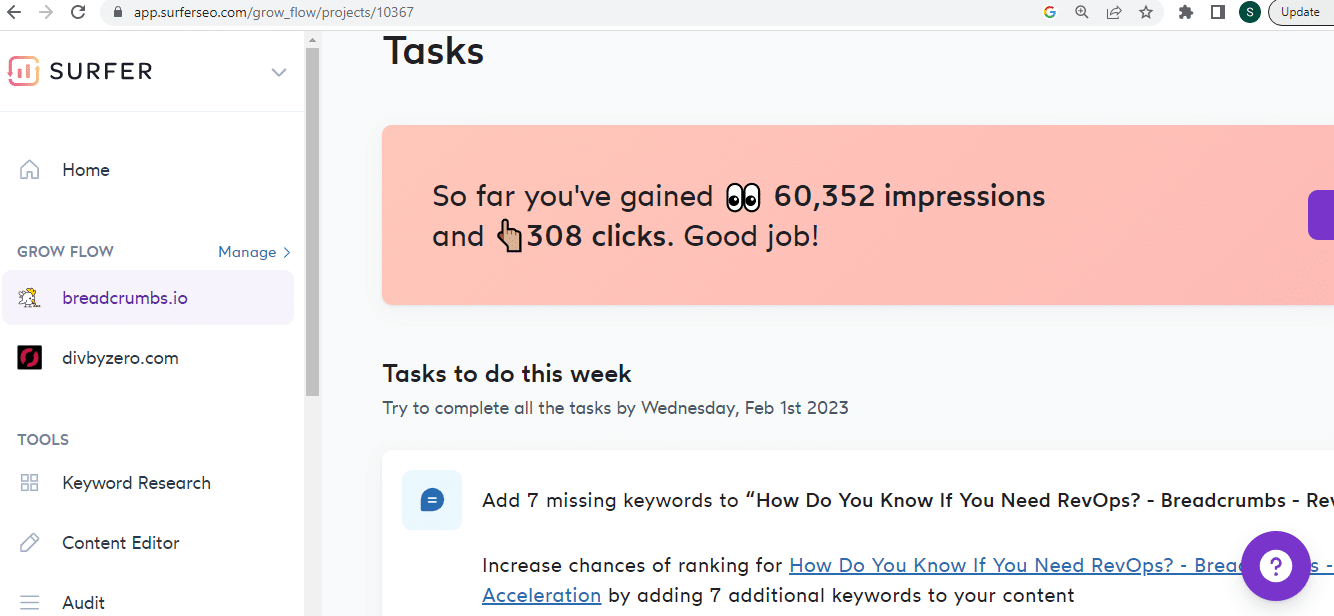 So as you can see, Grow Flow helps you with weekly AI-generated tasks to further optimize your connected domains.
Here are some of the ways Grow Flow helps you optimize your content:
Helps you with missing keywords.
Helps you find keywords with the highest ranking potential.
Helps you discover new topics and enhance your domain authority.
Helps you optimize older content on your pages.
Gives you internal link suggestions by comparing with competitors.
Helps you create new content by giving you new article ideas for topical relevance.
💡There's a Semrush integration available for strategic link-building opportunities. Unluckily no Ahrefs integration yet!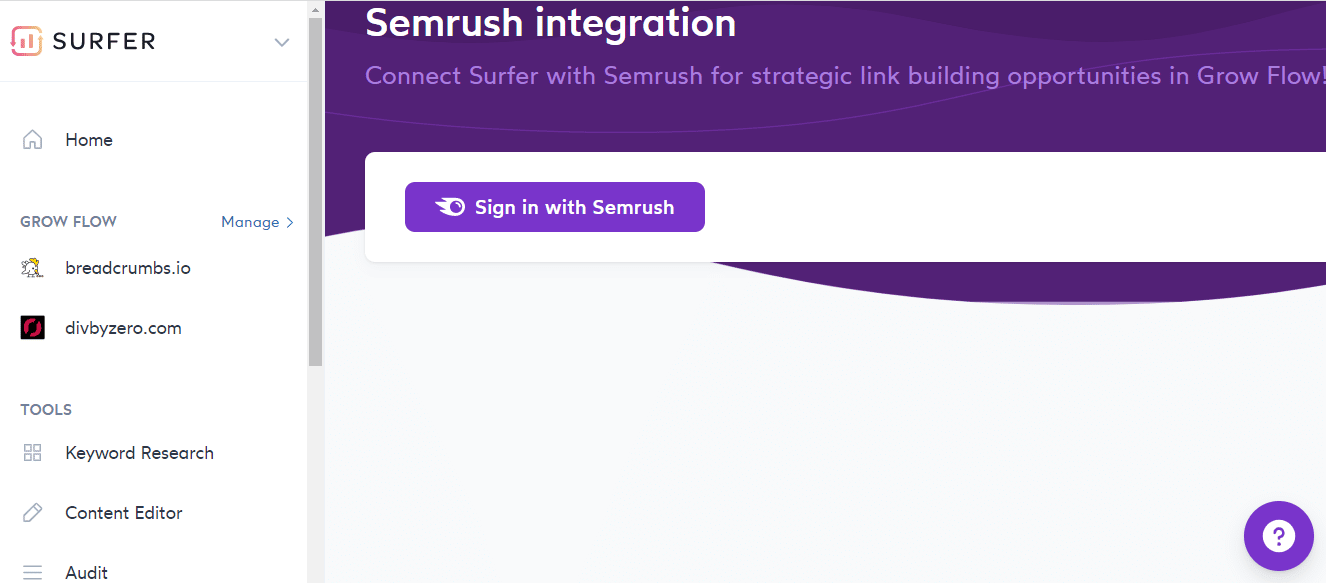 Overall I think Surfer's Grow Flow has a big potential. I try to use it weekly and pick the recommendations that make more sense to implement. To be completely honest in this Surfer SEO review, I have to mention it could enjoy some improvements.
The internal linking suggestions are often a bit off, with a lot of them being about category pages that I cannot really edit and are not meant to be used for SEO. They're also no-indexed on my blog, so they would have no SEO impact.
That said, it's a great tool, especially for beginners. And they're improving it every week!
The Surfer SEO Pricing Model
Surfer SEO offers a variety of pricing plans to suit the needs of different users. These plans range from a basic plan to a comprehensive enterprise plan, providing flexibility for businesses. of all sizes.

The Basic Plan
At $59/month when paid monthly and $49/month when paid annually, the Basic program provides access to most of the features except some key features. This plan lets you optimize only ten articles/month.No Natural Language Processing(NLP) queries are offered in the basic plan.
A Basic plan is a great option for small to medium-sized businesses looking to optimize their content and improve their search engine rankings.
The Pro Plan
At $119/month when paid monthly and $99/month when paid annually, the Pro plan is the most popular plan among Surfer SEO users.
It provides access to all the basic plan features but with even more data and the ability to analyze an even more significant number of articles(30 articles/month).
The Pro plan is ideal for medium to large-sized businesses looking to automate SEO tasks and get real-time data for their website.
The Business Plan
The Business plan is designed for large companies that require a more comprehensive solution. It will cost you $239/month if you want to pay every month and $199/month annually.
It includes all the features of the Pro Plan, but it lets you optimize more data-70 articles per month.
The Business plan also provides access to the Surfer SEO API, allowing users to access the data from their software from the Content Editor, On-Page SEO Audit, Keyword Research, and SERP Analyzer. The Business plan is ideal for medium to large-sized businesses looking to automate SEO tasks and get real-time data for their website.
Enterprise Plan
The Enterprise plan also includes priority support in the form of a dedicated customer success manager and the ability to customize the tool to meet the business's specific needs. This plan is suitable for large companies, agencies, and those who need to analyze many keywords and. have more data on the SERP analysis.
Surfer SEO offers a custom pricing model with the Enterprise plan.
You can check and compare the features of all the procedures on the pricing page of Surfer SEO.
Surfer SEO special offers
Surfer SEO doesn't do special promotions often but when they do, they are great.
Usually, they have great Black Friday discounts with also special gifts. Not only you'll get a major discount on annual plans, you'll also be rewarded for your loyalty and for sharing the deal with your friends.
Over the last couple of years, I've always upgraded to Surfer SEO special offers and got great rewards like more seats for free, more Content editor credits, etc.
As I said, they're not the kind of company that discounts the product every month, so don't hold your breath, and if you like it, go ahead and signup now. But keep in mind to visit the website on Black Friday for a nice upgrade opportunity.
Surfer SEO Alternatives
With so many content creation and page optimization tools in the market, it's essential to know how Surfer fares compared to competitors.
I have used both Frase and Page Optimizer Pro(POP), and these are both competitors of Surfer SEO.
Let's look at how the product compares with Frase and POP.
Surfer SEO vs. Frase
Surfer SEO started out as an SEO optimization tool and included content creation features.
Frase started as a content creation tool and then later on added SEO features.
Surfer SEO helps you create the content structure-the headings, paragraphs, etc.
Frase doesn't make the content structure.
Surfer's direction is on the SERP analyzer to optimize content.
The primary focus of Frase is on topic research and content creation.
Surfer offers the keyword research feature to all its users.
Frase doesn't provide any keyword research feature.
Surfer's pricing ranges from $59/month to $239/month.
Additionally, they offer a custom Enterprise plan.
Frase is cheaper, with prices ranging from $14.99/month to $114.99/month. There's a Pro Add-On feature to their current program at $35/month.
Surfer SEO vs. POP
Surfer has a free keyword research tool that can also be added to your Chrome browser as an extension.
POP doesn't have any keyword research tool.
Since Surfer has integrated with Jasper.ai, you can create content from scratch using Surfer.
There's no way you can create content from scratch using POP. However, you can get suggestions on your content using the POP Chrome add-on.
Surfer SEO has a Content Planner which gives you guidance on content clusters.
POP doesn't have any Content Planner.
Surfer SEO offers a more accessible and user-friendly way to analyze and optimize content.
I found the POP way of analyzing and optimizing relatively more complicated. For Eg. You have to add the domain first.
Surfer SEO lets you compare your page with up to 50 competitors.
POP allows you to compare your page with only ten competitors.
Surfer's pricing ranges from $59/month to $239/month. Additionally, they offer a custom Enterprise plan.
POP is more reasonable, with prices ranging from $27 to $49. They also offer a free trial period on their primary goal.
SurferSEO Review Conclusion
Overall, SurferSEO is a powerful tool that can help you to improve your search engine rankings and drive more traffic to your website. By analyzing the on-page SEO, backlinks, and user experience of your competitors' websites, Surfer SEO can provide valuable insights into how to Optimize your own content for search engines. Additionally, by using Surfer SEO to improve the user experience of your website, you can increase engagement, reduce bounce rates, and ultimately drive more conversions.
To make the most of Surfer SEO, setting clear goals and defining your target audience is essential. By understanding your target audience and the keywords they are searching for, you can use Surfer SEO to analyze your competitors' content and strategies and optimize your content accordingly.
Additionally, it is important to regularly monitor your website's performance and make adjustments as needed.
Personally, I've tried many of these tools, and Surfer SEO is the only one that I use constantly. This review has been written on Surfer's content editor, and I usually audit all my external copywriters' content here.
Thumbs up if you're serious about Content Marketing and SEO.
SurferSEO FAQs
Does SurferSEO work?
Yes, SurferSEO does work. This tool provides actionable insights to optimize the content for the most relevant keywords. The SERP analysis tool is handy when you're looking for more information about a particular page and reverse engineer what worked well.
Is SurferSEO free?
Depending on your monthly billing, it's $29/month for "Hobby," $59/month for Basic, $99.00/month for "Pro," $199/month for "Business" and $669/month for "BusinessPlus". The yearly bill is about 12% less.
Is Surfer SEO better than Yoast or RankMath?
They are two very different things. Yoast and RankMath are WordPress SEO plugins with a lot of WordPress specific features that SurferSEO doesn't have.
On the other side, SurferSEO will help you improve your content to rank on Google in a better way. Personally, I use both of them. SurferSEO for writing my content and RankMath to help with WordPress SEO optimization.
Who owns Surfer SEO?
Surfer is a joint initiative and vision of founders Sawek Czajkowski, Lucjan, and Michal Suski.
Breakdown
User Interface and ease of use

4

Content editor recommendation's effectiveness

5

Quality of data provided

5
Pros
Uses of 500+ ranking metrics for content optimization.
Gives you relevant keyword suggestions to add to your content
The SERP analyzer tool helps you compare your content with competitors
Quick Google Docs & Wordpress integration
Auditing and improving existing content is very simple
Cons
Too much data generated by the SERP analyzer can be confusing
Not very beginner-friendly
The Base Plan doesn't support NLP queries
Get Surfer SEO