Content Journey 101: Create content that fits your customer journey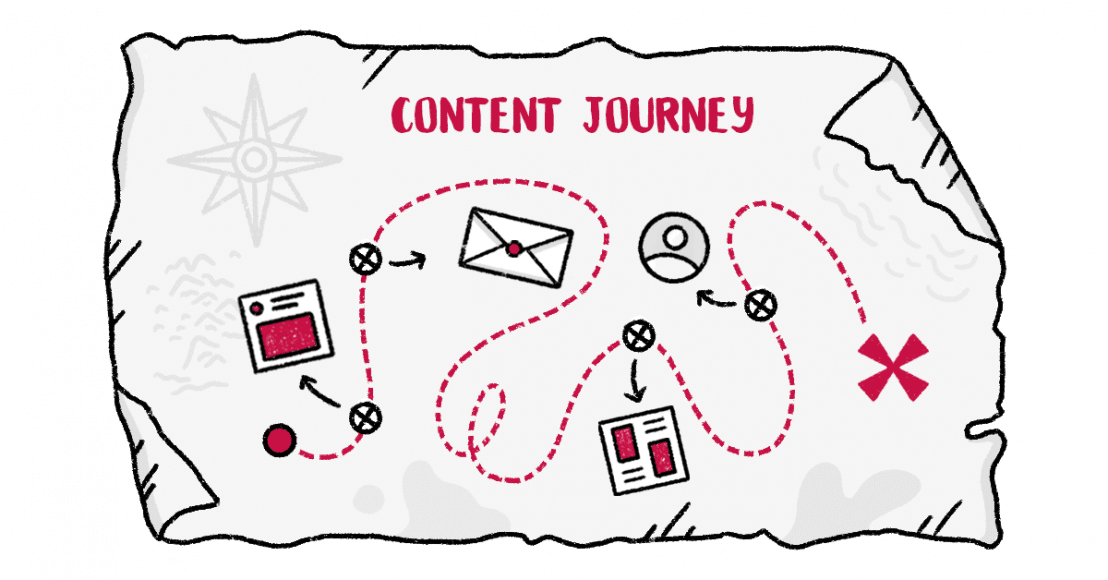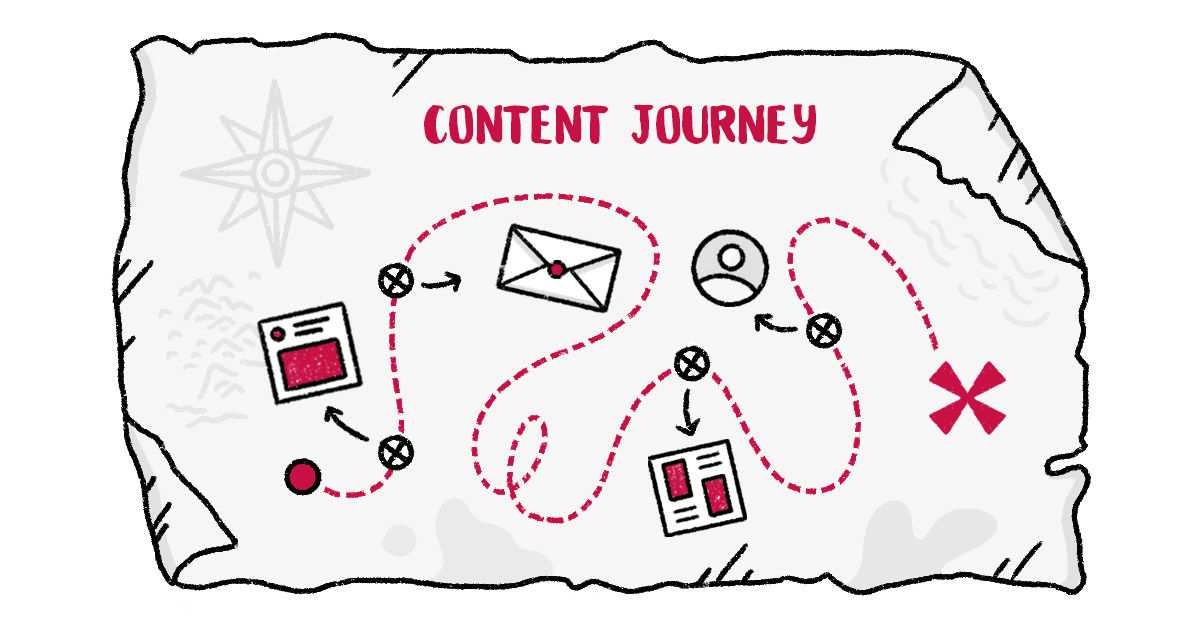 Did you know that SaaS marketers who align their content to the specific stages of their customer's journey enjoy a 73% higher average conversion rate?
Impressive but, this begs the question: How do you determine the best approach to create content for these specific stages?
Two things.
Conduct customer research so you know who your ideal customer is. This information will help you build your buyer persona.
Develop your content marketing strategy and create a content journey around that buyer persona, to engage prospects based on their specific needs and help them solve problems.
In this guide, we'll focus on the latter.
I'll break down the customer journey into an easy-to-identify content marketing strategy, the stages involved, from identifying pain points to your content strategy to creating your custom content, tailoring your existing content, and how this contributes to the overall customer experience.
What Is the Customer Journey, and what can it do for you?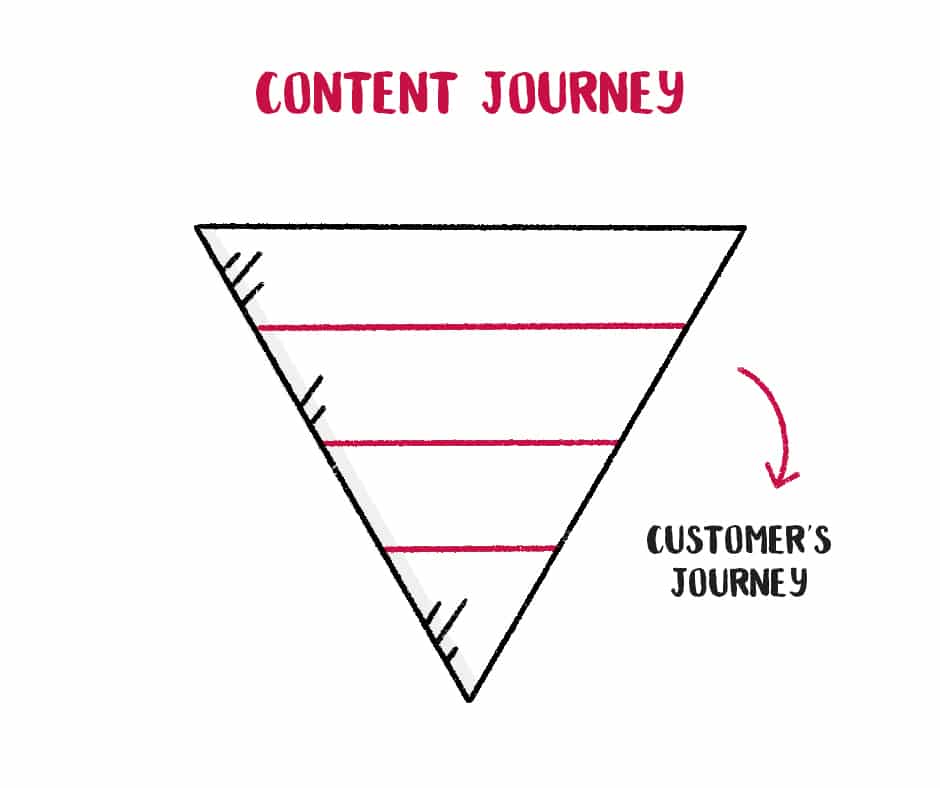 A buyer's journey is often compared to the funnel in your content marketing strategy, it is essentially a journey map, as it illustrates the customer journey with your brand.
You've probably heard people talk about marketing funnels, the buyer's journey, and customer journey maps. Can you really tell me the difference between what each of these terms means?
Marketing funnels and customer journeys are similar ideas, and some people new to the business may think the terms are interchangeable. However, they actually mean different things. Let's focus on their similarities, though.
They both start with a prospect hearing about you for the first time, be it through social media posts, targeted content, or other channels. Ideally, it ends with becoming your customers and advocating for your products or services.
The marketing funnel is essential though, as it tells you how far a prospect or lead is along in the customer journey and helps you identify the best types of targeted content that help you build a trusting relationship with them.
For example, a 14-day free trial may work well for a lead at the later stage of the customer journey but will fail if it were a prospect who has never heard of your brand.
While the funnel is generally presented as linear, which is one of the main ways it's different from a customer journey map. It's just a generalized model; your marketing funnel is simplified out of necessity; it traces the most straightforward path a lead can take from awareness to sale.
Here are the benefits of having a content marketing funnel:
You increase sales thanks to the specific content tailored to their needs.
You gain valuable insights into the customer's journey. (e.g., a lead visiting a pricing page multiple times indicates a high purchase intent).
You're able to identify areas of improvement (e.g., a high churn rate caused by poor customer-product fit will require a change in the first stage.).
What Are The Stages Of The Marketing Funnel?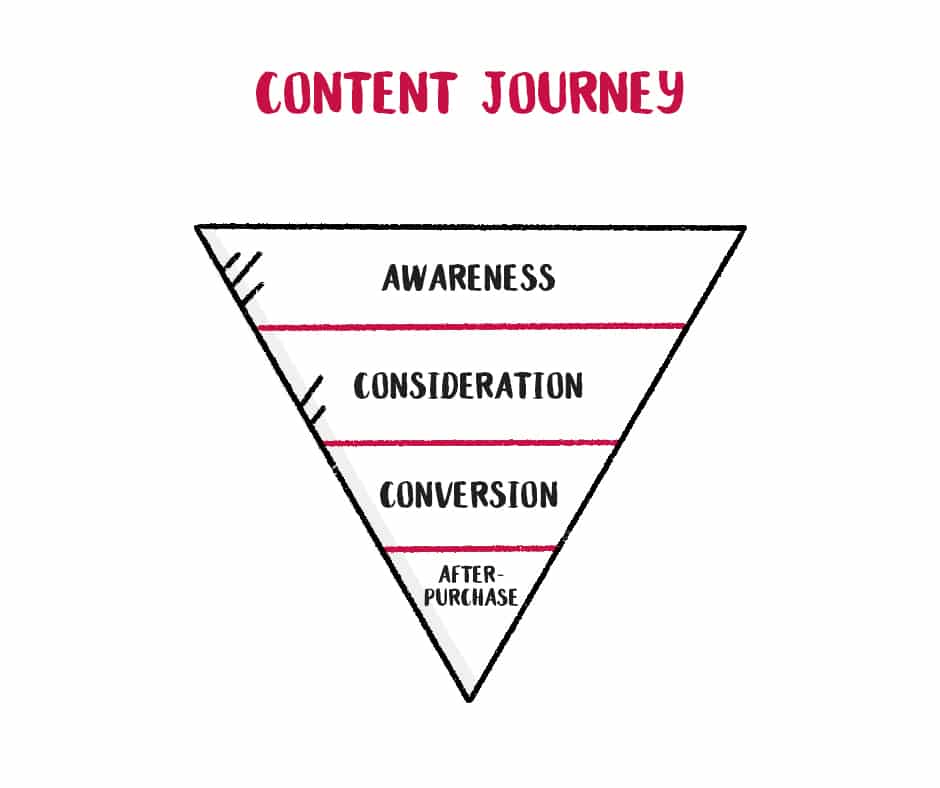 The marketing funnel can be broken down into four stages:
Awareness (a.k.a lead generation): Generate awareness and show the value you offer.
Consideration (a.k.a lead nurturing): Show why leads should pick you by focusing on benefits and differentiators.
Conversion: Convert leads to customers. This stage typically involves the sales team.
After-purchase: Retain customers and drive advocacy.
How Do You Build A Marketing Funnel?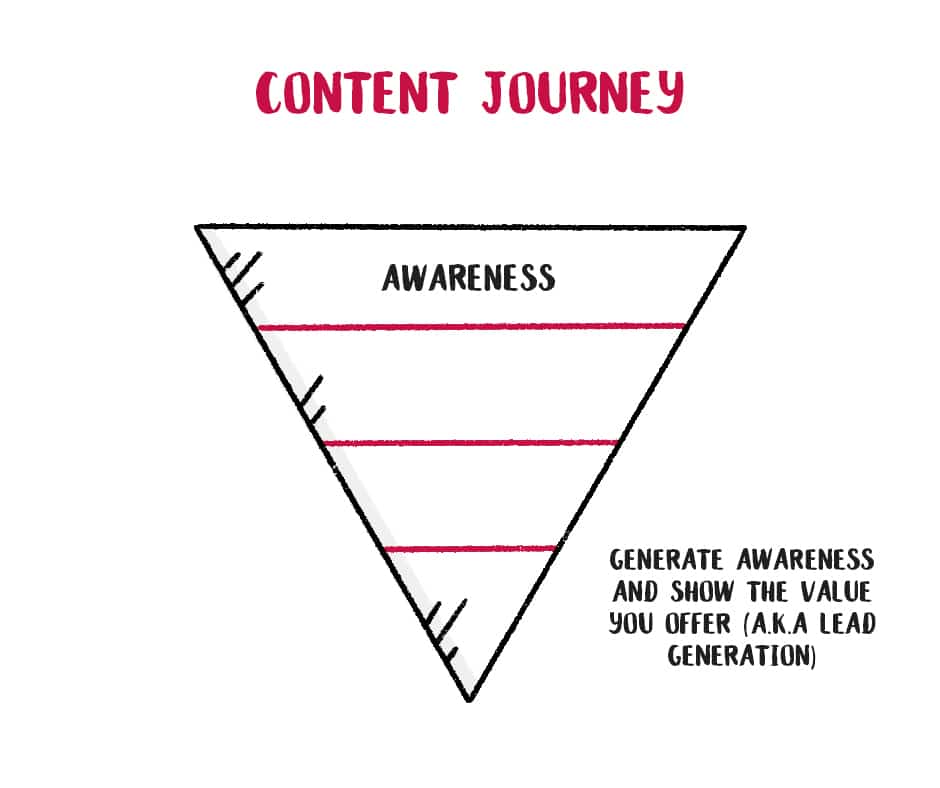 Let's use Grammarly as an example to see how they guide users from the first exposure to the brand all the way down to becoming brand promoters.
I'm going to walk you through how I discovered this writing tool and became their customer. This way, you can see how a marketing funnel applies in real life to real businesses.
1. Awareness
This is the stage a prospect first hears about your brand.
They're aware of their problem and looking for a solution to fix it.
As a marketer, your job is to attract their attention, gain their trust, and acquire them as leads. How do you do that? Here are a few ways:
Answer questions in relevant community groups and Q&A platforms (e.g., Quora), and include a link to your website or blog post to drive traffic to your target audience.
Run an Instagram giveaway to build your social media presence.
Guest post to share your expertise on a niche publication or targeted content. Be sure to include a link to your lead magnet in the author bio to build your email list and organic traffic.
How Grammarly's Awareness Stage Looks Like
Grammarly invests a lot in this stage. Based on what I've seen so far, here are the three channels that they frequently appear on:
(i) YouTube
Here's Grammarly advertising their product using YouTube display and skippable video ads.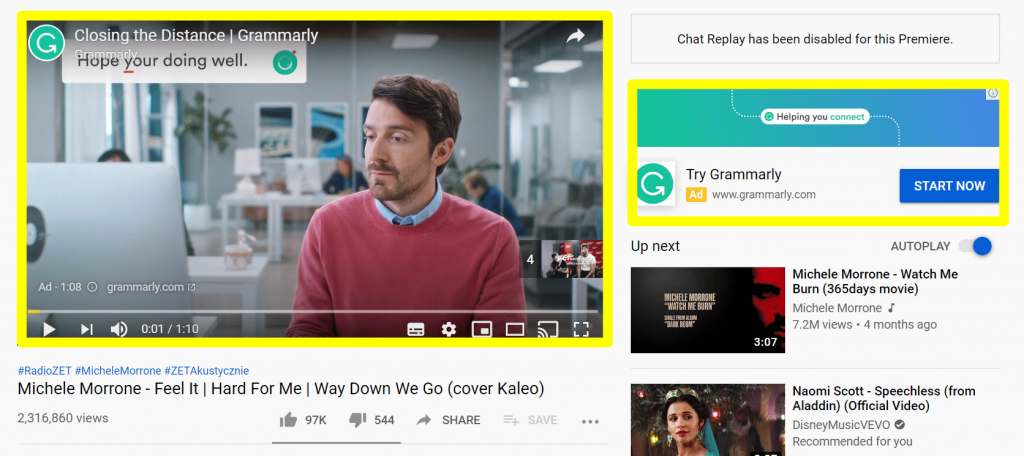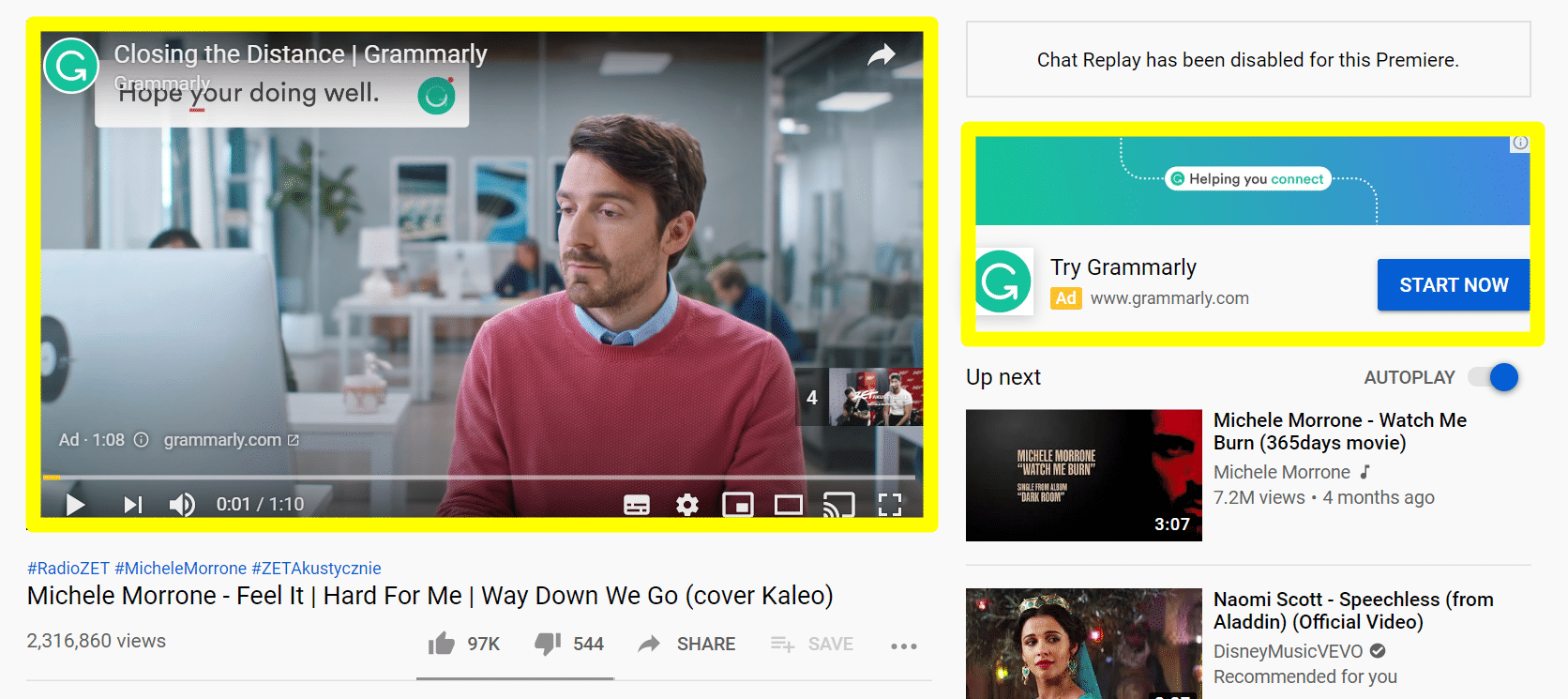 (ii) Affiliate Marketing
Grammarly is big on affiliate marketing.
On top of hosting an affiliate program on their website, they partner with affiliate networks to reach more global users.
From the looks of it, it's paying off. I can't tell you the number of times I spotted my favorite blogs promoting Grammarly.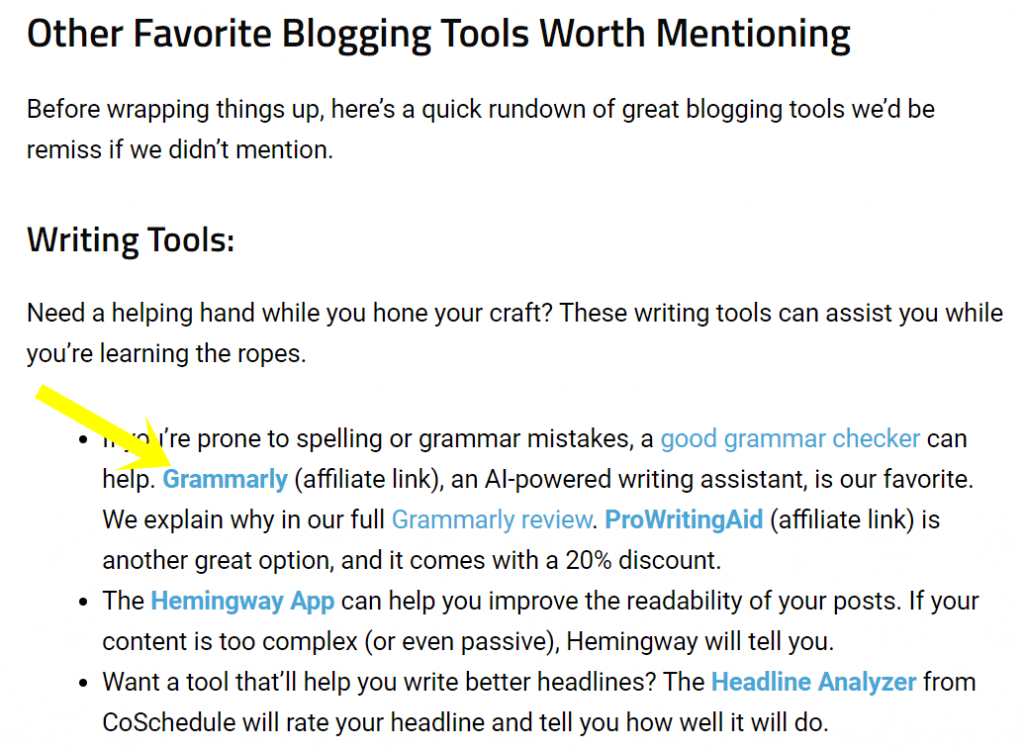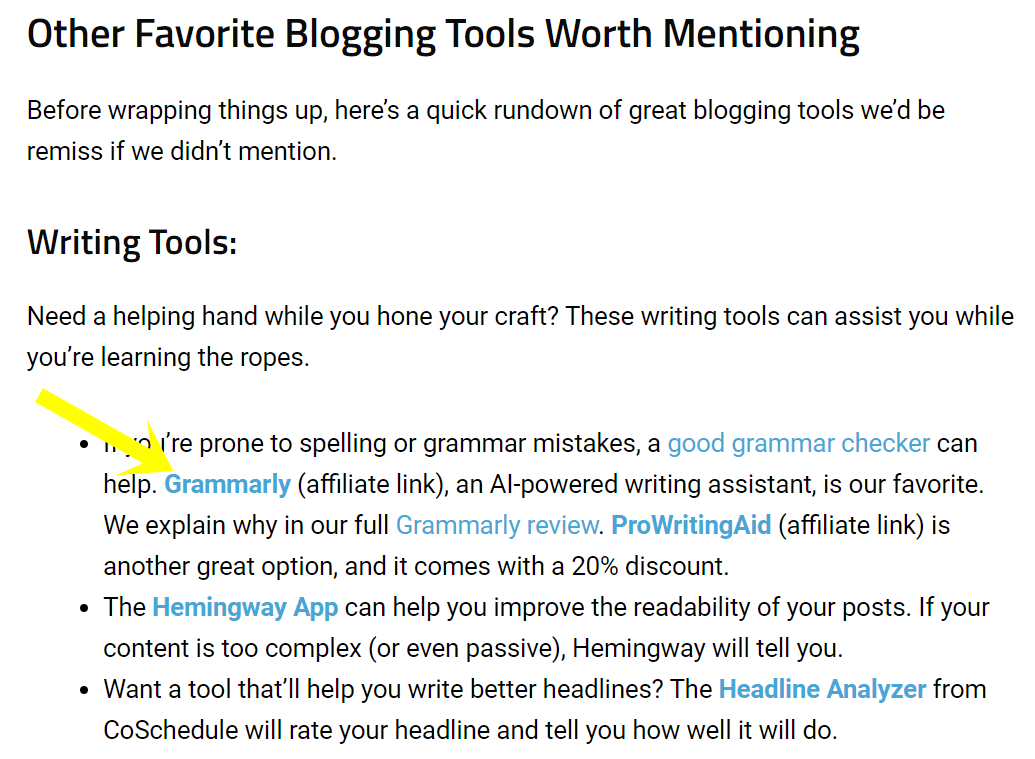 (iii) Google Ads
I did a search on grammar tips, and right away, I saw Grammarly's text ad at the top.
Tip: Note how Grammarly leverages a testimonial from Forbes to compel users to click the ad. If you have customer reviews, add them to your copy. They're a great way to instill confidence in potential customers and raise brand awareness.
By now, curiosity got the best of me. I decided to sign up for a free account to see just how good Grammarly is.
Verdict: Grammarly does an excellent job at showing the value of their writing tool.
2. Consideration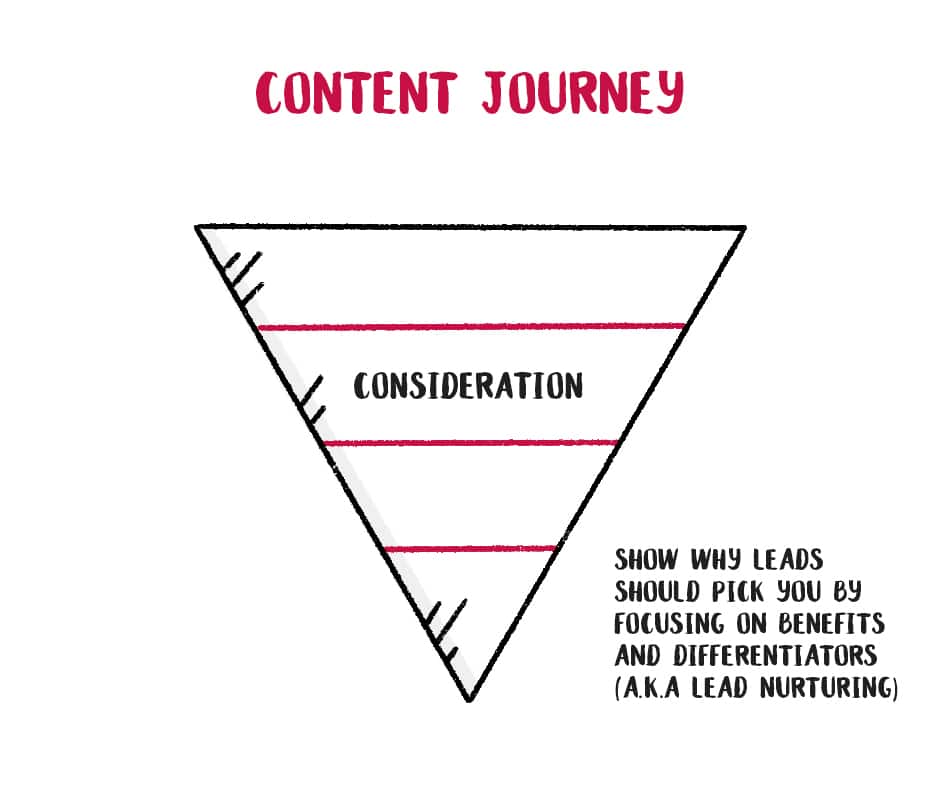 This is the stage where your prospects-turned-leads are comparing and evaluating their choices.
To draw them in deeper to your funnel, nurture them with valuable emails (e.g., free trial onboarding sequence) that spotlight your product's unique selling proposition.
How Grammarly's Consideration Stage Looks Like
No surprise, Grammarly is beloved by many. It was clear from the beginning that this writing tool has won many users' votes.
(i) Email Marketing
Right after signing up, I received an email on how to make the most of Grammarly.
As I scrolled down the email, I spotted these three columns, and they left me confused.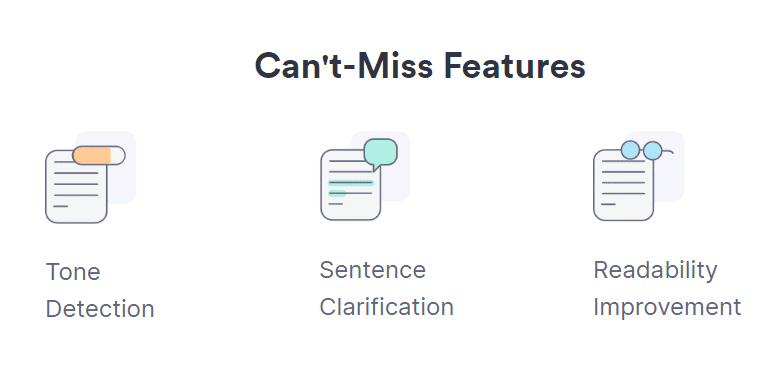 Turns out, these were sneak peeks at Grammarly's premium plan!
I couldn't put my finger on why there was no mention of the word "premium" or "upgrade" in the email copy. There were no links, except icons and text.
Perhaps it's Grammarly's way of teasing? Only they would know. 🙂
(ii) Google
At this point, I've used Grammarly about three times.
I liked it and wanted more.
But like all careful customers, I wanted to be sure I'm making the right decision.
So I did a search on Google to find reviews.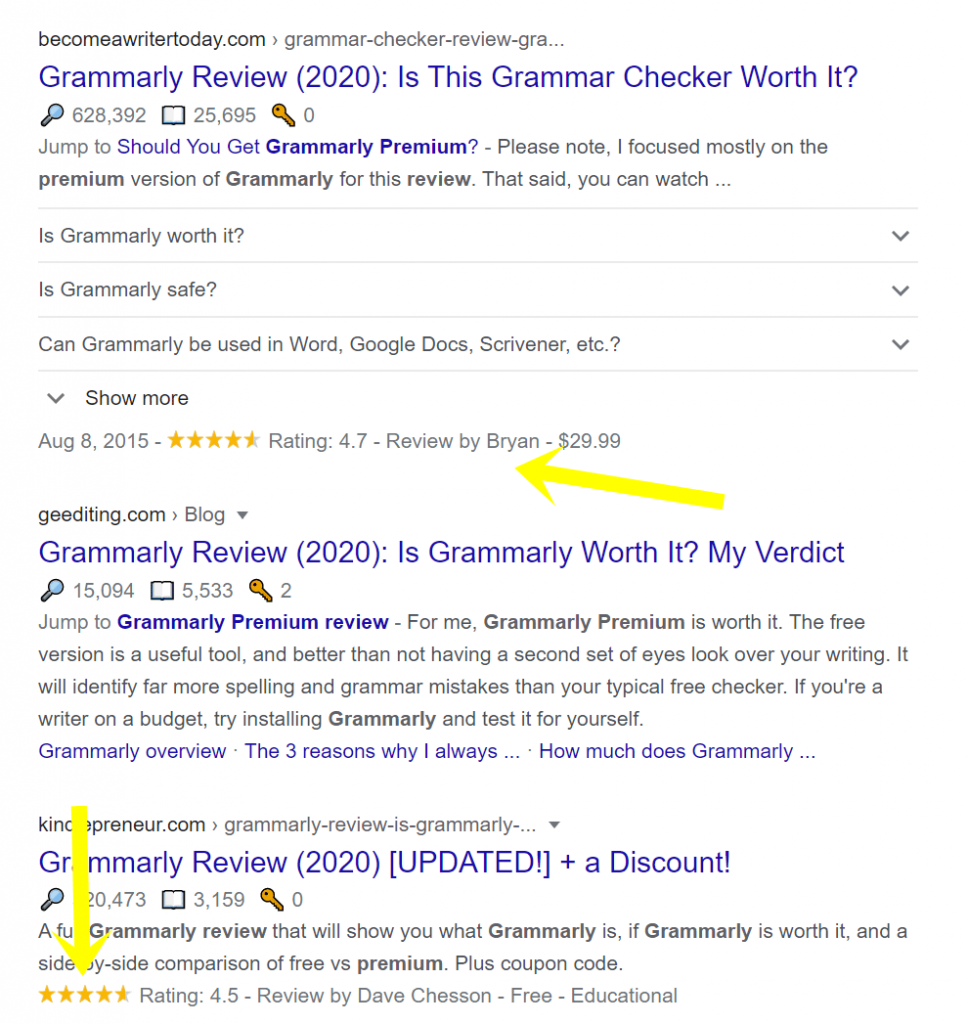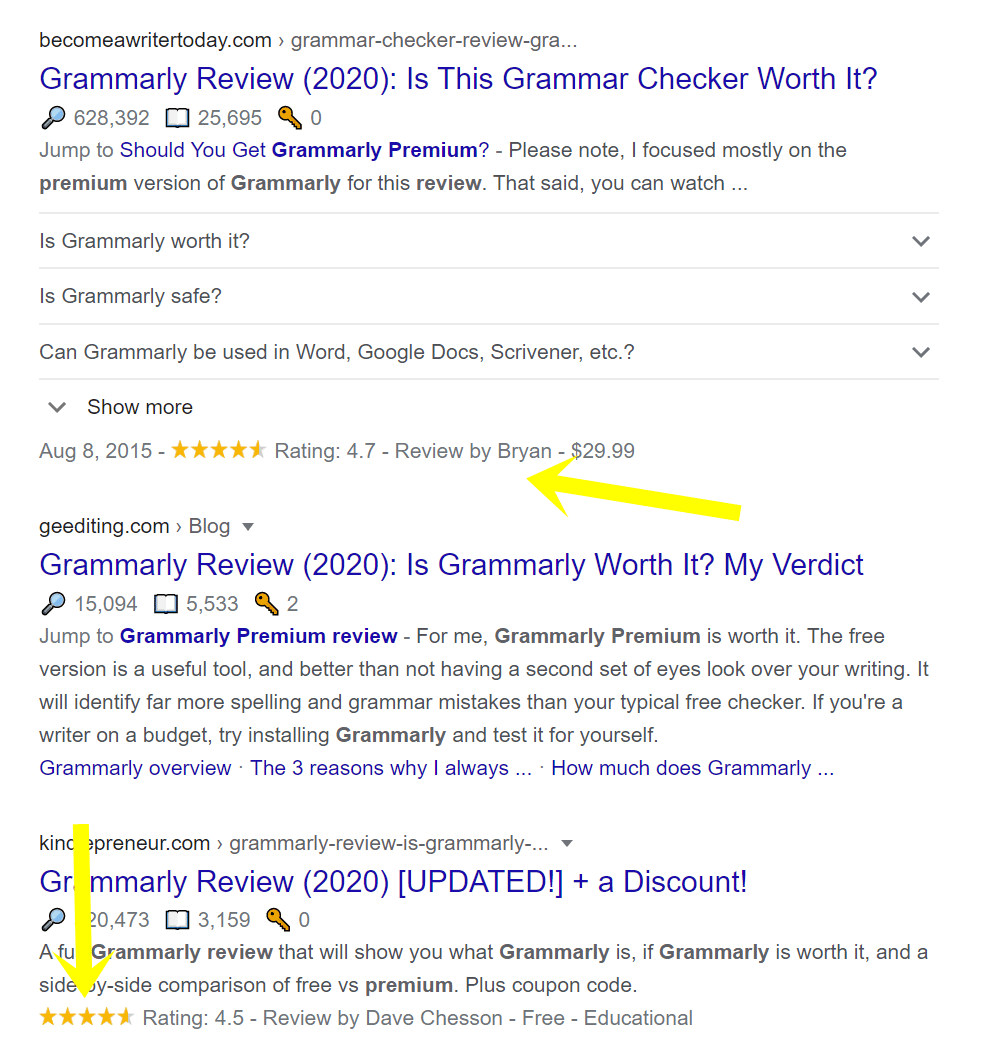 Whoa.
That's a lot of great reviews!
But I'm still paranoid, so I headed to G2 and Capterra to see if their reviews share the same tune.
(iii) Review Platforms
Capterra: 4.7 out of 5 stars based on 2535 reviews.
G2: 4.6 out of 5 stars based on 872 reviews.


So far, so good. I'm hyped now, but I'm still not making my move.
Verdict: Grammarly hasn't won my heart, but they do a stunning job at keeping me engaged every step of the way.
3. Conversion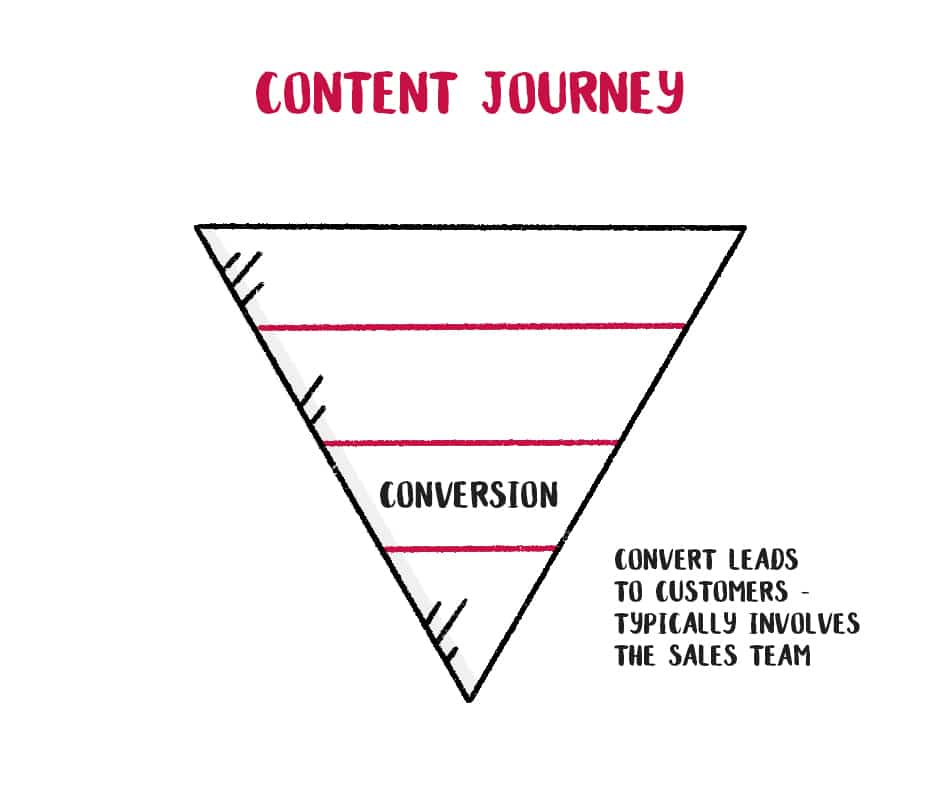 Your lead has taken the first few steps — now it's time to get them to say yes.
To convert them to customers, you might create case studies and spotlight clients of similar backgrounds, or target them with remarketing ads with exclusive offers.
How Grammarly's Conversion Stage Looks Like
Sleek. Persuasive. These are the words that come to mind when you look at Grammarly's conversion stage. Let's dig in deeper.
(i) Blog
Oddly enough, I didn't see Grammarly ranking organically for multiple keywords, at least not on page 1 of Google.
I decided to check out the blog myself and was pleased to stumble on this blog post.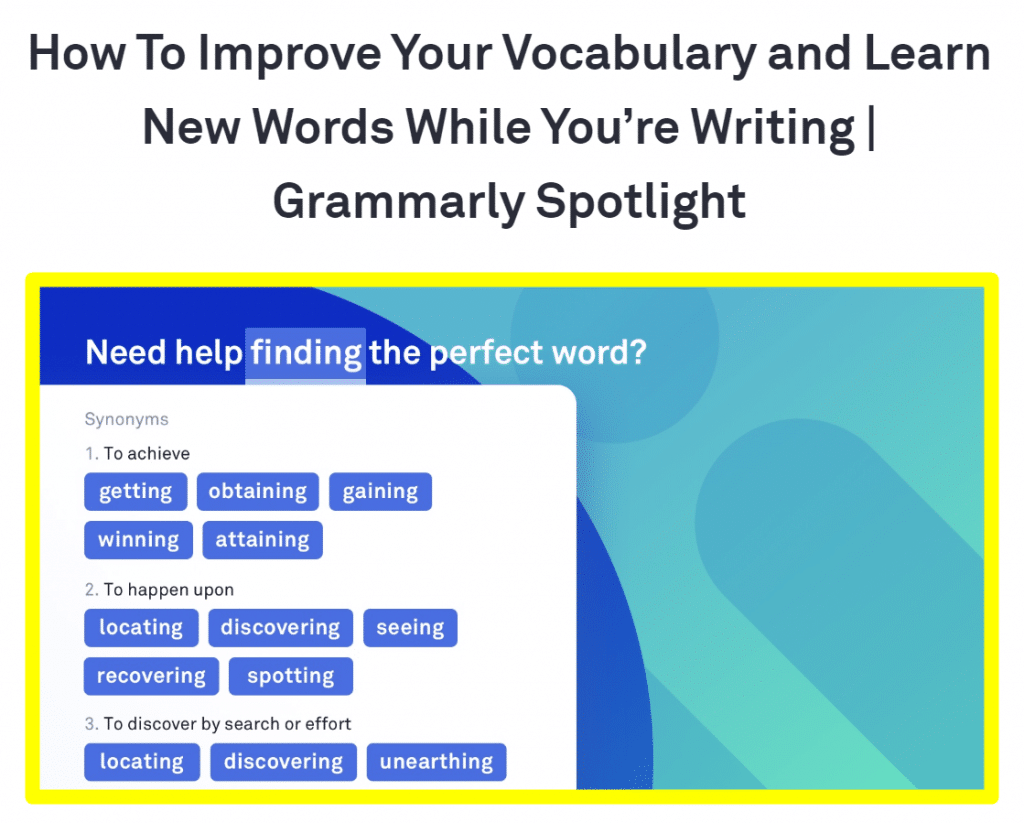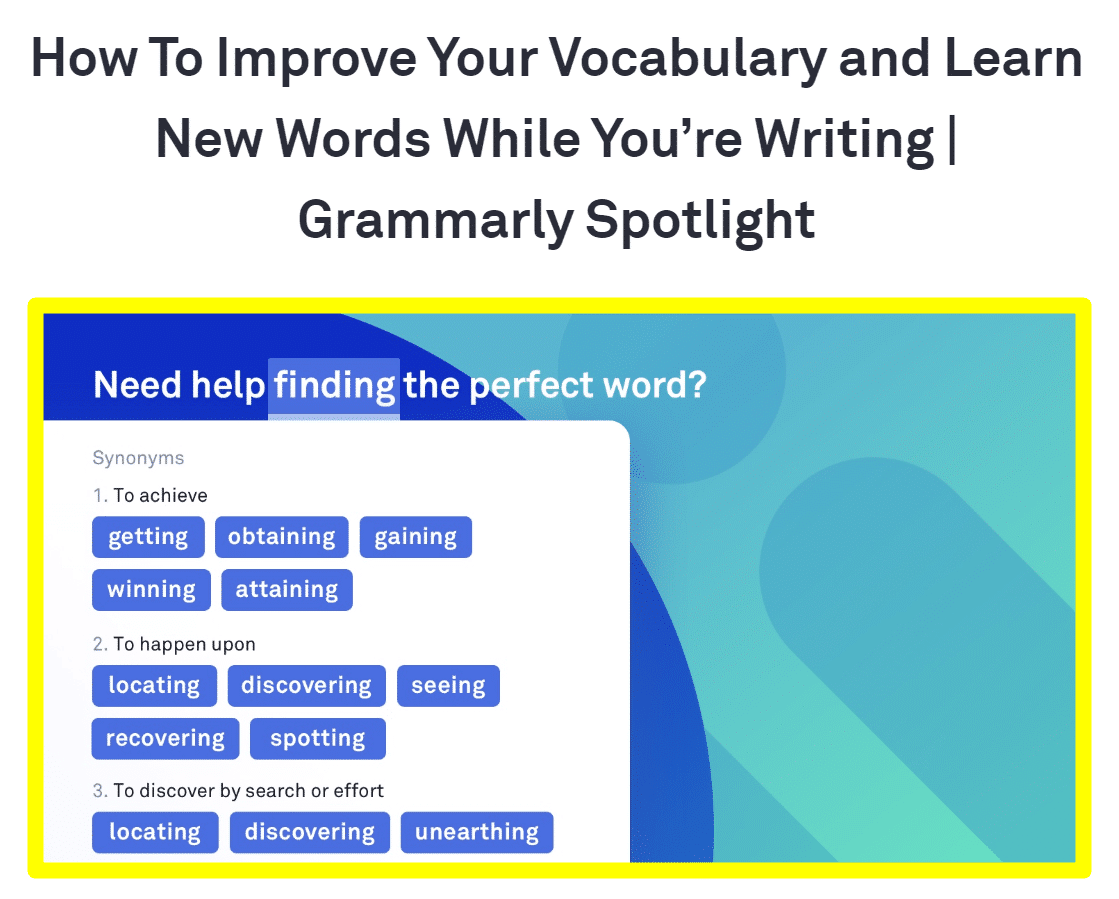 This almost sealed the deal, as it spotlighted what Grammarly can do for me.
It would be even more powerful if Grammarly showed how these vocabulary enhancements look like instead of explaining them in text.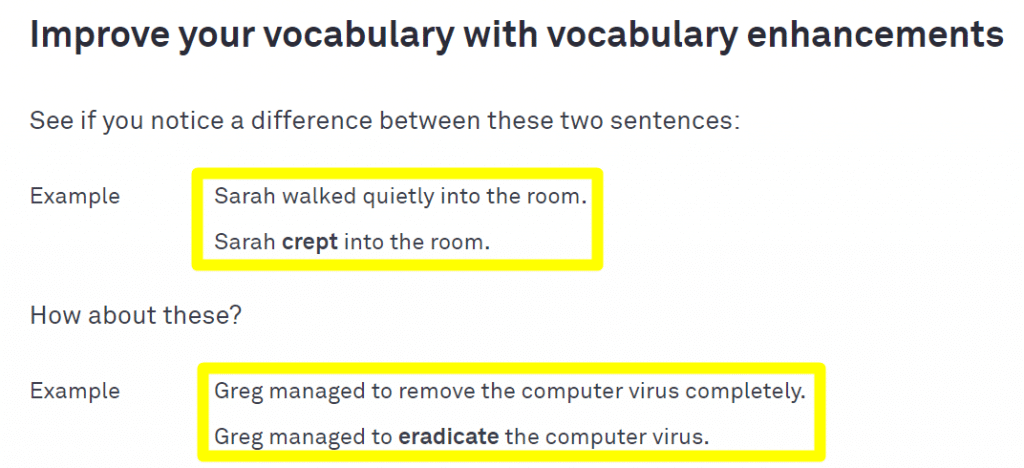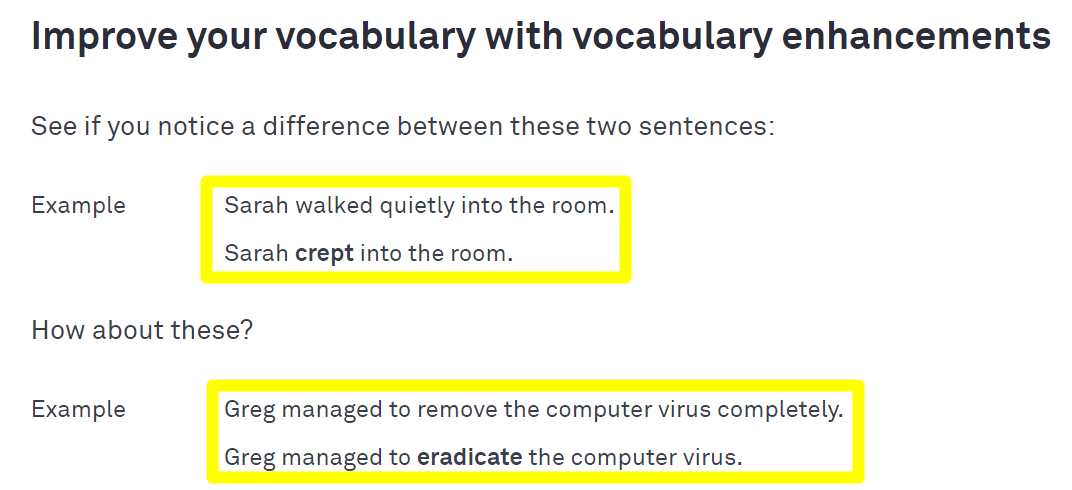 Tip: If you sell software, this is when you want to use GIFs to show your product in action.
(ii) Pricing Page
I visited Grammarly's pricing page and… meh. The copy just didn't compel me.


But as I scrolled down, my interest piqued back up.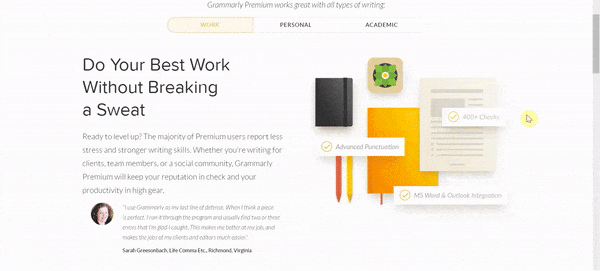 Kudos to Grammarly for showcasing testimonials that feature their target users.
The copy is on point and captures my deepest desire (i.e. to do great work).
I scrolled down again and came across a helpful comparison table, but what I saw next was the real kicker.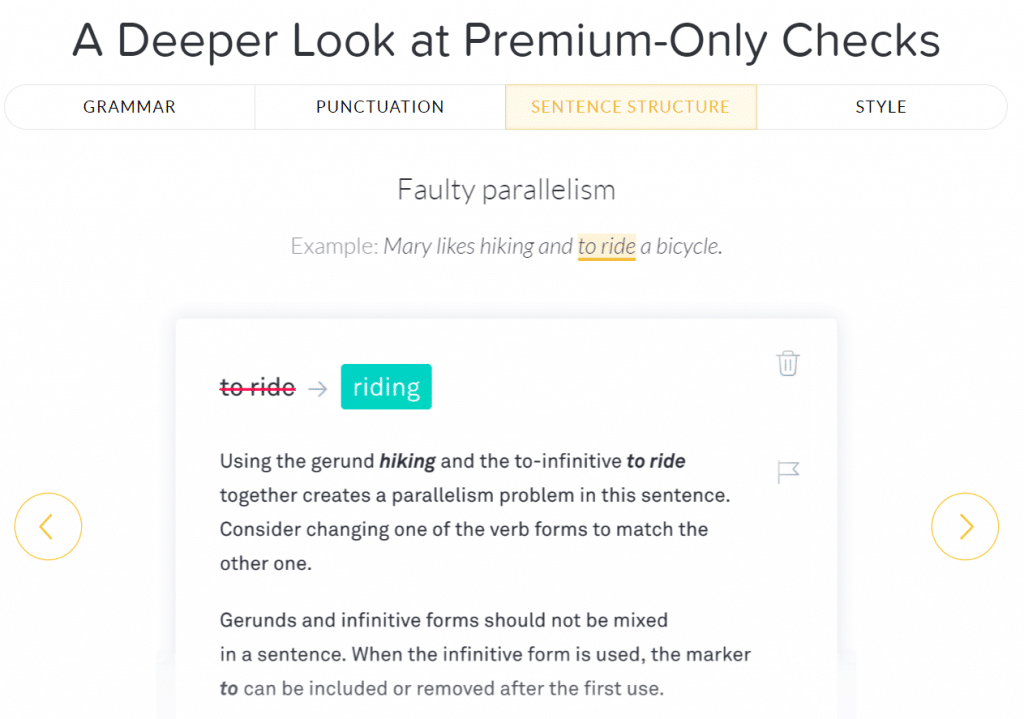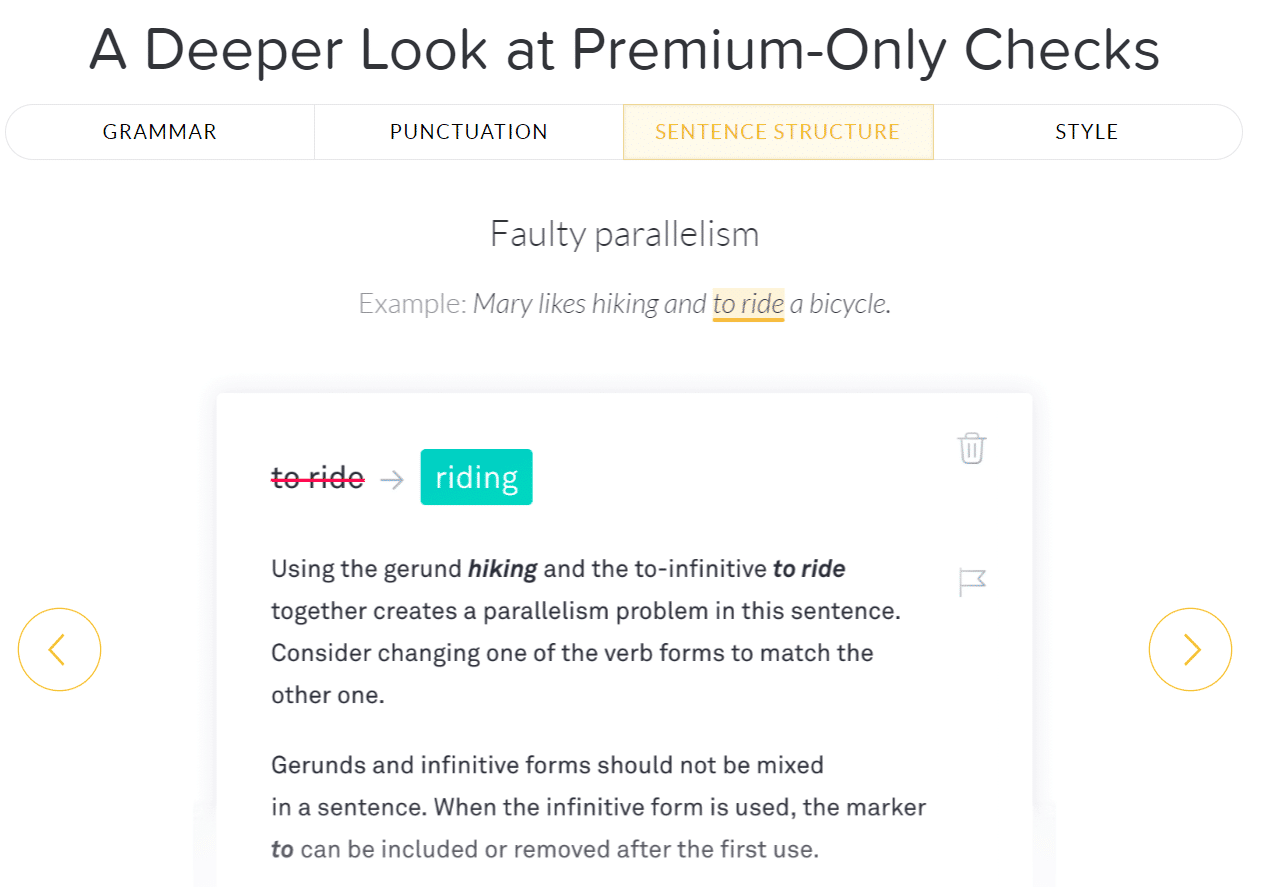 Grammarly highlighted the incredible value users get when they sign up for the premium plan.
It's sleek, and dare I say, pretty damn persuasive.
*clicks Upgrade Plan*
Verdict: Grammarly has me hooked.
4. After-Purchase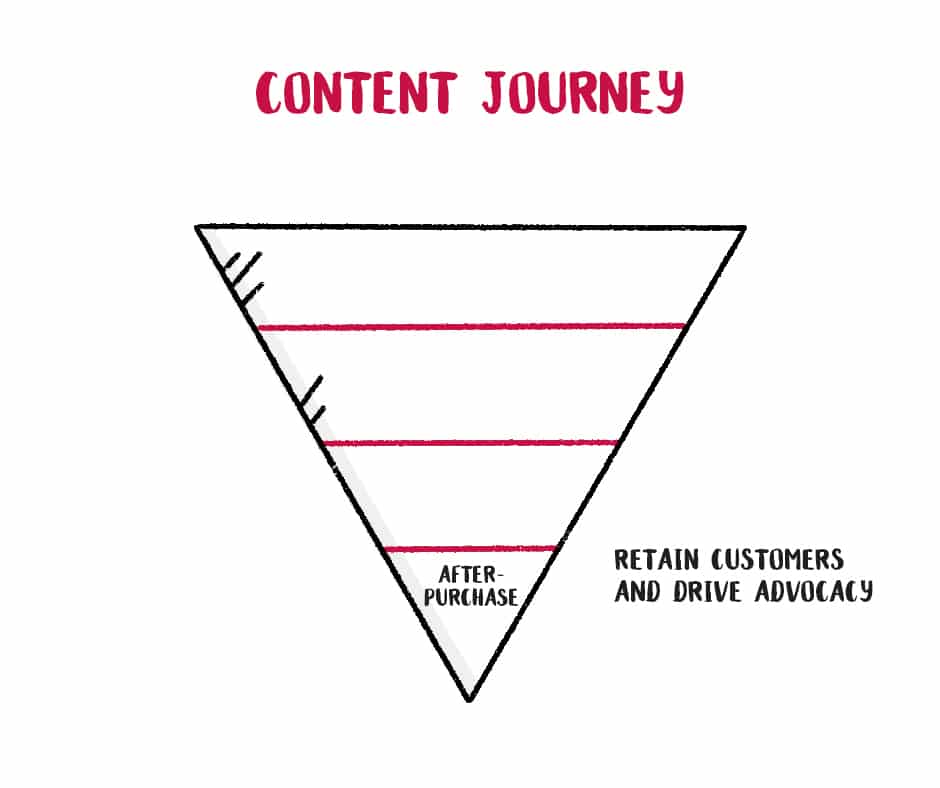 You've acquired customers! That's great, but your job isn't done.
According to Harvard Business Review, acquiring a new customer is 5-25 times more expensive than retaining an existing one. You now need to do whatever it takes to retain them.
How Grammarly's After-Purchase Stage Looks Like
How does Grammarly fare at this stage? After buying their annual plan, I kept a close eye on their emails.
(i) Email Marketing
Each week, Grammarly would send me an email update on my writing habits and skills.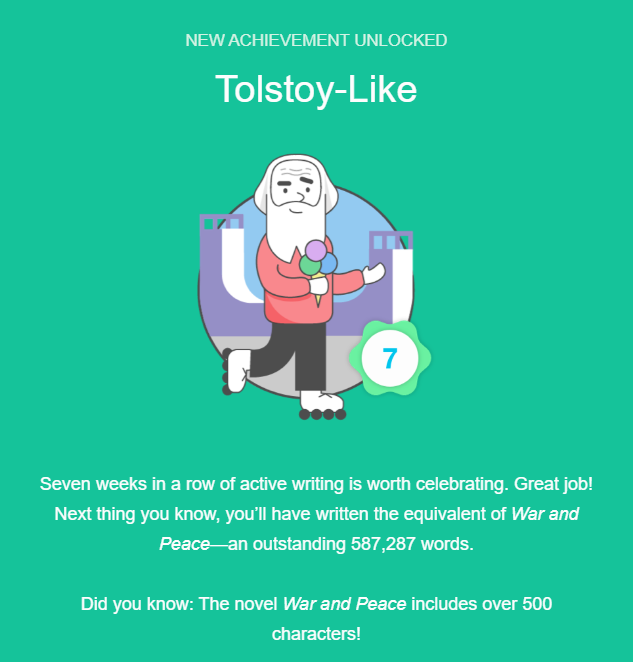 Comparing me to Tolstoy? Clearly, Grammarly knows flattery will get them everywhere. 😏
Further down the email, we see Grammarly stroking my ego showing what I've achieved with their tool.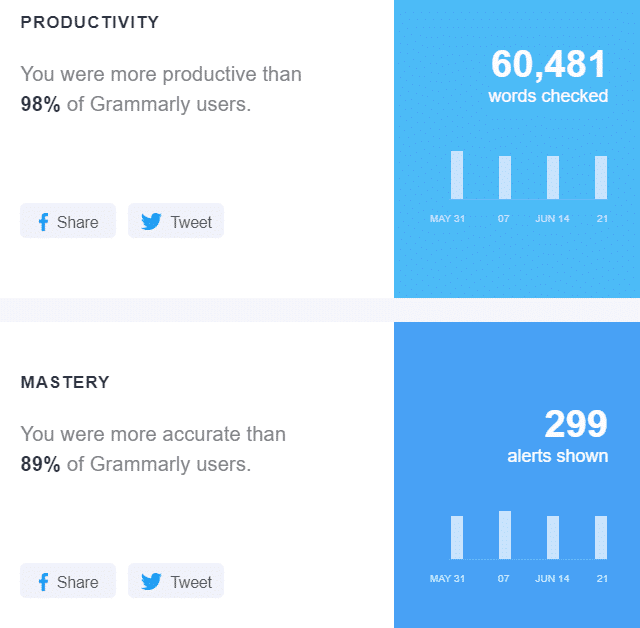 The social media sharing buttons add a promotional element. Whenever a paid user shares on Twitter and Facebook, it further spreads the word about Grammarly.
This is free marketing at its best.
(ii) Affiliate Marketing
That's right, we've come full circle.

Grammarly ends off its marketing funnel by rewarding happy customers who spread the word about their writing tool.
I submitted my affiliate application, and within seven hours, I got activated.


What's interesting about Grammarly's affiliate program is that they offer a free one-month premium plan upgrade for all affiliate publishers (paid customers or not).
This is genius on Grammarly's part, as they're enticing them to upgrade to a paid plan down the road.
Creating your content marketing strategy: Sync up your Customer Journey Map with the Marketing Funnel.
Customer journey maps and the marketing funnel are still in fact, similar tools, and they can be used in together in completely complementary ways.
Since your marketing funnel helps you keep tabs on how leads are interacting with your business, use it to understand what kind of information or assistance a lead likely needs at any given time.
For example, a lead at the top of your funnel is likely to benefit from content packages as one of your website visitors. I.E. they may come to a purchasing decision based on information from your content assets such as a blog post that explains your product or service.
Whereas, Leads at the bottom of the funnel may be ready to convert in various stages down the line, and the ideal customer may be more convinced by sending them highly personalized marketing emails.
Either way, you want to track the overall experience, and the various stages by providing them a great service.
Paying attention to your marketing funnel also helps you ensure that your marketing strategy is strong and effective at every step of a customer's journey.
For instance, maybe your business needs to focus on creating content aimed at leads who want to research your product. In fact, You're more likely to notice and correct this issue if you understand what leads need at different touchpoints of the funnel or map.
Tracking your customer's journey, though, helps you to really dig into your customers' heads.
It helps you answer all the important questions, for example:
How are they discovering your brand or business?
Are your prospects coming directly to your company website or is it through effective content?
How are they researching your brand or company?
Are they interacting with/gaining anything from content pieces like a weekly newsletter?
What issues did they run into along the way?
What can you create for more content?
How can you drive more traffic to your already existing content?
Answering questions like these can help you design a better content marketing strategy, where more effective content will go further. Reaching the right person with the right content.
Customer journey maps are like having a handy 'reality check' in place for your funnel. Try comparing your average customer's journey to the model you use for your funnel.
Do they look the same, or similar? Does your funnel's progression make sense based on what you've observed your actual customers doing?
You can use your customer's journey and content journey to make a few tweaks, If you put their data against each other use your customer journey map to find out where the problem is on your funnel.
The Marketing Funnel Is The Backbone Of All Marketing Efforts; Let this be your mantra:
But, Before you start to create content — whether it's a B2C event, a Facebook ad for an eCommerce store, or an email sequence for a B2B company — start with the funnel, and create around your customer journey map.
On their own, none of these stages will bring you massive growth.
A strong awareness stage alone will result in thousands of free users but zero paid ones. A great conversion stage, but a "leaking" after-purchase stage will reduce your customer base.
But together, slowly but surely, these four stages in the marketing funnel will help you attract a steady stream of prospects and turn them to leads and customers for good.