Content is king. I think we can all agree on this. It's also very time-consuming! I lost track of how many days I spent writing great content for the AdEspresso blog back when we started. It was worth it of course. But nowadays… I regret not doing more content curation to engage our audience and grow our community.
Don't get me wrong. To grow your business you'll need to produce your own (quality) content to generate SEO traffic and build brand awareness. Content curation is not a replacement for a solid content production strategy.
What is Content Curation?
I'll try to keep it short, I'll soon write a more comprehensive blog post all focused on content curation and how to do it to grow your business, while this post is more focused on providing you examples of how companies are leveraging curated content as part of their marketing strategy.
Content curation is the art of searching, selecting, commenting on, and distributing to your audience the best original content already available on a specific subject to meet your users' needs.
It's important not to confuse Content Curation with Content Aggregation. If you want to really add value to your audience and have a solid content marketing strategy, you should not randomly aggregate a bunch of links. Being a content curator means hunting the best blog posts, ebooks, podcasts, and any other kind of content, and sharing it with your users adding your own comments or unique point of view.
Benefits of Content Curation
Content curation is a great addition to your content marketing and social media strategy. Consistently sharing with your audience great curated content will help you all across the board:
To create a more interesting newsletter
To constantly have something interesting to share on social media
To share with your audience time-sensitive news
To position yourself as a thought leader and the go-to resource for industry expertise
To build great relationships with influencers and other companies in your space
Overall Content curation can be a very effective addition to your content marketing strategy no matter if your goal is to build a community, strengthen your personal brand, promote your company, write blog posts in a snap, or, as you'll see in the examples below, even monetize your skills at curating content.
Yes, there are a lot of people actually making money out of their curated email newsletters.
How to curate content effectively
This is a huge topic and I'm gonna write a more in-depth post on how marketers can effectively curate content.
However, here's a quick overview of the steps to get started:
Get Inspired – Check great examples of content curation to get inspired (You're in the right place… keep reading).
Find your sources – Create a list of the best blogs, tweeter accounts, and influencers to regularly check out to discover great content.
Organize your curated content – Organization is everything in content curation. You can use bookmarks, Notion (That's what I'm using), a Google sheet, or specific content curation tools. It's up to you, just pick a system and stick to it.
Content Calendar – Hopefully you already have a content calendar for your marketing activities. Decide how often you want to share curated content and make sure you stick to a consistent schedule. The same content could be shared with different frequencies on different channels.
Distribution Channel – To reach as much of your audience as possible, I recommend distributing your curated content on multiple channels. Start small, with a couple of channels, and then add new ones over time. You could share once per week in your newsletter or daily on social media. You could even make quick YouTube videos with your top 5 picks of the week!
Analytics – It's important to measure the impact of your content curation effort. How many users are interacting with it? How much traffic are you driving to the curated content? Tools like bit.ly or JotUrl can come in handy here. These statistics will also help you understand what content your audience prefers.
Ok, enough said. Let's get to some great examples of how content marketers around the world are leveraging content curation.
Email Newsletter Content Curation Examples
Newsletters are a great way to distribute your best-curated content. They are also one of the oldest forms of curation.
You have two ways to go here: A purely curated newsletter or a mix of original and curated content. Both can be successful. Personally, I prefer the latter.
Let's see some examples of both approaches.
Launch Ticker
Most brands use content curation to supplement their own marketing efforts, but some will actually monetize it. Launch Ticker is a great example of a brand that does just that.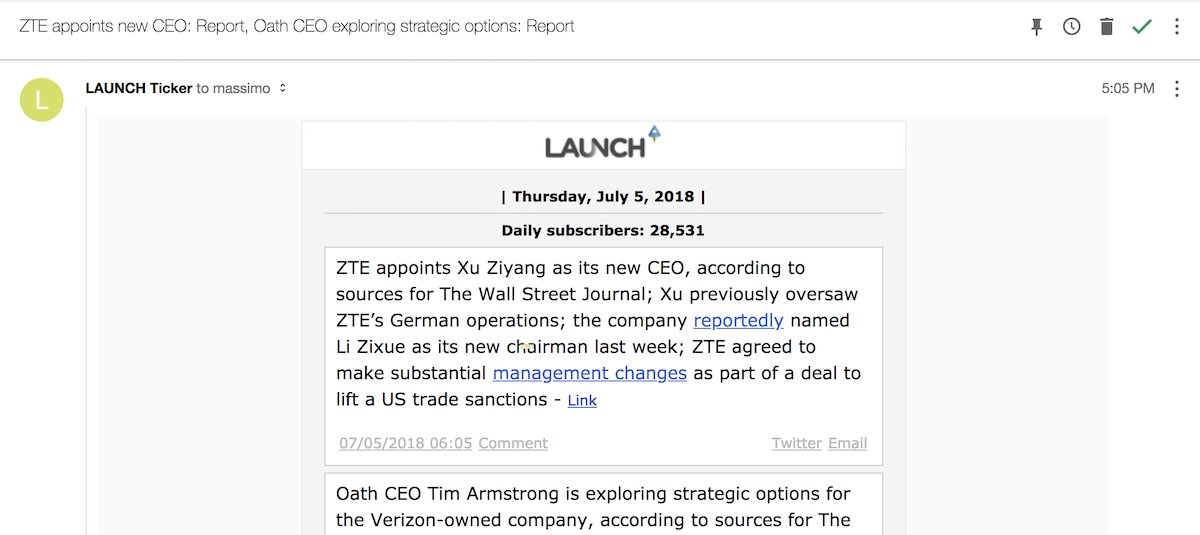 Launch Ticker curates the top stories in the tech industry and compiles them into brief email newsletters that can fill you in on everything big happening in ten minutes or less. Each story is summarized in three hundred words or less, making them exceptionally digestible, and features a link to the full story in case readers want more information. Members can comment on the stories and interact with each other, sharing opinions and what they think of the news, building a sense of community.
When users first sign-up, they can get access to a free 12-month trial. After that, if they want to keep getting those emails, they need to pay $10 per month (or $100 per year on the annual plan). After those 12 months, readers are likely to be invested enough that they'll pay, and in large numbers, that's a great deal of profit for simple content curation.
The flow of startup related news is just so overwhelming that I happily pay them $10 every month to get this great summary of the top news each day!
Moz Top 10
How not to mention among our examples of content curation Moz Top 10. This long-lasting curated newsletter lists 10 of the best SEO content around in every issue.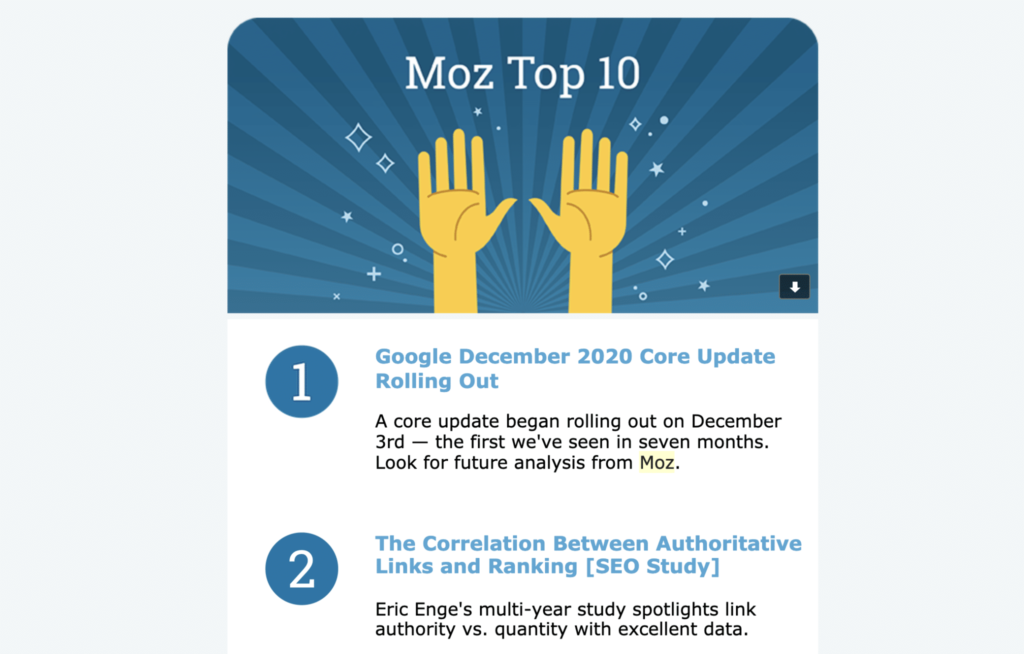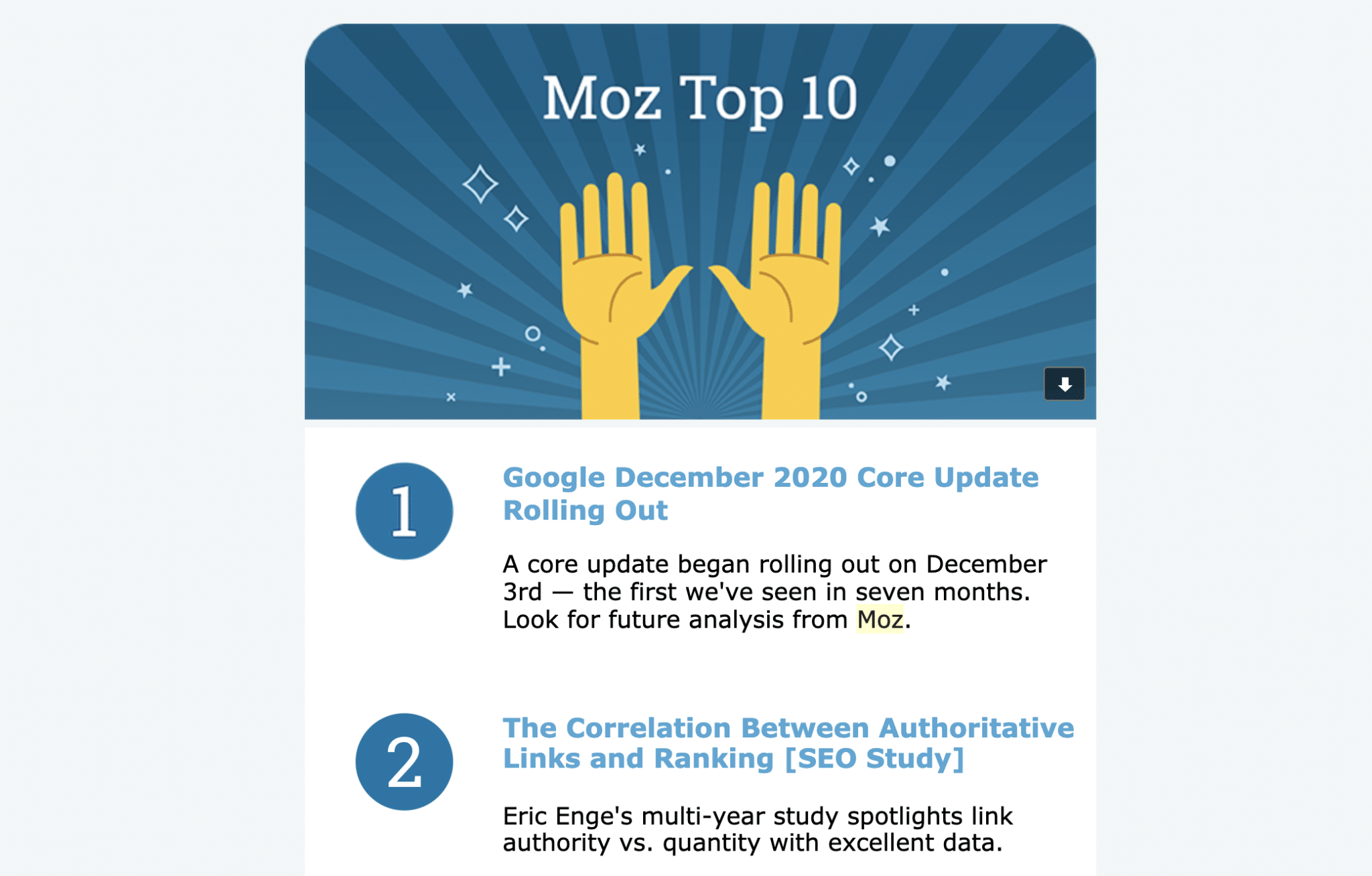 The value here is 99% in the curation process. As you can see there's little text added to each of the posts selected. SEO is a crowded space with a lot of content published every day.
The real value of this newsletter is picking only the 10 blog posts that are worth reading.
Hiten Shah's Product Habits
Hiten Shah needs no presentation. Neither does his amazing weekly newsletter with top curated product posts: Product Habits.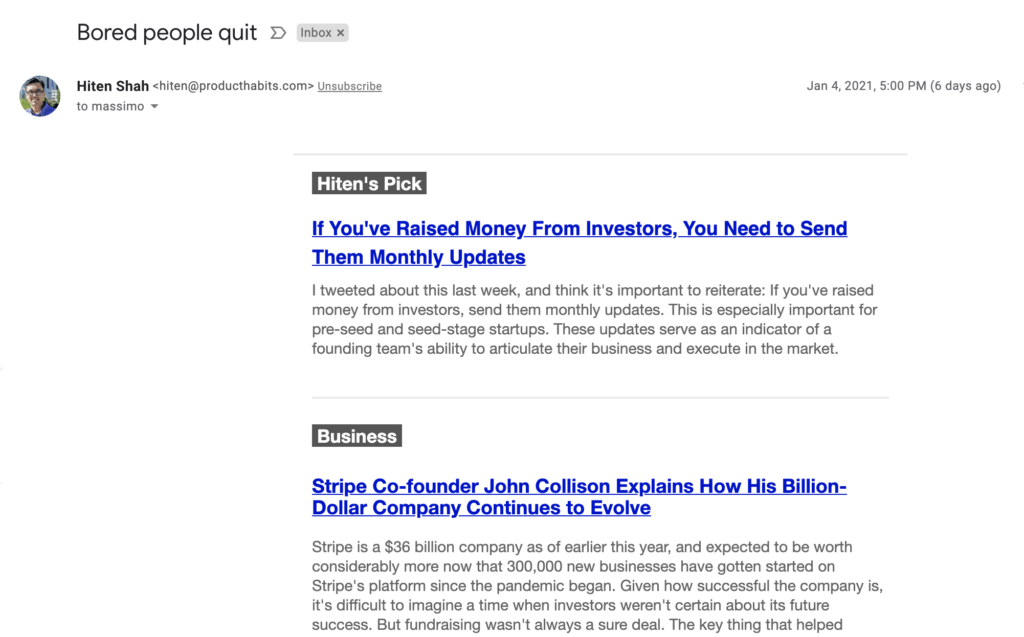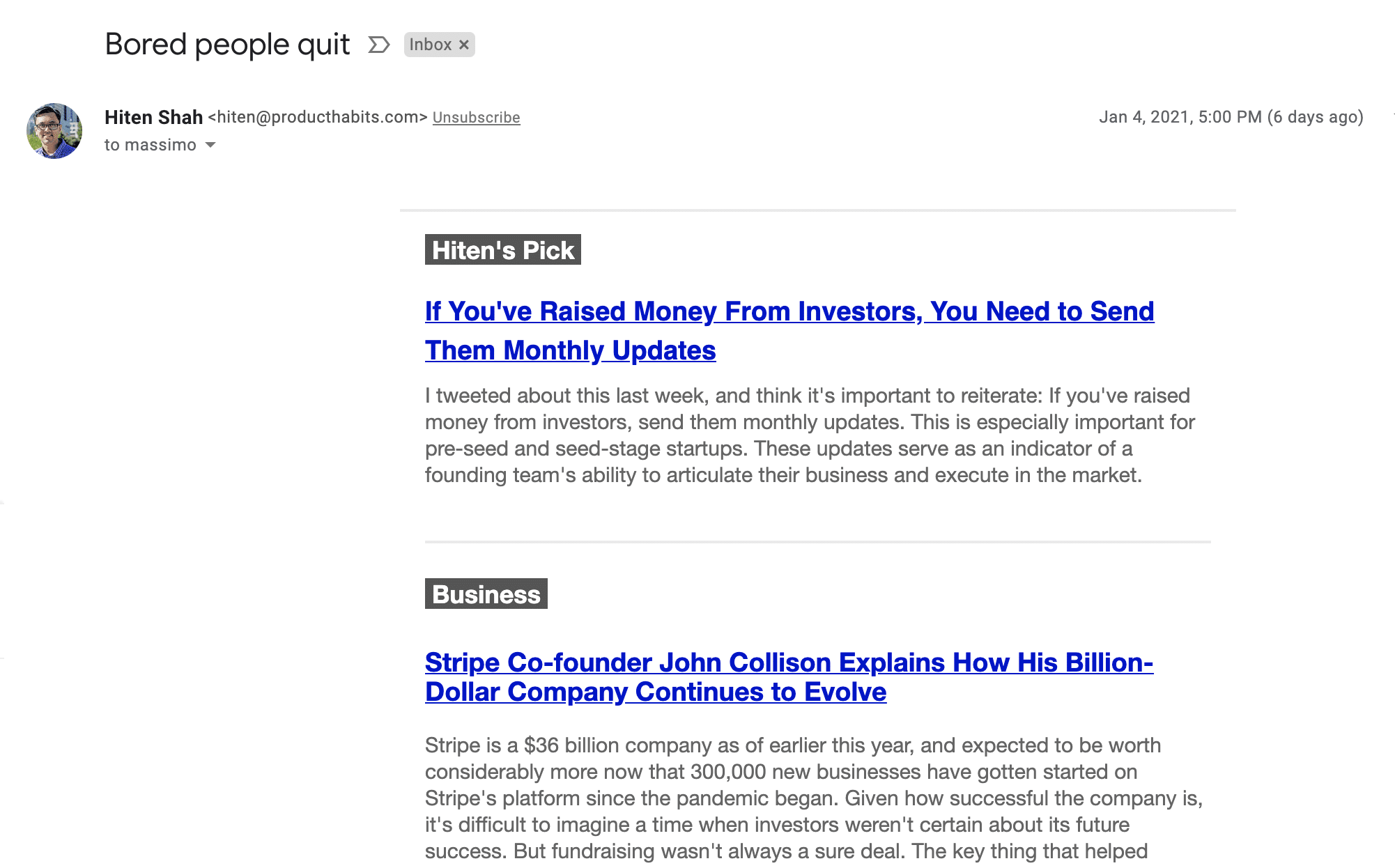 This newsletter is more content-rich compared to Moz's. Hiten adds a good amount of personal thoughts to every post he curates to reinforce his position as a thought leader in the product space.
Being a content marketing genius, Hiten knows the advantages of content repurposing. The posts he curates are not only the core of his newsletter but they also land on the News section of the website for those that don't want to wait for the next email.
Marketing Brew
Morning Brew and its sister newsletter Marketing brew are two other great content curation examples.


The real value for readers is the original content of the newsletter, but in every issue, you'll also find a section dedicated to top marketing or business posts they've curated.
PS: Morning Brew is also one of the finest examples of a business entirely based on sharing relevant content over email for a very specific audience. Every content marketer should check out their referral program which was key to their stellar growth.
Lodging Interactive's Hospitality Social Media News
Lodging Interactive is a full-service marketing service that's geared specifically towards hotels and resorts. Their biweekly newsletter quickly summarizes the recent social media changes that are relevant to hotels and resorts, detailing what the changes are and how they will affect the hospitality industry in particular. They link to posts from social media and technology experts who first break the news, and then elaborate more.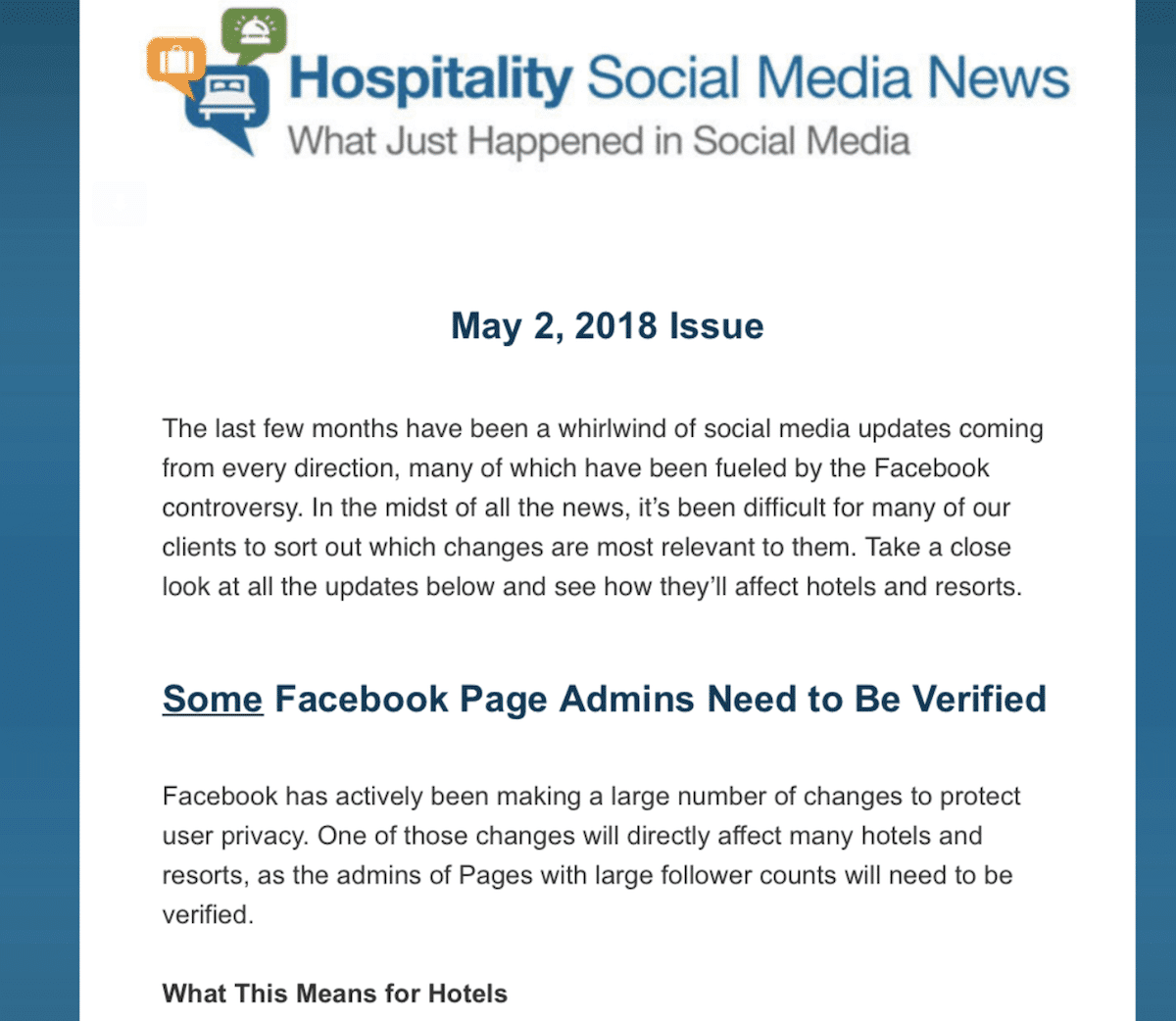 This is directly relevant to their audience. It works so well because they're taking generic information and putting a valuable, relevant spin on it that their readers won't find anywhere else.
Their newsletter, as a result, demonstrates clear expertise, because while they curate news, they share their own actionable knowledge for how it will affect businesses in their specific industry. It also helps to establish a relationship early on with their clients, and show the value of a marketer who knows their stuff, both of which will help them sell their services more effectively.
Social Media Content Curation Examples
Even if you don't realize it, every time you're sharing an interesting blog post on social media, you're curating content. And of course, social media should be a pillar of your curation strategy.
Maryann Rizzo – Pinterest
Maryann Rizzo is an interior designer and the second most followed account on Pinterest with more than 9 million followers.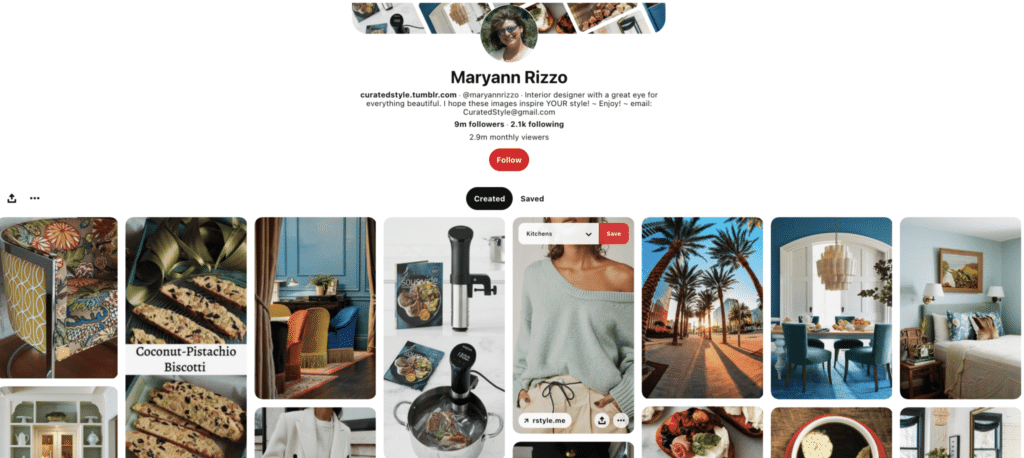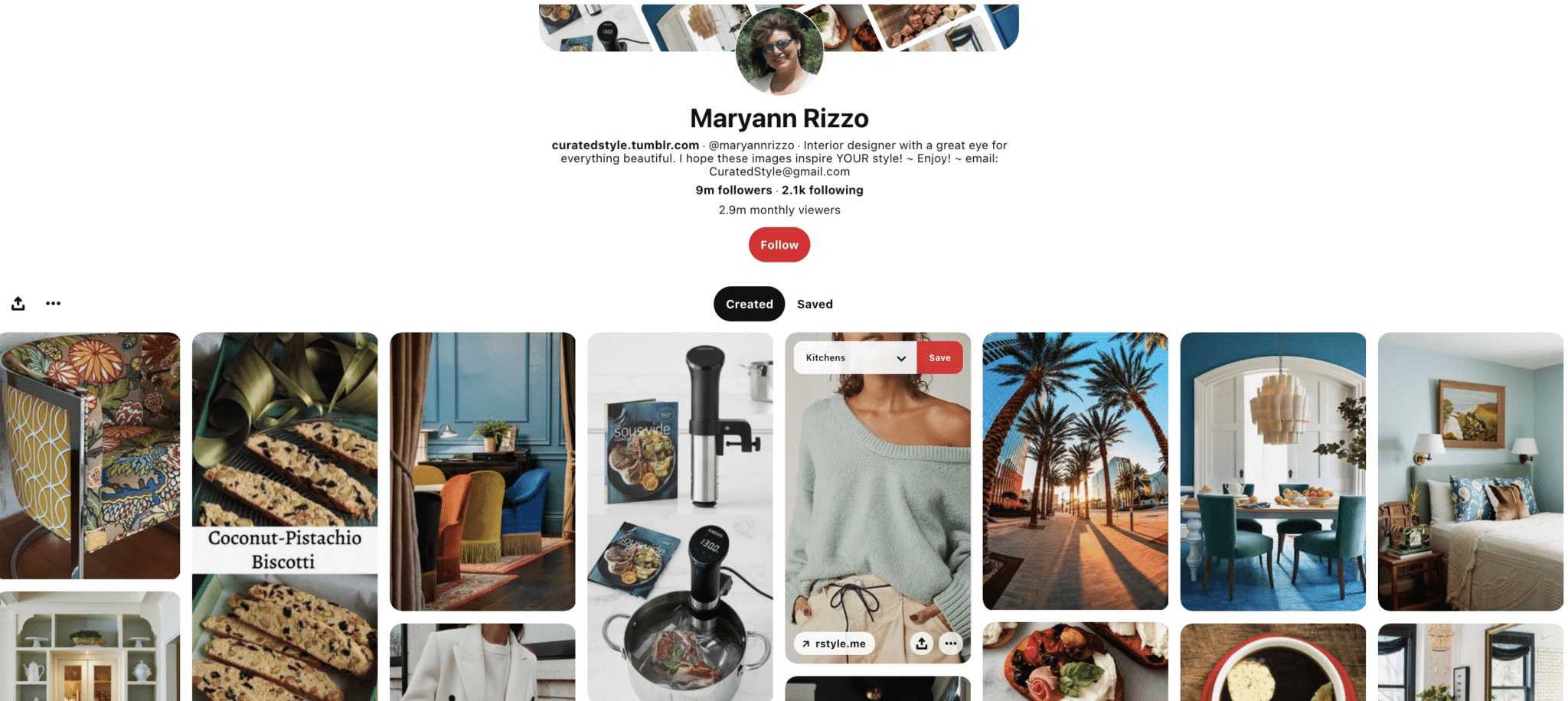 Curated contents are the bread and butter of Pinterest. The social network's main purpose is basically curating the best images for other users' inspiration. Maryann is likely not a content marketing expert. She just has a great eye for great interior design images and her audience seems to agree.
Mari Smith – Facebook
Facebook's algorithm prefers original content over curated ones. That doesn't mean you should hold back sharing relevant content with your audience as long as you're adding your very personal point of view.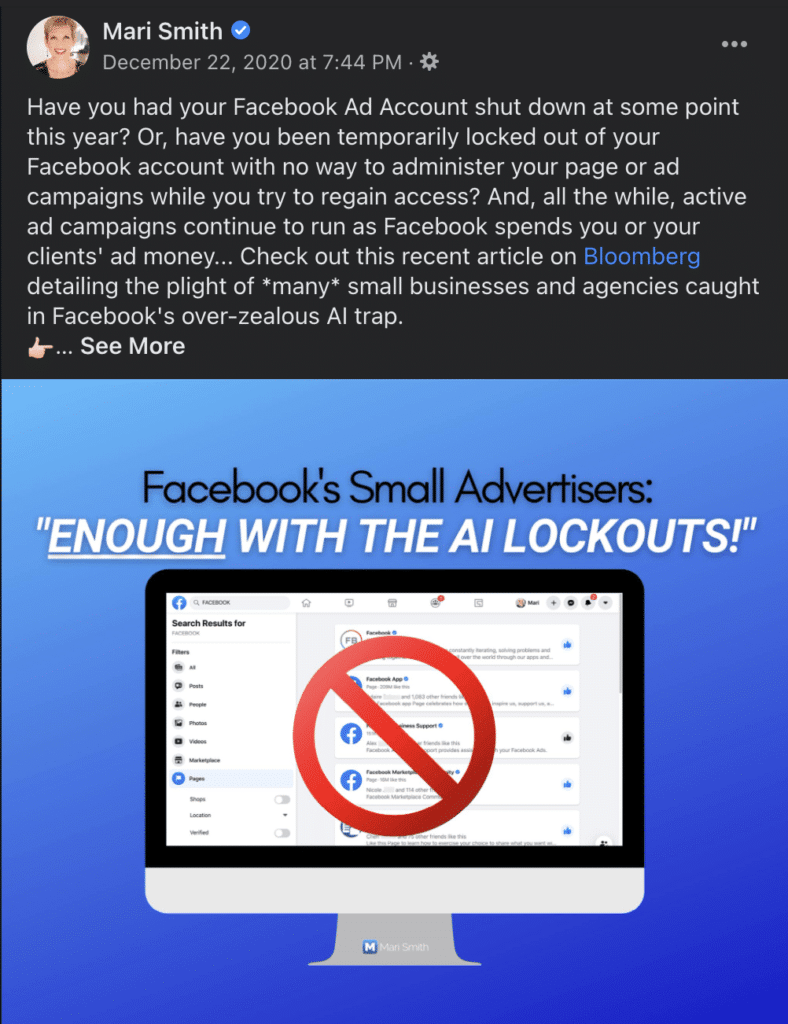 That's what Facebook's Queen, Mari Smith does. When sharing someone else's posts she always adds a lot of insights and her personal touch, even creating a custom post's image with her branding.
Her content curation efforts always pay back with a lot of engagement on every post she shares! Still, most of her posts are original content, as Facebook's best practices recommend.
Guy Kawasaki – Twitter
Marketing legend Guy Kawasaki has 1.4m followers on Twitter and while he's not shy of publishing his own original content, he also shares a lot of curated content to beef up his content marketing strategy.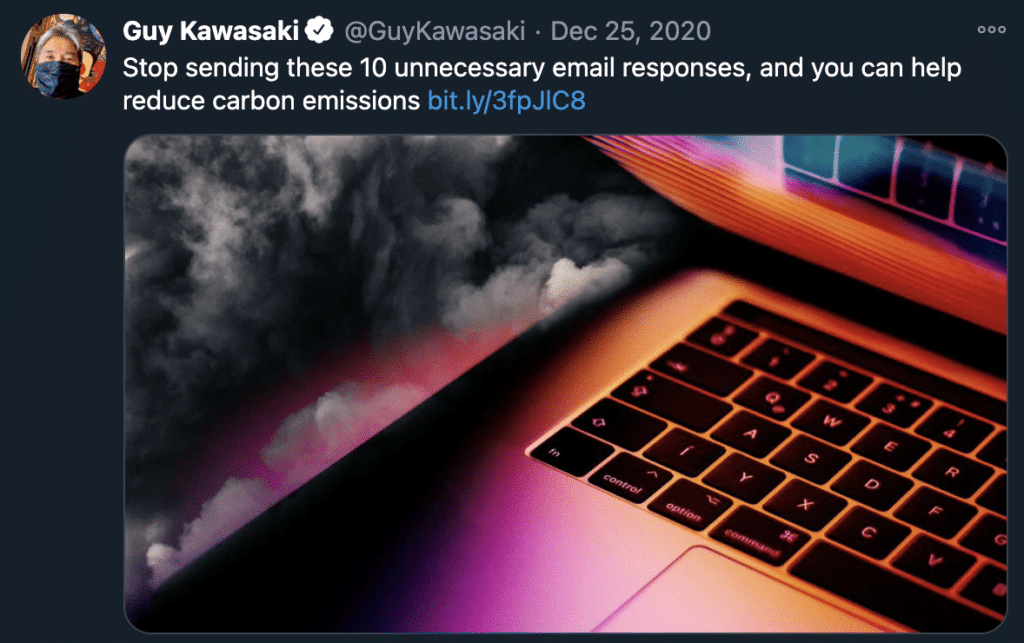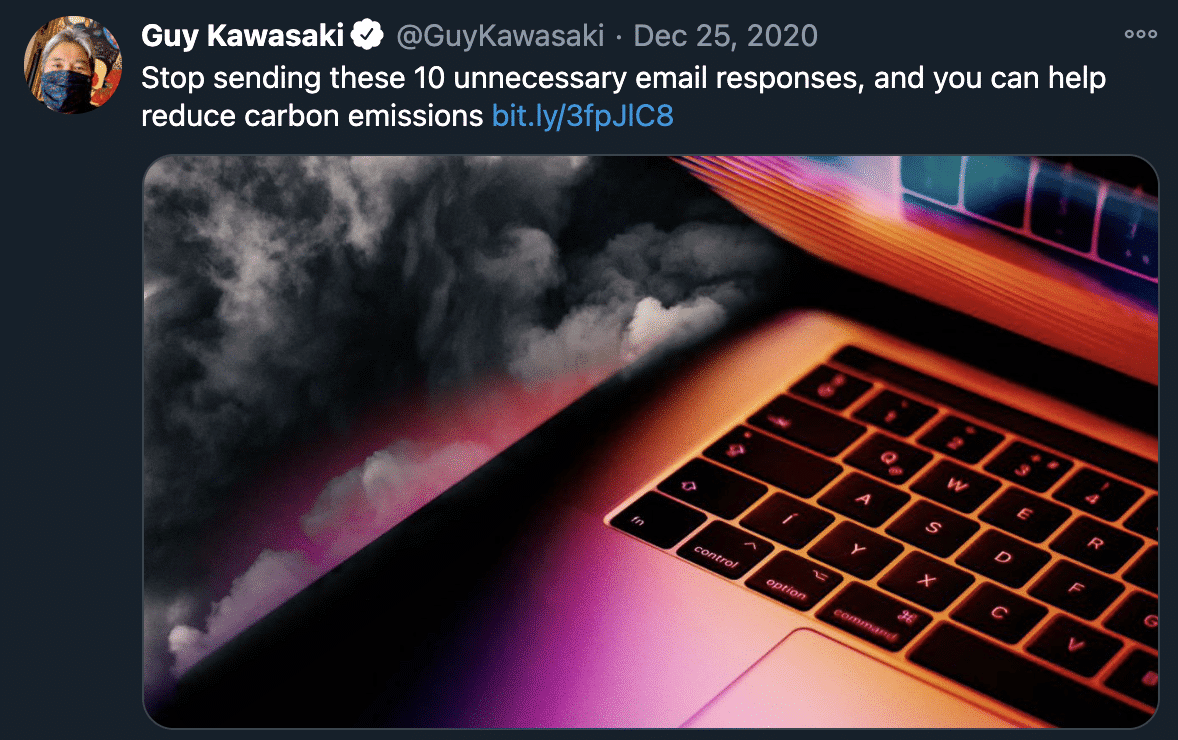 He's another great example of how curating content should not be your primary focus on social networks but just the cherry on the pie for your editorial calendar.
Porsche – Instagram
Instagram is not one of those social networks that makes content curation as simple as hitting the retweet button. Yet top brands are leveraging User Generated Content to spice up their Instagram presence with great pictures.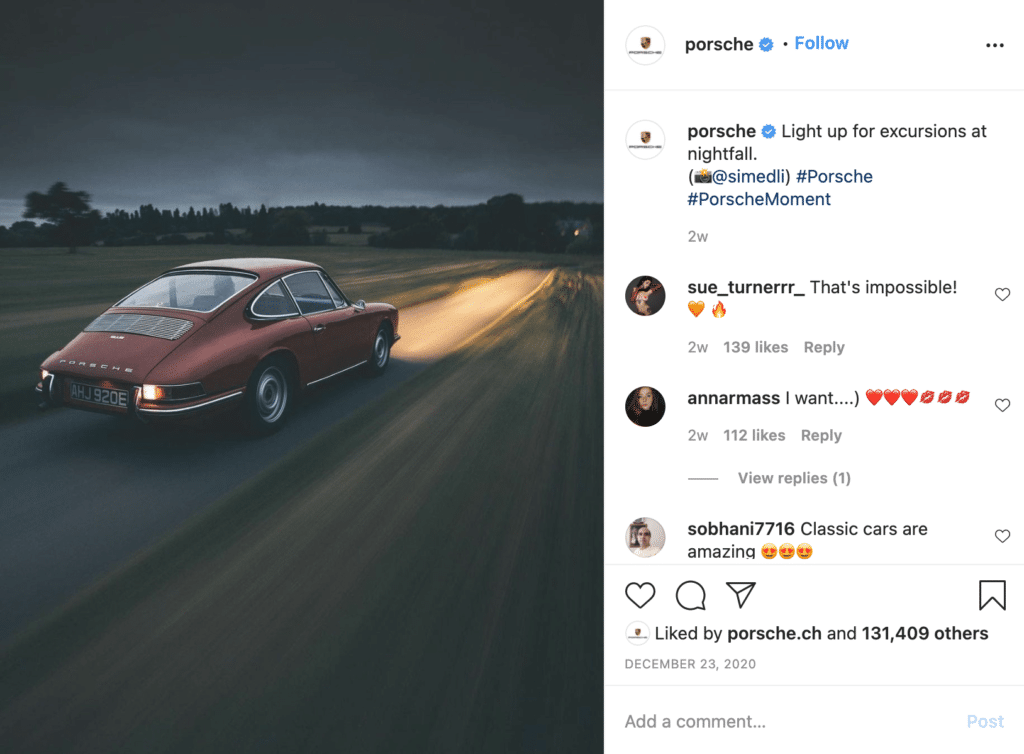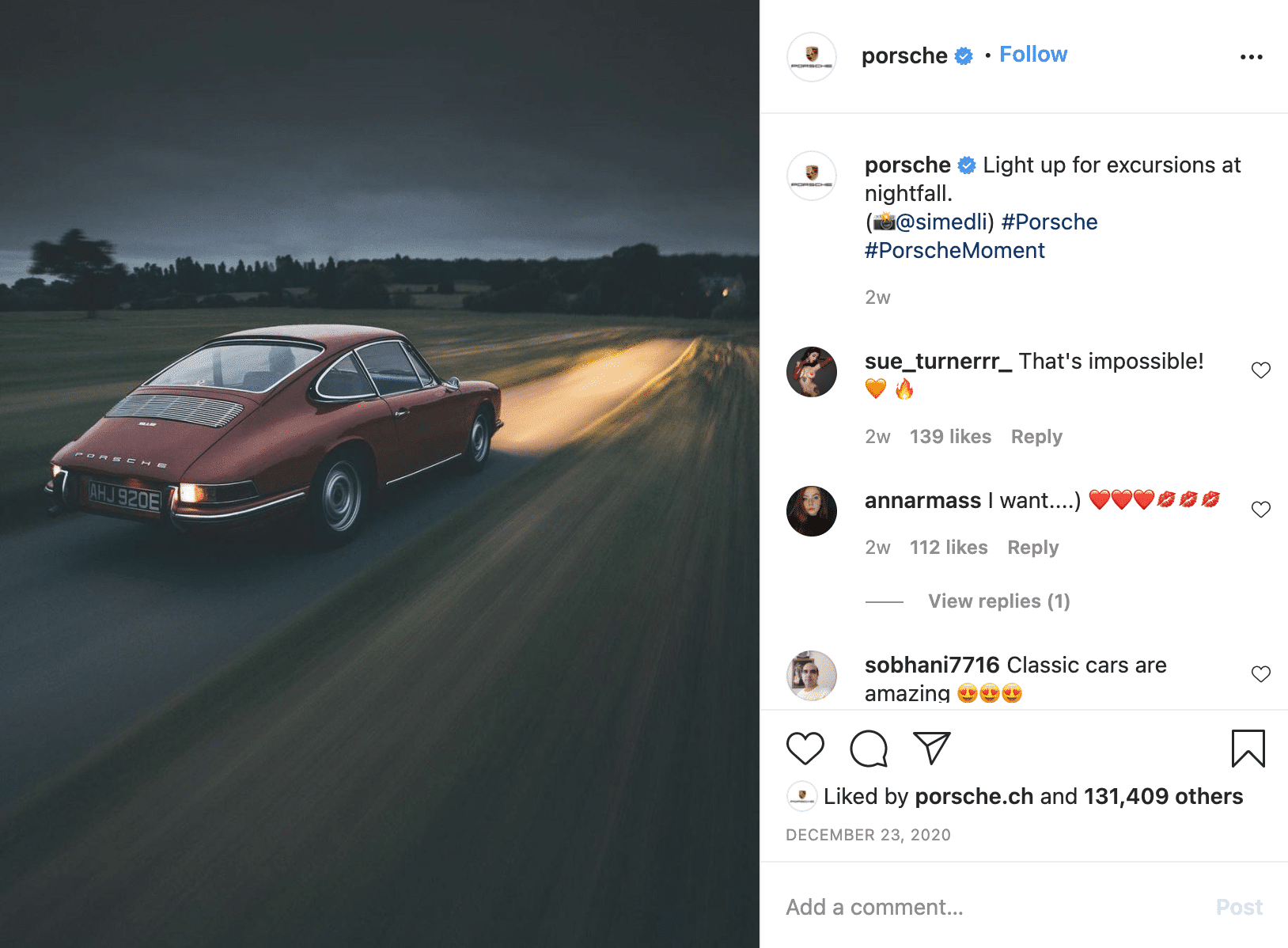 Porsche is just one of many brands whose content marketing plan includes republishing their users' pics on social channels.
Content Curation Website Examples
Zest
Zest is a chrome-based extension for marketers that allows them to share and discover industry content. This content is diverse, too; you can see videos, whitepapers, articles, and infographics, making the tool even more valuable.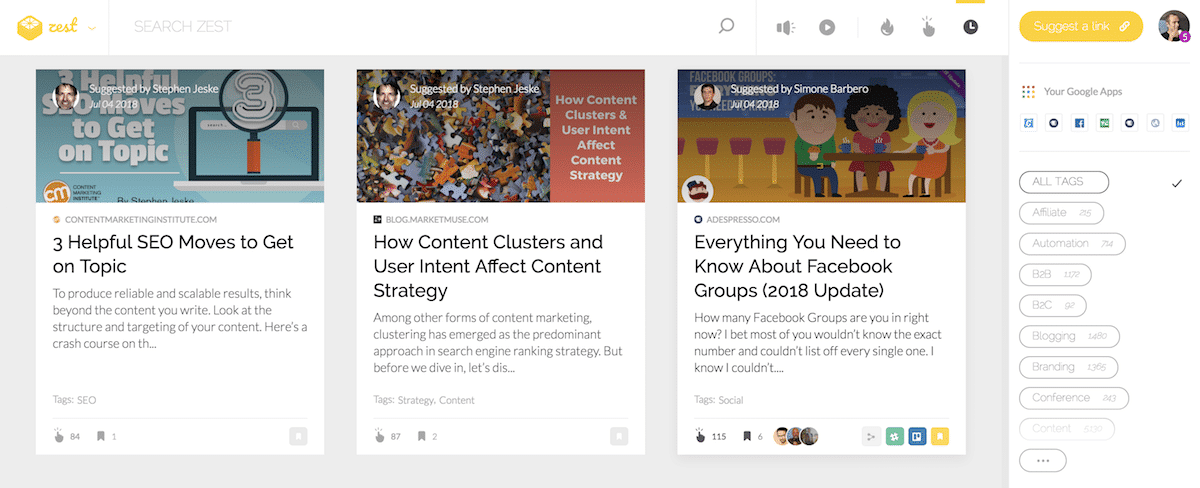 In order to keep overall quality high (and flagrant self-promotion low), all content that will be featured on Zest goes through a manual approval process. This ensures that only the best of the best is being shown in the feeds, which is exactly what readers want to see.
Simply put, Zest's entire existence is based on not only curating the best content in their industry but actually having other people do the curating for them. All they have to do is approve it. If that's not genius, I don't know what is.
Even tho' it can be overwhelming to have so many great marketing articles one click away every time you open a new browser tab, Zest has become my favorite curated source of marketing news.
Brain Pickings
Brain Pickings' tagline is "an inventory of the meaningful life," and it's a great example of curation for the purpose to entertain.

Creator Maria Popova puts together entertaining and interesting articles that contain a collection of assorted quotes or theories from other people. Think poems, songs, and more. She even gets creative with this, as some of these people are great thinkers or writers dated back several centuries. She'll often tie this in with relevant artists or individuals from today's time, bringing things full circle.
Sparktoro
Sparktoro's Trending is a section of the site that shows readers the top topics in the marketing industry. The tool compiles tweets from thousands of online marketers and prioritizes them based on the traction they get.
Here's how it works for readers. They see a feed of different topics, and can click on the ones that interest them. If they click on the topic title, they'll be taken right to the article discussing it.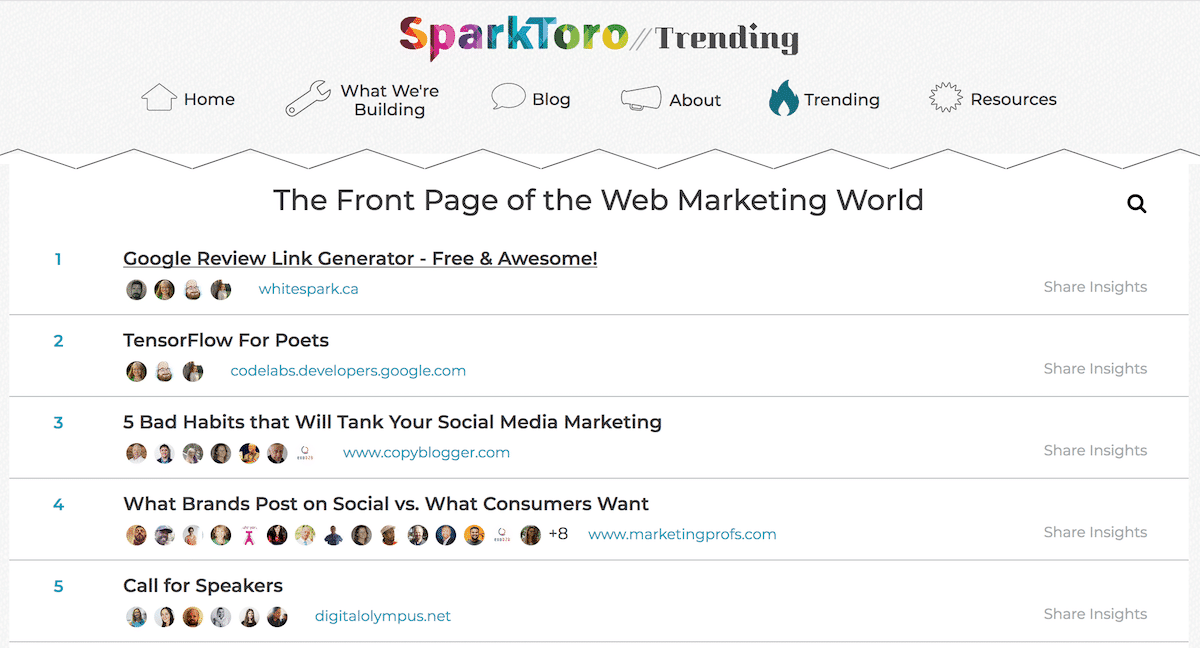 If they click on Share Insights, however, they'll see screen below. They can still access the article, but they'll also see top tweets about the subject and other similar articles. This gives readers a big-picture view of what's happening and how it's being received in the marketing world.
This strategy compiles not only great articles, but the immediate social response to those articles to add additional context to the conversation. This alone makes the tool worth using, and it sets it apart from competitors.
Hootsuite's Research Curation
If you write content that is statistic-heavy, this may be a strategy that you're already using. Hootsuite is a great example of a site that focuses on research curation in some of their posts. An example is their post on the best times to post on social media.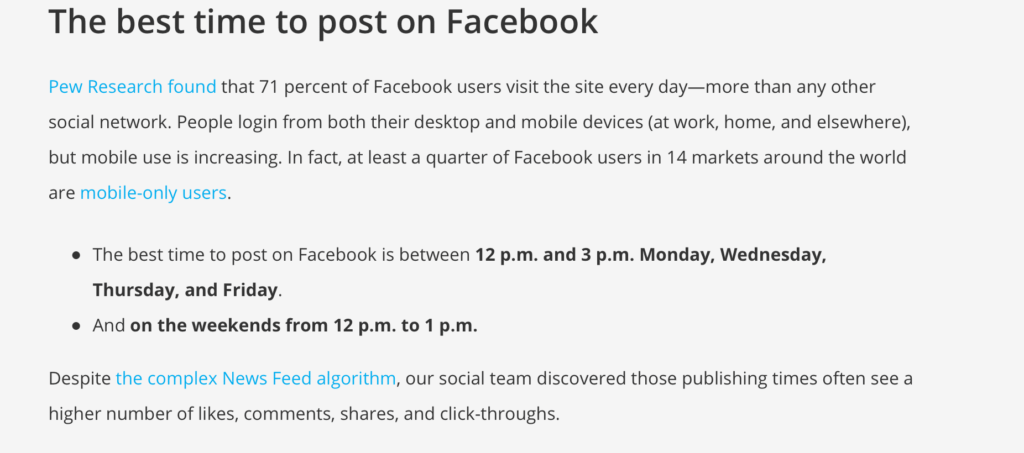 In these articles, they analyze massive amounts of research and data from third parties. They can compile this data into one hyper-valuable blog post, infographic, or video (or all three). They give credit where it's due, which gives the originating sites powerful backlinks and a great platform with lots of readers. Hoosuite, in exchange, has created one exceptionally valuable blog post that readers will keep coming back to for a full and comprehensive look at the data.
This is a great strategy if you want to provide actionable data to your audience, but you don't want (or don't have the resources) to run your own case studies.
GrowthHackers
GrowthHackers is a great example of community based curated content website. It's been around for almost a decade now and the community grows stronger and stronger every day, making sure only the top blog posts make it to the first page.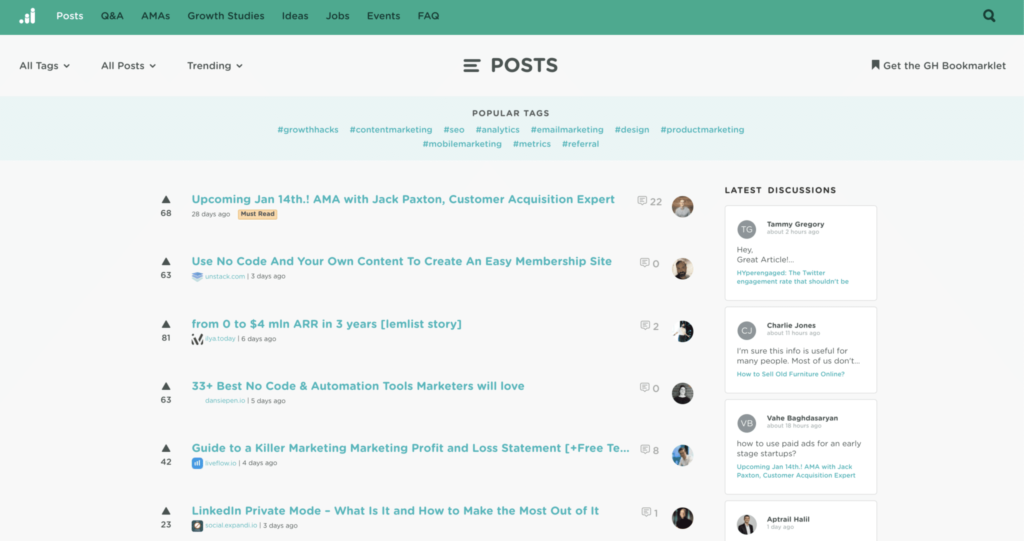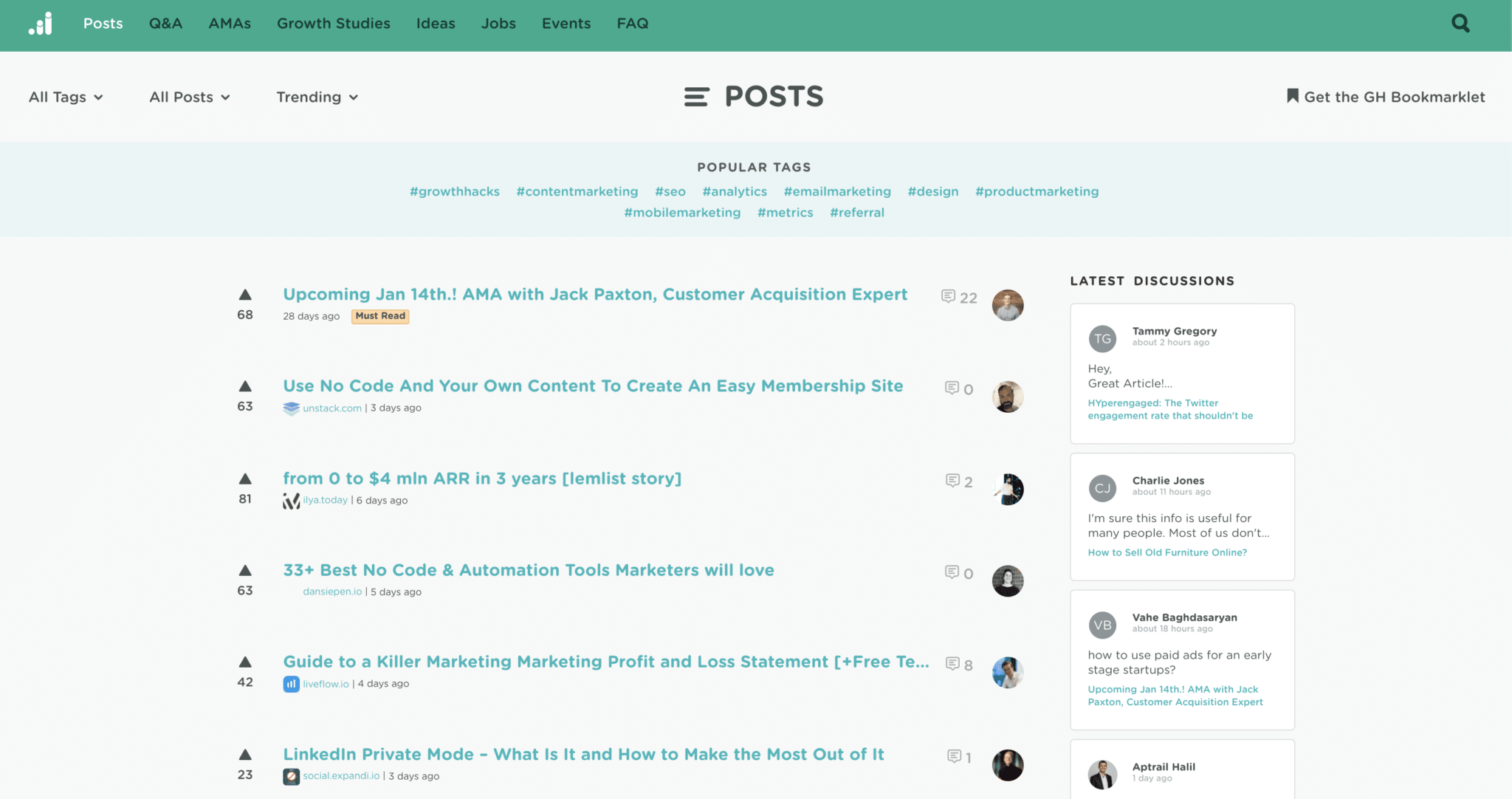 It's a win win situation for everyone. Marketers get exposure to a large community and receive a lot of traffic if their post is upvoted. Regular users enjoy only the best of the best of marketing news every day.
INC's Expert Curation Posts
Big names and influencers can be powerful driving forces, and if someone sees their name on an article they're more likely to click. INC's expert curation posts like this one utilize that benefit to their advantage, compiling articles that feature knowledge from multiple influencers and experts that readers will be excited to learn from. They'll compile these quotes and contributions into a single original post and publish it online.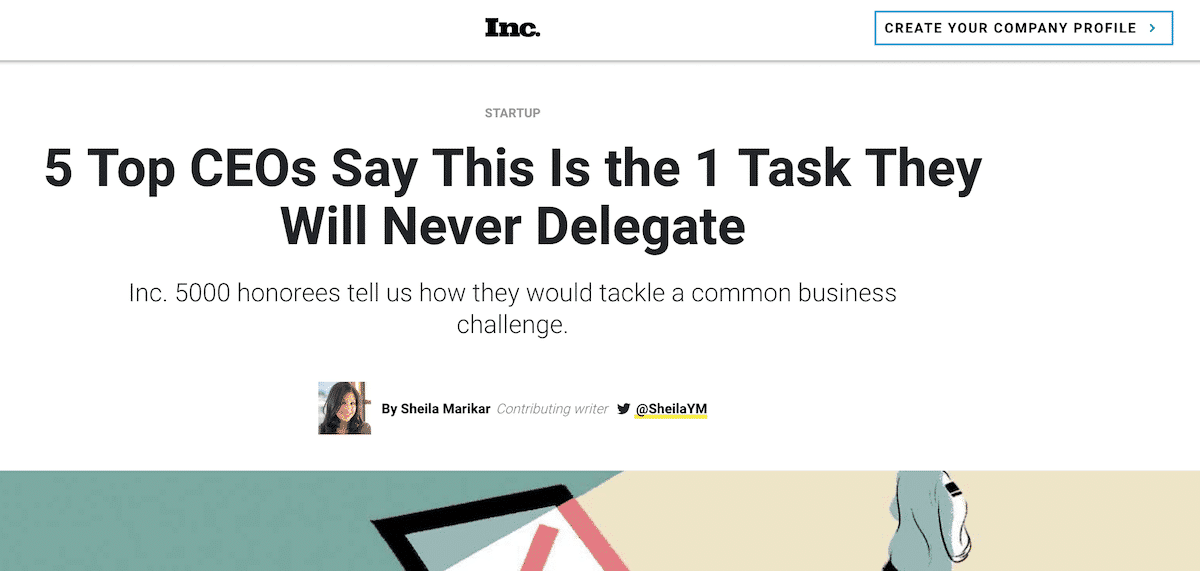 This strategy can take a little more time and effort than some of the others on the list; you may have to hunt down the experts to get original quotes and their permission. It also still requires you to publish your own content. That being said, it can get more clicks to your site, especially when those influencers start sharing, and build relationships with powerful industry peers.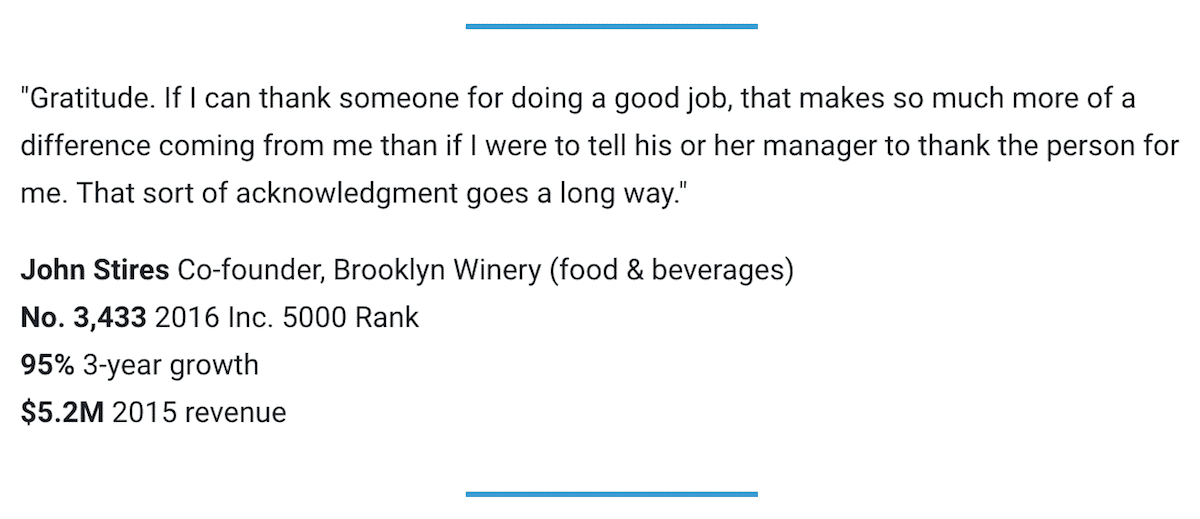 Best Practices for Content Curation
There are clearly multiple different ways you can use content curation. There are several best practices that you should always keep in mind that aren't so flexible. These include:
Never "curate" images that you don't have the rights to. Copyrighting is a big concern, and people can (and will) go after you if you're using their images without permission.
Always link back to the original source. You should always give credit where credit is due. In this case, that's the source that you're curating the content from. This will build connections instead of burning bridges, and it makes your content look more credible and well-researched. Win-win for everyone.
Add your original take through summary or opinion. Don't just copy their metadata or opening paragraph; share your take and put it into your own words. Otherwise, there's no point in reading what you have to say, which is the last thing you want readers to think.
Start with content that's high value to begin with. If users aren't interested in the content on their own, they definitely aren't interested just because you're sharing it.
Save content regularly to make ongoing curation a little easier. If you have a weekly post, newsletter, or just need more fodder for your social feed, make it a habit to save content regularly throughout the week instead of going on a last-minute content-hunting spree right before it's time to publish. This will help you actually find the best stuff out there and keep you from missing anything. Tools like Instapaper can make this easier.
Conclusion
Content curation has a lot of benefits. It's also a flexible concept that can be adapted to a large number of strategies. Each of these 7 sites utilized curation in different ways, giving us more inspiration for a strategy that will work best for us. What you choose will likely depend on your business, your goals, and your audience. As long as you're adding value to the conversation in some way, you should be just fine.
Let me know in the comment what other great content curation examples have inspired you!