Have you ever listened to a podcast and thought: "Wow this is amazing, I'm learning so much but I'm never going to remember it all" if you have you were not wrong. In fact, there are more actionable ways to get informed, in particular visualizing helps retain information.
If you are a successful entrepreneur, and always eager to learn, you might find it hard to find new and innovative ideas or solutions to your problems.
My personal advice? Never underestimate a well-built youtube channel. It might really have all the information you may need, you just have to learn how to find them. That's why we've scouted Youtube looking for the most interesting channels covering topics about startups or useful for anyone working in the space.
Just consider that Youtube nowadays is the second search engine in the world and among the top 5 social networks. Years worth of videos are uploaded every hour on Youtube and some of the brightest minds in the startup world are leveraging it either to grow their startups or their personal brands.
A lot of these videos are extremely useful to quickly learn what's hot right now in the startup world without having to read a full book on the subject (by the way, also consider reading book summaries as an alternative).
Here are a few of our favorite Youtube channels for Startup founders:
Top 4 Startup Marketing Youtube Channels


If you're not new to the marketing world you are probably familiar with Gary Vaynerchuk. Gary is a Belarusian American entrepreneur.
In the 90s he identified "the internet" as a true opportunity and transformed his family's wine business into a million dollars earning e-commerce platform.
Among all youtube channels on the topic his is one of the richest ones, in fact, he publishes new videos almost every day. With almost 4 million subscribers, he's a true gem for the startup community.
Whether you're looking to learn new business trends, technical skills, social media tips or actionable advice his youtube channel is the place to be.
He recently launched an NFT collection called VeeFriends, an ambitious project aiming at creating meaningful intellectual property and an extraordinary community.
Most viewed video:
The future of Web 3.0 & Metaverse with Mark Zuckerberg, it's a great interview with Facebook's founder about the hottest trends in the startup words: metaverse and web 3.0. It also shows that Gary has access really to the top players in the space and covers a lot the latest trends in startups' marketing.


Forbes says he is one of the top 10 marketers. President Obama named him among the top 100 entrepreneurs under the age of 30 and the United Nations ranked him as one of the best 100 entrepreneurs under the age of 35.
He has over 1 million subscribers. With hundreds of videos and new content, every week is channel is full of short videos with endless actionable advice.
His tone of voice is informational and easy to follow, he talks about Content Marketing, Facebook ads (Interested? find out more on the topic), blogging tips, social media marketing and many other marketing tips.
Whether you're a young entrepreneur looking for career advice or you just wanna optimize your website Neil's channel has you covered.
Most viewed video:
"The Future of Digital Marketing Will Surprise You", that's the title of Neil's most loved video and it doesn't surprise me. In fact, as previously mentioned he's a real digital marketing guru. In this video he answers various questions on the topic, in every response, there are insights that really do add value.


With new videos every week, hundreds of content on his channel, and almost 150k subscribers he reveals all kinds of marketing tips and tricks.
His videos are never longer than 20 minutes, they're divided into playlists based on the channel and topic they talk about. He gives guidelines for all social media platforms.
All the advice and tips on his youtube channel come from his work experience, in fact, he is a business owner and entrepreneur. In particular, he designs effective marketing strategies to grow business and optimize sales.
Most viewed video:
"Instagram's Algorithm CHANGED!", posted a little over a month ago this one is already the most popular video on Adam's channel. As we often see, it is hard to understand how the tools we interact with everyday work. Videos like this one are a true guide for content creators, entrepreneurs, and managers at all levels. In just 8 minutes he explains some of the pain points of the new Instagram's algorithm.


If you're looking to get a higher ranking and more traffic but have no idea where to start Brian's Youtube channel covers all the actionable advice you need. Briand Dean is the founder of Backlinko one of the most authoritative blogs for next-level SEO training and link-building strategies.
On his channel, you'll find many videos spanning from practical ways to get higher Google rankings but also case studies to follow. He has a community of almost 500k subscribers.
Last but not least he is the co-founder of Exploding Topics, a website that analyzes millions of searches, conversations, and mentions across the internet.
We're adding Brian to this list because his content is pure gold when it comes to SEO and very relevant for startup founders. However please not that a few months ago, Brian sold his blog and business to SemRush. Since then it looks like he's not updating the channel anymore… as you can guess from his channel's completely white banner!
Most viewed video:
"How to Get More Views on YouTube" is by far Brian's most successful video. Just like all of his other videos it is very informative and easy to follow. Not only does he explain how to get more views faster, he also shows practical results that he reached with his content which makes it real.
Top 3 Youtube Channels for Early Stage Startups


With over 400k subscribers Noah is a true business guru when it comes to the startup youtube channels. Not only does he have his own channel, but he's also an entrepreneur and founder of AppSumo.com, he's a true silicon valley hustler.
His target audience is composed of tens of thousands of successful entrepreneurs and ambitious business owners. In all the videos he spaces from interesting stories to digital marketing tips to daily routines.
He's one of Facebook's first 50 employees and he also has a great experience in how to start and grow a business. If you're looking for success stories from a creative entrepreneur this is the right channel for you.
Most viewed video:
"Asking 80 Year Old Millionaires If It Was Worth It" is Kagan's most viewed video with 2.5 million views reached in less than 3 months. In my opinion, this video is successful because it's really, Noah Kagan talks to 4 different people who became millionaires in very different businesses. This video is funny, inspiring, and full of insights.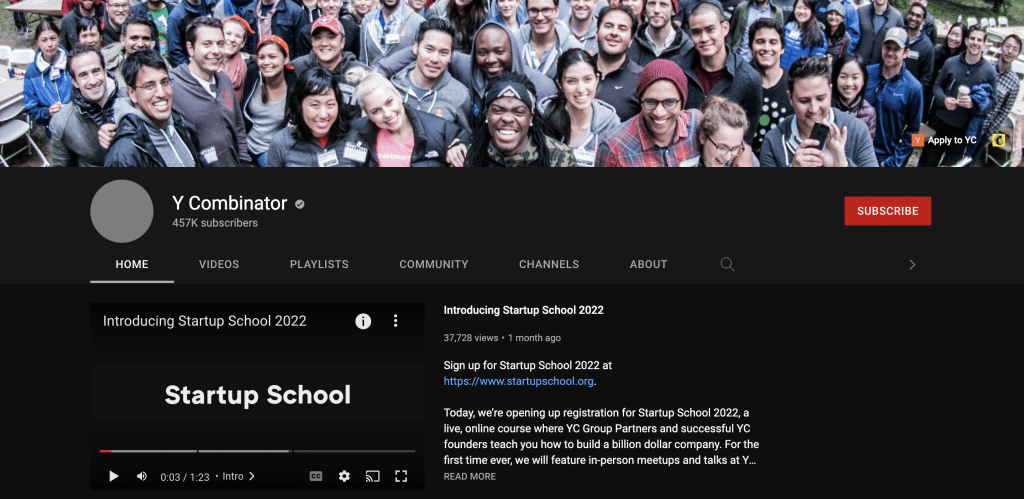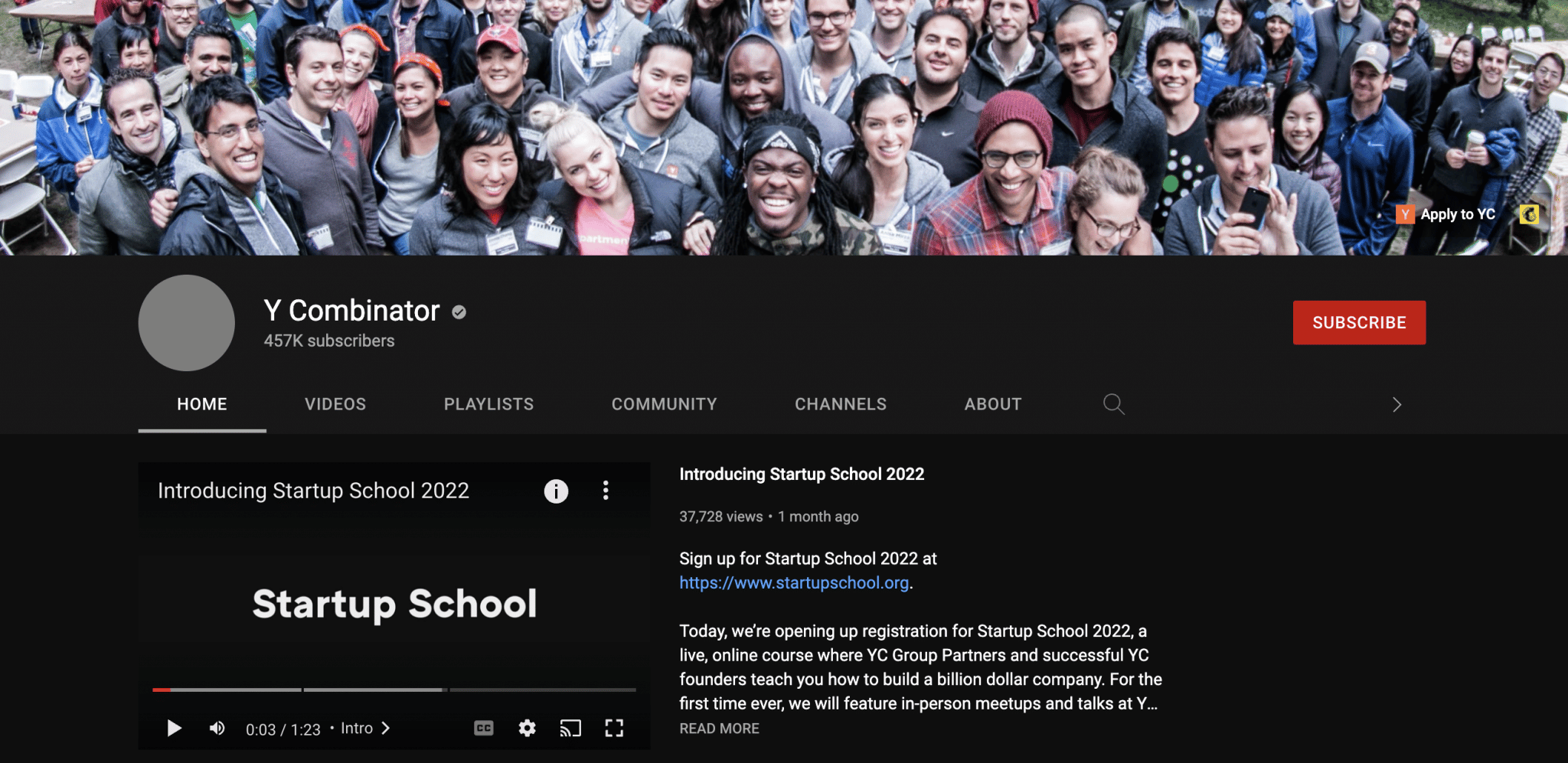 Y Combinator is the most influential startup accelerator. Launched in 2005 it is behind the success of more than 3,000 startups including Airbnb, Dropbox, Twitch, and Reddit.
Their youtube channel has 451k subscribers and it covers a wide range of topics concerning different areas of interest for startups. Most contents are around 20 minutes and ranges from inspirational videos to marketing tips, all the way to creative thinking.
They post content on a weekly basis, make sure you don't miss this channel if you enjoy inspiring interviews. Last May they also launched Startup School 2022 a 7-week long course to help aspiring entrepreneurs and small business owners launch a successful startup.
Most viewed video:
Y Combinator's videos are among the most loved ones of the youtube channels we mentioned and the video entitled "Kevin Hale – How to Evaluate Startup Ideas" is very popular on the channel. It is not hard to understand why, when launching a new business choosing the right idea is everything so, receiving tips from one of the biggest incubators in the world is priceless.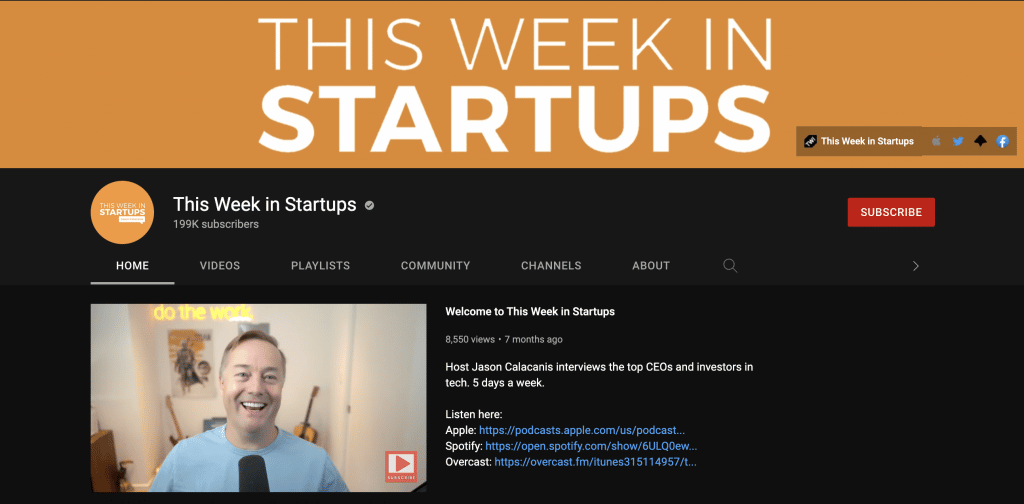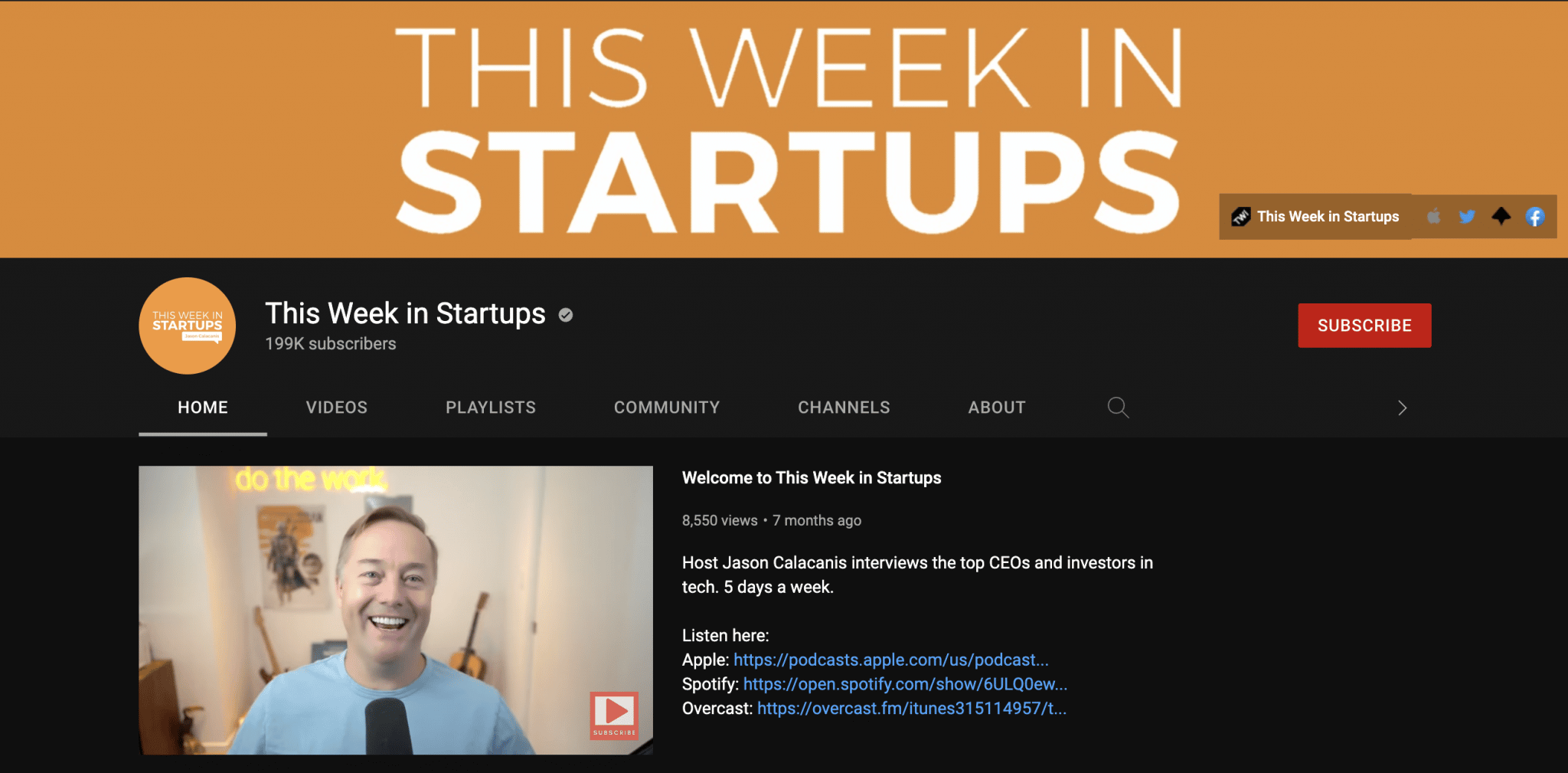 The face behind this 198k subscribers channel is the one of entrepreneur Jason Calacanis. He's an American Internet entrepreneur, angel investor, author, and podcaster.
In his videos, he interviews all the top CEOs and investors in the tech field. He gives his audience great ideas and resources to enable people to succeed as well as business news.
He publishes new content 5 days a week and his videos contain a lot of expert advice to approach business, they are around 1 to 2 hours long but way worth it.
Most viewed video:
Among the videos present in the channel "Former Tesla CTO JB Straubel's Redwood Materials | E1299" is one of the most loved ones. Looking closely at this channel it is clear that people love a good success story and the people behind it, especially when it comes to startups. If you're one of those people this video (and many others on the channel) will be very entertaining.
Top 3 SaaS Youtube Channels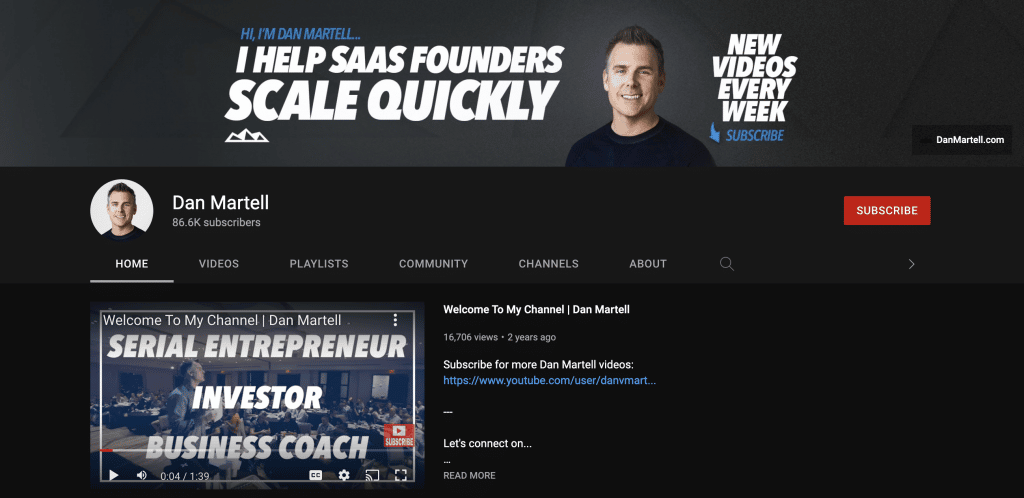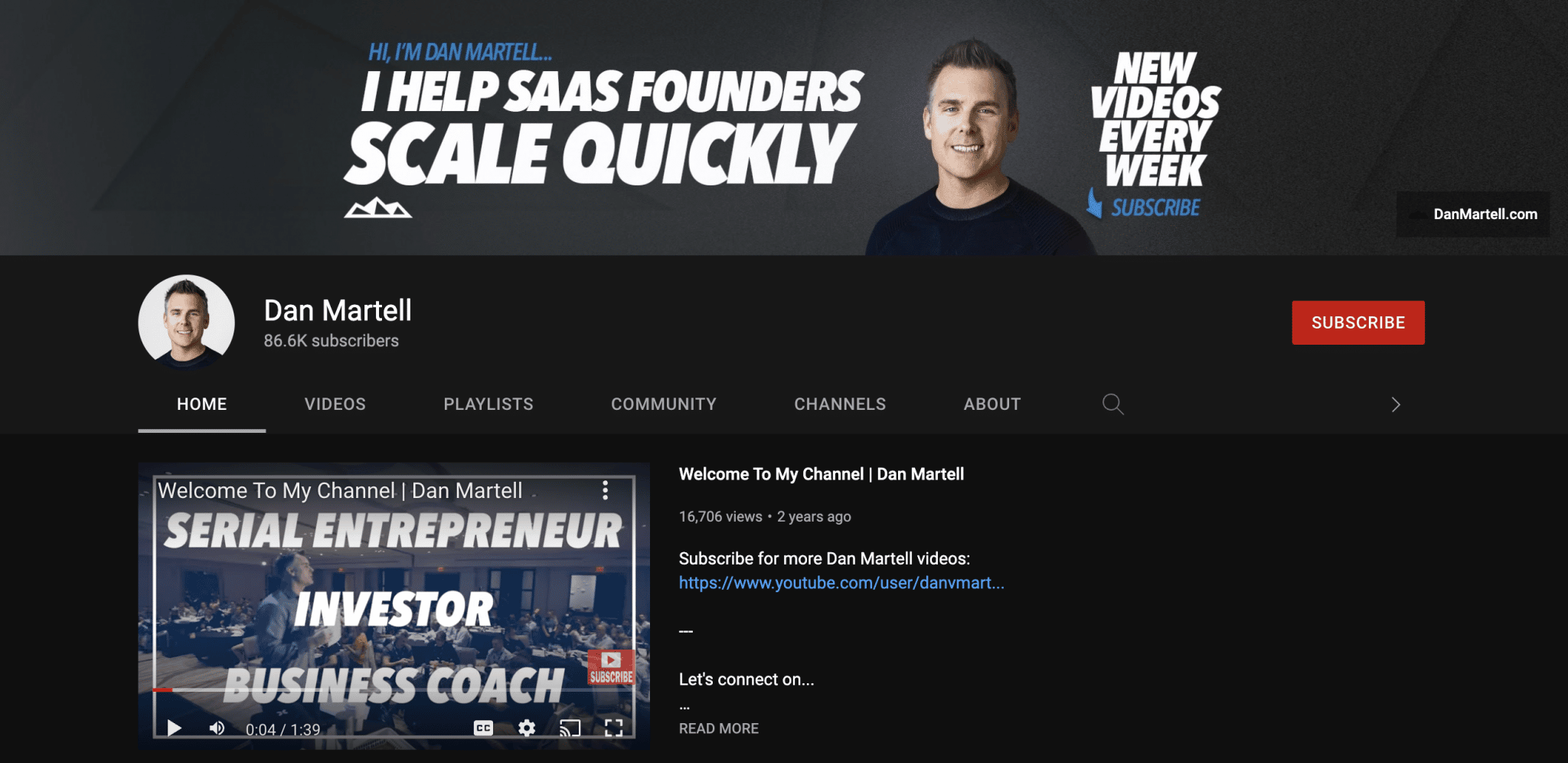 Coach to over 800 SaaS founders Dan Martell is a creative serial entrepreneur. His channel for sure deserves a spot on our list of best SaaS youtube channels!
Among many other youtube channels, he has a great balance between tips to implement growth strategies, life hacks, and business advice.
Dan has a global community of over 85k subscribers, his videos are around 10 minutes long and he creates content every week. The tone of voice he uses is easy to follow and informative.
If that's not enough this internet personality also founded the SaaS Academy a tool to help startups excel and scale in a confident way.
Most viewed video:
"How To Lean On Your Best Self When Life Gets Hard with Brad Pedersen @ Pela" that is one of Dan's most visualized videos with over 100.000 views. It is a heartfelt conversation, over 50 minutes long, with Pela's founder. Pederson's company is working towards a waste-free future to prevent 10 billion pounds of waste from being created, a truly inspiring talk.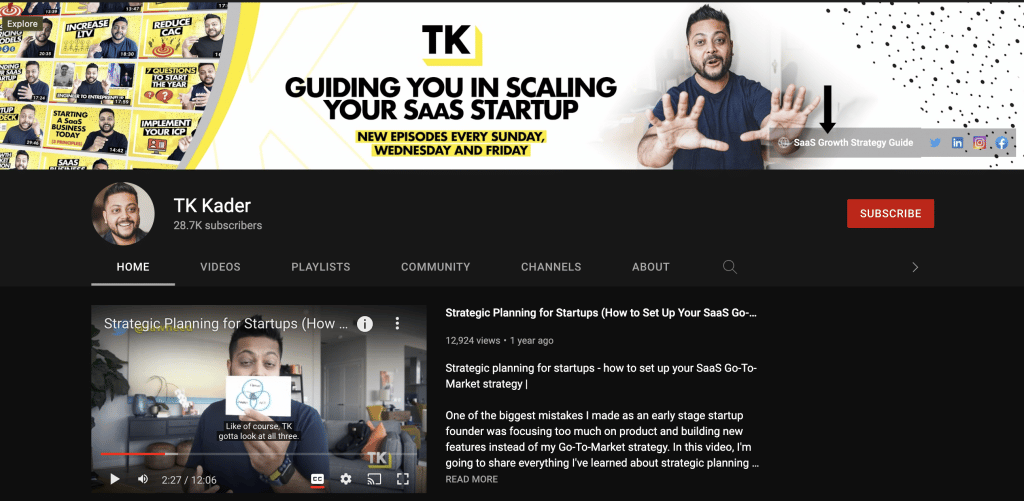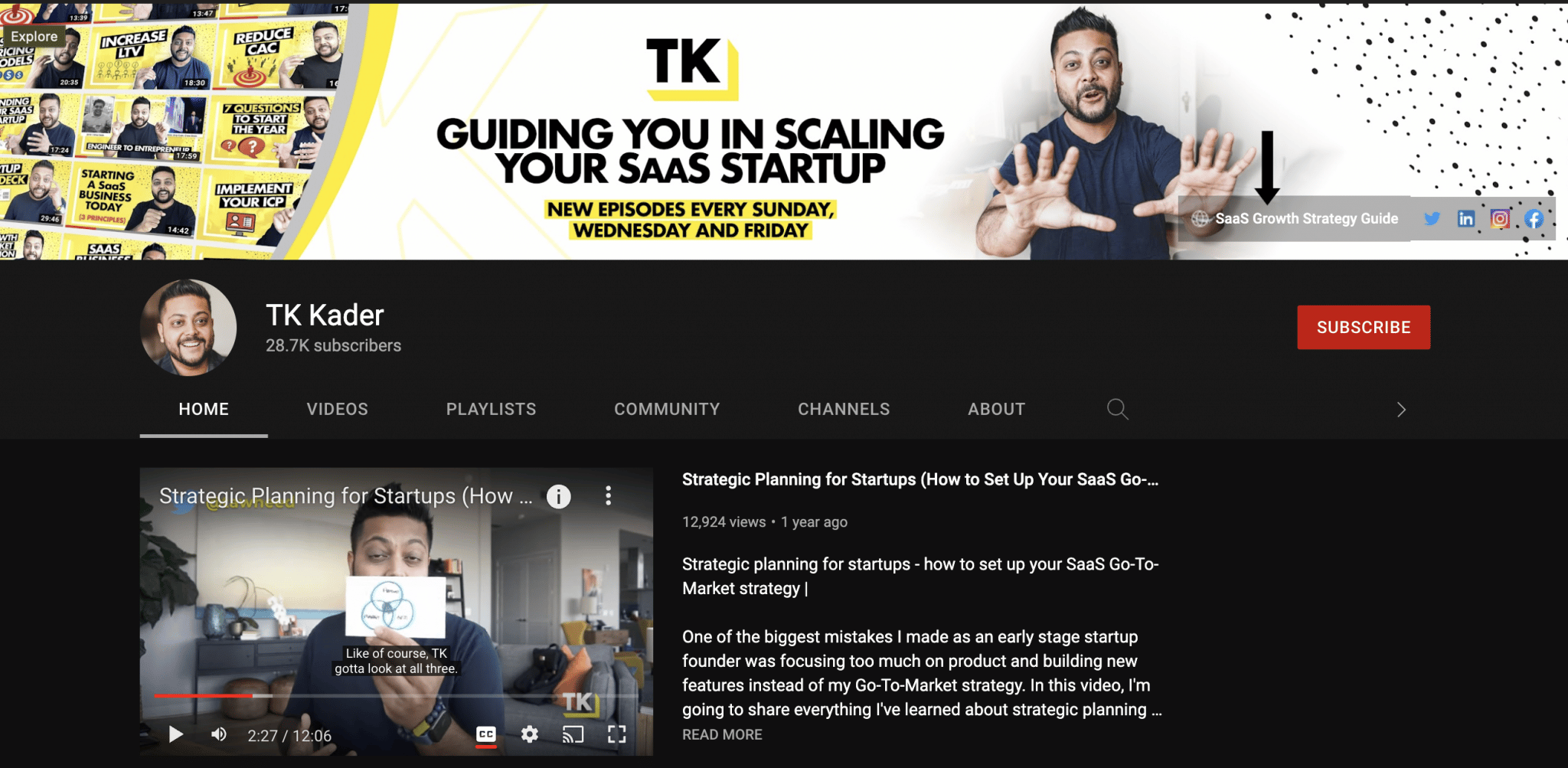 With over 27k subscribers TK gives endless strategic planning advice to set up a SaaS marketing strategy. His youtube channel is the perfect place for entrepreneurs lacking experience.
Being a successful entrepreneur and best-selling author himself he explains in an accessible yet informative way some of the best practices to run a successful business. He creates new videos 3 times a week including actionable advice in every single one.
TK also has its own business, a consultancy agency called Unstoppable that currently helps more than 250 SaaS Founders reduce execution risk and scale faster.
Most viewed video:
"SaaS Ideas You'll Want to Steal for 2021" is TK's most appreciated content among his videos, it is a true gem, especially for initial-stage startups. The video is only 11 minutes long and it will give you amazing advice on how to win the SaaS game. Even though it is from last year it's still of great inspiration for the future.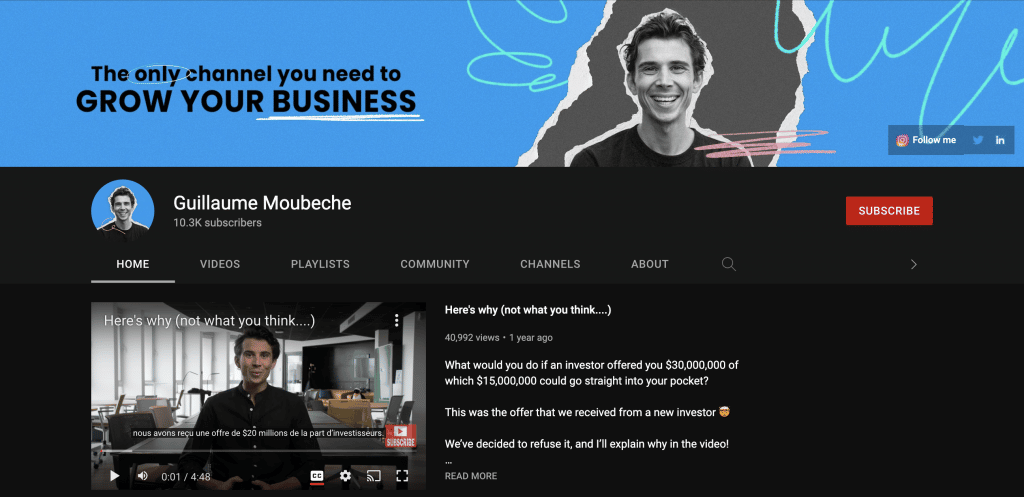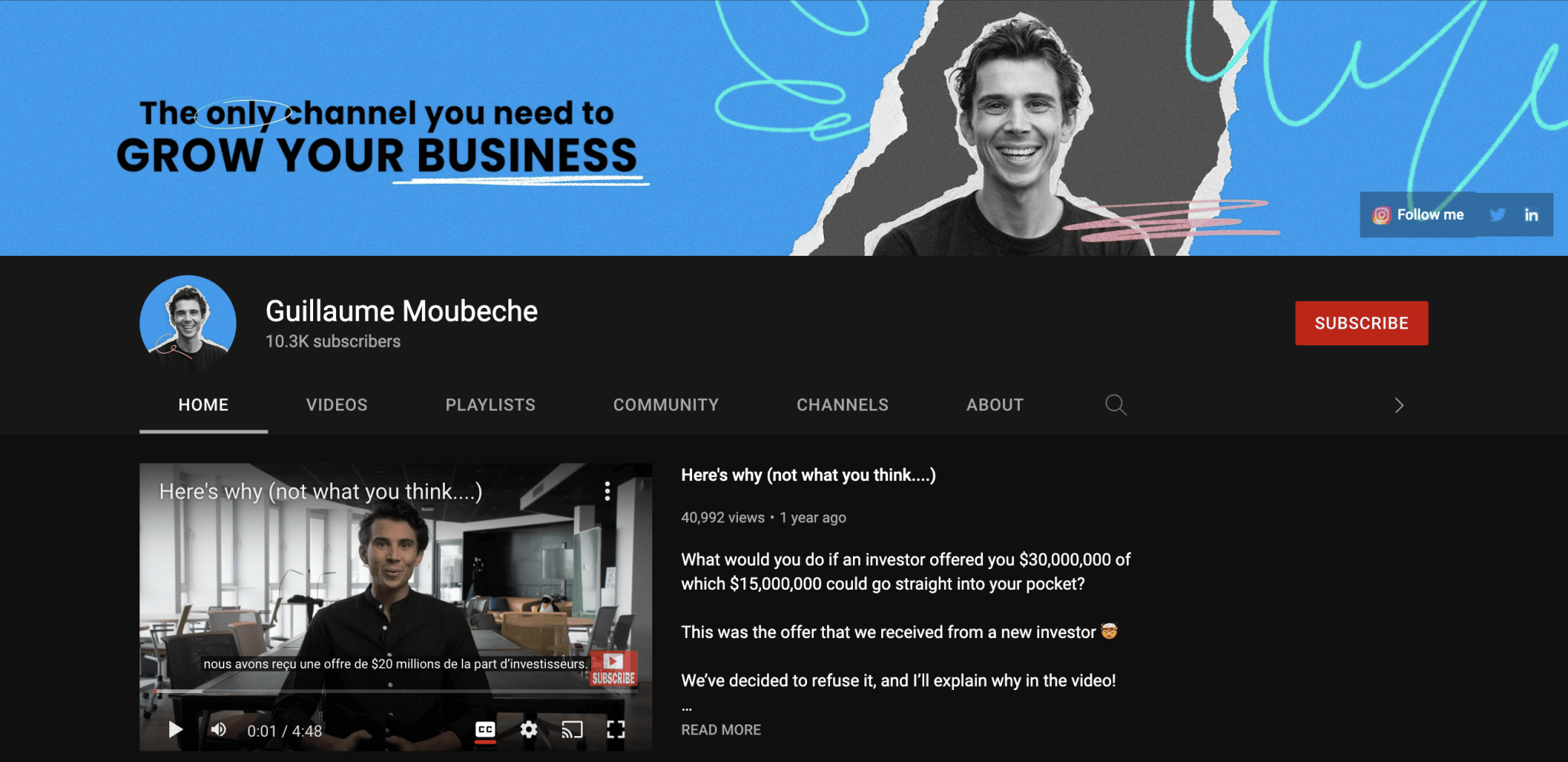 He's a serial entrepreneur and co-founder and CEO of Lemlist with over 20 thousand customers worldwide, he implements B2B growth strategies.
His youtube channel has over 1o thousand subscribers with new videos posted every week. His youtube channel includes videos on different topics such as SaaS business, tips for entrepreneurs, and motivational speeches. His videos are around 5 to 10 minutes long, they're in English and subtitled in french.
Most viewed video:
Guillaume's most viewed video is called "Here's why (not what you think….)". Why do I find it very interesting? Because he explains how startups can thrive in a fast-paced world without accepting funding from investors because realities that count on investors' money have a tendency to fail.
Honorable Mentions
With so many qualitative youtube channels for startups, it is really hard to narrow it down to only a few. Here's why I have decided to mention a few more that are worth subscribing to.
Final Thoughts
In a constantly evolving world, youtube channels are a great resource for startups and entrepreneurs to stay on top of new trends. This list is a collection of some of the best channels out there.
Whether you're a small business owner, you work in a digital agency or you just have a true passion for digital marketing you will always learn something new from these youtube channels.