Personally, I'm finding myself listening to podcasts more and more often every day. They're a great way to learn new stuff while walking, driving, or doing other activities which prevent reading. And of course, even tho' I'm falling out of love with Facebook Ads, I end up quite often listening to Facebook Ads podcasts.
Some of them are great, but some of them are just traps to sell you the latest shiny tool or course that won't really solve your problems.
So let me share with you the best Facebook Ads podcasts in 2023 according to my personal experience.
Why should you follow Facebook Ads podcasts?
To make a long story short – if you're not following Facebook Ads podcasts (or podcasts in general) you should!
There were over 550,00 active podcasts shows in 2018 with over 18.5 million episodes with a wide variety of topics to suit anyone's interests. Now, these numbers reach over one million and they're only increasing every day.
Still skeptical? Let's go over the stats.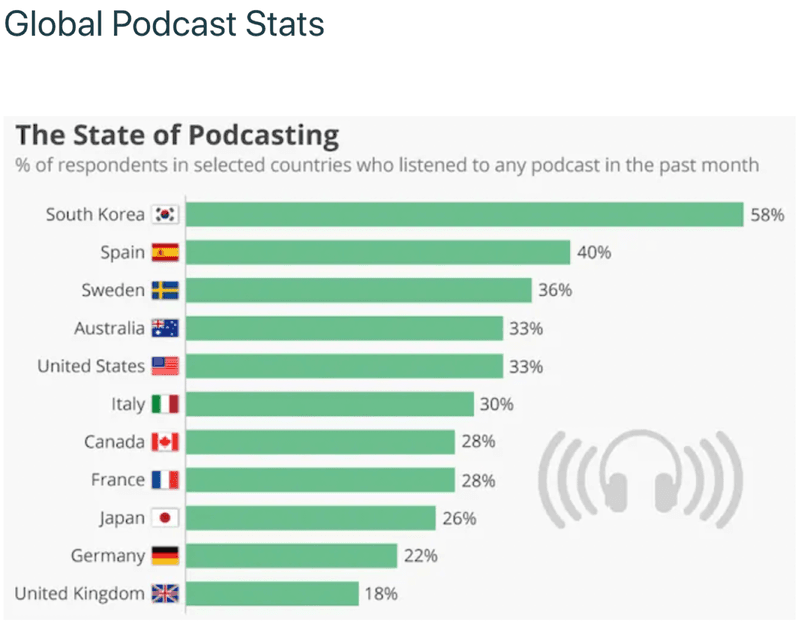 Statista: The State Of Podcasting
There will be more than 132 million podcast users only in the US by 2022.
Nowadays, there's definitely a bigger podcast awareness, especially among younger generations.
What I love about podcasts is usually their freshness. Facebook marketing tactics tend to change very often and you continuously need to up your game to survive. Podcasts are likely the best way to learn the latest trends in Facebook Ads directly from top experts.
Now that we've seen some stats on podcasting and how it's important, let's dive through the 11 Best Facebook Ads Podcasts you should follow in 2023.
Perpetual Traffic
SaaS Marketing Superstars
Next Level Facebook Ads
Social Media Pubcast
Marketing Lyfe
The Facebook Marketing Ninja
PTT: PinToTop
Social Media Marketing Happy Hour
Online Marketing Made Easy with Amy Porterfield
EU: E-commerce Uncensored – Email Marketing, Facebook Ads, Social Media
Social Media Marketing Happy Hour
Let's get started with a quick intro on each podcast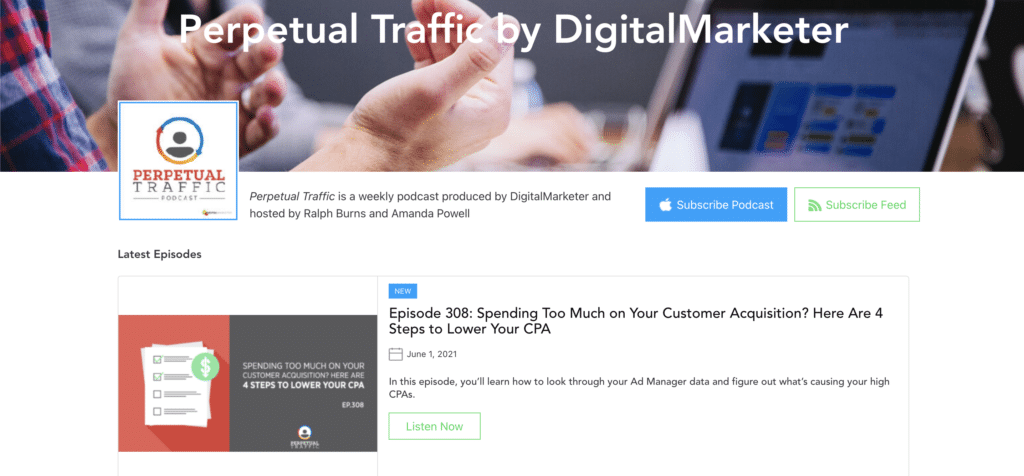 Perpetual Traffic is a weekly podcast by my friends at Digital Marketer. They share cutting-edge strategies on acquiring leads and sales for your business through paid traffic!
Whether you are a media buyer expert, or you still have to create your first Facebook or Instagram Ad, you'll discover actionable strategies that you can apply right away!
Perpetual Traffic combines the paid traffic strategies developed at DigitalMarketer with Tier 11's real-life agency experience!
You will get to listen to real stories of business owners on how they overcame struggles with digital marketing and online advertising. This can help to ensure you do not make the same mistakes for your business that they did start out.
You'll be able to know more about how to not only create ads with Facebook but also with Instagram ads, YouTube, Twitter, Google Ads, LinkedIn, and more.
In my opinion, it's by far the best podcast to master Facebook Ads.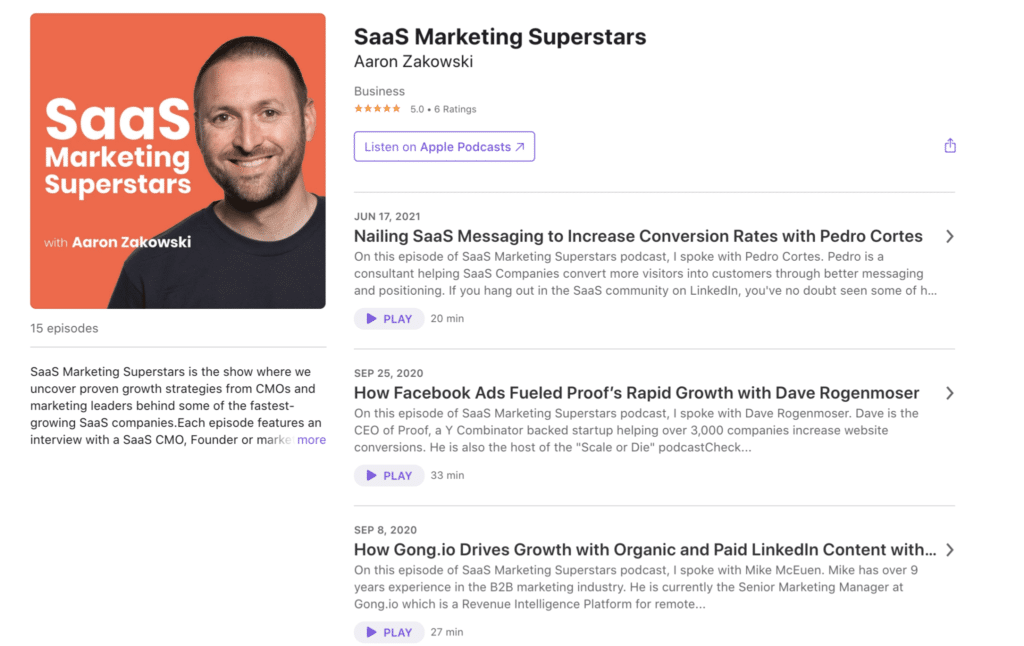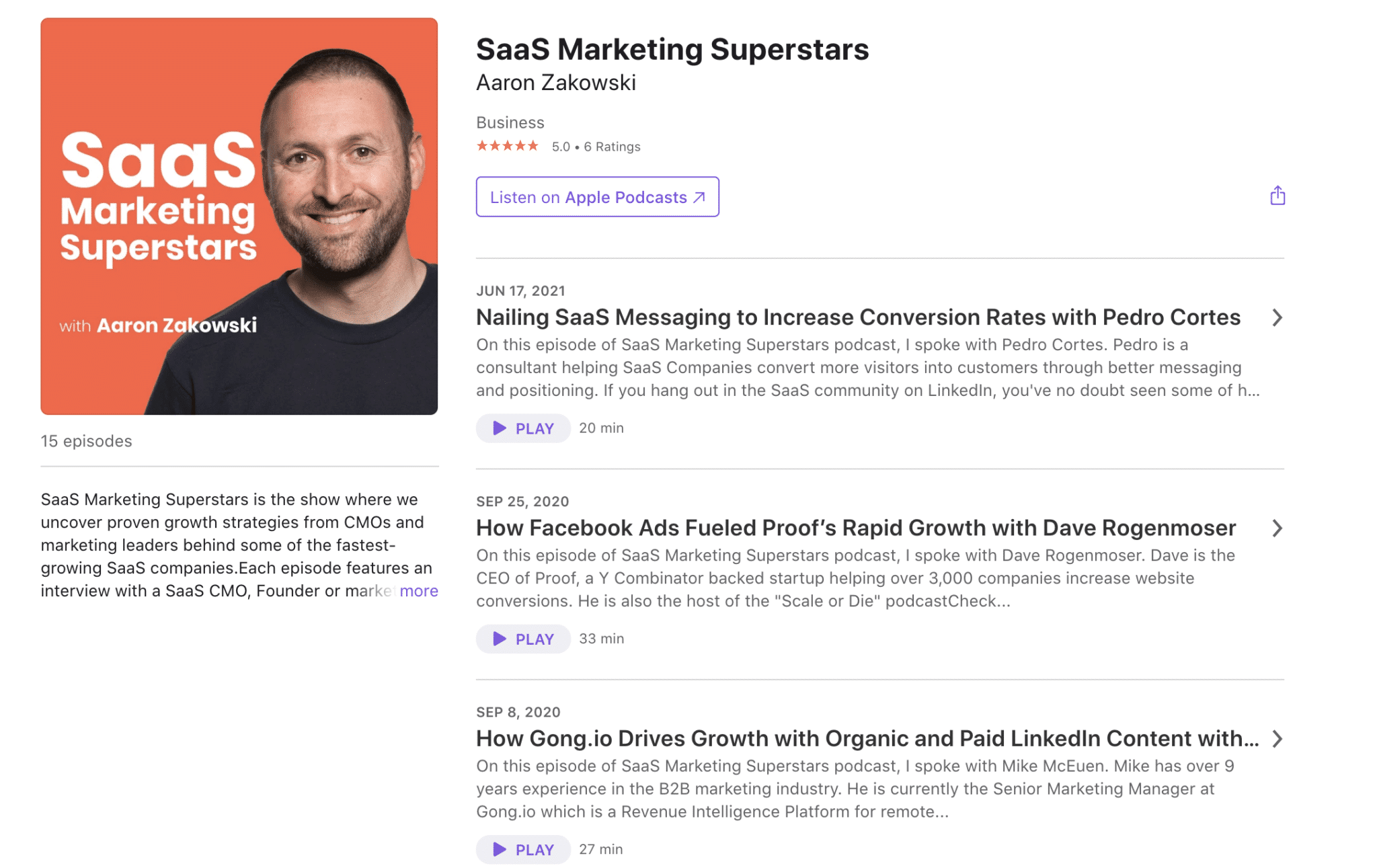 SaaS Marketing Superstars is a new podcast show hosted by my friend Aaron Zakowski.
Aaron has been in the Facebook Ads space forever and in the last few years, he started a digital marketing agency and focused more on the promotion of SaaS businesses through Facebook Advertising.
In his series, he uncovers all the proven growth strategies hidden behind some of the fastest-growing SaaS companies!
Each episode will discuss many interesting topics such as paid ads, SEO, Content Marketing, ABM and Sales, Landing Page Optimization, Email Marketing, and how to use these strategies to generate more trial and demo signups for your SaaS business.
While he has broadened a bit the scope of his podcast to cover multiple marketing strategies, a lot of his content still focus on how digital marketers can achieve great Facebook roi.
All episodes will have these topics discussed through interviews with SaaS CMOs, founders, and market leaders.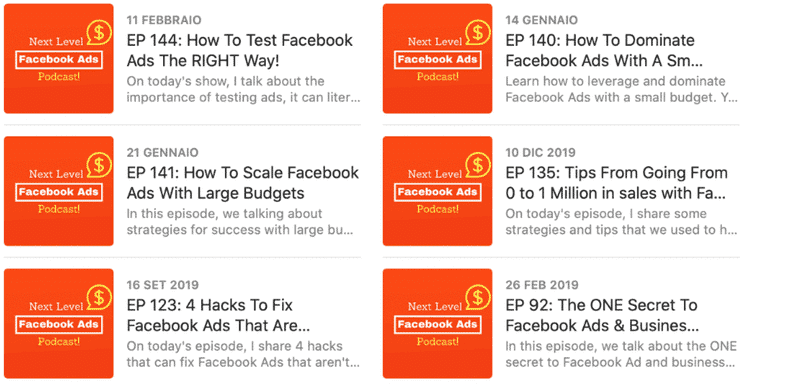 Next Level Facebook Ads Podcast is the next level you want to bring your business to!
This podcast will help you master Facebook ads and has a good mix of content to be interesting both for beginners and those that have been running Facebook ads forever like me.
Phil Graham, the host of this podcast has been posting new episodes with great consistency and there are now more than 250 episodes live. This is critical to always get the latest tricks to get the most out of your social media ads.
If you are wondering… yes, of course, he has a lot of episodes about the latest iOS 14 changes and how to adapt to them as a Facebook advertiser.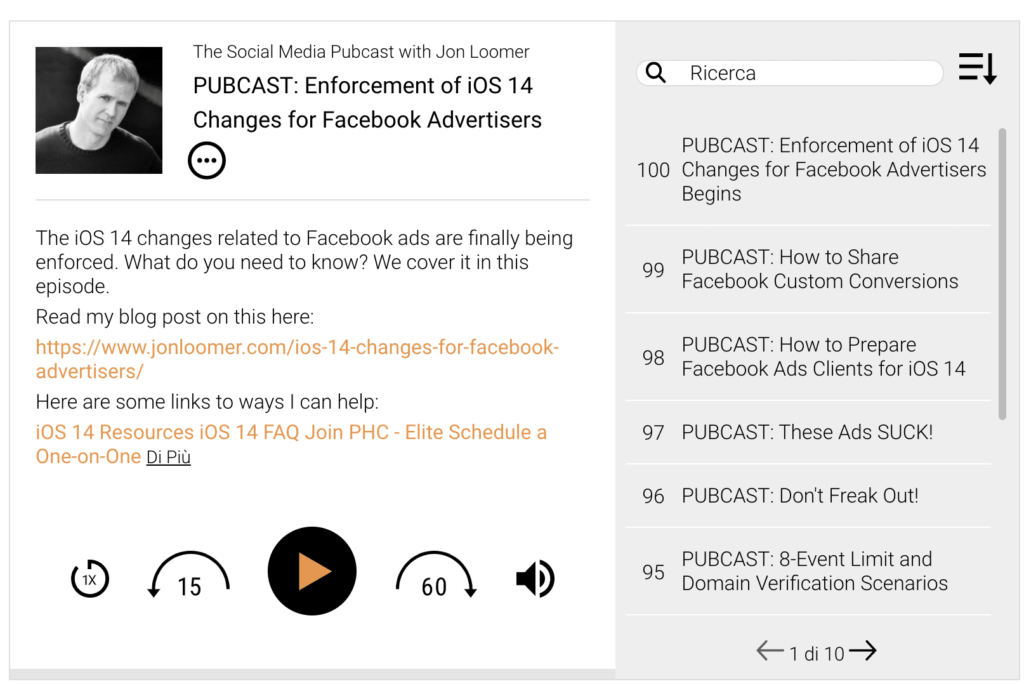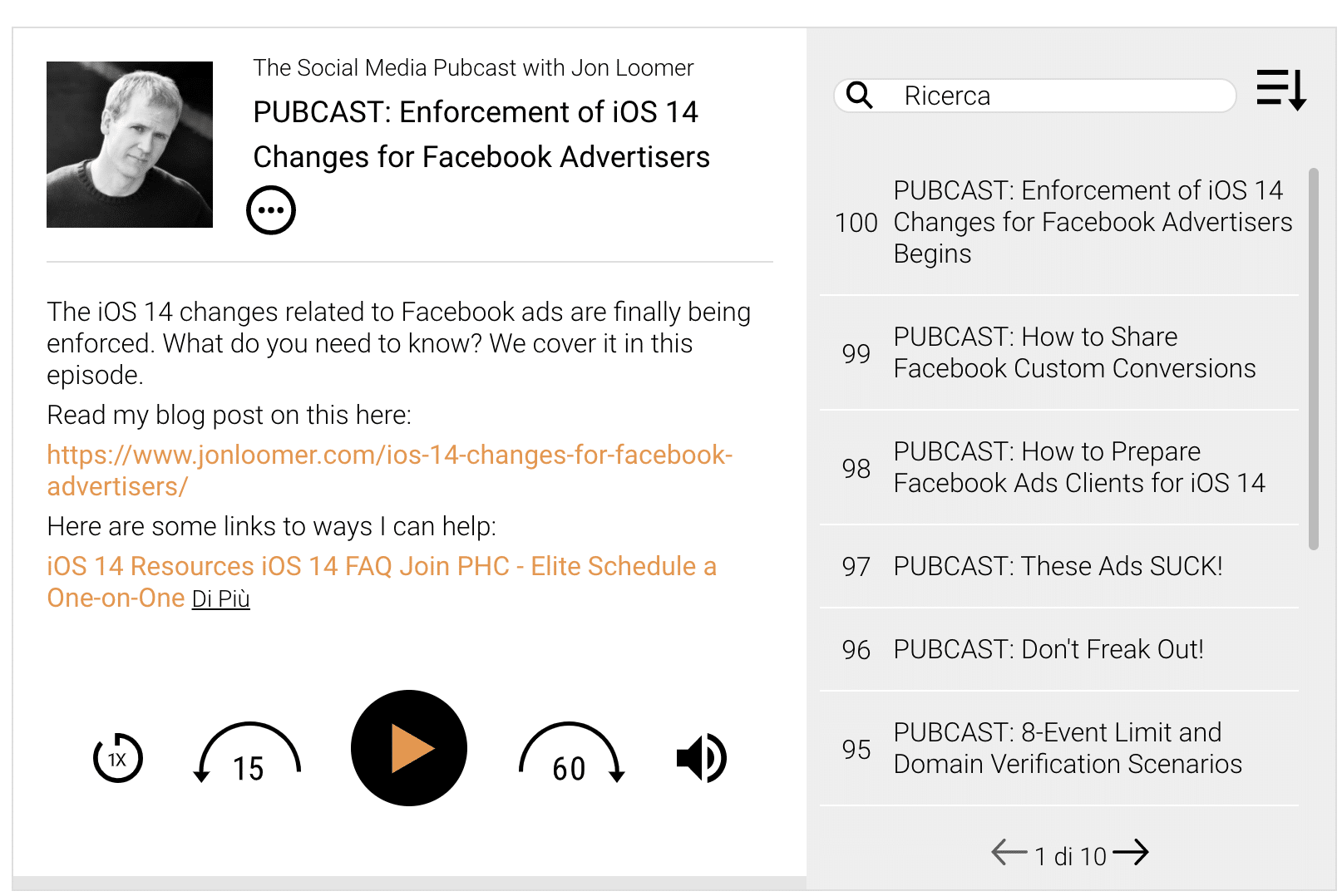 All digital marketers who run Facebook ads know who Jon Loomer is!
He's been in the space, teaching how to create the perfect Facebook ad, from the very early days. Most of us moved the first steps in Facebook advertising reading his blog. Could such a smart marketer not upgrade his distribution channels and start a podcast?
Of course no! Welcome to Social Media Pubcast.
Jon has now published more than 100 episodes of his Facebook ads podcasts and if you go back to last year you'll find 20 episodes called "20 Factors" where he analyzes one by one every element of successful ad campaigns. Instagram ads are covered too if you are wondering.
The thing I love the most about Jon's podcast is that it's short. He doesn't chit-chat or digress. He goes straight to the point and covers a very specific topic in every episode with an average playtime of 10 minutes. Love it!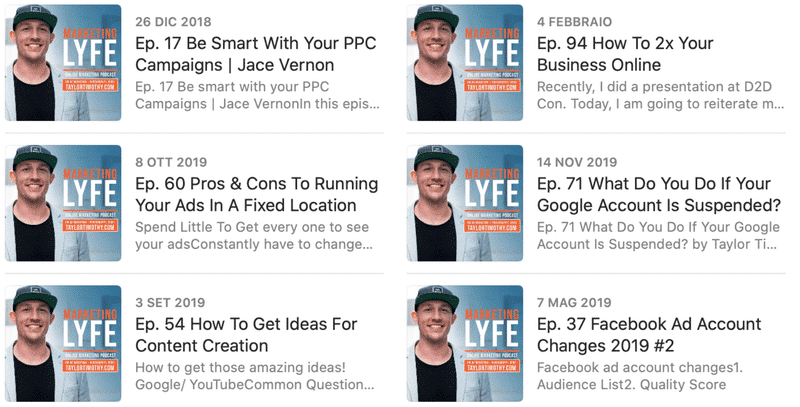 The Marketing Lyfe podcast goal is to help small businesses and entrepreneurs grow through leads, traffic, and sales by giving them the best key tips to success, especially through social media platforms and Google.
He covers many topics such as Facebook ads, Instagram ads, Google paid ads, YouTube ads to take your business to the next level!
Taylor Timothy has now recorded over 160 episodes of his Facebook Ads podcast and one thing I really like about it are the episodes where he goes in-depth on a specific advertising objective like "Running Facebook Ads to hire people".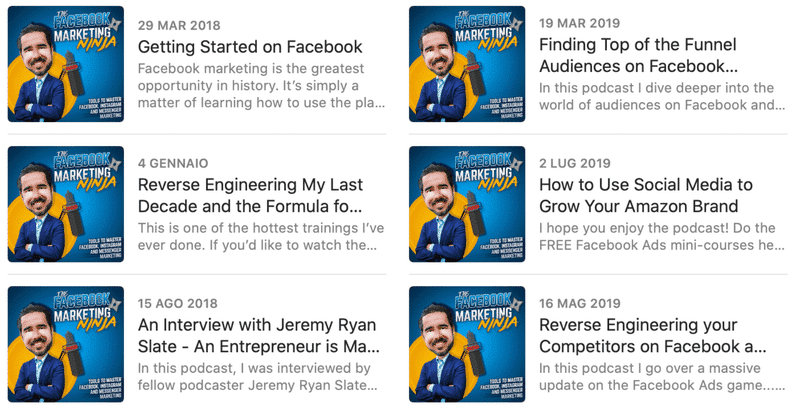 Manuel Suarez is one of the few Facebook-certified professionals in the industry. I'll leave it up to you to decide whatever that matters or not :)
He also has a training program website and did infinite seminars all over the world to showcase his ads skills. Now he also has a podcast.
Over the last period, he broadened the scope of his podcast and he's no longer covering only Facebook marketing topics. In the 200+ episodes live he talks about entrepreneurship, social media marketing, and much more.
What I like the most about his blog is likely the good mix of high-level episodes focusing more on the strategy and super actionable ones where he explains how to implement specific tactics.
Consistency is another great plus of this podcast. A new episode is published nearly every couple of days.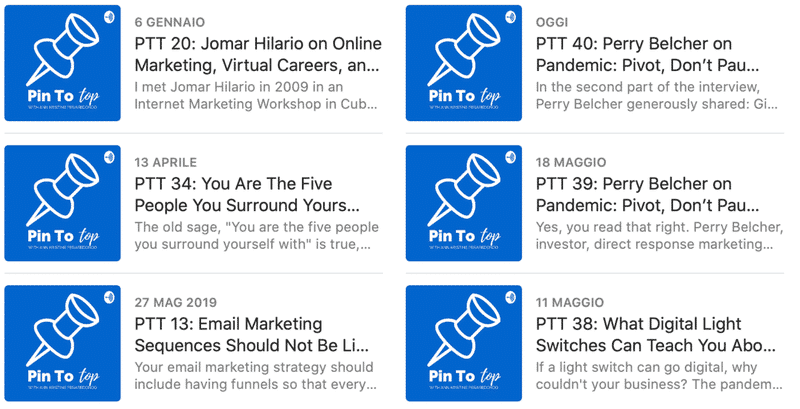 It's time to maximize Facebook marketing for your business with PinToTop! It won't only help entrepreneurs and experts to gain amazing business ideas, but it will also help you get to know all the marketing basics, strategies, and tactics to improve your Facebook Ads!
Ann Kristine Penaredondo is the host here, and she will help you with advice for your business privately if needed, or through quizzes, she releases on her platform! So, don't hesitate, subscribe and reach out for more answers!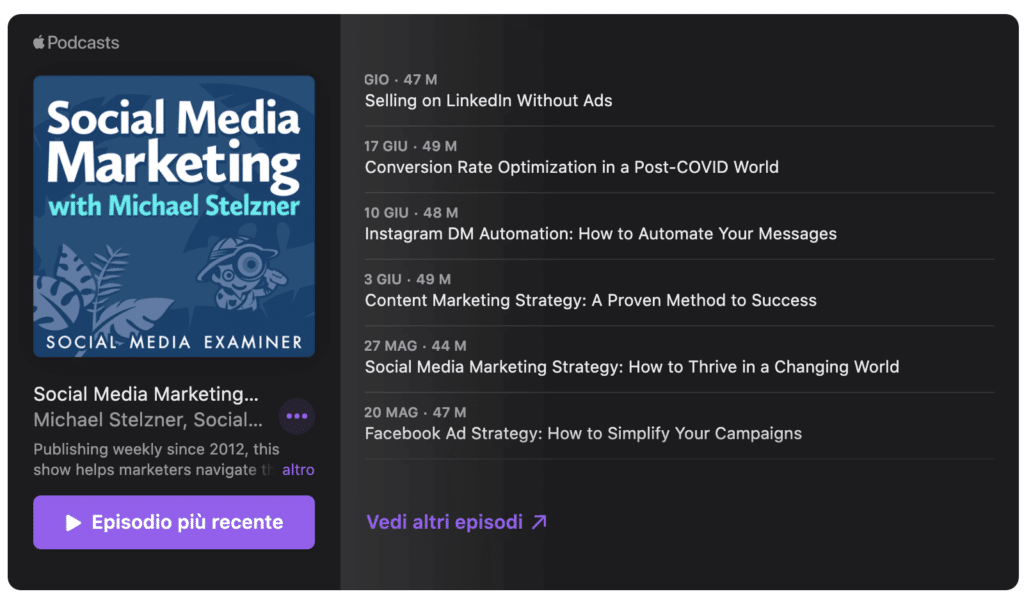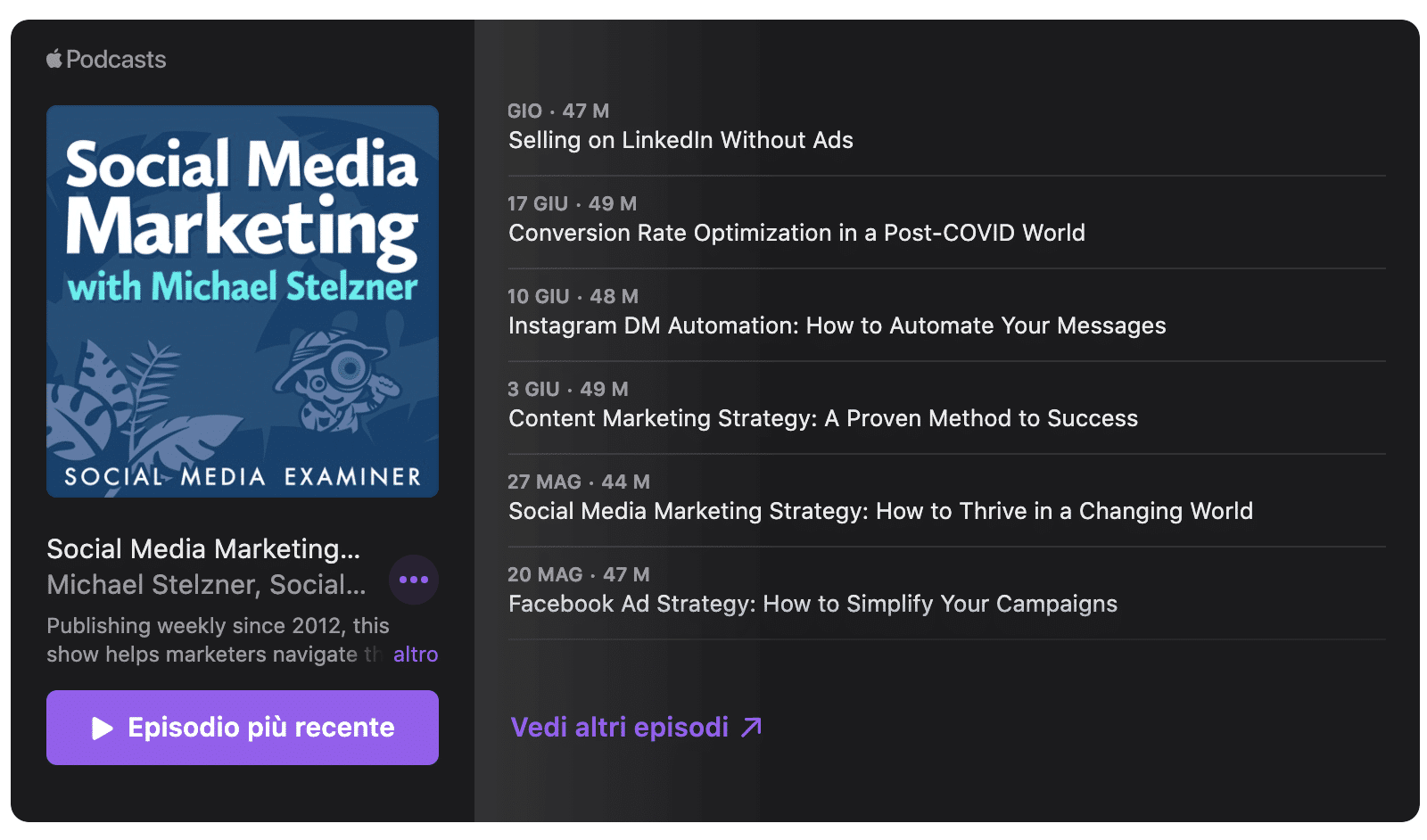 Social Media Examiner's podcast is all about how to be more effective with your marketing to grow your business!
You could be an entrepreneur, a solopreneur, a small business owner, or a marketing leader ready to learn sales funnels, Facebook Advertising and so much more: and this podcast will still be a great fit for you.
Social Media Examiner is one of the largest websites in the industry and the podcast covers a lot of topics related to social media, from how to boost your Facebook page to moderating Facebook Groups and promoting your business with ad platforms.
Listening to "Social Media Marketing Podcast with Michael Stelzner " you'll learn actionable tips from top authorities in the space, their brand power enables them to get anyone they want on the mic. A great 360° Facebook Marketing podcast!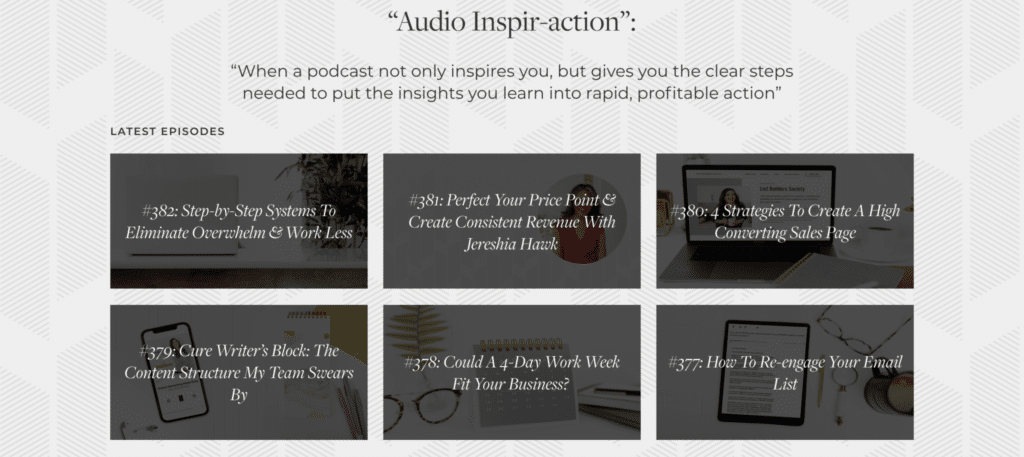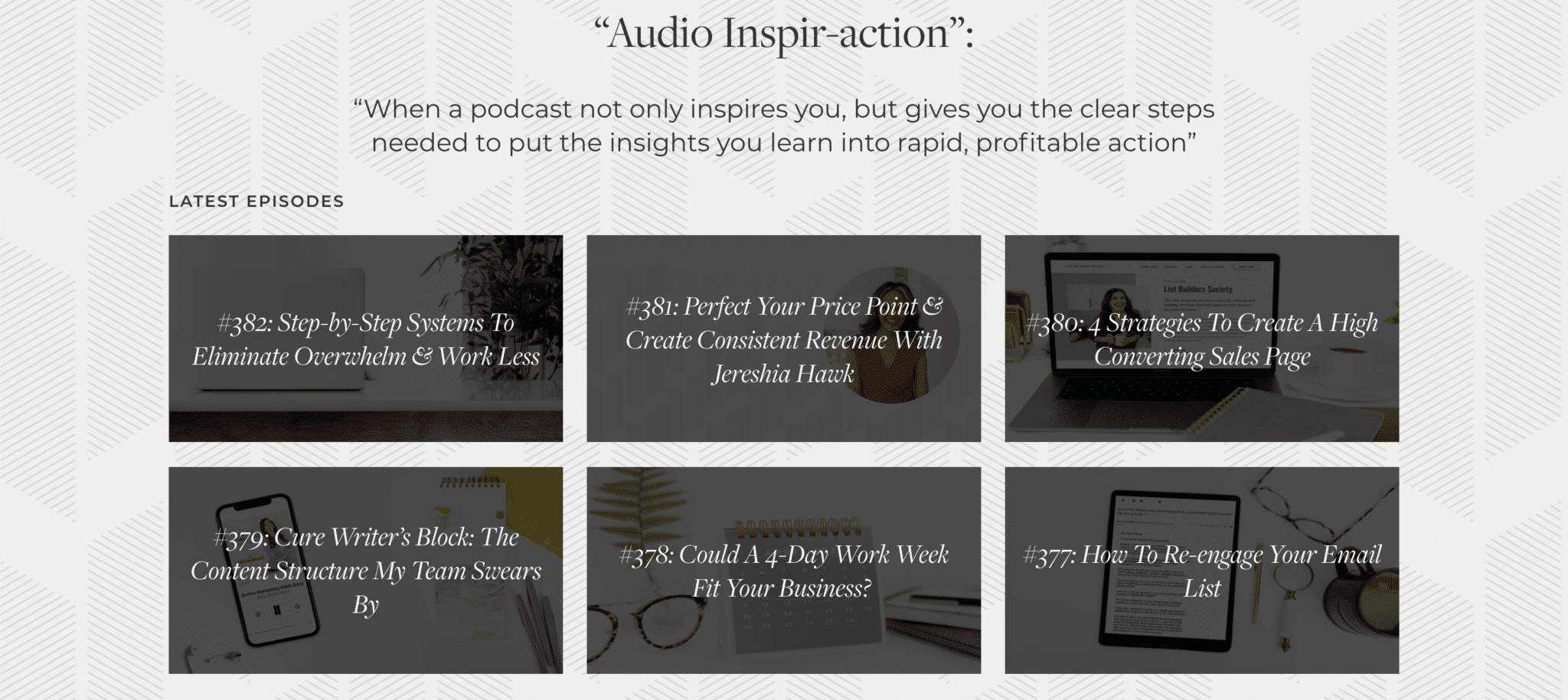 Amy Porterfield is another brand name in the Facebook ads and social media world. Countless people around the world have learned the Facebook marketing basics from her blog, newsletter… and Podcast.
Of the 11 Facebook ads podcasts listed here this is probably the longest-running one with 380+ episodes live.
Nowadays she covers everything related to digital marketing, from optimizing your sales page to maximizing the ROI of your mailing list.
I tend to get bored by podcasters that only interview other people. Amy has a good mix of episodes where she shares her expertise on a subject and episodes where she interviews someone else. I think this is the perfect mix to be one of the best podcasts in town.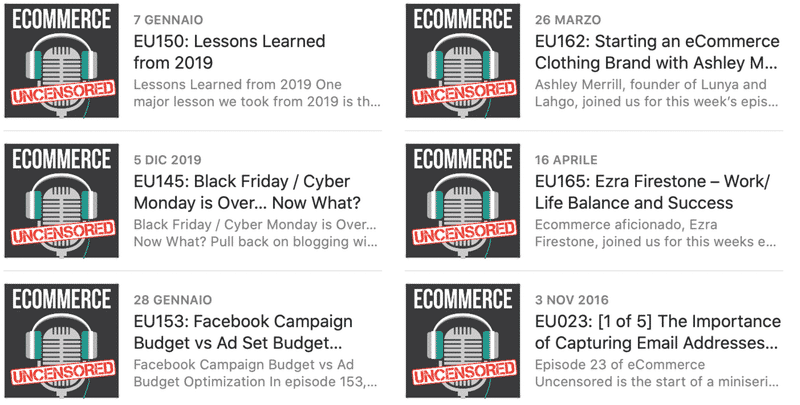 eCommerce Uncensored – Email Marketing, Facebook Ads, Social Media Podcast
eCommerce Uncensored is a "pot of gold" of information! All you need to know about how to bring your eCommerce business sales and grow your website traffic and email list.
You will have full access to daily valuable experienced giveaway tips and techniques they've mastered, applying those techniques you think fits your business best.
Their podcast also teaches marketers how to efficiently apply sales funnels, analytics, email marketing techniques, and search engine optimization to their marketing strategy!
If you want to build meaningful leads and drive real traffic to your business, this podcast is the right one for you!
Are you a solopreneur looking to grow your social media presence? The Social Media Marketing Happy Hour podcast is the perfect solution for you.
This podcast is hosted by Dawn Marrs and Traci Reuter and provides invaluable insights into digital marketing.
With over 390 episodes recorded, topics range from sales funnels and Facebook advertising to Instagram ads and email marketing. In particular, episode 16 is a must-listen as it covers the importance of using visual content in marketing.
Whether a beginner or an expert, Social Media Marketing Happy Hour will help you level up your marketing skills. Each episode contains actionable tips and advice that can be implemented immediately.
Which Podcasts should you listen to learn Facebook Ads?
So, should you listen to all the eleven Facebook Ads podcasts mentioned in this post? Of course not!
Listening to more than 2 of them would likely add little incremental value while eating up your time in an exponential way. The road to the perfect Facebook ad is made of learning and doing. Putting in practice what you learn is essential to really understand how to get the most out of Facebook advertising.
Here's my recommendation for you. Pick a couple of topics you are passionate about. Find an episode in each of these podcasts that cover that topic and listen to it. Decide which host is a better fit for your level of expertise and personal taste.
Some will like a more dry approach like Jon Loomer's. Some will like an interview-oriented approach. There's no good choice, just pick a couple of podcasts that expose the content in the way you prefer to consume them and hit the subscribe button.
Did I forget to mention any Facebook Ad podcast that you think is worth listening to? Just let me know in the comments!
PS: Looking for more inspiration to become a better marketer? Don't miss my list of must-read marketing books!