Content curation isn't just about filling up a content pipeline. Nor is it only about saving time in creating original content.
It's all that, and so much more.
In this guide, let's look at how content curation plays an essential role in your journey as a SaaS marketer and the steps involved in building a shatterproof internal framework.
Making the Case: Why Should You Do Content Curation?
"Content curation is a process of gathering relevant and interesting content from relevant or non-competing brands."
45% of consumers will unfollow a brand on social media if the shared content is too self-promotional.
This proves one thing smart marketers have known for a long time: It's frowned upon to toot your own horns if your self-serving content offers zero value to customers.
Content curation complements an existing B2B SaaS marketing strategy. It provides unique perspectives that add more value to your target audience and saves you time from producing original content.
But there's a lot more to this widespread practice. Here are three major benefits of curating content from external sources:
1) Expand horizons and widen the marketing world you live in
Whenever you spot valuable content, there's an opportunity to learn or unlearn something new about your industry. You get to fuel your expertise as you curate content from other brands.
2) Position yourself as the go-to advisor in your field
People follow people in the know.
When you treat content curation as an outlet to demonstrate your authority and credibility, your target audience will start seeing you as a walking encyclopedia of their fields.
They'll have no qualms about hitting the follow or subscribe button.
SEMrush frequently curates the latest news from established digital marketing publications. Here, it tweets about the most critical changes in the Search Ads 360 platform and pairs it with a high-level visual from Search Engine Watch.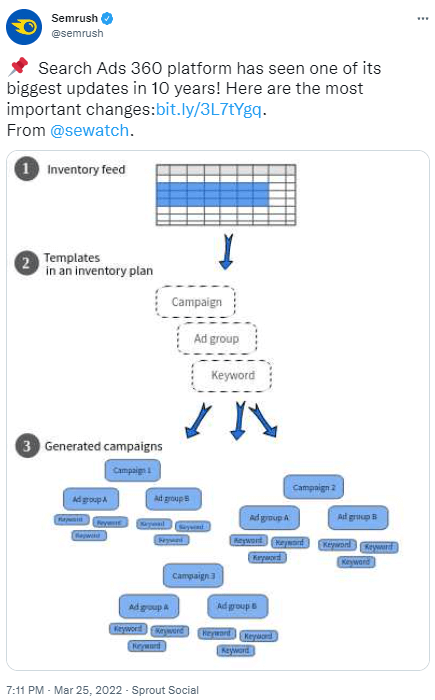 SEMrush followers never have to worry about being out of the loop as the company shares important and timely news
3) Network meaningfully (and with results)
Zero-effort comments like "Nice!" and "[insert emoji]" on social media posts are forgettable at best and annoying at worst.
But shares or retweets of the curated content with your unique insights? They keep the conversation going, challenge others to form new perspectives, and build rapport with influencers you admire.
How to Make Content Curation Really Valuable for Everyone?
1) Make it 80/20
Budgeting.
Working out.
Selling.
And now curating content.
The 80/20 rule works for everything.
Make sure that 80% of the content is from your own, while the remaining 20% comes from external sources. Bonus if these sources are complementary brands.
SparkToro does this remarkably well.
The startup begins its bi-weekly newsletter with helpful tips on using its audience research tool and ends it with thought-provoking resources about the marketing world.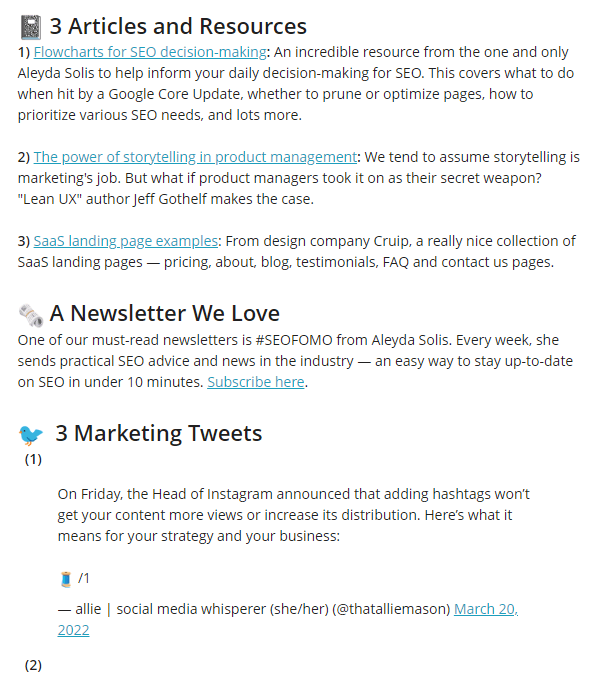 SparkToro doesn't shy away from giving love to their favorite brands in their newsletter
SparkToro strikes a delicate balance of self-promotion and permissionless co-marketing in its content curation strategy. It organically mentions the companies it admires and potentially earns goodwill and reciprocation in return.
Also, notice how you've never heard of most of these resources? Many are under the radar! I've been in marketing for years, and I've never heard of them. This makes it even more valuable.
That's precisely why content curation is so powerful.
Curated content like this makes your audience feel like they're part of an exclusive club.
When you share selective and high-quality resources, people will start seeing you as a pro (think of your curated content as an underground playbook, if you will).
2) Grab a chair and take part in the conversation
You're more likely to hear back from the original creator if you add a unique take.
Note how ProductLed, a community for product-led growth (PLG) professionals, curates multiple resources for its ultimate guide on product-led growth.
It even tweets at the original creators, enticing them to retweet its post in the process.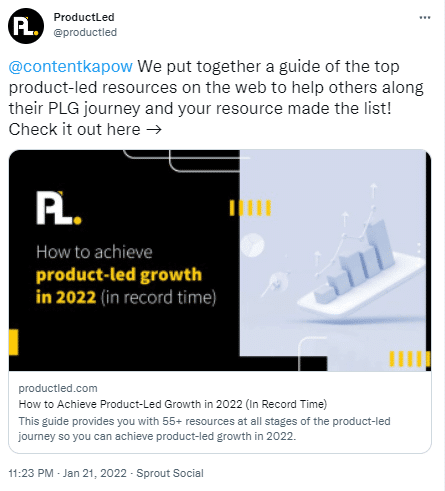 It's worth pointing out that many of these tweets went ignored (i.e., not liked, commented on, or retweeted). When ProductLed tweeted to me that it included my article in its guide, I liked it, replied with a "🙌🏻🙌🏻🙌🏻," and ended at that.
Why is that? Because the lack of personalization in the ultimate guide and tweet didn't compel me to continue the discussion.
It'd probably be more effective if the guide had fresh insights—be it a contrarian view or an expanded section of the points I've mentioned in the original post.
Nonetheless, it's still a splendid effort on ProductLed's part. The curated posts served as a destination point on all things PLG.
3) Reward your audience and help them win
Content curation solves two problems in one go.
One, it fills up your content pipeline—especially life-saving when your writer can't meet a deadline or goes radio silent. Two, it rewards your prospective customers.
Buffer is a champion of this approach.
The startup, which provides social media scheduling tools, often curates content from Instagram users (Buffer's target audience) worldwide.
Since Buffer boasts over 90,000 followers and gives credit for all shared photos, it makes sense for these users to agree to have their pictures re-posted.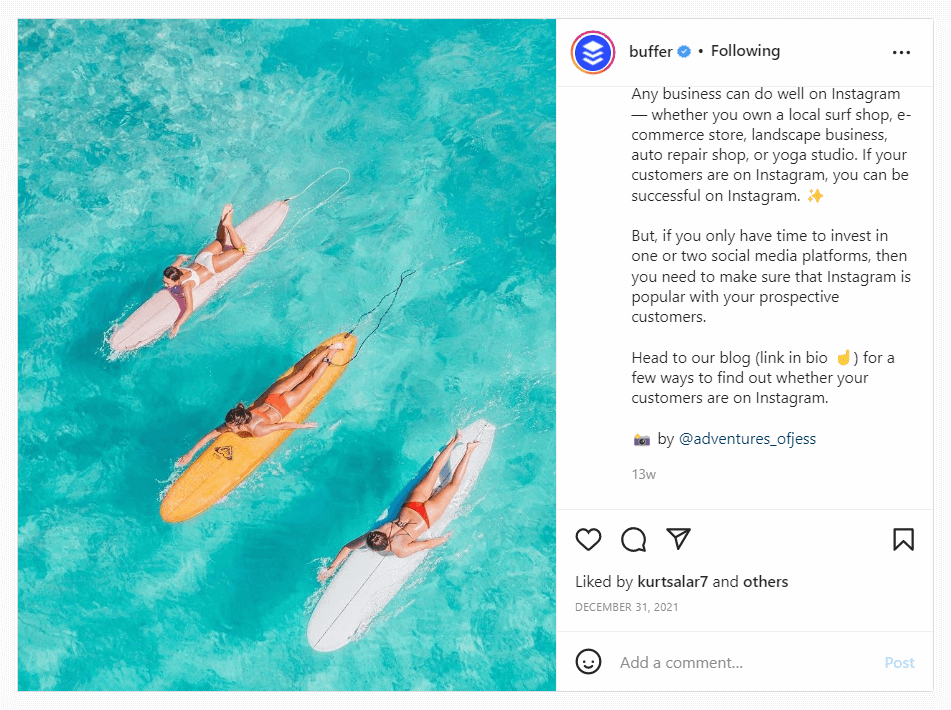 Win-win: Buffer fills its content pipeline, and users get more exposure in return
Is it any surprise then that Buffer grew its Instagram account by almost 400% in a year?
How to Build a Shatterproof Internal Framework for Curating Content
#1. Discover
If we are what we eat, then marketers are what they read and experiment with.
The first step of curating content is a no-brainer: Create a list of go-to sources.
Maybe it's a respected thought leader who often pens viral tweetstorms. Or maybe, it's the obscure newsletter that shares only indie startup news. Or perhaps, it's the blog you can always count on for strategic and fluff-free insights.
The options are endless.
More examples of these sources include:
Webinars
LinkedIn posts
Industry publications
YouTube video series
Popular communities* (e.g., Slack, subreddit)
*If you're part of a members-only community, refrain from sharing the tips and tricks mentioned there. Better yet, ask for permission. See if the community or poster is open to you sharing a key takeaway. Add a link to promote them in return. You might earn yourself a sponsor or partner.
Let's imagine you're a marketer from an SEO software startup. You already have a rough list, but you wonder if you're missing other potentially great sources.
Here, you could turn to polls to see if you're heading in the right direction. This could be polls from places like SEO Facebook groups, the marketing subreddit, or this listicle from Ahrefs.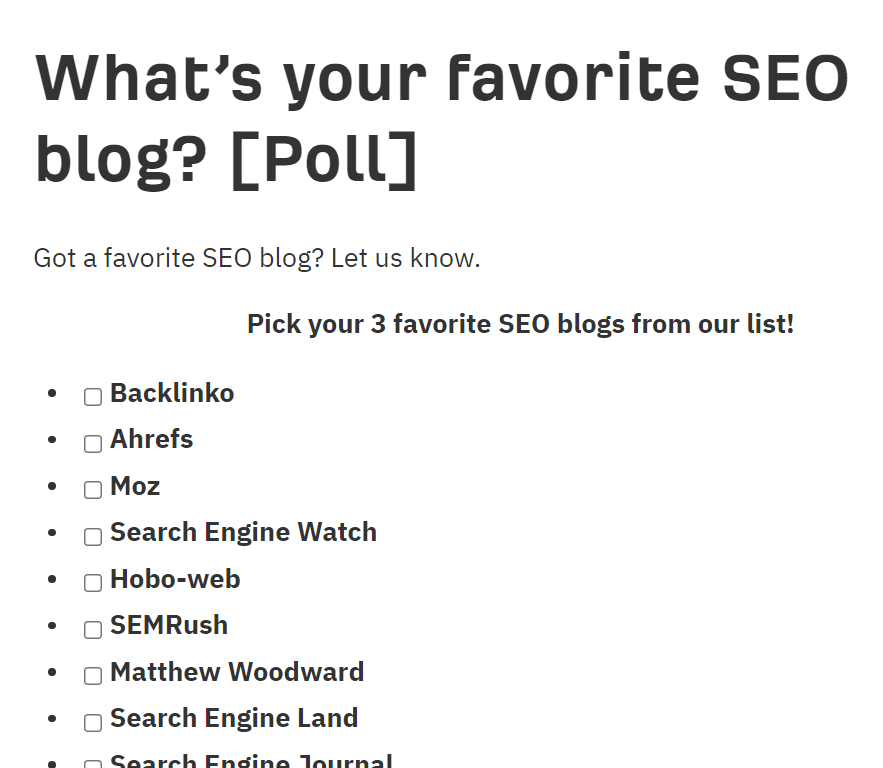 Curate content from websites? Remember to check their domain authority (DA) score.
High DAs usually signal credibility, as they have a high number of external sites linking back to them.
The last thing you want to do is curate content from questionable sites and risk sharing wrong or outdated information.
Besides websites, it's also immensely helpful to source interesting content on social media.
Amanda Natividad, VP of marketing at SparkToro, follows several Twitter lists about B2B marketing, content creators, and founders and leaders.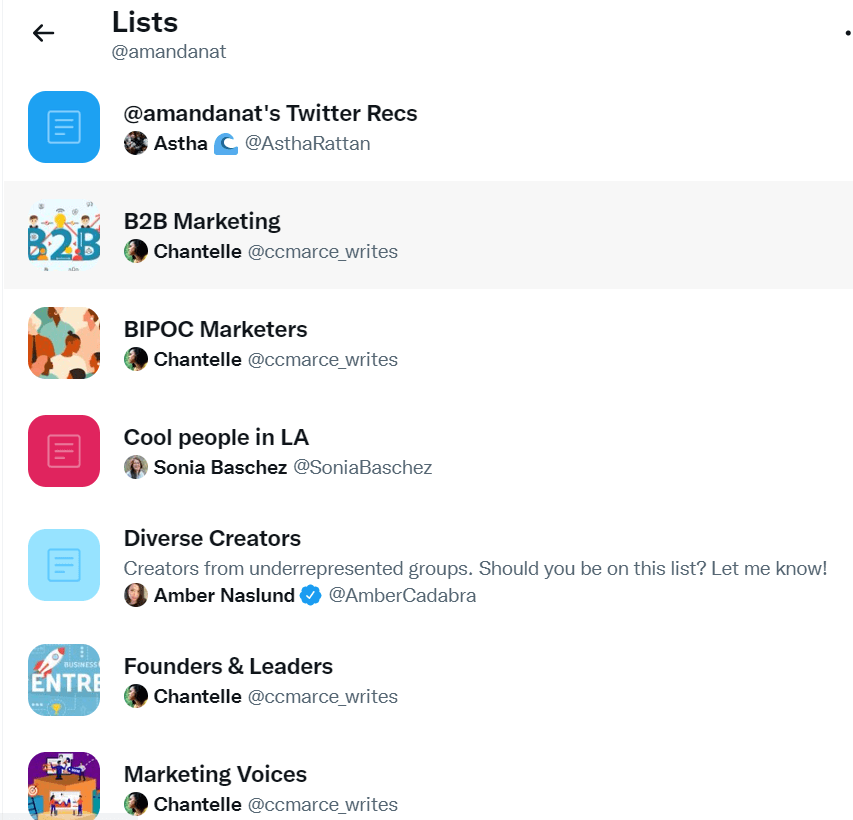 We're betting that she uses some of these lists to inspire the newsletters she creates for SparkToro and her personal blog.
In a nutshell, you want to be 100% sure that your content curation is selective and high-quality. Just curating the popular posts that everyone is talking about is a colossal waste of effort.
It makes your channel no different from these copycat brands.
#2. Organize with content curation tools
A content system can make or break your content curation strategy.
The wrong one will cause confusion and frustration.
Imagine sharing content that's already been shared two weeks ago! Or struggling to find a fantastic piece on fundraising because you can't remember if you save it on Notion or Google Drive.
On the other hand, the right content curation tool will boost organization and productivity and save hours of time as everything is hosted on a central platform.
Your ideal tool will depend on your workflow, and the number of content stakeholders involved.
For example, if you're a one-person marketing team from a bootstrapped startup, you'll notice that good ol' Google Drive will suffice.
But if you're part of a 20-member marketing team that sells to enterprises? You probably need a giant digital asset management suite to streamline your content curation strategy and entire marketing and sales operations.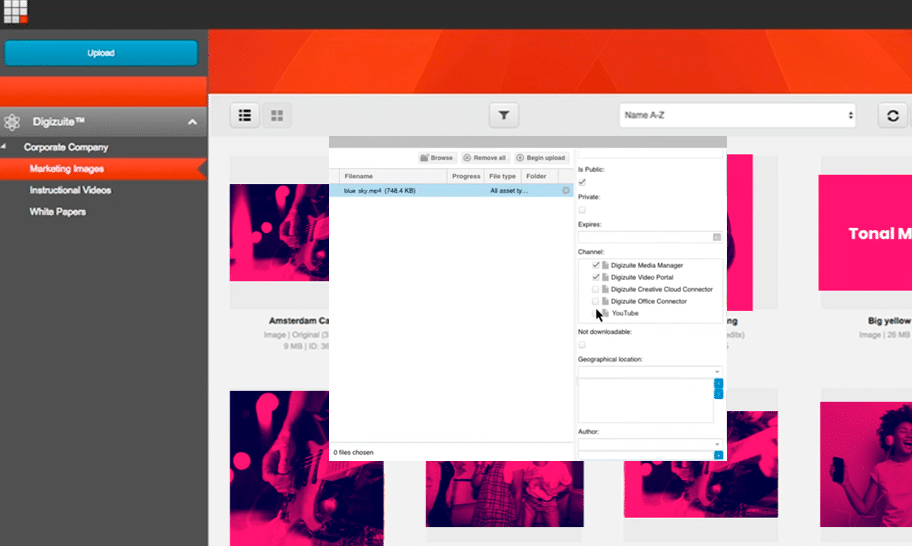 Here are four types of content curation tools (from basic to advanced capabilities) that you might have come across:
(i) Email labels and tab recovery tools like Session Buddy. These tools offer basic and straightforward organizational features like labeling and saving content as collections.
(ii) Project management and note-taking tools like Notion and Trello. Here's how DivByZero founder, Max, manages his curated content. Note the columns that detail the content, URL link, tags, destination (i.e., the channel the content is shared), score, and status, and a personal score that determines the quality of the content.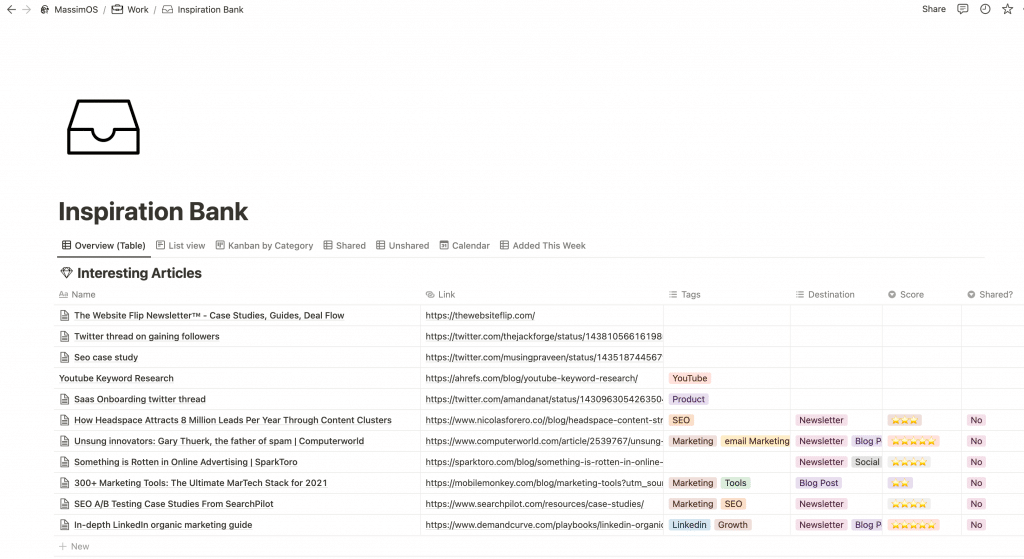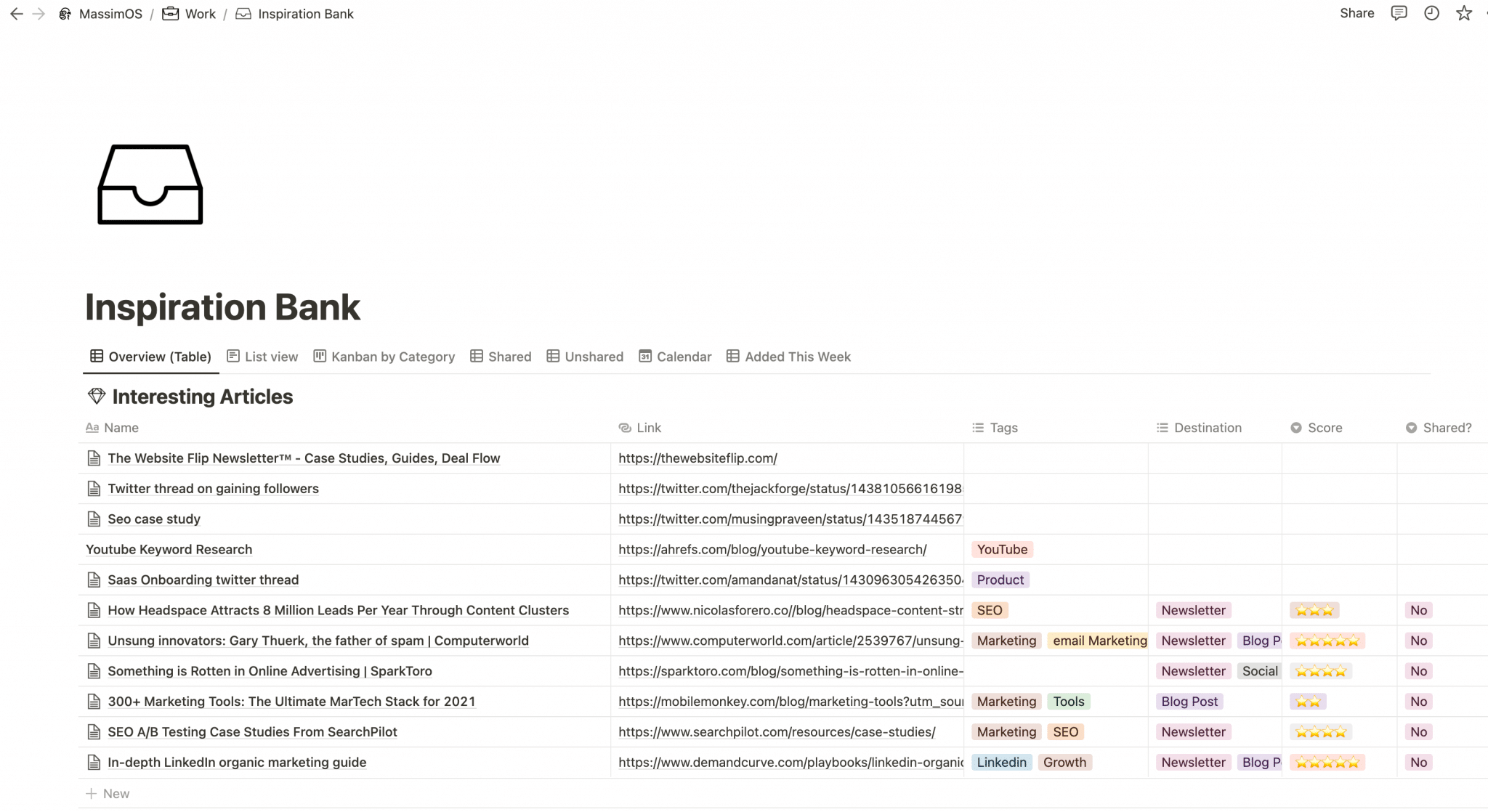 (iii) Content curation-centric tools like Scoop.it. Save and distribute your content in a few clicks. You can also easily create newsletters within minutes and schedule posting for your brand page and team members' personal accounts.
(iv) File storage and digital asset management solutions like Google Drive (basic) and Digizuite (advanced). Simple tools will offer a basic organization like folders and control access, whereas advanced tools will provide premium features like omnichannel automation, extensive integration, and a multi-tagging system.
(v) Social bookmarking apps like Pocket and Instapaper. Discover top content and save them with a click. You can also organize them using tags and highlight interesting passages you want to revisit in the future.
Whichever content curation platform you pick, stick to it.
Consistency promotes long-term results.
Plus, you do not want to manage your content all over the place. It can get really confusing over time.
#3. Plan and improve
The content calendar is the sidekick of all content practitioners.
It plans your entire content strategy (including your curated content), keeps us accountable, and helps us stay on track.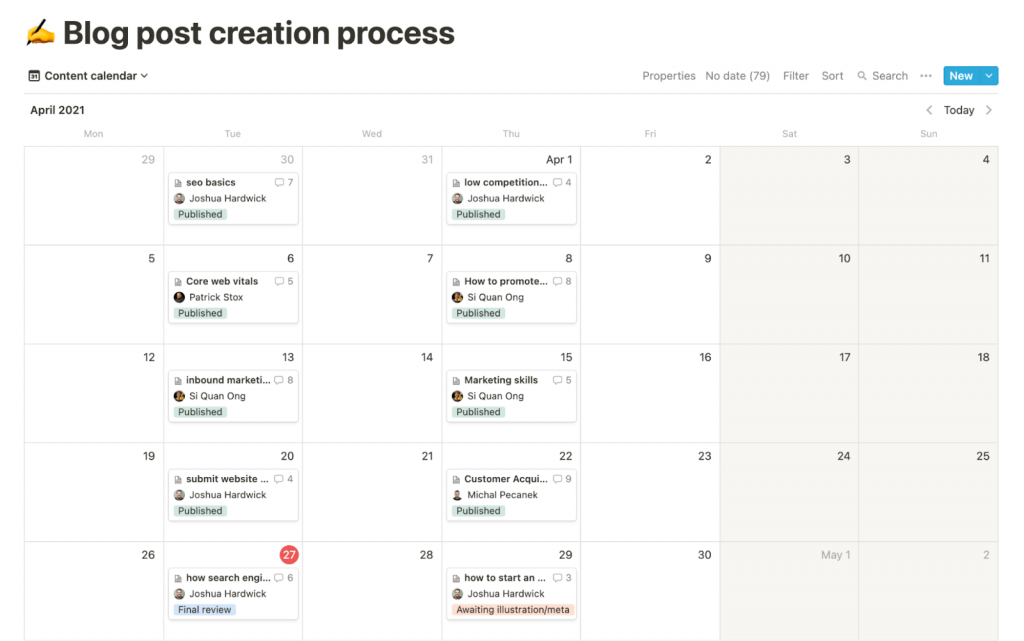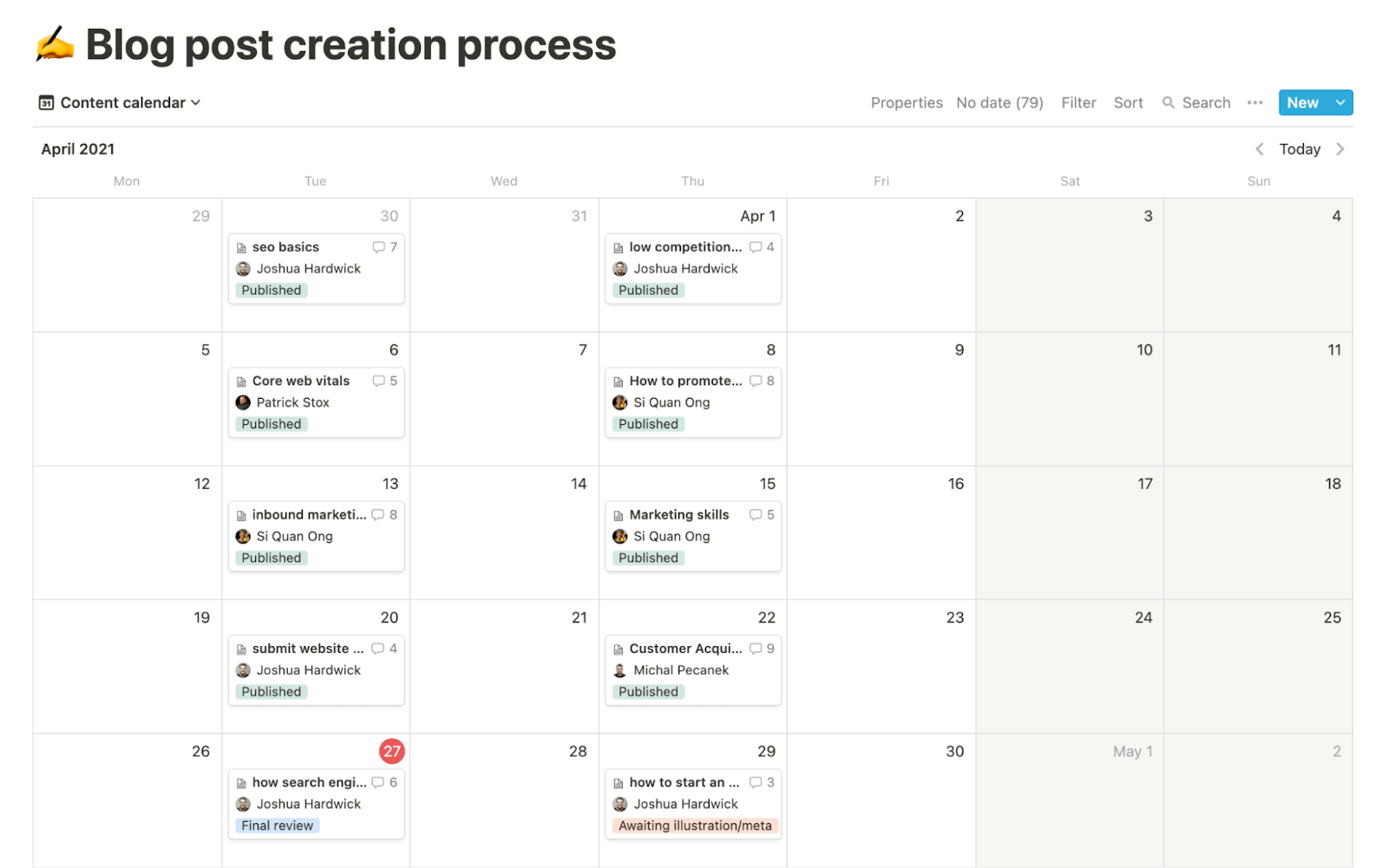 You should decide how often you want to share your curated content and stick to a consistent schedule (tip: you might want to share your content with different frequencies on different channels to avoid repetition).
While you're at it, ask yourself if there's any way you can improve the content's readability or engagement.
This is especially crucial if you're sharing text- or data-heavy content.
Let's say you want to share a product-market fit guide that features quotes from a dozen C-suite marketers. But at 10,000 words, you're not sure if it'll overwhelm your readers.
Too much content, too little time, #amiright?
One way to distill the content is to pick the biggest takeaways and turn them into quote graphics.
What if it's a two-hour-long video about the SaaS industry? Consider talking about it in your Top 5 Picks of the Week video series and share your experiences to add a personal touch.
Or maybe you come across a magnificent piece of content with mind-boggling statistics. In that case, turn them into beautiful graphics with tools like Canva or Datawrapper.
When Michael Keenan, a B2B SaaS content writer, wrote an article about the F&B trends for Shopify Plus, he turned the statistics from a Cargill study into an attractive chart graph (note: this touches on content writing, but you can borrow this idea in your content curation strategy).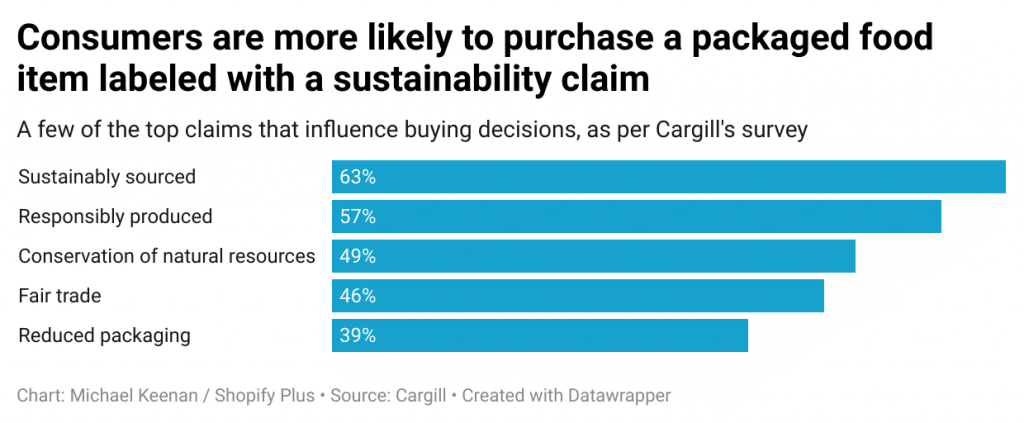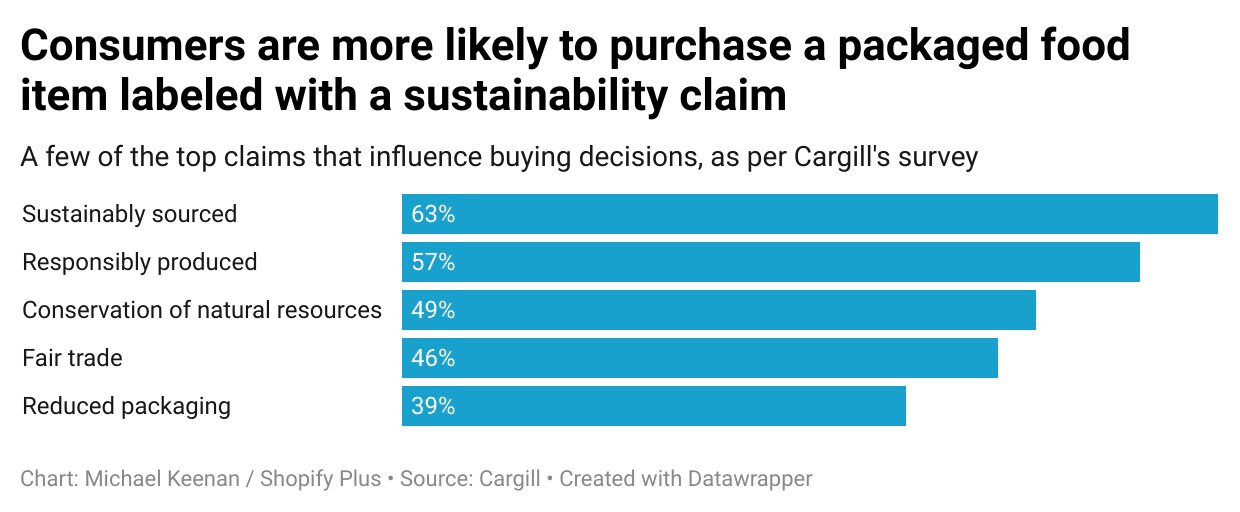 See how much more digestible and engaging it is?
If your audience spots this chart graph in their newsfeed, they'll likely pause and click to learn more.
Can a plain URL link do that? Probably not.
#4. Distribute wildly and actively
The best content can get lost in the interweb if there's no distribution strategy in place.
Now that you've planned your content calendar and improved the curated content, share it wildly on social media and tag the brands and folks mentioned in the original piece.
We bet a handful will appreciate and share it with their network.
Other writers might even use your charts in their own content and credit your brand. No doubt it'll drive brand recognition and backlinks to your site.
If you're new to content distribution, start small with a few channels and add new ones over time.
"Start with a very relaxed cadence to easily build the habit. Increase the frequency once you've found consistency with a relaxed schedule."

Massimo Chieruzzi, founder of DivByZero
Are you active on LinkedIn?
Start from there, then. Once you're comfortable with the pace, experiment with posting it on other channels like Twitter and TikTok.
Take advantage as much as you can of content repurposing, quickly adapting content that worked on one platform to another. For example, with TweetShots, our free tool to convert Tweets into beautiful, sharable images, you can post great tweets on Instagram, Facebook, and Linkedin.
#5. Analyze
Sometimes content doesn't always work out. Other times, it can turn out to be a surprise.
We've all had that one random piece on meme marketing that performed far better than the strategic guide on revenue marketing… What gives?
Random or not, you should measure the impact of your content curation efforts. That way, you can do more of what works and ditch those that don't.
Ask yourself:
"How many users are interacting with this piece of content?"
"How much traffic is this curated content driving to my site/page?"
"What type of curated content attracts the highest number of followers or subscribers?"
Use tools like bit.ly or JotURL to dig deep into the analytics. Identify the most popular themes or content types that resonate with your audience.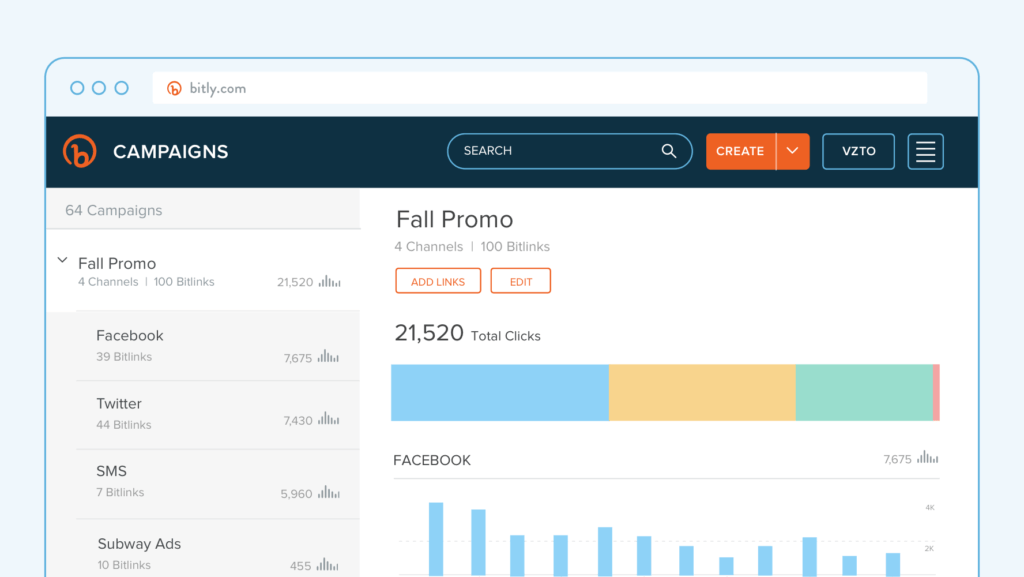 Make a note of this data. You never know, these insights might inspire your next content or product improvements down the road.
Here are three content curation examples to show you what we mean.
If you're a content marketing agency that saw massive engagement from a how-to guide on content refresh, consider building a free content tool that prevents content decay. Use it as a channel to acquire leads for your marketing and sales teams.
If you're a B2B SaaS content writer and see a skyscraper-high number of comments from an affiliate content marketing strategy teardown video you shared, think about writing more affiliate marketing-centric blog posts.
If you're an SEO SaaS startup that saw many clicks from a free content brief template you shared on your blog, consider building an online course on writing effective briefs.
See?
Content curation doesn't only drive value for your audience. It also impacts the entire organization.
Final Thoughts
Content curation is the antidote to self-serving content.
The benefits run deeper than filling our content pipeline and saving us time in creating content from scratch.
More importantly, content curation expands our horizon as marketers, positions ourselves as the go-to person in our industry, and builds relationships with brands and folks we admire organically.