Are you finding it challenging to generate new leads for the sales team of your organization? If you're in the same boat as 34% of today's marketers, then you know how challenging it can be to achieve this feat. You may have tried the latest methods and tactics, but still, you're not getting the desired results.
But don't worry, I've got you covered.
In this post, I'll be diving into the world of B2B lead generation tools, showing you what they are and how you can use them to improve your lead gen campaigns for your sales team. I'll discuss the key features you should look for in these tools and then supply you with a comprehensive list of the best-performing options available in 2023. With these tools at your disposal, you can supercharge your lead-generation efforts and take your business to new heights.
B2B Lead Generation Tools
I believe that every successful lead gen campaign requires two critical components: a clear targeting strategy for prospective customers and the right tools to monitor and execute your plan effectively.
B2B lead gen tools are software designed to help capture leads automatically. This allows you to focus on developing campaigns, rather than manually inserting lead data.
But what makes a good lead-generation tool?
Ideally, you want a tool that automates your processes and doesn't require extensive coding on your part. The more user-friendly and intuitive it is, the better. However, some of the best lead generation tools may have a bit of a learning curve.
When choosing your lead gen tool, you should look for usability, integration with your existing marketing tools, pricing that fits your budget, essential features to streamline lead gen campaigns, and most importantly, whether it helps you achieve your lead gen goals.
There are various forms of lead generation software that serve different purposes, and you'll find some offer better features in specific areas than others. Finding a middle ground is key to getting the most benefits possible without exceeding your marketing budget. With the right lead generation tool, you can automate your processes, streamline your campaigns, and achieve your lead gen goals efficiently.
Here we probably want to split it into multiple categories. I use the following categories:
✔PopUp Builders-Popup builders are tools or software that allow users to create custom popup windows or overlays on websites or web pages.
✔Landing Page Builders-Landing page builders are tools or software that allow users to create web pages specifically designed for a targeted marketing or advertising campaign with the goal of converting visitors into customers or top-of-the-funnel leads.
✔Prospecting Tools-Prospecting tools are software or applications that assist in the process of finding and identifying potential customers or leads for a business. These tools typically leverage various data sources, technologies, and techniques to help businesses identify and target potential prospects for their products or services.
Along with lead generation tools, CRM and Marketing Automation are essential. But remember seamless communication between these tools, particularly with your CRM, is paramount. So when choosing your tools, ensure they can talk to each other and integrate seamlessly with your CRM. Don't underestimate the power of a tightly-knit tech stack in maximizing your prospecting efforts!
So let's deep-dive into each category and explore the top tools from each category.
Pop-up Builders
ConvertBox
ConvertBox is my ultimate solution for creating impactful pop-ups that capture the visitors' emails or guide them to exclusive promotions. With ConvertBox, simplicity meets power, making it a must-have tool for any website owner. Plus, it seamlessly integrates with your CRM of choice, giving you unparalleled control over your lead-generation efforts.
I have a keen eye for user-friendliness, and I simply can't stand navigating through endless menus just to find what I'm looking for. That's why ConvertBox's dashboard design is an absolute delight for me. As soon as I log in, I'm greeted with a concise overview of my users' activities and my forms, or as ConvertBox calls them, "ConvertBoxes." If usability matters to you as much as it does to me, you're going to fall in love with ConvertBox's intuitive dashboard layout.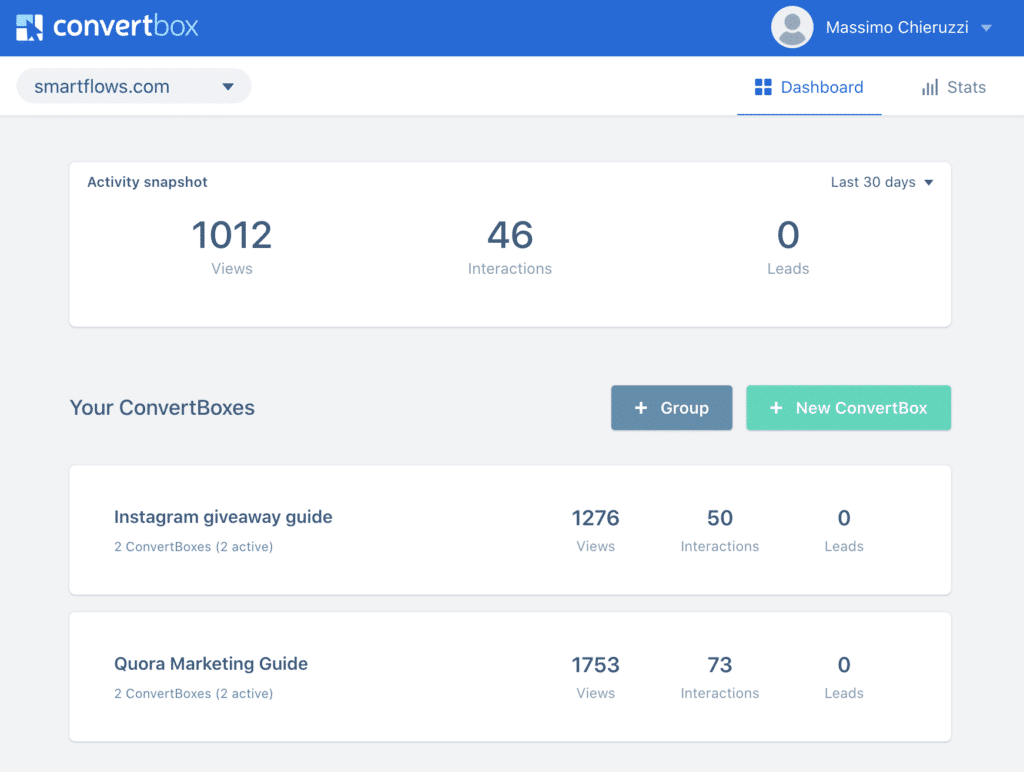 Check out the jaw-dropping examples of lead-gen boxes you can create with ConvertBox right here.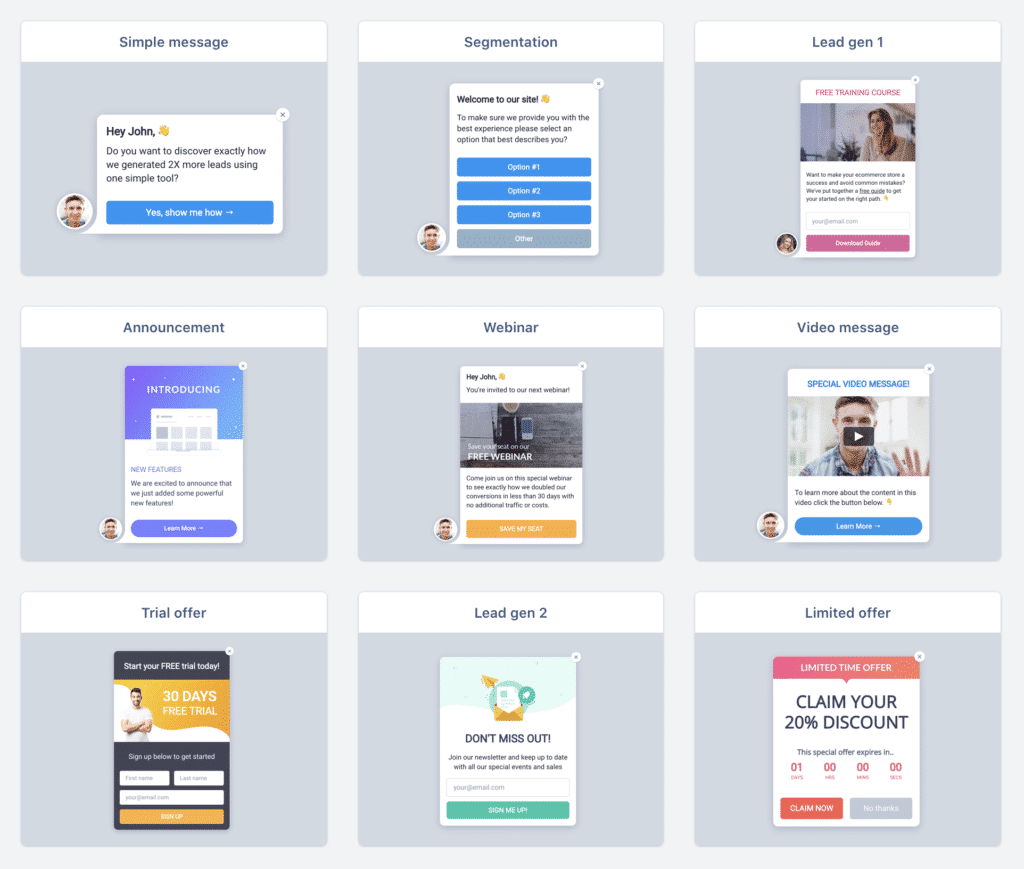 Unlock the power of personalized engagement with a sleek and compact chat box that can be effortlessly positioned on the bottom right or bottom left of your webpage. Create an interactive experience that captivates your visitors, and keeps them hooked with easy-to-use boxes that are designed to enhance their browsing journey.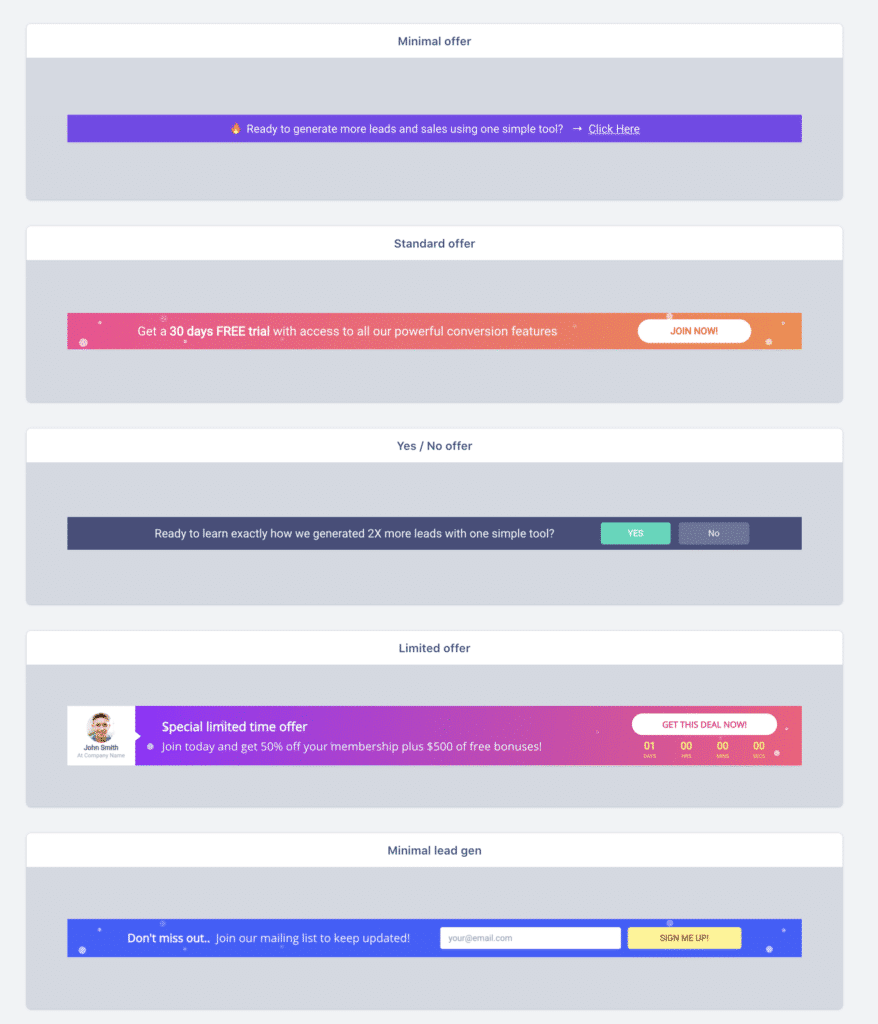 ConvertBox also empowers you with attention-grabbing sticky bars that remain persistently visible at the top of your web pages. Make a lasting impression on your visitors with eye-catching and engaging sticky bars that ensure your message stays front and center.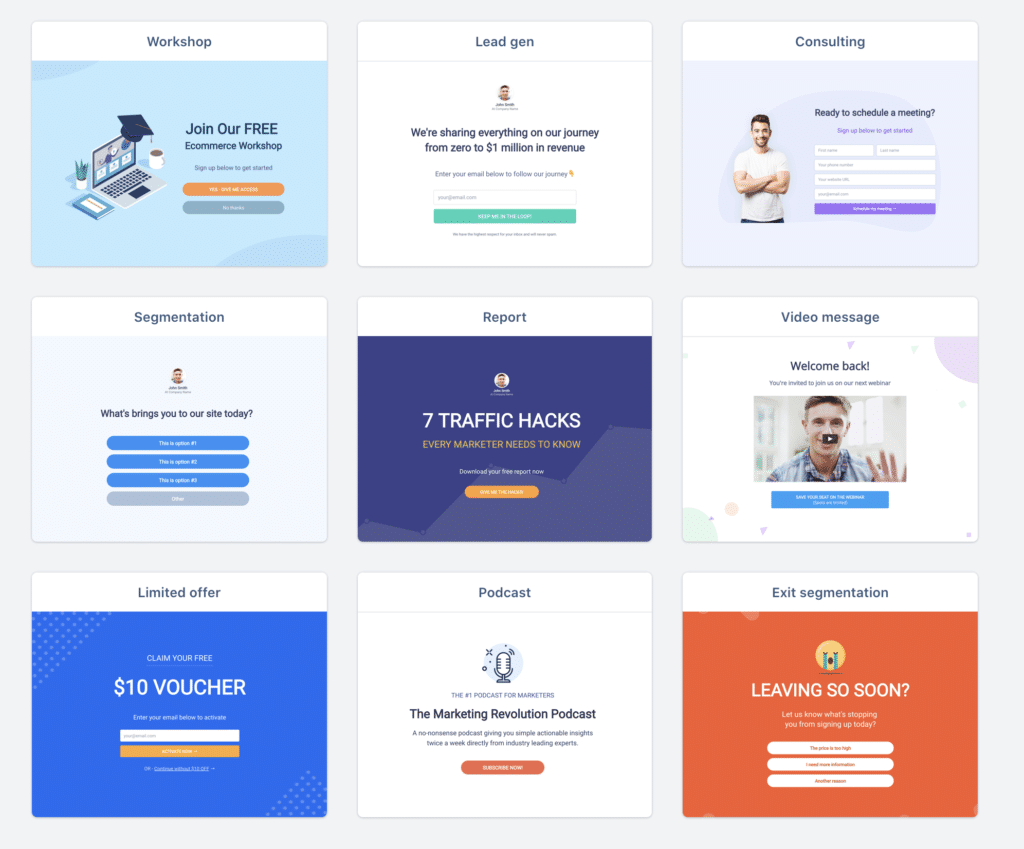 Take your engagement to the next level by asking your visitors questions, with customizable buttons that offer multiple options for their responses. Create an interactive and personalized experience that sparks meaningful interactions and drives results. Whether capturing leads or gathering insights, ConvertBox empowers you with original and effective ways to engage your audience and achieve your goals.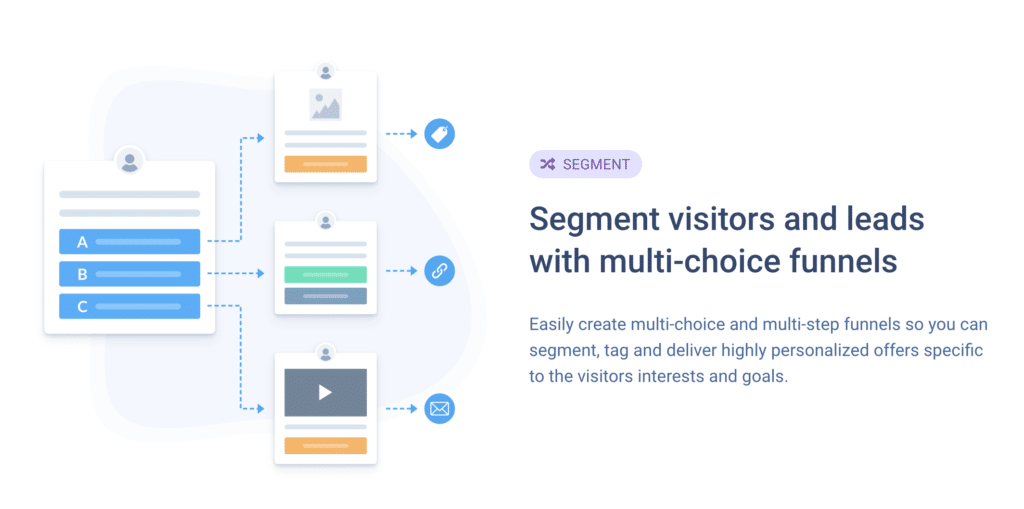 Once your pop-up is configured, you have full control over who gets to see this dynamic box.
With ConvertBox's extensive trigger options, you can customize the perfect moment for our pop-up to appear:
✔Set a time delay
✔Trigger after a certain percentage of scrolling on the page
✔Reactivate after a period of inactivity
✔Set it to show upon clicking a specific element on the page
✔Activate upon page abandonment
Not only that, you can fine-tune the frequency at which users see the modal and customize what action should be taken when they close the box.
With ConvertBox's flexible settings, you have the power to create a truly personalized and optimized user experience that captivates our visitors and drives results.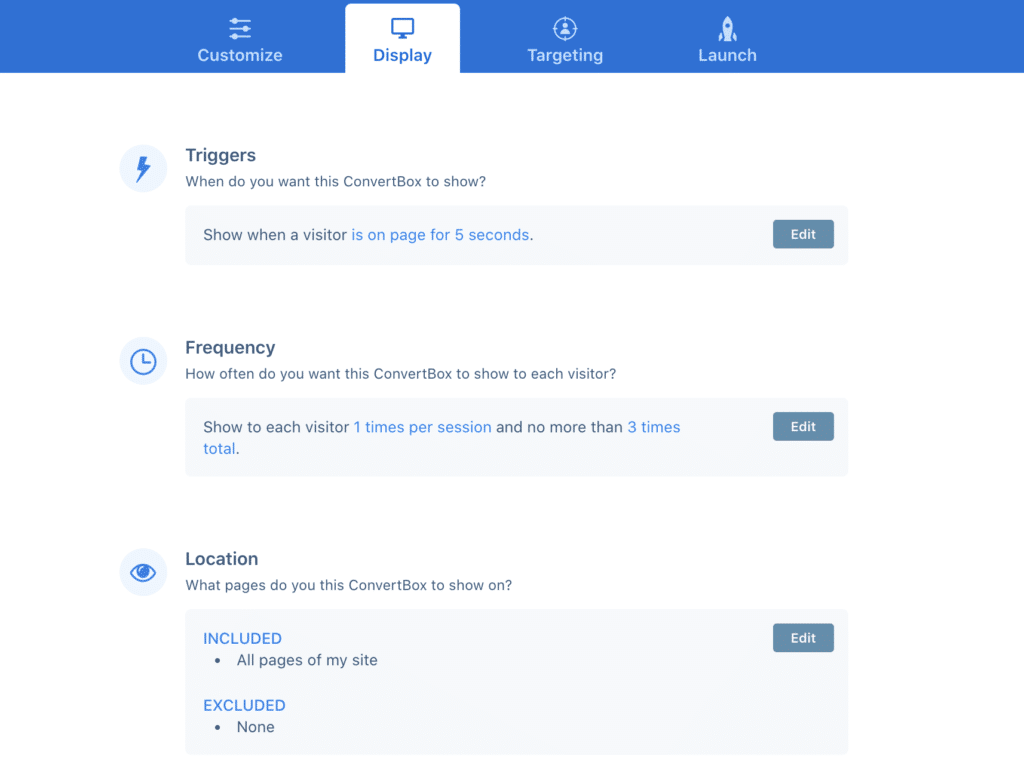 One of the standout features that truly sets ConvertBox apart is its seamless integration with CRM, specifically HubSpot. While many other products only allow for writing information back to HubSpot, ConvertBox takes it a step further by offering real-time data reading capabilities from HubSpot. This means I can create highly targeted rules such as "Show this pop-up only to visitors who are on this specific HubSpot list" or "Exclude visitors who are already in this HubSpot list." It's a game-changer!
With ConvertBox's CRM integration, I can optimize my lead generation strategy like never before. For instance, I can avoid showing lead generation modals to users who are already in HubSpot and instead offer them special promos to make their first purchase. I can even utilize this functionality for managing up-sells and cross-sells, creating a highly personalized and effective user experience.
Once I've configured my targeting rules, I'm good to go. I can launch my new modal immediately or keep it inactive for future review, giving me full control and flexibility over my campaigns. ConvertBox's seamless CRM integration opens up a world of possibilities for highly targeted, data-driven pop-ups that truly drive results.
ConvertBox goes beyond just creating pop-ups – it also provides comprehensive reporting and analytics to help you track the performance of your campaigns. With ConvertBox's reporting features, you can easily access data on views, interactions (such as clicks on the modal), and leads generated. You can even get statistics for specific groups of modals, allowing you to analyze the performance of different campaigns or variations.
If you're running split tests, ConvertBox provides a breakdown of each experiment, giving you valuable insights into how they are performing and helping you optimize your strategies. For those using multi-step modals, ConvertBox offers detailed analytics for each step of your funnel, including conversion rate and click-through rate, empowering you with data-driven decision-making capabilities.
One feature that stands out is the ability to build funnels within ConvertBox. While other tools like bucket.io may offer similar capabilities at a higher cost, ConvertBox allows you to achieve a lot with its funnel-building option, saving you significant expenses. Don't underestimate the power of ConvertBox's analytics and funnel-building features, which provide valuable insights and optimization opportunities for your campaigns.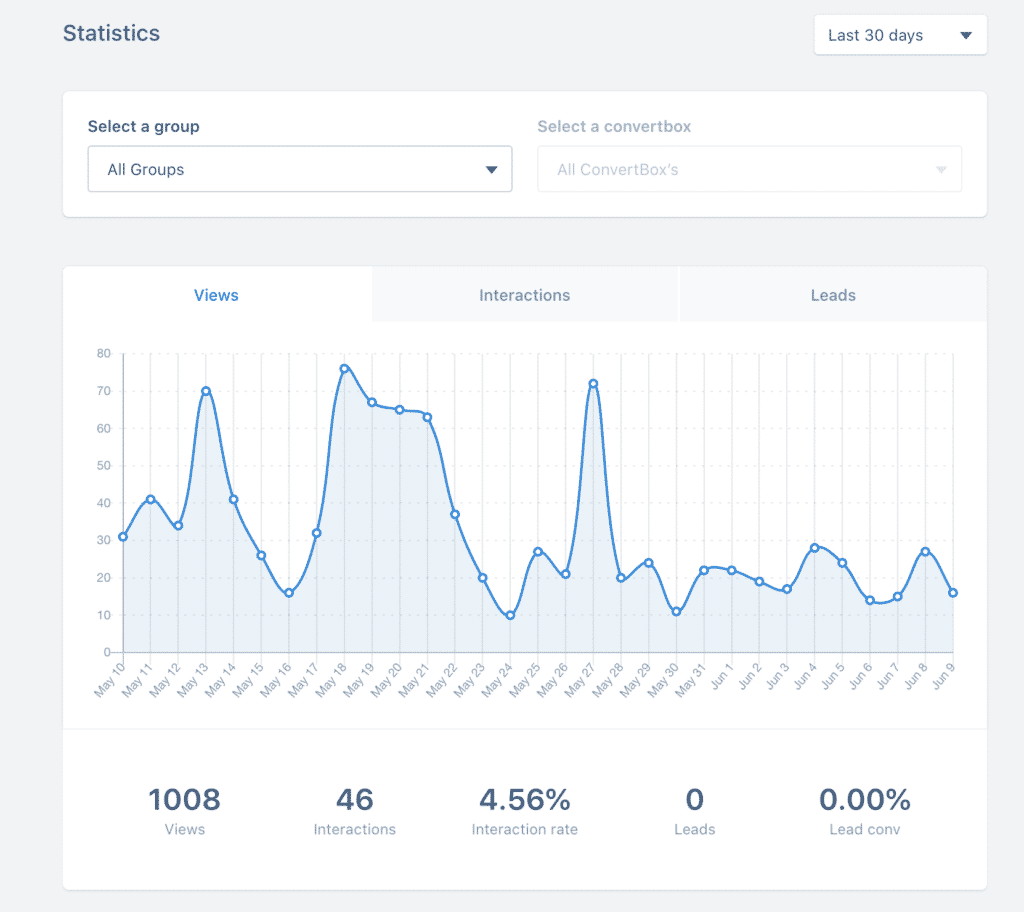 Pricing
You have to pay a bit more upfront but at $495 forever it's a steal. Most tools will cost you between $20 and $100 per month with strict limits. Convertbox basically has no limits except for the number of websites which you can increase by adding $95 and purchasing the pro version. That's it. No additional costs forever.
For this price, I really think it's a no-brainer. at 395$ is going to repay itself in a few months.
The last thing that I want to highlight is their online community. They have a Facebook group which is very helpful, with an active community and the founders always hang in there. You can ask for information on how to set up your boxes, ask for advice, or request new features. a lot of people are going to answer immediately.
ConvertBox is always updated very frequently. New features will always be announced in the Facebook group and via email.
For more insights, read the complete review here
Convertflow
ConvertFlow is an exceptional tool for creating high-converting pop-ups, landing pages, and forms that drive results for your website. With its robust features and seamless integrations, ConvertFlow empowers website owners to capture leads, engage visitors, and optimize their conversion strategies. Here's why I love ConvertFlow:
ConvertFlow's campaign builder is super helpful for creating personalized and dynamic interactions with website visitors. With an intuitive drag-and-drop interface, I can easily create pop-ups, landing pages, forms, and more without any coding skills. The flexibility and versatility of the campaign builder allow me to create campaigns tailored to my specific marketing goals and target audience.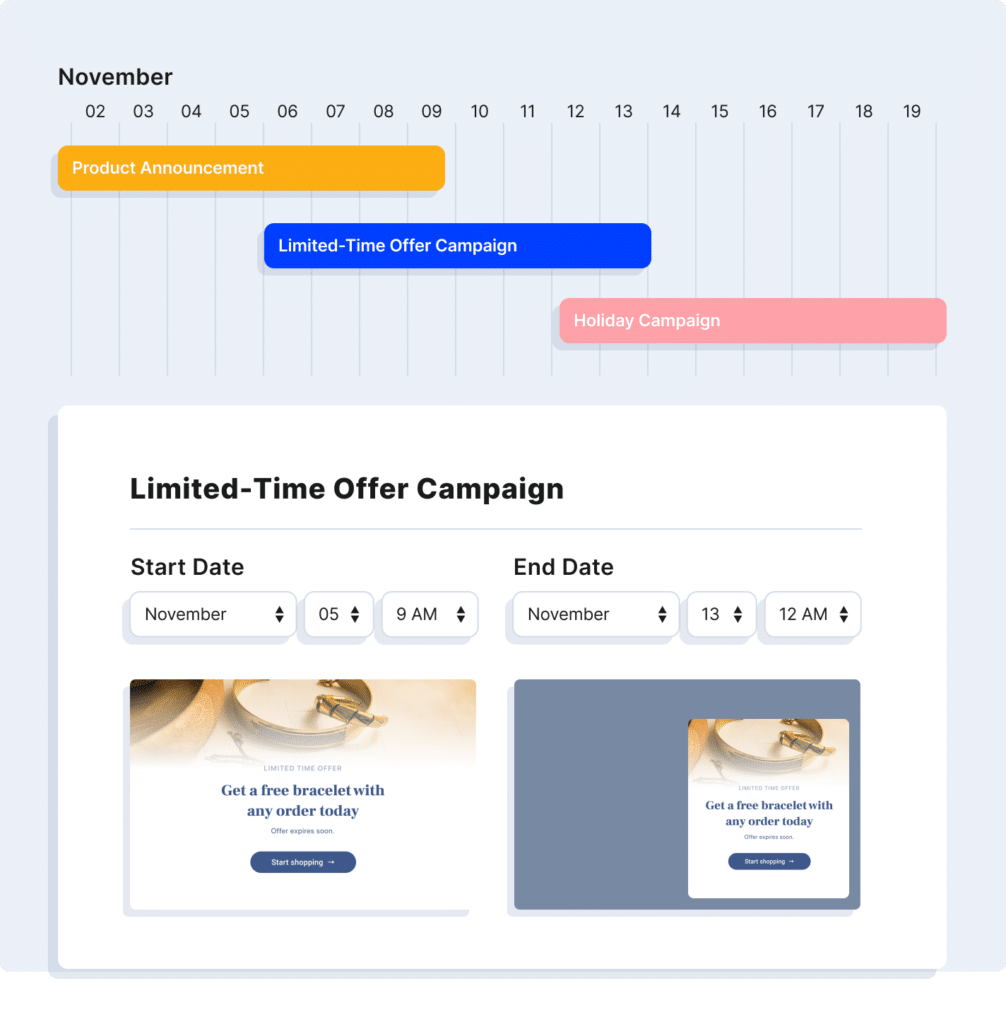 ConvertFlow's smart triggers and targeting options give me full control over when and where my campaigns appear on my website. I can set triggers based on various user behaviors, such as time spent on the page, scroll depth, exit intent, and more. This allows me to deliver the right message to the right audience at the right time, resulting in higher engagement and conversion rates. I can also segment my campaigns based on user attributes, behavior, or other custom criteria, ensuring that my campaigns are highly targeted and relevant.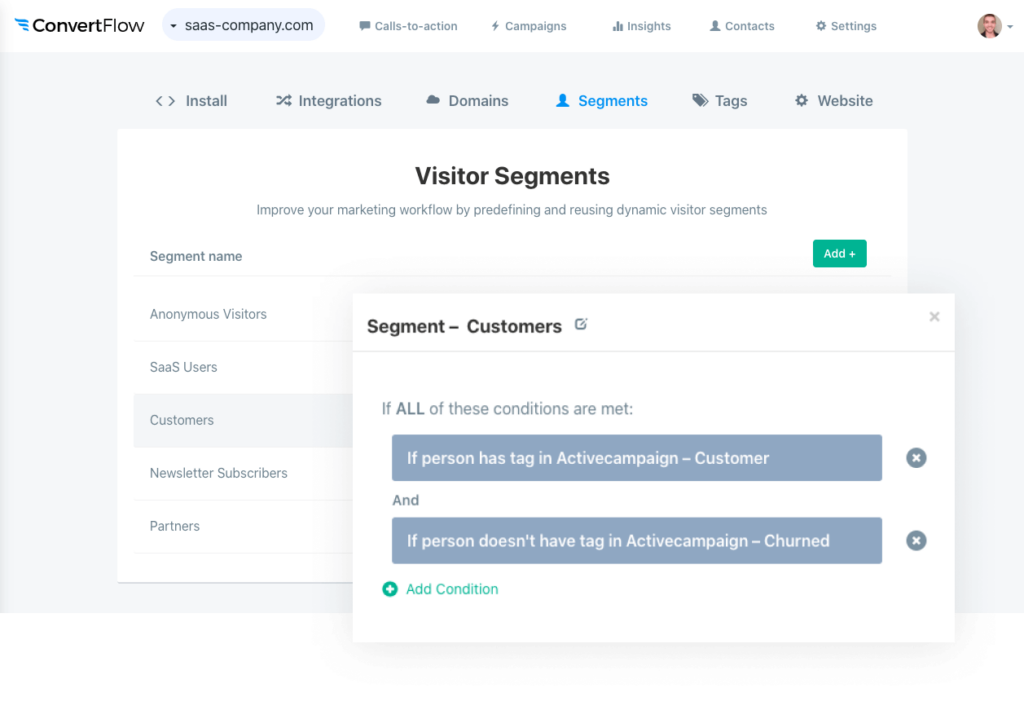 One of the standout features of ConvertFlow is its ability to deliver personalized experiences to website visitors. I can create dynamic content, such as text, images, and calls to action, that changes based on the user's attributes, behavior, or other custom criteria. This level of personalization allows me to create tailored experiences for different segments of my audience, increasing their engagement and likelihood of converting.
ConvertFlow integrates seamlessly with popular CRM and marketing automation platforms, such as HubSpot, Klaviyo, and Shopify, allowing me to sync leads and data in real time. This makes it easy to manage my leads and automate my marketing campaigns without any manual effort. The integration with Google Analytics also provides valuable insights into the performance of my campaigns, allowing me to make data-driven decisions to optimize my strategies.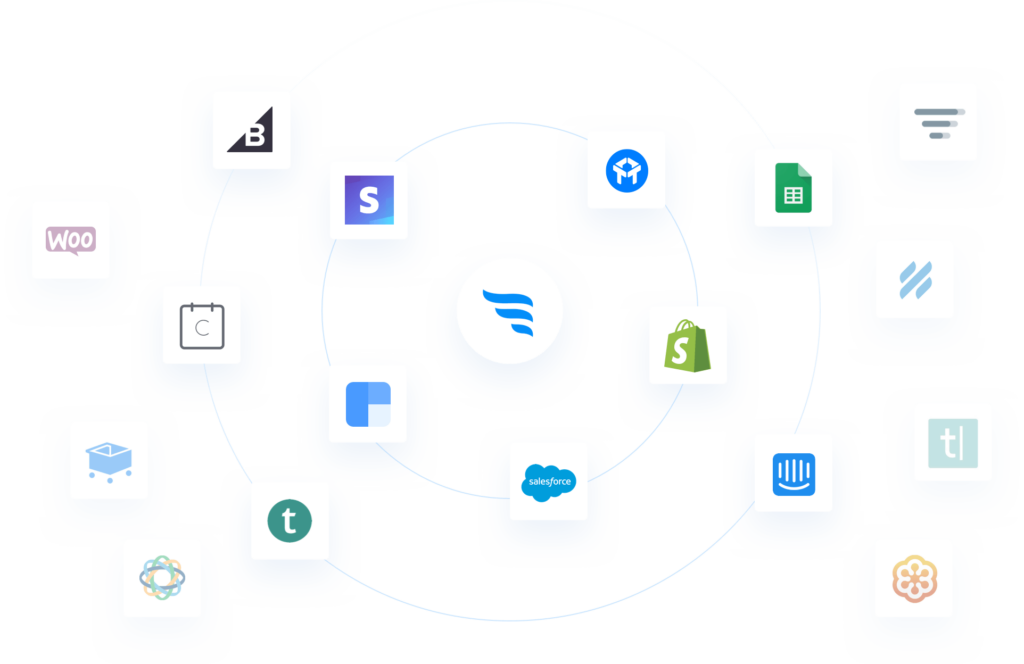 ConvertFlow's A/B testing and analytics features enable me to optimize my campaigns for better results. I can create multiple variations of my campaigns, such as different headlines, images, or calls to action, and test them against each other to see which one performs better. The detailed analytics provide insights into the performance of each variation, allowing me to make data-driven decisions and continuously optimize my campaigns for better results.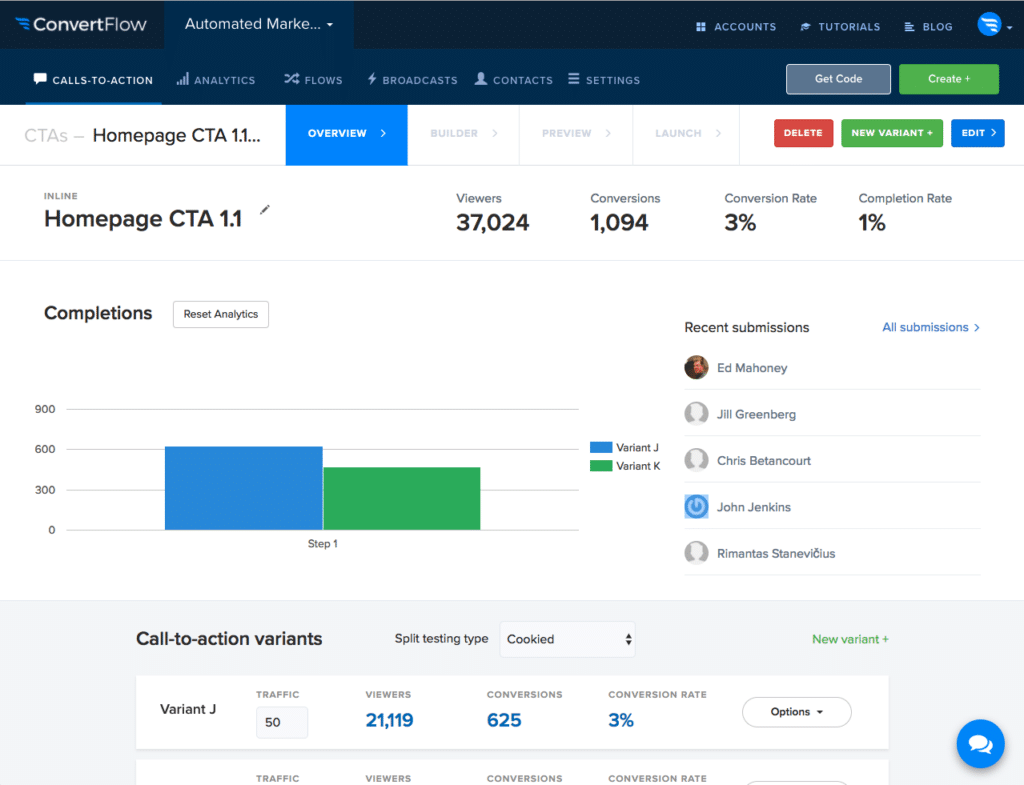 Pricing
On the pricing front, convertflow is a little expensive. Their pricing starts from $99/month with 30000 monthly visitors and goes up to $600/month with 300000+ monthly visitors. They also offer a custom plan which comes with managed services and strategy calls to improve conversions.
Optin Monster
OptinMonster is a versatile lead-generation tool that simplifies the process of converting visitors into valuable leads and loyal customers. What sets OptinMonster apart is its remarkable effectiveness in the e-commerce space, making it an ideal choice for online businesses. With its seamless integration with Shopify, one of the leading e-commerce platforms, OptinMonster offers a direct and efficient way to optimize conversions and drive sales.
💡You can run spin-the-wheel campaigns on key days and make the experience more interactive for users.
Salient Features
✔Improve Cart Conversion: Prevent cart abandonment with personalized offers using Exit-IntentTechnology, enticing visitors to complete their purchase before leaving your site.
OptinMonster's exit-intent technology is a game-changer in capturing lost opportunities. With the ability to detect visitor behavior, it empowers you to display a targeted marketing message in a popup just before they're about to leave your website forever. Did you know that over 70% of visitors who leave a website never return? This means that a significant portion of your marketing efforts are going to waste, and you're losing potential customers. However, with OptinMonster's exit-intent technology, you can turn the tables and convert an additional 2-4% of your visitors into valuable email subscribers, and eventually, paying customers. Don't miss out on this powerful tool that can dramatically boost your conversions and revenue.
✔Boost Conversions and Sales: Increase your customers' average order value (AOV) by creating strategic upsell, down-sell, and cross-sell offers tailored to their preferences.
✔Display Targeted Promotions: Drive engagement and sales by displaying targeted promotions such as free shipping bars, discount codes, and flash sales based on referral source, geo-location, on-site behavior, user's device, and more.
✔Tailor Offers to Visitors: Utilize your existing knowledge about your visitors to run OnSite Retargeting campaigns, delivering tailored offers to improve conversions and drive results.
OptinMonster's OnSite Retargeting is a game-changing feature that optimizes your campaigns for returning visitors, unlocking the untapped potential for skyrocketing eCommerce sales and revenue. With the power to deliver the right message to the right customer at the right time, you can supercharge customer acquisition and inspire more purchases.
✔Automate Email List Growth: Seamlessly integrate OptinMonster with your preferred email marketing, content management, and CRM platforms to automate your business and grow your email list efficiently.
Landing Page Builders
LeadPages
Leadpages is not just your ordinary landing page builder, it's a powerhouse that takes your online presence to the next level. If you're already familiar with tools like this or have used a theme-based CMS like WordPress, you'll be right at home with Leadpages. Its primary function as a landing page builder is just the tip of the iceberg, offering a world of possibilities for creating high-converting landing pages that captivate your audience and drive results.
Leadpages has come a long way in recent years, with an impressive library of templates to choose from. While quantity doesn't always guarantee the quality, Leadpages has stepped up its game to compete with the likes of Unbounce and Instapage. However, customization options can be limited when using standard templates, which is where Leadpages' drag-and-drop builder shines. It's designed to make life easier, allowing you to create unique and personalized landing pages. However, some users have reported that the web app can be sluggish, which can be frustrating when you're trying to optimize your pages for maximum impact. Leadpages has made significant improvements, but there is still room for further enhancements to truly elevate its template customization experience.
Pricing
Leadpages offers two distinct packages tailored for different business needs: Standard for new businesses priced at $4/month, Pro for growing businesses priced at $99/month, and they also offer a custom plan for agencies. However, it's worth noting that Leadpages is not aimed at larger enterprises. When it comes to pricing, Leadpages provides flexibility with three payment models: monthly, annual, and 2-year basis. Opting for longer payment durations can result in lower equivalent price points, giving you more cost-effective options to choose from.
Unbounce
The Unbounce Conversion Intelligence Platform is a game-changer for optimizing your marketing campaigns. With its powerful features, you can effortlessly convert more visitors into leads, sales, and loyal customers.
Build Your Highest-Converting Campaigns in Minutes with Smart Builder, your all-in-one developer, designer, and conversion rate expert. Backed by data from 1.5 billion conversions, Smart Builder offers pre-optimized landing page designs tailored to your specific industry, audience, and campaign goals.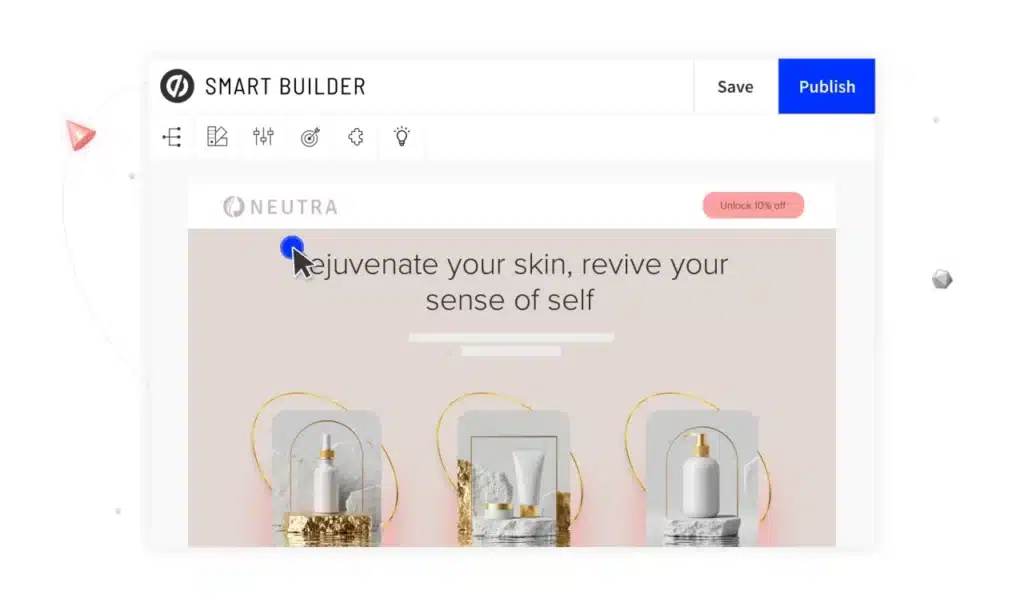 Say hello to more time with Smart Copy, which generates original content for over 45 professional and personal needs in six languages. From catchy headlines and ad copy to emails and blog posts, you can have dazzling copy written for you in just a few clicks – and it's free!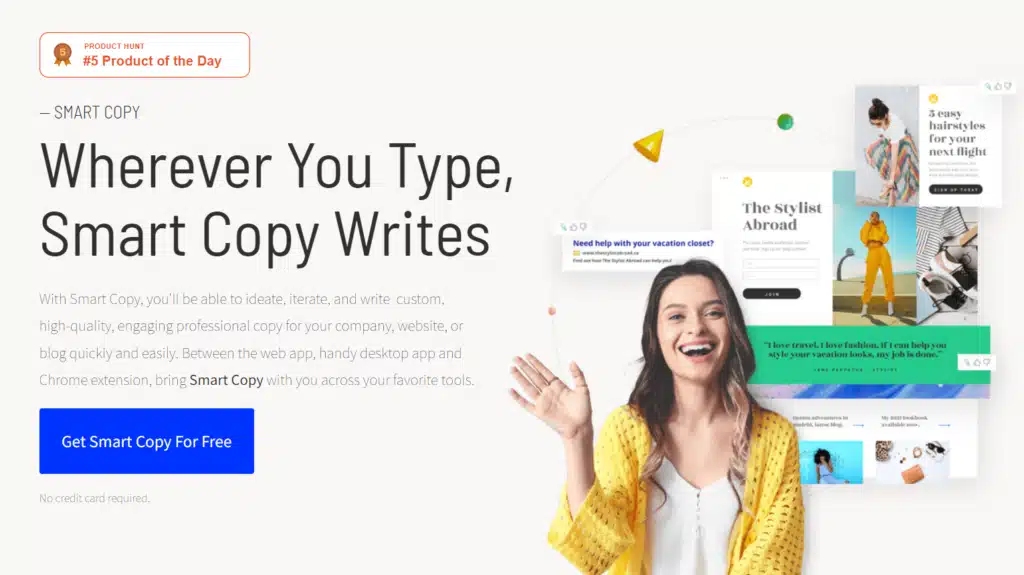 Automatically score more sales and signups with Smart Traffic, the self-driving tool that sends each visitor to the most relevant landing page. With Smart Traffic, you can boost your leads, sales, and signups by an average of 30% without the need for time-consuming A/B testing.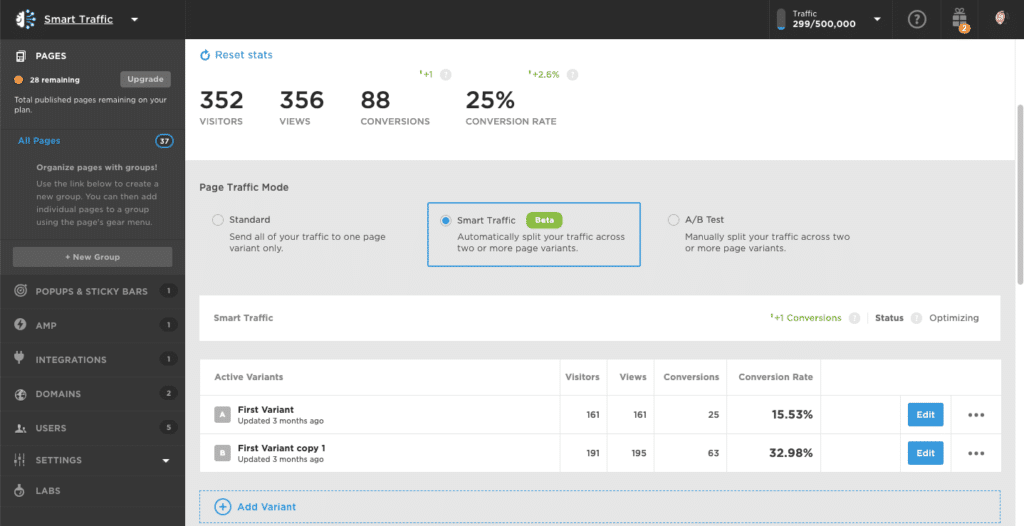 Pricing
Instapage offers a range of paid plans, with prices starting at $99 per month, which provides ample capacity for up to 20,000 visitors and 500 conversions. The Accelerate plan is offered at $240/month for up to 50,000 visitors and 2500 conversions. They also offer a 14-day trial period.
Instapage
When you step into the world of Instapage, you'll be greeted with a powerful interface that gives you a broad overview of your account. But that's just the beginning. With Instapage, you can create two key elements to supercharge your marketing campaigns:
A page – This is not just any landing page, but a high-converting masterpiece crafted to captivate your audience and drive results.
A group – Think of it as a folder that helps you effortlessly organize your pages, making it a breeze to manage multiple campaigns with ease.
Instapage empowers you with the tools you need to create stunning landing pages and keep them organized for maximum impact.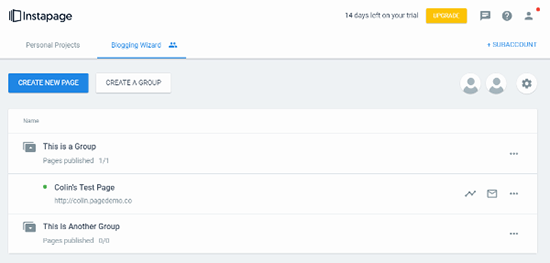 When it comes to creating a new page, you'll likely be using a template most of the time, although you can also import page designs. Instapage offers an impressive collection of over 200 templates, neatly categorized at the top for easy access.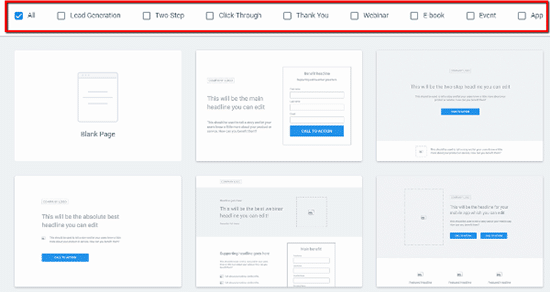 Page builders often claim to be drag-and-drop, but in reality, they limit you to predefined areas where you can drop elements.
Unlike other page builders where you're confined to existing row/column frameworks, with Instapage, you have true drag-and-drop freedom. You can position widgets anywhere you want, even in unconventional areas, giving you unparalleled flexibility and creative control.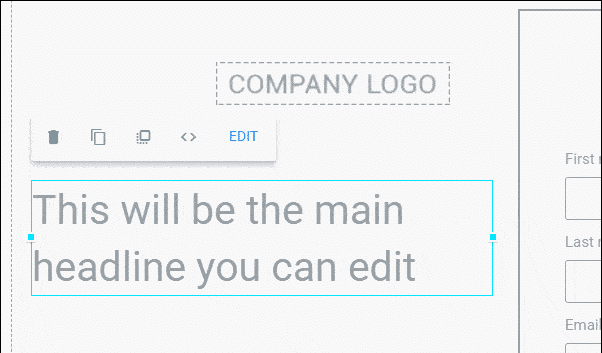 Using Instapage feels like moving layers around in Photoshop, offering a level of flexibility that is truly impressive. At the same time, if you're familiar with WordPress page builders, you'll find Instapage's interface to be intuitive and user-friendly. The set of widgets at the top provides you with all the tools you need to create stunning pages.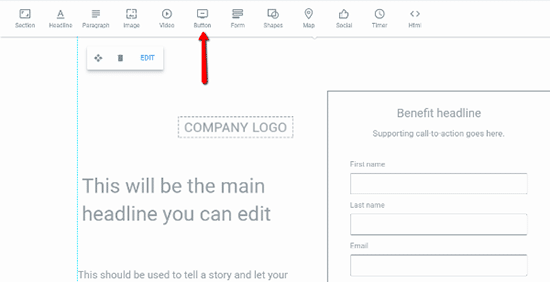 Moreover, editing individual widgets in Instapage is a breeze – simply click on the widget within the page and make your desired changes. This level of granular control allows you to fine-tune each element to perfection, making your pages truly tailored to your vision.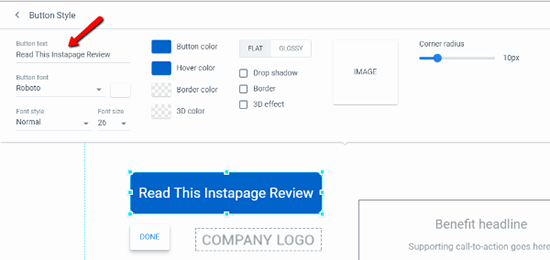 One of the standout features of Instapage is its seamless integration of mobile design within the same drag-and-drop builder. Simply toggle to the Mobile view at the top, and Instapage automatically generates a mobile version of your desktop page, eliminating the need to start from scratch. Moreover, the interface allows you to easily fine-tune and customize the mobile version, giving you complete control over the look and feel of your pages on different devices.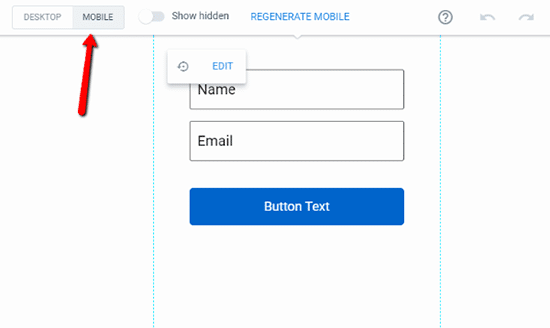 💡 With Instapage's dedicated WordPress plugin, integrating your landing pages into your WordPress site is incredibly straightforward.
Simply log in to your Instapage account from within your WordPress dashboard, and configure the plugin in just a few clicks. Once set up, you can easily push your pages to your WordPress site with a single click, making the process seamless and hassle-free.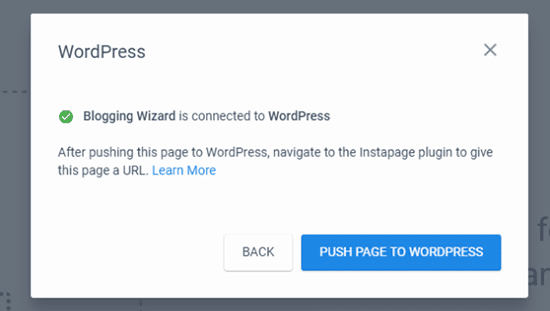 Pricing
They are offering a paid plan at $199/month which doesn't have many features like heat-maps, bulk lead downloads, etc. They offer a custom plan with all the features. They are definitely more expensive but feature-wise they are rockstars!
Prospecting tools
Apollo.io
Apollo.io boasts an extensive database, containing contact information for over 10 million companies and a whopping 200 million people. What sets it apart is that this database is updated every three months, ensuring you have access to the most current information. Not only that, but the data undergoes a rigorous 5-step verification process, ensuring its quality and accuracy.
But that's not all. Apollo.io goes above and beyond with its advanced search engine, offering over 60 filters that enable you to refine your search with precision. From sorting companies by location to filtering by the number of employees, sales, fundraising, and more – Apollo.io puts the power of comprehensive data-driven insights right at your fingertips.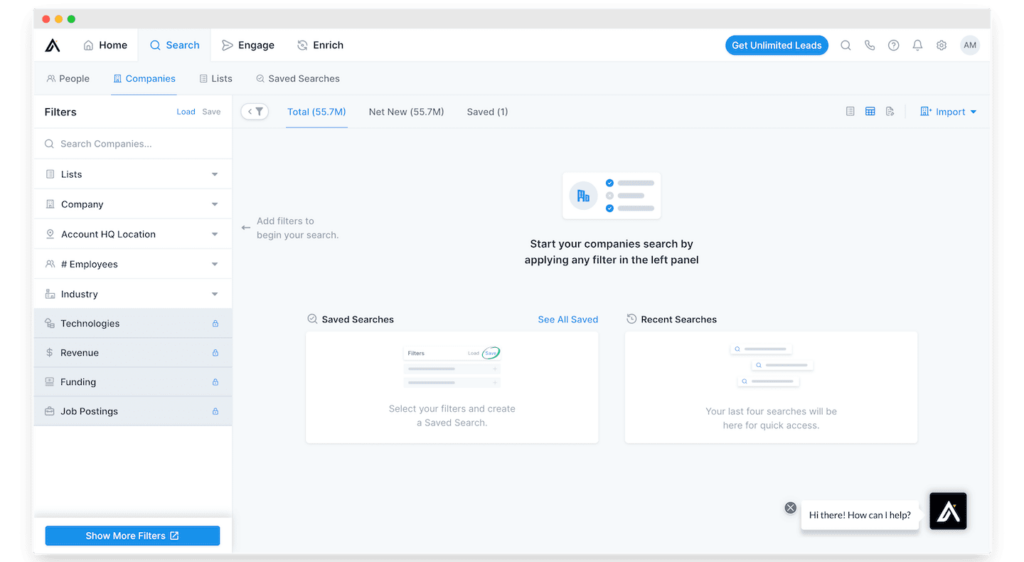 On top of its robust company search capabilities, Apollo.io's people search engine is a game-changer for finding accurate contact information. It's an ideal tool for seamlessly locating and connecting with the people you're looking for. With key filters like location, company, or position, you can easily narrow down your search and pinpoint the exact contacts you need. And the best part? Once you've found them, you can reach out to them directly through the user-friendly Apollo.io interface, making networking and outreach a breeze.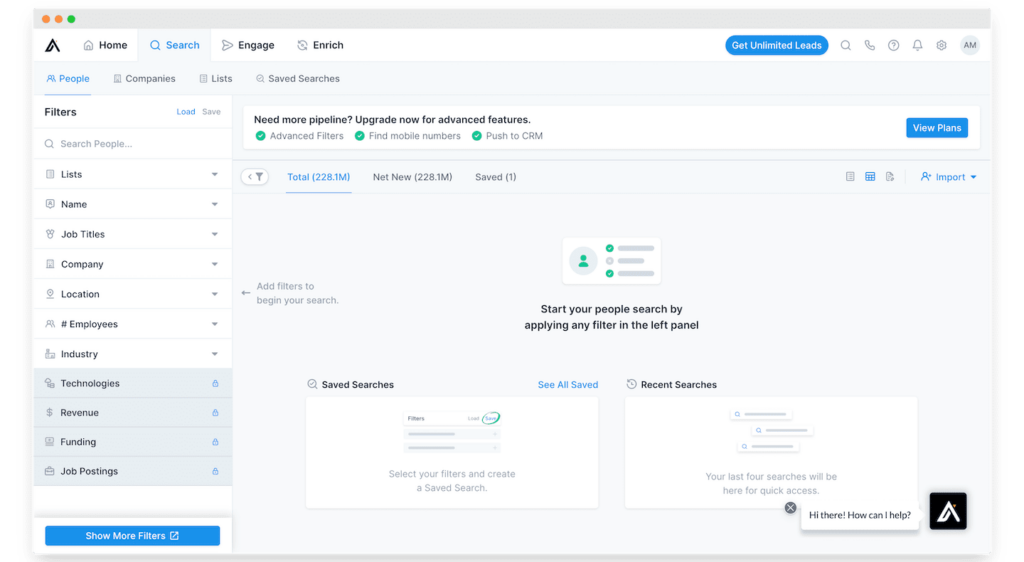 Incorporating cold emailing into your business development strategy can be crucial, but without the right tools, your campaigns may fall flat with low engagement rates. That's where Apollo.io comes in, offering a free cold emailing solution that significantly boosts email engagement.
With Apollo.io, you have the flexibility to create custom sequences by manually adding or deleting contacts, tailoring your outreach to your specific needs. Moreover, you can leverage the power of automated or semi-automated sequences to skyrocket the engagement of your emails. Say goodbye to lackluster results and hello to a powerful tool that amplifies your cold emailing efforts like never before.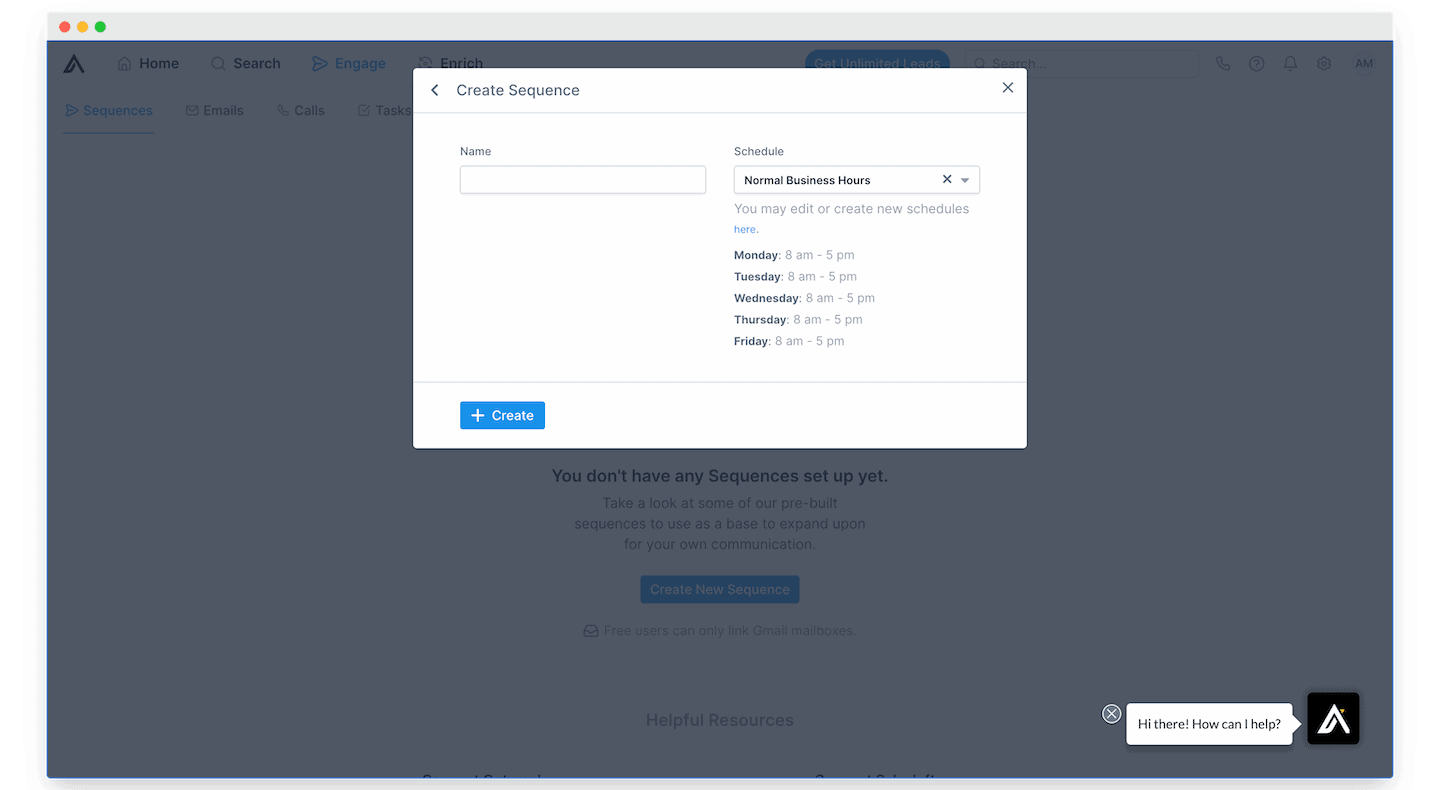 With the ability to detect the absence of a recipient from the office, you can strategically time your email sends for maximum impact, ensuring your messages are delivered when your contacts are most likely to be available.
And if you're not sure which engagement strategy to employ, Apollo.io has you covered with A/B testing. This powerful feature allows you to experiment with different approaches, so you can fine-tune your outreach and uncover the most effective techniques to drive engagement and achieve your business goals. With Apollo.io, you can take your email campaigns to the next level and unlock unparalleled success.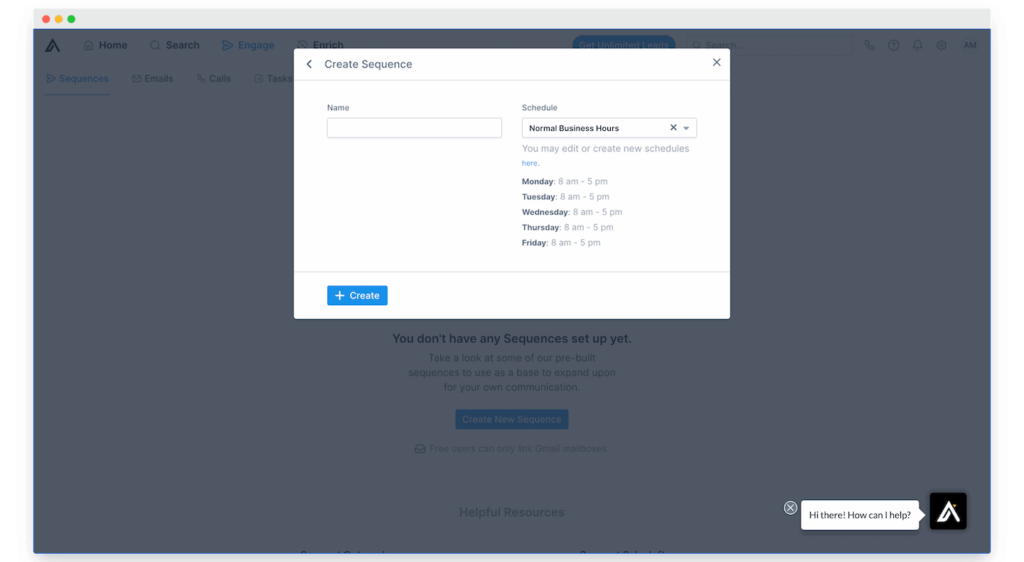 Pricing
Apollo.io offers four different subscription offerings, each with its own set of features and pricing:
Free Offer: This is a basic, free subscription that allows you to connect your Gmail account to Apollo.io. With the free offer, you can send up to 50 email credits/month. You can track the open status of sent emails and their engagement, and integrate Apollo.io with other tools like HubSpot, Salesforce, SalesLoft, and Zapier. However, there are limitations on API access.
Basic Offer: This subscription is priced at $49 per month. In addition to the features of the free offer, you can use more advanced filters and customize filter fields. The basic offer allows for deeper integration features with HubSpot and Salesforce and provides reporting data and dashboards. You also get 200 email credits per month.
Professional Offer: Priced at $99 per month the professional offer includes all the features of the basic offer, and additional features such as A/B testing for email sending, call recording, and personalized prospecting steps. There are no limits on email credits, and you have unlimited access to the features of the professional offer.
Customized Offer: This offer is available upon request and offers the most advanced features of Apollo.io. It includes call transcription, the ability to customize your number according to the country or region, and advanced API features. Additionally, you get personalized onboarding and a privileged relationship with the company.
It's important to note that Apollo.io offers a free trial period of 14 days for both the basic and professional offers, allowing you to test their solution before committing to a subscription.
Lusha
Lusha is a comprehensive contact management solution that offers quick, accurate, and easy retrieval of emails, phone numbers, and other contact information. While its primary design is for recruitment and applicant tracking, it is also a valuable tool for marketing and sales professionals who are seeking to enhance business growth, revenue, and campaign success. With its widespread use by sales and marketing professionals and recruiters globally, including renowned brands like Google, Microsoft, and Dell, Lusha has become an indispensable resource for identifying and engaging with the right candidates for critical positions and expanding business operations.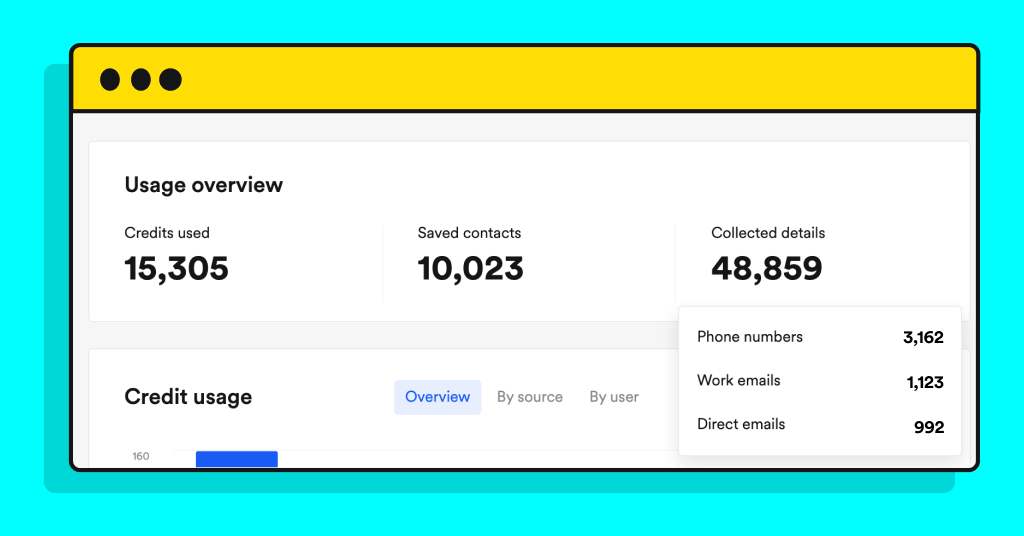 For recruiters, Lusha provides a reliable and efficient means of accessing accurate contact information for potential candidates. By simplifying the process of finding and reaching out to candidates, Lusha streamlines the recruitment process and saves valuable time and effort. This can greatly benefit HR departments and recruitment agencies by helping them identify and engage with top talent more effectively.
Similarly, for marketing and sales professionals, Lusha offers a powerful tool for driving business growth. By providing up-to-date contact information for potential leads and prospects, Lusha enables sales teams to connect with the right decision-makers and influencers, increasing their chances of closing deals and generating revenue. Moreover, Lusha's capabilities can also help marketers in creating targeted and personalized campaigns, resulting in improved campaign performance and higher conversion rates.
Lusha's services are trusted by thousands of sales and marketing professionals globally, including major brands such as Google, Microsoft, and Dell. This speaks of its reliability and effectiveness in providing accurate contact information and supporting various business objectives. Whether it's for recruiting top talent or driving marketing and sales efforts, Lusha has become an essential tool for many businesses seeking to improve their operations, expand their reach, and achieve their growth goals.
Pricing
Lusha follows an annual pricing model. The paid plans start with an offering of $348/user/year with 480 credits to $612/user/year with 960 credits. There's also a custom plan which has offerings like mapping job changes, intent signals, etc.
Hunter.io
Hunter.io is a lead generation and email outreach plugin that is designed to streamline outreach processes for businesses. One of its notable features is its visually appealing and user-friendly interface, which makes it easy to navigate and use.
With Hunter.io, businesses can efficiently search for and collect email addresses of potential leads and prospects. This can be a valuable tool for sales and marketing teams looking to expand their reach and connect with potential customers. Hunter.io's advanced search options allow users to specify criteria such as domain, job title, and location to find the most relevant contacts for their outreach efforts.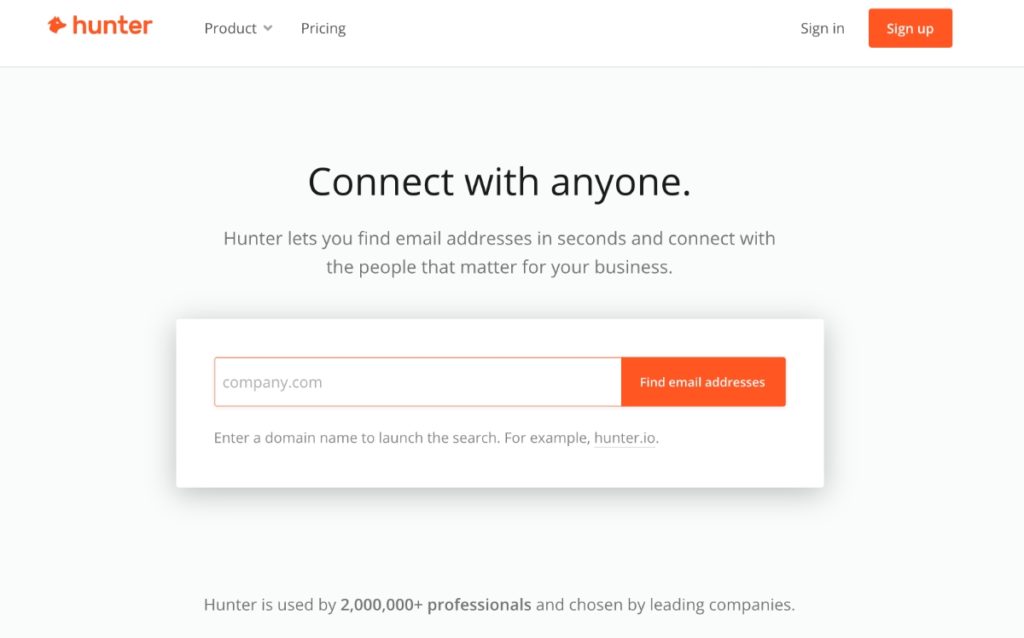 In addition to lead generation, Hunter.io also offers email outreach features that help automate and optimize the outreach process. Users can create and send personalized email templates, track email opens and clicks, and schedule follow-up emails, all within the platform. This can save time and effort for businesses, allowing them to focus on building meaningful relationships with their prospects.
Hunter.io is known for its accuracy in finding and verifying email addresses, which can improve the deliverability of outreach emails and increase the chances of getting a response. The plugin also offers integrations with popular email platforms such as Gmail and Outlook, making it easy to incorporate into existing workflows.
Overall, Hunter.io is a powerful lead generation and email outreach tool that offers a visually appealing interface and a range of features designed to optimize outreach processes for businesses. Its accuracy, automation capabilities, and user-friendly interface make it a popular choice for sales and marketing professionals looking to enhance their outreach efforts and drive business growth.
Pricing
The current pricing options for the service are relatively high, with the cheapest version (excluding the free version) priced at $49 per month with 50 monthly searches and the most expensive plan costing nearly $499 per month with 50000 monthly searches.
Rocketsearch
Rocketreach is a lead generation tool that allows users to find email addresses, phone numbers, and social media profiles for over 300 million professionals. It offers a one-month free trial of its Silver plan, which normally costs $99, for users who sign up through a specific link.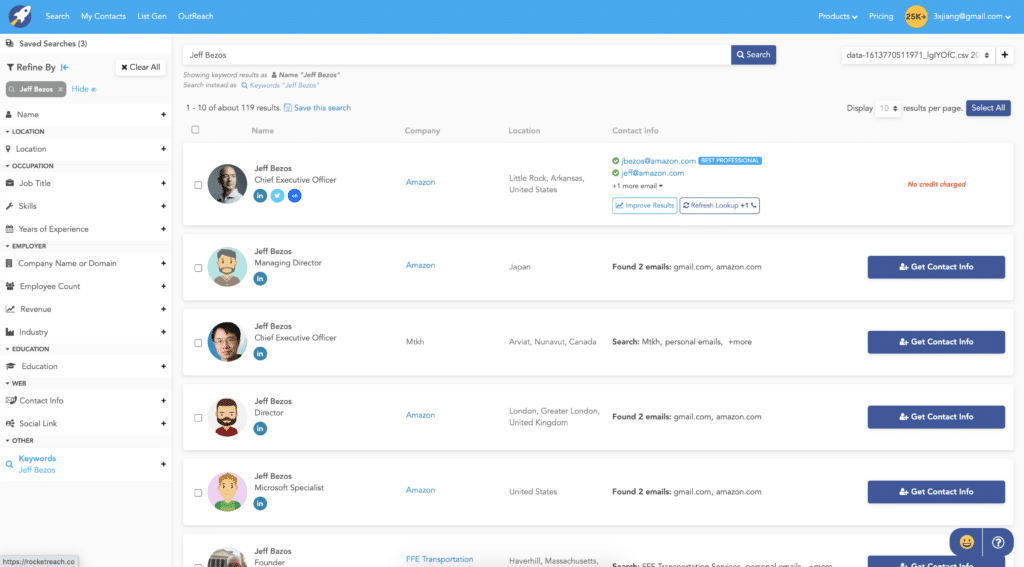 The tool is simple to use. Users can input a person's name and find genuine and valid contact information for them, including email addresses. The tool has a high success rate in finding accurate email addresses for professionals. It also provides information on the likelihood of an email address being valid, with green checkmarks indicating higher chances of success and orange graphics indicating lower chances.
In addition to individual searches, Rocketreach also offers bulk lookups, where users can upload a CSV file or paste a list of names or LinkedIn URLs to search for multiple people at once. This feature is useful for prospecting or pitching to journalists, for example.
Rocketreach also offers an API for advanced users, such as developers who may want to integrate the tool into their own scripts or applications. This feature may not be necessary for all users, as the tool is designed to be user-friendly and does not require advanced technical knowledge.
The tool can be used for various purposes, such as finding email addresses for business contacts, pitching to journalists, or reaching out to potential prospects. It provides an efficient and cost-effective way to gather contact information for professionals and can help businesses and marketers save time and effort in their outreach efforts.
Pricing
The pricing has an annual model. It starts at $421/year with 1500 annual lookups/user. The most expensive plan costs $2149/year with 10000 annual lookups/users (Emails only).
Conclusion
Lead generation is a crucial aspect of any modern business's digital marketing strategy, and leveraging the right tools can significantly enhance the process. As we look ahead to 2023, it's essential to stay ahead of the competition by utilizing the best lead-generation tools available. The top 10 lead generation tools mentioned in this article offer cutting-edge features and capabilities that can help drive top-quality traffic to your website, capture leads, nurture them, and ultimately convert them into loyal customers. From powerful CRM integrations and AI-powered analytics to intuitive landing page builders and social media automation, these tools provide a wide range of functionalities to suit various business needs. By leveraging these tools effectively, businesses can optimize their lead generation efforts, streamline their marketing campaigns, and achieve sustainable growth in the competitive digital landscape of 2023 and beyond.