If I've said it once, I've said it a million times: You should always have a clear strategy about what content you're creating and why. There's nothing wrong with generating interesting ideas your audience will love, but you should understand how they fit into the bigger picture.
And as your content scales, if you want to see significant search engine optimization (SEO) results in the long term, you want to create a library of interlinking content on your site. This can help build trust, ensure that you have everything on a topic your readers might want, and help you make progress in the search engine result pages (SERPs). 
That's why topic clusters are so important in SaaS content marketing, and in this post, we'll look at four SEO topic cluster examples and tips to create clusters for your content strategy. 
What is a Topic Cluster?
A topic cluster is a list of topics and associated, related keywords (or just the keywords) that all fall under a single-parent topic. This parent topic is the more general aspect of the keyword, while the topic cluster will contain a list of different keywords that are more niched down.
In most cases, there will be a pillar post for the parent topic. It may take the form of an "ultimate guide" or 10x content, and it will link to other blog posts within the topic cluster as it's published (and all of that content will link back to the parent post in return). This is often referred to as the "hub and spoke" model of content marketing. 
The topic cluster model looks something like this: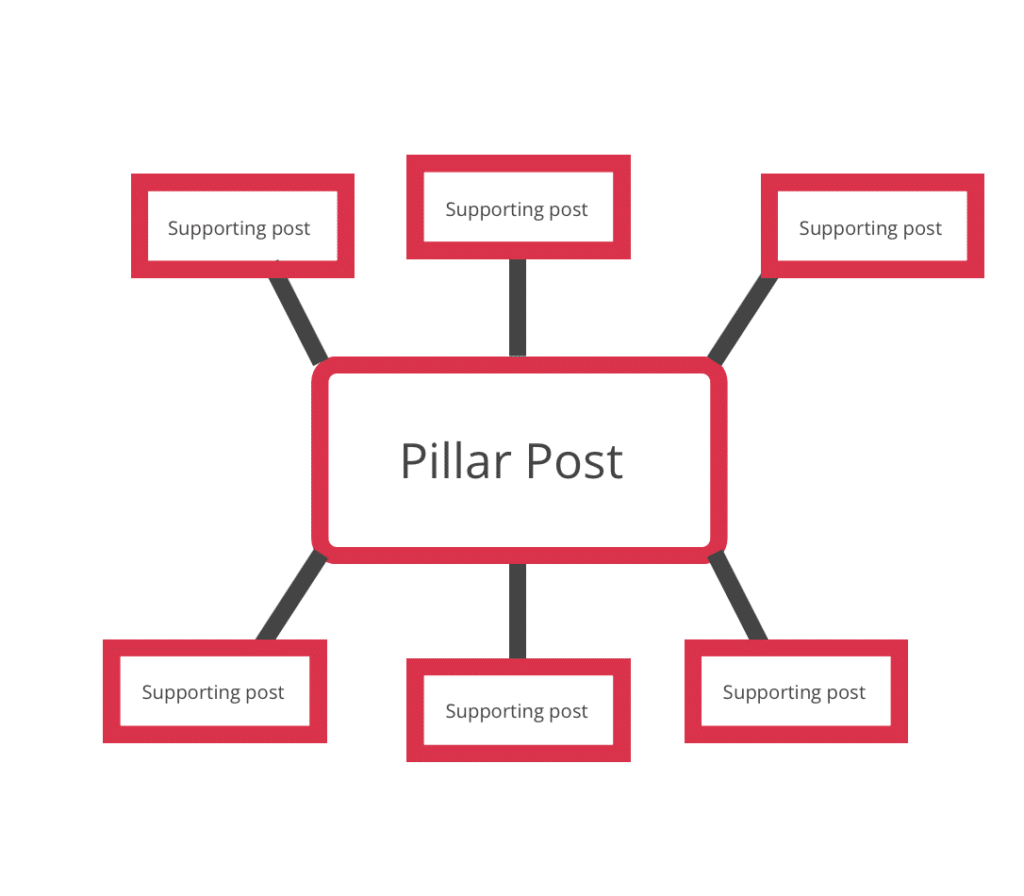 You may, for example, have a pillar topic of "Content Marketing for SaaS." Your topic cluster may then include keywords like "content strategy for SaaS," "what are topic clusters," and "x types of SaaS content."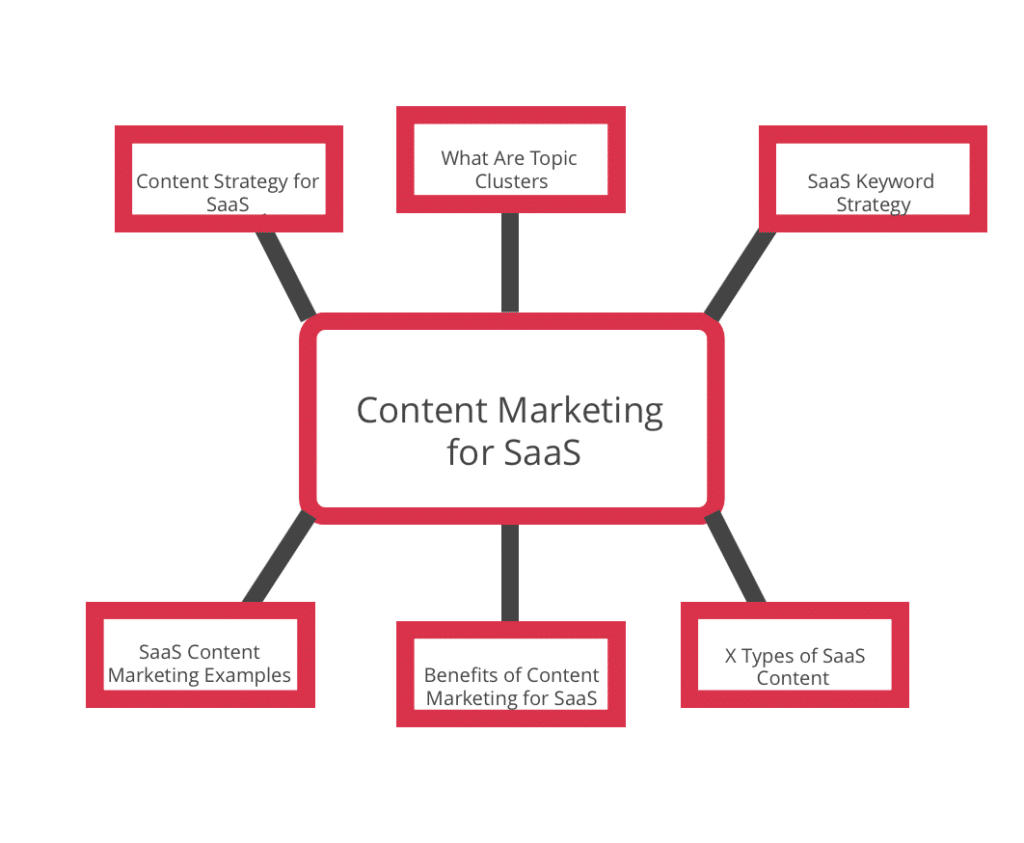 Why Topic Clusters Matter
Topic clusters are amongst the must-use content marketing strategies right now for a few reasons:
It allows you to create focused and comprehensive coverage on as many angles and niches of a single subject as possible, which can help you answer every question a customer may have
Sites with lower domain authorities (who may struggle to rank higher in the SERPs) can more easily rank for long tail keywords and then drive traffic around the site and to higher-value pieces with internal linking-related content
It helps Google see that you're an expert on the topic at hand, with plenty of high-quality content around in specific areas of expertise, which can increase search traffic
Topic clusters may even help you generate new content ideas, giving you more blog post topics you wouldn't have discovered otherwise
I've used topic clusters as a core part of my content marketing strategy for clients for several years. Those that agree to include topic clusters in their overall strategy often see more traffic and higher SEO rankings over time. (They are, however, also the ones that often invest heavily into content, too, so it's both causational and correlational). 
You're going beyond just a single piece of content and looking at the big picture as a whole, and optimizing your content accordingly. Search engines and users alike both are going to be on board.
4 Topic Cluster Examples
Topic clusters can be fairly easy to spot once you know what you're looking for: A significant pillar page, and lots of niche topics that link back to it (and vice versa). Still, actually spotting them in the wild takes some time because it can mean sorting through a ton of the site's content.
So, we did the work for you! Let's take a look at four real-life topic cluster examples and what they do well. 
1. HootSuite's Social Media Guides
HootSuite is a popular social media management tool, so it only makes sense that they'd have a killer content marketing game to match. They have a few examples of clear topic clusters on their blog, especially centered around "Ultimate" guides for different platforms.
Their "VERY Complete" guide to Facebook Marketing in 2023 is a great topic cluster example. The post itself is extensive, and it has over 25 internal links to Facebook content they've created, including content about Facebook Reels, Facebook Business Manager, and Facebook Ads. They do also link to other guides, like an influencer marketing guide.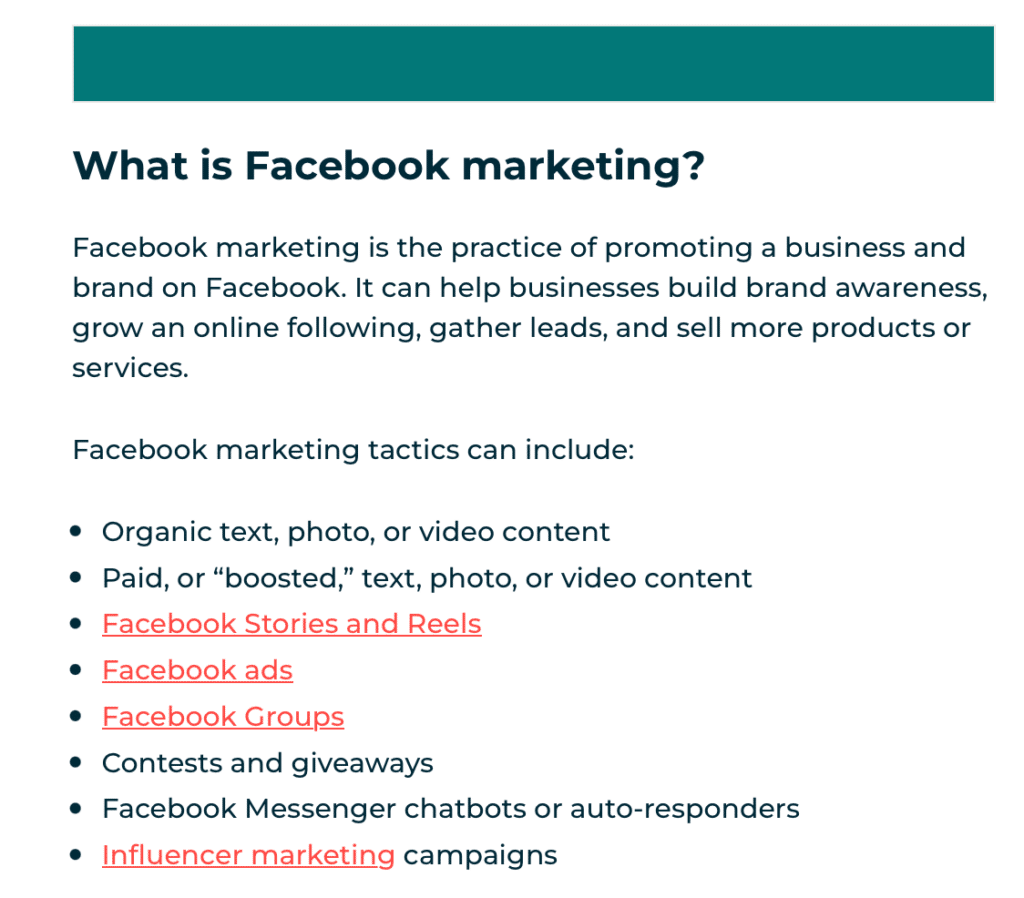 It's of course important to note that many of this content links back to the Facebook Ad guide in return. You can see an example of that here in the Business Manager post, which is why it's so important to go back and update links in your content as new resources in the cluster are published.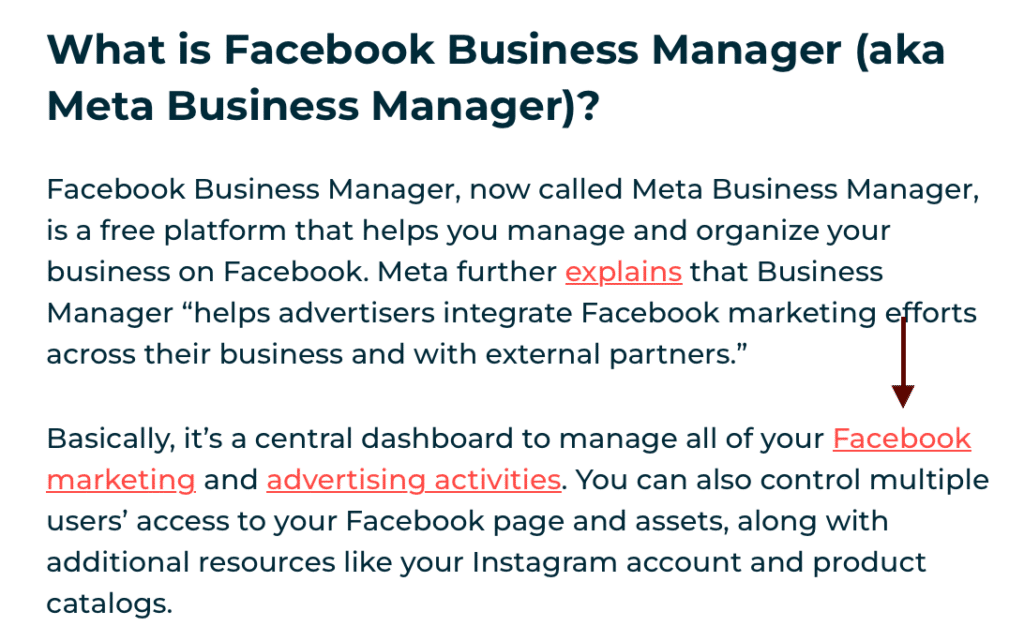 It's worth noting, too, that all of HootSuite's content is thorough and doesn't feel like "just" a supporting piece; it's all high quality in its own right, which is important to help it rank independently.
2. SquareSpace's Online Course Resources
SquareSpace is a website builder that's used for diverse purposes by a large range of different audience segments. One of those uses can be building, hosting, and selling an online course, so it's no surprise they have a topic cluster right now around online courses.
Their pillar post can be seen here, and focuses on how to create and market an online course. The pillar post has all the essential "ultimate guide" material, including why the topic can benefit the reader, how to get started, actionable tips for creating a course, and tips for selling.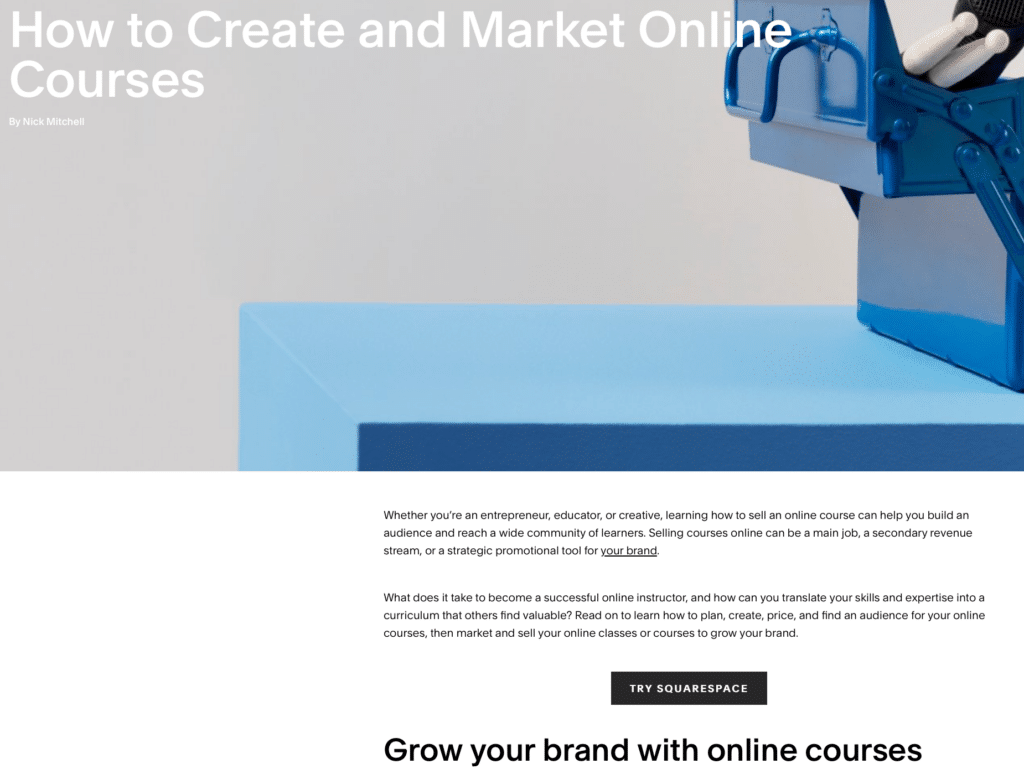 They have multiple other posts being published that detail different aspects of online course creation, like "How to Teach an Online Course" and "Equipment Essentials for Teaching a Course Online." You'll see that all of these supporting pieces link to the pillar piece very quickly, often within the first paragraph or so.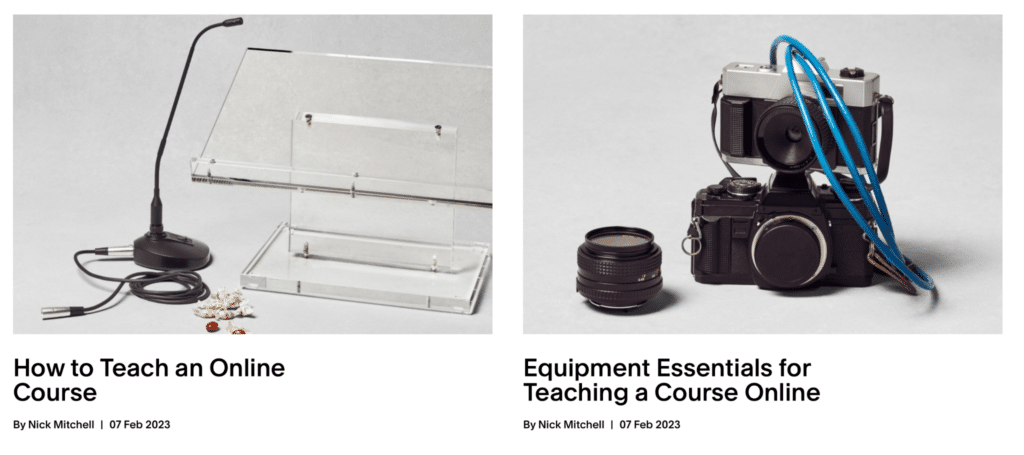 3. Zendesk's "What is" Guides
Zendesk has a series of "what is" content, like "What is a call center? Definition, types, and how they work." Most of these guides are long and thorough, with timestamps like 13-minute read times (many blog posts, by comparison, are closer to 5 and often under 10).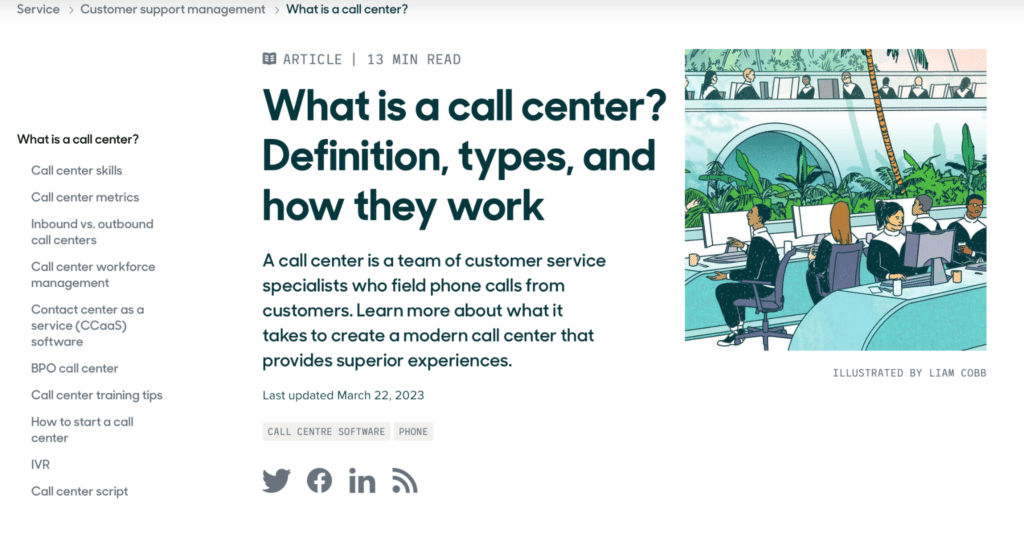 These longer guides have a table of contents on the side with jump links, and they also feature multiple internal links to resources they've created for outbound call centers and inbound call centers. And, it's worth pointing out, that their "what is" guides often link to each other, too. 
Adding internal links is a core part of a content cluster strategy, so keep that in mind.
4. Nursa's Career Specialty Guides
Nursa is a PRN app that helps nurses and healthcare facilities match up with each other. And while they're exclusively a PRN service, they also know that their audience (which is made up of nurses and nursing students) is interested in topics like different career paths nurses can take, so they have a core pillar topic for each nursing specialty.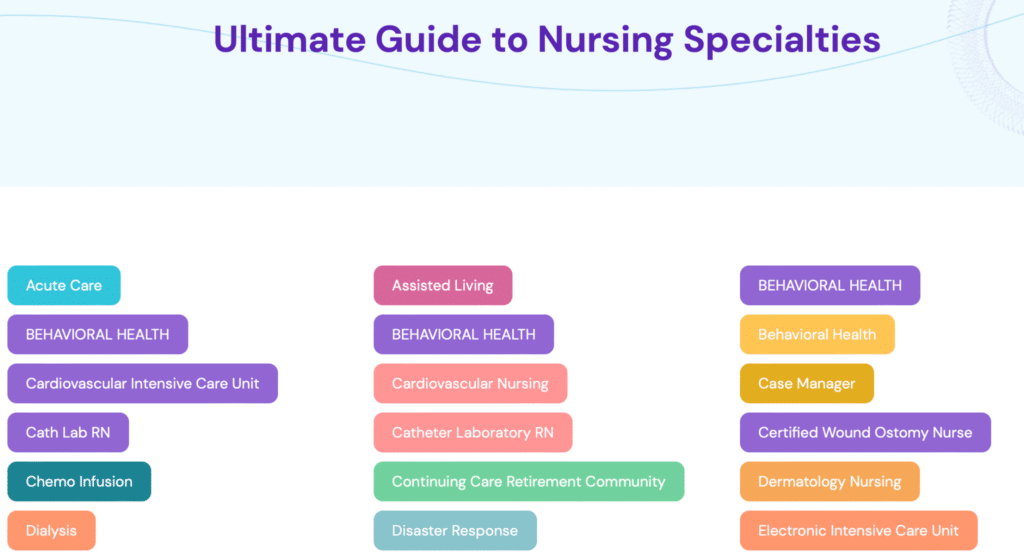 They also have niched-down posts for many of the specialties, including salary-based or job description posts for different niches.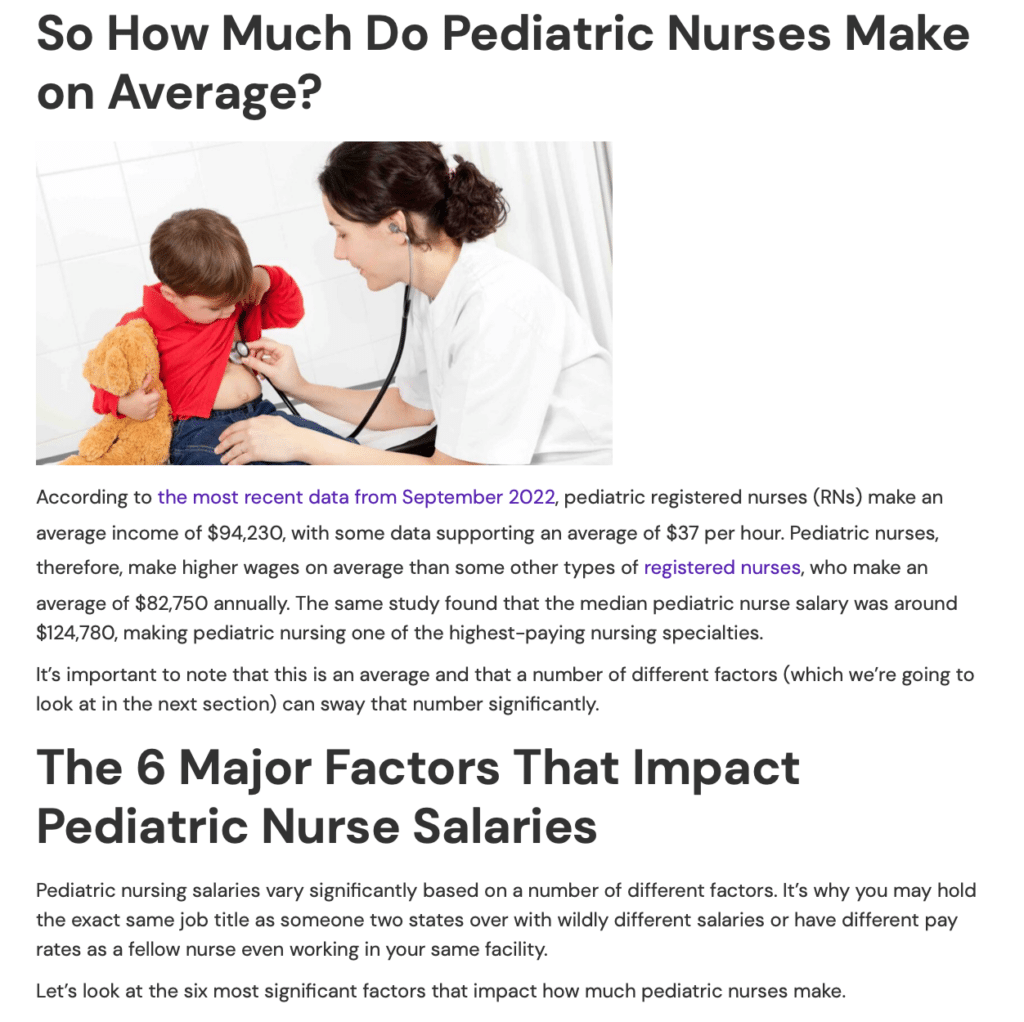 How to Create Topic Clusters for Your Content Strategy
Creating topic clusters for your SaaS content marketing strategy is a relatively straightforward process, as long as you've got your strategic thinking cap on and a good keyword research tool at hand.
First, consider what types of content your audience would find useful. Think back to our Nursa example: They work in the PRN nursing niche, but they still have extensive guides about all nursing specialties.
Consider users at every stage of the sales funnel when choosing content categories to create, as well as different audience segments.
Once you have these topics, turn to keyword research. (I'm partial to Semrush's Keyword Magic Tool.) Start with your parent topic, and then see what comes up. I also like to use "questions only" keywords at this stage, as well as searching for niche keyword topics I believe from initial competitor research may be a good fit for the cluster.
As you're choosing keywords to add to a topic cluster, make sure you account for different stages of the funnel in terms of search intent. You also want to consider keyword volume and difficulty; you want the volume to be as high as possible and the difficulty to be as low as possible. That specific balance will depend on your site's domain authority.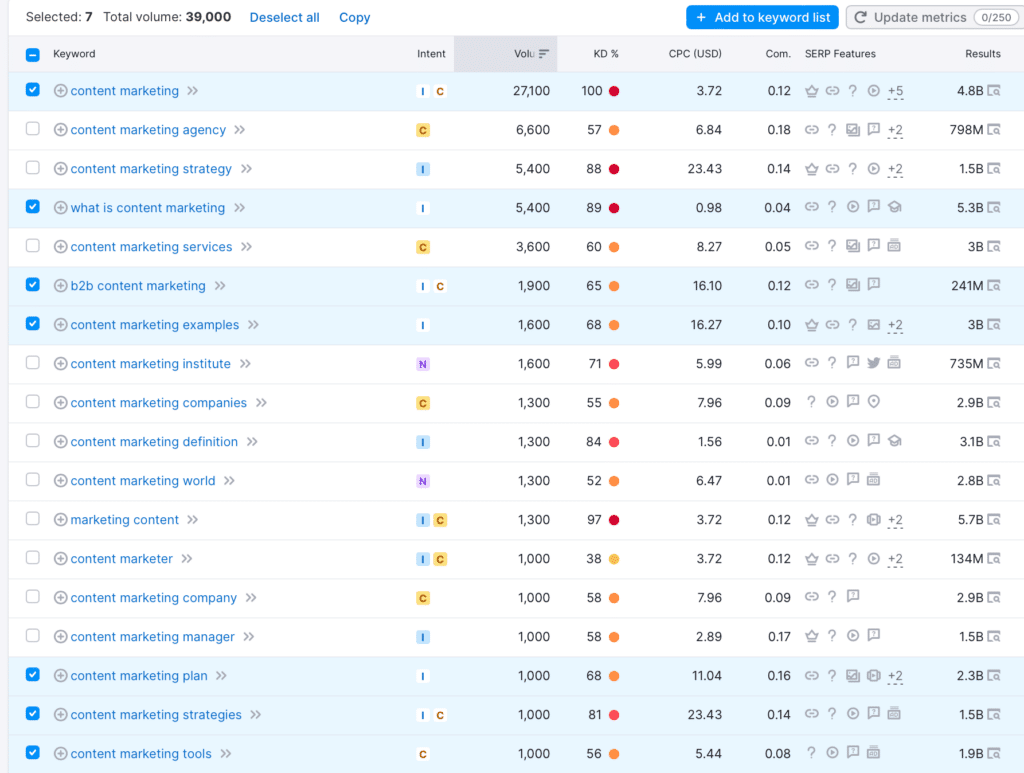 I'll also do a quick Google search for my main keyword and any major topics within the cluster. Sometimes, the "people also ask" section is a potential goldmine of keywords to research for your topic clusters.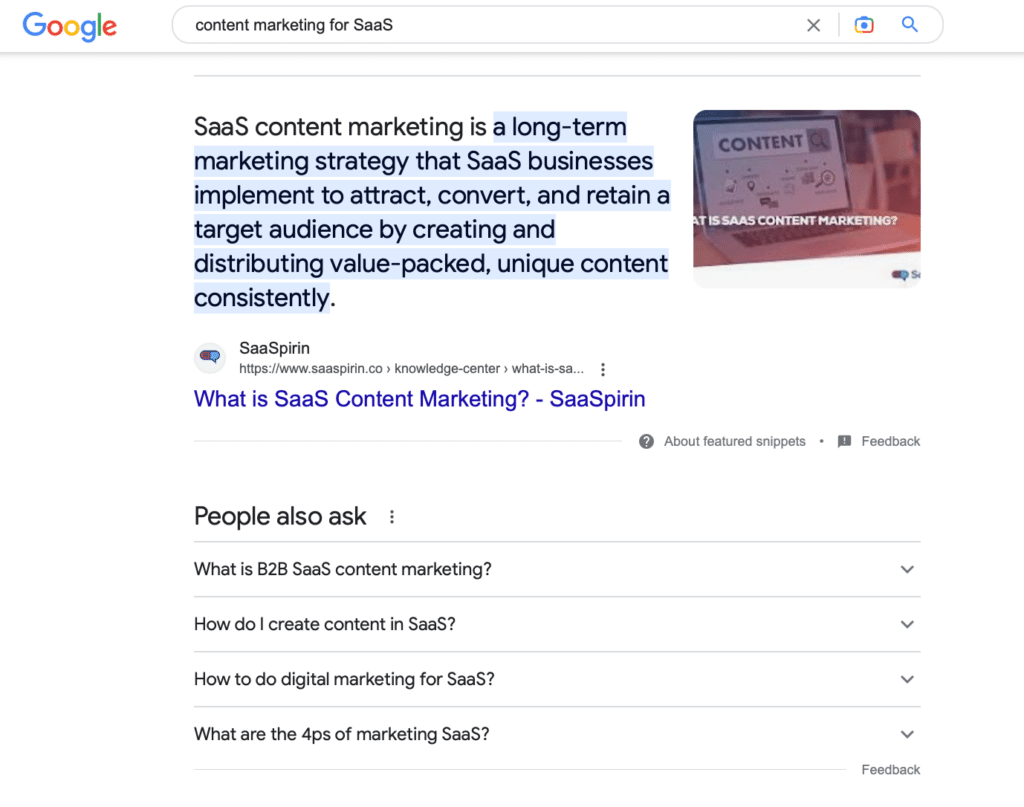 And when it comes to content marketing, I recommend that you map out multiple topic clusters at once. It's good for planning purposes, and it may give you a chance to keep diverse content on the blog.
Some brands will want to focus on a single topic cluster at a time, while others will create content from each cluster regularly in order to diversify the content on their site.
Final Thoughts
When you're putting together a SaaS content marketing strategy, topic clusters should be an important part of that strategy. They're useful for organization, but they also can help you make sure that you're really covering your bases with any given topic and help your SEO and engagement performance excel as a result.
And if you've been creating content already, there's no time like the present to start including topic clusters in the process. You can conduct a content audit and look for optimization opportunities; can you refresh existing content so that it fits into a new topic cluster, or create more supporting content around high-performing content that is already published?
There are plenty of ways to utilize content keyword clusters, and these topic cluster examples all proved that. So how will you execute yours?
Want to learn more about SaaS marketing? Subscribe to our blog so you never miss a post.