When you want to grow SaaS MRR and brand equity efficiently, investing in your partner ecosystem can be a smart solution. Affiliate marketing lets your biggest champions market your product for you, converting new users for a commission.
Sounds like an easy win, right? Not necessarily.
These programs can easily underperform, especially if you put them on autopilot or miss key opportunities to add value. So how do you optimize this channel for your SaaS?
In this guide to SaaS affiliate marketing, we'll cover how to build a strong program, steps to take before the launch, and mistakes to avoid as you promote and scale partnerships.
Why Affiliate Marketing Works for SaaS
Affiliate marketing can be an excellent fit for both B2C and B2B SaaS—even those with a strong self-service motion and relatively low pricing. With a successful affiliate program, you can:
Increase MRR
A healthy affiliate program expands your SaaS customer base and grows monthly recurring revenue (MRR), allowing you to scale this crucial metric over time. How much? Partner marketing platform PartnerStack reports that the average customer sees 128% revenue growth.
Lower CAC
Affiliate marketing certainly isn't a no-cost solution. In addition to affiliate commissions, you'll need to budget for software costs. But affiliate programs tend to reduce CAC (customer acquisition cost) because they have a more cost-efficient model—paying for attributed conversions, not advertising or marketing campaigns.
Reach your ICP
With the right keyword list and audience data, you could probably reach your ICP (ideal customer profile) with paid search or paid social. But affiliate marketing takes targeting to a new level. By qualifying affiliates, you can work with partners who already have audiences that fit your ICP—so you can get your SaaS product in front of them.
Boost brand equity
One of the biggest perks of affiliate marketing is that it lets your partners run campaigns on your behalf, using the assets you provide. When affiliates use social media or content marketing to promote your SaaS, they spark conversations about your product and position it for organic search—which can boost brand awareness and equity.
What to Do Before Launching a SaaS Affiliate Program
To give your affiliate program the best chance at success, check a few essential boxes first.
Find PMF
Standing up an affiliate program right out of the gate might seem like a good way to build out your user base. But if you don't have PMF (product-market fit), you'll probably struggle to recruit the right affiliates.
Marelle Ellen, CMO at Promoty, explains: "The better product-market fit you have, the easier it is to find affiliates. Good affiliates want to see high conversion rates and monthly fees—this helps them to be sure that their work will be fairly rewarded."
Clarify your value prop
Good affiliates often have first-hand experience with your product and original talking points to share with their audiences. But it's up to your team to differentiate the product and guide the competitive strategy.
Muhammad Yasir, Affiliate Marketing Manager at Writesonic, recommends having "a strong value proposition and clear program terms before launching an affiliate marketing program. This gives potential affiliates confidence in your product and their ability to earn through your program."
Get stakeholders on board
Investing in affiliate marketing isn't a decision to make lightly. Nick Lafferty, who started and grew this channel for Loom, explains that "structuring a successful affiliate program starts with getting executive buy-in. This is a channel that takes time to ramp up, you don't just turn on an affiliate program and get instant growth overnight."
To succeed, Nick recommends dedicating sufficient time and resources. "You need to set expectations that it'll take 6-12 months to fully ramp up, but it will have one of the lowest CACs of any channel. You also need a full-time affiliate manager if you want this channel to grow. It takes time to find, recruit, nurture, and grow affiliates—and it really takes a dedicated person to do that."
How to Build a Successful SaaS Affiliate Marketing Program
Once you've achieved the goals above, the steps below can help structure your program.
1. Focus on KPIs
How do you measure the success of your SaaS referral program? Here are a few metrics to track:
Conversion rate, which reflects the performance of your affiliates' marketing campaigns
ROI (return on investment), which quantifies the value you get from this channel
Sales or revenue per affiliate, which helps you find top performers
CLV (customer lifetime value), which reveals the true value of your affiliate conversions
2. Choose a commission structure
For B2B SaaS affiliate programs, a 20% to 30% commission is pretty standard. For example, Writesonic offers a 30% lifetime commission on premium subscriptions.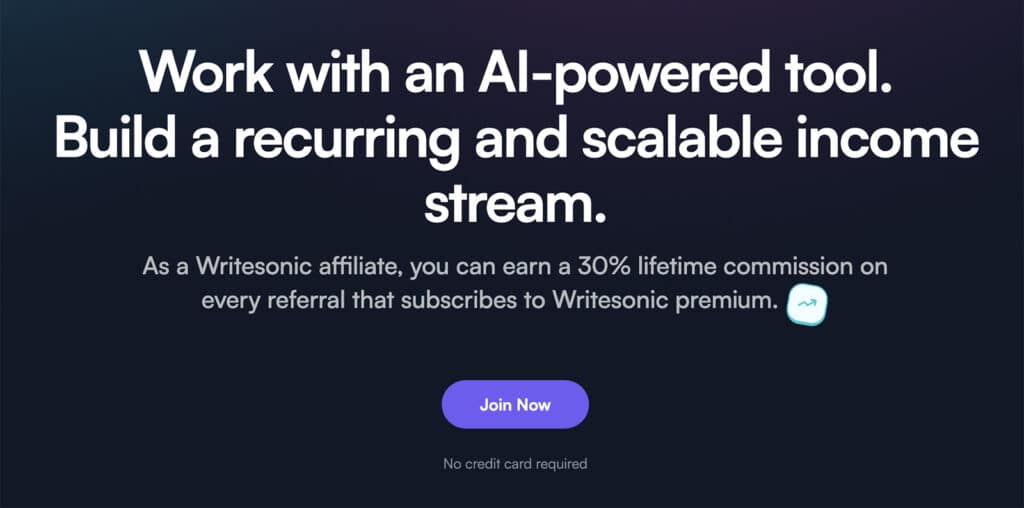 But a lifetime commission isn't the only option. You could also offer a one-time or limited recurring commission structure—or even pay for qualified leads. For example, the Constant Contact affiliate program pays $5 per qualified lead and $105 bounty per paid account.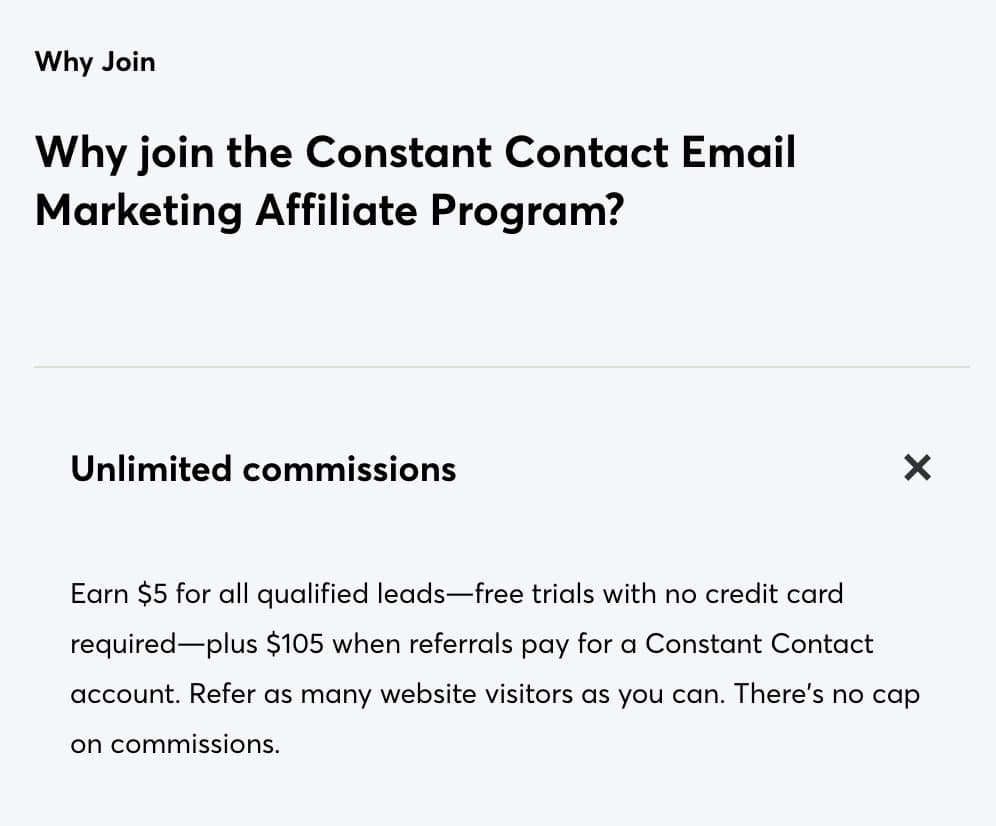 You can also give affiliates a choice of commission structures so they can pick what works best for them. For example, the GetResponse affiliate program offers the choice between a recurring 33% commission or a $100 bounty per customer.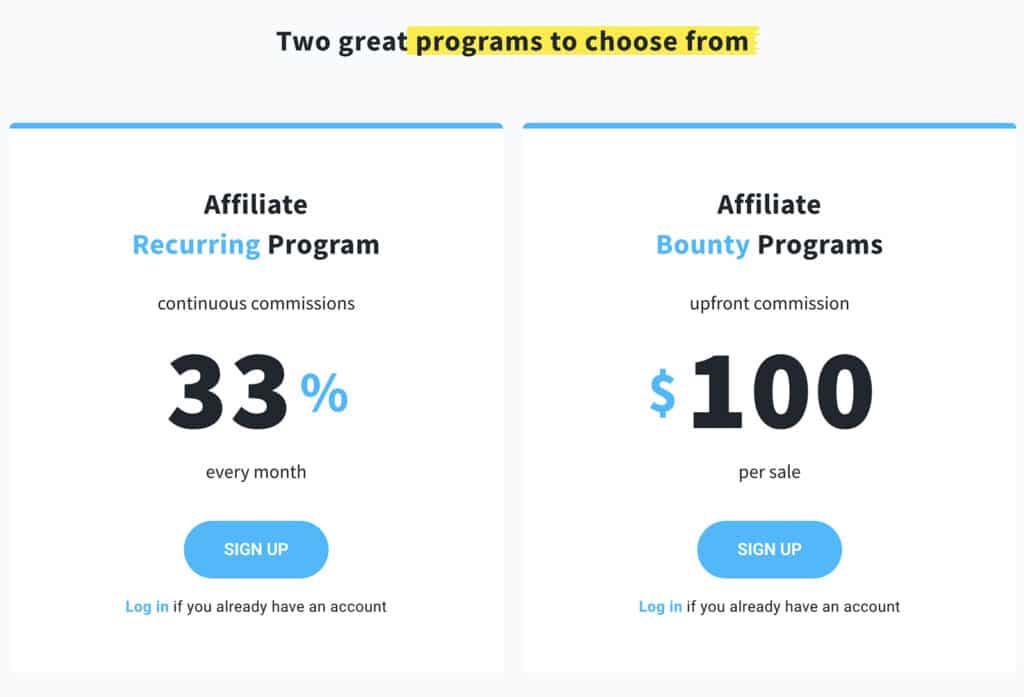 Roman Chygur, Partnerships and Affiliates Manager at SE Ranking, recommends that you "divide your affiliate program into different ones to better suit the needs of your different types of affiliates:
Make a CPA offer for paid traffic affiliates.
Make a revenue share offer for organic traffic affiliates.
Make a double-sided offer for your customers who are going to recommend your SaaS to their friends."
So what's the ideal structure for your program? Use metrics like your SaaS subscription cost, churn rate, and CLV to decide which makes the most sense for your business while still creating an attractive offer for affiliates.
Keep in mind that attribution windows can have a massive impact on affiliates' earning potential. For SaaS, attribution windows can run anywhere from 30 to 120 days. Choose one that fits your sales cycle and appeals to affiliates.
3. Pick partner marketing software
It's possible to create an affiliate marketing program without using dedicated software. But with that approach, you'll probably waste a ton of time manually creating promo codes, attributing affiliate links, and running outreach campaigns.
Instead, choose affiliate software that handles these tasks for you. Some of the best options for SaaS include:
Everflow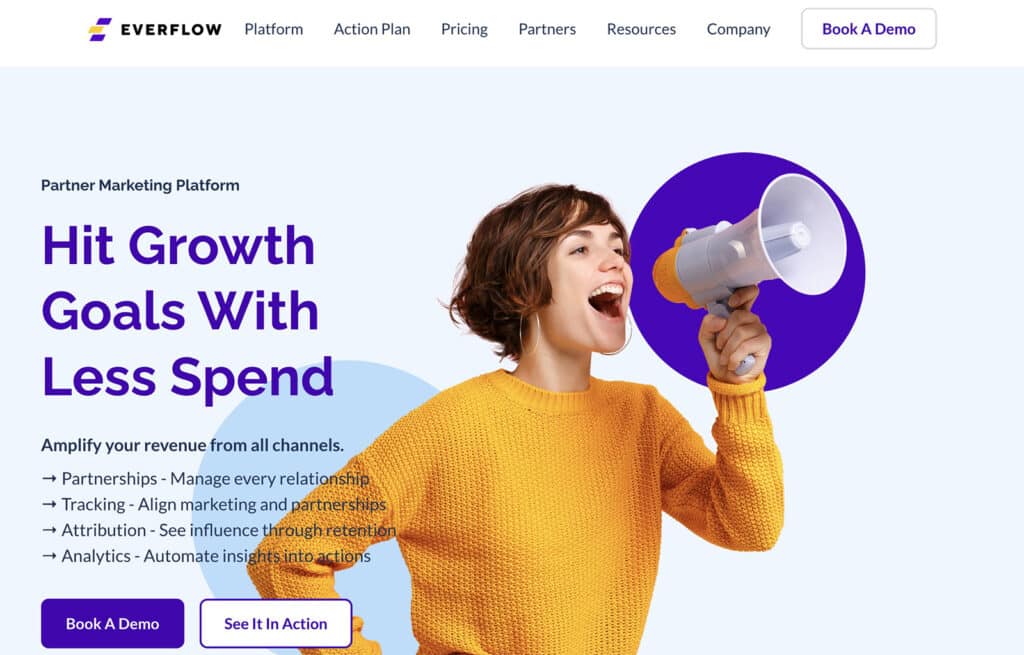 Everflow simplifies affiliate discovery, partner onboarding, and relationship tracking. This platform also streamlines affiliate payments and scales partnerships with top performers.
PartnerStack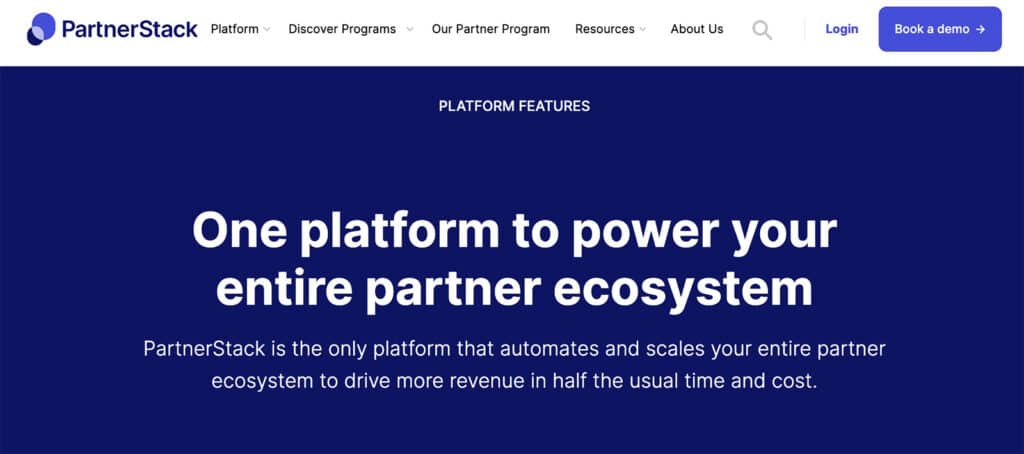 The PartnerStack platform works with SaaS businesses throughout the affiliate cycle. The partner marketing platform promotes programs to relevant affiliates, manages marketing resources, tracks sales, and handles payments.
Reditus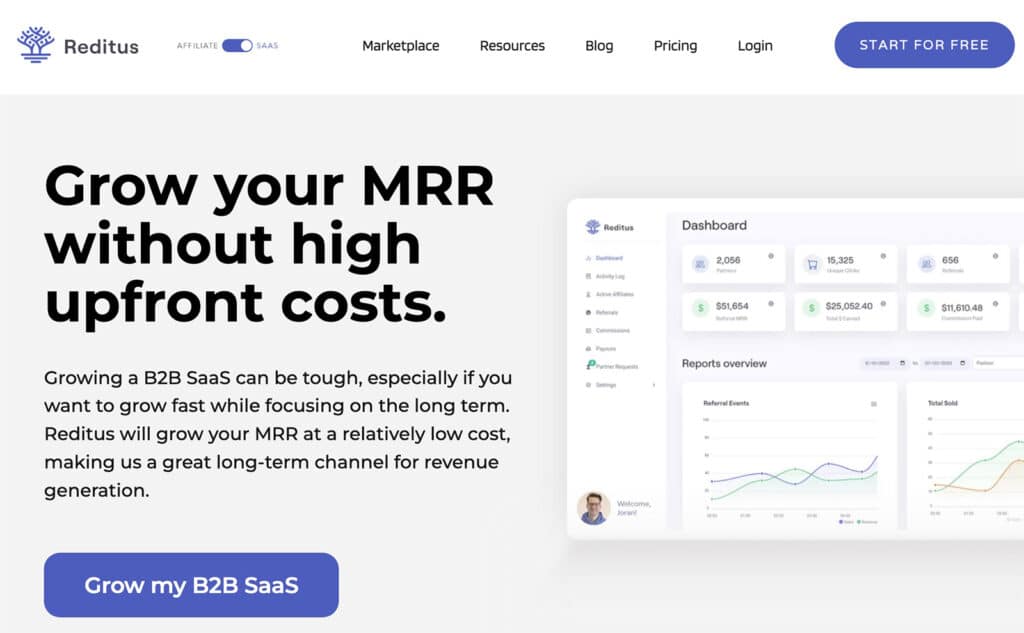 Partner marketing platform Reditus is designed specifically for B2B SaaS. Since it also has an integrated marketplace, it's a good choice for SaaS companies that want to streamline affiliate recruitment and tracking.
Torchlite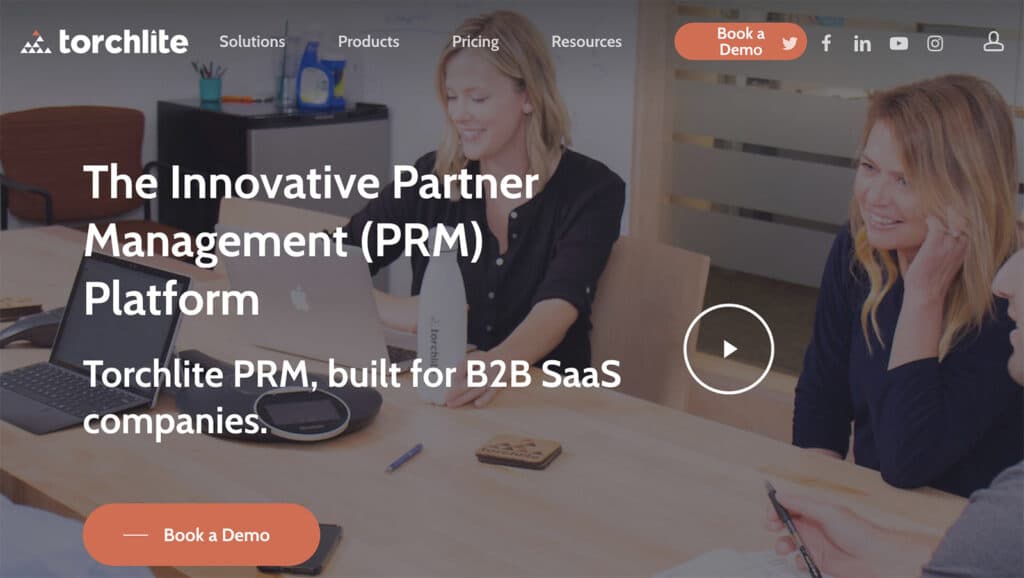 Also built for B2B SaaS businesses, Torchlite handles the entire partner marketing journey. This partner management platform manages affiliate enablement, certification, marketing, attribution, and payments.
4. Find affiliate partners
Most of the platforms above have a marketplace for finding and vetting partners. But how can you be sure it will connect you with the right affiliates for your business?
Joe Kevens, Director of Demand Generation at PartnerStack and Founder of B2B SaaS Reviews, recommends: "For screening affiliate partners, create your ideal partner profile. Then create an affiliate program application form that acts as a qualification screener for your program. Many partnership managers find that most revenue from their programs comes from a minority of partners."
While you could rely exclusively on partner marketplaces, they aren't the only affiliate sources you can check. In some cases, the best affiliates for your SaaS could be your current customers.
Nick Lafferty explains: "The most effective way of promoting Loom's affiliate program was via an in-app banner. We showed it to people who had referred 3+ people to Loom already, as measured by our product analytics. The banner was an always-on campaign that consistently generated the highest amount of applications to our program."
In many cases, it's also worth expanding your search parameters. Roman Chygur elaborates: "Tools like SE Ranking help you find top affiliates with organic traffic sources who rank high for your target keywords. Forums, Facebook groups, and Discord channels will [also] help you find the ones to reach out to."
5. Support affiliate partners
Whether you work with new or experienced affiliates, you can't expect them to market your platform with zero support. Instead, provide them with campaign resources and marketing materials so they have high-quality creative assets and relevant messaging.
Most partner marketing platforms make it easy to upload the right elements so affiliates can hit the ground running. So what should you expect to provide?
Canva provides affiliates with website banners, video ads, creative templates, and text links.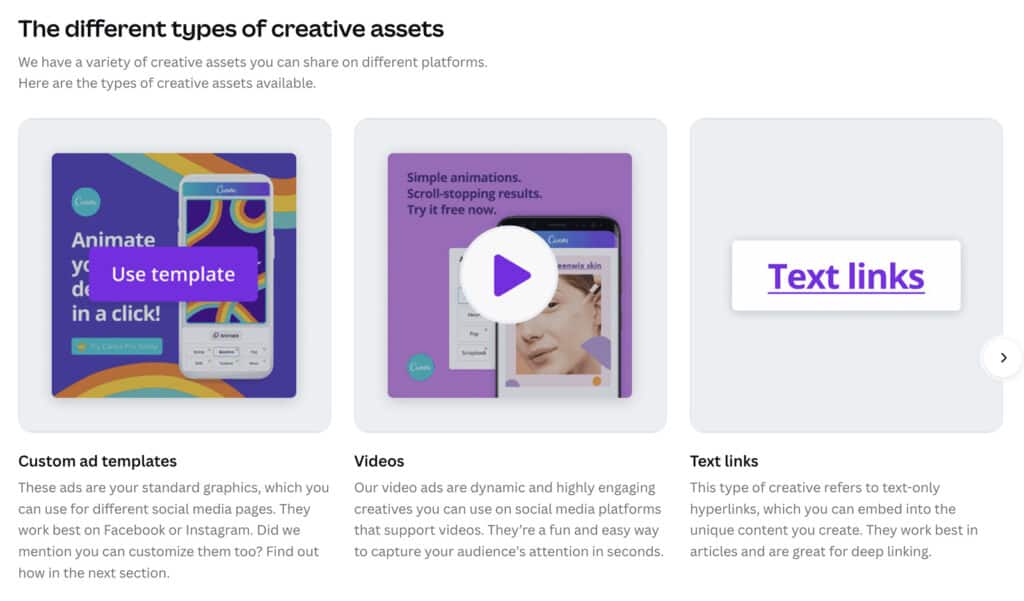 Wix gives affiliates access to a library of high-performing creatives so partners can drive more value.

Metricool offers affiliates graphic elements, customizable banners, and first-look tutorials for new features.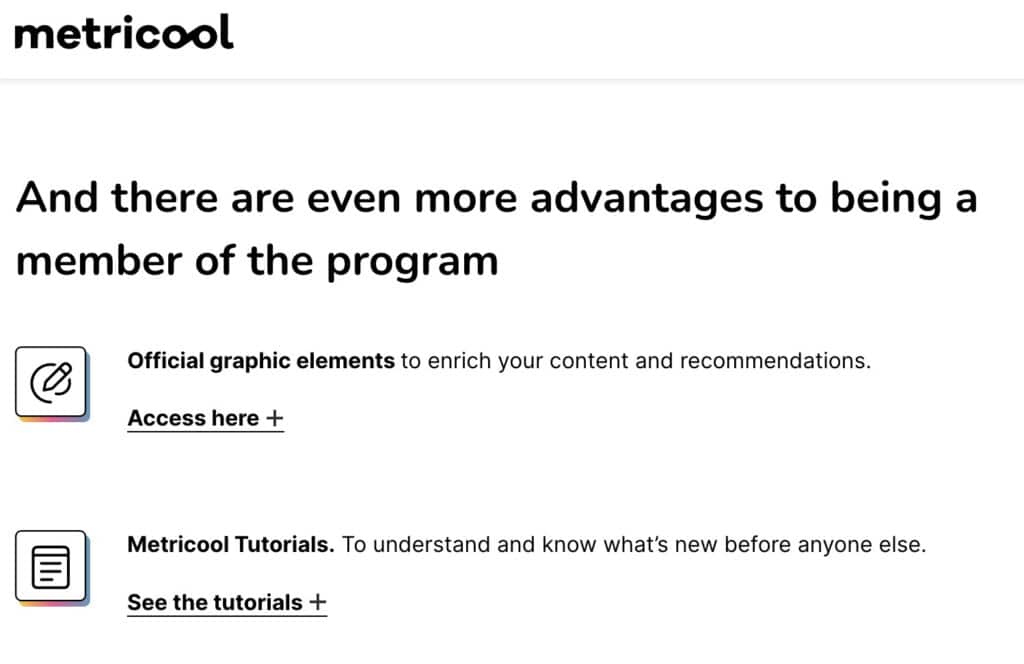 Tony Cohn, Director of Customer Marketing at Everflow, recommends that program managers customize and update these materials to help partners succeed. He explains: "Once approved, make sure to reach out to your new affiliate to learn more about their promotional methods and what they are looking for in your program. Make sure to check in frequently to see if anything is needed, such as custom creatives, coupon codes, or different payout terms."
6. Promote top performers and scale your program
As your program catches on, you'll want to add two more tasks to your to-do list. First, identify top performers and reinforce those partnerships. Here are a few ideas: Reward top performers with added bonuses. For example, Grammarly's affiliate program gives the best partners higher payouts, cash bonuses, and discounts on products or services.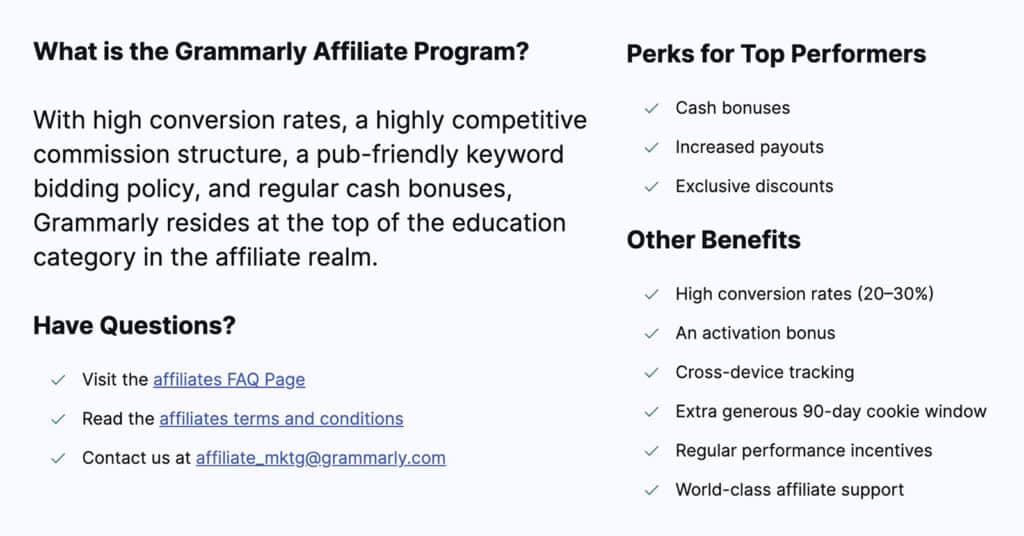 Create a tiered program that encourages affiliates to convert as many customers as possible. For example, the tiered monday.com referral program offers up to 100% commission on new customers' first-year revenue.

Incentivize affiliates to go after bigger sales. For example, BigCommerce's affiliate network receives $1,500 per enterprise referral, which encourages partners to create more targeted campaigns.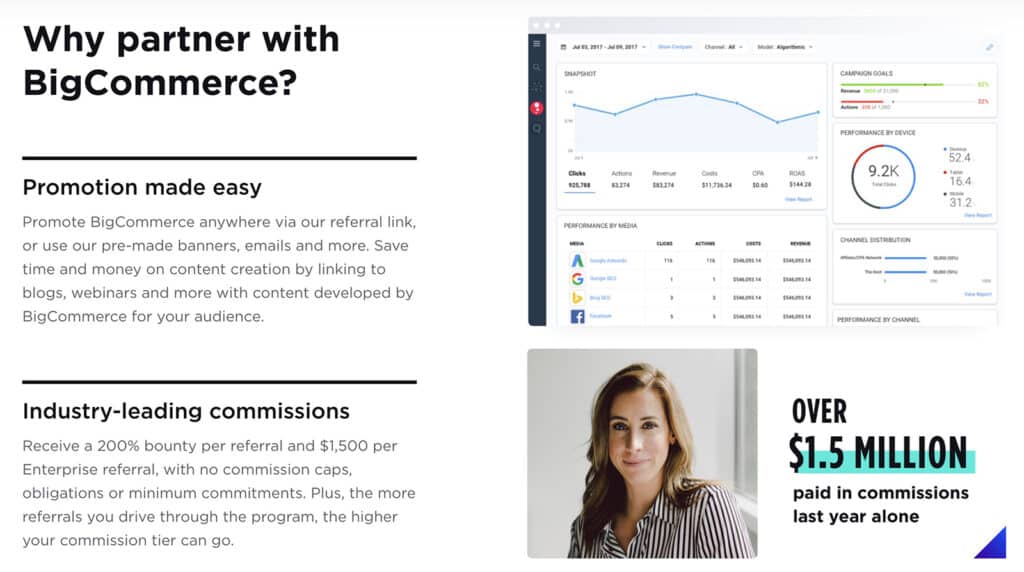 Next, consider ways to scale your program. In addition to rewarding top performers, think about onboarding more affiliates. In many cases, current affiliates can be good sources of referrals.
Marelle Ellen explains: "Due to the competition in the SaaS industry, finding good affiliate partners is quite a challenge. Thus, our most effective channel was sharing the affiliate program with our community. Some of our customers became affiliates and some of them recommended our affiliate program to other affiliate marketers who could be interested."
4 SaaS Affiliate Marketing Mistakes to Avoid
If you aren't careful, you're likely to run into some common partner marketing mistakes. Here's how to prevent them from compromising your affiliate program.
Inadequate marketing
Even if your product has true champions, you're going to have trouble onboarding affiliates if you can't show them how your program provides value. Affiliates need to know what's in it for them before they can decide to leverage their audiences.
Joe Kevens explains: "One of the biggest problems I've seen with affiliate marketing programs is they don't have affiliate partner program pages that convert affiliate prospects into partners. To make an affiliate partner program page that converts, it needs to quickly demonstrate to the potential affiliate partner that this is a company that is trustworthy, in demand, and enables affiliates to make money."
Insufficient oversight
Neglecting to clarify the terms of your SaaS partnerships and failing to confirm compliance can lead to low ROI and even invite fraud. Massimo Chieruzzi explains that it's crucial to monitor how affiliates operate so you can avoid unauthorized coupons—or "portals that intercept your brand name + coupon and just redirect traffic with the affiliate tracking code."
As CEO of AdEspresso, Massimo has found that affiliate marketing "is not a set it and forget it type of thing. If that's how you'll handle it, you'll have a high risk of brand damage, competition against your affiliates in organic and paid, and even worse, scams. At AdEspresso we had a lot of users who signed up to enterprise plans with stolen credit cards to basically launder the money and take the clean affiliate commission while we would get a chargeback after a few months and just lose money."
Monitoring affiliates and enforcing the program terms might require more oversight than you think. Nick Lafferty explains: "You must disallow any SEM / PPC ads in your affiliate program and monitor your brand terms in every location to ensure your affiliates are complying. I've caught affiliates bidding on my brand term in obscure locations to try and get high-intent clicks, but that was against our guidelines so we shut them down."
Poor engagement
Putting a referral program on autopilot can be just as bad for ROI as scams and fraud. For Nick Lafferty, low affiliate activity and engagement presented a major problem.
Nick explains: "At Loom, we noticed that only 30% of our affiliates sent us a click in a given month, so we dedicated an entire quarter to activation and engagement. We launched a newsletter, proactively communicated to our highest volume affiliates, and offered accelerated incentives."
Excessive competition
It's also essential to monitor how other SaaS companies structure their programs so you can maintain a competitive edge. Marelle Ellen explains: "The biggest challenge we're facing is competition—there are so many other marketing software with affiliate programs. Thus, it's quite a challenge to get good affiliates to work with us."
Marelle continues: "From what I've seen from other startups, creating a community and offering additional value helps. For example, a money budgeting app can hire a community of affiliates who get free financial training as well as affiliate fees."
Final Thoughts on Affiliate Marketing for SaaS
Affiliate marketing is just one element of a strong partner ecosystem. But when you do it right, investing in this channel can give your SaaS company new tools for growth while providing unmatched value to affiliate partners.