The SaaS Marketing world is about to get deeply shaken from its foundations.
The increased scrutiny from governments into tech companies' management of users' data, and the consequent reaction from top platforms like Apple, Google & Facebook means many SaaS Companies will need to adjust their marketing strategies drastically. Some might even suffer massive disruption of their core businesses.
With third-party cookies being deprecated soon and scraped data being outlawed in more and more countries, we're entering a new era—the era of Zero Party Data.
If you've never heard this term, don't worry, you're not alone. Yet, if you are a marketer, yesterday was the best time to learn more about this new trend, and today is the second-best time.
Just check the increase in search traffic the keyword had in the last couple of years: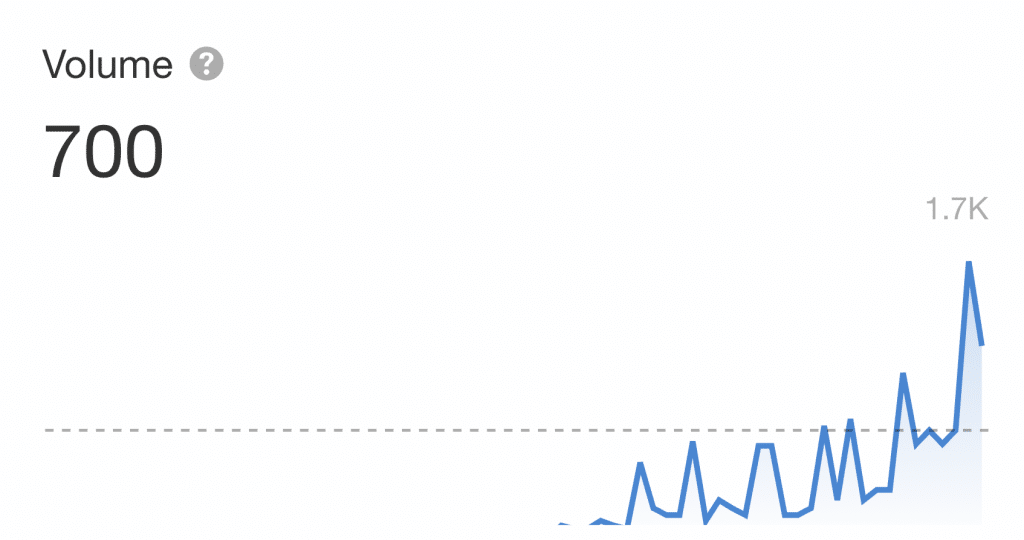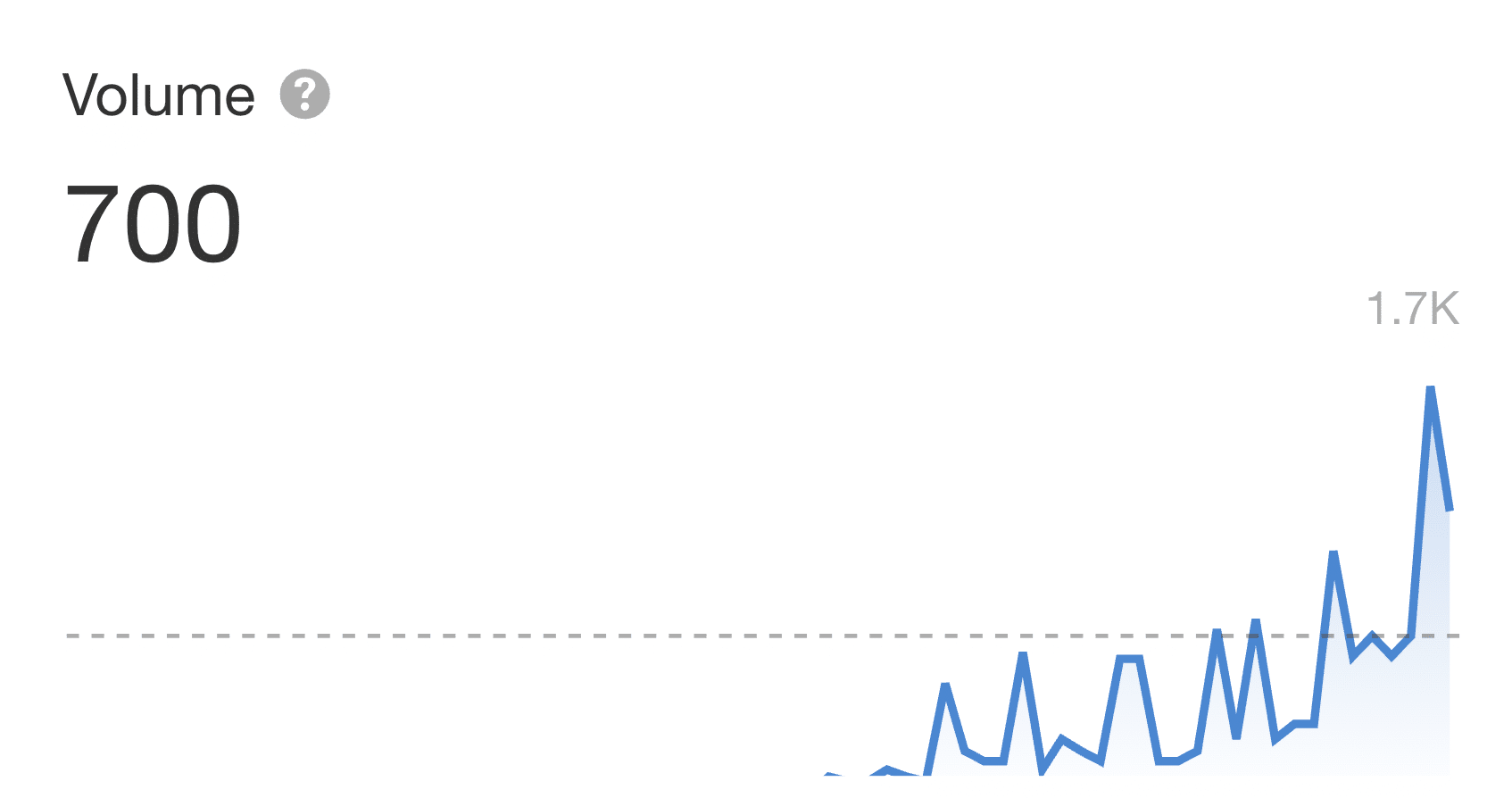 It went from 0 to a spike of 1.7k searches per month in less than two years, and I'm sure it'll keep going up as legislators will keep limiting the boundaries of data treatment.
What is Zero Party Data?
Zero-party data is a term coined by Forrester in 2020. The researcher who coined the term, Stephanie Liu, defines them as:
Data that a customer intentionally and proactively shares with a company.
The assumption here is straightforward and hard to dispute: With GDPR (General Data Protection Regulation in Europe), CCPA (California Consumer Privacy Act), CASL (Canada's anti-spam legislation), and Google phasing out third-party cookies support by 2023, companies will have a hard time acquiring customer data from third parties or collecting them from users' behaviors.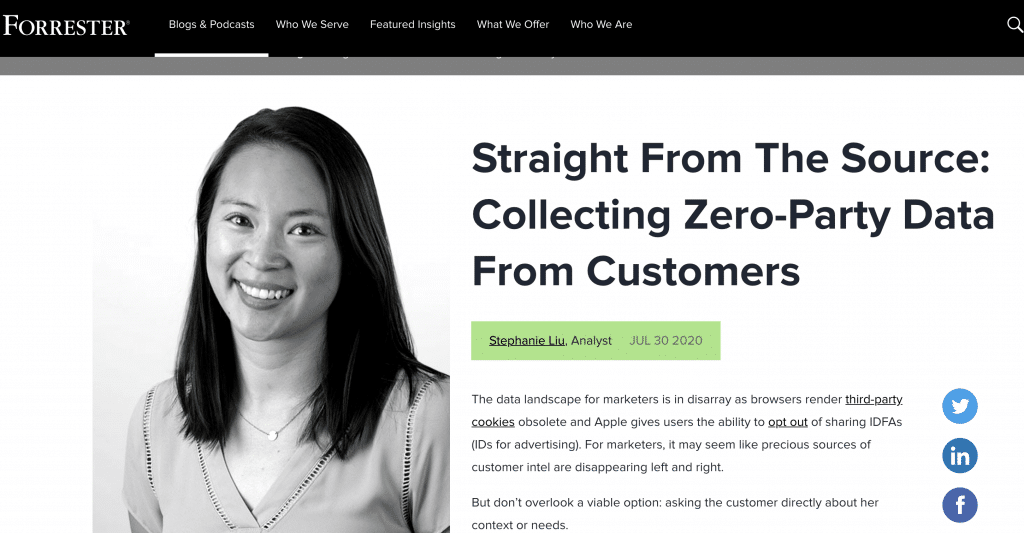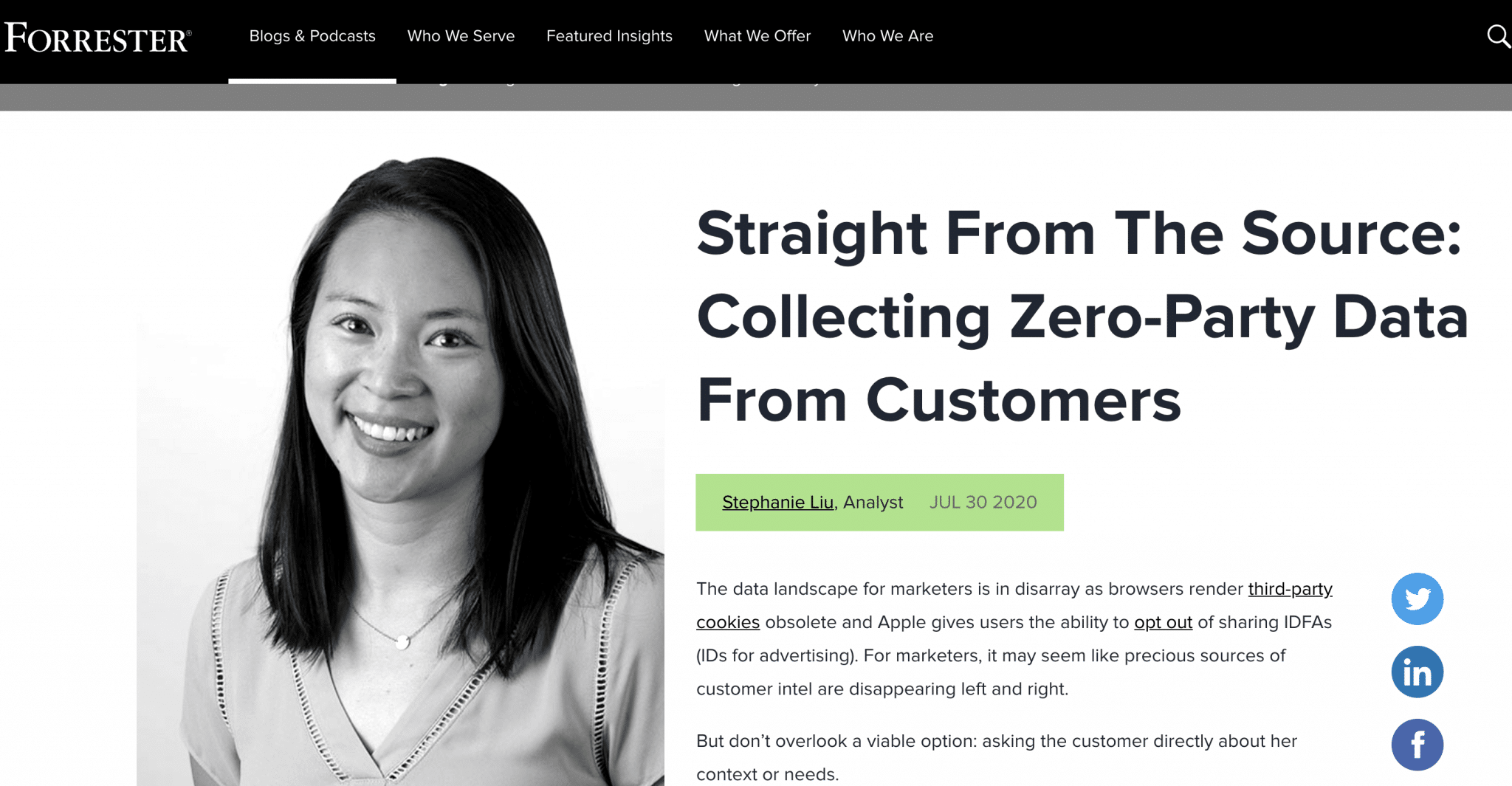 These regulations will dramatically limit their ability to run effective marketing campaigns, serve personalized content and user experiences. Basically, They will affect how they understand their customers and what they want to buy.
We can already get a taste of what could happen with Apple's recent hard blow to Facebook Ads in iOS 14. Once they limited Facebook's ability to identify users browsing a website, Facebook Ads' CPM skyrocketed, with many advertisers experiencing an increase in advertising cost by more than 50%.
Imagine such an increase in Cost per acquisition spread across all marketing channels.
SaaS marketing costs are already at sky-high amounts today, and a further increase could break the bank for many companies. We can spot the same trend in the eCommerce world.
To succeed in a privacy-centric world, businesses must evolve their marketing strategy and gather more data about their users, habits, and interests.
Collecting zero-party data will become a critical success factor for every revenue marketing team.
Zero vs. First-Party Data: What's the difference?
If at this point you're asking yourself this question, don't worry, you're not alone.
The difference between zero-party data and first-party data is subtle and confuses many people. But understanding it is the key to unlocking suitable marketing activities for data collection.
Both zero and first-party data are provided to you by the user.
The real difference is that first-party data are collected either through analyzing the user's behavior or through forms he's filling out as part of a transaction.
For example, the user's address, phone number, and products bought are considered first-party because you got them at the checkout.
Classifying a user's purchase intentions by the pages he visited on your website is, again, first-party. The user didn't explicitly share with you that information. You deducted them from his browsing behavior.
On the other side, having a user complete a survey where he shares his interests and purchase intent, that's zero-party data.
A quick recap on all the kinds of data you can get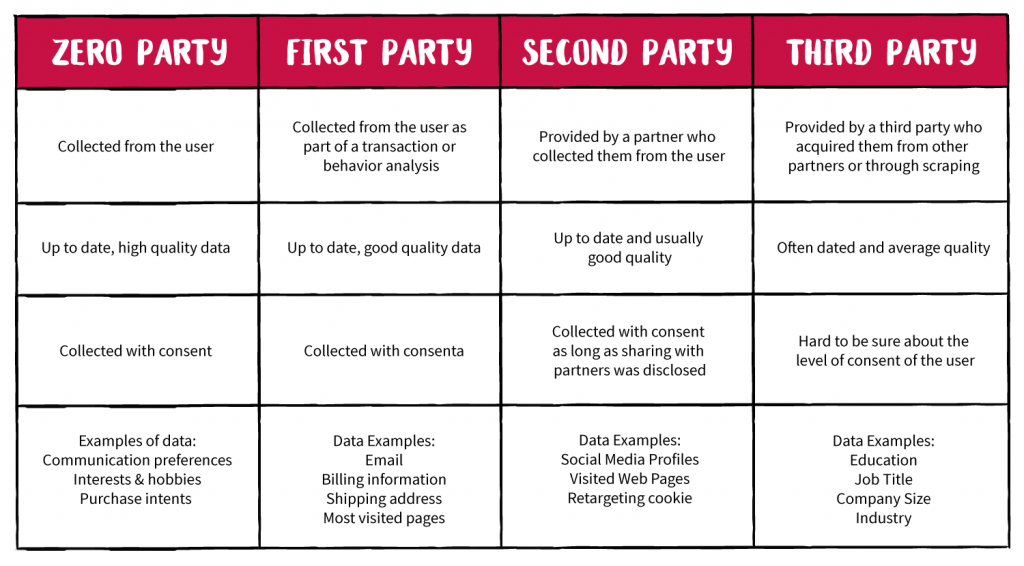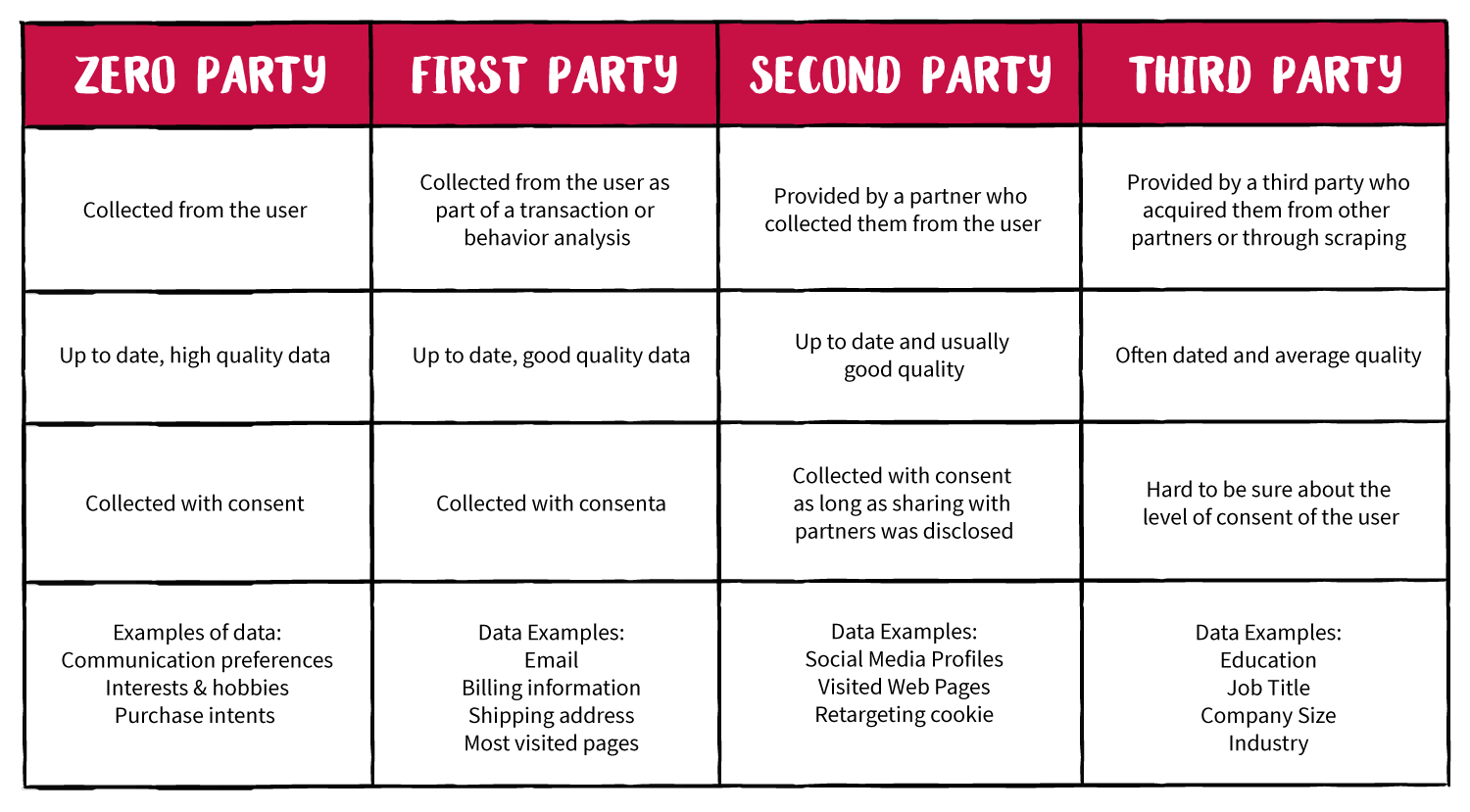 Alright, before moving forward, here's a final overview of all the types of data that companies usually rely on.
Zero-Party Data: Data that a customer intentionally and proactively shares with a company. No privacy risk.
First-Party Data: Data you get as part of a transaction or by analyzing users' behavior on your website. No privacy risk.
Second-party data: You get data from a trusted partner who acquired them directly. Basically, it's someone else's first-party data. Very common in partnerships but usually not so relevant for the overall business. Moderate privacy risk.
Third-party data: You receive data from another company that didn't acquire them directly but through scraping and other data partnerships. These are usually the data you buy from players like Clearbit or ZoomInfo. High privacy risk.
Third-party data is more at risk as privacy regulations worldwide get tighter.
They are used by most B2B marketing and sales team either to enrich their first-party data or, even worst, to get emails of potential prospects who have no relationship with the company to do outbound sales and marketing campaigns.
Are Zero-party data a real revolution?
To be honest… no.
Of course, it's great to get personal context on your user base, and any company should focus more on first-hand data collection.
But to be honest, I didn't see the need to differentiate zero-party data and first-party data. Overall, it sounds like yet another buzzword invented to highlight the need for companies to embrace a customer data platform and increase their effort to collect data.
If you think about it, smart SaaS companies were already profiling users through surveys and quizzes way before the "zero-party data" term was invented. Ryan Levesque's popular "Ask Method" described zero-party data in his book back in 2015, he just didn't use that name.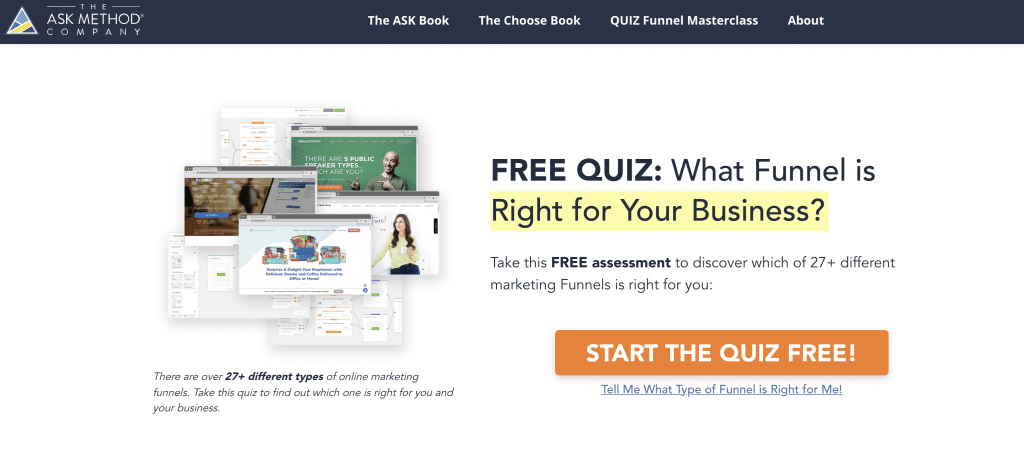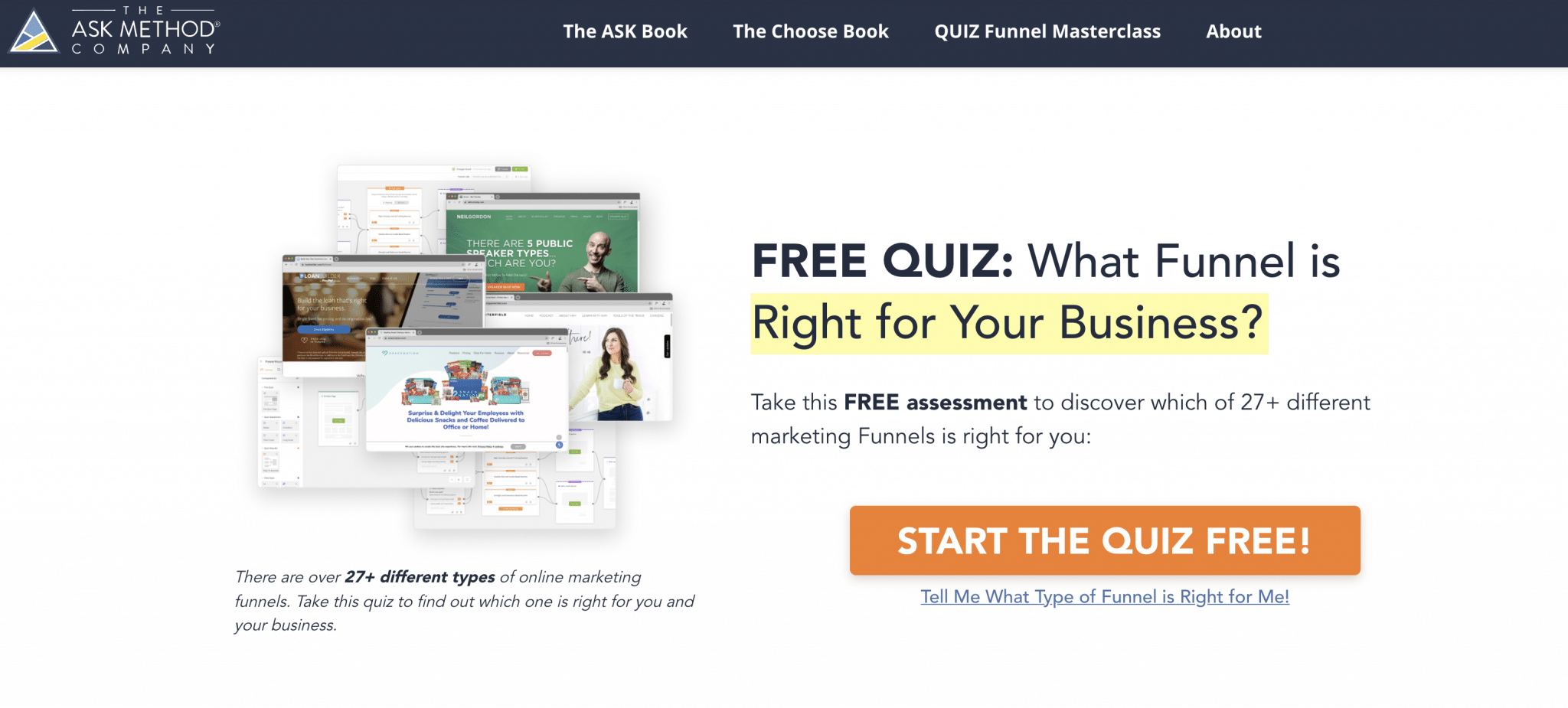 Sure, it's better if users' data are given rather than gathered. That said, they could have easily fallen in the first-party data bucket with no new category created.
It seems that our industry every four years needs to rebrand something to re-vitalize it.
Anyway, let's play along and start analyzing all the ways companies can collect zero-party data.
5 Ways to capture zero-party data
While purchasing third-party data is as fast as a swipe of a credit card, to get your users to give you the information you want, you'll need to put in place a zero-party data strategy, and this requires a good amount of work.
Before you start building anything, you should get your digital marketing and sales team in the same room and get them to agree on what kind of data they need to be effective.
Understanding the right amount and type of data to collect
Nowadays, B2B companies can amass extensive datasets that often turn out to be useless or non-actionable.
The main reasons for this failure are:
Complete lack of a zero party data strategy.
Misalignment between Marketing and Sales on what data are useful.
Fragmentation of data. Different users provide different sets of data.
Wrong data types. One example is the Job title field. It's functional, but if you ask users their job title as free text, you'll get so many variations of the same role that it's too hard to use it.
In order to run effective campaigns, you don't need a vast amount of zero-party data. You need to collect insightful, actionable, and available data for most of your users.
I recommend starting with your Buyer Personas or ICP (Ideal Customer Profile).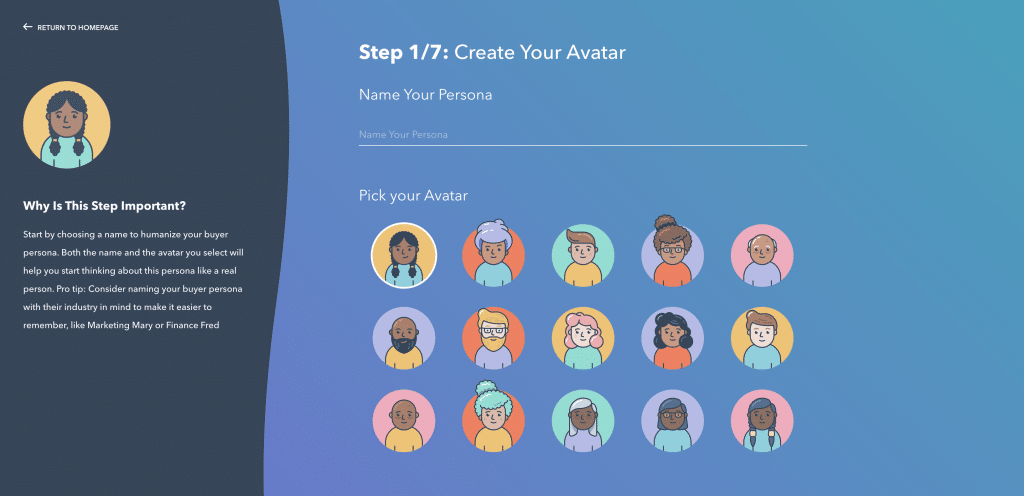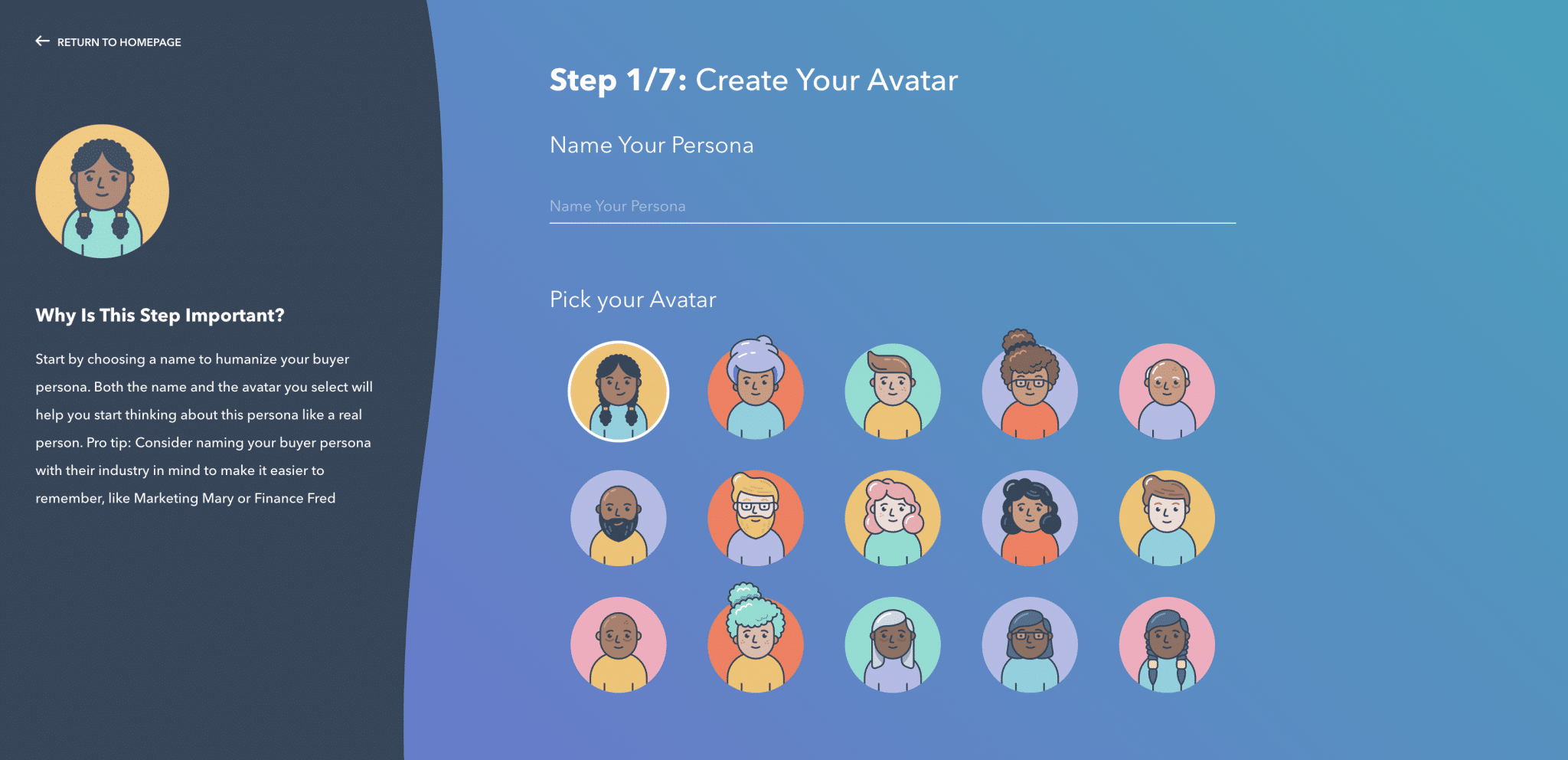 How do you define your ideal customer? By the number of employees? By revenue? By region?
All the key elements of your buyer personas are the information you want to collect as soon as possible. They'll help your sales team understand who the leads are with a high likelihood of becoming new customers.
Also, ask your sales team what most useful information they need to get in a meeting prepared and customize the demo to the user's needs. These are data you want to collect in your zero-party data strategy.
Hint: don't exclude from the list data you're currently getting from third-party data or second-party data. If you can get those data first hand, it will be more cost-effective and reduce the risk from industry regulations.
Once you have a good enough list, between 10 and 20 data points excluding personal information, prioritize them based on when you'll need them.
You don't need to know too early things that are only required as transactional data like the shipping address.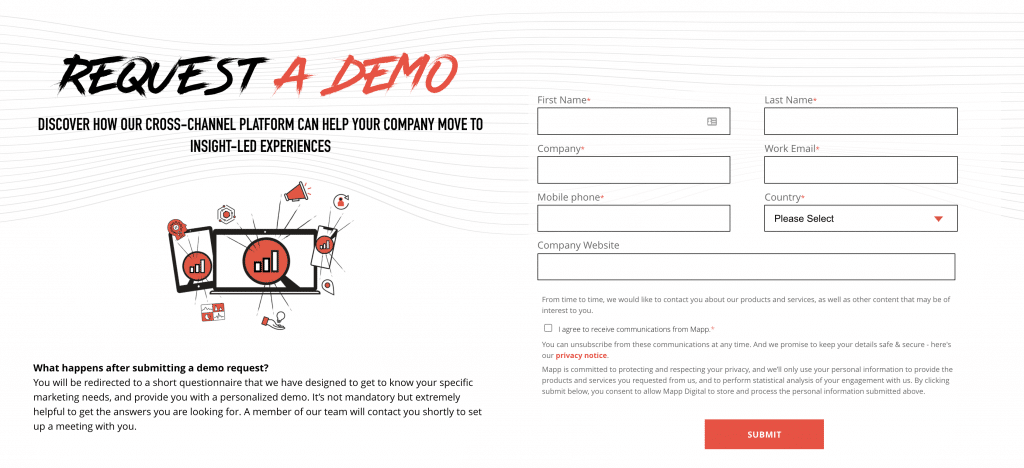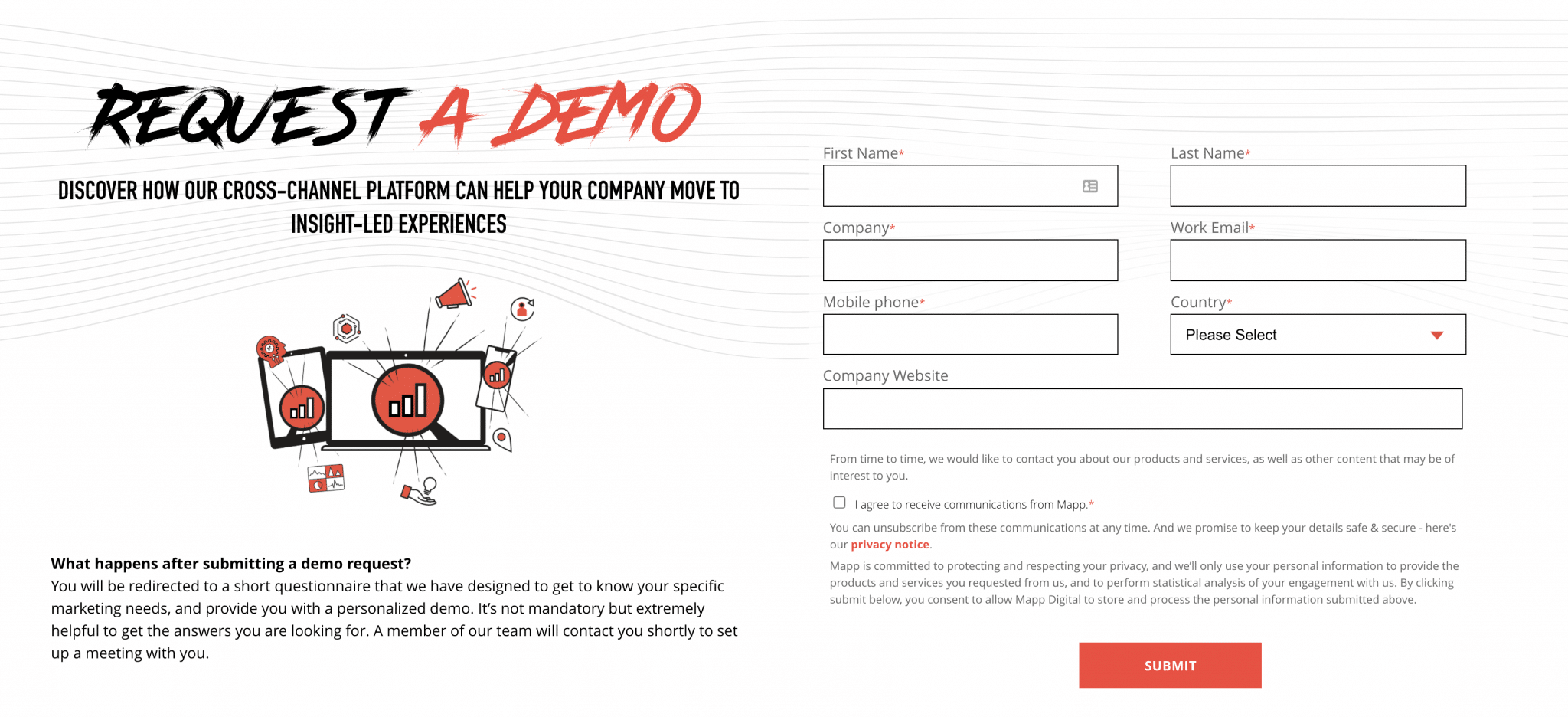 Finally, decide how you're going to store those data. Qualitative data is tough to use for marketing automation, website personalization, and overall powering your sales and marketing efforts.
Don't ask how many employees a company has as a free text field, and you'll end up with: 5, hundred, many, 5.000, and any other kind of non-actionable information.
Use dropdowns and multiple choices questions whenever it's possible.
How many employees do you have?
0 – 10
10 – 100
100 – 500
500+
This is the kind of zero-party data you want to collect to power your marketing strategy.
Now that you have a comprehensive list of the customer data you want to gather, and you have prioritized them by relevance for your business, it's data collection time!
1) Lead Magnets with progressive profiling
Lead Magnets are the most straightforward way to collect zero-party data.
Nowadays, every SaaS company usually has at least a series of eBooks or Webinar landing pages where users can get valuable content in exchange for some personal data.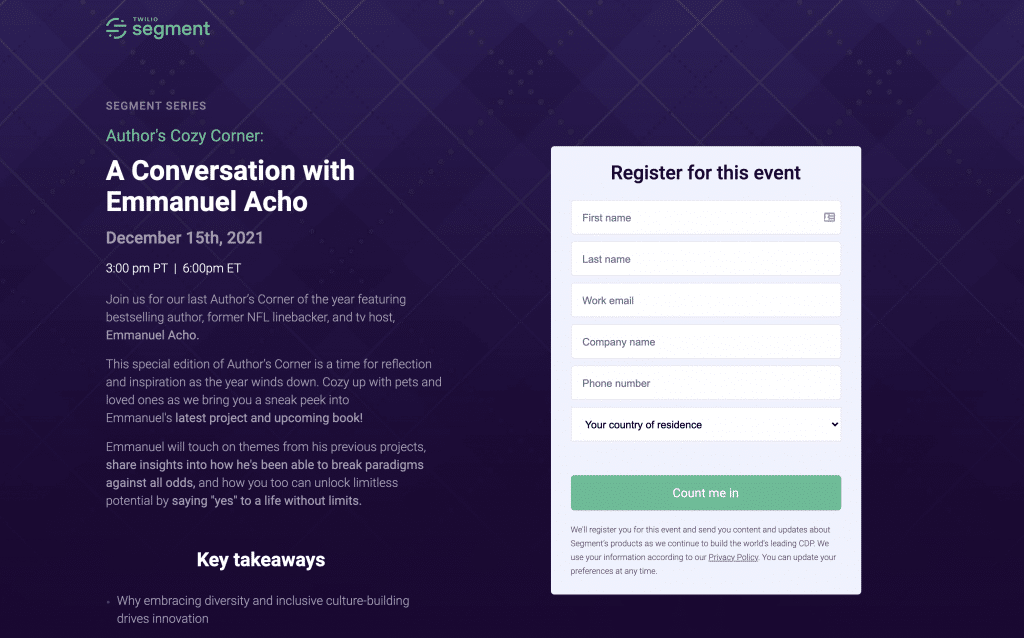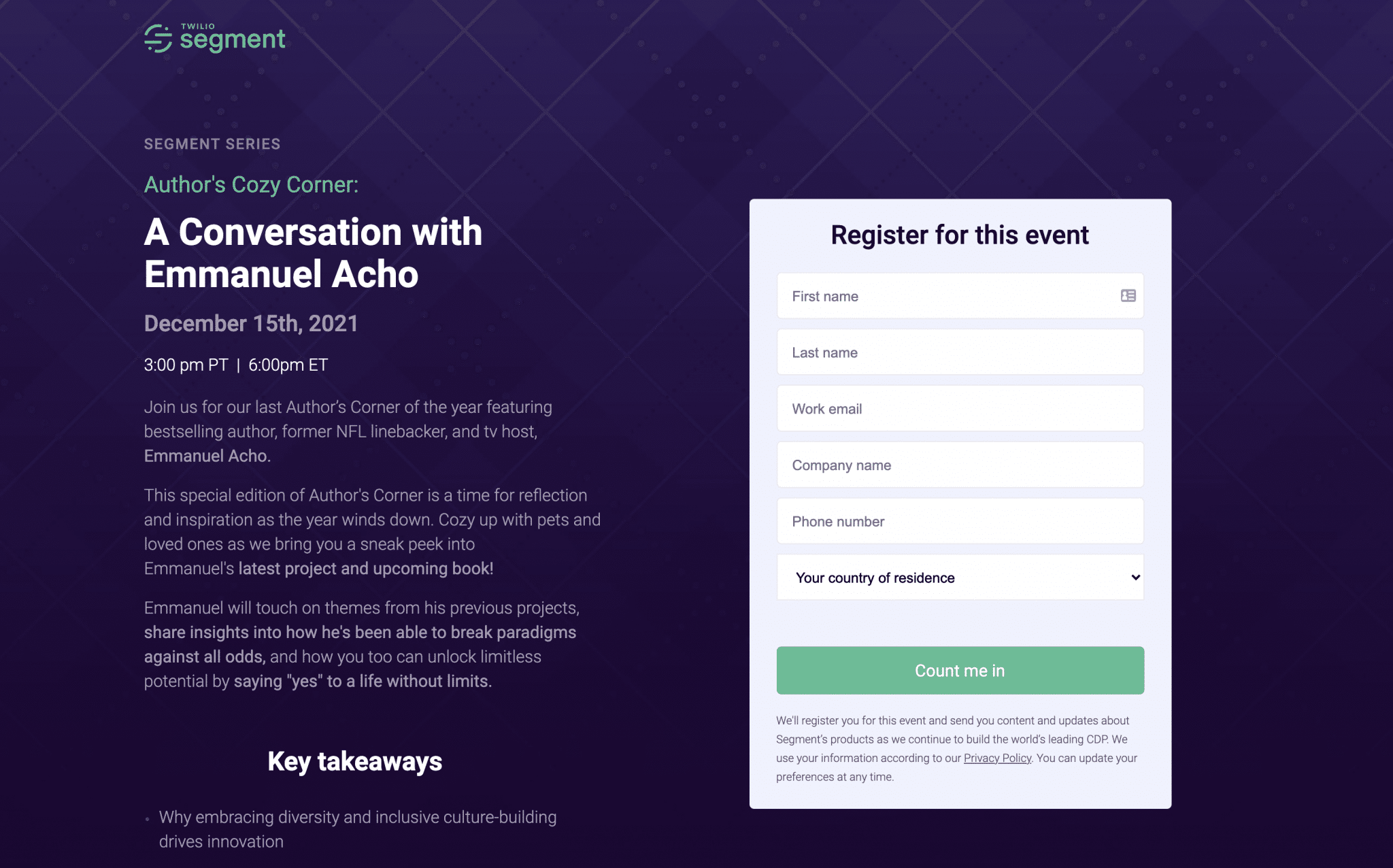 It's a great strategy and usually the easiest way of getting some data about your potential customers into your database. I love this approach because it's based on value exchange: You give them valuable content, and they give you valuable zero-party data.
Here are a couple of tipis to get the most of Lead Magnets for zero party data collection:
Fine-tune perceived value and customer data required. It's tough to find the right balance here, but it's also critical. Understand how valuable a lead magnet is perceived by your customers and ask for a proportionate amount of data in return. You can usually only ask for the name and email for a newsletter. For high-quality market researches, you can ask way more data in return.
Use progressive forms. Most CRMs or MAPs like Hubspot usually support setting up a list of information you want to gather from a user and then defining how much information to ask at every interaction.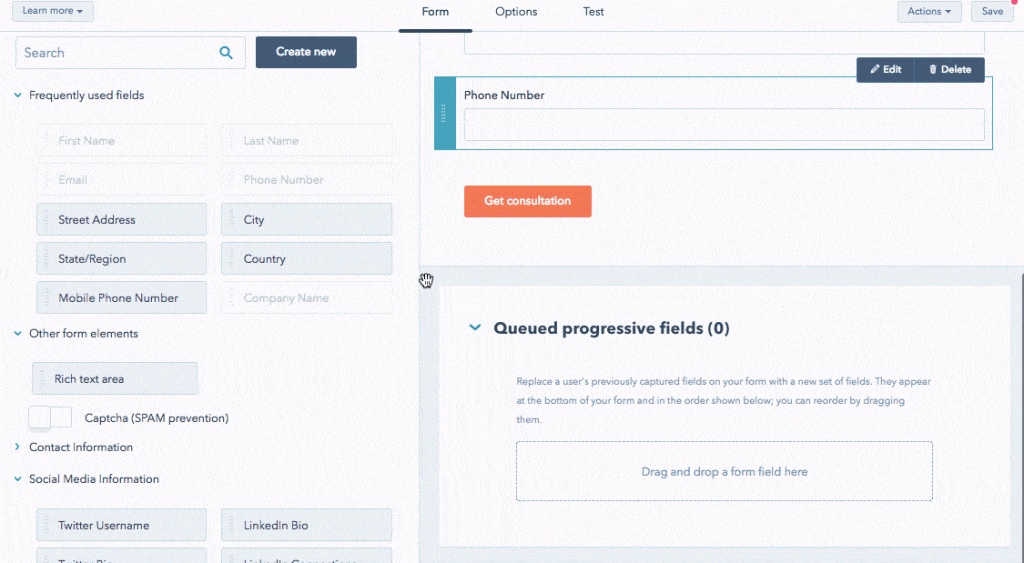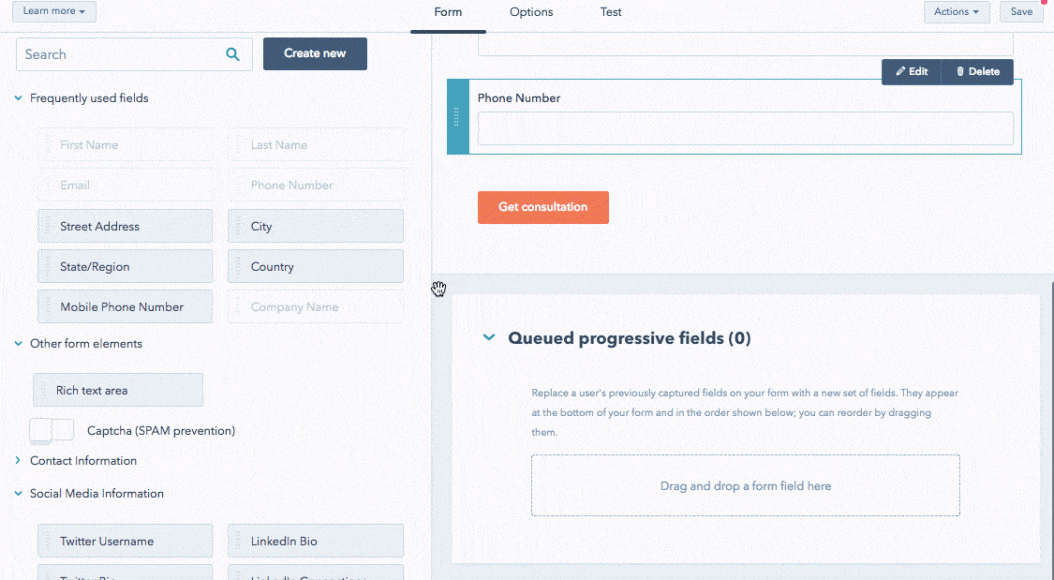 This way, the user doesn't get flooded with too many questions right away, but as he keeps getting more lead magnets, every time, he'll be asked different questions, providing you a complete profile of your potential customer.
To keep collecting more and more zero-party data, it's vital that your marketing team can produce new lead magnets with consistency.
3) Free Tools
Offering free tools on your website is, in my opinion, the best way to collect zero-party data at scale while providing massive value to your potential customers.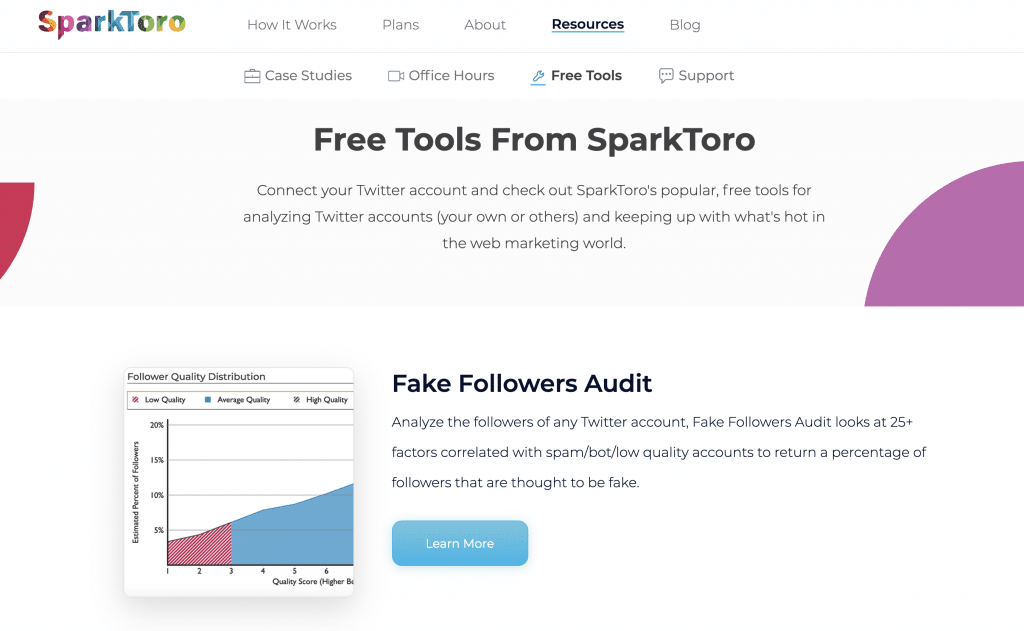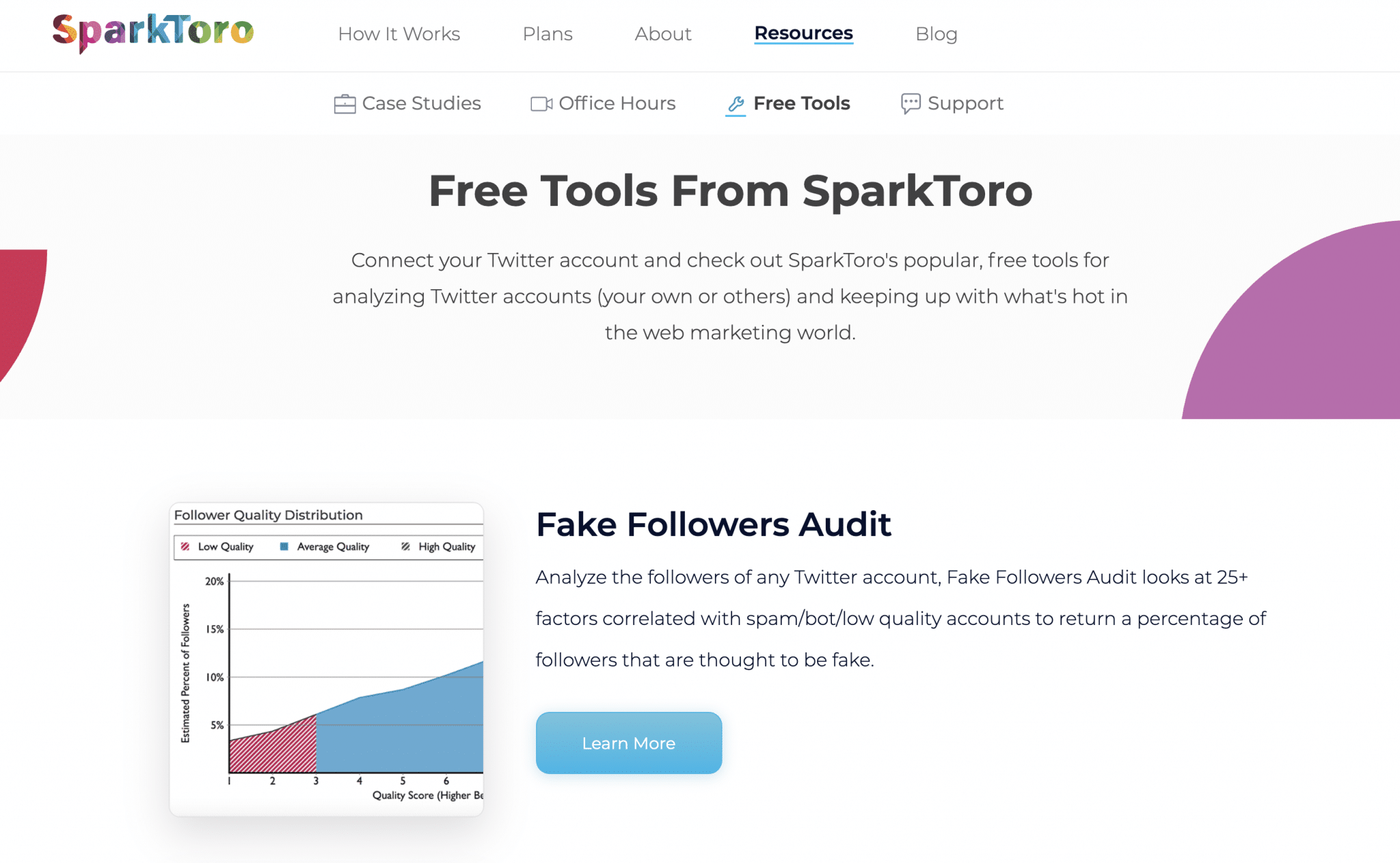 Sparktoro offers three tools that are completely free and super useful. When you use them, of course you're giving them access to your Twitter account where they can get (with permission, of course) a lot of useful information.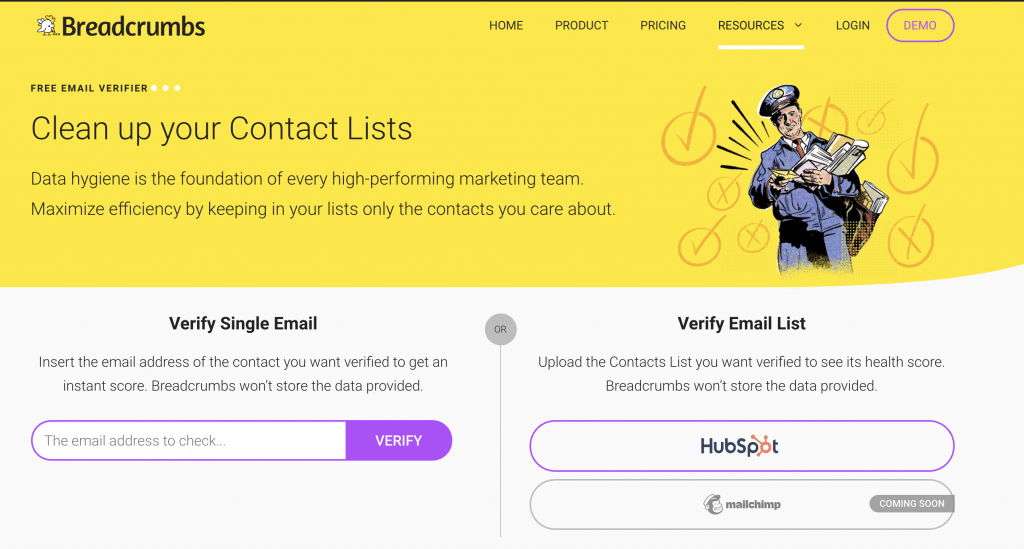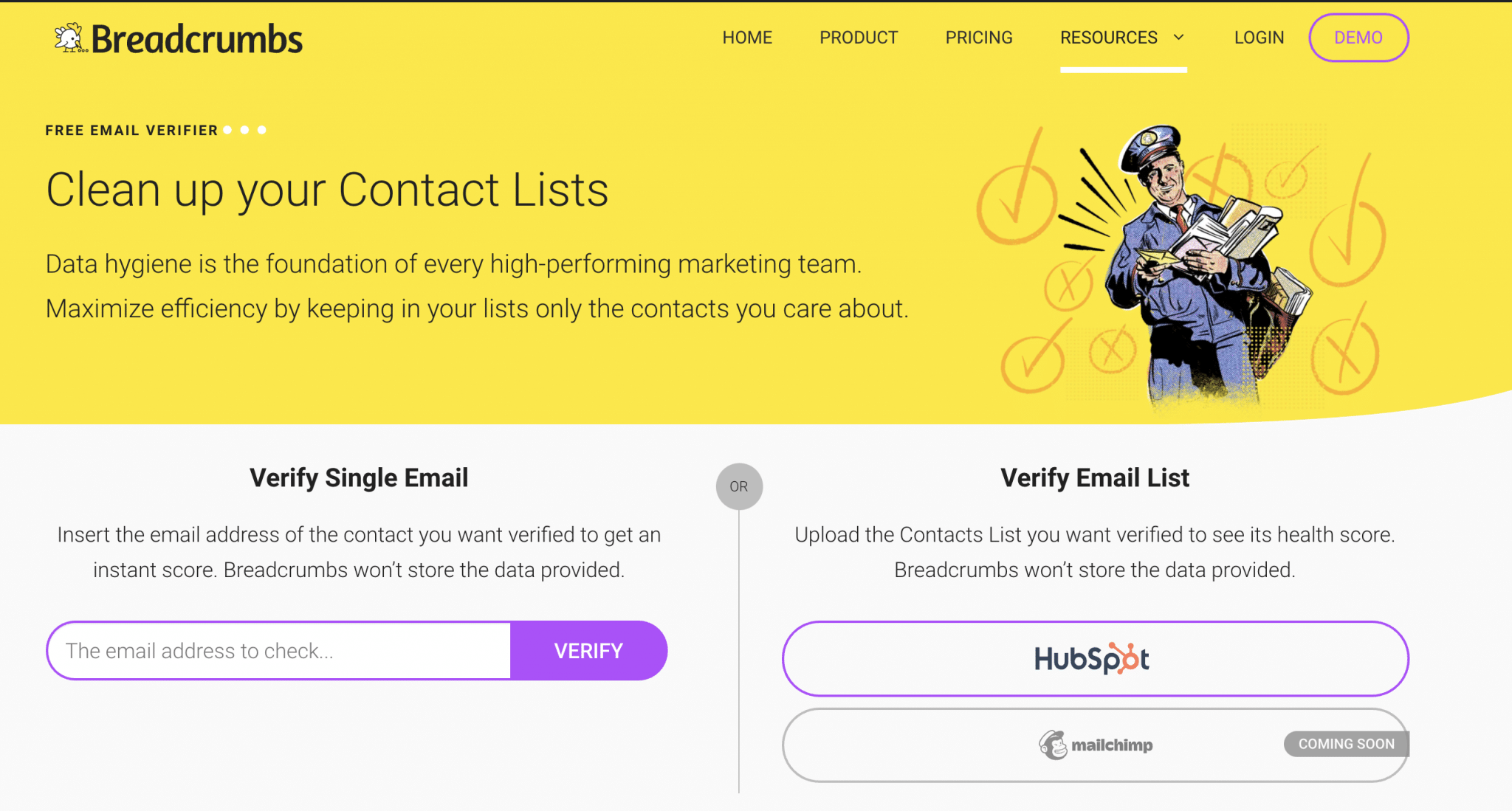 Breadcrumbs.io offers a free email verifier. It has a considerable value for our users, and it also helps us connect to their Hubspot accounts and understand if they could get value from our product or not. It's also one of our top pages from an SEO perspective.
The best thing about collecting zero-party data with free tools is that data don't lie, and people do. The aggregated data you can get by accessing your users' tools is precious and will give you a better understanding than asking them in a form.
Free tools are also very popular and easy to promote. They are an increasingly important way to grow your business and generate more leads and brand awareness.
3) Surveys and Industry research
Creating Industry research is a great way to collect zero-party data. It's also not simple to put one together; that's why usually it's a strategy adopted mainly by more prominent brands.
The main problem with this strategy is that you need a large audience to collect enough survey answers to make it meaningful.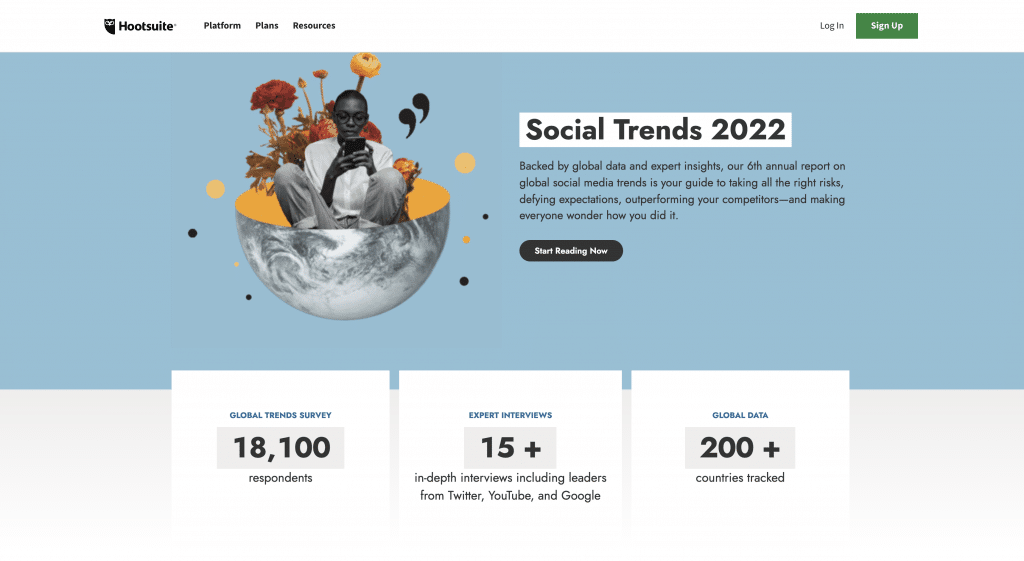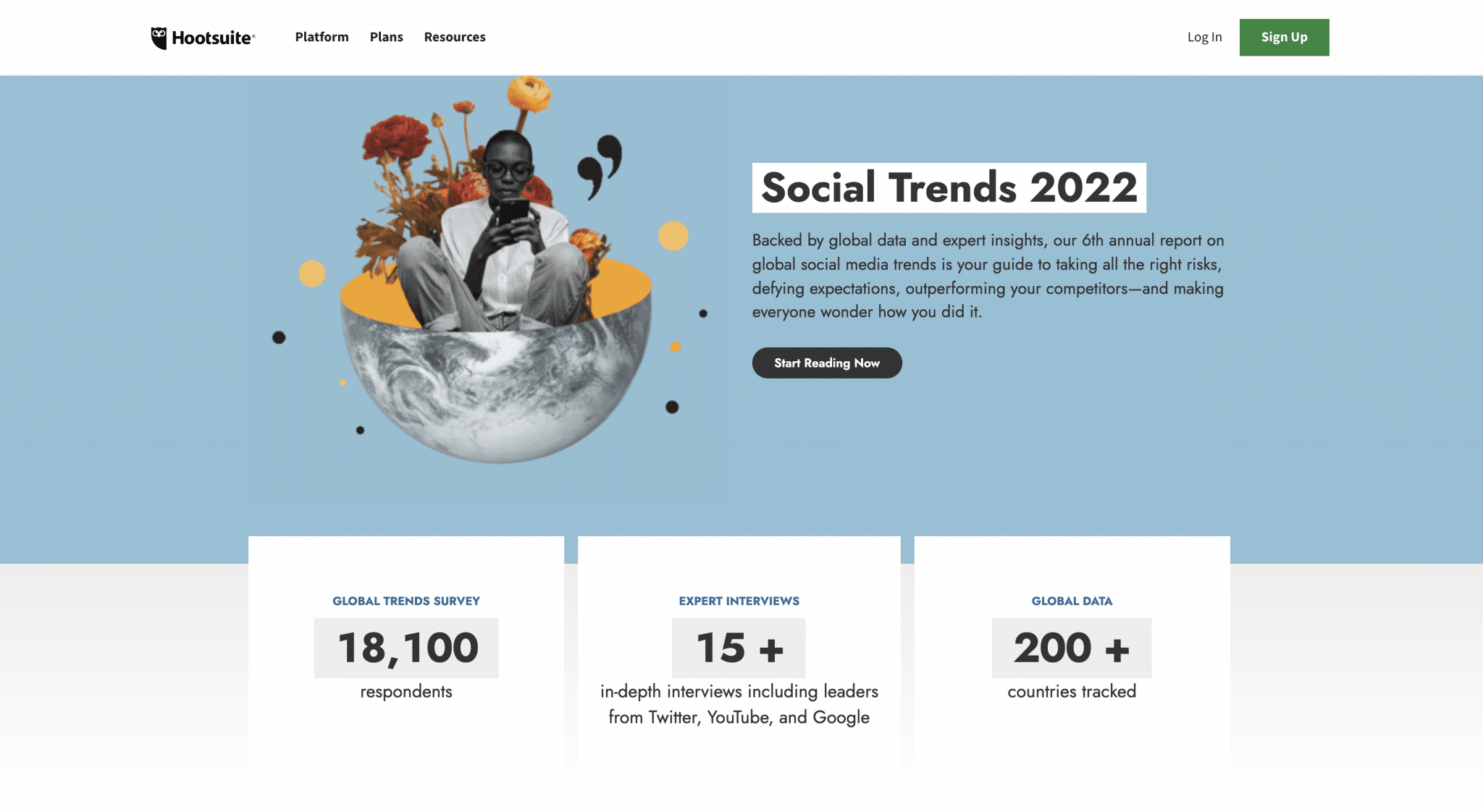 Hootsuite had more than 18,000 marketers fill out their Social Trends 2022 survey to spot new Social Media Marketing World trends. It's not a light effort.
And it's no wonder it's their most promoted single piece of content. They kept promoting it on social media, did a PR push, and promote it across the whole website.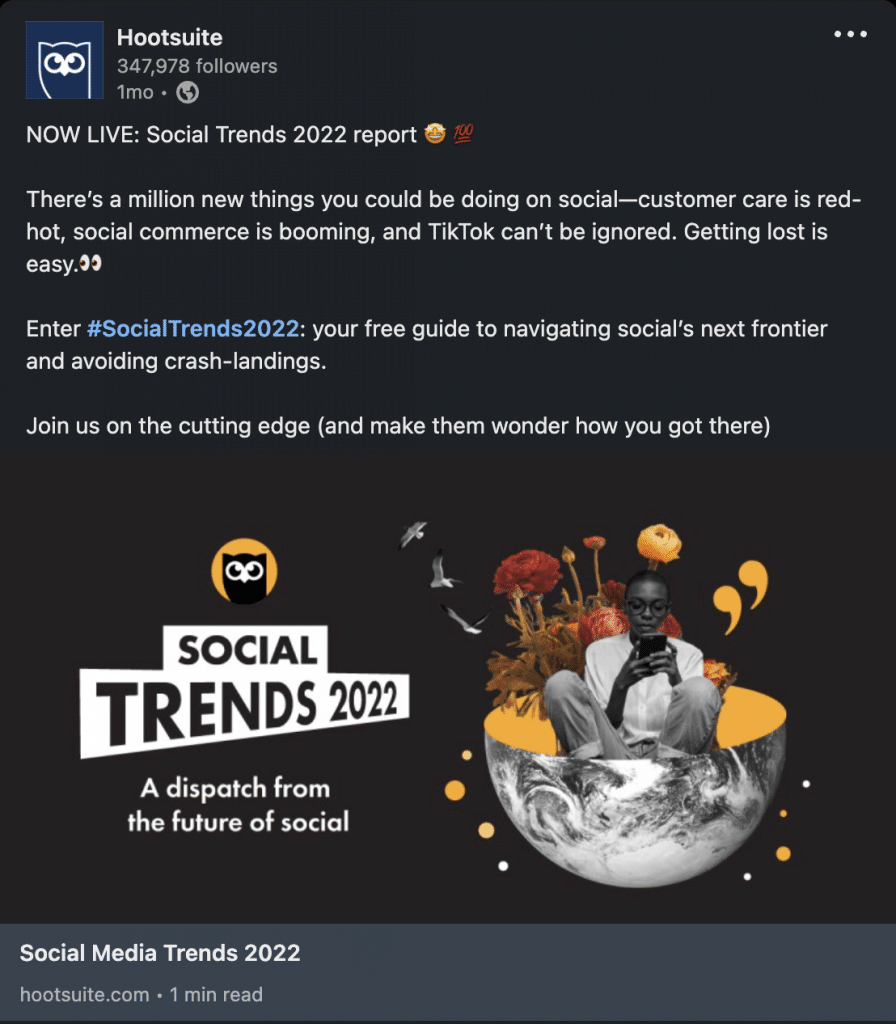 A colossal effort but it was met with a massive return. First of all, they gathered a lot of insights and purchase intentions from 18,000 marketers. That's their main buyer persona! And that's before they even published the report.
Now they are likely collecting zero-party data on hundreds of thousands of social media marketers who are downloading the report.
It also has great SEO benefits. The Social Trends 2022, in just a couple of months, already generated 5,600 backlinks from 700+ unique domains. This alone is worth tens of thousands of dollars, and overall, will improve their SEO strength and brand awareness.
Countless companies rely on this strategy: Segment, Hubspot, Search Engine Journal, and many more.
My only advice is to plan this strategy way ahead; it takes a lot of time and planning to do a good industry report.
4) Quizzes
Quizzes are another great way of collecting zero-party data. They were popularized by Ryan Levesque in his book Ask, an international bestseller. Yet, most brands still ignore them, especially in the b2b space.
Through Quizzes, you can gamify the data collection on your channels, especially on the website, by asking the user a bunch of tough questions and, at the end of the quiz, giving them a score and potentially some tips on how to improve it.
Users don't perceive quizzes as a marketing tactic, and they're happy to opt-in, providing the brand a trove of information.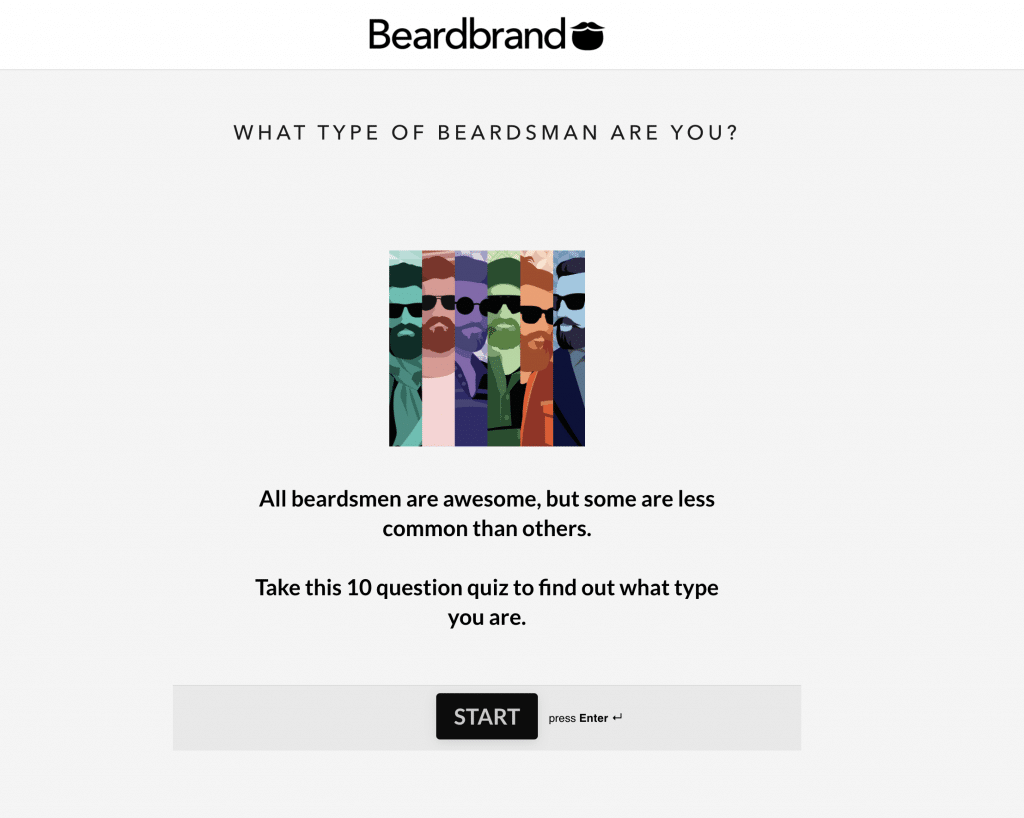 BeardBrand has a nice Quiz titled "WHAT TYPE OF BEARDSMAN ARE YOU?" Can you imagine how useful the answers to that quiz are for the brand?
Users are basically giving them all the information they need to push them personalized offers and convert them into customers.
Amelia Gray has a similar quiz to understand what kind of skin you have.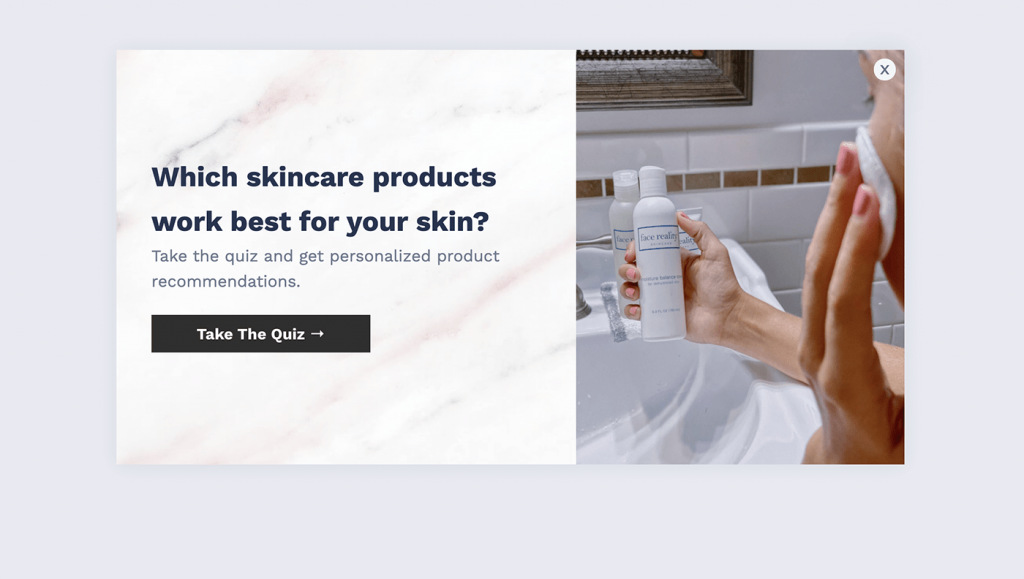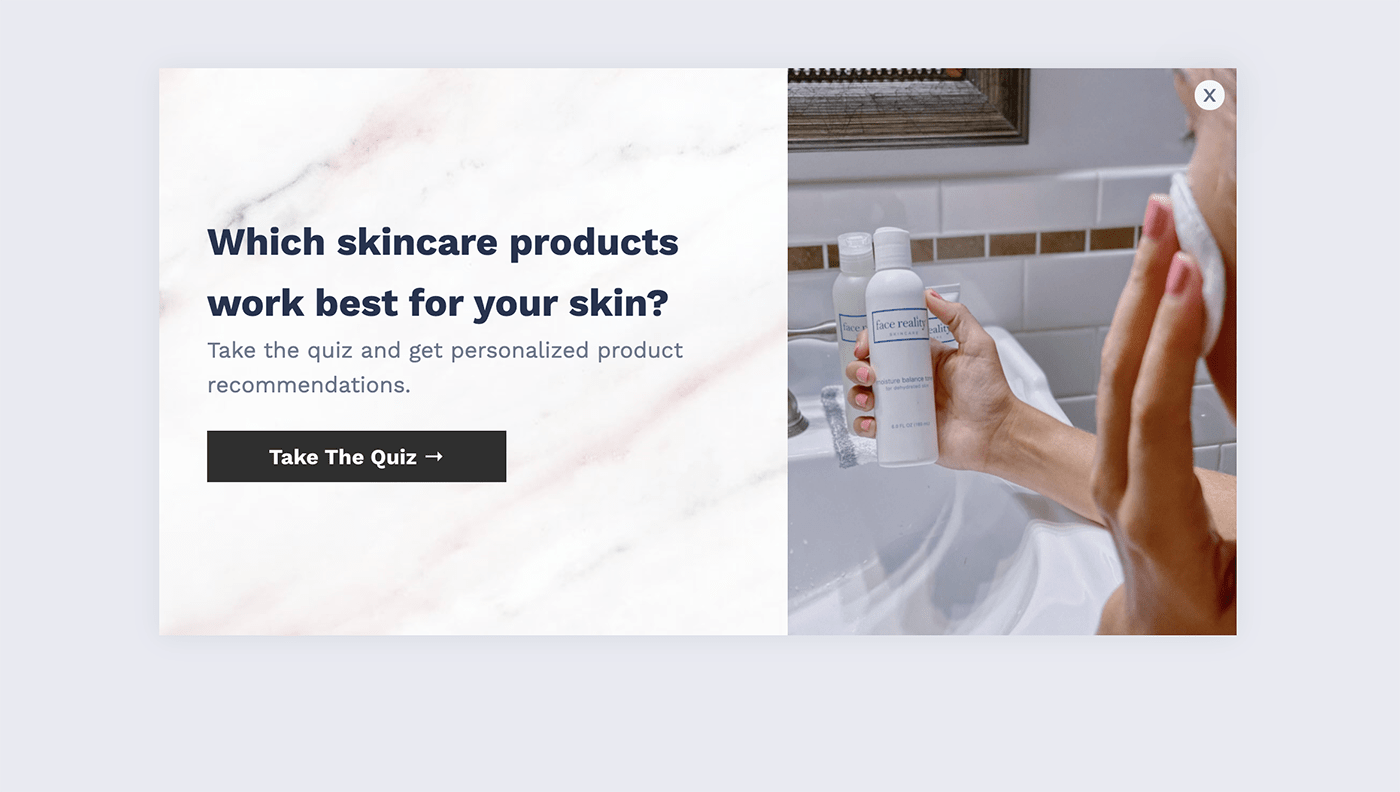 As soon as the quiz is done, the answer is delivered together with many product recommendations.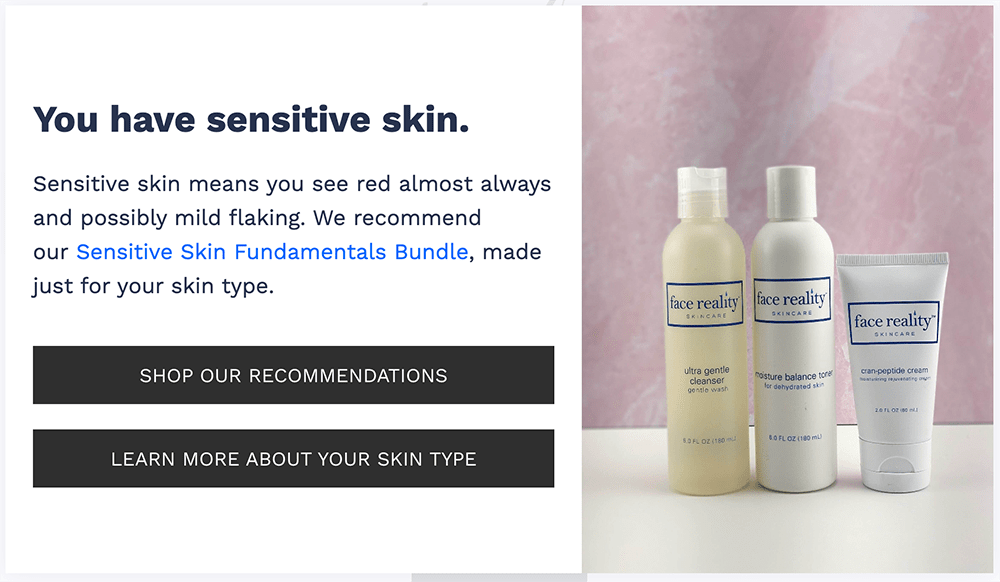 If you want to jump on the quiz bandwagon to collect zero-party data, many tools can make your life easier: Convertbox, Convertflow, and Bucket.io.
Most of them also let you segment users as they fill out the quiz and tag them with third-party cookies to retarget them on advertising networks based on their answers.
Quizzes are under-utilized in the b2b marketing space, representing a huge, untapped opportunity.
5) Product Onboarding
The final strategy for zero-party data collection is asking the right questions during product onboarding, and this is a key strategy for PLG, Product Led Growth.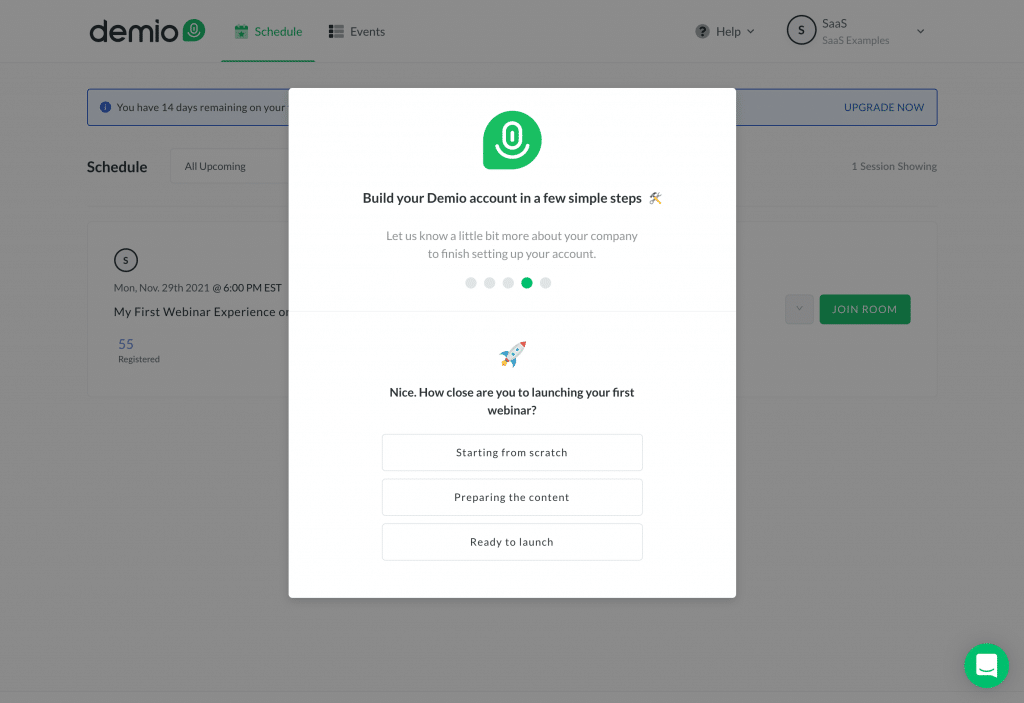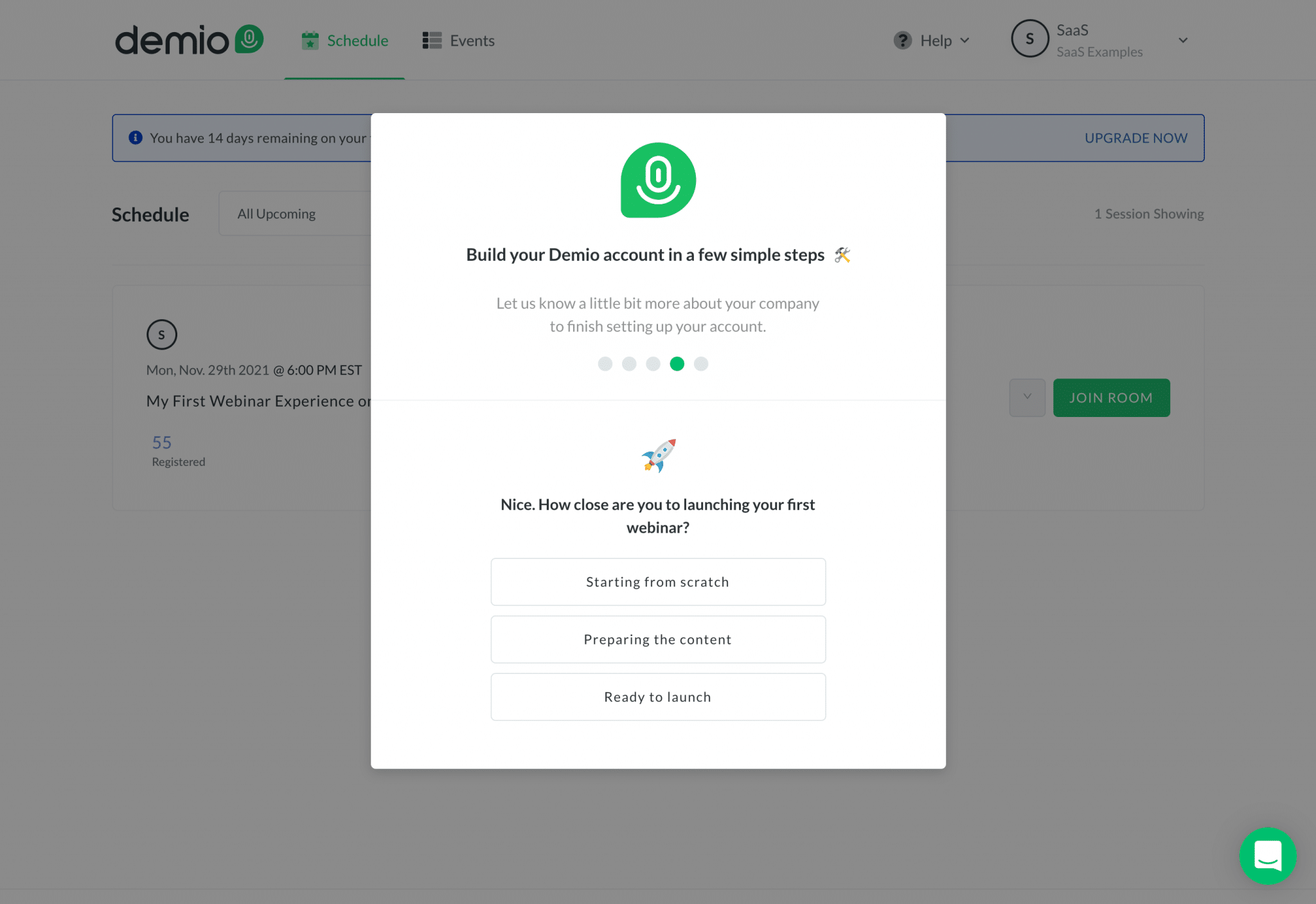 Most SaaS products nowadays ask users a series of questions after signup to better understand who they are and, hopefully, personalize the customer experience.
While this strategy does not work to profile prospects, it's great to learn all new customers' pain points and needs.
The trick here is to find the right balance between the amount of zero-party data you want to collect and activate the user inside the product as soon as possible.
Ask too many questions, and you might lose some users along the way. Ask too few, and you'll leave money on the table.
If you want inspiration, you can find a whole section dedicated to the best user onboarding examples right here on my site.
Final Thoughts on Zero-Party data
It's time to wrap it up. I'll keep it short: Zero-party data is just a new label; the underlying concept is nothing new.
Privacy regulations are likely to have a significant impact on third-party data. Zero, first and second-party data will not be impacted for the foreseeable future.
For sure, the future of marketing is personalized and customer-centric. To do this, you'll need to have a great understanding of who your customers are and what they want, and this requires as many data points as you can.
All the five strategies to collect zero-party data I've presented are incredibly effective. If you're not using them already, you should start planning to add them to your marketing strategy as soon as possible.
If you want to be perceived as a good and reputable actor, my parting advice is to implement a preference center where users can control, update, or delete all the data your brand collects. This will help your reputation and your data freshness.