Competitive battlecards convert skeptical customers in high-stake conversations.
Instead of stuttering or going "uh…"when facing uncomfortable objections, the salesperson responds with a strong counterstatement and wins over their vote confidently.
So, how do you create a battlecard that actually gets used by the entire sales team and closes deals?
This guide shows you how.
What are Competitive Battlecards?
Competitive battlecards are internal sales assets that provide high-value information about how your product stacks up against competitors and why it's the best option.
These short and punchy battlecards also:
Ensure consistency: Consistent messaging communicates the same value proposition, positioning, benefits, and features across all channels and sales material. This boosts branding and trust in customer relationships in the long run.
Bypass objections: Your close rate can get as high as 64% when you overcome customer objections. Competitive battlecards come in handy, as they provide information that address common objections with rock-solid proof.
Increase efficiency: Great salespeople don't get caught off guard. They never waver when confronted with skeptical customers. On the contrary, they anticipate objections and develop counter-strategies for each competitor with confidence. They do these largely based on intuition, product knowledge, and competitive battlecards.
Without competitive battlecards, navigating around competitive conversations would be an exhausting grind.
What Makes a Good Competitor Battlecard?
1. Competitor overview
This is the first section of a competitor battlecard.
Tip: Interview the sales team on which competitors to include (e.g., "What competitors constantly come up during pitches or deals?"). You could also visit peer-to-peer review websites like Capterra, focusing on the 'Alternatives Considered' field.
Summarize your competitor, detailing the company, product, and value proposition. Keep it one to three sentences long.
For example, if your competitor is a multi-channel marketing automation platform like Sendlane, here's how you might write the overview:
"Sendlane is an email and SMS marketing automation platform that converts shoppers into loyal customers. Its popular products include email marketing, SMS marketing, and intelligent pop-ups."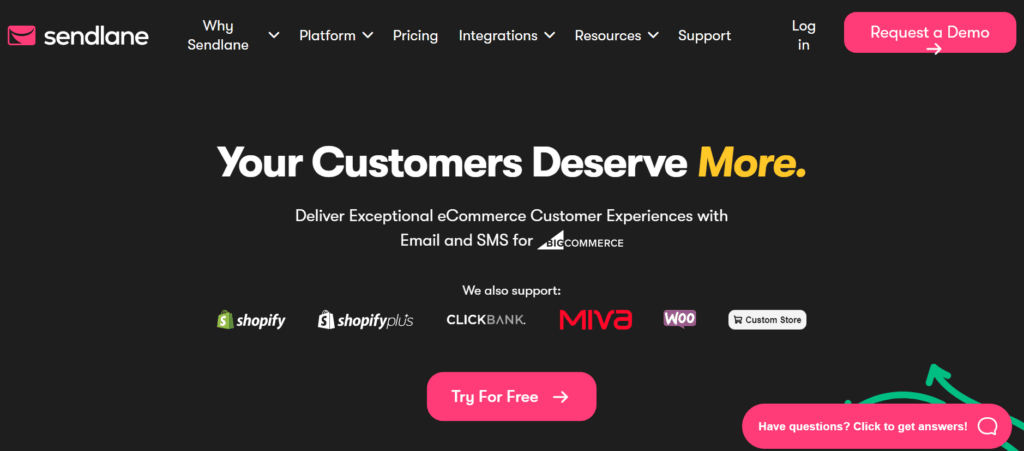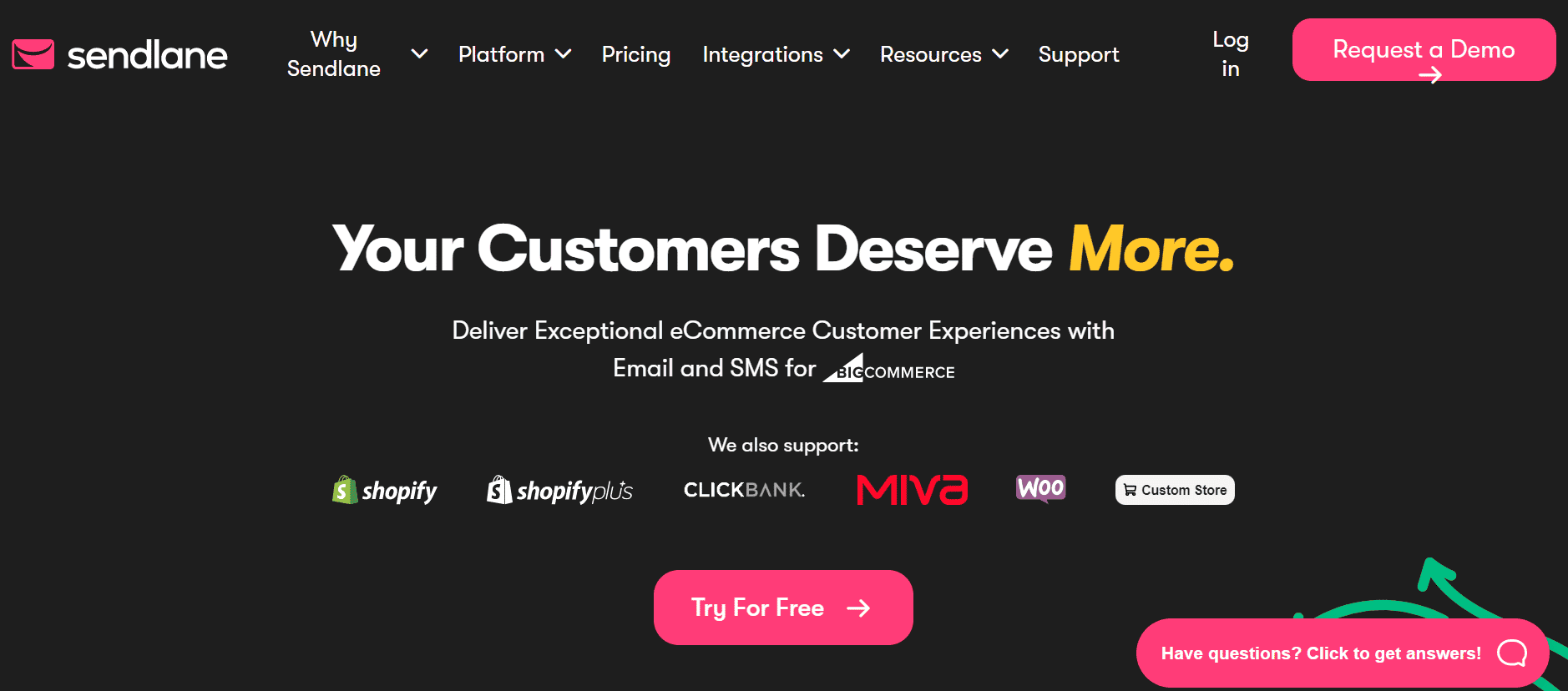 Source: Sendlane
You can easily locate this information from a competitor analysis. 
Conduct a quick visit to the competitor's homepage. Press releases, news boards, and online publications like TechCrunch are also helpful if you want to go deeper into their value proposition.
2. Go-to-market strategy
The go-to-market (GTM) strategy refers to a game plan that determines how you bring a product to market.
Tip: It's common to add a competitor's GTM strategy in the overview. There's no wrong or right approach here, so we'll leave it to you.
Here are three common ways to identify a competitor's customer base, target industries and departments, and third-party partners:
Conduct a search on Google
Visit the website (with a focus on homepage and pricing page)
Review job ads (e.g., a job posting of a chief revenue officer could indicate a plan to move upmarket)
For instance, if you review DashThis' homepage, you'd know that it mainly sells to marketers from agencies (note: we use the word "mainly," as we spotted University of Oxford in the client logos section).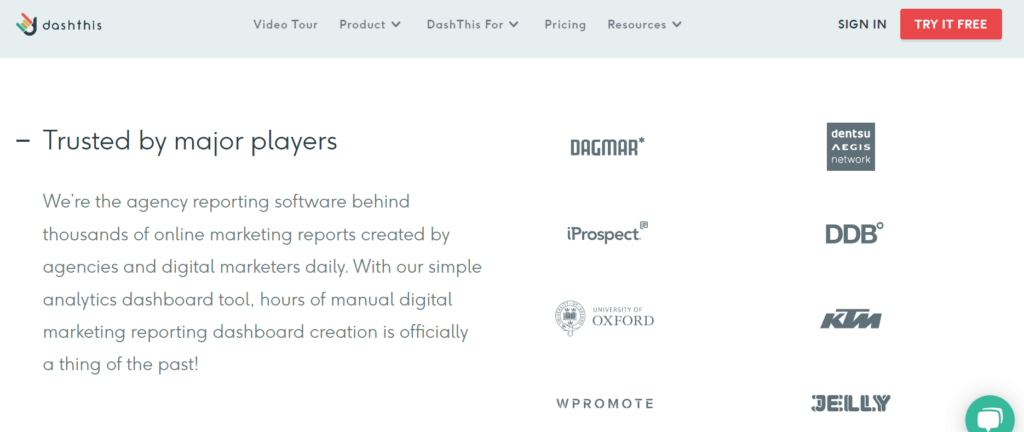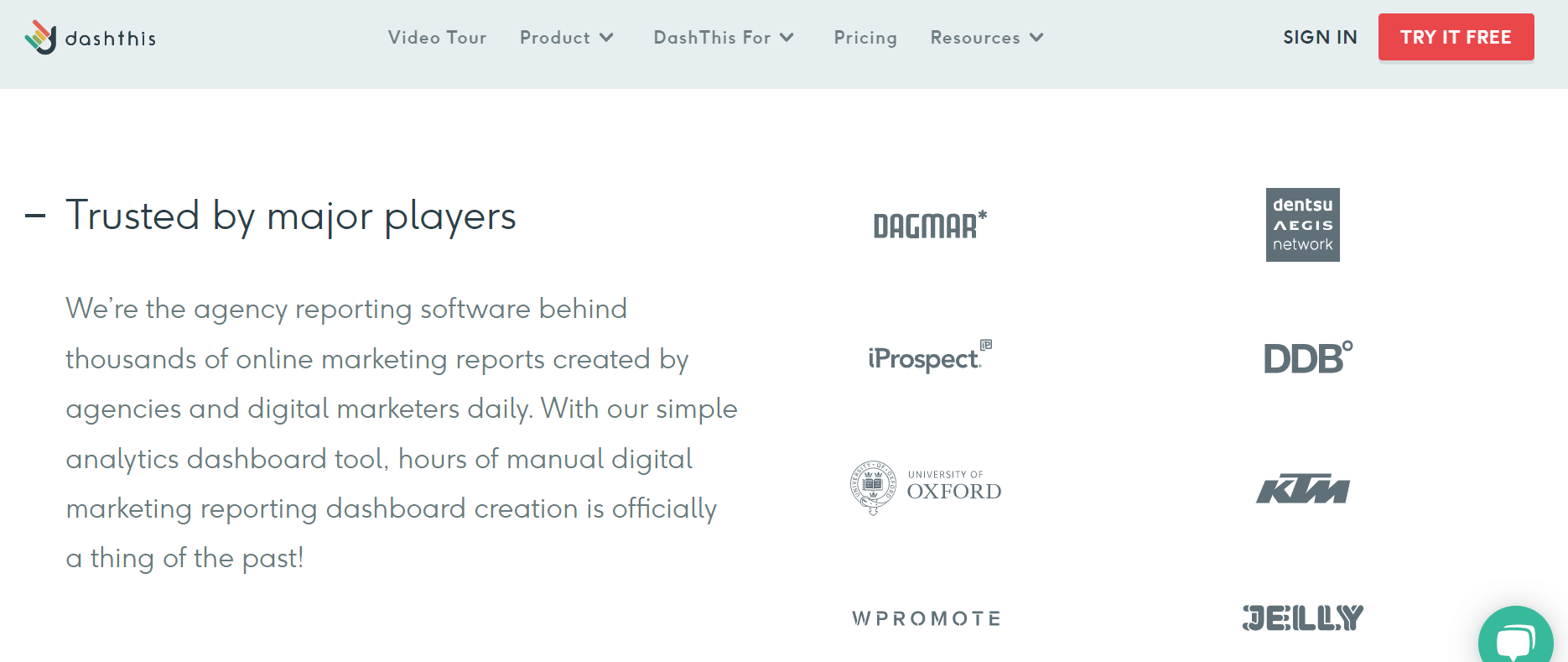 Source: DashThis
The case studies also clearly show that it mainly serves digital marketing agencies.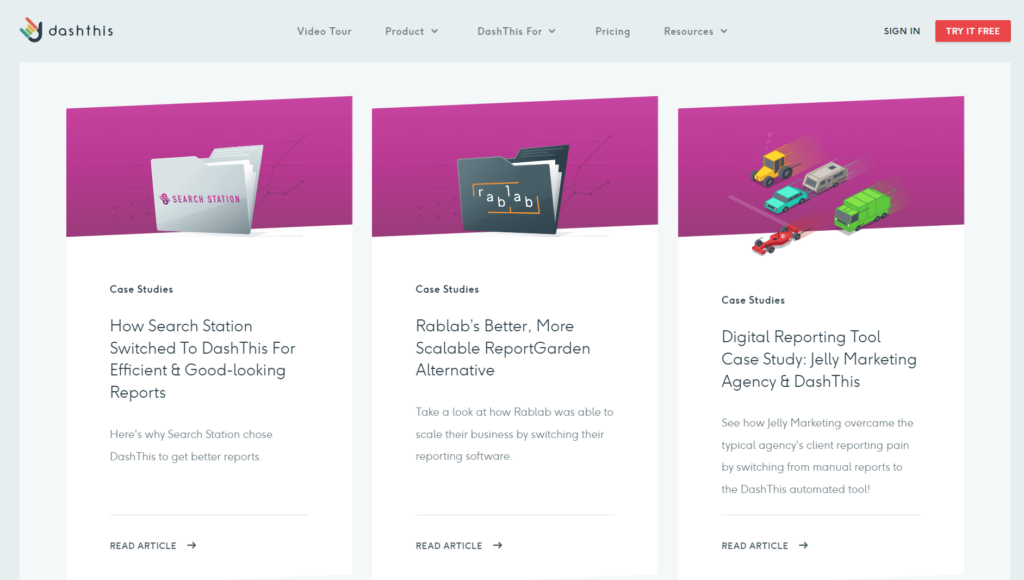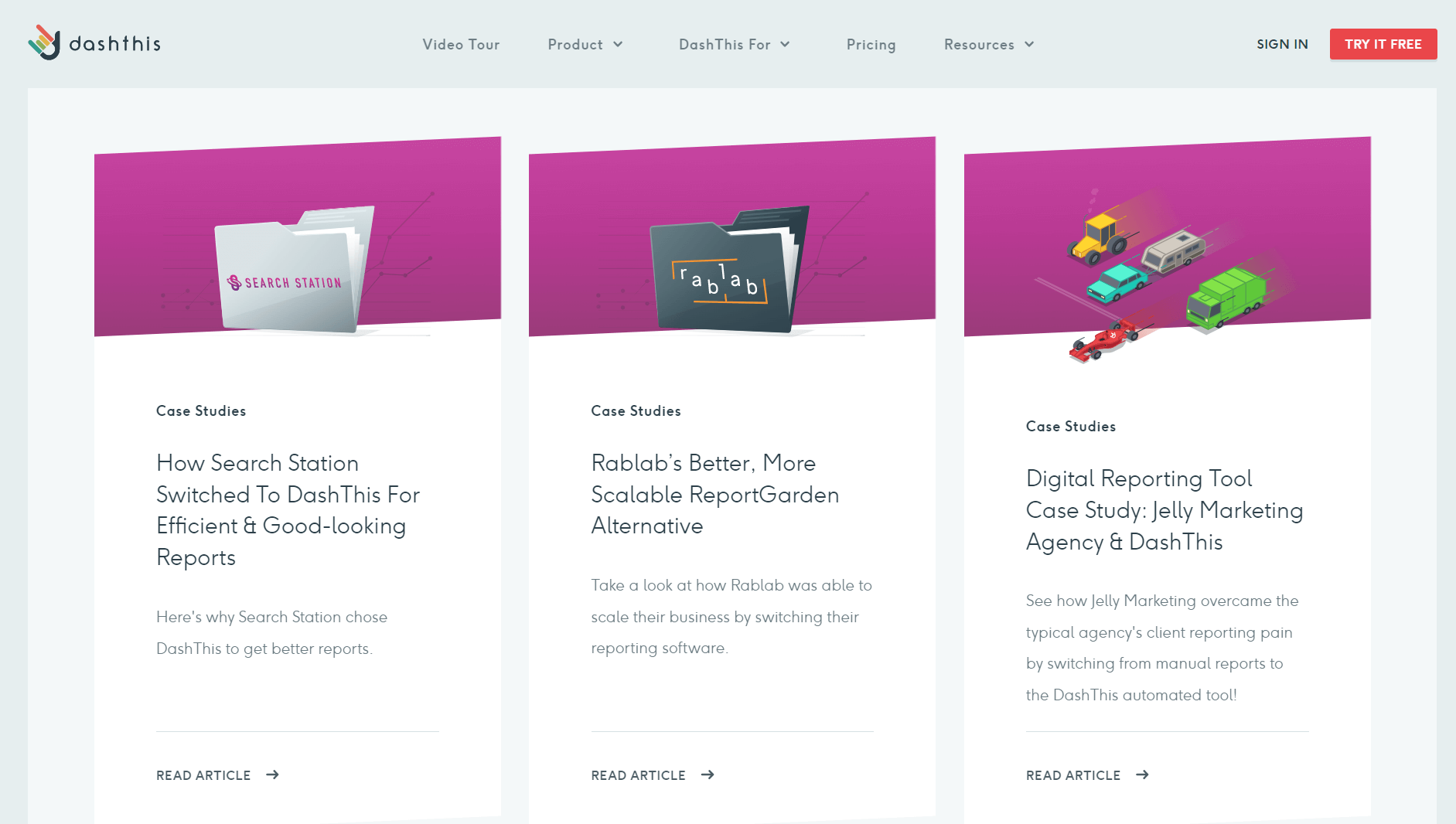 Source: DashThis
Don't forget to keep a close eye on your competitors.
Markets evolve, which may lead them focusing on different customer segments in the future.
For instance, Brex, a corporate spend management startup, which originally served startups, is now switching focus to enterprises, booting its smaller customers off the platform.
If you're in Fintech, this is the kind of information you need to include in your competitive battlecards (more on that later).
3. Product features
The features in your product deliver value to customers.
In this stage, stack up your tools against the competitor's in an easy-to-follow comparison table.
Note: There are mixed responses on whether you should include a feature comparison table. Again, there's no strict hard-and-fast rule. Go ahead and experiment!
However, that's not to say you should add a never-ending feature comparison table. You want to avoid overwhelming your reps with a boatload of tools that make little difference.
Ensure that it's digestible, like this: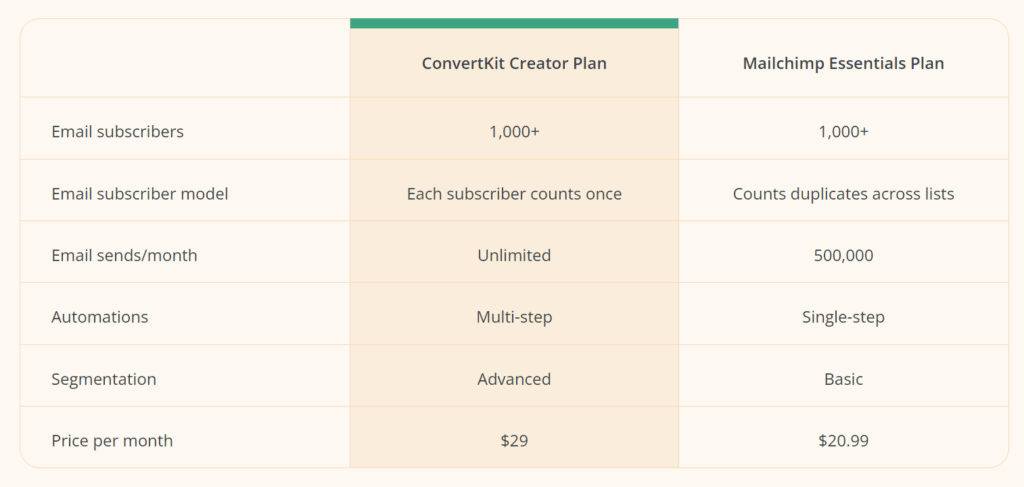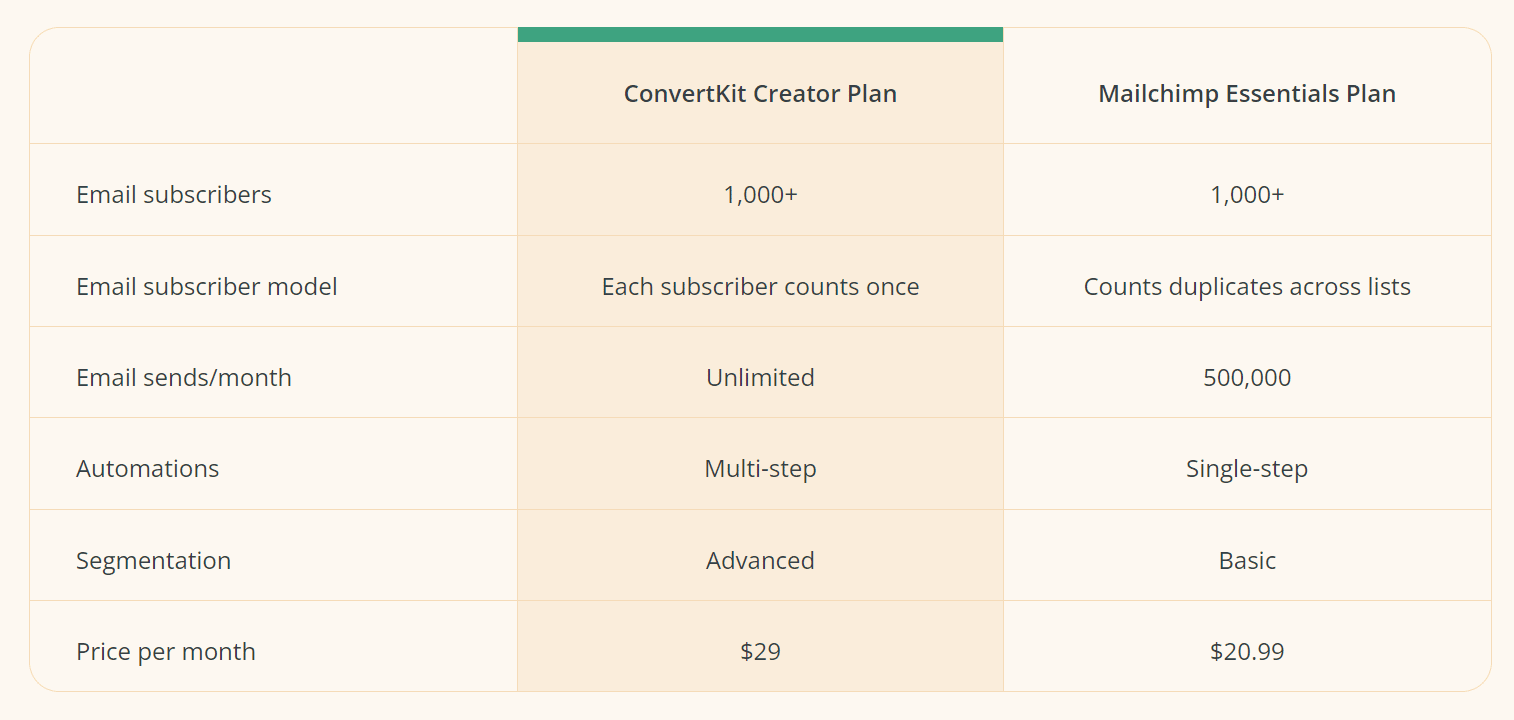 Source: Convertkit
Sales folks should also be prepared to address the features your product lacks.
Let's say you sell a user-friendly marketing reporting software and a prospective customer questions the lack of advanced data analytics tools.
You could counter it by mentioning that your product is ideal for digital marketers, not data scientists—hence the focus on helping marketers measure their campaign performance without getting bogged down by technicalities.
4. Pricing
Out of all elements in the competitor battlecard, this is the most straightforward. Include pricing tiers and highlight what each tier includes.
5. Product strengths
A feature delivers value, but a strength (a.k.a. benefit) conveys how that feature improves the customer's life.
In this field, list the competitor's strengths and address the potential drawbacks. Then reframe how your product features are actually better. Avoid making claims after claims without backing them up with rock-solid proof.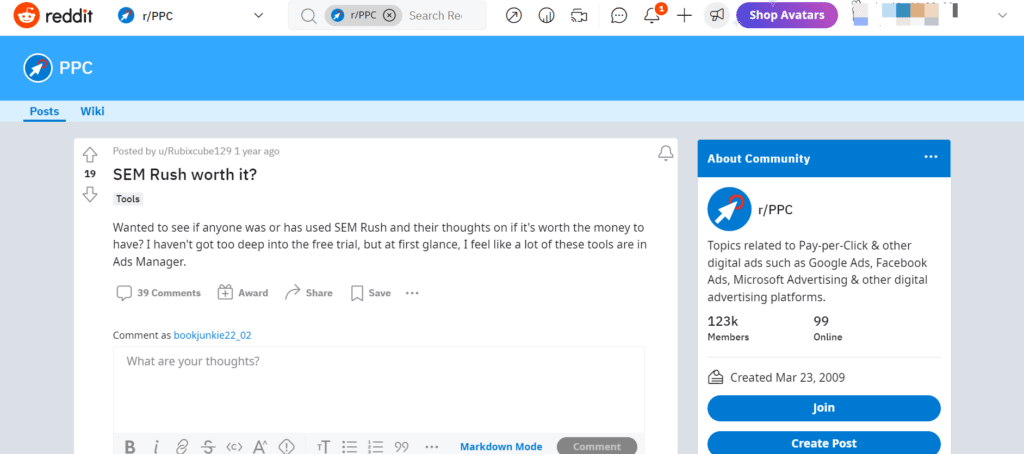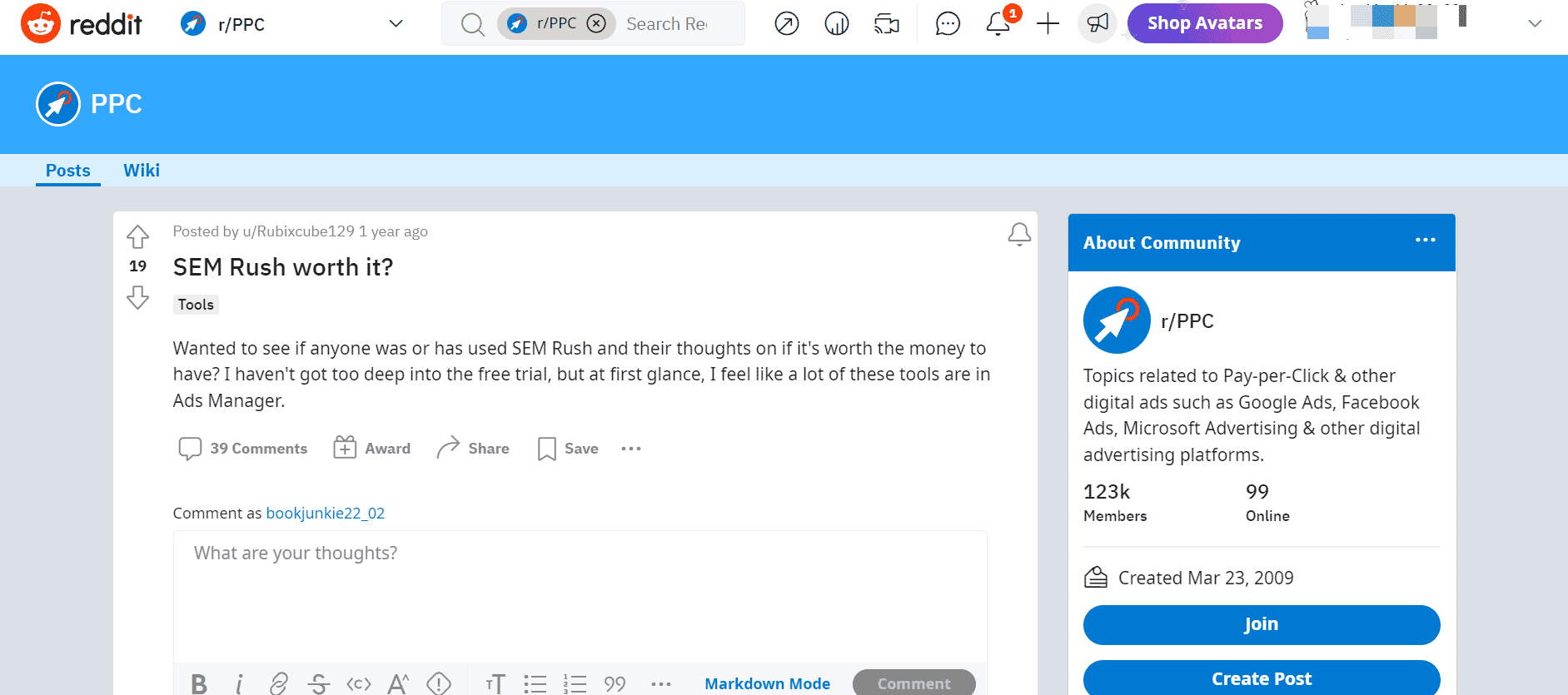 Source: Reddit [Communities and discussion sites like Reddit are helpful in this area. Conduct a quick search on a competitor to unearth potential limitations.]
Tip: Include everyone in the go-to-market team during this stage. The product team can provide insights on feature capabilities, marketers on unique selling proposition (or value prop), and sales on the customer's perspective.
Let's imagine again that your competitor is a video marketing platform. One of the top features is an email collector, which lets users collect email addresses at a chosen time in a video.*
Upon chatting with the sales team, you discover many customers felt that this feature is glitchy at times and is only accessible in the most expensive plan.
Here, you might write:
"[Competitor]'s key strength is Snazzy Email Collector, which collects a viewer's name and email address at any time during a video.
Unfortunately, it glitches sporadically, and only premium users can unlock it.
While our product doesn't currently collect email addresses at a specific time Ina video, we have added this feature in our roadmap and should be live by Q3."
The sales rep can then share one or two customer success stories about the product team's responsiveness to feedback to back up this statement.
*The author would like to point out that this is a fictional example and not a dig at Wistia. Wistia, I love you.🙂
6. Product limitations
Competitors' limitations open opportunities for the sales rep to position how your product as the better and irreplaceable solution.
In this final stage, list the competitor's biggest weaknesses and position how your product fares better.
Tip: You can uncover a competitor's product limitations in the sales team interview with this question: "What were the common reasons that led prospects to sign up for our demo / enquire about our product?"
For example, if online form builder Tally were to create a competitor battlecard, it would be a no-brainer for them to position its unlimited capabilities.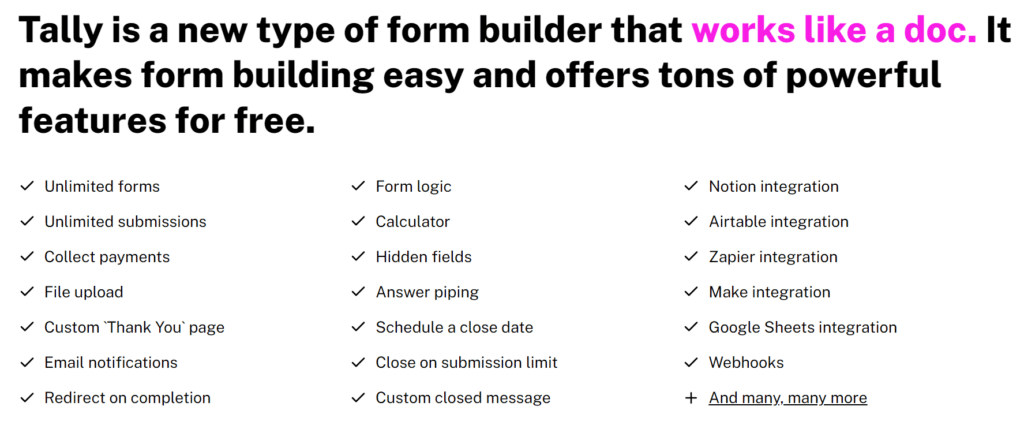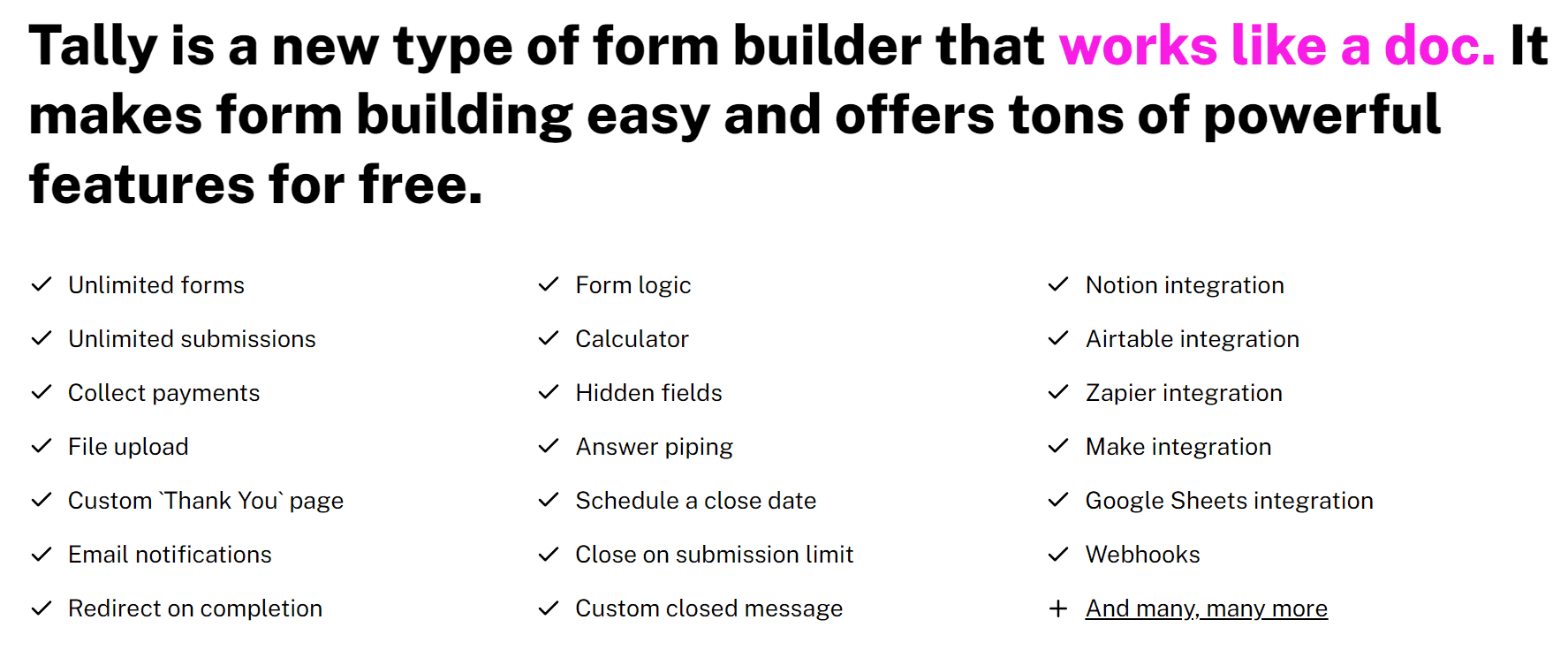 Source: Tally
And so, you might write:
"[Competitor] offers unlimited forms only in paid plans. We let users create unlimited forms and submissions, completely for free."
How to Drive Adoption of Competitive Battlecards?
Make them accessible, like really accessible
Sales reps spend only 34% of their time on selling.
The remaining 66%? Well, they usually spend it on non-selling activities like emailing and inputting sales data and customer notes.
These manual, repetitive tasks are huge time sinks that chip away at their productivity. It's all the more reason to prevent them from weeding through thousands of content just to locate a competitive battlecard.
Here's a better way.
Ensure that it takes only a few clicks (or taps) to access the competitive battlecards.
Consider using a digital asset management (DAM) platform with advanced search capabilities. Tag the battlecards according to content type, date created, industry, or customer persona. All the sales rep has to do is select the appropriate filter to access it instantly.
For example, Digizuite lets you search with a few basic criteria and refine using filters, and saves the search criteria you use most often.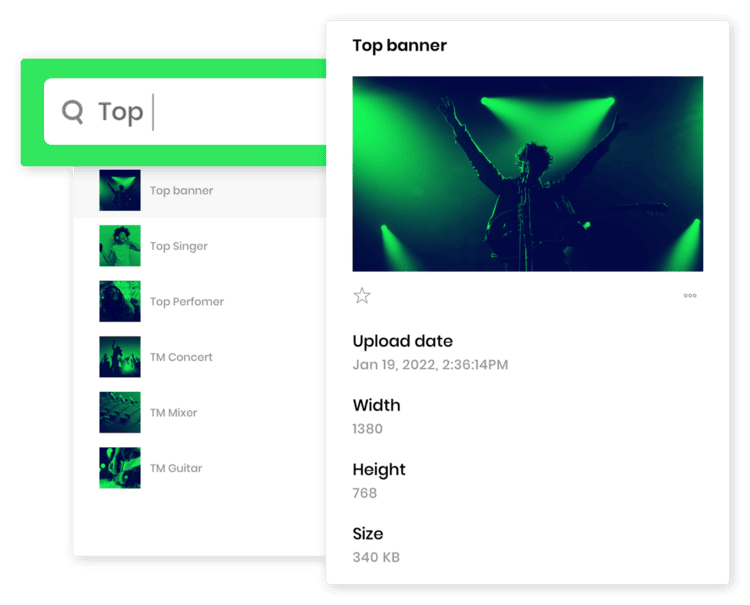 Source: Digizuite
Opt for a DAM suite to boost sales efficiency and your B2B SaaS marketing operations. It'll help align both departments.
Tip: Assign a sales leader to keep these competitive battlecards up-to-date. Trust us, you do not want your sales reps to pitch how your product's the more affordable option when, in fact, the competitor has just introduced a new cheaper plan. Not only does it cause the prospect to lose confidence in your company, but it also embarrasses the reps.
Likewise, give the sales team a heads-up after the marketing team implemented the changes.
Let's say you're using a collaborative workspace like Microsoft Teams. You might integrate Power Automate with your DAM platform. Then build an automatic workflow that sends a notification to the sales team whenever there's an update on the competitive battlecard.
Show off their value during the annual sales kick-off
Annual sales kick-off provides your sales reps with the valuable opportunity to upskill, unwind, and connect with the C-suite executives they rarely meet.
Unfortunately, many companies tend to do it wrong, obsessing over trivial details like exotic locations and party themes (this reddit user wanted to host a cringy talent show for their sales kick-off. It led to a boatload of comments criticizing the idea). 
Glitzy parties are overrated. And don't even get us started on the CEO's long-winded keynote speech… At its core, the annual sales kick-off should motivate and support the sales team to win more deals in the new year.
One great way to do this is to host a panel featuring the top sales performers and VP of sales. Get them to share their success stories and perspectives with questions like these:
[VP of sales] "What separates the top sales performers from the pack, besides territory and management?"
[Sales rep] "What makes you a great salesperson?"
[Sales rep] "How did you become a great salesperson? What has consistently worked for you?"
[VP of sales] "What are the habits of these top sales performers, compared to those who just hit their quotas?"
[Sales rep] "How do you handle objections?"
Note how these questions create a subtle opportunity to promote the value of your competitive battlecards.
You could even organize role-playing trainings to show these valuable sales enablement content in action.
Don't go big; start small!
You've heard of the minimum viable product (MVP), right?
It's a simple product with just enough features to attract early customers, so that you can validate, gather user feedback, and improve it accordingly.
The adoption of your competitive battlecards works similarly.
Like the MVP, you want to start small and iterate based on the collective experiences of your early adopters.
Here's what you should do: Assign the battlecards to a small group of sales representatives and track the performance via a link-based DAM platform.
Next, answer the following questions:
"How often do our sales reps use the competitive battlecards?"
"Do the sales reps use the battlecards again? Or do they use them only once?"
"Are the battlecards actually helping reps to close?"
Measure opens, views, and return visits. If you want to get even more granular, analyze the usage data and answer these questions:
"Which competitive battlecard is used in deals won or deals lost? Why is that?"
"What competitor battlecard do the sales reps use at each stage of the sales cycle?"
Data presents only one side of the story, so remember to gather feedback from the sales reps for a complete view.
Gather them in a meeting and review their responses to spot common themes or patterns. Finally, implement the changes before distributing the improved battlecards to the rest of the sales team.
Download your FREE competitive battlecard template
Competitive battlecards help salespeople navigate around high-stakes conversations and walk away with a closed deal.
Grab your free competitive battlecard template today to get started right away.