Customer acquisition is a constant and ongoing effort for all SaaS businesses. Every brand is looking for new ways to connect with new users and to increase the adoption of higher-level features amongst their existing users.
The good news is that LinkedIn Ads is one of the most effective platforms to help you do both.
LinkedIn Ads has come a long way since the platform first rolled out, and it's the B2B ad system that SaaS brands need. In our opinion, it can often offer more success for SaaS brands than any other paid social platform on the market… including Facebook Ads.
So in this post, we'll go over everything you need to get results with LinkedIn Ads for SaaS brands. This includes why you need need to be using them, how much you can expect to pay, how to use them, and the best practices you need to know.
Why SaaS Brands Need LinkedIn Ads
When you're choosing ad platforms to market on, LinkedIn may not be the first thing that comes to mind. But for SaaS brands, it's a must-have asset for your marketing mix.
LinkedIn's functionality— and the purpose of the platform— means that people are sharing an enormous amount of professional information on the platform. You can target users based on their employer, education, job title, industry, and more.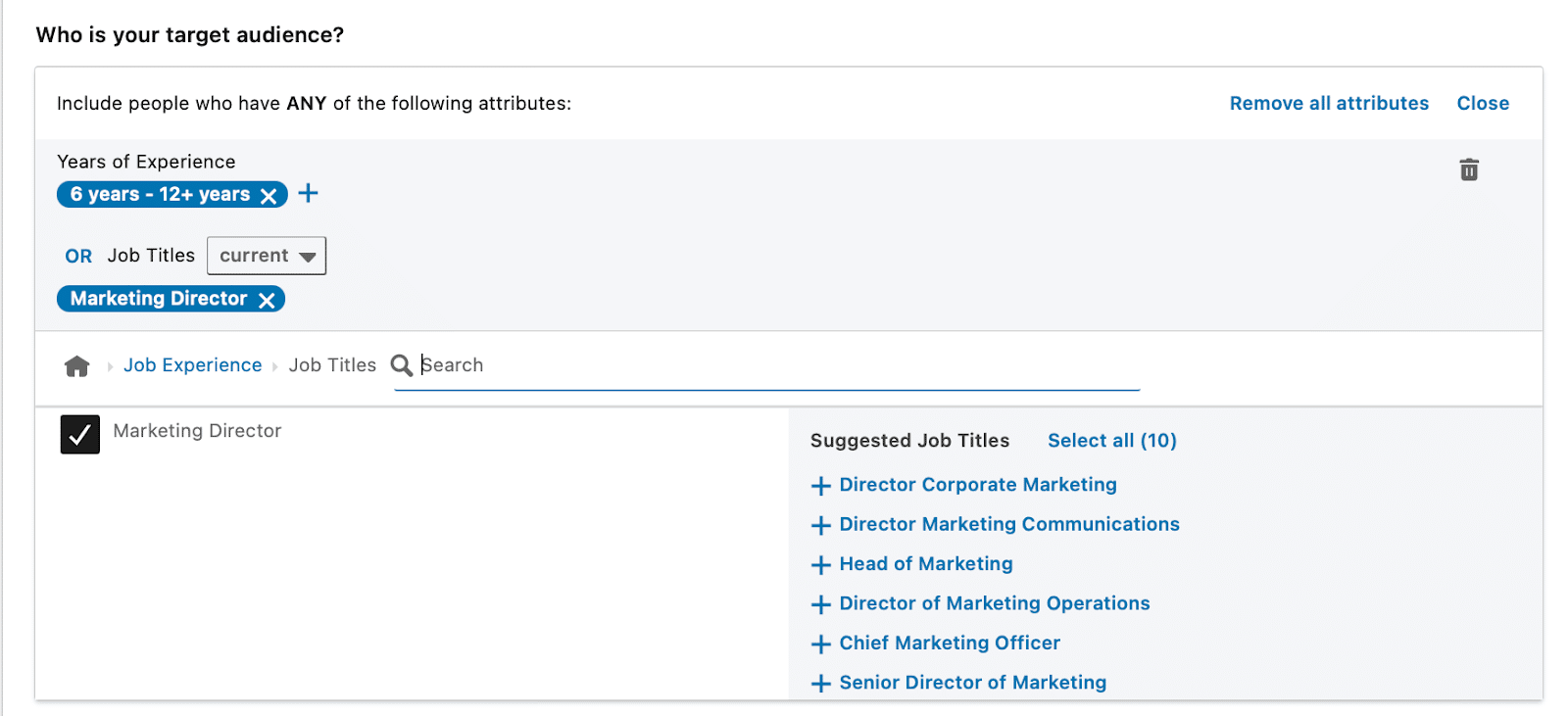 They're also showing up to discuss professional ideas, announcements, and tools, so this is where they're in the frame of mind to see offers from tools like yours and actually consider them. There's a browsing and networking mindset.
Consider the difference with Facebook. Most people don't share much information beyond maybe an employer, and many won't really be up to consider invoice automation software while they're scrolling to see the latest drama their mother-in-law started with a group of third cousins.
And of course, the data backs this up. Consider the following LinkedIn Ad statistics:
LinkedIn Ad exposure lead to businesses' purchase intent by 33%
Brands can see a lift in brand attributions 2-3x higher when advertising on LinkedIn
40% of marketers in a survey said that LinkedIn was the most effective channel for driving high-quality leads
Marketers see up to 2x higher conversion rates on LinkedIn than on other ad platforms
Audiences exposed to brand acquisition messages on LinkedIn are 6x more likely to convert than those exposed to other paid social platforms
How Much Do LinkedIn Ads Cost?
There's no single easy answer here, just like there's no single answer for how much you'll spend on Google Ads or Facebook Ads.
Different types of LinkedIn Ads campaigns will require you to pay for different types of actions, for one thing. You may pay for clicks, for example, or impressions or video views.
The audience you target also impacts ad costs. High-value audiences will have high competition levels, meaning you'll likely be paying more for their views because other advertisers want to reach them, too.
And finally, there's the market itself. Fluctuations are only natural because it's an auction and not a static system.
That being said, there are benchmarks to consider. It's common to see average costs-per-click (CPCs) for LinkedIn ad campaigns ranging from $5-10 for in-feed or right-column ads.
According to WebFX, these are the benchmarks they've found to be most accurate, though we think these are a little on the low side for SaaS brands:
$5.26 per click
$6.59 per 1000 impressions (or "per mille")
$0.80 per send for InMail ads
Remember that you can choose to set how much you want to spend for different actions and how much you're willing to spend for each individual ad campaign. And in a few sections, we're going to share some insights about potential budgeting from a LinkedIn Ad expert.
Getting Started with LinkedIn Ads for SaaS
This post focuses on high-level strategies, best practices, and use cases for LinkedIn Ads. If you want to see a full tutorial that takes you through the platform, you can't go wrong with this one.
And here's what you need to know: You can get started with LinkedIn Ads with a LinkedIn account and a verified email address.
You'll need a LinkedIn Page if you want to run Sponsored Content and Sponsored Messaging campaigns.
When you're ready, you can get started here.
How Brands Are Using LinkedIn Ads
Most brands are using LinkedIn Ads for SaaS businesses to drive new leads and new customers. That's obvious: They want to drive revenue growth, and that may involve promoting a product, lead magnet, or even an event to attract customers.
There are different strategies that brands use to drive more revenue from their SaaS LinkedIn ad campaigns. Let's look at each.
1. Account-Based Marketing
Account-based marketing is the practice of marketing to specific potential clients that fall under your high-value target audiences or your ideal customer profile (ICP). You'll create campaigns designed to appeal to the exact clients that you're targeting.
If you're selling communication software like Slack, would you rather target a small five-person business or reach out directly to a massive corporation like ESPN, which likely has thousands of employees?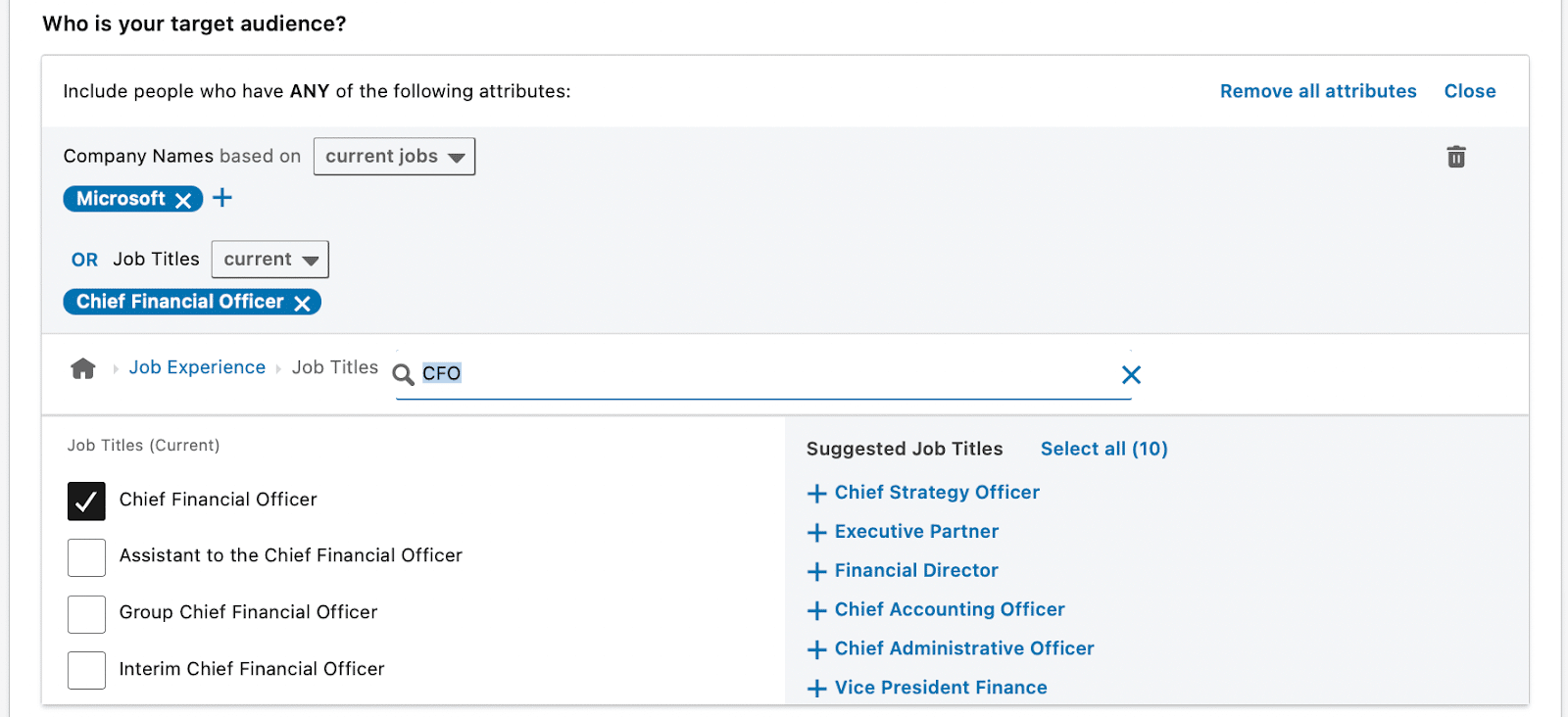 LinkedIn Ads is an outstanding platform for account-based marketing because you can target users based on the companies they work for, and you can target people working in specific roles in those industries.
2. Targeting Decision Makers In Core Industries
You can target specific companies at a granular level with LinkedIn Ads if you want.
Your SaaS LinkedIn Ad campaigns can also be used to target decision-makers working on companies of certain sizes, certain industries, or both.
Want to reach chief marketing officers (CMOs) at any financial organization with 5,000 employees or more? You can do that with LinkedIn Ads.

Again, this kind of detailed targeting allows you to reach the exact users who are most likely to be making buying decisions at the types of companies you want as clients.
3. Recruiting New Employees
While many SaaS brands rely on LinkedIn Ads to drive revenue (and may rely on networking or recruiters to find new team members), you can use the platform to connect with potential employees.
For example, LinkedIn has an ad format that allows you to send InMail messages to users that fall within your targeting criteria. If you're scaling aggressively and need the staff to match, don't be afraid to use this ad format to reach the types of team members at high-quality organizations that are known for having top talent.

If you're able to hit them with the right offer at the right time, you officially have an in. Do this using the "Job applicants" objective.
4. Upselling & Cross-Selling
Customer acquisition is great. Linkedin Ads can also be used to increase revenue from existing customers, too.
While your sales team and email marketing will likely be leading the charge on upselling and cross-selling, LinkedIn Ads have their place, too. They also work amazingly well for re-engagement.

If you want to promote a new feature or a new secondary product, you can use LinkedIn Ads to show the new product to existing customers using retargeting.
6 Best Practices for SaaS LinkedIn Ads (With Examples!)
Alright, SaaS companies that are ready to rock your LinkedIn Ads: We're ready to help.
Let's take a look at six best practices that will help you get the results you're looking for.
1. Have a High-Level Overview of Budgets & Expectations
When we talked to LinkedIn Ad expert Paul Fairbrother, he said that the most important tip he had was to have a high-level overview of the SaaS company ad budget and align it with expectations.
The minimum required budget needed for effectiveness is generally around $100 a day, so you're looking at 3k per month.
If, however, you want to add in some testing (which we recommend) and build a simple funnel so that you've got bottom-of-the-funnel (BOFU ads) and top-of-the-funnel (TOFU ads), then it should be closer to 5k if possible.
"Right now, CPC can often be around $8-12, and cost per lead can be $50-150— I do so cheaper, but coming in with this expectation is a good benchmark, especially for new accounts," Fairbrother said. "The high CPL means Linkedin Ads only work for brands that are shooting for deal sizes that are clocking in at thousands of dollars."
Because of this, LinkedIn Ads are most effective when used by a SaaS company targeting enterprise clients.
And, since this involves long sales cycles, it can take several months of advertising before you can decide if it's effective.
Therefore you'd really want to commit a budget of $25k before you can properly decide if this is a good sales channel for you. While this isn't the kind of budget that LinkedIn necessarily requires, it's a good bet of what you'll need to spend to drive high-value qualified leads that close deals.
You can always pull back ad spending earlier if it's really not working, but there needs to be a signoff for that level of ad spend if a company is serious about using these campaigns.
Because the platform is so expensive, it's also worth getting someone with media buying experience – either a freelancer or agency – to run the ads as a campaign manager, as it's much harder for an internal team to learn on the go. And if you do need someone, hit up Paul— we've worked with him extensively with great results.
2. Look At Your Targeting Options
One of the biggest assets of LinkedIn advertising is the expansive and B2B-friendly targeting options.
Take advantage of that.
Who do you want to reach across LinkedIn's users? Who is making purchasing decisions, and what do they have in common? Think about who you consider a valuable qualified lead, and work backward from there when setting up your targeting.
And be strategic. Make sure that your target audience aligns with your campaign strategy, and tailor your ad messaging accordingly.
And remember that in addition to cold targeting, you can always use retargeting to keep users moving through the funnel. We'll talk a bit more about that in a minute.
3. Focus On Pain Points
One of the most important things you can do when creating ads for your SaaS company is to really focus on the pain points of your target audience. That's true whether you're relying on text ads, messaging ads, or video ads.
Think of your ads as the beginning of a sales conversation if you want to drive sales conversions.
What pain points does your audience have that need to be solved?
Automation software, for example, can resolve the following issues:
Busy work that causes a loss of productivity
Cumbersome, annoying tasks that can result in human error
Delays that cause lost deals
Zapier's ad here makes sure to mention that you should use automation to eliminate tasks that slow you down so you can work more efficiently. The idea of "do more with less" is a powerful one.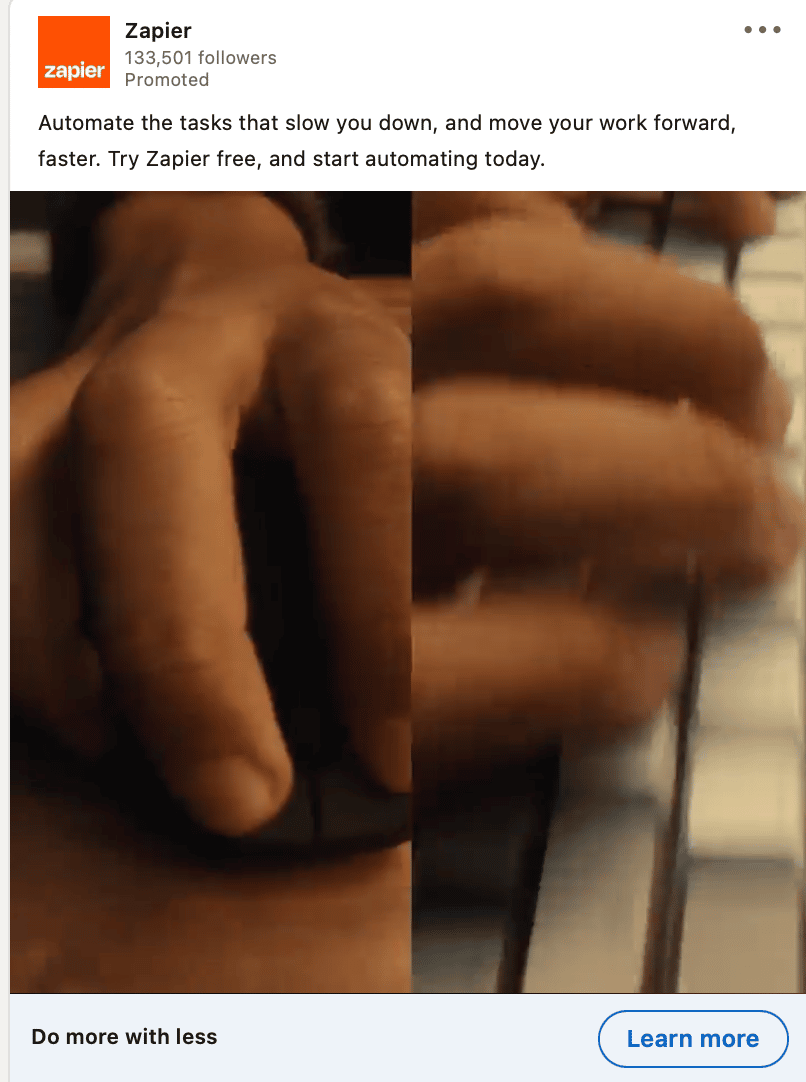 4. Think of the Full Funnel
LinkedIn Ads for SaaS are often going to be most effective when you're considering how to use them to reach users at different stages of the digital sales funnel.
You may, for example, want to start with brand awareness campaigns designed to start a relationship with your target audience. This ad from RocketReach doesn't promote the tool itself, for example, but helpful content that their target audience would benefit from: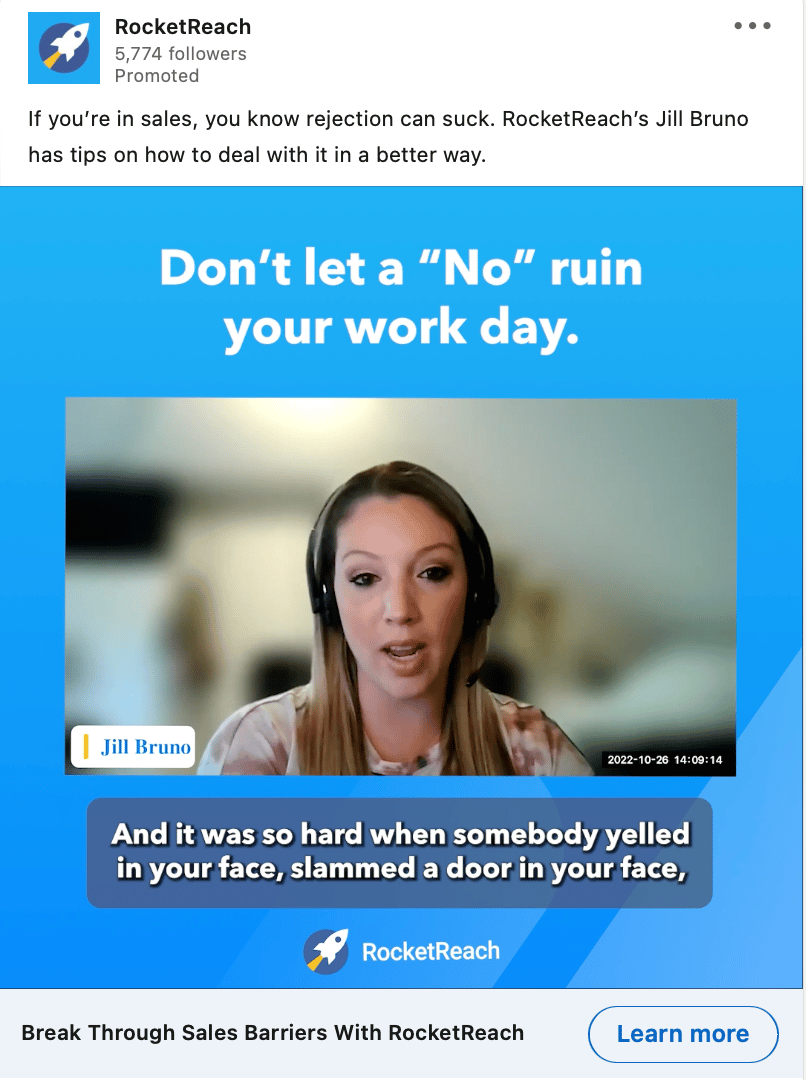 Other ads that are more towards the BOFU should be used to generate sales conversations, drive leads, or get users to either start a free trial or book a demo.
Use retargeting wisely to reach users who are closer to the end of the buying journey, and don't be afraid to use lookalike audiences and cold target with brand awareness campaigns to get started, even if you're promoting your product right from the beginning.
Above all else, send users to relevant landing pages that will give them the information they need at their particular stage of the funnel.
5. Use LinkedIn's Lead Gen Forms
LinkedIn's lead generation ads can be expensive, but they can also be an incredible way to get high-quality and qualified leads.
Lead gen ads work both on the desktop site and on mobile. When users click on the ad's CTA, it opens a lead form to capture the user's information. This information can be passed directly to your sales team, even if the user isn't ready for a demo or a free trial.
To increase the number of leads generated, it's a good idea to offer users something in exchange for completing the lead form. It could be a free consultation, a booked demo, or (perhaps most popular) a lead magnet like a webinar, ebook, or checklist.
You can see this example of a lead form ad here: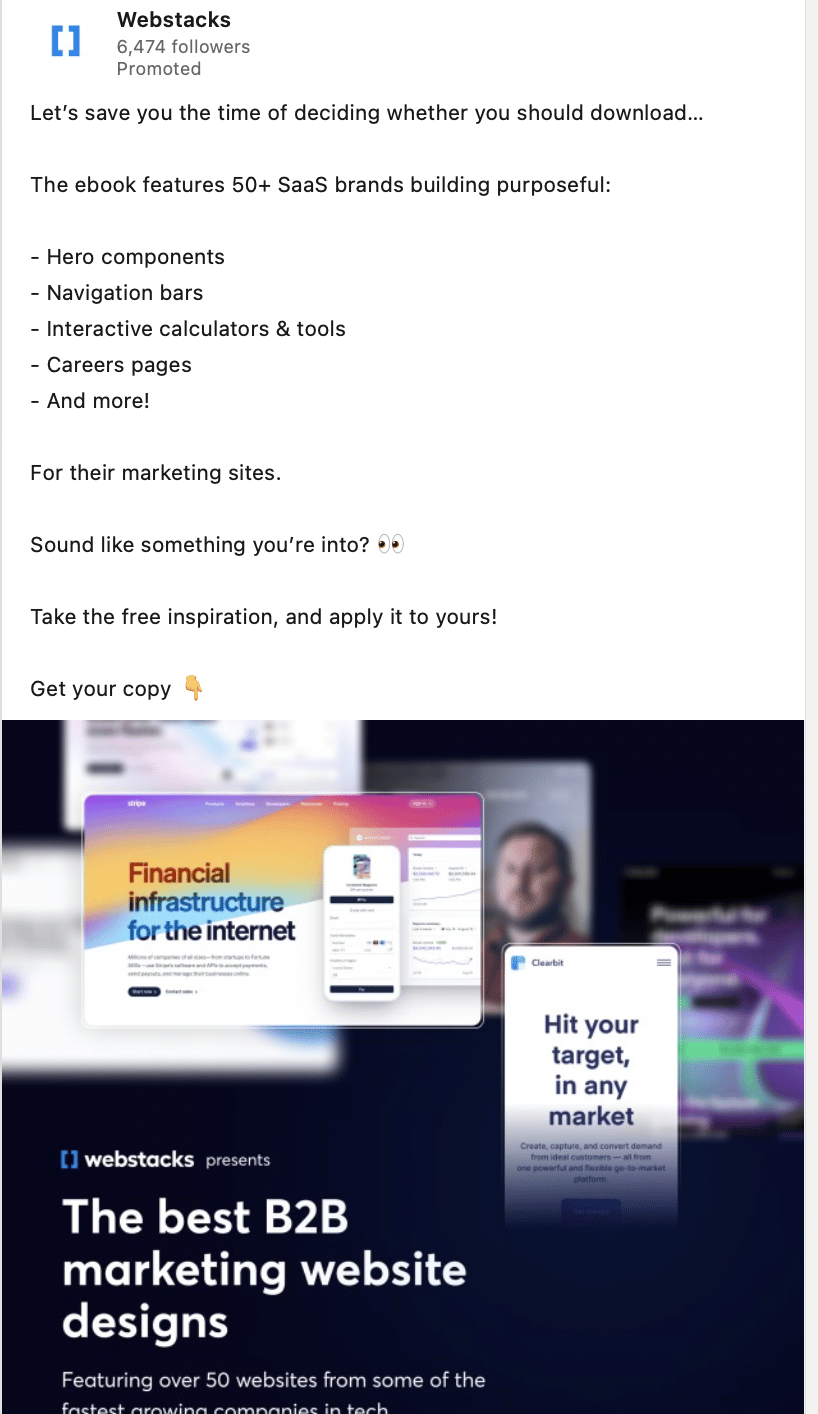 This opened this lead form, which automatically would share my name, job title, and company name in addition to asking for my work email.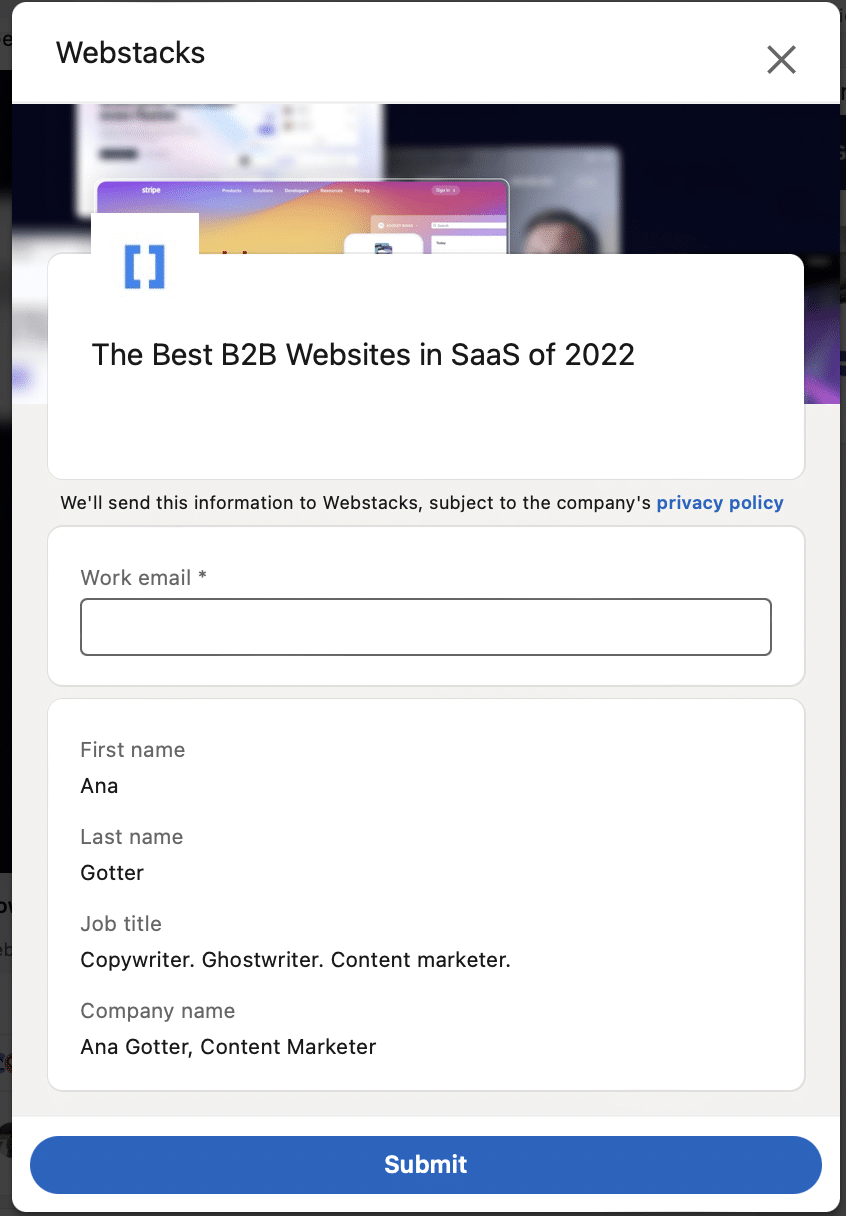 6. Test All Your Campaigns
It's impossible to have a best practices list without mentioning testing. We always recommend testing every part of your SaaS marketing campaigns, and it's important to point out that LinkedIn recommends testing, too.
You need to test everything from the ad messaging to the media you use. You also want to make sure that you're using the right LinkedIn ad types for your SaaS business, and that's only possible with testing. Without it, you'll struggle to get the kind of insights needed to optimize your campaigns in the future.
Remember to keep monitoring your LinkedIn Ad performance, including results, costs, and overall success. You'll likely need to make some tweaks as you go along.
Final Thoughts
LinkedIn Ads are incredibly valuable for SaaS businesses. With the right practices in place, you can go a long way to drive real results along the lines of boosted revenue and increased customer acquisition.
So our take? You can start out testing some campaigns on LinkedIn and see how it works for you, but make sure that you're accounting for the entire funnel and really honing in on who your target audience is.
What do you think? Do you use LinkedIn Ads for SaaS customer acquisition? Which best practices have you tried? Share your thoughts in the comments below!