When most advertisers use Facebook Ads, they're focused exclusively on outbound marketing strategies that initiate the conversation with customers to drive sales, brand awareness, and clicks.
That's all well and great, but with a tunnel-vision focus on sales, it's easy to overlook the possibilities of using Facebook Ads for inbound amplification, too.
In this post, we're going to look at why Facebook Ads are so effective for inbound marketing and 9 different strategies you can use to compound the effects of your inbound marketing with them.
What is Inbound Marketing?
The most common use of Facebook Ads is for outbound marketing, where the advertiser is reaching out to put their message in front of the customers.
Inbound marketing works, on the other hand, by letting your customers come to you and establishing relationships through valuable content that's directly relevant to them. Think blog posts, lead magnets, and webinars.
It's not surprising that most businesses focus on immediate sales and rely on outbound marketing with Facebook Ads, but by doing this, they're missing out on incredible potential for massive sales growth over a long-term period.
There are 9 different strategies we've used at AdEspresso to boost inbound marketing with Facebook Ads to 700,000+ unique visitors every month! Let's take a look at each.
1. Promote Every Blog Post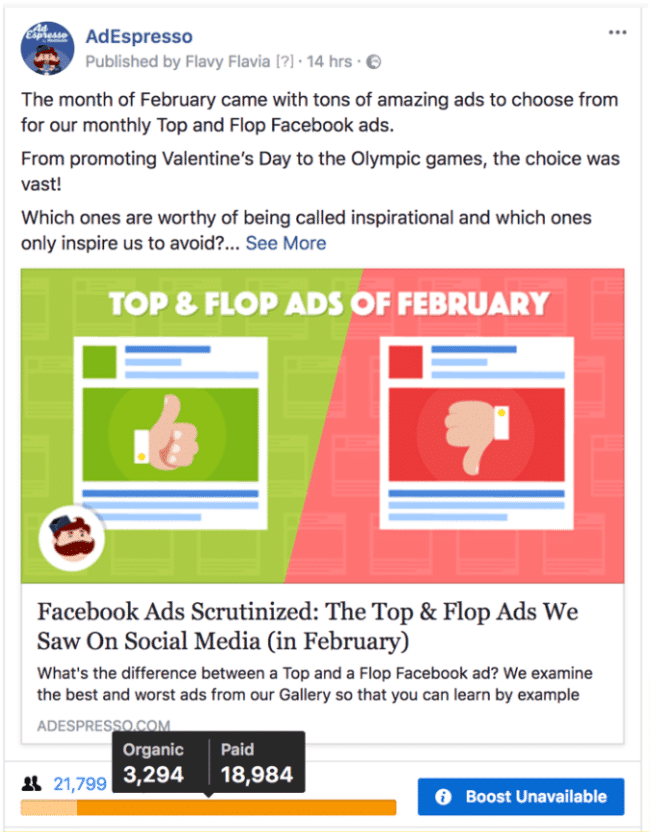 A high-quality blog has been a staple part of our inbound marketing strategy. It has allowed us to build an audience of engaged readers– and an email list of more than 300k users.
We promote every single post to maximize the benefits we get from our blog, with individual campaigns focusing on engagement or clicks.
Engagement-focused campaigns allow us to gain likes, comments, and shares, all of which are powerful social proof that can attract new users and help us build trust with them more efficiently. We tested this out many times and while engagement campaigns don't drive a lot of traffic to the blog post, all the engagement achieved helps the website click campaigns perform much better. That said, I'd not advise spending more than $2 per day on engagement.
Campaigns that focus on traffic work to drive users to our site, where they read the posts in full and ideally will subscribe to our newsletter or click to learn more about our free trial.
Pro Tip: Most inbound marketers spend 99% of their time writing a great article and 1% of the time writing the title. This is totally wrong. On social media users will share your post and click on your ads based on the title. Each time you write and promote a blog post try to write down at least 10 different titles and then pick the one more appealing!
Over time, I've found that creating three distinct active campaigns is the secret to getting the perfect balance of results for our budget.
These are:
One campaign with the engagement objective
One campaign with the website click objective, targeting users in top countries
One campaign with the website click objective, targeting users in secondary countries.
The reason we create two campaigns for the different sets of countries is simple: Facebook tries to optimize the delivery of ads to bring you results at the lowest price possible. This means that having too many countries with very different economies in the same targeting will usually result in spending most of the money in the cheapest countries. I don't want this.
By dividing the countries into two campaigns we get a more even distribution of our budget across all the countries.
I recommend a budget of $10/15 per day for blog post promotion, and to use age and interest targeting.
2. Use More Video
Video marketing will benefit you almost anywhere you can use it, including social media, blogging, and PPC campaigns. I guess by now you've heard how effective video ads are on Facebook. There's a reason why… they work and they engage users. Facebook shifted focus to mobile first very early on. Now they're shifting from images to videos.
We regularly create mini-videos that are designed to be informative or actionable, including market or industry news, updates to our software, or how-to content to help users achieve their goals with our software.
These videos don't need to be long, like webinars would be. Instead, videos just a few minutes long can be incredibly powerful when it comes it Facebook Ads. Short, concise, but inherently valuable and relevant to your target audience.
Consistency is also key. Don't do a video today and the next one in 4 months. Train your users to expect a video every X days or weeks. It doesn't need to be very frequent but it really helps to be consistent.
Pro tip here: Don't get bogged down with trying to make a cinematically perfect video. An iPhone is all you need to get a decent quality. Make sure that the sound is good… when I started doing video changelogs people didn't care about the video quality but they were really pissed off if the audio was hard to hear. Remember that the content is the most important part.
When it comes to the technical, I recommend spending $10 per video and targeting by interest and age range. You can also retarget website visitors and fan of your page. As usualy I'd recommend breaking up different targetings in different campaigns or adsets.
3. Curate Great Content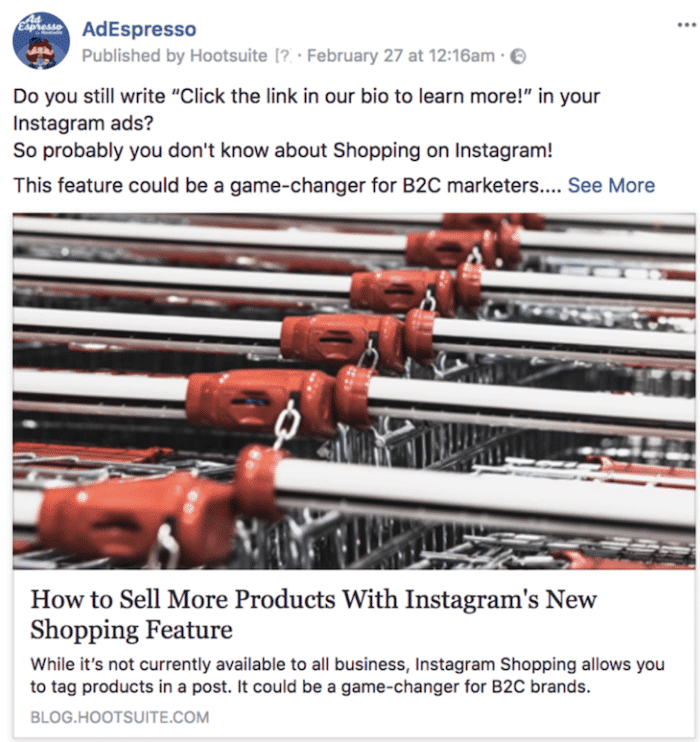 Don't have a big library of your own content? Don't sweat it. If you aren't using content on your site already, there's no need to go out and create it just to run campaigns on Facebook Ads.
Instead, you can actually curate great posts that are performing well in your industry, share those, and then promote them.
I know what you're thinking. Why should I pay to promote someone else's content?
By adding your commentary to other great industry news, you can get valuable social proof on your Page and establish yourself as a brand who's aware of what's going on in the industry. This can also be a great way to introduce your brand to new potential customers. Finally as we'll see in a while, you're creating an audience you'll be able to retarget later with your own content!
It goes without saying, of course, that you won't want to promote your competitors' content no matter how great it is.
Because you aren't promoting your own content here, I recommend having an ad budget of just $5 per campaign using this strategy. Target by age range and interests for best results.
4. Laser-Focused Retargeting
Retargeting should be the backbone of a large portion of your Facebook Ad campaigns. It allows you to deliver relevant content to the exact right audiences, increasing the effectiveness of the ad campaigns and getting you more for your ad dollar.
Segmented marketing is a powerful tool, so it's not surprising that showing the right lead magnet to the right audience will get you more results. If you notice that certain users are more interested in certain types of content, you can target them based on site activity and blog behavior to show them more relevant lead magnets.
A single fitness studio, for example, could have kickboxing, yoga, pilates, and bootcamp classes. If users are only interested in yoga, it would make more sense to show them an ebook about yoga breathing techniques instead of tips for high-powered kicks and combos. It's all the same studio, but the customers could be interested in very different aspects of the business.
AdEspresso's WordPress plugin Pixel Caffeine can help with this, allowing you to retarget users based on blog behavior. It's also 100% free!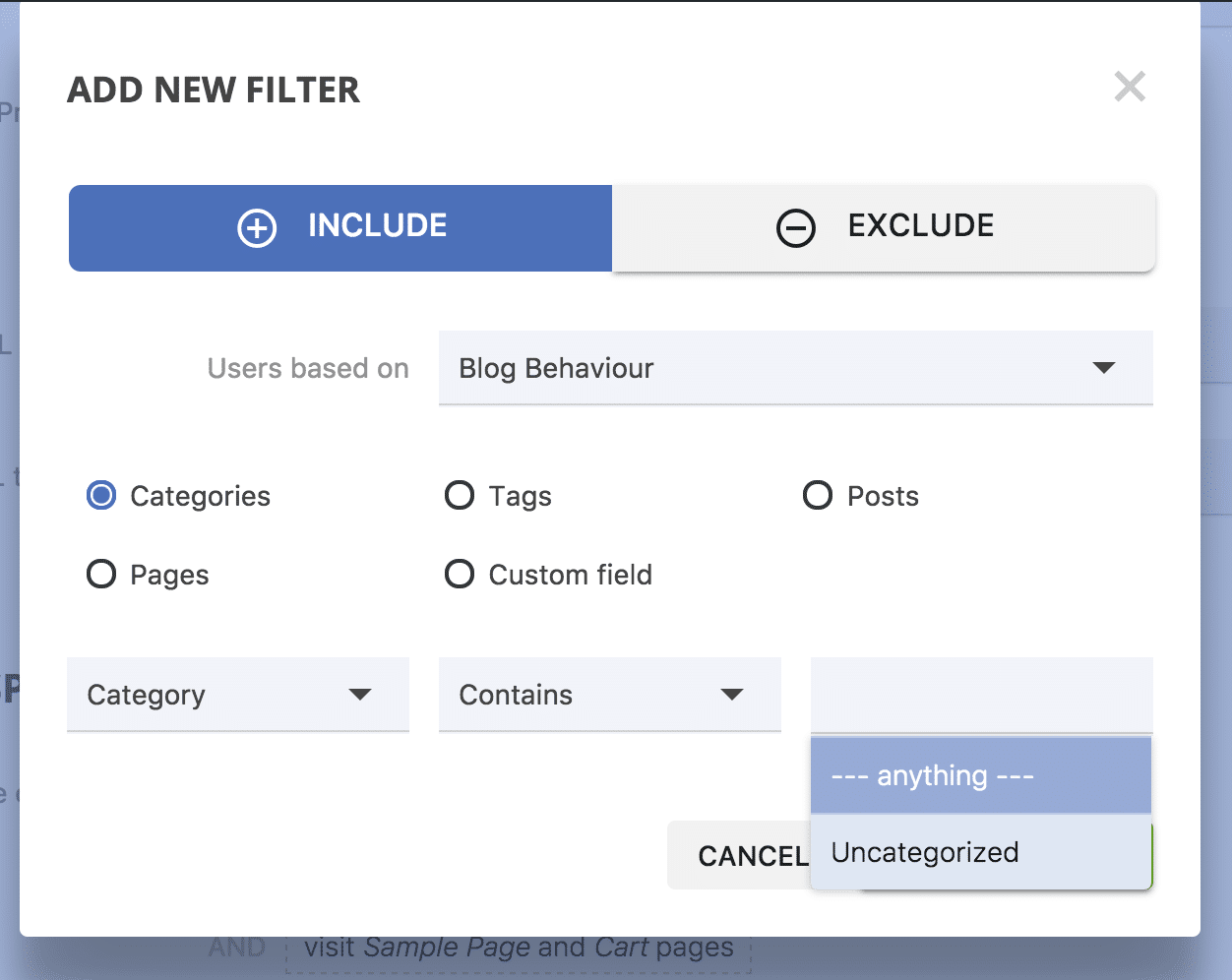 This is also where promoting content curated from third parties and videos come handy! In Facebook you can now create Audiences based on interaction with published videos and page post. Even if we sent traffic to third parties, we can still create audiences with everyone who interacted with our posts and retarget them!
The scale is even bigger with Video. You can retarget anyone who viewed at least X% of your videos… they're clearly interested in your industry and you can now target them with… a lead magnet!
5. Create Relevant Lead Magnets and promote them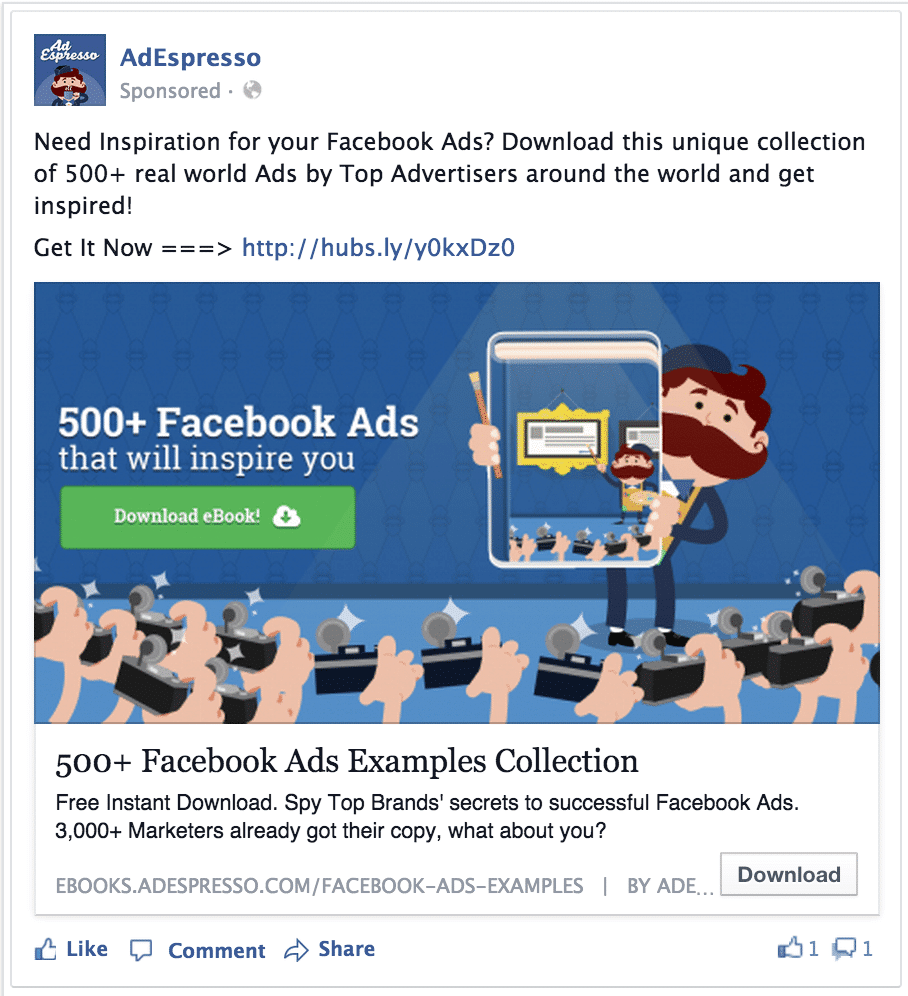 If you haven't created multiple lead magnets catering to each audience segment that you have, it's time to do so. The effort will be well-worth it, and you'll be much more likely to effectively capture lead information when you're showing them lead magnets tailored to them and their needs.
The best way to do this is to create a lead magnet like an ebook or webinar for each main topic that your site covers, or service that you offer. Then create a matching landing page for each lead magnet, and then split test ads to find the offer and copy combination that works best for you.
Retargeting for this strategy is the way to go. Use custom audiences from blog behavior or site activity. You can also show lead magnets to current customers if you're cross-selling or upselling services.
This strategy will give you lead information of potential customers who are further along in the buying cycle, so it's worth it to invest more here. Spend $50 per day on each campaign you're running in this category, targeting your topic-focused custom audiences carefully.
Of course here the budget really depends on how big your audiences are. Ours are fairly big (100,000+) with thousands of new users flowing in every day. If you're just getting started and have low traffic, $5 could be enough. As a rule of thumb with retargeting campaigns, check the frequency of your campaigns.
If the frequency immediately sky-rockets higher than 5 or 6 you'll want to reduce your budget or you'll annoy users with too many ads.
6. Incorporate Lead Gen Ads for Mobile
Lead magnets are great, but you're limiting yourself if you aren't taking mobile users into account. Use lead gen ads to create easy-to-fill-out forms that are perfectly suited for mobile users with tiny screens.
'
For each lead magnet that you created in Step 5, create mobile-optimized lead gen ads that heavily advertise that ebook, webinar, or checklist in exchange for an email address.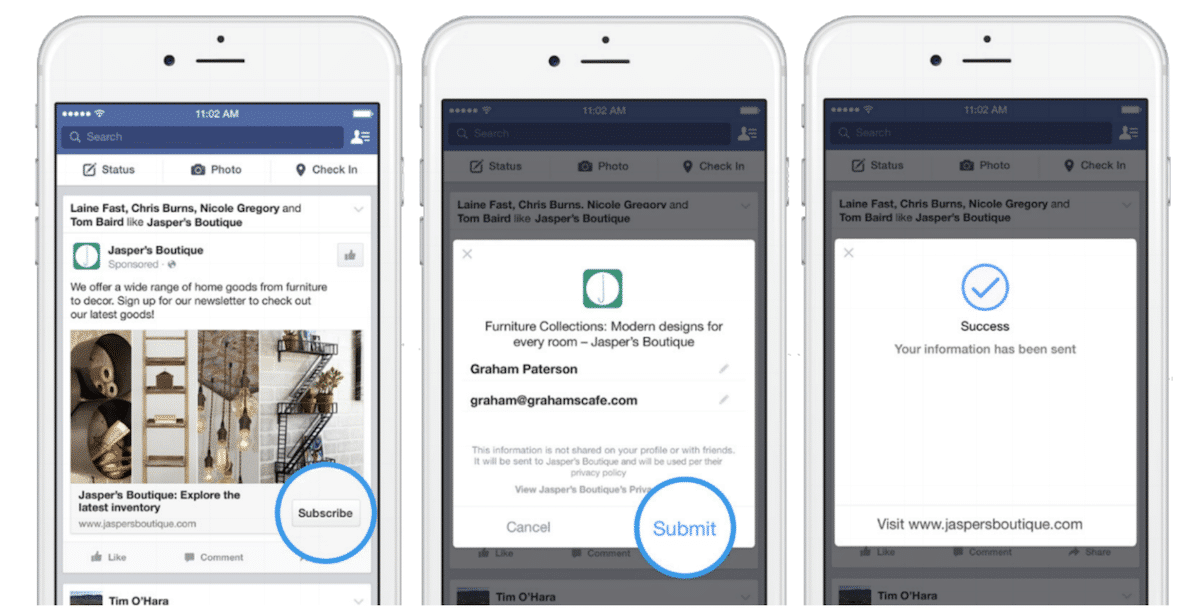 Note that before you start running any campaigns with the goal of lead generation, you should have at least one automated email sequence set up and ready to go. The first should welcome users to your email list and offer them the download link to the lead magnet they converted on.
To automate the process, use tools like AdEspresso, LeadsBridge, or Connectio to sync your new leads with your CRM system.
Invest $20 per day into these campaigns, and use custom audiences with an add-on of mobile targeting, too.
7. Embrace Automation with Messenger Ads
Chatbots can save you a ton of time and ensure that someone is always available to field customer inquiries. You can program them to tackle the most common questions you get from users to make them more effective.
Messenger ads and chatbots are a match made in digital marketing heaven. You can use Facebook's messenger ads to encourage users to message you directly, and your chatbot can tackle the first round or two of question answering. These bots can even help you sell, and it's possible to process payments directly through messenger.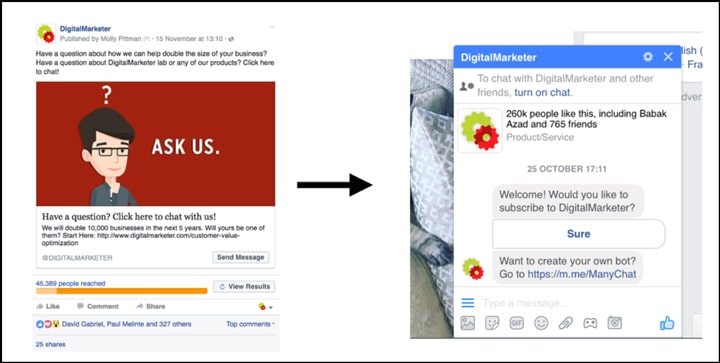 There are a lot of tools out there that can help you with this. I personally like ManyChat, but you can pick your favorite.
It can sound crazy but right now messenger ads work really well. Probably because they add a personal touch to the game and users don't realize they're talking with a bot. Experiments from DigitalMarketer showed that a messenger ad that would just print in the chat a link to a traditional landing page for an ebook would still perform way better than sending users directly to that very same landing page.
Custom audience targeting works best for this, especially if you target users who have recently visited your site, and I've found that budgeting $5 per day for these campaigns are all that's needed.
8. Run Enticing Giveaways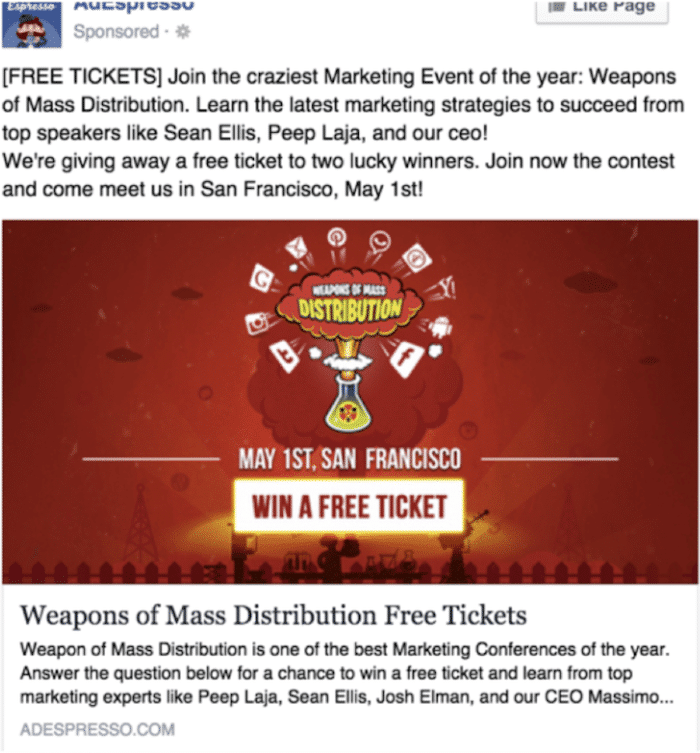 I'm not a fan of giveaways in general. They have the potential to be wildly successful, sure, but they carry an inherent risk. If they don't work out, you've invested a lot of money into a prize and promotional ad spend that got very little results.
That being said, I recognize that they do have a place in inbound marketing strategies.
There is one way to significantly reduce the risk of handing out iPhones or big cash prizes or $10,000 vacations and get no results: don't give out iPhones and cheques and $10,000 vacations!!! That's a prize that is appealing to the whole world, not just your audience!
Instead, you're more likely to benefit from your giveaways long term if you only give away prizes directly relevant to your target audience… and only them. Otherwise, non-qualified leads will join just for the chance at the big prize, and you'll lose out.
Because of the risk involved with giveaways and the big potential reward for customers, I wouldn't set a budget for more than $1 a day.
9. Use Facebook Ads to reach influencers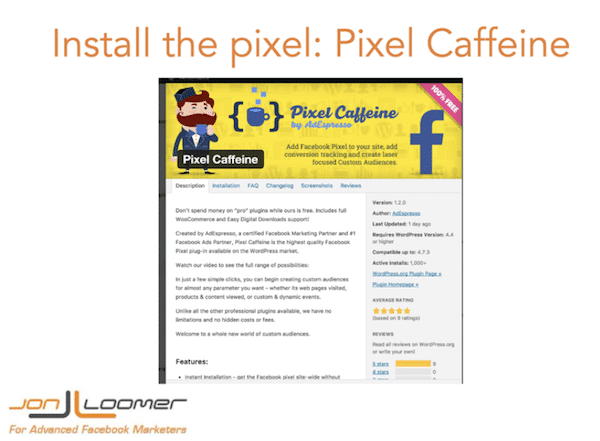 Sometimes letting other people do the heavy lifting for you is the way to go. If you have content that you think would be relevant either to journalists, influencers, or other members of the press, run campaigns targeting them in hopes that they'll be interested in promoting it for you (and on their own time).
For example, you can target members of the press based on job title and workplace. If you happen to have email lists of influencers or press members, you can also create a custom audience to target them. This is even easier on twitter where you can create audiences to target with ads out of twitter handles.
Remember to promote your story and not your product. People want to share an interesting story, not become a salesperson for you.
With this tactic, we got Pixel Caffeine featured by Jon Loomer and other influencers in the space without even having to reach out to them!
I budget $1 per day for these campaigns, and we've seen good results.
Conclusion
Facebook Ads is an exceptional tool that can help you to boost your inbound marketing, making it more effective and giving you better reach at the same time. Try out these 9 tried-and-true strategies that we've been using to grow AdEspresso from a seedling startup to a Facebook partner and one of the most trusted names in advertising.
What do you think? Do you use Facebook Ads to improve your inbound marketing? Which strategies do you use? Share your thoughts and questions in the comments below!