Although Blinkist is easy to use & offers you access to many functions, Blinkist does have some disadvantages. This is a good summary of the book.
Some people like reading book summaries for various titles. There are new books, old nonfiction books, and many novels and fantasy titles also. Sometimes one might be interested in listening to audiobooks.
Also, for someone like me who reads very slowly, getting some value from a summary is far better than not reading the book or the first few chapters before putting it down.
Technology has become our modern era's knight in shining armor, capable of tackling almost any challenge. And now, behold the revolutionary book summary apps that have completely transformed how we approach reading.
Busy individuals no longer need to devote countless hours to reading an entire book.
In this article, I have highlighted the cream of the crop among book summary apps that can help you gain valuable insights quickly.
I am going to re-evaluate all the book summary apps based on the same criteria:
✔Features
✔Catalog
✔Quality
✔Original Content
However, this time, we are also going to figure out, which is the best Blinkist alternative.
Let's quickly go through what Blinkist has to offer and why we must evaluate alternatives
Blinkist
Blinkist has a library of around 4,500 titles in categories such as entrepreneurship, management, psychology, and money and investment, including all the bestselling nonfiction books. A Blinkist book summary is never more than 15 minutes long.
Just like Instaread or Shortform, other platforms that offer quick summaries, Blinkist follows a similar pattern. However, while the pricing model may seem attractive at first, the free version is almost useless, as it only provides access to the daily picks, which may not align with your interests.
To access all the summaries, you need to shell out $12.99 every month, making it quite an expensive affair. Sure, you could go for the annual plan and get a 50% discount, but it still feels like a steep price to pay for just summaries.
Blinkist Features👍
When you open the app, there are only three options. They include
Discover: This is where you can delve into Blinkist's extensive library of thousands of books and discover new titles to add to your reading list.
Library: This is where you can find your saved books.
You: This is where you can access your highlights and review your settings if needed.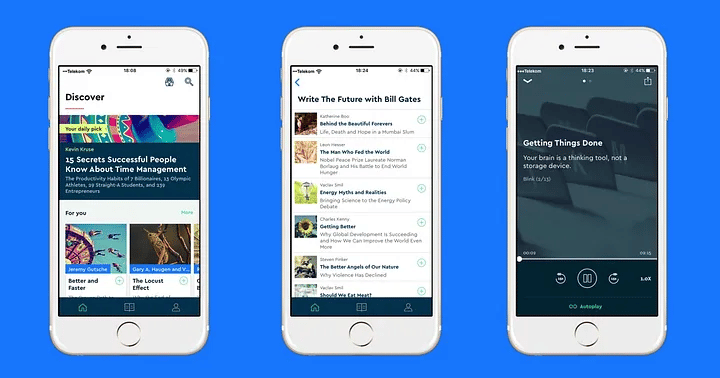 It's truly remarkable that you can mark important passages and save them for later. I frequently revisit my highlights when reading a book.
However, I've struggled to figure out how to do this on my iPad, and the synchronization between my browser and iPad has been perplexing.
💡Unlock a powerful feature that elevates your reading experience to a whole new level. With the ability to effortlessly synchronize your highlights with Evernote and book summaries with Kindle, you can access and organize your reading materials like never before. Keep all your summaries and full books in one central location, and discover a seamless reading experience that will transform the way you learn.
Blinkist Catalog👎
My experience with Blinkist's catalog of over 4,500 book summaries left me feeling underwhelmed. Despite having a vast collection, I was unable to locate all the titles I was looking for, leaving me feeling disappointed. It seems that Blinkist is focusing more on producing its own content than providing summaries of existing titles. While bestsellers are almost always available, the same cannot be said for more niche and specialized titles. In fact, the chances of finding these types of books are no better than a coin toss – a mere 50-50 chance. Overall, I found Blinkist to be lacking in its range of available titles, especially for those looking for more unique or specific content.
Blinkist Quality👍
Blinkist sets the bar high with unparalleled consistency in delivering quality book summaries. Every summary is carefully crafted to distill the key ideas of the book in a compelling manner. While some readers may crave more specific details, the average 15-minute read time per summary is still an impressive feat.
Imagine, however, if you could delve even deeper into the material with a 30-minute summary that explores every aspect in detail. Nevertheless, Blinkist deserves credit for its exceptional ability to identify and communicate the core concepts of each book, leaving readers with a memorable and informative experience.
Original Content👍
Experience the power of Blinkist's bite-sized content with Shortcasts, the innovative format for original content from this source. These mini-podcasts pack a punch in just 10 minutes per episode, making it easy to stay informed and entertained on the go. Plus, with written summaries for each episode, you'll never miss a beat. Discover a new way to consume content that fits your busy lifestyle, without compromising on quality or substance.
Advantages of Blinkist:
👍The app is very intuitive and easy to learn.
👍Even offline, the app will function smoothly once you have downloaded book summaries, including those from bestsellers.
While Blinkist is user-friendly and offers many features, there are also some drawbacks to using the app.
I found the following downsides:
👎When you rely solely on Blinkist's brief book summaries, you may sacrifice the humor and narrative of the book, and miss the author's perspective, ultimately detracting from the overall experience. If you're accustomed to the complete audiobook experience offered by platforms like Amazon's Audible, you may find Blinkist's summaries disappointing
👎The reliability of the summary is paramount: as a reader of Blinkist's summaries, you are placing your trust in the writer's ability to convey the story's essence accurately. Consequently, if the summary is subpar, your comprehension of the story will also suffer.
👎Absence of context can be a hindrance: Blinkist's summaries tend to provide the significant plot elements of the book, but without the context of the complete story, readers may misconstrue facts and events.
Overall Blinkist is an exceptional product that boasts an unparalleled book catalog and an impressive array of both summaries and original content. While their summaries provide a convenient way to gauge interest or finish a lackluster read, they often fall short in terms of depth and analysis.
Given these considerations, it is advisable to explore alternative book summary apps to Blinkist. Which apps should you consider?
List of best Blinkist alternatives for reading books in 2023
There are several Blinkist alternatives. Let's take a look at some of the alternatives I found really interesting.
1. Shortform
Despite being a newcomer in the industry, Shortform has built a respectable catalog. However, their pricing is unexpectedly higher than Blinkist, despite having a much smaller collection of content. To subscribe, you must pay $24 per month or $197 annually. Fortunately, Shortform offers a 5-day free trial to explore their entire catalog at no cost.
Shortform has made a name for itself in the market with a catalog that, while smaller than Blinkist, still boasts a collection of over 1000 book summaries, many of which are bestsellers. However, upon closer inspection, I found that only 5 out of the 12 books used for testing were available, and some marketing books were missing, leaving me disappointed.
Despite this, Shortform has been diligently adding new titles to its collection, and as of 2022, they continue to grow steadily. They have even introduced a Video Summary series, which can be accessed for free on YouTube, and super-short summaries on Instagram.
ShortForm's greatest strength lies in the quality of its book summaries. Their summaries are expertly structured and provide a depth of knowledge that rivals reading the entire book.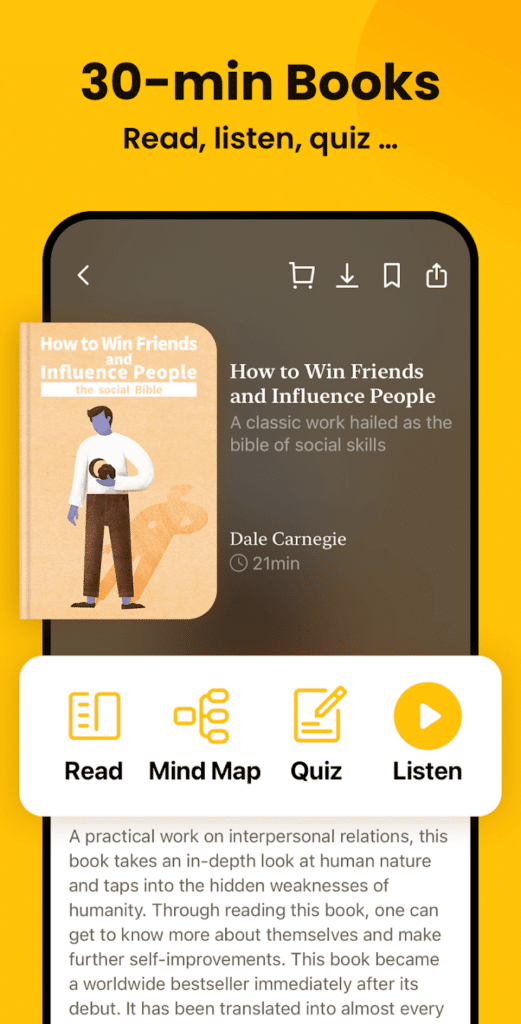 Features 👍
Prepare to be impressed! Shortform has really stepped up their game over the past year. The mobile app has undergone some major improvements, resulting in lightning-fast performance and unparalleled responsiveness. The overall experience is nothing short of delightful.
But that's not all – Shortform has also added some killer features that are sure to knock your socks off.
✔ For starters, the support for dark mode in the reader allows you to enjoy your summaries even in the dead of night.
✔And if you're looking for flexibility, look no further than the ability to download book summaries as PDFs. It's way more versatile than the Kindle integration found in Blinkist.
✔But wait, there's more! Shortform also supports ReadWise syncing, a game-changer for those who like to gather our highlights and brainstorm daily. With Shortform, you can easily import your highlights into ReadWise and keep them all in one convenient location. Trust us; you won't want to miss out on this incredible tool.
Imagine being an avid reader and having the ability to enjoy your book summaries wherever you go – on your phone or your computer. With their exceptional web and mobile versions, you'll never miss a beat. Their commitment to consistency ensures that the experience is seamless across all devices. With full support for highlighting text and adding notes, you can easily keep track of your reading progress.
💡Unlike Blinkist, the mobile support works flawlessly, making reading on the go a breeze.
💡Shortform now seamlessly integrates and syncs notes with Notion! That's right, you heard it correctly. With this new integration, you can easily keep all your notes in one place, saving you the hassle of jumping between multiple apps. Not only does this make your life easier, but it also ensures that you never lose track of your notes again.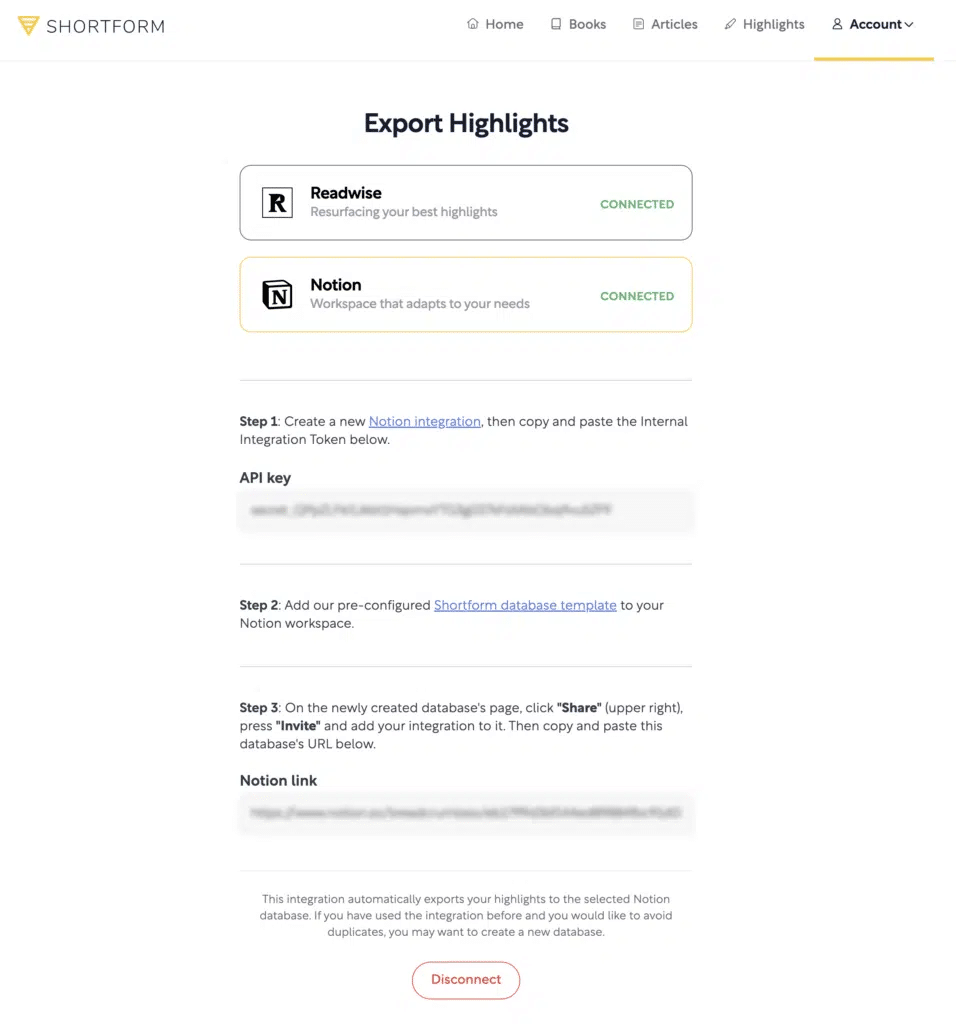 Quality 👍
Compared to other summary apps that merely serve as a preview before committing to purchasing or for spouting off quotes to impress friends, ShortForm's summaries are comprehensive enough to replace the reading experience altogether. The 1-page summary is a high-quality option for a quick overview, but the chapter-by-chapter summaries offer an even more in-depth analysis, complete with exercises where applicable.
What sets ShortForm apart from its competitors is its ability to draw connections between books on the same topic, providing context and additional points of view to enhance the reading experience truly.
In short, there is no comparison regarding the quality of ShortForm's book summaries.
While ShortForm does not offer original content, they do include summaries of top articles
The Catalog 👍
Shortform may be a newcomer in the market, which is why its catalog is smaller than Blinkist's. However, don't let that fool you – they're packing a serious punch with over 1000 book summaries, most of which are bestsellers!
But here's the deal – I could only find 5 out of the 12 books I was looking for during my testing. I was expecting a little more, to be honest. Many marketing books were missing; some gaps were even in the bestsellers category.
💡However, the good news is that Shortform seems to be adding new titles at a consistent and steady pace. In fact, they've recently launched a Video Summary series available for free on YouTube! Additionally, they're publishing super-short summaries on Instagram so that you can stay on top of your reading game even on the go.
So while their catalog may grow slowly, it's definitely growing consistently. And with exciting new features and constantly added content, you won't want to miss out on what Shortform offers.
Original Content 👎
While Shortform may not offer original content, they do feature summaries of top articles from the US press. Admittedly, the selection is still fairly limited, with only around 500 articles in the catalog. But hey, it's a great start!
Shortform offers an audio version for all their summaries, making it even easier to consume information on the go. While the audio is not human-narrated, it's still handy for those who prefer to listen rather than read.
💡Verdict
Shortform is the top Blinkist alternative out there, offering a range of unique features and benefits that set it apart from the competition. From their support for ReadWise syncing to their flexible PDF downloads, Shortform makes it easy to get the most out of your book summaries.
With a growing catalog of over 1000 book summaries, Shortform has something for everyone. Whether interested in self-help, business, or biography, you can find what you're looking for with Shortform. And with their Video Summary series and super-short summaries on Instagram, staying up-to-date with the latest trends and insights has never been easier.
2. getAbstract
Another book summary app that I recommend is getAbstract. It boasts a vast collection of summaries, making it an excellent resource for creating study guides. If you want to accumulate summaries on a particular subject, getAbstract is an excellent option.
Students receive a free year's subscription, while non-students can avail of a three-day trial. However, if you are seeking in-depth summaries, you may want to consider using a different program.
getAbstract summaries are available in multiple formats, including audio and PDF. Users can also customize the reading speed of the audio summaries, making it easier to consume the content at their own pace.
getAbstract offers a free trial for three days, after which users can choose from various subscription plans.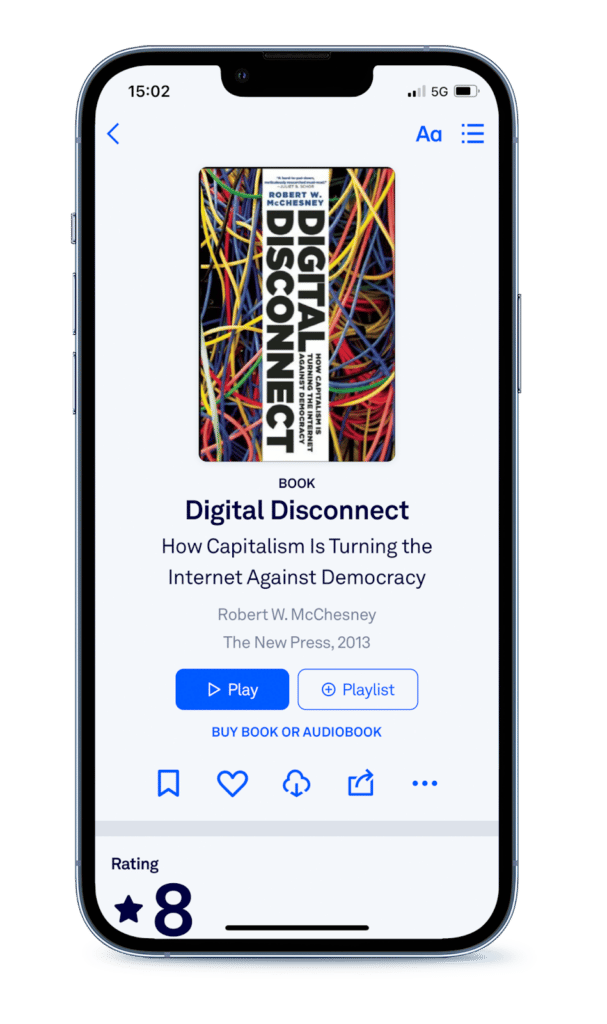 Features 👎
While the website and mobile app of this book summary app work seamlessly, the overall experience of reading leaves a lot to be desired.
Despite offering the option to highlight text and create curated collections of books, the reading experience on browsers falls flat due to the distracting interface elements and small fonts. It feels more like reading a basic blog post rather than an ebook reader.
While the iPad app provides a better experience, it's not enough to compensate for the lacking browser interface. While the option to download a PDF version of the summaries is positive, it's not enough to make it a top pick among the numerous book summary apps available.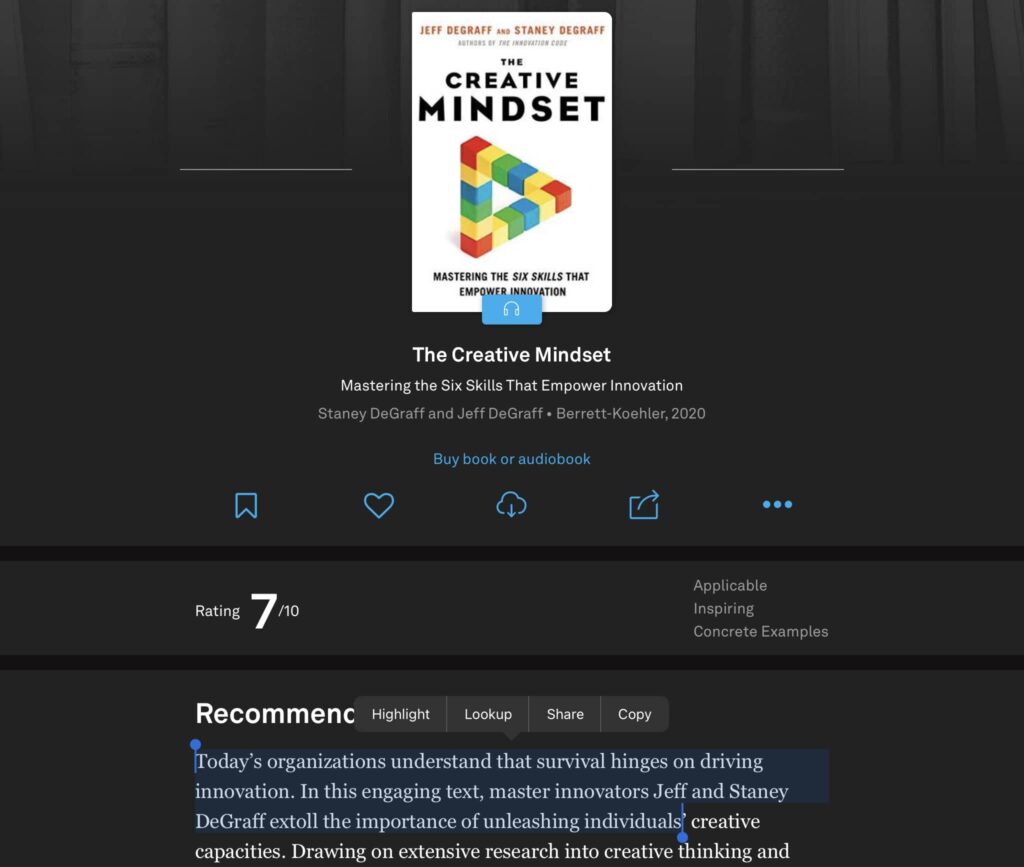 Quality👎
With their distinct approach to summarizing books, my expectations were high for the quality of summaries offered by this app. However, I was let down. While the summaries are decent, they hardly left me with a mind-blowing experience. Furthermore, they are quite brief, comparable to those offered by Blinkist. Although the app does offer audio summaries for most books, ranging from 8-12 minutes, they fail to make up for the lack of substance in the written summaries.
Catalog👎
Despite having the largest catalog of book summaries, boasting over 20,000 titles, this book summary service has the worst catalog. Instead of focusing on summarizing bestsellers, they seem to acquire right to summarize more niche books. This leaves their selection of bestsellers lacking, and in my experience, it was shocking to find none of the 12 books I was looking for. While some reviews were available, many others claimed to be attempting to secure rights or had no information at all. Clearly, this book summary service has a different focus than others. It could be a suitable option if you're looking for random books or very niche content.
Original content👎
While searching for book summaries, I couldn't help but notice that this app lacked any unique content in its offering. While this isn't a significant issue for me, it's clear that other players in the market have recognized the copyright threat to their core offer and have started differentiating themselves with more unique content. In contrast, GetAbstract secures legal rights before writing a review, eliminating the need to diversify its offer.
3. InstaRead
InstaRead is another Blinkist alternative. While the summaries offered on InstaRead are lengthier than those on Blinkist, they can be more suitable if you require information for your lesson planning. However, its library is not as extensive, and the summaries may still omit some crucial details you may want to read. While InstaRead is a paid program, you can avail of a free seven-day trial before deciding to purchase the complete version.
Instaread has a library of over 1,000 books in categories like business, self-help, and biographies. Instaread summaries are written by professional writers and editors and are designed to be easy to understand and implement.
One of the unique features ofInstaread is that it offers a read-along feature, which highlights the words as the audio summary is played. This feature makes it easier for users to follow along with the summary and retain the information. Instaread offers a free trial for seven days, and users can choose from various subscription plans after the trial period.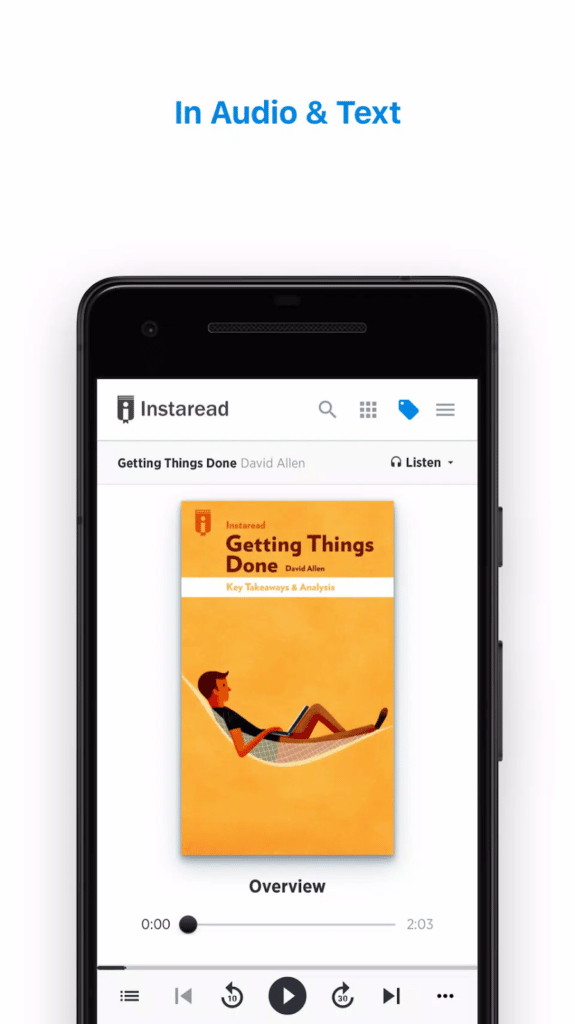 Features👎
Their app is available on both the web and mobile, but while it's decent overall, the reading experience is lacking, particularly when moving from one chapter summary to the next. The mobile app offers a unique Cards section highlighting key takeaways from the book, which is helpful, but it's a major disappointment that users can't save highlights from the summaries. This flaw could be a significant deal-breaker for anyone who values the ability to save and revisit key points.
Quality👎
While the content quality is acceptable, it's not the best collection I've encountered. The book is essentially a series of chapter summaries presented in a condensed, bullet-point format with key takeaways. Although the presentation is well-done, I personally find it too schematic for my liking. Additionally, I was disappointed to discover that the book lacks the one-pager introduction that ShortForm provides, which would have been helpful. Moreover, while an audio version is available, it's read by a generated voice, which detracts from the overall experience.
Catalog👎
If you're looking for book summaries, you might be tempted by Instaread's massive collection of over 1,000 titles. However, I found their selection to be lackluster and disappointing. Of the 12 books I wanted to read, only four were available in summary form, and they were all the most popular ones I had already heard of. Meanwhile, the more niche titles I was interested in were nowhere to be found. Notably, a significant portion of their collection is dedicated to fiction, which may be a turn-off for some readers.
Original content👍
Instaread is clearly going all-in on original content, and it shows. For starters, they offer a huge selection of article summaries from some of the biggest names in publishing, like The New York Times and Harvard Business Review. But that's just the beginning. They also have a massive collection of Instaread Originals, which are short-form books covering a wide range of topics. One area where they really shine is biographies featuring everyone from Kamala Harris to Jack Dorsey. These books are generally well-written and offer valuable insights, and the best part is that they only take about 15 minutes to read on average.
4. Mentorist
The Mentorist app provides book summaries with attached actions to help users implement what they have learned. The app prompts users with daily actions to take, and users can add these actions to their daily focus.
The app offers a step above most summary apps because it encourages users to put what they learned into practice. The app also includes insights and actions in various categories: philosophy, lifestyle, marketing, sales, audio, health and fitness, and business.
The app costs 49$ per year, which is much cheaper than hiring a coach. This app is worth paying for if you need a coach or a mentor.
The app's core value proposition resonates with me deeply. Many individuals measure their success in reading by the number of books they consume in a year rather than truly comprehending the book's contents and implementing its lessons.
This fundamental aspect of the app piqued my interest the most.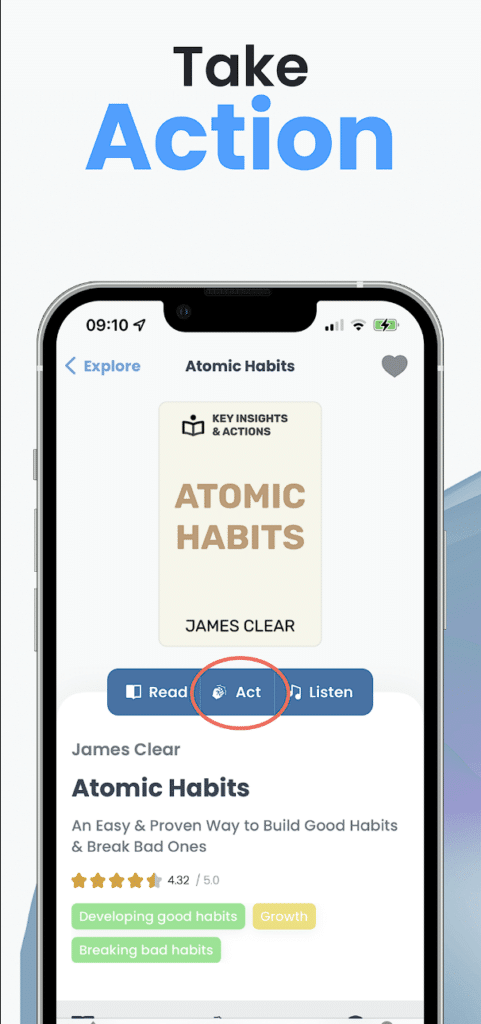 Features👎
Although Mentorist boasts several impressive features for digesting condensed books, the overall user experience leaves much to be desired. Despite offering dark mode and speedy responsiveness, the app's reading interface is a major drawback.
Rather than providing a full-page reader, the app opens the summary in a disappointingly small window, making it challenging to engage with the content fully.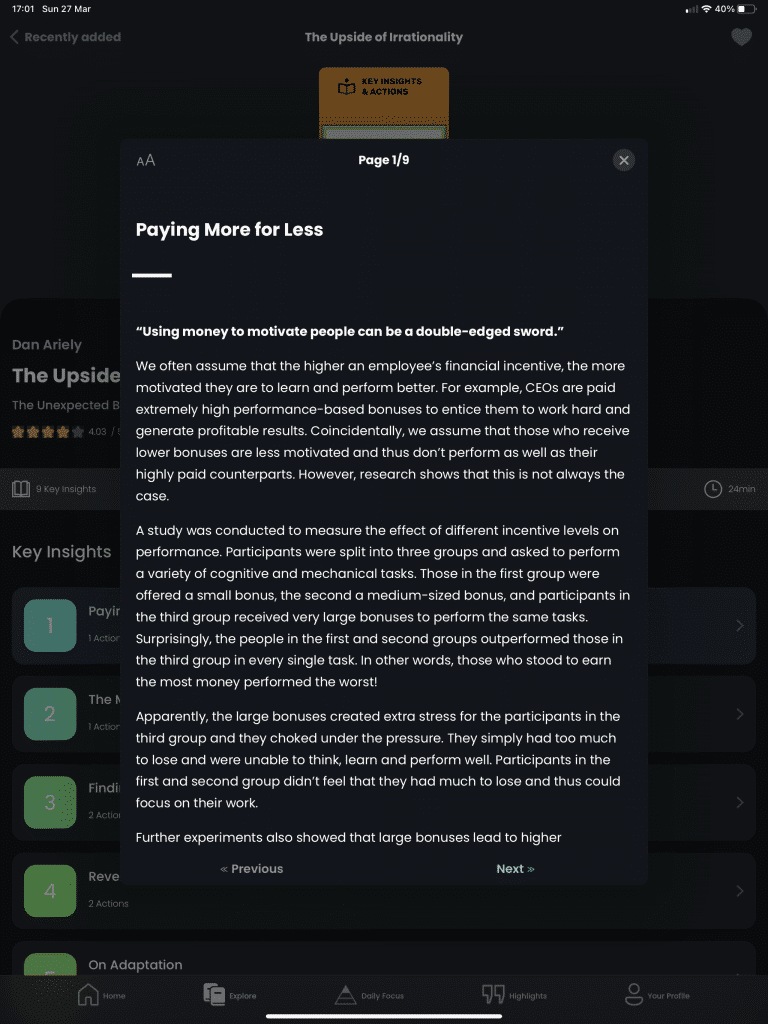 💡The app's highlight feature is a standout component of its functionality, providing a dedicated page for easy review and the option to set reminders to revisit and brainstorm on the most significant takeaways.
Additionally, the app offers actionable insights at the end of each book summary, which can be swiftly added to your to-do list with a single click. The provided steps for executing these takeaways are concise and straightforward, making them easily actionable.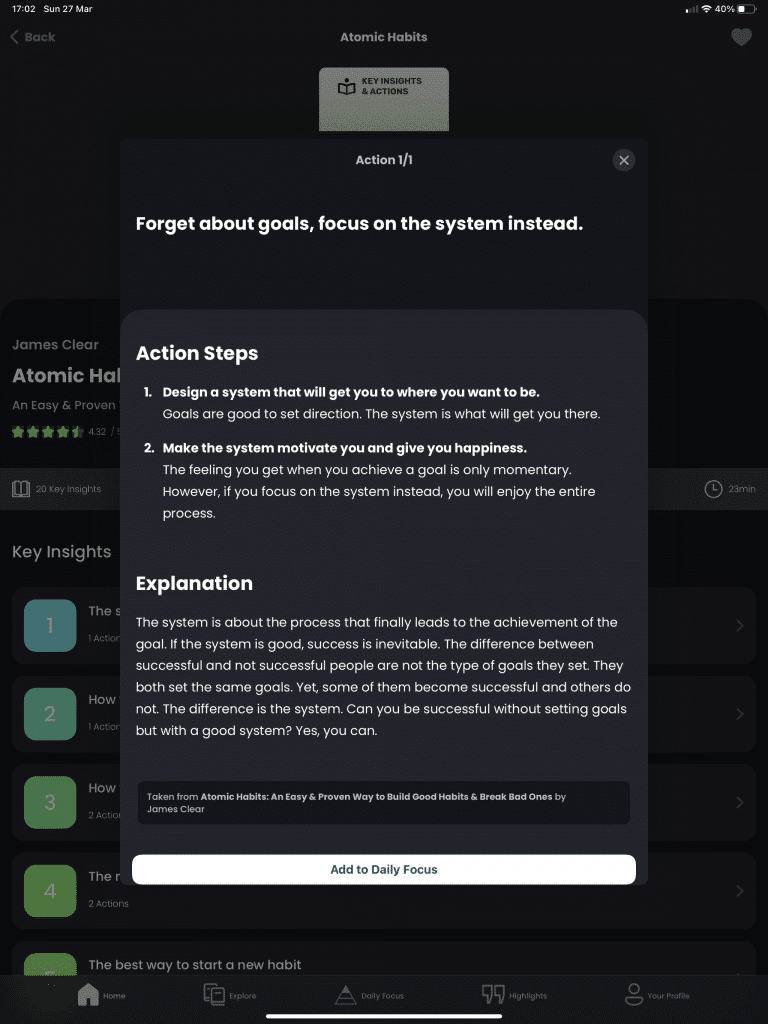 Once you add it, you will be asked about your objective and you will be sent reminders based on your objective.
Quality 👎
The summaries are incredibly short, ranging from 10 to 20 pages with varying page lengths between books. While humans and not robotic voices read the audio summaries, they only last around 20 minutes. Although it's helpful to listen to summaries before deciding to buy a book or for something you're not interested in, it's not useful for topics you care about as the summaries are too brief.
Catalog 👎
The catalog offered by Mentorist is severely limited. Despite having 12 books in my basket, only three were available, and they were the most popular ones focused on self-growth. Surprisingly, they didn't even have the widely popular "No Rules Rules" book.
This limitation was somewhat anticipated as Mentorist launched later than its competitors in the book summary space, and it is evident that they still have a long way to go in terms of building their catalog.
Original content 👎
Mentorist's current focus is solely on summarizing popular books without offering their own unique content. While this decision may seem reasonable, considering they have chosen to differentiate themselves through the app's dynamics, it is worth noting that other players in the space are trying to set themselves apart through their unique content catalog and overall book selection.
The Final Verdict
And the moment we've been waiting for has arrived – it's time to declare a winner! But let's not beat around the bush, I'll go straight to the point.
Through a process of exclusion, I've thoroughly evaluated several contenders in the field of Blinkist alternatives, and I have to say, the competition was tough.
❌First up was getAbstract, but unfortunately, their catalog just didn't align with my interests. Although I appreciated not having to input my credit card details for a trial, it just wasn't my cup of tea.
❌Next, I tried out Mentorist, and while I liked the concept of putting theory into practice, the length of their summaries and the range of their catalog fell short of my expectations.
❌I then turned to Instaread, who impressed me with their original content and article summaries. However, their catalog and summary quality didn't quite hit the mark for me, and I decided to cancel my trial.
🏆Finally, we have our winner for the best Blinkist alternatives – ShortForm. Although their catalog still has room for growth, their app is outstanding, and they offer PDF versions of their summaries. But what really sets them apart is the quality of their summaries – they provide enough information to make it actionable and even replace reading the full book. It's pricier than the other Blinkist alternatives, but the value I receive is worth it.
So, after careful consideration, ShortForm is the clear winner of my roundup of the best Blinkist alternative in 2023.

Congratulations, ShortForm!
Update May 8th 2023: Blinkist has just been acquired by EdTech startup Go1. While this will likely have no impact in the short term, things often tend to get messy post-acquisition and we'll need to check if they'll keep up with their current mission or align more with Go1 needs.