A content pillar page is a comprehensive, authoritative exploration of a topic or theme where a reader can get everything they need in one place. It can be dissected into multiple cluster pages and repurposed into smaller content pieces. It's a key element of every SaaS content strategy, and in this post you'll find some of the finest Content Pillar Examples.
What is a Content Pillar?
A content pillar is a preset concept, topic, or core principle that the content you post revolves around in social media marketing.
In the context of SEO, the term "content pillar" refers to both a strategy and a single piece of content.
The content pillar is a blog of a minimum of 3,000 words, including 15-20 different relevant keywords, keyword phrases, and questions. The goal of a content pillar is to give readers a credible and thorough overview of a topic on which they are looking for information.
A content pillar is intended to achieve two main outcomes when combined with a content pillar strategy:
The content pillar provides premium and comprehensive content that is tailored to your audience's needs. Basically, pillar content establishes your company as a credible authority on the subject.

Pillar content (when implemented correctly) informs Google and other search engines that you are an authority.

The result? This boosts your search engine rankings and drives more potential customers to your site!
What is a Content Pillar Strategy?
A content pillar strategy is a channel of keywords and content that consists of 10 to 20 distinct specific pieces of content that all interlink.

How many content pillars do you need?
There are three types of content in a content pillar strategy: i. pillars, ii. sub-pillars, and iii. supporting blogs.
Let's say your brand's social media content pillar is a 3,000-word comprehensive overview of your topic:

Social media marketers should include three to four supporting pillars of 1,500 to 2,000 words each beneath your pillar.
Then, add a link to your pillar in each of your sub-pillars. So every sub-pillar should be supported by three to four blogs of approximately 750 words.
Your supporting blogs should be linked to their respective sub-pillars and the pillar.
Each piece of content should a specific question related to the larger pillar topic and includes hyperlinks to the pillar page.
This content strategy should start with keyword research and end with a collection of useful content that will appeal to both search engines and readers.
How can you create content pillars that boost SEO?
Creating content pillars is essential for boosting your online visibility and building trust with searchers. Here's a step-by-step method for creating content pillars:
1) Choose a relevant content topic that you want to be known for (and rank for)
The first step to creating content pillars is to identify the core topic for which you want to rank.

Consider your target audience and aim to thoroughly cover a specific subject that they require assistance with when deciding which topic to focus on. This is fundamental across the board for social media marketing.
2) Keyword Research
Once you've decided on a topic for your pillar page, enter it into a keyword research tool. These show you which keywords have the most searches in a given time period, as well as how much competition there is for each search term.
3) Analyze your content pillar vs cluster keywords
Your pillar page will focus on a high-volume keyword related to the topic. The long-tail keywords that fall under that keyword will then govern what your pillar page's main headings/sections should be, which will then influence the keywords to target with your cluster pages.
4) Create content that is captivating to your target audience
As your content pillars are targeting keywords, you'll want to focus on on-page search engine optimization (SEO) for each one. Make sure to include your target keywords in the title, headings, body of the article, meta descriptions, image alt-tags, and so on.

Creating content that is keyword-heavy actually helps people solve your target audience's problems and will ensure that your site ranks for the long haul!
5) Make it great!
Remember, the end goal is to provide your users with real value in the form of content. As Massimo discussed in this post, you should not create super-long content just for the sake of ranking.
Writing a Pillar content means writing the best piece of content on a specific subject, not using 5000 words to express basic concepts that could have been communicated with a 500 words post.
As you'll see in these great content pillar examples, a great SaaS marketing strategy creates pillars that are valuable and just great from every point of view: uniqueness of the content, in-depth research, curation, and UX.
Why does the content pillar strategy work?
Just having a social media content strategy is not nearly enough. The content pillar strategy is a tried-and-true method for producing high-quality content that will rank well in search engines, provide timely and relevant content, and resonate with human readers.
Pillar content strategy helps generate a large number of subtopics from a single concept or theme. And clusters are ideal for targeting longtail keywords and subtopics that your readers are looking for, such as conversational questions or queries, providing you with a plethora of content ideas and ranking opportunities.
The search engine optimization system prefers valuable, well-organized, and easy-to-read content. By organizing content pillars, you'll be able to create content that answers specific questions readers ask. This way, your content can perfectly match readers' search behavior, and bring in amazing leads!

Here are some unique content pillar examples of SaaS companies that have built great SEO authority over time:
1) HubSpot's Instagram Marketing Guide (Social Media Marketing)
HubSpot has one of the most popular blogs in the world. It is recognized for almost everything marketing related. So, of course, it stands to reason that they would rank no—#1 for an Instagram marketing guide.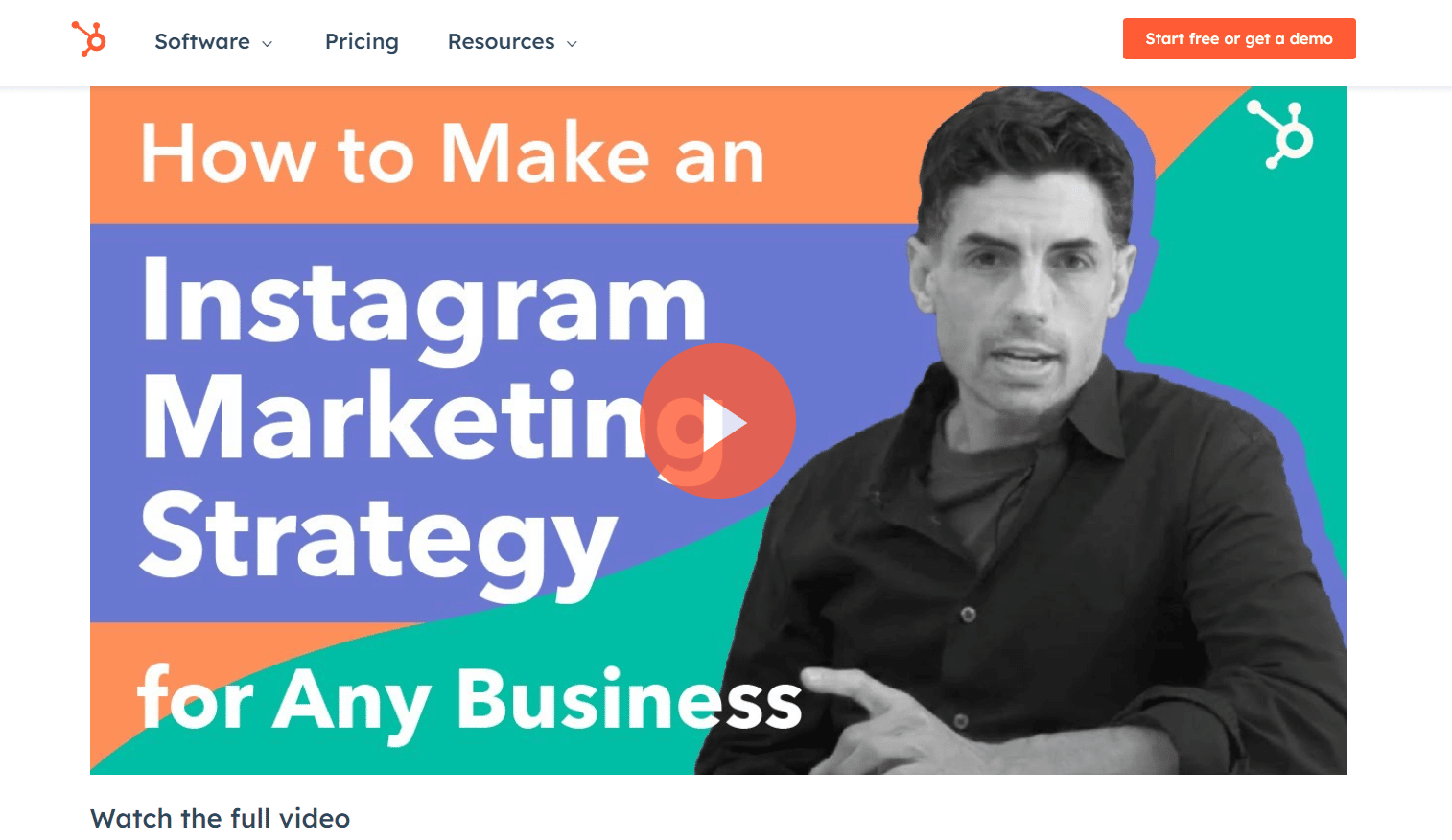 HubSpot has created a nearly flawless content pillar page; hence this makes for one of the best Instagram content pillar examples. Almost everything is done so precisely here. This is an excellent resource, from the jump navigation that allows you to skip to the sub-section most appealing to you, to the highly skillful content, to the gorgeous visuals.
The guide connects you to a related social media marketing blog post, and those blog posts all use the anchor text "Instagram Marketing" to link back to the guide.
2) Notion's Product-led Content
Notion is a content-driven software company. From blog posts to Notion templates, everything is optimized using the product-led content approach.
Every piece of content offers at least one solution to the target audience. When your product is the most imperative part of the solution, we call it product-led content. This is an excellent pillar content idea.
In 2020, more work was moved online due to the pandemic. Consequently, Notion saw a 5x increase in users in 2020 alone.

Let me show you an example of a blog post: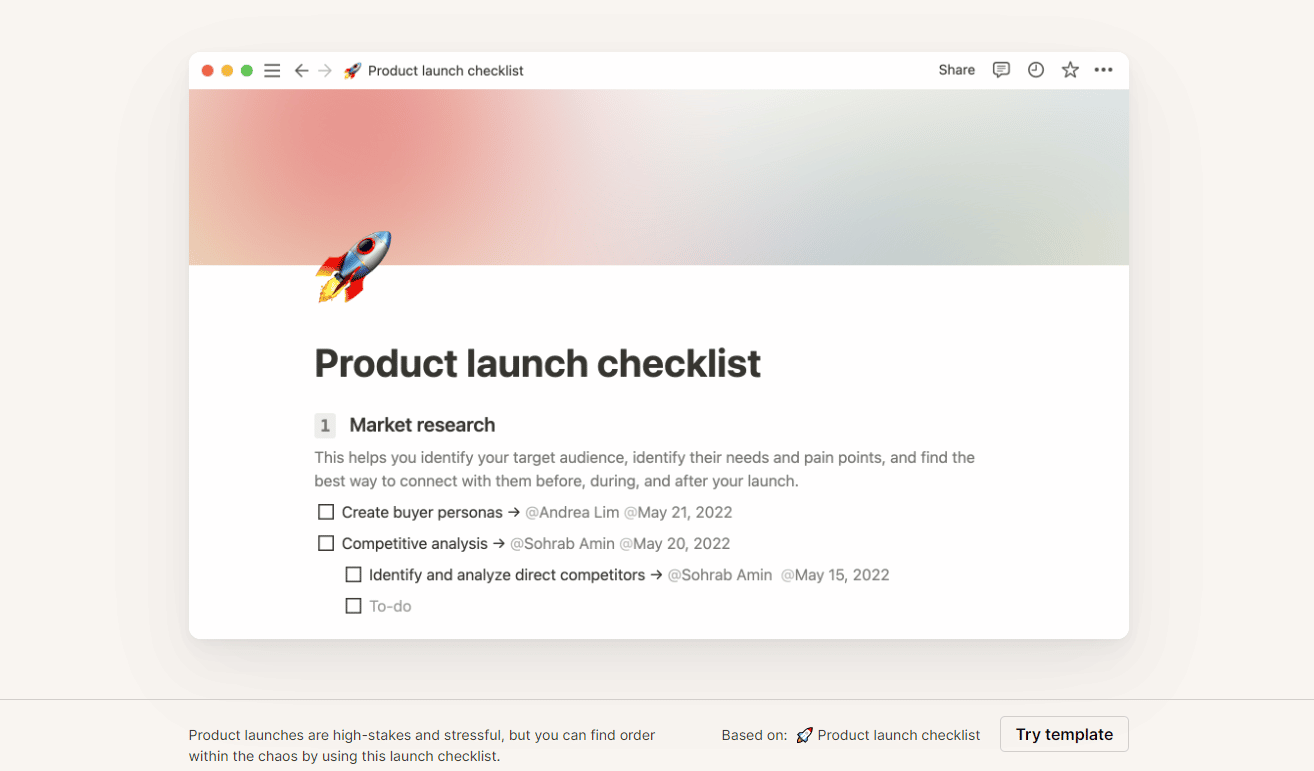 This blog post on the product launch checklist is written so that the reader is compelled to use Notion's product-launch checklist to find the solution.

3) Mailchimp's Glossary Pages:
Mailchimp is an email marketing software that is widely used by marketers all over the world.
The glossary hub is a key component of Mailchimp's outstanding content marketing strategy. They have glossary pages for basic marketing terms and terminology.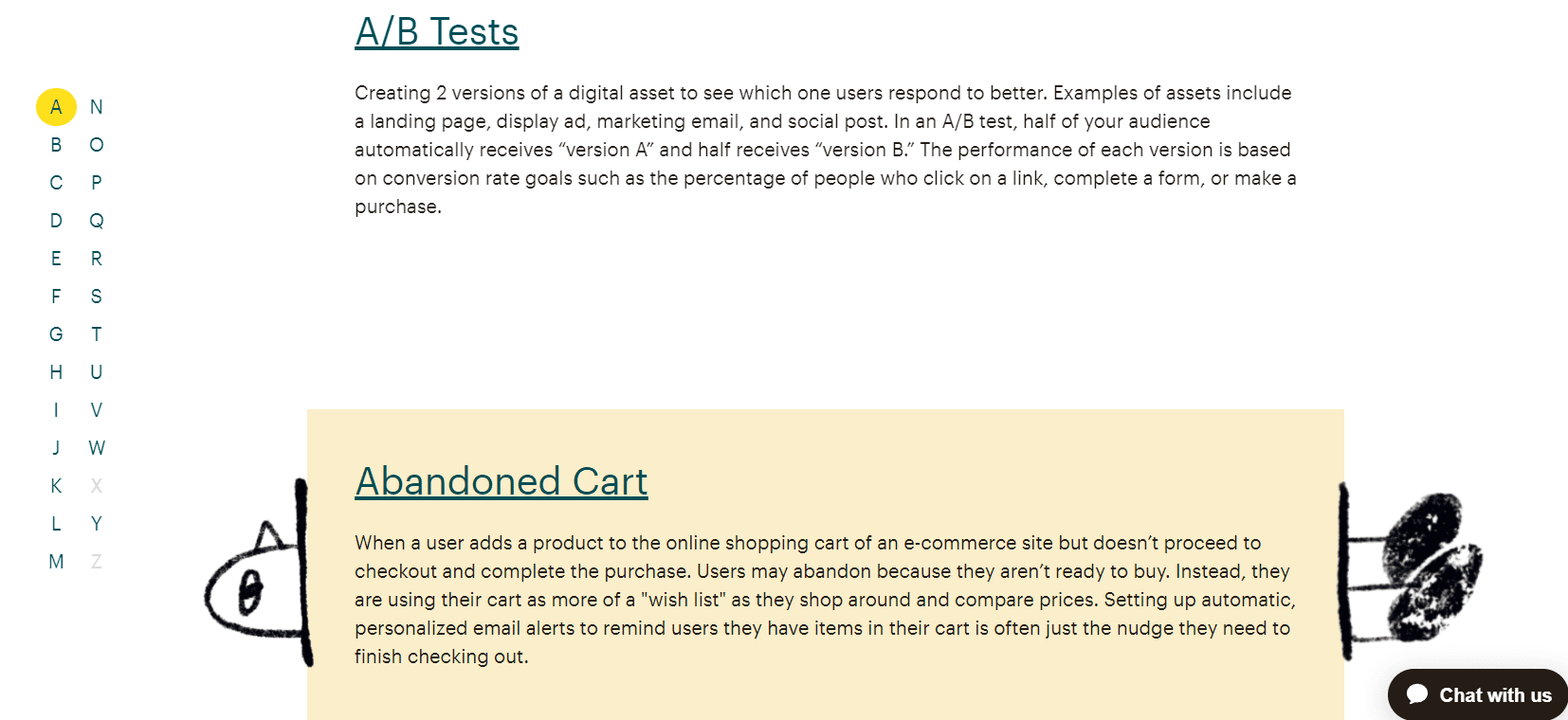 Mailchimp receives over 164k organic visitors per month solely from glossary pages.
This includes ranking for search terms such as:
What is the bounce rate?

What is a landing page?

What is ROI?

Let's take a closer look at each component of Mailchimp's glossary page strategy and its benefits.

Development of Hub and Definition Pages:
Mailchimp has a pillar page that defines all marketing terms. Brands that have glossary pages generally do it in this way.
But there is a significant difference.
Rather than having one glossary page with all definitions, they have created personal definition pages for targeted keywords that are pertinent to their business and have high search demand.
Mailchimp ranks on the first page for 46k+ keywords by creating specific glossary pages and matching a search query.
Structure of Definition Pages
The content structure of all the individual definition pages is the same. They consist of two parts:
This works because people look up terms like What is [term] or [term] definition, for example. Mailchimp targets those competitive keywords by including a section called "what is [term]"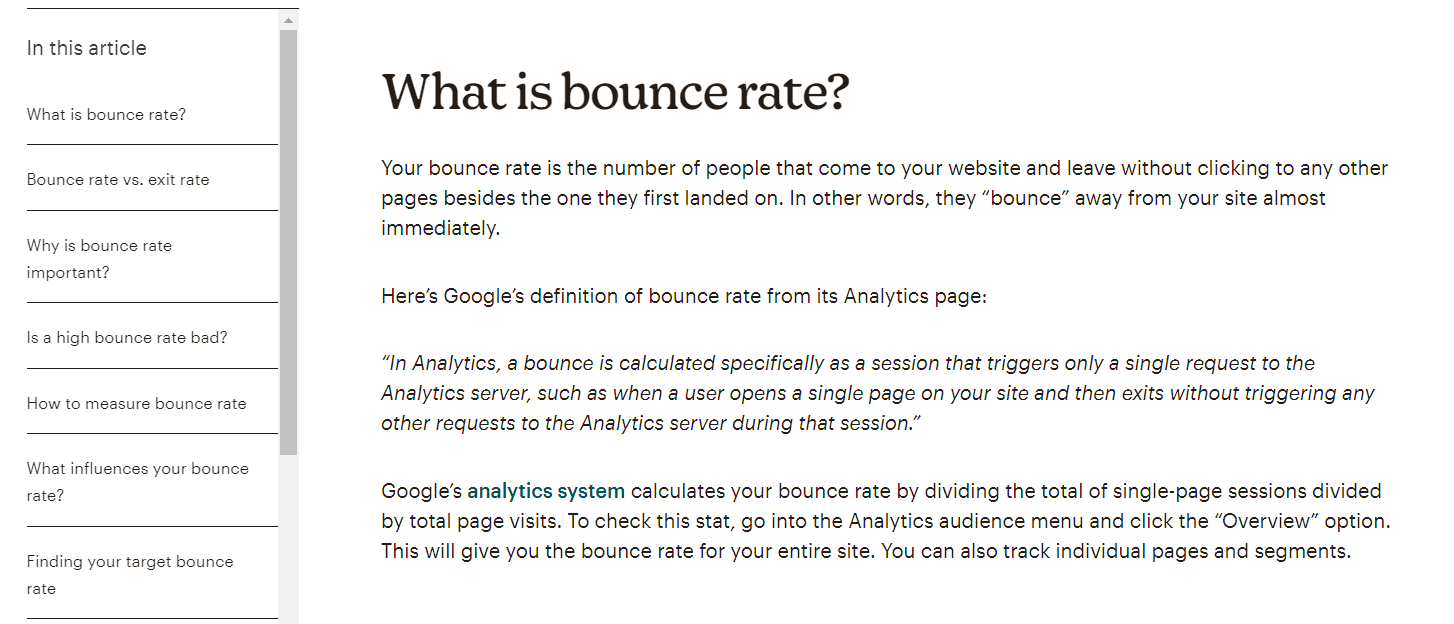 Strategic FAQs
Including FAQs aids in gaining more organic space, increasing CTR, and increasing dwell time. Therefore, adding internal links in the FAQs can help boost organic traffic to other pages.

4) Zapier's Help Center
Zapier is a software automation platform with over 4000 app integrations. Customer churn is one of the main issues that most SaaS businesses face.
There could be various reasons for this, including poor product onboarding, complex features, customer support, a lack of troubleshooting guides, and so on.
With the help center or support, Zapier has overcome these challenges.


How did this benefit them?
Many branded search terms or product-related questions may appear in the Google search console dashboard.
You can improve customer satisfaction and reduce churn by creating informative value for all of your audience's frequently asked questions.
When you search for Zapier product-related queries, their help center page ranks in the top three.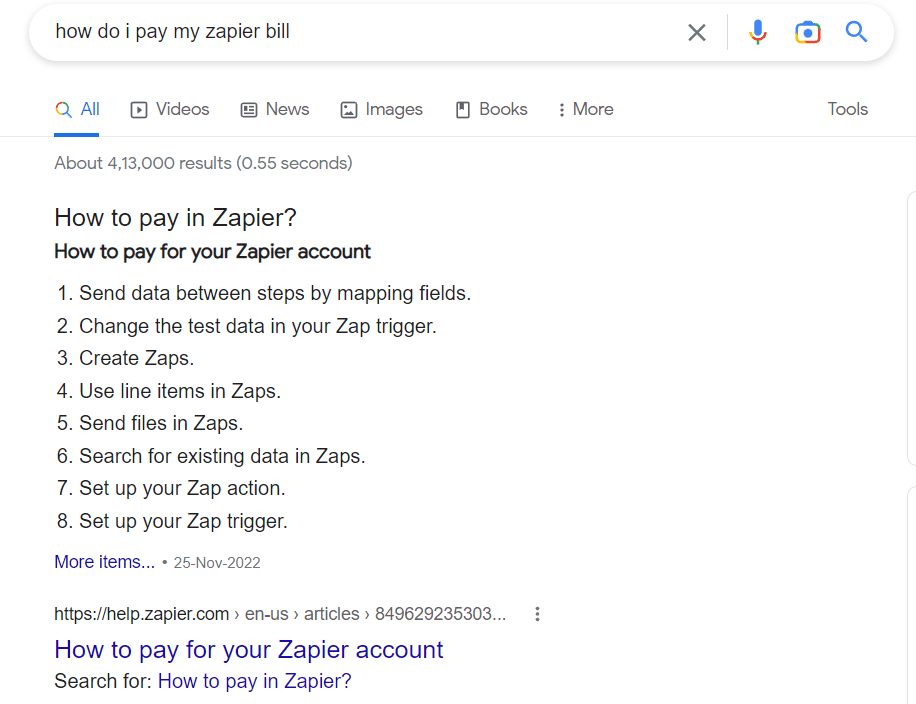 5) Typeform: Brand Awareness
Typeform is a Spanish online software as a service company that specializes in the creation of online forms and surveys. Its main software generates dynamic forms based on the needs of the user. Apple Inc., Airbnb, Uber, and Nike Inc. have all used Typeform's software. Every month, Typeform generates nearly millions of forms.
Typeform's Brand Awareness pillar page has an astute inbound landscape. It was designed to educate and lives up to its tagline, "Nearly everything you need to know."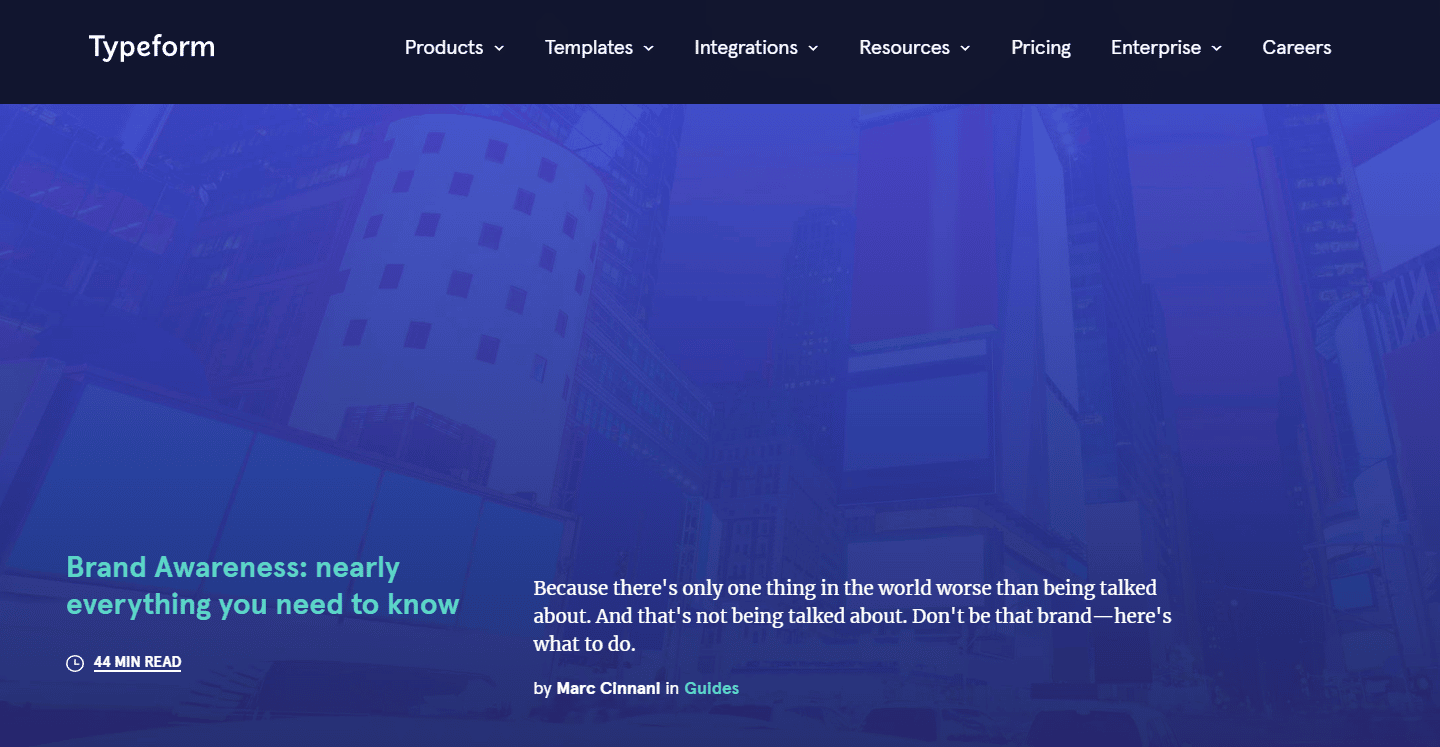 It's so easy to use, especially due to its extensive table of contents that evokes the reader right from the beginning. Its visual aesthetic is definitely a perk!

The hyperlinked table of contents that guides you as you move up and down the page is the page's most unique feature. The easy-to-read formatting is divided into segments, with visual CTAs throughout and a myriad of links connecting to additional Typeform content assets.

6) Grammarly
Grammarly educates people (its diverse target audience) on how to improve their ability to write through its articles and tutorials.
Grammarly drives millions of visitors to their website each month and, as a result, ranks on Google's featured snippets and in the 1-3rd spot for the majority of keywords.
Their clever strategy of implementing a content topic cluster strategy to bundle and promote the content they create to specific interests (and pain points) of the audiences the company targets has led them to great success.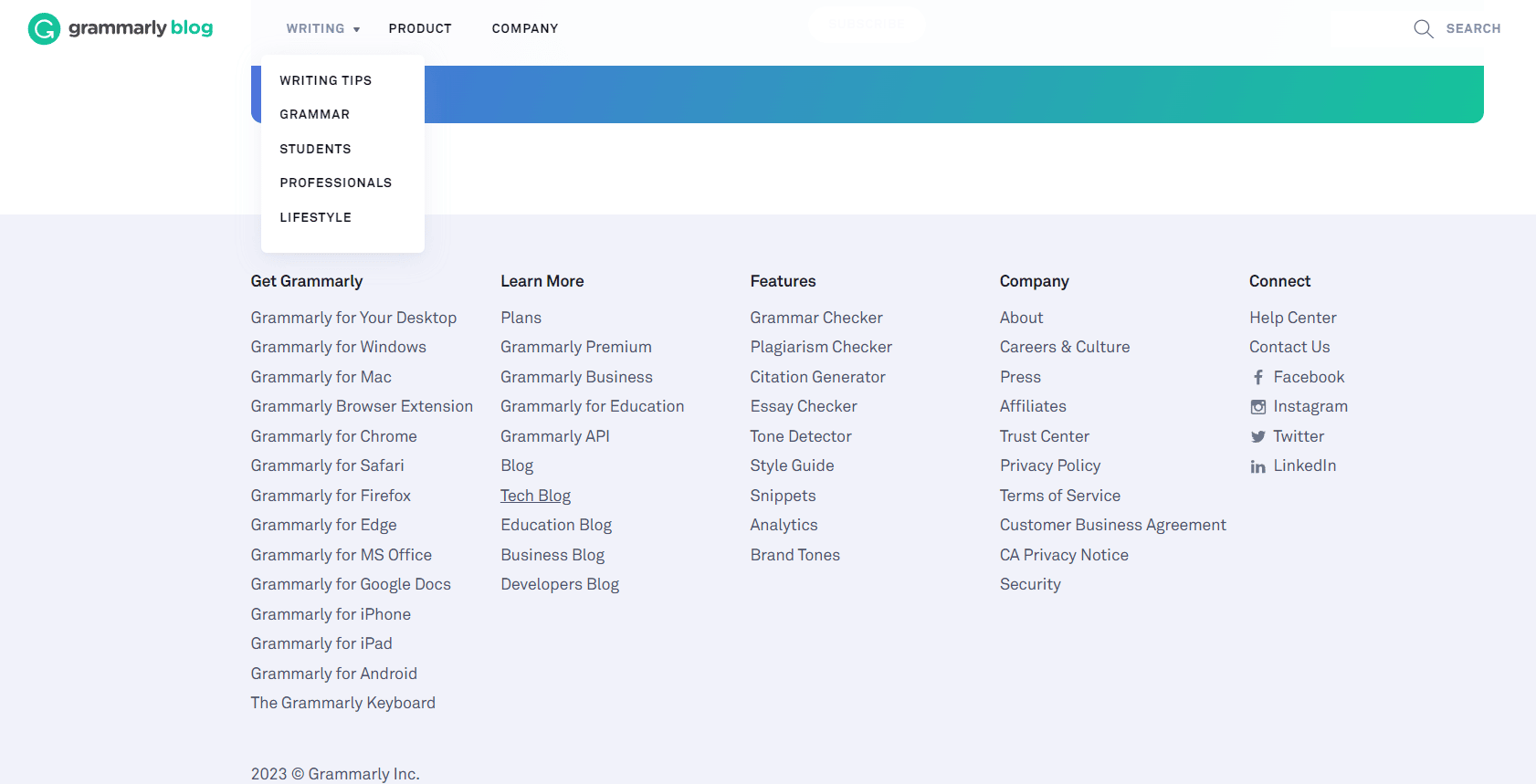 Students, marketers (content marketers, editors, and copywriters), and businesses are among them (with the logic that internal communications are more effective when the right words are used).

7) The Atlantic
The Atlantic is a multi-platform publisher and magazine based in the United States. It covers topics on politics, foreign policy, business and economics, culture and the arts, technology, and science.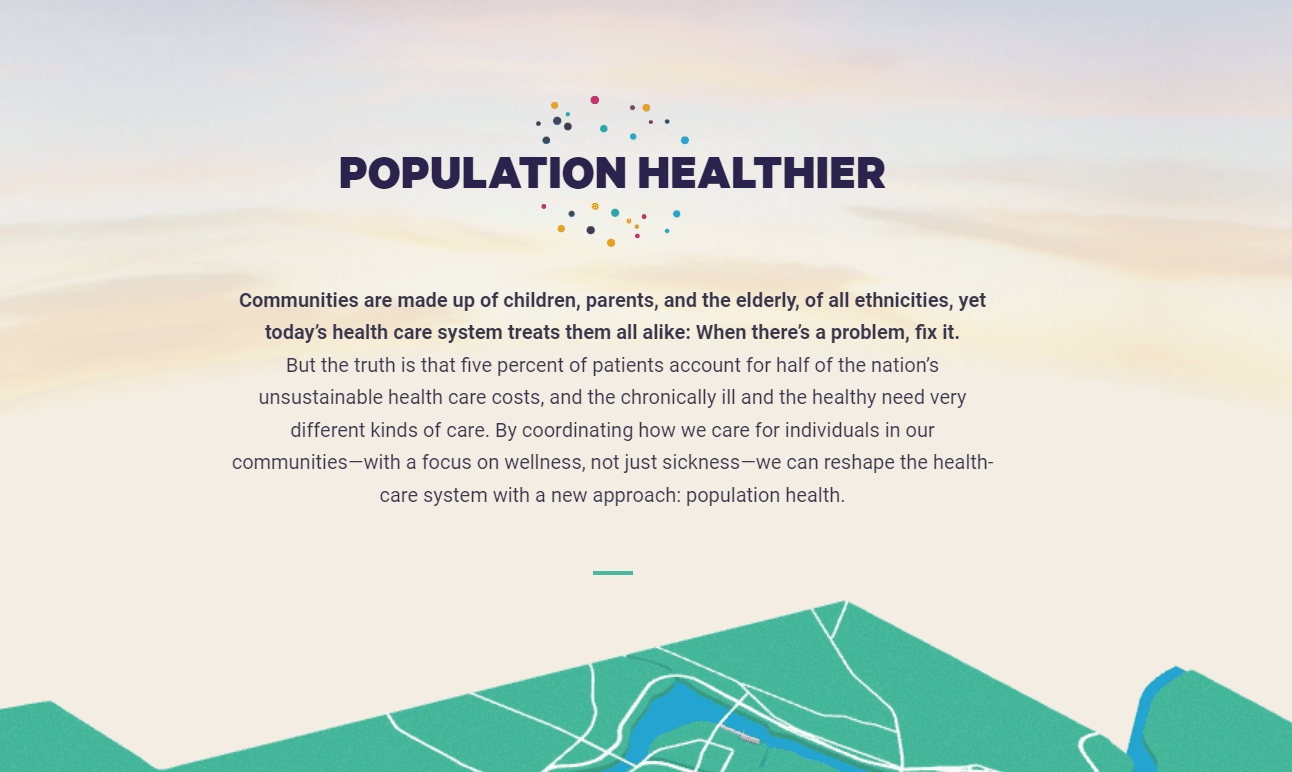 Pillar pages are also a great way to collaborate with a co-marketing partner to organize and generate sponsored content. To illustrate: The Atlantic collaborated with AthenaHealth to create a report (and pillar page) on healthcare in the United States.

8) SaaS DNA Project's Anatomy of a SaaS Marketing Site
The SaaS DNA Project conducts extensive research and education from SaaS professionals who are more knowledgeable about these topics than anyone else.

The Saas DNA project provides community-driven SaaS research, education, and data for free. Hiten Shah's product marketing strategy, The Anatomy of a SaaS Marketing Site, was developed over decades of launching startups such as Crazy Egg, Kissmetrics, and Quicksprout.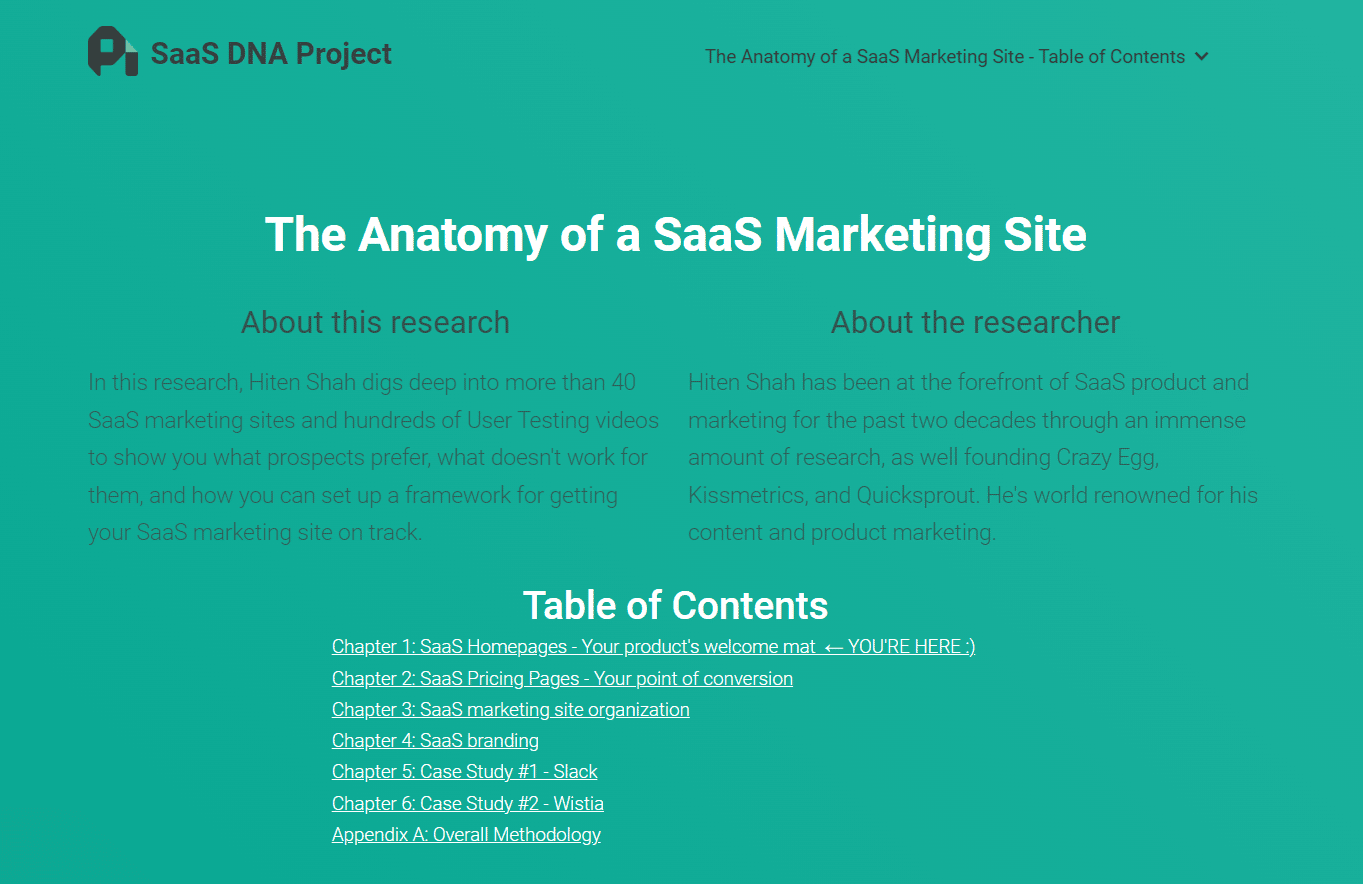 The page has a useful table of contents, an easy-to-navigate layout, and a persistent CTA that allows you to download a PDF version for your convenience.

9) Gather Content's Project Guide to UX Design And Content Strategy
Gather is a video chat platform that aims to humanize virtual interactions. Their mission is to provide opportunity and connection for everyone, regardless of location. They accomplish this by constructing the Metaverse, a virtual layer atop the physical world in which people can work, socialize and learn.

Gather Content saves the day by assisting teams in organizing, structuring, producing, managing, and migrating website content. This resource is intended to assist UX design professionals in preparing for the content challenge.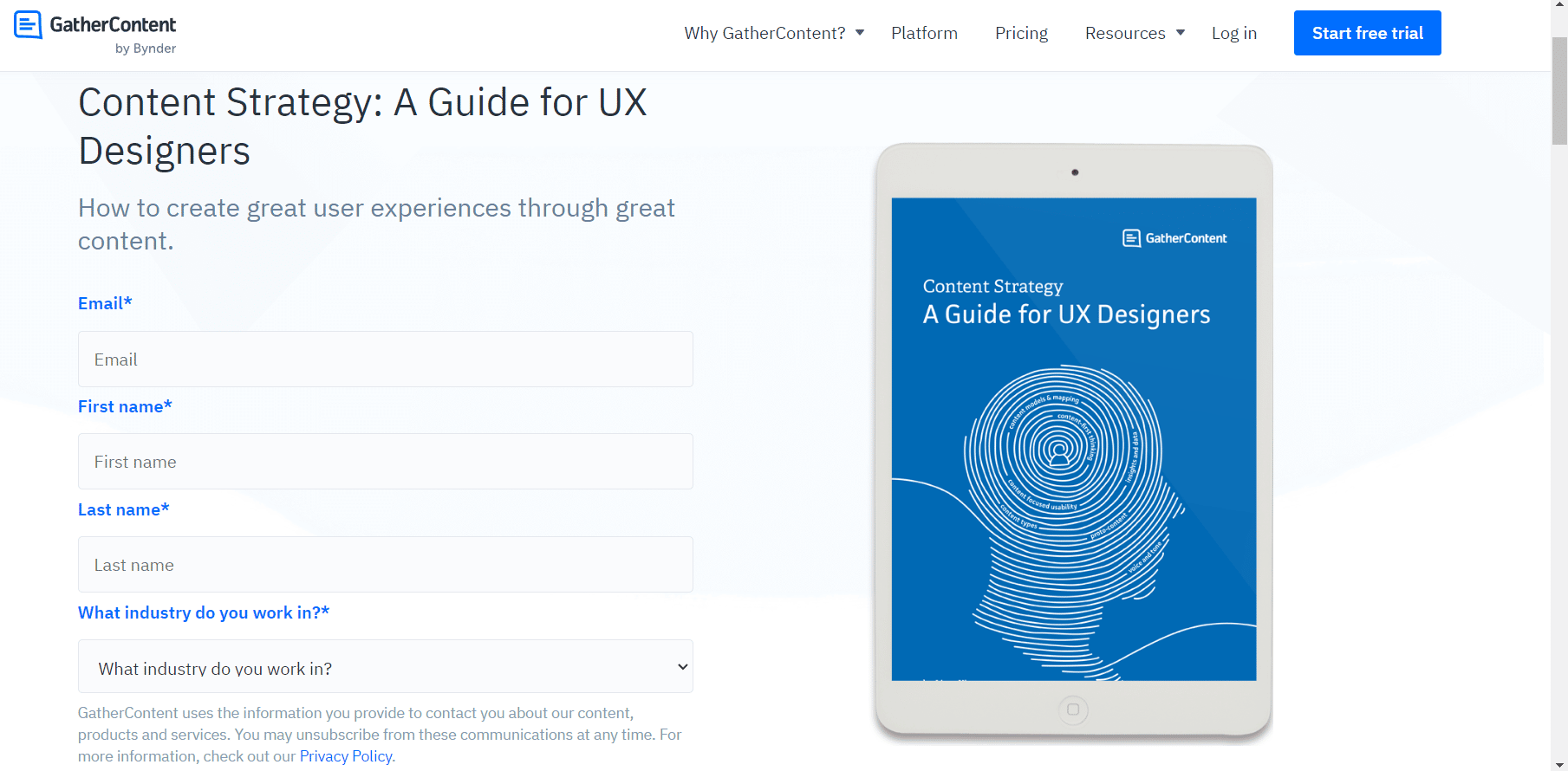 This content pillar page is excellent because you can download it.
Pillar pages are intended to be the headquarters for topics on which you intend to create a large amount of content, but they do not have to be solely SEO builders. They can also be lead generators, according to GatherContent's pillar page, which is shown above.
This content pillar page is a long, open document with subtopics about user experience (UX) design that can also be downloaded to your computer as a PDF.
For years, they have offered their comprehensive guides directly on their website, without a gate, while also providing a PDF version. This pillar has all of the characteristics of a good pillar page: good content, quick navigation, and all information displayed directly on the page.
3PL Central: State of the Third-Party Logistics Report
3PL Central is a warehouse management platform that uses the cloud to help businesses track tasks like inventory, billing, and shipping.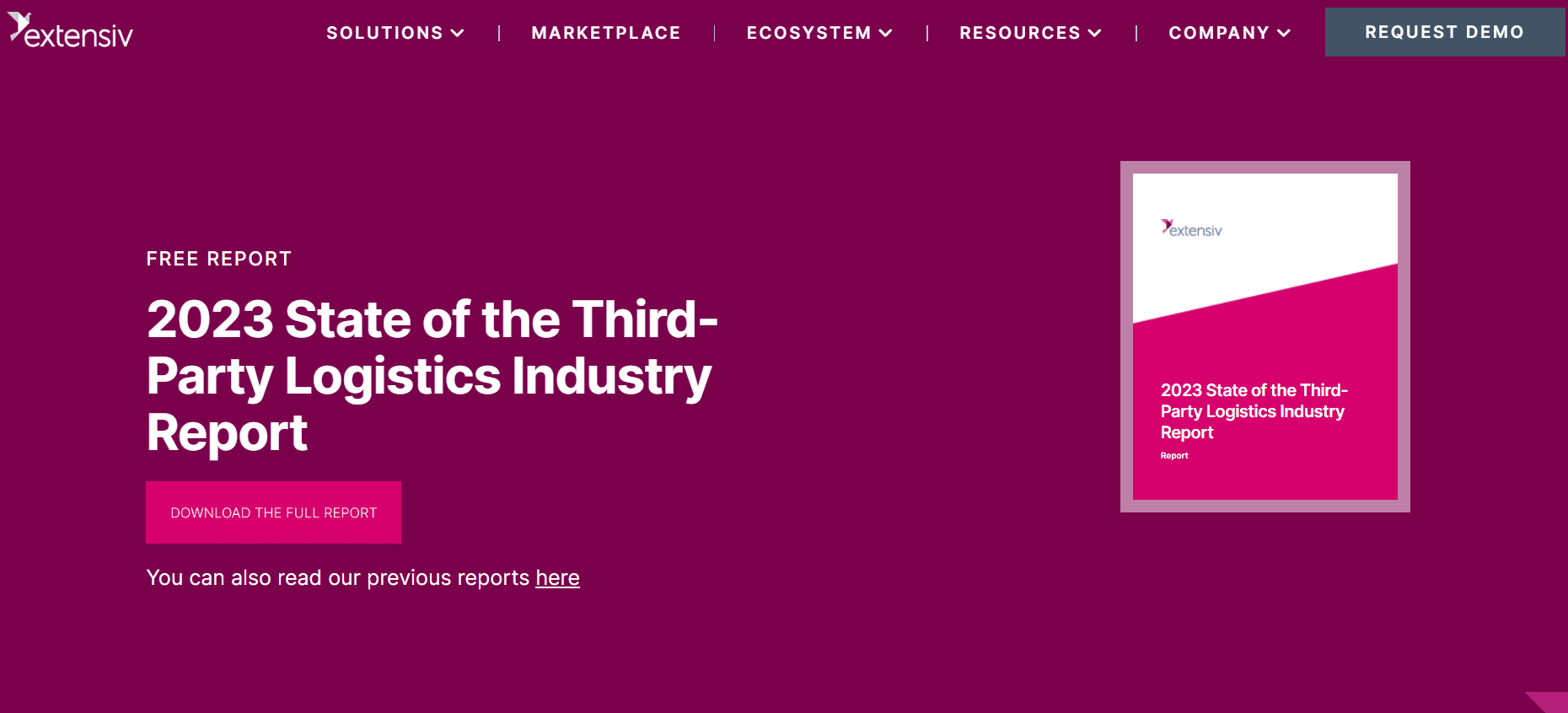 3PL's pillar content strategy works in two exciting ways.

1. It positions the pillar as a data resource that other publishers are more likely to link to, thereby increasing the number of backlinks critical to 3PL Central's organic search ranking.

2. It keeps potential customers up to date on the latest logistics and warehouse management challenges, thereby adding value to the product from multiple perspectives.
What Content Pillar examples can teach us:
It can be challenging to create engaging content pillars that surpass the competition and drive traffic to your brand's website. However, the benefits are countless once you understand exactly what your target audience is looking for and build a content pillar strategy based on those keywords and questions.