A successful SaaS company needs a good product-market fit and a winning go-to-market (GTM) strategy, along with a strong brand and plenty of qualified pipelines.
But to execute well in each of these key areas, you have to build a balanced marketing team. That means you need both corporate marketing and product marketing.
Does one or the other matter more for SaaS? And how can you measure the business impact?
In this article, we'll look at how product and corporate marketing complement one another and explore why branding could have a bigger impact than you might think on the long-term success of your SaaS.
Corporate Marketing: What is it and how do you measure it?
Corporate marketing promotes the SaaS company rather than specific products. Because corporate marketers establish the company's identity and messaging, this team tends to be closer to the brand.
What is corporate marketing responsible for?
In a typical SaaS company, corporate marketing owns branding. But think way beyond logos and taglines.
In addition to visual identity, SaaS branding requires a strategy for defining the brand's personality, fine-tuning the brand's story, and promoting the brand's values.
Most corporate marketers also handle general marketing communications. They oversee messaging for the company as a whole and ensure that it aligns with the brand.
So what's the end goal? For many corporate marketers, the ultimate aim is building brand equity—which involves creating positive customer sentiment around the company.
Although they focus on the company and its brand, corporate marketers collaborate across teams by supporting:
Product marketing, including executing the GTM strategy
Demand generation, including increasing brand awareness and building a pipeline
Which channels does corporate marketing leverage?
Ownership of marketing channels can vary quite a lot between SaaS companies. But in many cases, corporate marketing manages:
Social media channels like LinkedIn, Twitter, YouTube, and Facebook. These channels are great for improving brand awareness, building trust, and distributing content.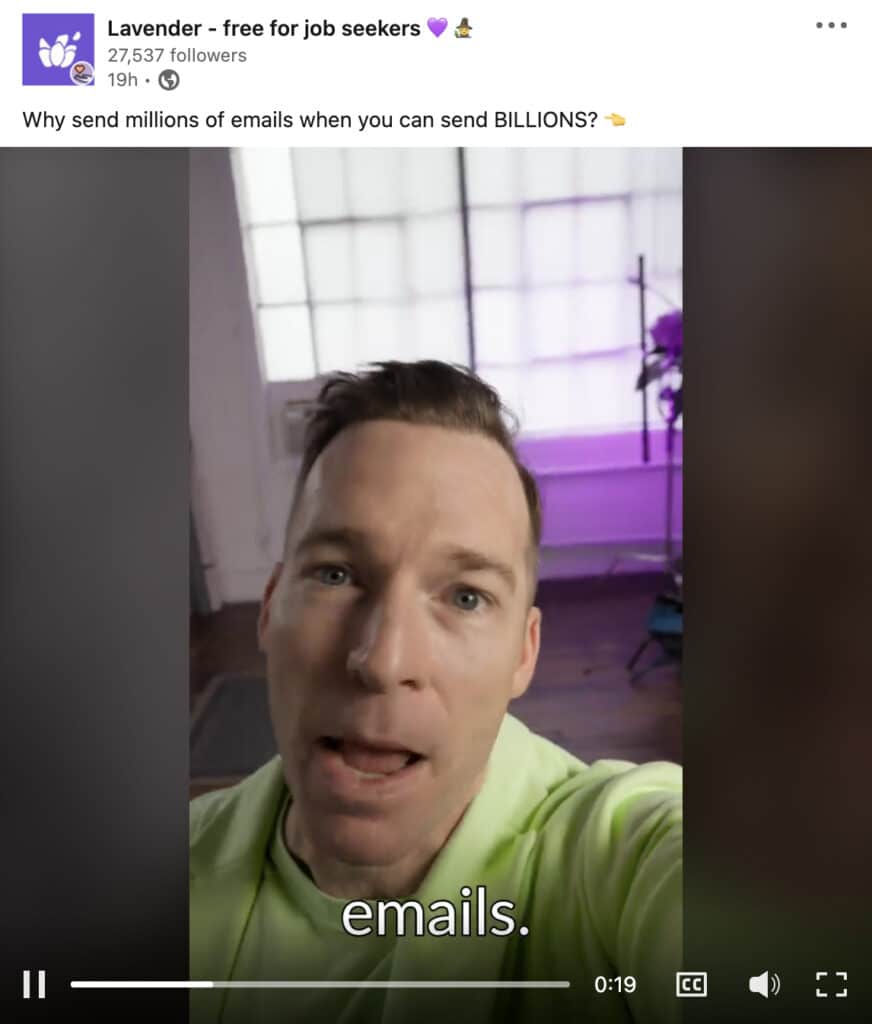 For example, Lavender uses the character Lavender Joe for corporate marketing campaigns on LinkedIn. The hapless character shows how not to send sales emails while establishing the AI sales email platform's brand personality as funny, knowledgeable, and supportive.
Digital advertising, which uses paid tactics to boost brand awareness and drive consideration on social media and search engine results pages.
Email, where corporate marketing can communicate with customer segments throughout the funnel. For example, Semrush profiles real users to bring the brand's identity to life and create connections with prospective customers.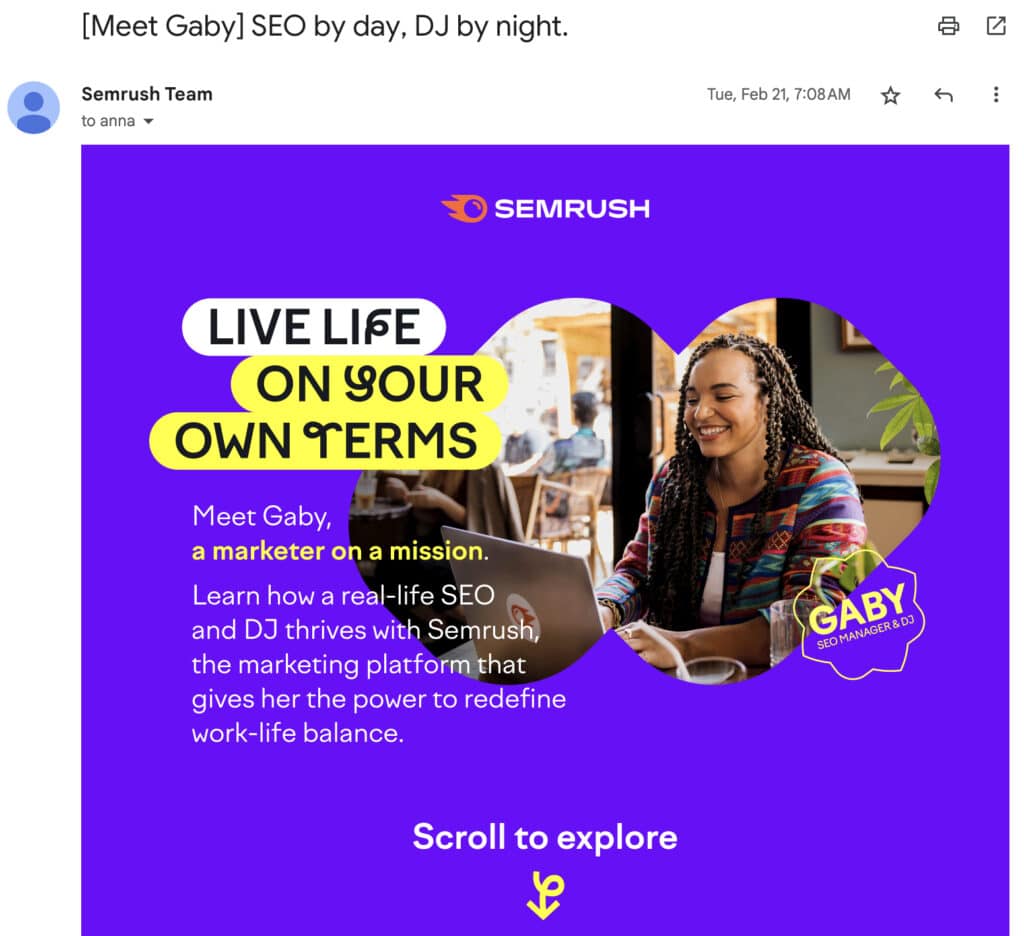 Content marketing, which maintains a consistent brand identity via blog posts, lead magnets, video marketing, and other formats. In many cases, product marketing shares this channel.
How do you measure the impact of corporate marketing?
Measuring corporate marketing can be challenging since it doesn't always lead to direct conversions. So how do you know the business impact?
Michal Leszczynski, Head of Content Marketing & Partnerships at GetResponse, explains how the email marketing SaaS measures success:
"For brand campaigns, we look at signups but also pay attention to general impressions, and the share of voice, and look out for any spikes in direct traffic.
While it's often hard to prove with data, I believe that strong branding impacts brand demand and its ability to generate leads and drive conversions.
With so many tools to choose from, online consumers need to narrow down their choice set to be able to make a purchasing decision. If you have a strong brand, it'll naturally appear in personal recommendations, online review sites, and marketing blogs. And these are often what consumers base their initial research on, when looking for a new solution."
That means over time, brand marketing can also increase average revenue per user (ARPU) and decrease customer acquisition cost (CAC)—which can have a substantial business impact.
Product Marketing: What is it and how do you measure it?
Product marketing promotes SaaS products rather than the company. Because product marketers focus on the audience and the product's value proposition, this team tends to be close to the buyer.
What is product marketing responsible for?
In most SaaS companies, product marketers own:
GTM strategy, including planning product launches and keeping products in the market
Product-market fit, including knowing the target market and validating the product
Buyer personas, which involve interviewing and getting to know customers
Messaging, positioning, and differentiation for product features and benefits (i.e., defining the unique selling proposition (USP))
For product marketers, the ultimate goal is tapping into the problems their audience struggles with—and educating them on how the product can help.
Like corporate marketers, product marketers collaborate across teams by supporting:
Product management, including working on product launches and roadmaps
Sales, including providing collateral and sales enablement materials
Customer success, including producing user enablement materials
Which channels does product marketing leverage?
On some SaaS marketing teams, the product might exclusively own the channels below. In other cases, the product team might collaborate with corporate and other teams. Email, which is great for sharing product updates and problem-solving resources. For example, NeuronWriter emails product updates highlighting the content editor platform's latest feature releases and demonstrating how to use them.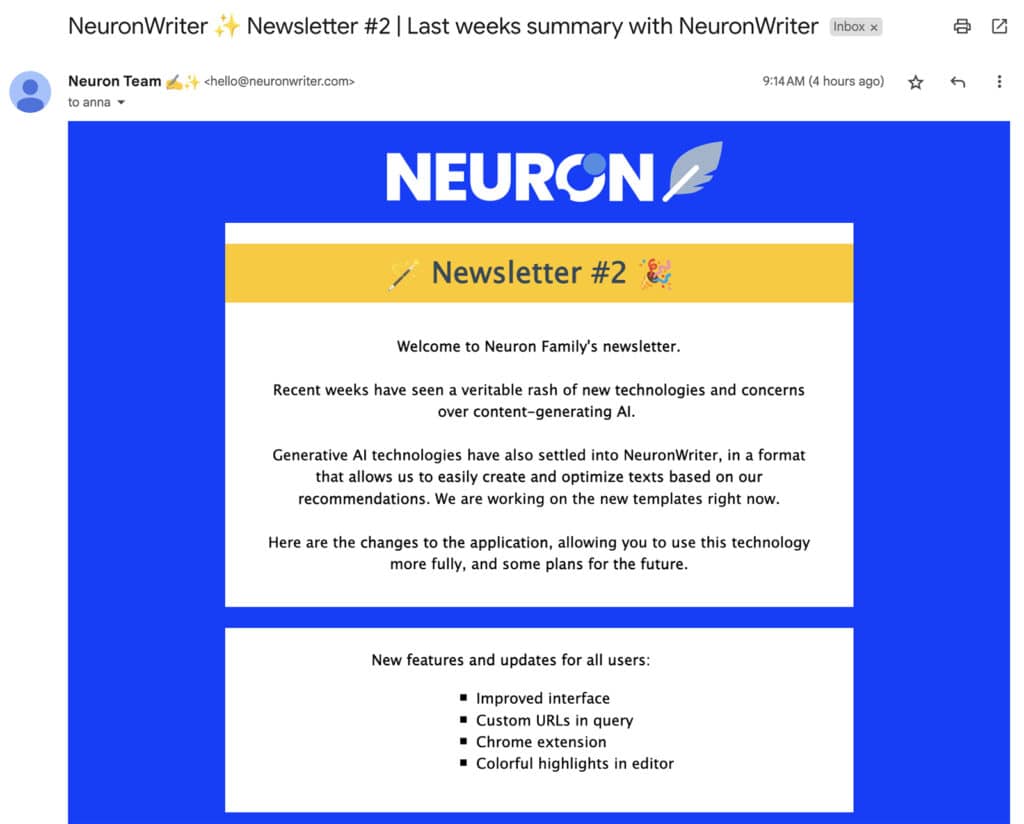 Content marketing, especially product-led content shows users how to solve problems with the SaaS product. A leader in product-led content, Ahrefs incorporates walkthroughs from the SEO platform into blog posts, showing users how to solve real problems.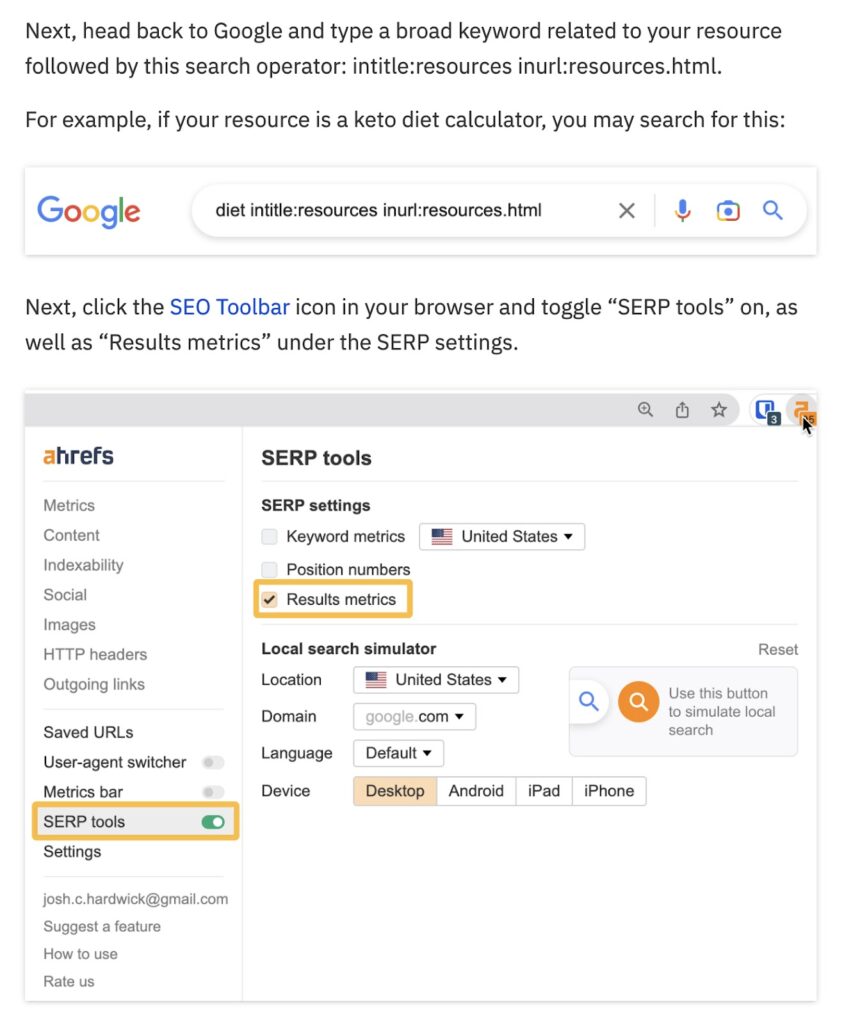 Website, including product pages as well as positioning and messaging across the site. In addition, product marketers often manage landing pages for product-led gated content.

For example, Breadcrumbs' product page calls out a key benefit of the revenue acceleration platform before diving into the many problems it solves for sales teams.

How do you measure the impact of product marketing?
In contrast to corporate marketing, measuring the business impact of product marketing tends to be much easier. That's because product-led campaigns often contribute directly to demos, free trials, and signups.
Michal Leszczynski explains that at GetResponse, "We typically look at signups and overall engagement for product-led content, which can come in various formats like blog articles, webinars, and video guides."
Use your north star metric (NSM) as a guide. For example, other SaaS metrics that product marketers can use to measure outcomes include:
Marketing qualified leads (MQLs) that result from product-led content
Monthly or annual recurring revenue (MRR or ARR) from those signups
Customer lifetime value (LTV) and CAC
Corporate Marketing vs. Product Marketing: Which matters more for SaaS?
That's an easy question to answer: both create substantial value for SaaS companies. But the ways corporate marketing and product marketing make an impact are quite different.
Let's look at the strengths of each so you can better align your SaaS marketing teams.
Product Marketing Drives Problem-Focused Organic Search
When you think of SaaS SEO, product marketing probably comes to mind first—and for good reason. Product marketing teams produce a lot of SEO-driven content around problems potential customers are searching for.
Product marketers use factors like search volume, business relevance, and competitor analysis to find the right topics to target and the ideal way to position the product. As a result, product-led content wins at problem-focused organic search.

For example, Respona ranks near the top of a search engine results page (SERP) for a query about SaaS link building. The linked guide includes a ton of actionable advice, including step-by-step instructions for using Respona's link-building platform to solve the problem.
Because product marketing often centers on revenue and lead generation, it's easy to assume that product-led content always aligns with the bottom of the funnel (BOFU).
However, that isn't always the case. The best product-led content marketing strategies include every funnel stage, ensuring that the content can reach prospects as they search for solutions throughout their buyer's journey.
Corporate Marketing Boosts Branded Search
As useful as product-led content is for informational and transactional search queries, it shouldn't overshadow the role corporate marketing plays in organic search—particularly navigational search queries.
Naturally, you're not going to get a lot of navigational queries unless your corporate marketing team is successfully building the brand and getting customers, prospects, and industry influencers to talk about it.
Once you've implemented successful branding and marketing, prospects may search for your SaaS after hearing about it on social media, via PPC ads, in forums, or on review sites.
The quality of your brand SERP has a direct effect on how prospects perceive your brand and what they do next—either click away in disinterest or click through to explore more.
If your SaaS doesn't rank at the top of its own brand SERP, you might have a hard time appearing credible. Yet a standout brand SERP should leverage much more than the top search result. Ideally, it will also display relevant sitelinks to your blog and product pages.
Look beyond your owned links too. The most trustworthy brand SERPs include knowledge panels, people also ask (PAA) questions that reference your site and other relevant results like your social media pages or your G2 reviews.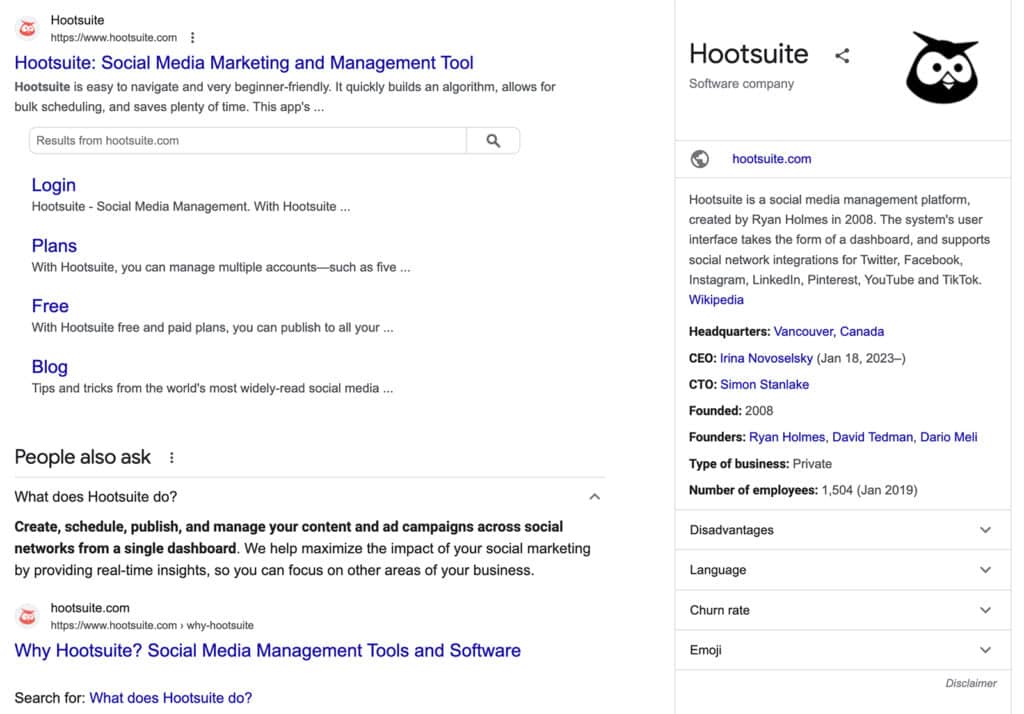 For example, the Hootsuite brand SERP features a branded search result with useful sitelinks, a detailed knowledge panel, several PAA questions that reference the social media marketing platform's website, and links to the brand's social media channels.
How do you know if your branded search efforts are succeeding? Jason Barnard, CEO and Founder at Kalicube explain:
"Measuring the ROI of brand SERP optimization is a challenge since, by its nature, the process of improving your brand SERP improves every aspect of your digital marketing strategy."
Jason recommends using a combination of direct and indirect metrics.
For direct metrics:
"1. The conversion rate from your owned website pages [including sitelinks] that rank on your brand SERP. At Kalicube we saw a 20% uplift when we identified, optimized, and tracked these pages.
2. Brand search volume. As you improve your Brand SERP you necessarily improve your brand's visibility on all relevant platforms, which drives brand recognition, which in turn drives branded search volume (which drives sales). At Kalicube we saw a 40% year-on-year increase in brand search volume."
For Indirect metrics:
"1. Engagement on the social channels that rank on your brand SERP (likes, shares, comments, etc.).
2. The presence (or not) of a knowledge panel. In the new entity-based SEO epoch, a knowledge panel represents Google's understanding of who you are, what you offer, and which audience you serve. If Google doesn't understand that, it cannot fulfill its fundamental role: recommend you as the best solution to its user's problem."
Product Marketing Can Reduce Churn
Product marketing is well-known for its alignment with revenue. Yet a great product-led content strategy can drive results way beyond lead generation and customer acquisition.
Product-led content that helps customers get more from their investment and that builds on the initial value proposition can increase retention (i.e., LTV) and reduce churn rate.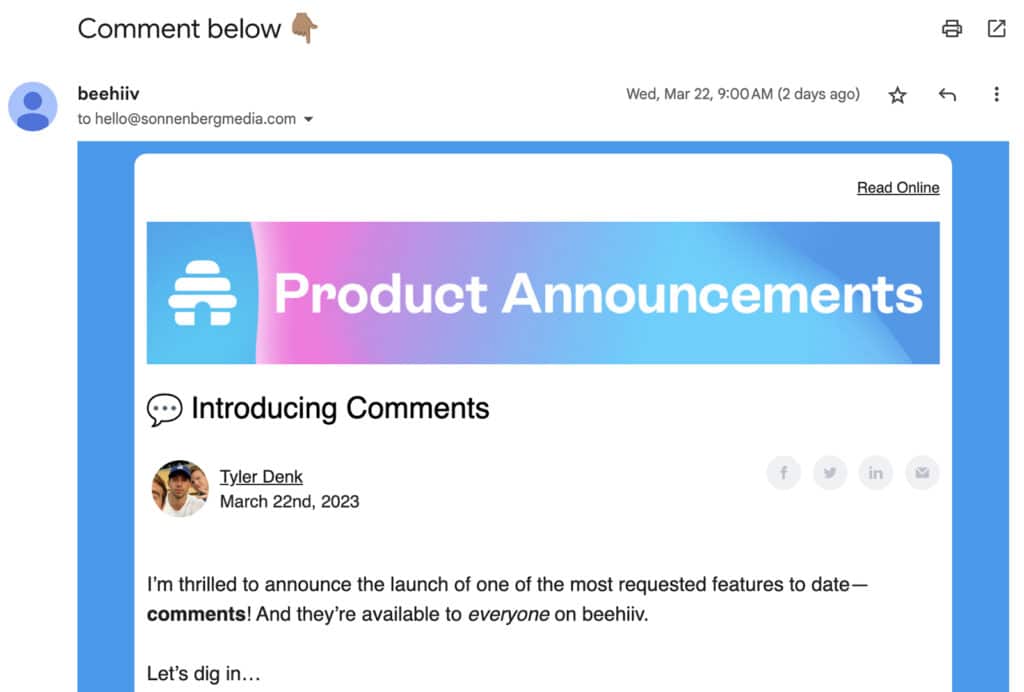 For example, beehiiv updates customers on the newsletter platform's frequent feature releases via product update emails. By educating subscribers on these new features, the product marketing team can tackle both churn and LTV.
Corporate Marketing Creates a Foundation for Long-Term Success
Since SaaS marketing tends to be performance-driven, product marketers are sometimes preferred over corporate marketers, especially in the early stage. But this is an error.
Corporate marketing is incredibly important for purchasing decisions. Since branding can make your SaaS look bigger and more credible, it can help you overcome early objections.
Over time, you can continue to build out your brand, establish brand equity, and acquire a dedicated fan base—whom you can convert when the time is right. Eventually, a brand can even affect your SaaS valuation, which is crucial for long-term success.
Product and Corporate Marketing Can Address Commoditization Concerns
As we move toward an AI-first world, it's essential to consider how this tech might affect SEO, content, and other SaaS marketing channels. It's likely that SEO will be hugely affected, resulting in drastically reduced website traffic.
Product marketing can respond to this concern by resisting low-quality generative content—and instead leaning into unique, high-quality content that uses first-hand experience with the product, first-party data, and subject matter expertise to stand out.
Corporate marketing can address this concern by amplifying their branding efforts. As prospects move away from searches and toward AI queries, strong branding may have a positive effect on AI responses.
Gwen Lafage, VP of Brand and Content at Sinch, explains:
"Building a strong brand is a way to differentiate when products are commoditized or features are very similar. With AI it will be even more important to make sure your brand and your content are unique because content will be commoditized more and more.
Brands will need to bring their personality, their stories, their point of view into their content, even more, to differentiate from AI-generated content."
Final Thoughts on Product vs. Corporate Marketing
When you're building a SaaS company, it's tempting to prioritize short-term growth and quick wins. However, you need strategic planning and long-term growth to build staying power—which can lead to much greater success over time.
Ultimately, a successful SaaS company needs both product and corporate marketing. By aligning both with your NSM, you can leverage the advantages of each and position your SaaS for the next stage of growth.