Check the keyword difficulty score for common search terms in your SaaS category, and you're likely to find some impossibly high numbers. SaaS SEO isn't easy, but it's not hard to understand why.
Recent figures reflect about 30,000 SaaS companies worldwide. If each spends around 10% of annual recurring revenue (ARR) on marketing, that equals a lot of competition in a relatively small space.
So how can SaaS companies successfully execute SEO and avoid wasting valuable marketing spend?
In this guide to SaaS SEO, I'll break down why search engine optimization is crucial for SaaS and walk you through how to build an SEO strategy that helps your business stand out against the competition and the flood of AI-generated content.
Why is SaaS SEO so important?
SaaS SEO is about using the right search terms to reach the right prospects at the right time in their buyer's journey. Optimizing content for search can give your SaaS a huge competitive advantage.
It attracts prospects to your funnel, guides them toward more efficient conversion, and ultimately lowers your customer acquisition cost (CAC).
With a robust SEO strategy, your website can build domain-level authority, and your best content can climb to the top of relevant search engine results pages (SERPs).
But there's a catch. SEO is a long-term tactic that won't pay off right away.
Wouldn't it be quicker to invest in pay-per-click (PPC) ads so you can skyrocket to the top of relevant SERPs? Sure, paid search can get you in front of your target audience faster.
Yet the downside of paid search is that at any moment, any competitor can raise more money and outbid you in the ad auction.
Overnight, your impression share could plummet while your cost per click (CPC) surges. In most cases, your only course of action would be to increase your bid or budget.
Compared to paid search, SEO takes much longer. But that can be a good thing.
Even if competitors have more resources, they can't outrank your content instantly. Before you lose significant ground, you have time to react and adapt your strategy.
When should SaaS companies start with SEO?
In general, SEO takes 3 to 6 months to make an impact. Since it doesn't create traction immediately, a startup SaaS may not consider SEO a priority in the early days.
But as a rule, it's in your best interest to start implementing a SaaS SEO strategy as early as possible. Over time, you can use SEO to build authority.
Then, when you find product-market fit and customers start purchasing and talking about your SaaS, you can benefit from the results of your SEO strategy.
How to Build a Successful SaaS SEO Strategy
So how can you use SEO to your advantage? Here's your step-by-step guide to building a SaaS SEO strategy.
1. Start with customer research
In many verticals, you'd jump right into keyword research. But SEO for SaaS is a little different.
Begin by tapping into the voice of the customer (VoC). Survey users directly or analyze their conversations with your sales or customer success teams.
Use G2 reviews to dig deeper into your ideal customer profile (ICP) and get topic ideas. John Ozuysal, Founder of House of Growth and Datapad, suggests using competitors' G2 reviews to zero in on high-intent topics.
Startups with existing customer bases can cross-check these topic ideas against interviews with champion users. But for early-stage startups without a much active user base, John recommends consulting with the founding team to prioritize topics.
2. Do keyword research
Now you have some idea of the questions customers are asking and the queries they're using to search for information. Use this data to guide your keyword research.
Choose an SEO tool and start researching relevant keywords and topics. Pay close attention to search volume and keyword difficulty.

Ideally, you want to create content for keywords that have sufficient search volume and relatively low keyword difficulty. But sometimes it makes sense to compromise.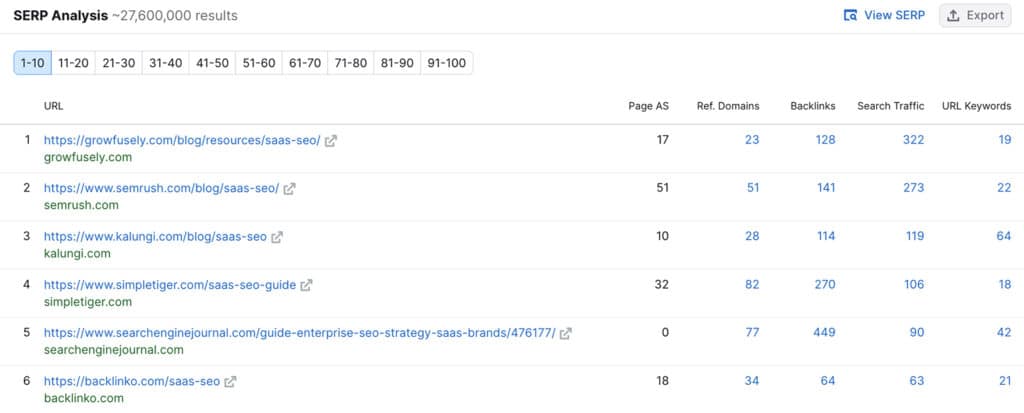 For example, in some cases, keyword difficulty might look low. But if the top-ranking pages all come from sites like HubSpot and Salesforce, the competition is going to be tougher than it seems. Check the SERP analysis to review top-ranking pages.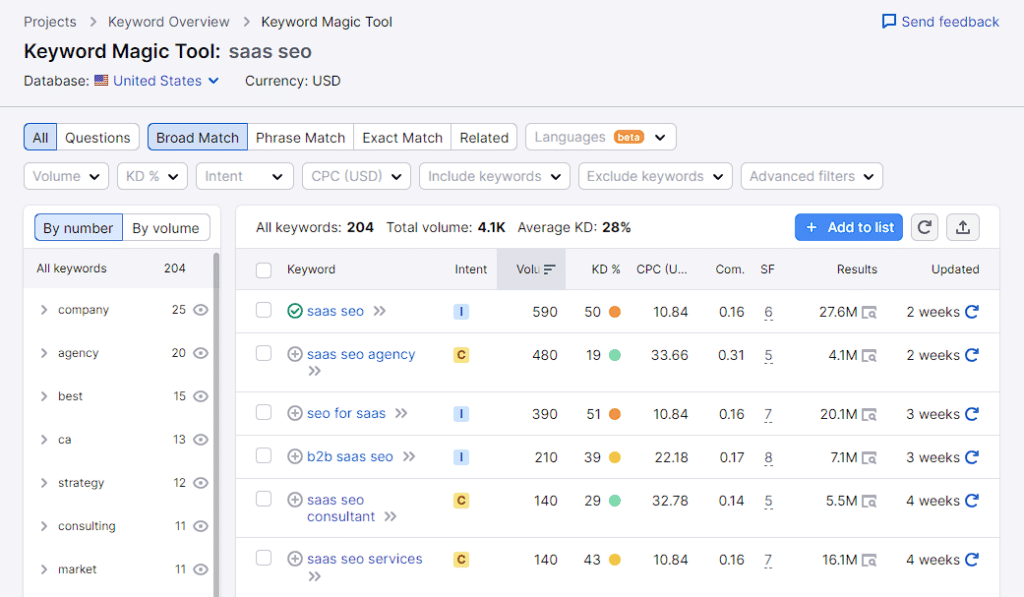 To find adjacent keywords that might be easier to rank for, check your SEO tool. For example, Semrush's Keyword Magic tool offers alternative keyword ideas and related questions that you can cross-check against your customer research.
3. Conduct a competitor analysis
To establish domain or topical authority, you need great SaaS content that appeals to customers and ranks on SERPs. But SaaS content marketing doesn't happen in a vacuum.
That's why the next step is analyzing the keywords your competitors rank for. Use your SEO tool to dive into competitors' keyword portfolios and identify their top organic keywords.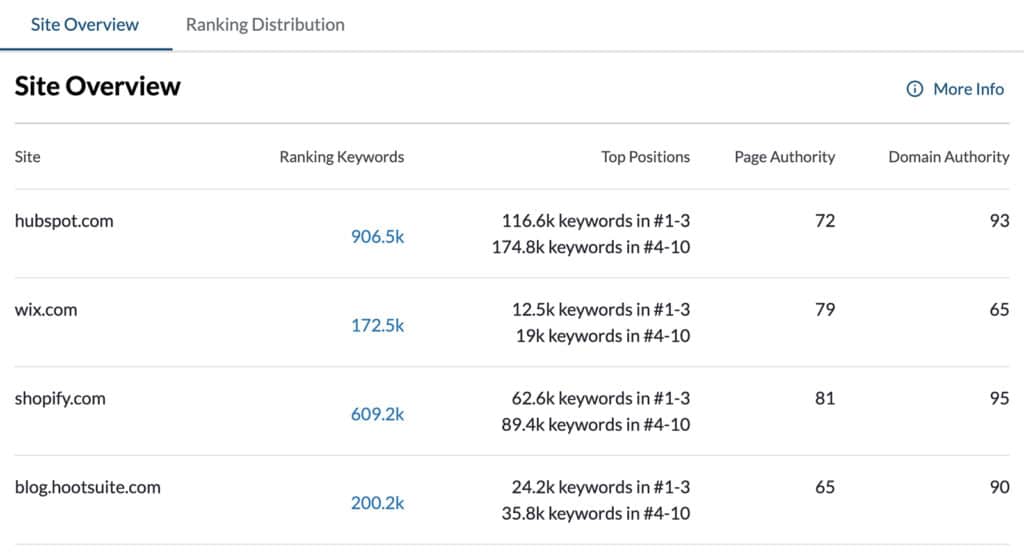 For example, Moz's Competitive Research tool compares your site against the competition (based on ranking keywords) and uses this data to highlight keywords you can improve.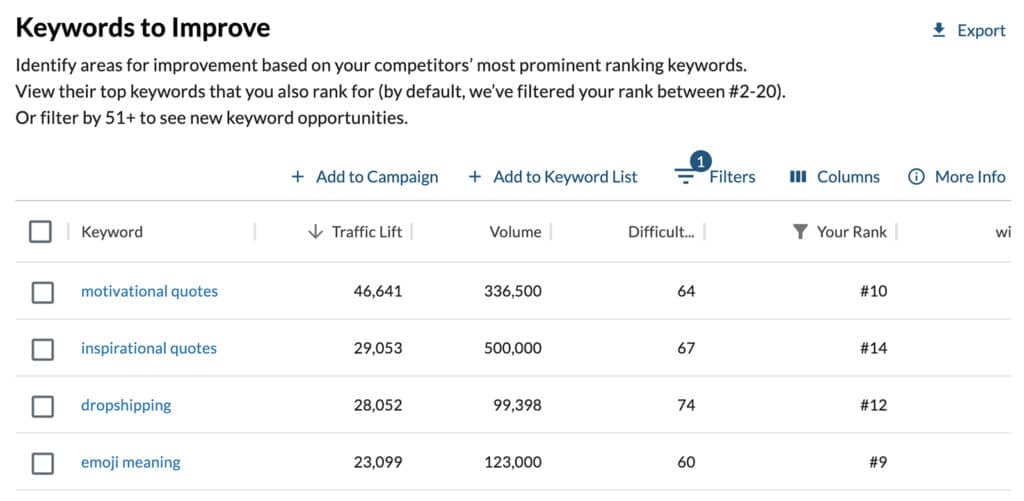 Should you go after the exact same keywords your competitors are targeting? Not necessarily. In most cases, only a percentage of your keyword portfolios will overlap.
But checking in on your competitors can give you new ideas and help you avoid missing obvious opportunities.
4. Map keywords across the funnel
As you add keywords to your list, make note of the search intent for each. For example, your keywords might have an informational, navigational, investigational, or commercial intent.
When you know why people are searching, you can map keywords to the right funnel stage. Then you can ensure you have the right mix of content throughout the funnel.
Not every SaaS needs the same mix of TOFU, MOFU, and BOFU content:
A self-service SaaS is likely to need more organic search traffic, which means TOFU content should be a priority.
An enterprise SaaS needs to focus on BOFU keywords for the ICP, even if the search volume is extremely low.
If your niche keywords have a particularly low search volume, expand your focus to include adjacent topics with higher search volume. That way you can continue to attract prospects to your funnel while using long-tail keywords to create high-value, targeted BOFU content.
For example, Breadcrumbs targets lead-scoring keywords that are very niche. To attract the ICP, the content team creates adjacent to content that's relevant to revenue ops, CROs, and CMOs.
Should you focus more on opportunity or search volume? John Ozuysal weighs in:
"We need to be realistic, so I would try to prioritize the opportunity. I think volume is nothing when you are writing about a high-intent topic. We need to make sure that you go after a topic that you can rank for.
I personally score every topic for business relevancy before writing.
Our product is relevant to the topic, but the product can only be mentioned lightly
Product solves this problem but is not the only solution
Product is the best solution, and should definitely educate readers about the product in this article
I prioritize topics that score 3 first and move my way down."
5. Audit existing SaaS content
If you're just getting started with SaaS SEO and content strategy, you can skip this step. But if you already have a content library, it's critical to audit what you've published.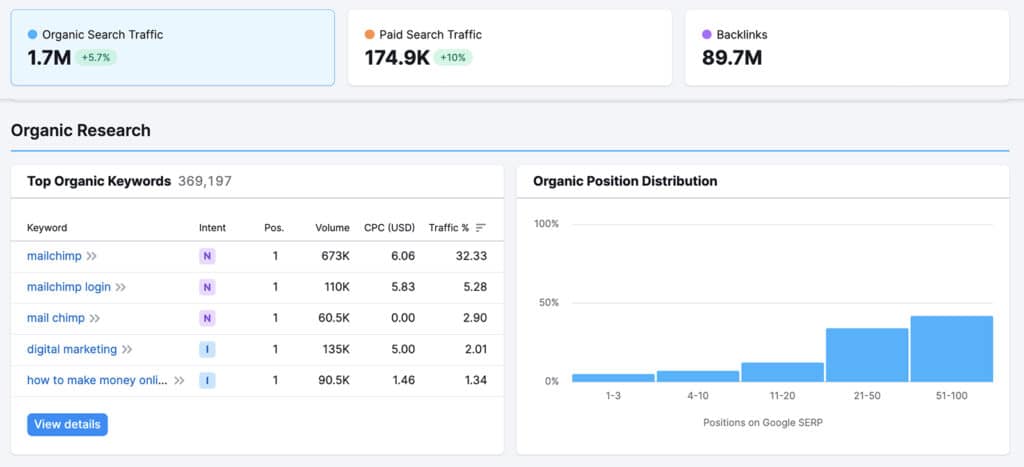 Begin by charting all your content, including the title, primary keyword, ranking, search volume, and search intent. You can get a list of all these metrics from any SEO tool. But it's helpful to export the list to a tool like Airtable so you can play with the data.
Then consider a few questions:
How well does your content address relevant funnel stages? Does one or more funnel stages need better coverage?
Does any of your content need rewriting? Most SEO tools can identify outdated content or highlight articles that you could combine for better results.
Do you see any content gaps or key topics that you haven't covered at all? With an SEO tool, you can use competitive research to identify keyword gaps.

6. Content pillars vs. topic clusters: know where to focus
To establish topical authority, you need to demonstrate expertise and trustworthiness. One way to achieve this is by publishing high-value content and thought leadership over time.
But you don't necessarily need years to earn topical authority. Building a SaaS SEO strategy around content pillars and topic clusters is a much faster and more effective approach.
So which should you prioritize?
Content pillars are important for topical authority, but they're quickly becoming out of reach for many content marketers. To create and rank pillar pages for many popular topics, you may have to commit to producing articles with 6,000+ word counts.
Topic clusters are a more realistic option for many SaaS companies, and they may be more effective in the long run. With topic clusters, you don't need encyclopedic articles.
Instead, topic clusters focus on covering all possible angles of your industry with a lot of helpful content that interlinks across the site.
7. Create product-led content
Now it's time to put your research to work and create content that tackles the keywords, addresses the customer questions, and covers the content gaps that you identified.
For SaaS companies, product-led content typically creates the most value. With product-led content, you can publish genuinely helpful articles that naturally position your SaaS as the solution to customer problems.
Short on ideas for framing your product-led content? Bernard Huang, Co-founder of Clearscope, cautions against creating purely historical or factual content, which has diminishing returns.
Instead, he recommends using what he calls Search Perspective Frameworks, which pinpoint what searchers want to know at different stages of the topic lifecycle.
For example, are searchers approaching your topic from a contrarian or an expert perspective? When you know where they're coming from, you can create content with an angle that's more likely to resonate.
Keep in mind that some of the most effective product-led content includes more than just copy. Video content—particularly short-form video—is increasingly taking up prime SERP real estate.
With high-quality creative assets, you can give your content additional opportunities to rank. You can also use these assets to distribute SaaS content across marketing channels, which can scale reach exponentially.
8. Leverage first-hand experience
When you create SEO-driven content, it's easy to get wrapped up in outdoing the competition. You might be tempted to position your content as the most comprehensive by simply consolidating all the information that the top 10 ranking pages already cover.
When you want to outrank the competition, it's often necessary to cover certain topics and keywords. But repeating information that's already out there isn't going to provide value to your readers or help your site build topical authority.
Instead, take a cue from Google's E-E-A-T guidelines, which rolled out in December 2022. The extra E stands for Experience, which means that first-hand experience can help your content rank.
SaaS companies have tons of opportunities to leverage first-hand experience:
Startups can get founders directly involved in content creation. They have unique insight into the product they're building, which adds depth and value to the content.
SaaS founders at any stage can create product-led thought leadership. By voicing strong opinions, they can establish a clear point of view that attracts views and links.
SaaS companies have access to product data that they can use to create unique content. For example, AdEspresso has used this tactic to attract thousands of links organically.
9. Outperform AI
AI tools are positioned to disrupt the SEO and content industries in a major way. Many of the potential outcomes are still completely unknown since these tools are actively being developed.
But it's already clear that AI writing tools can help any content marketer churn out mediocre, unoriginal content at scale. It might rank temporarily, but it's not going to help your SaaS or your customers in the long run.
Instead, it's crucial for SaaS companies to lean into a really unique content. Use the tips above to create a workflow that leverages search perspectives, first-hand experience, and product data.
Master this process now, and you'll be able to compete with the low-quality Ai-generated content that the competition produces using minimal effort.
10. Build backlinks
Writing top-tier content can help you make a lot of progress toward ranking at the top of relevant SERPs. Backlinks can help you with the final stretch.
How can you attract links and build a healthy backlink portfolio? Use these ideas:
Create completely unique content that's packed with first-party data to attract links naturally.
Identify guest posting opportunities and publish backlinks on sites that your ICP is likely to visit.
Hire a dedicated agency to implement an outreach strategy that builds backlinks on your behalf.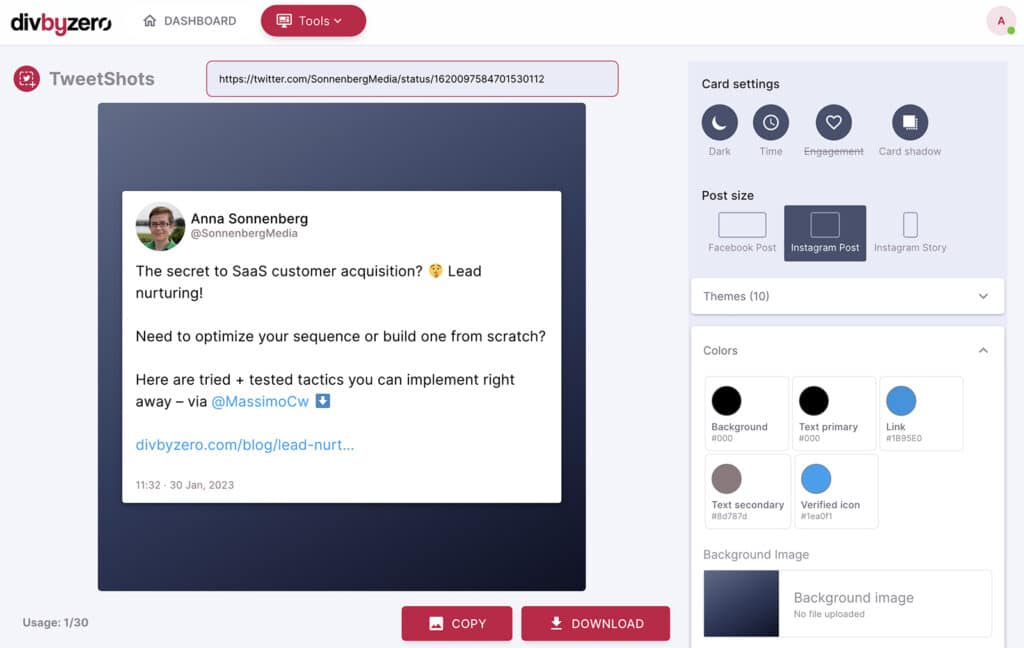 SaaS companies have another powerful option for generating backlinks. DivByZero hosts ZeroBlur and TweetShots (pictured above), which are free tools designed to generate traffic and attract links.
11. Fine-tune technical SEO
For most SaaS businesses, content is the main focus for SEO. Yet technical SEO can also have a significant impact on your efforts.

Start by doing regular site audits to identify areas for improvement and resolve issues before they escalate. For example, Ahrefs' Site Audit tool finds technical and on-page SEO issues, giving you a to-do list of action items.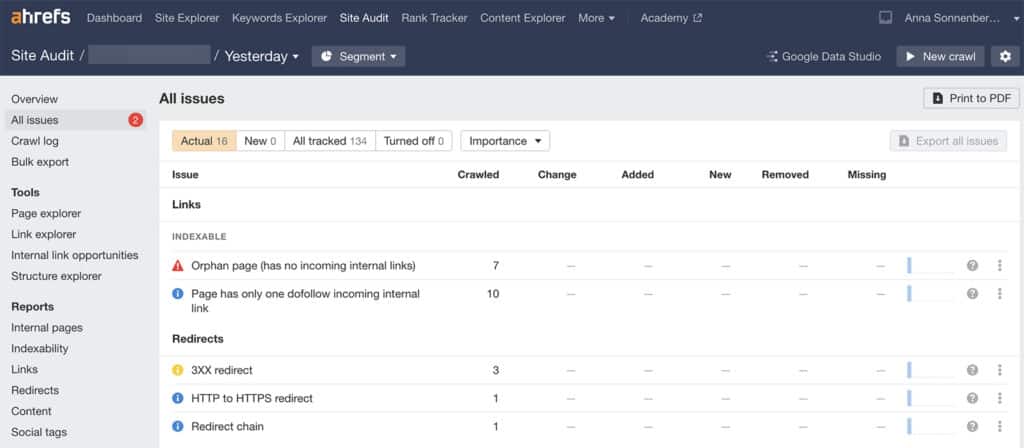 Patrick Stox, Technical SEO and Product Advisor at Ahrefs, recommends not overthinking your tech stack. He explains:
"Keep your setup simple and go with proven stacks. I know SaaS companies are good at building things, but you don't need to reinvent the wheel and solve problems that have been solved multiple times already."
As your company inevitably evolves, use technical SEO best practices to maintain a healthy SaaS website and retain the authority you've built.
Patrick recommends: "Make sure you do redirects when you inevitably change your website structure. Also carefully map them during any mergers and acquisitions."
12. Measure SaaS SEO metrics
How is your SEO strategy performing? Use an SEO tool to track your keyword portfolio and measure performance against competitors.
Then use Google Analytics to measure engagement and conversion metrics. Bernard Huang explains:
"Content upsell / content upgrade conversions would be a good sign that your content is meeting the needs of searchers. Other (higher level) metrics include bounce rate and time on page."
Although tracking conversions and attributing sales can get complicated for SaaS businesses, you can start by setting up a simple lead generation event in Google Analytics. If you set a value parameter, you can more easily calculate the ROI of your SEO strategy.
Final Thoughts on SaaS SEO
SaaS SEO might not be easy. But with a robust SEO strategy and truly unique content, you can build authority, drive growth, and reduce CAC sustainably—without buying ads.