As generative search transforms SERPs and organic distribution channels become increasingly competitive, SaaS marketers need a tactic for creating content that stands out.
Telling data-led stories provides unique value for customers while giving content an exclusive edge that competitors can't replicate. For SaaS companies, this approach works particularly well.
Because SaaS products often generate first-party data, you might not have to look far to find a reliable source. But even if you don't have platform data to draw on, you still have solid options.
In this guide to data-driven content marketing, we'll cover everything you need to map out a strategy—including goals to target, types of content to publish, and a workflow to help you get started.
Why SaaS Companies Should Prioritize Data-Driven Content Marketing
How can data-led content help you achieve key marketing goals? Here are five ways SaaS businesses can leverage this type of content.
Brand equity
Building brand equity in a crowded SaaS category isn't easy. One solution is finding a way to address a specific customer need by sharing data that no one else has. When Metadata published its first B2B Paid Social Benchmarks report, the marketing OS was looking for a way to differentiate. Mark Huber, Head of Brand & Product Marketing at Metadata, shares that initially, "We really didn't have a lot of name recognition or authority in the space. We wanted to show people that we do have a lot of customers that are spending a lot with us—and look at the performance they can get."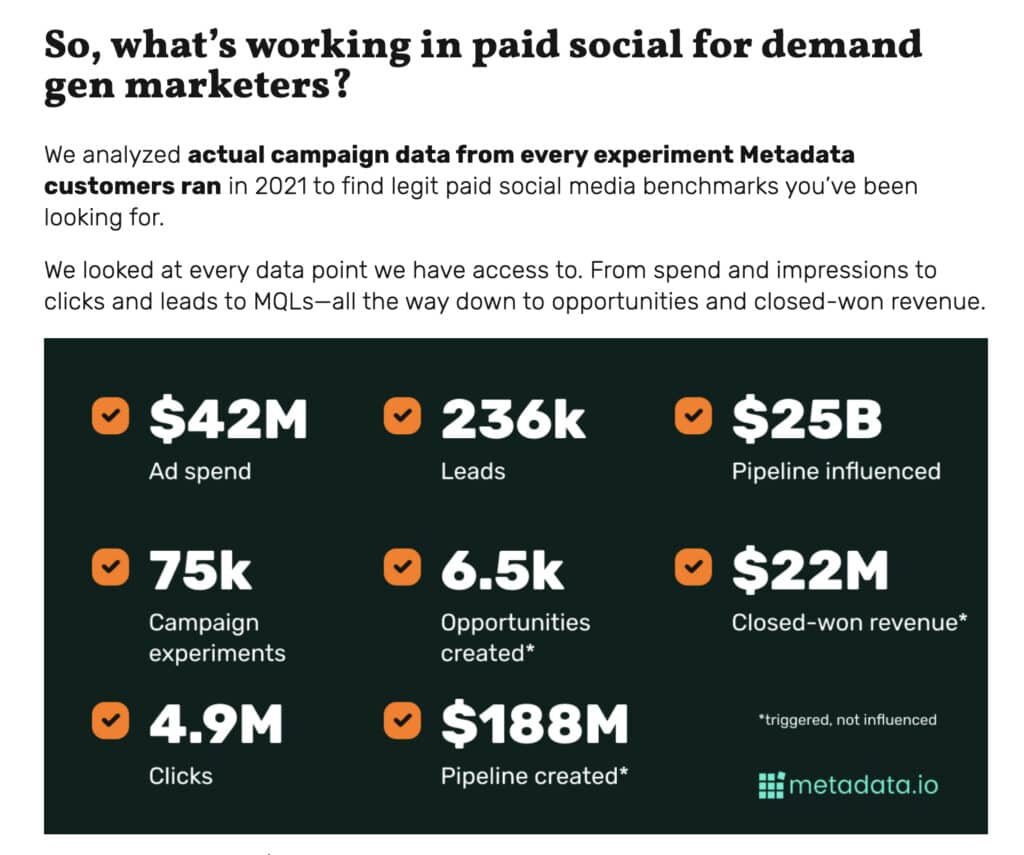 Mark's team was inspired by the revenue intelligence platform Gong, which publishes benchmarks for sales professionals. He explains that Metadata saw a similar information gap for B2B and demand generation marketers. "We wanted to put our own spin on it and use our own platform data (anonymized) to create data-driven content—and then create the types of benchmarks that us demand gen marketers are always looking for."
Topical authority
Is there a lot of search volume around benchmarks for your industry? Aim to establish topical authority while addressing the information gap.
Sam Cook, Senior Content Manager and Employee Engagement Researcher at MentorcliQ took this approach when developing the platform's Mentoring Impact Report. He explains: "The primary goal of this report was topical authority and honestly, to give ourselves better data to work with as we write content in our niche."
Sam continues: "Prior to writing the report, we (and everyone else in our niche) regularly referenced some very outdated stats on the mentoring landscape at the F500. I don't like using outdated data as it lacks credibility, so I set out to update that data myself."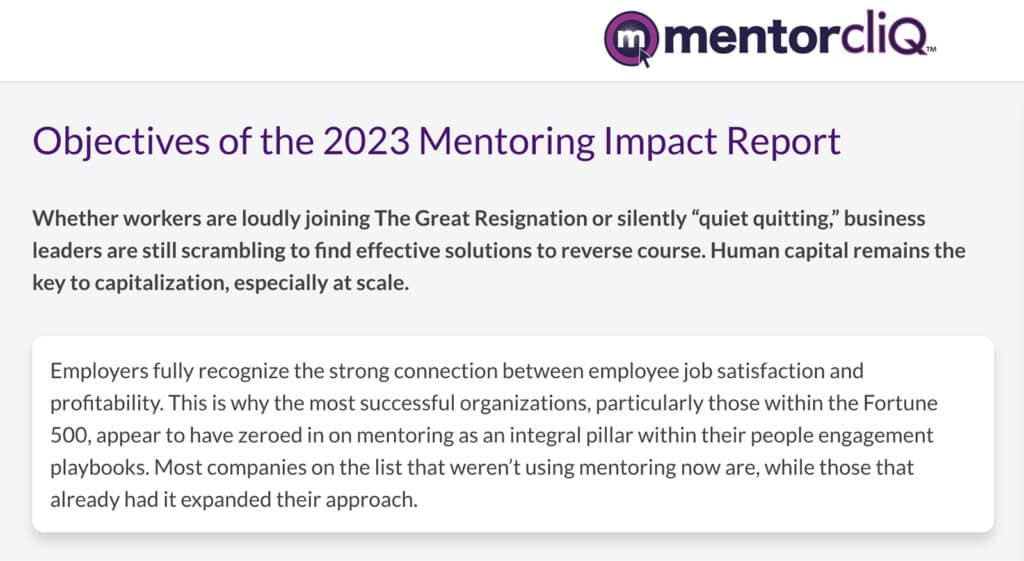 First published in 2022, the employee mentoring platform's report is now in its second year—and has since achieved the initial goal. Sam shares: "We now completely own the landscape for that data, such that even some of our competitors are citing us."
Link building
In a competitive space with a ton of search volume, a particularly strong report can lead to a lot of backlinks. The stronger your brand equity, the more links your content is likely to attract.
As CEO of AdEspresso, Massimo Chieruzzi oversaw data-driven content like the Facebook Ads Cost Benchmarks report. He shares that the report "generated more than 3,100 free backlinks from 1,200 domains."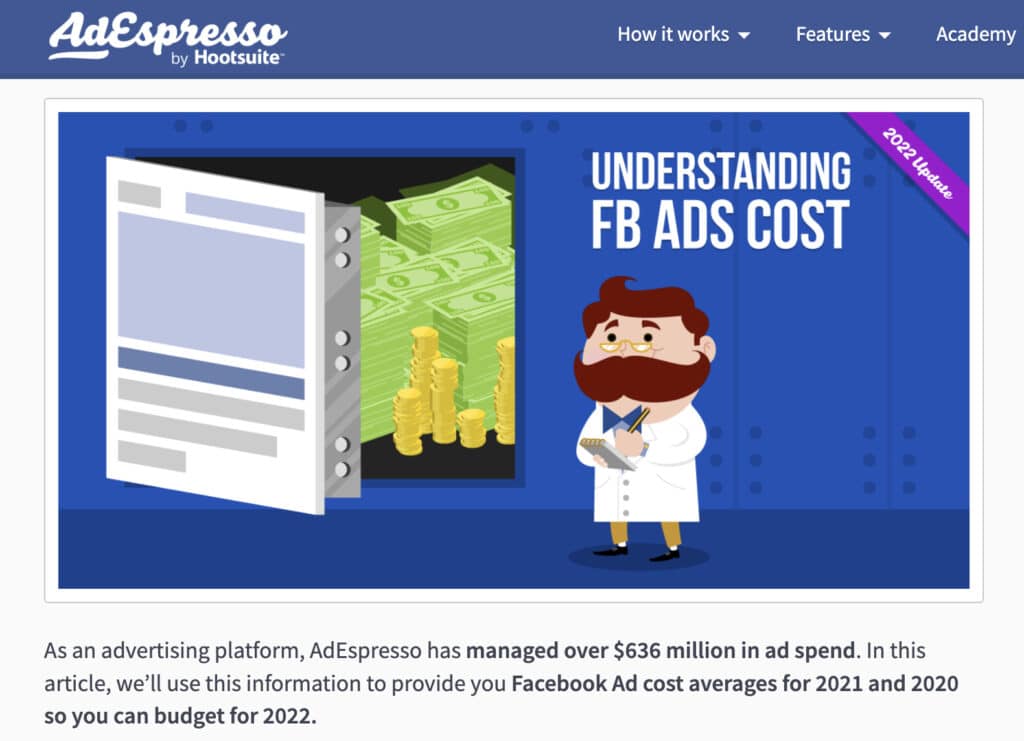 The AdEspresso team didn't have to devote additional resources to link building. Instead, the report attracted backlinks naturally, standing out as an authoritative resource reflecting hundreds of millions of dollars in Facebook ad spend.
Lead generation
For most data-driven SaaS content, backlinks and authority are primary goals. Although lead generation is often a secondary goal, it can still have a significant impact on the project's overall outcome.
David Kemmerer, Co-Founder and CEO of CoinLedger has used data-led content for lead generation and customer acquisition. He shares that the crypto tax software platform's Annual Crypto Tax Report "earned 263 backlinks, attracted thousands of visitors to our site, and most importantly, garnered dozens of new clients."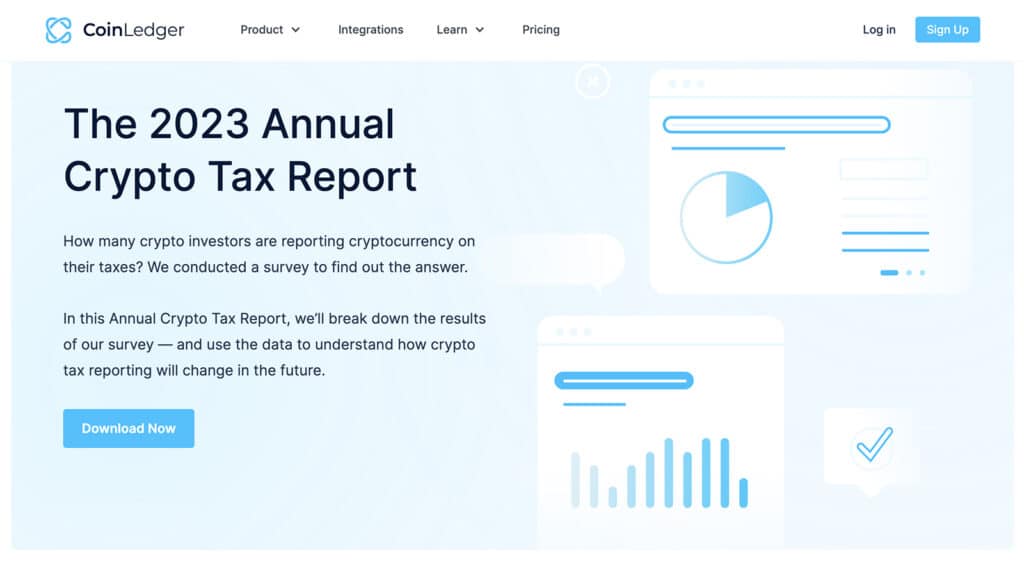 David explains that one reason the report was so successful is that "it addressed a real, pressing issue that our target audience was facing, which was the lack of knowledge and understanding about crypto taxation. [We] were one of the few entities in our industry taking a deep dive into this topic, making the content uniquely valuable."
User retention
Surveys and benchmark reports can also appeal to existing customers who want to compare themselves to peers or better understand their own performance. In other words, they can also support user retention. Michaela Mendes, Head of Content & Strategy at SetSail, explains that the platform's data-led initiatives aim "to help sales and operations leaders see the valuable knowledge that's hiding in their CRM that could ultimately unlock new growth and impactful optimizations for their sales process."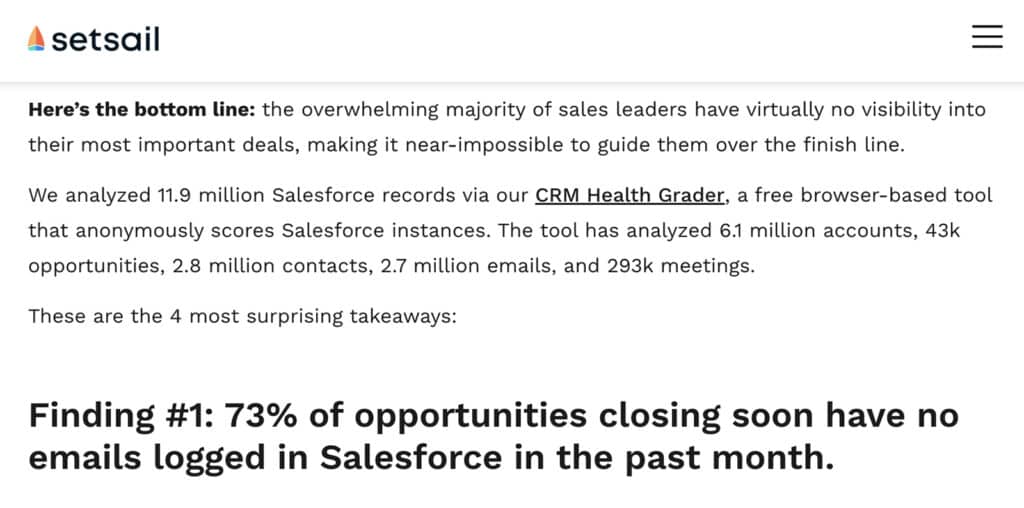 SetSail's Salesforce Data Quality report leverages 11.9 million anonymous Salesforce records submitted to the sales data platform's free CRM Health Grader. Michaela shares that SetSail's report "gives sales leaders a picture of just how serious their missing data problem is, specifically as it relates to opportunities that are closing soon."
5 Types of Data-Driven Content SaaS Companies Can Publish
Blog posts are just the beginning. Use these five assets to build out a robust data-driven content strategy.
1. Industry trend reports
Analyzing industry benchmarks and trends can provide much-needed context for customers and prospects. With product data, you can add an original angle.
Since 2017, GetResponse has published an annual Email Marketing Benchmarks report. Michal Leszczynski, Head of Content Marketing & Partnerships at GetResponse, explains: "Initially, the key idea was to help us create better quality content that's not based on myths but actual data. As we saw interest in this project from our team, potential customers, and fellow marketers, we saw the opportunity to use it to establish our brand as a thought leader in the email marketing space."

In 2023, the report continues to be a leading source of email marketing benchmarks, including insights ranging from open and click-through rates to email types and personalization tactics—many of which are segmented by location or business type.
Users can access the full report without downloading and share specific insights with colleagues via Jumplinks. Yet they have another option too. Michal's Key Insights blog post summarizes the major findings and builds on the narrative, giving the target audience an additional entry point to engage with the content.
2. Analytics dashboards
One particularly valuable way to customize data-led content is by giving users access to live data. By giving users a way to sort or retrieve data, you let them answer their own questions and walk away with more personalized insights.
Staff management software platform RotaCloud used this approach with the Leaverboard project, which lets users access leave benchmarks for their own industry. James Lintern, Co-Founder of RotaCloud, explains that his team sought to leverage "a large pool of cross-sector workforce data on things like shift patterns, annual leave usage, sickness absence rates, and HR trends."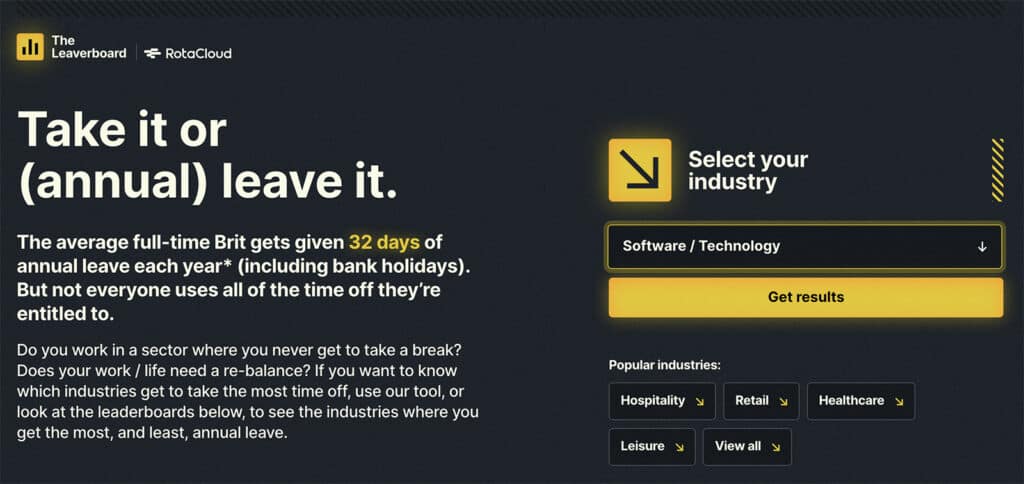 James shares: "We find using our data like this is a great way to visualize complex information in an engaging way, attracting links, driving traffic, and helping our customers to learn more about employee attitudes and behavior—so they can put these insights into use in their own businesses."
Incorporating live data can be crucial in fast-paced or quickly changing categories. For Metadata's B2B Paid Social Benchmarks report, live data is a key point of differentiation that lets users review KPIs and filter by channel, campaign type, ad format, and other factors.

Mark Huber notes that with this report, Metadata aimed "to be the authoritative place to go get paid social benchmarks. We wanted to ungate everything, so you can get the data using a dashboard."
3. Product data spotlights
Live data and full reports can be excellent for authority and equity, especially if your audience is actively seeking out benchmarks. But what if you want to reach users who aren't necessarily looking to dig into the data?
SetSail's Sales Data Nuggets series breaks down platform data into short snippets. Michaela Mendes explains: "These are more specific data points that call out interesting tidbits that are designed to relieve someone's high-level curiosity, and perhaps prompt a deeper question."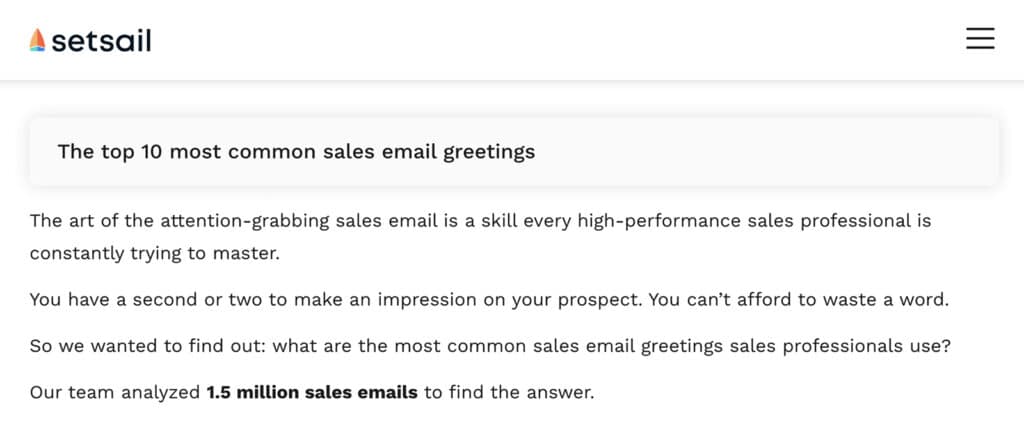 The first in the series reveals the most common sales email greeting. Michaela shares: "For the sales manager, this may make them ask themselves, 'is this true for my reps?' We want to prompt revenue teams to ask deeper questions about their own data and how it can help them increase performance."
4. Customer and market surveys
SaaS companies tend to have a lot of internal platform data that can inform this content. But if you don't have enough data yet or if you want to tell a different story, you have other options—like large-scale surveys.
David Kemmerer explains that to produce the Annual Crypto Tax Report, CoinLedger commissioned YouGov to survey over 300 customers. The content team used AI tools to generate survey questions and made a final selection manually.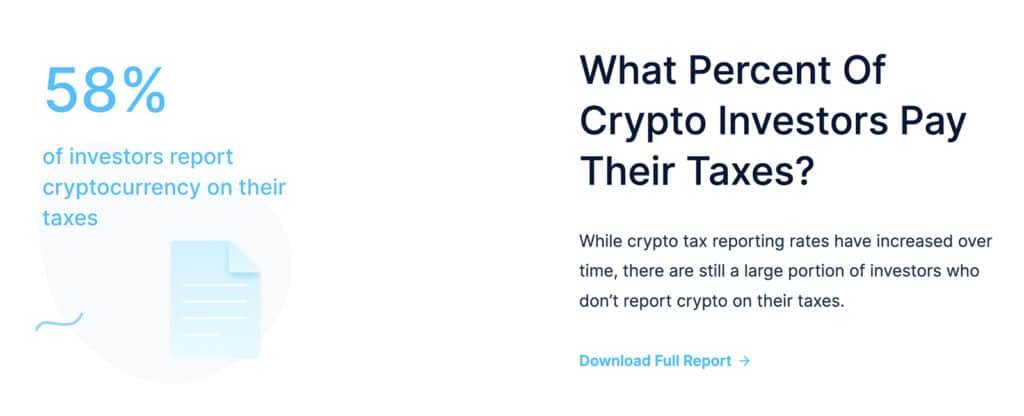 While the full report is available for download, users can find answers to some of their most pressing questions directly on the landing page. There, the data snippets can attract interest and drive downloads.
5. Infographics and charts
Displaying survey results in a visually appealing way can also make the data more accessible. The Video Marketing Statistics report by the video automation platform Plainly displays findings in a series of charts. Users can quickly scan the results and find the metrics that matter most to them.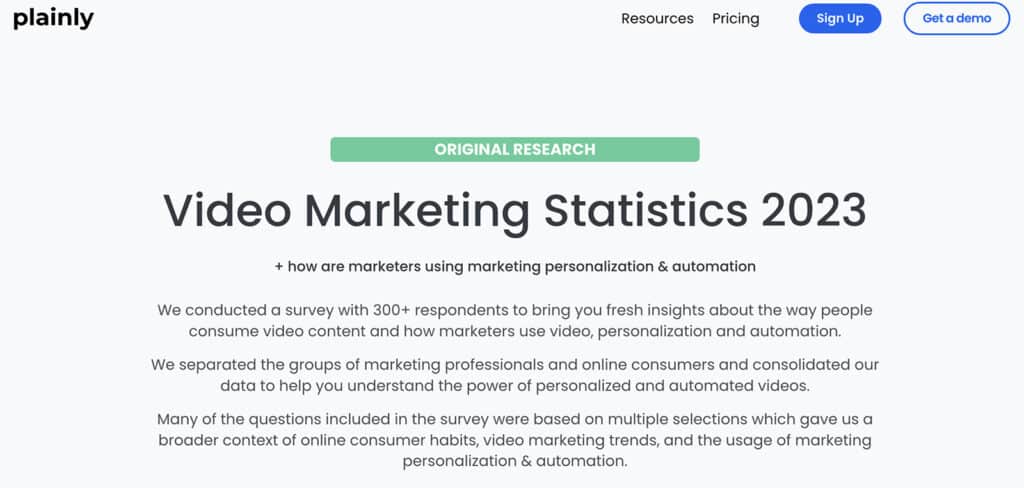 Designed to help customers benchmark their video strategies and improve their marketing, the report aggregates data from 300+ respondents. Nebojsa Savicic, Co-Founder of Plainly, explains: "Many of the questions included in the survey were based on multiple selections which gave us a broader context of online consumer habits, video marketing trends, and the usage of marketing personalization & automation."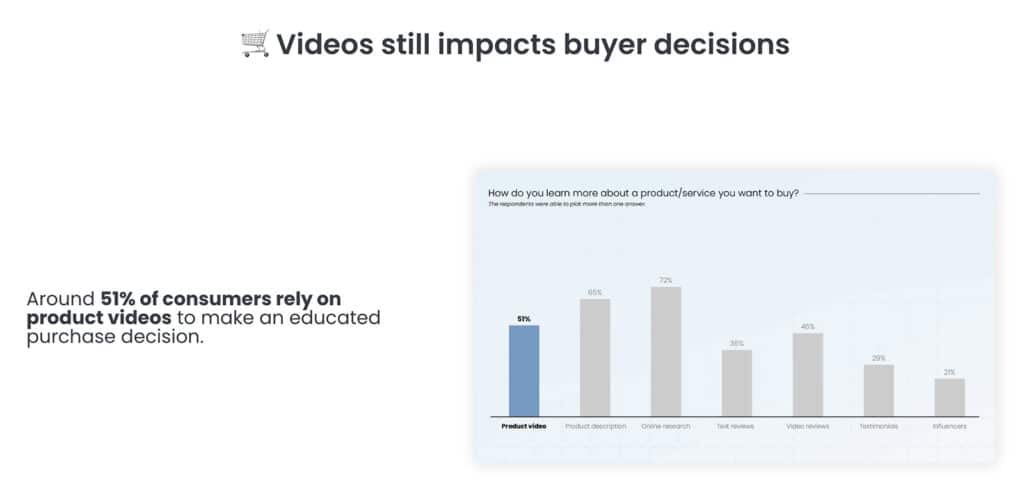 Nebojsa shares that his team is already planning the next iteration. "The idea was to create an original page on video marketing stats and use it as a link magnet. We plan to turn this into an annual report next time and perhaps even enrich it with quotes from SMEs."
Sam Cook added similar visual components in MentorcliQ's Mentoring Impact Report. The landing page includes key takeaways and a downloadable infographic, but the full report is available as gated content—giving users several options to access and share the report.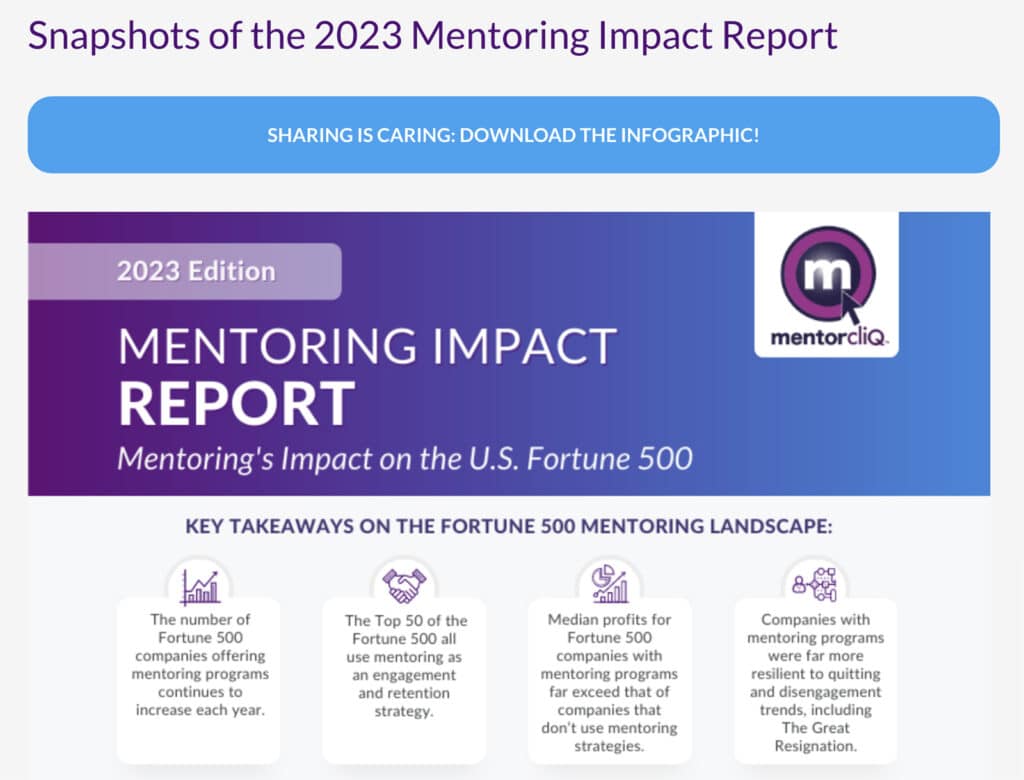 How to Build a 5-Step Data-Driven Content Marketing Workflow
Telling data-based stories requires a different approach than search-driven content. Map out your workflow with these steps.
1. Decide on a compelling topic or a unique angle
Data-led content can require a substantial resource investment. To make it worthwhile, aim to create content that tells a story no one else is sharing.
Sam Cook recommends approaching this content by "looking for content or informational gaps. E.g., what are people looking for, and is the content they're finding actually addressing their needs in those queries? In [MentorcliQ's] case, people were finding information, but it was heavily outdated, so the gap here was in the efficacy of their information."
For Sam, keywords and customer questions are only the first step in data-led content creation. He shares: "We look deeply at both the intent behind those keywords and the end goal for what that information will be used to accomplish."
As you issue annual editions, you'll gradually gain more perspective on what customers want to know and how to help them make sense of the environment. The angle for your report might change over time.
Mark Huber explains that Metadata's B2B Paid Social Benchmarks were largely data-driven for the first two years. In 2023, his team plans to change tack, focusing on "what people were spending and how they were performing before the downturn in the economy started to take shape—and how that affected spend, performance, and the types of campaigns that people were running."
2. Extract and analyze the data
Once you've decided how to approach the content, you'll need to extract and analyze the data. If you're planning a survey, choose a service or tool that can manage this process.
If you're using internal data, you'll need to work closely with your product team. Michal Leszczynski explains that to produce GetResponse's annual Email Marketing Benchmarks, the content marketing team partners with the data analytics team.
Michal shares: "We start by listing the areas and questions we might have about email marketing campaigns' performance. We draft the questions and talk to the data analytics team to see if the things we proposed can be measured."
Massimo Chieruzzi recommends finding ways to streamline data extraction and analysis. He suggests that SaaS companies "set up internal tooling to make the marketing team independent—it's gonna be easier soon with ChatGPT and other AI tools that can convert the natural language to data queries like HubSpot's ChatSpot."
3. Translate the data into a story
Next, it's up to your team to turn the data into a story. In some cases, the narrative might be obvious.
David Kemmerer explains that CoinLedger's Annual Crypto Tax Report reveals "the disconnect between crypto owners and their responsibilities in the realm of taxation. It paints a clear picture of a market that is both underserved and, crucially, underinformed."
In other cases, you may need to cross-reference your initial questions with your data-based insights. Mark Huber shares that as they work together to produce Metadata's report, the content, product, and data teams "start to see what the data tells us—and then compare it to what people are struggling with or what they're interested in."
4. Publish and distribute the content
Whether you publish the report as a blog post, a lead magnet, a live dashboard, or an infographic, you need a distribution plan. If the report is gated content, sharing key takeaways in a blog post is a great place to start. To get more downloads, distribute it on social media, as MentorcliQ did below.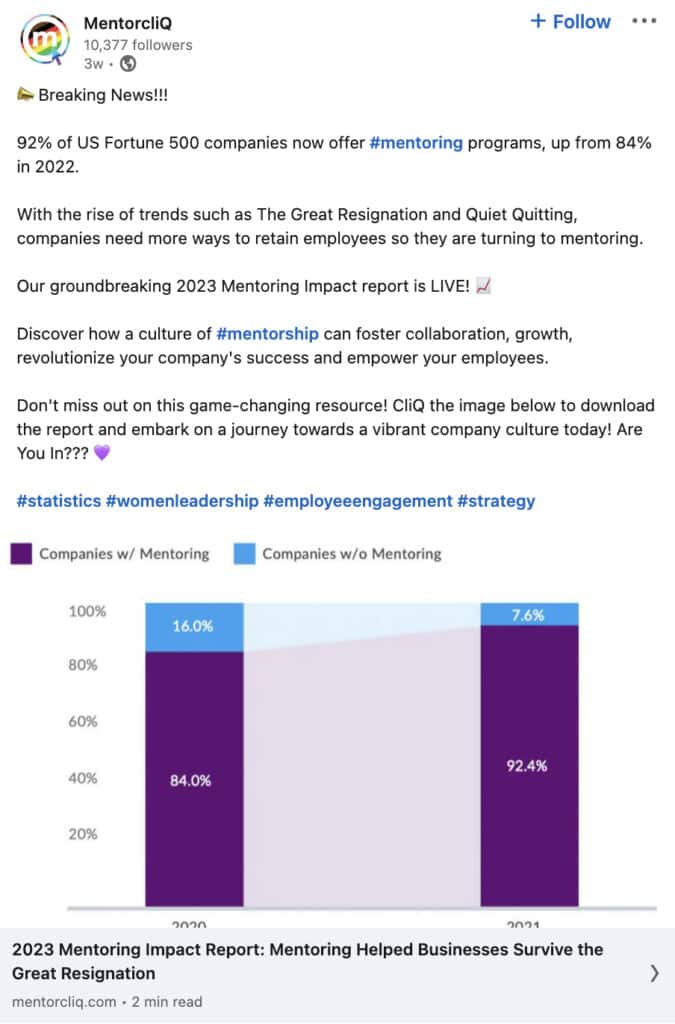 Keep in mind that not every social media share needs a link. With zero-click content, you can share findings and generate interest, as Metadata did below.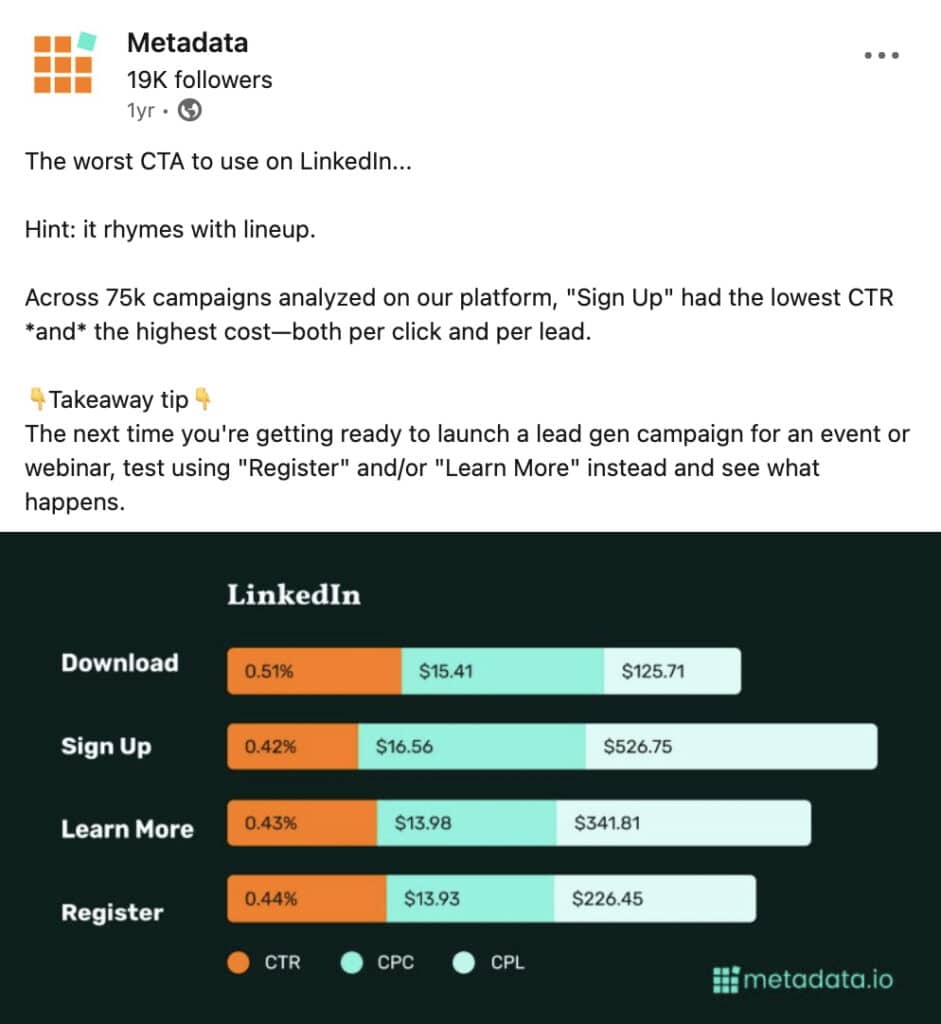 Think beyond social media, too. SetSail releases its Sales Data Nuggets series in a weekly sales newsletter. Michaela Mendes explains: "While we're still in the early stages (only one issue sent so far!) our first send had an open rate of over 50% and a 5.4% CTR. This is high above the industry average and we're encouraged by related social media and web traffic statistics."
Final Thoughts on Data-Driven Content Marketing for SaaS
When you want to make your SaaS content stand out on SERPs, in social media feeds, and in email inboxes, leading with data can set your company apart from the competition. With a data-driven content strategy, you can create extra value for customers while meeting key goals like building authority, sharing thought leadership, and generating leads.