The Predictive Index, a company that sells talent optimization software, generated $680K in revenue with only one report.
Why was it so successful?
Because on top of demonstrating its product's value prop, the company also distributed the report across channels throughout the entire customer journey.
In this post, we dig deeper into the company's approach, along with nine other content marketing examples that drive engagement and revenue.
User Experience Examples
A negative user experience (UX) repels visitors. Fortunately, these three companies created a delightful experience that makes users come back for more.
1. [Growth.Design] Case Studies
Product design involves multi-disciplinary skills.
From human psychology and visual design to wireframes and prototypes, it's a complex field that distills surprising psychological patterns into better user experiences and, ultimately, conversions.
In other words, there's a lot to unpack.
But one company, Growth Design, which teaches product psychology to over 123,000 designers, has broken down its complex content into a digestible format: comic books!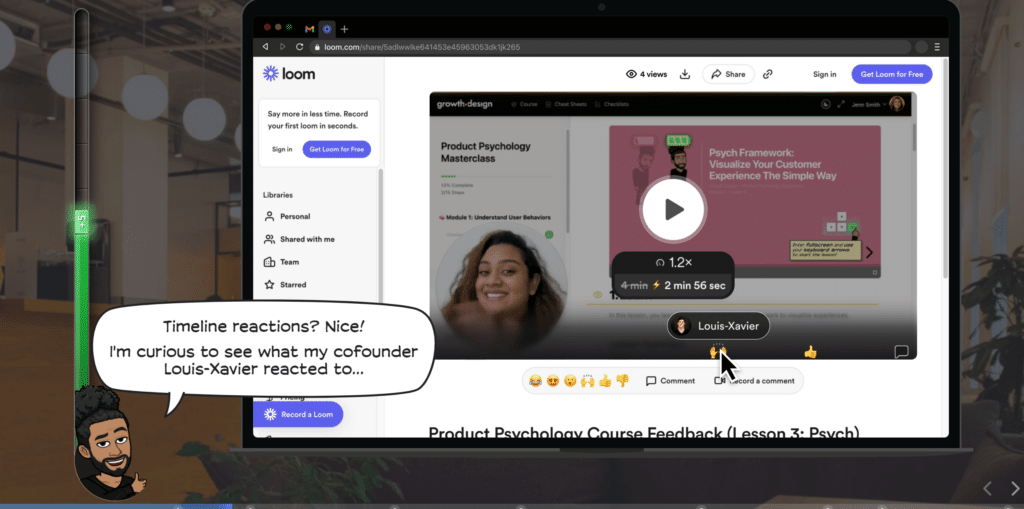 Why it works:
Intuitive: We're used to written and video case studies. Comic books? It's an unconventional format that stumps new visitors. Growth.Design easily overcomes the learning curve with visual cues (e.g., arrows with pulsing effects).
Add human element: Customers relate more to brands that share personal experiences. Growth.Design draws from its own experience using software tools in the case studies. It reflects customers' experiences and adds a personal touch.
Share progress: Customers are strapped for time. Show how close they are to completing a piece of long-form content. Growth.Design adds a clickable progress bar and an estimated reading time in every case study..
Key takeaway: Break down your content into bite-sized formats to boost readability (e.g., repurpose a 30-page ebook into a 14-day email course).
2. [Copyhackers] Blog
Websites with excellent UX see higher conversion rates.
Design it right and you compel your target audience to take action, whether it's signing up for a SaaS newsletter, starting a free trial, or upgrading to a paid plan.
There are multiple elements that make up a great website, like credibility, value, and findability.
Copyhackers ticks all the boxes. Its website boasts numerous trust triggers (company logos) and a growing hub of valuable content (Books and Useful free things in menu).
But it's the blog search filters that give Copyhackers an A++ score. Note how the conversion copywriting agency invites readers to choose their role and goal above the fold.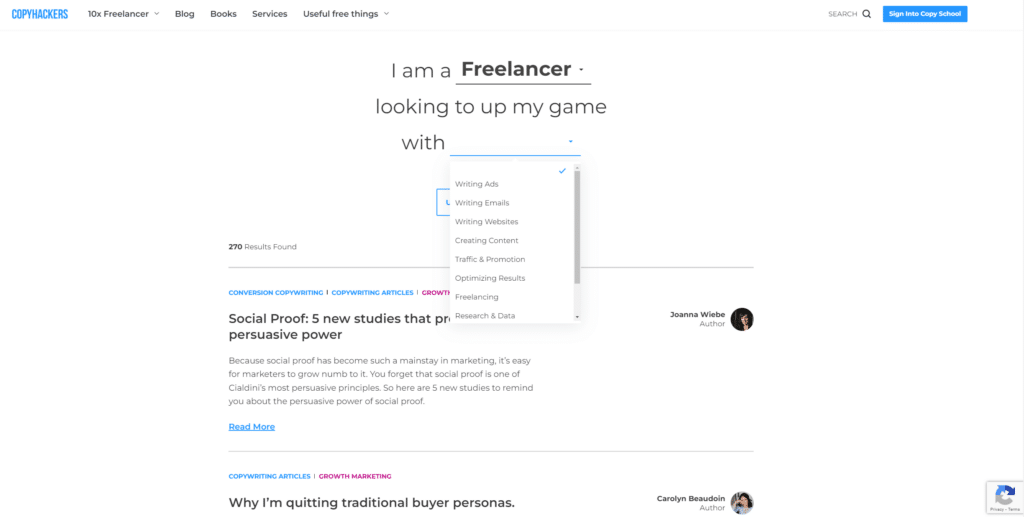 You can also input hashtags and keywords to further your search.
For example, as a freelance writer who wants to grow a successful business through referrals from customers and non-competing agencies, I went with #referrals and clients and service providers in the hashtag and keyword field respectively.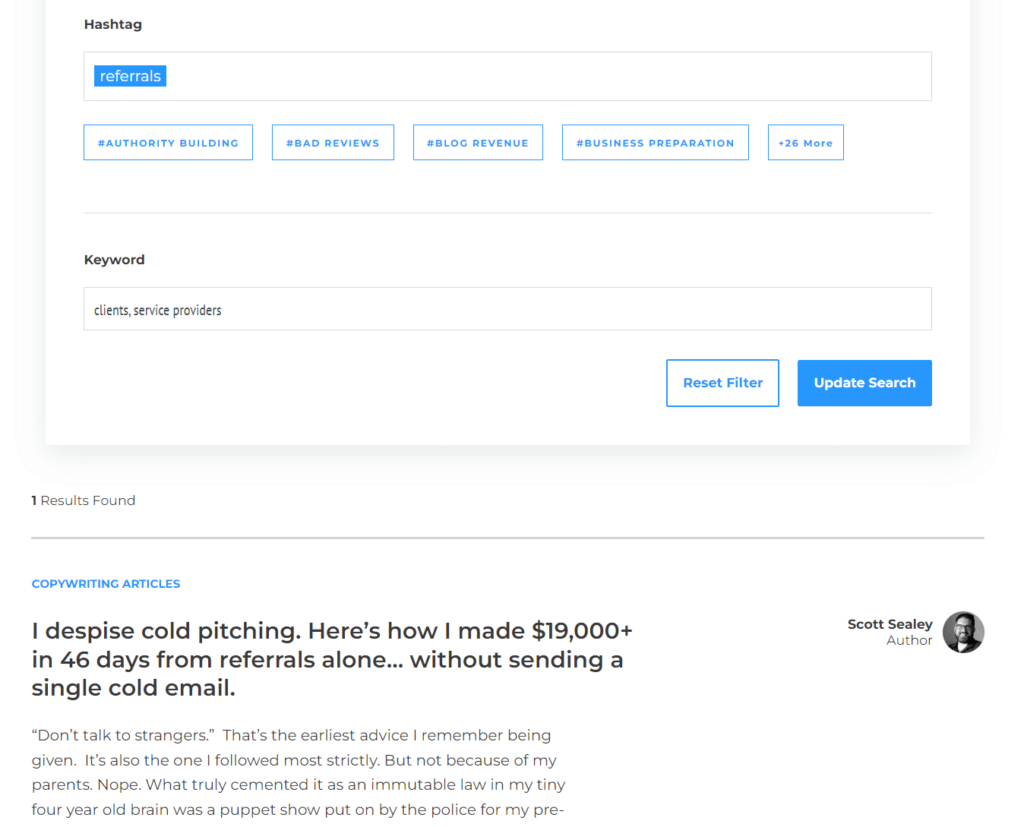 Why it works:
Spotlights the reader: Copyhackers immediately prompt us to fill in a self-introduction. It puts us at the center stage, makes us feel seen, and tells us it's got the information we need to accomplish our goal.
Key takeaway: Refine your search filters. Ensure that they actually cut down time and effort with only a couple of clicks.
3. [CXL] Marketing Playbooks
It's not always easy to implement what we've learned right after reading a 5,000-word guide.
Think back to the time you searched for a query, clicked through a page, and spent the next 17 minutes digesting the information only to realize…" okay… now what?"
Chances are you're overwhelmed by the sheer amount of information.
CXL, a world-class digital marketing training platform, has created 1000+ playbooks that walk marketers through complex tasks in ten steps or less.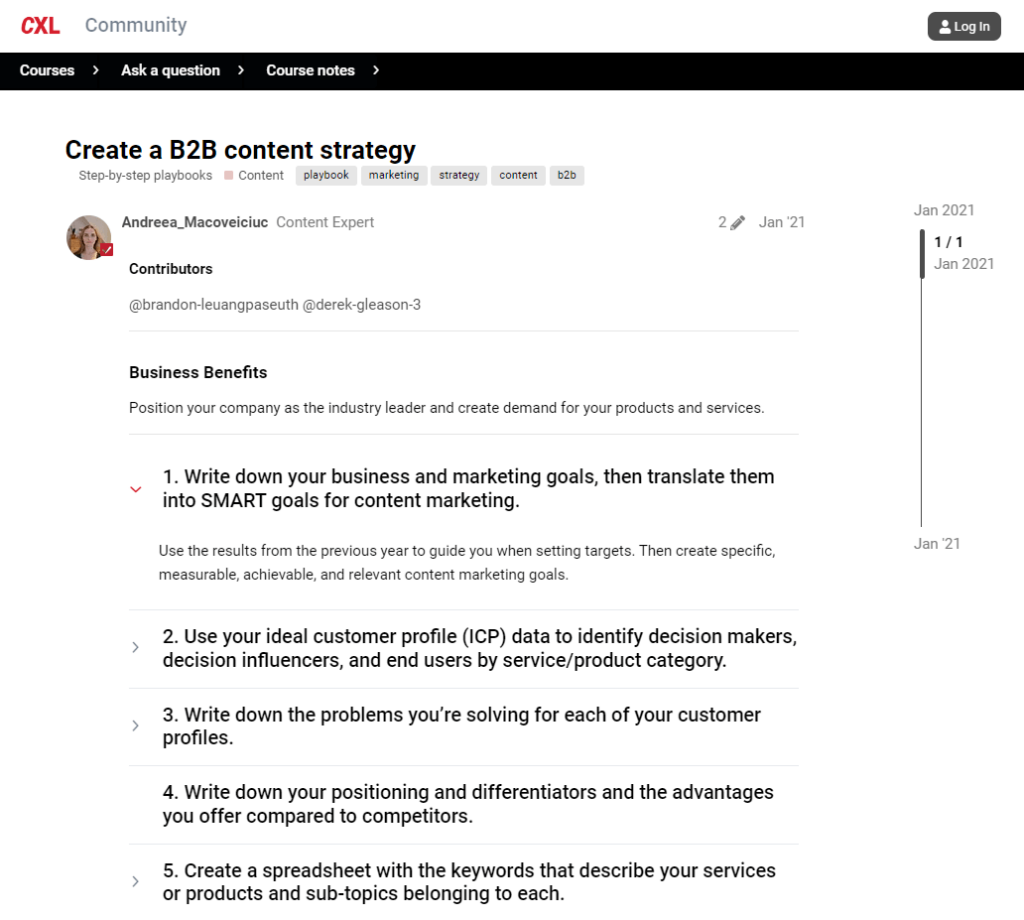 Why it works:
It's easy to get started: All tactics are organized in numbered lists—10 steps or less. It gives members a big picture's view of a whole strategy and the option to learn more if they want to dig deeper.
Increase "social dollars": Companies with their own online communities see a 19% increase in revenue. CXL has a ringside seat to customers' pre- and post-purchase behavior, making it easier to identify popular topics and create courses aligned with the demand.
Key takeaway: Summarize large pieces of content into actionable steps, preferably in 10 steps or less!
Thought Leadership Examples
The value of thought leadership content is increasing in a ChatGPT world. Here are two agencies that center their content marketing strategy around contrarian and thought-provoking ideas.
4. [Animalz] Blog
C-suite executives focus on one thing: bottom line.
To attract and convert these high-stake prospective customers, brands need to publish content that speaks directly to their role.
Yet, too often, companies consistently publish articles chock-full of elementary advice. It's gotten so out of hand that there's even a name for it: mirage content.
Animalz, a high-end content marketing agency for enterprise companies, focuses on "bottom of the funnel thought leadership" articles to drive leads and close deals.
Take this piece about Twitter thought leadership, for instance.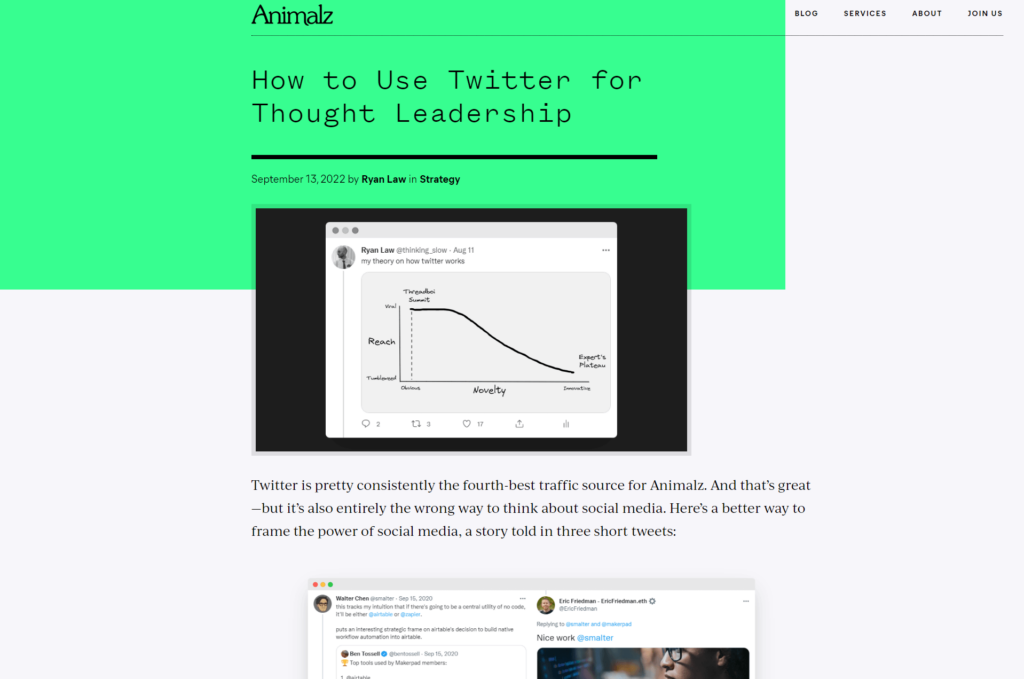 It introduces fresh and original tips (e.g., building equity in a personal brand) to grow your Twitter followers.
If you do a quick search, you'll see competing articles echoing the same basic points ("curate and share third-party content—duh!").
Animalz stands out by a mile.
Why it works:
Take a stand: Animalz doesn't waver. The team draws insights from years of experience working with clients across industries. Content leaders look up to them as the go-to source for content marketing.
Key takeaway: Stand firm in your opinions and back them up with case studies.
5. [Grow and Convert] Blog
Inexperienced marketers focus on keywords at the top of the funnel.
It's a mistake as users searching for these high-volume queries are usually not looking to purchase. They're only researching for general information.
Conversions for these keywords are always low.
Yet, many brands make the mistake of going after them, based on Grow and Convert's experience. A better way, according to the content marketing agency, is to rank for keywords at the middle and bottom of the funnel. In an article titled, Pain-Point SEO: How to Produce SEO Content That Drives Conversions, the agency walks us through what these pain point keywords are and how we can unearth them in customer interviews.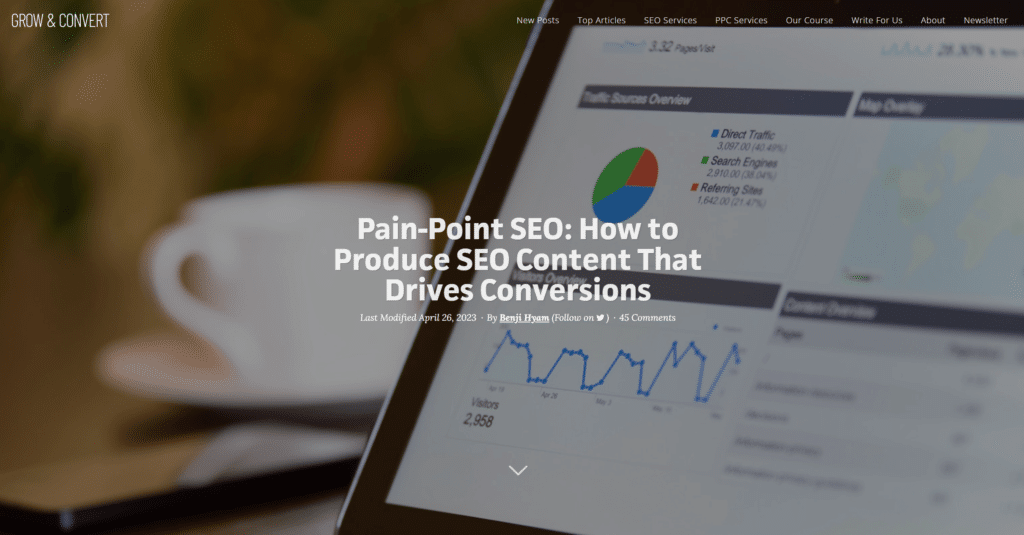 Since publishing the post, more companies have adopted it in their content strategy. The agency also went on to work with many reputable clients, shared more contrarian views (like this one), and attracted more than 500 members in its content marketing course.
Why it works:
Adds memorability: Grow and Convert goes against the grain in its content. It recommends a different approach, gives it a memorable name (e.g., pain point SEO, deviant keywords), and backs it up with case studies.
Key takeaway: Is there something about your industry that troubles you and isn't discussed often? Write about it and support it with data-backed proof.
Topic Cluster Examples
Effective topic clusters cover every angle you can possibly think of. Here are two great examples worth a spot in your swipe file.
6. [Ahrefs] The Beginner's Guide to SEO
SEO is constantly evolving.
It takes weeks to learn the basics, months to master, and a lifelong learning mentality to stay on top of it. You need to constantly remain alert and adapt to improve your rankings on the SERPs.
It doesn't take long to see there's a lot of work that goes into SEO. And fortunately, Ahrefs has simplified our learning process with a comprehensive guide.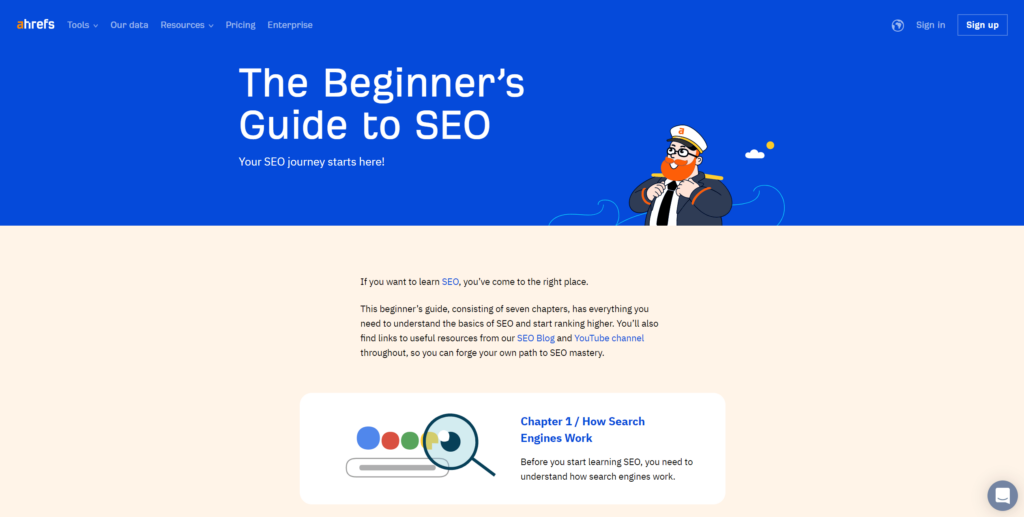 Why it works:
Get in-depth from every angle: Ahrefs stretches beyond glossary terms and how-tos in its topic cluster strategy. The SEO software company educates specific customer segments (e.g., plumbers, beauty salons) on how to use the tool to drive customers to their business organically.
Key takeaway: Think beyond topics. Consider your buyer personas when building the topic cluster strategy.
7. [Hotjar] Guides
Users getting started with behavioral analytics usually find themselves asking the following questions.
What data or metrics should we monitor to improve user experience? What's the most optimal way to organize feedback across channels? How can an early-stage startup without a network recruit the right users for user research?
The list goes on.
Hotjar answers all these questions in its impressive range of guides.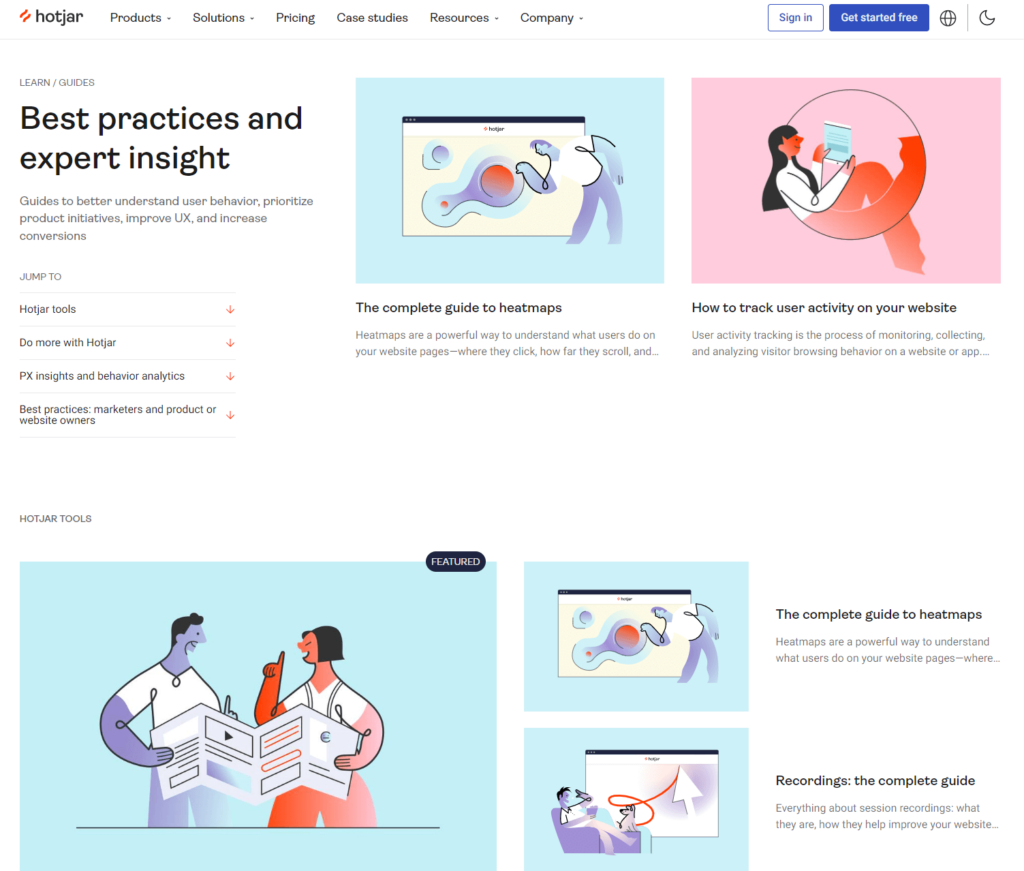 Why it works:
Key takeaway: UGC boosts authenticity. Actively collect testimonials and reviews and use them across your content.
Cross-Channel Marketing Examples
Successful brands meet customers where they're at. Here's a company that knows how to make the most of every piece of content across multiple channels.
8. [Ahrefs] Blog
Distribution determines the outcome of your content.
Promote it in a channel where your target audience doesn't frequent, and you'll waste time and money. Distribute it to channels packed with your intended audience. You attract new readers who could convert into customers down the road. Ahrefs focuses on channels where people are searching for answers to their SEO questions—like YouTube and Twitter.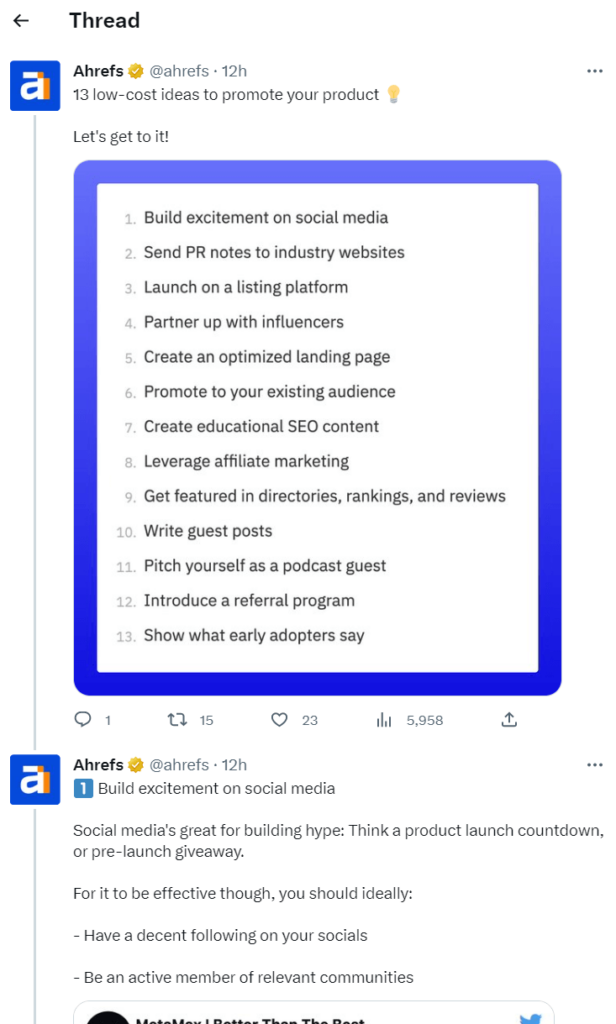 Why it works:
Adapt to the channel: Different marketing channels, different habits. Ahrefs adapted its blog posts in various formats to fit specific channels (e.g., tweetstorm on Twitter instead of URL link with two-lined captions, videos on YouTube repurposed from existing articles).
Key takeaway: Repurpose content in various formats and distribute them across your earned, paid, and owned channels.
Data-Driven Content Examples
If you own proprietary data, data-driven content is your best bet. Repurpose it into multiple formats and promote them across the user journey.
9. [Superpath] Average Content Marketing Salary
It's difficult talking about salaries in a society of gender- and racial-based discrimination.
Perhaps that's one of the reasons Superpath created the Average Content Marketing Salary, a report that surveyed 500+ content marketers of different diverse backgrounds, to find out some of the biggest questions in our industry today.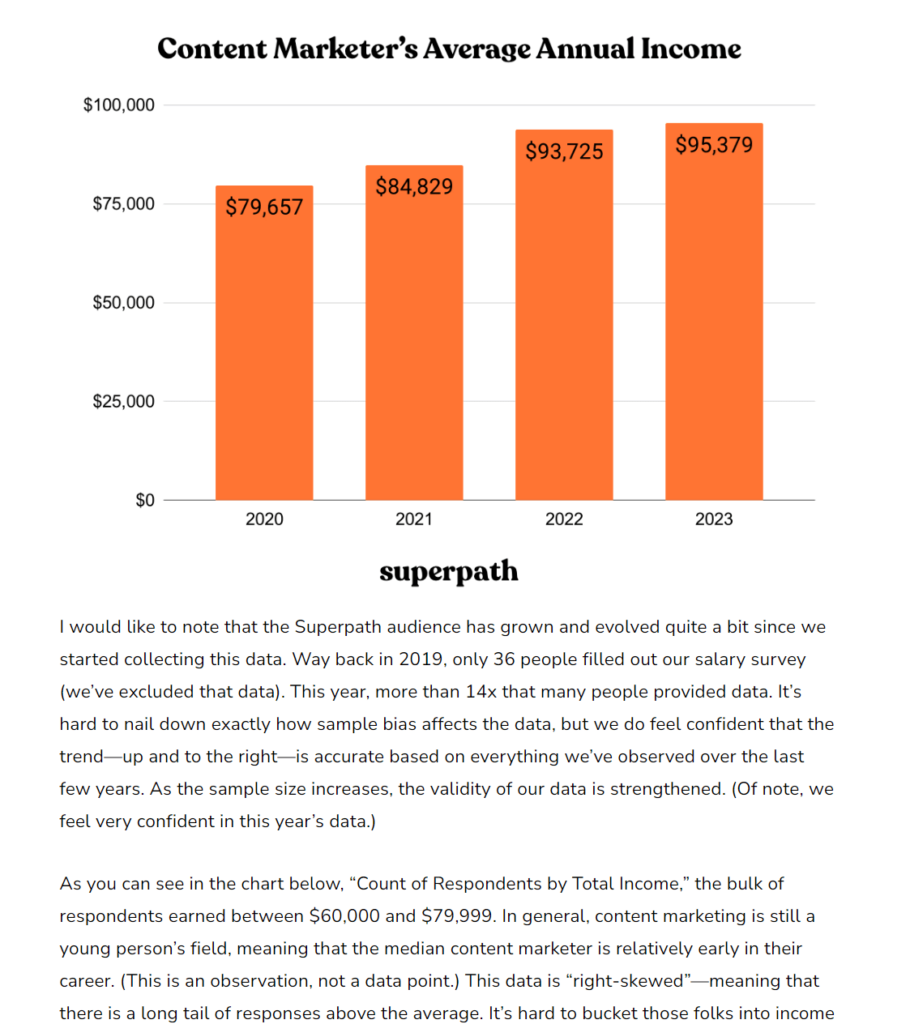 Why it works:
Promotes transparency: 86% of people in the US believe transparency from businesses is more important than ever before. Superpath was completely upfront about how it collected data in its report. Before diving into it, the team gave a heads-up that the data isn't perfect (e.g., sample bias, all dollars were converted to USD).
Use business as a force for good: 47% of consumers are more likely to buy from companies that donate to charitable causes. To increase the number of responses, Superpath donated $1 for each of the first 500 contributions to a non-profit organization. It received a record number of respondents in its latest edition.
Lay out the next step: Effective content compels readers to take the next step, not leave them hanging. Founder Jimmy Daly, along with Carolyn Lyden, who runs the SalaryNegotiationPro newsletter, walk content marketers through the report in a video. They discussed how to use the data to hire and pay equitably and negotiate for better salaries.
Key takeaway: Guide prospects to the next step after reading or downloading a lead magnet. Continue to nurture them!
10. [The Predictive Index] The Impact of Behavioral Drives in a Remote Workplace
42% of employees work from home because of anxieties about the coronavirus, fueling a growing concern among employers that productivity will decline at an all-time low.
With visibility and control out of reach, supervisors need to find new ways to manage teams remotely.
Add diverse personalities and working styles into the mix, it becomes harder to foster healthy relationships between teammates and improve engagement in a remote world.
The Predictive Index, a talent optimization software platform, decided to use its own proprietary data to explore how these different behavioral needs impact morale and productivity in a remote world.
The results: a 31-paged industry report that drove $680k in attributable revenue (revenue figure also shared in an interview with Growth Notes).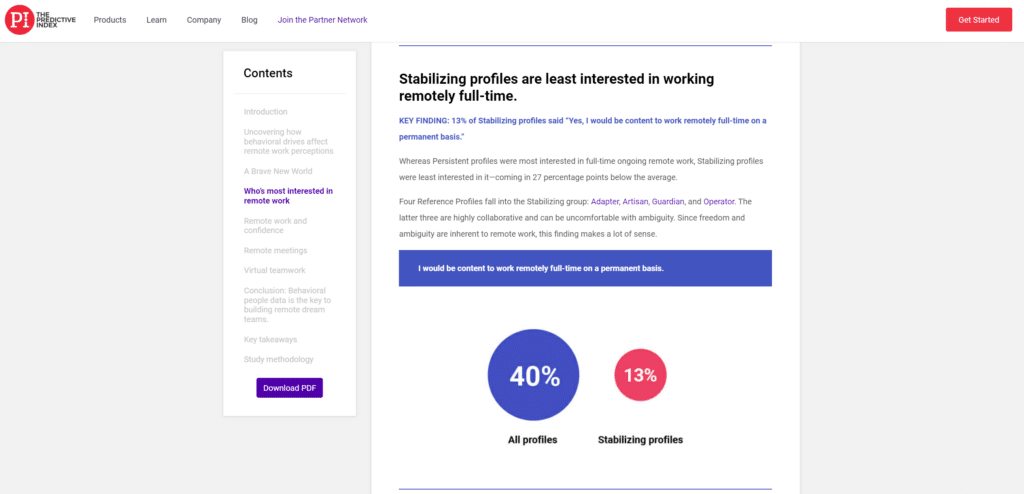 Why it works:
Demonstrate product value: The Predictive Index strategically positions its products (e.g., 17 Reference Profiles) throughout the report, giving prospects a glimpse at how they can use behavioral data to build remote teams.
Talk about what's trending: Many companies struggled with reshaped workplaces in the beginning, making it an excellent topic for the company to explore and strategically position its product as a viable solution.
Engage and re-engage: This industry report wasn't only used to acquire leads. The company also uses it to re-engage cold leads and support sales and partner enablement. It was even repurposed into a one-pager for cold outreach to start conversations.
Key takeaway: Identify opportunities in your content to highlight your product as an indispensable solution.
Final Thoughts
These B2B content marketing examples hit the sweet spot among expertise, user experience, depth, and format.
Add them to your swipe file and borrow a few ideas before creating the next batch of content. You'll gain a few steps closer to creating content that fuels engagement, conversions, and revenue.