Every time I have to write my short bio for a new social network, I get lost. Even more so, if the bio is for my company, it would be best if you were a bit more formal but still make an excellent first impression.
So over the last few years, I've started collecting the best Instagram bios I've found. Now, it's finally time to share them with you to inspire you with my list of the best Instagram bio ideas!
First of all, do you know how many consumers are turning to Instagram to find out about brands? Oh, you couldn't even imagine…
There are over 1.3 billion people on Instagram right now viewing Instagram profiles for businesses every day. Over 81% of people are using Instagram to make a purchase directly from their Instagram feed! I had just made one just 5 minutes ago!
Searches like 'Instagram bio' and 'how to create a good Instagram bio' are some of the most common phrases many try to search on the web when seeking inspiration for their bios.
That's likely how you even found this post, so let's jump right in on exactly what I think you need to make a better Instagram bio.
What is an Instagram Bio and why it matters
When someone lands on your Instagram profile, your bio will be the first they see and read before they even scroll down to your Instagram feed, so you want them to stick around!
Instagram bios are also very important to optimize because they are the only place on Instagram where you can have a link to drive traffic off Instagram and into your website.
Let's start by breaking down the critical elements of an Instagram account: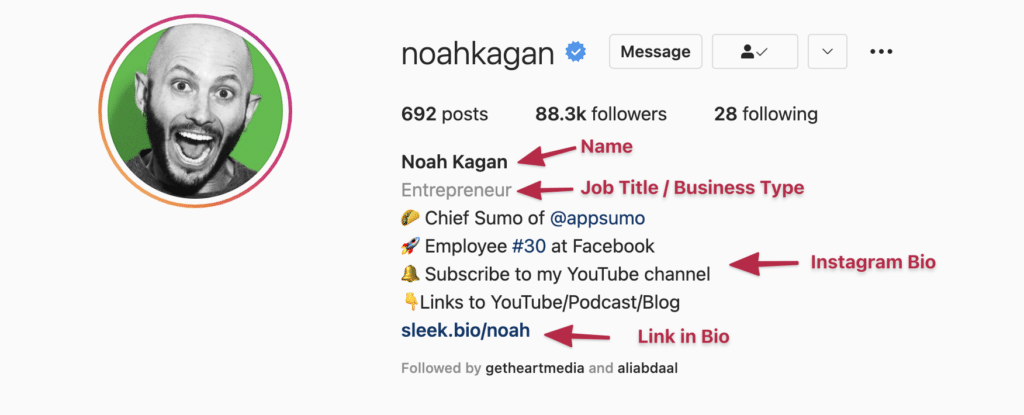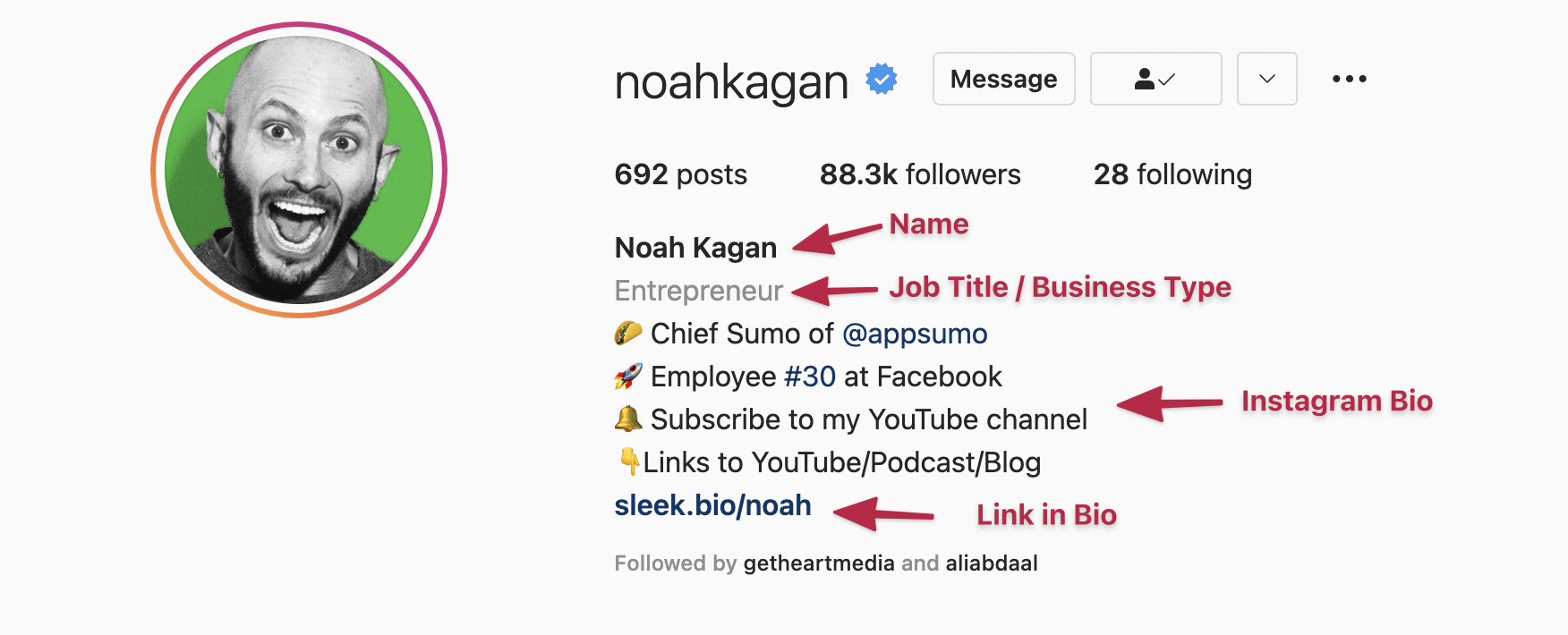 First of all, there's the name. Here it's tough to get too creative but sometimes it's useful to add some color here.
Many users add a high-level view of what you can expect from that account. Let's use Taylor here as an example.
Taylor has changed her Instagram name to highlight that she's a copywriter and mentor. While I don't love this approach from a branding standpoint, it can help to show up in searches related to your business.
Next, inside your Instagram account page, you'll find a place to put your job or business type; here, you'll find just a standard list, so there's not much you can do to do to stand out there.
After this, we have our official bio for Instagram. The official Instagram Bio features up to 150 characters, this includes emojis, and it's your best opportunity to tell your readers who you are and why they should follow you.
It's not always an easy task to convey your brand identity in just 150 characters. You'll need to get creative when you write bios; for some inspiration, make sure you keep reading through my Instagram bio examples.
Last but not least, you can add one link to your Instagram profile. This task, again, is not always an easy one. You're going to want to make the most appropriate decision for where you want that link to go; while many will go wherever life plants them, they will not explore just any link.
You'll want to ask yourself exactly what or where you'd like your link to take your customer to.
Should you link to your website? To your latest special offer? To your blog? To other social profiles?
Many Instagram professionals use 'Link in Bio' tools to supercharge their links. These tools create mobile-friendly landing pages where you can then add multiple links. These are affordable and powerful tools.
I will publish a review list of my favorite tools soon. Until I do, here's an example from my personal Instagram link: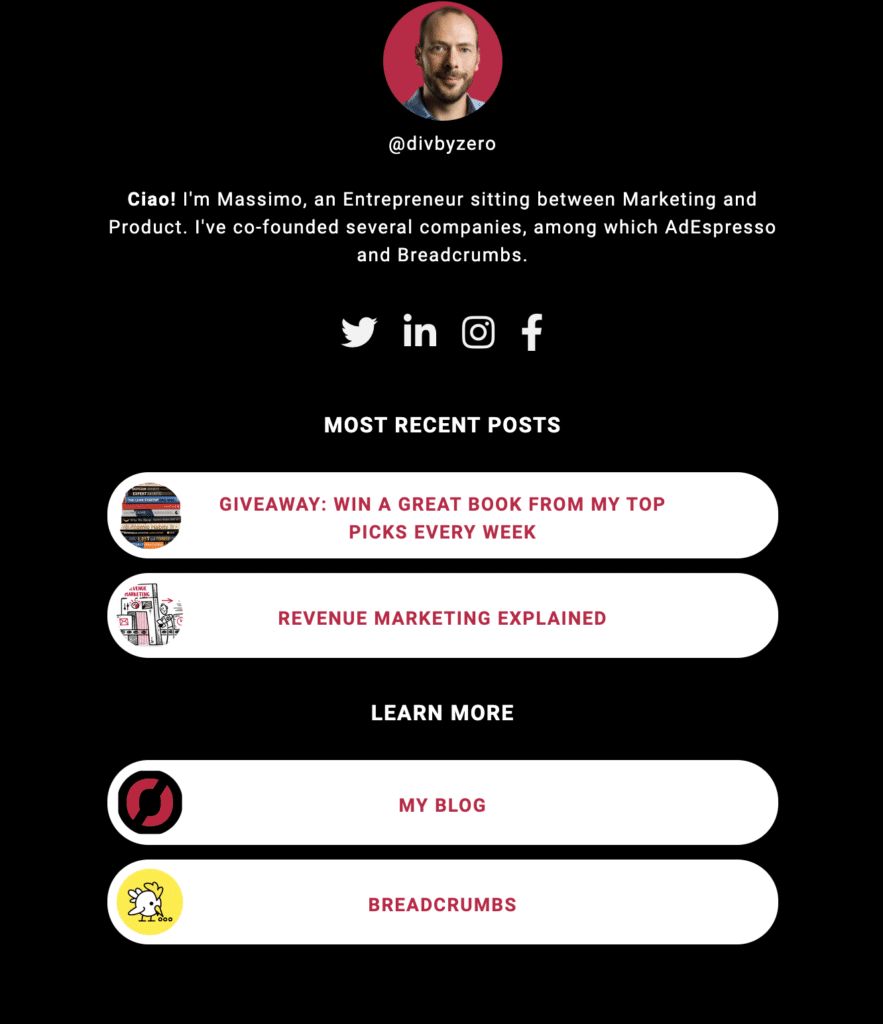 Why having a perfect Instagram bio is so important?
When someone goes onto your feed, you're going to want to make an excellent first impression. You want to give your visitors a good reason to follow you, whether your account is a perfect fit for your reader or not. Still, you can show that you have the solution to their problems.
Having a very clear and captivating Instagram bio will help people decide whether or not your account is right for them. No matter what, when your Instagram bio hits the right chord for your target audience, it will gain the potential of getting you paying clients.
Check this out:

It's best to start thinking about your Instagram bio like it's your virtual business card.
Personally, when visiting someone's Instagram profile, I've decided to follow them because their creative Instagram bios intrigued me, rather than skimming their pictures in their Instagram feed.
So, let's get to work!
Keep reading, and we'll go through a huge list of Instagram bio examples :
What should a Great Instagram bio have with six mandatory tips
Emojis, fonts, ideas, a couple of quotes, and everything you need for a creative Instagram bio.
What the Perfect Instagram Bio should Include:
We will follow through the six components we must focus on:
Great photo profile
Optimized name
One-line niche statement
Call to action for your link
Links
So, let's get started!
Great Photo Profile for Your Instagram Bio
A picture speaks more than a thousand words. It's essential that your profile picture really stands out. A creative photo will help you grab the users' attention when you show up in their feed.
Your profile photo should be relevant to you or your brands' visual identity. Think along the lines of your logo, a photo of your product, or your professional headshot.
It is best to use a professionally set photo of yourself like you would use for a headshot, or maybe a higher contrast version of you or your companies logo.
A picture of, say, just a cupcake won't do, even if you're building a business surrounding cupcakes. You want to be recognizable; you want your brand recognizable. Especially so if you decide to post Instagram videos as well through their stories feature.
A Good tip I want to mention is you'll want to pay close attention to the use of colors to create contrast and grab attention. This is something worth being mindful of on every social network; if you'd like to learn more, I've discussed it even in my guide to Quora Marketing.
Instagram is the place you want to stand out for who you are. Employers or potential employers easily find social media profiles, and your followers might become potential customers.
Take a look at some of these cool Instagram bio photo profile Ideas:

Optimized Name in Your Instagram Bio
The name you use for your Instagram account is important because it can be a strong signal in Instagram in searches.
That's why you'll see that many of my Instagram bio examples below have an account name with more than simply their name. A common choice often includes their niche or job.
I think this is a pretty good idea if you're using Instagram for a small business profile or freelancing, but I don't find it so appealing on a personal or larger business profile. It is, however, effective.
Put your keywords in this name section, and there is an excellent chance you will show up in search when anyone searches for that keyword.
For example, if you put in your keyword such as fitness coach, a software company, or whatever it is your audience might be searching for in the search bar within Instagram, this will surely increase the chances to find your Instagram profile in that search term as shown below.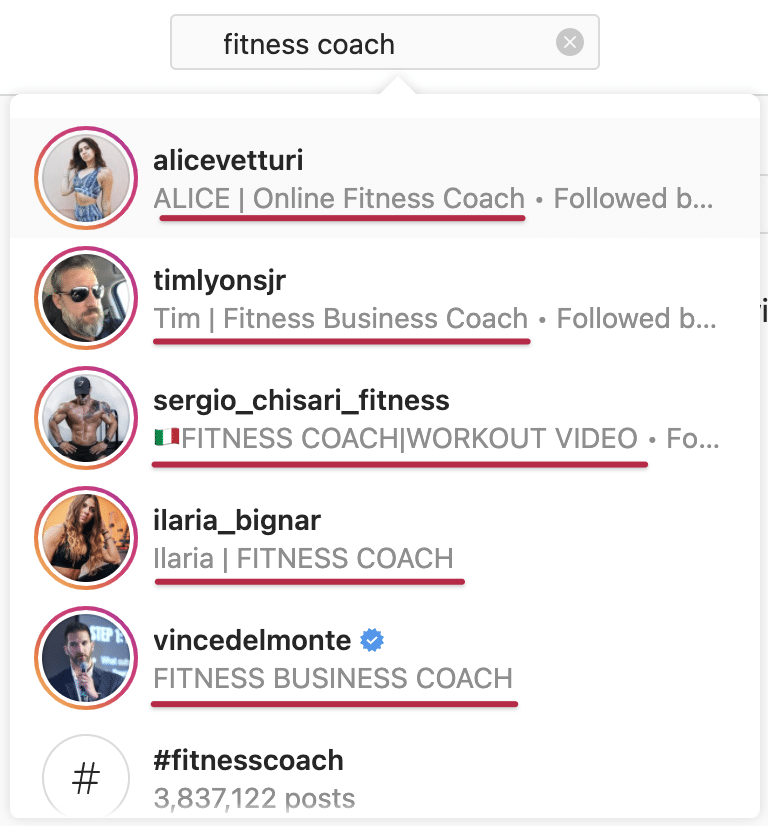 While it is a pretty decent suggestion in our list of Instagram bio tricks, you run the risk that when you over-optimize for search discoverability, it ends up hurting your branding.
I don't have a perfect answer here, and it's really up to you. I care a lot about creating a strong brand and my own branding, and I've never stuffed keywords within my personal or business accounts name.
At the end of this point, though, it's really ultimately what you think is best for your image. Many of the cool Instagram bio ideas below have keywords in their name. Many don't. Overall I'd say this is a more common practice for freelancers and small businesses, while larger companies tend not to use it.
One-line Niche Statement in Your Instagram Bio
Our Niche Statement within our Instagram bio is critical. We only have 150 characters to concentrate on to catch people's attention and really reel them in. A short Instagram bio can go a long way by focusing on making it a one-line niche statement.
A short Instagram bio via this Niche one-line statement can leave you with more characters to work with to make the best use of those 150 characters. It would be best to use this to communicate exactly who you are, what you offer, how you can help, and, more importantly, the results you want to provide.
Focus on your target and show how to go from point A to point B.
Usually, a one-line statement would be an ideal way to nail your niche statement, just like in the Instagram bio examples below.


As I filled in our one-line statement, I asked myself how to use the extra space in my Instagram Bio? I can tell you the best place to start is by filling in more details.
With the characters you saved having that niche one-liner, you now have more room where you can add maybe a fun fact about yourself, i.e., funny Instagram bios might say if you're a caffeine-dependent life-form, or a cool bio might include your hobby if you're a freelancer.
Social Proof is another great way to make your niche statement more attractive and trustworthy. Have you won prizes? Have you founded well-known companies? Do you have important customers? Dan Martell in the example above does a great job at explaining why he's a great coach for SaaS founders.
Personally, I think it's best when it's used as a place to set up an authority builder for your branding, especially for your Instagram business profile.
Do you also create content for a YouTube channel you're running? Maybe a TikTok? Twitter? Why not use this as an opportunity to show off your other social networks? This is a great space for letting people know where else they can find you while giving you authority within social media and letting people discover more about you.
You can do this by slipping in a call to action at the end of your 150 character bio just above where your will set the link.
I've collected a few more Instagram bio examples for you to check out below:


Or, if you're a founder of any company, insert that instead, just like in this other Instagram bio Idea from Rand Fishkin:


What I really think the best thing to do here is to focus on highlighting your skills. You can do this by adding your work, videos or content, and other forms of social networking platforms or profiles. I think it is the best way to build your authority in this space!
I found many examples of people choosing to use that extra space to draw attention to engaging captions. You want to consider how to direct people to read your captions to catch their attention, which is the best way to let them discover what you do and how you do it. A Simple "Watch my stories" can go far.
Call to action for your link in your Instagram bio
I mentioned in the last section a call to action. I'd love to expand on this now. A call to action (or a CTA) is a short statement or request that leads below your link. If you are putting a link in your Instagram Bio, you will need to have a call to action with it. I will talk more about what to do with your links later.
One of the bigger mistakes I see many people are making is putting a simple link without telling people what that link is about. With all the spammy links and risks of inviting a problem to their tech, many people are cautious of clicking that link since it's not clear where it will take them.
A call to action pointing downwards to or just above your link will not only assure your audience that the link isn't "scammy," but you're simply giving context to that link and letting people feel more confident by clicking it in the first place.
Please take a look at some of these Instagram bio examples below and see how they've used their CTA!


The link in your Instagram bio can direct you to free resources or videos or anything you want to share, as long as it has to do with what you are offering.
Of course, if you have free tips on what you are doing, who doesn't like free information? Well, there you go! You've just successfully caught your audience's attention.
Another way to utilize your CTA in your bio for Instagram is to spin-off how you create demand and desire with your niche statement. For example, your niche statement line would be "I help by creating killer Instagram bios for companies." Your call to action for this could be "learn how," with maybe an emoji pointing down to your link, which could direct to webinars, articles, and so on.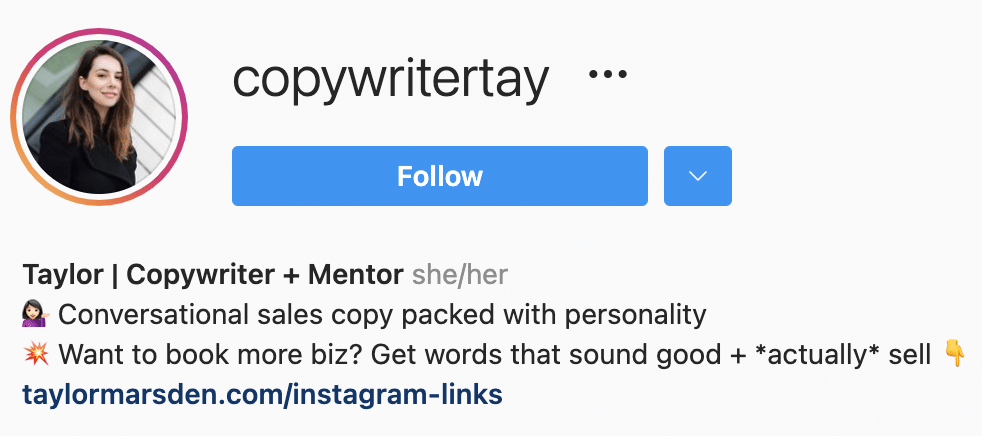 Here are a few CTA ideas you can use in your Instagram bio (and a few emojis to go with it.):
To direct them to your website: "Find out more on my website 👇" and add your link below.
Send them to your YouTube channel: "Watch my video to find out how" 📽 and add your YouTube link.
Boost your following elsewhere: "Exclusive discount codes available on Snapchat [daily/weekly]" 📲
Ask them to tag you: "Tag us in your posts using #thehashtagyoupick" (This is great for a branded hashtag.)
Ask them to visit: "Visit our store at Somewhere Road, Some Town."
Ask them to listen to your podcast: "Hear our latest episode on iTunes & Spotify" 🎙
Ask them to review you: "Did we give great service? Rate us on Trustpilot" 👍
Ask them to follow you: "Follow us on all social media @yoursocialmediahandle."
There are countless other examples, but the most important tip here is to always have a Call to Action within your Instagram bio so that you are driving traffic to your external links.
That "Link" in your Instagram Bio
Our next point will be about the links. You want to be wise with this choice.
Since Instagram allows us to add only one link in our Bio, we want to link to the best resource. Here is a great place to link to a landing page if you have it. Linking to a page of your products, a lead magnet, a website, a YouTube Channel, anything to show what you do.        
Remember, As I mentioned previously, You want to set the goal to use any chance to let people know more about you and what you do. The one link allowed in your Instagram bio limits you as a marketer or creator from adding more than one link or adding individual posts links, but there's an easy solution.
Do you have more than one link you'd like to share, and you're not sure which one to use?
There are many tools out there these days available to help you gather more links in your Instagram bio by creating a mini-bio landing page. In fact, it happens to be one of my favorite Instagram bio tricks.
Using a 'link in bio' tool will help not only your traffic to land on more external links, but it will definitely solve that one link problem in your bio for Instagram.
I found the two easiest tools to use and give you many creative options: "Campsite" and "Shorby." This is all preference of course but I'll elaborate on why.
Campsite gives you the option to start a pretty decent free account, but for a small fee opens up the door to so many more tools available to really help spice it up by customizing fonts and colors on the landing page. I like this tool because I can add unlimited links and change the title or add a brief introduction of what I want to show.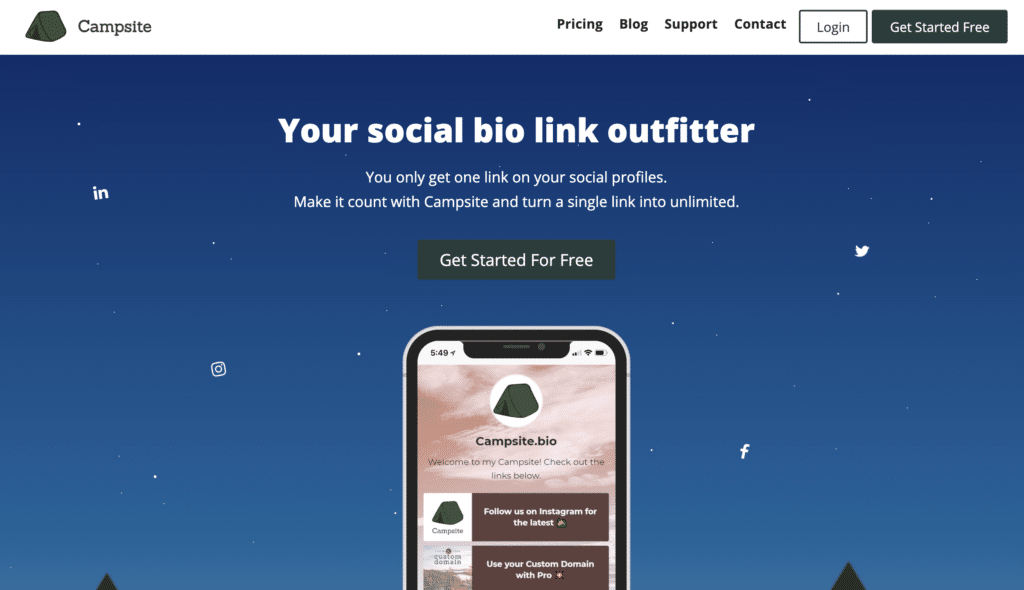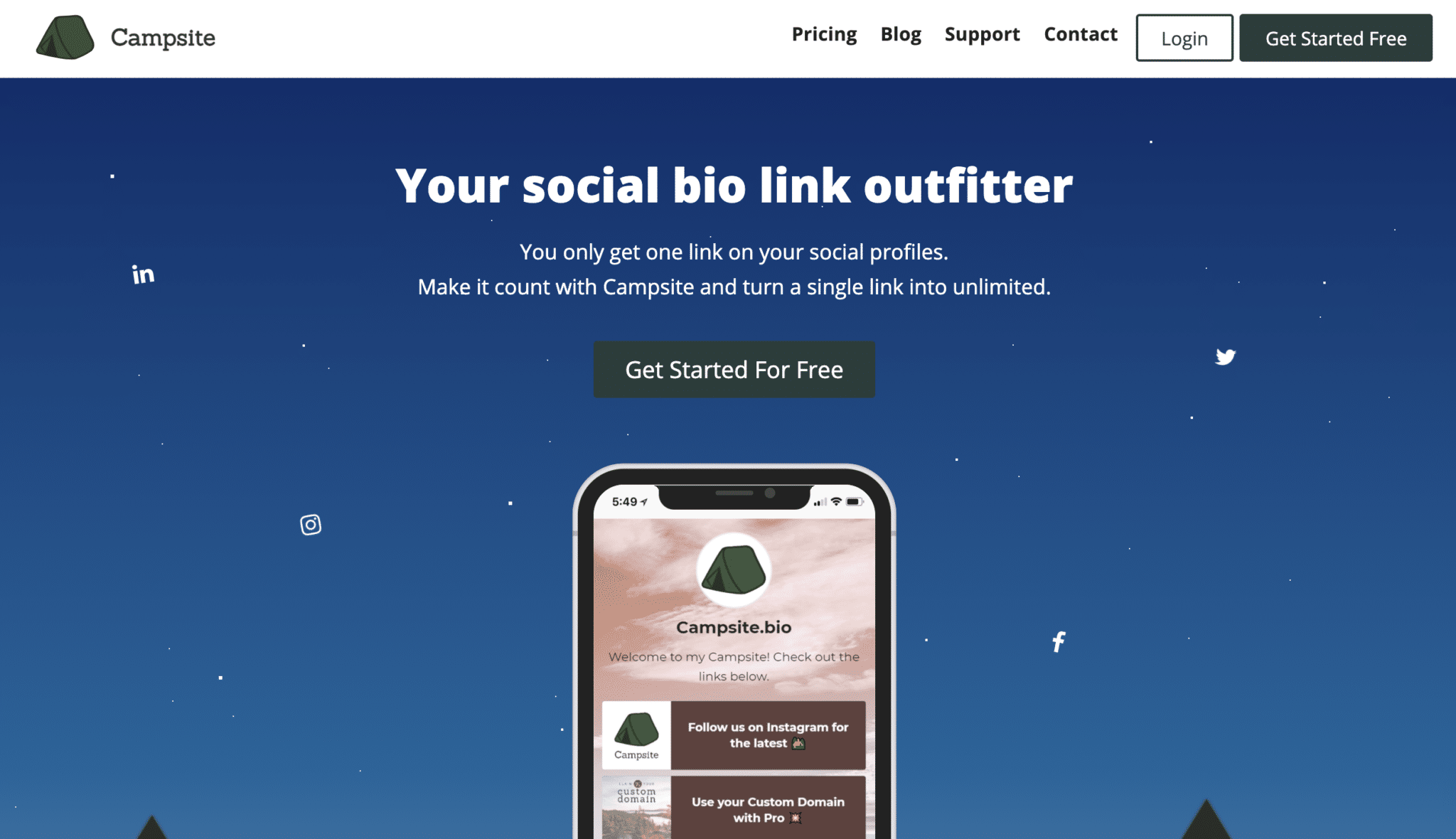 The other one I like is Shorby, which will not only let you add multiple links, but it will also send your followers to your website, latest blog post, online store, and social networks. Shorby is also customizable and will allow you to add videos or animated avatars, gifs, and icons.
Most importantly, it gives you the chance to cross-link to other social profiles, improving engagement across channels.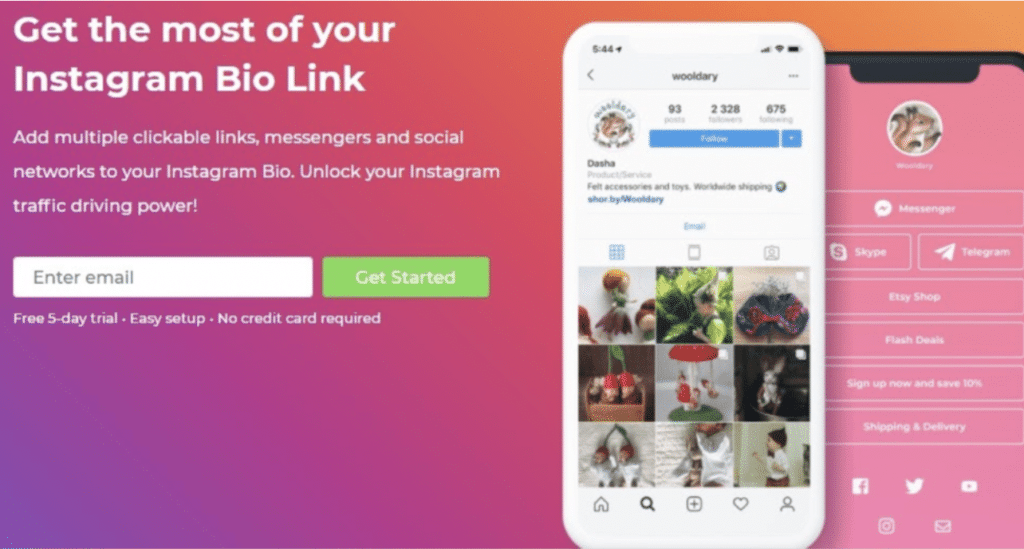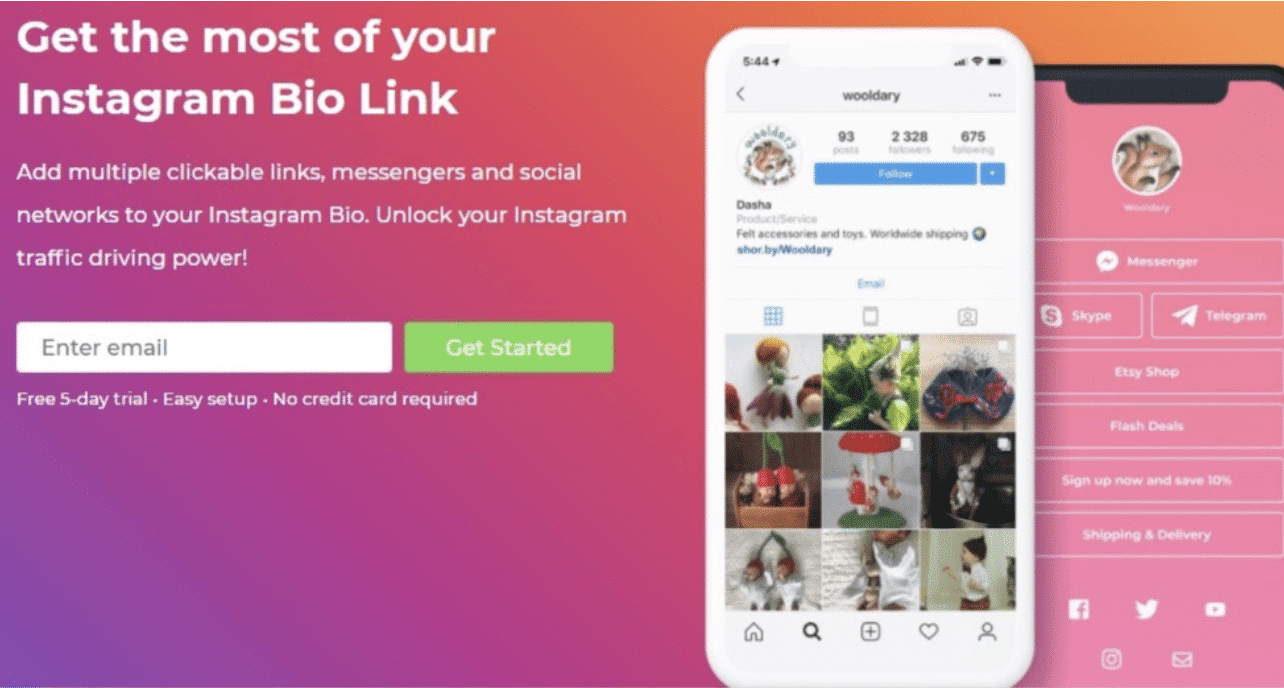 You could check out many others that I also find very helpful, such as Linktree, Tap Bio, Contact in Bio, Link in Profile, and Milkshake App. These might not necessarily carry as much personality or as many options as I mentioned, but they are still great link hubs that allow easy customization.
All these "Link in Bio" tools are excellent for Instagram but can also be used on other social networks like TikTok, Pinterest, and really wherever you want… I've seen many friends use them for email signatures too!!
Keep in mind you don't need to spend hours testing all the available tools. Most of them offer the same set of functionalities at relatively low prices. Just pick one. The content is going to be way more impactful than the tool here.
Once you are all set, all you need to do is copy and paste that link hub right into your bio. The way I see it, good Instagram bios will feature a balanced combination of the tactics above.
Emojis and fonts Ideas for Your Instagram Bio
Switching up the Instagram bio fonts might be the eye-catching change you're looking for.
Although Instagram hasn't yet added a feature that allows you to change the Instagram bio fonts yet, there is still a way about it, and honestly, it's pretty straightforward to use.
You can start by simply typing the text you want in your Instagram bio into LingoJam, Instagram Fonts, or Cool Symbol and choosing the right font which describes you best.
Once you've picked the right font, just copy and paste the text into your Instagram bio.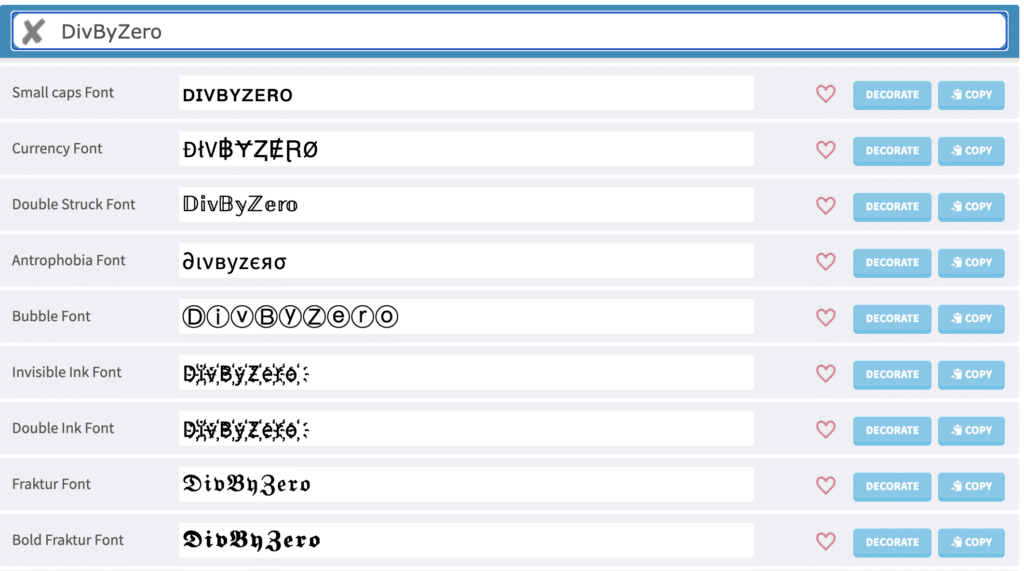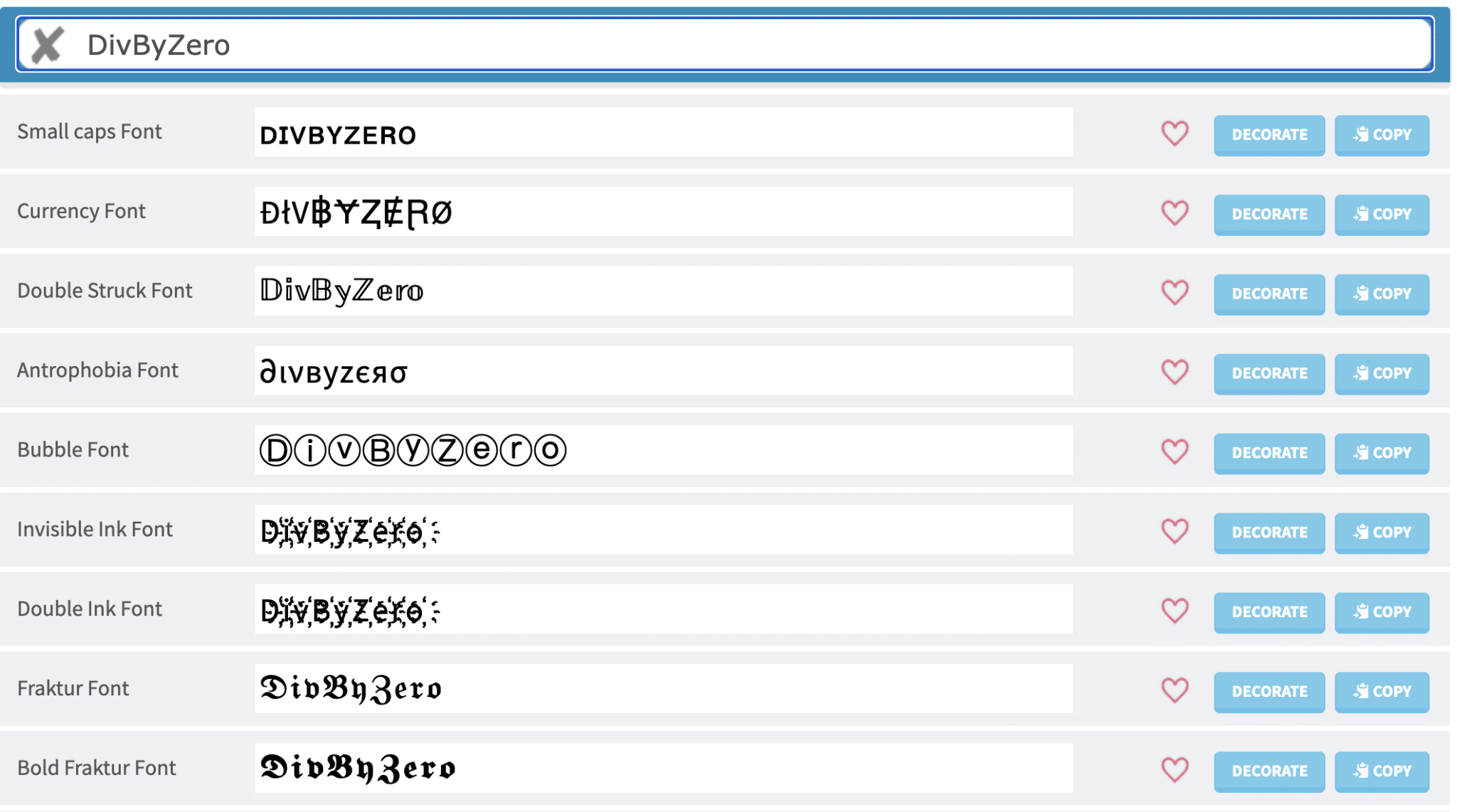 If you are a 20 year old looking to hook up, these fonts are amazing. If you are a business or a freelance… please forget this is even possible. It's unprofessional.
Next, I'd like to talk about the practical use of a strong Emoji. Emojis can be an excellent addition to use on your Instagram but let me give you just a hint here: it's best to avoid using too many.
People often ask how to use emojis in an Instagram bio to make more of a real-life impact with your messaging. You can choose the ones from your keyboard on your phone or device to make your bio more like the ones below.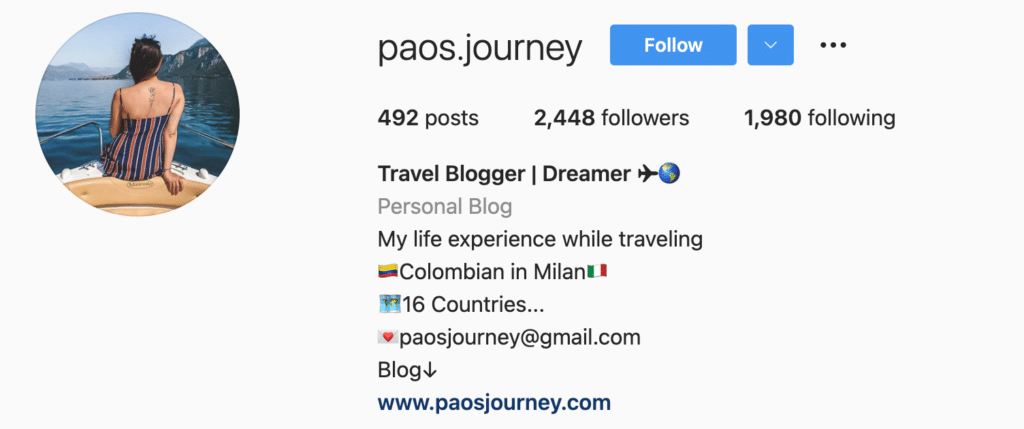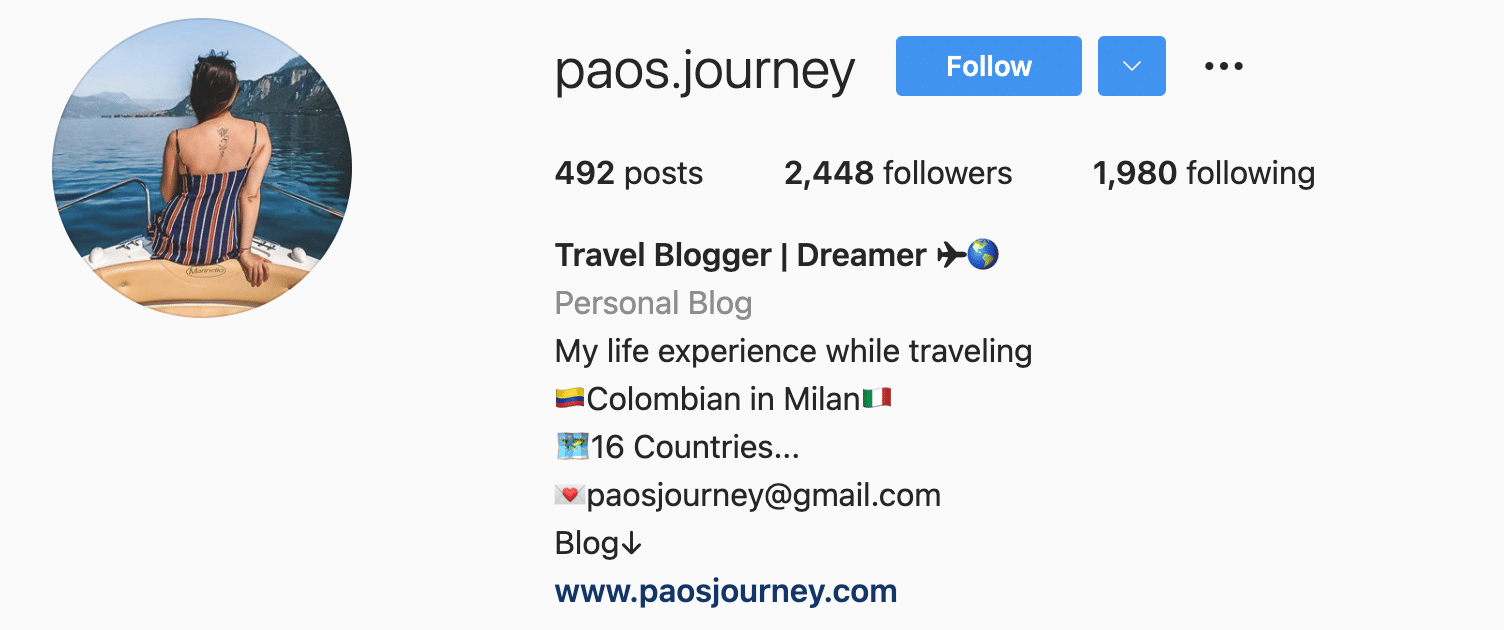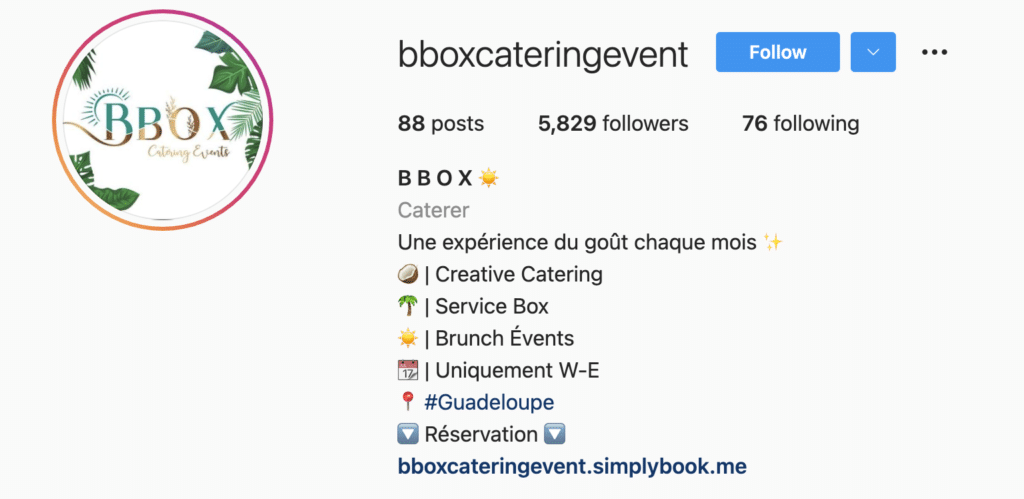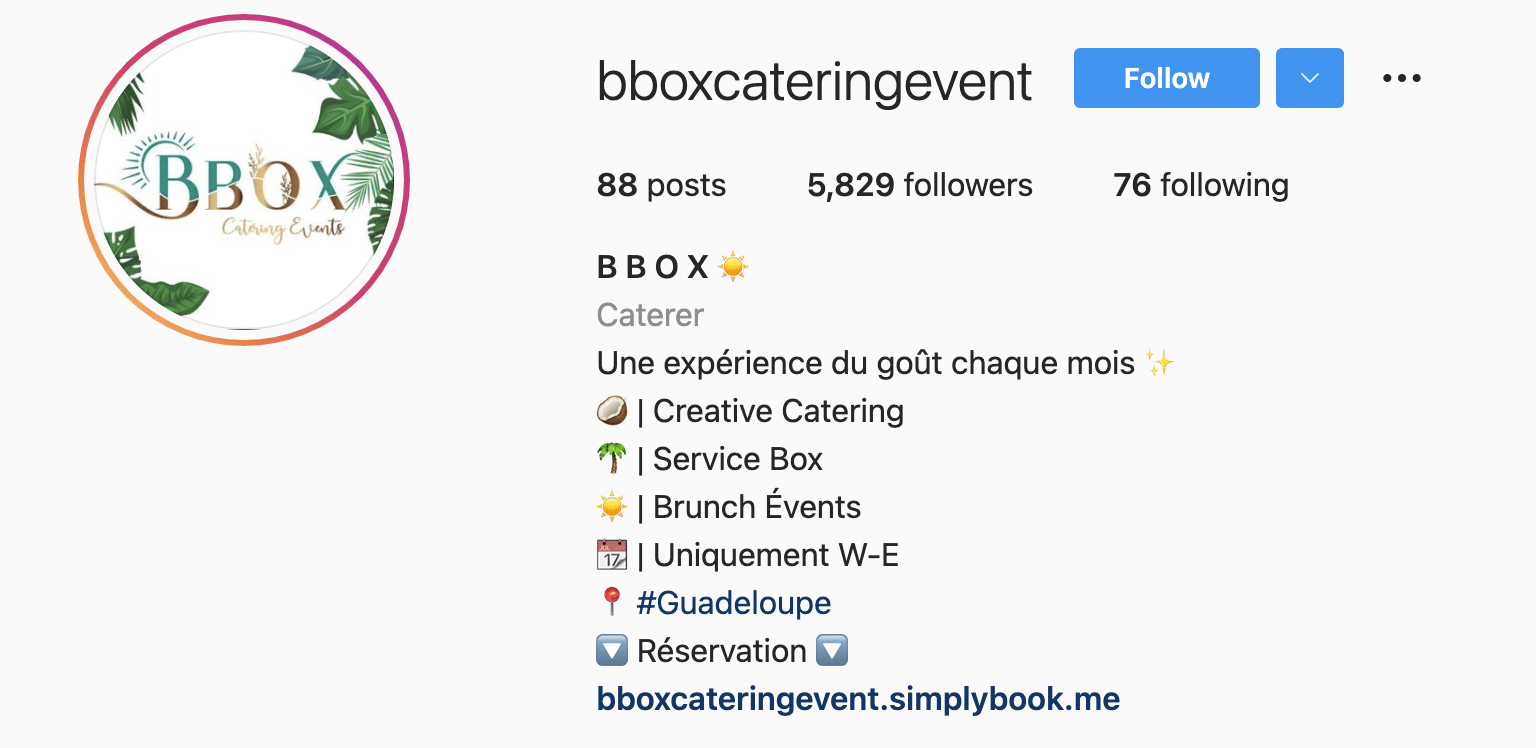 If you're working with a computer to build your bio, though, many other tools are available that have more symbols for you to use; for example, "Cool Symbol" will allow you to copy and paste characters straight into your Instagram bio.
Take a look and check out how Sue Zimmerman used her symbols to spice up her creative Instagram bio :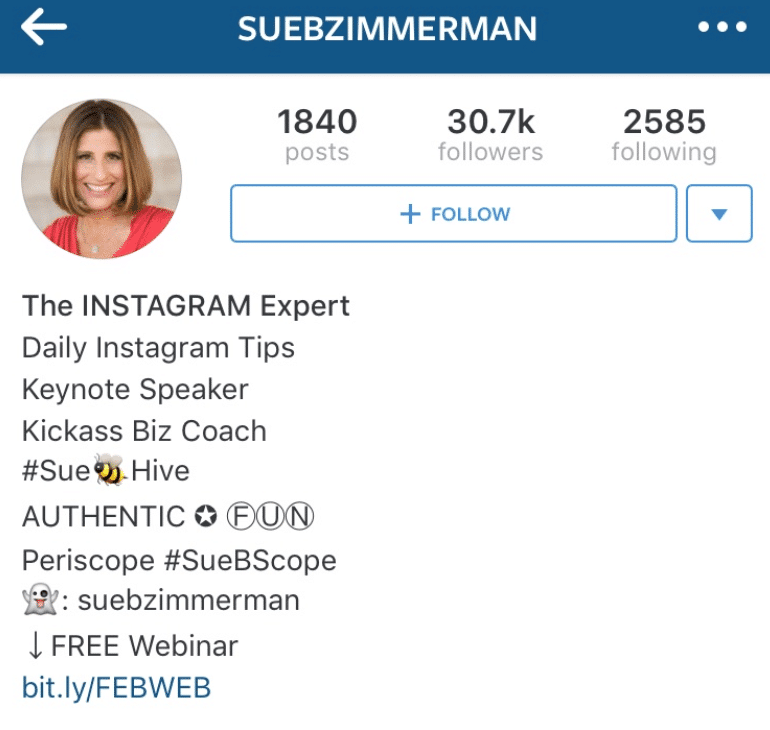 With so many different symbols and emoji combinations available, it's easy to find a great mix to represent yourself or your business, and it might help you cut down on that 150 character count.
Instagram Bio Ideas & Templates You Can Copy and Paste Now
Ok, I promised you many examples of great bios for Instagram, and here they are. It took me a lot of time to browse through thousands of bios and pick the best ideas to inspire you and help you step up your Instagram Marketing.
Instagram Bio Ideas for B2B SaaS
As you might know, if you've checked out my SaaS Marketing guide, I'm not a huge fan of Instagram as an acquisition channel for b2b Startups.
Yet, as you scale your Startup, having a presence on Instagram is likely a must-have, so here are some examples of what the best b2b startups are doing with their bios on Instagram.






Let's pause for a second and check these three examples. As you might have noticed, B2B companies are not trying to be funny or smart with their Instagram Bios. They keep it short and professional, highlighting the value proposition of the company.
If you are not monitoring your Instagram inbox, I think what Zapier is doing makes a lot of sense. Let your customers know that Instagram is not a support channel and how they can reach you.

Hubspot, a company I admire greatly, is not even adding a link to their Instagram Bio. I think this is a bizarre move.
Now let's keep going.





Box and Monday are among the very few SaaS Startups to use Emojis, and overall, I like them. It's professional but also a bit more dynamic than the others. Bravo!






Even Social Media Management companies are not doing a much better job here. Buffer, however, has good use of emoji to highlight their link and drive users to a lead-generating page.
Overall, these examples confirm my thesis that Instagram is not the best channel for b2b SaaS companies. All their bios are quite boring and not really optimized.
Instagram Bio Templates for B2B SaaS Companies
Maybe you wanna play safe and keep your B2B SaaS Instagram Bio basic, but maybe you don't. Let's see what you can do depending on your objective.
If you don't want to miss out on any chance to create awareness around your brand but at the same time you don't really feel like Instagram is your piece of cake, here below a couple of Instagram Bio templates ready to be copied and pasted:
[NAME] is the [ADJECTIVE/SUPERLATIVE] [BUSINESS TYPE] specialized in ____. We help companies to ____with our____.
#InsertPayoffHere
www.YourWebsiteHere.com
At [NAME] our mission is to ____
Join us and start improving your team's performance.
Contact us at @PutYourEmailHere
You see your competitors being all the same and you feel like you dare to be different while keeping it professional? Let's see some templates that can help you out:
[NAME] is a data driven 📈 [INDUSTRY] company with a vision 🔭: To ____.
Find out our offers 👇
www.YourWebsiteHere.com
On a quest for [MISSION], [NAME] is looking for unconventional thinkers aiming at Work 4.0
🧑🏽‍🤝‍🧑🏻[NUMBER] #InsertNameHere, and still counting
🏁Get started for free www.YourWesiteHere.com
Instagram Bio Ideas for B2C Startups
I was not surprised to find b2b startups' Instagram bios to be… well, boring! Let's see if more consumer startups are doing a better job with their Bios for Instagram.







I'm starting to see a pattern here. Not a lot of business accounts are focusing on making their Instagram bio stand out. Instacart might be the best for this group.
Overall, the message is: Keep it short and focus on your mission statement or value proposition.

Interestingly enough, even among Instagram business accounts, link in bio tools are pretty popular.







Food pictures are very popular on Instagram, and Startups in the food space are clearly leveraging them to promote their branded hashtags to increase brand awareness and word of mouth. A tactic like this would be even more effective with an Instagram giveaway attached to it.
Instagram Bio Templates for B2C Startups
As just highlighted, B2C Startups usually stick to a certain pattern for their Instagram Bio.
A really effective way to showcase your B2C brand on Instagram is spreading your mission statement and value proposition, and engaging your audience with a compelling CTA.
Still, struggling to write your bio? Don't worry, I have got you covered:
🟢 [NAME] makes your life #InsertHashtagHere
[NUMBER] already love it
👀 Discover our [PRODUCT NAME] and get 10% off until [DAY]
www.YourWebsite.com
Challenge your inner [ADJECTIVE][EMOJI] with our [PRODUCT NAME]
Customizable, all-inclusive, and addicting
🔦 #InsertHashtagHere community experience
⏰ 3,2,1…It's [OFFER] time!
Join the #InsertHashtagHere contest and win
Click here for discovering the winning prizes www.YourWebsite.com
Connecting people who want to express their full potential ✨
[INDUSTRY] trends, tips, and tricks
What #CommunityNameHere say about us 👇
www.YourWebsite.com
Instagram Bio Ideas for eCommerce
If there's a kind of business that should be in love with Instagram, that's eCommerce. Let's see some examples of great eCommerce Instagram Bios!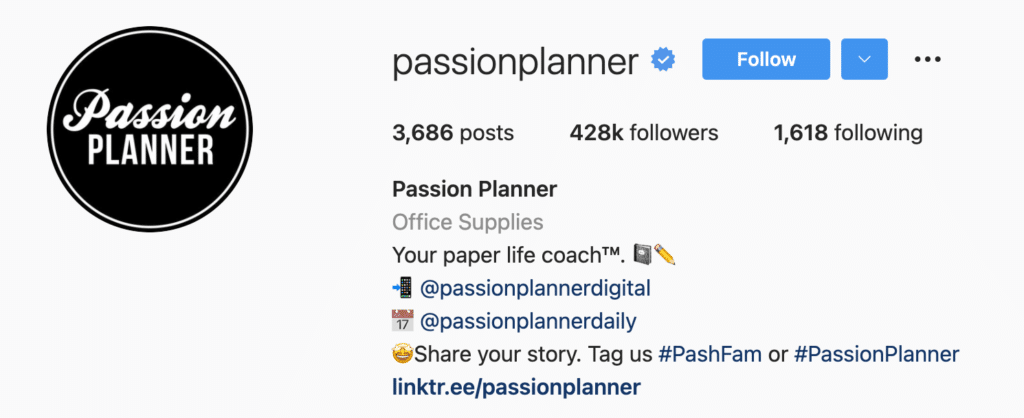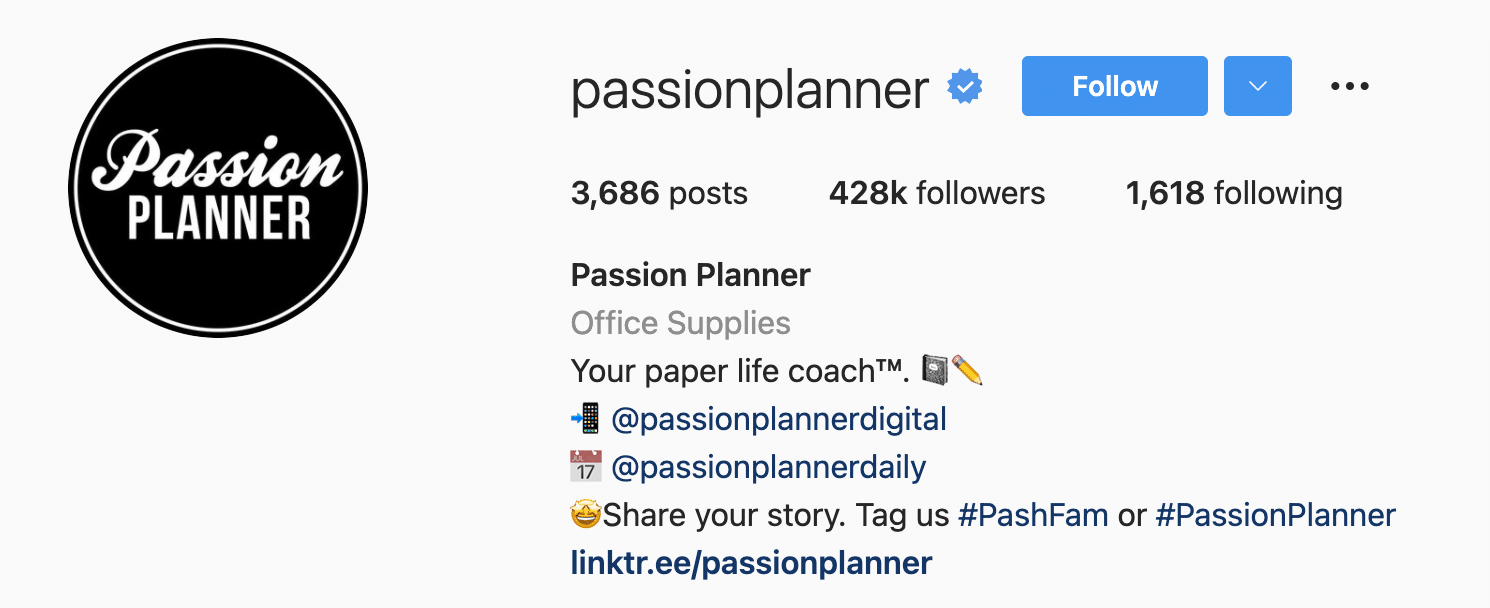 Clearly, eCommerce stores want to leverage User-generated content to increase sales. The promotion of branded hashtags is way more popular across their IG bios.







Finally, some emojis! All these three brands are also highlighting their attention to the environment or supporting a good cause in their Bios! This is a big selling point nowadays and it's very smart to leverage it. Of the three brands, TruWood is doing the best job in my opinion.
It sounds less vague and the environmental benefit is very clear and right to the point: Buy something and we'll plant 10 trees.




eCommerce businesses often tend to update their Instagram bios more often to stay on top of the latest trends. Nomad is already featuring their iPhone 13 cases, 5 days before it's officially available. Kettle & Fire focuses its bio for Instagram on its latest product rather than the overall company.
This is likely a very good practice if you receive a meaningful amount of visits to your company's Instagram profile.
Instagram Bio Templates for eCommerce
If you are an eCommerce, you will surely know that for you an Instagram Bio is more an updated dashboard rather than a business card.
For this reason, it is important to share fresh and updated content regarding your offers, new launches, discounts, social impact, and so on.
Here below some original templates to copy and paste for making your Instagram Profile interesting and valuable:
🏆 Best [INDUSTRY] eCommerce of the year
Quick, easy and all-in-one App to help you ____ [APP STORE/PLAYSTORE]
Welcome Gift www.YourWebsite.com
Finest [PRODUCT/INDUSTRY]
Featured on ____
Shopping our ____ 5% proceeds go to @CharityProfile 🤝
www.YourWebsite.com
🌍 European bigger shopping platform for [INDUSTRY]
New discounted selection every week ⤵️
www.YourWebsite.com
An online space for sustainable [INDUSTRY] and daily inspiration
📸 Show the world your style #InsertHashtagHere
www.YourWebsite.com
Instagram Bio Ideas for Entrepreneur and Influencers




Before we move over to more examples, please check these two profiles. They both have a phone number for texting. Of course, that's not their personal phone number but it's likely a virtual one connected with some system for management by their teams.
It's an interesting approach. Instagram (and TikTok) is a mobile-first social network. I think it makes a lot of sense to use text messaging as a channel to communicate with your audience, especially if it's likely a young audience.











Overall, coaches, influencers, and entrepreneurs have way better Instagram bios than businesses. They usually mix text and emojis to focus your attention on what they care about the most and have some lead generation system in place.

A common theme across all these profiles is Social Proof.
With the exception of Jasmine Star, everybody else uses a large part of their Instagram Bios to boost their credibility. It makes sense. If you have a significant accomplishment to boost your credibility and convince people to follow you, then use it! There are so many wannabe influencers and gurus.

There's a downside of social proof. While it boosts conversion rates for sure, it also shows that you need that extra boost to gain followers.

Top entrepreneurs don't need to add Social proof. Moreover, they likely don't care about their followers' count.




The final consideration is around Quotes. Everyone likes to make their Instagram Bios more engaging with some inspirational or funny quote. Most successful Businesses and VIPs don't use any quote in their Bio.
Instagram Bio Templates for Entrepreneurs and Influencers
Social proof, mobile-friendliness, credibility, and visual triggers are some of the key components when designing your Instagram Bio if you are an entrepreneur or an influencer.
You may also want to speak directly to your audience and say something more about yourself. And you can find all these elements in the following templates:
💓[JOB TITLE] specialized in ____, with a passion for ____.
📣Check my next workshops and online events out at www.YourWebsiteHere.com
💬Can't wait to meet you in DM!
⚡[JOB TITLE] at @CompanyNameHere
👩‍🍳and 🧘 in my spare time
📞[PHONE NUMBER] for scheduling your first coaching session
🎁Free content every week [WEBSITE]
[JOB TYTLE] | [JOB TYTLE]
Marketing, Design Thinking, Lean Methodology
✉️ yourname@company.com
📍 Manchester, UK
Join the #InstertNameHere tour👉 www.YourWebsite.com
The most followed under 30 on [PLATFORM] [NATION]
Founder of @InsertCompanyHere | @InsertCompanyHere Speaker
www.YourWebsite.com
🔜 New Podcasts every Monday at 4 PM
Copy and Paste Emojis to quickly create your Instagram Bio
To wrap up this vast collection of Instagram bio examples, Here are some standard emojis that you can easily copy and paste into your Bio:
Pointers: ☜ 👈 👉 ☞ 👇 ☟ ⬇️ ⤵️ ⇢ ➙ ➯ ➡️
Attention-Grabbing: 🔥 🌟 🔝 ❗ ♦️ 🔴 ⭕ ✅ 🛑 👀 ⚡
Business: 🥇 💼 💵 💰 📈 🚀
Contacts: 📞 ☎️ ✉️ 📍
How's your Instagram Bio?
I hope these Instagram Bio ideas served the purpose to inspire you to review your own Bio and use it to boost credibility and conversions.
Think you have created the perfect Bio? Know some accounts with great Bios that inspired you? Let me know in the comments below! I'm keeping this post always up to date. The next time my example might even be you!