When you think of social media marketing (or content marketing, for that matter) for SaaS brands, YouTube may not be one of the first channels that come to mind… but it should be.
YouTube is often the last frontier of marketing for so many SaaS brands; others may never actually even get as far as creating a channel or actively utilizing it. This is a darn shame because YouTube is an outstanding marketing platform. 
You not only get the exceptional benefit of dynamic video content (which 72% of users would rather watch compared to reading a block of text when learning about a product), but you also have some amazing discoverability perks. YouTube is the second-most used search engine online, so your videos ranking well is an outstanding way to reach new people. Your videos could also show up in Google search results, giving you even more reach.
And if you're intimidated because you aren't exactly sure where to start, good news: We can help here! In this post, we will look at eight different amazing SaaS brands on YouTube (and detail exactly how they're crushing it!)
1. Salesforce
Salesforce's YouTube channel is, unsurprisingly, an outstanding example of SaaS YouTube marketing. There's a lot that they do correctly; they have great educational content, updates about what's new with the platform, and customer testimonial (all of which are tactics we'll discuss in this post).
The big thing that they do so exceptionally well, however, is to have strong, well-organized playlists. They've got plenty of different playlists with great titles like "customer success stories," "what's new on Salesforce," and "Salesforce explained." Each one has an impressive array of content.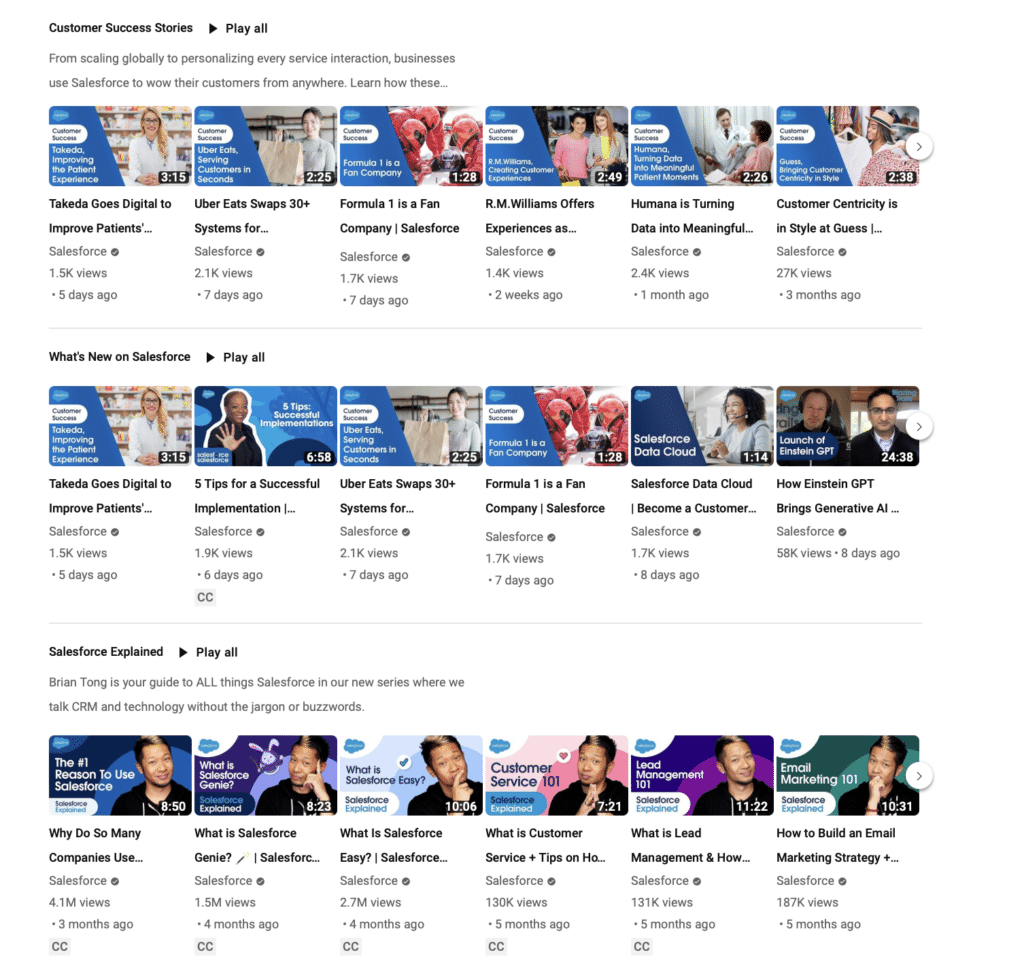 The well-organized playlists do a few things that work to your advantage:
They make it easy for users to browse your channel and find content that interests them, or to find content that meets an exact need they're looking for
Playlists also will show customers relevant videos in the playlist immediately after one ends, which can keep users engaged and watching your content
They can help provide a strategic focus for your channel, as you can create content that fits into high-engaging playlists
Consider what your audience is looking for at all points of the buying cycle, and create playlists that will appeal to each. Existing users, for example, may be interested in different strategies for how to use your tool, while those in the consideration process may be interested in client testimonials. This brings us to our next SaaS brand crushing it on YouTube…
2. Agorapulse
If you want to check out a SaaS brand on YouTube that is doing customer testimonials right, Agorapulse should be your destination.
A lot of SaaS brands may feature some client testimonials, but they're weak; they might only have a single video that stitches a few nice comments from customers together, for example, or a thirty-second clip that says that the client is happy.
Agorapulse's videos, however, are all around the minute mark— a sweet spot of long enough to be helpful without being too long— and feature social media experts weighing in about why the tool was able to help them in specific ways. Since Agorapulse is a social media management tool, the endorsements of big industry names in such detail is an outstanding choice. 
And, as Agorapulse does here and as Salesforce did above, we strongly recommend filing all of your customer testimonial videos under a dedicated playlist.
The channel is strong overall— they use video to showcase how to use new features on the tool, for example, and to provide industry education— but this was a place where they really stood out.
3. monday.com
monday.com is an outstanding example of YouTube marketing from SaaS brands. They do many of the things we'll talk about in this post, including having great playlists with useful content that can increase the value of the tool. Any questions users have about how to use the software or what use cases to consider, there's a video waiting for them.
One thing that we really want to highlight about their YouTube channel, however, is the absolutely outstanding branded artwork. The cover photos for each YouTube video are based on the playlist where it will be featured, and each playlist has its own distinct style of cover art. While this does increase brand awareness overall, it also helps the channel to have strong branded looks that will stand out in search and in playlists based on what the user is looking for.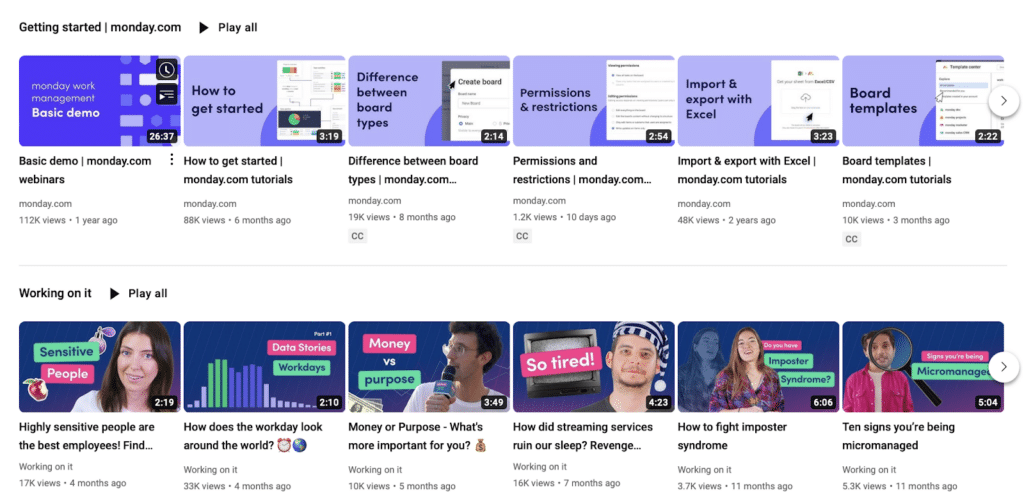 4. Asana
Asana is an incredibly popular project management tool, and they have a great YouTube channel for their SaaS brand. You can learn how to navigate every aspect of the tool from their channel, making it invaluable for both new leads and existing users.
And what we really want to highlight here is something that all SaaS brands should do (but many don't): Featuring changelogs to highlight what's different with your tool.
There are a few reasons why changelogs are so valuable:
It can encourage people to subscribe to your channel so they can stay up to date about everything that's new, giving you additional access to your audience base
You can easily communicate new features and showcase how to use them in one simple location
It shows new visitors that you're constantly working on updating your tool and making it the best it can be (and showing that it's not anywhere close to falling into that dreaded "no longer supported" territory)
Almost every month, Asana releases a changelog video that quickly goes over any new changes to the software. They'll show the feature in use and explain why it can benefit users.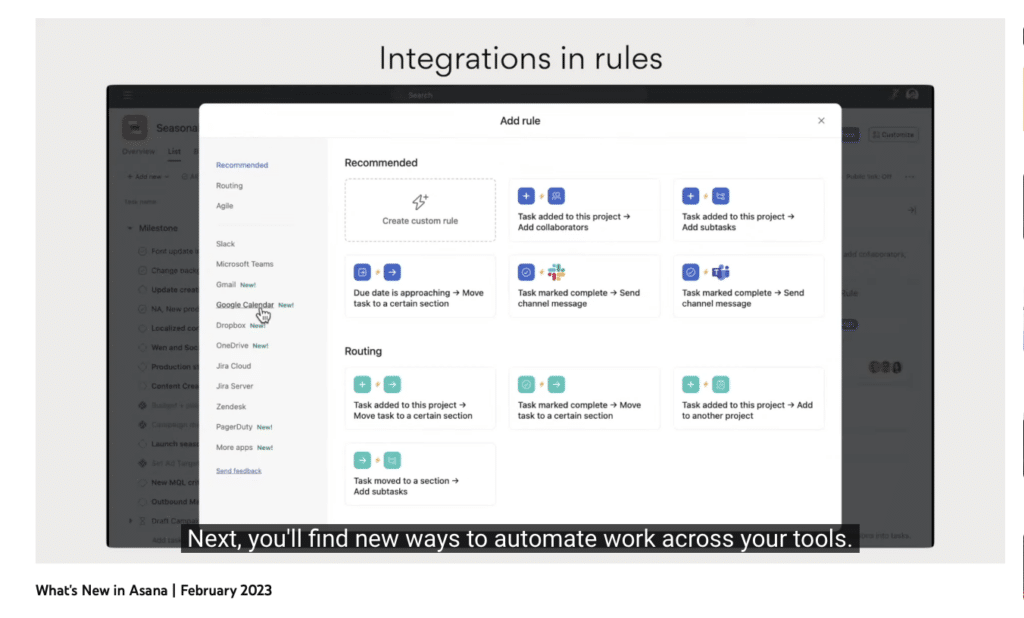 In addition to having this available in the video changelog, they'll also add some of the core information in the video's description, along with a link that takes users to a page where they can read about the changes in more detail.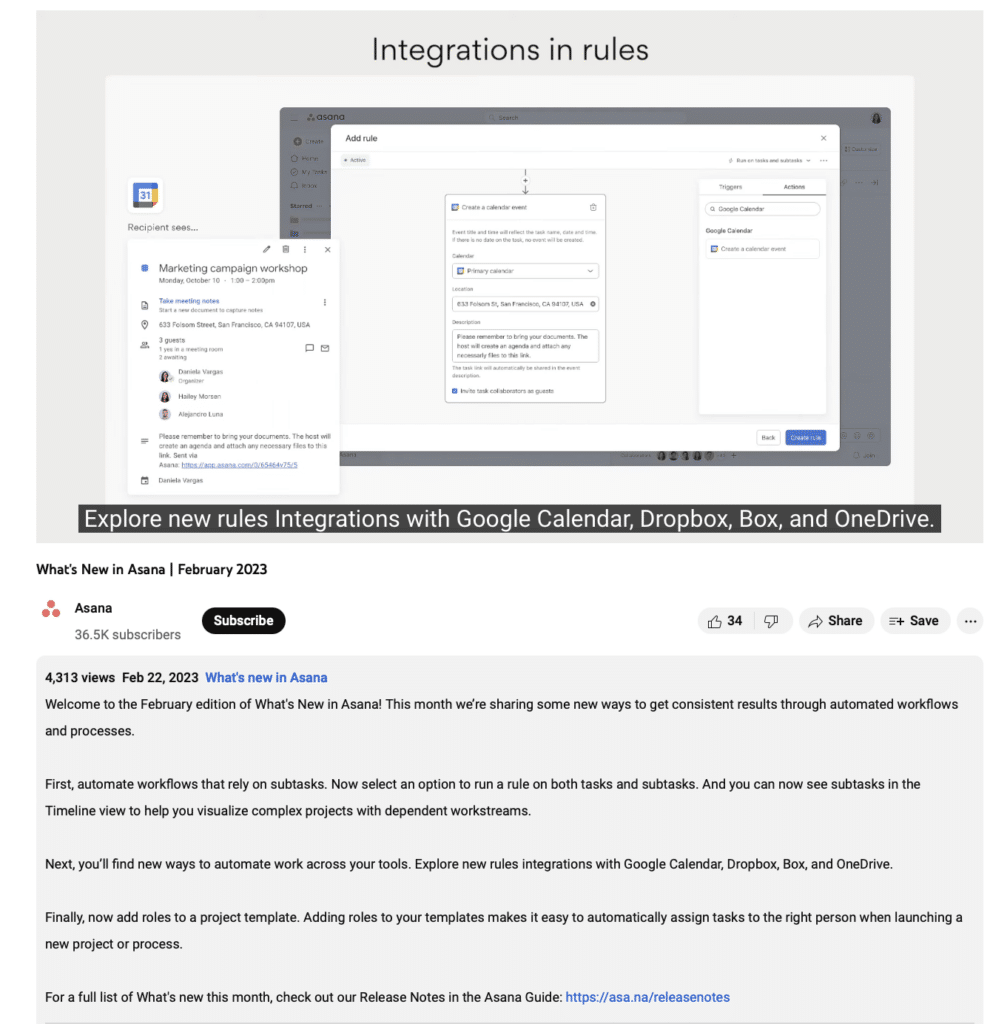 5. Breadcrumbs
Breadcrumbs' SaaS YouTube channel has so many great qualities we've discussed so far: Distinct branded art for their videos, changelogs, and product education videos. But what we want to look at here is their videos that go beyond product education and that act as a core part of their branding and overall content strategies.
Breadcrumbs, for example, has hosted several Hot Takes Live events, which feature a number of different experts in their respective fields sharing their "spiciest" hot takes. These events are fifteen minutes or less and hosted by one of the team members at Breadrumbs.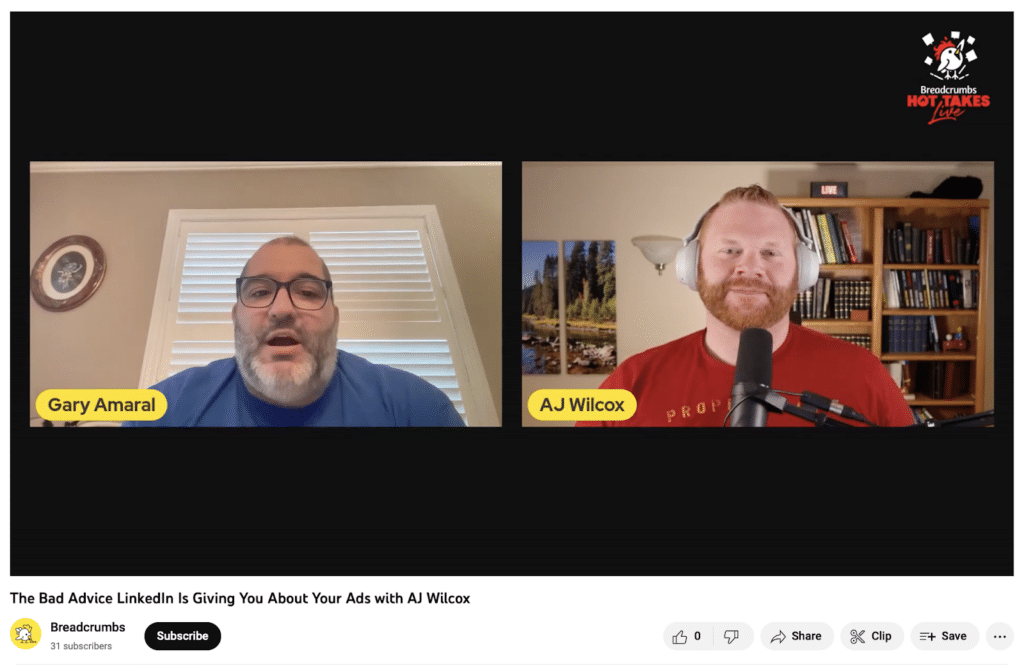 There's an initial live event (which is free to attend but requires sign-up). You can also sign up after the fact to watch the video replays. Eventually, the team adds these videos to their YouTube channel for maximum discoverability.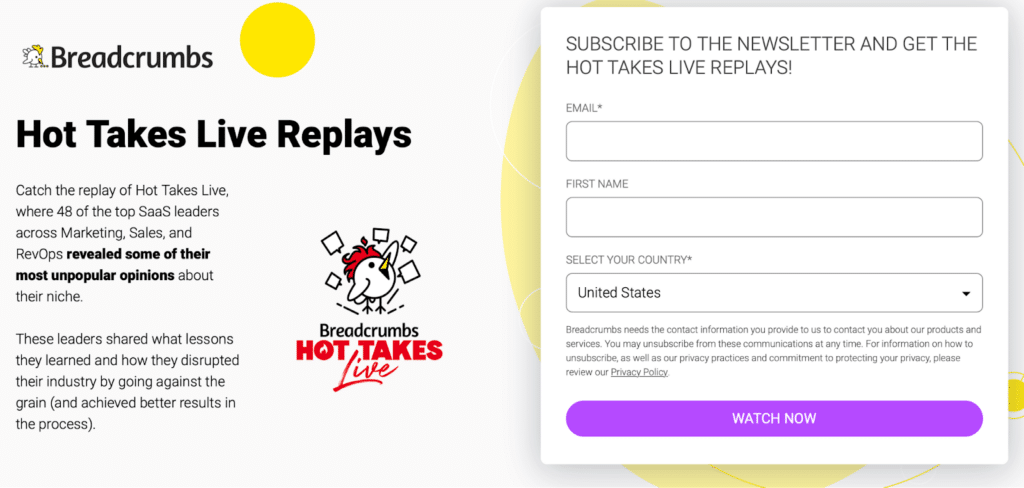 This goes so far beyond basic product education; they've found a way to create value and leverage expert opinions and experience to engage their audience. And while it's successful as a live event, sharing it on YouTube to capture more interest, boost reach, and engage more users is a brilliant strategy.
6. Slack
If you want to look at examples of SaaS brands on YouTube, Slack is worth looking at.
They are a well-known brand with a fairly straightforward product that still uses its YouTube channel to show users how to utilize core features of its product. They have individual product education videos for just about every feature you could imagine, including how to tag other users or how to browse feeds.
Each video features a different high-level team member, keeping the videos engaging and offering an air of transparency and authenticity. You get to feel like you're knowing the team behind the tool in addition to the tool itself.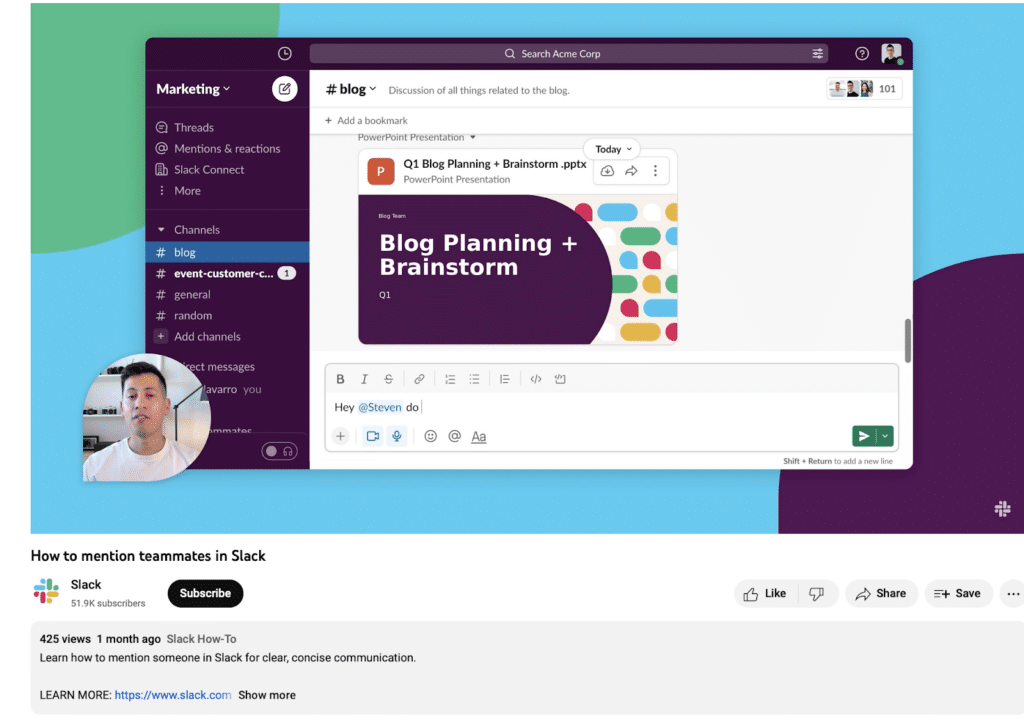 This strategy works well for troubleshooting videos, too; more complex tools may require troubleshooting videos or more in-depth product walkthroughs, so consider what your audience would benefit from most.
7. HubSpot
While product education is a primary focus for many SaaS brands, you also can't go wrong with providing general industry education to subscribers.
I've long argued that YouTube is much more a content marketing platform than a standard social media platform. Plenty of users search for content they're interested in, and stick around to watch videos based on playlists or YouTube's suggestions. 
Offering general education videos can help more users discover you and build trust in your brand, just the same way other forms of SaaS content marketing will.
HubSpot's YouTube channel is a great example of this in action. They have videos that their target audience might be searching for, like "how to write an executive summary" and "how inbound marketing will help your business growth." These are high-value topics that will start to build a relationship and may allow for the occasional product shout-out, too.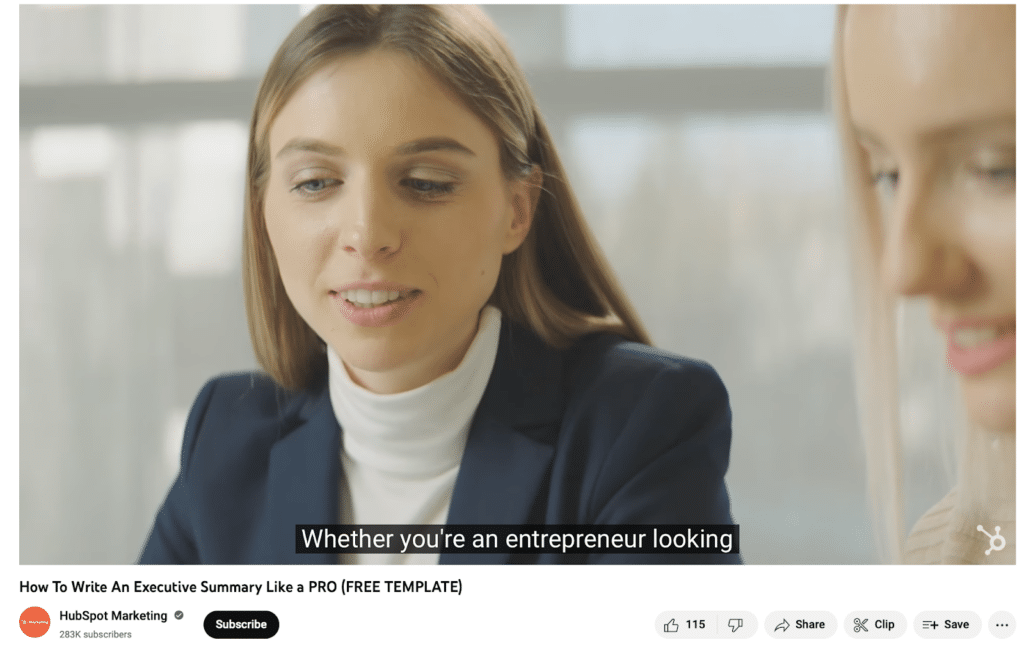 8. Zendesk
Sometimes SaaS marketing can get a little… well, boring. It can be a little stuffy, a little dull, and nothing that users haven't seen before. Sometimes thinking outside the box not only for your content strategy but the overall tone and voice of your videos can make a big impact.
Zendesk is a great example of a SaaS brand on YouTube that wants to do it differently. Even their intro video greets users in a variety of different languages, with lighthearted music in the background. They've got the standard videos you'd expect, but also those like "rating the hold music from different companies" and "s*it support agents say." They use a combination of YouTube shorts and long-form videos to keep users engaged.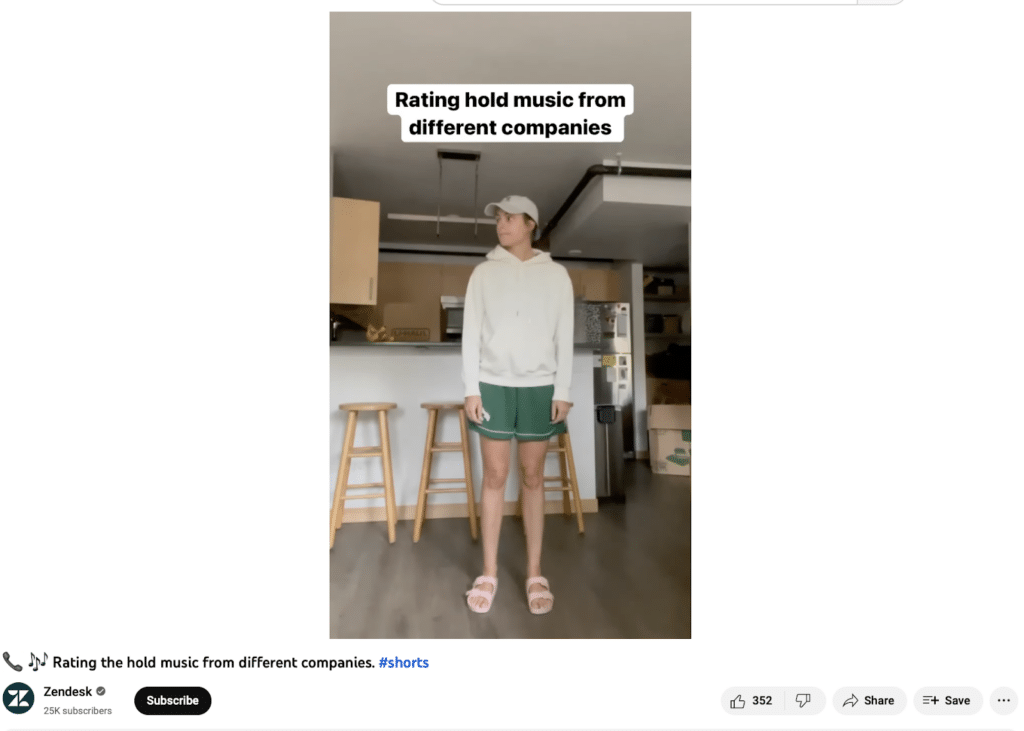 Their content is both useful and entertaining, and I'd be lying if I said it didn't earn a subscriber out of me.
Final Thoughts
When it comes to YouTube marketing for SaaS brands, there are plenty of best practices to follow, and these eight examples pretty much excelled across the board. Some channels on our list even incorporated all best practices, including thinking outside the box with new ways to capture their audience's interest.
Think about the video content that your audience would most benefit from, and what they may be searching for already. This is a good starting point to determine what playlists and videos you should create.
What do you think? Do you incorporate SaaS brand YouTube marketing for your business? Share your thoughts below!