Effective inbound SaaS marketing is a marketer's dream.
That's because instead of actively pitching your business's products left, right, and center, with no guarantee people will be interested, you have your target customers landing on your website of their own accord to explore your products. Maybe even sign up!
So how can you get your inbound SaaS marketing efforts off the ground? This blog post explores how.
What is inbound SaaS marketing?
Inbound SaaS marketing is a marketing strategy that involves attracting prospective customers to your business instead of actively seeking them out.
It typically works by creating valuable content and resources and distributing them where your target audience will find them, such that they:
engage with your resources,
gain awareness of your business, and
over time, get nurtured into customers.
Resources created for inbound marketing for SaaS often come in the form of written content, like blog posts and white papers. Video is another possible content format—and a highly popular one at that! In HubSpot's State of Inbound Marketing Trends 2022 report, 59% of B2B and B2C marketers surveyed ranked video as the top media format they used. (Blog posts came in second.)
The somewhat "passive" nature of inbound SaaS marketing also distinguishes it from outbound SaaS marketing, which involves putting yourself out there and prospecting for potential customers.
If you were engaging in outbound SaaS marketing, for instance, you might send cold emails, buy Facebook ads, or set up conference booths.
What are the benefits of inbound SaaS marketing?
Inbound continues to work even if you stop working on it
Inbound SaaS marketing is a proven method of getting results. I'll share case studies of SaaS businesses with epic inbound strategies later but for now, consider how 67% of B2B marketers surveyed by the Content Marketing Institute credited content marketing—being a type of inbound marketing—for helping them to attract leads. 42% of these marketers also reported generating sales from the same.
What's especially beautiful about inbound marketing, though, is its potential to drive results over the long term even if you've had to cut back on it.
Sure, your inbound leads and sales will eventually dry up if you abandon inbound marketing for good. But until that happens, you can still expect to receive some leads and customers for some time.
Compare this situation to that of outbound marketing, which works like a tap. Turning it off —such as by slashing your ad budget to zero—will also cut off your flow of leads immediately.
The impacts of inbound can compound over time
On the flip side, if you were to ramp up your inbound marketing efforts instead of winding them down, you may find the results you get from inbound increasing exponentially over time.
That's because once you've created and put out one resource, it can potentially start drawing in leads even while you're working on the next one.
Rinse and repeat such resource production and distribution efforts, and you'll soon have an entire collection of resources, all bringing in traffic and customers for you on autopilot. If you maintain them regularly, they'll likely continue to serve you well in the long term.
All this makes inbound highly scalable, and businesses that execute a strong inbound strategy can expect to enjoy an unfair competitive advantage over time.
Get discovered by qualified leads (emphasis on "qualified")
Users who get to know your business after engaging with your resources are more likely to be qualified leads who may find your product useful.
For instance, perhaps you're an appointments scheduling platform that has published a guide titled "How to Send Automated Appointment Reminders."
A business owner who Googles that phrase and comes across your guide is likely to need automated appointment reminders, making them a great fit for your appointment scheduler product.
They'll also probably be a much easier sell than, say, some random retiree who got served your social media ad while trying to make an appointment, because the algorithm (incorrectly) guessed they needed to manage customer appointments instead.
On which channels can you execute an inbound SaaS marketing strategy?
Your business's website
And your blog in particular, on which you publish helpful content for your target audience.
Of all the possible methods of marketing blog content, a pure inbound SaaS marketing strategy will tend to leverage search engine optimization (SEO) to bring in readers.
That's because once you've published your search-optimized content, anyone who conducts searches using your target keywords may stumble upon it by themselves. This is even if you haven't actively promoted your content on your socials, in your emails, or elsewhere.
Email
Once you've gotten users onto your platform—such as your website where you've published your value-packed blog posts, as mentioned earlier—offer a lead magnet that compels them to give you their email address.
From there, you can drip them emails designed to educate them on your business and nurture them into paying customers. And with these emails being automated, all the nurturing can happen without your team getting involved.
As an inbound SaaS marketing channel, email complements your website by encouraging further user interaction with your business, which in turn increases the likelihood of conversions. It definitely beats allowing users to land on your website, get what they need, and bounce out right after that.
Your product
In a nod to product-led growth, your product can also be the valuable resource that drives inbound leads.
That's because if customers love your product, they'd be more likely to recommend it to people they know. These users may then check out your products even if you hadn't marketed to them yourself.
You can also incentivize such referrals by setting up affiliate programs that award commissions to customers who help you generate new paid signups.
Key pillars of an effective inbound SaaS marketing strategy
Regardless of the channel you use for getting inbound leads, your inbound marketing SaaS strategy will be truly successful only if:
Customers come to you, not the other way round: If you find yourself actively putting your business in front of potential customers regardless of whether they've shown interest in it, then that's not an inbound marketing strategy.
The results you get from your strategy are disconnected from the effort you put into it: As an extreme example, you could stop investing time and effort into inbound SaaS marketing and your inbound resources will continue to attract users your way for a while.
You nurture and close customers without action from your team: The marketing and signup process for inbound leads is generally self-service in nature. That said, if enterprise (read: big-ticket) customers come calling, you may still want to link them up with a sales rep to work out a custom quote.
3 tips for getting your inbound SaaS marketing off the ground
1. Produce quality resources users will want to engage with
Thanks to ChatGPT and other AI writing tools, churning out large volumes of content quickly is now a piece of cake—and in hot demand. Just the other day, for example, I came across an Upwork client that wanted to hire an agency for creating 5,000 ChatGPT-generated articles per month!
But the main problem is that many AI writing tools produce content by drawing from existing knowledge. So you'd effectively just be rephrasing what everyone else is already saying instead of adding value to the conversation.
And when users land on your content and spot the same-old information they've already seen many times before, they might not spend much time reading it—much less explore your product in more detail.
So instead of using AI writing tools to create content wholesale, I recommend taking the time to produce content that people will genuinely find useful. For example, you could:
Survey your customers to learn their pain points, and create content to explain how your product can address these exactly.
Interview team members with in-depth knowledge of a topic to include their expertise in your content. Conducting such interviews, you'll often unearth nuggets of information that can be gained only from hard-earned experience.
Designing high-quality infographics and visuals that help illustrate your points more effectively than words ever can.
2. Optimize your blog content for higher search engine visibility and traffic
As mentioned earlier, a large part of inbound marketing involves driving traffic and users from online searches, so you'll want to make your content search engine-friendly.
Effective SEO involves executing tactics such as conducting keyword research, building backlinks, and improving your website's technical performance. All these topics could take up entire articles on their own but for now, I'll point you to this SaaS SEO mastery guide if you want a concise overview.
Heads-up, though: drawing in search engine traffic isn't and won't be as easy as how it was in the past. Just consider featured snippets, which are short segments of text that Google may extract from websites to answer a user's query.
Here's the one for "how to calculate email conversion rate," for instance: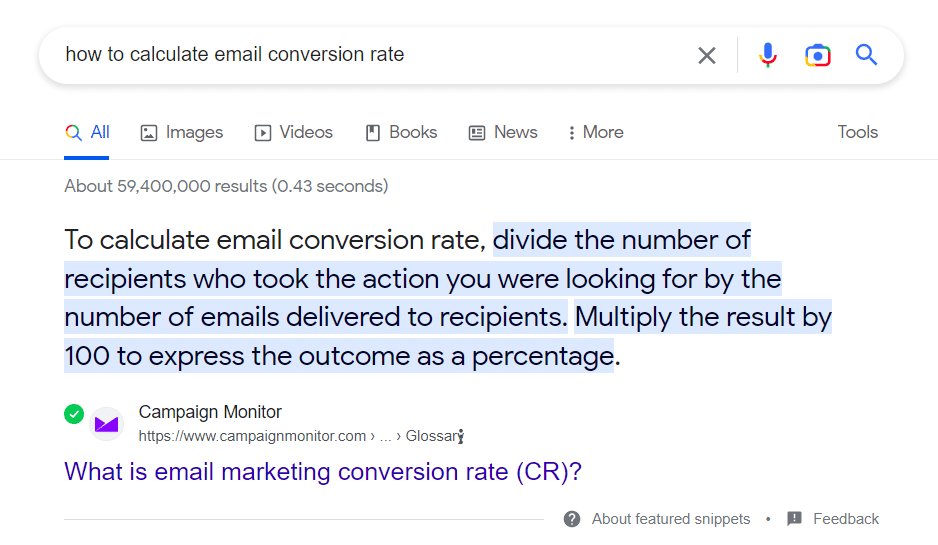 If I were satisfied with the answer provided, I might close the page without clicking through to any of the listed search results. As a result of this, none of these websites get any visits.
And in the mid to long term, this disruption of the traffic > lead > customer funnel may only get worse if search engines start to routinely answer queries using AI chatbots instead of linking users to other websites. (Hello, Microsoft's AI-powered Bing and Google Bard.)
To adapt to this new reality, it might therefore make sense to optimize your content such that AI chatbots will cite it—and you—in their answers.
Just imagine, for example, how much traffic you could net if users ask "What is the best tool for (use case)?" and the chatbot points them to your product!
3. Work on your brand awareness
Building brand awareness and a loyal audience will also be more important in a world where you can't rely on search for traffic as much as before.
After all, if your target audience knows about your business and has a good impression of it, they're more likely to come directly to you when they need help.
Alternatively, even if they do use a search engine, they'll use a branded keyword that includes your business's name. For example, they might Google "how to build a landing page with Elementor" as opposed to just "how to build a landing page."
To build brand awareness and customer loyalty, it helps to:
Market your business more, including using inbound SaaS marketing tactics like publishing more blog posts. (Yes, using inbound marketing methods to grow your inbound traffic sounds meta, but it works.)
Work on delivering an amazing user experience so your customers are more than happy to continue using your product (and recommend it to others!)
Inbound SaaS marketing: case studies
HubSpot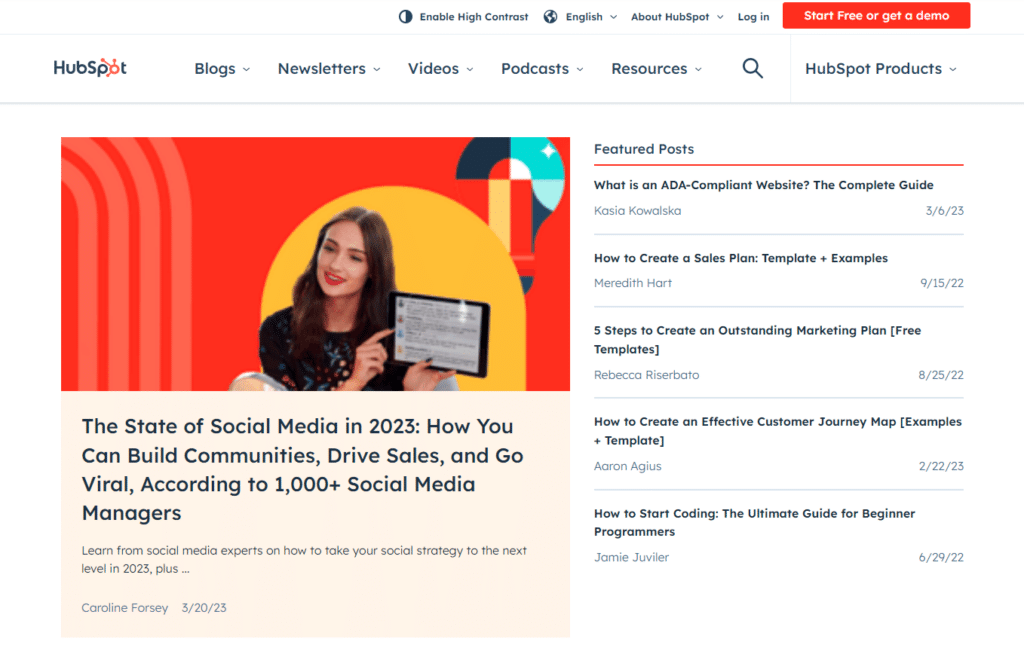 This business needs no introduction, and it has probably one of the best inbound marketing strategies out there.
Being a CRM platform that caters to marketing, sales, customer service, and ops teams, HubSpot has created a whole range of blog content on all these topics. Just browse these articles on creating a marketing plan, best sales email subject lines, and the role of a customer success manager, for example.
Many of HubSpot's articles also rank on the first page of the SERPs—if not in the coveted #1 position, like all three articles mentioned above actually.
And if you dig deeper into HubSpot's blog, you'll also find seemingly random (yet high-ranking) articles like these ones on how to type the shrug emoji, the 100 most famous quotes of all time, and a summary of the 7 Habits of Highly Effective People book.
What does such content have to do with what HubSpot is selling? Nothing much, at first glance.
But its target audience might need such info anyway—such as a marketer who wants to use the shrug emoji in a social media post. And when they Google this, they will find HubSpot. Bam.
AdEspresso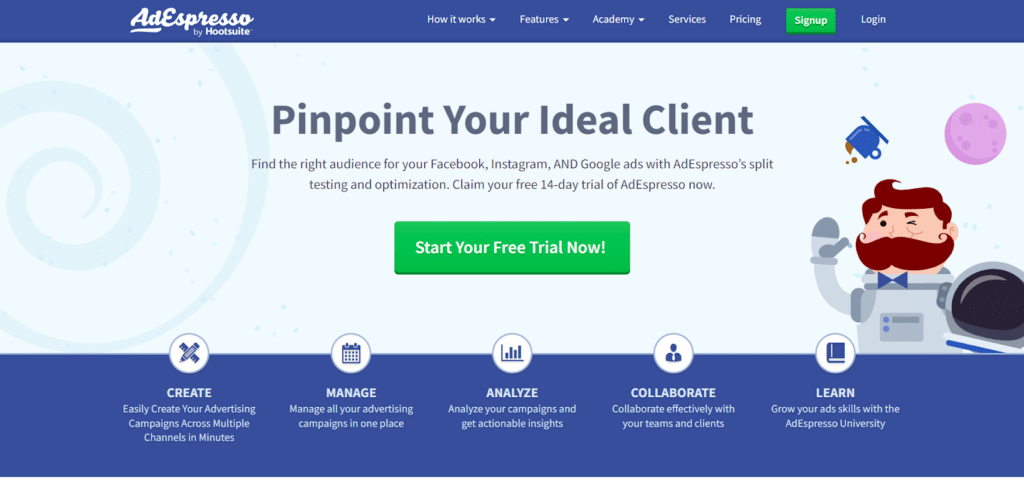 Since this blog is run by Max, who co-founded AdEspresso, here's a shameless plug of the platform and its killer B2B SaaS inbound marketing strategy!
If you're new to AdEspresso, it helps businesses manage their Facebook, Instagram, and Google ads all from one platform. The platform's inbound marketing strategy consisted of publishing educational content covering all stages of the sales funnel, such as this TOFU (top of the funnel) article on getting verified on Facebook, and these BOFU (bottom of the funnel) case studies on how businesses have benefited from using AdEspresso.
"No outbound strategy was used, and no sales reps were hired either," Max shared when I asked for input on this article. "Just 100% self-service sign-ups."
Focusing purely on inbound marketing, AdEspresso experienced "massive" growth and raked in as many as 700K monthly blog visitors. In fact, the platform was so successful that Hootsuite acquired it 5+ years after its founding!
Zapier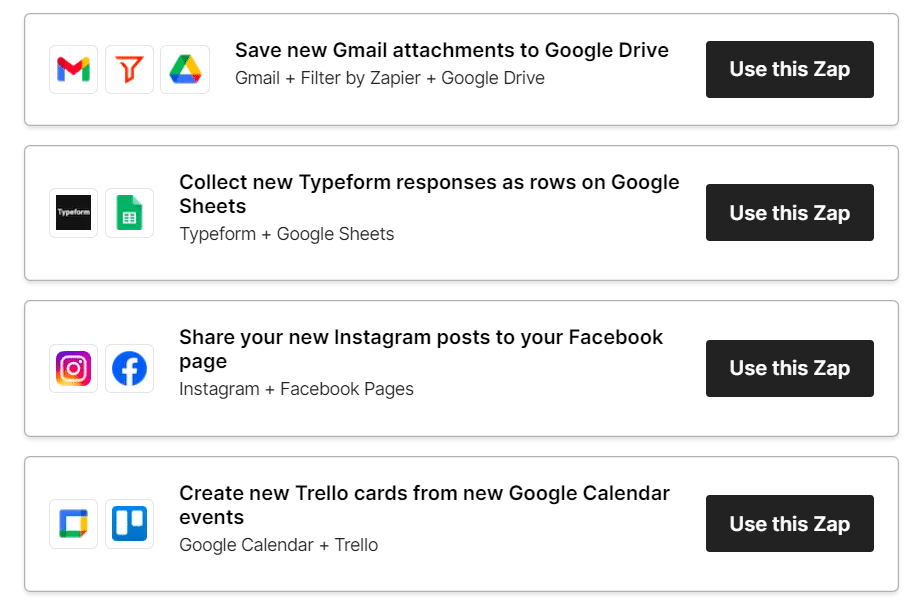 The case studies of HubSpot and AdEspresso mostly involve producing website content and relying on SEO traffic, so let's look at something different.
Namely: a tactic for generating leads with your product as the inbound resource, and by tapping into the power of word of mouth.
On its platform, Zapier lets users build workflow automation called "Zaps." These Zaps can be shared as templates with others who may want to automate their tasks in the same manner. Here's an example of Zapier user Simon Jobling sharing his Zap template:

So here, the value that Zapier provides isn't in the form of content per se. Instead, it's how users can sign up, then plug others' Zap templates into their accounts, to start automating their work right away.
Many of Zapier's blog posts (such as this one, this one, and this one) also link to Zap templates created by the platform itself, with explainers on how to best use them.
Reading these guides, prospective users can get a better idea of how Zapier adds value to their operations, which could in turn encourage them to sign up.
Are you drawn toward inbound SaaS marketing yet?
While outbound marketing tends to work well in some industries, inbound marketing is the secret weapon for many SaaS businesses, helping them generate traffic, leads, and signups on autopilot.
The key is to understand your target audience's needs and pain points, then create quality resources to address these.
This way, potential customers who come across them will find themselves attracted to your business like a magnet.