For B2C and B2B SaaS companies, it's tempting to focus resources on customer onboarding. After all, customer success and retention often depend on getting new users to adopt your product and see ROI.
But what about your offboarding process? Without a painless cancellation workflow, a feedback collection system, or a reengagement sequence, you could be missing key chances to reduce churn.
In this guide to SaaS customer offboarding, we'll cover why it's so crucial to get this process right—so you can leave customers with a positive impression while gathering valuable data for your team.
Why is SaaS customer offboarding so important?
It's easy to assume that when customers take steps to cancel, they've already made a decision—or that they'll never return to use your product again. As a result, devoting resources to cancellation and reengagement may seem like a waste.
For most SaaS companies, however, there are a lot of good reasons to invest in a good offboarding experience.
Reducing Customer Churn
Just because users start your cancellation workflow doesn't always mean they've made a final decision about closing their accounts. If you have a lot of users with regrettable churn, you may be able to retain them.
In some cases, they might make the decision to stay instantly. In other cases, they might return later, when your product better fits their use case. Either way, having a good offboarding process in place can reduce logo churn.
"SaaS has a notoriously long and meandering onboarding 'funnel' if you can call it that, and that's true of the offboarding 'slide' as well," explains Virginia Shram, Copywriter & SEO Specialist at VKS.
"Ensure a smooth and respectful offboarding process without being too clingy, and often managers may find themselves within a differently organized workflow and need exactly your product again. Build your network."
Improving the Product
Some churn is unavoidable. But the more you learn about why users cancel, the better you can position your team and your product to reduce regrettable churn.
Your user offboarding flow is an ideal time to talk directly with customers. Yet many SaaS companies skip this step—or they fail to analyze and implement the data.
As Tamer Rafla, Founder & CEO of Klujo, explains, some SaaS companies "don't use offboarding data as strategic input to drive the product strategy and roadmap." In other words, they're making a major oversight.
"Product marketing is focused on analyzing the competitive landscape and market trends to identify gaps in technology," Tamer continues. "But they have at their disposal much more valuable information on those gaps—directly from the mouth of the customer."
Ending on a Positive Note
Perhaps you already have a basic user offboarding process in place. But it's a little clunky, and sometimes it errors out. Or maybe it's a little long and sometimes ends up with frustrated customers.
Should you care? And more importantly, should you invest in creating a better workflow? In short, yes.
The peak-end rule says memories that are the most emotionally intense (i.e., frustrating) and that happen toward the end of an experience (i.e., cancellation) are the most memorable.
In other words, taking the time to create a good experience can leave customers with a good impression. That can help you win back lost customers and may even result in them recommending your product to peers.
"SaaS vendors need to make their offboarding process more customer-centric," Tamer confirms. "When customers are provided with a pleasant experience during offboarding, they will not hesitate to recommend the software."
How to Improve SaaS User Offboarding
How can you improve your cancellation and reengagement workflow or build a good one from the ground up? Use these best practices.
Make Account Cancellation Easy
In most cases, switching off a SaaS subscription should be simple enough that customers can do it themselves, without needing to search the company's knowledge base or schedule a call.
Will there be exceptions? Of course. Removing a Chrome extension is easier than canceling an enterprise product.
But if your cancellation process is overly difficult, it probably won't help you retain customers. Instead, it's more likely to leave users with a bad impression.
"Many SaaS companies make it difficult for customers to cancel their subscriptions," explains David Godlewski, CEO of Intelliverse. "Instead of valuing a seamless exit, they resort to tactics like hidden cancellation buttons, lengthy phone calls, or excessive forms, all designed to deter the customer from proceeding with the cancellation."
Start by making it easy for users to see how to cancel. For example, the "delete my account" button couldn't be easier to find on Neuron Writer's account dashboard.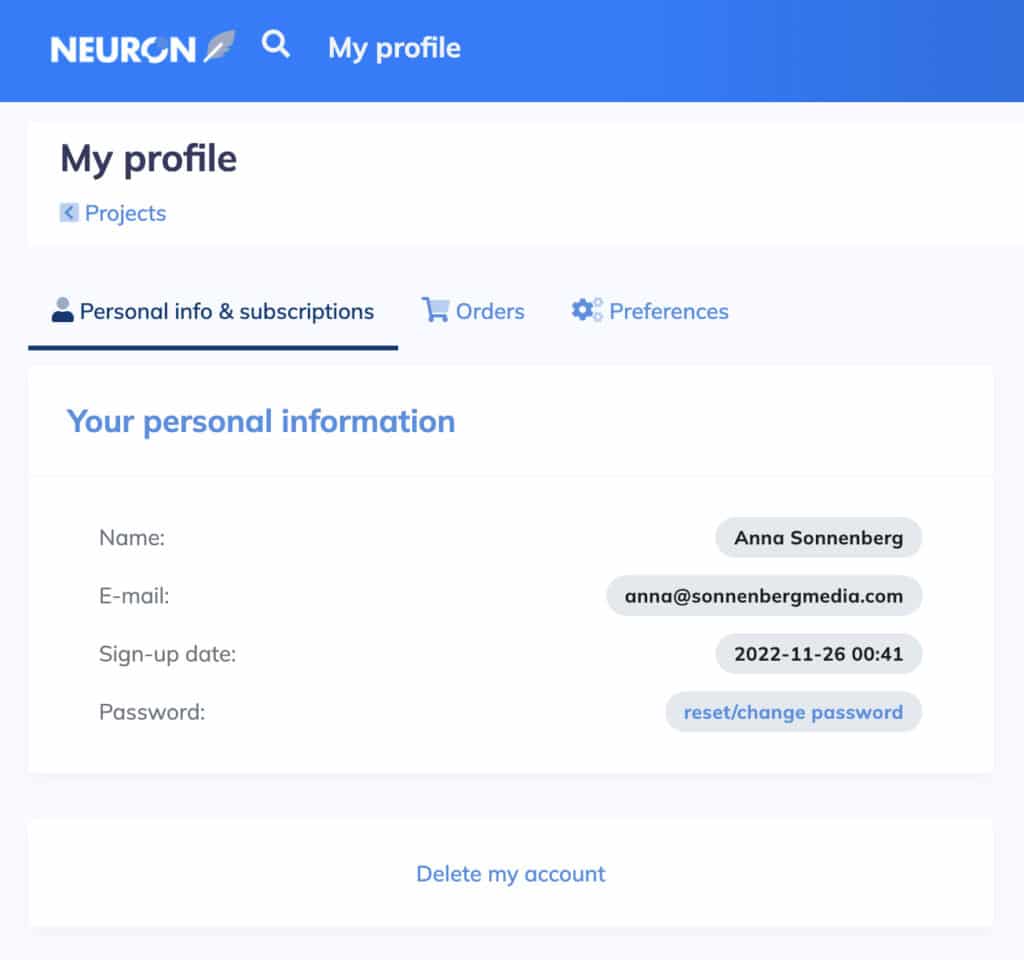 If self-service cancellation isn't ideal for your product, tell customers exactly where to call or email to stop their subscriptions. Then make sure your customer experience team is prepared to respond promptly.
John Xie, Co-Founder and CEO of Taskade, explains that the AI-powered team productivity platform's customer success team gives customers multiple ways to cancel.
He shares that in addition to a self-service option, "We can also offboard customers manually if they choose to contact us instead. For customers who reach out to us for cancellation, the process is more or less the same. We just process it on their behalf. It concludes with a thank-you message and an offer of any additional assistance."
Ask for Feedback
Aim to make your cancellation workflow as simple as possible. But whether it starts on your product dashboard, via email, or over the phone, be sure to ask for feedback.
You can leave this part open-ended, inviting customers to share freeform thoughts like GMass does. This qualitative tactic may get customers to speak their minds. But note that it may also cause users to click away without writing anything.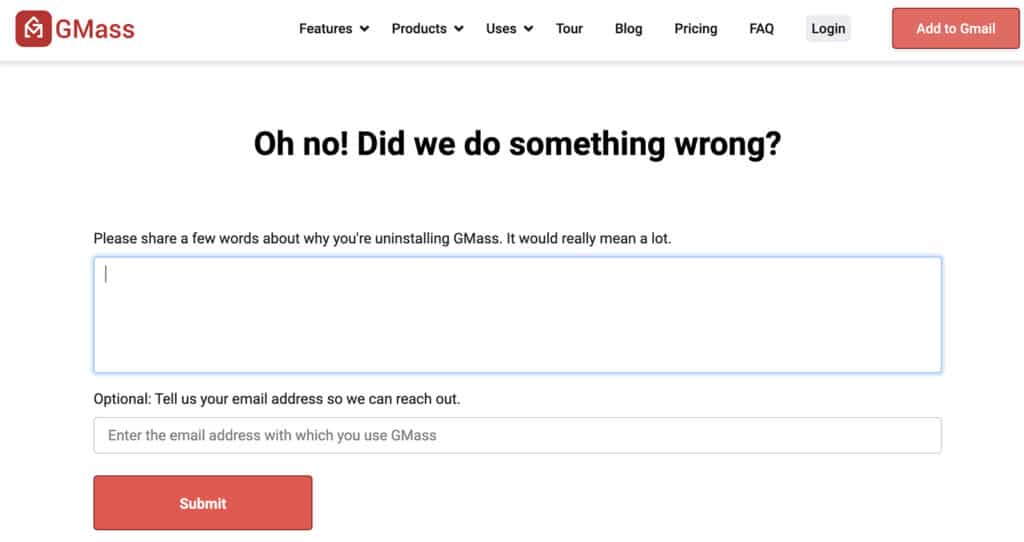 Alternatively, you can prompt customers to choose from a list of reasons like Mailmodo does. This survey tactic may increase your response rate. The results should also be easier to quantify and implement.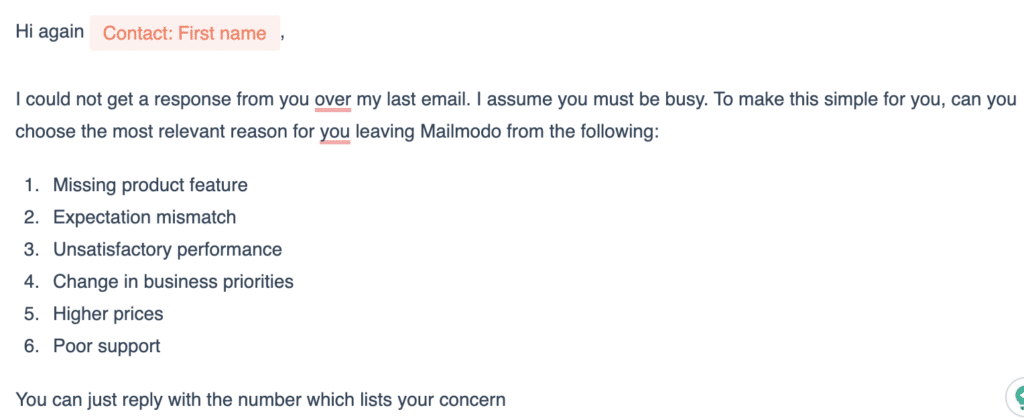 "When a customer wants to cancel our service, our customer success team contacts them to find out why. We ask if they can talk to us about it. We collect feedback during these talks and fix any problems we can right away to keep the customer," explains Chintan Parekh, VP of Customer Experience at Mailmodo.
"If there's nothing we can do, we pass their feedback to our product team. We also make sure customers know they can cancel even if they don't talk to us, but we just want to learn how to make things better. This approach helps us get more feedback and reduces cancellations when we can fix things."
Offer a Targeted Incentive
In some cases, you may be able to stop the process mid-cancellation and retain the customer. Incentives like discounted subscriptions or temporary access to premium features can work well. How well exactly?
Massimo Chieruzzi explains, "At AdEspresso, we had a survey at unsubscribe. If they selected the reason was the cost, we'd offer a discounted yearly plan. We managed to win back 30% of the churn."
Semrush offers customers a similar incentive. Choosing cost as the reason for canceling a plan prompts the platform to make an offer like the one below.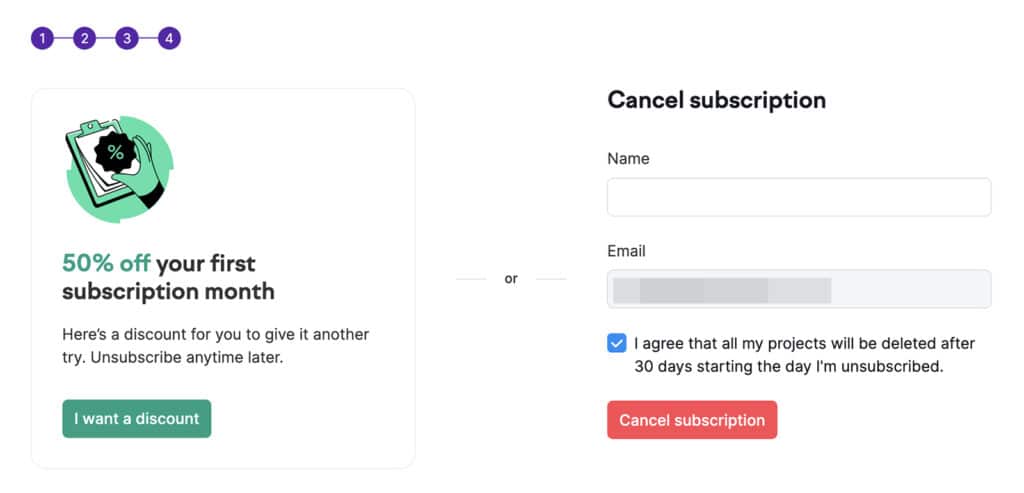 Highlight Lost Benefits
If incentives don't work for your pricing model or if they don't appeal to your customer base, highlighting lost benefits or features can be just as effective.
For example, LinkedIn Sales Navigator's offboarding email includes a short list of premium features. Customers can easily see what they're missing and opt to upgrade directly from the email.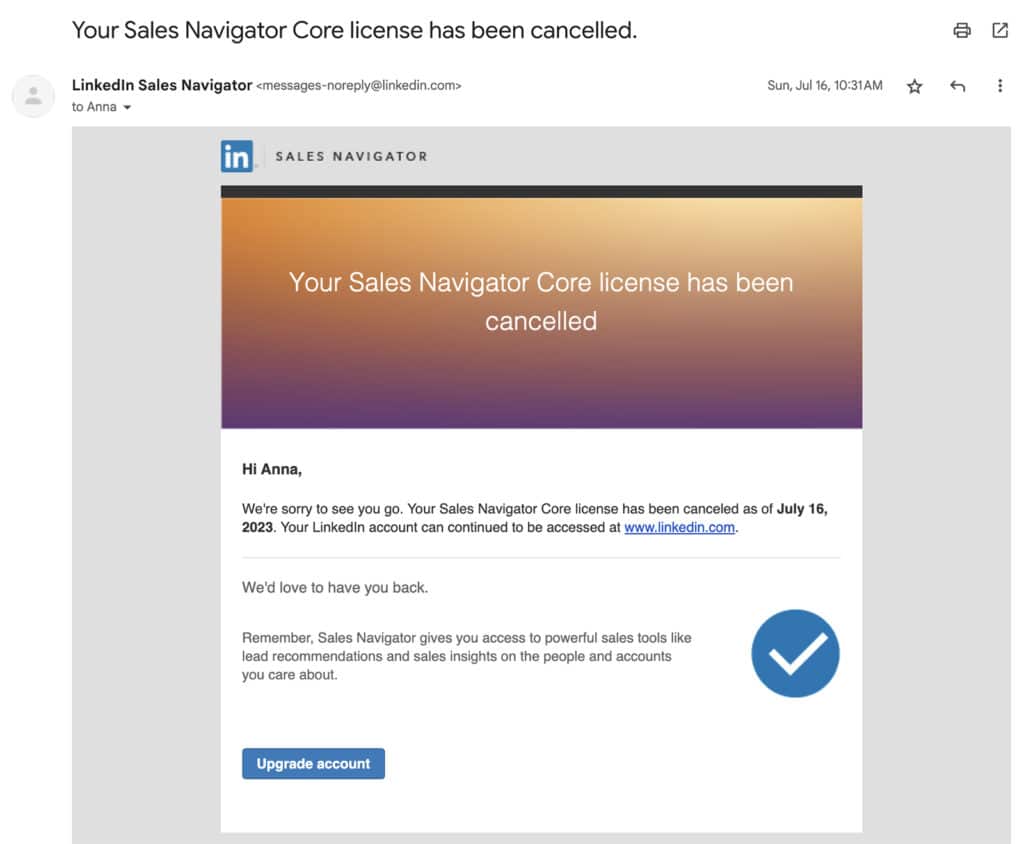 If you find that your customers don't respond to these lists, find a way to make the message more personal. Tamer explains that Klujo's "offboarding process is closely tied to our onboarding process. The information we collect during onboarding gives great insights as to whom the customer is and the value they are hoping to achieve with our SaaS."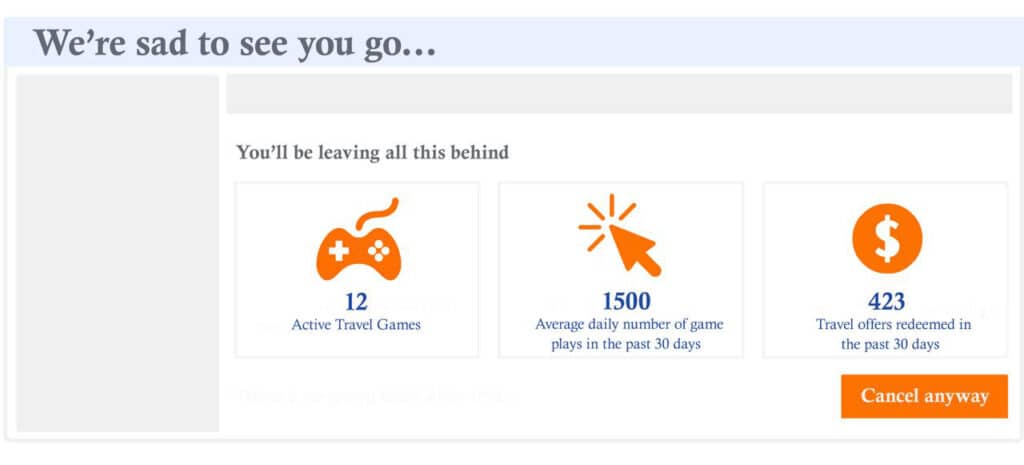 Tamer continues, "So if/when they decide to churn, our offboarding messages are hyper personalized to their industry as well as the challenges they are facing. By making those messages relevant to them, they are less likely to proceed with the churn and more open to having another discussion with us to cover the needs and challenges."
Downgrade to a Free Version
If your product has a free plan, err on the side of downgrading rather than deleting churned customers' accounts. Make the transition to a free version automatic. Then use the tips below to reengage customers on the free plan.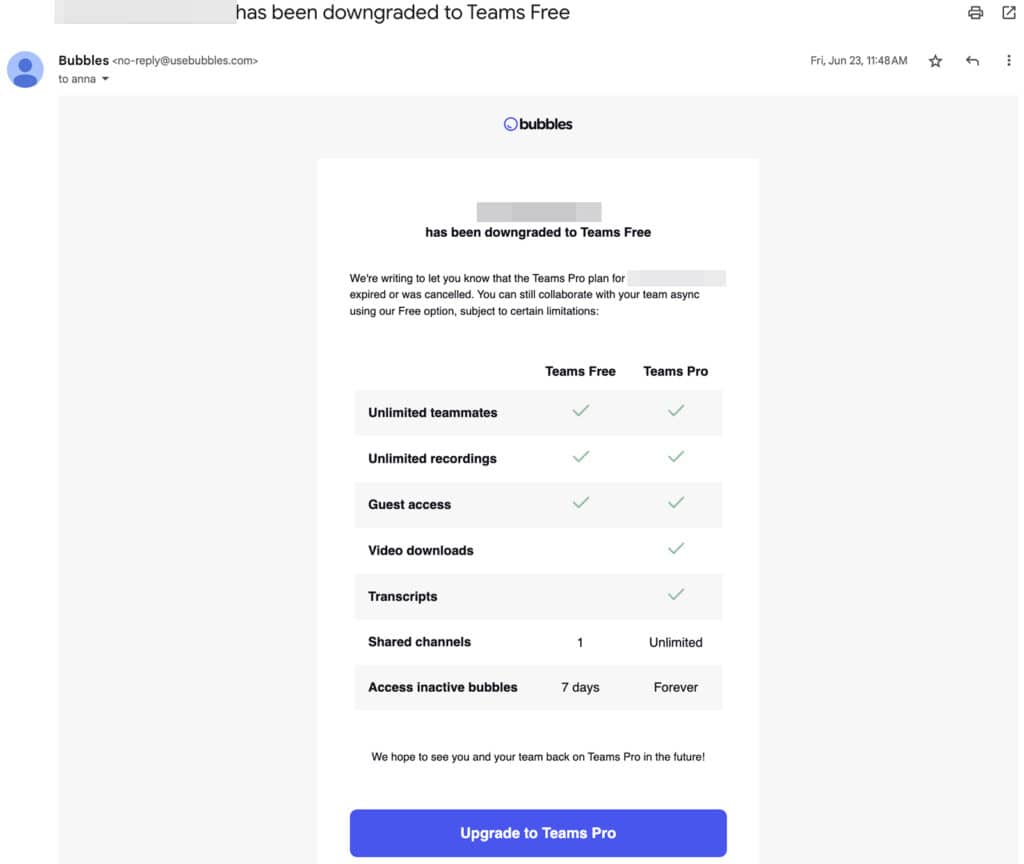 For example, Bubbles automatically switches accounts to free plans after cancellation. The screen recording tool's offboarding email includes a comparison between free and pro versions, which is helpful for highlighting lost features.
Reengage Churned Customers
Sending a message to confirm cancellation is a good start. But it's the bare minimum if you're serious about creating a good customer experience or making real progress toward reducing logo churn.
With the right touches, you may be able to reengage customers and win them back.
One way to reengage customers is to tailor it to the user. Taskade bases reengagement sequences on the results of its offboarding surveys.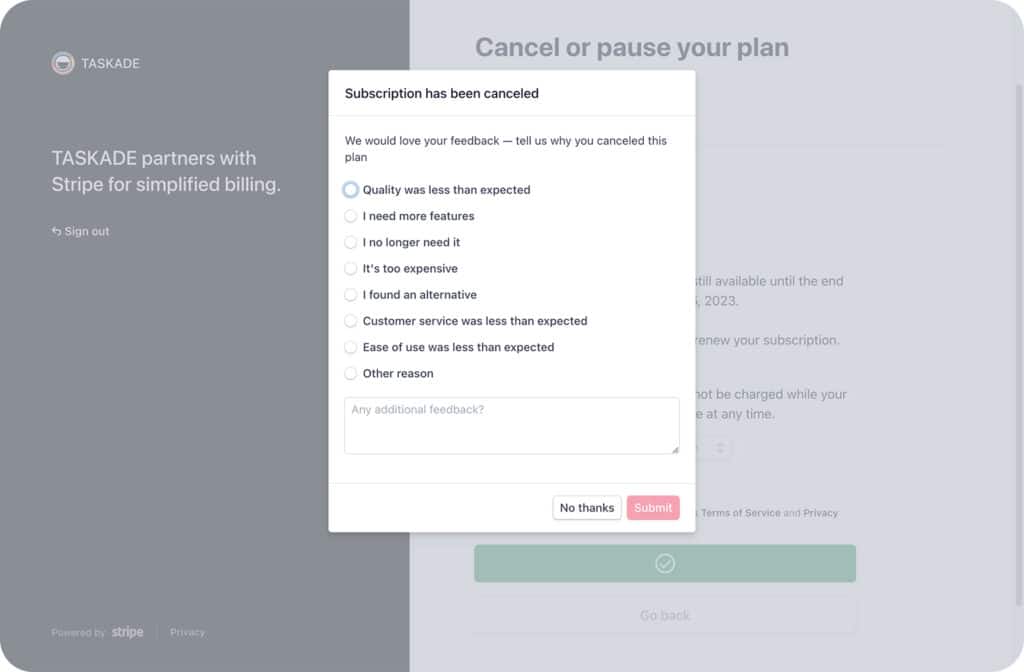 John explains, "We want to learn the true reason as to why the user left, and we segment those lost customers based on those reasons. Finally, we send a thank you email and ask them to remain a part of our community."
Another way to win customers back is to highlight changes to your product or showcase new features you've launched. Lavender's reengagement email lists several recently launched features and offers a generous incentive.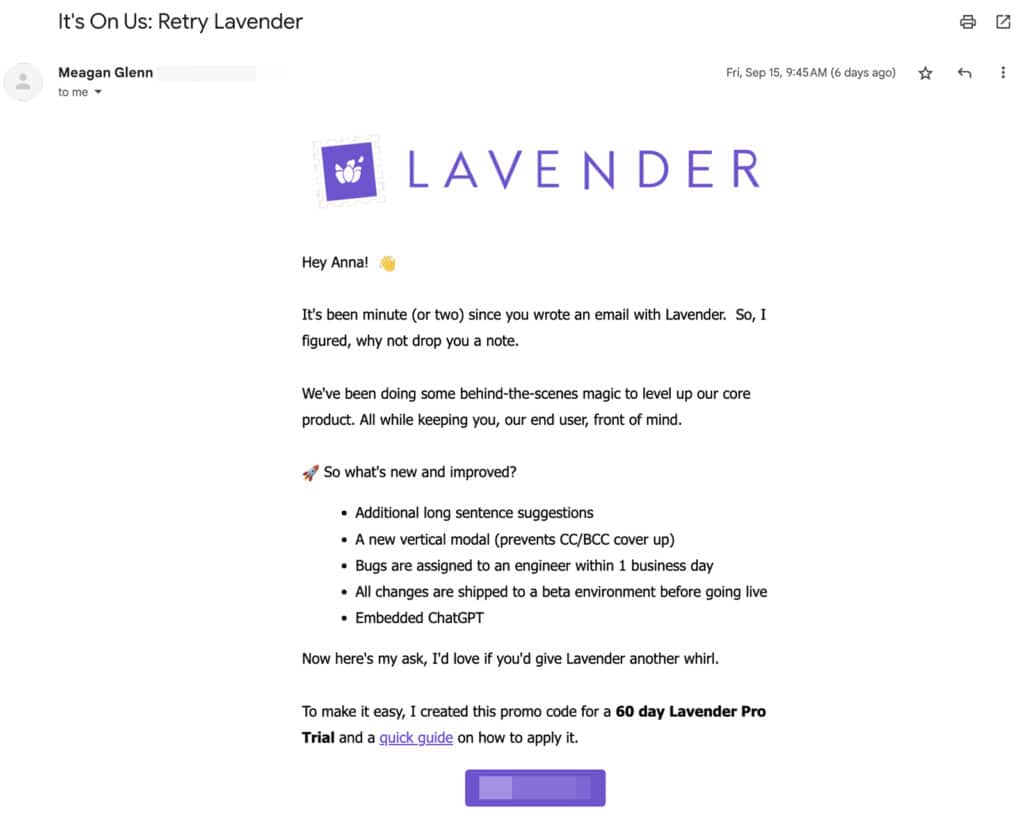 Yet another option is cross-selling to churned customers. Semrush's reengagement email highlights one-off purchases that would be more affordable than a monthly subscription and might appeal to users who canceled due to cost.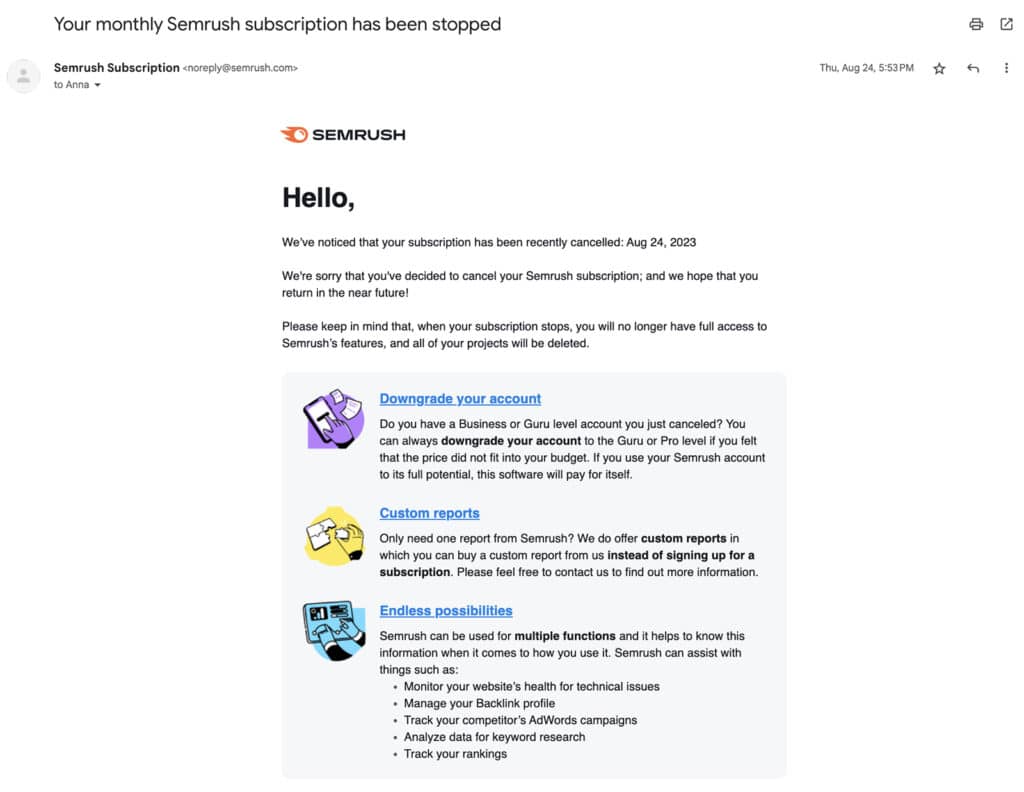 Anticipate Churn and Respond Proactively
Naturally, the best way to improve your offboarding process is to make customers not want to cancel in the first place. This tactic won't work for non-regrettable churn, but it can have a big impact on regrettable churn.
The key is investing in customer success throughout the customer lifecycle. It starts with implementing your customer success team upon onboarding.
"When we sense inactivity in the early days, we try to get people back by offering them an expert call very early on," explains Steef Brandsma, Marketing Manager at Vev. "It works, customers we speak to usually activate not long after. Plus it gives us very interesting insights on why people could potentially not activate."
Next, identify the signals that indicate a customer is likely to churn. Then respond proactively to help them succeed with the product.
"We know that the very first step towards a customer churning is no more orders coming in. They might still check their dashboard, but they don't get any orders," shares Steef. "Their success being our success means that we know we have to help them get orders, which we do by sending them a tailored email flow. The tips vary from basic (send a message in a group chat) to advanced (how to set up Google Ads)."
Use Customer Feedback to Improve Your Product
Reducing churn is a key outcome of developing a good offboarding workflow. But it's just as important to act on the feedback you've collected. In many cases, you can use it to improve your product.
Klujo uses onboarding inputs to tailor offboarding workflows, which can increase the likelihood of customers responding and providing actionable feedback.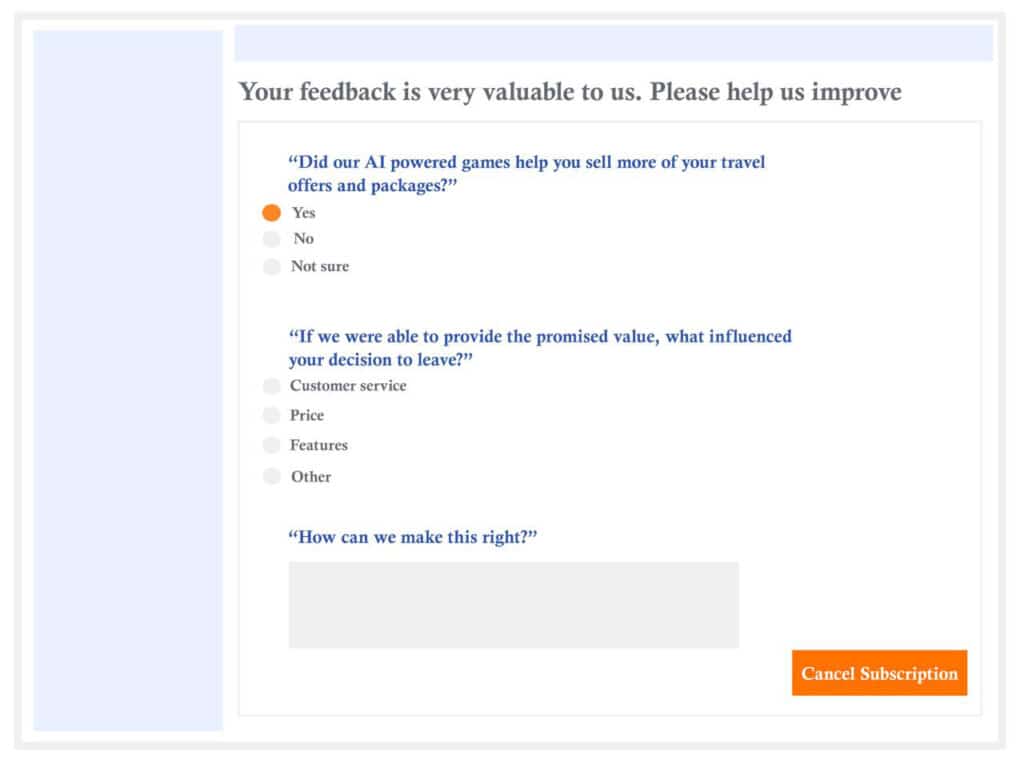 Tamer explains that the team then distributes feedback first to product marketing, "to uncover any gaps between the software and the market messaging. Gaps are then prioritized based on the product roadmap and long term business strategy. These gaps become either 'features' or 'bugs.' And 'features' are further classified as 'must have' or 'nice to have.'"
For Klujo, the final step is sharing feedback with the development team. From there, they "assess the feasibility of those gaps and provide estimates to those features and/or bugs" so the team can continue improving.
Final Thoughts on SaaS Customer Offboarding
A solid cancellation and reengagement workflow can help with everything from user retention to product improvements. With the best practices above, you can set up a great customer offboarding experience that ends the relationship on a positive note—which may help you win back lost users or connect with new ones via word-of-mouth recommendations.