What's the purpose of a theatre without an audience?
Pretty meaningless, right?
Here is the analogy unveiled: no matter how great your website is, no one will read it without appropriate keyword research.
Keyword research is the foundation of a successful B2B and SaaS website. The boom of content marketing means high competition and saturated channels, but it's worth the effort and can be the turning point for your business.
That's why in this article, I'm going to provide you with a pocket guide that teaches you:
What keyword research is
Why keyword research is crucial against your competition
How to do keyword research
4 + 1 bonus strategies to dominate your market
Conclusion
Glossary
Let's start off by defining what keyword research is.
What is keyword research?
Keyword research is the only way to understand your target customer's language when surfing the web for your products, services, and content.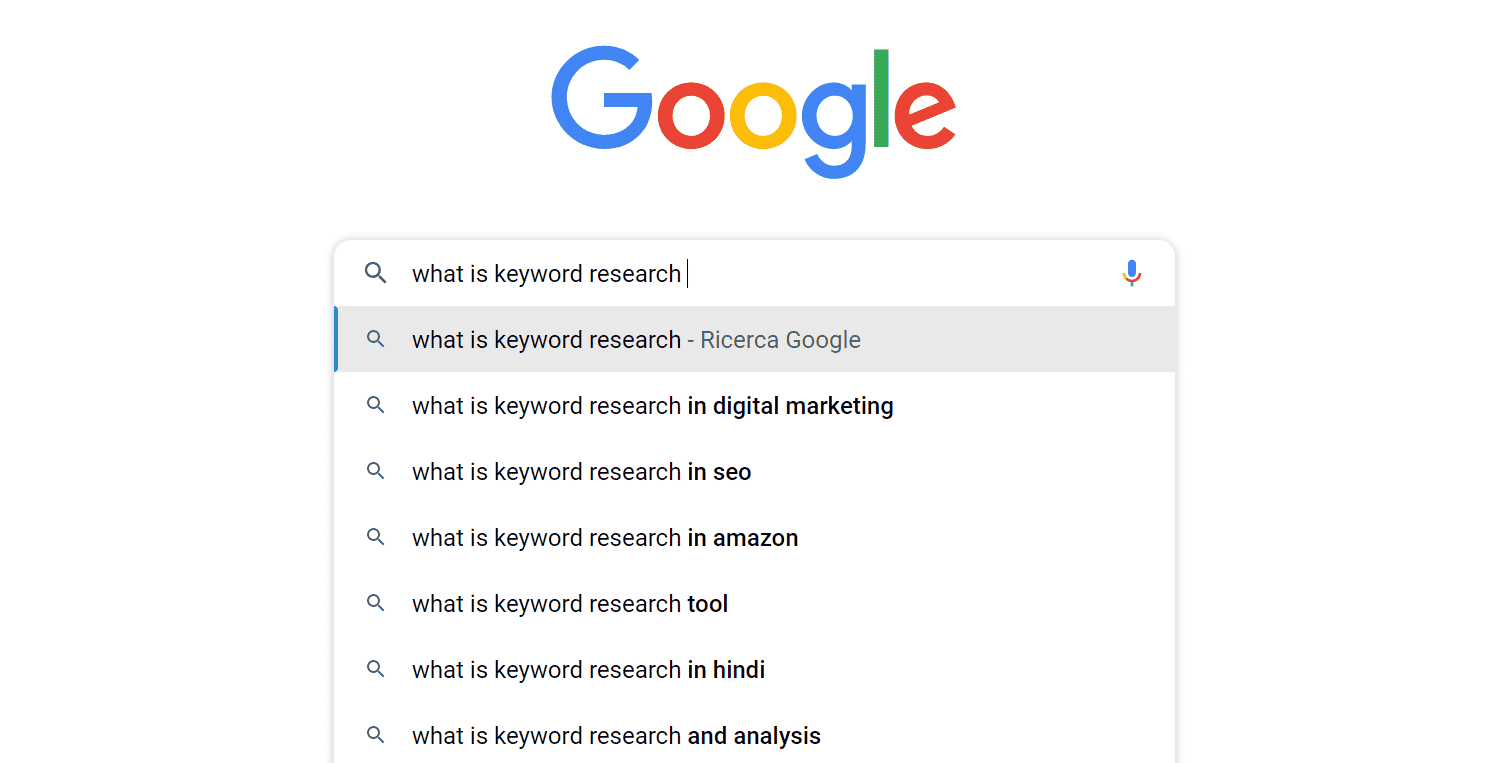 According to Conductor:
Keyword research is the process by which you research popular search terms people type into search engines like Google, and include them strategically in your content strategy (by the way, look at this) so that your content appears higher on a search engine results page (SERP). Keyword research is a fundamental practice in search engine optimization (SEO).
What search terms is your target audience entering in search engines? What's the purpose of their research? What are they really looking for?
Keyword research is the answer.
Let's take DivbyZero, for example. In this case, the main target audience is B2B and SaaS marketers. That means the goal is to make the website appear in the SERPs (search engine result pages) when the audience's organic search is related to SaaS and B2B business, marketing, and growth hacking.
In the last years, Google invested significantly in enhancing the user experience by providing increasingly accurate and relevant search results, so choosing the right keywords has become more important than ever for B2B companies.
And analyzing your SaaS company's competitors is a smart way to get precious insights for SEO optimization and content creation.
Why is keyword research crucial against the competition
In 2022, 57% of B2B marketers are saying that SEO generates more leads than any other marketing initiative.
Now take a minute and ask yourself: Are the terms that my audience uses the actual keywords I choose to talk to them? Companies neglect to consider this aspect more often than you can imagine. What you should do instead is to make SaaS keyword research the first step of your SEO strategy.
But why is keyword research important?
SaaS keyword research makes sure that you use the same words as your target audience. How so? By looking at search intent and translating the search queries into SaaS quality content.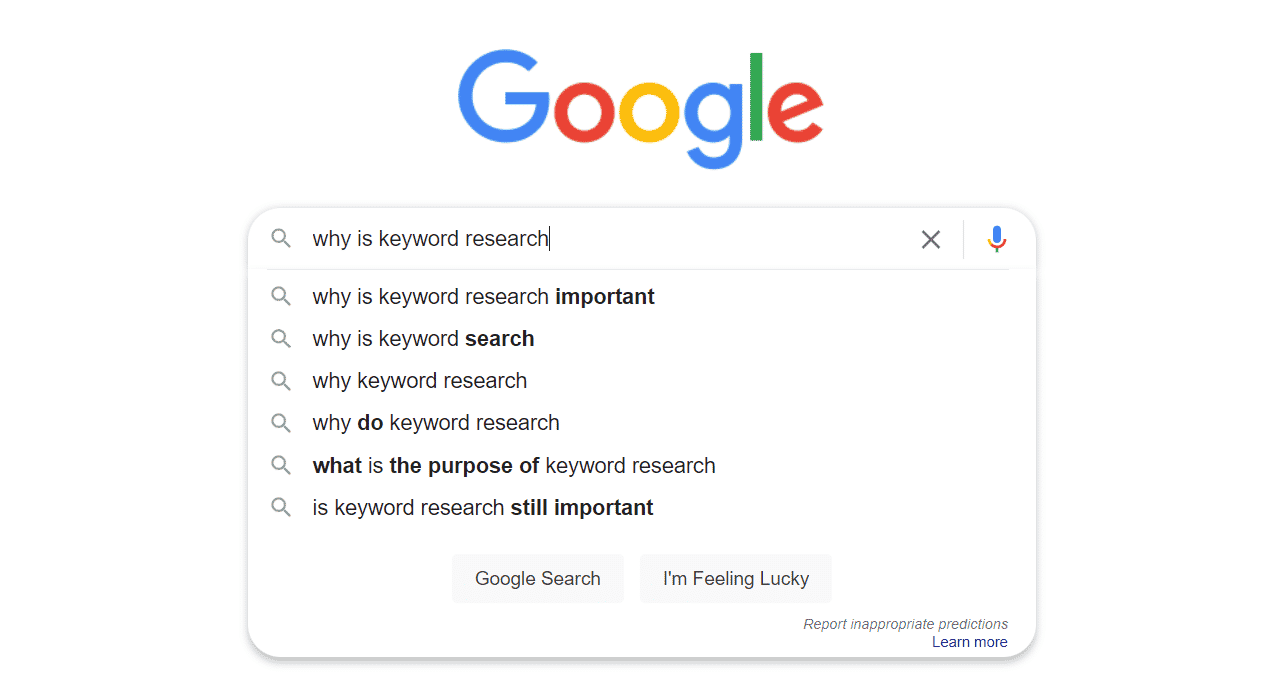 Moreover, SaaS keyword research helps answer questions like:
How hard/easy will it be to rank for this keyword?
How much traffic am I likely to get if I manage to rank for this keyword?
Is the traffic representative of the people who are likely to become my customers?
What kind of content should I create to rank for this keyword?
Does my SaaS business have content gaps that my competitors are already covering?
Let's enter the hearth of SaaS keyword research.
How to do keyword research
Everyone is producing some kind of content, but it's hard to overstate the power of being on page 1 of a Google search, that's prime real estate.
Yet this may lead your teams to optimize for generating traffic rather than content that converts. It's a Venn diagram of what's valuable to you as a company, your customers, and Google.
As an example: when it comes to landing pages, the average conversion rate across the industry, according to Wordstream is 2.35%, and yet the top 25% generates a 5.31% or higher CR, and the top 10% 11.45% or more. That's a 5X+ incremental delta.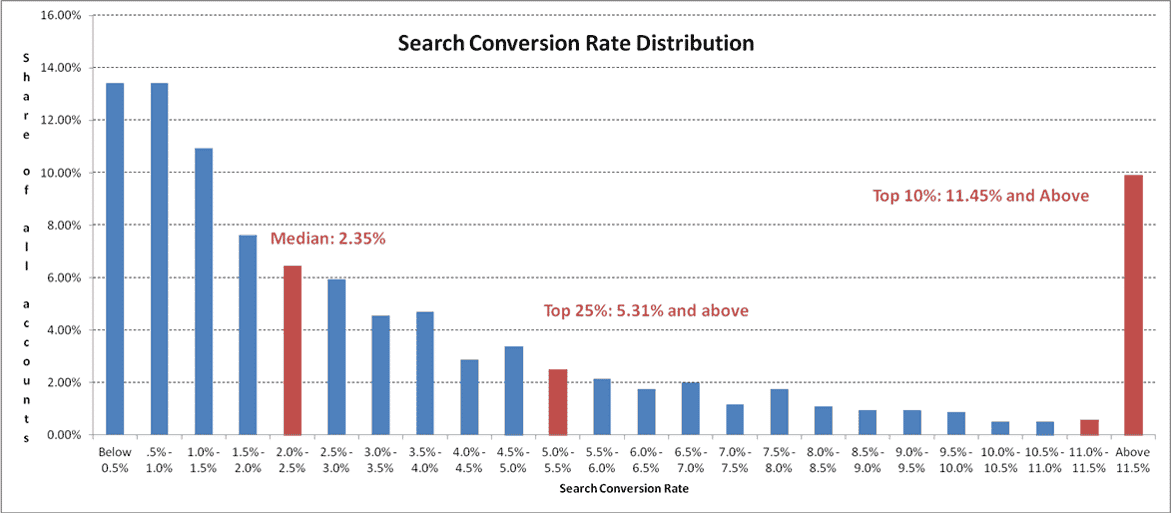 Keyword research has the power to smash your competition by simply capturing what your audience wants and what your competitors are doing better and translating it all into a powerful landing page or blog content.
At the beginning of your SEO keyword research journey, you might risk overdue and bump into some common issues and questions that can slow down your SaaS business progress.
On that point, how is your SEO strategy doing?
Let's see 4 + 1 bonus strategies to dominate your SaaS keyword research process.
4 (+1 bonus) keyword strategies to win over SaaS competition
Keyword research is a world unto itself.
In the beginning, it's easy to get overwhelmed while finding tactics to improve your performance and face constantly-changing search engine algorithms, standards, and competition.
Moreover, most SEO tips and tricks are for mature companies who are already swimming in the deep end. And I get it, it's tough to get started in the early days but there are plenty of strategies you can use to improve your search engine rankings even if you are not a search engine optimization expert.
If you have a SaaS business and are eager to make the most out of keyword research, here below you will find five go-to strategies for beginners that will give you the biggest payoff for your time and effort, leveraging your competitors' SEO.
1. Keyword research tools: Let them work for you
Sometimes competition can be good.
You don't believe me?
Competition is always something to look at, from when you are brainstorming keyword lists to when you are filling content gaps.
If your SaaS company is working in a highly competitive market, then the keyword difficulty will be high. On the contrary, if the competition is low, you'll be able to rank for more of your head terms.
A great way to verify if your niche is highly competitive is to benchmark for search engine optimization (SEO). When you google the relevant keywords from your keyword list, the search engine result page (SERP) will show you the websites you'll be competing against.
Now analyze them:
Are they professional or business websites? Are your business and offer relatable to them? Are these strong brand names or smaller ones? Is the content well written and well optimized? Is it possible for you to outrank them? Are they using Google ads? Do you have a Google ads account to check the pay-per-click?
An even greater way to spy on what your competitors are doing, search traffic, and come up with some keyword ideas is to use paid or free keyword tools for your keyword analysis.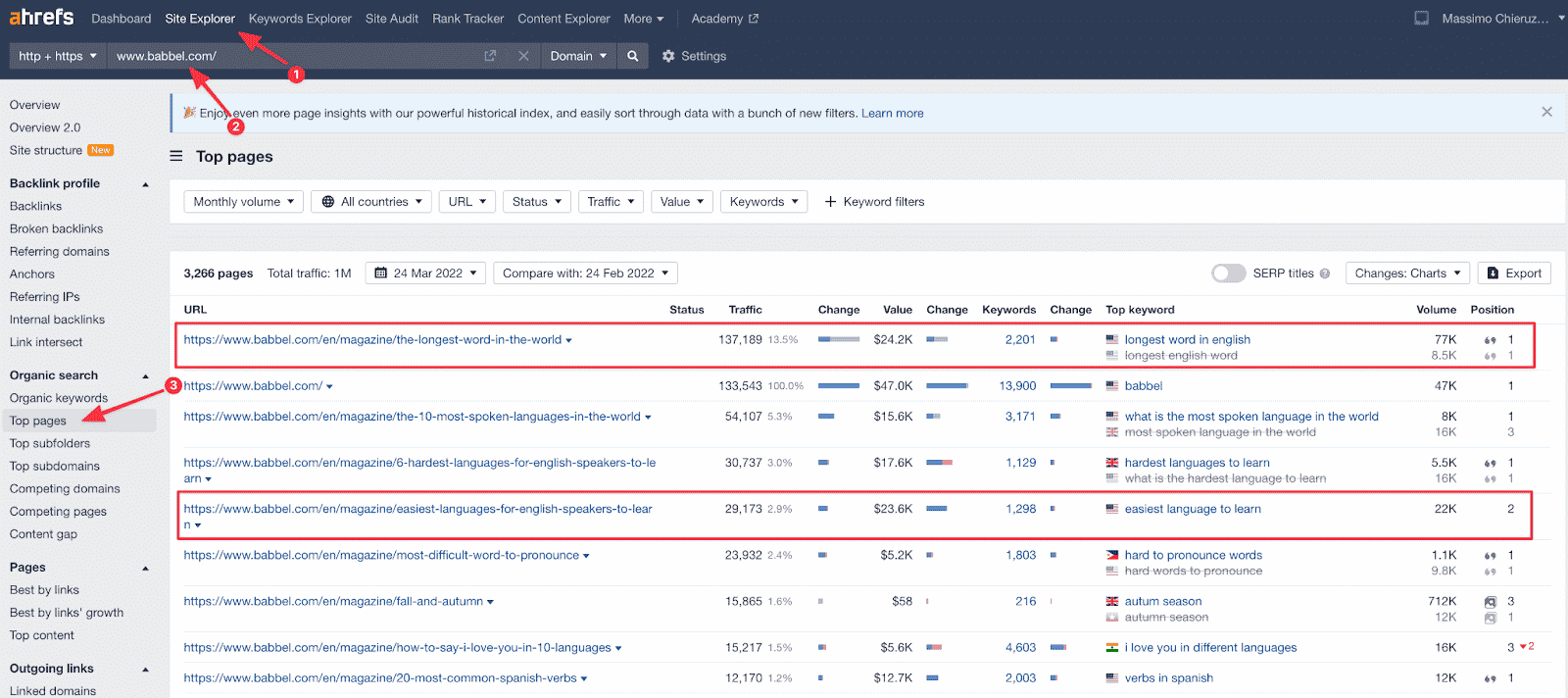 Once you've listed all your main SaaS competitors, you can use keyword research tools like Ahrefs to deepen the research of useful topics and keyword ideas to implement on your website.
It is easily done by using the Site Explorer feature, selecting the competitor's website, and searching the volume and positions of their top keywords.
In the case of Babbel for example, I have selected the top two pages ranked in the USA per volume and traffic. This tells me what my audience is interested in and what they type while looking for an answer to their need.
To me, it seems a smart way to save time and energy acquiring your competitors' traffic.
2. Brainstorming is problem-solving: Start with the basics
The first phase to come up with more keyword ideas is brainstorming.
This is a discovery stage that will hopefully lead you to low-competition keywords that are related to your business and are able to bring traffic to your website.
You can easily do that with keyword research tools like Semrush, Soovle, Jaaxy, and Google Search Console (Google ads keyword planner). Or the SEO tool Ahrefs I've used for this article.
There are many ways to come up with an exhaustive keyword list, more specifically you can:
Find related keywords to your products and services: Considering the case your business is all about CRM, hot keywords/seed keywords related to your head keyword could be stock, price, and system.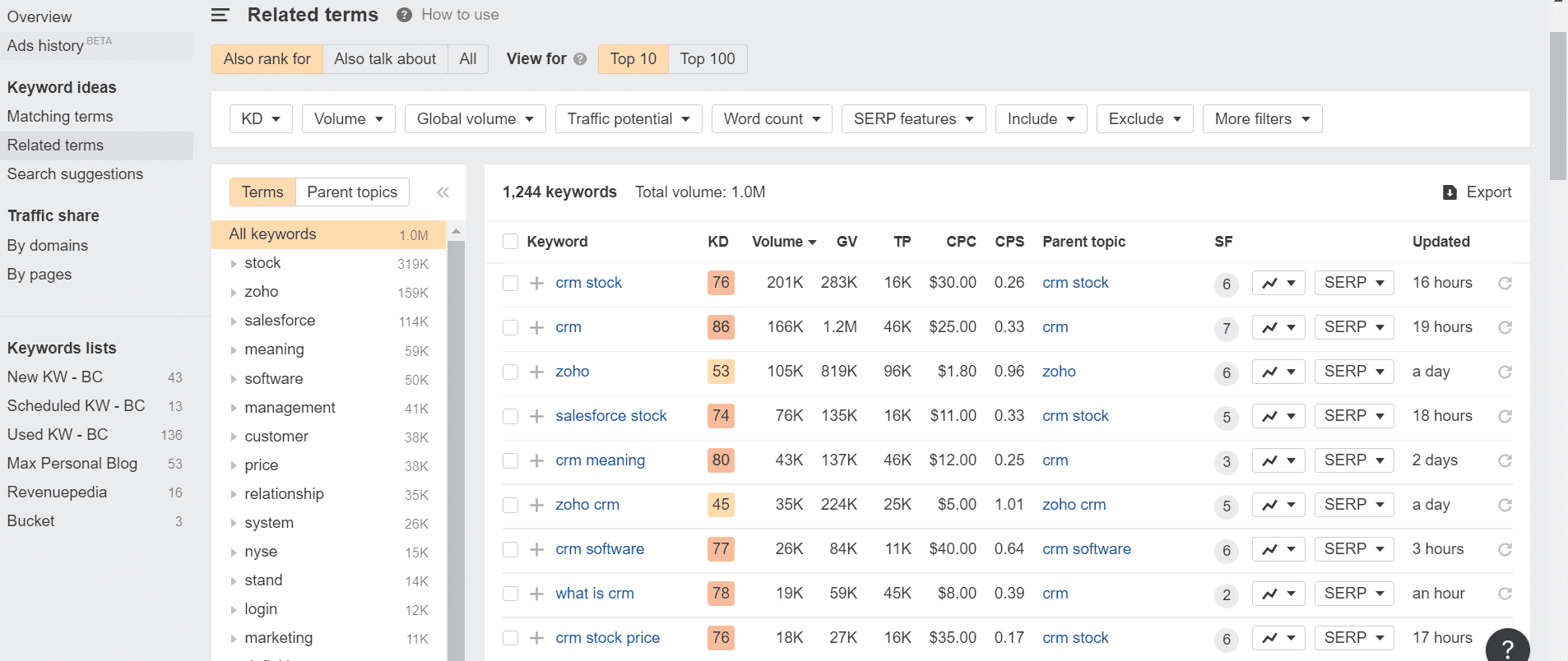 Analyze your audience's search intent: Think about your current and potential customer base and ask yourself what they want to know through search queries that are phrased as a question like what is CRM, what does CRM stand for, and what is CRM software. In other words, use a particular keyword phrase or long tail keyword to have a phrase match.
Then prioritize keywords: People who search for specific features are often the readiest to make a purchase, so it is strategic to answer their questions. Credit card at hand, they want to know statistics, numbers, and figures about how your CRM software can improve their life.
Niche down with descriptors and modifiers: Broad keywords are easy to use, but they make it nearly impossible for newer and smaller SaaS companies to rank well for terms like CRM tool or CRM software. To appear on Google's first page try to use long-tail keywords that have lower competition and better conversion rates, like what CRM tools are best for finance. In other words, your list of keywords should include relevant search terms.
Other than finding new keywords related to your products and services, a smart SEO strategy is to make a keyword competitive analysis, aka the process to make a list of relevant keywords your competitors rank for, but you don't.
You can implement this strategy whether you are looking for new topics or looking for content gaps to fill.
In the first case, you should start making some research about who your competitors are. At that point, you can easily run a Google 'related' search using the related: Google search operator: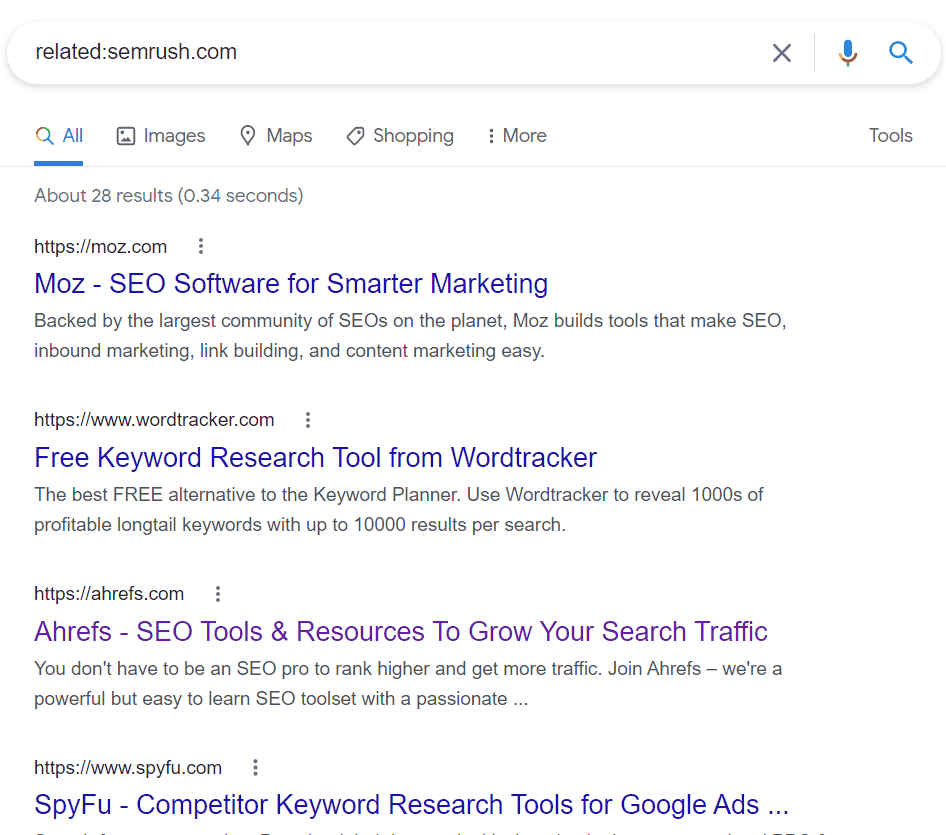 Once found, your competitors' analysis will lead you to greater knowledge about the market, the industry, and the storytelling of your SaaS brand.
The next step is to take a closer look into your overall content to look for content gaps. Most of the big SEO tools have a Content Gap Feature, and you can play with the number of intersections to analyze only the most interesting competitors.
At this point, chances are high that you've found some topics and keywords your competitors are ranking for, but you aren't. But before staking everything on a certain keyword over the other, always consider their organic traffic potential, their search volume, and the match and value they have to your SaaS business.
Last but not least, assess the ranking difficulty of a keyword before starting to target it. Even if the ranking difficulty is high, that doesn't mean you shouldn't go for it. You just need to be realistic and sub-list your keywords into short-, medium-, and long-time targets.
And now, let's see how to speed up the ranking process thanks to backlinks.
3. How to get backlinks: The easy wins
If your competitors are ranking at the top of Google for your target keyword, then they'll probably have a solid backlink profile.
When the keyword strategy for your SaaS brand is not as profitable as expected, backlinks may be the reason why. In fact, according to Google:
Links are one of the ways Google understands what content may be helpful to searchers, and they can be good for sites to receive, as long as they're well deserved.
Moreover, links are the basis of Google's PageRank algorithm, and over the years SEO experts have been seeing positive correlations between links and rankings.
So, why not improve your ranking by comparing your backlink profile with one of your competitors?
There are two effective ways to look at your competitors' backlinks, depending on the outcome you want to generate.
The first one is to target your domain-level competitors, which are the sites that compete with you in the SERPs for many search terms.
You can take an in-depth look at their backlink profile and search traffic using the site explorer tool on Ahrefs or any keyword research tool. Even free tools will work. By selecting the SaaS competitor you want to analyze, you will immediately have a preview of the number of backlinks -recent and historical- that they earned over time.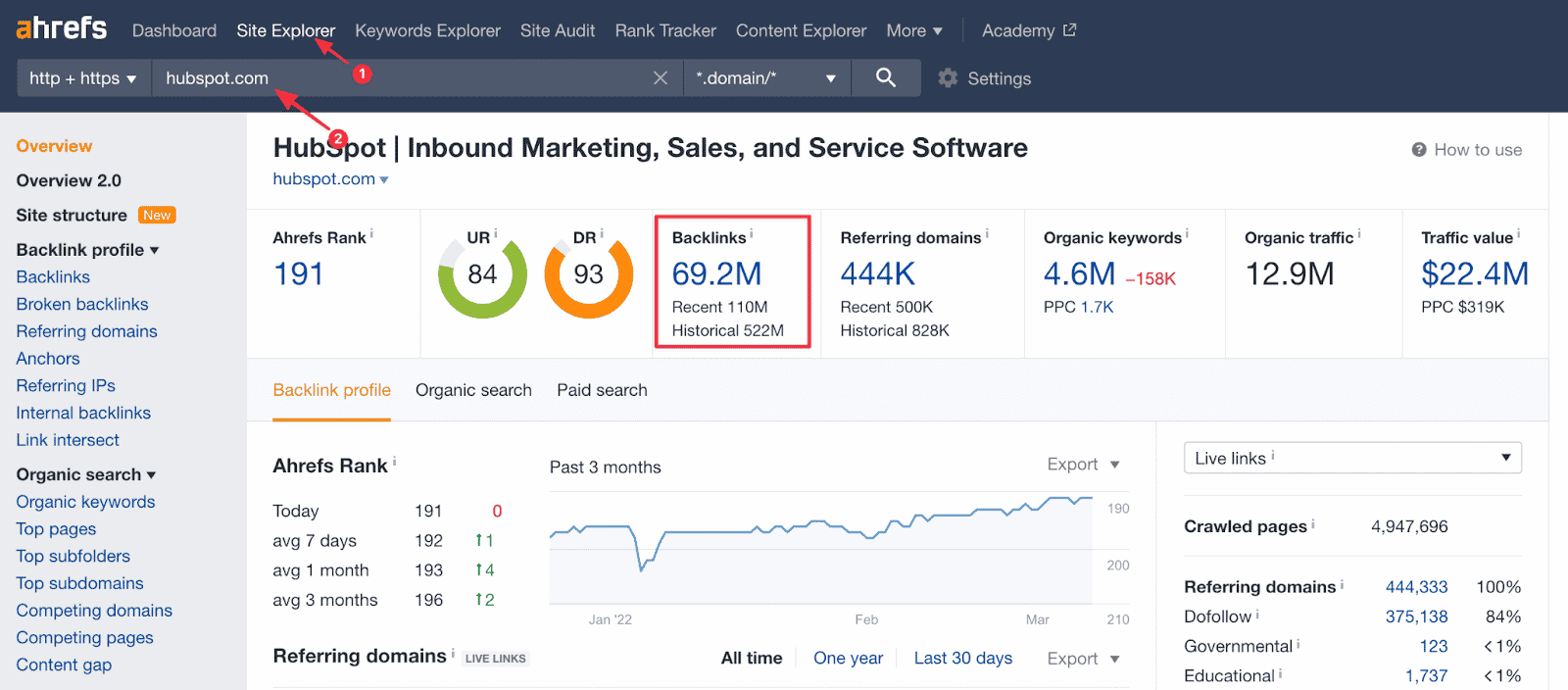 If the total amount of backlinks is really high as in Hubspot's case, you can be more precise by adding the right filters like SaaS, English language, and traffic.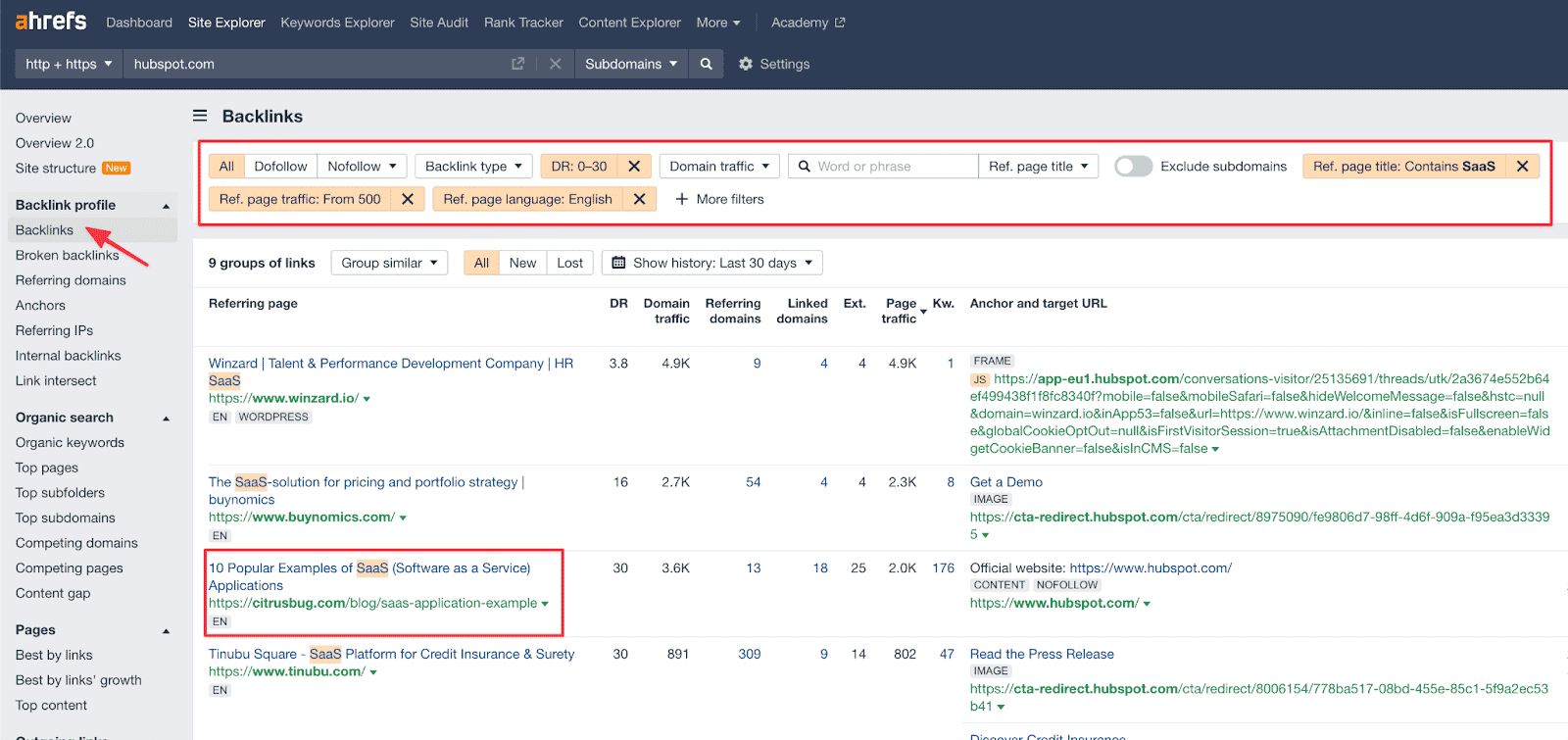 The second strategy to analyze your competitors' backlink profile is to focus on page-level competitors that do not compete against you on the whole but still represent competition for specific page-level keywords and topics.
Here're the steps to find page-level competitors and improve your landing page and blog content:
Select a specific page you want to rank higher, and then identify its primary keyword like Instagram marketing.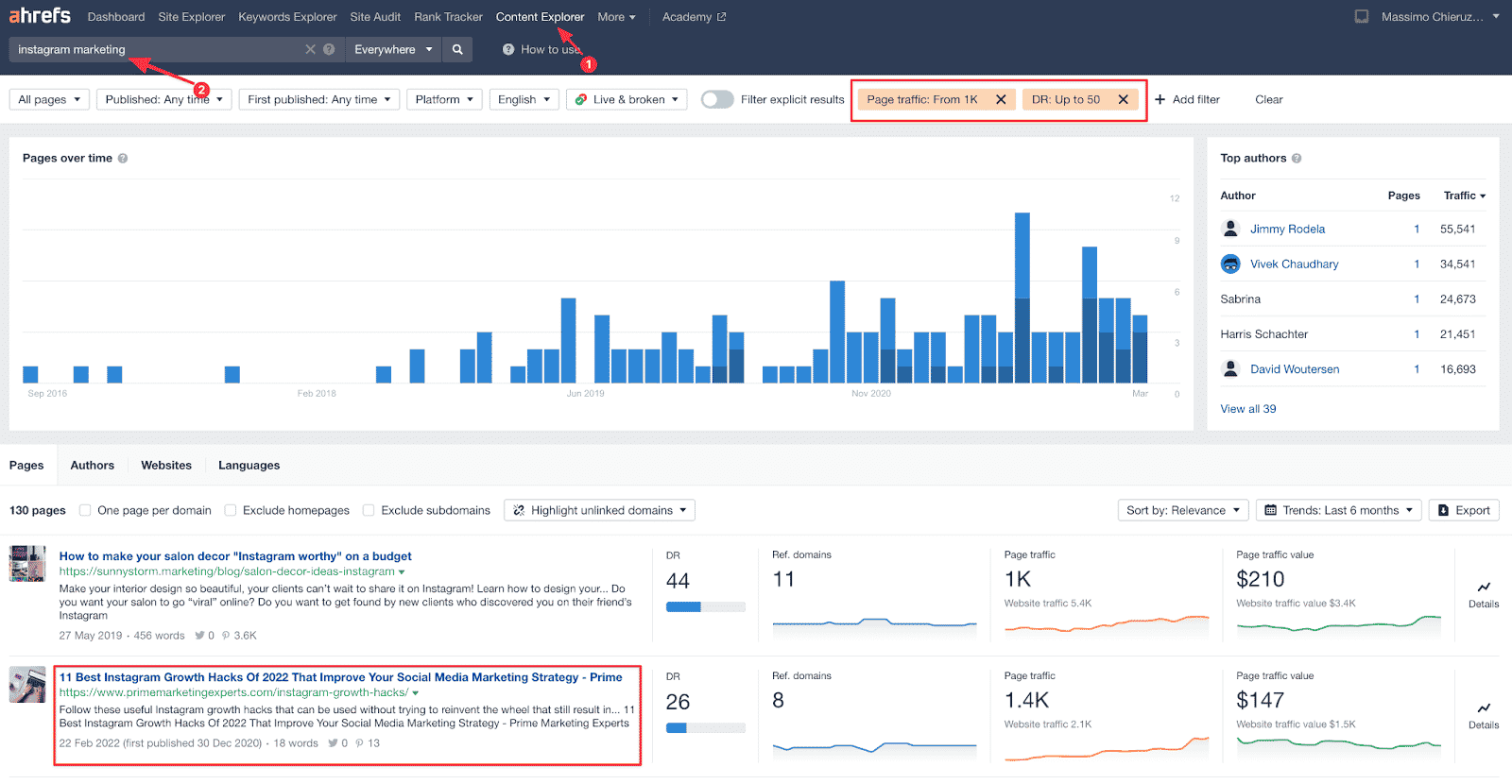 Through the content explorer, you can easily paste the primary keyword and sort for relevance and trends. The results will tell you who your page-level competitors are, what they are ranking for, and what the page traffic and the page traffic value are.
These couple of backlink strategies are great to uncover more and more potential link opportunities and be the foundation for content optimization.
In fact, content marketing is not strictly about writing content. It also has to do with building tools that do not have to be complicated to be effective. Translated into practice, you can execute product launches (e.g. product hunt, emails, influencers outreach, etc.) on top of SEO to generate an insane amount of leads, backlinks, and product signups.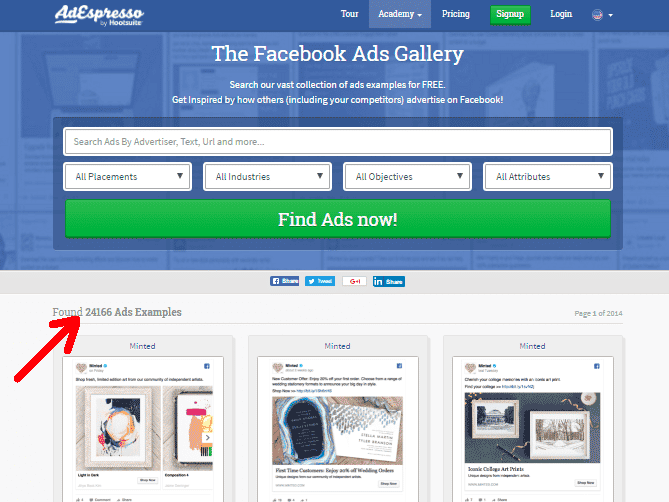 A true turning point for AdEspresso; and the Facebook Ads Gallery is just an example that brought the highest traffic page for 3 years in a row while boosting the whole site's traffic.
It also generated 1k+ backlinks alone from sites like Hubspot, AdWeek, and Neil Patel, and it built valuable connections with influencers that increased the brand authority.
Finally, backlinks are a great resource to evaluate your competition and push you to make business decisions like buying domains.
We see it all the time:
Stripe acquired IndieHackers, Robinhood acquired MarketSnack, Zapier acquired Makerpad, and the list is getting longer every day and it's gonna be a consistent trend over the next few years.
Acquiring a media company is in fact way easier and cheaper than acquiring another SaaS product, and the integration is fast without product integration nightmares.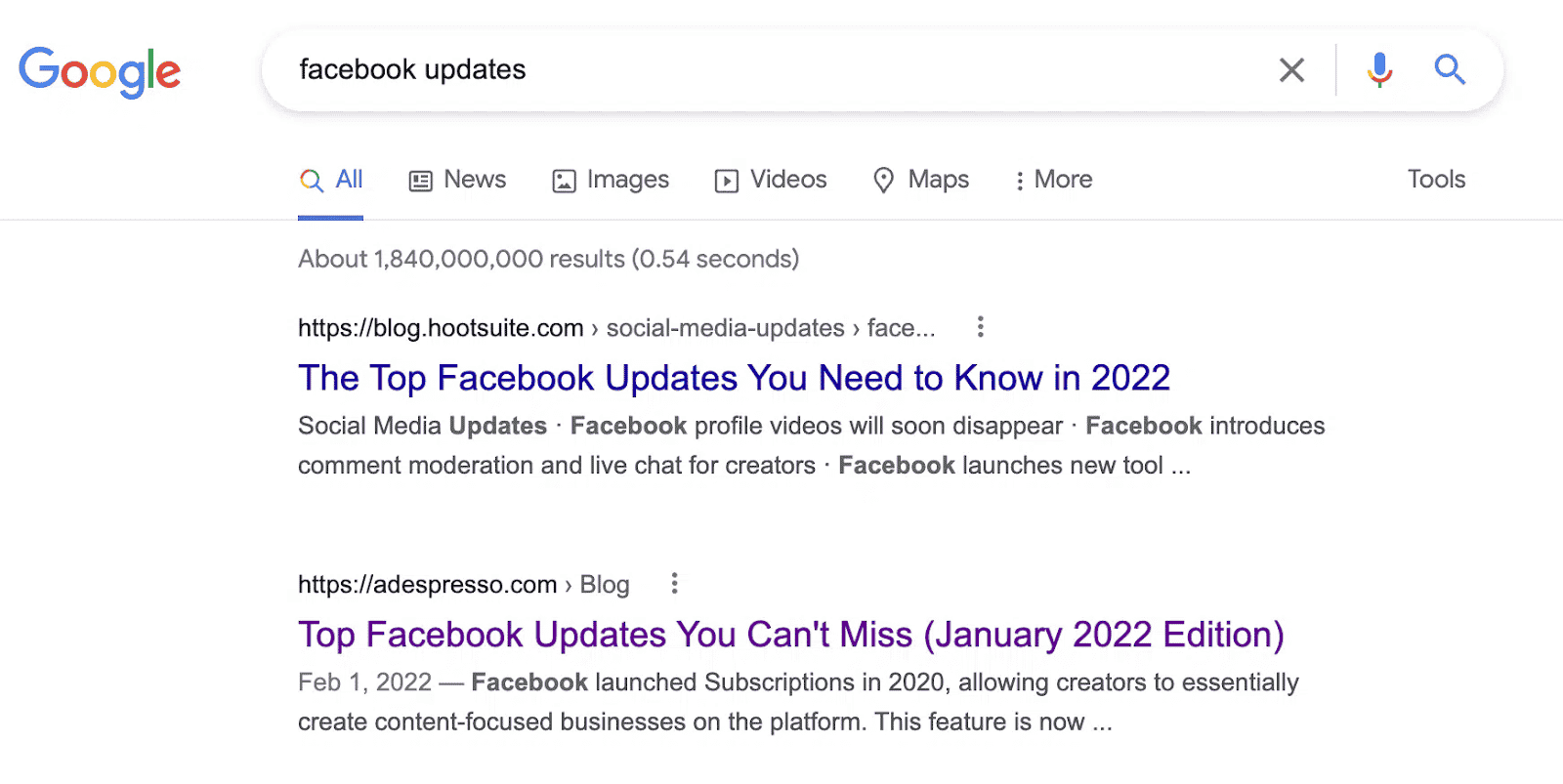 This will immediately give you access to a larger audience, as it happened to AdEspresso when it was acquired by Hootsuite and gained 2x visibility on Google.
And when SEO optimization meets content optimization, this is a very bad day for your competitors.
4. SEO keyword research: Give them alternatives
We all think our product is perfect. But no matter how perfect it is, there are more people searching for alternatives than for the pricing.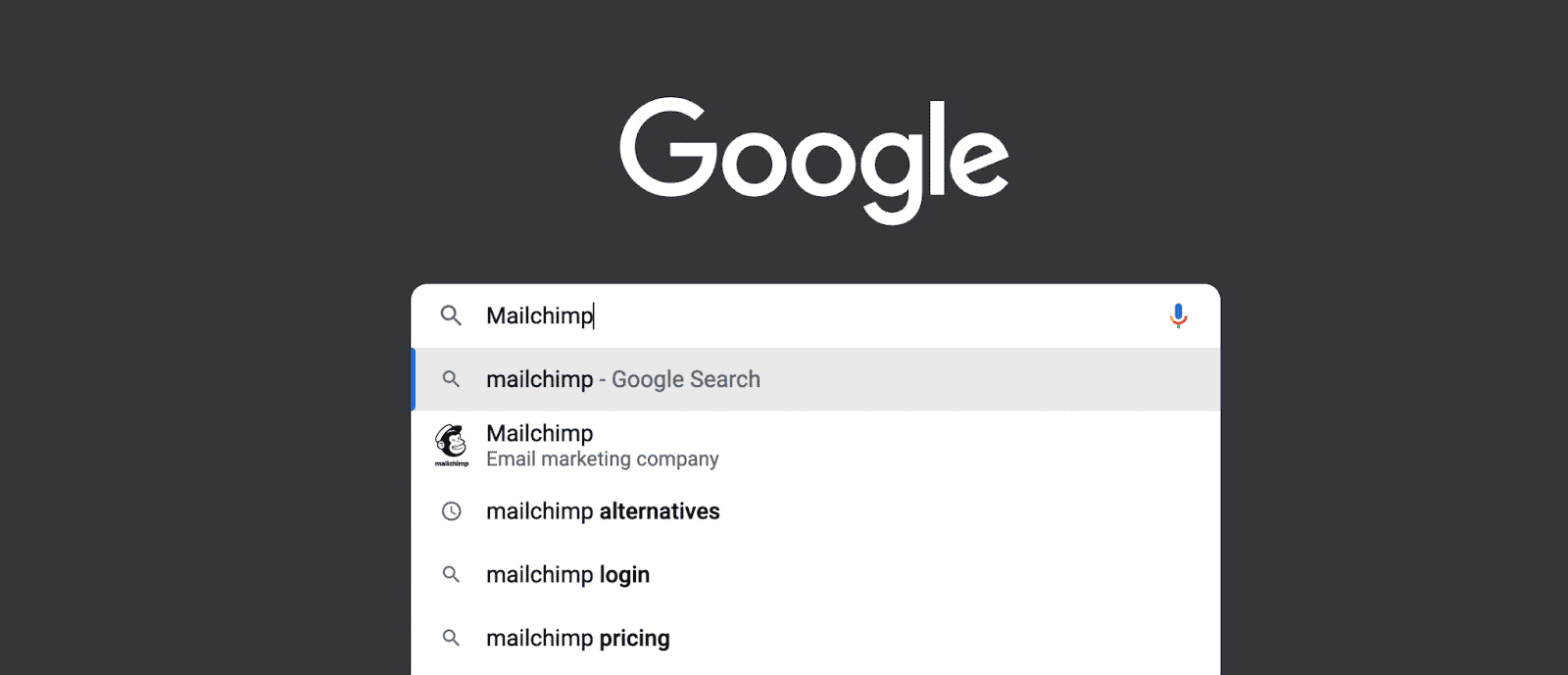 If you are more popular than your competitors, ranking yourself as the best alternative to other SaaS products and websites will only make your brand bigger.
Plus, it will provide your audience with useful details about the service they are looking for while explaining why yours is the perfect solution to their needs.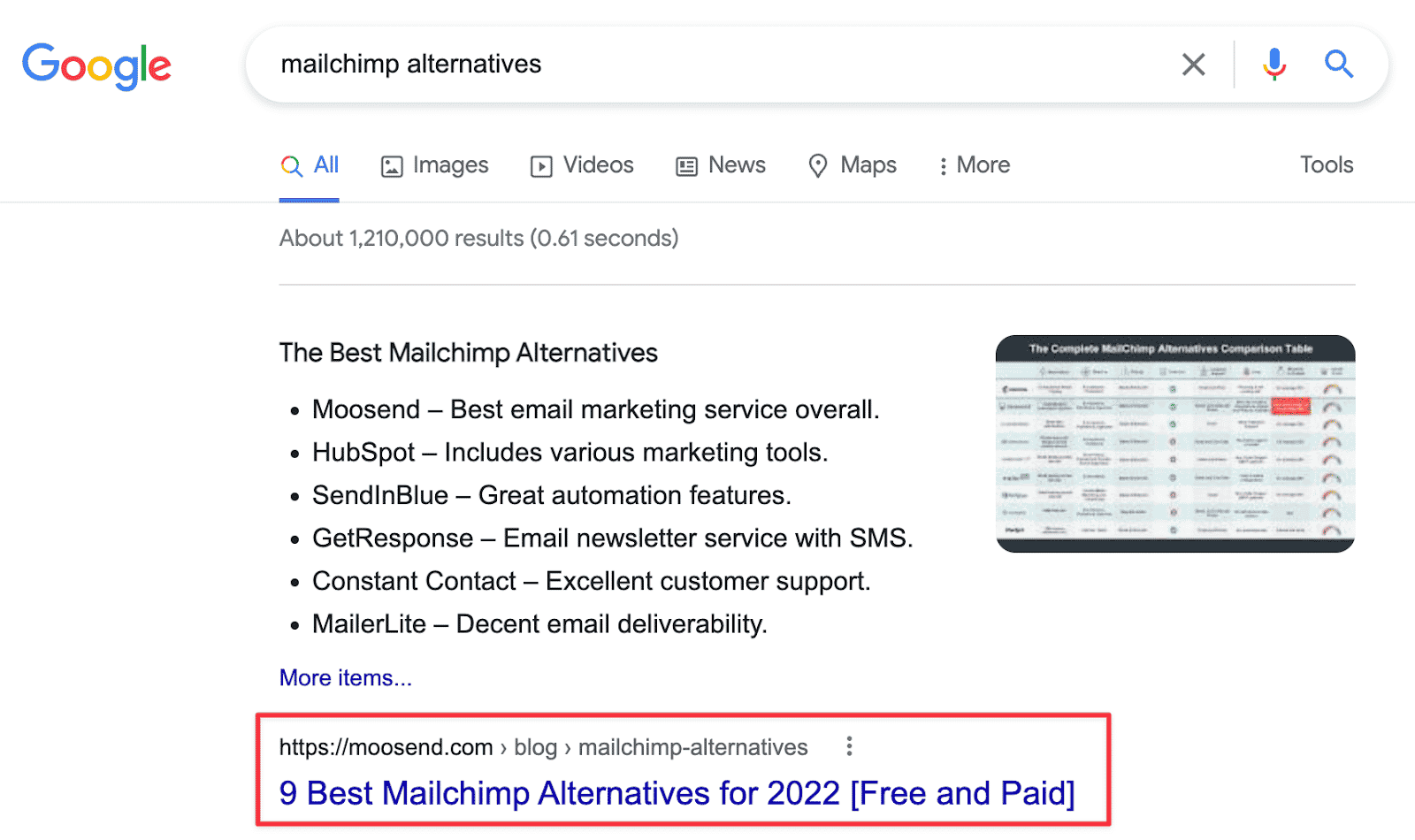 In case you are a fresh, new to the market SaaS brand, then you could start thinking about ranking #1 for "YourProduct Alternatives". It may seem counterproductive but if they want to leave, they will…
So why not take the chance to change their mind?
And since you're there, why not create an automation workflow into your MAP that alerts Customer Success of any active customer visiting that page?
Bonus strategy: Quora for long tail keywords
Since this article is more about creating valuable content rather than a flood of content, I thought about including some tips on how to gain user attention while standing out from the competitors.
We've already seen the difference between long-tail and hot, broader keywords: The first ones are less competitive and highly specific, and the second ones have huge search volumes and high keyword difficulty.
I'm not saying that broad keywords should not be considered keyword ideas at all, but that long-tail keywords present a significant opportunity to capitalize on over 70%-80% of internet searches that are highly convertible to sales.
I'm pretty sure you may be wondering how to find them.
Quora is the most popular Q&A site, and it's great to find relevant questions and answers related to your SaaS business because most of the active users are field experts, ready to deepen the topic specificity.
Exactly what you need to generate long-tail keywords.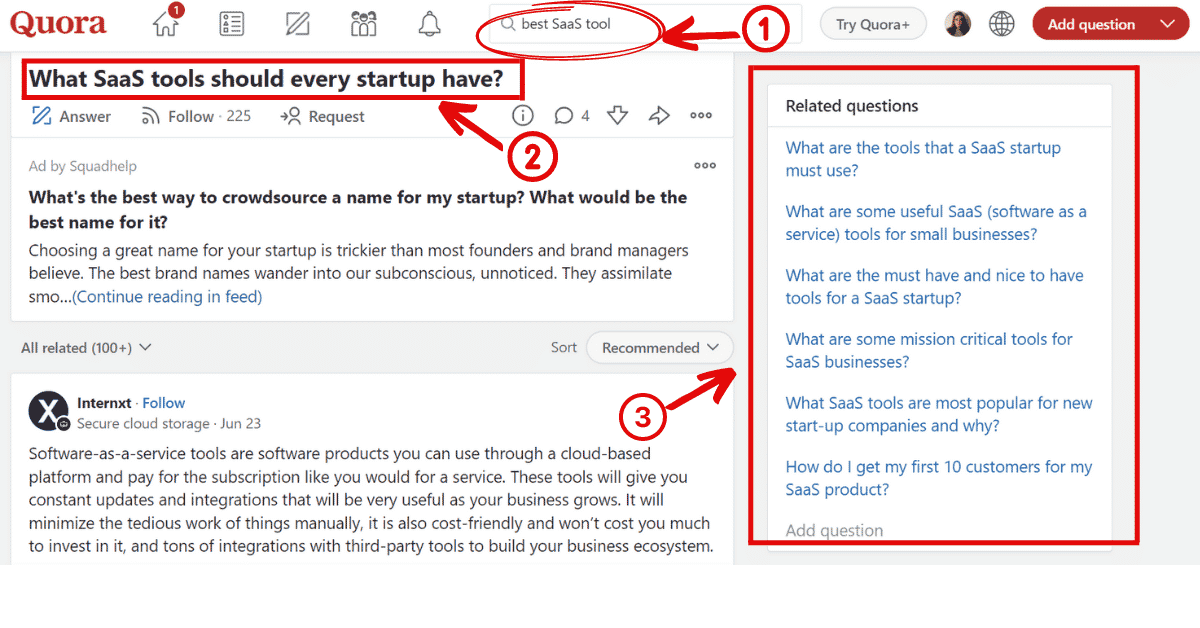 Curious to know how to use it strategically?
Typing a specific question or query like best SaaS tool, it will show you a list of questions and answers on the topic. In this case, by clicking on the result What SaaS tools should every startup have? a list of related questions appears on the right side.
These questions are actual keywords, hidden gems that can really make a difference while competing with other SaaS companies, and work like keyword suggestions.
Conclusion
"To analyze keywords is boring and frustrating".
I bet that's what you were thinking before reading this article.
Now that you've seen its competitive potential you are starting to change your mind, aren't you?
In reality, your keyword research project is just another way to create content. To create better content, actually.
With thorough keyword research, you can be on top of google search results, capture search traffic, improve your content strategy, and increase your monthly and global search volumes.
All of this while smashing the competition by using the 4 + 1 bonus strategies in this article.
Now you can use competitor keywords to your advantage, so it's time to start your own keyword research!
Glossary
Backlink: A backlink is a link that connects some other external website to your website, on your blog posts, or any other landing page.
Broad/Hot keywords: Also known as short-tail keywords, they are usually one-, two-, or three-words keywords that cover a broad topic.
Domain: It is a name under the form of a string/address that gives you authority and identity on the web, and lets people find you by typing your address on Google.
Keyword phrases: Also known as keyphrases, it is the phrase you will be found for in search engines.
Google keyword planner: It is Google's free tool, which allows you to assess a keyword potential and set appropriate budgets for individual campaigns.
Keyword tool: It is a tool SEO experts and amateurs use to generate keywords and optimize their SEO strategy.
Long tail keywords: Used in the middle and bottom of the funnel, they are specific and meant to target purchase-ready users.
Monthly search: The search volume split over a month, in other words, the average number of times users have searched for a certain keyword.
Organic search: Organic search results are the queries that users type on web search engines. They are calculated algorithmically and not affected by advertising.
Seed keyword: A seed keyword is a short-tail keyword, hence high monthly search volumes and high competition. Its peculiarity is that it never has modifiers.