In today's digital age, content marketing has become an essential aspect of any successful business strategy. The right content can help your brand reach new audiences, establish authority in your industry, and drive conversions.
Content marketers must use basic tools like GA4 & Google search but they can only do so much. Creating high-quality content takes time, effort, and resources that many businesses simply don't have. That's where content marketing tools come in. With so many content marketing tools available, it can be overwhelming to choose the right one for your needs.
In this guide, I'll explore some of the top content marketing tools on the market, and help you find the perfect solution to take your content marketing to the next level.
Before we dive in, it's essential to grasp the various categories of content marketing tools. These four categories are the building blocks of a successful content marketing strategy:
Keyword Research and Tracking
Keyword research and tracking tools are essential for any content marketer looking to optimize their online presence. By identifying the keywords that their audience is using to search for relevant products or services, marketers can improve their search engine rankings, increase traffic to their website, and ultimately drive more conversions. These tools provide valuable insights into keyword competition, search volume, and trending topics, enabling marketers to stay ahead of the curve and maintain a competitive edge in their industry.
Content Planning and Optimization
Content planning and optimization tools are essential for any content marketer who wants to create and publish high-quality content that drives engagement, traffic, and conversions. These content marketing tools allow you to plan and organize your content strategy, optimize your content for search engines and social media, and measure the performance of your content across different channels. By using these tools, you can streamline your content marketing efforts and ensure that your content is reaching the right audience at the right time.
Content Scheduling
Content scheduling tools are designed to help content marketers manage and plan their content publishing schedule across various channels. With the ability to schedule and automate content distribution, these content marketing tools save time and streamline the content creation process. Additionally, content scheduling tools allow for better organization and coordination between team members, ensuring that content is published on time and to the right channels.
AI tools
Artificial intelligence (AI) content tools are revolutionizing the way content is created, optimized, and distributed. These tools leverage machine learning algorithms to help marketers and content creators automate various aspects of the content creation process, such as idea generation, writing, editing, and optimization. AI content tools can save time, improve the quality of content, and increase its relevance and engagement with the target audience. From chatbots to language models, AI-powered content marketing tools are becoming essential for businesses to stay competitive in the content marketing landscape.
Now that we've established the categories of content marketing tools, it's time to explore the most effective options available under every category.
So, let's dive into each category and take a closer look at the most useful tools in each one. With these powerful tools at your disposal, you can create and execute a content marketing strategy that captures the attention of your target audience and drives results for your business.
Keyword Research & Tracking
Ahrefs
I use Ahrefs as my go-to site explorer and SEO tool. One of the best content marketing tools, Ahrefs is an all-in-one solution that provides detailed information on back-end SEO, keywords, and rank tracking for different websites. 
The Site Explorer tool is one of my favorites, as it gives me access to everything I need to know about a website's SEO, including referring domains, backlinks, organic keywords, traffic, and traffic value per month.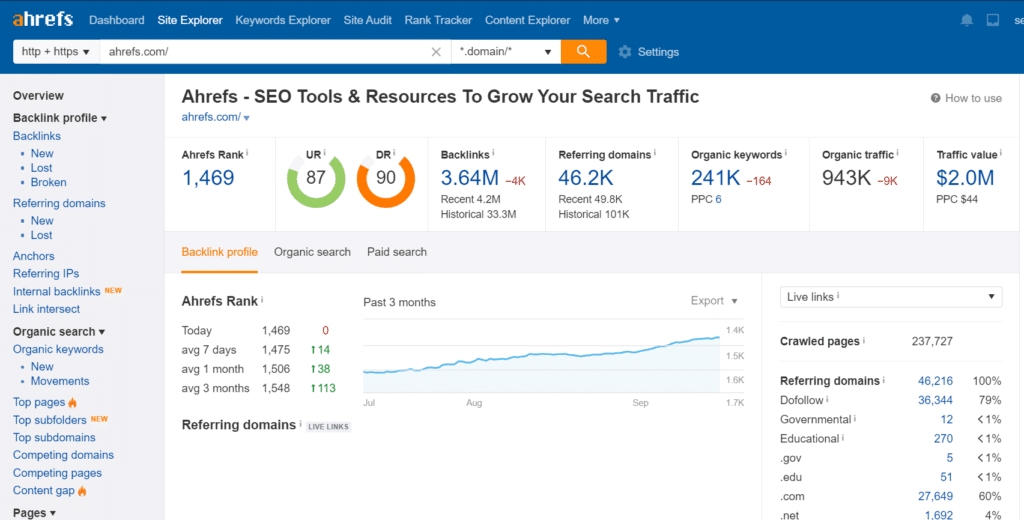 When researching my competitors, I use Ahrefs to check the keywords they're ranking for and the type and quality of backlinks they have. It's an excellent tool for anyone looking to get into a new niche or work with a new client, as it helps determine the number of referring domains needed to rank for specific keywords.
Ahrefs' keyword research tool is one of its standout features, allowing users to find profitable keywords and topics for their websites.
To use Ahrefs' keyword research tool, you begin by entering a seed keyword or topic into the search bar. The tool then generates a list of related keywords and phrases, along with metrics like search volume, keyword difficulty, and potential traffic.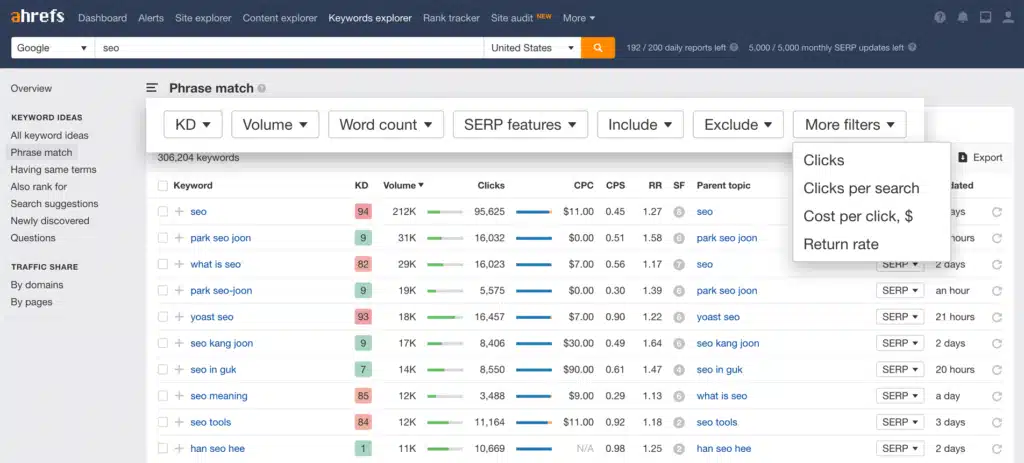 One of the most useful features of Ahrefs' keyword research tool is the ability to filter results based on a variety of criteria. For example, you can filter by keyword difficulty to find low-competition keywords that are easier to rank for, or filter by search volume to find high-traffic keywords that are likely to bring in more visitors.
Ahrefs also offers a range of additional keyword research tools and features, such as:
✔ Keyword Explorer – this allows you to explore new keyword ideas and find long-tail keywords that are relevant to your niche.
✔ Content Explorer – this tool allows you to find content ideas by searching for popular content in your niche based on specific keywords.
✔ Rank Tracker – this feature allows you to track your keyword rankings over time, so you can see how your SEO efforts are paying off.
✔ Keyword Difficulty – this metric helps you evaluate the competition for a particular keyword, which can help you decide whether or not it's worth targeting.
Ahrefs pricing starts at $99 a month and goes up to $999 a month, depending on the plan. Despite the cost, I highly recommend checking out Ahrefs, even if you're on the fence about getting it, as it has a lot to offer.
If you're a content creator looking for an excellent keyword research tool, Ahrefs is one of the best content marketing tools out there. With its broad keyword report and unique click metrics, it's no wonder why many consider it a top choice.
💡 A few standout features that make Ahrefs so popular include its incredibly accurate keyword difficulty score, which gives you a clear picture of how competitive a keyword is. Additionally, the tool provides over 1,000 keyword suggestions, which can be incredibly useful for finding new ideas and expanding your content.
💡Ahrefs is also supported in over 171 countries, making it an excellent choice for international businesses. Furthermore, its click metrics can help improve your CTR and ultimately drive more traffic to your site. Finally, the extensive SERP overview provides valuable insights into the top-ranking pages and domains for a given keyword, allowing you to analyze and learn from your competition.
Semrush
What I like about SEMrush is its range of features that include organic research, competitor analysis, and keyword research.
One of the standout features of SEMrush is its organic research tool, which provides you with essential information on keywords, traffic, traffic costs, non-branded traffic, and organic keyword trends. 

Another feature that has been beneficial to me is the competitor analysis feature, which allows me to identify my competitors, view their statistics, and find opportunities for backlinks.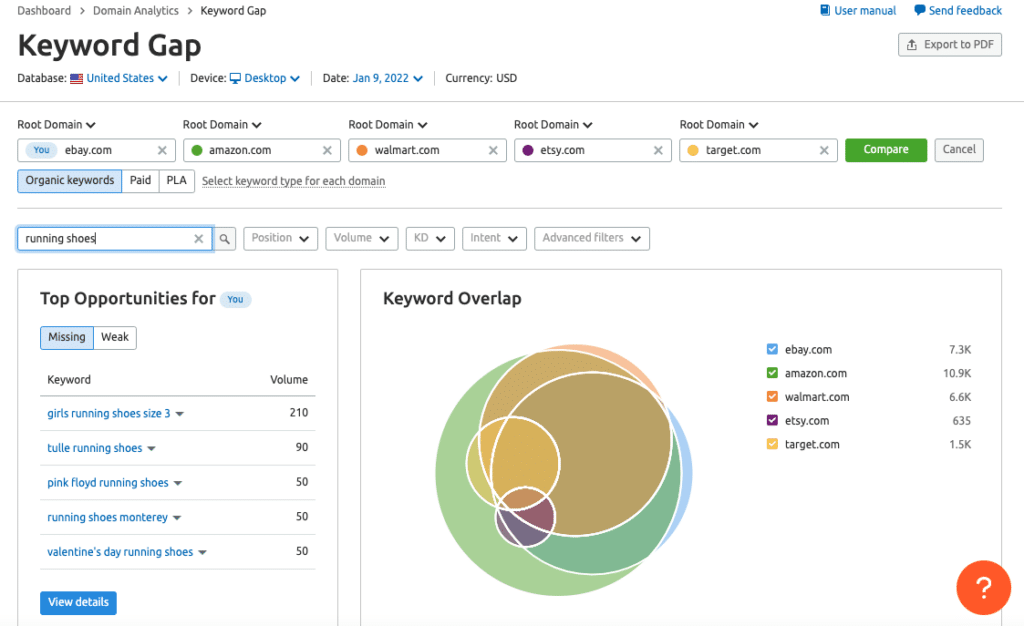 The keyword research tool is impressive as it enables you to discover new keywords related to your niche, sort them by questions, and search for a broad phrase, exact, or related keywords. 
Additionally, the keyword difficulty score provided by SEMrush rates the difficulty of a keyword based on factors like website authority and backlinks, which helps me prioritize my keyword strategy.
The SEO Content Template tool is a game-changer that automatically creates a content brief and grades your content in real-time for readability, originality, tone of voice, and SEO. And that's not all – with its bullseye graphic, you'll strike the perfect balance every time. Plus, as you write, the tool visually checks off SEO recommendations, ensuring you use your target and related keywords and add relevant links and images.
Now, this tool is not cheap. Upgrading to it will cost you a pretty penny. However, the good news is that you can use it for free at low volumes to start. And if you're ready to go all-in, SEMrush offers a range of paid plans that start at $119.95/month and include up to 3,000 reports per day, 10,000 results per report, and 250 keyword metrics updates per month.
Overall, SEMrush can be a valuable tool in your SEO journey. 
Moz Keyword Explorer
Moz Keyword Explorer is one of the best options available for keyword research, especially if you're looking to build a long-term strategy. With a database of over 500 million keywords, Moz is a leader in the SEO space and provides SEO professionals with the latest tools to keep up with the trends.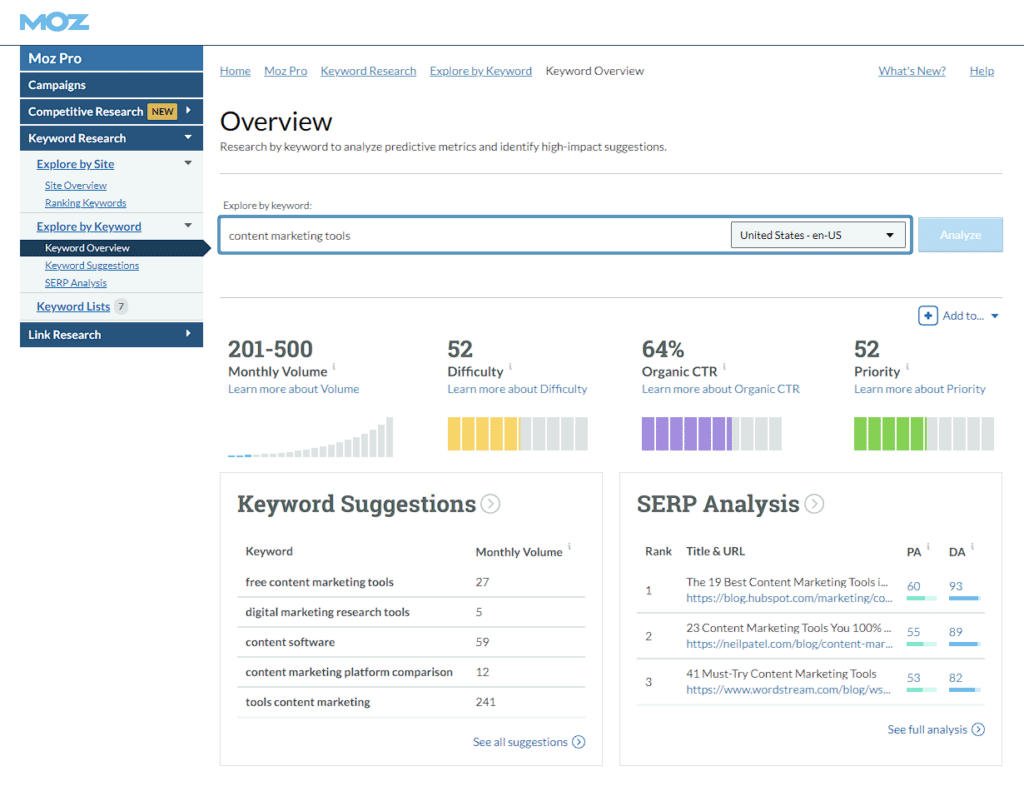 The Keyword Explorer Tool provides a Keyword Overview that includes monthly search volumes, ranking difficulty, organic click-through opportunities, and an estimated priority level. Additionally, Moz's tool allows you to find new relevant keywords, learn how your site performs for keywords, find areas where you can improve your SEO, prioritize keywords for efficient strategy creation, and conduct competitor analysis.
One of the standout features of Moz is its ability to provide data beyond the basics, including keyword research and SERP analysis. The database is updated frequently, ensuring that you keep up with the constant changes in consumer search habits and rankings.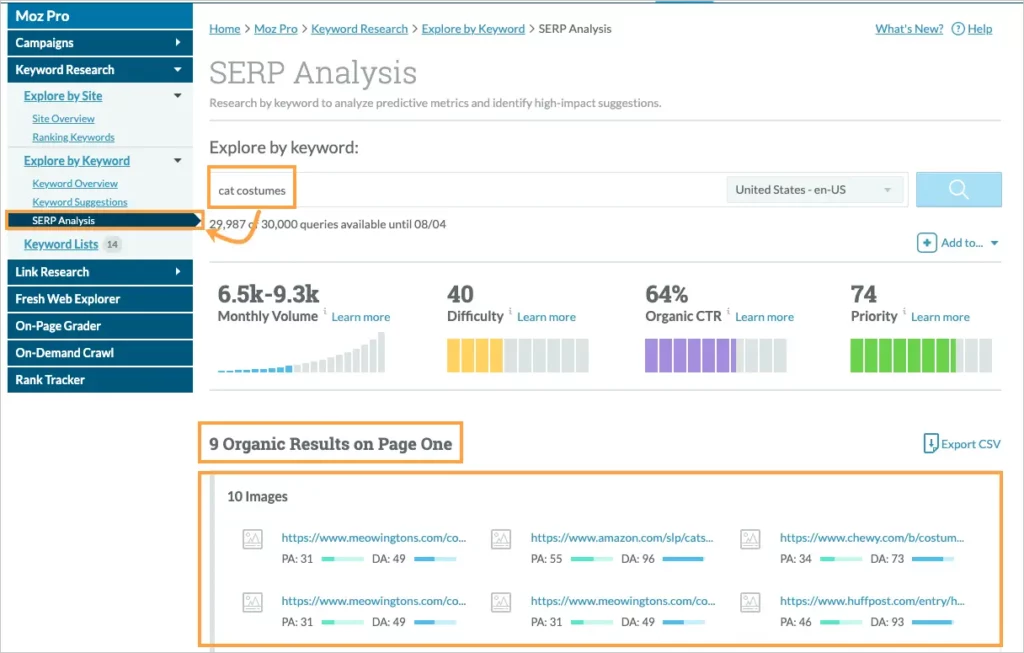 While Moz may have fewer keyword suggestions than some other content marketing tools, it makes up for it with its flexibility and ease of use. Moz also offers several other tools to help you get your site on track and ahead of the competition. And the best part? You can get started with Moz Keyword Explorer for free with up to 10 queries per month, or upgrade to paid plans starting at $99 per month.
Content Planning & Optimization
Surfer SEO is a content marketing tool that combines data analysis with AI technology to help users find keywords, plan their content, and write SEO-optimized blog posts.
The Surfer SEO Content Editor is one of the best content marketing tools for content optimization. It's a key component that allows you to analyze your competitors' content and identify areas where you can improve your content to better match the search intent of your target audience.
This powerful feature provides a detailed breakdown of your competitors' content, including the number of words, headings, images, and links. Not only that, but it also shows you the keywords that your competitors are targeting and provides suggestions for how you can use them in your content.
The content editor gives you a content optimization score out of 100, providing you with valuable insight into how well your content is optimized. Additionally, it helps you lay out the entire content structure, including headings, paragraphs, and images, so you can create high-quality content that resonates with your target audience.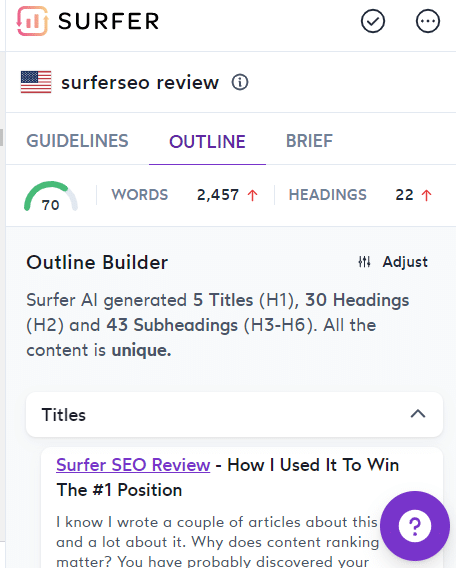 But that's not all. The content editor also provides you with Latent Semantic Indexing (LSI) keywords that you need to optimize. It gives you an insight into the frequency of the LSI keywords that you should be using, which is a unique and valuable feature that other tools lack. And if you need to compare your content with other competitors, you can use the 'Page to Include' feature, which is readily available in other SEO tools as well.
One of the best things about the Surfer SEO Content Editor is that you can use it with other tools that you are already familiar with, like Notion or Google Docs. This is a common feature among all On-Page SEO Optimization tools, so you don't have to worry about switching to a new platform.
Moreover, Surfer SEO has recently partnered with Jasper AI and built BRIEF, an AI-powered tool that helps you create content outlines. This new feature is another game-changer that can help you save time and create high-quality content that resonates with your target audience.
💡Surfer SEO has a new plagiarism checker that checks if your content matches any existing website content. This feature can help you avoid penalties from search engines and ensure that your content is unique and valuable to your audience.

💡Surfer SEO also has a recently launched 'Insert Terms' feature. This enables you to automate keyword optimization as the editor inserts the missing clusters to facilitate a higher rank.
How can you create a content outline using Surfer SEO?
Surfer SEO has recently partnered with Jasper and has built a tool called BRIEF, which helps you create content outlines using AI. Here's how you can create a content outline using Surfer SEO's BRIEF tool:
✔ Login to your Surfer SEO account.
✔ Navigate to the BRIEF tool from the dashboard.
✔ Enter your target keyword or phrase for which you want to create the content outline.
✔ Select the language and location of your target audience.
✔ Choose the type of content you want to create (article, blog post, landing page, etc.).
✔ Provide some additional details about the topic, such as the subtopics you want to cover, the tone of the content, and any other relevant information.
✔ Click the "Generate BRIEF" button, and Surfer SEO will generate a content outline based on your input and data analysis.
✔ Use the outline to create your content, ensuring that you cover all the relevant topics and keywords highlighted by the tool.
Surfer SEO's BRIEF tool uses artificial intelligence to analyze the top-ranking pages for your target keyword and generates a content outline that matches the search intent and satisfies the user's queries.
Surfer SEO offers four different subscription plans for its content optimization software.
The Basic plan, priced at $59/month when paid monthly or $49/month when paid annually, allows access to most features except for Natural Language Processing (NLP) queries and limits optimization to only 10 articles/month.
The Pro plan, priced at $119/month when paid monthly or $99/month when paid annually, is the most popular and includes all Basic plan features, more data, and an analysis of 30 articles/month.
The Business plan, priced at $239/month when paid monthly or $199/month when paid annually, includes all Pro plan features, allows optimization of 70 articles/month, and access to the Surfer SEO API. The Enterprise plan offers customized features and pricing and is suitable for large businesses and agencies.
Frase.io is a content editor tool that has been gaining a lot of popularity in recent times. It is a powerful platform that enables users to create high-quality content that can be optimized for search engines. The tool is designed to simplify the process of creating content by providing a range of features that make it easier for users to research, write, and optimize their content.
The content editor itself is also very intuitive and easy to use. The editor is designed to be clean and simple, with all the necessary formatting options available at the top of the page.
Frase.io also offers a range of SEO optimization features that can help users improve the visibility of their content in search engines. The tool provides real-time optimization suggestions as users type, which can help ensure that the content is optimized for the target keyword.
Additionally, the platform offers a content grading feature that analyzes the content and provides feedback on how well it is optimized for search engines.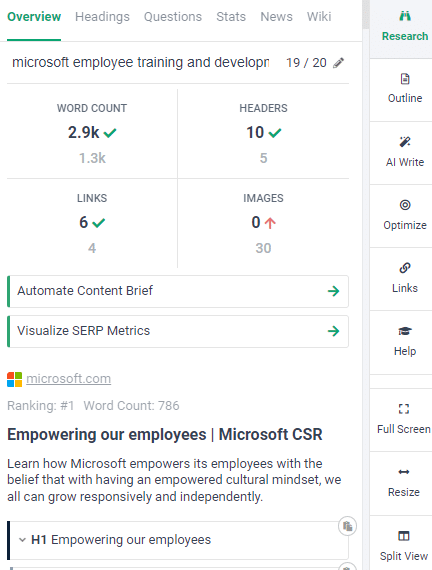 Another key benefit of Frase.io is its integration with other tools and platforms. The tool can be integrated with WordPress, HubSpot, and other popular CMS platforms, making it easy for users to publish their content directly from the Frase.io editor. Additionally, Frase.io can be integrated with Google Analytics and other tracking tools, making it easy to measure the performance of content and make improvements over time.
Google's Helpful Content Update & What's Frase doing about it?
Google's Helpful Content update is a game-changer that could severely impact your website's ranking if it's producing "unhelpful" content designed solely for search engines. Recovering from this setback could take months, as seen with the 2011 Panda update that targeted "thin content" sites.
Google's message to content creators is crystal clear: stop creating content for search engines and focus on crafting content that prioritizes the reader's needs. This update highlights the importance of prioritizing quality over quantity.
Frase, as a platform, recognizes the significance of Google's update and is committed to providing our customers with the necessary tools to make strategic adjustments. They will focus on research-oriented features that provide insights to improve content rather than merely grading content on structural metrics.
The platform will continue to offer a "Topic Score" and topic suggestions to help with research. However, they will encourage writers to cover topics not mentioned in the SERP to promote originality and information gain.
Frase's Originality Score is a vital tool to prevent copycat content, providing an understanding of how similar your content is to competitors on the SERP. This feature ensures that your content stands out and isn't merely a rehash of what's already available online.
💡 I recently used the content summary extension by Frase and I didn't find it very useful. ChatGPT gives me better summaries of long-form content.

How can you create a content outline using frase.io?
Creating a content outline using Frase.io is a straightforward process. Here are the steps to follow:
✔ Start by logging into your Frase.io account and navigating to the "Outline" tab. This tab is located on the left-hand side of the main dashboard.
✔ Enter the topic or keyword you want to create an outline for into the search bar at the top of the page. Frase.io will then generate a list of related topics and questions.
✔ Select the topics and questions that are most relevant to your content and click on the "+" icon to add them to your outline.
✔ Rearrange the topics and questions in the order you want them to appear in your content by dragging and dropping them into place.
✔ Click on each topic or question in your outline to expand it and view the associated content. Frase.io will provide a list of relevant sources and snippets of content that you can use to build out your content.
✔ As you work on your outline, use the Frase.io editor to start drafting your content. You can easily copy and paste content snippets from the outline into the editor and continue writing from there.
✔ Once you have completed your outline and drafted your content, use the SEO optimization features in Frase.io to ensure that your content is fully optimized for search engines.
✔ You can also use Frase.io to track the performance of your content over time and make adjustments as needed.
By following these steps, you can create a comprehensive content outline using Frase.io that will help guide your content creation process and ensure that your content is well-optimized for search engines.
They have a Solo plan priced at 14.99$/month offering 4 article optimizations/month; a Basic plan priced at 44.99$/month offering 30 article optimizations/month and a Team plan priced at 114.99$/month offering unlimited content optimizations
Marketmuse
MarketMuse is a highly popular website that content marketers and SEO professionals use to review existing website content, identify topic clusters and new keyword opportunities, build out content plans, perform competitor analysis, and create optimized content. The software scores well on review sites due to its modern interface and advanced functionality.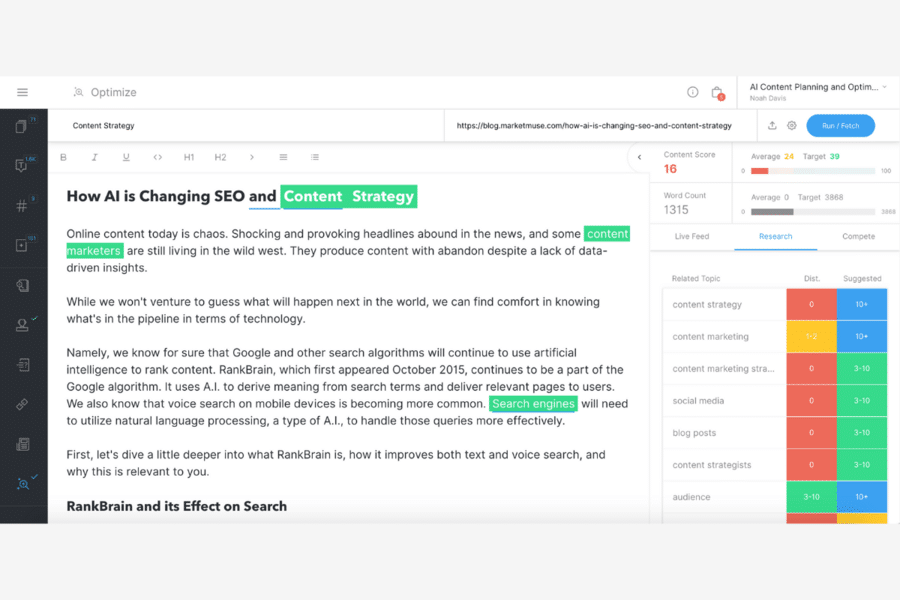 However, I think MarketMuse offers helpful data to guide content writing but its content optimization features are not very helpful. To access all the necessary information, users have to run multiple reports, which can feel overwhelming.
Each report contains an overwhelming amount of information, which may be challenging for those not familiar with SEO best practices to navigate effectively.
MarketMuse's artificial intelligence doesn't pick up on variations in keywords, resulting in multiple keyword variations and posts that sound unnaturally stuffed with keywords. To achieve the desired content scores in MarketMuse, users have to compromise on quality and flow, leading to sacrifices in the overall quality of the content.
Despite these concerns, MarketMuse's content planning tools are highly rated, and the platform provides ample guidance for developing content strategies. It is essential to keep in mind the software's limitations when using MarketMuse's content optimization tools to ensure the best results possible.
With MarketMuse SEO software, SEO experts can measure the authority and comprehensiveness of their topics and content at scale, enabling organizations to enhance audience engagement and achieve higher search rankings. And for content strategists, MarketMuse SEO software is a game-changer, offering unparalleled insights into new content opportunities and enabling seamless collaboration with team members through its user-friendly content briefs feature.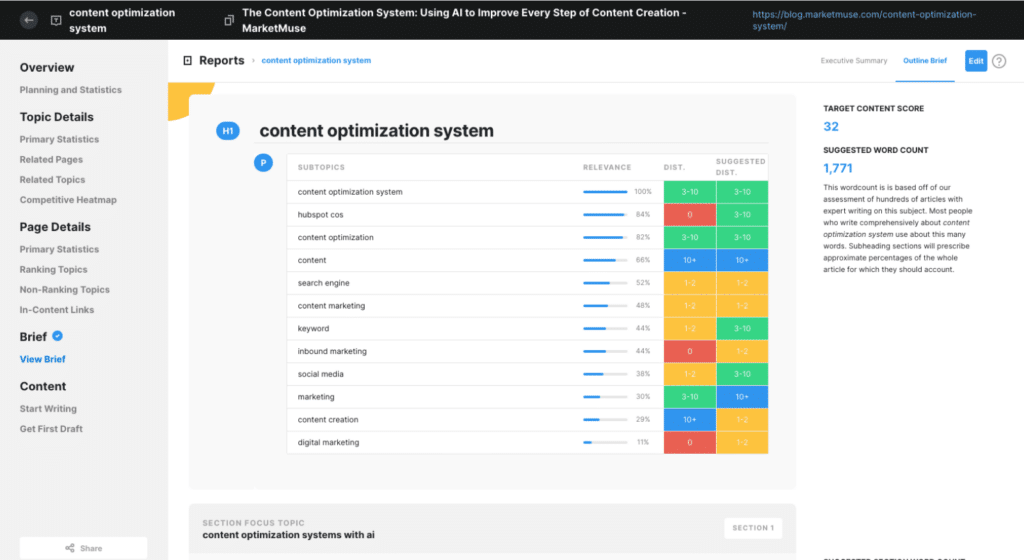 How can you create a content outline using marketmuse?
To create a content outline using MarketMuse, follow these steps:
✔ Log in to your MarketMuse account and navigate to the "Research" tab.
✔ Enter the topic you want to create an outline for in the search bar.
✔ MarketMuse will generate a list of related topics and subtopics. Review them to identify the most relevant and important ones.
✔ Use the "Content Briefs" tool to see what other top-performing content covers on the same topic. This will help you get an idea of what to include in your outline.
✔ Use the "Competitive Analysis" tool to analyze the top-ranking content on the topic. This will help you identify any gaps in the existing content and areas where you can add value.
✔ Once you have a clear idea of the topics and subtopics you want to cover, create an outline using a tool like Google Docs or Microsoft Word. Organize your outline by headings and subheadings, and include a summary of what each section will cover.
✔ Use MarketMuse's "Optimization" tool to ensure your content is optimized for search engines. This tool will provide suggestions for optimizing your content based on your target keyword and other factors.
✔ Use the "Content Analyzer" tool to analyze your content after you've written it. This tool will provide suggestions for improving the readability, structure, and relevance of your content.
On the pricing front, they have a free plan offering only 10 queries per month. Their paid plans range from $149/month to $399/month. The Team plan which costs $399/month offers unlimited queries. They also have an enterprise plan which not only provides page-level insights but also sight-level insights.
Content Scheduling
Coschedule
Looking to streamline your social media game and save valuable time? Meet CoSchedule! While many social scheduling tools offer similar benefits, CoSchedule takes efficiency to the next level, empowering marketing teams and individuals alike to maximize their productivity.
Seamlessly integrating with company blogs via WordPress, this innovative platform allows brands to publish and push content to social media channels simultaneously, amplifying their reach and impact like never before. Say goodbye to wasted time and hello to social media success with CoSchedule.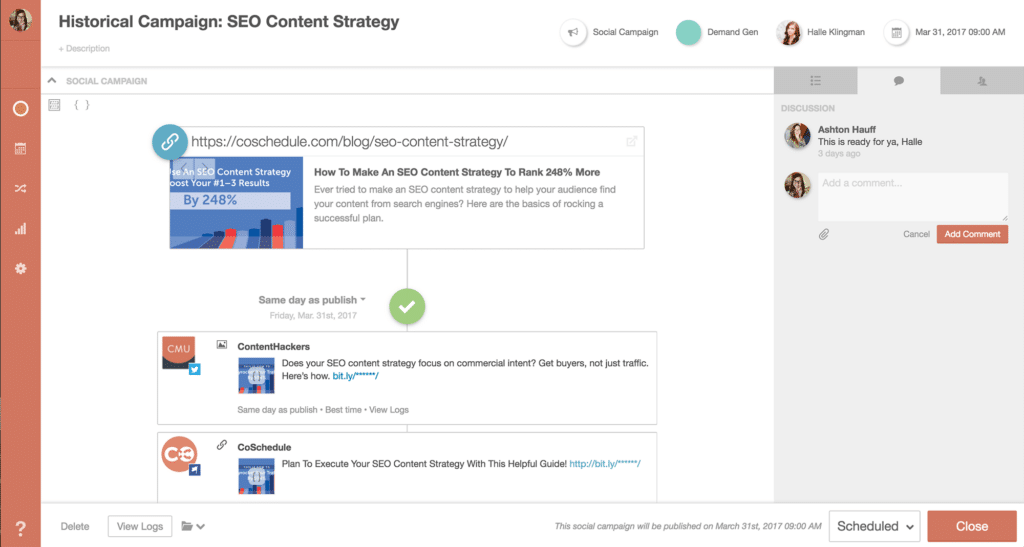 In addition to its time-saving benefits, CoSchedule also offers an unparalleled tool for content creators: the "Top Content Report." This comprehensive feature tracks social shares and engagement, giving creators invaluable insights into which pieces are resonating most with readers.
Whether you're a seasoned marketer or a new blogger just starting out, the Top Content Report is a game-changer, allowing you to fine-tune your content strategy for maximum impact and engagement.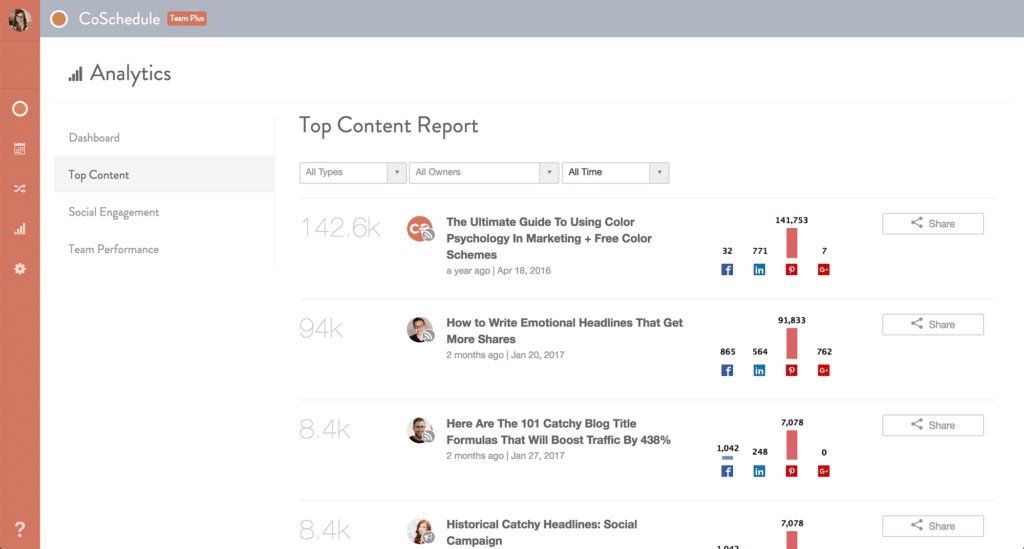 When it comes to social media scheduling tools, CoSchedule stands out from the pack. Rather than solely focusing on social performance metrics, this innovative platform places a premium on content creation and management.
Take, for example, the "ReQueue" Bucket feature, which enables teams to automatically recycle and schedule their most successful messages with ease. With CoSchedule at your disposal, you can ensure a steady stream of fresh, engaging content on your brand's feed, without having to spend hours manually scheduling and rescheduling posts.
Coschedule has a free plan which allows you to post for two profiles only. Their pro plan costs 29/month. Their enterprise plan has bigger offerings like content ideation insights.
Airtable
In the world of content creation and social media, planning is everything. Every blog post you write, and every tweet you send out, is an opportunity to reach new audiences and expand your brand's reach. That's where Airtable comes in. This powerful platform brings together the processes of content planning and social media scheduling, enabling teams and individuals to plan future pieces of content and strategize how they'll be promoted across various social media channels.
With Airtable, you can take your content creation game to the next level. Whether you're a seasoned marketer or a blogger just starting out, this innovative platform gives you the tools you need to craft content that resonates with your audience and drives engagement.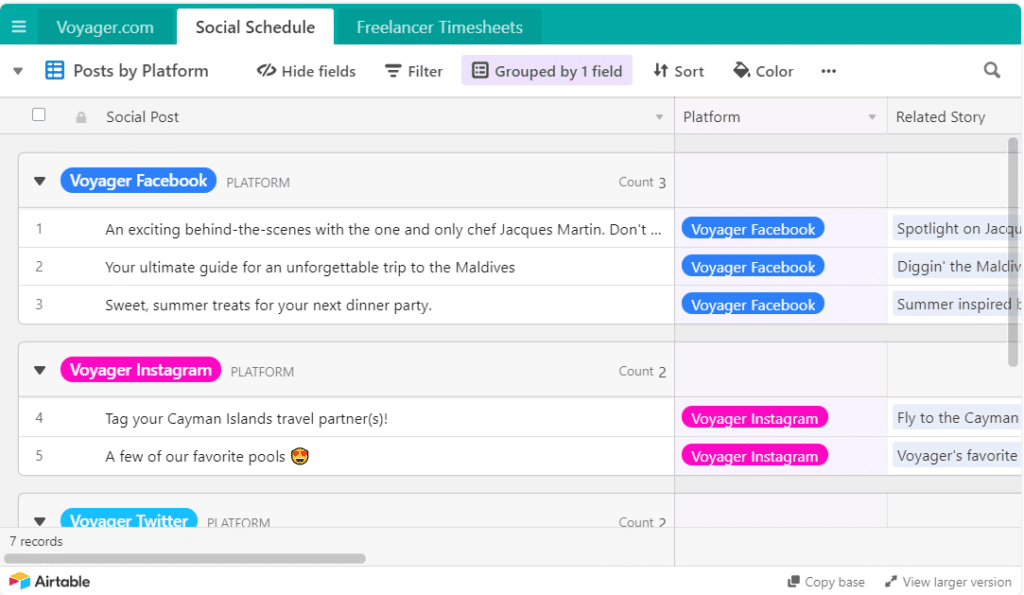 In the world of content creation and social media marketing, consistency is very important. That's why Airtable's asset manager is a game-changer for marketers and content creators. This innovative feature provides users with a seamless and intuitive way to manage their campaigns and ads, ensuring a consistent look and feel across all their content before hitting "publish."
With Airtable, you can rest assured that your brand's image and messaging will always be on point, no matter where your content is shared or how it's promoted.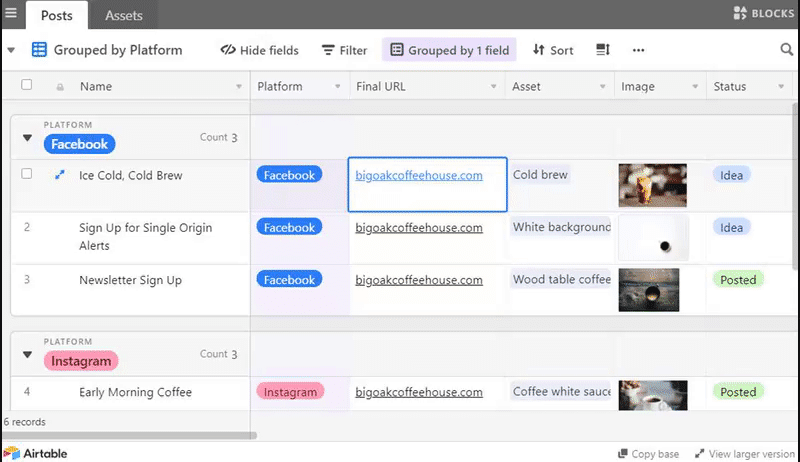 Airtable has a free plan. The paid plans range from $10/user/month to $20/user/month along with an enterprise plan with bigger offerings like Salesforce integration.
Planable
This powerful platform combines cutting-edge features with an unwavering focus on teamwork and collaboration, enabling teams to streamline their social media workflows and deliver results that truly move the needle.
At the heart of Planable's success is its revolutionary commenting and approval system for scheduled social media posts. With this feature, team members can collaborate in real time, fine-tuning the content and making suggestions before it goes live. Planable makes it easy to stay on top of your social media game and deliver top-notch results, with its ability to approve posts internally.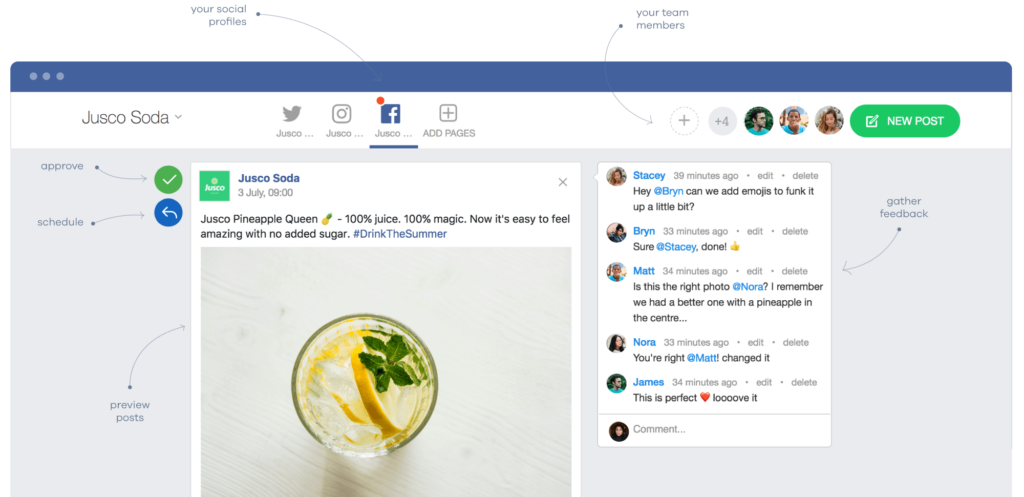 When it comes to social media management, collaboration is very important. That's why roles and permissions are crucial to any effective workflow. With the right roles and permissions in place, different departments can collaborate seamlessly, ensuring that everyone is on the same page and that posts move smoothly from Point A to Point B.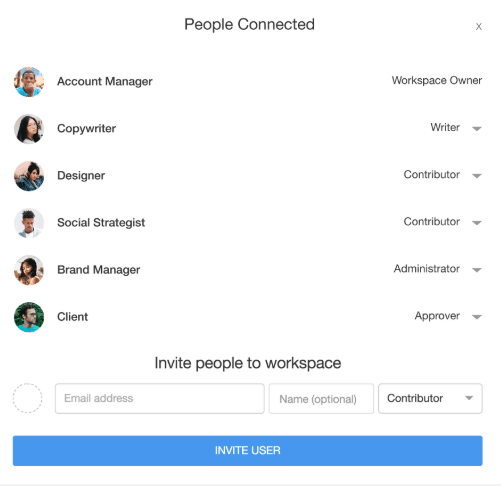 Not only does this approach reduce bottlenecks and increase efficiency, but it also fosters greater transparency and accountability at every step of the process.
On the pricing front, plannable has a free plan offering 50 social media posts. The paid plans range from $11/user/month to $22/user/month along with an enterprise plan with bigger offerings.
AI Tools
Revolutionize your content creation process with Jasper AI – the cutting-edge artificial intelligence (AI) platform that enables you to instantly produce human-like copy for everything from blog posts and social media ads to emails and landing pages. Powered by the same GPT-3 technology that underpins ChatGPT, Jasper AI represents the future of content creation.
By leveraging the power of AI, Jasper AI takes the guesswork out of writing compelling, effective copy that resonates with your audience. Whether you're a marketer, a copywriter, or anyone else tasked with creating content, Jasper AI is the ultimate tool for streamlining your workflow and unlocking your full potential.
Jasper AI is a 'robotic writer', capable of producing written content up to 10x faster than the average human. The technology underpinning Jasper ensures that outputs are plagiarism-free and do not showcase any inherent biases (e.g. political or religious leanings).
This makes Jasper a viable option for digital marketers and corporate professionals since creative tasks can be 'outsourced' to this system making it one of the most valuable content marketing tools.
One of the key reasons why Jasper has become one of the popular content marketing tools in the digital marketing space is because of its ability to produce SEO-friendly copy. Jasper can optimize its written content for specific keywords and suggest keywords based on the user's prompts.
In addition, Jasper can optimize titles and meta descriptions that help boost page rankings. Finally, all of Jasper's created content is high quality and akin to a skilled writer, which is also a key factor for ranking highly on search engines.
Jasper AI is revolutionizing the way users create written content by instantly generating human-like copy for various platforms, such as blog posts, social media ads, emails, and landing pages. With the powerful GPT-3 technology, which is also the foundation of ChatGPT, Jasper AI creates accurate outputs that resonate with the target audience.
💡  Jasper has some mind-blowing features that I never expected. Jasper can magically transform my content into something more impressive and engaging with just a simple click. It's amazing! And get this, I can even choose the "Explain It To a Child" option and select the grade level for my content. How cool is that? Plus, if I'm short on time and need to come up with a compelling paragraph, I can just give Jasper a few keywords, and voila! Jasper AI will generate an interesting paragraph for me in mere seconds. This is truly revolutionary technology!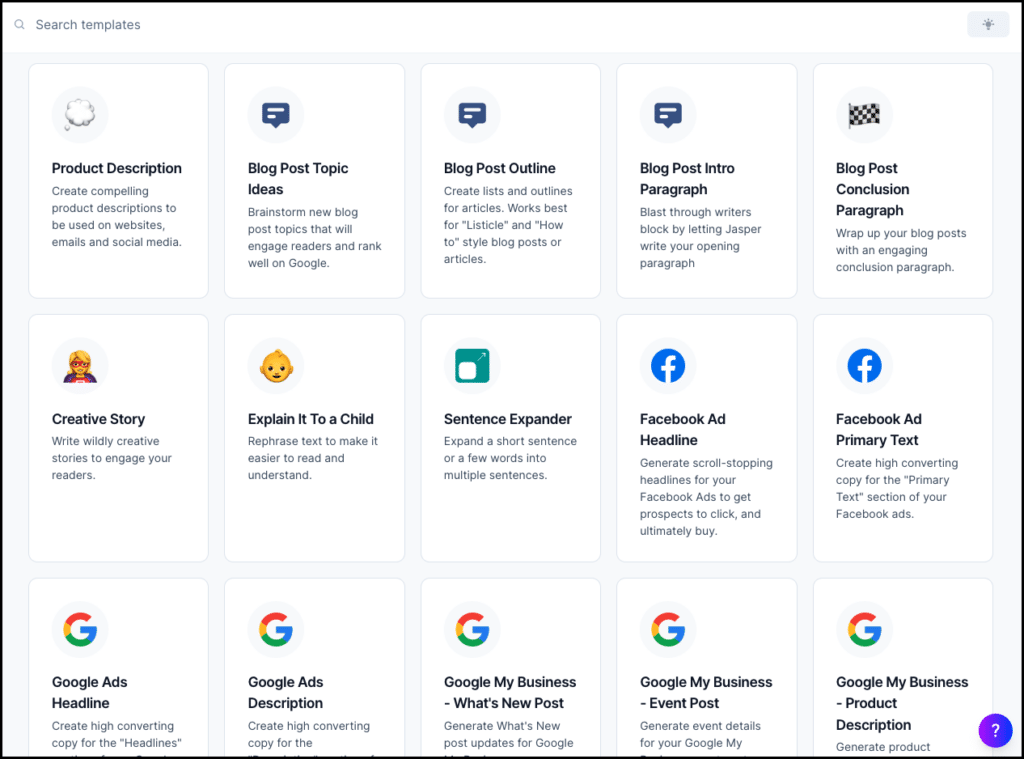 To produce compelling copy, Jasper AI has a straightforward process that users must follow.
✔ First, users must choose a template from a selection, such as Google Ads headlines, YouTube video descriptions, or email subject lines, to give context to Jasper.
✔ Next, users provide supplementary information, such as the tone of voice or product name, to inform Jasper of their needs.
✔ Finally, Jasper draws upon its vast database and knowledge to generate engaging content that meets the user's goals.
Choose between two payment plans to fit your unique needs: the Starter Plan, which offers 20,000 words at only $49 USD per month, or the Jasper Boss Mode, which includes 50,000 words written by Jasper and allows up to 10 teammates on your account for only $99 USD per month.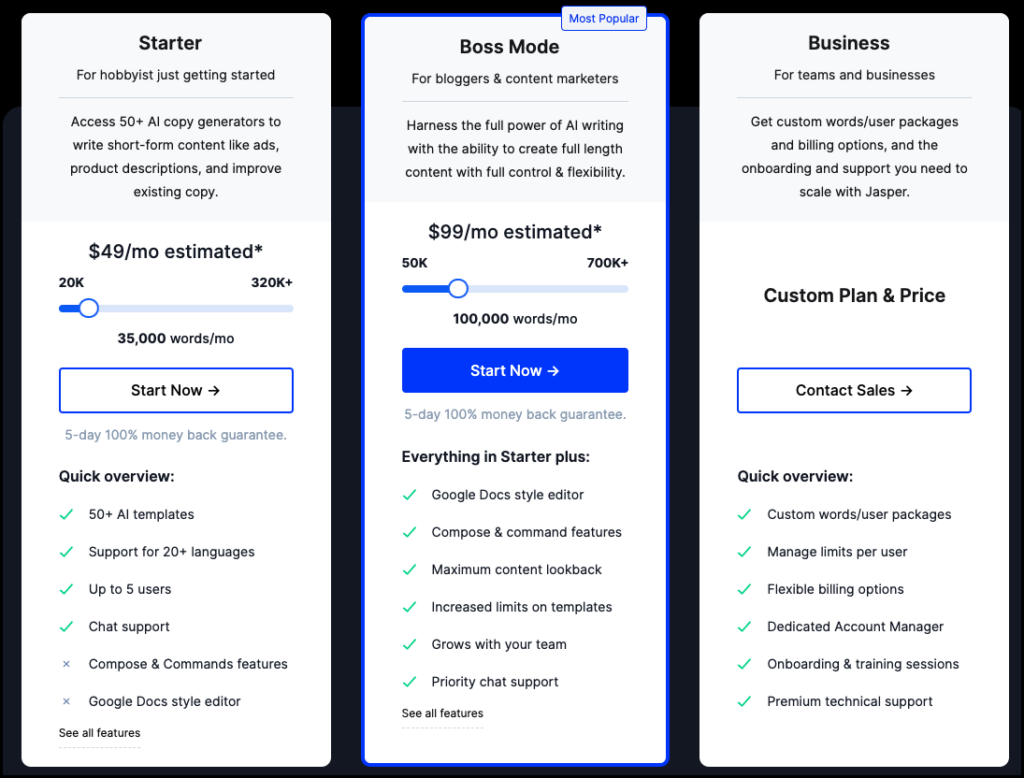 Open AI's Text Generator
OpenAI's text generator, GPT-3 needs no introduction.
For the uninitiated, it is a machine-learning model trained on massive text data, allowing it to generate text that closely resembles something a human would write. It's one of the best content marketing tools.
GPT-3 is versatile and can perform a variety of language tasks, including translation, summarization, and text completion.
In contrast, ChatGPT, a variant of GPT-3, is specialized for conversational language and is particularly useful for creating chatbots and virtual assistants.

To access GPT-3, you must create an OpenAI account and you can integrate it with other platforms such as Jasper.ai, Copy.ai, or Zapier. GPT-3 can generate high-quality, human-like text, which makes it a useful tool for content marketers. It can help generate blog posts, articles, social media posts, product descriptions, and more, and it can even assist with SEO by providing keyword-rich text and identifying topics likely to perform well.
However, GPT-3 should not be seen as a replacement for human writers. While it can generate high-quality content, it may lack creativity, emotional intelligence, and cultural context. Moreover, marketing writing often requires a deep understanding of the target audience, which GPT-3 may not be able to replicate.
The text editor is free to use till ChatGPT plus. However, they have recently launched ChatGPT4, which promises :
✔ Available even when demand is high
✔ Faster response speed
✔ Priority access to new features.
ChatGPT Plus is priced at $20/month.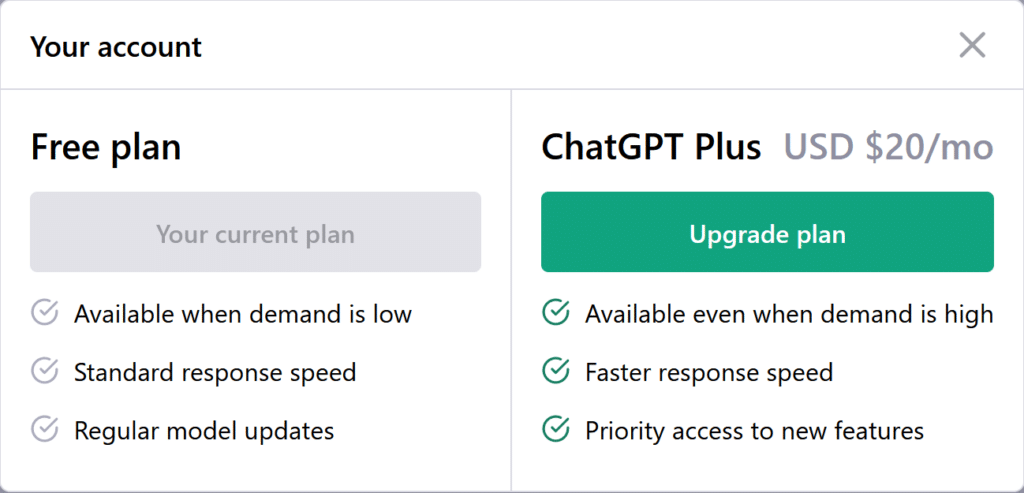 Conclusion
In conclusion, content marketing tools can help you streamline your workflow, improve your content quality, and ultimately drive better results for your business.

Whether you're looking for tools to aid in keyword research and tracking, content planning and optimization, content scheduling, or AI content generation, there are many options available to suit your needs.

By carefully evaluating your options and choosing the right tools for your team, you can save time, reduce costs, and create more effective content that resonates with your target audience. So take the time to explore your options, test out different tools, and discover the ones that work best for your content marketing strategy.
Topics & Questions
What are content marketing techniques?
Content marketing is a marketing strategy used to attract, engage, and retain an audience by creating and sharing relevant articles, videos, podcasts, and other media. This approach establishes expertise, promotes brand awareness, and keeps your business top of mind when it's time to buy what you sell.
What are the 7 steps of content marketing?
Top 7 Steps Of Content Marketing
Step 1: Content Planning.
Step 2: Content Creation.
Step 3: Asset Development.
Step 4: Shareability And Viral Marketing.
Step 5: Content Promotion.
Step 6: Repurposing.
Step 7: Ongoing Measurement.