Over 50% of B2B customers expect personalized experiences at every stage of their journey, from awareness to advocacy.
But if you've ever tanked your lead form conversion rate by asking for too many details, you know that prospects aren't always willing to share the information you need to create the experiences they want.
So how can you get the data you need to delight customers? For many SaaS companies, data enrichment is the key to enhancing customer profiles via third-party sources.
In this guide to data enrichment, we'll look at valuable use cases for SaaS, walk through an optimized workflow, and highlight top tools—so you can improve customer experiences while increasing revenue and sales efficiency.
Why Data Enrichment Matters for SaaS
Whether you work with B2B or B2C SaaS, you have to strike a balance when collecting data directly from prospects.
When a prospect first downloads a lead magnet or schedules a demo, you might request basic professional and demographic data. At every subsequent touch point, you might add another detail, such as behavioral data or purchase intent signals.
But at every interaction, you have to avoid asking for too much information. Overly long lead forms tend to have lower conversion rates—especially when the form fields aren't engaging or when your offer doesn't provide enough value.
Eventually, you might end up with a complete customer profile. But if you rely solely on first-party data for marketing, lead qualification, and customer success, you're looking at a lengthy sales cycle and below-average customer satisfaction scores.
Automated data enrichment can speed up these processes and improve your results by supplementing the customer profiles you've already started building. Data enrichment tools are designed to complete two basic tasks:
Consolidating the data you've collected manually to make existing customer profiles more complete
Adding third-party data to these profiles so you can expand them without having to ask more questions
As an added bonus, third-party data tends to be more accurate and less error-prone than first-party data provided by prospects or customers. Below, we'll look at tools known for supplying data that's both clean and current.
How to Leverage Data Enrichment
One of the biggest perks of data enrichment is that it can benefit teams throughout the organization—from demand generation to customer success. Let's look at use cases for each.
Demand Generation
Demand gen can't build awareness, drive interest, or engage prospects alone. They need customer and product data to implement these strategies successfully. One of the most effective ways to get this data is to use enrichment tools that share information across the organization.
Andrew Mattock, VP of Demand Generation at Apollo.io, explains that disconnects between demand gen and product marketing can create unnecessary friction, especially when one team creates ICPs "that require data values that don't exist. This makes it impossible for demand gen teams to operationalize the strategic vision."
To resolve this issue, Andrew recommends "socializing what data is available to different teams, so folks know what segments can be generated from the get-go and demand gen isn't left struggling to figure out how to piece a sub-par audience together with unclear direction."
Marketing Operations
When enriched data flows between teams, marketing can activate more complete customer profiles and develop optimized customer journeys. Then MOps can generate relevant customer segments and create personalized assets that lead to the custom experiences prospects expect.
Rafael Sarim Oezdemir, Founder & CEO of Zendog Labs, explains that enriched data helps "marketing teams comprehend their audience, craft personalized campaigns, and amplify lead generation. This leads to well-tailored messages that stoke engagement and push conversion rates upwards."
Rafael elaborates: "It refines lead scoring, saving time and effort by focusing on high-quality leads. It permits the creation of refined customer segments, enabling laser-focused marketing efforts. It fuels personalized customer experiences, boosting satisfaction and loyalty."
Revenue Operations
Enriched data can also help RevOps teams create alignment between marketing, sales, and customer success. By enhancing customer data and removing silos, RevOps can increase transparency, optimize funnels, and improve conversion rates.
In many cases, data enrichment can give the organization a competitive advantage. By supplementing your own first-party data with relevant third-party data, you can gain new insight into your ICP and set your business apart from the competition.
SaaS Sales
For SaaS sales teams, data enrichment is particularly helpful for making prospecting more efficient and lead scoring more accurate. Need to improve your sales team's win rate? Put enrichment to work.
Andrew explains: "If you're already generating a ton of inbound leads and having trouble sorting through them, data enrichment can help provide your RevOps / MOps / sales teams with the layer of intelligence needed to find prospects most likely to close through a predictive lead scoring model."
What kind of results can you expect? Andrew elaborates: "I've seen how applying this practice improves sales efficiency by 46% while driving 54% in additional revenue within a year. It was so effective at Autodesk, we were able to split our inbound SDR team in half, with the newly formed team focused solely on outbound."
Will Yang, Head of Growth & Customer Success at Instrumentl, recommends using lead scoring in conjunction with segmentation. He explains: "Data enrichment helps us build more detailed and accurate customer profiles that enable us to segment our audience effectively. This, coupled with an accurate lead scoring system, helps us prioritize our efforts toward the most promising prospects, optimizing our resources and improving conversion rates."
Customer Success
Whether you need to reduce churn rate or increase LTV, data enrichment can also be incredibly valuable for customer success.
Josh Merryman, Head of Product at MessageDesk, explains: "If you leverage data enrichment correctly, you'll be able to target customers who are high risk or have an opportunity for expansion, all of which can help your customer support team provide value both in the short and long term."
Josh shares that with enriched data, customer success teams can "push your customer base to adopt more of your product (or more products) and therefore, potentially expand the revenue or expand their LTV. Overall those metrics are probably going to be the biggest impact on the business."
In addition to using third-party data, Josh recommends incorporating first-party data inputs at every stage of the customer lifecycle. He elaborates: "What I think a lot of companies overlook is the ability to ask questions and survey your customers. Once you're using your product on a daily basis, this is a great way to improve how you segment your active customers."
SaaS Data Enrichment: 5-Step Framework
What does a SaaS data enrichment strategy look like? Here's a simple framework you can use to shape yours.
1. Define your ICP
A solid data enrichment strategy starts with knowing your ICP. Aim to build your enrichment process around your ICP instead of the other way around.
Once you've defined your ICP, you'll know what data you need to nurture leads and retain your ideal customer. Then you can choose the right provider for the job.
Keep in mind that not all data enrichment providers are created equal. Some focus on B2B, while others specialize in B2C. Some are ideal for early-stage startups, while others are better for enterprises.
2. Build your tech stack
A typical data enrichment tech stack includes three types of tools:
CRM that stores contact details and tracks touch points throughout the customer journey
CDP that organizes first- and third-party customer information in a centralized database
Data enrichment provider that supplies third-party data and syncs with your CDP
Josh explains that MessageDesk has "a relatively straightforward tech stack. Our CDP is Segment. We have that plugged into our product to generate all of our product events. We use that to enrich our data so our customer support team is actively reaching the right customer at the right time.
For a CRM, MessageDesk uses Close. Josh shares that his team regularly leverages Close's smart views feature, "where we can take any custom field or any property we pass our individual contacts and then organize our contacts into groups based on that. And then once they're in those groups, individual sales reps can go and do bulk calling, bulk emailing, and enroll people in the sequences."
Yet data enrichment toolsets aren't always so straightforward. Depending on your organization's needs, you may need to plug multiple data providers into your CDP to get a level of detail that truly benefits your team.
3. Collect first-party data
Once you've set up your tech stack, start collecting first-party data and building customer profiles. Keep in mind that you need data to augment. This process doesn't work with third-party data alone.
Josh recommends aligning your first-party data strategy with your ICP. He suggests: "Make sure you're asking questions that actually map individual leads to one of your customer profiles. Once you do that, you're going to have a lot more authority when it comes to what you do with that information. Whereas if you're just not asking the right questions upfront, it's going to be really hard to leverage and enrich your data."
To collect first-party data efficiently, work with your demand gen and marketing teams to generate interest and capture leads. With a combination of website visitor identification, lead magnets, inbound inquiries, and outbound outreach, you can start building a list.
4. Enrich with third-party data
Next, use your third-party provider to enrich the first-party data you've collected. Then put the data to work in a way that supports your GTM strategy.
For example, Rafael suggests that "using enriched data for audience segmentation allows for bespoke and targeted marketing campaigns. Implementing lead scoring models that leverage enriched data helps prioritize leads most likely to convert or engage. Regularly updating your data keeps it fresh, relevant, and enriched."
Don't have many inbound leads yet? Andrew explains that "data can help you formulate your TAM, develop target account lists within that based on your ICP, and run a targeted outbound sales email strategy—in one platform like Apollo.io. Feed those lists into places like LinkedIn and Meta for aircover, and you've got a fairly solid initial GTM strategy without a huge lift."
5. Analyze and optimize the process
Is your data enrichment strategy working for you? Analyze key metrics to gauge the impact on outcomes like conversion rates, sales efficiency, and revenue.
Then use your insights to optimize your process. For example, Josh pays close attention to MessageDesk' web form conversion rates.
He explains: "We want to see if we're asking too many questions and causing a drop off. Or if we're asking not enough, and our conversion rates are really high, maybe we have a chance to us one or two more questions that can actually help us route leads to the right person."
Best Data Enrichment Tools for SaaS Companies
So which providers should you use to enrich your prospect or customer data? Here are seven tools to consider adding to your data enrichment toolset.
Apollo.io
Apollo.io is a B2B sales platform with tools for data enrichment, prospecting, and outreach. With 265+ million contacts, this platform can enrich your data with dozens of professional and company filters.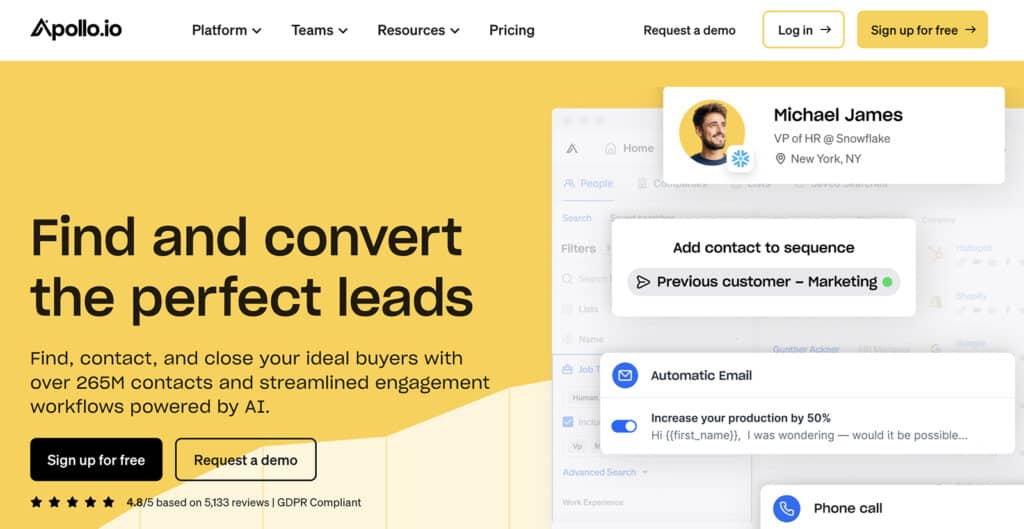 In addition to HubSpot and Amplitude, Andrew's team uses Apollo.io for data enrichment. He explains: "Apollo.io is the engine under all of our sales and marketing campaigns and has been the secret sauce to our explosive growth over the last few years."
Breadcrumbs

As a lead-scoring platform, Breadcrumbs is designed to align marketing and sales. It taps into third-party data sources to provide the information you need to qualify and score leads based on your custom model.
Clearbit
Clearbit is a B2B data provider that uses a variety of sources to maximize accuracy and coverage. This platform scores and qualifies leads so your sales and marketing teams can focus their efforts efficiently.

Simon Bacher, Co-Founder of Simya Solutions, explains: "Here at Ling, we use Clearbit as a data enrichment tool for lead scoring and routing to convert more prospects into paying app subscribers. With Clearbit's powerful APIs, we can integrate our existing tools to deliver data where needed, allowing us to make intelligent, data-backed decisions. This tool gives us valuable insights into the customer cycle, helping us convert qualified website visitors and never lose high-value leads."
FullContact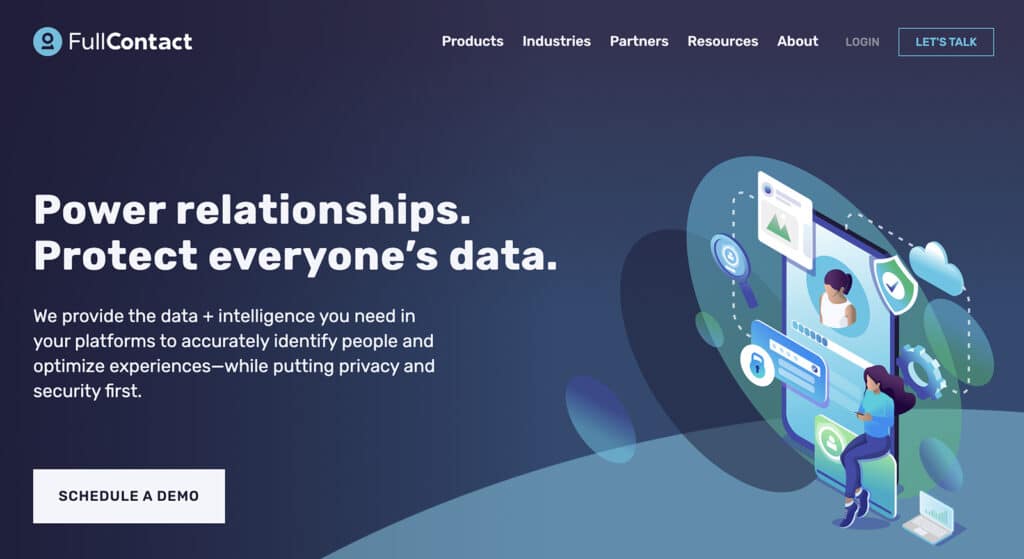 As an identity resolution platform, FullContact is engineered to help you get to know prospects in real-time. The platform's identity resolution graph is powered by nearly 250 million profiles and 50+ billion omnichannel identifiers.
HubSpot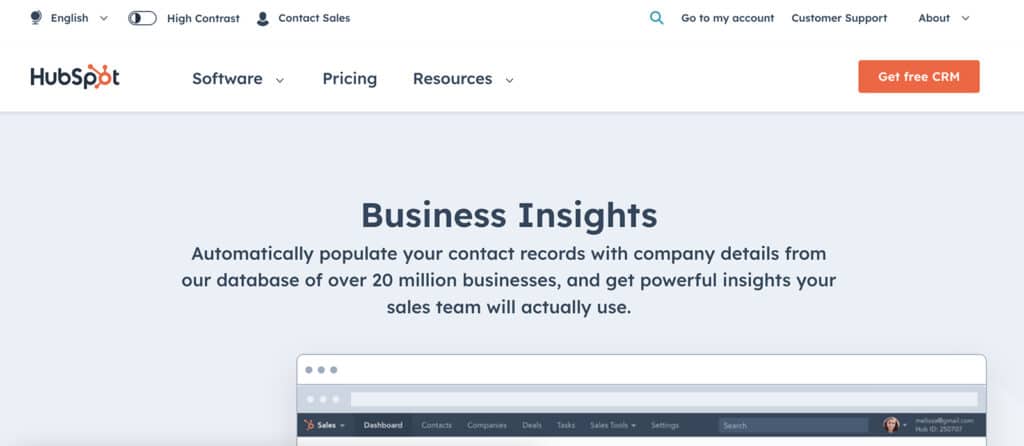 Best known as a CRM, HubSpot also has a built-in business insights platform that's ideal for sales teams. The platform's database of 20+ billion businesses enriches customer profiles so your SDRs can sell more effectively.
LeadGenius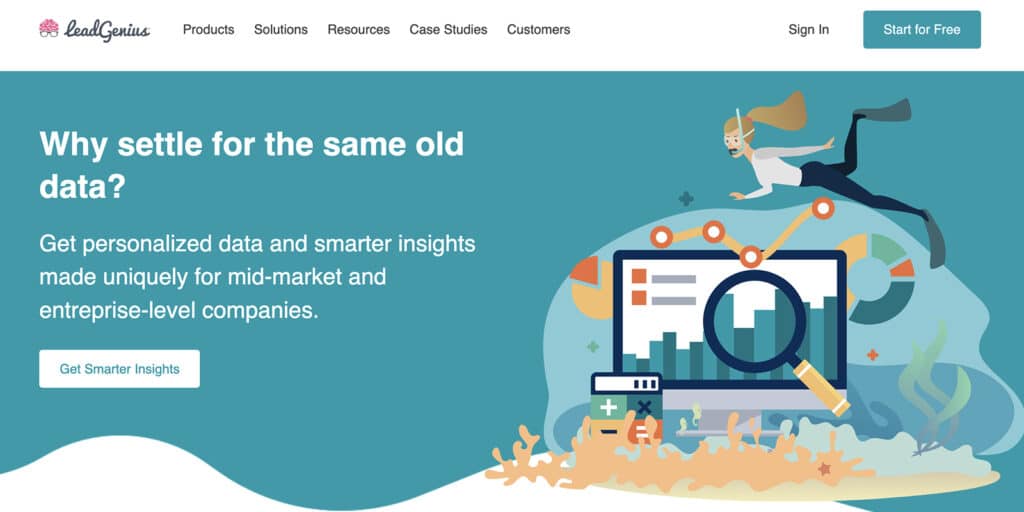 LeadGenius is a B2B data provider that's engineered for mid-market and enterprise. It helps growth-focused businesses develop a competitive edge with personalized datasets and insights.
Snowplow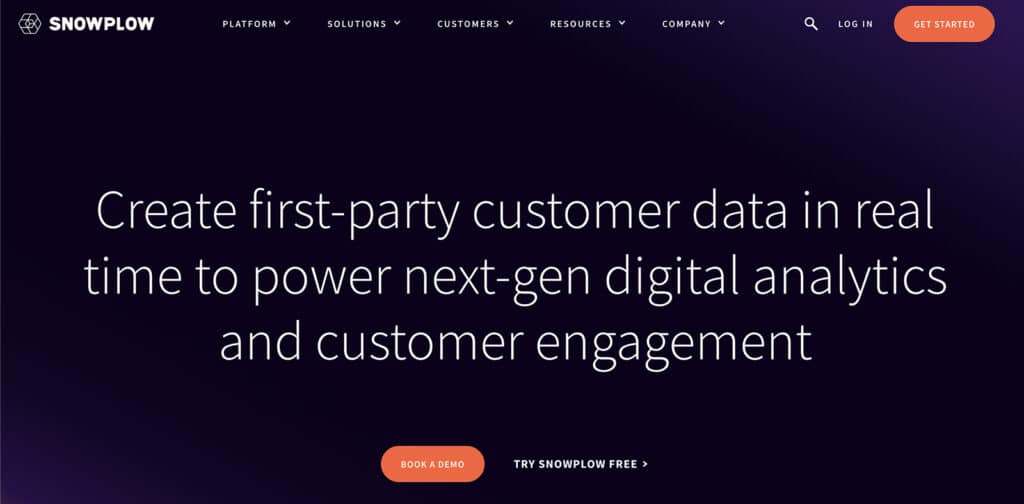 As a behavioral data platform, Snowplow uses event tracking to generate first-party data—and then enriches it automatically. The platform works in real-time to help you map customer journeys, predict behaviors, and forecast sales and LTV.
Final Thoughts on Data Enrichment for SaaS
With a solid enrichment strategy and the right data providers, SaaS companies can enhance customer profiles and create more personalized experiences. As a result, you can zero in on qualified leads and increase conversion rates, which can contribute to key business goals like expanding revenue and improving sales efficiency.