Now, hands up whoever got proposed on a first date. This would be insane, wouldn't it? Likewise, sales and marketing activities require steps and stages. And that's even more essential for businesses in the SaaS world who are working their way in an extremely competitive and oversaturated market that in 2022 will account for 36 percent of the global cloud services sector.
You may be struggling to find your soulmate and understand what they really want and how to win their heart, truth is it has not to be the same for your SaaS business. How so? Using a one-funnel approach capable of integrating marketing and sales activities and organizing them into key stages. That will make your business scalable and efficient, at any stage of the company.
Why do SaaS businesses need a funnel? What is an integrated marketing and sales funnel? How to build a SaaS sales and marketing funnel? In this article, you will find answers to these and more questions, together with a recap glossary at the bottom of the page.
What is a funnel?
A funnel can be a metaphor for many things, and you will have probably come across this term when trying to get qualified leads, address your target audience, and transform a prospect into a brand evangelist.
In a nutshell, a funnel is a tool that visually designs and represents the journey customers make from when they first met your SaaS company until when they turn into paying customers (and even after that). Understanding the steps that lead potential customers to build a relationship with your SaaS brand can provide useful insights to avoid friction points and efficiently scale.
The number of funnels you can adopt and integrate is enormous: Lead generation funnel, free sample funnel, cross-selling funnel, product launch funnel, list building funnel and video sales funnel are just some of them.
The good news is you don't have to apply them all at the same time: What I suggest you focus on is defining your goal. Whether it is to generate leads or increase sales, combining both a marketing and a sales funnel approach will set the path for you to reach your goal in an effective and timely manner.
But before providing you a framework for building your own SaaS funnel, let's see what marketing and sales are different at, and what do they have in common.
Marketing Funnel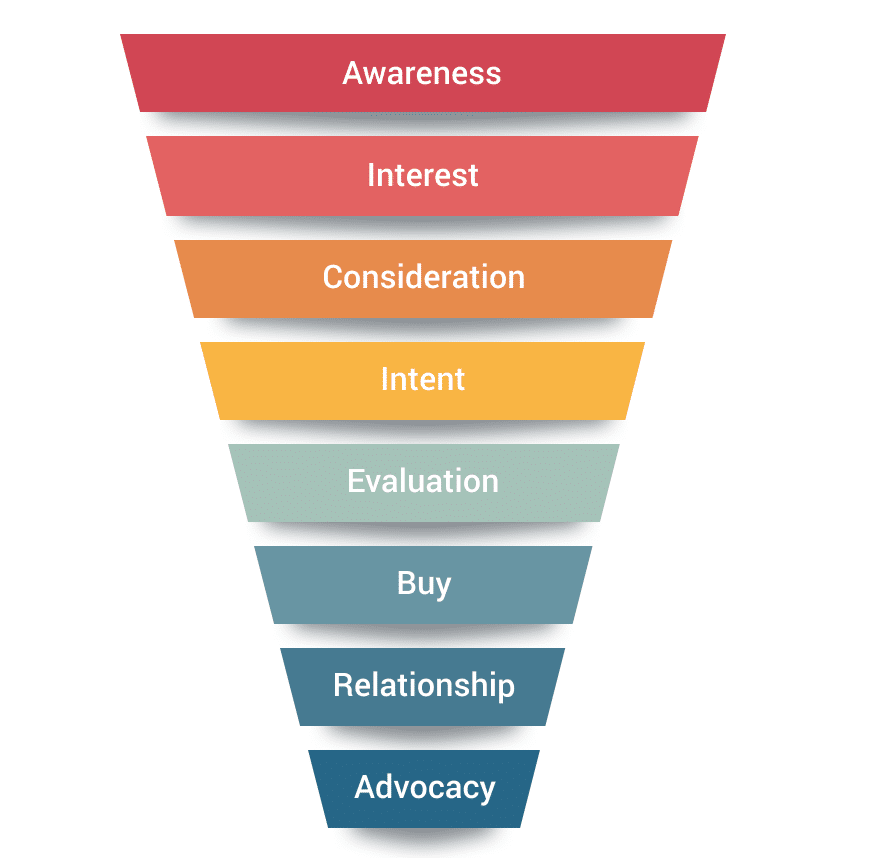 That's what a marketing funnel essentially looks like: It is a high-level strategy for your SaaS business to guide someone from becoming aware of your brand to a loyal, paying customer.
Typically, the stages of the marketing funnel start at awareness and go all the way down to conversion. And it works: 95% of customers choose a vendor because it helps them navigate each stage of the buyer journey.
SaaS companies' marketing teams use funnels to generate marketing qualified leads getting closer to the bottom of the funnel, in order to optimize their own marketing efforts and generate more sales. What makes a marketing funnel a useful and effective tool is taking one step at a time, and improving it to drive people to the next step of your SaaS funnel.
The reason for calling it a funnel is due to the shape it assumes while touching the different steps. The more downwards you go, the more reduced the volume of people involved will be: Usually, a lot of people show up during the awareness phase and then drop out of the following steps. And that's not bad at all, since it allows your SaaS brand to reach and target the people really interested in your offer.
The main benefits of a marketing funnel are:
Creation of an automated system that will make you save time and money
Strengthening of the brand perception and values
Increased sales due to different approaches for each target audience
More retention, loyalty, and word of mouth thanks to personalized insights
Sales Funnel
If the marketing funnel is a comprehensive map of the direction to point at for your business activities, the sales funnel refers to a process by which you plan to get people to engage in a very specific action.
On the sales side, the action is goal-oriented: It could be purchasing a product, attending a webinar, or subscribing to your mailing list. For this reason, there is not a one-size-fits-all sales funnel approach, it really varies accordingly to your business and the challenges you are facing at an exact moment.
Customizing the perfect sales funnel for your SaaS business has something to do with design and strategy. In that way, a sales funnel is actually a part of the marketing one, and integrating the two of them into one funnel would imply a collaboration between the sales team and the marketing team.
The one funnel approach
When you're building sales and marketing campaigns for a SaaS startup or a consolidated SaaS business, do you usually ask yourself if what you're doing would be weird in the context of a romantic relationship?
The general rule is that what is creepy during a date would have the same effect on sales and marketing too. Nonetheless, too many businesses still tend to forget that they are people talking to people and that the sales process is the natural consequence of that conversation.
Even if you've never talked this through, you probably already have a funnel without knowing it. But is it the right one for your SaaS company?
In the next section of the article, I will draw the roadmap for designing your SaaS funnel. How? Combining strategy and actions to avoid uncomfortable situations with your people, aka target customers.
Step 1 – Raise Awareness (TOFU)
You are in a club with your friends and cross the glances of someone interesting. What you want to do is raise interest and look trustworthy and unique in your own personal way. You can do it with a smile, but you can also do it with marketing activities if you are a SaaS brand.
And the place to do it is TOFU.


Definition and audience
The broader section of the funnel is the top of the funnel, hence the name TOFU. At this stage, your potential customers are looking for information: They might not exactly know what they want yet, but they are asking questions.
You are talking to a cold audience, and you want to make them aware of who you are, what you do, and why are you doing this, depending on the maturity of the industry.
SaaS brands operating in a mature industry will be likely to establish themselves as top of mind and make their voice recognizable, like the learning platform for kids Outschool: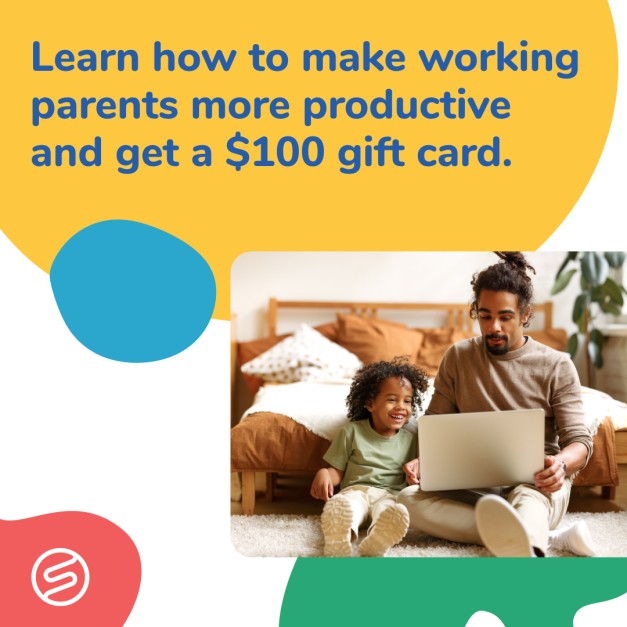 At the same time, fresh and new industries set different challenges for SaaS companies, and the main goal is to educate your audience, explaining that there is a problem and why it is important to address it. That's the case for brands like Tesla: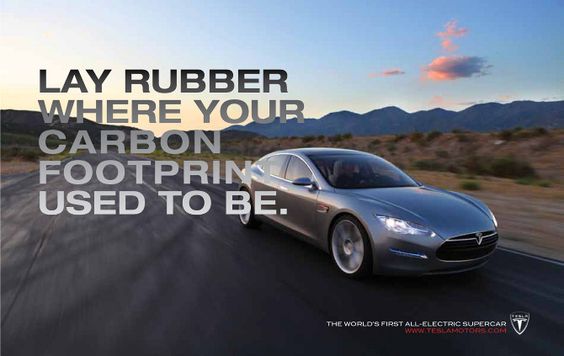 Implementation and Tactics
On the other hand, there are some questions you should be asking yourself before implementing your sales funnel on top of the marketing one.
Let's take PartnerStack as an example from the free DivbyZero SaaS Examples tool to see which are those questions I've mentioned:
Where do you want to be found by a potential customer? The prospect's journey should start somewhere, according to your funnel conversion goals. It could either or both be with Ads or content marketing, online or offline. Billboards, podcasts, paid ads, live events, radio, television, influencer marketing, there is a wide choice. Once decided, the marketing and sales team should coordinate about how to get potential customers to engage there. As you can see, PartnerStack decided to invest in Facebook Ads to introduce themselves and their service to their target audience, using a clear CTA.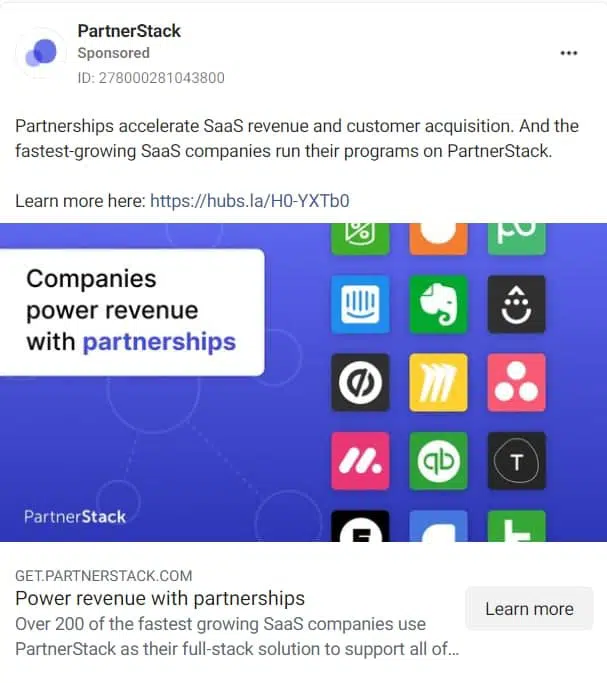 What will potential customers engage with? Following the call to action, potential customers might engage in a bunch of different activities, like joining a webinar, reading an educational article about the brand's business, or following a link to an external landing page. And it's up to you to engage them with the right activity in order to have significant business results. In the case of PartnerStack, the Facebook Ad brings to a landing page that makes it possible for a cold audience to request more info and get in touch with the brand: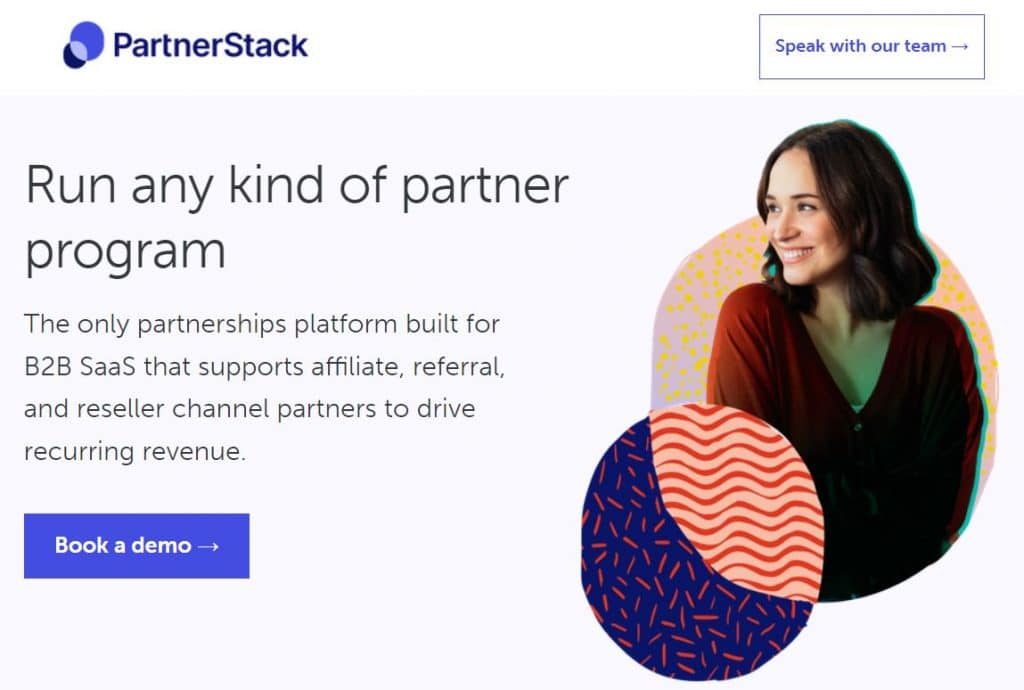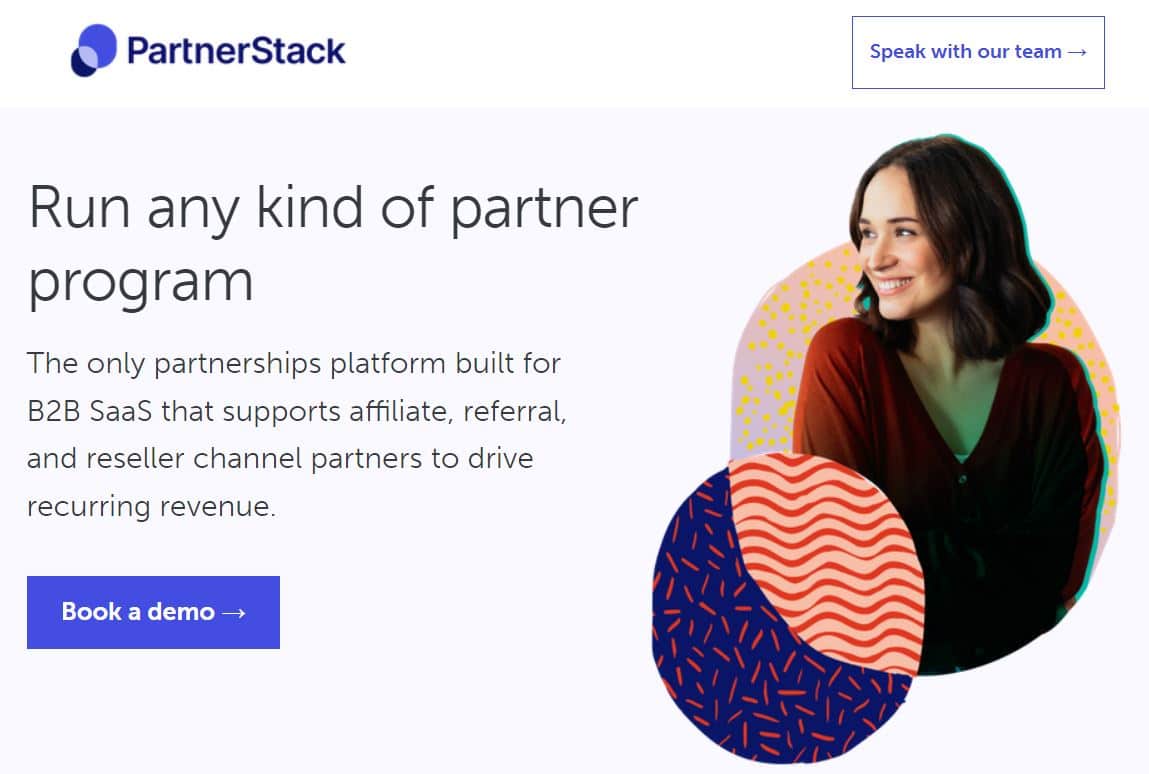 In what does the conversion event consist? You have just started taking your potential buyer by the hand through the funnel journey but even at the top of the funnel, it is crucial to determine your SaaS sales funnel metrics as well as your marketing ones. This will allow you to track your SaaS business progress and refine your funnel in order to make it sustainable and efficient. For PartnerStack, the conversion event is twofold: Follow the Ad to the landing page, and press the "Talk with our team" blue button on the bottom-right of the page.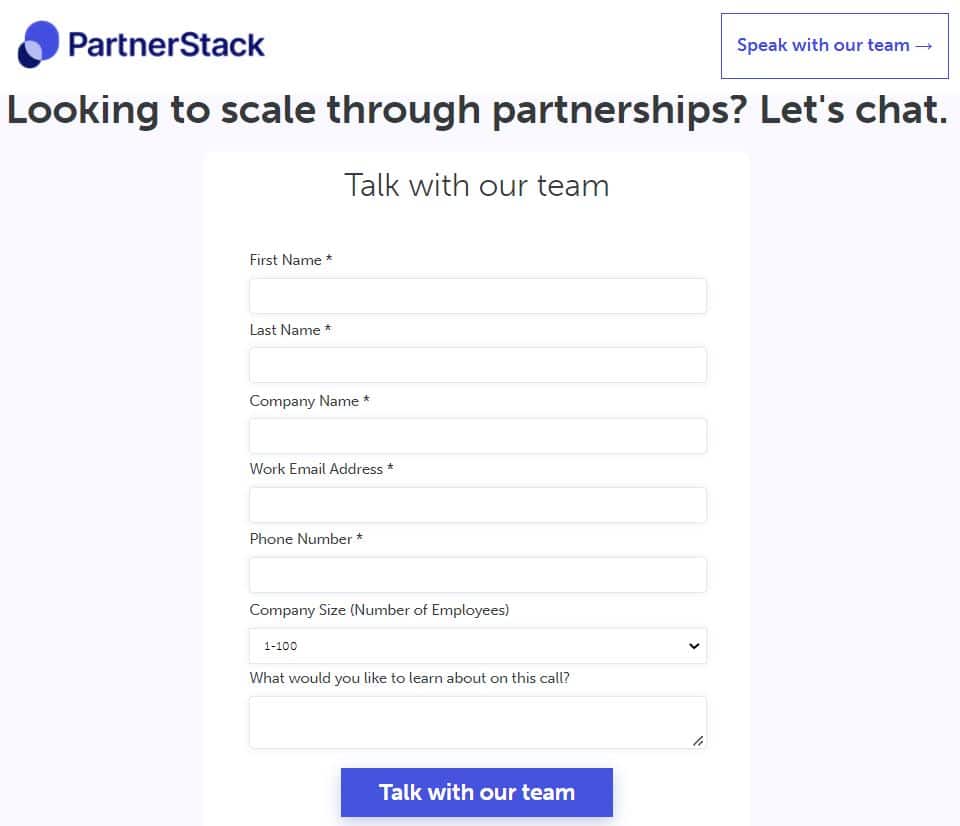 Step 2 – Trigger Engagement (MOFU)
It's been a while since you and your date engaged in small talk, and you both agree that there is compatibility. You have the same interests and are looking for what the other one has to offer. But talking is not enough at this point, and you are not the only one in the club interested in knowing your date better.
It's time to prove your interest, maybe buying them a drink or asking them out for dinner. And of course, you want to be able to contact them in the future, so you are asking for their phone number, right?
Don't be shy and find out how to make this happen for your SaaS business.

Definition and Audience
MOFU stands for Middle of the Funnel, the moment when prospects start to evaluate options and come back to your website to gain more information.
The target audience is aware you are offering a solution for their problem and starts to compare the alternatives on the market. This means that your funnel is now talking to a warm audience, and the messages regarding your product or service are more specific and target-customized.
Implementation and Tactics
Recently, the purchase decision process has become slower and more complex but there are five top information sourcesto make purchasing decisions easier for buyers:
Vendor/product website: It is a big fat lie saying that all advertising is good advertising, especially if it comes from the product website. Would you ever trust a SaaS business that is not capable to advertise itself? If not, here is a successful example from Tesorio: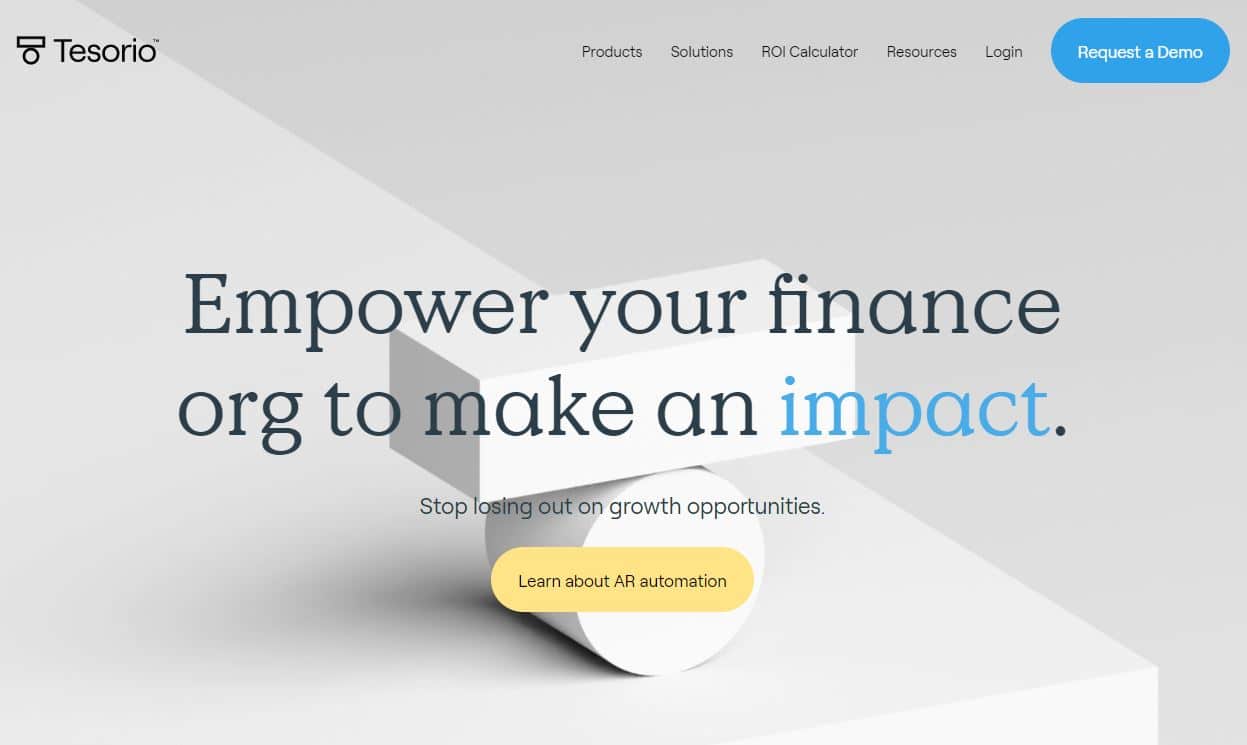 User reviews: Word of mouth has increasingly gained importance in every step of the funnel, including MOFU. Whether they are on the product website or on a third-party landing page, positive reviews from real users can make a difference in acquiring qualified leads and new customers. That's why I recommend you design a section for this on your website, like Tesorio:


Sales reps: Sales teams make the difference in covering the gap between raising awareness in TOFU and leading to purchase in BOFU. A sales rep can in fact contact the lead and investigate whether your offer is the right solution for their problem. If there's buying intent, the potential customer is marked as sales qualified lead and accompanied through the next steps of the marketing and sales funnels, like a demo.
Demos: Presenting the core features and capabilities of your service in a compelling way, both on and outside your website, can really make a difference in closing a deal. Take a look at this one by Smarking: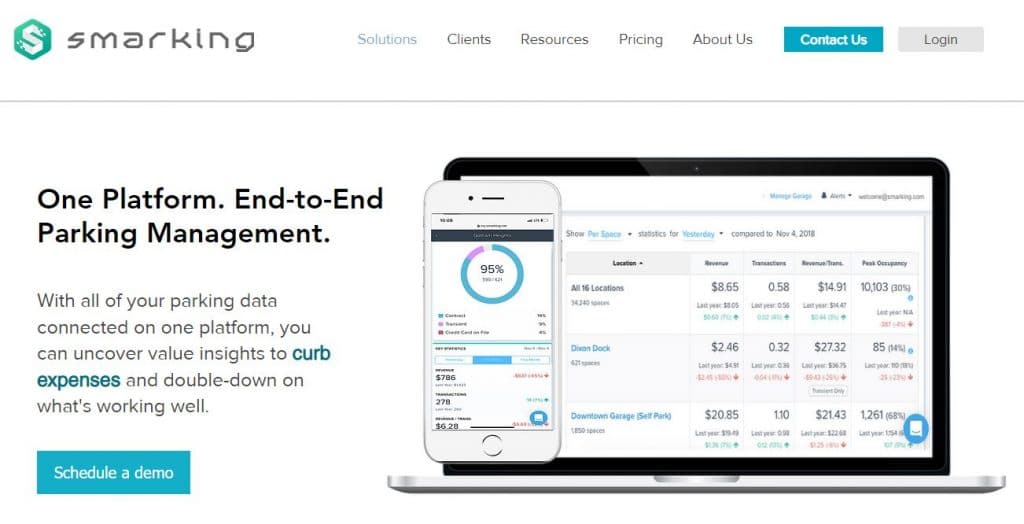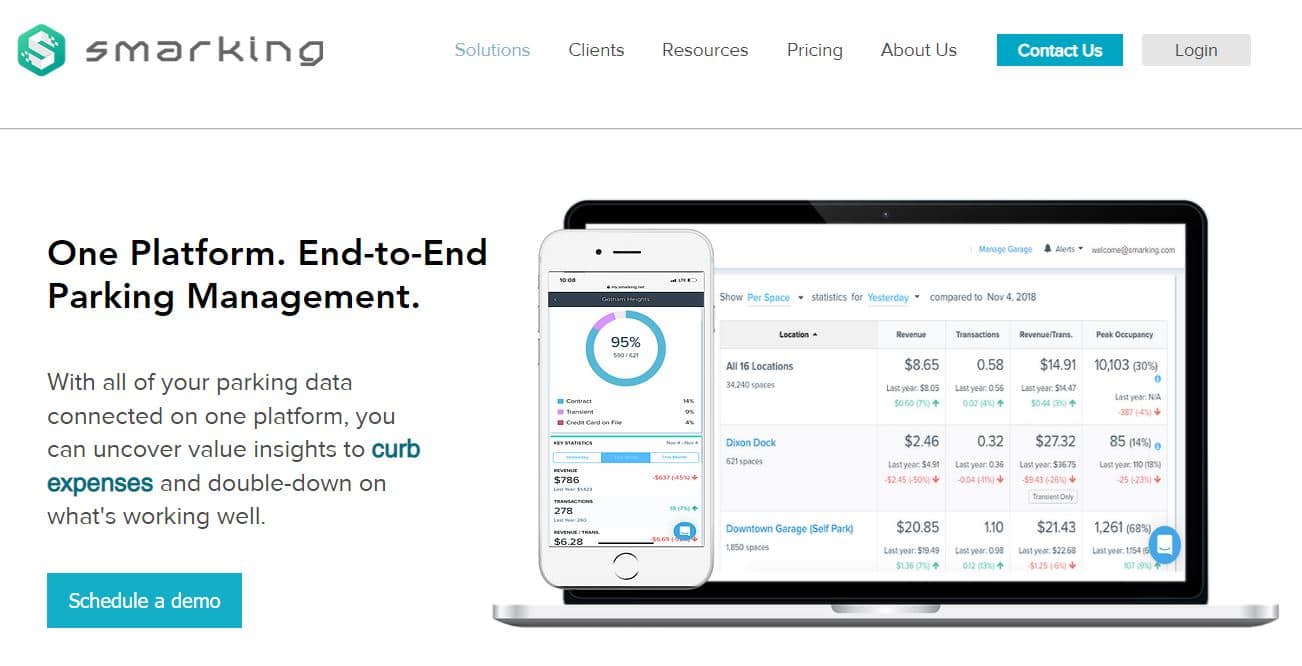 Free trial/account: Assuming that your SaaS company is clearly informing the user regarding the terms and conditions, the application of a freemium model instead of a paid trial can ease the decision-making process for a potential buyer. The same can be applied to discounted trials or accounts, as for Ahrefs: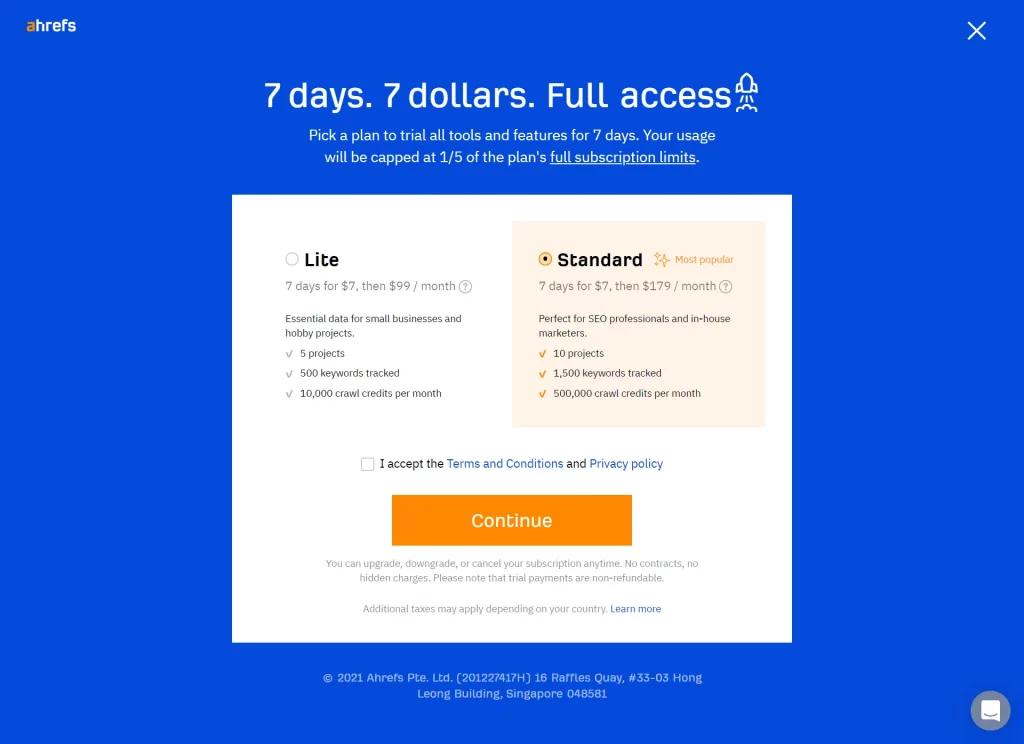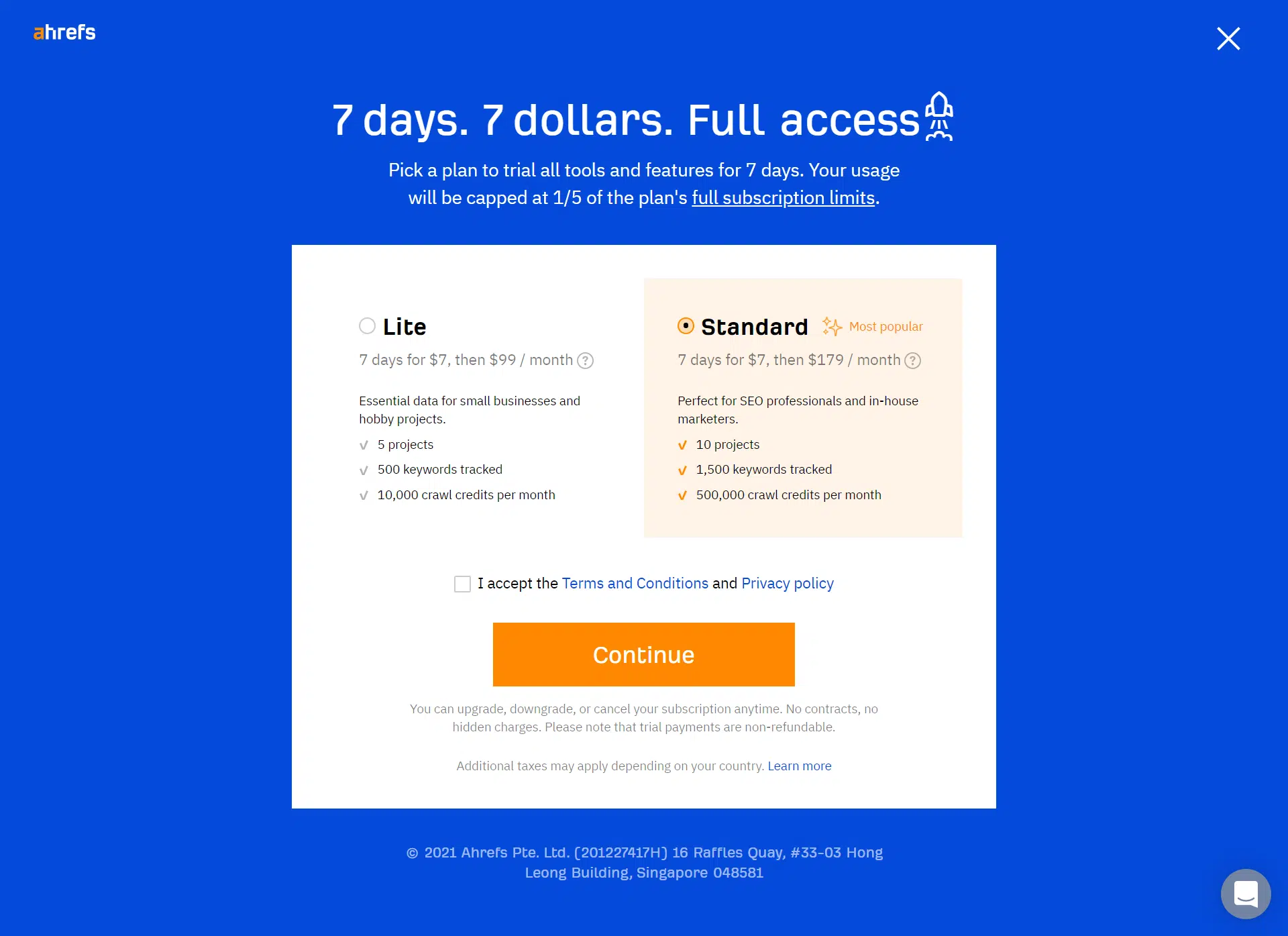 Even if the objective here is to obtain more leads through high-quality content and activities, in MOFU you are going to ask yourself the same questions I just introduced you to in the TOFU section.
Where do you want to be found by a potential customer? What will potential customers engage with? In what does the conversion event consist? All this without forgetting that MOFU is narrower than TOFU, and that means detailed messages and different engagement methods.
In order to become a credible resource and give back value to prospects while getting their contact information, you can rely on lead magnets like:
Case Studies: Chances are high that your niche has more than one target audience. That's why it is important to create different customer journeys and have enough leads for each target audience. And you can do that by using different narratives for each customer segment, especially an omnichannel marketing plan.
Book a demo: Charts, numbers, and figures can compare your SaaS product to similar offers on the market, proving how your is different from the competition in the best way possible. And this will lead to more demos booked. If you are wondering how to do that without being boring and obvious, check this out: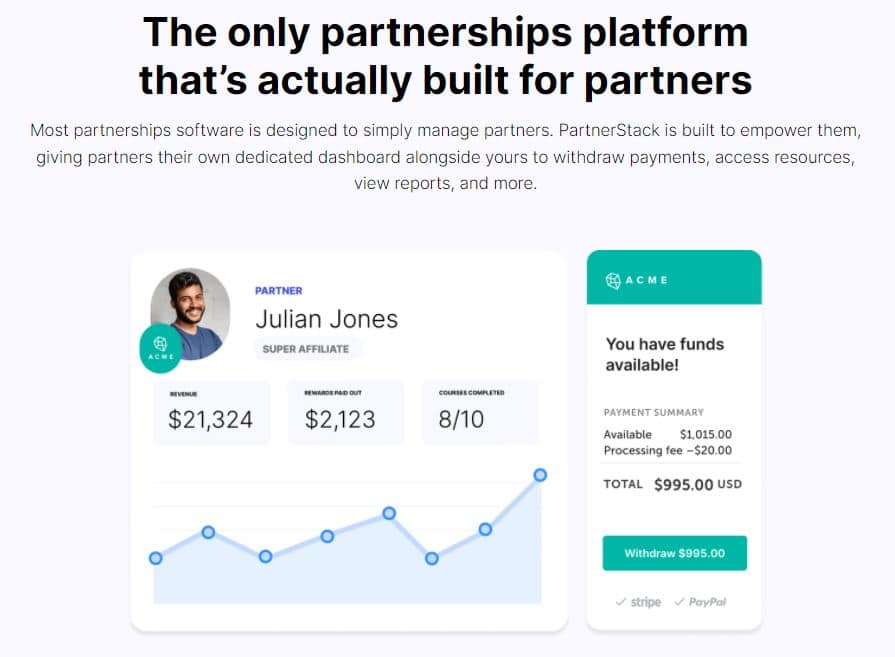 Webinars: If there is an easy way to interact with potential customers and customize the marketing and sales activities for a specific audience, this is webinars. And although they are strictly focused on a user-experienced narrative of a product or service, Covid-19 has led to an oversaturation of online events like these. A solution could be implementing interaction and feedback in order to produce valuable and unique content.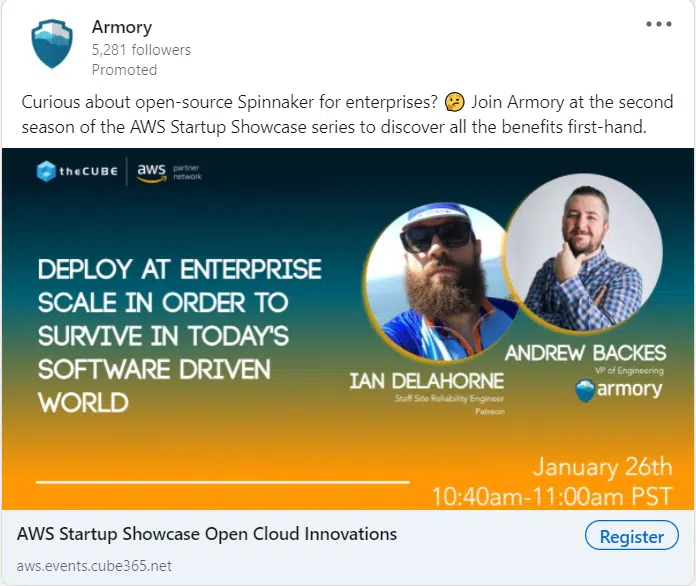 Newsletters: A lead magnet compels prospects to provide their contact details when an exchange of valuable information happens. But e-mails can also be a place for updating both prospects and clients about upcoming events, insights about your offer, articles, next releases, personal offers, and more. Like this one from GetAccept: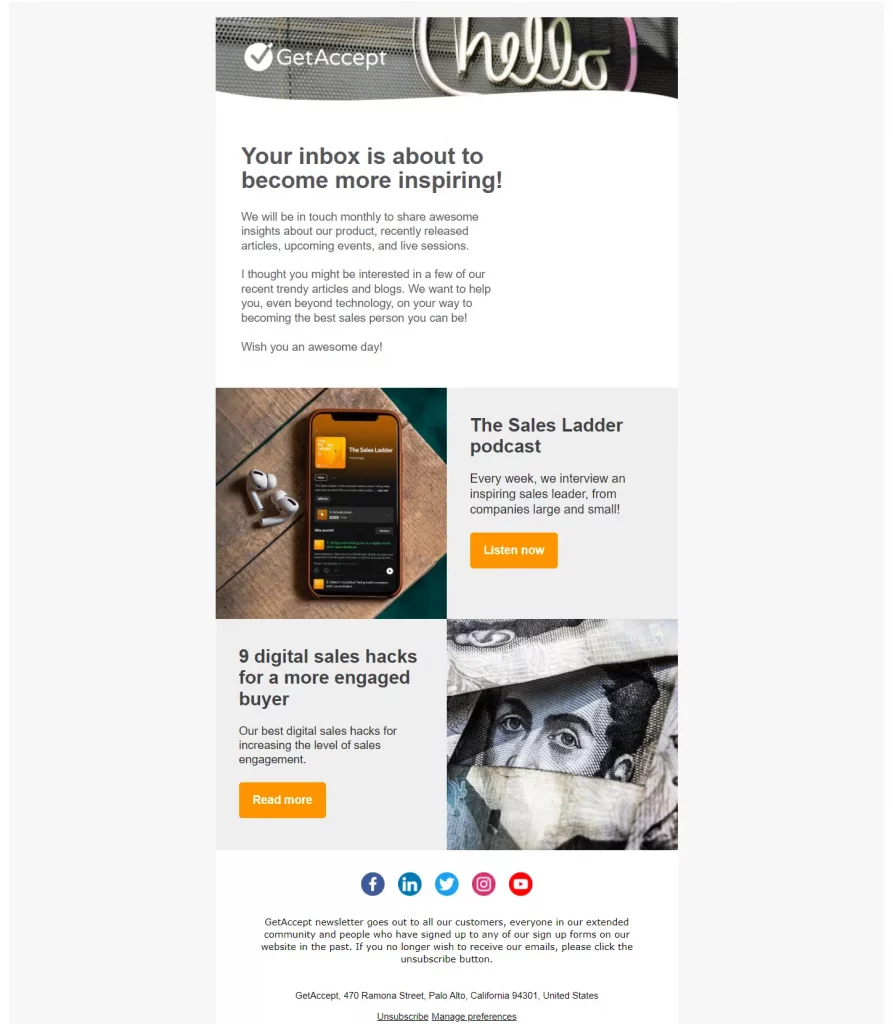 White Papers: Last but not least among the lead magnet examples, white papers provide detailed research about SaaS products, SaaS services, certain industry's state of art, and market development and challenges. White papers and reports like the one by Deepgram can in fact advocate that a certain position or solution is the best way to go while providing in-depth details that the reader needs during its decision process.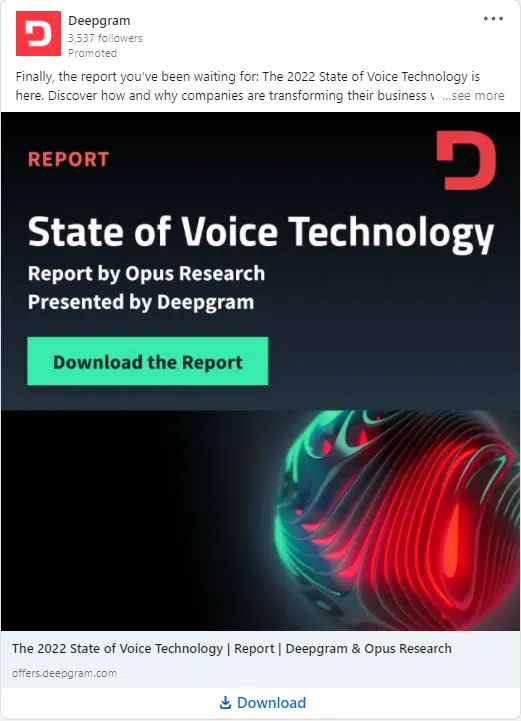 Step 3 – Convert, Retain, and Expand (BOFU)
Well, this is really fun. You enjoyed talking together and asked them out for dinner. You picked them up and spent some quality time, managed to prove you're not a total weirdo. It's a good start, and then hopefully dinner turns into more dates and more dates.
At a certain point, the relationship begins to ascend so that you met their friends and parents while considering moving in together. And then eventually you're down on one knee proposing marriage.
You built a relationship over time, investing time and money in it, being consistent. Let's see how to reach the same results in business with a SaaS funnel approach.

Definition and Audience
You will have probably already imagined it: BOFU is short for the bottom of the funnel. That's when you are talking to a hot audience ready to purchase, hence your language is pushier: we are in the midst of the selling process.
The purchase decision is the last action for some SaaS funnels when for others is just the starting point for this section's activities. In fact, after the conversion event, the relationship management and the propagation sub-sections might follow.
This is where your prospects' journeys end and the customer's journey begins: Welcome to the last stage of your SaaS conversion funnel.
Implementation and Tactics
The potential customer knows you and your SaaS products and decided to try them activating a free account. It convinced them to check the pricing page, go to the checkout page, and purchase your service, becoming not only a new customer but also a monthly recurring revenue and, after a while, annual recurring revenue for your business.
Focusing on customer acquisition only is definitely short-sighted and could cause a leads drop. That's why implementing customer retention is a good way to expand your BOFU section and optimize the sales cycle. In doing so, you will send customer satisfaction surveys to collect insights and improve your offer, offer your customers customized promotions, create exclusive content like newsletters and updates, and give active users the chance to become beta-testers.
These and the followings are some of the activities you can include in the BOFU section of your SaaS funnel, activities that will inform, educate and make you build a relationship with your customers, cutting of customer acquisition costs:
Pricing page: At this stage, you're over the hump. One step further and the prospect will turn into a customer. All you have to do is make this a no-brainer, especially in remarketing campaigns. How? Focusing on the pricing page with a 30-day-money-back guarantee, offering a free trial, activating customer support chats, or adding a FAQ section like Bitmovin: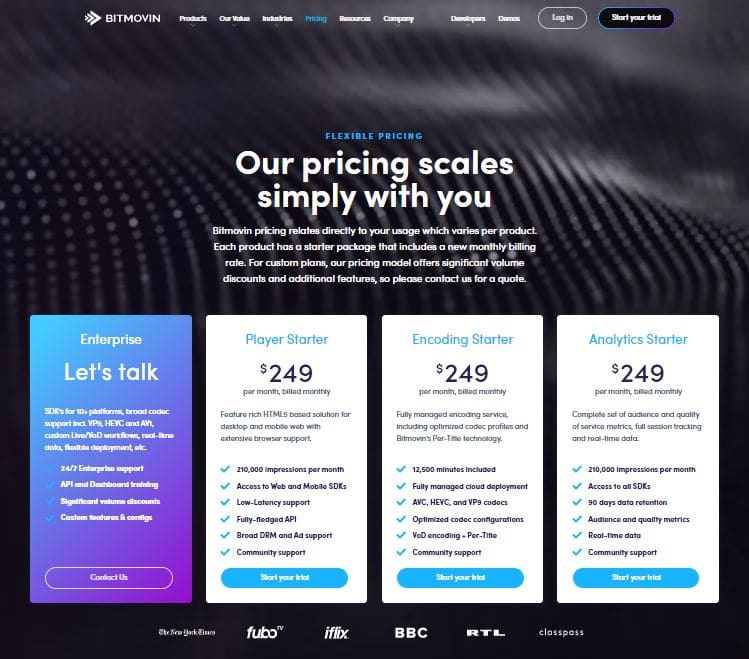 Upgrade: Turning a paying customer into a brand advocate is not as easy as it seems. Especially if you are taking their loyalty for granted. An appreciated offer to demonstrate how much you value your existing customers could be a free upgrade to the new version of your service, or to a usage-based plan, as for InfluxData: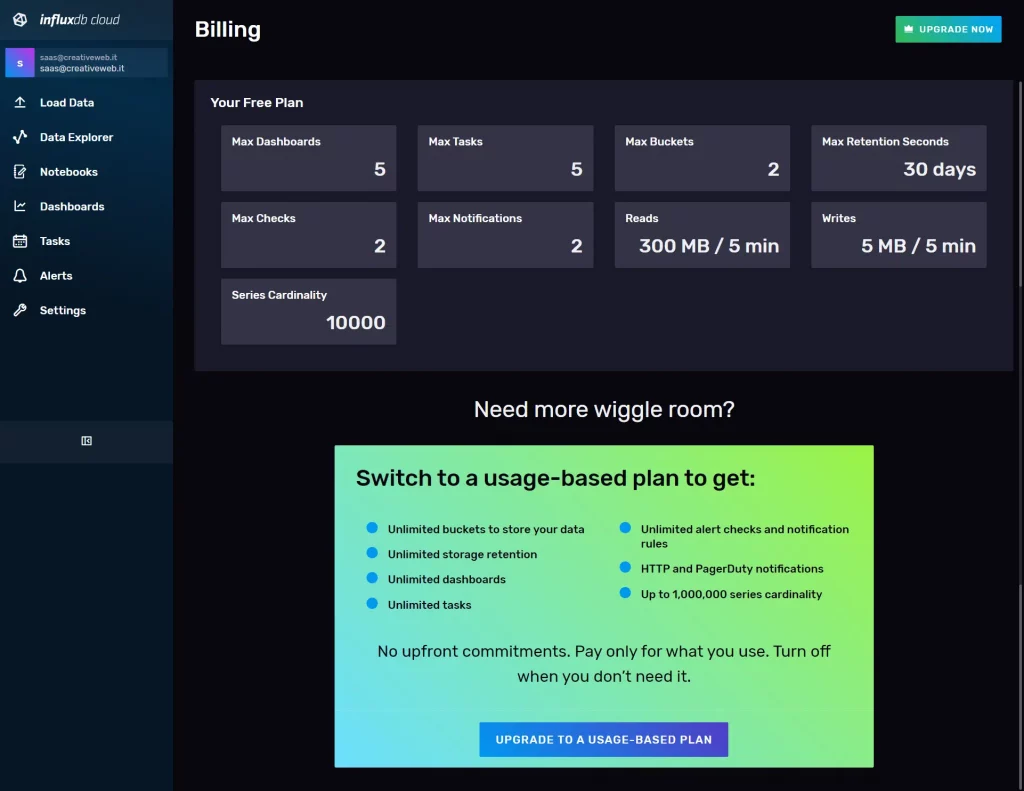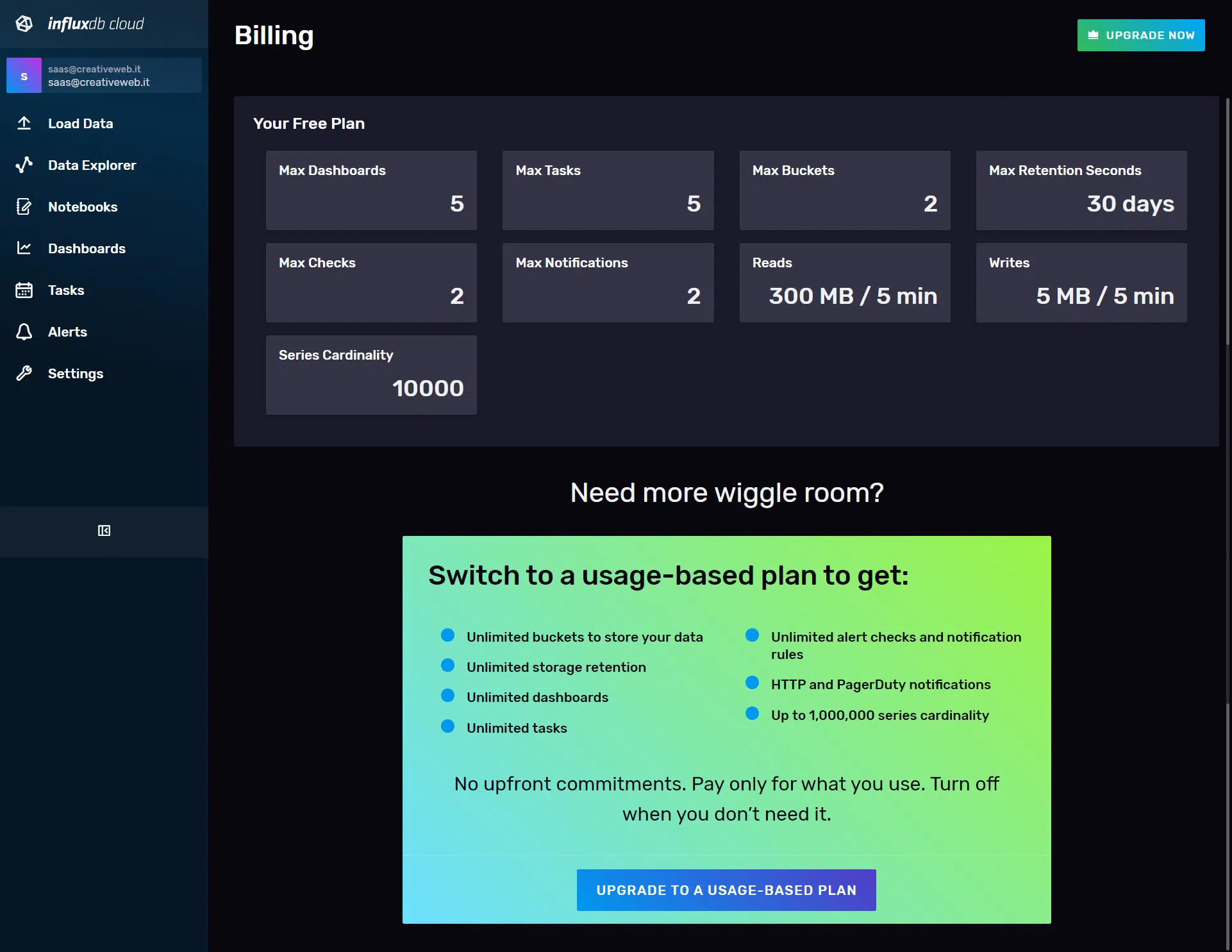 Onboarding Get Started Guides: In order to assure customer retention, just make sure existing customers are receiving value from your SaaS offer. You can schedule phone calls with them, forward satisfaction forms, or provide them with easy and go-to guides about your product or service: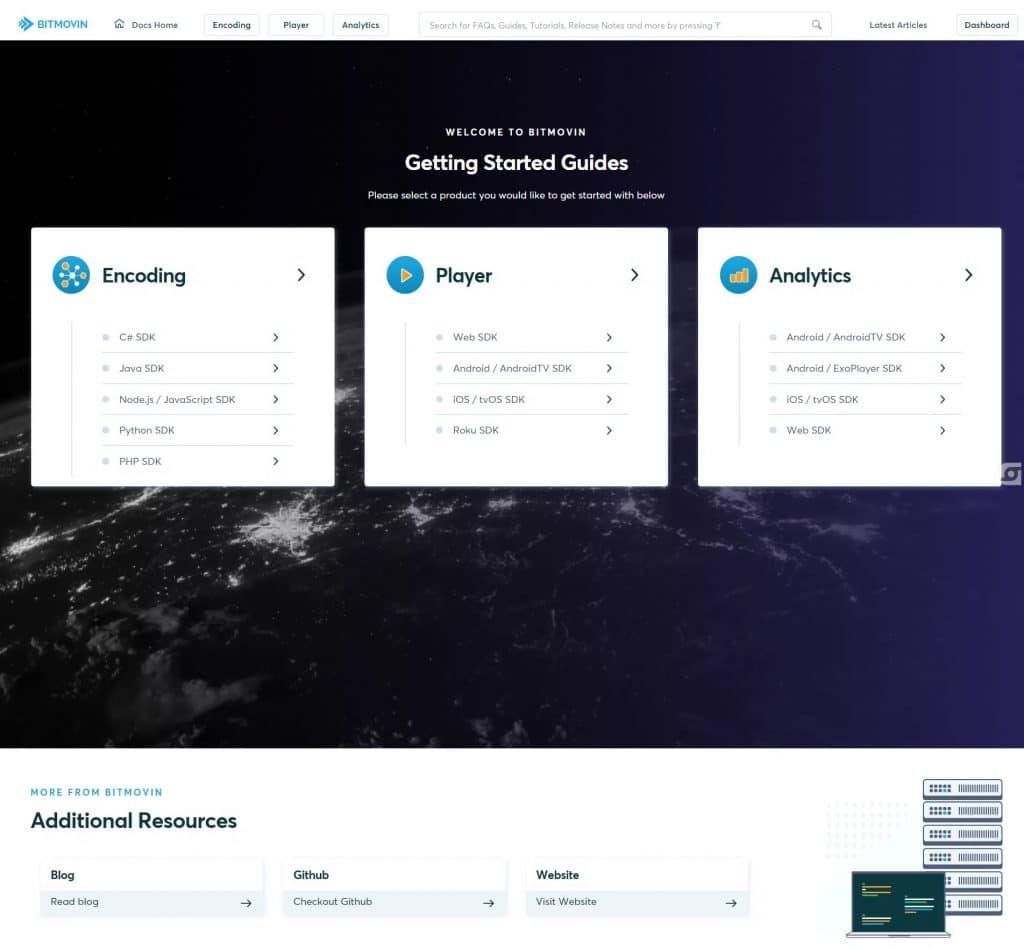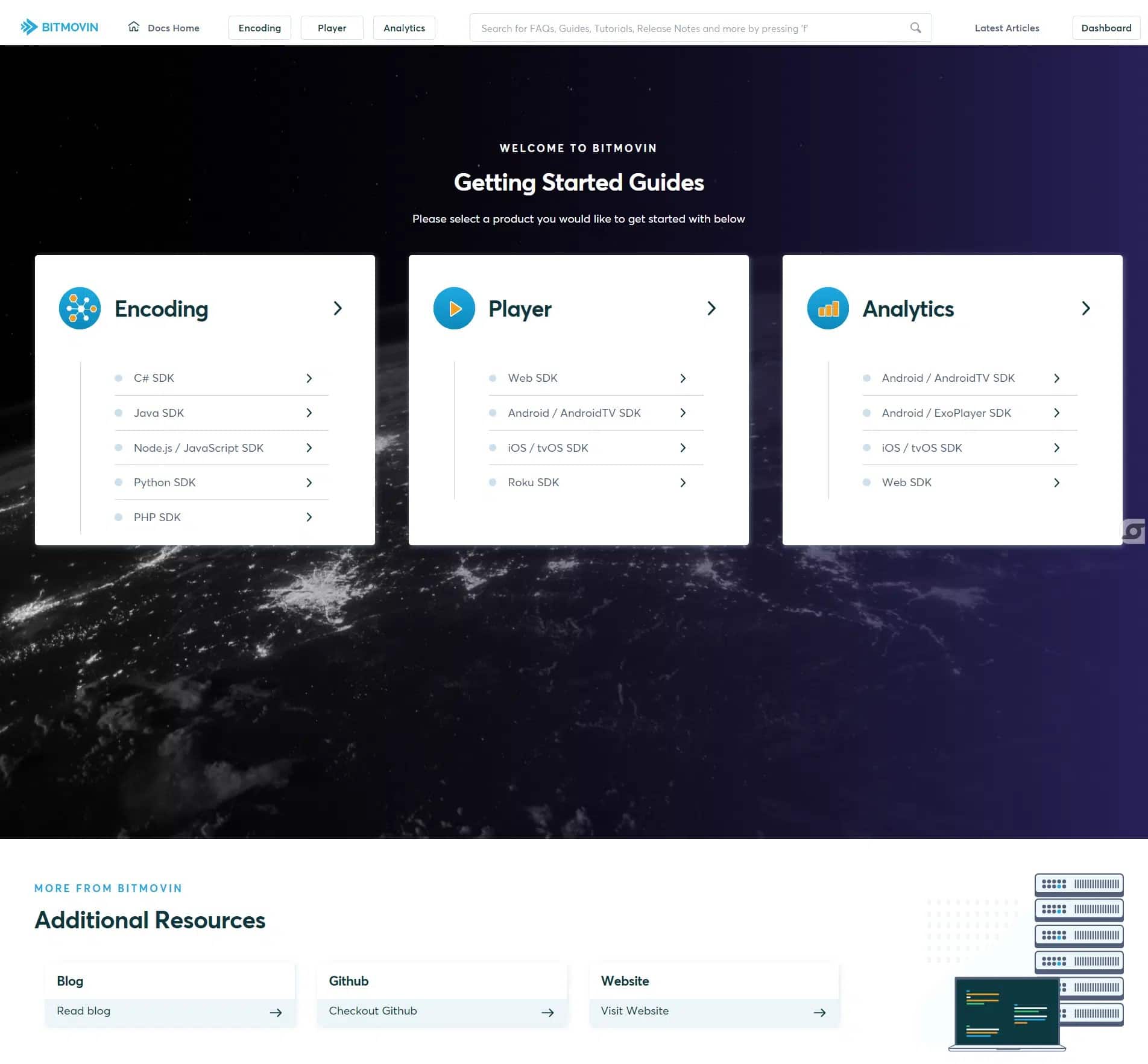 Of course, being referred by customers is every brand's dream, but it can be a reality once applied the strategies above. Customers are a precious resource not only on the revenue level but also for gaining important insights, exceeding prospects' expectations, and attracting new people.
Even if getting existing customers to move from loyalty to advocacy to brand evangelism could seem tricky, all you have to do is dig deeper in looking for their needs and pain points, and invest in targeting solutions that make them happy with your brand, your SaaS offer, and the relationship within the community.
Conclusions
In this article, you've found a strategic roadmap for designing a sales and marketing funnel model you can adjust on your SaaS business. Even if it could seem like that, the journey down to the bottom of the funnel is not always linear: people usually jump back and forth skipping stages. That's why the more CTA you provide, the more likely it will be that a potential customer doesn't leave the medium you are communicating through.
Once again, funnels are proving themselves to look like relationships: sometimes complicated, very different from one another, something that needs constant care and attention.
And just like relationships, funnels need cooperation and teamwork in order to really succeed. In fact, sales and marketing are simply two sides of the same coin, antithetical only in appearance.
If you enjoyed this article and you'd like to go into depth on this topic with one more specific funnel example, I think Massimo's video on the Facebook Funnel is right for you:
You are welcome!
Marketing Qualified Lead (MQL): Leads that have shown interest by engaging further down the funnel.
Sales Qualified Lead (SQL): Enough engaged leads to be followed-up by the sales team or through sales activities.
Cold Audience: Someone who has not yet heard about you and your offer.
Warm Audience: Someone who knows you and your product, and has engaged with your brand.
Hot Audience: Someone who trusts you and has paid for your service. Ideally, it is willing to recommend you.
Brand Evangelist: Someone who is so passionate about your brand and offers that generates you more clients by sharing their story.
Prospect: On the marketing level, a prospect is someone who might become leads. In sales, prospects are those who are ready to discuss the details of a contract or to purchase a product or a service.
Lead magnet: A free service or item that has the purpose of gathering prospects' contact details.
White Paper: Informative document with the scope of selling information, products, or services as the solution of a potential customer's pain point.
Landing page: A specific entry point for a website or a section of it.
Call to Action (CTA): A claim that wants to induce someone to perform a certain action.
Sales reps: A person whose job is to sell products or services on behalf of a company.
Churn rate: The annual percentage rate at which customers stop subscribing to a service.