Knowing what your competition is charging (and for what) is a critical part of competitor research and market positioning. You want to know what their pricing plans look like, which pricing model they're using, and what users get when they become customers.
This information can directly impact your own price points and price structures, leveraging value and affordability against your competition.
But what happens when this information isn't publicly available and plainly listed on your competition's website?
Fortunately, there are still ways to get an idea about competitor pricing without signing up for a "free demo" and outing yourself.
So, if you want to know how to get competitor pricing, read on, and we'll take a look at a few common and highly effective strategies.
What Competitor Pricing Information Should I Consider?
When you're reviewing the competition's price points, you obviously want to be looking at the literal costs, like "the customer pays $40 a month."
That price point carries a lot of weight, but it's not the only part of the equation. You also want to consider:
Which price models is the company using?
Are you paying per company account, per user, or per usage?
What features are available at the different price points?
How much are you getting for the price?
What add-ons are available, and for how much?
A $20 a month VoIP plan might seem appealing at first glance compared to a competitor charging $50 until you see that the former only offers 100 minutes a month and the latter offers 10,000.
Look at everything included with pricing information and take that into consideration.
How to Get Competitor Pricing
Alright, now that we know what we're looking at, let's talk about how to actually go about getting price information from your competition.
It's important to rely on publicly available information here and to only obtain information in "white-hat" and above-the-board methods. Let's take a look at four effective ways to get accurate competitor pricing information.
1. Check Out Their Website
The first thing you should do is go straight to your competition's website and look for that all-telling "pricing page." This is often readily available for many SaaS brands.
Many SaaS pricing pages may have different pricing plans with some cost information available while also having an "enterprise" plan that asks you to get in touch with sales for a custom quote or a demo.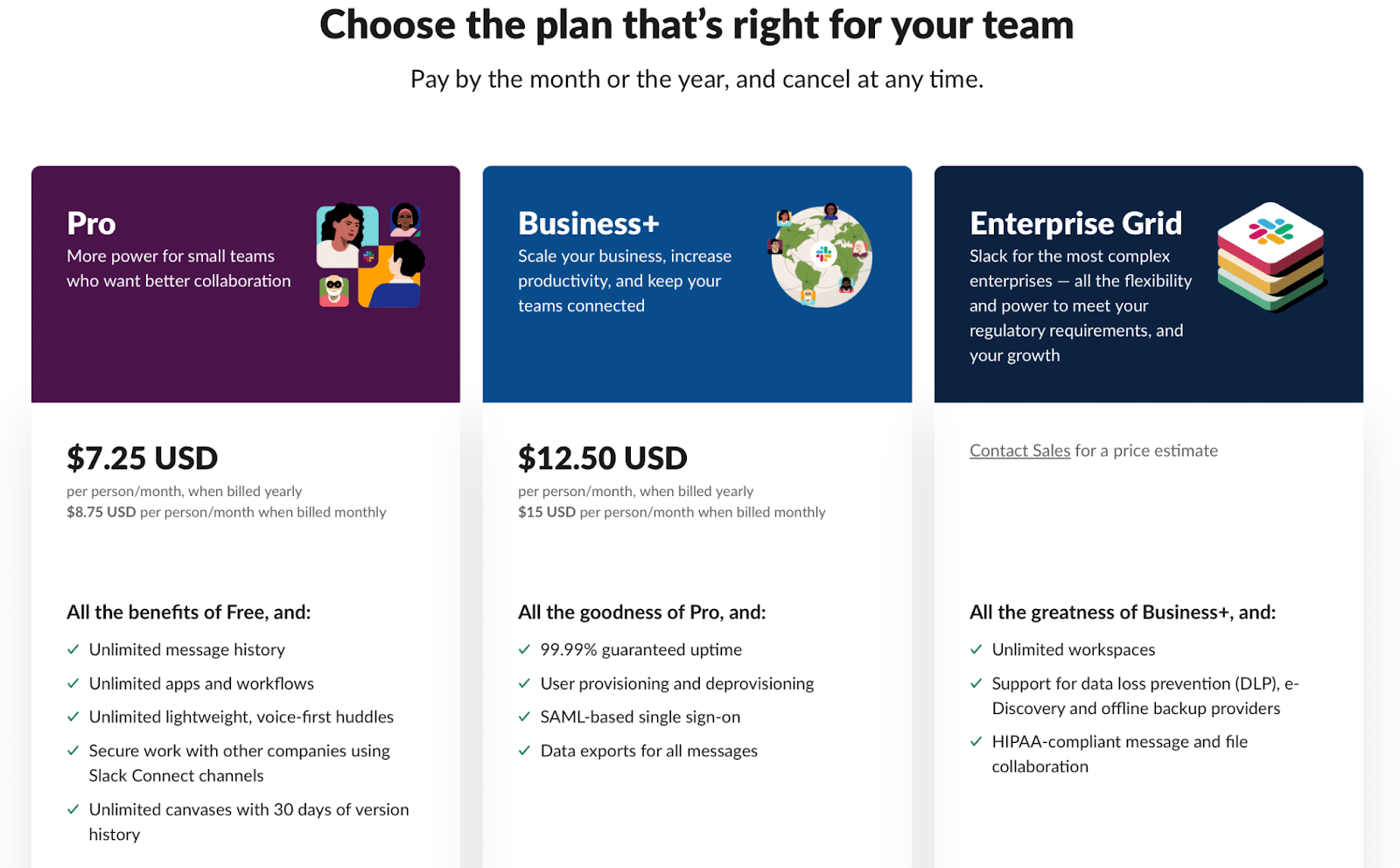 Even if all pricing information isn't available up to the enterprise level, you can learn a lot from the pricing page. In many cases, it at least gives you enormous insight into what features your competition is selling hard, and what their pricing structure is, and it should (hopefully) give you a basic idea of starting costs.
2. Assess Review Sites like G2
Review sites like G2 are a great resource for pricing information if the company's website isn't quite as information-rich as you'd been hoping.
These review sites are dead useful when you want to keep an eye on other direct and indirect competitors in your niche. There are professional reviews detailing different key features and pros and cons of each tool, along with a clear score out of five stars.
In many cases, the review pages may also have basic pricing information, even if it's just "starting at" pricing.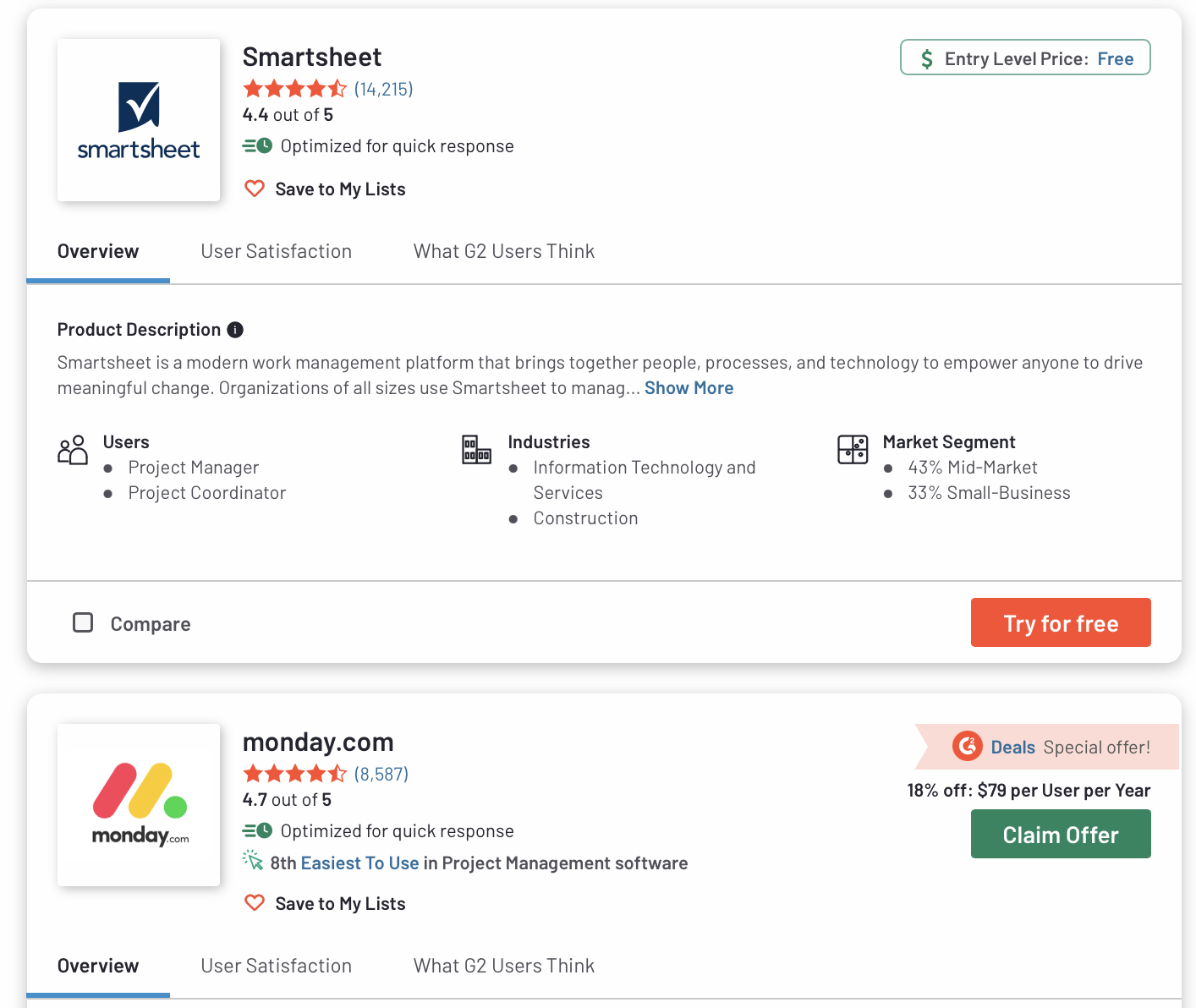 If you want to keep an eye on changing prices, you can also scan your industry review pages to look for competitors offering temporary deals, as Monday.com is doing in the above image.
While some review sites may have slightly outdated pricing information, a lot of the big ones have pretty up-to-date data, and this can be a good place to find basic price point information.
3. Do a Quick Google Search
Still not finding the information you're looking for? A quick Google search for "competitor name + pricing" can actually yield some solid information from a variety of different sources.
The first few results will be what you want to focus on, but make sure that they were published within the last two years (and ideally the last year). You'll see search results like this: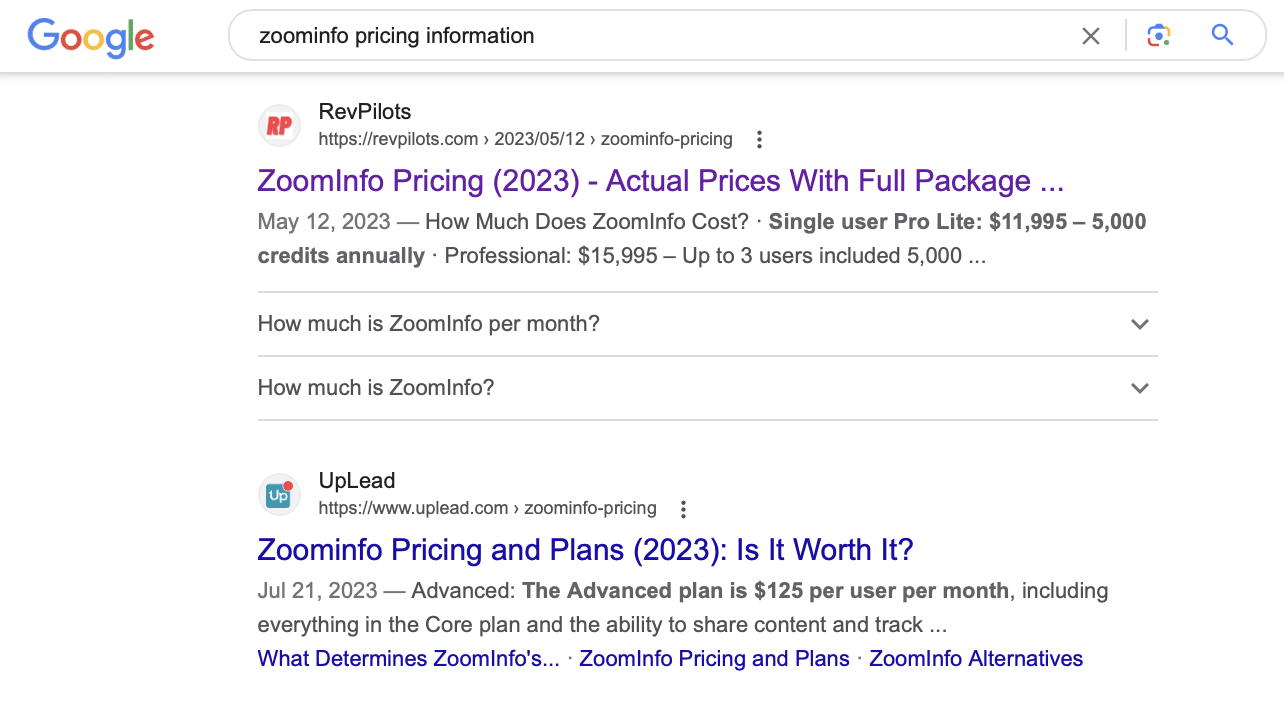 In order of priority, look for the following to find accurate information:
Resources from the brand itself; sometimes pricing information isn't listed on a public pricing page, but it's listed in a help guide or a competitor comparison page
Competitor comparison pages, which may feature their price and the competitor's pricing information in a two-for-one bonus for your research
Respected sites, including review sites, that mention product pricing from the past 12-24 months.
Customer reviews mentioning price points and why they choose specific tools, but again make sure these are up-to-date and seem correct based on what you know of the product and brand
4. Talk to Your Prospects
When your sales team is talking to your prospects, you don't want to spend too much time dwelling on your competition, but sometimes they'll share incredible information that's hard to get elsewhere.
You can always ask if they're considering other tools. If they say yes, you can always share your pricing and ask if your price point falls into consideration based on budget alone. In some cases, customers will tell you outright the cost of the other platform and what's included.
Take advantage of this information, and when a customer converts, ask what factors caused them to purchase with you. Make sure you specifically ask about pricing and how it influenced their decision.
You'll want to be careful how you do this, but seasoned sales professionals will have you covered and can likely do this in a sensitive way.
Can I Sign Up for a Demo With a Fake Account?
Plenty of sales departments are happy to share pricing information— but only once you sign up for a phone call with the sales team or a free demo.
So, the question we hear a lot: Can I just sign up for a free demo with a fake name and email account to get the pricing information we need?
We're going to strongly recommend against this. It can become a legal grey area at best, and you can actually be sued if it's perceived that you're reverse engineering what you learn during these proprietary demos.
While some sales reps or marketing teams absolutely do this, it's not considered to be a great practice, and it's not worth the risk when you likely have access to the pricing information you need through one of the four methods discussed above.
Final Thoughts: I Have My Competitor's Pricing… Now What?
Make a list (or, my personal favorite, a Google Sheet) breaking down the brand name, pricing information, pricing model, and what's included in the different priced tiers. This is the best way to review different competitors' pricing quickly and to get a good idea of what's "average" in your market.
Once you have this information, don't just change your costs in an attempt to out-price the competition. There are plenty of different value offers and unique selling propositions (USPs) that aren't related to price, and if you're able to tap into those, it's okay if you don't have the lowest price on the market.
Is it possible that a lower-cost tool will end up outbidding you for a specific segment of customers? Sure. But you may be able to leverage other types of value or appeal to specific pain points that you can charge more and increase your overall revenue even if someone else charges less.
Just remember to stick to white-hat practices when you're determining how to get competitor's pricing and know that pricing isn't the only part of the equation to consider.
And, above all else, remember to check your competition's pricing regularly. Watch for deals and offers; these are often promoted through email newsletters (which you can track with tools like Owletter), on a company's site, on social media, or on a software review site. You should also check for changes in pricing or pricing models, so take a look at your competition's pricing pages regularly.
At least once a year, make sure that your pricing is still competitive for what you're offering against updated pricing information.
Want to learn more about understanding how you compare against your competition? Check out our Ultimate Guide to Monitoring Competitors to get started today!