From reach to conversion to retention, marketing automation can improve outcomes at every stage of the SaaS customer lifecycle.
But automation is neither a one-size-fits-all solution nor a quick fix for major product-market fit (PMF) or go-to-market (GTM) issues.
So how can you implement automation successfully, and which types of tools are likely to deliver the biggest benefits?
In this SaaS marketing automation guide, we'll cover strategies for each lifecycle stage and tips for building the right tech stack—so you can start scaling personalized touchpoints via the most effective channels.
Key Questions to Ask Before Implementing SaaS Marketing Automation
If you're planning to automate lead nurturing, customer onboarding, or user retention, chances are you already know how your business stands to benefit from this tech.
You've already seen the studies that show automation increases leads and conversions for nearly 80% of marketers and boosts sales productivity by almost 15%—and you don't want to get left behind.
But before you plan to automate every marketing channel or customer touchpoint, consider a few important questions.
Is an all-in-one platform or a custom tech stack a better choice?
At first glance, an all-in-one platform might seem like the best option for marketing automation. These tools (see examples below) can automate campaigns across all major channels throughout the user journey.
Since they process and store data via built-in customer relationship management tools (CRMs), all-in-one platforms can easily create retargeting lists and repurpose them across channels. Many can also manage sales and customer success data so your teams can collaborate more efficiently.
So what's the downside? An all-in-one platform can do (almost) everything, but it isn't necessarily the best at anything. That can be a problem when you want to leverage your data to convert and retain users.
For many SaaS marketers, the solution is building a custom tech stack. Although it's much more complex, a custom build allows you to use best-in-class tools that connect via API. It also lets you swap out tools that aren't working and experiment with new tech.
For Keshav Trehan, Product Marketing Manager at Hopstack, finding the right balance isn't always easy. He says: "This is kind of tricky for I think for most businesses. We preferably try to keep the automation tools to the lowest possible number, but we have certain tools to meet certain competencies and gaps."
He explains that his team has built a custom stack "to make sure we don't have gaps in the lifecycle stages. Every lead or every set of information is really crucial in our industry, so we have created a stack to collect, capture, and convert leads along with planning our future marketing actions."
How will your team personalize customer touchpoints at scale?
Whether you choose an all-in-one platform or a custom stack, one of the biggest perks is that these tools can personalize marketing touchpoints automatically. For example, they can:
Personalize chatbot content based on customer accounts
Deliver ads based on website visits
Automate retention workflows based on customer input
Most platforms operate dynamically, suggesting workflow templates and recommending behavior-based segments automatically. As useful as these tools can be, they shouldn't tempt you to put your marketing automation on autopilot.
Use the extra time that these tools free up to map out more successful strategies. Consider where you could make touchpoints more meaningful or impactful, and identify additional tools that can provide more nuanced signals.
Are there any channels or segments you should avoid automating?
From email marketing and paid social to webchat and content marketing, virtually every channel supports automation. But does that mean you should take advantage of every marketing automation opportunity? Not necessarily.
Meryoli Arias, Senior Social Media and Community Manager at Apollo.io, occasionally uses native LinkedIn tools to schedule company content. Yet she largely recommends against automating social media marketing—especially when it comes to engagement.
Meryoli explains: "On social media, being human and authentic is what pays. Humanity cannot be automated, and the brands that have the most passionate, dedicated followings interact with their community just as a friend or resource would."
She continues: "Social media goes way beyond simply posting regularly. In the work that I do, it's about communication and being responsive, replying to comments, and helping amplify the brand message. The real human engagement that happens in the hours after a post is published determines its reach. It's hard to provide that level of authenticity and real interaction using automation."
How will your team analyze results and optimize workflows?
Like most marketing and sales processes, automation isn't something to set up and forget about. To deliver the best results, automation workflows need frequent analysis and adjustment.
Before you begin, establish benchmarks to confirm what's normal for your marketing channels. Then set key performance indicators (KPIs) so you know what to aim for each day, month, or quarter.
Find that you're not meeting KPIs? Dig into the analytics. For example:
Is the cost per acquisition (CPA) for your Google or LinkedIn ads getting too expensive? Reconsider your retargeting lists or your advertising funnel.
Are certain emails in your customer retention sequence underperforming? Consider removing redundant touchpoints or finding ways to add more value to each email.
All-in-One SaaS Marketing Automation Platforms
If you want to simplify your tech stack, these all-in-one platforms are a good place to start. Need a key capability that they don't support? Double-check their integrations and your own tech stack before committing.
HubSpot
Likely the best-known marketing automation platform for B2C and B2B SaaS companies, the HubSpot Marketing Hub supports multichannel workflows with email automation, SMS campaigns, social media, and chatbots.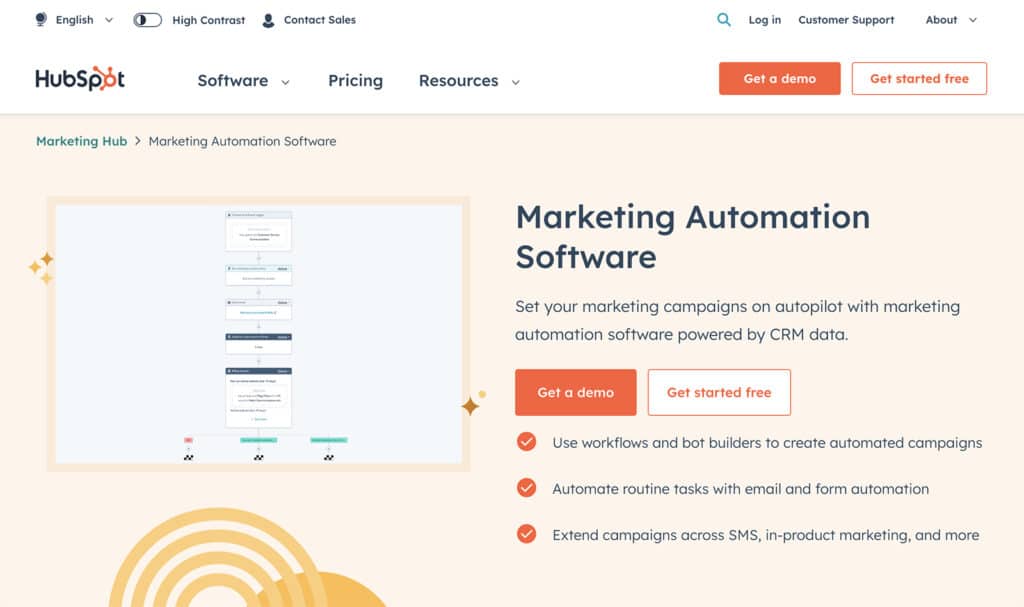 Since all customer data flows through the HubSpot CRM, the platform can automatically build profiles and create segments. By connecting this platform to the HubSpot sales, service, and CMS hubs, you can automate the entire customer lifecycle.
Adobe Marketo Engage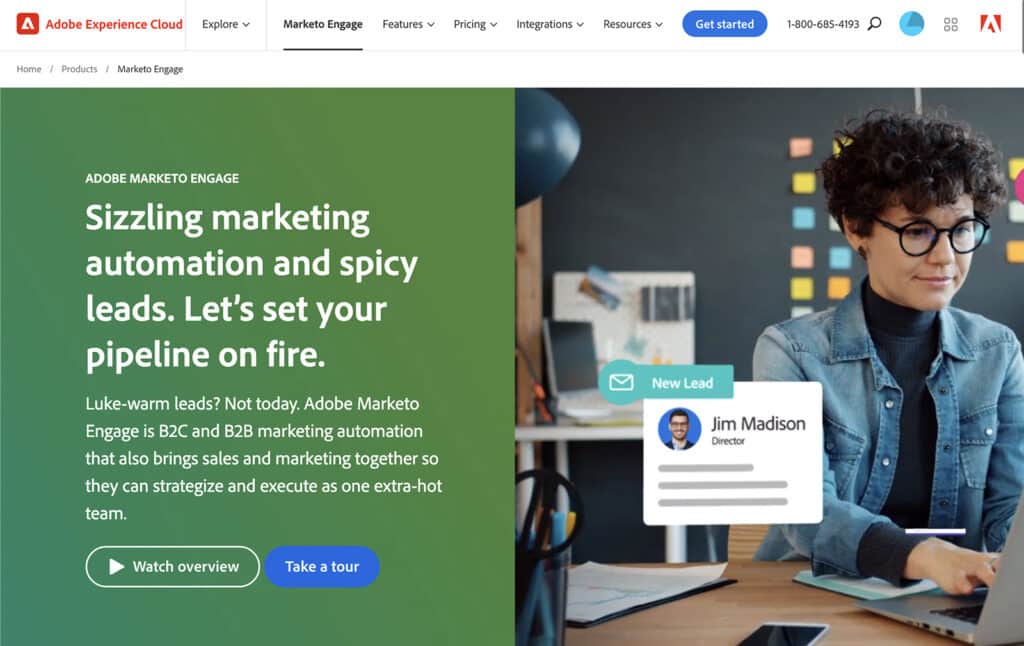 Designed to attract and nurture customers, Adobe Marketo Exchange automatically personalizes landing pages, emails, chatbots, and marketing workflows based on customer behavior. The platform also offers sales intelligence tools and customizable lead scoring, allowing marketing and sales teams to collaborate across the customer journey.
Salesforce Marketing Cloud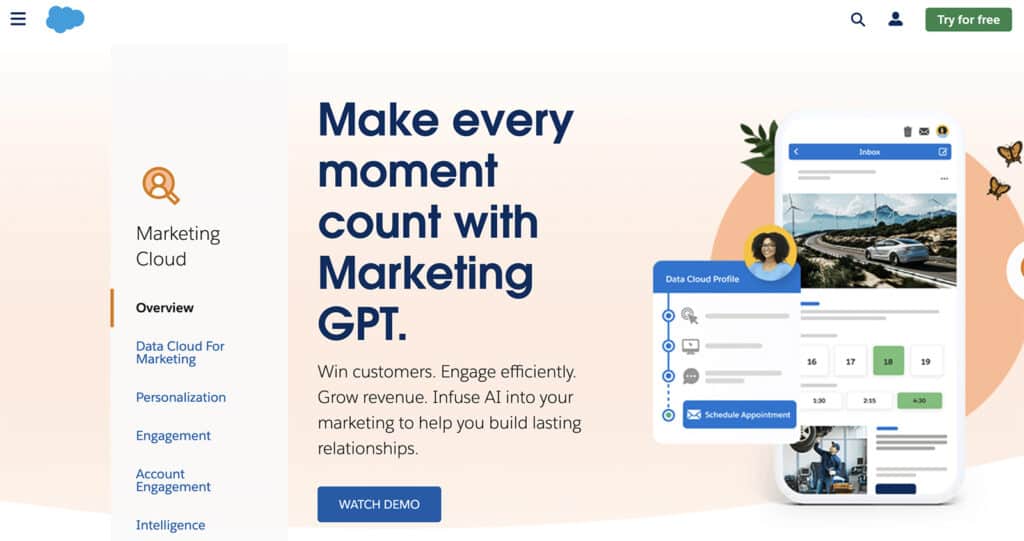 Salesforce Marketing Cloud uses AI-powered tools and a built-in CRM to generate dynamic, personalized content across landing pages and emails. By integrating it with Salesforce's Pardot marketing automation tech and Sales Cloud platform, you can deliver personalized messages at scale across channels.
SaaS Marketing Tools for Reach and Engagement
Need to reach new prospects and engage with leads? These tools can automate marketing campaigns.
Lead Capture
You need a way to get engaged prospects into your CRM. These automated lead capture tools can help.
Clearbit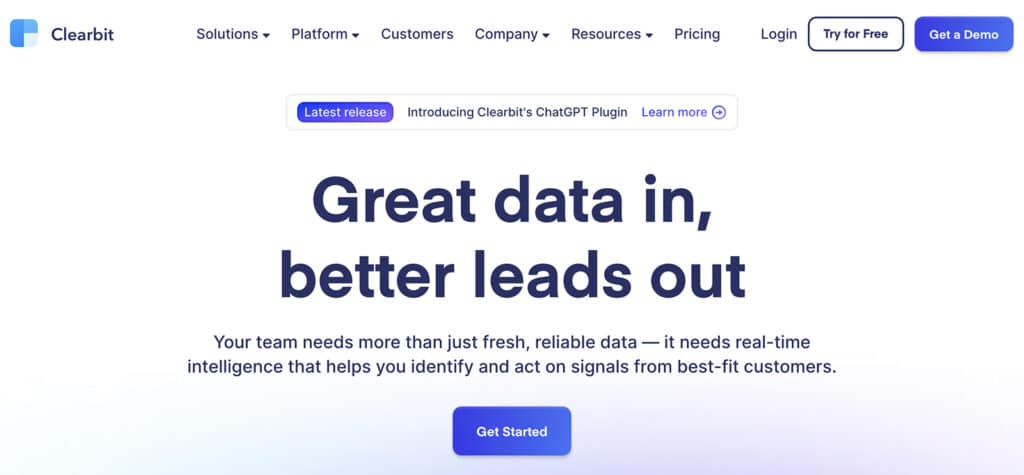 As a data intelligence platform, Clearbit can enrich marketing data and personalize website content automatically. It can also share intent data with your sales team for easier collaboration and a more cohesive customer experience.
Factors.ai
Engineered to identify website visitors, Factors.ai can improve account-based marketing (ABM) efforts and campaign attribution. Keshav Trehan explains that Hopstack has seen encouraging results from this AI-powered tool.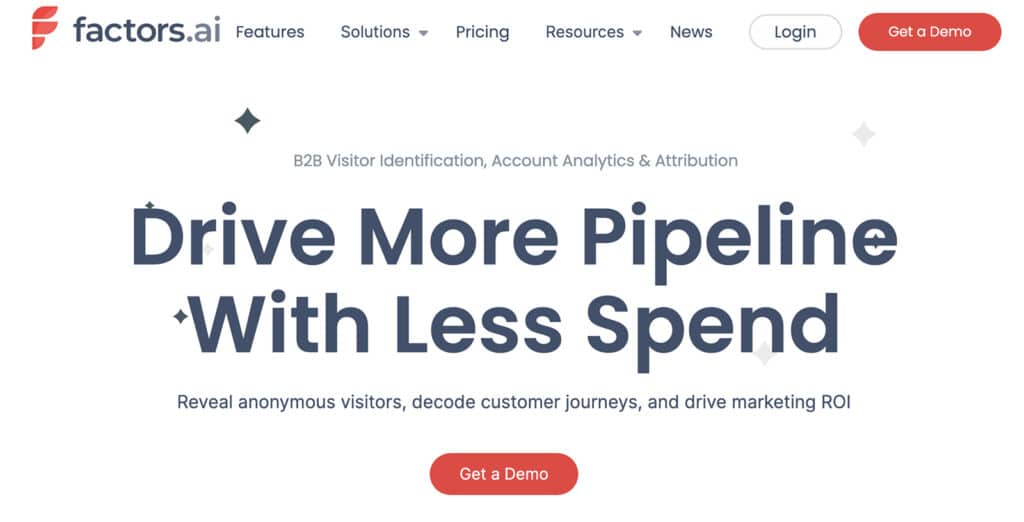 He says: "Recently we have started testing AI in our marketing and sales operations. Early data for us has shown signs of improvement in processes, lead understanding and scoring, and buyer behavior knowledge so that we have a clear and detailed understanding of lead intent and requirements heading into our sales calls."
Lead Nurturing
After attracting leads, the next step is adding them to marketing workflows. These platforms automatically manage segmentation and lead nurturing.
Apollo.io
Apollo.io is best known as a platform that provides buyer data to accelerate lead scoring and sales engagement. Yet it's just as effective as a marketing automation tool.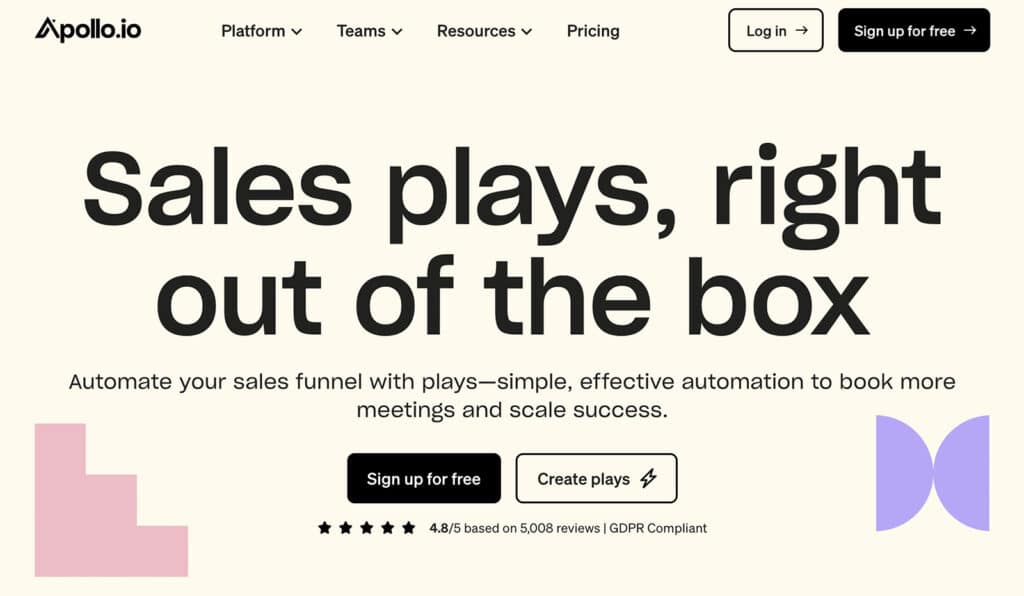 Meryoli Arias recommends using the platform for influencer outreach, which can be particularly effective on B2B platforms like LinkedIn. The product's plays feature is also useful for automating lead nurturing, review sourcing, and other key touchpoints.
Mailchimp
From email campaigns to landing pages, Mailchimp can automate marketing workflows using segmentation and behavioral targeting. For Muhammad Yasir, Researcher & Marketer at Writesonic, Mailchimp is a critical tool.

He explains that his team uses Mailchimp, Zapier, and Buffer "in tandem to create a seamless, automated marketing process, from capturing leads via Chatsonic to enrolling them in appropriate email marketing campaigns via MailChimp."
Ad Retargeting
Want to improve return on ad spend (ROAS) and deliver PPC and paid social ads more efficiently? These platforms can build retargeting lists, remove users from custom audiences, and personalize messaging automatically.
DemandBase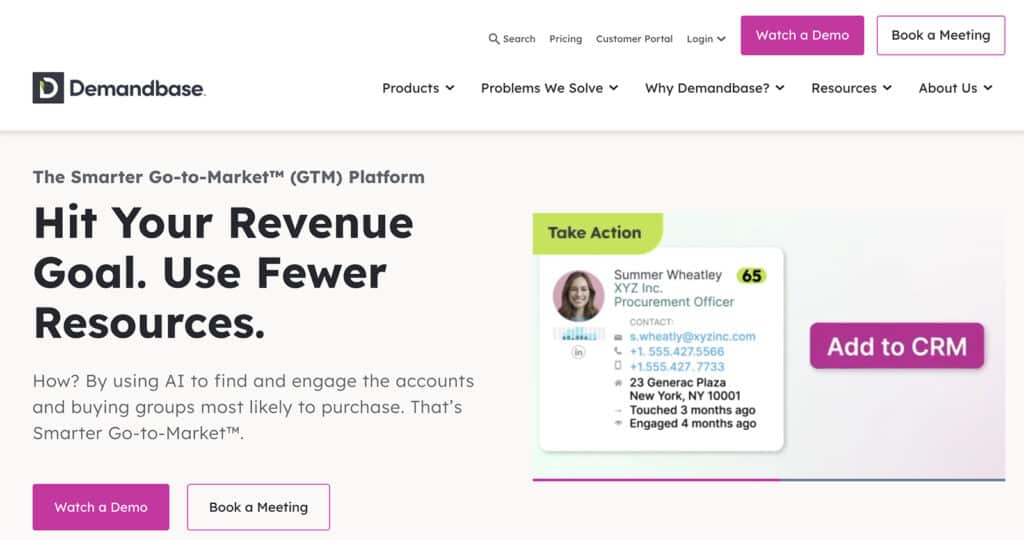 Designed to be a complete GTM platform, Demandbase uses buyer intent signals and ABM analytics to scale ad campaigns across channels. Its demand-side platform (DSP) is optimized for B2B ad delivery and personalization, making it a good choice for SaaS companies.
Metadata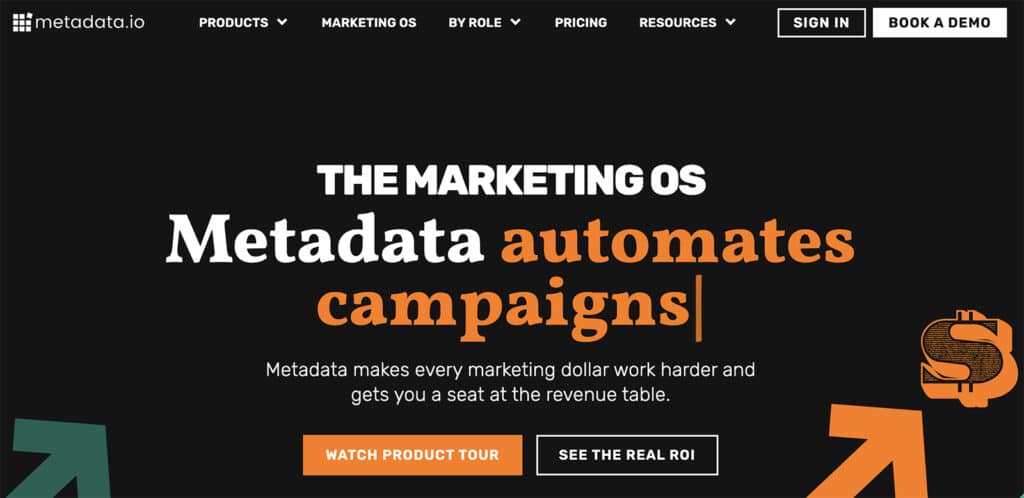 Metadata automatically runs B2B ad campaigns across LinkedIn, Facebook, Instagram, and Google. The ad platform is engineered to deliver better results by improving audience match rates, informing experiments, and personalizing website experiences.
Brand Awareness
Need to expand awareness and educate customers about your product? These social media and content marketing platforms automate creative and publication workflows.
Buffer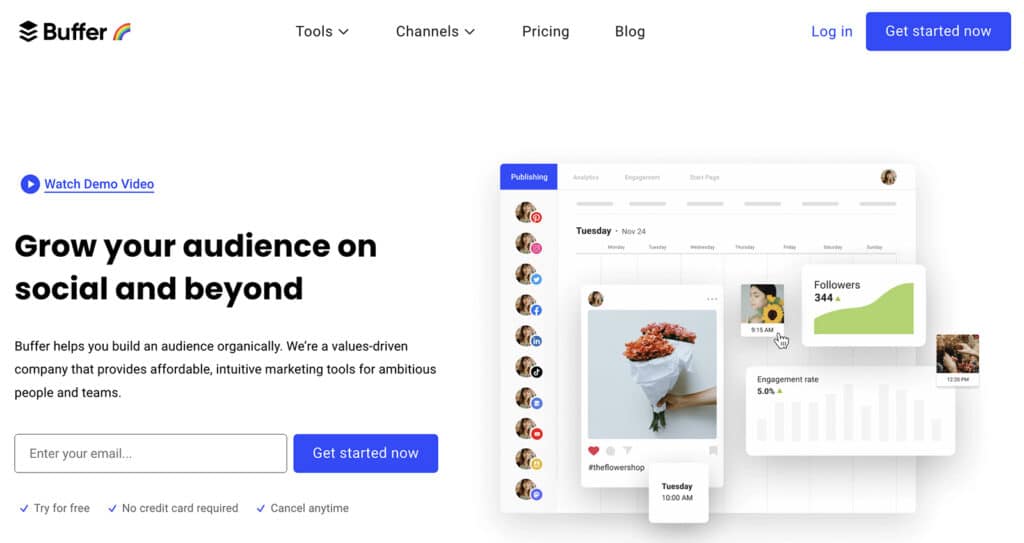 With Buffer, your team can schedule and automatically post content to LinkedIn, Facebook, Mastodon, and more. The social media marketing platform's AI tools speed up the content creation process and make it easier to repurpose marketing materials across channels.
Frase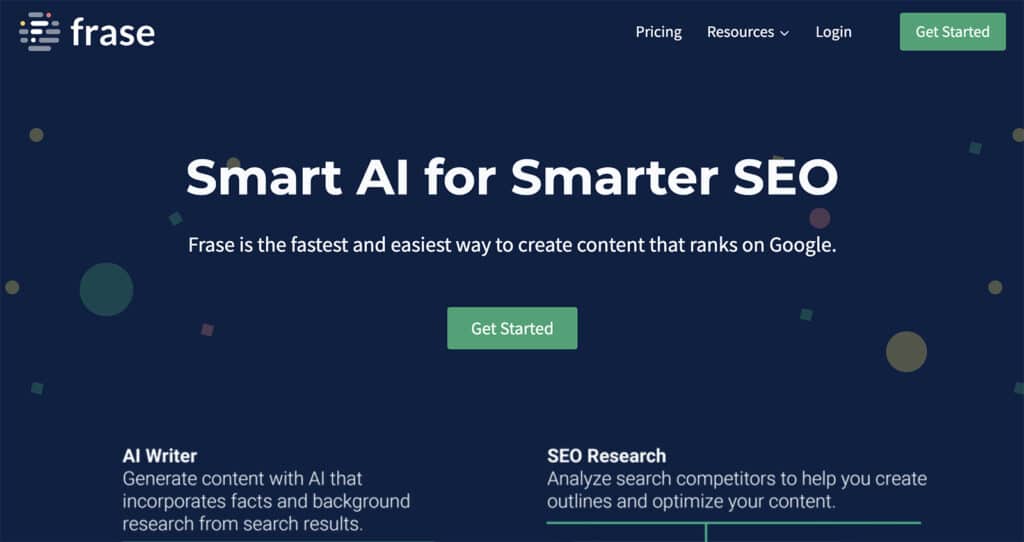 SEO and content marketing can be particularly tough to automate, but Frase streamlines the process with SERP research, automated outlines, and AI writing aids. Frase also provides topic models and competitive research to assist with content optimization.
SaaS Marketing Automation Tools for Conversion and Onboarding
When customers convert, your email marketing platform can automate the onboarding process. But email alone isn't always enough. The tools below provide added support for better onboarding workflows.
Product Adoption
With the right product adoption tools, you can set customers up for success automatically.
Encharge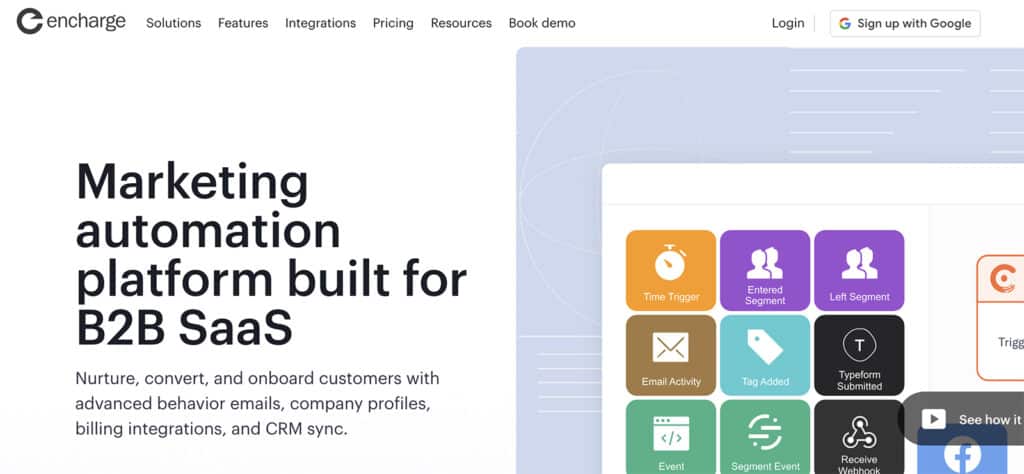 A B2B SaaS marketing platform, Encharge nurtures and onboards customers, improving product adoption and activation. The platform's automated workflows can also convert trial users and reengage inactive users, making it a good choice for driving growth.
Pendo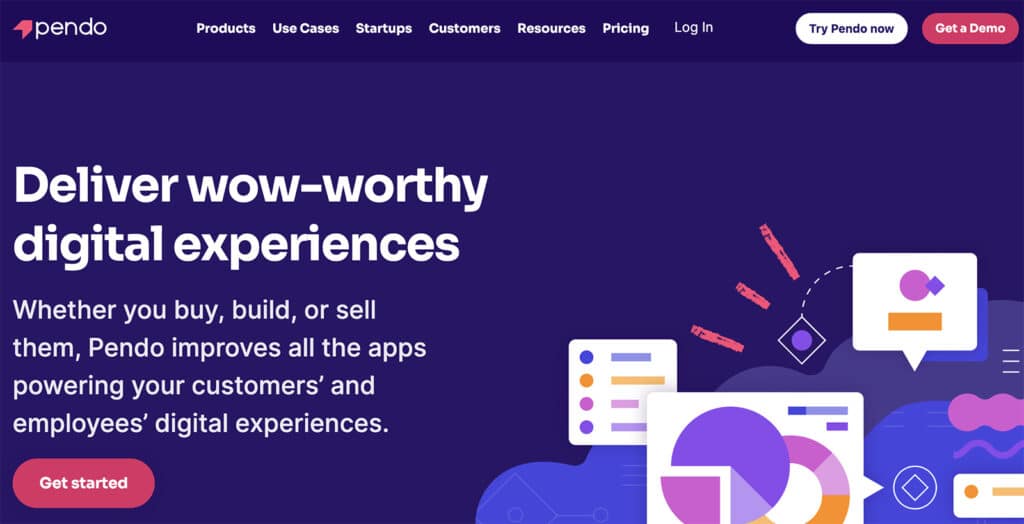 With its in-app guides and feedback collection tools, Pendo helps customers get more value and allows your team to better understand user needs. This product experience platform can help you increase adoption, improve roadmaps, and optimize your product for customer success.
Customer Communication
You need an easy way to share resources with customers and answer their questions. These webchat tools do the job automatically.
Botsonic
A customizable no-code ChatGPT-powered chatbot, Botsonic trains on your own product or platform data. It's ideal for providing personalized customer communication via webchat—which can be especially useful during this stage of the user journey.
Muhammad Yasir explains that his team at Writesonic has found marketing automation to be "particularly effective during the onboarding stage. Personalized, automated communication during this phase helps:
Enhance customer understanding of our product.
Foster stronger relationships.
Increase the likelihood of customers becoming long-term users."
Drift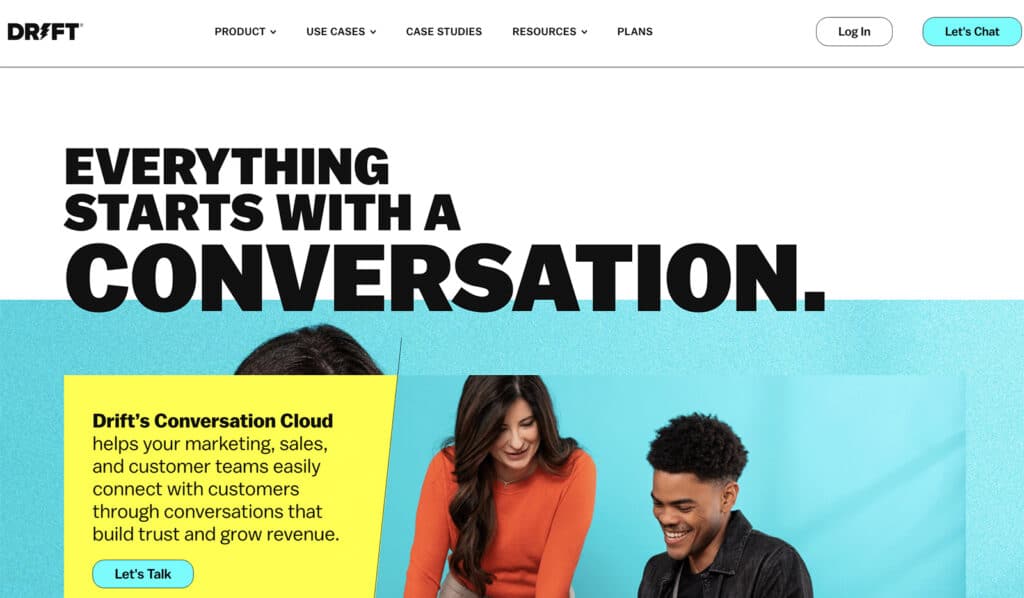 Designed to drive marketing efficiency, Drift creates personalized experiences across webchat and websites. This AI-powered conversational marketing tool can support everything from prospecting and pipeline building to product adoption and customer self-service—making it ideal for onboarding and activation.
SaaS Marketing Automation Tools for Retention and Loyalty
Keeping customers active and satisfied is crucial for reducing the churn rate. These tools are designed to help with customer retention.
Product Usage
Are customers using your products successfully? These tools measure product usage and customer success and automatically initiate engagement and retention workflows.
Custify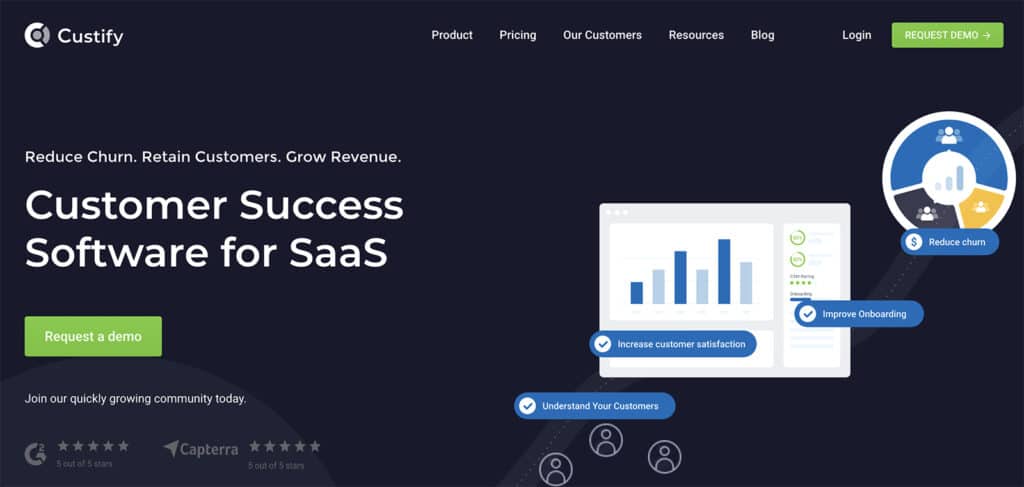 A customer success SaaS software platform, Custify is engineered to improve product adoption, assess product usage, and find upsell opportunities. By using it to generate surveys and identify customers at risk of churning, you can automatically improve retention and loyalty.
Mixpanel

Mixpanel reveals how customers are using your product so you can better understand and meet their needs. This advanced analytics platform makes it easier to assess feature releases and segment churn risks so you can reengage with key segments automatically.
Customer Retention
When a customer churns or a free trial fails to convert, it's helpful to know why. These platforms automate surveys so you can reengage customers.
Refiner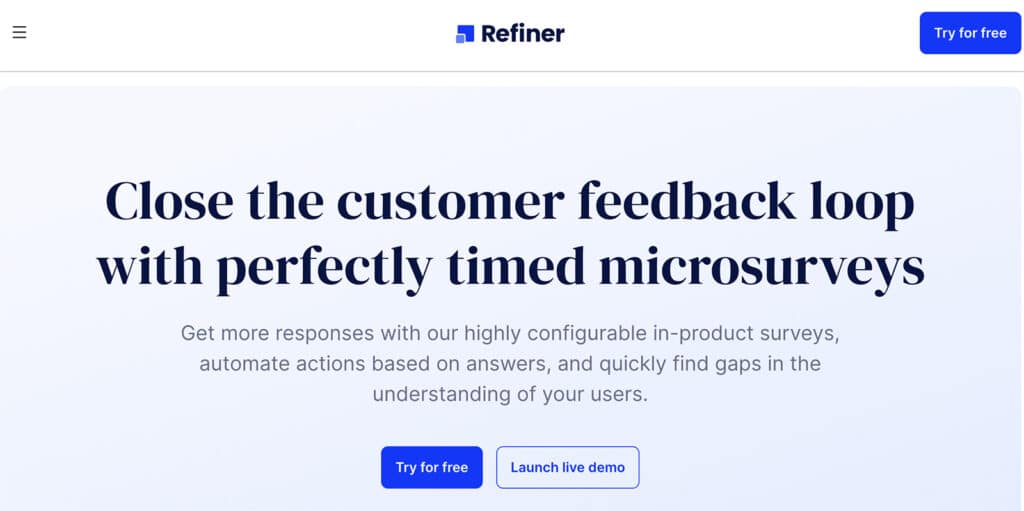 With Refiner, you can automate customer feedback surveys directly in your SaaS product or send them via email to learn what's working and what isn't. The platform has templates to measure PMF, net promoter score (NPS), customer satisfaction score (CSAT), and other critical metrics so you can meet KPIs that matter.
Survicate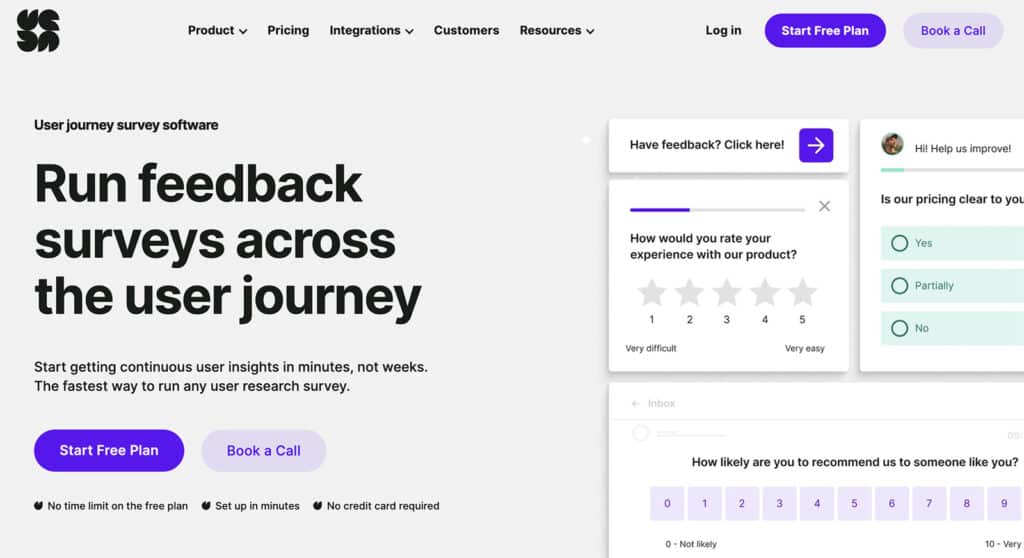 Survicate measures feedback across the customer journey so you can improve retention and reduce churn. The platform uses advanced targeting and enriched forms to issue in-product, email, and link-based surveys automatically so you can measure and act on metrics like NPS and CSAT.
Final Thoughts on Marketing Automation for SaaS
Marketing automation software allows SaaS businesses to personalize outreach at scale at every stage in the customer lifecycle. With the right tech stack, you can automatically deliver the ideal messaging to the optimal customer segment at the perfect time. Then you can free your team up to focus on higher-impact work like using insights to deploy a more effective marketing strategy and build a more successful customer experience.