The essence of B2B email marketing lies in championing the promotion of offerings aimed at business clientele.
It fundamentally seeks to cultivate potential customer connections, enhance recognition of the brand, and stimulate revenue generation.
Implementing effective approaches often entails sharing newsletters, special discounts, product developments, or complimentary resources, meticulously personalized to match the recipient's unique preferences and requirements.
When executed adeptly, B2B email marketing delivers insightful content that spurs the recipient towards a purchase or motivates them to engage in an alternate desired response, thereby facilitating their journey through the marketing funnel.
Essential Role of Strategy in B2B Email Marketing
The effectiveness of generic email marketing tactics wanes when applied to B2B campaigns. This is similar to how two nearly alike doors still demand unique keys: you aim to attract different people. Here are some distinct examples of how common email marketing methods can falter when used for B2B campaigns.
Targeting in email campaigns
While most email marketing campaigns aim at individual consumers, B2B campaigns target entire businesses – or, more accurately, various individuals within a company. A B2C email recipient oversees their personal buying journey, but a company's buying process involves multiple people in diverse roles.
In B2B targeting, you're essentially identifying a target group. Therefore, your strategy needs to address the variations among multiple contacts within the same organization.
Practical implications: To connect effectively, you must send different emails tailored to individual recipients within the same target company.
The length of the buying cycle
Buying for personal needs typically doesn't take long.
However, the purchasing process for a company often resembles trying to herd cats. It requires a significant amount of coordination and patience to get multiple departments to agree on a decision, particularly one that necessitates budget approval.
Practical implications: Given that the lifespan of email marketing campaigns matches the customer journey's duration, be prepared for your B2B marketing cycles to extend significantly.
Customers are well aware of their status as consumers, thus when drafting B2C emails, a direct approach towards sales intention is acceptable. Elements such as special offers, discounts, and sales news are common and fitting in a B2C campaign but would seem out of place in a communication meant for a business.
B2B emails generally yield better results when they prioritize the provision of information and valuable resources. Educative materials like trend analyses, industry standards, instructional guides, and recorded webinars bolster your brand's worth to a B2B client.
Practical implications: It's necessary to procure entirely novel content types and formats for your B2B campaigns—recycling B2C content simply won't do.
Email Tone & Content
Customers are well aware of their status as consumers. Hence when drafting B2C emails, a direct approach towards sales intention is acceptable. Elements such as special offers, discounts, and sales news are common and fitting in a B2C campaign but would seem out of place in communication meant for other businesses.
B2B emails generally yield better results when they prioritize the provision of information and valuable resources. Educative materials like trend analyses, industry standards, instructional guides, and recorded webinars bolster your brand's worth to a B2B client.
Practical implications: It's necessary to procure entirely novel content types and formats for your B2B campaigns—recycling B2C content simply won't do.
Six Fundamental Strategies for Creating a B2B Email Campaign
You understand that B2C or broad email strategies won't cut it for your B2B campaign. But it wouldn't be fair to tell you what not to do without giving you some effective alternatives, right?
Here are six strategies to enhance your B2B email marketing campaign.
Understand Your Target Customers
When you aim at a specific B2B company, you're essentially targeting the group of individuals in that company responsible for deciding whether to purchase your product or not.
These individuals comprise six primary roles:
Initiators: the first ones in the company to learn about and show interest in your product.
Users: those who will use your product daily once the company decides to purchase it.
Buyers: individuals handling the purchase logistics, such as budgeting, contract terms, renewals, etc.
Deciders: those who ultimately approve the purchase.
Gatekeepers: typically administrators who control the flow of information within the buying center.
Influencers: anyone within the organization who influences the decisions and opinions of other members of the buying center.
Creating an ideal customer profile (ICP) that outlines your potential customers' demographics, behaviors, characteristics, challenges, and needs is essential. In a B2B setting, your targets are groups, so you must expand your ICP to include different roles in the target company's buying center.
Adopt the Buyer's Mindset
With your customer profile matrix, you can better understand what kind of emails each role in your target customer's buying center would appreciate.
For instance, an Initiator or a User might find a how-to guide relevant to the User's job appealing, while a Buyer might disregard it. Tailoring your emails to your targets' actual needs makes them more effective and reduces the chances of unsubscribes or spam reports.
Employ Email Segmentation
The thought of customizing your emails for each individual in a company can be daunting. But email segmentation tools built into most email marketing platforms allow you to group subscribers based on their characteristics. This way, you can cater to each buyer persona with content specifically designed to meet their interests and needs.
Stage Your Campaign
Your B2B email marketing should reflect the B2B customer journey. By coordinating your campaign with the stages of the customer journey, you can ensure your emails align with who your target is and where they are at a particular point.
Different types of content are best suited for each of the five main stages of the buyer journey:
Awareness: Provide educational content like how-to guides, eBooks, and thought leadership materials.
Consideration: Present case studies, customer testimonials, and product demos to demonstrate your product's value.
Decision-making: Offer free trials, discount offers, and cost estimates to sway the target towards a purchase.
Retention: Use product tutorials and high-level educational content to help your customer get the most out of your product.
Advocacy: Use surveys and referral program offers to encourage customers to become active brand advocates.
Utilize Templates
Email templates can streamline your work process. Building a library of quality templates might take time, but it's worth the effort when you can breeze through hundreds of emails a day.
Ensure that each template feels personalized and not obviously templated. Create distinct templates for different types of emails, such as a welcome email, a thank-you email, a curated content roundup email, a survey email, and more.
The Mailmodo email template library can be really useful as they have tailored templates for different industries, including B2B.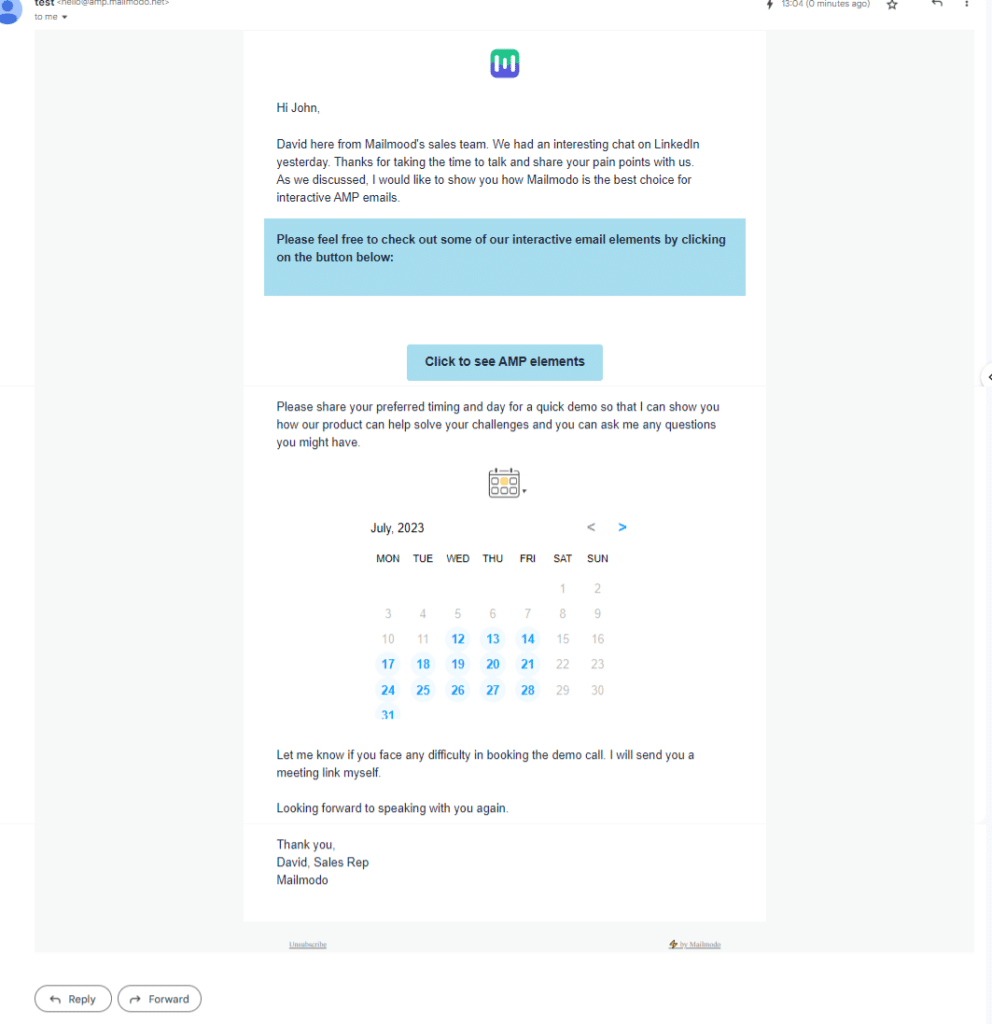 Automate to Save Time
Email marketing automation tools can perform intricate tasks that would be extremely time-consuming manually.
For instance, you could automate tagging email contacts with new information you gather about them. This allows you to target specific audiences like "female executives in the biotech industry" or "past attendees in the Los Angeles area" effortlessly.
Sequencing functions also allow you to set up drip campaigns to be sent out over weeks. Other automations could include updating contacts based on website form submissions, segmenting subscribers based on their behaviors, or sending updates about new subscribers, email lists, and sales leads to your colleagues.
Optimizing B2B Emails: Top Practices
Even the most immaculate B2B email strategy will fall short if the email content isn't up to par. Just like a successful burrito relies on both the quality wrapping and the delicious filling inside, the real value of your email lies in its content.
Craft Compelling Subject Lines
While this advice holds true for all email marketing, it's particularly crucial for B2B emails. Ensure your subject lines are concise enough to be fully visible in the inbox (Mailchimp suggests keeping it under 60 characters).
B2C emails can often get away with mediocre subject lines due to consumer preferences. But with B2B, a poorly crafted subject line can quickly land your email in the spam folder.
Remember, the busier your targets are, the more crucial your subject lines become. Highlight the main value of your email upfront. Make your call-to-action explicit—let the recipient know what action you want them to take immediately.
Prioritize Personalization
Automation, such as email segmentation and audience targeting, is a powerful tool for your campaign. You can also enhance personalization within the email itself by using import fields to address the recipient by name, include their company in the subject line, and add other details to make your email less generic.
Compared to B2C emails, personalized fields are even more crucial for B2B communication.
Adopt a Conversational Tone
While crafting B2B content, it's easy to veer too professional and end up sounding rigid. Remember that you're communicating with people, not just brands.
Consider what kind of business emails grab your attention, which subject lines entice you to open the email, and which ones you immediately discard. Leading your campaign empathetically will foster stronger connections with your targets.
Maintain Scannability
Reflecting on your own email preferences, you'll likely agree that the most impactful emails are concise. Business professionals are often pressed for time, and lengthy, text-heavy emails can be off-putting.
Creating brief emails doesn't mean compromising on substance. With smart formatting and strategic design, you can impart a wealth of information concisely. The ultimate goal is to encourage them to click through to your content, so it's okay to save the best for later.
Having covered the optimal strategies, let's proceed to examine a curated collection of B2B email samples that offer valuable insights and inspirations.
35 B2B Email Marketing Examples
Buffer's Welcoming Message
Buffer sends a heartwarming initial email to new users, defining the friendly rapport they aim to establish. They not only suggest using their browser extension but also express that they are always available for their users — even if it's for a casual chat.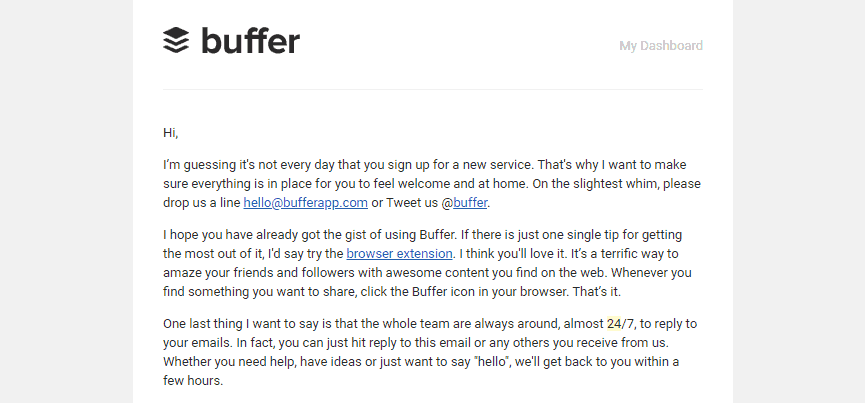 Asana's Product Utilization Email
In Asana's B2B email, they propose people to reclaim their to-do lists by starting a new task on their project management platform. This example conveys that a B2B email can easily fit into a welcome or re-engagement communication.
Atlassian's Feature Update Email
Atlassian's elegantly designed feature introduction email presents all the new additions they're bringing in. The white backdrop allows the blue call-to-action buttons to pop out, and the concise, clear descriptions help clients understand the benefits of each feature.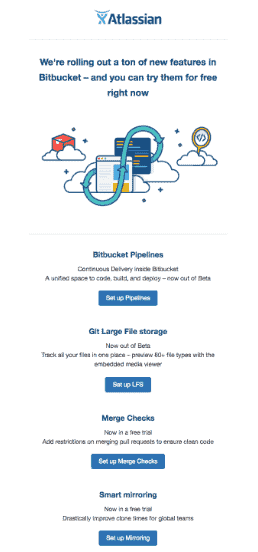 Campaign Monitor's Usage Reminder Email
CampaignMonitor's reminder to clients to employ their email template builder is a valuable example. The effectiveness of this kind of B2B emails lies in observing clients' habits and preemptively offering them solutions.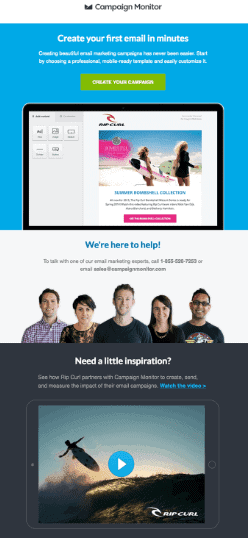 eROI's Value Proposition Email
eROI's B2B email strategy titled "Dare To Be Kind" leans more towards brand building and fostering trust with their clients. It nudges clients to remember their core principles and invites them to contribute to their mission of creating thoughtful and inspiring emails.

Obviouslee's Complimentary Services Email
Obviouslee Marketing knows how to seize potential clients' attention: they offer them free services. With this vivid B2B email, they provide small businesses a chance to enjoy their PR agency's services for free while incorporating humor by referencing the Fresh Prince of Bel Air's theme song.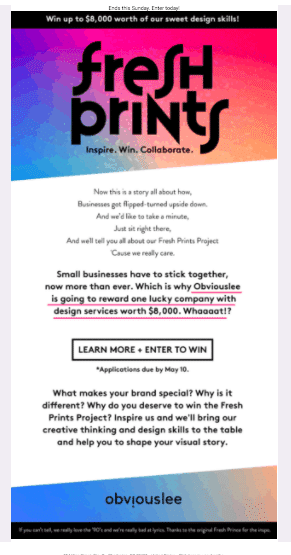 Meltwater's Year-End Email
Meltwater knows how to leave a lasting impression with their year-end B2B email, ensuring clients remain engaged into the new year. Their email outlines their achievements during the year, and also shares useful content for clients' end-of-year reporting.

Moo's Innovative GIF Email
While GIFs are common in B2C emails, B2B companies like Moo can effectively use them too. They utilize a GIF in their B2B email to create additional enthusiasm and curiosity about their products.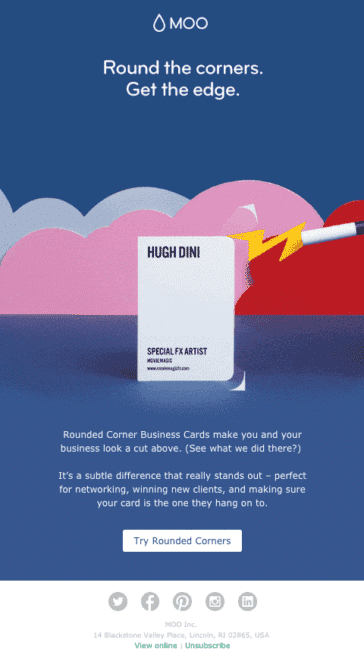 Docusign's Security Assurance Email
Docusign's B2B email convincingly assures clients of their superior online security, fostering trust and future business dealings. They inform clients while providing reassurance in the form of an informative article.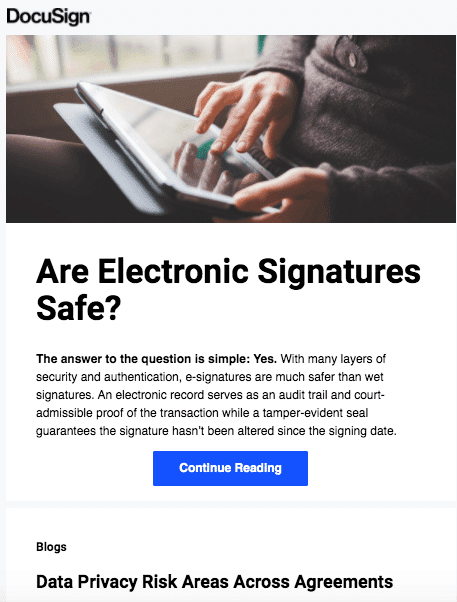 Mint's Reminder Email
Mint uses B2B emails to remind clients of important services or information they could access. In this instance, they prompt their clients to check their credit score with a minimalistic design and graphics aligning with the email subject.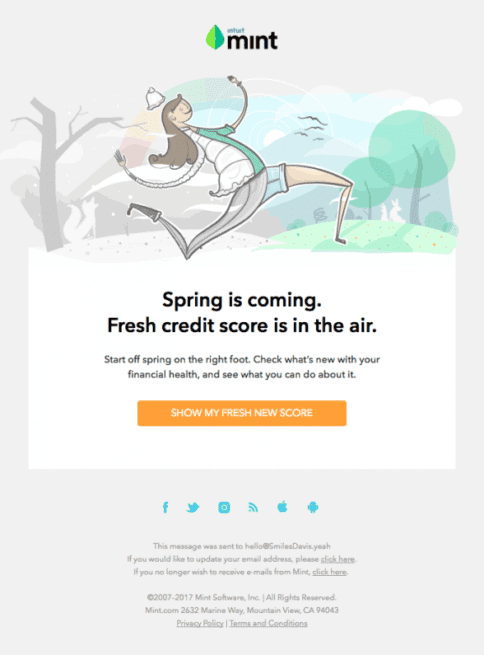 Litmus's Event Announcement Email
Being an email design company, Litmus impressed with their announcement email for the 2016 The Email Design Conference. To spur engagement, they kept the third city in their event lineup a mystery until they reached 500 shares, tracked and revealed through the email itself.

Sign Up Genius's Design Update Email
Signup Genius understands that for businesses hosting frequent events, getting volunteer sign-ups can be challenging. Therefore, they introduce new designs as an incentive for businesses to continue using their service.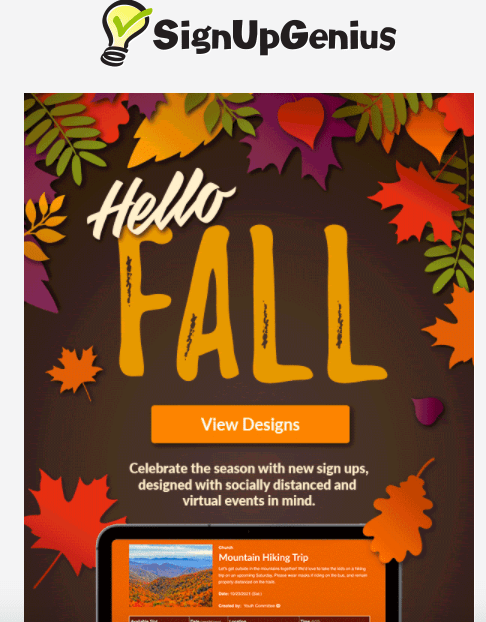 MailChimp's Product Enhancement Email
MailChimp's product enhancement B2B email relies primarily on a graphic to explain its Pro features, with only a brief supporting paragraph. This demonstrates the impact a well-crafted graphic can have in a B2B email marketing campaign.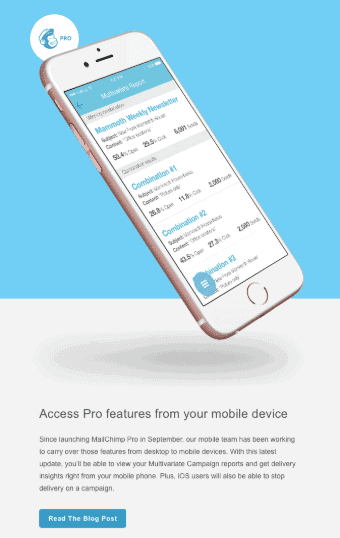 Mutual of Omaha's Festive Email
Major holidays are excellent opportunities for B2B companies to engage with their audiences. However, it's crucial to avoid any sales-oriented content — focus on nurturing relationships, as Mutual of Omaha exemplifies in their festive email.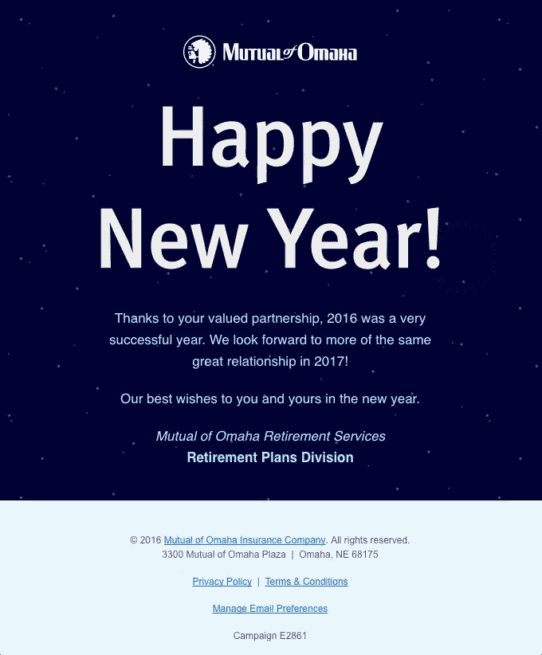 Salesforce's Blog Highlight Email
Unlike many blogs that include images for each post, Salesforce's B2B email marketing strategy focuses on a striking image at the top, followed by emphasis on the blog titles. It's a superb illustration of how businesses can feature their most recent or popular blogs in a B2B email.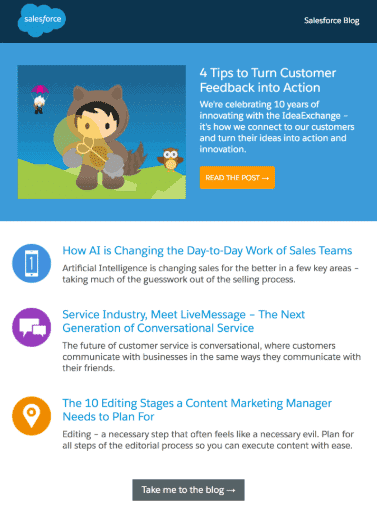 Shopify's All-Inclusive Email
Shopify's B2B email brings together multiple subjects under one central theme – expanding businesses' capabilities through their platform. Whether it's sharing a success story or promoting their solutions, the email may seem packed at first glance, but it's expertly weaved together by Shopify.

Dulles Designs' Personalized Stationery Showcase
Moving the elegance of stationary into the B2B email realm is a complex task, but Dulles Designs navigates it gracefully in this email. They demonstrate how a single image can be transformed into custom stationery with succinct instructions.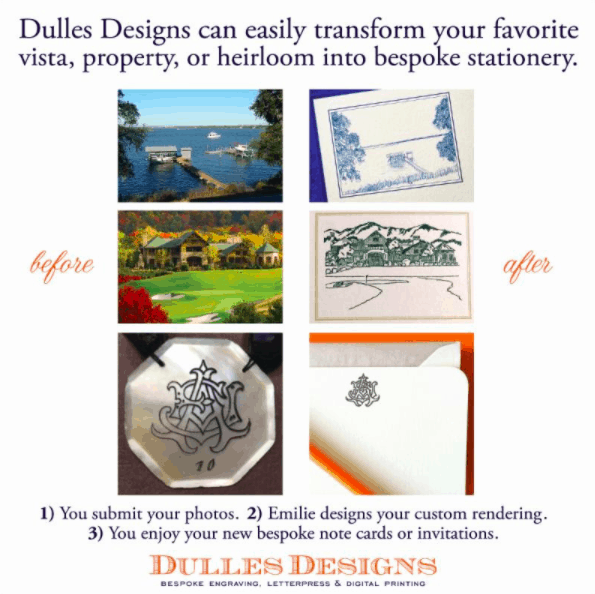 Writer's Co-Op's Smart Offer
This B2B email by Writer's Co-Op is both shrewd and well-articulated. In announcing the return of their second season, they also offer an enticing promo code for additional resources to attract freelance writers.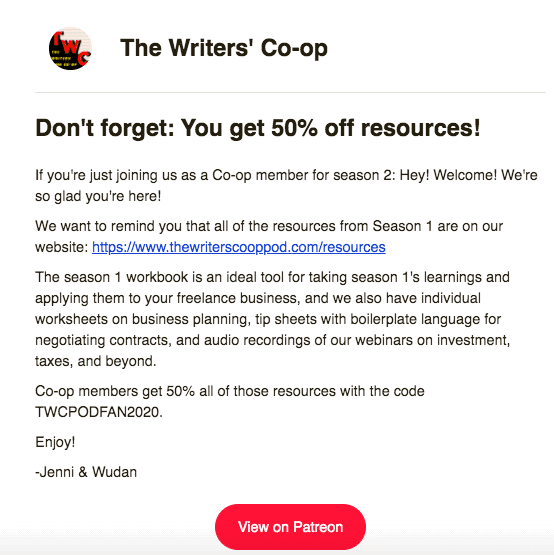 Buffer's Triggered Event Email
Buffer sends an automated email to businesses a week post sign-up, particularly if their data shows no social media post shared via their account. This B2B email excellently nudges clients by reminding them of Buffer's valuable content and the readiness of their platform for use.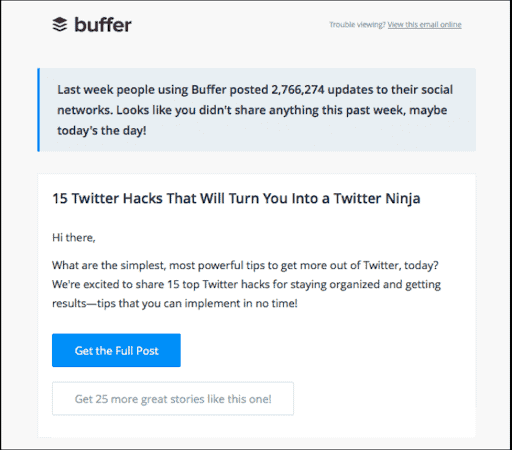 SuperOffice's Informative Email
Got an insightful whitepaper or a detailed case study? SuperOffice demonstrates how to leverage B2B email marketing to distribute such content and captivate audiences.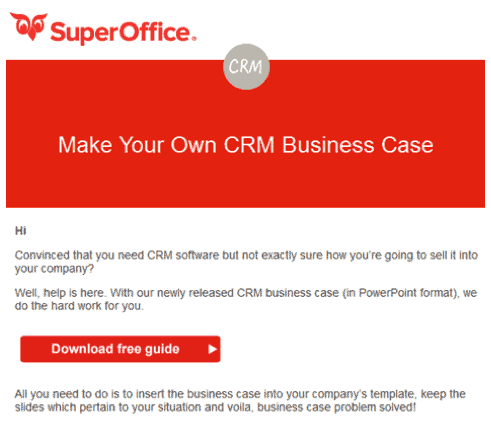 Flywheel's Year-End Review Email
In a similar vein to Meltwater's year-end recap, Flywheel uses a B2B email to share its annual achievements. Even if you can't publish a comprehensive report, summarizing your major wins through B2B email marketing is still possible.

EyeQuant's Follow-Up Email
EyeQuant sets an exemplary standard with this B2B email, reminding potential clients about their product or service after a trial run. This email marketing strategy keeps your offering top-of-mind for busy professionals.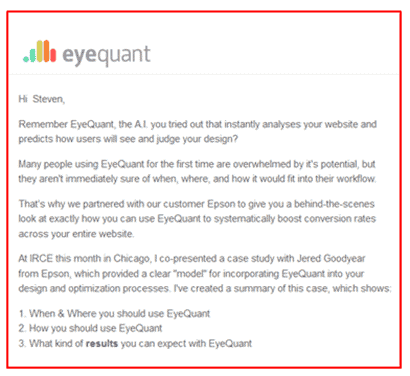 HubSpot's Webinar Invitation Email
HubSpot's B2B email offers a glimpse into their upcoming webinar, detailing the benefits for the audience. Direct communication via a well-crafted email can entice people to participate in your webinar.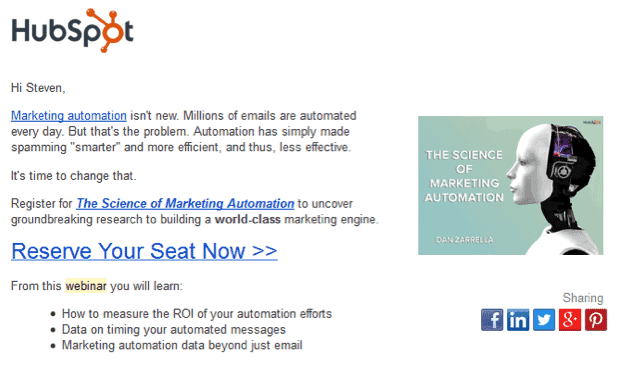 Kissmetrics' Demo Invitation Email
Kissmetrics' B2B email proposes a product demo to potential clients, simplifying the sign-up process and outlining expectations for the demo within the email itself.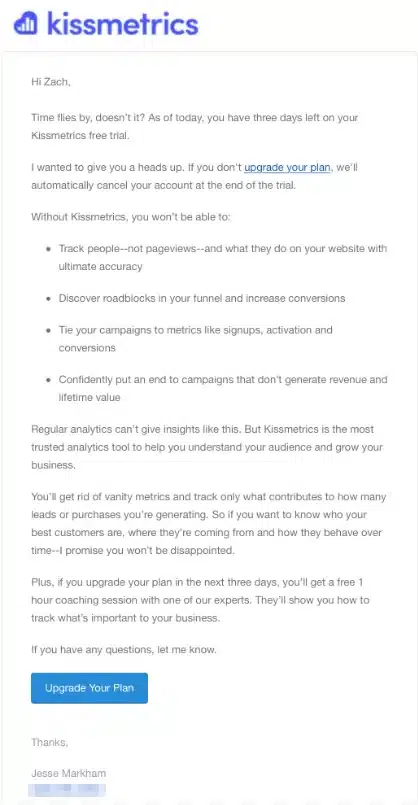 LogMeIn's Attention-Grabbing Email
LogMeIn's B2B email sets a compelling tone with hard-hitting facts presented in an entertaining movie promo-style content and a video, sparking creativity in the B2B email realm.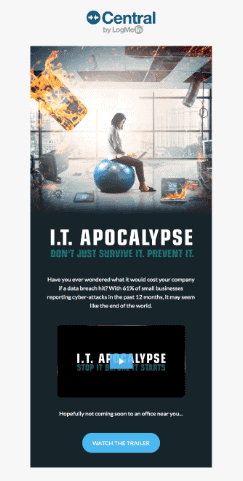 Grammarly's Competitive Insight Email
Grammarly taps into people's competitive spirit with an email that provides unique insights, comparing users to their 20 million global counterparts. This personalized B2B email motivates users to engage more with their service.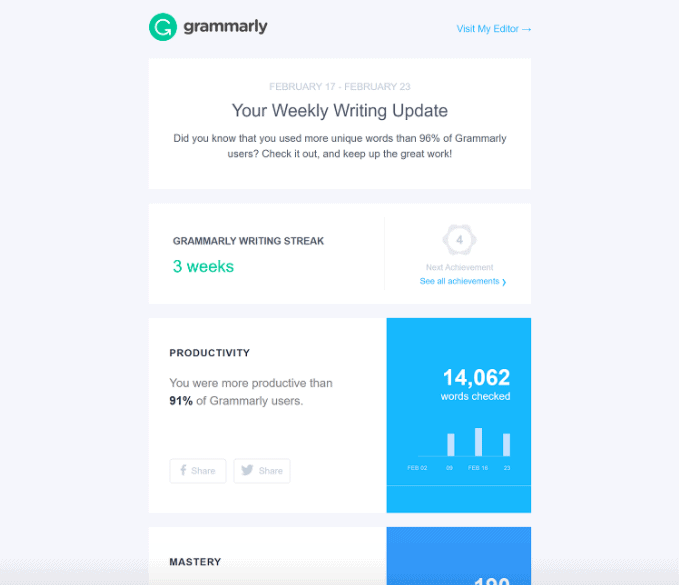 BounceX's New Collaboration Announcement Email
When you embark on a new project with a partner, spreading the news through an email is a great idea! In this particular case, BounceX is announcing a new piece of valuable content, co-created with Klientboost. Their use of a striking graphic emphasizes their collaborative marketing efforts effectively.
Netlify's Product Launch Email
Netlify's B2B email announces the official launch of three newly tested tools, hinting at the exciting possibilities they bring. Announcing a thoroughly tested feature enhances your product's credibility.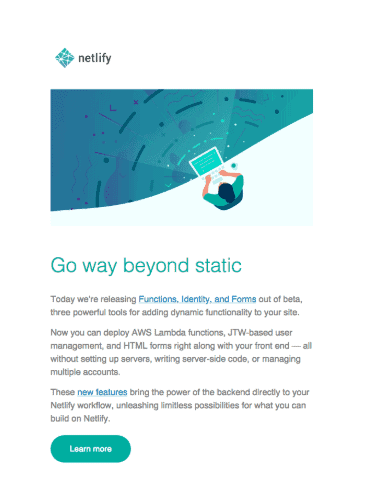 Trint's Plan Upgrade Email
Trint offers a transcription service where they use an ingenious B2B email strategy to persuade writers to upgrade their plans. Instead of merely promoting a new plan, they praise the writers on their transcription accomplishments.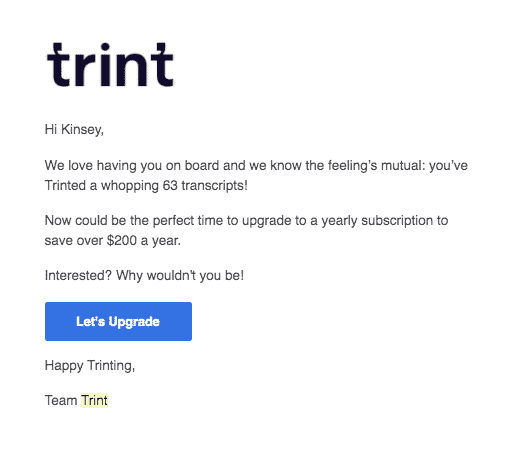 Tailor Brands' Survey Invitation Email
Tailor Brands' survey request email offers a practical approach to engage clients. By providing an estimation of the survey's duration and an incentive for participation, this email is likely to have a higher conversion rate.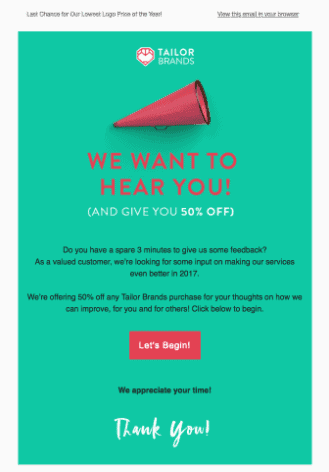 TurboTax's Covid-19 Advisory Email
TurboTax's B2B email provided crucial financial advice related to the pandemic, helping professionals navigate the crisis while reinforcing the utility of their business.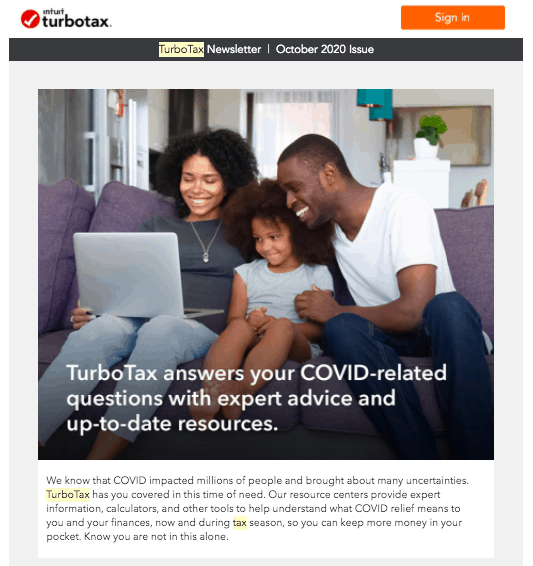 Sprout Social's Trial Extension Email
Sprout Social uses this B2B email to entice trial users to extend their trial period by offering a free, valuable industry report upon extension. This strategic move provides an incentive for users to continue using their services.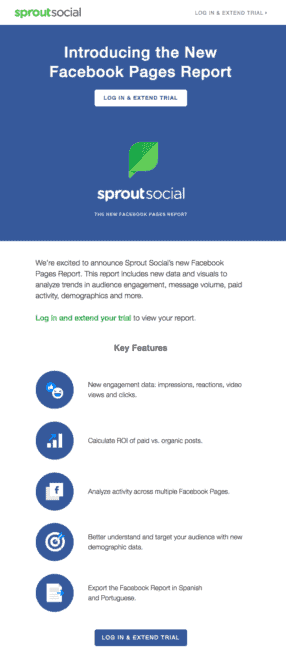 Trello's Milestone Announcement Email
In this celebratory email from Trello, they not only announce a major milestone but also introduce new product updates. This B2B email strikes a balance between serving the customers' interests and enhancing the company's reputation.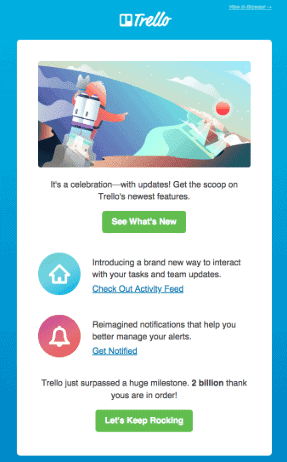 Heroku's Educational Email
Heroku uses their B2B email to enlighten customers about their product's distinct features while guiding them on its usage. The email concludes with a CTA, inviting clients to explore these features on their dashboard.

We've delved into a variety of successful B2B email marketing strategies, each one offering unique takeaways to enhance your own efforts. Whether it's the seamless blending of multiple topics in Shopify's email, the perfect balance of brevity and detail in Dulles Designs' stationery campaign, or the subtle yet effective upselling technique employed by Trint, the diversity of these examples underscores the fact that there is no one-size-fits-all strategy in B2B email marketing. Rather, it's about finding the right combination of messaging, design, and timing that resonates with your specific audience.
One critical element that threads through all successful campaigns is value. Whether it's offering actionable insights, unveiling new features, or even just celebrating milestones, always aim to provide something of value to the recipient. This not only fosters a sense of connection but also keeps your brand top-of-mind when your prospects are ready to make a business decision.
As we head further into 2023, it's worth remembering that while technology and trends will continue to evolve, the fundamental principles of effective communication remain the same. Understanding your audience, delivering relevant content, and maintaining a consistent brand voice are as critical as ever. Use these inspiring B2B email examples as a springboard, but don't forget to infuse your own brand's personality, creativity, and values into your campaigns. It is this blend of best practice and individuality that will set your B2B emails apart from the rest.
As you forge ahead, we hope these examples serve not only as inspiration but also as a stepping stone towards more engaging, impactful, and successful B2B email marketing campaigns. After all, your emails are not just messages—they are opportunities to connect, educate, inspire, and grow your business.