All email marketing automation tools operate on the same principle: they dispatch emails in response to triggers, which are pre-determined actions your potential customers undertake during their customer journey.
Contrasting with standard marketing emails that are circulated to a mailing list on a set schedule or in intervals (as seen in a drip campaign), automated emails are dispatched when a customer's behavior aligns with the terms set in an automated workflow.
Key aspects to consider in email marketing automation software
The pricing structures of email marketing automation tools typically fall into two distinct groups:
Pricing based on the number of contacts (or subscribers)
Pricing based on the volume of email sends
Certain email automation tools can become more costly as your subscriber count increases.
This is a consideration for e-commerce businesses that often have a large contact list, making email service providers with unlimited contacts an appealing option from a cost perspective.
On the other hand, agencies and other businesses with a smaller client base but high-value clients are likely to prefer ESPs that only restrict the number of sent emails.
Additional features to look for in an email automation tool include:
Efficient contact management with list and tag sorting
CMS & website integrations, including visitor tracking
Tools for cross-promotion messaging, such as SMS and Live Chat
Ready-to-use and fully customizable email templates
Direct email messaging and autoresponders
Customizable landing pages with opt-in forms
Automated workflow builder with pre-existing templates
Drag-and-drop editor with the ability to directly edit email HTML
There is an extensive range of email marketing software providers, each with varying strengths and pricing strategies.
To simplify your search for the optimal marketing solution, we've refined our list to only feature providers known for excellent customer support, easy usability, and clear pricing structures.
Email automation tools enable you to efficiently distribute personalized email campaigns to your subscriber list, saving you from the tedium of manually tailoring and tracking each email. Continue reading to discover the email marketing automation platform that best aligns with your business requirements.
Hubspot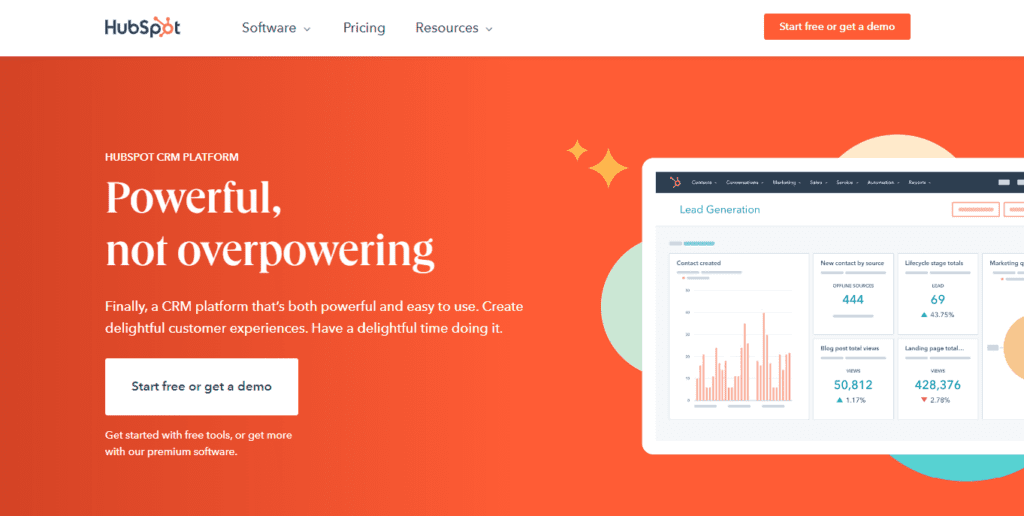 HubSpot is the go-to email automation platform for many marketing agencies, and it's renowned for its capabilities in contact management, email tracking, and lead evaluation.
Although HubSpot is primarily known as a CRM tool and is typically linked with its lead nurturing process, it also offers an extensive array of features within its Marketing Hub suite. This makes it a comprehensive email marketing solution.
Top Features
HubSpot shines in its ability to build lists dynamically, segment leads, route leads, and provide internal notifications, making it an excellent choice for sales and marketing teams seeking to work in unison.
Cost Structure
HubSpot offers a limited-feature free plan that includes basic contact management for up to a million contacts at no cost.
The Basic plan begins at $50 per month. However, the cost escalates dramatically once you upgrade to the Professional plan of its Marketing Hub to leverage automation features, with monthly fees leaping to $890. Additionally, there's a mandatory one-time onboarding fee of $3000.
For marketing agencies servicing high-value accounts, the investment in HubSpot may very well be worthwhile. However, for businesses with more rudimentary requirements, the substantial costs and incremental approach to feature access may not seem warranted.
Mailchimp

Once a straightforward newsletter tool, Mailchimp has progressively transformed into a sophisticated email marketing automation platform.
Mailchimp offers features such as signup forms and surveys, a website builder, and separate pricing tiers for transactional emails.
Nonetheless, Mailchimp's latest features are specifically tailored to cater to designers and creative agencies.
Top Features
Mailchimp's content studio tool has the ability to adapt content to fit unique email design layouts. Tools like an email subject line assistant and a content optimizer provide marketers with valuable real-time suggestions. Moreover, its new artificial intelligence-powered creative assistant can autonomously generate email designs using your company's branding assets.
Cost Structure
Mailchimp offers a free plan that includes a marketing CRM, a website builder, forms, landing pages, and a monthly limit of 1,000 email sends (with a cap of 500 sends per day) and 500 contacts. If this seems restrictive, you might want to explore the best alternatives to Mailchimp.
The Essential plan begins at $13 per month and offers limited customer journey mapping.
Mailchimp truly shines as a contemporary email automation platform when you upgrade to its Premium plan. Starting at $350 monthly, this plan unlocks advanced features such as segmentation, A/B testing, and comparative reporting.
EmailOctopus
EmailOctopus is a straightforward email automation platform that enables users to send their emails via Amazon Simple Email Service (SES).
This email routing feature is designed for developers who desire the advantages of a simple email marketing service to attract new subscribers and automate transactional and promotional emails.
Key Features
The capacity to route emails through Amazon SES allows EmailOctopus to be significantly more cost-effective than most email service providers. This makes it a suitable choice for businesses with basic email marketing needs and their own internal development team.
Cost Details
The Connect Starter plan is complimentary for up to 2,500 subscribers with unlimited emails (sent via the Amazon SES service).
The EmailOctopus logo is removed when you upgrade to their Connect Pro plan, with a starting price of only $7 per month for 500 subscribers.
Drip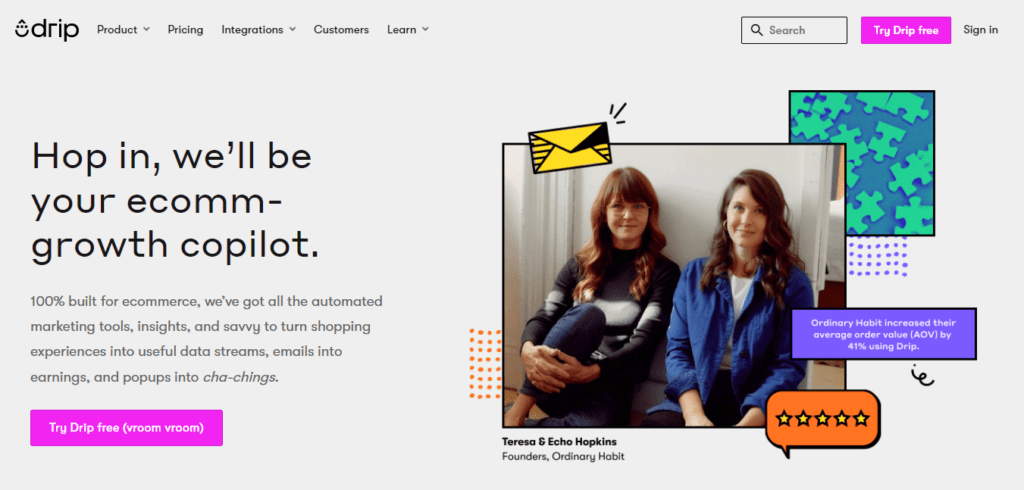 Drip is a streamlined email marketing automation tool designed exclusively for online storefronts. Its native ecommerce integrations include Shopify, Magento, WooCommerce, and BigCommerce. Its API can be extended to work with custom storefronts as well.
Drip also provides a useful set of workflow templates that include abandoned cart, post-purchase, win-back, birthday, and welcome emails.
Best Features
Retail brands love Drip's smart analytics, which drives personalized product recommendations. Drip also syncs its segmentation feature with Facebook Custom Audience insights to create comprehensive customer profiles.
Pricing
Drip has the most straightforward pricing structure: $39/month for all its features, with a 2,500 contacts limit and unlimited email sends.
However, sending limits are imposed when email senders hit 30,000 contacts which makes this seemingly inexpensive app much more costly at scale
Omnisend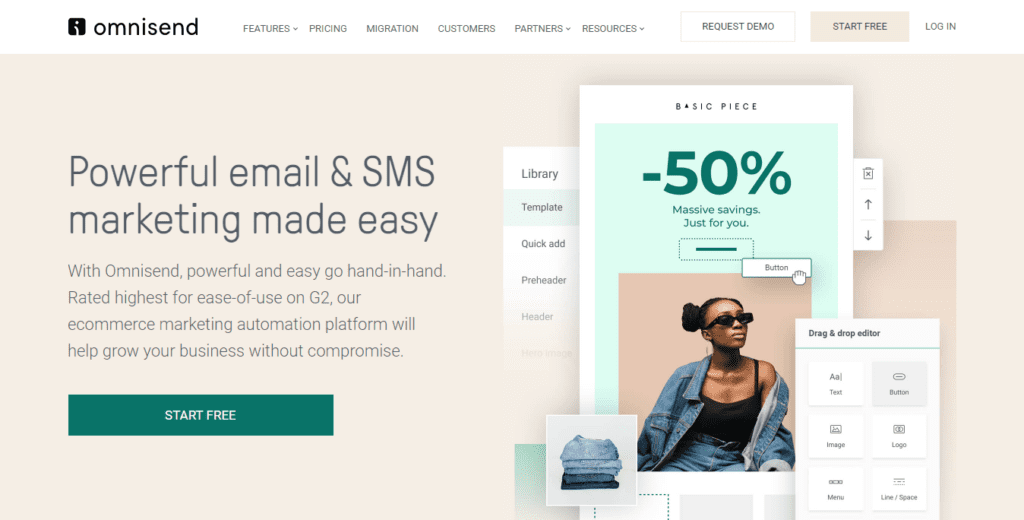 Omnisend can be seen as Drip's more stylish relative, catering to larger e-commerce businesses with multiple storefronts.
Its most significant time-saving feature is the dynamic customer lifecycle function that automatically tags customers based on their stage in the customer journey.
Top Features
Omnisend cleverly integrates shopping history and social media interactions with ad retargeting on Google and Facebook to produce actionable customer data.
Cost Structure
Its free plan provides access to all its features if your subscriber list comprises fewer than 250 contacts and you plan to send less than 500 emails monthly.
With a monthly cost of $16, the subscriber limit increases to 500 contacts, and the email-sending limit is raised to 6,000 emails per month.
Omnisend's Pro plan packages unlimited email sends with a modest SMS quota and begins at $59 monthly for up to 2,500 contacts. The pricing scales in line with the number of active contacts.
Getresponse
GetResponse is a comprehensive marketing automation suite with a few unique features that distinguish it from more specific email automation software. These features include a webinar hosting tool, live chat, and an AI-driven website creator.
Its advanced contact management and adaptable workflow automation builder bear a resemblance to ActiveCampaign.
GetResponse's free plan allows you to send newsletter campaigns with a limit of 500 contacts, coupled with a single landing page, sign-up forms, and pop-ups.
Top Features
GetResponse is an excellent tool for influencer marketing, particularly for businesses that regularly host webinars and collaborative online events.
Cost Details
The Email Marketing plan begins at $19 per month but only offers basic segmentation, and email automation is strictly limited to autoresponders.
Starting at $59 monthly, the Marketing Automation plan includes email marketing and event-based automation.
ActiveCampaign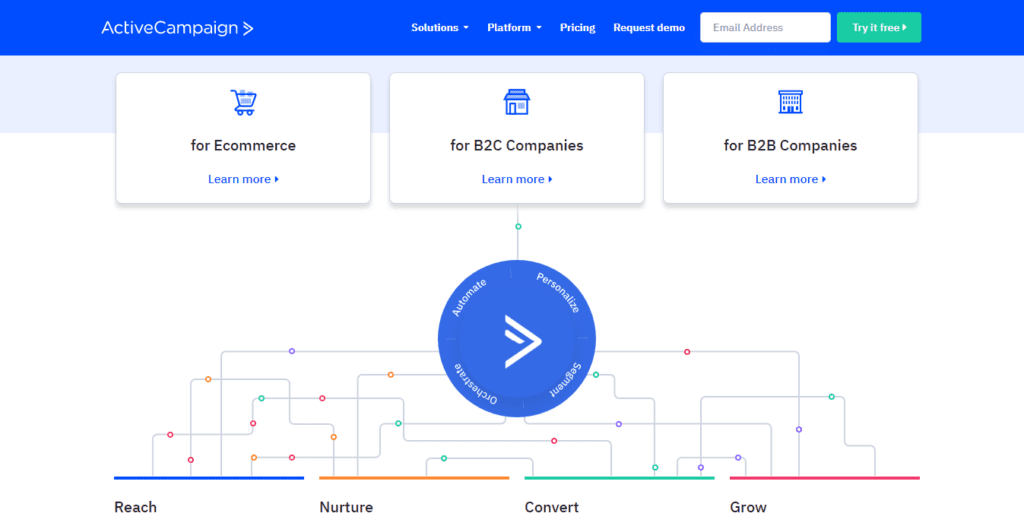 ActiveCampaign is a robust email automation platform that provides the capability to fine-tune email marketing campaigns with exceptional accuracy.
It allows for the sorting of contacts into both lists and tags, providing numerous innovative ways to craft a marketing strategy.
ActiveCampaign also features its own integrated CRM and the unique capability to shift from list-based campaigns to individualized conversations as necessary seamlessly.
Key Features
Direct emails, pre-configured responses, and personalized email signatures make ActiveCampaign a preferred choice among sales teams looking to enhance their marketing efforts.
Cost Details
The Lite Plan begins at $15 per month for 500 contacts, with the price rapidly escalating as the number of subscribers grows.
Most of its cross-channel marketing features, such as SMS, landing pages, and branded forms, are only available on the Plus Plan or higher, which begins at $70 per month—making it one of the more expensive options on this list.
With over 850+ supported integrations and a robust API, ActiveCampaign is a great fit for SaaS companies seeking highly customizable emails triggered by a wide array of user actions.
Mailerlite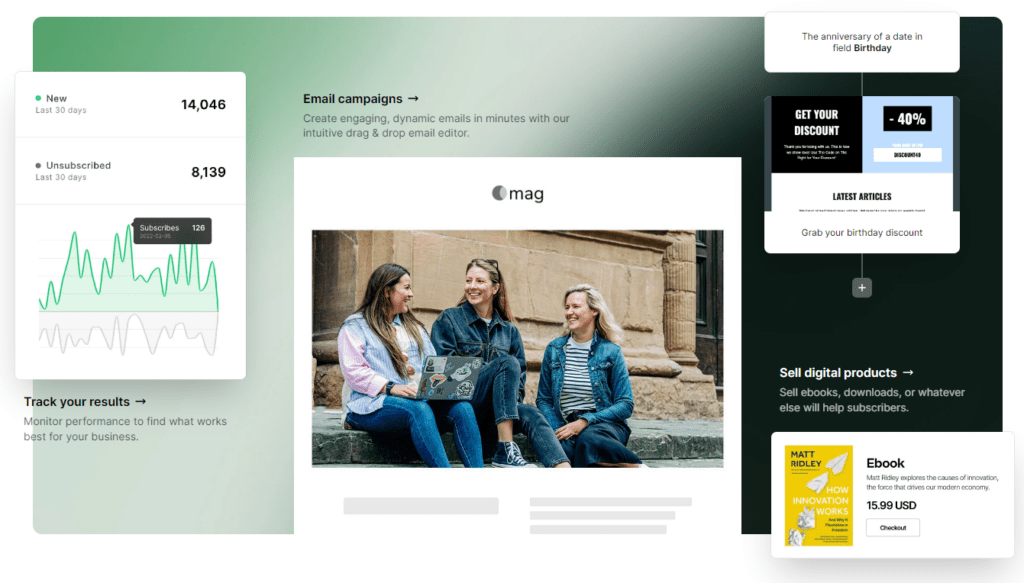 MailerLite is a relatively recent addition to the email marketing landscape and sets itself apart as an email automation tool specifically engineered for novices.
However, it doesn't offer the advanced depth needed for more intricate marketing workflows, such as scheduling emails based on website visits or making product recommendations based on individual customer shopping history.
Top Features
Its intuitive design simplifies the setup of workflow triggers, making it easy and straightforward for those who are brand-new to email marketing.
Cost Details
For a modest $10 per month, MailerLite offers an email list manager, landing pages, e-commerce integrations (with platforms like Shopify, WooCommerce, Gumroad, and others), and a pop-up builder.
However, to leverage multiple triggers within a single workflow automation—a highly beneficial feature—its base price escalates to $21 per month with the Advanced Plan. This is often seen as its true cost.
Constant Contact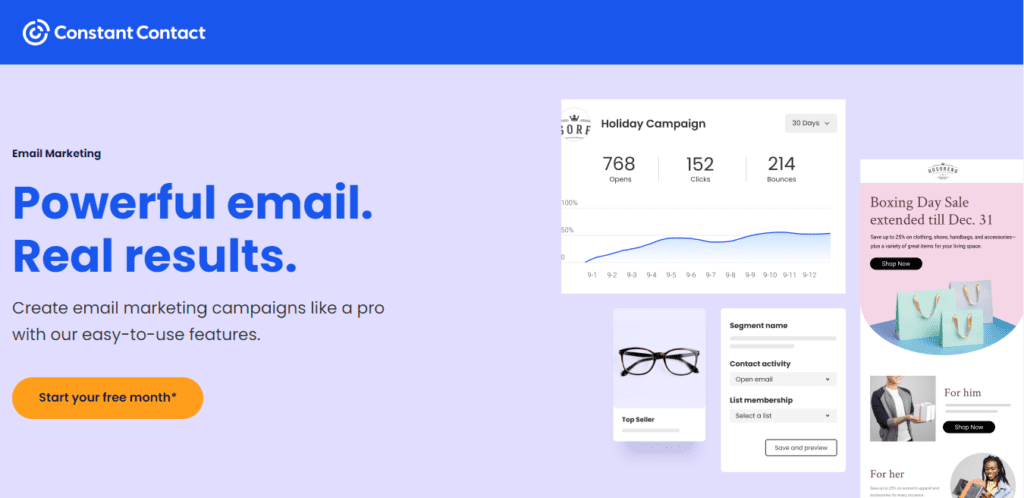 Constant Contact could arguably be the only email marketing tool on this list with a legacy, tracing its history back to the mid-nineties.
Although its user interface may appear somewhat dated and lackluster, its simplicity makes it more accessible to a non-technical audience.
It incorporates all the features typically expected of a well-established email automation software, including list management, workflow automations, embeddable website forms, and simplified reporting.
Key Features
What sets Constant Contact apart from its competitors is its specialized event marketing tools that allow you to handle registrations for various events like classes, workshops, fundraisers, product demonstrations, and more.
Coupled with its social media management capabilities, marketers can effortlessly establish a content calendar, respond to messages in real time, and run social ads on platforms like Instagram and Facebook.
Cost Details
Constant Contact does not offer a free plan. Pricing begins at $9.99 per month for its Core Plan, which comes with a limit of 500 subscribers.
The cost of Constant Contact scales in accordance with the total number of subscribers and is generally pricier than other tools offering a similar set of features.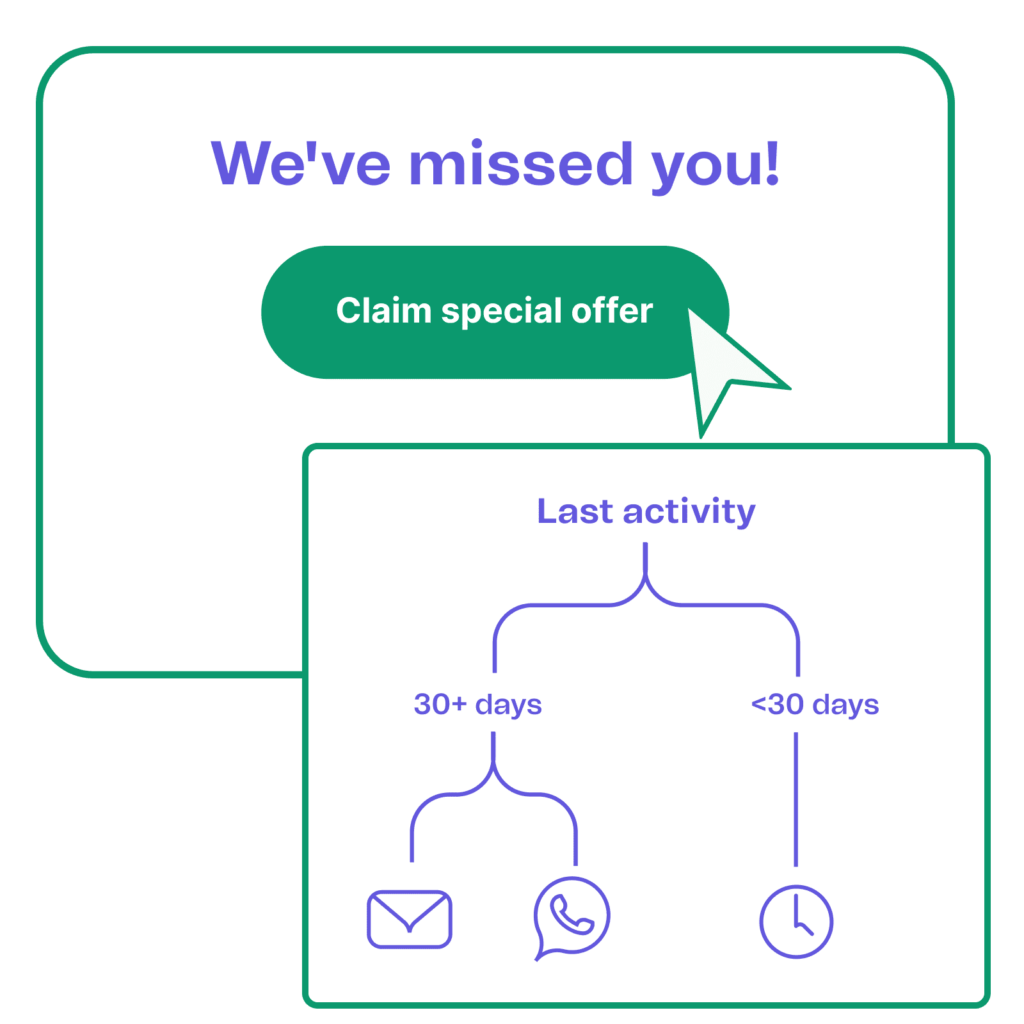 Brevo (formerly known as Sendinblue) is an email marketing automation platform suitable for businesses of all dimensions.
With Brevo, those new to email marketing can swiftly launch their initial campaign using several workflow examples and over 40 email templates. Seasoned marketers can easily construct landing pages and execute cross-promotions with Facebook ads, all from a single dashboard.
One-click integrations for WordPress, Shopify, and Prestashop allow you to connect your website, or you can use Zapier to link thousands of apps (including Salesforce and HubSpot) to optimize your workflow.
Brevo's scalable API empowers developers to devise custom plugins for any use case, such as transactional emails triggered by in-app actions, or smart product suggestions for a custom storefront.
Key Features
Brevo's standout feature is its high email deliverability rate. Ensuring your emails land in your subscribers' inbox—while avoiding spam labels—is vital for the success of your email campaigns.
Brevo employs double opt-in by default and allows you to separate transactional and marketing emails into distinct streams with different IP addresses (free of charge).
Brevo also enables the automatic exclusion of unengaged subscribers, effectively assuring higher open rates.
Cost Details On the Free plan, Brevo offers audience segmentation, signup forms, a Sales Platform, page tracking, and marketing automation workflows for up to 2,000 contacts with a sending limit of 300 emails per day.
Paid plans with no daily sending limits start at $25 per month. Unlimited automation and full features commence at $65 per month.
The landscape of email marketing automation tools in 2023 is both diverse and innovative, offering a wide array of solutions tailored to meet the needs of different businesses.
From beginners to seasoned professionals, there's a platform that fits every skill level, business size, and budget.
From the comprehensive automation capabilities of Brevo (formerly Sendinblue) and the robust CRM functions of ActiveCampaign, to the simplicity and affordability of MailerLite and the detailed customer insights offered by Omnisend, each tool brings its own unique strengths to the table.
Other platforms such as GetResponse and Drip are specifically designed to cater to niches like influencer marketing and ecommerce respectively.
The pricing structures vary across these platforms, with some offering free plans or tiers based on the number of subscribers or emails sent, making it essential for businesses to carefully consider their specific needs and resources before making a decision.
However, the one common thread that ties these platforms together is their shared goal of simplifying email marketing and making it more efficient and effective.
By automating processes, they not only save valuable time but also facilitate the creation of more personalized and targeted campaigns, leading to better customer engagement and ultimately, business growth.
In a rapidly evolving digital world, these email marketing automation tools are more than just a luxury; they are a necessity for businesses looking to thrive and stay ahead of their competition.
Hence, the choice of the right tool can make a significant difference in your marketing strategy and the overall success of your business.