We all know about the incredible power of user-generated content (UGC). Having customers acting as marketing beacons can be game-changing for businesses that are trying to increase reach, brand awareness, and trust.
But what about employee-generated content (EGC), or employee-shared content?
If you're working hard to create a brand that supports your internal team, your employees are likely proud of their work and want to share more. That can be difficult, however, especially since some brands have stringent social media policies that make it difficult for them to post much of anything about their employer. 
You want to make it easy for your team to share the right information on social media, and employee advocacy tools can help with that. In this post, we'll take a look at nine of the best employee advocacy software in 2023.
What Are Employee Advocacy Tools?
Employee advocacy tools encourage your company's workforce to share (approved) branded content through their own social media channels or online marketing channels. Companies will use these tools to create libraries of pre-approved content that their team members can share, and they may choose to share through social media, text, or email.
The content may include everything from brand announcements to job listings, all ready for sharing.
In many cases, employee advocacy software includes the following features:
Library of content that's already been approved by the social media or marketing team
Integrations for the social media team to create, edit, and approve content
Social integrations that allow the company's employees to share messages, content, and posts directly from the software to their own channels
Analytics and reporting that tracks the estimated impact of the program, including reach, clicks, shares, and ROI
Why SaaS Brands Need Employee Advocacy Programs
Employee advocacy software often plays an important role in a company's social selling strategies. Sales reps may use the tool to connect with potential customers on social media channels while still maintaining a consistent brand experience.
These tools can also play an important role in increasing your reach overall. Many employees want to promote their employers. They're excited about the work they're doing and the big changes happening within the country; everyone wants to work for an employer who is doing Big Things, after all. Employee advocacy programs make it easier for them to share without any fear that they'll launch secrets too early, say something that they shouldn't, or cause a problem for themselves or their company.
For brands that want to regulate what employees are sharing about the business but who still want that reach, employee advocacy programs are the way to go.
The 9 Best Employee Advocacy Tools in 2023
There are plenty of employee advocacy tools on the market, so which ones should SaaS brands pay the most attention to? It depends on several factors, including your budget, company size, the tools you're already using, and the specific features you want.
Let's take a look at 9 of the best employee advocacy tools for SaaS brands in 2023.
Sociabble is G2's top-rated employee advocacy tool, with over 270 reviews singing its praises.
Sociabble offers multiple platforms, including those for employee communications, employee engagement, and employee advocacy, making it a great all-in-one tool for those who need it.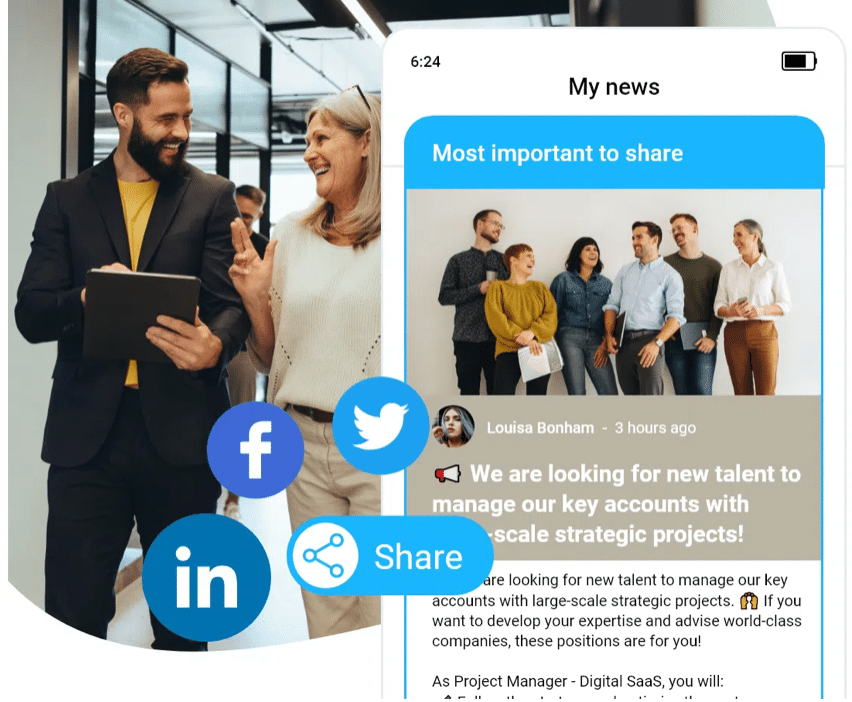 Brands can create content for their team to share, including photos, videos, and audio, and they can even recommend or push specific posts that they really want extra visibility on.
Additional high-value features include the following:
Employees can customize the posts before sharing
They're also able to suggest relevant content for approval
You can set goals or challenges to encourage team members to reach certain milestones, like getting a certain number of comments or likes
See what's scheduled so your team can collaborate accordingly
When you want to take employee advocacy to the next level as part of your strategy, this is a great tool to use.
Hootsuite is one of the top social media marketing tools out there, and their Amplify employee advocacy tool falls in line with that… especially considering it helped save their customers $839,000 over a three-year period.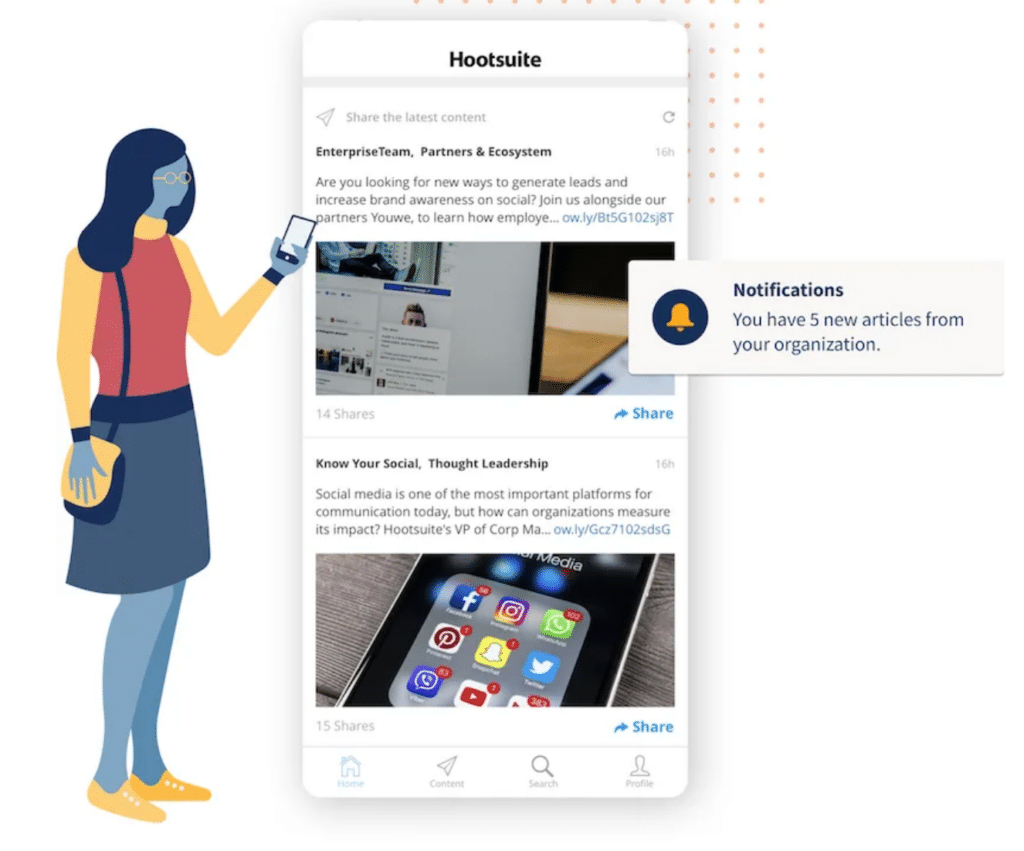 These are some of the highlights of the platform:
A "lock editing" feature that allows you to lock specific posts so that team members can't edit them; this may be useful for important brand messages or announcements that (for whatever reason— including legal reasons) must be left alone
You can send posts as internal announcements, approved posts, or featured posts
Determine which platforms-specific posts can be shared to
Send notifications to employees when new posts are available

Sprout Social is another big name in social media management, and brands who are already using their software should take a look at their Employee Advocacy platform.
Key features include:
Having a library of approved content
Creating message ideas that the team can use as inspiration, with the option to keep it as an internal story that will disable external sharing
The option for your employees to follow certain topics that are of interest to them
Fast click-to-share for both desktop and mobile
Data analytics to keep you updated about the impact of your employee advocacy program
A particularly exceptional interface and strong scalability over time
PostBeyond's entire focus is to make employee social sharing effortless and streamlined, and they do an exceptional job with this.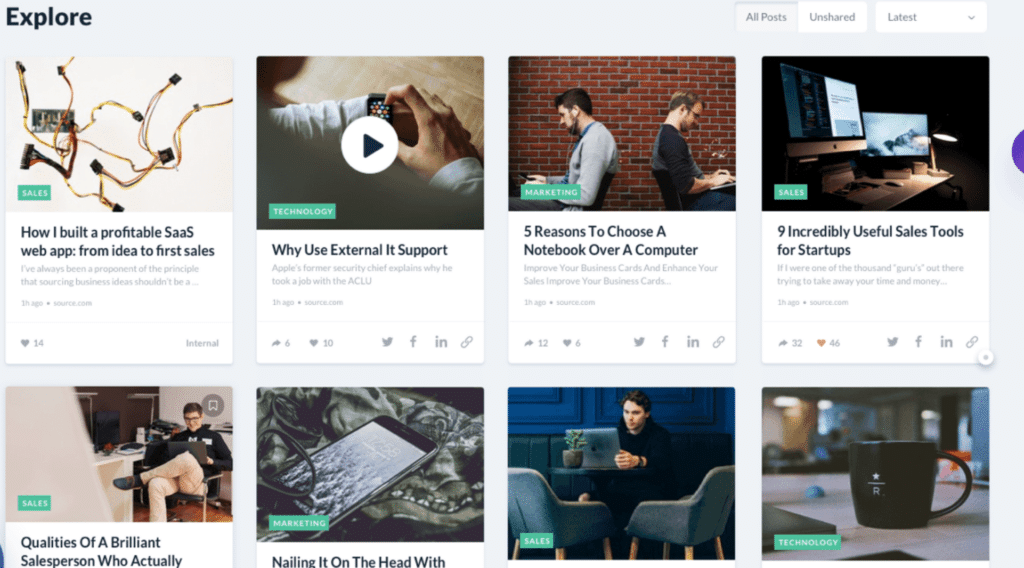 These are some of the standout features you need to know:
Content is sorted by topics, like "sales," "marketing," and "latest"
Connect to multiple platforms, including Facebook, LinkedIn, and Twitter, for easy employee sharing
Extraordinarily detailed analytics, giving you more information about what's driving engagement and ROI
A strong customer advocacy platform that can be used alongside the employee advocacy program with brand ambassadors
Transparent pricing; most tools on this list require you to book a demo, but pricing starts at 100 employees and $16.50 per user per month
EveryoneSocial consistently appears on every major software review site's top-rated section for employee advocacy tools, so we had to add it to our list. It's worked with big-name clients like Meta, TMobile, and United Airlines.
They want to, in their own words, help you turn your employees into your influencers.
Here are EveryoneSocial's best features:
Sort content by type, including job postings, blog posts, and videos
An intuitive, easy-to-use interface for desktop and mobile (including iPhone and Android)
A central feed of content that users can scroll through
Dedicated account manager to help onboard you and launch the program
Outstanding analytics
Oktopost is another popular social media management and publishing tool that also offers community management and employee advocacy features. Unlike most of the other brands, there is a bigger stated B2B focus here, though any of the other platforms will work well for SaaS companies, too.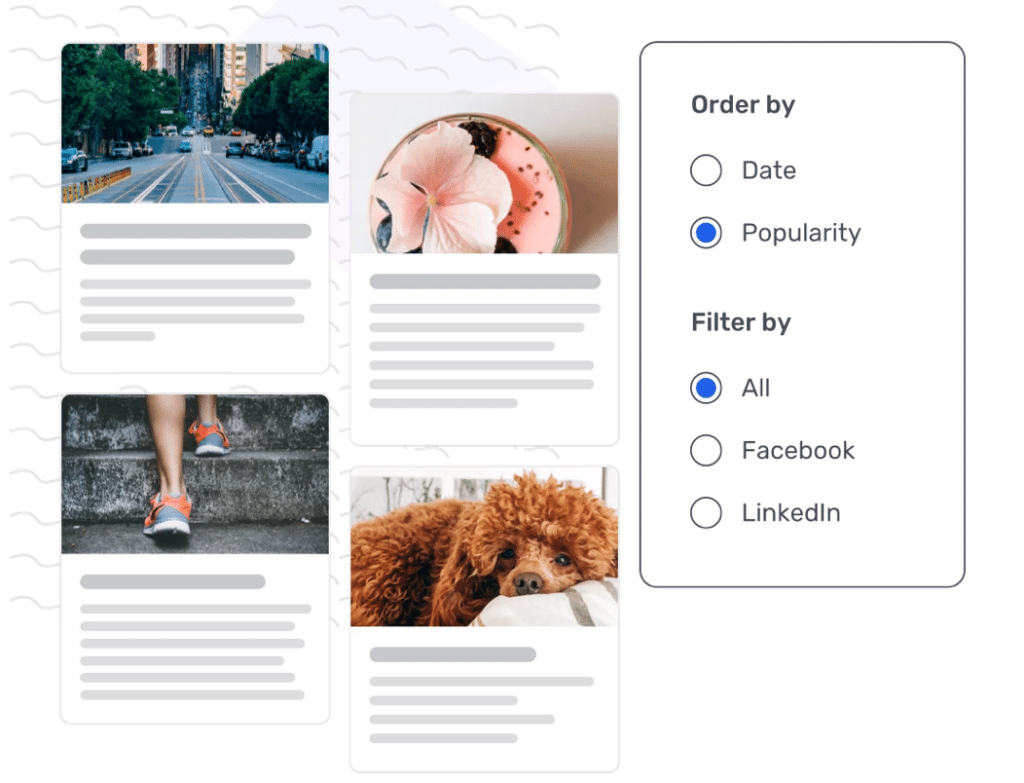 These are the features you need to know:
Two-in-one social media management and employee advocacy program
Ability to filter content not only by relevant topics but also by platform type (like LinkedIn, Instagram Stories, or Facebook)
Options for employees to contribute content ideas
A dashboard that allows you to connect sharing to B2B business and growth goals
Employees can schedule posts in advance
Banning specific keywords or phrases in advocate posts
Plenty of integrations
Previously known as "Smarp" and now rebranded as Haiilo, this employee communications platform supports advocacy. The company has had clients like Coca-Cola, L'Oreal, and DHL.
While there's an enormous focus on delivering news and content to your employees and facilitating communication, there is a built-in advocacy platform that has the following features:
Connect to multiple social platforms for easy sharing (including classics like Facebook and LinkedIn) and those less common on other tools (like Xing or Wechat)
Simple but effective analytics to track shares, clicks, and ROI
The option to "gamify" the experience by letting employees see their sharing compared to other team members
Analyze comms across all employee segments
Firstup is the result of the merge of Dynamic Signal and SocialChorus into one outstanding employee communications and advocacy tool.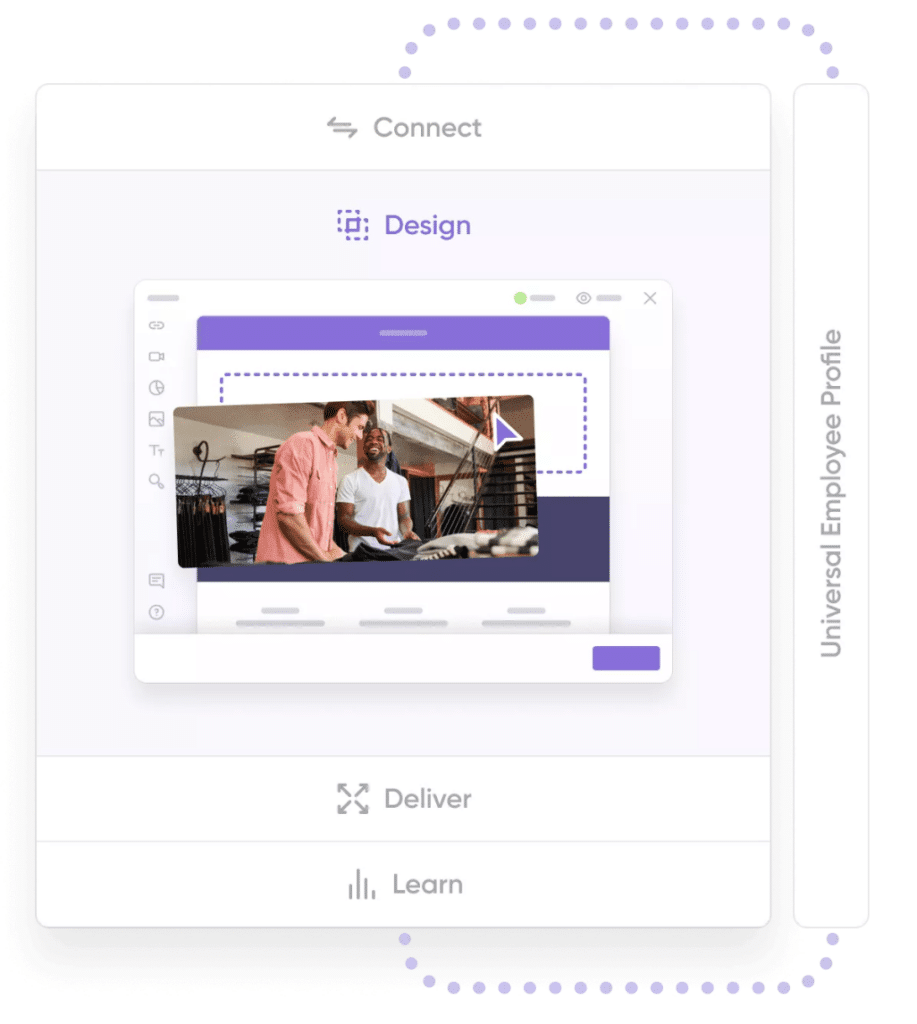 Here are the features to consider:
Simple sharing of approved content to multiple platforms, giving employees flexibility in how to share
Create and manage campaigns in addition to individual content
Optimize campaigns with automatic suggestions from predictive analytics
DSMN8 is a dedicated employee advocacy tool with specific use cases for social media managers, PR workers, HR, and sales.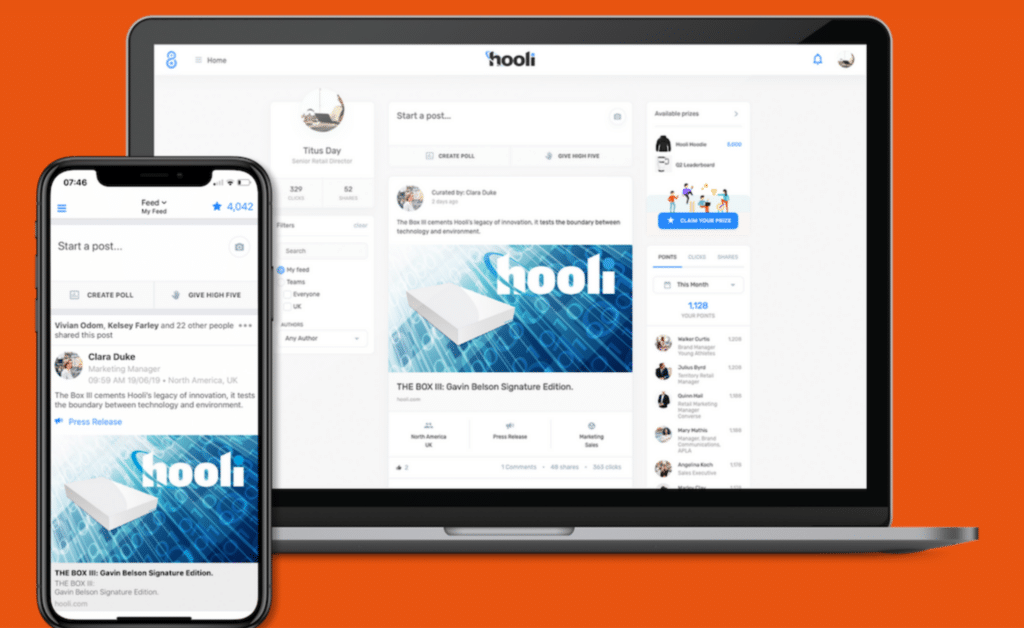 These are the features that have DSMN8 on our list of top employee advocacy tools:
A classic, straightforward interface with a feed for browsing
Fast set up and onboarding
Easy-to-share content
The option to reward employees, award recognition, and have a built-in leaderboard to gamify the process
Ready-to-share content based on employees' location, job role, and more
Extraordinarily detailed analytics
Final Thoughts
Employee advocacy platforms give you a great deal of control over your brand reputation while encouraging employees to post to expand your reach— just in a way you want them to. Huge brands like Shopify, DropBox, Coca-Cola, and Amazon are using employee advocacy platforms, and if you've got a growing business, we recommend taking a look.
Want to make sure you're staying up to date with all the SaaS best practices? Check out our blog for more here!