If you specialize in SaaS SEO or content marketing, there's a good chance you use link building to establish authority and rank at the top of relevant SERPs.
But what if you could achieve these goals without putting as much effort into inbound links?
Instead, what if you could exponentially increase organic search traffic and boost visibility for your SaaS simply by speeding up content production?
In this article, we'll explore everything you need to know about content velocity. Find out how it works (including what not to do), why this metric matters for SaaS, and whether increasing content velocity could have a bigger SEO impact than link building.
What Is Content Velocity?
Content velocity is the amount of content a website publishes during a certain time frame.
Calculating content velocity for your website is easy. Just add up the number of articles your team has published over a defined period and divide by the time frame.
For example, our current velocity here on the divbyzero blog is about 3 articles per week. You can measure this metric by week, month, quarter, or any other time frame that matters to your team.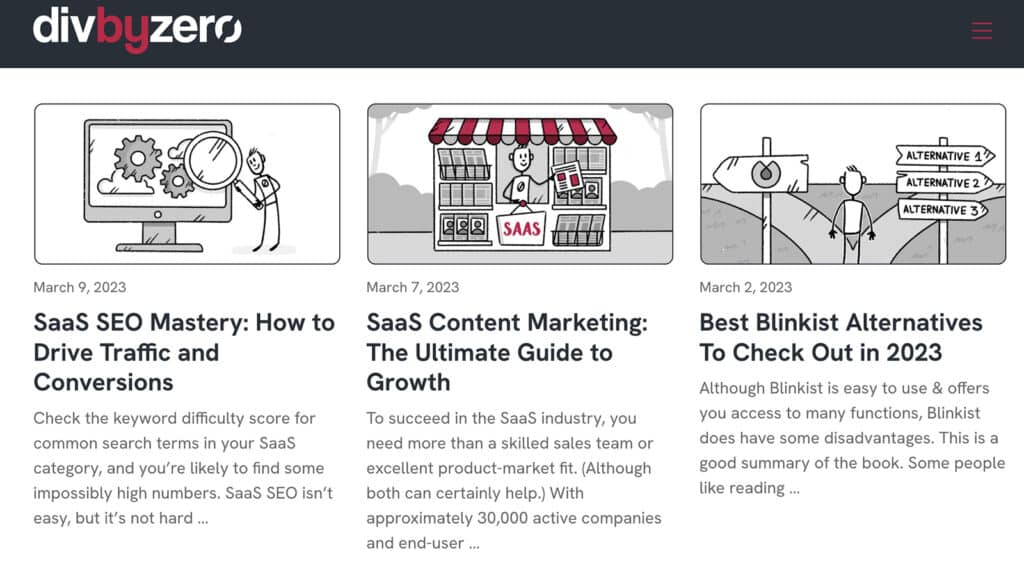 It's a good idea for every SaaS company to measure this metric. With this benchmark in hand, you can plan and scale SaaS content marketing more effectively. It's helpful for:
Budgeting for content marketing: Can you afford to 2x your velocity?
Designing efficient content workflows: How can you streamline processes?
Distributing content: Where can content promotion make the biggest impact?
Why Content Velocity Matters for SaaS
On the surface, this concept seems pretty straightforward. But when most SEO experts talk about this metric, they're going beyond the idea of benchmarking.
Instead, they're typically referring to a strategy for increasing content velocity. Rapidly ramping up content production can have a huge impact on SaaS SEO. Here's why:
Shorter Timelines for New SaaS Sites
If your SaaS is in a category with more established competitors, you need an efficient way to compete. Traditional SEO methods can take several months or years to make a measurable impact.
If you want your SaaS website to rank sooner, compress your timeline. By prioritizing content velocity, you can speed up production and publish more competitive content—so you can rank for core keywords and drive organic traffic much faster.
Nick Jordan, Co-founder at Workello, is a leading proponent of content velocity. He explains why it's such an effective strategy:
"Content velocity is the #1 lever to get faster SEO results, regardless of authority. The average brand doesn't have dozens of opportunities to get in front of a qualified audience, they have hundreds or thousands of opportunities."
"If you have 1,000 opportunities and publish 10 pages per month, it will take you 8 years to be everywhere your audience already is today. You can't rank for a keyword without a page focused on that keyword, so the faster you publish, the faster you can start the ranking countdown timer."
Opportunities to Outpace Competitors
Like most SEO metrics, content velocity doesn't exist in a vacuum. It's crucial to consider how quickly your team produces content in comparison to the competition.
As an example, say your closest competitor publishes 1 fully optimized article per week. Yet your SaaS publishes an article every business day. That's 5x more content.
With this higher velocity, your SaaS can create exponentially more opportunities to rank on relevant SERPs and quickly outpace competitors. If you maintain a higher velocity, you can make it increasingly difficult for competitors to catch up.
Increased Topical Authority
As you build out topic clusters or content pillar pages, you can establish your SaaS as the clear authority on the topics your audience searches for. The more high-quality content you publish on these topics, the more signals you create for search engines.
With higher content velocity, you can build topical authority and rank tons of relevant keywords, even if your domain authority isn't particularly competitive yet.
Let's look at Workello as an example. The talent assessment platform has a DA of 27, but it has over 5,000 ranking keywords.

Because it's established so much topical authority, the site ranks above industry behemoths like Upwork and Shopify for core keywords.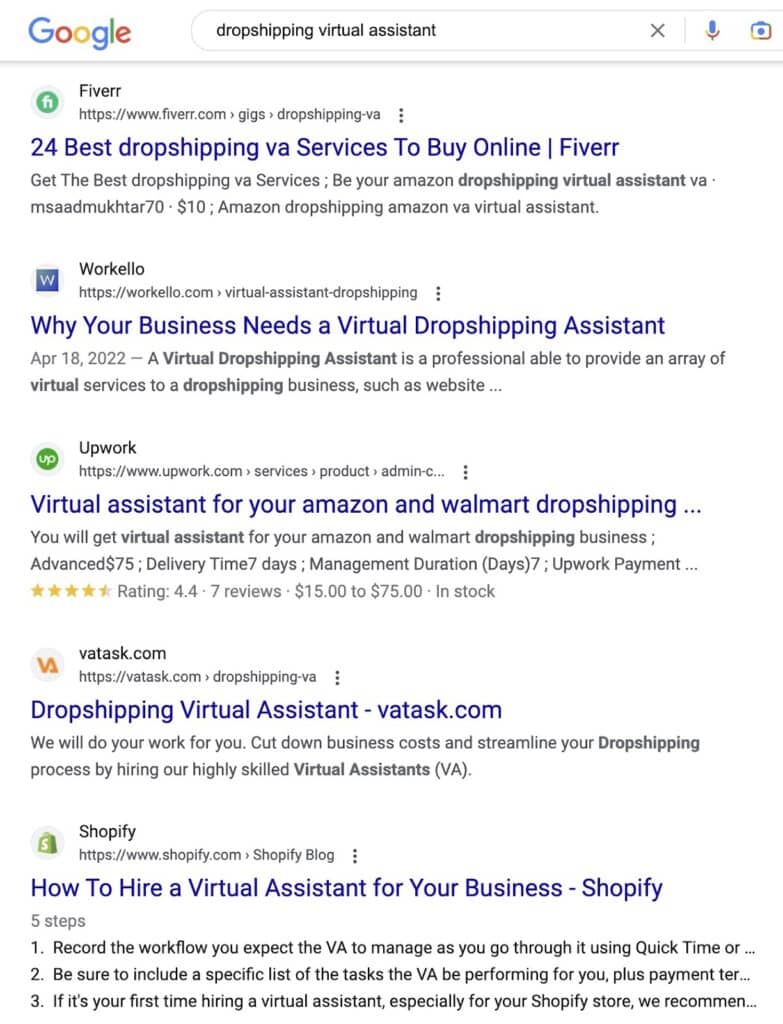 With enough topical authority and relevant content, sites with high content velocity may even be able to rank multiple times on SERPs, creating multiple opportunities to get in front of target audiences and drive organic traffic.
Decreased Focus on Backlinks
If your site is too new to generate many high-authority backlinks or if your team has limited resources for link building, it's easy to assume that you'll struggle to rank your site.
But when you prioritize increased content velocity, you may not need to focus as much on inbound links. Some SEO experts have found that this strategy can increase organic traffic, build topical authority, and improve rankings dramatically—without any backlinks at all.
So should you ignore link building completely in favor of producing content? Probably not.
In most cases, backlinks still matter for SEO. But when you combine link building with content velocity and topical authority, you can take a well-rounded approach to SaaS SEO.
SaaS Content Marketing at Scale
The more content you produce, the more material you have to amplify your SaaS. Why stop at publishing to your website and waiting for your audience to find it on a SERP?
If you add content distribution to your workflow, you can get even more value out of increased velocity. By repurposing content on social media, in video marketing, on podcasts, or via other content marketing channels, you can get it in front of even more of your target audience.
3 Pro Tips for Increasing Content Velocity
Curious about how to maximize ROI from content velocity? Use these tips to guide your strategy.
1. Produce High-Quality Content
It's easy to assume that ramping up content production means publishing thin content or using AI writers. In practice, however, this strategy requires the opposite approach.
When you increase velocity, you have to prioritize high-quality output. That means hiring human writers who can create genuinely helpful content that meets users' search intent and fits Google's E-E-A-T guidelines.
Don't look at content velocity as an SEO shortcut that lets you bypass quality standards. To do it effectively, you need streamlined workflows and a plan for scaling operations.
2. Know When to Speed Up Production
Finding the ideal time to increase content velocity can be challenging. Should you start publishing rapidly as soon as the site is live? Or should you wait until the site has achieved certain metrics?
Thomas Frenkiel, SEO Strategist at Funnel, cautions against putting content velocity first or implementing it before achieving core site quality metrics. He explains:
"I wouldn't look at domain authority or number of backlinks, but at: can we create content that really has value to our audience in an efficient way? And is our website good enough to bring readers to (does it look good, is it easy to navigate)?
If you manage to get internal processes in order, and your website is offering a great UX, the time is ripe to start scaling. And gradually increasing content velocity."
In other words, you're likely to get more mileage out of increased velocity if you focus on site quality and content operations first. Once you've laid the groundwork, ramp up operations over time.
3. Experiment With Established Sites
Although much of the conversation around content velocity centers on growing new sites, established sites may stand to benefit even more from this strategy.
For example, the divbyzero blog launched in 2020. But for the first few years, Massimo Chieruzzi has focused less on publishing content and more on strategies like building links and developing free tools—which can be excellent for attracting backlinks.
In recent months, however, divbyzero has inverted that strategy. Now we're doubling down on content production and focusing less on link building as a sort of test.
How could higher content velocity affect a site that already has high domain authority and a solid backlink portfolio? Nick Jordan explains:
"Sites with higher authority and better brand marketing (referral traffic, branded searches, etc.) will see a 'multiplier' on their effort. If you publish a set of the same content, in the same industry, on two different websites, the site with higher authority will see faster/better results."
How to Increase Content Velocity
What's the first step to scaling your content production? Here's a simple guide to getting started.
Calculate Competitor Content Velocity
To leverage content velocity for your SaaS, you don't necessarily need to go from publishing once a day to publishing 100 times a week. Use your competitors' content production to find your optimal content velocity.
For smaller sites, you can complete this step manually. Start by checking competitors' blogs and making note of when and what they published over the past few months.
For bigger sites or less predictable publishing schedules, use an SEO tool to crawl the blog. Then export a list of content and calculate their velocity, like in the example below.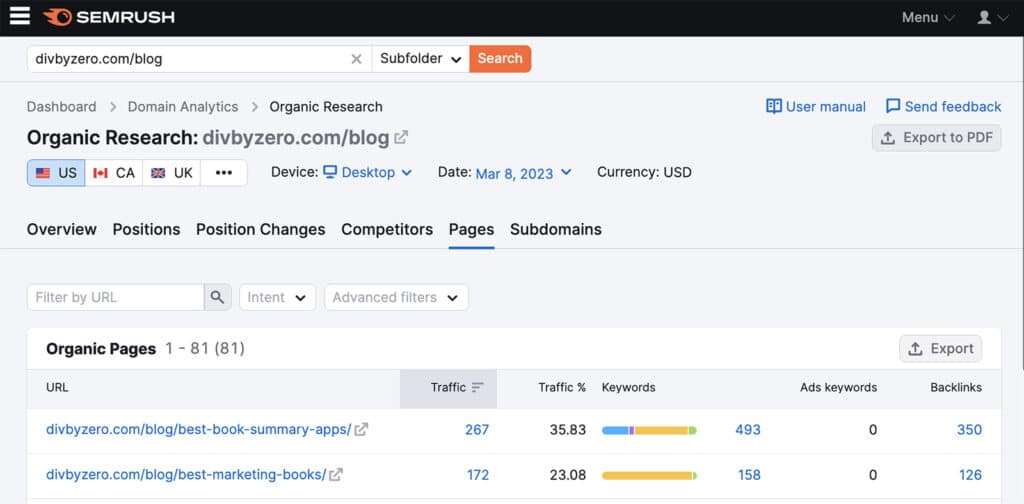 Do this for your top three to five competitors. Identify the site with the highest content velocity and make a plan to outperform it.
Create a Content Plan
Next, use that content velocity goal to map out a content plan. Unless you're building out a completely new site, you don't have to worry about creating a content plan from scratch.
Instead, you can use existing keyword research and topic clusters to guide your content strategy. Continue to use your team's existing matrices to prioritize content and topics.
For example, if you prioritize content by search volume or revenue metrics, there's no need to rethink the process. As you ramp up content production, the only difference will be that you can publish the content with the most potential significantly faster.
If you're doing keyword research for a new site, use our guide to SaaS content marketing to create a content plan.
Document Your Workflow
Whether you're a content team of one or you manage a large team, it's important to optimize your content production workflow before scaling up. If you do, you'll save a lot of time and hassle.

Use a tool like Process Street or Airtable to document your content marketing workflow, from keyword research and brief development to writing and distribution.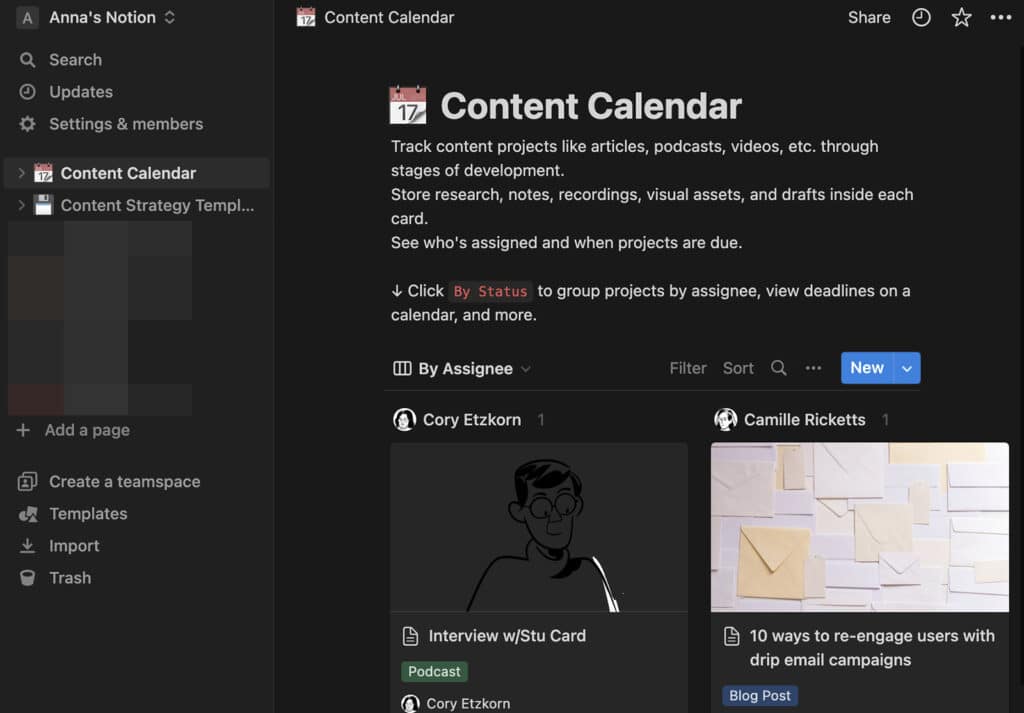 List your tech stack, from keyword research tools like Ahrefs to content optimization platforms like Clearscope to content management platforms like Notion.
Build Out Your Content Team
Once you have your content production processes in place, you're ready to build out your content team. In most cases, you use your content velocity goals to estimate how much you need to scale your team from its current level.
But if you're new to scaling a team or if you're building out a new site, you might not have benchmarks to reference.
In that case, check your competitors' sites to get a sense of the size of their content teams. Make note of the number of bylined writers they have on deck, and confirm whether they're in-house or freelance.
Either way, if you don't already have the resources to produce more content, you need a bigger team. Consider bringing on experienced freelancers or partnering with an agency, especially if you're planning to test for a few months before committing long-term.
Measure Your Results
Once you implement your content velocity strategy, measure the results closely. Use your current tech stack—such as Google Analytics + Google Search Console + SEO tool of choice—to monitor your progress.
Above all, watch for organic traffic to grow substantially. Monitor topic clusters, and make sure you're gaining ground where it counts most.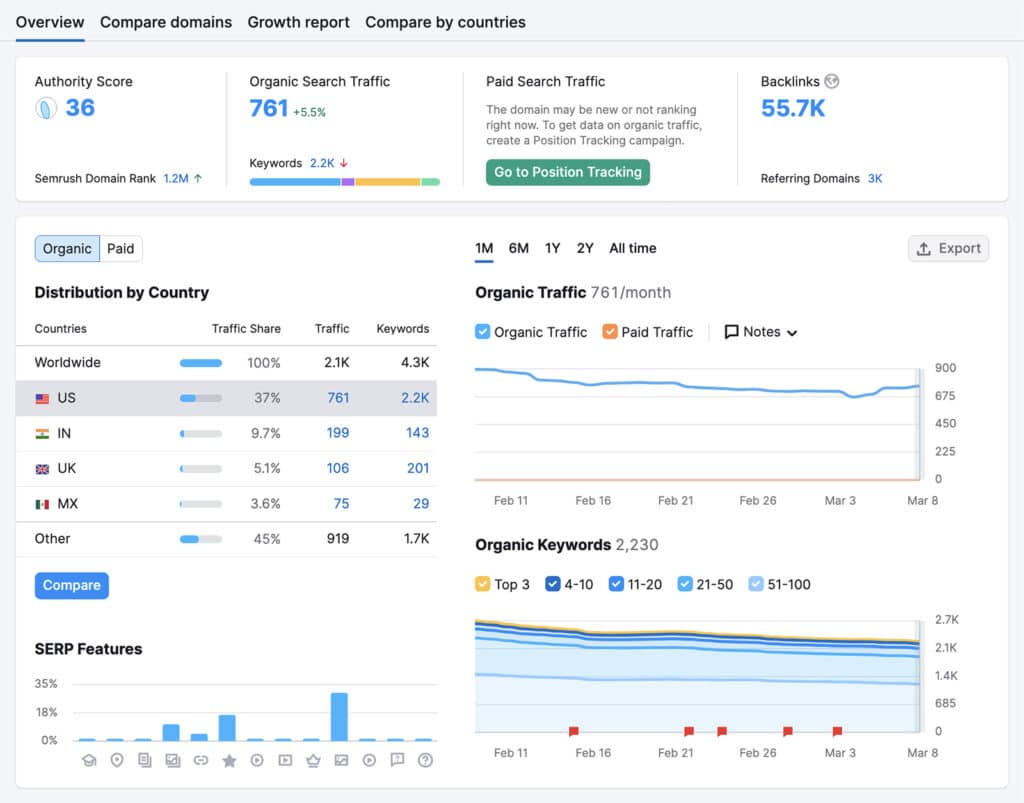 In addition to watching your keyword portfolio closely, pay attention to the health of your site. Are site visitors actually finding the content helpful? Is it generating leads and conversions?
As you increase velocity, keep an eye on your competitors. Has your site's visibility outpaced theirs? Have they corrected the course to compete with your increased content velocity? You may need to revisit your strategy to stay ahead.
Final Thoughts on Content Velocity for SaaS
Because it's a relatively new strategy, the long-term impact of content velocity isn't yet clear. Although increasing velocity does appear to offer serious growth potential, it's probably best not to abandon link building in favor of scaling up content production.
For most SaaS companies, a more balanced approach is ideal. Rather than fully leaning into one or the other, you're likely to get the best results by producing as much content as you can to build topical authority while actively seeking links and amplifying content.